October 26, 2023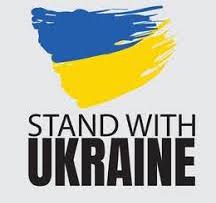 To subscribe to this FREE weekly newsletter simply email jellison@san.rr.com with "subscribe" as the subject.
THE WEEK'S BEST QUOTES. . .
Donald Trump's remarks outside the courthouse for his civil fraud trial:
TRUMP: "They want to keep me here instead of campaigning in Iowa… They want me to be here."
(Three minutes later…)
REPORTER: "Will you be back tomorrow?
TRUMP: "Probably not. We're having a very big professional golf tournament at Doral, so probably not." https://twitter.com/BidenHQ/status/1714761007803834789
"Mike Johnson is Jim Jordan in a sports coat." — Democratic Congressional Campaign Committee spokesman Viet Shelton.
https://www.theatlantic.com/politics/archive/2023/10/mike-johnson-house-speaker-trump/675766/
"The nation is depending upon your resolve. We must exhaust every available legal remedy to restore Americans' trust in the fairness of our election system." — Rep. Mike Johnson (R-LA), on November 7, 2020, urging Donald Trump to fight the election results.
https://www.msn.com/en-us/news/other/trump-ally-mike-johnson-becomes-latest-gop-house-speaker-nominee/ar-AA1iNmLM
"I no longer doubt the decision to run for the Senate. Too many Senators think they should be president. Some House members think they should be king." — Sen. Kevin Cramer (R-ND).
https://www.semafor.com/newsletter/10/25/2023/fourth-times-a-charm
"And what Donald Trump does now, he is wedded to the teleprompter. He can't get off that teleprompter, any time he does, he says things like 'Don't vote.' He's telling people not to vote like we have all the votes we need. Really? Wait a minute, you lost the popular vote to Hillary Clinton in 2016. You don't have all the votes you need. And so I think that it's just shown this is a different Donald Trump in 2015 and 16. Lost the zip on his fastball." — Gov. Ron DeSantis suggesting Donald Trump's mental abilities were in decline in scathing remarks made in New Hampshire on Tuesday.
https://www.mediaite.com/politics/desantis-roasts-trump-for-declining-abilities-hes-lost-the-zip-on-his-fastball-and-is-wedded-to-the-teleprompter/
"I don't care. I can go on any board I want to. I can be a college president. I can do anything. I saved the Senate filibuster by myself. I saved the Senate by myself. That's good enough for me." —Sen. Kyrsten Sinema (I-AZ) to McKay Coppins, author of the new book, "Romney: A Reckoning."
https://www.businessinsider.com/kyrsten-sinema-reelection-serve-any-board-mitt-romney-book-2023-10
"We don't like to sound dire. But to sound a siren of clinical, clear-eyed realism: U.S. officials say this confluence of crises poses epic concern and historic danger." — Axios'Jim VandeHei and Mike Allen.
https://www.axios.com/2023/10/20/biden-government-war-fears-israel-hamas
"After rummaging through thousands of pages of a private citizen's bank records, they have again turned up zero evidence of wrongdoing by President Biden — and that's because there is none," White House spokesperson Ian Sams.
https://www.huffpost.com/entry/james-biden-payment-joe-biden_n_6536badee4b0689b3fbd8cf1?jyi
"I think Donald Trump is the single most dangerous threat we face." — Former Rep. Liz Cheney (R-WY).
https://www.usatoday.com/story/news/politics/elections/2023/10/22/liz-cheney-2024-donald-trump-threat/71281238007/
"Ms. Powell was not my attorney, and never was. In fact, she would have been conflicted. Ms. Powell did a valiant job of representing a very unfairly treated and governmentally abused General Mike Flynn, but to no avail. His prosecution, despite the facts, was ruthless. He was an innocent man, much like many other innocent people who are being persecuted by this now Fascist government of ours, and I was honored to give him a Full Pardon!" — Donald Trump attempting to distance himself from Sidney Powell after her plea deal with Georgia prosecutors.
https://truthsocial.com/@realDonaldTrump/posts/111278893201615481
"He's done. It's over. I killed him." — Rep. Tom Emmer officially dropped out of the race for speaker just minutes after Trump complained that Rep. Emmer criticized him following the Jan. 6 Capitol riot and, among other things, had not forcefully enough defended him against his multiple indictments.
https://www.politico.com/news/2023/10/24/i-killed-him-how-trump-torpedoed-tom-emmers-speaker-bid-00123329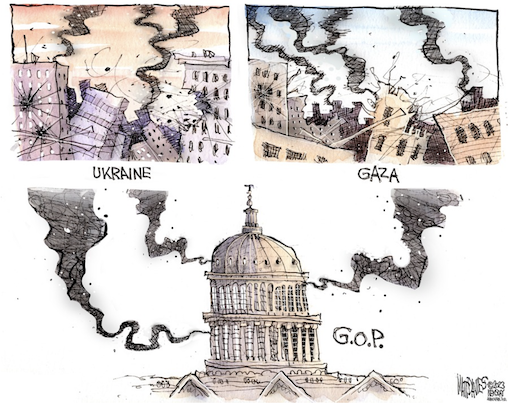 VIDEOS ...
"You don't have to vote, don't worry about voting. The voting, we got plenty of votes." — Donald Trump to his supporters, sounding confident about rigging the election.
https://twitter.com/MikeSington/status/1716590839009624303
---
IN THIS ISSUE
IN THE NEWS
OPINION
Andy Borowitz: Furious Rupert Murdoch Returns to Fox After Network Accidentally Broadcasts Fact
An irate Rupert Murdoch has returned to the helm of Fox News after the network accidentally let a fact slip into its evening programming.
Speaking to reporters, the visibly seething mogul refused to identify the alarming nugget of reality that set him off, but said that it was "truthful enough" to make him reverse his week-old decision to retire.
Murdoch, who had been forced to apologize when the network strayed into accuracy last June, revealed that he phoned his son Lachlan late last night and "tore him a new one."
"I left you in charge for one week and you crapped the bed, mate," he told him. "You don't deserve to call yourself my evil spawn."
https://www.newyorker.com/humor/borowitz-report/
Democrats Now Get to Define the New Speaker
Remember that there were two giant electoral drags on the GOP during the 2022 elections: (1) denialism about the outcome of the 2020 presidential election, and (2) policies on abortion rights that voters saw as overly restrictive or out of the mainstream.
Now, the Republicans have elected a speaker who Dems bet they'll be able to use as an albatross around the neck of every Republican in a swing district or suburban seat. He was the architect of a lawsuit to overturn results of the 2020 race. He has supported abortion restrictions that make no exceptions for rape, incest or the life of the mother. He fits neatly into their talking points about 'MAGA extremism' in the GOP.
And given his brief time in Congress, they see the rare chance to define a leader of the opposing party before Washington (or the press) knows much of anything about him.
https://www.politico.com/newsletters/playbook-pm/2023/10/25/the-first-maga-speaker-00123515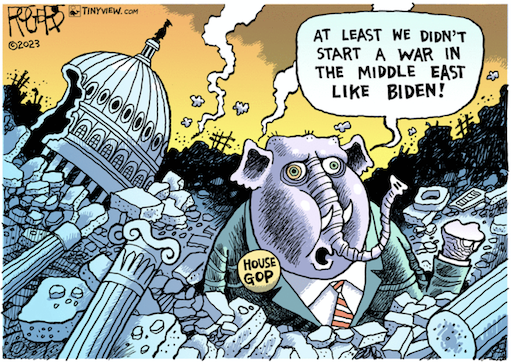 Sidney Powell pushes claims that 2020 election was rigged and prosecutors 'extorted' her after she pleaded guilty to election interference
Sidney Powell may have pleaded guilty to interfering in the 2020 US presidential election, but she still seems to think President Joe Biden's victory was illegitimate, Insider reports.
On her social-media accounts, Powell has continued to push claims that the 2020 election was rigged and that prosecutors in Georgia who brought the criminal case against her were politically motivated. https://www.businessinsider.com/sidney-powell-doubt-election-results-attack-prosecutors-after-guilty-plea-2023-10
Support for Political Violence Jumps in U.S., survey says
A wide ranging survey by PRRI and the Brookings Institution  found there is one thing the vast majority of Americans agree on: People across the political spectrum — 75% of all Americans — agree that American democracy is at risk in the 2024 presidential election.
https://www.axios.com/2023/10/25/support-us-political-violence-prri-brookings-survey
Trump rages as former acolytes turn against him under legal heat
Donald Trump's wealth, power and fame acted like a magnet for new associates keen to enter his orbit. But now, key figures who sought a share of his reflected glory are turning against him to save themselves.
The ex-president absorbed a trio of blows Tuesday that worsened his legal peril and underscored how the 2024 election – in which he is the front-runner for the GOP nomination – will play out in the courts rather than traditional voting battlegrounds. https://www.cnn.com/2023/10/25/politics/trump-former-aides-turn-against-him/index.html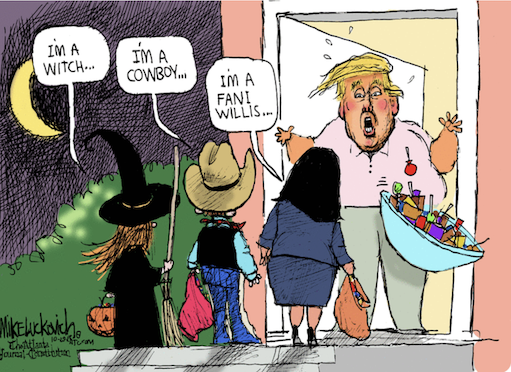 Elon Musk Attended Vivek Ramaswamy Fundraiser
Until now, Elon's attendance at the Ramaswamy fundraiser, the only 2024 finance event he has attended, was kept a secret. But their bromance is now playing out in full public view. On Monday, Musk and Sacks co-hosted a fawning Twitter/X Spaces event with the Republican presidential candidate, in which all three of them lavished praise on one another for making points very elegantly and beautifully about how to Prevent World War 3, as the event was billed. (Musk said that the risk is increasing rapidly; Ramaswamy agreed that if we do enter World War 3, the United States, as we know it, will cease to exist.)
https://puck.news/the-elon-vivek-sweepstakes-more-ellisonology/
Lawsuit to block Trump from Colorado 2024 ballot survives more legal challenges
A judge has rejected three more attempts by former President Donald Trump and the Colorado GOP to shut down a lawsuit seeking to block him from the 2024 presidential ballot in the state based on the 14th Amendment's 'insurrectionist ban.
The flurry of rulings late Friday from Colorado District Judge Sarah Wallace are a blow to Trump, who faces candidacy challenges in multiple states stemming from his role in the January 6, 2021, insurrection. He still has a pending motion to throw out the Colorado lawsuit, but the case now appears on track for an unprecedented trial this month.
https://www.cnn.com/2023/10/21/politics/colorado-lawsuit-trump-ballot/
Supreme Court says White House may continue requests to tech companies
The Supreme Court on Friday temporarily allowed the Biden administration to continue its efforts to get social media companies to remove posts from their platforms that the government says are misleading.
The administration had asked the justices to put on hold a lower-court ruling that found top officials likely violated the First Amendment by improperly pressuring tech companies to take down what they saw as problematic posts about public health and election-related disinformation.
As is customary in emergency orders, the majority did not explain its reasoning for granting the administration's request. But conservative Justices Samuel A. Alito Jr., Clarence Thomas and Neil M. Gorsuch dissented from the decision not to leave the lower court order in place, calling the development "highly disturbing."
https://www.washingtonpost.com/politics/2023/10/20/supreme-court-tech-companies-social-media-posts/
Abortion is key for Dems., women in Virginia election
Abortion has surged as a key issue for women and Democrats for the Nov. 7 legislative elections in Virginia, the last state in the South to hold out against restrictions on the procedure in the year since the Supreme Court overturned Roe v. Wade, according to a Washington Post-Schar School poll.
The election will decide whether Virginia remains a relatively liberal outlier among Southern states in areas such as guns, LGBTQ+ rights and criminal justice, or whether Gov. Glenn Youngkin (R) can enact a conservative agenda that includes a ban on abortion after 15 weeks, with exceptions. Virginia's off-year contests are the country's only major races this year and could signal the national political mood heading into the 2024 presidential election.
https://www.washingtonpost.com/dc-md-va/2023/10/20/abortion-virginia-election-poll-youngkin-approval/
US Supreme Court won't intervene in Louisiana electoral map fight
The U.S. Supreme Court on Thursday opted not to intervene in a legal fight over Louisiana's disputed map of its six congressional districts, potentially delaying the adoption of one to replace a Republican-crafted version that a judge found unlawfully diluted the clout of Black voters.
https://www.reuters.com/legal/us-supreme-court-declines-allow-hearing-new-louisiana-electoral-map-2023-10-19/
New North Carolina GOP Proposals Would Eliminate Up to Four Democrats' Seats
Democrats knew the carnage was coming, but their outrage is still palpable: on Wednesday, North Carolina GOP state legislators released two different draft congressional maps that would gut Democrats' representation in the Tar Heel State.
The brutal gerrymanders would transform the current 7D-7R delegation into as lopsided as an 11R-3D breakdown, giving Republicans up to a four-seat boost in their efforts to hold the House majority in 2024.
https://www.cookpolitical.com/analysis/house/north-carolina-house/new-north-carolina-gop-proposals-would-eliminate-four-democrats
Elon Musk's X removes the New York Times' verification badge
The social media platform X, formerly known as Twitter, has removed the gold "verified" badge from the New York Times' account amid ongoing complaints about the news organization from X owner Elon Musk.
The unexplained decision removes the only symbol distinguishing the news organization from impostors and comes amid a flood of false information related to the Israel-Gaza war, some of which Musk has personally endorsed.

The badge was the only symbol distinguishing the Times' 55-million-follower account from impostors amid two major global conflicts in Israel and Ukraine. X has hosted and helped amplify a flood of false information related to the Israel-Gaza war, some of which Musk has personally endorsed.

The move further extends Musk's attempts to use the social media company he bought with claims of defending free speech to undercut news organizations he dislikes. It also suggests Musk has adopted the kinds of secretive social media tactics he and Twitter's conservative critics once loudly denounced. https://www.washingtonpost.com/technology/2023/10/19/x-twitter-nyt-dispute-musk/
Musk's X cashes in on 'superspreaders' of Israel-Hamas misinformation
Some of the biggest peddlers of misinformation about the Israel-Hamas war on Elon Musk's X platform are premium, so-called "verified" accounts that pay the social media company formerly known as Twitter to promote their posts to boost visibility, a report released Thursday found.
Establishing the truth in any conflict can be difficult as competing sides push contradictory narratives — but some claims that are objectively and clearly false are still going viral and being seen millions of times by users of X, due in part to changes made to the platform by Musk, NewsGuard, an information analysis company, found.

Some of the most widely shared myths on X about the war, according to NewsGuard, include videos from previous, unrelated conflicts, which are recycled and used to make false claims about Israel and Hamas (CNN has also debunked some of these videos).

"Collectively, posts advancing most common false or unsubstantial claims about the conflict received 1,349,979 engagements and were cumulatively viewed by more than 100 million times globally in just one week," NewsGuard said in Thursday's report. The group said 186 of the 250 posts were sent by premium X accounts. CNN has not been able to independently verify the data and has asked NewsGuard to provide its supporting information.
Soon after NewsGuard published its report saying that posts advancing the most common false or unsubstantial claims about the conflict received 1,349,979 engagements and were cumulatively viewed by more than 100 million times globally in just one week, Musk posted on X that the company "should be disbanded immediately." https://www.cnn.com/2023/10/19/media/musk-israel-hamas-misinformation/index.html
Media Confidence in U.S. Matches 2016 Record Low
The 32% of Americans who say they trust the mass media 'a great deal' or 'a fair amount' to report the news in a full, fair and accurate way ties Gallup's lowest historical reading, previously recorded in 2016.
https://news.gallup.com/poll/512861/media-confidence-matches-2016-record-low.aspx
Los Angeles newscaster Christina Pascucci announces Senate bid
Los Angeles newscaster Christina Pascucci announced Wednesday morning that she is running for the U.S. Senate vacancy created by the death of Dianne Feinstein.
The 38-year-old Democrat is the latest entrant to join an increasingly crowded field for California's 2024 Senate contest.
https://www.latimes.com/politics/story/2023-10-18/los-angeles-newscaster-christina-pascucci-senate-schiff-porter-lee-garvey-feinstein
Poll: 58% of Ohio voters support abortion amendment
A Baldwin Wallace University poll in Ohio finds the proposed abortion rights amendment would pass if the election was held today, 58% to 34% with 8% undecided.
"The proposed amendment would add a section into the state constitution that says everyone has the right to make and carry out their own reproductive decisions, including but not limited to contraception, fertility treatment, pregnancy, miscarriage care and abortion. The state could generally regulate abortion at viability, around 22 to 24 weeks, but could not prohibit it if deemed necessary to protect a woman's life or health in the professional judgment of her treating physician"
The Nov. 7 election is just 20 days away.
https://www.cleveland.com/news/2023/10/baldwin-wallace-poll-58-of-ohio-voters-supporting-abortion-amendment.html
Trump Plots to Pull Out of NATO — If He Doesn't Get His Way
Donald Trump wanted to pull the United States out of NATO during his first term, but was repeatedly talked out of it by senior administration officials.
For a possible second term in the White House, the 2024 Republican presidential frontrunner is already discussing how he could actually get it done, if his demands aren't met by NATO. He and his policy-wonk allies are also gaming out how he could dramatically wind down American involvement to merely a 'standby' position in NATO, in Trump's own words.
https://www.rollingstone.com/politics/politics-features/donald-trump-u-s-leave-nato-1234860016/
New Hispanic Super PAC launches to elect Democrats to Congress
Three former members of the Congressional Hispanic Caucus — including the current governor of New Mexico — are teaming up to create "BOLD America," a new super PAC to get more Hispanic Democrats elected to Congress.
https://www.axios.com/2023/10/23/hispanic-super-pac-bold-america
'I will never vote Biden': Some Muslim Americans in a key swing state feel betrayed by the president
As President Joe Biden declared unwavering support for Israel in the days after Hamas' terror attack in Israel, Ahmad Ramadan, a former Biden adviser now leading coalition efforts for the Michigan Democratic Party, called the state party chair to raise the alarm about what he was hearing.
Michigan has one of the largest Muslim and Arab American populations in the country, and they say their support for Biden was instrumental to putting him over the top in the critical swing state in 2020. But now, Ramadan and other Democratic leaders in the state were hearing nothing but frustration with Biden — and threats to not vote for him again.
https://www.nbcnews.com/politics/2024-election/muslim-arab-americans-rage-biden-michigan-israel-gaza-rcna121513
How Third-Party Hopefuls Could Put Donald Trump Back in the White House
In 2020, seven states were decided by less than 3% of the vote, and the margins in battleground states this time around are likely to be nearly as thin. The number of ballots cast for a third-party candidate doesn't need to be large to do outsize damage.
Said one Biden adviser: "This is set up for a higher percentage than the 6% in 2016, in the Hillary-Trump election."
https://www.vanityfair.com/news/2023/10/third-party-hopefuls-could-put-donald-trump-in-white-house
Elon Musk offers $1B to Wikipedia if it changes its name
Billionaire Elon Musk offered Wikipedia, the free online encyclopedia, $1 billion under the condition that it changes its name to "Dickipedia."
The owner of X, the social media platform formerly known as Twitter, wrote his offer in a post on his site. He had previously posted a screenshot of a personal appeal from Wikipedia co-founder Jimmy Wales stating that the website is "not for sale."
"I will give them a billion dollars if they change their name to Dickipedia,"
Musk wrote
, "Please add that to the [cow and poop emojis] on my wiki page," he continued in another post. "In the interests of accuracy."
Wales has been an outspoken critic of Musk. In May, Wales condemned Musk's decision to censor critics ahead of the Turkish presidential election.
https://thehill.com/policy/technology/4270360-elon-musk-offers-1m-to-wikipedia-if-theyll-change-their-name/
Another GOP 'Bombshell' About Joe Biden Turns Out To Be A Dud
Republicans announced Friday that they had uncovered a 'direct payment' to President Joe Biden — exactly the kind of evidence they've sought linking Biden to his family's foreign business deals.
But the March 2018 payment came from Joe Biden's brother James, not a Ukrainian oligarch or Chinese tycoon, and the check was marked as a 'loan repayment.'
https://www.huffpost.com/entry/james-biden-payment-joe-biden_n_6536badee4b0689b3fbd8cf1
THE DAILY GRILL
Nearly two weeks ago, media reported that Donald Trump reportedly revealed information about U.S. nuclear submarine capabilities to Australian billionaire Anthony Pratt. And on Sunday, 60 Minutes Australia played recordings of secret tapes where Pratt disclosed other non-public information Trump shared with him, including information about U.S. military operations in Iraq and Trump's conversations with the presidents of Iraq and Ukraine, and information about U.S. bombings in Iraq before they were publicly reported. https://www.rollingstone.com/politics/politics-news/secret-tapes-trump-australian-billionaire-anthony-pratt-1234859957/

VERSUS

"The Failing New York Times story, leaked by Deranged Jack Smith and the Biden 'Political Opponent Abuser' DOJ, about a red haired weirdo from Australia, named Anthony Pratt, is Fake News ... I never spoke to him about Submarines."-- Trump on Truth Social. https://www.thedailybeast.com/trump-claims-he-never-spoke-to-billionaire-red-haired-weirdo-about-nuclear-submarines

Nicholas Kristof: We Must Not Kill Gazan Children to Try to Protect Israel's Children
The crisis in the Middle East is a knotty test of our humanity, asking how to respond to a grotesque provocation for which there is no good remedy. And in this test, we in the West are not doing well.
The acceptance of large-scale bombing of Gaza and of a ground invasion likely to begin soon suggests that Palestinian children are lesser victims, devalued by their association with Hamas and its history of terrorism. Consider that more than 1,500 children in Gaza have been killed, according to the Gaza Ministry of Health, and around one-third of Gaza homes have been destroyed or damaged in just two weeks — and this is merely the softening-up before what is expected to be a much bloodier ground invasion.

I've flown into beautiful, sun-washed Tel Aviv, where the graffiti reads "Destroy Hamas." Israelis have been shattered by the Hamas terrorism and kidnappings, an attack that felt existential and explains the determination to dismantle Hamas, whatever the cost. The anxiety in Tel Aviv is palpable, peaceful though it seems, while Gaza is an inner ring of hell and probably on a path to something much worse.

The United States speaks a good deal about principles, but I fear that President Biden has embedded a hierarchy of human life in official American policy. He expressed outrage at the massacres of Jews by Hamas, as he should have, but he has struggled to be equally clear about valuing Gazan lives. And it's not always evident whether he is standing four-square with Israel as a country or with its failed prime minister, Benjamin Netanyahu, a longtime obstacle to peace.

Here in Israel, because the Hamas attacks were so brutal and fit into a history of pogroms and Holocaust, they led to a resolve to wipe out Hamas even if this means a large human toll. "Gaza will become a place where no human being can exist," declared Giora Eiland, a former head of the Israeli National Security Council. "There is no other option for ensuring the security of the State of Israel."

I think that view reflects a practical and moral miscalculation. While I would love to see the end of Hamas, it's not feasible to eliminate radicalism in Gaza, and a ground invasion is more likely to feed extremism than to squelch it — at an unbearable cost in civilian lives. https://www.nytimes.com/2023/10/21/opinion/israel-gaza-palestine-children.html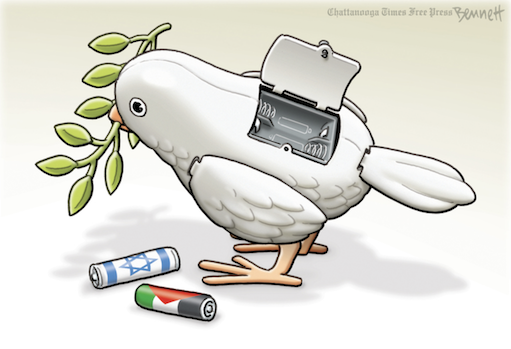 Josh Rogin: Putin is helping Hamas to hurt the West
When Russian President Vladimir Putin finally called Israeli Prime Minister Benjamin Netanyahu on Monday, he said Russia was trying "to help normalize the situation" in the Gaza Strip, according to the Kremlin. But Moscow has little interest in helping Israel. Russia is on the side of Hamas and its patron, Iran — in part to undermine the United States and its allies.

The timing of the attack could not have been better for Putin, who coincidentally was celebrating his birthday on Oct. 7, when hundreds of Hamas terrorists entered Israel and slaughtered more the 1,300 civilians. Russia's main foreign policy goal right now is to distract the world from its ongoing invasion and atrocities in Ukraine. Specifically, Moscow is pushing for an end to U.S. military assistance to Ukraine, which is hanging by a thin thread in Congress. The crisis in Israel aids these efforts. Moscow's interest is in stoking it, not solving it.

While there is no clear evidence that Russian leaders knew about the Hamas attacks in advance, the Kremlin is working hard to take advantage. Russia has stepped up its support for Hamas diplomatically and in the propaganda war; it's also seizing the opportunity to ramp up its violence in Ukraine while the world is distracted. On Oct. 8, senior Hamas official Ali Baraka praised Russia's assistance in an interview with Russia Today, a state-controlled media outlet.
"There are countries that support us politically. Even Russia sympathizes with us," he said. "Russia is happy that America is getting embroiled in the Palestinian war. It eases the pressure on the Russians in Ukraine. One war eases the pressure in another war. So, we're not alone on the battlefield." https://www.washingtonpost.com/opinions/2023/10/17/russia-israel-putin-hamas-gaza/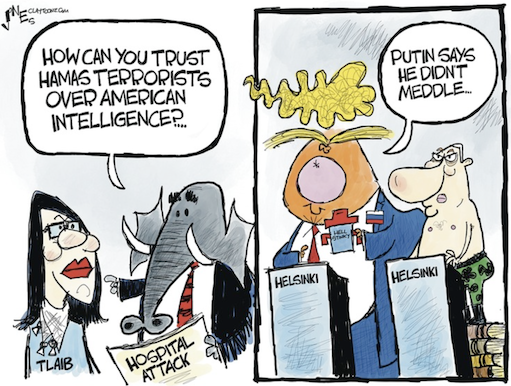 Analysis by Ishaan Tharoor: Israel's bombing of Gaza undercuts the West's Ukraine moralism
On Friday, Jordan's King Abdullah II described Israel's actions in Gaza as "a war crime." He said Israel was carrying out "collective punishment of a besieged and helpless people," which ought to be seen as "a flagrant violation of international humanitarian law."

That may not trouble an Israeli leadership bent on retribution, argued Marc Lynch, professor of political science and international affairs at George Washington University, but it's a problem for the United States. "It is difficult to reconcile the United States' promotion of international norms and the laws of war in defense of Ukraine from Russia's brutal invasion with its cavalier disregard for the same norms in Gaza," he wrote in Foreign Affairs.

While it seems the Biden administration is working behind the scenes to attempt to restrain Israel's war cabinet, Gaza's more-than 2 million people are living in a nightmare of airstrikes and explosions and are running out of food, water and places for safe sanctuary. In his speech, Biden stressed the gap between Hamas and the ordinary Palestinians in their midst. "We can't ignore the humanity of innocent Palestinians who only want to live in peace and have an opportunity," he said, pointing to the U.S. efforts to bring in humanitarian assistance — deliveries which aid groups say are staggeringly short of what's required.
But that rhetoric rings hollow when set against the record of U.S. actions. "If the U.S. and other Western governments want to convince the rest of the world they are serious about human rights and the laws of war, principles they rightly apply to Russian atrocities in Ukraine and to Hamas atrocities in Israel, they also have to apply to Israel's brutal disregard for civilian life in Gaza," Louis Charbonneau, U.N. director for Human Rights Watch, said in a statement after the U.S. veto. https://www.washingtonpost.com/world/2023/10/23/israel-west-moralism-hypocrisy-veto/
Zachary Cohen and Marshall Cohen: Back-to-back plea deals pose grave legal threat to Donald Trump
Two stalwart allies of former President Donald Trump flipped against him this week, a staggering turn of events that could now pose a grave threat to his ability to fend off criminal charges related to his efforts to overturn the 2020 presidential election.

The rapid-fire developments are a massive boost for prosecutors in Fulton County, Georgia, and the separate but overlapping federal case against Trump that was filed by Justice Department special counsel Jack Smith.

The pleas are a stark display of the reality that the Georgia case against Trump and his co-defendants is getting stronger. While Trump has vowed to fight until the bitter end, these newly inked plea deals force his co-defendants to confront the same difficult choice: cut a deal or roll the dice at trial.

For two prominent Trump co-defendants – Sidney Powell and Kenneth Chesebro – the looming five-month trial, potentially resulting in a yearslong prison sentence, appears to have spurred them into flipping.
Their decisions to transform from Trump diehards to key witness against him have likely shattered any sense of invincibility that the former president or others charged may be feeling – perhaps for the first time. https://www.cnn.com/2023/10/21/politics/:chesebro-powell-plea-deals-trump-takeaways/index.html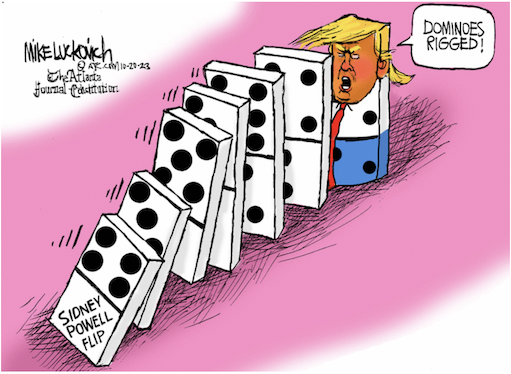 Jonah Shepp: Don't Blame Gazans for Hamas
What feels different about this war is that Israel's leaders are unusually willing to make the implicit explicit and acknowledge that, yes, they are punishing Gazans for Hamas' crimes. When defense minister Yoav Gallant ordered a "full siege" on Gaza on October 9, cutting off water, fuel, and electricity, he said: "We are fighting human animals, and we are acting accordingly." Energy minister Israel Katz then responded to international calls for aid by saying there would be no lifting of the siege until Hamas released the hostages it had taken. Israel later backed down on the siege to a degree, following pressure from President Biden, but the damage to Israel's moral standing was done.
These are not the actions of a government overly concerned with distinguishing civilians from military targets. Given the country's rightward drift and Prime Minister Benjamin Netanyahu's religious-nationalist governing coalition, perhaps that's not surprising. But this disturbing rhetorical turn merits examination, and it is important to understand why it is wrong.

If the war leads to both Hamas and Netanyahu's right-wing coalition losing popular legitimacy and exiting the scene, it would be a silver lining to a very dark cloud since neither Israelis nor Palestinians deserve the mediocre leadership they've been saddled with. But at least the Israelis have some power to change that if they want to. The people of Gaza do not. https://nymag.com/intelligencer/2023/10/dont-blame-gazans-for-hamas.html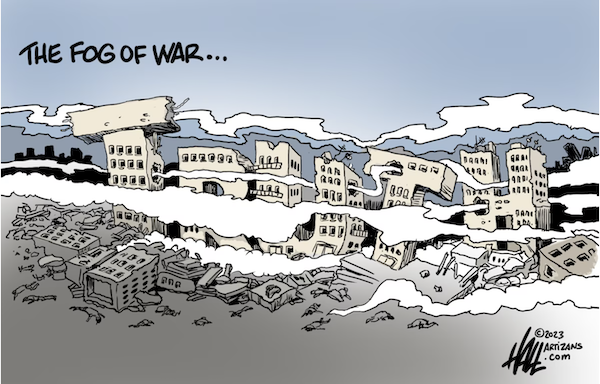 Jonathan Martin: Why the GOP Can't Unite
It's the same reason there are effectively parallel GOP presidential primaries. One is between a series of candidates embarked on all the usual rituals vying for support from about half the party's voters, while the other half has long ago made up its mind about who its preferred nominee is. His name may ring a bell.
There is no longer a cohesive Republican Party. There's a pre-Trump GOP and a post-Trump GOP, living together uneasily. They may be roommates but they're not married. https://www.politico.com/news/magazine/2023/10/18/gop-party-house-speaker-00122371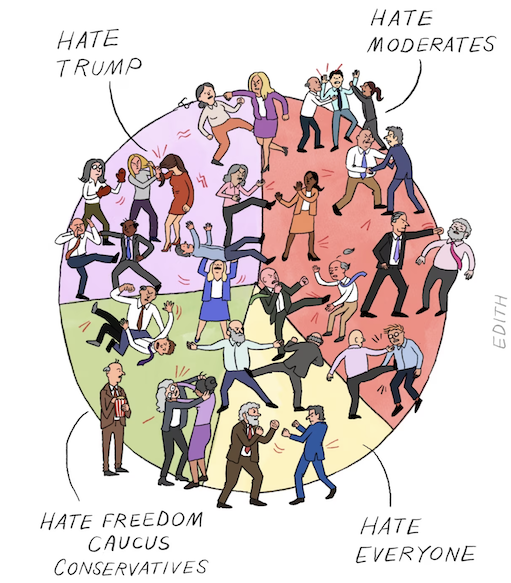 Andrew Sullivan:A Party Unfit For Government
I know you know this, but it's still vital to remember that a major political party is backing this incoherent, unhinged, fact-free narcissist to be president of the United States. It is therefore no surprise to discover that the same party is completely incapable of forming a stable majority in the House of Representatives because it too is incoherent, divided, unhinged, and narcissistic.
We've never had this amount of time without a Speaker in the history of the House. But then we've never had a majority party as utterly vacuous as this one. https://andrewsullivan.substack.com/p/a-party-unfit-for-government-875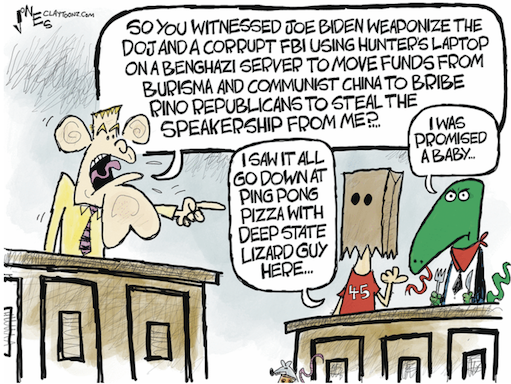 Jonathan Chait: It Turns Out Joe Biden Is Actually In Charge of the Biden Administration
The central Republican attack line on Joe Biden has always been that he is not in charge of his own administration…
The Trump version of this attack is a characteristically deranged conspiracy theory, in which some other person, either Barack Obama or Kamala Harris, is actually running the presidency while decrepit Joe Biden is being spooned mouthfuls of apple sauce.
Meanwhile, less-deranged conservatives have made a more plausible version of this charge. The real power in the administration is the left-wing staff that makes all the policy decisions and has relegated Biden to the role of front man, reassuring the public he is sane and moderate while actually carrying out a radical agenda he only vaguely comprehends.
But Biden's hawkish policy on Israel proves clearly that he is in control of his administration and is very capable of resisting the left.
https://nymag.com/intelligencer/2023/10/bidens-israel-policy-proves-hes-running-his-administration.html
Graeme Wood: What Is Israel Trying to Accomplish
Israel's invasion of Gaza awaits the parting of clouds. Clear skies favor Israel, which dominates
the airspace and wants to be able to look down to see what awaits its ground forces. Early morning yesterday brought rain, and at dawn, orange cumulus clouds rolled over the Mediterranean. Today's forecast calls for more rain, and therefore probably another day without Israeli infantry in Gaza. Rarely has the Weather Channel been such ominous and thrilling viewing.
Gazans are waiting for the clouds to part, too. What will happen immediately after they do is not a mystery to them or anyone else. Israel will go in hard; it will lose many soldiers; Hamas will lose many fighters; and many civilians who stayed behind will die. Israel has long claimed, with some moral and legal justification, that any fighter who uses a human shield is responsible for that civilian's fate. But the civilians stick around and take their chances with Hamas because Israeli officials have led them to wonder whether, if they left, they could ever come back. Intolerant rhetoric has consequences, and one of them is that Israel's vengeance will be messier and more miserable for all involved than it needs to be. That, also, is a heavy moral burden. https://www.theatlantic.com/international/archive/2023/10/israel-gaza-hamas-evacuation/675665/
Eric Levitz: The Undisputed Facts in Gaza Are Enough
Virtually every war entails some number of civilian casualties. But in its previous campaigns against Gaza, Israel has shown a distinctive indifference toward civilian life. The IDF will attribute this reality to Hamas's habit of embedding its military installations into civilian infrastructure. But it does not follow that Israel has no responsibility to give weight to Palestinian life.
More fundamentally, Israel wields de facto control over Gazans' conditions of daily life. In a meaningful sense, Israel is the state that rules them. And Gazans are denied a voice in that state on the basis of their national and ethnic identities. It is true that, in surveys, Gazans express little interest in living in a single, binational democratic state from the river to the sea. But it is unclear whether this would be the case in a world where such a state were not such a far-fetched hypothetical. In any event, the fact that Gazans live under the subjugation of the Israeli state, rather than under the auspices of their own independent state, makes Israel's collective punishment of Gaza all the more obscene.

Meanwhile, it is far from clear that the present campaign will be effective in ensuring Israelis' long-term security interests. Already, the campaign has generated such enmity in the Arab world as to jeopardize Israel's normalized relations with its neighbors. At the same time, the unprecedented scale of death within Gaza is all but certain to radicalize countless young people, minting the next generation of violent extremists.

Israel cannot tolerate Hamas attacks. But it is not clear that it couldn't more effectively protect Israelis by simultaneously increasing its defensive capacities on the Gaza border, targeting some high-ranking Hamas militants, and addressing the Palestinians' political grievances. For example, by abandoning its illegal settlement project in the West Bank, Israel could free up more troops for guarding its border with Hamas. At the same time, an Israeli government that made genuine concessions to Palestinian rights might eat into Hamas's appeal in Gaza. Among the other merits of this approach, it seems likelier to bring about the safe return of the Israeli hostages still living in Gaza.

For all these reasons, the case for an immediate ceasefire — and durable end to a mode of warfare that takes mass Palestinian death as its acceptable price — is strong. And the question of whether Israel was responsible for the calamity at al-Ahli Hospital has essentially no bearing on that case. There is simply no reason for advocates of the Palestinian cause to dig in on a factual debate about a single incident, rather than focusing on making their moral case against the present war.

Thus, it is not just irresponsible but also bad political practice, to wager one's credibility on disputed, inessential details. The case against Israel's campaign does not rest on its culpability for any single explosion, and the Palestinians' allies do them no favors by acting as though it does. https://nymag.com/intelligencer/2023/10/the-undisputed-facts-in-gaza-are-enough.html
Sarah Jones: The Palestinian Blood on America's Hands
As Israel threatens a ground invasion of Gaza, U.S. officials have reportedly begun to urge restraint, at least in private. It comes too late for the more than 3,000 Palestinians in Gaza who have already been killed by Israeli air strikes and the roughly 1 million who have been displaced. On Monday, a human-rights organization estimated that Israeli forces have killed more than a thousand children in Gaza since October 7. Israeli air strikes in Gaza and southern Lebanon have killed aid workers, medical personnel, and journalists like Reuters videographer Issam Abdallah. On Tuesday night, an explosion rocked a hospital in Gaza City, which is said to have killed hundreds of people seeking care and refuge. Hamas blames the Israel Defense Forces, which recently ordered Gazan hospitals to evacuate and have attacked hospitals there in the past. The IDF and the United States say it was caused by an errant militant rocket.
Without some kind of cease-fire between Israel and Hamas, many more Palestinians will die, and the vast majority of them will lose their lives and limbs to bombs and bullets supplied by the U.S. Whatever U.S. officials tell their Israeli counterparts about restraint in private, the public message has hardly changed. In a 60 Minutes interview on Sunday, President Biden said the U.S. would, as usual, provide Israel with "everything they need."

"Israel is going after a group of people who have engaged in barbarism that is as consequential as the Holocaust," he added, and Israel must respond. "The Israelis are gonna do everything in their power to avoid the killing of innocent civilians," he asserted. If that's true, Israel's mighty military is either powerless or its leaders don't believe civilians in Gaza are innocent. The thousands killed by Israeli air strikes did not bear collective responsibility for Hamas or its slaughter. The dead are not served by lies. Israelis and Palestinians alike deserve more than platitudes, more than U.S. policy as usual. But Biden's statements are in keeping with overwhelming American support for an apartheid state. Today, the U.S. supports Benjamin Netanyahu's incompetent far-right government, which seems to have no strategy but to answer indiscriminate brutality with even more indiscriminate brutality. https://nymag.com/intelligencer/2023/10/palestinian-blood-is-on-american-hands-in-israel-hamas-war.html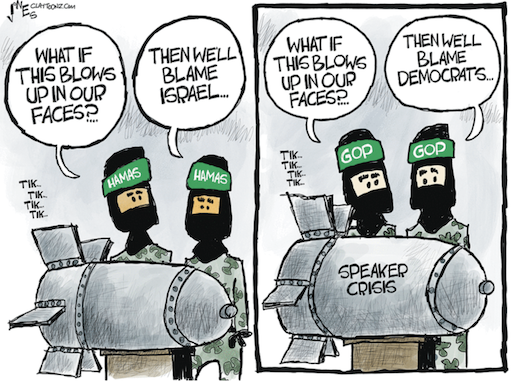 Dana Milbank: Stonewall Jordan marches Republicans into the wilderness
Fortunately, on Tuesday, 20 courageous Republicans stood in the breach and blocked Jordan's terrorist takeover of the speaker's gavel. But this also means that 200 House Republicans — including all members of GOP leadership and several self-styled moderates — voted for an extremist takeover of their majority. This was no aberration: The next day, 199 of them did it again in a second vote.
It's no longer a matter of the Republican establishment being disrupted by fanatics. As this week's votes show, the fanatics now are the establishment. It was the equivalent of 90 percent of House Democrats nominating Ilhan Omar or Rashida Tlaib to be speaker — except no member of "the Squad" ever fomented an attack on the Capitol.

On Thursday, Jordan called off what would have been a third failed vote on the House floor. Instead, he backed a plan to expand the powers of the temporary speaker, Patrick McHenry (N.C.), to allow the House to function for the next three months — while Jordan would spend that time putting thumbscrews to the holdouts.

This caused the Republican caucus, meeting once more in the Capitol basement, to erupt in furor.

Jordan's foes didn't want him to remain as the speaker nominee. And Jordan's hard-line supporters didn't want to reopen the House.

The confusion is so deep that even Rep. Marjorie Taylor Greene (Ga.) is starting to make sense. Congresswoman Jewish Space Lasers left a GOP caucus meeting early this week, telling a group of us that it was "a venting session" with "mostly a lot of arguing" and "just airing grievances" — much like "every single meeting" lately.
This was true enough. At the conference meeting Greene left, Rep. Victoria Spartz (Ind.), known for constantly changing her positions and making bizarre threats, reportedly broke into tears as she delivered an incomprehensible speech to her colleagues. "I've never wasted so much time, said Greene. "Even on vacation, I'm busier." https://www.washingtonpost.com/opinions/2023/10/19/republican-civil-war-house-gop-jim-jordan-speaker-fight/