January 27, 2022
THE WEEK'S BEST QUOTES. . .
"Mark my words: We will hold Tony Fauci accountable, we will hold Deborah Birx accountable, we will hold Joe Biden accountable, but unlike the Nuremberg trials … we are going to come after the press." — Anti-vaccine leader Del Bigtree rounding out Friday's anti-vaccine rally by calling for Nuremberg trials for crimes against humanity.

"Our country is kind of a joke." — Ohio U.S. Senate candidate J.D. Vance (R) responding to a local Ohio reporter who asked how he justifies some of his more bombastic rhetoric.

"That is a very good question, and I'll let you know when we take [the majority] back." — Mitch McConnell when asked what Republicans would prioritize if they regain the majority. 

"We'll just be starting from scratch whenever we start." -- Sen. Joe Manchin (D-WV) sounds unlikely to move quickly on any narrower spending bill, instead he wants to "start with clean sheet of paper and start over" with negotiations on the climate and social spending package.

From Donald Trump interview by Sean Hannity on Fox News:

HANNITY: There's no course correction (with Biden). He seems locked into every one of these failed policies. So, you know, you know, you keep banging your head against the wall. Why would you expect a different result?

TRUMP: So, we would have the wall completed in 3 weeks. It was largely completed. We did almost 500 miles of wall.

"The House Veterans' Affairs Committee took Wednesday as an opportunity to hold a virtual hearing on how toxic chemicals are killing U.S. soldiers. Rep. Madison Cawthorn (R-NC) used the hearing as an opportunity to clean his gun," -- The Daily Beast

"The concern is misplaced, because if you look at the statistics, African-American voters are voting in just as high a percentage as Americans." — Sen. Mitch McConnell

"It's a very unfair situation for my children. Very, very unfair. It's a disgrace, what's going on. They're using these things to try and get people's minds off how incompetently our country is being run. And they don't care. They'll go after children." — Former President Donald Trump slammed the Jan. 6 committee investigating the Capitol insurrection after it asked his daughter Ivanka Trump to sit for an interview.

"What has bothered me very much is the Republicans are laughing all the way to Election Day. They have not had to cast one bloody vote ... which shows us where they're at. And we have got to change that," — Sen. Bernie Sanders (I-VT) on the Democrats' social spending and climate package, which is stalled in the upper chamber.

"After watching what the imperial Japanese army and the Nazis did in their medical experiments, I thought that American physicians agreed that compulsory medical care was unethical, it was immoral, and it could never be imposed on anyone. When did we forget that?" — Tucker Carlson compares President Biden's vaccine mandate to Nazi experiments on concentration camp captives.

"You can always tell when Jason Miller of Gettr is lying – his lips are moving. in the 40 years I have been in American politics I have never met a bigger more despicable piece of shit. I got him his job with Donald Trump in 2016. He rewarded me by perjuring himself in the grand jury Robert Mueller was using to target me. His time in the barrel will come." — Roger Stone

"I think it's highly recorded now, there's 150 I believe now, it's over 100 professional athletes dead – professional athletes – the prime of their life, dropping dead that are vaccinated, right on the pitch, right on the field, right on the court." — Hall of Fame basketball player John Stockton saying falsely that more than 100 professional athletes have died of Covid vaccination.

"My office is now getting calls from folks who say they watch Tucker Carlson and are upset that we're not siding with Russia in its threats to invade Ukraine, and who want me to support Russia's 'reasonable' positions." — Rep. Tom Malinowski (D-NJ) 
VIDEOS
The Presidential Inaugural Committee — which organized President Joe Biden's inauguration — released a two-minute video on his first year in office.

Ingraham Angle Cold Open - SNL: https://youtu.be/AVt59iF4oYE

MacGruber: Coronavirus - SNL: https://youtu.be/indnwMwNF6w

It is up to us how this ends. The Lincoln Project.
Litigation Tracker: Pending Criminal and Civil Cases Against Donald Trump
---
IN THIS ISSUE
IN THE NEWS
OPINION
Andy Borowitz: Hillary Clinton Helpfully Suggests that Republicans Look at Trump's E-mails
After the Supreme Court authorized the release of Donald J. Trump's documents related to the Capitol insurrection, Hillary Clinton recommended that congressional Republicans examine the former President's e-mails.

"I know that Republicans have thousands of documents to go through," she said. "But, if I were them, I'd take a close look at Trump's e-mails."

Clinton said that she had "no idea" what is in Trump's e-mails, but added, "Given how hard he tried to keep them from being released, those must be some e-mails."

The former Secretary of State acknowledged that her advice to Republicans was "probably not necessary."

"My memory of congressional Republicans is that they are very diligent investigators who leave no stone unturned," she said. "I'm sure they've been spending every waking hour trying to get their hands on Donald Trump's e-mails. They must be so excited to finally have them." https://www.newyorker.com/humor/
GOP Considers More Ruthless Redistricting
Republicans have mostly played it safe in the states that have completed redistricting so far, locking in the status quo with durable maps that are more likely to withstand demographic changes and legal muster. But amid a growing sense of frustration that the party is squandering its advantage, some in the GOP are advocating for a new level of ruthlessness. It's a stance driven by a desire to appease an activist base, bolster ambitious politicians and gain retribution against audacious Democratic gerrymandering in blue strongholds.
The aggression on display in Missouri is also cropping up elsewhere. In Tennessee, Republicans are already successfully advancing a plan to crack Nashville into three districts, dooming Democratic Rep. Jim Cooper. In Florida, Gov. Ron DeSantis was so displeased with his legislature's proposals to redraw their maps that he suggested one that could give Republicans 18 or more of the state's 28 districts. Kansas Republicans this week revealed a plan that would crack the Kansas City area into two districts, though they could have gone even further in targeting Rep. Sharice Davids (D-Kan.).
https://www.politico.com/news/2022/01/20/republicans-redistricting-more-ruthless-527445
'Too Stupid to Coup' Is Not an Excuse
Donald Trump's actions to overturn the 2020 election were dedicated, intentional, and sustained over time. The insistent notion that Trump and his allies are "too stupid to coup" should not be reassuring.
Like the velociraptors in Jurassic Park, shake enough door handles, and eventually one opens. By the end of the 2020 story, Trump had learned just how loose are the dusty old frameworks like the Electoral Count Act.
Many questions, both big and small, about the Trump coup remain unanswered—including questions about how much (if any) of the mob violence at the Capitol was anticipated by Trump's advisers; who (if anyone) coordinated the efforts of the Republicans who submitted fraudulent Electoral College certificates; and why it took more than three hours for the Capitol to be secured.
But enough is known already that we can say this: Although Trump wasn't successful in overturning the election, his schemes captured the hearts and minds of the Republican base, many members of the Republican elite, conservative media, and fringe militia groups alike. Those groups worked in concert toward an end goal of rejecting Electoral College votes on Jan 6th.
Hardly anyone could have predicted that after the election was called for Biden, such a sweeping GOP machine would insist that Trump won and work to make the fantasy come true. Especially after each state met to certify their elections on December 14, 2020. What should have been a moment to make a firm break from Trump, to repudiate the defeated president, instead became a reason to unite behind his losing cause.
Don't think they won't try again.
https://www.thebulwark.com/the-six-main-strands-of-the-trump-coup-attempt/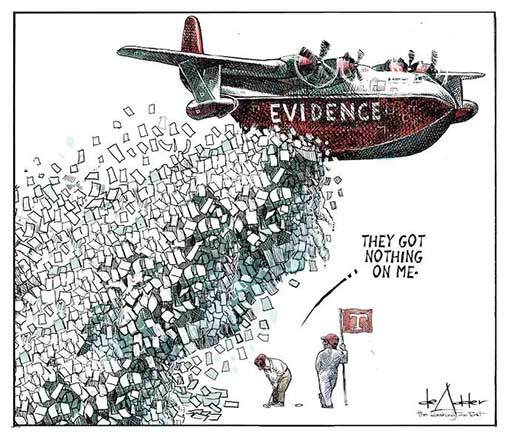 'Downhill,' 'divisive': Americans sour on nation's direction in new NBC News poll
And when Americans were asked to describe where they believe America is today, the top answers were "downhill," "divisive," "negative," "struggling," "lost" and "bad."https://www.nbcnews.com/politics/meet-the-press/downhill-divisive-americans-sour-nation-s-direction-new-nbc-news-n1287888
This sample of Fox News chyrons may help explain why Fox viewers would agree.
BIDEN'S FAILED FIRST YEAR IN OFFICE

BIDEN AND HARRIS: POLITICAL POISON

BIDEN TRIES TO DISTRACT FOR DISASTROUS YEAR 1

BIDEN'S PRESSER DOUBLES DOWN ON FAILURE

BIDEN PRESIDENCY HAS BECOME A BOTTOMLESS PIT

RANDOM MURDERS IGNITE FEAR ACROSS COUNTRY

BIDEN ADMIN IS A CLOWN CAR DRIVING OFF A CLIFF

BIDEN DOESN'T HAVE A GOOD GRASP ON REALITY

BIDEN HAS SURRENDERED PRESIDENCY TO CRAZIES

APOCALYPTIC HELLSCAPES TAKE OVER AMERICAN CITIES

MAJOR CITIES CONTINUE STRUGGLE WITH RISING CRIME

DELUSIONAL, DIVIDED, AND DESPERATE DEMS DOUBLE DOWN ON DESTRUCTIVE, DIABOLICAL AND DANGEROUS AGENDA

CRIME CRISIS PUTS LIVES AT RISK IN DEM-LED CITIES

CRIME CARNAGE - LIBERAL POLICIES LEAVING TRAIL OF DEATH AND DESTRUCTION

CRIMINALS IN CHARGE - DEM-LED CITIES ROCKED BY SHOCKING MURDERS & THREATS

CRIMINALS APPEAR EMBOLDENED IN DEM-LED CITIES

Cawthorn Challenge Raises the Question: Who Is an 'Insurrectionist'?
A group of lawyers is working to disqualify from the ballot Rep. Madison Cawthorn,(R-NC), a right-wing Republican who cheered on the Jan. 6 rioters unless he can prove he is not an "insurrectionist," disqualified by the Constitution from holding office.
The case revolves around the little-known third section of the 14th Amendment, adopted during Reconstruction to punish members of the Confederacy who were streaming back to Washington to reclaim their elective offices — and infuriating unionist Republicans.
That section declares that "no person shall" hold "any office, civil or military, under the United States, or under any state, who, having previously taken an oath" to "support the Constitution," had then "engaged in insurrection or rebellion against the same, or given aid or comfort to the enemies thereof."
If Mr. Cawthorn is labeled an "insurrectionist," that could have broader ramifications. Other Republican House members, such as Marjorie Taylor Greene of Georgia, Mo Brooks of Alabama, Paul Gosar of Arizona, and Lauren Boebert of Colorado, face similar accusations, but their state's election laws present higher hurdles for challenges to their candidate qualifications. If one of their colleagues is disqualified for his role in encouraging the rioters, those hurdles might become easier to clear. https://www.nytimes.com/2022/01/25/us/politics/madison-cawthorn-jan-6.html
There's no 'realistic possibility' that Dominion will settle its lawsuits
Dominion Voting Systems said this week in a court filing that there was no "realistic possibility" that it would settle its $1.3 billion defamation lawsuit with MyPillow CEO Mike Lindell and the pro-Trump lawyers Rudy Giuliani and Sidney Powell.
The company made its position clear in a new filing Monday night as part of the company's lawsuits against the trio for pushing an array of conspiracy theories about the election-technology company's role in the 2020 election.
"Given the devastating harm to Plaintiffs, the lack of remorse shown by Defendants, and the fact that many of them continue to double down on their lies, Plaintiffs do not believe any realistic possibility of settlement exists," lawyers for the company wrote in the filing. https://www.businessinsider.com/dominion-wont-settle-with-giuliani-lindell-powell-over-conspiracy-theories-2022-1
Big Majority Don't Want Roe v. Wade Overturned
Just 30% of Americans say they'd like to see the Supreme Court completely overturn its Roe vs. Wade decision, with 69% opposed -- a finding that's largely consistent both with other recent polling and with historical trends. In a set of three surveys taken last autumn by different pollsters, support for overturning Roe vs. Wade stood between 20% and 31%, depending on the precise framing of the question. And in CNN's polling dating back to 1989, the share of the public in favor of completely overturning Roe has never risen above 36%. https://www.cnn.com/2022/01/21/politics/cnn-poll-abortion-roe-v-wade/index.html
Start the Steal: New MAGA Emails Reveal Plot to Hand Arizona to Trump
The technology was complicated, but the plan was simple: Scan mail-in and absentee ballots in populous Maricopa County, remove the "invalid votes," and re-certify the state's 2020 election count, surely declaring then-President Donald Trump the rightful winner.
This scheme to subvert the election outcome in Arizona is laid out in newly released emails obtained by Rolling Stone. Sent in early December 2020, the emails cover a critical moment when the post-election push by Trump and Republican allies to find fraud and overturn the presidential election was in full swing.
The emails reveal that several Trump advisers, including campaign lawyer Jenna Ellis and legal adviser Bernie Kerik, were included in the discussion. https://electionlawblog.org/?p=127104
Supreme Court Permits Continued Enforcement of Texas Six-Week Abortion Ban
"The Supreme Court allowed Texas' six-week abortion ban to remain in effect indefinitely, issuing an order Thursday blocking litigation against the law while the state's highest court weighs a procedural question related to the measure's enforcement.
The court's order was unsigned and, as is typical, provided no explanation. The three liberal justices dissented, arguing that Thursday's order undermined the court's December decision permitting abortion providers to proceed in limited fashion with their lawsuit against the Texas law.
"This case is a disaster for the rule of law and a grave disservice to women in Texas, who have a right to control their own bodies," Justice Sonia Sotomayor wrote in dissent, joined by Justices Stephen Breyer and Elena Kagan. https://www.wsj.com/articles/supreme-court-permits-continued-enforcement-of-texas-six-week-abortion-ban-11642715257
Time is running out for Biden's Justice Department to prosecute Trump for 10 possible crimes detailed in the Mueller report
In his more than 400-page final report, Mueller's special counsel team documented 10 episodes of possible obstruction of justice by Trump. Among them were Trump's efforts in early 2017 to pressure then-FBI Director James Comey to close an investigation into Michael Flynn, who at the time was national security advisor. Trump later fired Comey, setting in motion the events that led to Mueller's appointment as the special counsel in charge of the investigation into Russian interference in the 2016 election.
Charging an ex-president with a federal crime would be an unprecedented first in American history. Still, in the eyes of Trump's critics, the Mueller report provided a playbook for prosecuting him. 
But the Justice Department has been silent as the five-year deadline nears. https://www.businessinsider.in/politics/world/news/time-is-running-out-for-bidens-justice-department-to-prosecute-trump-for-10-possible-crimes-detailed-in-the-mueller-report/amp_articleshow/89026951.cms
Oath Keepers Are Accused of Plotting to Storm the Capitol
Sedition charges are being brought against Stewart Rhodes, the founder and leader of the far-right Oath Keeper militia and 10 other Oath Keepers and affiliates are accused of recruiting participants, organizing trainings in paramilitary combat, coordinating travel, teams and logistics and bringing weapons to the Washington, D.C., area in order to carry out the conspiracy.
As part of their sedition charge, the documents also accuse the Oath Keepers and affiliates of bringing paramilitary equipment, such as tactical gear and chemical spray into the Capitol; assaulting police officers; and trying to take control of the Capitol building. All of the defendants are charged with several other crimes in addition to sedition.
The members are also accused of continuing to plot after the Jan. 6 attack with actions like continuing to purchase firearm parts and equipment and spreading messages against the Biden presidency.
Several other people associated with the Oath Keepers have pleaded guilty and agreed to cooperate with the investigation, but those charged with sedition are not among them. Lawyers for several of the defendants have said that their clients deny having planned to storm the Capitol or overthrow the government. https://www.nytimes.com/interactive/2022/01/19/us/oath-keepers-capitol-riot.html
Arizona Democratic Party votes to censure Sinema, citing filibuster vote
The central committee of the Arizona Democratic Party voted on Saturday to censure Sen. Kyrsten Sinema, a symbolic rebuke that follows her decision to buck her party's leadership on an effort to scrap the filibuster.
While the reprimand has no practical consequences, it reflects the growing estrangement between the first-term senator and her fellow Democrats, who have been angered by her willingness to help stymie the party's agenda on issues such as the minimum wage and voting rights. https://www.washingtonpost.com/politics/2022/01/22/arizona-democrats-censure-sinema/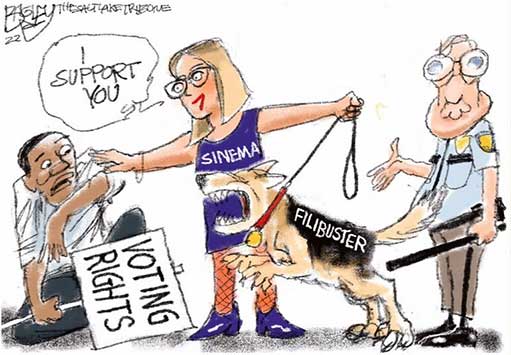 Arizona Republicans propose major changes to elections after GOP review finds no fraud
Arizona Republicans have put forth two dozen bills this month that would significantly change the state's electoral processes after the GOP's unorthodox review of millions of ballots affirmed President Joe Biden's victory and turned up no proof of fraud.
Proposals introduced in the state House or the Senate would add an additional layer to the state's voter ID requirement, such as fingerprints, and stipulate the hand counting of all ballots by default. Other legislation would require that paper ballots be printed with holograms and watermarks.
Republican legislators argue that the proposals, part an ongoing surge of GOP-led election changes enacted or under consideration across the country, are necessary to enhance election security and prevent fraud. https://www.nbcnews.com/politics/elections/arizona-republicans-propose-major-changes-elections-after-gop-review-finds-n1287879
The DAILY GRILL
Biden is doing a lot of blame-splaining directed at Mitch McConnell, when Dems at this point are more responsible for tanking his agenda. The q is whether voters will buy it. -- Rachel Van Dongen

VERSUS

Right, because unified GOP opposition on confirmations and the overwhelming majority of items on the substantive agenda, along with McConnell saying directly that he's 100% behind blocking the entire Biden agenda, means nothing in comparison to two Democrats in the Senate. Oy -- Norman Ornstein

 

In November, Rep. Rob Wittman, R-Va., was one of 205 House Republicans to vote against the bipartisan, $1.5 trillion infrastructure bill, calling it irresponsible and the "Green New Deal in disguise." -- ABC News

VERSUS

On Friday, Rep. Rob Wittman took to Twitter to tout funding from the bill he voted against -- highlighting a $70 million expansion of the Port of Virginia in Norfolk -- ABC News

 

"Have we ever seen a President attack and malign the free press like Joe Biden has?" — Rep. Jim Banks (R-IN), on Twitter, referring to President Biden calling Fox News' Peter Doocy "a stupid son of a bitch."

VERSUS

Weird how the Civility Police didn't mind when Trump did it regularly. — Brian Tyler Cohen (video)

 

Newt Gingrich said this morning that people serving on the J6 Committee are going to go to jail if Republicans take over Congress after the next election — Ron Filipkowski

VERSUS

A former Speaker of the House is threatening jail time for members of Congress who are investigating the violent January 6 attack on our Capitol and our Constitution. This is what it looks like when the rule of law unravels. — Rep Liz Cheney (R-WY)
Dan Froomkin: Reporters blame Biden for not uniting the country; Biden blames Trump — and Fox
Asked repeatedly on Wednesday why he has failed to unite the country, President Biden took a foray into political science and media criticism, identifying the Republican Party's lockstep fealty to the former guy as his biggest obstacle, along with the difficulty Americans have "trying to sift their way through what's real and what's fake."
From the outset, the press corps' agenda was clear. The intent of the first two questions was to humble Biden and force him to admit error.
The first question: "Did you overpromise to the American public what you could achieve in your first year in office?"
The second: "Do you need to be more realistic and scale down these priorities in order to get something passed?"
(University of Wisconsin political scientist Mark Copelovitch tweeted: "I struggle to recall a single DC journalist asking Donald Trump 'Do you need to be more realistic?' at any point in four years of performative public lying & malevolent incompetence. It's a valid question, but the fact that it is only ever asked of one party tells you everything.")
But overall — even if you factor out the ludicrous questions from right-wing disinformation outlets — the mainstream political reporters once again seemed out of touch with the times, overly focused on getting Biden to admit he's a failure, rather than on how we solve the many problems ahead. https://presswatchers.org/2022/01/reporters-blame-biden-for-not-uniting-the-country-biden-blames-trump-and-fox/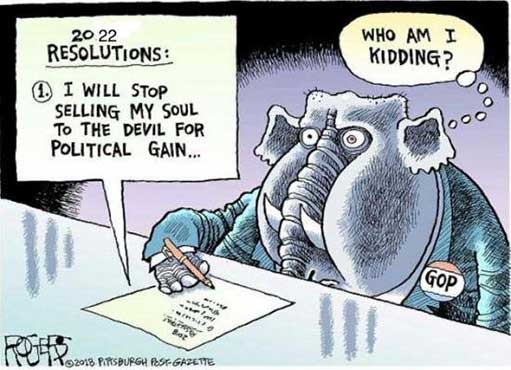 Paul Waldman: In Florida, Ron DeSantis is creating a paradise of authoritarianism
You may think of Donald Trump as the most committed authoritarian in the Republican Party, one who looks in admiration at foreign dictators and dreams of creating a strongman's paradise here at home.
But Florida Gov. Ron DeSantis is giving him a run for his money.
In recent days, DeSantis and his allies have been particularly active, as though they're accelerating their effort to pull Florida not just to the right but toward a particular brand of authoritarian conservatism.
The authoritarian impulse has been a hallmark of DeSantis's tenure since the beginning. Last April, he signed an "anti-rioting" law that was one of the most sweeping attacks on the right to protest in memory. Among other things, it offers civil liability protection to those who mow down protesters with their cars, and would allow peaceful protesters to be charged with a felony if other people at a protest they attended committed an act of violence. He also signed one of the most draconian voter suppression laws in the country.
In his State of the State address earlier this month, DeSantis called Florida "the freest state in these United States," "freedom's vanguard" and "the rock of freedom." Unless, that is, the freedom you're interested in involves encouraging people to get vaccinated, protecting your employees and customers from a pandemic, teaching history honestly, voting, protesting or anything else Republicans might not want you to do.
We could argue about whether DeSantis's authoritarianism is a truer version of conservatism than other varieties, but for now it's what has made him the leading Republican contender for president in 2024 if Trump chooses not to run. Who knows what other policies he'll be rolling out to solidify that position. https://www.washingtonpost.com/opinions/2022/01/19/desantis-paradise-of-authoritarianism/
Jonathan Chait: The Filibuster Is Living on Borrowed Time
The Senate filibuster to block a voting rights bill was a piece of orchestrated political theater, but Mitch McConnell has done everything within his power to give the proceedings an air of portentous finality. When Senator Kyrsten Sinema reiterated her support for the legislative filibuster, McConnell praised her courage and said she "saved the Senate as an institution." And then when Joe Manchin joined her, he declared, "I think it's pretty safe to say this is the biggest day in the history of the Senate because we're dealing with a Senate as an institution."
The history of the Senate is a pretty long time, and it's seen some historically significant moments. McConnell would not be elevating this moment unless he was trying to magnify both the historical continuity of the current filibuster rules and make his audience believe the latest decision was permanent. In both ways, however, he is engaging in spin.
Supporters of the Senate's current rules like to present them as handed down from the Founders. In fact, the Senate's rules have changed repeatedly. The Founders considered and deliberately rejected a supermajority requirement. It emerged by accident and was first used after the Founders had disappeared from the scene. Originally, the filibuster was a rare tool to express especially strong disagreement (most often by Southerners against civil rights measures, which is why liberals call it a "Jim Crow relic" — only the shared understanding that Southerners needed a special tool to protect white supremacy sustained the filibuster for so long in defiance of democratic norms.)
The norm that the filibuster would be employed sparingly held through most of the Senate's history. Only since the 1990s did it metastasize into a routine supermajority requirement. As recently as the early 1990s, legislation still passed with fewer than 60 votes.
The recent emergence of the routine 60-vote requirement has, in turn, forced the Senate to open up escape hatches. Senators of both parties eliminated the filibuster for appointing judges and confirming executive branch officials. Budget reconciliation procedure, a 50-vote method for tax and spending bills, has become the primary tool for parties to exploit unified control of government.
These rules evolved fitfully through negotiations by both parties. But McConnell did more to create them than any single person. McConnell escalated the filibuster into a routine legislative blockade and first discovered the possibility of ending the filibuster for judicial nominees (which he successfully used to force Democrats to stop filibustering judges under George W. Bush.)
Democrats are almost certain to lose their control of government in the midterm elections, and it is difficult to say when they will have their next chance. McConnell is trying to cast his victory as an eternal one, ending the debate. But nearly the entire Democratic Party has figured out that, in the long run, the filibuster hurts them more than it hurts Republicans. The next time Democrats gain control, they will do away with whatever remains of it. https://nymag.com/intelligencer/2022/01/senate-filibuster-voting-rights-micconnell-sinema-manchin-democrats-reform.html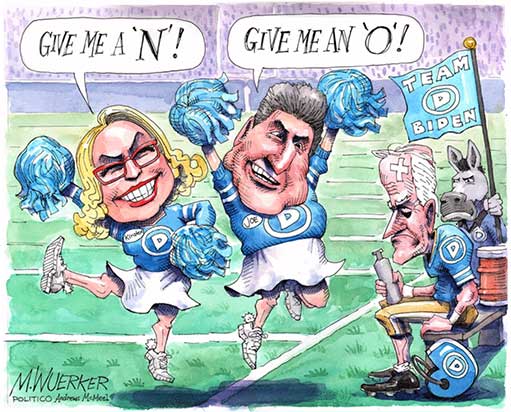 Paul Waldman: Don't be fooled by the GOP's next 'Contract With America'
"I honest to god don't know what they're for," President Biden said about Republicans at his Wednesday news conference. "What is their agenda?"
The truth is that if there's one thing that unites the GOP, it's that they hate Democrats, which isn't much of a policy platform. But Republicans are now trying to create the impression that they have a concrete agenda to implement if they take control of the House.
As The Post reports, they're "putting together a list of policy pledges to run on in the 2022 elections" and consulting with none other than Newt Gingrich to formulate this compelling platform.
The obvious analogue is the "Contract With America," which Gingrich released before the first midterm election of Bill Clinton's presidency, in which Republicans won a sweeping victory that gave them control of Congress.
But we have to understand the real history of the contract, because Republicans will endlessly repeat the myth they have since created around it.
Here's how the myth goes: In 1994, serious-minded Republicans presented a detailed blueprint for reform. The voting public was so moved by this contract that they delivered to those Republicans an overwhelming victory and a mandate for change, which Republicans then pursued.
Here's the truth: Most voters had never heard of the contract before the election, and almost none said that it made them more likely to vote Republican. But after the election — an undoubtedly big win, but one boosted by the GOP's status as the opposition in a midterm — Gingrich convinced people that Republicans won because of the contract, despite the complete lack of evidence for that assertion.
The contract itself was a mix of standard Republican policies (tax cuts, welfare cuts) and reform proposals that have surface appeal but are terrible ideas (term limits, a line-item veto), with a little demagoguery thrown in ("No U.S. troops under U.N. command"). Almost none became law.
But the myth endures. And at times like this, when Republicans decide they need an agenda, it means trotting out some new version of the "Contract With America." https://www.washingtonpost.com/opinions/2022/01/20/contract-with-america/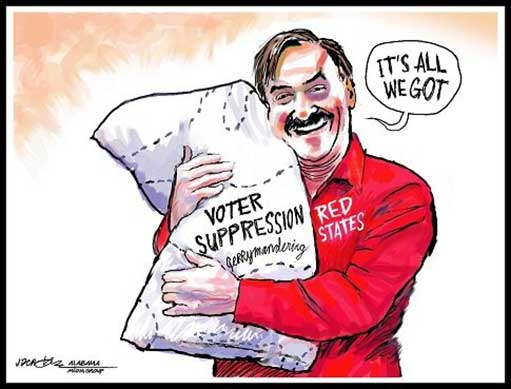 Jeff Stein and Laura Meckler: House GOP plots policy agenda for 2022 midterm elections — with help from architect of 1994 plan
Senior House Republicans are putting together a list of policy pledges to run on in the 2022 elections, and they are consulting with the architect of one of their biggest historical midterm victories.
Newt Gingrich, whose "Contract with America" in 1994 is linked with the GOP takeover of Congress in that midterm cycle, said he has been advising House Minority Leader Kevin McCarthy (Calif.) on a set of policy items for Republicans to take to voters ahead of the November elections. House Minority Whip Steve Scalise (La.) and other members of House Republican leadership are also involved in the project, which is not expected to launch until the spring or summer.
"I don't think they'll call it the 'Contract for America,' but there is going to be some kind of very robust Republican promise list for what they will do if or when they take control of the House," said Stephen Moore, who served as an outside economic adviser to Trump.
Among the biggest questions facing the GOP is what it will put forward on inflation, which has quickly emerged as a defining economic challenge for the White House. Republicans have blamed Biden's $1.9 trillion economic relief plan for fueling rising prices. But beyond putting the brakes on spending, it is unclear exactly what the GOP wants to do to combat the price pressures. Republican officials have talked about reducing energy costs by repealing limits on fossil fuel production, despite the threat caused by climate change.
"There is nothing that messages well, significantly reduces inflation and is painless," said Brian Riedl, who served as an aide to Sen. Rob Portman (R-Ohio). "It's easier to criticize inflation than to map out an actual solution going forward, and that's the box Republicans are currently in."
The idea of "parents' rights" as a political strategy emerged from last year's gubernatorial race in Virginia, where Republican Glenn Youngkin won election in part by promising that parents would have more say in their children's education.
McCarthy has released a "Parents Bill of Rights" that would not make big changes in education but would send some new mandates to school districts, some of which duplicate actions that are already routine or covered by existing rules and laws.
For instance, they would require that districts post curriculum and school budgets, which are typically available through public records requests, as well as lists of books in school libraries, which are less likely to be available. Parents are also to be informed that they have the right to meet with their child's teacher twice a year, already a common practice.
The document also asserts that parents have a "right to be heard." School boards almost uniformly allow for public comment, though some have shut meetings down because of disruptions including screaming and threats of violence. https://www.washingtonpost.com/us-policy/2022/01/20/republican-midterm-plan-education-economy/
Karen Tumulty: "What are Republicans for? What are they for? Name me one thing they're for."
That Republicans had become completely dismissive of policy was obvious at least by 2020, when the party didn't even bother to write a platform for its convention. The one-page document the GOP produced asserted merely that the Republican National Committee "enthusiastically supports President Trump and continues to reject the policy positions of the Obama-Biden Administration, as well as those espoused by the Democratic National Committee today." Shorter version: We're for whatever shifting sands Trump happens to be standing upon at the moment.
That was embarrassing for the GOP; what has happened since is dangerous. Conspiracy theories and disinformation have replaced the great philosophical debates of Republicans' past. Their leaders view scientific imperatives, such as that people should wear masks and get vaccinated amid a pandemic, as opportunities to open new fronts in the culture wars that will stoke the anger of their base and bring that base to the polls.
Polls consistently show that a solid majority of Republicans have embraced the lie that the 2020 election — one of the most secure in history — was stolen from Trump through massive fraud. Many in their ranks have excused the behavior of the mob that attacked the Capitol in an effort to overturn the result. They have also elevated to national prominence a freakish cast of characters.
The thing is, all of this might well pay off for them this year, or seem to, thanks in part to Biden's sagging poll numbers, to pandemic fatigue and to inflation. Democrats have also done themselves no favors by attempting to overreach the mandate they were given with their narrow majorities in Congress.
A little more than nine months before Election Day, Republicans appear to have a solid chance of taking back the House, and it's probably even money that they will regain the Senate. But standing for nothing is not a long-term survival strategy for a party that has managed to win the popular vote in only one presidential election since 1988. https://www.washingtonpost.com/opinions/2022/01/22/what-is-republicans-agenda-power/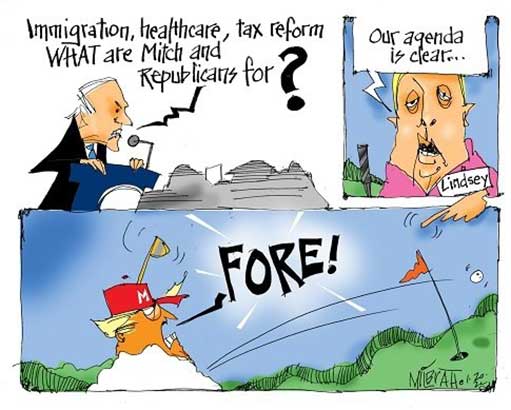 David Cole: The Supreme Court's vaccine mandate ruling is the start of something far worse
The Supreme Court's recent decision to block the Biden administration's vaccination-or-test requirement for large private businesses will threaten the safety of hundreds of thousands of workers. But the damage it could do goes well beyond the pandemic.
The court's 6-3 majority acknowledged that the order would save more than 6,500 lives and prevent more than 250,000 hospitalizations — but went ahead and blocked it anyway. There is probably no other court in the world that would stop its national government from taking such common-sense emergency measures to protect workers from the life-threatening risks of COVID-19. On Friday, a federal judge, relying on the Supreme Court's decision, went still further, ruling that the president could not even require the federal government's own employees to be vaccinated, despite a statute giving him broad authority to regulate employment policy for all federal workers.
Even more worrisome, though, is what the court's reasoning means for our ability to address national challenges going forward. The majority stopped the order based on a wildly anachronistic vision of how the federal government should operate — one that would require Congress, rather than federal agencies, to micromanage complex problems.
That view would render the federal government incapable of addressing many of the nation's biggest challenges — including public health, the economy and climate change. At a time when Congress is hopelessly gridlocked, the conservative majority's framework is a recipe for disaster. https://enewspaper.latimes.com/infinity/article_share.aspx?guid=7d3ffc04-088c-4740-b162-6bdebc27df8e
Mark Z. Barabak: If you think 2020 chaos was bad, imagine if Trump was put in charge of elections
On Jan. 6, 2021, Arizona lawmaker Mark Finchem — a practiced peddler of nutso conspiracy theories — stood outside the U.S. Capitol and tweeted his support for the mob seeking to overturn Joe Biden's victory.
Returning home, Finchem not only supported the supposed "audit" of Biden's 2020 win in Arizona but also found a way to make a fast buck off the Maricopa County clown show by selling T-shirts reading "#Proveit."
So naturally, when it came time to support a candidate to oversee future Arizona elections, Donald Trump went all-in for Finchem, who marinates in QAnon Kool-Aid when he isn't grifting or hanging out with members of the right-wing Oath Keepers militia.
"A man who is tough and smart and loves our country, the former president said at his recent rally in the Arizona desert.
It would be funny if it weren't so scary." https://www.latimes.com/politics/story/2022-01-24/trump-secretary-of-state-candidates-threaten-election-integrity