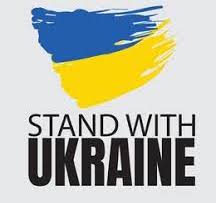 To subscribe to this FREE weekly newsletter simply email jellison@san.rr.com with "subscribe" as the subject.
THE WEEK'S BEST QUOTES. . .
"People really, I think, need to understand and recognize the specifics, the details of what he tried to do in terms of overturning the election and seizing power and the details and the specifics of the elected officials who helped him. I do think it's very important for people to understand how close we came to a far greater constitutional crisis — and how quickly and easily — in a way that is, frankly, terrifying." — Former Rep. Liz Cheney (R-WY), talking about Donald Trump with NPR.
https://www.npr.org/2023/12/04/1216905473/liz-cheney-book-trump-reelection-republican-party
"Go fuck yourself. Go. Fuck. Yourself." — Elon Musk to advertisers threatening to boycott X over his controversial comments.
https://twitter.com/teddyschleifer/status/1729989914568057319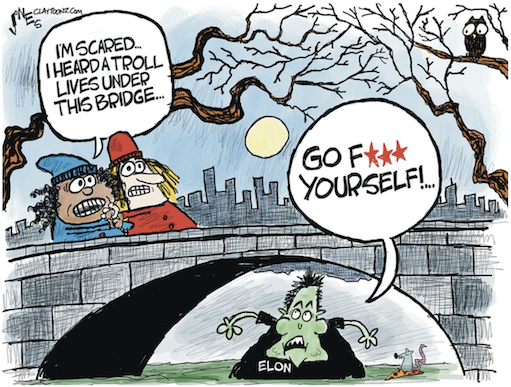 "There shouldn't be any more coal power plants permitted anywhere in the world." — U.S. climate envoy John Kerry.
https://thehill.com/policy/energy-environment/4340428-john-kerry-says-no-coal-plants-should-be-permitted-anywhere-in-the-world/
"I don't want to terminate Obamacare, I want to REPLACE IT with MUCH BETTER HEALTHCARE. Obamacare Sucks!!!" — Donald Trump doubling down on his calls to replace the Affordable Care Act, if he's elected president - again.
https://www.nbcnews.com/politics/congress/trump-doubles-saying-obamacare-sucks-must-replaced-rcna126978
"If reelected, Trump would end our commitment to the European alliance, reshaping the international order and hobbling American influence in the world." — Anne Applebaum in The Atlantic.
https://www.theatlantic.com/magazine/archive/2024/01/trump-2024-reelection-pull-out-of-nato-membership/676120/
"It seems telling. A liar, fraud, money launderer, indicted, hanger on-er is expelled from Congress, while a liar, fraud, money launderer, indicted, hanger on-er is leading the GOP race for President. This conundrum is not a conundrum at all. In fact, it's a feature of today's GOP." — Adam Kinzinger:
https://adamkinzinger.substack.com/p/santos-expelled-for-being-donald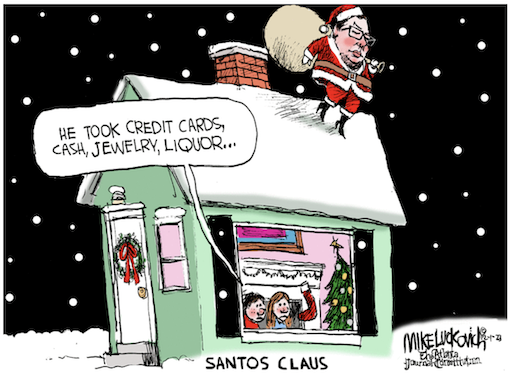 "I became an active Trump supporter when they raided Mar-a-Lago last summer. That just can't stand. I'm voting for Trump, and if they convict him, I will send him the max donations and I will lead protests. That's how I feel - adding that he has "always agreed with Trump's policies," even "losing friends over it." — Tucker Carlson.
https://www.cbsnews.com/news/roseanne-barr-interview-today-rabbi-shumley-boteach-roseanne-cancellation-2018-06-24/
Donald Trump's election in 2024 would be "the end of the Republic." — Former Rep. Liz Cheney (R-WY), who also expressed alarm at how comfortable the Republican party has become with his lies.
https://www.cbsnews.com/video/liz-cheney-trumps-election-would-be-the-end-of-the-republic/
VIDEOS ...
"There's nothing they can really agree on. They used to talk a lot about abortion. The cat's got their tongue now that they have realized we're in a pro-choice country." — Rep. Jamie Raskin (D-MD), talking to MSNBC about House Republicans. https://twitter.com/allinwithchris/status/1730039175955481049

We've been waging an all-out war on American democracy" — Donald Trump. https://twitter.com/BidenHQ/status/1731064447144276232
"In my view, fundamentally there's a choice to be made: You can't be both for Donald Trump and for the Constitution. You have to choose."— Former Rep. Liz Cheney (R-WY), on CBS News. https://twitter.com/RpsAgainstTrump/status/1731330318106247404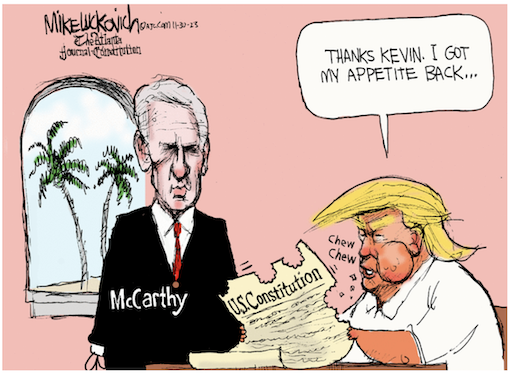 ---
IN THIS ISSUE
IN THE NEWS
OPINION
Speaker Johnson wrote foreword for book filled with conspiracy theories and homophobic insults
Speaker of the House Mike Johnson wrote the foreword and publicly promoted a 2022 book that spread baseless and discredited conspiracy theories and used derogatory homophobic insults, CNN reports.
Written by Scott McKay, a local Louisiana politics blogger, the book, The Revivalist Manifesto, gives credence to unfounded conspiracy theories often embraced by the far-right – including the 'Pizzagate' hoax, which falsely claimed top Democratic officials were involved in a pedophile ring, among other conspiracies. https://www.cnn.com/2023/12/01/politics/kfile-mike-johnson-conspiracy-theories-homophobic-slurs/index.html
Comer mischaracterizes Hunter Biden car payment reimbursement to his dad
As House Republicans move toward a floor vote to authorize an impeachment inquiry against President Biden, House Oversight Chairman James Comer (R-KY) has again mischaracterized evidence of payments from Hunter Biden to his father, the Washington Post reports.
The three payments of $1,380 that occurred in September, October and November of 2018 — nearly two years after Biden had left the vice presidency — were actually for a 2018 Ford Raptor truck Joe Biden had purchased that Hunter Biden was using. https://www.washingtonpost.com/politics/2023/12/04/comer-mischaracterizes-hunter-biden-car-payment-reimbursement-his-dad/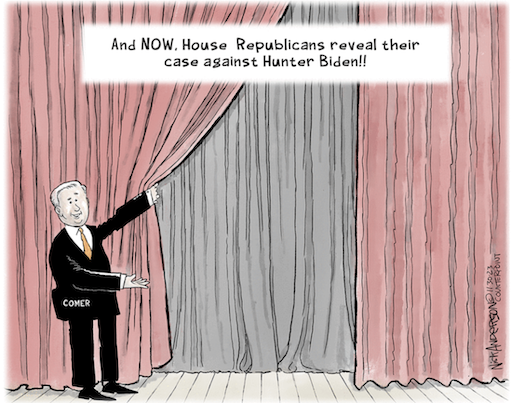 Open secret at climate talks: The top temperature goal is mostly gone
Leading scientists worldwide delivered a striking dose of reality to the United Nations on Sunday: it's 'becoming inevitable' that countries will miss the ambitious target they set eight years ago for limiting the warming of the Earth.
The ominous estimate points to the growing likelihood that global warming will shoot past 1.5 degrees Celsius before the end of this century, inflicting what scientists describe as an overwhelming toll from intensifying storms, drought and heat on people and the economy. It also injects an urgent message into global climate talks in Dubai, where the debate over ramping down fossil fuels is set to flare over the next two weeks. https://www.politico.com/news/2023/12/03/cop28-global-temperature-goal-00129766
Trump pardoned them. Now they're helping him return to power
As president, Donald Trump used his constitutional clemency powers to free or forgive many people who could be useful to his future political efforts.
Now, a Washington Post review of Trump's 238 clemency orders finds that dozens of recipients have gone on to plug his 2024 candidacy through social media and national interviews, contribute money to his campaign or disseminate his false claims of fraud in the 2020 election. https://www.washingtonpost.com/politics/interactive/2023/trump-pardon-power-2024-benefit/
No Labels Cancels In Person Convention
No Labels — the bipartisan group plotting a third-party presidential bid — is pulling the plug on its Dallas convention next spring and will instead conduct its selection process virtually.
https://www.axios.com/2023/11/30/no-labels-presidential-convention-event-virtual
Trump's campaign thinks it's getting a surprise assist from Dean Phillips
Over the past week, a super PAC closely aligned with Rep. Dean Phillips has been running a series of ads targeting President Joe Biden. Those spots, however, have also directly undercut the argument that Trump's Republican rivals are trying to make as they scramble to slow the former president's momentum: that Trump can't win a general election. https://www.politico.com/news/2023/12/01/trump-surprise-assist-dean-phillips-00129427
Trump's revenge? GOP braces for daily blasts from 'orange Jesus'
Congressional Republicans are steeling themselves for a return to daily life with Donald Trump — which means constant, uncomfortable questions about his erratic policy whims and political attacks, Politico reports.

With Trump far ahead of the GOP primary pack and leading President Joe Biden in some polls, Republicans are getting a preview of future shellshock akin to their experiences in 2016 and his presidency. It's likely to continue for the next 11 months. And perhaps four more years after that.
Trump's recent call to replace the Affordable Care Act is triggering a particularly unwelcome sense of deja vu within the GOP. Even as many Senate Republicans steered away from Trump over the past couple years, now they're increasingly resigned to another general election that could inundate them with the former president's often fact-averse and hyperbolic statements. https://www.politico.com/news/2023/12/04/trump-revenge-gop-00129418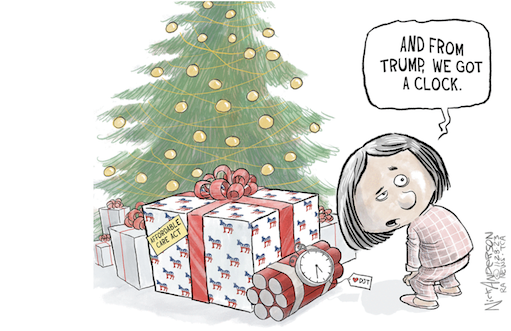 Senate Dems say border talks are dead. Republicans say it's merely a flesh wound.
The lead Democrat in the Senate border negotiations warned Monday that those discussions have fallen apart, endangering a major part of President Joe Biden's foreign policy agenda, Politico reports.
Sen. Chris Murphy (D-CT) said in an interview that in exchange for signing off on Ukraine aid, Republicans are insisting on policies that would essentially close the border and eliminate asylum for people with meritorious claims. Both of those provisions, he said, are nonstarters for Democrats. https://www.politico.com/news/2023/12/04/senate-dems-border-talks-are-dead-senate-republicans-theres-still-a-pulse-00129900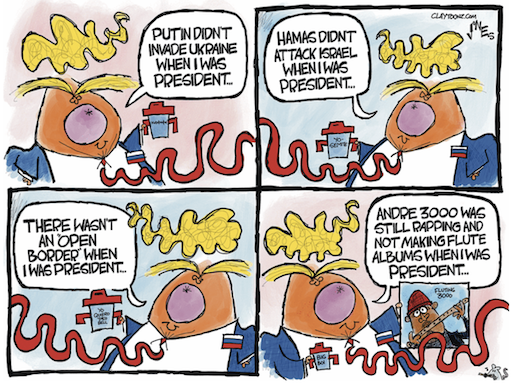 Biden campaign prepares legal fight against election deepfakes
Biden's 2024 campaign has assembled a special task force to ready its responses to misleading AI-generated images and videos, drafting court filings and preparing novel legal theories it could deploy to counter potential disinformation efforts.
https://www.cnn.com/2023/11/30/politics/biden-campaign-prepares-against-deepfakes/index.html
Senate Judiciary issues subpoenas to Leo, Crow in SCOTUS ethics probe as Republicans boycott
Republicans on the Senate Judiciary Committee tried to shout down Chair Dick Durbin after he limited debate on judicial nominees up for their third round of consideration by the panel, drowning out the clerk calling the roll.
The panel, beset with partisan rancor in recent months, was thrown into chaos before getting to the most contentious agenda items set for votes on Thursday, subpoenas for conservative judicial activist Leonard Leo and Texas billionaire Harlan Crow regarding their relationships with Supreme Court justices.
https://www.politico.com/live-updates/2023/11/30/congress/senate-judiciary-subpoenas-nominees-meltdown-00129300
Has No Labels Become a Stalking Horse for Trump?
No Labels, a Washington-based organization run by political and corporate insiders, finds itself in an awkward situation.
After its founding in 2010, the group was praised by moderates in both parties as a force for cooperation and consensus. Now, however, No Labels is a target of criticism because of its plan to place presidential and vice-presidential nominees of its choosing on the 2024 ballot — a step that could tip the outcome in favor of Donald Trump if he once again wins the Republican nomination.

Leaks to the media that prominent Republican donors, including Harlan Crow, Justice Clarence Thomas's benefactor, are contributing to No Labels — which is well on its way to raising $70 million — suggest that some major donors to No Labels see the organization as a means to promote Republican goals.

No Labels, in turn, has declined to disclose its donors, and the secrecy has served to intensify the concern that some of its contributors are using the organization's plan to run a third-party ticket to weaken the Biden campaign. https://www.nytimes.com/2023/11/29/opinion/no-labels-trump-biden-2024.html
Most Florida Voters Would Support Abortion Amendment
Survey respondents were also asked if they would vote yes or no on a proposed amendment to the Florida State Constitution which prohibits any law banning abortion before viability or to protect the life of the patient. In response, 62% said they would vote yes on the measure, should it appear on the 2024 ballot. Twentynine percent said they would vote no, and 9% said they don't know or refused to answer. If this amendment does make it on the ballot, initiatives like this one need a supermajority of 60% in order to pass, and it looks like the proposed abortion amendment is right at that threshold among these respondents. Even among registered Republicans, 53% would vote to protect abortion rights in Florida, with just 39% voting no.
https://www.unfporl.org/uploads/1/4/4/5/144559024/unf_fall23_statewide.pdf
Trump Caught Moving Money Around to Pay Massive Tax Bill
A court-ordered financial auditor has caught Donald Trump quietly moving $40 million from the Trump Organization into a personal bank account—seemingly so the former president could pay his whopping $29 million tax bill, the Daily Beast reports.

Trump isn't supposed to be moving any money around without alerting Barbara S. Jones, a former federal judge in New York tasked with babysitting the Trump Organization for its relentlessly shady business practices. But on Wednesday, she notified a New York state court about some major bank transfers that were never brought to her attention by the Trumps. https://www.thedailybeast.com/trump-caught-moving-money-around-to-pay-massive-tax-bill
Trump unleashes grievances, warnings in wild 24 hours on Truth Social
Trump's online rhetoric has frequently dipped into violent extremism since he left office, escalating as his legal troubles have mounted. Public fatigue and the pro-Trump echo chamber created by Truth Social have at times softened the shock value of the GOP front-runner's daily musings.
Here is a sampling of Trump's online rhetoric over a recent 24 hour period:
Nov. 28, 11:13 pm: Called on the government to come down hard on MSNBC and make them pay for its critical coverage of Republicans, after previously vowing to investigate parent company Comcast if elected.
Nov. 29, 12:36 am: Doubled down on his pledge to repeal and replace the Affordable Care Act, saying Obamacare Sucks!!!
Nov. 29, 12:55 am: Accused writer E. Jean Carroll of fabricating sexual assault allegations against him, despite twice being found liable for defamation for similar comments.
Nov. 29, 8:26 am: Warned that his indictments have opened up a very big and dangerous Pandora's Box, building on recent suggestions that he will use the Justice Department to prosecute his enemies if elected.
Nov. 29, 10:33 am: Called GOP rival Nikki Haley a very weak and ineffective Birdbrain after she was endorsed by the Koch political network.
Nov. 29, 12:50 pm: Posted a link to a report by anti-Muslim conspiracy theorist Laura Loomer with a photoshopped picture of Florida Gov. Ron DeSantis wearing Hamas insignia.
Nov. 29, 1:11 pm: Claimed that he has done more for Black people than any other President, potentially including Abraham Lincoln.
Nov. 29, 3:58 pm, 3:59 pm, 4:00pm, 4:01pm, 4:02pm: Targeted the wife of New York Judge Arthur Engoron — who is presiding over his civil fraud trail — in five separate posts for allegedly criticizing the Trump family and other Republicans on social media. Engoron's wife has denied making the posts, saying she doesn't have an X account.
More at https://www.axios.com/2023/11/29/trump-truth-social-posts
Democratic Senate Candidates Relish Chance to Run on Obamacare After Trump Floats Repeal
Democratic Senate candidates across the country are relishing the notion of playing off former President Donald Trump's renewed calls to repeal the Affordable Care Act if he wins the presidency next year.
https://themessenger.com/politics/trump-obamacare-repeal-democratic-senate-candidates
How religion plays into Ron DeSantis' public image — from 'armor of God' to a Bible ordered on Amazon
Ron DeSantis' staff had to quickly purchase a Bible for $21.47 on Amazon just days before the governor's inauguration in January 2019.
DeSantis, who has made big push to appeal to evangelical voters, told staffers that his family did not own a Bible.
Said a former aide: People are typically sworn in on something that is historic — a family Bible or something with historic value. It was profoundly strange that he did not care at all and treated it like it was nothing. https://www.nbcnews.com/politics/2024-election/religion-ron-desantis-catholic-amazon-bible-rcna126855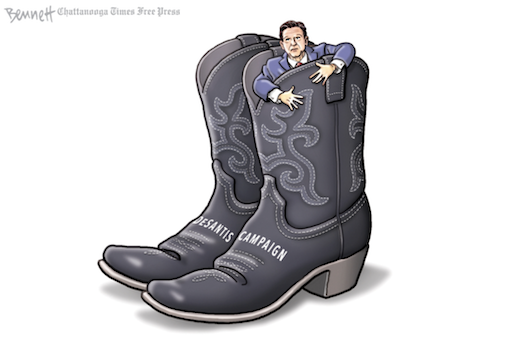 THE DAILY GRILL
"History isn't history anymore. Truth is not truth. Even facts are being replaced by alternative facts and driven by conspiracy theories and ugliness. Lying has become just another tool in the charlatan's arsenal. The former president lied to us more than 30,000 times during his four years in office, and he's keeping up the pace in his current campaign of retribution. But with all his lies, he can't hide his soul." Trump "attacks the weak, destroys the gifts of nature and shows disrespect, for example, by using Pocahontas as a slur."—  Robert De Niro at the Gotham Awards ceremony. https://thehill.com/blogs/in-the-know/4341117-trump-de-niro-awards-speech/

VERSUS

"Robert De Niro, whose acting talents have greatly diminished, with his reputation now shot, must even use a teleprompter for his foul and disgusting language, so disrespectful to our Country. He has become unwatchable both in movies, and with the FOOLS that destroyed the Academy Awards, bringing them from one of the top shows in the Country to a Low Rated afterthought. De Niro should focus on his life, which is a mess, rather than the lives of others. He has become a total loser as the World watches, waits, and laughs!" — Donald Trump  https://www.thedailybeast.com/trump-belatedly-freaks-out-at-de-niros-censored-gotham-speech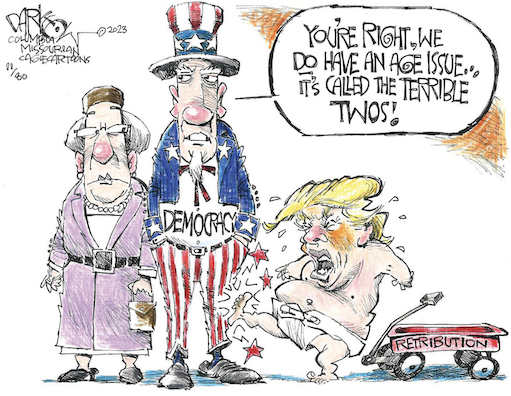 Robert Kagan: A Trump dictatorship is increasingly inevitable. We should stop pretending.
Let's stop the wishful thinking and face the stark reality: There is a clear path to dictatorship in the United States, and it is getting shorter every day. In 13 weeks, Donald Trump will have locked up the Republican nomination. In the RealClearPolitics poll average (for the period from Nov. 9 to 20), Trump leads his nearest competitor by 47 points and leads the rest of the field combined by 27 points. The idea that he is unelectable in the general election is nonsense — he is tied or ahead of President Biden in all the latest polls — stripping other Republican challengers of their own stated reasons for existence. The fact that many Americans might prefer other candidates, much ballyhooed by such political sages as Karl Rove, will soon become irrelevant when millions of Republican voters turn out to choose the person whom no one allegedly wants.
For many months now, we have been living in a world of self-delusion, rich with imagined possibilities. Maybe it will be Ron DeSantis, or maybe Nikki Haley. Maybe the myriad indictments of Trump will doom him with Republican suburbanites. Such hopeful speculation has allowed us to drift along passively, conducting business as usual, taking no dramatic action to change course, in the hope and expectation that something will happen. Like people on a riverboat, we have long known there is a waterfall ahead but assume we will somehow find our way to shore before we go over the edge. But now the actions required to get us to shore are looking harder and harder, if not downright impossible.
The magical-thinking phase is ending. Barring some miracle, Trump will soon be the presumptive Republican nominee for president. When that happens, there will be a swift and dramatic shift in the political power dynamic, in his favor. Until now, Republicans and conservatives have enjoyed relative freedom to express anti-Trump sentiments, to speak openly and positively about alternative candidates, to vent criticisms of Trump's behavior past and present. Donors who find Trump distasteful have been free to spread their money around to help his competitors. Establishment Republicans have made no secret of their hope that Trump will be convicted and thus removed from the equation without their having to take a stand against him. https://www.washingtonpost.com/opinions/2023/11/30/trump-dictator-2024-election-robert-kagan/
Tom Nichols: What Trump's Second Term Could Look Like
For years, Donald Trump's many opponents were often accused of alarmism, and early on, this seemed a justified criticism: Before he was even sworn in, words such as fascist and autocrat were in the air. Although I was a charter member of the Never Trump movement, I worried that catastrophizing Trump and depicting him as an invincible Demogorgon would induce helplessness and resignation among American citizens. When Trump was defeated in 2020, however, many voters took that as a sign that the guardrails had held and that America was out of danger. Even January 6, 2021, has receded from the public's consciousness, and a fair number of Americans seem unaware of just how close we came to the violent overthrow of our electoral institutions.
Trump's autocratic instincts have now fully mutated into an embrace of fascism. And yet, America shrugs: Millions of voters think of the upcoming election as just another contest between a conservative Republican and a liberal Democrat, instead of an existential contest between democracy and authoritarianism. The early hysteria about Trump has ended up submerging deep concerns about democracy in a haze of equivocation and complacency. Even people who have no particular love for Trump typically argue that life under his administration was mostly normal, and that all of the fears about how Trump could collapse American democracy were just overheated rhetoric. https://www.theatlantic.com/newsletters/archive/2023/12/trump-reelection-2024-second-term/676237/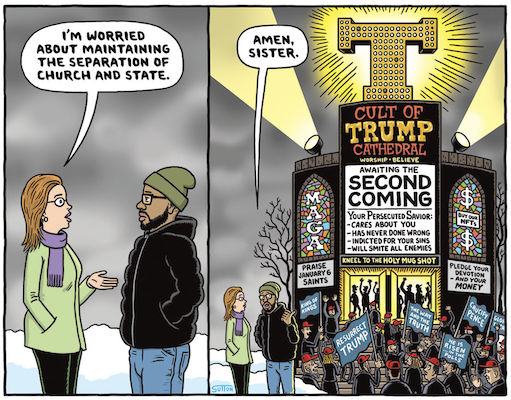 Franklin Foer: Corruption Unbound
During Trump's first months as president, it wasn't yet clear how much concentrated corruption the nation, or his own party, would tolerate, which is why Trump was compelled to dispose of the occasional Cabinet secretary. Yet nearly everything about Trump's history in real estate, where he greased palms and bullied officials, suggested that he regarded the government as a lucrative instrument for his own gain.
A week and a half before taking office, he held a press conference in front of towering piles of file folders, theatrically positioned to suggest rigorous legal analysis, and announced that he would not divest himself of his commercial interests. Instead, he became the first modern commander in chief to profit from a global network of businesses, branded in gilded letters blaring his own name.
It didn't happen all at once. Trump spent the early days of his presidency testing boundaries. He used his bully pulpit to unabashedly promote his real-estate portfolio. His properties charged the Secret Service "exorbitant rates"—as much as $1,185 a night, per a House Oversight Committee report—for housing agents when Trump or his family members visited. By the time Trump and his cronies left the White House, they had slowly erased any compunction, both within the Republican Party and outside it, about their corruption. They left power having compiled a playbook for exploiting public office for private gain. https://www.theatlantic.com/magazine/archive/2024/01/trump-second-term-mafia-state/676128/
Jonathan Freedland: In its war against Hamas, Israel faces a tragic choice between two different routes to disaster
And on the eighth day, the war began anew. After a week of joy and relief for those Israeli families reunited with loved ones held hostage by Hamas, and of respite from Israeli bombardment for the people of Gaza, seven days of rolling ceasefires came to an end on December 1st. No more hugs, no more quiet. Instead, the war between Israel and Hamas is back on, presenting once more what moral philosophers refer to as a "tragic choice" – a dilemma where there are no good options, only two different routes to disaster. In fighting Hamas, Israel faces just such a predicament – and yet there are too many, among both those who defend Israel and those who denounce it, who refuse to see that.
The laziest form of politics is practiced by those who pretend complex problems are easy or can be solved cost-free. There is, in fact, a terrible price to pay as long as Israel keeps fighting in Gaza, in the form of the deaths of thousands of innocents. And there is a terrible price to pay if Israel stops fighting in Gaza, leaving intact a murderous, eliminationist threat. Neither option is bearable. It is a tragic choice. We cannot do much for the two peoples trapped by that choice, but we can at least admit that we see it. https://www.theguardian.com/commentisfree/2023/dec/01/war-hamas-israel-tragic-choice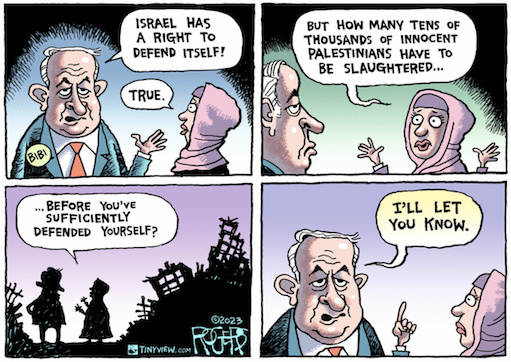 David Frum: The Danger Ahead
For all its marvelous creativity, the human imagination often fails when turned to the future. It is blunted, perhaps, by a craving for the familiar. We all appreciate that the past includes many moments of severe instability, crisis, even radical revolutionary upheaval. We know that such things happened years or decades or centuries ago. We cannot believe they might happen tomorrow.
When Donald Trump is the subject, imagination falters further. Trump operates so far outside the normal bounds of human behavior—never mind normal political behavior—that it is difficult to accept what he may actually do, even when he declares his intentions openly. What's more, we have experienced one Trump presidency already. We can take false comfort from that previous experience: We've lived through it once. American democracy survived. Maybe the danger is less than feared?
In his first term, Trump's corruption and brutality were mitigated by his ignorance and laziness. In a second, Trump would arrive with a much better understanding of the system's vulnerabilities, more willing enablers in tow, and a much more focused agenda of retaliation against his adversaries and impunity for himself. When people wonder what another Trump term might hold, their minds underestimate the chaos that would lie ahead. https://www.theatlantic.com/magazine/archive/2024/01/donald-trump-reelection-second-term-agenda/676119/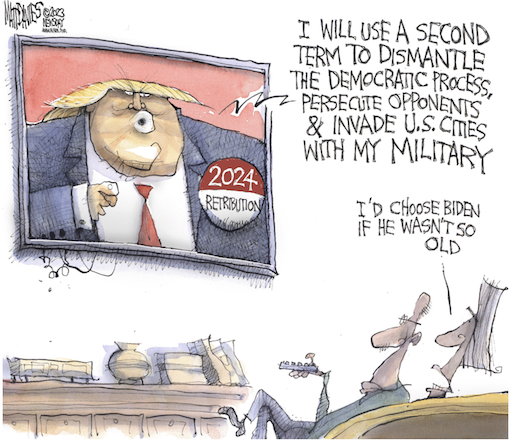 Andrew Sullivan: Uh-Oh. Here We Go Again
I was one of a handful of pundits who thought in early 2016 that Trump not only could, but probably would, win the election. I could feel his appeal in my lizard brain, and had long studied the fragility of liberal democracy in my frontal cortex. But the moment I knew his presidency was almost certain was when the Brexit result was announced in June, when everyone still assumed Hillary was a shoo-in. Something was stirring. And that's why, after my annual trip back to Britain last week, I'm feeling the nausea again.
The mood is just ugly — a deep pessimism suffused with barely stifled fury. It's not quite right or left, as we used to understand those things. It's more irrational than that, and less predictable. https://andrewsullivan.substack.com/p/uh-oh-here-we-go-again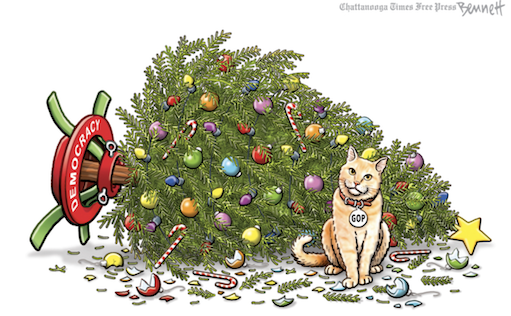 David Graham:  The Dual Threat of Donald Trump
A candidate who is running to potentially stay out of prison is a dangerous candidate. He is not just running for his own ideology or pride; he's running for his very freedom. That warps his incentives, making him more likely to employ demagogic tactics, less concerned about the way history might judge him, and more inclined to use every avenue possible to win the election—even if it means bending or breaking the law.
Yet Trump may not be alone. In recent weeks, the former president has been more explicit about his intention, if reelected, to prosecute Joe Biden. And that means both leading candidates could have their freedom at stake. https://www.theatlantic.com/ideas/archive/2023/11/donald-trump-joe-biden-2024-election-avoiding-jail/676168/
Peter Wehner: Have You Listened Lately to What Trump Is Saying? He is becoming frighteningly clear about what he wants.
In our nation's history, according to former Vice President Dick Cheney, who served in four Republican administrations and was part of the Republican leadership in the House, there has never been an individual who is a greater threat to our republic than Donald Trump.
That Trump would say what he's said and done what he's done is no surprise; he is a profoundly damaged human being, emotionally and psychologically. And he's been entirely transparent about who he is. The most troubling aspect of this whole troubling drama has been the people in the Republican Party who, though they know better, have accommodated themselves to Trump's corruptions time after time after time. Some cheer him on; others silently go along for the ride. A few gently criticize him and then quickly change topics. But they never leave him.

By now I know how this plays out: For most Republicans to acknowledge—to others and even to themselves—what Trump truly is and still stay loyal to him would create enormous cognitive dissonance. Their mind won't allow them to go there; instead, they find ways to ease the inner conflict. And so they embrace conspiracy theories to support what they desperately want to believe—for example, that the election was stolen, or that the investigation into Russian ties to the 2016 Trump campaign was a hoax, or that Joe Biden has committed impeachable offenses. They indulge in whataboutism and catastrophism—the belief that society is on the edge of collapse—to justify their support for Trump. They have a burning psychological need to rationalize why, in this moment in history, the ends justify the means.
If I had told this individual in 2016 what Trump would say and do over the next eight years, I'm confident he would have laughed it off, dismissing it as Trump Derangement Syndrome—and that he would have assured me that if Trump did do all these things, then of course he would break with him. Yet here we are. Despite Trump's well-documented depravity, he still has a vise grip on the GOP; he carried 94 percent of the Republican vote in 2020, an increase from 2016, and he is leading his closest primary challenger nationally by more than 45 points. https://www.theatlantic.com/ideas/archive/2023/11/trump-becoming-frighteningly-clear-about-what-he-wants/676086/