December 24, 2020
ON THE RECORD. . .
With a madman in the White House, we are entering the most dangerous four weeks of his presidency." — David Gergen, on Twitter.

"We MUST defend Georgia from the Dems!" Trump wrote in one recent text message. "I need YOU to secure a WIN in Georgia," he said in another. "Help us WIN both Senate races in Georgia & STOP Socialist Dems," he pleaded a few days later. There's just one hitch: Trump's new political machine is pocketing most of the dough — and the campaigns of the Georgia senators competing in the Jan. 5 races aren't getting a cent. — Politico

"On one side are the lunatics — among them Giuliani, Powell and Flynn — who want Trump to violate laws and assume authoritarian powers. On the other side are sycophants who supported Trump's spurious legal challenges to the election result but apparently draw the line at treason. By most accounts, Trump's sympathies lie with the lunatics. The manner of President Trump's departure from power has clarified why he must never hold power again."— Michael Gerson

White House press secretary Kayleigh McEnany accused the nation's courts of using "gimmickry tricks" to deprive President Trump of victory in the presidential race.

The Washington Post Fact Checker tackles some of the most Pinocchio worthy claims of 2020.

We cannot as a nation inaugurate an 'illegitimate' President that a large segment of this country think 'stole' the election." — White House Trade Advisor Peter Navarro

"Has a president ever been so absent during a crisis? Congress has been struggling with a Covid-relief deal, and the man who got to the White House on his deal bonafides has been completely silent, uninvolved and seemingly uninterested." — Politico Playbook

"It is my choice. I'm an American and I have the freedom to decide if I'm going to take a vaccine or not and, in this case, I'm not going to take the vaccine." — Rep. Ken Buck (R-CO) told Fox Business he will not be taking the coronavirus vaccine, explaining that he is "more concerned about the safety of the vaccine" than the "side effects of the disease."

"There is no way in the world we are going to be able to move forward as a nation. He could immediately, on his order, seize every single one of these voting machines, on his order. He could order the, within the swing states, if he wanted to, he could take military capabilities, and he could place those in states and basically rerun an election in each of those states." — Former National Security Adviser Michael Flynn telling Newsmax that Trump should institute martial law to prevent President-elect Joe Biden from taking office.

"In the Pfizer contract it's very clear: 'we're not responsible for any side effects.' If you turn into a crocodile, it's your problem. If you become superhuman, if a woman starts to grow a beard or if a man starts to speak with an effeminate voice, they (the drug manufacturers) will not have anything to do with it," — Brazilian President Jair Bolsonaro criticized the Pfizer vaccine suggesting that it could result in strange side-effects. Bolsonaro said that he does not intend to be vaccinated.

"If Biden is inaugurated as the 46th President of the United States on January 20th, it will mark the final hour of conspiracy to dismantle the American election process, and the first hour of conspiracy to dismantle America." — Rep. Clay Higgins (R-LA), on Twitter.

"Never before in U.S. history has there been a record of a president discussing a military coup to stay in office. Is there any doubt that if Trump could find any active-duty generals willing to carry out this plot against America, he would give it the go-ahead? In this instance, all that is preserving the Constitution is the military's fidelity to the rule of law." — Max Boot

"Donald Trump will be the last Republican president in my lifetime. He may be the last GOP president ever again. Turncoat republicans like Mitt Romney, Anthony Scaramucci, Ms. Kellyanne Conway, and many more are the reason there will never be another Republican president. These Benedict Arnolds are ignoring the fact that 74 million people voted for Trump. He is a very popular president." — Sinclair Senior Political Anchor Eric Bolling.

"No matter our intentions, we were complicit. We collectively perpetuated an anti-democratic leader by conforming to his assault on reality. We may have been victims of the system, but we were also its instruments. No matter how much any one of us pushed back from within, we did so as members of a professional class of government lawyers who enabled an assault on our democracy — an assault that nearly ended it. We owe the country our honesty about that and about what we saw. We owe apologies. I offer mine here." — Erica Newland saying that she's "haunted by what I did" as a lawyer in President Trump's Justice Department.

VIDEOS

"Twas The Coup Before Christmas" A Late Show Animated Holiday Classic: https://youtu.be/OjcMTkGdjXk

Pence Gets the Vaccine Cold Open - SNL: https://youtu.be/Vn42SwtdWgU

Weekend Update: A Look Back at Trump's Presidency - SNL: https://youtu.be/gyhh-a1DwK0

Pence | The Lincoln Project: https://youtu.be/HxBPqCHFCcc

The Dream Still Lives | The Lincoln Project: https://youtu.be/n7FL9vkhMxw
---
IN THIS ISSUE
FYI
OPINION
1. Officials increasingly alarmed about Trump's power grab
Senior Trump administration officials are increasingly alarmed that President Trump might unleash — and abuse — the power of government in an effort to overturn the clear result of the election."
 Their fears include Trump's interest in former national security adviser Michael Flynn's wild talk of martial law; an idea floated of an executive order to commandeer voting machines; and the specter of Sidney Powell, the conspiracy-spewing election lawyer, obtaining governmental power and a top-level security clearance. https://www.axios.com/trump-officials-alarmed-overturn-election-results-a844d1d2-acb2-47a9-87ce-ac579458b1ea.html
2. Trump orchestrates final loyalty test in dying bid to subvert election
Donald Trump is plotting a final stand in Congress on Jan. 6, casting it as the ultimate loyalty test in his quest to remain in power and shutting out anyone who won't get in line.
Trump has been strategizing in recent days with a band of his fiercest congressional supporters about the effort, which will involve lodging objections during the typically pro forma congressional certification of President-elect Joe Biden's victory.
It's a gambit that even Republican leaders and those around Trump concede is doomed to fail, given the makeup of Congress. But that's not the only point, according to GOP lawmakers, Trump advisers and Republican operatives.
It's a preview of the burgeoning rift between two groups of Trump supporters: Those who will stand with him to subvert the outcome of the election, no matter what, and those who are accepting the results of the democratic process. The split between the groups is threatening to unravel the shaky alliances that allowed Trump to maintain his hold on multiple GOP factions during his tumultuous tenure, with implications for upcoming elections. https://www.politico.com/news/2020/12/22/trump-final-loyalty-test-election-450183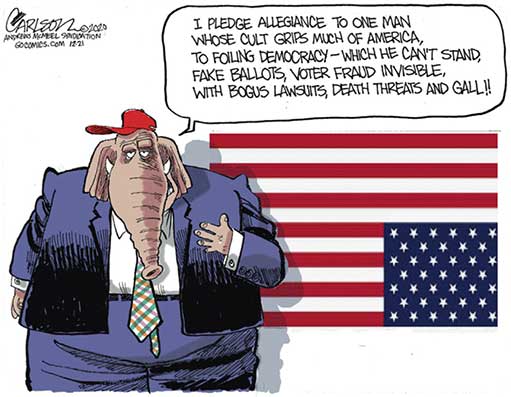 3. Misinformation Amplifiers Target Georgia Senate Races
As Georgia prepares to hold special elections that will determine which party will control the U.S. Senate, the state has become the focus of a misinformation campaign that is aimed at discrediting the results of the November elections and convincing voters that Democrats are trying to steal the upcoming vote. https://www.nytimes.com/2020/12/22/technology/georgia-senate-runoff-misinformation.html
4. Republican lawmakers face a stimulus dilemma: Stand with the party, or stand with Trump.
Mr. Trump's threat on Tuesday night to reject a $2.3 trillion spending and coronavirus relief package over the size of the planned $600 checks was a Christmas gift to Ms. Pelosi and a huge challenge to his party. The president effectively presented Republicans a choice: Side with him and some of the Democrats' most liberal members or stick with their congressional leaders.
The dilemma may be particularly acute in Georgia, where, just days before two crucial runoffs that will determine control of the Senate, the two Republican candidates, Senators Kelly Loeffler and David Perdue, were already proclaiming passage of the coronavirus relief bill as a triumph. Both candidates have also pledged their fealty to Mr. Trump, who on Monday called the legislation a "disgrace." https://www.nytimes.com/live/2020/12/23/us/joe-biden-trump#trumps-recent-behavior-sets-the-stage-for-an-anxious-four-weeks
5. In Last Rush, Trump Grants Mining and Energy Firms Access to Public Lands
The Trump administration is rushing to approve a final wave of large-scale mining and energy projects on federal lands, encouraged by investors who want to try to ensure the projects move ahead even after President-elect Joseph R. Biden Jr. takes office.
In Arizona, the Forest Service is preparing to sign off on the transfer of federal forest land — considered sacred by a neighboring Native American tribe — to allow construction of one of the nation's largest copper mines.
In Utah, the Interior Department may grant final approval as soon as next week to a team of energy speculators targeting a remote spot inside an iconic national wilderness area — where new energy leasing is currently banned — so they can start drilling into what they believe is a huge underground supply of helium.
In northern Nevada, the department is close to granting final approval to construct a sprawling open-pit lithium mine on federal land that sits above a prehistoric volcano site.
And in the East, the Forest Service intends to take a key step next month toward allowing a natural gas pipeline to be built through the Jefferson National Forest in Virginia and West Virginia, at one point running underneath the Appalachian Trail. https://www.nytimes.com/2020/12/19/us/politics/in-last-rush-trump-grants-mining-and-energy-firms-access-to-public-lands.html
6. House panel subpoenas for Azar, Redfield CDC documents
Top Trump administration health officials were subpoenaed by House Democrats on Monday, after an investigation showed "extensive" political interference with the Centers for Disease Control and Prevention (CDC).
"Over a period of four months, as coronavirus cases and deaths rose around the country, Trump Administration appointees attempted to alter or block at least 13 scientific reports related to the virus," the House Select Subcommittee on the Coronavirus Crisis said a letter. https://thehill.com/policy/healthcare/531118-house-committee-issues-subpoena-for-azar-redfield-documents-on-political
7. Republicans desperate to avoid floor fight over Electoral College vote
"National Republicans are desperate to avoid a floor fight in Congress over the certification of the Electoral College vote next month, believing it would be horrible politics to continue waging what most recognize to be a hopeless battle to overturn the outcome of the election.
Republican strategists are hoping McConnell can quash the insurgency, believing the debate over Trump's refusal to accept the outcome of the 2020 election is tearing the party apart ahead of the Jan. 5 runoff elections in Georgia that will determine the balance of power in the Senate. https://thehill.com/homenews/campaign/530910-republicans-desperate-to-avoid-floor-fight-over-electoral-college-vote
8. Officials have found a case of a dead Republican voting.
Bruce Bartman has been charged with unlawful voting and perjury over allegations that he pretended to be his dead mother to cast a ballot in the November election for President Trump in Pennsylvania.
Prosecutors said Bartman registered two dead people — his mother, Elizabeth Bartman, and his mother-in-law, Elizabeth Weihman — as Republican voters in August. https://jimheath.tv/2020/12/voter-fraud-finally-found-pa-man-pretends-to-be-dead-mother-to-vote-for-trump/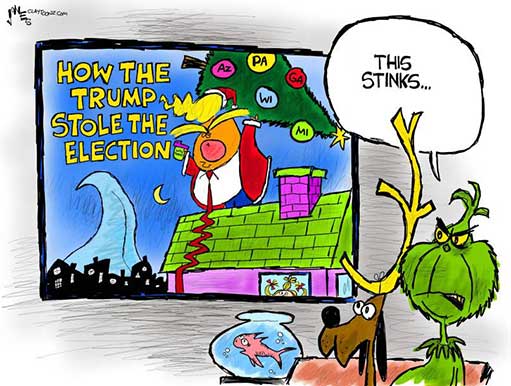 9. MyPillow CEO Mike Lindell Is Throwing Down Big Money to Fuel Pro-Trump Election Challenges
With a month to go until Inauguration Day, Mike Lindell, the MyPillow CEO and a personal friend and diehard MAGA supporter of Donald Trump, says he's poured more than $1 million of his own money into bankrolling efforts to nullify Joe Biden's win in the 2020 presidential race. https://www.thedailybeast.com/mypillow-ceo-mike-lindell-is-throwing-down-big-money-to-fuel-pro-trump-election-challenges
10. Biden Inherits a Battered U.S. Image Abroad
As poor as global ratings of U.S. leadership were during President Donald Trump's first year in office, they are potentially shaping up to be worse during his last. In 20 of the 29 countries and areas that Gallup has results for so far in 2020, approval ratings of U.S. leadership are at new lows or they tie the previous lows.
Median approval across the 29 countries and areas stood at 18% in 2020, down from 22% for this same group in 2017. On its face, this decline is not good news for the next U.S. administration, but even worse news is the number of allies on the list of countries where approval dropped to historic lows: Ireland (20%), the United Kingdom (15%), Denmark (14%), Switzerland (10%), Germany (6%) and Iceland (5%). https://news.gallup.com/poll/327629/biden-inherits-battered-image-abroad.aspx
11. Lara Trump served on the board of a company through which the Trump political operation spent more than $700 million.
Lara Trump, President Trump's daughter-in-law and a senior campaign adviser, served on the board of a limited liability company through which the Trump political operation has spent more than $700 million since 2019, according to documents reviewed by The New York Times. She was also named on drafts of the company's incorporation papers.
The arrangement has never been disclosed. One of the other board members and signatories in the draft papers of the L.L.C., American Made Media Consultants, was John Pence, the nephew of Vice President Mike Pence and a senior Trump adviser. The L.L.C. has been criticized for purposefully obscuring the ultimate destination of hundreds of millions of dollars of spending. Ms. Trump is married to Eric Trump, one of the president's sons.
Ms. Trump was initially intended to be the president of the entity, and Mr. Pence the vice president of it, the documents show.
The president has spent millions of campaign dollars on his own family businesses in the last five years. But the newly disclosed records show an even more intricate intermingling of Mr. Trump's political and familial interests than was previously known. https://www.nytimes.com/2020/12/18/us/politics/lara-trump-served-on-the-board-of-a-company-through-which-the-trump-political-operation-spent-more-than-700-million.html
12. Democrats lost on 'Defund the Police' and 'Socialism'….Cook Report
Cook Political Report: "Throughout the cycle, Democrats rolled their eyes at Republicans' incessant ads on these themes. After all, a minuscule number of House Democrats actually identify as 'democratic socialists' or have advocated reducing police funding."
"But relatively few Democratic challengers aired ads inoculating themselves against these attacks. Most chose to stay on 'offense' on healthcare and COVID in their messaging. And, many paid the price. Says one GOP consultant, 'In 2018, Dems were seen as normal. But after the rise of AOC, the primaries and 'defund the police,' it was easier to paint them as radical.'"
"Democrats' genuinely progressive challengers fared the worst." https://politicaldog101.com/2020/12/democrats-lost-on-defund-the-police-and-socialism-cook-report/
13. On his way out, Trump takes another insane swat at California over abortion rights
On his way out the White House door, President Trump has paused to remind us that he always has time for an act of pointless vandalism aimed at women's reproductive healthcare.
On Wednesday, Trump's Department of Health and Human Services announced it was docking California's Medicaid program $200 million because state law requires all health insurance plans to include coverage for abortions.
The penalty will take effect starting in the first quarter of next year, according to the department, and continue at the rate of $200 million per quarter until the state changes its rule.
It should not be lost on anyone that the Biden administration will surely reverse the action, especially because it runs counter to policies put in place under the Obama administration. https://www.latimes.com/business/story/2020-12-16/trump-attacks-california-abortion-policy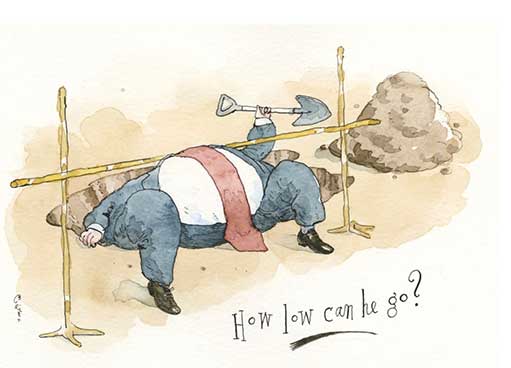 14. Dominion Voting Systems Employee Sues Trump Campaign And Allies, Alleging Defamation
A top employee of Dominion Voting Systems, who has gone into hiding after becoming the subject of conspiracy theories on the right since the election, is suing the Trump campaign, a number of campaign surrogates and pro-Trump media outlets, alleging defamation.
Eric Coomer's suit, filed Tuesday in Colorado state district court in Denver, accuses those responsible of spreading the falsehoods of intentional infliction of emotional distress and civil conspiracy.
The lawsuit says the claims made about Coomer have led to death threats, constant harassment and "untold damage to his reputation as a national expert on voting systems." Coomer was forced to leave his home one week after the presidential election ended and move to a safe undisclosed location where he remains. https://www.npr.org/2020/12/22/949294173/dominion-voting-systems-employee-sues-trump-campaign-and-allies-for-defamation
15. Congressman demands investigation into Kushner Shell Company Campaign Finance Violations
Congressman Mark Pocan (D-WI) has requested an immediate investigation into Jared Kushner's failure to disclose political receipts and expenditures for his shell company, American Made Media Consultants (AMMC), which spent $617 million in campaign money in support of President Trump's reelection efforts this election cycle.
According to the Federal Election Campaign Act of 1971, failure by a political committee—any group of people who spend more than $1000 to influence a federal election—to report expenditures can lead to a civil penalty, which in this case could be more than $1 billion, as well as criminal violations punishable by up to five years in prison. https://urbanmilwaukee.com/pressrelease/pocan-demands-investigation-into-kushner-shell-company-campaign-finance-violations/
16. Trump issues self-serving Pardons
In an audacious pre-Christmas round of pardons, President Trump granted clemency on Tuesday to two people who pleaded guilty in the special counsel's Russia inquiry, four Blackwater guards convicted in connection with the killing of Iraqi civilians and three corrupt former Republican members of Congress.
The pardons "continue Trump's unprecedented pattern of issuing self-serving pardons and commutations that advance his personal interests, reward friends, seek retribution against enemies, or gratify political constituencies," Mr. Goldsmith said Tuesday. "Like his past pardons, most if not all of them appear to be based on insider recommendations rather than normal Justice Department vetting process."
The pardons of the Blackwater contractors have direct links to two of Mr. Trump's close allies: Erik Prince, the former head of Blackwater, and Mr. Prince's sister Betsy DeVos, the education secretary. https://www.nytimes.com/2020/12/22/us/politics/trump-pardons.html#click=https://t.co/U9QzJyrb9t
17. Former HPD Capt. Mark Anthony Aguirre charged with holding air conditioning man at gunpoint in fake voter-fraud conspiracy
On Tuesday, former Houston Police Department Captain Mark Aguirre was arrested and charged for running David Lopez Zuniga an air conditioner repair man off the road and pointing a gun at his head in an attempt to prove claims of a massive voter fraud scheme in Harris County.
According to court documents, Aguirre told police that he was part of a group of private citizens called the "Liberty Center," who were conducting a civilian investigation into the alleged ballot scheme.
Aguirre told authorities he had been conducting surveillance for four days on Lopez because he thought the AC repairman was somehow mastermind of a giant voter fraud scheme. Aguirre told authorities the man was hiding 750,000 fraudulent ballots in a truck he was driving. https://abc13.com/mark-anthony-aguirre-former-houston-police-department-captain-arrested-aggravated-assault-liberty-center/8802235/
18. Federal government conducts more executions than all states combined
A majority (59%) of all executions this year were conducted by the federal government, which in less than six months carried out more federal civilian executions than any prior president in the 20th or 21st centuries, Republican or Democratic, had authorized in any prior calendar year.  https://deathpenaltyinfo.org/facts-and-research/dpic-reports/dpic-year-end-reports/the-death-penalty-in-2020-year-end-report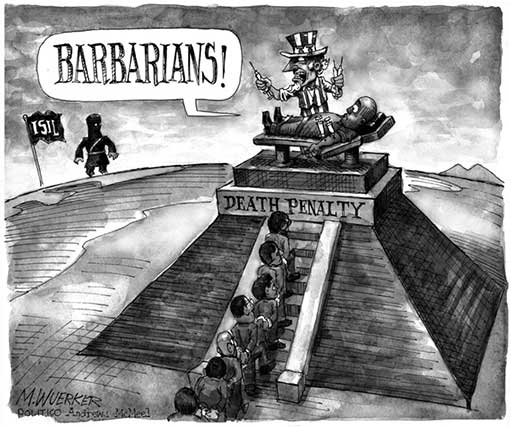 19. Fifty Years of Tax Cuts for Rich Didn't Trickle Down, Study Says
Tax cuts for rich people breed inequality without providing much of a boon to anyone else, according to a study of the advanced world that could add to the case for the wealthy to bear more of the cost of the coronavirus pandemic.
The paper, by David Hope of the London School of Economics and Julian Limberg of King's College London, found that such measures over the last 50 years only really benefited the individuals who were directly affected, and did little to promote jobs or growth. https://www.bloomberg.com/news/articles/2020-12-16/fifty-years-of-tax-cuts-for-rich-didn-t-trickle-down-study-says
2
0. The DAILY GRILL
Trump claim: Voting software is "used in states where tens of thousands of votes were stolen from us and given to Biden."

VERSUS

Reality: There is no evidence that any voting systems were compromised, according to the Cybersecurity and Infrastructure Security Agency, which is part of the Department of Homeland Security. 

 

Trump claim: "In one Michigan county, as an example that used Dominion Systems, they found that nearly 6,000 votes had been wrongly switched. From Trump to Biden."

VERSUS

Reality: "The software did not cause a misallocation of votes; it was a result of user human error," reported Michigan's secretary of state. "Michigan's elections were conducted fairly, effectively and transparently and are an accurate reflection of the will of Michigan voters."

 

Trump claim: "No president has ever won both Florida and Ohio and lost. I won them both, by a lot!"

VERSUS

Reality: In 1960, Richard Nixon won Florida and Ohio and lost to John F. Kennedy. Further, it doesn't matter whether a candidate "won them both, by a lot," or a little. Florida and Ohio award all their electoral votes to the top vote-getter, no matter the margin of victory, as do all the other states except Nebraska and Maine.
21. From MEDIA MATTERS
OAN's Pearson Sharp highlighted that his network "will officially not be calling Joe Biden the president-elect." He went on to say that OAN is "the only broadcast news network out there with the integrity to report that this election isn't over," criticizing Fox, Breitbart.com, and Newsmax for having "caved."  https://www.mediamatters.org/fox-news/preview-next-four-years-right-wing-media-refuse-admit-joe-biden-president-elect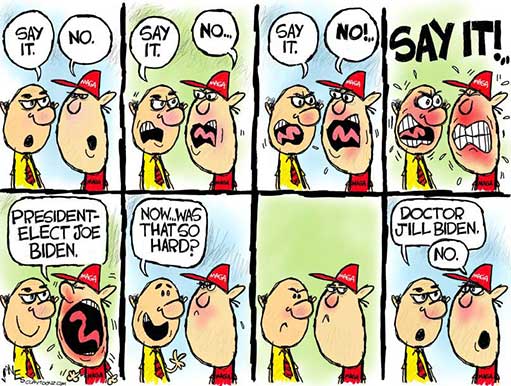 1. Bess Levin: Donald Trump Hits Feces-Flinging Stage Of Election "Fraud" Fight
Hello, and welcome to day 46 of the Donald Trump Attempts to Overthrow Democracy Show. Now more than a month and a half since Joe Biden was declared the winner of the 2020 election, the current (and outgoing) president of the United States still refuses to accept the results of both the popular vote and the Electoral College, insisting daily that a second term was stolen from him through rampant fraud, which not even Bill Barr and Vladimir Putin, among others, will back him up on.
Despite being completely and fully in denial about the fact that he's not going to be president anymore, it appears that some tiny part of Trump knows things are not looking great for him, hence his increasingly desperate efforts to invalidate the will of tens of millions of Americans. One thing that's included is his meeting with Sidney Powell—the lawyer deemed too crazy by Rudy Giuliani—multiple times at the White House and allegedly proposing her appointment as a special counsel to investigate nonexistent voter fraud. Then, of course, there's the news that he's been discussing invoking martial law with disgraced former national security adviser Mike Flynn. And naturally, like a madman who's gone too far even for his most loyal foot soldiers, Trump has reportedly lashed out and turned on everyone who won't go along with his attempted coup.
Meanwhile, he's apparently hatched another harebrained scheme to overturn the election, meeting with House Republicans on Monday about overturning the result on January 6. While some reliable toadies like Matt Gaetz are proudly on board, there's obviously zero chance of the stunt resulting in Trump serving a second term. And as the crazy no doubt escalates over the next four weeks, there's one person in particular who should probably consider calling in sick every day until the inauguration. https://www.vanityfair.com/news/2020/12/donald-trump-election-tantrum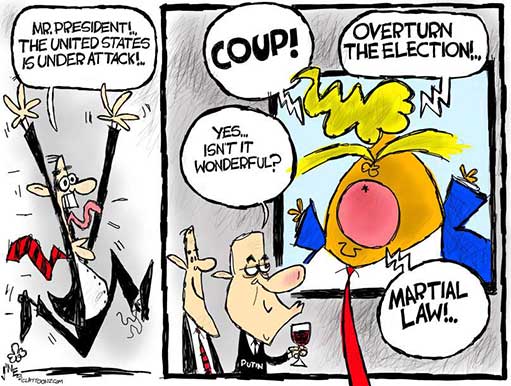 2. Susan Glasser: Trump's New Brand Is Loser
I know we've got used to thinking of Trump as a genius in turning bad news on its head, in creating grievance out of setbacks and then using those grievances to further cement his hold over his Party. I've watched him run this play over and over again. I get it. But the alternate way of looking at his post-election behavior is that he is cementing his reputation as the sorest of sore losers. Not only that, but he is crying so long and loudly about the unfairness of his loss that he is forcing officials at every level of government, across the country, to take sides—against him. His frenetic efforts to deny his defeat have simply underscored it. Trump really is leaving office on January 20th, and he really will go out as an impeached and defeated President, forevermore listed in the history books alongside Herbert Hoover and Jimmy Carter and all the other one-termers he disdains. He is now, and will always be, a loser. https://www.newyorker.com/news/letter-from-trumps-washington/trumps-new-brand-is-loser
3. Shay Khatiri: MAGA Mutiny in the GOP
The GOP thought that if they survive these four years, they could relax. But by accommodating Trump, they joined his revolution out of fear, and the revolution is now eating its own.
There is now an anti-GOP coalition on the right that wants the party to lose the Senate to send a message to the GOP. It includes Never Trumpers and the MAGAverse. But the truth is that Never Trumpers might want to burn it down, but they can't. They are not radicalized revolutionaries. MAGA people are the real existential threat to the GOP. The question that Republicans face is how much longer loyalty to Trump will be the prerequisite for power in the party.
The question for everyone else is, if the MAGA lunatics succeed in commandeering the Republican party, will that doom it to electoral irrelevance at the national level? Or will, say, 74.3ish million Americans go along with it? https://thebulwark.com/maga-mutiny-in-the-gop/
4. Bess Levin: Mar-A-Lago Neighbors: Get The Hell Off Our Lawn
If you only got your news from Donald Trump, you might think that there was an extremely good chance that, come January 20, he was just going to continue living in the White House for the next four years. Of course, delusions of a madman aside, that's not going to happen. Instead, in less than five weeks, Trump will be evicted from his current home—either walking out of it or being dragged by the Secret Service as he bites one of the agents' hands, escapes, and has to be trapped in one of those giant nets used by animal control—for the very last time. At that point, he'll need a place to live, and having declared residency in Florida last year, Mar-a-Lago would make the most sense, particularly as the president has already begun renovating the place to accommodate him full-time. Except, like most of the country, his future neighbors don't want him there and are making their complaints loud and clear!
The current residency controversy tracks back to a deal Trump cut in 1993 when his finances were foundering, and the cost of maintaining Mar-a-Lago was soaring into the multimillions each year. Under the agreement, club members are banned from spending more than 21 days a year in the club's guest suites and cannot stay there for any longer than seven consecutive days. Before the arrangement was sealed, an attorney for Trump assured the town council in a public meeting that he would not live at Mar-a-Lago.
The White House did not respond to the Post's request for comment. A Trump Organization spokesman said, "There is no document or agreement in place that prohibits President Trump from using Mar-a-Lago as his residence," which might be more convincing if that person hadn't said so anonymously. https://www.vanityfair.com/news/2020/12/donald-trump-mar-a-lago-neighbors#intcid=recommendations_vf-trending-legacy_7236c43b-1fc6-488f-aa1b-5037212478b1_popular4-1
5. Paul Waldman: The Trump family keeps grifting, to the end and beyond
Trump's argument about unethical behavior was always: not that he's innocent and others are guilty, but that everyone is guilty, so we shouldn't worry about his misdeeds. Everyone is corrupt, everyone is on the take, everyone mistreats women, we're living in a world without morals or principles and all that matters is whether you win.
He never made any bones about it. Even in 2016, when Hillary Clinton charged that he was probably refusing to show his tax returns because he paid no taxes (which turned out to be pretty much true), he replied, "That makes me smart." Obeying the rules is for suckers and chumps.
By now, Trump's supporters — who will remain his supporters after he leaves office — firmly believe that. If he pulls a new scam and they're his victims? That just shows what a genius he is.
I'm not even exaggerating. If you took 100 people committed enough to Trump to send donations when he solicits help with the Georgia Senate runoffs, then told them that much of it ended up in Trump's bank account, do you think they'd feel cheated? Of course not.
And that could well happen. Since Election Day, Trump has raised $250 million, $60 million of which has gone to his new leadership PAC — and he's done it by telling supporters that he needs the money to fund lawsuits trying to overturn the election or keep up the fight in Georgia. He will be able to use that money for a wide variety of vaguely defined purposes, as long as it is not used explicitly in support of another presidential run. https://www.washingtonpost.com/opinions/2020/12/18/trump-family-keeps-grifting-end-beyond/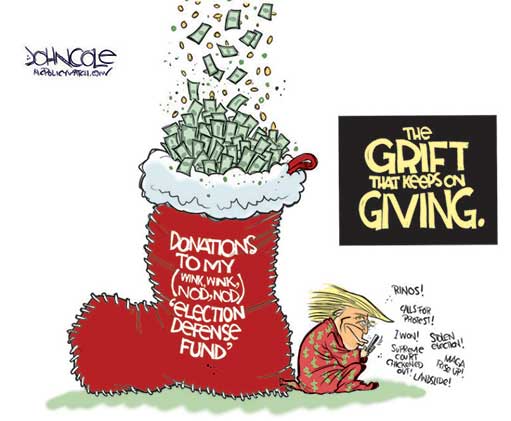 6. Ann Gerhart: How Trump drove the lie that the election was stolen, undermining voter trust in the outcome
To preserve his hold on power, Trump has spent the weeks since Election Day promoting falsehoods about voting problems in Georgia and five other states, successfully persuading tens of millions of his supporters to believe a lie — that the election was stolen from him, and from them.
He has done so by harnessing the power of his position, using his pulpit at the White House and his Twitter feed to let loose a fusillade of conspiracy theories. His assault on the integrity of the election has gotten a hefty assist from pro-Trump media outfits and an assortment of state lawmakers and lawyers who gave oxygen to the debunked allegations — and a majority of congressional Republicans, who called on the Supreme Court to overturn the results in four states.
Trump is continuing to press his case, even now that the electoral college has formally elected Biden. In a meeting with allies on Friday, the president discussed deploying the military to rerun the election and appointing attorney Sidney Powell, whose conspiracy theories about election fraud have been widely discredited, as a special counsel to investigate the outcome.
Along the way, Trump has willfully damaged two bedrocks of American democracy that he has been going after for years: confidence in the media as a source of trusted information and faith in systems of government. It might be one of his lasting legacies.
A Fox News poll released on Dec. 11 shows that more than a third of registered voters believe the election was stolen from Trump — a number that rises to 77 percent among those who voted for Trump. Conversely, 56 percent of voters believe Trump weakened American democracy by contesting election results in various states, with the number rising to 85 percent among those who voted for Biden, according to the poll. https://www.washingtonpost.com/politics/trump-election-voter-trust/2020/12/20/00282aa6-407a-11eb-8db8-395dedaaa036_story.html
7.  Garrett Epps: How Fragile Is Our Democracy?
Four days before Donald Trump won the presidency in 2016, the syndicated columnist Kathleen Parker reassured readers of the Washington Post's "Opinion" section under the headline, "Calm down. We'll be fine no matter who wins":
After the election, others for a time continued to express confidence: America's independent courts, its separation of powers, its checks and balances, its democratic culture, would keep Trump within shouting distance of its historical norms. Our blessed republic will muddle through, TV historians promised; the "better angels of our nature," after all, always prevail.
In 2020, as Trump sinks slowly in the west, any sober observer would call these estimates too optimistic. American institutions have not tamed Trump; the reverse almost occurred, in fact. Far from checking and balancing, Republican members of both Houses treated Trump with all the skepticism of the North Korean Supreme People's Assembly greeting Kim Jong Un's newest five-year plan. After the voters repudiated him in 2018, Trump refused even the slightest cooperation with the Democratic House, stonewalled the special counsel, and laughed at impeachment. Until late November, he seemed to think he could do the same thing with the election itself.
Meanwhile, the judicial branch has been subject to the most systematic partisan packing since John Adams installed the "midnight judges." The U.S. Department of Justice has functioned as Trump's private law firm. The inspector general system has been crippled, and the President has openly defied the federal Vacancy Reform Act to neuter the "advise and consent" power of even his own Senate majority. The Department of Homeland Security auditioned on the streets of Portland, Oregon, for a potential second-term role as the president's secret police. Preatorian Guard? More public than Stasi or Cheka.
That clerks, election board members, legislators, and executive officials in Georgia, Michigan, Arizona, and Pennsylvania ignored blandishments and threats from Trump provides some grounds for optimism as we strive to repair and save our constitutional democracy. https://washingtonmonthly.com/2020/12/17/how-fragile-is-our-democracy/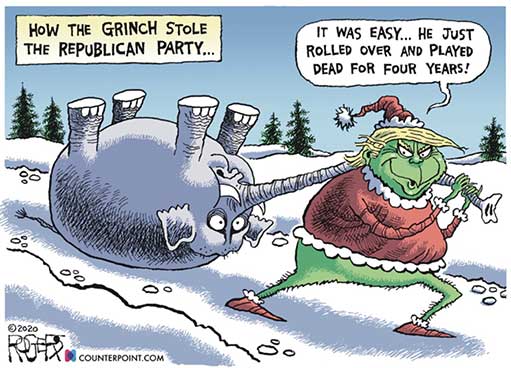 8. Bess Levin: Oops: Jared Kushner Reportedly Created A Shell Company To Secretly Pay Trump Family Members And Spend Half The Campaign's Cash
Donald Trump and his family have spent the last four years making the airtight case that they view the presidency as simply a means to enrich themselves and their associates. They probably don't particularly like that reputation and, yet, it hasn't stopped them from funneling taxpayer money to their private business, gouging the Secret Service, and raising legal defense funds that the fine print says could go directly to their pockets. Oh, and, according to a new report, setting up a shell company that spent hundreds of millions of campaign dollars to pay Trump family members along with other expenditures it seemingly wanted to keep under wraps.
According to Business Insider, first son-in-law Jared Kushner personally approved the creation of the company, incorporated as American Made Media Consultants Corp. and American Made Media Consultants LLC, in April 2018. From there, Eric Trump's wife, Lara Trump, was named president, with Mike Pence's nephew John Pence serving as vice president. If you're wondering why the shell company, described by Business Insider as acting "almost like a campaign within a campaign" was necessary, well, it's not entirely clear, but it sure sounds like the express purpose was the ability to shield "financial and operational details from public scrutiny," as it allowed the campaign to avoid federally mandated disclosures concerning what it was spending considerable amounts of money on. And by considerable we mean nearly half of the $1.26 billion raised for Trump's reelection. Which seems like a lot! https://www.vanityfair.com/news/2020/12/jared-kushner-campaign-shell-company#intcid=recommendations_vf-trending-legacy_013774bb-4a97-4043-a9a9-358928b86ea0_popular4-1
NOTE: Congressman Mark Pocan (D-WI) has requested an immediate investigation into Jared Kushner's failure to disclose political receipts and expenditures for his shell company, American Made Media Consultants (AMMC), which spent $617 million in campaign money in support of President Trump's reelection efforts this election cycle. See: FYI 15
9. Jonathan Chait: William Barr's Double Standard: Mueller's a Crook and Trump Is Innocent
In early 2019, Attorney General William Barr testified to Congress that Donald Trump's campaign had been spied on, and that he intended to get to the bottom of it. "He's going to look at the role of other intelligence agencies too, he made that clear in the Senate," gushed Wall Street Journal columnist Kimberley Strassel at the time. "Not just the FBI, but what was the CIA doing?"
Barr is now leaving, and for his loyal service to the party, he is collecting a round of valedictory tributes from Trump defenders like Strassel, who lavishes him with a series of compliments that has been published as an "interview."
Barr wishes to be remembered as a noble statesman because, at the very end, he didn't follow Trump's most delusional demands to their Rudy-esque conclusions. But Barr was and is a pure hack, and the double standard he constructs to justify Trump's crooked campaign, and impugn the investigators who pursued their crimes, is perfect evidence of his hackery. https://nymag.com/intelligencer/2020/12/william-barrs-trump-russia-mueller-fbi-cia-collusion.html