September 5, 2019
ON THE RECORD. . .
"He (Trump) doesn't lie. Guess who lies? The press lies." — Trump's campaign press secretary Kayleigh McEnany, sharing the Cool-Aid.
'This man has a tweet incontinence problem' — San Juan Mayor Carmen Yulín Cruz responding to Trump's tweet that called her incompetent while Puerto Rico braced for Hurricane Dorian.
"The president also said in the tweet that the wall is going up rapidly. It is not. As we just reported, there's no new wall. Only replacement for walls which were in need of repair or upgrade. Those are the facts."— Fox News chief anchor Shepard Smith disputing President Trump's recent remarks about border wall construction.
"Comey had to bring this critical information to light. In every substantive sense, he was acting as a whistleblower in what amounted to a national emergency. Only collective amnesia and denial can suggest otherwise." — Josh Marshall
The president's "destructive ego has become a danger to entire regions of our country. If sensitive habitats and decades-old environmental laws are expendable, there's no guessing what else Trump and his supporters in Washington will throw under the bus. There is little room for indifference here, because we've seen what walls do and how difficult it can be to tear them down." — Rep. Raúl Grijalva (D-AZ), on Trump's plan to create a barrier spanning most of Organ Pipe Cactus National Monument as well as portions of an adjacent wildlife refuge.
Trump is agitated because the economy is flashing warning signs Trump didn't expect, his trade war with China is dragging on months longer than expected yet he refuses to give in and he's "spinning to find victories to sell to voters. The voters may be fooled — China apparently isn't. — Peter Weber
America's service members & diplomats abroad are among our nation's best, yet @realDonaldTrump is launching an attack on their families, putting in doubt the citizenship of their children born overseas. This shameful policy must be reversed immediately. — Nancy Pelosi @SpeakerPelosi
"They are begging me to do an interview, and I just think it would be disloyal to my followers. I think it would be very disloyal to people that are Trump fans and people that voted for me and people that are going to vote again." -- Trump saying he's not inclined to do an interview with CNN because he thinks it would be "disloyal" to his supporters. 
"You know, I can laugh about things like the 'Grim Reaper,' but calling me Moscow Mitch is over the top." — Senate Majority Leader Mitch McConnell (R-KY) admitting that he's annoyed by his new nickname.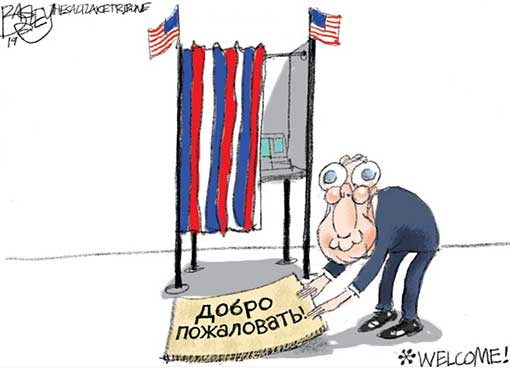 "There is also nothing neutral or random about how our electoral system works. The Electoral College tilts outcomes toward white voters, conservative voters, and certain regions of the country. People outside these groups and places are supposed to sit back and accept their relative disenfranchisement. There is no reason they should, and at some point, they won't. This will lead to a meltdown." — E.J. Dionne
"I am currently suing various people for violating their confidentiality agreements. Disgusting and foul mouthed Omarosa is one. I gave her every break, despite the fact that she was despised by everyone, and she went for some cheap money from a book. Numerous others also!" — Trump renewing his attacks on former White House aide Omarosa Manigault Newman.
"Many states took the opportunity in the last two years to learn lessons from the tragedies in Las Vegas, Sutherland Springs, Parkland, and the every day gun violence that plagues our citizens, and enacted new laws to protect public safety through expanded background checks and extreme risk laws.  Texas lawmakers, instead doubled down on an NRA led agenda to encourage guns everywhere, no matter the risks and costs to safety." — Kris Brown, president of a gun violence prevention advocacy group on the series of new firearm laws that went into effect in Texas just hours after a shooting left five people dead in the western part of the state.
"I actually went into that cell where it was reported that they were advised they had to drink out of the toilet. I took a drink out of there. And actually, pretty good!" — Rep. Steve King (R-IA) telling constituents at a town hall in Iowa that he drank out of a toilet at a migrant detention facility "to prove that criticisms of the conditions in those facilities are unfounded."
---
IN THIS ISSUE
FYI
OPINION
1. The Borowitz Report: Americans Shocked by Spectacle of Legislative Body Taking Action
Americans were shocked on Tuesday by the spectacle of a legislative body appearing to take action.
Across the U.S., television viewers watched with mouths agape at startling images of legislators seemingly intent on performing their constitutional duties.
Adding to Americans' sense of astonishment, the legislators showed evidence of putting their country before party in an effort to rein in the actions of a reckless leader who had not garnered the majority of his nation's votes.
Even more baffling to U.S. viewers, the legislators were furious that the leader had reduced the number of days that they had to show up to do their jobs.
Harland Dorrinson, who watched the bizarre proceedings on television at a bar in Pittsburgh, was "totally perplexed" by what he saw.
"From what I could tell, the legislators were providing oversight over the executive branch in order to protect their country from disaster," he said. "It was so weird." https://www.newyorker.com/humor/borowitz-report/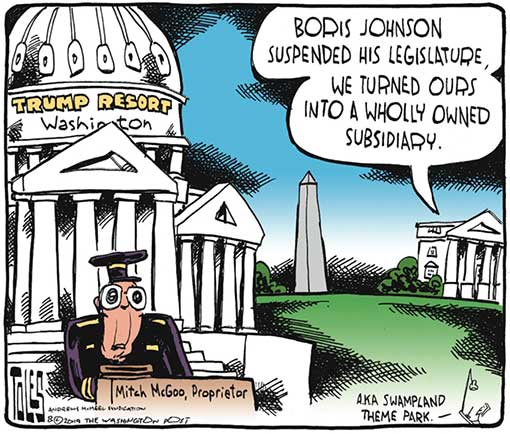 2. The 2020 Electoral Map Could Be Smallest In Years
Just four states are likely to determine the outcome in 2020. Each flipped to the Republicans in 2016, but President Trump won each by only a percentage point or less. The four are Pennsylvania, Michigan, Wisconsin and Florida. Many analysts point to Wisconsin as the single state upon which the election could turn."
Shifting demographics, the growing urban-rural divide and the gap between white voters with and without college educations have helped to create an electoral map unlike those of the recent past. So too have Trump's unique profile, messaging and appeal. https://beta.washingtonpost.com/politics/the-2020-electoral-map-could-be-the-smallest-in-years-heres-why/2019/08/31/61d4bc9a-c9a9-11e9-a1fe-ca46e8d573c0_story.html
3. The Senate suddenly looks like it's up for grabs in 2020
This week the 2020 Senate landscape grew a bit more interesting as Georgia's Johnny Isakson announced he was resigning at the end of the year. That put another Republican-held seat on the battleground list — the second one in Georgia — and added more evidence that control for the upper chamber of Congress is very much in play.
The Senate campaign map that is coming into view is looking more and more like a "good news," but not "great news" situation for Democrats. The party needs to net only four seats to get to a 51-49 majority in the Senate and the list of seats that Republicans need to defend is growing — but there are not a lot of easy marks.
In essence, the Democrats' path to recapturing the Senate seems to be growing clearer, but it's not necessarily growing easier. https://www.nbcnews.com/politics/meet-the-press/senate-suddenly-looks-it-s-grabs-2020-n1048706
4. A rattled Trump scrambles for victories ahead of election
"President Trump has become increasingly rattled over the potential of an economic downturn and is spinning to find victories to sell to voters," CNN reports.
He and his economic team, who are often at odds with one another, have been searching for ways to prevent market anxieties from spilling over into next year's presidential election, but have yet to agree on a solution. They have wavered between floating tax cuts to insisting they aren't considering tax cuts. They have feuded privately over which direction to take. They have contradicted each other publicly.
And Trump has insisted it's the Federal Reserve's fault, while his own aides have admitted much of it is because of his trade war with China. Trump refuses to give up on the tactic, saying it would make him look weak. https://www.cnn.com/2019/08/28/politics/donald-trump-2020-election-pardons-walls-victories/index.html
5. Women voters spell trouble for Trump in 2020
Recent polling indicates that the same white female voters who propelled Trump to victory in 2016 might send him to defeat in 2020 if current trends hold.
A Quinnipiac University survey released Wednesday found Trump trailing the top five Democratic contenders by between 9 points and 16 points overall, with each leading the president by 23 points or more among all women. https://thehill.com/homenews/campaign/459354-women-voters-spell-trouble-for-trump-in-20201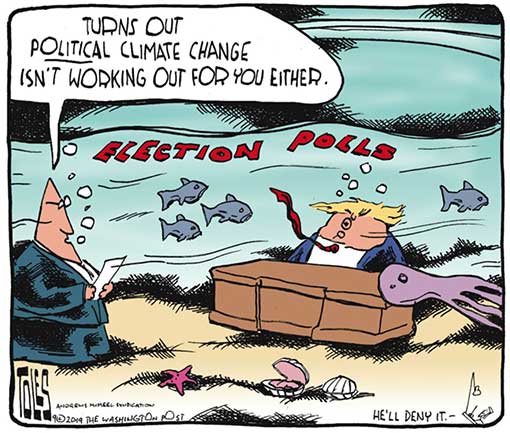 6. Trump Allies Raise Money to Target Reporters
Trump's political allies are trying to raise at least $2 million to investigate reporters and editors of the New York Times, Washington Post and other outlets, according to a 3-page fundraising pitch reviewed by Axios. https://www.axios.com/2020-presidential-campaign-trump-allies-journalists-6733432f-b008-45d3-99c2-9dca7931faff.html 
7. How a Trump Tax Break to Help Poor Communities Became a Windfall for the Rich
President Trump has portrayed America's cities as wastelands, ravaged by crime and homelessness, infested by rats.
But the Trump administration's signature plan to lift them — a multibillion-dollar tax break that is supposed to help low-income areas — has fueled a wave of developments financed by and built for the wealthiest Americans.
Among the early beneficiaries of the tax incentive are billionaire financiers like Leon Cooperman and business magnates like Sidney Kohl — and Mr. Trump's family members and advisers.
The stated goal of the tax benefit — tucked into the Republicans' 2017 tax-cut legislation — was to coax investors to pump cash into poor neighborhoods, known as opportunity zones, leading to new housing, businesses and jobs.
Instead, billions of untaxed investment profits are beginning to pour into high-end apartment buildings and hotels, storage facilities that employ only a handful of workers, and student housing in bustling college towns, among other projects. https://www.nytimes.com/2019/08/31/business/tax-opportunity-zones.html
8. Fox News Host Jeanine Pirro Accuses Democrats of Vast Plot to 'Replace American Citizens with Illegals'
Fox News host Jeanine Pirro repeated a conspiracy theory held by some White Supremacists on Thursday while claiming that Democrats are waging a vast "plot" to "replace American citizens with illegals."
Pirro promoted the so-called "great replacement theory" during a Thursday radio appearance with Fox Nation host Todd Starnes, who recently compared Hispanic immigrants to "Nazi" invaders two weeks after a white supremacist mass shooter targeted people of color in an El Paso, Texas Walmart.
"Their plan and their plot to remake America is to bring in the illegals, change the way the voting occurs in this country, give them licenses, they get to vote maybe once, maybe twice, maybe three times," Pirro wildly claimed after accusing Democrats of using this plan in an attempt to "get rid of" Trump and "the people like you and me who put him into office."
"You've got motor voter registration on the day of the election, we've got voter rolls that haven't been purged of dead people in years, where the Democrats have resisted that," she added. "Think about that, it is a plot to remake America. To replace American citizens with illegals." https://www.mediaite.com/radio/fox-news-host-jeanine-pirro-accuses-democrats-of-vast-plot-to-replace-american-citizens-with-illegals/
9. Maryland was never in play in 2016. The Russians targeted it anyway.
Russia's Twitter campaign to influence the 2016 presidential election in Maryland began in June 2015, 17 months before Election Day, when the St. Petersburg-based Internet Research Agency opened an account it called @BaltimoreOnline and began tweeting about local news events.
Its third tweet was a retweet of a WBAL-TV story about a 5-year-old boy who'd shot himself in the foot in an alley on North Mount Street, the same street where 11 blocks away Freddie Gray encountered police who loaded him into a police van for a race across the city that left him fatally injured.
The tweet fit neatly into what would become a pattern for Russian activities in Maryland, a solidly Democratic state that hadn't favored a Republican presidential candidate since 1988 and wasn't in play in 2016.
Yet, the IRA, the Russian troll factory U.S. prosecutors blame for the massive disinformation campaign during the 2016 campaign, devoted enormous attention and preparation to its Maryland campaign, all in a likely effort, experts say, to widen racial divisions and demoralize African American voters. https://beta.washingtonpost.com/technology/2019/08/28/maryland-was-never-play-russians-targeted-it-anyway/
10. The DAILY GRILL
"Ilahn Omar!! You will not be going back to Washington, your life will end before your "Vacation" ends. That being said, you won't die alone, if that matter. Quite likely it will be at the Minnesota State Fair, that's where the ,you won't die alone, comes in. However, we have a very capable person with a very big "Gun". They say we can't get the Somali Stink out of the clean Minnesota air, but we're going to enjoy the adventure." — Anonymous death threat.

VERSUS

I hate that we live in a world where you have to be protected from fellow humans. I hated it as a child living through war and I hate it now. But until deranged people like this stop threatening my life and the lives of others, I have to accept the reality of having security. — Ilhan Omar @IlhanMN  

 

The fact that James Comey was not prosecuted for the absolutely horrible things he did just shows how fair and reasonable Attorney General Bill Barr is. So many people and experts that I have watched and read would have taken an entirely different course. Comey got Lucky! — Donald J. Trump @realDonaldTrump

VERSUS

DOJ concluded no criminal charges against Comey, IG found policy violations. Like the man who breaks into a house to save his family from a storm, @Comey <> may have broken FBI rules, but his actions were justified. My thoughts at @NBCNews-- Barb McQuade @BarbMcQuade

 

"Immediately, that moment it started, I came out against the war at that moment." — Joe Biden explaining his 2002 vote to authorize military force in Iraq.

VERSUS

"Nine months ago, I voted with my colleagues to give the president of the United States of America the authority to use force and I would vote that way again today. It was the right vote then and would be a correct vote today," -- Biden in a July 2003 speech at the Brookings Institution.
11. Take the land': President Trump wants a border wall. He wants it black. And he wants it by Election Day.
President Trump is so eager to complete hundreds of miles of border fence ahead of the 2020 presidential election that he has directed aides to fast-track billions of dollars' worth of construction contracts, aggressively seize private land and disregard environmental rules, according to current and former officials involved with the project.
He also has told worried subordinates that he will pardon them of any potential wrongdoing should they have to break laws to get the barriers built quickly, those officials said.
Trump has repeatedly promised to complete 500 miles of fencing by the time voters go to the polls in November 2020, stirring chants of "Finish the Wall!" at his political rallies as he pushes for tighter border controls. But the U.S. Army Corps of Engineers has completed just about 60 miles of "replacement" barrier during the first 2½ years of Trump's presidency, all of it in areas that previously had border infrastructure.
When aides have suggested that some orders are illegal or unworkable, Trump has suggested he would pardon the officials if they would just go ahead, aides said. He has waved off worries about contracting procedures and the use of eminent domain, saying "take the land," according to officials who attended the meetings.
"Don't worry, I'll pardon you," he has told officials in meetings about the wall. https://beta.washingtonpost.com/immigration/take-the-land-president-trump-wants-a-border-wall-he-wants-it-black-and-he-wants-it-by-election-day/2019/08/27/37b80018-c821-11e9-a4f3-c081a126de70_story.html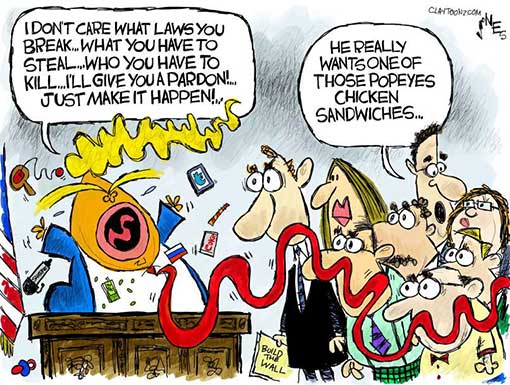 12. From MEDIA MATTERS (They watch Fox News so you don't have to)
Trump's Fox criticism puts the network's entire con in jeopardy. President Donald Trump spends most days watching hours of Fox News programming and many nights talking with its stable of pro-Trump hosts. But his recent criticism of the network shows that he doesn't understand the con at the heart of the network's model. Fox is a propaganda outlet whose success depends on maintaining just enough trappings of journalism to avoid that label. And if Trump turns his warning shots into a sustained assault, the result could spell disaster for the network. https://www.mediamatters.org/fox-news/trumps-fox-criticism-puts-networks-entire-con-jeopardy
The Trump campaign is crediting Hannity with launching a DOJ investigation into the Obama administration, and they're probably right. The Justice Department's probe into the origins of the investigation of Russian interference in the 2016 election is a Fox News-fueled effort designed to benefit Donald Trump's reelection campaign. That argument isn't just coming from Media Matters and other progressives -- the president's own campaign just admitted it. https://www.mediamatters.org/sean-hannity/trump-campaign-crediting-hannity-launching-doj-investigation-obama-administration-and
How bots and far-right figures spread a lie about Beto O'Rourke and the Odessa shooting. On the afternoon of September 1, Twitter account @suemo54 tweeted that the shooter was "a Democrat Socialist who has a Beto sticker on his truck." As a data analyst noted on Twitter, even though the @suemo54 account had few followers, the tweet containing the false claim received hundreds and eventually thousands of retweets. A misinformation-tracking firm told The Washington Post that "the post appears to have been amplified mainly by bot accounts," and the account has since been suspended. https://www.mediamatters.org/maga-trolls/how-bots-and-far-right-figures-spread-lie-about-beto-orourke-and-odessa-shooting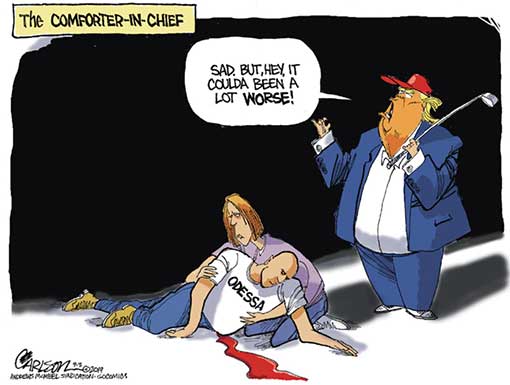 Tucker Carlson: "It's not simply Beto [O'Rourke], that's the tape that we played. Elizabeth Warren, who seems likely to be the nominee of the Democratic Party, much more likely than Joe Biden in my opinion, has also called for gun confiscation. So, this is -- what you are calling for is civil war. What you are calling for is an incitement to violence. It's something I wouldn't want to live here when that happened, would you? I'm serious." https://www.mediamatters.org/tucker-carlson/tucker-carlson-says-gun-buyback-program-will-lead-civil-war 
13. Nebraska Corn Farmers 'Outraged' at Trump
Corn farmers in Nebraska are "outraged by the Trump administration's lack of support for the American farmer," according to a press release by the Nebraska Corn Board and the Nebraska Corn Growers Association.
Farmers across the U.S. have had to cut costs, take up side gigs and go without health insurance to stay afloat during the U.S.-China trade war. The Trump administration has promised billions in aid to affected farmers, though an analysis showed that most paid so far went to the country's largest and wealthiest farmers. https://www.axios.com/nebraska-corn-farmers-trump-ethanol-us-china-trade-war-5ceacbde-3ce9-416a-a1d8-dac23eed2484.html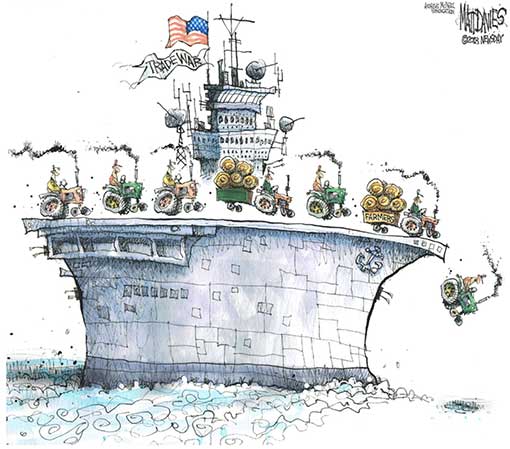 14. From the Late Shows
New Rule: Trump, Save Earth! | Real Time with Bill Maher (HBO): https://youtu.be/ZZ7c_6xghX8
15. 'Excuses!' Trump claims 'badly run and weak companies' are using China tariffs as a scapegoat
Trump tweeted that "badly run and weak companies" have blamed his trade war with China for flagging business in order to mask "bad management."
"His tweet comes as more companies from a range of industries have started to slam his tariffs on about $550 billion in Chinese goods. Earlier this week, more than 160 industry groups criticized Trump's latest move to slap duties on Chinese products." https://www.cnbc.com/2019/08/30/trump-criticizes-companies-for-blaming-china-trade-war-tariffs.html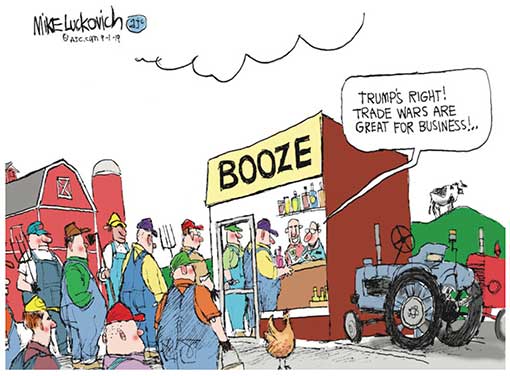 16. Colin Powell Says Trump Has Turned America From 'We The People' To 'Me The President'
"How can a president of the United States get up and say that the media is the enemy of Americans? Hasn't he read the First Amendment? You are not supposed to like everything the press says, or what anyone says…that's why we have a First Amendment, to protect that kind of speech."
"I hope the president can come to the realization that he should really stop insulting people. I used this two years ago when I said I could not vote for him in the 2016 election. Why? He insulted everybody. He insulted African-Americans, he insulted women, he insulted immigrants. He insulted our best friends around the world—all of his fellow candidates up on the stage during the debates. I don't think that's what should be coming out of a president of the United States. But I don't see anything that's changed in the last two years."
"The world is watching. They cannot believe we're doing things like separating mothers and children who are trying to get across the border from south of our border. They can't believe we're making such an effort to cease immigration coming into the country. It's what's kept us alive!" — Former U.S. Secretary of State Colin Powell https://www.newsweek.com/colin-powell-donald-trump-america-we-people-madeleine-albright-constitution-1157119
17. Leaked Draft of U.N. Climate Report Says Warming Oceans Are 'Poised to Unleash Misery'
The United Nations' Intergovernmental Panel on Climate Change is considered the gold standard for assessing the scientific consensus on global warming; if there is an overarching criticism of IPCC reports, it's that they're a little too conservative in their presentation of the threat at hand. So when a draft of its newest report stated that if the planet warms beyond 1.5 degrees Celsius it would create ocean conditions "poised to unleash misery," there's reason for alarm. A really loud alarm, considering that a 1.5-degree scenario is all but locked in due to emissions that have already left the smokestack.
The report, which leaked to the French News agency AFP and focuses on the oceans and the planet's stores of frozen water known as the cryosphere, states that if warming isn't halted at 1.5 degrees Celsius, sea levels will rise high enough to displace around 280 million people. (If perspective is needed, that's four times the current number of worldwide refugees, which is a record high. And that's to say nothing of other forms of climate displacement.) By 2100, the draft states that "annual flood damages are expected to increase by two to three orders of magnitude." That means flood damages will increase either 100- or 1,000-fold — in a world where king tides are already causing cities like Miami to flood on a regular basis, and where Indonesia just announced announced a new inland capital because Jakarta is sinking. By 2050, low-lying cities and small island nations will face "extreme sea-level events" every year. At two degrees, the report anticipates that the frequency of extreme El Niño events will double, leading to greater risk of forest fires and cyclones.
Sea life will take also take a profound hit, as "the same oceans that nourished human evolution are poised to unleash misery on a global scale," the report warns. Fish stocks could decline substantially from their already depleted numbers. Last year, the U.N. determined that a third of all fisheries were being tapped at an unsustainable rate. In the sea at large, the number of fish and marine life declined by 50 percent between 1972 and 2012.
As far as hopes to limit warming to two degrees go, a particularly unnerving detail from the IPCC cryosphere draft involved the state of the world's permafrost (ground that remains frozen for at least two consecutive years). If emissions continue at their current rate, at least a third and as high as 99 percent of permafrost could melt by 2100, releasing what has been described as a "carbon bomb" of greenhouse gases like nitrous oxide and methane, which are 300 and 25 percent more effective at trapping heat than carbon dioxide. Alone, permafrost and other sources of ground methane emissions could cut the 1.5-degree carbon budget — the amount of carbon the economy can heave into the atmosphere without going above a certain temperature — by five years. At least that methane won't be lonely: In a sort of accidental prescience on Thursday, President Trump announced the rollback of regulations determining how much methane can be released while drilling for natural gas. http://nymag.com/intelligencer/2019/08/leaked-un-draft-warming-oceans-could-unleash-misery.html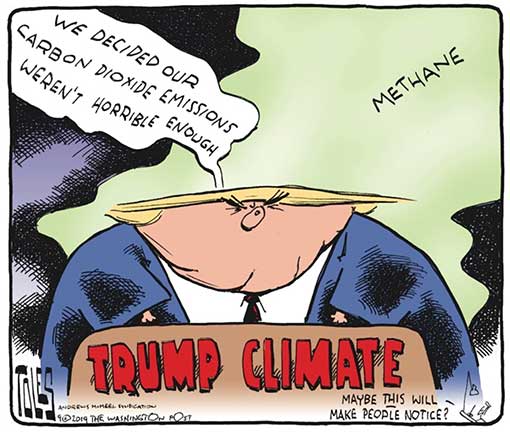 18. Trump Again Attacks London Mayor
President Trump slammed London Mayor Sadiq Khan after the British politician chastised him for golfing as Hurricane Dorian moved towards the United States.
Said Trump: "The incompetent Mayor of London, Sadiq Khan, was bothered that I played a very fast round of golf yesterday. Many Pols exercise for hours, or travel for weeks. Me, I run through one of my courses (very inexpensive). President Obama would fly to Hawaii."
He added: "Kahn should focus on 'knife crime,' which is totally out of control in London. People are afraid to even walk the streets. He is a terrible mayor who should stay out of our business!" https://twitter.com/realDonaldTrump/status/1168898509841555456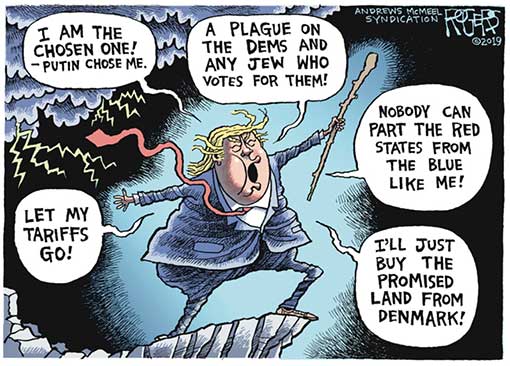 1. Jonathan Allen:Trump's 2020 pitch: A powerless presidency
The most powerful man in the world prefers to portray himself as a martyr.
President Donald Trump says he's been beset on all sides by sinister forces that are oppressing him and depriving him of the authority he needs to deliver on his vision for America.
Often, the villains in his narratives work for him.
First, it was the CIA and the FBI, then Democrats, members of his Cabinet and Robert Mueller. Lately, his enemies list includes his hand-picked Federal Reserve chairman, Jay Powell, and Fox News. The cable network "isn't working for us anymore," Trump declared in a tweet last week, a few days after calling Powell an "enemy" of the United States.
Trump's persecution complex is an essential part of his brand — one that resonates deeply with a political base that believes anti-Trump liberals run the federal government and the news media. But as he seeks re-election in 2020, Trump is banking heavily on his ability to blend it into a coherent narrative with a version of his presidency in which he's been a commanding force, steamrolling adversaries to get things done.
"This election is not merely a verdict on the amazing progress we've made," Trump said when he kicked off his re-election campaign in Orlando, Florida, in June. "It's a verdict on the un-American conduct of those who tried to undermine our great democracy, and undermine you." https://www.nbcnews.com/politics/2020-election/trump-s-2020-pitch-powerless-presidency-n1047551
2. Phil Quin: Why is it so hard for us to say out loud that Trump has lost his mind?
Why is it so hard for us to say out loud the blazingly obvious about the president of the United States: that he has utterly lost his mind. If Donald Trump were appointed the principal of your local secondary school tomorrow, you'd have pulled your kids out by Wednesday and he'd be gone by Friday. If he was mayor of your town, you'd pretend to live somewhere else. If he was a dog, you'd be making whispered phone calls to your vet. 
I mean, I used to think Ronald Reagan and George W Bush were intellectually sub-par – but, by God, they're Mensa material compared to this guy. Meanwhile, his immediate past predecessor, Barack Obama, is as intellectually far ahead of Trump as it's possible to be while still belonging to the same species.
Let's review just the past few weeks, during which Trump seems to have crammed more abject lunacy than his 44 predecessors managed over the combined 250 years prior.
Sure, there have been terrible presidents before – corrupt, cruel and boorish ones; mendacious, vain, ignorant ones; racists, misogynists, and warmongers; incompetents and dilettantes – but only Trump embodies each and every one of those qualities with such unbridled ferocity. He disgraced the Oval Office by ever setting foot in there; he has been disgracing himself, and anyone that supports him, every day since. 
It takes one idiot to make a fool of himself every day he defaces the Oval Office. It takes tens of millions to elevate him there. https://www.stuff.co.nz/world/americas/donald-trumps-america/115419803/whys-it-so-hard-for-us-to-say-out-loud-that-trump-has-lost-his-mind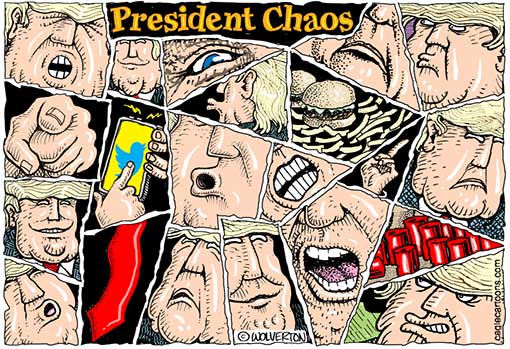 3. NY Times Editorial: Fix the Electoral College — Or Scrap It
What really disregards the will of the people is the winner-take-all rule currently used by every state but Maine and Nebraska. Giving all electors to the winner of the statewide popular vote erases the votes of citizens in the political minority — say, the 4.5 million people who voted for Donald Trump in California, or the 3.9 million who voted for Hillary Clinton in Texas. Nationwide, this was the fate of 55 million people in 2016, or 42 percent of the country's electorate.
The winner-take-all rule encourages campaigns to focus on closely divided battleground states, where a swing of even a few hundred votes can move a huge bloc of electors — creating presidents out of popular-vote losers, like George W. Bush and Donald Trump. This violates the central democratic (or, if you prefer, republican) premises of political equality and majority rule.

What most people don't realize is that the winner-take-all rule exists nowhere in the Constitution. It's a pure creation of the states. They can award their electors by congressional district, as Maine and Nebraska do, or in proportion to the state's popular vote, as several states have considered.
It's unlikely that battleground states will abandon winner-take-all on their own, since it would lessen their political power. But right now a constitutional amendment to eliminate it would be as unlikely as one eliminating the Electoral College itself. Despite more than 700 proposals for amendments to reform or abolish the Electoral College — by far the most of any provision of the Constitution — it has remained.
The College has survived not because it makes sense, but because one party or the other has believed it gives them an advantage. That may be smart politics, but it's terrible for a democracy.
https://www.nytimes.com/2019/08/30/opinion/electoral-college.html
4. Philip Rucker and Ashley Parker: Trump's lost summer: Aides claim victory, but others see incompetence and intolerance
When President Trump presided over the battle tanks and fighter jets, the fireworks and adoring fans on July 4, he couldn't have known that the militaristic "Salute to America" — as well as to himself — would end up as the apparent pinnacle of the season.
What followed was what some Trump advisers and allies characterize as a lost summer defined by self-inflicted controversies and squandered opportunities. Trump leveled racist attacks against four congresswomen of color dubbed "the Squad." He derided the majority-black city of Baltimore as "rat and rodent infested." His anti-immigrant rhetoric was echoed in a missive that authorities believe a mass shooting suspect posted. His visits to Dayton, Ohio, and El Paso after the gun massacres in those cities served to divide rather than heal.
Trump's economy also began to falter, with the markets ping-ponging based on the president's erratic behavior. His trade war with China grew more acrimonious. His whipsaw diplomacy at the Group of Seven summit left allies uncertain about American leadership. The president returned from his visit to France in a sour mood, frustrated by what he felt was unfairly negative news coverage of his trip.

The two months between Independence Day and Labor Day offered a fresh and vivid portrait of the president as seen by Trump's critics — incompetent, indecisive, intolerant and ineffective. 
https://beta.washingtonpost.com/politics/trumps-lost-summer-aides-claim-victory-but-others-see-incompetence-and-intolerance/2019/09/01/f6f74f86-ca8a-11e9-be05-f76ac4ec618c_story.html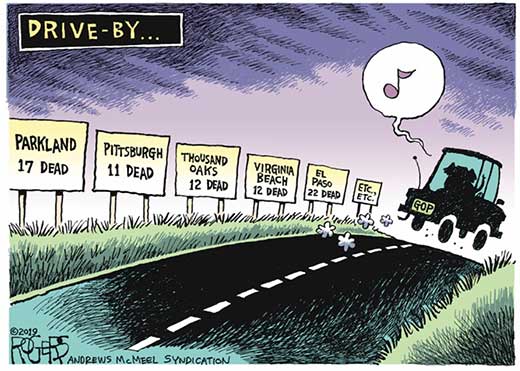 5. Carol Pires: The Trump Ally Who Is Allowing the Amazon to Burn
Last year, Bolsonaro was elected the President of Brazil, after running a nationalistic campaign that echoed, in many ways, the politics of Donald Trump. A climate-change skeptic, Bolsonaro argued that more land in the Amazon rainforest should be opened for farming, mining, and logging. Under his leadership, ibama's budget has been cut by twenty-four per cent. Bolsonaro has also repeatedly threatened to transform the Tamoios reserve into a Brazilian Cancún, brimming with tourist hotels. The agent who wrote him the ticket for illegal fishing, back in 2012, was fired from a senior government position. And Bolsonaro has installed opponents of environmental regulations in offices throughout his new administration.
Bolsonaro has dismissed environmental groups' concerns and encouraged loggers to deforest more of the Amazon. On August 10th, in what became known as Fire Day, farmers in the town of Novo Progresso, in the state of Pará, set fires on their properties to clear land and show their support for Bolsonaro. Satellites operated by Brazil's space agency detected a surge of wildfires. Now the blazes are so widespread that, last week, smoke darkened the skies over São Paulo, thousands of miles to the south.
Recent opinion polls have shown a decline in public support for Bolsonaro, as the country's economy has been slow to recover from a deep recession, and scandals have beset his government. Bolsonaro, however, continues to have one strong supporter. On Tuesday, Trump tweeted, "He is working very hard on the Amazon fires and in all respects doing a great job for the people of Brazil - Not easy. He and his country have the full and complete support of the USA!" https://www.newyorker.com/news/news-desk/the-trump-ally-who-is-allowing-the-amazon-to-burn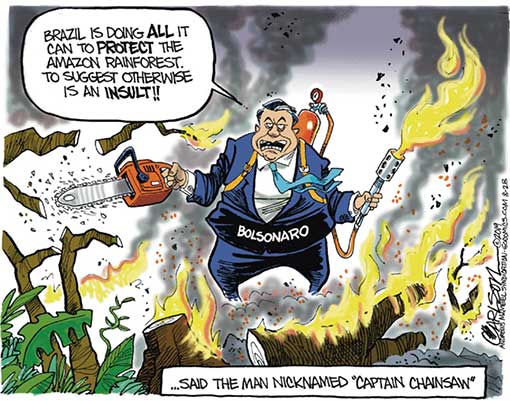 6. Adam Gopnik: Another Look at Impeaching Trump, at the End of a Long Summer
The task of holding Trump accountable becomes more urgent for a simple reason: he's getting worse. Apparently emboldened by what he sees as his acquittal in the Mueller report, he feels free to execute his own vision of the Presidency. His behavior during the past few weeks—from insulting the Prime Minister of Denmark, for her dismissal of his desire to buy Greenland, to cravenly defending Vladimir Putin at the G-7 meeting in Biarritz, and touting one of his own resorts as the site of the next—marks a man out of control, now supported only by dutiful and amoral loyalists. His effort to turn the Department of Justice into his own enforcement agency now seems to be under way, with the ongoing intimidation through investigation of the F.B.I. agents who began the inquiry into his campaign's contacts with Russians, and a potential indictment of Andrew McCabe, the former deputy F.B.I. director whom Trump has denounced repeatedly, on the horizon. The independence of cops and judges from politicians is all that the phrase "the rule of law" means; Trump, without shame, acts on the basis that cops and judges should pursue and prosecute those whom he perceives as his political enemies. That is the measure of a despot, and advocacy for that view in itself should be a high crime and a misdemeanor. We can add to the list the Washington Post's report, on Wednesday, of Trump's encouraging his underlings to do whatever it takes to get his border wall built by Election Day—and his alleged reassurances that he will pardon them of any crimes they may need to commit in the process. (A White House official said, as usual, that Trump was only joking.)
There is another, pragmatic reason to pursue impeachment. Nixon may have been a bad man, but he was not an incompetent President. Pretty much every Republican in Congress knows that Trump is a dangerous and unfit President, and clings to him only out of partisan loyalty and fear of his or her own base. That loyalty is stretched thin already. Stretch it even thinner! The contributors who attended a Trump fund-raiser earlier this month in the Hamptons, as that left-wing stalwart Bill Kristol pointed out, would never have done business with Trump, knowing him for the con man he is. They stick by him for the worst of reasons: tribalism and a tax cut. Let them own their own bad consciences.
Making Trump's Republican defenders own the truth does not sound like bad politics. The future success of the Democratic Party relies on the perpetuation of democracy. The normalization of Trump and Trumpism—allowing those things to be defined merely as a political problem needing a political cure—degrades democracy. Calculating political advantage, too, narrowly misses the point of taking part in politics, which is to defend values. And for the Max Roses of the world to be seen to be on the side of the angels—not the exterminating angels of political partisanship but those better angels of our nature that Lincoln cited—may not be a bad place to run to, or, really, a bad place to run from. https://www.newyorker.com/news/daily-comment/another-look-at-impeachment-at-the-end-of-a-long-summer
7. Mark Follman: Trump Is Going Nuclear on the Media With Ugly Personal Attacks and Crazy Conspiracy Theories
By now, the country is used to Trump's "fake news" and "enemy of the people" rhetoric. The constant repetition of those messages is no accident: His overarching goal is to try to discredit the press and reduce the impact of reporting that exposes his administration's lies, negligence, and failures and his own possible criminality.
Trump's incessant war on the American press has grown more extreme as his presidency has gone on, and recently that pattern has further escalated. Not only has Trump continued to smear journalists with ugly hyperbole—despite clear evidence his words have provoked violent threats against Americans working in newsrooms—he is now also seeking to whip up a conspiracy theory about the Democratic Party and the news media and position the press as a scapegoat for a potential economic recession. https://www.motherjones.com/politics/2019/08/trump-war-on-media-personal-attacks-conspiracy-theories/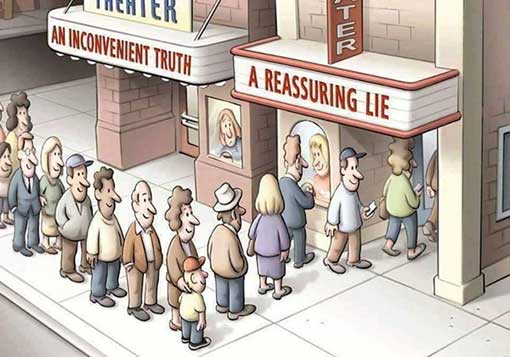 8. Matthew Yglesias: Why Is Corruption at Trump's Golf Clubs Mostly Ignored?
Though all recent presidents have had a somewhat inexplicable love of golf, when Trump goes golfing it's different from normal presidential golfing because he golfs at luxury golf clubs that he owns.
This means that when the White House senior staff and the Secret Service do things like rent golf carts to ensure that the president remains safe and well-briefed while on the links, it's not just an expenditure of public funds but an expenditure that directly lines Trump's pockets. This just about the most straightforward example of political corruption that one can imagine. (When it turned out that Baltimore Mayor Catherine Pugh was making companies that contracted with the city buy copies of her book, she was drummed out of office almost immediately.)
But in the United States of Trump, it wasn't even the most egregious golf-related act to stem from the ill-fated trip to Poland. Yet nobody in any position of influence in politics seems to be trying to do anything about it. https://www.vox.com/2019/9/3/20845320/mike-pence-ireland-doonbeg-trump-golf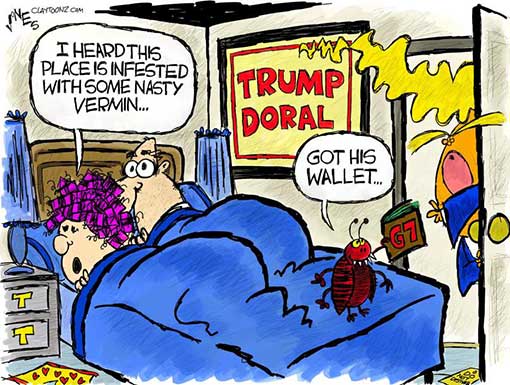 9. Gideon Cohn-Postar: A Shell plant coerced workers into attending a Trump rally. Here's what that means for democracy.
Shortly before President Trump visited the Royal Dutch Shell plant in Pennsylvania on Aug. 13, thousands of workers received a memo from Shell about the company's expectations of the event. The memo informed them that their attendance at the speech was "not mandatory," but that if they did not scan in to work that morning, they would not receive their pay for the day. They also would lose eligibility to receive the 16 hours of overtime pay built into their workweek.
Although some workers chose not to attend, Trump spoke before a warehouse packed with Shell employees. At one point, the president turned to the union leaders and demanded that they support his reelection campaign. Trump told the workers that if the leaders refused to back him, they should "vote them the hell out of office because they're not doing their job."
The Gilded Age crisis of economic intimidation was halted by protective legislation and transformed attitudes about acceptable corporate behavior. Preventing economic intimidation from again becoming endemic may require revitalized anti-intimidation laws and an organizing effort to again stigmatize corporate coercion as illegitimate. https://beta.washingtonpost.com/politics/2019/09/02/shell-plant-coerced-workers-into-attending-trump-rally-heres-what-that-means-democracy/
10. Jonathan Chait: Why Mike Pence Is Lining Trump's Pockets With Taxpayer Dollars
Trump had a suggestion for Mike Pence: Rather than stay in Dublin during his meetings there with European officials, why not bring his entire family and security entourage to the Trump International Golf Club in Doonbeg, on the other side of the country? Pence, of course, agreed.
Pence's European trip has become a vehicle to transfer American tax dollars into Trump's pockets. But the direct impact of this minor grift pales beside the much larger consequence of suborning the vice-president's participation in Trump's corruption.
As an ethical violation, what's notable about Pence going (literally) out of his way to stay at a Trump property is the meagerness of the stakes and the black-and-white clarity of the offense. Any government official below Trump's rank who engaged in a similar offense would be fired. Just imagine if some assistant secretary was running a hotel on the side and told one of their subordinates to stay there on official business. They'd be fired on the spot.
It might seem strange for Trump and Pence to incur the awful publicity that comes with engaging such corruption in broad daylight, especially when the payoff — a handful of additional customers at a resort — is relatively small. But it is precisely that disjuncture between the brazenness and the scale that makes this episode significant. Pence is establishing the principle that Trump is entitled to profit from his office, and — far more importantly — his participation signals his culpability in the scheme. http://nymag.com/intelligencer/2019/09/mike-pence-ireland-dublin-trump-grift-corruption.html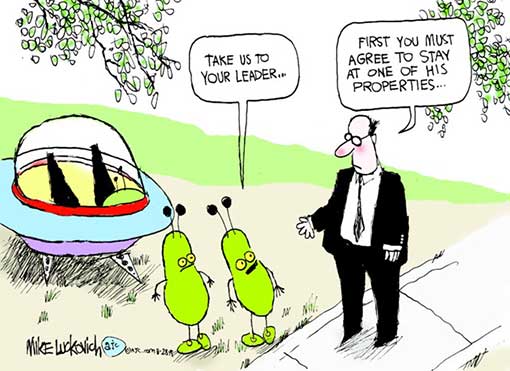 11. Anne Applebaum:  21 British Conservatives put country over party. Why can't 21 Republicans do the same?
Among them are two former chancellors of the exchequer, an array of former cabinet ministers, and many old and familiar stalwarts of Conservative party conferences and Conservative think tanks. One of them, Nicholas Soames, is Winston Churchill's grandson. Another, Kenneth Clarke, is the longest-serving member of the House of Commons. All of them were told that if they voted against the Conservative government Tuesday night — paving the way for the British Parliament to block a damaging, "no-deal" Brexit — they would be expelled from the Conservative party.
Not only that, but they also would be prevented from standing as parliamentary candidates at the next election. They would be out of politics. Finished. Yet all of them, all 21 of them, did it anyway. 
These 21 rebels, in other words, stood up against a national leader from their own party in order to prevent him from harming the country, undermining the constitution and damaging democracy. Imagine how different American politics would be if we could find 21 Republican senators to do the same. https://beta.washingtonpost.com/opinions/2019/09/04/british-conservatives-put-country-over-party-why-cant-republicans-do-same/
12. Sidney Blumenthal: Donald Trump's Republican Party is not the party of Lincoln
President Trump extemporaneously speaks about Abraham Lincoln as if he were his rival. He has boasted that his poll numbers are greater than Lincoln's, though there were no opinion polls in the 19th century. He has invidiously compared Lincoln with one man he always casts as heroic and whose monuments he defends as sacrosanct: "a great general," Robert E. Lee.
And yet, to ward off criticisms of Trump's bursts of racist rhetoric, Republican leaders reflexively play the Lincoln card. "We are the party of Lincoln," proclaimed House Minority Leader Kevin McCarthy (R-Calif.) to shield Trump with the icon of the Great Emancipator.
But the party of Trump is the antithesis of the party of Lincoln, the culmination of a long realignment. Beginning in the 1960s, the party embraced a Southern strategy, forsaking the remnants of its Lincolnesque heritage in exchange for the principles of states' rights and resistance to civil rights for African Americans previously associated with the neo-Confederate Dixiecrat wing of the Democratic Party. As a result, the Republican Party changed its identity and abandoned its original principles, becoming strikingly similar to the very opponents that roused Lincoln to resist in the beginning. https://beta.washingtonpost.com/outlook/2019/09/04/donald-trumps-republican-party-is-not-party-lincoln/