July 29, 2021
ON THE RECORD. . .
"McCarthy looks the other way and welcomes Members who spread dangerous conspiracy theories and consort with insurrections, far right extremists and white supremacists, but he punishes and threatens those in his Conference who dare to stand up for our democracy."-- Nancy Pelosi calling out House Minority Leader Kevin McCarthy (R-CA).

"To write three books in four years about Donald Trump has been an immersion into his obsessions and fixations. This is why I know the obvious: Donald Trump will run for president again." — Michael Wolff

"Folks are supposed to have common sense. But it's time to start blaming the unvaccinated folks, not the regular folks. It's the unvaccinated folks that are letting us down." — Alabama Gov. Kay Ivey (R) on the rise in Covid-19 cases in her state, a remarkable plea at a time when many GOP leaders are refusing to urge people to get vaccinated even as Covid-19 cases surge in many parts of the country.

"He lost the election, and I regret that he did, but they did. He had Rudy Giuliani running all over the country, claiming fraud. He never had one bit of fraud in all those lawsuits he filed and statements he made. I'm a Trumper. I'm sort of Trumped out, though." — Former Sen. Bob Dole (R-KS) 

"I'll tell you when we take the majority back in 2022, I'll make sure consequences are doled out. We want to prosecute this guy (Dr. Fauci) to the full ability of the law. And I'll tell you, to lie to the American people just to get your name in the news, just to get your face on the cover of books, just to get fame and fortune. I'll tell you, Dr. Anthony Fauci does not deserve either fame or fortune." — Rep. Madison Cawthorn (R-NC) saying he wants to "prosecute" Dr. Anthony Fauci should Republicans win control of the House in 2022.

"I think we should be talking more about freeing Britney," — Rep. Matt Gaetz (R-FL) when asked by CNN about his vaccination status.

"I never told anyone to get a vaccine. I have been very clear. I am simply not qualified. I am not a medical doctor. I know nothing about your medical history or your current medical condition. I think it's inappropriate for me to do so. Instead, for over a year now I have been warning my viewers, you make my career possible." — Sean Hannity backing away from his seeming embrace of vaccines.

"Even the Taliban oppose abortion." —Texas state Rep. Matt Schaefer (R) defending the new Texas anti-abortion law.

"There's not a day that goes by that I don't thank God he's there and the other guy is in his Mar-a-Lago retirement home. I don't wake up in the middle of night wondering whether the president United States has been co-opted by Vladimir Putin. I mean, maybe Trump lowered the bar so much that our expectations are such that things seem semi-calm right now." — Rep. Jim McGovern (D-MA)

For too long, we have allowed climate change to be framed entirely as one of science or economics or policy and politics. But more than anything else, it's about ethics, our obligation not to destroy this planet for future generations. People of good will are finally demanding action. I think it's because our children have come out and demanded it of the adults of the world. — Richard Schiffman in Scientific American.

A criminal complaint charges Thomas Patrick Connally Jr., who sent numerous violent emails to Dr. Anthony Fauci, threatening to break every bone in his "disgusting elf skull" and sew his scalp onto a rat, while warning that the famed public health researcher would soon be "hunted, tortured, beaten, and enslaved.

"We cannot leave the violence of January 6th and its causes un-investigated. We must also know what happened every minute of that day in the White House. Every phone call, every conversation, every meeting leading up to, during, and after the attack." — Rep. Liz Cheney (R-WY), in her opening statement before the House Select Committee investigating the January 6 attack.

"If they go through round two and you start showing up (with) all these masks and all this nonsense I will ask you to leave. I am not playing these Democrat games up in this church." --Tennessee pastor Greg Locke to his Nashville-area congregation during a service on Sunday.

"He's such a moron." — Speaker Nancy Pelosi (D-CA) on Minority Leader Kevin McCarthy (R-CA) for saying the mask mandate in the House isn't based on science.

Republicans look "weak, foolish, and dumb" for supporting it." If this deal happens, lots of primaries will be coming your way!" — Trump trashing the bipartisan "infrastructure" deal..

 

Video of a Montana man telling Tucker Carlson he is "the worst human being known to mankind" just because. — MeidasTouch.com

Trump's "Rally to Protect Our Elections" in Phoenix is beyond parody - follow the thread starting HERE!

Meidas Touch: GOP Betrayed America: https://youtu.be/LHZjrc1vDB8

Watch the Jan. 6 House Select Committee's First Hearing On The Capitol Riot: https://www.youtube.com/watch?v=vHrt44ANHIA

DC Metropolitan Police Officer Michael Fanone joined Don Lemon in the studio after his testimony to the Select Committee investigating January 6th. You can ear the shocking voicemail he received during his testimony – and a warning – the language is graphic. Listen at https://twitter.com/DonLemonTonight/status/1420210720759758857
Just Security is continuing to track every pending criminal and civil case against Donald Trump.
---
IN THIS ISSUE
IN THE NEWS
OPINION
Andy Borowitz: G.O.P. to Punish Cheney and Kinzinger by Forcing Them to Spend Hour with Ted Cruz
Furious at Representative Liz Cheney and Representative Adam Kinzinger for participating in the January 6th commission, the G.O.P. leadership in the House is punishing the two rogue Republicans by forcing them to spend an hour with Ted Cruz.

Speaking to reporters, the House Minority Leader, Kevin McCarthy, said that the decision to subject the two dissidents to an hour with Cruz "should leave no doubt about how seriously we take their offense."

"Make no mistake," he said, "an hour with Ted Cruz is the ultimate punishment."

According to McCarthy, Cheney and Kinzinger will be locked in a room with Cruz, who will then speak, uninterrupted, for an hour on a topic of his choosing.

"Ten minutes in, they'll come to regret what they've done," McCarthy predicted. "No one has lasted fifteen."

McCarthy's decision to subject the two Republicans to an hour of Cruz drew a strong rebuke from Representative Cheney's father, the former Vice-President Dick Cheney. "Much as I have been a longtime supporter of torture, this goes too far," he said. https://www.newyorker.com/humor/borowitz-report/
For Republicans, Deep Wounds Fuel Resistance to Bolstering the I.R.S.
A plan by Democrats to pay for infrastructure investments by beefing up the Internal Revenue Service to catch tax evaders has resurfaced old resentments for Republicans, whose distrust of the agency has simmered for years, erasing hopes of a bipartisan legislative accord built on narrowing the so-called tax gap.
Republican senators backed away this week from a provision to toughen tax enforcement at the I.R.S., gutting a crucial source of financing for an infrastructure package that would devote about $600 billion to roads, bridges, broadband and other public goods. That has left lawmakers scrambling to figure out how to pay for the legislation and has again put the I.R.S., whose funding and ability to conduct audits has diminished over the past decade, in limbo.
For conservative activists, who have harbored enmity toward the I.R.S. for more than a decade, the agency is considered a threat that is beyond reclamation. https://www.nytimes.com/2021/07/23/us/politics/republicans-infrastructure-irs-tax-gap.html
Trump pressures McConnell, GOP to ditch bipartisan talks until they have majority
Donald Trump on Monday urged Senate Republicans to abandon talks on a bipartisan infrastructure deal until after the midterm elections or when the GOP retakes majorities in Congress.
"It is so important to [McConnell] that he is agreeing to almost anything," Trump said. "Don't do the infrastructure deal, wait until after we get proper election results in 2022 or otherwise, and regain a strong negotiating stance. Republicans, don't let the Radical Left play you for weak fools and losers!" https://thehill.com/homenews/administration/564801-trump-pressures-mcconnell-gop-to-ditch-bipartisan-talks-until-they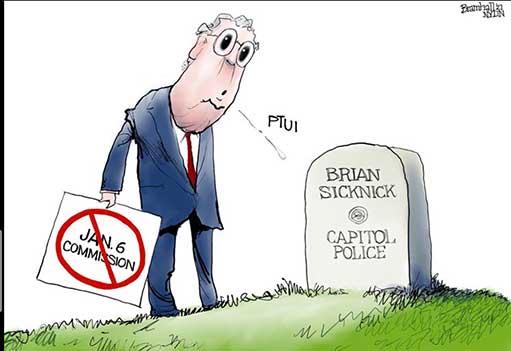 Vaccine hesitancy morphs into hostility, as opposition to shots hardens
At the recent Conservative Political Action Conference, attendees celebrated a different — essentially opposite — milestone: that Biden had missed his goal of vaccinating 70 percent of adults.
"Clearly they were hoping — the government was hoping — that they could sort of sucker 90 percent of the population into getting vaccinated," activist Alex Berenson told the crowd Saturday, seeming to inflate Biden's target. "And it isn't happening."
The crowd clapped and cheered at that failure.
What began as "vaccine hesitancy" has morphed into outright vaccine hostility, as conservatives increasingly attack the White House's coronavirus message, mischaracterize its vaccination campaign and, more and more, vow to skip the shots altogether.
The notion that the vaccine drive is pointless or harmful — or perhaps even a government plot — is increasingly an article of faith among supporters of former president Donald Trump, on a par with assertions that the last election was stolen and the assault on the U.S. Capitol was overblown. https://www.washingtonpost.com/politics/covid-vaccines-biden-trump/2021/07/15/adaf6c7e-e4bd-11eb-a41e-c8442c213fa8_story.html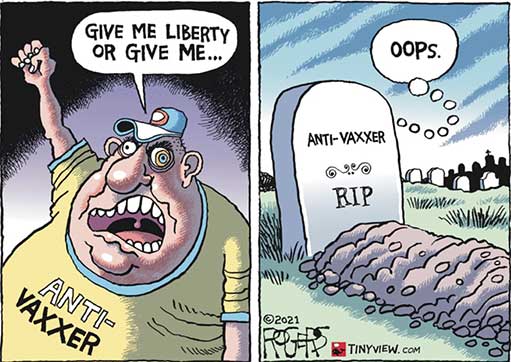 Trumpworld is already weighing veeps for 2024. Hint: It ain't Pence
Donald Trump and his advisers are convinced that if he runs again for president in 2024, the Republican nomination will be his. Their confidence is so supreme that they view almost all of the emerging field not as competition but as possible vice presidential picks. https://www.politico.com/news/2021/07/23/trump-vp-2024-500632
Biden quickly moves to avoid the down ballot carnage that plagued Obama
When Joe Biden called Terry McAuliffe to congratulate him on winning the gubernatorial primary in Virginia last month, it didn't take long for McAuliffe to make his ask.
"'I need you here,'" the one-time governor and longtime Democratic fundraiser recalled telling Biden. "He said, 'I'll be there.' And here he comes."
Biden's return to the campaign trail for a rally Friday in Northern Virginia comes as Democrats in the state furiously try to yoke McAuliffe's Republican opponent, the hedge-fund multimillionaire Glenn Youngkin, to former President Donald Trump.
But there are far bigger stakes for the White House. Biden, a self-described party guy, is keen on avoiding the down-ballot carnage that took place under presidents Trump and Barack Obama before him. And so, as Biden's aides and allies put it, he's tending to the store early. https://www.politico.com/news/2021/07/23/biden-virginia-governor-mcauliffe-win-500635
Climate predictions are becoming real around globe
Extreme weather this summer has flattened rural communities in Germany with floodwaters, triggered deadly mudslides in India and sparked heat waves and fires that can be seen from space in the Western United States and Canada. Floods have also wrought damage in parts of New Zealand, Nigeria and Iran.
Scientists have been warning for years that rising temperatures will make dry conditions for wildfires more common in some parts of the world and, in other places, trap more moisture in the atmosphere, leading to heavier rainfall during storms.
Those conditions could cause more volatile events like the downpour over London on July 12, when about a month's worth of rain fell on parts of the British capital, leading to flash floods that paralyzed some streets and forced the partial closure of its Underground rail system.
More unprecedented heat waves also could be in store, like those experienced this month in the Pacific Northwest, where hundreds of people are believed to have died from the extreme temperatures, and Russia's Siberia, where nearly 200 separate forest fires have choked the region in smoke that has since drifted to Alaska.
"All of this was predicted in climate science decades ago," said John P. Holdren, a professor of environmental policy at Harvard's John F. Kennedy School of Government. "We only had to wait for the actual emergence in the last 15 to 20 years. Everything we worried about is happening, and it's all happening at the high end of projections, even faster than the previous most pessimistic estimates."
https://enewspaper.latimes.com/infinity/article_share.aspx?guid=84d24b49-e29d-4aa1-920d-6079bdff7875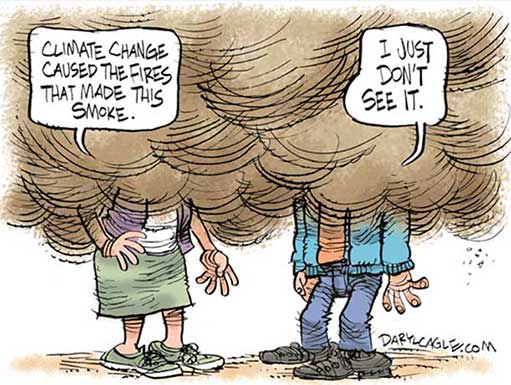 As coronavirus surges, GOP lawmakers are moving to limit public health powers
Across the country, GOP lawmakers are rallying around the cause of individual freedom to counter community-based disease mitigation methods, moves experts say leave the country ill-equipped to counter the resurgent coronavirus and a future, unknown outbreak.
At least 15 state legislatures have passed or are considering measures to limit the legal authority of public health agencies, according to the Network for Public Health Law, which partnered with the National Association of County and City Health Officials to document the legislative counterpunches. Lawmakers in at least 46 states have introduced hundreds of bills relating to legislative oversight of gubernatorial or executive actions during coronavirus or other emergencies, according to the National Conference of State Legislatures.
The measures, as described by the Network for Public Health Law, include a North Dakota law that prohibits a mask mandate, even during an outbreak of tuberculosis, and a new Montana law that prohibits the use of quarantine to separate people who have probably been infected or exposed but are not yet sick. Many bills are modeled on legislation originally crafted by conservative think tanks and activist groups, according to state lawmakers who introduced them. https://www.washingtonpost.com/national/gop-legislatures-health-laws/2021/07/25/2455940c-db54-11eb-8fb8-aea56b785b00_story.html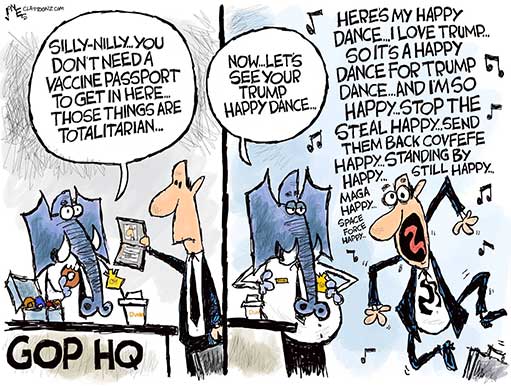 The Limited Power of Trump's Endorsements
Trump's endorsements may help candidates secure the Republican nomination in the coming primaries, but will support from such a divisive figure ultimately help them in the general election? Our newly-published research on the 2018 midterm elections suggests that receiving the public backing of Trump may ultimately harm candidates in close races – so Republican candidates looking for electoral success may want to think carefully before welcoming Trump's endorsement. https://www.mischiefsoffaction.com/post/the-limited-power-of-trump-s-endorsements
J.D. Vance Deleted His Anti-Trump Tweets. He Forgot His 'Likes.'
In advance of announcing his run for Senate, Hillbilly Elegy author turned venture capitalist J.D. Vance deleted dozens of old tweets blasting former President Donald Trump. But Vance, who is warring with fellow Ohio Republicans for the MAGA vote, forgot to scrub one Twitter element of his anti-Trump past: his "likes."
Vance's Twitter likes, which were still visible as of Monday afternoon, include two tweets supporting Hillary Clinton's 2016 candidacy, a post implying Trump supporters are antisemitic, and multiple tweets indicting Trump's character. One tweet even accuses then-candidate Trump of sexual assault, and another calls him "psychologically disturbed." He also liked two tweets mocking Melania Trump. https://www.thedailybeast.com/jd-vance-deleted-his-anti-trump-tweets-he-forgot-his-likes
The DAILY GRILL
Sen. Kyrsten Sinema (D-AZ) said Wednesday she doesn't support a $3.5 trillion price tag on a major spending bill that Democrats are trying to pass on a party-line basis, a position that will likely force the White House to scale back its ambitions.

VERSUS

"Good luck tanking your own party's investment on childcare, climate action, and infrastructure while presuming you'll survive a 3 vote House margin — especially after choosing to exclude members of color from negotiations and calling that a 'bipartisan accomplishment.'" — Alexandria Ocasio-Cortez
Dana Milbank: As Jan. 6 hearings begin, Republicans side with the terrorists
The select committee investigating the Jan. 6 attack on the Capitol held its first hearing, and Republican lawmakers took the occasion to demand justice — for the terrorists who took up arms against the U.S. government on that terrible day.
Six Republican members of the House, escorted by a man in a giant Trump costume bearing the message "TRUMP WON," marched on the Justice Department Tuesday afternoon to speak up for those they called "political prisoners" awaiting trial for their roles in the insurrection.
"These are not unruly or dangerous, violent criminals," Rep. Paul Gosar (Ariz.) proclaimed at a news conference outside DOJ headquarters. "These are political prisoners who are now being persecuted and bearing the pain of unjust suffering."
Rep. Louie Gohmert (Tex.) speculated that "we have political prisoners here in America."
They distributed copies of a letter alleging the Jan. 6 defendants had been denied "potentially exculpatory evidence" and subjected to "cruel and unusual punishment." Their supporters waved signs proclaiming "Free the Jan. 6 Political Prisoners," and "Jan. 6 Was an Inside Job."
The lawmakers, ironically, had to cut short their defense of the insurrectionists, because demonstrators disrupted them with heckling, whistleblowing and signs ("Traitors Sit Down").
The half-dozen lawmakers, including Matt Gaetz of Florida and Marjorie Taylor Greene of Georgia, made explicit what has become more obvious by the day: Republicans stand with those who attempted a violent coup on Jan. 6. And it's not just the wingnuts. House Republican leaders held a news conference before the hearing, blaming Jan. 6 not on seditionists but on Capitol Police and, particularly, House Speaker Nancy Pelosi. https://www.washingtonpost.com/opinions/2021/07/27/jan-6-hearings-begin-republicans-side-with-terrorists/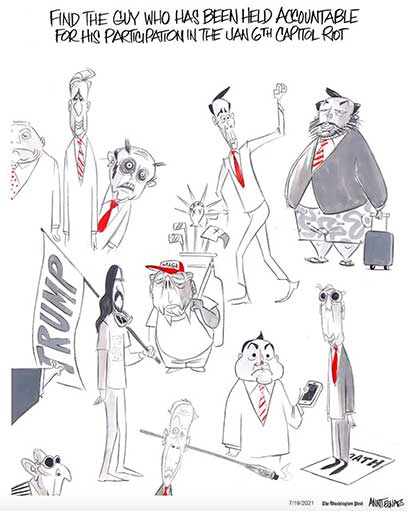 Alexandra Petri: Nancy Pelosi did this
Let me see if I have this straight. I am just trying to organize all the things that I have been told, with a straight face, to believe about the Jan. 6 insurrection at the Capitol. First, this was just a normal tour, full of people with a "jovial, friendly, earnest demeanor." These "very special" people arrived at the Capitol because the election had been stolen from them, but they meant no harm; the gallows they erected was just … well, we'll come back to that. These people were going to bring, they tweeted, the Calvary ("a public display of Christ's crucifixion, a central symbol of her Christian faith with her to the president's speech, a symbol of faith, love and peace"), not the cavalry. It was in this positive, uplifting spirit that a man went into House Speaker Nancy Pelosi's office and left her the inoffensive note, "Hey Nancy, Bigo was here biatd," which wasn't ominous because it meant nothing at all.
But also, the events of Jan. 6 were all Nancy Pelosi's fault, because she denied the Capitol Police the support they needed, although they didn't need the support because it was good that the tourists were there having a pleasant, wonderful, jovial day (except for the antifa provocateurs, who weren't, but they were only visible to some people who were sufficiently pure in heart), and they barely had any weapons at all and meant no harm.
Do I have it right? It doesn't matter. The people saying this don't care. They are just saying these things to see how much we are willing to swallow. https://www.washingtonpost.com/opinions/2021/07/27/nancy-pelosi-jan-6-lies/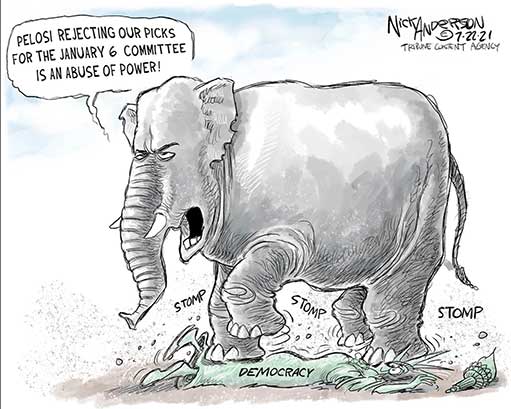 Rep. Adam Kinzinger: I'm on the Jan. 6 Committee. Here Are the Questions I Want Answered
On Jan. 6, hundreds of our fellow citizens stormed the U.S. Capitol, armed and ready for battle. For hours, broadcast live on television and streamed on social media, rioters attacked law enforcement and eventually breached the halls of Congress in an effort to stop the certification of the 2020 presidential election.
Their goal was to subvert America's democratic process — and their means to this end was brute force and violent assaults on the men and women of the Capitol Police and Metropolitan Police Department.
How did this happen? Why? Who spurred this effort? Was it organized? When did our government leaders know of the impending attacks and what were their responses? What level of preparation or warnings did our law enforcement have? Was there coordination between the rioters and any members of Congress, or with staff?
We need answers and we need accountability, and the only way to get that is a full investigation and understanding of what happened to ensure nothing like this ever happens again. Such an investigation should include a serious look at the misinformation campaigns and their origins, the lies being perpetuated by leaders — including by former President Donald Trump — and what impact such false narratives had on the events leading up to and following Jan. 6. We need to be fearless about understanding the motivations of our fellow Americans, even if it makes us uncomfortable about the truth of who they are and the truth of who played what role in inspiring them. https://www.nytimes.com/2021/07/27/opinion/adam-kinzinger-jan-6-committee.html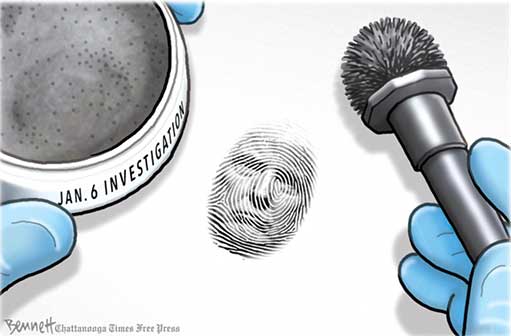 Washington Post Editorial: We have questions about Jan. 6. The new House committee can answer them.
The House select committee investigating the Jan. 6 Capitol insurrection heard from police officers who confronted the deadly chaos. Reminding Americans that the Jan. 6 riot was a horrific attack on democracy — in contrast to the narrative some Republicans have told of a "loving crowd" filled with people behaving like average Washington tourists — is an essential part of the committee's work.
But, also in contrast to Republican claims, there is much for the select committee to uncover.
Top of the list is precisely what then-President Donald Trump did before, during and after the attack. How did he prepare his speech preceding the insurrection, in which he told the crowd to fight? What did he anticipate his audience's reaction would be? When did he know the pro-Trump mob was threatening the Capitol? Why did he offer only mild statements long after the danger was clear? Did Trump-affiliated rally organizers coordinate with extremist groups? Answering such questions calls for subpoenaing former White House chief of staff Mark Meadows; Mr. Trump's daughter Ivanka and her husband, White House senior adviser Jared Kushner; and other White House aides with useful information. https://www.washingtonpost.com/opinions/2021/07/26/we-have-questions-about-jan-6-new-house-committee-can-answer-them/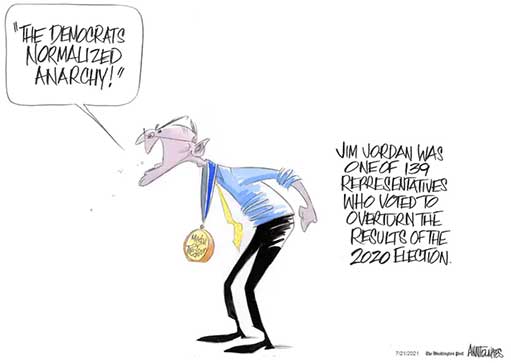 Jonathan V. Last: The Damnation of George P. Bush
To go against Trumpism is to court defeat. To abase yourself before it is to add dishonor to the bargain.
The funny part—and really, this is the single weirdest irony of our entire nationalist odyssey—is that Trump frequently ended his rallies by reading "The Snake."
Donald Trump literally told the Republican party who he was and what he would do to them. It was not subtext. It was the actual text. He read it from a paper. Over and over again.
Most of the party, it turned out, wanted a snake. They embraced the nihilism because it promised a chance to hurt their enemies.
But men like George P. Bush refused to believe—even at this late date—that the story could possibly be true.
Let George P. Bush's shame be a reminder, a warning, and a lesson. https://thebulwark.com/the-damnation-of-george-p-bush/
Eugene Robinson: We are fiddling while the world burns, floods and chokes
We are fiddling while the world burns. And floods. And chokes. And maybe even careens past some kind of unforeseen change tipping point that will make what are now extreme weather events devastatingly commonplace.
This year's fire season in the American West is already worse than last year's, which was horrific. As of this writing, the National Interagency Fire Center reports that 79 significant fires have torn through 1,448,053 acres of land. Among these conflagrations is the Bootleg Fire in Oregon, which is so big and hot that it creates its own local weather. The wildfires are generating so much smoke that impacts have reached the East Coast. On Tuesday, New York had its worst air quality in 15 years because of smoke brought there by high-altitude winds from the other side of the continent.
Parts of Western Canada are also ablaze. And wildfires in Russian Siberia may exceed last year's record levels, with smoke threatening populated areas such as the city of Yakutsk with an "airpocalypse" of choking, toxic pollution.
Skeptics often attack climate scientists for alleged overconfidence in their predictions about the disastrous impact of climate change. But leading researchers are being honest, and humble, about the extreme weather we're seeing. World Weather Attribution calculated that if we have another 1.4 degrees Fahrenheit of warming — which is projected to occur by the 2040s, unless we take bold action — an extreme heat wave in the Northwest like the one we just saw would no longer be expected to happen every 1,000 years, but "roughly every 5 to 10 years." But if some "nonlinear" process is happening, the scientists have no idea what we should expect, and they acknowledge it.
The models climate scientists developed told us that these kinds of events were our future. If the future is now, we'll need to figure out what's going on and how to respond to it fast. The luxury of dithering and delay has gone up in smoke. https://www.washingtonpost.com/opinions/2021/07/22/we-are-fiddling-while-world-burns-floods-chokes/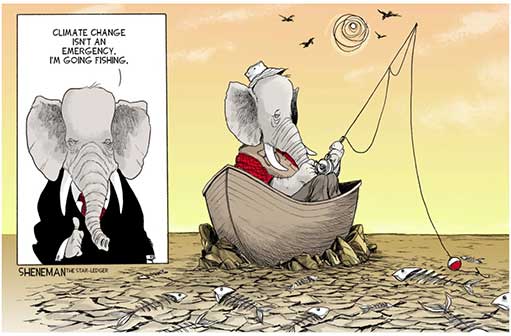 The FBI's 'investigation' of Kavanaugh was laughable
A letter from FBI Assistant Director Jill C. Tyson offers a perfect illustration of the Trump administration's disdain for congressional oversight, and the way in which the supposedly professional FBI allowed itself to be cowed — and ultimately tarnished — by subservience to the Trump White House.
The letter discloses, and some headlines have trumpeted, that the FBI "received over 4,500 tips, including phone calls and electronic submissions," after reopening the Kavanaugh investigation following the allegations against him by Christine Blasey Ford and Deborah Ramirez. (Kavanaugh's original Judiciary Committee hearing had ended a few days before the allegations became public.)
The most significant part comes at the end of the letter: "The Security Division section handling the [background investigation] and supplemental background investigation provided all relevant tips to the Office of White House Counsel."
What were these "relevant tips"? How many were there? How potentially serious? The letter doesn't say, and we don't know.
What did then-White House Counsel Donald McGahn do with the "relevant tips?" That, we do know: not a damn thing. McGahn had no interest in discovering what his handpicked nominee had done, or not done. He had every interest in ensuring that Kavanaugh be confirmed, facts be damned. If there was any follow-up within the FBI itself, there's no indication of that.
And that is the outrage here. The FBI's investigation into sexual assault allegations against Kavanaugh wasn't designed to uncover the truth. It was a shoddy enterprise whose mission was to satisfy enough disquieted senators — Republicans Jeff Flake of Arizona, Susan Collins of Maine — to get Kavanaugh across the finish line.
In the frenzied final days of the Kavanaugh confirmation, McGahn kept insisting to Coons that the FBI investigation was being conducted "by the book." If that is so, this book needs rewriting. https://www.washingtonpost.com/opinions/2021/07/22/fbis-investigation-kavanaugh-is-laughable/
Ruth Marcus: The Trump case may be unusual. But if true, it's brazen tax fraud.
"We don't pay taxes. Only the little people pay taxes." So said the late real estate tycoon Leona Helmsley, according to her housekeeper. To be more precise: according to her housekeeper's testimony at Helmsley's trial on tax fraud charges. Charges brought by one Rudolph W. Giuliani, then the U.S. attorney for Manhattan. Charges on which she was convicted — and served 18 months.
So let's hear nothing, not a word, about the supposed unfairness of the indictment a New York state grand jury handed up on Thursday of the Trump Organization and its former chief financial officer on tax fraud charges, the details of which sound positively Helmsley-esque.
The "Queen of Mean" evaded $1.2 million in taxes by charging personal expenses, including renovations of her Connecticut estate, to the Helmsley hotel chain.
"You were not driven to this crime by financial need," the judge lectured Helmsley at her sentencing. "Rather, your conduct was the product of naked greed. Throughout its course, you persisted in the arrogant belief that you were above the law."
Sounds familiar. Previous reporting about the Trump family's tax returns portrays a multigenerational family enterprise devoted to tax avoidance, if not outright evasion. Thursday's 15-count indictment lays out a separate, sprawling, 15-year conspiracy to funnel millions in unreported compensation — in the form of rent-free Manhattan apartments, leased Mercedes, private-school tuition payments, and the like — to senior Trump Organization executives, including CFO Allen Weisselberg, who allegedly received $1.76 million on which he paid no taxes. Both Weisselberg and lawyers for the Trump Organization pleaded not guilty.
"To put it bluntly, this was a sweeping and audacious illegal payments scheme," Carey Dunne, general counsel for the Manhattan District Attorney's Office, said at the arraignment "Contrary to today's assertion by the company's former CEO, this is not a 'standard practice in the business community,' nor was it the act of a rogue or isolated employee." https://www.washingtonpost.com/opinions/2021/07/02/trump-case-may-be-unusual-if-true-its-brazen-tax-fraud/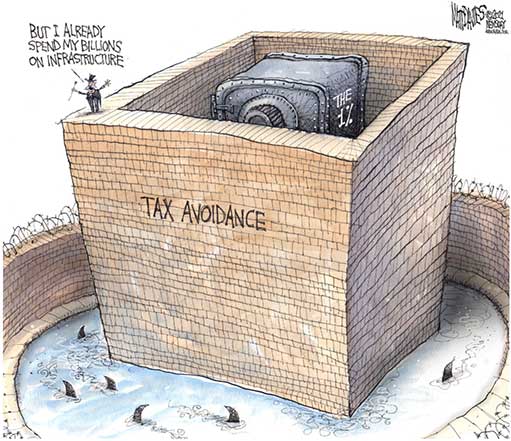 Sofia Andrade: What Climate Scientists Are Saying About This Catastrophic Summer
"The scientific community has done a really good job projecting when we would get to 1.2 degrees Celsius, which is about where we are now," Kalmus said. "The community hasn't done as good of a job projecting how bad climate impacts would be at 1.2 degrees Celsius."
Indeed, from heat domes to wildfires to rapidly melting ice sheets, a lot of the very real effects of the climate crisis that we are seeing seem far worse—or far from—what was predicted. So in this summer in which it feels impossible to look at the news without seeing a climate catastrophe of some kind, I asked several climate scientists how the constant onslaught of tragedy affects where they put us on the climate timeline. What they had to say was not particularly reassuring.
"It's already worse than what I imagined. I feel like the heat dome event in the Pacific Northwest moved up my sense of where we are at by about a decade, or even more," said Kalmus. "I think a lot of my colleagues probably feel the same."
In many ways, the climate crisis has "moved now from an abstract concern to a very real one," according to Lise Van Susteren, an expert on climate grief and mental health as it intersects with climate change. "It's not a storm that lasts 36 hours. It's not the aftermath of a flood. We're being cooked to death."
According to Van Susteren, this magnification of the climate crisis—which is in turn amplified by the growing conversation around climate—has meant that more and more people are becoming concerned with the existential threat that the climate crisis poses. Indeed, the mental health effects of the climate crisis on the communities facing it are vast and varied: anxiety, grief, and "pre-traumatic stress disorder" (Van Susteren's term), to name a few. And yet, real action still remains limited.
Jennifer Atkinson, a professor of environmental humanities at the University of Washington, agrees. "It's no longer a kind of vague concern about things happening in the future, it's the realization that the world is unraveling around us right now. And the loss is piling up every day," she said. "It's also the despair and outrage that the suffering and loss didn't have to happen." https://slate.com/news-and-politics/2021/07/scientists-fast-climate-change-summer.html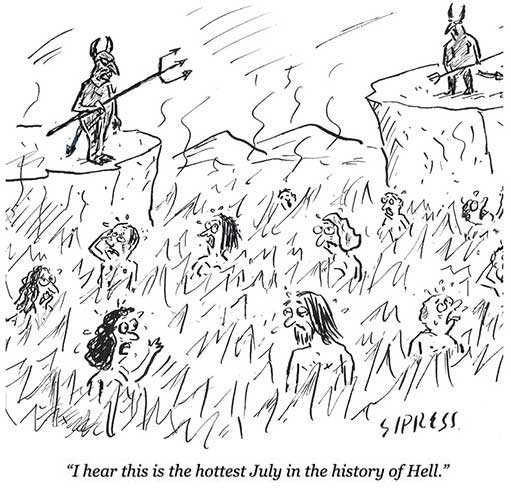 Paul Krugman: Republicans Have Their Own Private Autocracy
I'm a huge believer in the usefulness of social science, especially studies that use comparisons across time and space to shed light on our current situation. So when the political scientist Henry Farrell suggested that I look at his field's literature on cults of personality, I followed his advice. He recommended one paper in particular, by the New Zealand-based researcher Xavier Márquez; I found it revelatory.
"The Mechanisms of Cult Production" compares the behavior of political elites across a wide range of dictatorial regimes, from Caligula's Rome to the Kim family's North Korea, and finds striking similarities. Despite vast differences in culture and material circumstances, elites in all such regimes engage in pretty much the same behavior, especially what the paper dubs "loyalty signaling" and "flattery inflation."
Signaling is a concept originally drawn from economics; it says that people sometimes engage in costly, seemingly pointless behavior as a way to prove that they have attributes others value. For example, new hires at investment banks may work insanely long hours, not because the extra hours are actually productive, but to demonstrate their commitment to feeding the money machine.
In the context of dictatorial regimes, signaling typically involves making absurd claims on behalf of the Leader and his agenda, often including "nauseating displays of loyalty." If the claims are obvious nonsense and destructive in their effects, if making those claims humiliates the person who makes them, these are features, not bugs. I mean, how does the Leader know if you're truly loyal unless you're willing to demonstrate your loyalty by inflicting harm both on others and on your own reputation? https://www.nytimes.com/2021/07/19/opinion/republicans-donald-trump-misinformation.htmle
Thomas B. Edsall: Trump's Cult of Animosity Shows No Sign of Letting Up
In 2016, Donald Trump recruited voters with the highest levels of animosity toward African Americans, assembling a "schadenfreude" electorate — voters who take pleasure in making the opposition suffer — that continues to dominate the Republican Party, even in the aftermath of the Trump presidency.
With all his histrionics and theatrics, Trump brought the dark side of American politics to the fore: the alienated, the distrustful, voters willing to sacrifice democracy for a return to white hegemony. The segregationist segment of the electorate has been a permanent fixture of American politics, shifting between the two major parties.
For more than two decades, scholars and analysts have written about the growing partisan antipathy and polarization that have turned America into two warring camps, politically speaking.
Trump has mobilized and consolidated a cohort that now exercises control over the Republican Party, a renegade segment of the electorate, perhaps as large as one-third of all voters, which disdains democratic principles, welcomes authoritarian techniques to crush racial and cultural liberalism, seeks to wrest away the election machinery and suffers from the mass delusion that Trump won last November.
Regardless of whether Trump runs again, he has left an enormous footprint — a black mark — on American politics, which will stain elections for years to come. https://www.nytimes.com/2021/07/07/opinion/trump-gop.html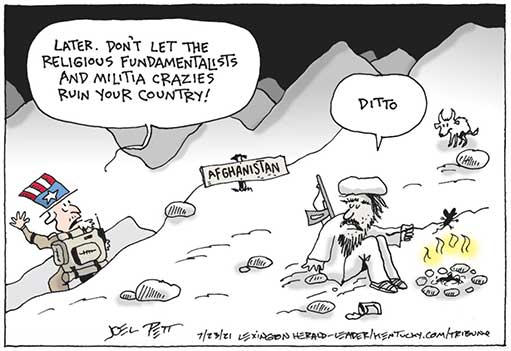 Nate White: "Why do some British people not like Donald Trump?"
A few things spring to mind. Trump lacks certain qualities which the British traditionally esteem. For instance, he has no class, no charm, no coolness, no credibility, no compassion, no wit, no warmth, no wisdom, no subtlety, no sensitivity, no self-awareness, no humility, no honor and no grace – all qualities, funnily enough, with which his predecessor Mr. Obama was generously blessed. So for us, the stark contrast does rather throw Trump's limitations into embarrassingly sharp relief.
Trump is a troll. And like all trolls, he is never funny and he never laughs; he only crows or jeers. And scarily, he doesn't just talk in crude, witless insults – he actually thinks in them. His mind is a simple bot-like algorithm of petty prejudices and knee-jerk nastiness.
There is never any under-layer of irony, complexity, nuance or depth. It's all surface. Some Americans might see this as refreshingly upfront. Well, we don't. We see it as having no inner world, no soul. And in Britain we traditionally side with David, not Goliath. All our heroes are plucky underdogs: Robin Hood, Dick Whittington, Oliver Twist. Trump is neither plucky, nor an underdog. He is the exact opposite of that. He's not even a spoiled rich-boy, or a greedy fat-cat. He's more a fat white slug. A Jabba the Hutt of privilege.
Trump's faults seem pretty bloody hard to miss. After all, it's impossible to read a single tweet, or hear him speak a sentence or two, without staring deep into the abyss. He turns being artless into an art form; he is a Picasso of pettiness; a Shakespeare of shit. His faults are fractal: even his flaws have flaws, and so on ad infinitum. God knows there have always been stupid people in the world, and plenty of nasty people too. But rarely has stupidity been so nasty, or nastiness so stupid. He makes Nixon look trustworthy and George W look smart. In fact, if Frankenstein decided to make a monster assembled entirely from human flaws – he would make a Trump.
And a remorseful Doctor Frankenstein would clutch out big clumpfuls of hair and scream in anguish: 'My God… what… have… I… created?' If being a twat was a TV show, Trump would be the boxed set. https://londondaily.com/british-writer-pens-the-best-description-of-trump-i-ve-read NOTE: Nate White is an articulate and witty writer from England
Dan Pfeiffer: Why the GOP Wants to Kill Its Voters
Progressives were mystified about the Republican embrace of the anti-vax movement. Reactions ranged from outrage to condescension. Maybe the Republicans are too dense or demented to know what's in their best interest. Perhaps, they are so committed to "owning the libs" that they are willing to kill their own voters. But the reason is neither idiocy nor performative assholery.
While the modern Republican Party is nihilistic, immoral, corrupt, and racist, it is not stupid. There is an underlying — albeit twisted — political logic behind the decision of so many Republican politicians to push anti-vax conspiracy theories. Killing their own voters is disgusting but not as self-defeating as it seems. It's not a good or moral strategy, but it is a strategy. And defeating that strategy requires understanding why Republicans think killing their voters is good politics.
So, if all these Republicans are lying, why are they doing it? Not every purveyor of vaccine misinformation is doing it for the same reasons or incentives. The online Right is a loosely connected, incoherent mishmash of militants, grifters, and attention merchants. With the exception of the Mitt Romney's and Liz Cheney's of the world, the Republican Party itself can be divided into pure Trumpists who gleefully drank the MAGA Kool-Aid and performative Trumpists that choked it down. https://messagebox.substack.com/p/why-the-gop-wants-to-kill-its-voters