May 16, 2019
ON THE RECORD. . .
"No one can be above the law, not even the Attorney General. I think an attorney general held in contempt of Congress is someone who should resign." — Sen. Marco Rubio (R-FL), quoted by the Tampa Bay Times, calling for Obama's Attorney General Eric Holder to resign after he was found in contempt of Congress in 2012.
Given the Times report on Trump's staggering losses, I'd be fine if Random House simply took the book out of print. Or recategorized it as fiction. —Tony Schwartz, the ghostwriter for Donald Trump's book, The Art of the Deal. 
Let's … reflect on the fact that we've hit a moral bottom where John Yoo is aghast at Trump. John Yoo! For those with short memories, Yoo was the Bush-Cheney deputy assistant attorney general who endorsed uninhibited presidential power grabs and drafted the so-called Bybee memo green-lighting "enhanced interrogation techniques" (a.k.a. torture). Even Yoo, it turns out, must draw a line when a Republican president waterboards the Constitution. — Frank Rich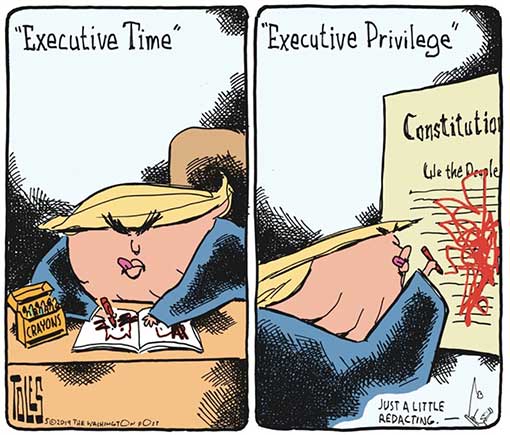 The most dire postscript for the Central Park debacle may be that, thirty years later, Trump is no longer simply fearmongering to manipulate public opinion. He now does so to manipulate public policy. —  Jelani Cobb in The New Yorker.
"I didn't understand his answer. I thought the attorney general answered it perfectly. So I certainly didn't understand that answer. I thought it was a ridiculous answer." — Trump telling reporters he "didn't understand" FBI Director Christopher Wray's "ridiculous" answer that the FBI didn't spy when looking into then-candidate Trump's ties to Russia during the 2016 election.
"Trump is no less paranoid and vindictive than Nixon. Unlike Nixon, he gains pleasure from his provocations. But his outrageousness should not be mistaken for strength. If he seems to be taunting the Democrats to impeach him it is a desperate act of miscalculation. He has adopted his stonewalling out of sheer necessity in order to maintain his survival. Throughout his career, following the advice of his early attorney Roy Cohn, he has adopted the strategy of resisting court orders and suing everyone to put them on the defensive. He has been playing for time since he first hired Roy Cohn. Now perhaps he imagines an impeachment will suit his tale of himself as the victim and his antagonists as unfair. But that was also the psychology underlying Nixon's political strategy in Watergate. Trump proceeds from a much weaker position than Nixon. He depends entirely on his stonewalling. He hangs by a thread." —  Sidney Blumenthal in "Just Security."
"I know the president's upset about that, but I think he ought not to worry about it. The chairman of the Intelligence Committee has already said the committee when it reports will find no collusion." — Senate Majority Leader Mitch McConnell (R-KY), trying to tamp down the political backlash over the Senate Intelligence Committee's decision to subpoena Donald Trump Jr.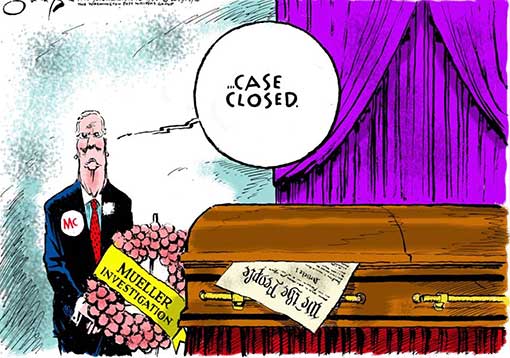 "The Democratic Party didn't change. We just haven't figured out how to speak to folks off of the coasts. If we can't speak the language of Iowa or Michigan or Wisconsin or others ― even if you can get an electoral majority, you're never going to have a governing majority" without that connection. — Steve Bullock, the 53-year-old Democratic governor of Montana who believes attracting support from Trump voters in red states isn't just necessary to win, it's also necessary to govern.
"I think that we raped women last night." — Alabama state Sen. Bobby Singleton (D), in a CNN interview, on passing a bill outlawing abortion in his state. https://www.cnn.com/2019/05/15/politics/bobby-singleton-alabama-state-senator-abortion-ban-cnntv/index.html
This isn't about abortion or life, this is about women's rights & access to healthcare. By criminalizing women & docs we will see more women & infants die. If we really care about lives, mothers, & children, we need to invest in healthcare & provide access. Not restrictions. — Alabama State Senator Jen Jordan@senatorjen
Donald Trump Jr., should comply with a Senate Intelligence Committee subpoena but refuse to answer the panel's question. You just show up and plead the 5th and it's over with. Trump Jr.'s lawyer would "have to be an idiot" to allow him to testify before the committee again. — Senate Judiciary Committee chair Lindsey Graham (R-SC)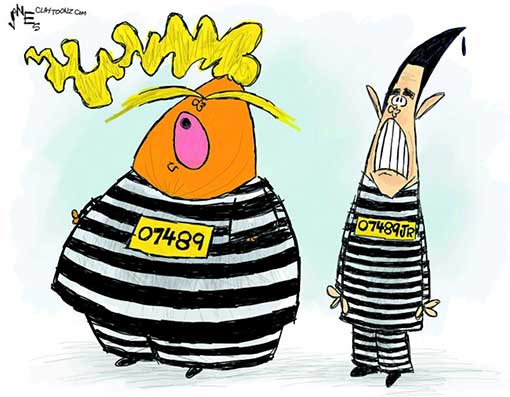 "You are under assault. And now they talk about the Green New Deal. The Green New Deal. Everybody go home, you just lost your Jobs. The Green New Deal, that's a hoax like the hoax I just went through." Under that deal, everybody in this room gets fired," he continued. "All of the thousands of guys and women standing in these buildings get fired, they go because under the Green New Deal, they don't like clean, beautiful natural gas. They don't like anything." — Trump to a group of natural gas workers in Louisana.
"You can only hold a minor for 20 days. We're going to go to 100 days." — Sen. Lindsey Graham (R-SC) saying he plans to introduce legislation so that immigrant toddlers and children can be detained five times longer than currently allowed.
---
IN THIS ISSUE
FYI
OPINION
1. The Borowitz Report: Trump Urges Americans to Boycott Chinese Goods and Just Buy Things at Walmart
Asking for their solidarity in his trade war with China, Donald Trump is urging Americans to boycott Chinese goods and "just buy things at Walmart."

Trump made his request via Twitter, where he told his fellow-citizens that it was their "patriotic duty" to punish China by buying as many goods at Walmart as possible.

"If you go to a great American store like Walmart, you'll find lots of cheap sportswear, shoes, and other items for you and your family to enjoy," he tweeted. "What better way to show China that we don't need their dumb stuff!"

Shortly after Trump sent those marching orders to his countrymen, the Chinese President, Xi Jinping, offered a muted response. "I'm beginning to see how he lost a billion dollars," Xi said. https://www.newyorker.com/humor/borowitz-report/
2. The DAILY GRILL
Think of it. I became President of the United States in one of the most hard fought and consequential elections in the history of our great nation. From long before I ever took office, I was under a sick & unlawful investigation concerning what has become known as the Russia...Hoax. My campaign was being seriously spied upon by intel agencies and the Democrats. This never happened before in American history, and it all turned out to be a total scam, a Witch Hunt, that yielded No Collusion, No Obstruction. This must never be allowed to happen again! — Donald J. Trump@realDonaldTrump

VERSUS

Think of it. The Russia investigation was a legitimate investigation, with a legitimate basis, into how a hostile foreign power tried to interfere with and undermine our democracy. It was in the best interests of the nation -- in the interests of all Americans, no matter who they voted for -- that this investigation be allowed to proceed to its rightful conclusion, without improper attempts to obstruct it, if only so that we could all know what really happened and take steps to see that it never happens again.

But because you are a malignant narcissist -- a person with both narcissistic and antisocial personality disorders -- you couldn't view it that way. Instead of complying with your oath of office, and instead of taking stock of what was in the best interests of the nation whose Constitution and laws you swore to uphold, you viewed the matter purely in terms of your own ego:

You viewed the investigation as casting doubt on what you perceive as your great election victory (in which your opponent garnered nearly three million more votes than you did), and so you took multiple steps to obstruct, and repeatedly lied about, the investigation from the outset. Even today, despite the well-founded assessments of the intelligence community, and despite the damning evidence laid out in the Mueller report, you refuse to take what the Russians did seriously.

Instead, you continue to lie, calling the investigation a "hoax" and an "attempted coup," and you didn't even mention Russia's conduct in your recent 90-minute conversation with Putin, the man who seeks to undermine our institutions.

Put simply, you put your own perceptions of your self-interest above the national interest, which you seem unable to comprehend or respect. That is your greatest offense against the country, an offense that incorporates but vastly exceeds the statutory crimes you've committed. It is the ultimate high crime or misdemeanor under the Constitution, and under the Framers' wise design, it is an offense for which you should pay with your office, regardless of whether you are ultimately brought to justice in the courts of law. — George Conway@gtconway3d
 

"I'd like to see — with Iran, I'd like to see them call me. You know, John Kerry speaks to them a lot. John Kerry tells them not to call. That's a violation of the Logan Act. And frankly, he should be prosecuted on that. But my people don't want to do anything that's — only the Democrats do that kind of stuff, you know? If it were the opposite way, they'd prosecute him under the Logan Act." — Trump, who apparently doesn't know that it's entirely routine for former U.S. diplomats to maintain relationships with their foreign counterparts. That's been the American norm for generations.

VERSUS

"[Trump's] wrong about the facts, wrong about the law, and sadly he's been wrong about how to use diplomacy to keep America safe. Secretary Kerry helped negotiate a nuclear agreement that worked to solve an intractable problem. The world supported it then and supports it still. We'd hope the president would focus on solving foreign policy problems for America instead of attacking his predecessors for theater."" — John Kerry spokesperson.

 

There is no reason for the U.S. Consumer to pay the Tariffs, which take effect on China today. This has been proven recently when only 4 points were paid by the U.S., 21 points by China because China subsidizes product to such a large degree. Donald J. Trump@realDonaldTrump

VERSUS

Of course, in reality, tariffs are not paid for by China, but by U.S. companies. If the companies manage to stay in business at all, those costs are then passed on to American consumers. It's a (massive) point of clarification that's been noted by economists, analysts, and the media alike. But what really seems to have set Trump off is that, over the weekend, National Economic Council Director Larry Kudlow acknowledged this point, too! — Bess Levin in Vanity Fair

 

"Congressional investigations are intended to obtain information to aid in evaluating potential legislation, not to harass political opponents or to pursue an unauthorized 'do-over' of exhaustive law enforcement investigations conducted by the Department of Justice." -- White House counsel Pat Cipollone, repeating the claim that Congress is not a law enforcement body and does not have a legitimate purpose to investigate questions it is pursuing.

VERSUS

"The White House is making the outrageous claim that a president cannot be held accountable in any way to the American people.This is ridiculous, it would make the president above the law, and of course we totally reject it. We will subpoena whoever we have to subpoena." — House Judiciary Committee chairman Jerrold Nadler (D-N.Y.)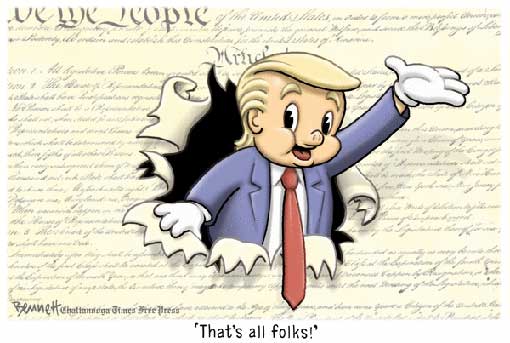 3. From MEDIA MATTERS (They watch Fox News so you don't have to)
Here's how Fox News reacted to the NY Times story on Trump's billion-dollar business losses."What do people not understand about he's a little bit different than most people?"
https://www.mediamatters.org/research/2019/05/08/here-s-how-fox-news-reacted-ny-times-story-trump-s-billion-dollar-business-losses/223657

Fox's Newt Gingrich: Trump's tax returns showing $1 billion in losses are "actually an argument for the Trump tax cuts." Gingrich: Trump "was clever about what he was able to do with the tax code and, in fact, the other taxpayers helped make him rich because he did legally what he is allowed to do." https://www.mediamatters.org/video/2019/05/08/Foxs-Newt-Gingrich-Trumps-tax-returns-showing-1-billion-in-losses-are-actually-an-argument/223650

Sean Hannity after NYT report on Trump taxes show $1 billion in losses: "Businesses fail every day." Hannity: "The Trump Organization is still an overwhelming American success story." https://www.mediamatters.org/video/2019/05/07/sean-hannity-after-nyt-report-trump-taxes-show-1-billion-losses-businesses-fail-every-day/223649

Fox News' initial reaction to NYT bombshell Trump tax story was to give Trump credit for having "the best accountants in the world." Fox contributor: "Donald Trump has the best accountants in the world, they're going to organize his finances in a way to minimize his income." https://www.mediamatters.org/video/2019/05/07/fox-news-initial-reaction-nyt-bombshell-trump-tax-story-was-give-trump-credit-having-best/223647

Right-wing media lash out over Bill Nye's Last Week Tonight call to action on climate change. Fox News host: "If it was a real crisis, he wouldn't be joking like that." https://www.mediamatters.org/blog/2019/05/13/right-wing-media-lash-out-over-bill-nye-s-last-week-tonight-call-action-climate-change/223693

Lou Dobbs calls on Trump to warn Iran "we will reduce your entire infrastructure to dust." https://www.mediamatters.org/video/2019/05/14/lou-dobbs-calls-trump-warn-iran-we-will-reduce-your-entire-infrastructure-dust/223703

Tucker Carlson: "It would be nice to see some pardons, a pardon of Roger Stone, to begin." https://www.mediamatters.org/video/2019/05/14/tucker-carlson-it-would-be-nice-see-some-pardons-pardon-roger-stone-begin/223704
4. From the Late Shows
Meet the Press Cold Open - SNL: https://youtu.be/Cy8w8-hjMjM

Weekend Update: Trump Lost Over $1 Billion - SNL: https://youtu.be/dzkYbWempMA

Stephen Colbert Can't Promote 'Our Cartoon President': https://youtu.be/fywW8cb8euc

Full Frontal with Samantha Bee: NRA's Unfriendly Fire, Act 2: https://youtu.be/-m0Qh8fv0i0

The Late Show with Stephen Colbert: Trump Spent Years Posing As His Own Spokesman: https://youtu.be/VdgP7GLEG_g
5. Ava DuVernay Calls Out Donald Trump's Ad to Execute Central Park Five on 30th Anniversary
Ava DuVernay released on social media the official poster for her upcoming Central Park Five limited series "When They See Us," and her caption made it clear the May 1 debut was intentional. The date marks the 30th anniversary of Donald Trump running advertisements calling for the executions of Antron McCray, Kevin Richardson, Yusef Salaam, Raymond Santana, and Korey Wise, the five men accused of assaulting and raping a woman in Central Park.
"On this day thirty years ago, Trump bought $85,000 worth of ads in all major NYC papers calling for the execution of the boys known as The Central Park 5 – before their trial," DuVernay wrote in a caption accompanying the official "When They See Us" poster. "Today, we replace his hateful ad with another image. They were innocent. And the system failed them." https://www.indiewire.com/2019/05/ava-duvernay-donald-trump-central-park-five-deaths-1202130275/
6. Senators sound alarm over looming budget, shutdown battles
"Alarm bells are starting to go off on Capitol Hill over a looming fight to fund the government and prevent a shutdown later this year," The Hill reports.
Though Congress has until the end of September to pass legislation preventing another funding lapse, lawmakers are sending up warning signs to their colleagues and the White House that they are heading toward a fall train wreck, with deadlines for raising the debt ceiling and preventing across-the-board budget cuts and the second shutdown of the year all in the same month. https://thehill.com/homenews/senate/442828-senators-sound-alarm-over-looming-budget-shutdown-battles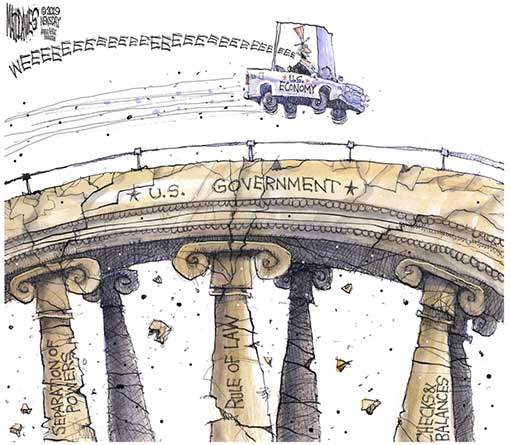 7. How Long Can Democrats Hold Off on Impeachment?
Some extreme action — like launching impeachment proceedings against President Trump — is getting likelier by the day. It's not overwhelmingly likely, but the vibe on Capitol Hill is getting worse: Democrats are angry that they are getting stonewalled. Republicans are angry that Democrats do not seem willing to let this go."
House Speaker Nancy Pelosi has handled the politics of impeachment well. She's kept her foot hovering above the brake pedal, cognizant of the risk of immediate acceleration. She has kept her chairmen in line, kept her members mostly calm and her leadership on the same page. She even went to the White House with Senate Minority Leader Chuck Schumer to talk infrastructure, which showed Trump she's not singularly consumed with oversight, but also interested in governing.
But the White House is doing practically everything it can to taunt Pelosi. Most administrations slow-walk document production; this White House is flat-out saying, 'No, your oversight is overzealous, and we won't participate in it.' This is going to force Democrats to file lawsuits to obtain documents — lawsuits that even top Republicans privately concede Pelosi will win.
Trump seems to be daring Democrats to take the impeachment road. Talk people in his administration, and you'll hear that all of this Hill saber-rattling is good for them. Impeachment is unpopular, they believe, and will help Trump in 2020. https://www.politico.com/newsletters/playbook/2019/05/09/how-long-can-dems-hold-back-on-impeachment-433983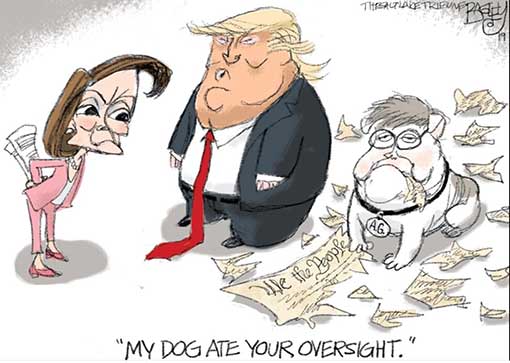 8. Obama-to-Trump Voters Are Cooling on the President
In its latest report, the Democracy Fund's Voter Study Group illuminates one critical shift hiding beneath Trump's sturdy support: He has lost significant ground with Obama-to-Trump voters. In the project's 2016 survey, 85 percent of such voters held a 'favorable view of the president.' In its latest one, that figure fell to 66 percent. That may not sound like a lot, but, as we've observed, it won't necessarily take a lot to change the course of history.
From the report: "Even small movement among these voters — who represented 9 percent of voters in 2016 — may prove significant heading into the 2020 presidential election. Obama-Trump voters are also disproportionately white, non-college educated and, as a result, are likely to be well distributed geographically for the purpose of electoral impact. http://nymag.com/intelligencer/2019/05/obama-trump-voters-are-turning-on-president-study-2020-poll.html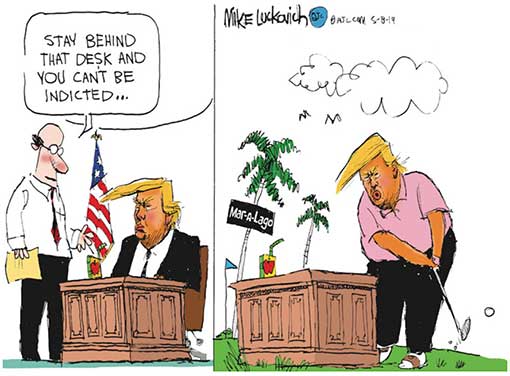 9. Washington is flirting with a debt crisis. No one has a plan to stop it
As lawmakers trade fire over contempt votes and impeachment, there's been no progress toward reaching a budget agreement or extending the federal government's ability to borrow before September, when the money runs out. That's raising the ugly prospect of more than $100 billion in mandatory cuts as well as an unprecedented default on US debt — a situation that could trigger a worldwide economic catastrophe.
It's a mess everyone knows is coming, and yet no one seems to have a plan — at least at the moment — for averting disaster. https://www.cnn.com/2019/05/11/politics/congress-debt-ceiling/index.html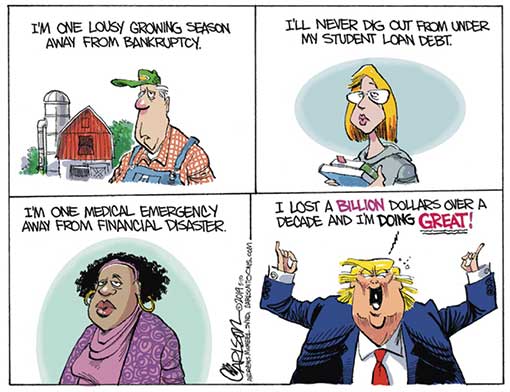 10. Leaked Letters Reveal Details of NRA Chief's Alleged Spending
National Rifle Association CEO Wayne LaPierre billed the group's ad agency $39,000 for one day of shopping at a Beverly Hills clothing boutique, $18,300 for a car and driver in Europe, and had the agency cover $13,800 in rent for a summer intern, according to newly revealed NRA internal documents.
The documents, posted anonymously on the internet, provide new details of the clothing, travel and other expenses totaling more than $542,000 that Ackerman McQueen Inc. alleges Mr. LaPierre billed to it. https://www.wsj.com/articles/leaked-letters-reveal-details-of-nra-chiefs-alleged-spending-11557597601
11. Ukraine Prosecutor Made Up Biden Claim, Kiev Lawmaker Says
A Ukrainian lawmaker accused his country's top prosecutor of manufacturing a "conspiracy" about U.S. Democratic presidential candidate Joe Biden, adding to a political intrigue playing out from Kiev to Washington.
The lawmaker, Serhiy Leshchenko, said he had been given parts of a letter written by the prosecutor with the intent of currying favor with the Trump administration. The letter was sent by the prosecutor through unofficial channels to President Donald Trump's personal lawyer Rudy Giuliani, the lawmaker told journalists on Monday in Kiev as he distributed copies of two pages. https://www.bloomberg.com/news/articles/2019-05-13/ukraine-prosecutor-made-up-biden-allegation-kiev-lawmaker-says
12. Steve Bullock, Montana Governor, Is Running for President
Gov. Steve Bullock of Montana, who was twice elected to lead a state that President Trump carried by more than 20 points, entered the Democratic presidential primary on Tuesday, vowing to elevate the issue of campaign finance and, more implicitly, to make Democrats competitive again across the country's interior.
"We need to defeat Donald Trump in 2020 and defeat the corrupt system that lets campaign money drown out the people's voice so we can finally make good on the promise of a fair shot for everyone," Mr. Bullock said in a  video centered on his record in Republican-leaning Montana.
"This is the fight of our time, it's been the fight of my career," he said. https://www.nytimes.com/2019/05/14/us/politics/steve-bullock-2020.html
13. Republicans surrender to Trump's China tariffs
Senate Republicans acknowledge that the president's latest tariff increase on Chinese imports are harming farm state economies, their own constituents and some of Trump's most reliable voters. But there's no plan to stop, or even threaten, the president's tariff regime — just the latest example of Trump imposing his protectionist will on a party that once celebrated free trade. https://www.politico.com/story/2019/05/13/trade-china-republicans-1319024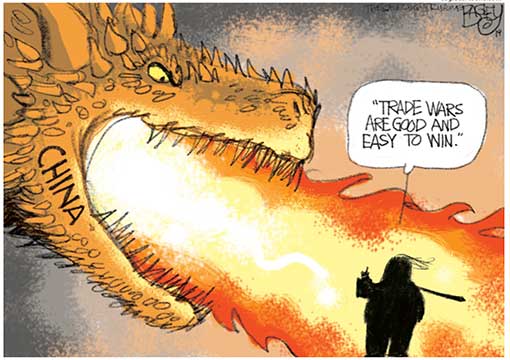 14. Before Trump's purge at DHS, top officials challenged plan for mass family arrests
In the weeks before they were ousted last month, Homeland Security Secretary Kirstjen Nielsen and top immigration enforcement official Ronald Vitiello challenged a secret White House plan to arrest thousands of parents and children in a blitz operation against migrants in 10 major U.S. cities.
The ultimate purpose, the officials said, was a show of force to send the message that the United States was going to get tough by swiftly moving to detain and deport recent immigrants — including families with children. https://www.washingtonpost.com/immigration/before-trumps-purge-at-dhs-top-officials-challenged-plan-for-mass-family-arrests/2019/05/13/d7cb91ce-75af-11e9-bd25-c989555e7766_story.html
15. Does Electability in Red States Matter to Democrats?
Electability means so many different things to different people — it's difficult to gauge or define."
Still, it's striking that none of the Top 5 2020 Democrats in the polls right now — Joe Biden, Bernie Sanders, Elizabeth Warren, Kamala Harris and Pete Buttigieg — has any past record of being able to win or even compete in a purple/red state in a general election."
By contrast, outside of the Top 5 in polling are Amy Klobuchar (who won 60 percent of the vote in Minnesota last fall), new entrant Steve Bullock (who's won statewide for governor twice in Montana), Beto O'Rourke (who narrowly lost in Texas last year), and Michael Bennet and John Hickenlooper (who've won multiple statewide bids in Colorado). https://www.nbcnews.com/politics/meet-the-press/republicans-seize-culture-debates-sometimes-it-backfires-n1005856
16. Michael Wolff finishes "Fire and Fury" sequel, "Siege"
Michael Wolff — who enraged President Trump with his international bestseller "Fire and Fury," about pandemonium in the first-year White House — will be out June 4 with a sequel, "Siege: Trump Under Fire."https://www.axios.com/michael-wolff-fire-and-fury-sequel-siege-trump-under-fire-add756c3-1097-444d-94cf-ef67e8935e4a.html
17. 25 Republicans – all white men – voted to ban abortion in Alabama
Alabama's new law mandating an almost blanket ban on abortion, the strictest in the United States, was passed by this group of exclusively white, male politicians.
The Alabama law will disproportionately affect black and poor women, because they are more likely to seek abortions, and less likely to have resources to obtain an abortion out-of-state. https://www.theguardian.com/us-news/2019/may/14/alabama-abortion-ban-white-men-republicans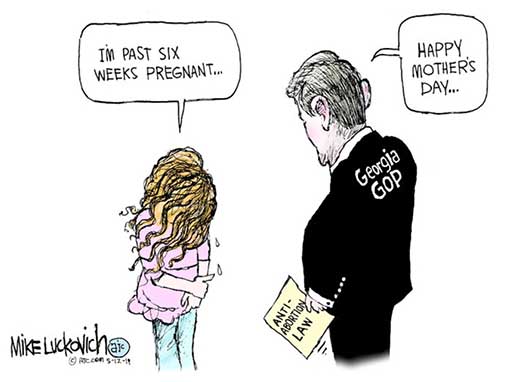 18. Three Florida radio stations to broadcast Trump speeches every hour until 2020 election
A media company that operates multiple radio stations in Florida has vowed to broadcast portions of President Trump's speeches every hour of every day until the 2020 election. https://thehill.com/homenews/media/443732-florida-radio-stations-to-broadcast-trump-speeches-every-hour-until-2020
19. Trump believes China tariffs will help him win reelection
Trump is telling advisers and close allies that he has no intention of pulling back on his escalating trade war with China, arguing that clashing with Beijing is highly popular with his political base and will help him win reelection in 2020 regardless of any immediate economic pain.
Administration officials and outside Trump advisers said Tuesday that they do not expect him to shift his position significantly in coming days, saying he is determined to endure an intensifying showdown with Chinese President Xi Jinping despite turbulence in global markets and frustration within his own party.
Trump's defiance is rooted in decades of viewing the Chinese as economic villains and driven by his desire to fulfill a core promise from his 2016 campaign: that he would dramatically overhaul the U.S.-China relationship. The confrontation is also fueled by Trump's willingness to flout the norms of presidential behavior, including his suggestion on Tuesday that the Federal Reserve should assist his trade efforts by lowering interest rates. https://www.washingtonpost.com/politics/i-dont-see-him-crying-uncle-trump-believes-china-tariffs-will-help-him-win-reelection/2019/05/14/e7fd67fe-7657-11e9-bd25-c989555e7766_story.htm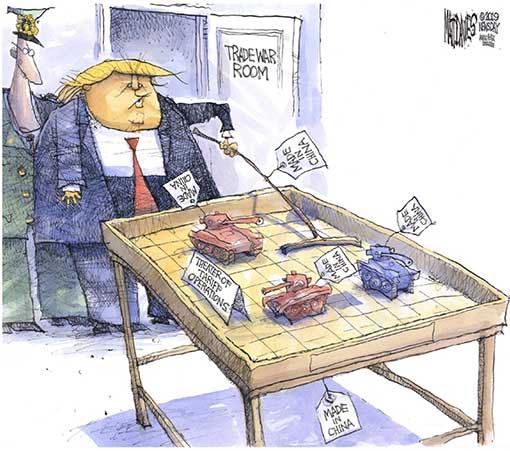 1. David Bernstein: Senator Zilch: Why Mitch McConnell Does So Little
Barring something unexpected, this Tuesday will mark two months since the U.S. Senate held a roll call vote on passage of any type of legislation. That was a joint resolution to nullify President Donald Trump's declaration of a national emergency at the Mexican border (which Trump later vetoed).
It's been three months, as of Sunday, since the Senate last took yeas and nays on a genuine, full-fledged bill: the John D. Dingell Jr. Conservation, Management, and Recreation Act. It passed, 92 to 8, and was later signed into law.
So there was some eye-rolling last week when Senate Majority Leader Mitch McConnell harshly criticized House Democrats, telling them to "move on" from investigating the Trump administration, and get back to the business of legislating for the country. When, some Democrats mused, will McConnell allow the Senate to move on to that business?
The United States Senate, that great deliberative body, has effectively ceased legislating this year. It has shut down. Closed for business until 2021.
McConnell has his eyes, presumably, on the 2020 election; he wants to preserve the Republican majority in the Senate — and his own re-election in Kentucky — and apparently thinks the path lies in criticizing Democrats' proposals, not in promoting Republican or even bipartisan ones. https://www.wgbh.org/news/commentary/2019/05/13/senator-zilch-why-mitch-mcconnell-does-so-little
2. Max Boot: Republicans are hall-of-fame hypocrites
"In scandals such as this, it is always members of the president's party who have particular leverage, and therefore who have a particular responsibility, to hold the president accountable for his actions.
In a 2012 video unearthed by Republicans for the Rule of Law, Sen. Marco Rubio (R-Fla.) excoriated then-Attorney General Eric Holder for not providing more documents to a House probe of a gun-running sting: "I think that it is outrageous that any attorney general — Republican or Democrat — refuses to comply with Congress's constitutional right to hold them accountable and the Justice Department accountable. I would say that if that if this was a Republican just like I do now because it's a Democrat. Not only that, I think this has gone on so long and the stonewalling by the attorney general has been so egregious, that I think he has to resign." Needless to say, Rubio is not calling for Barr to resign. Indeed, he doesn't have a censorious word to say about the Trump administration's current stonewalling.
Rubio is joined in the hypocrisy hall of fame by Sen. Lindsey O. Graham (R-S.C.) who, as a House member in 1998, demanded that President Bill Clinton be impeached for, inter alia, refusing to comply with congressional subpoenas: "The day Richard Nixon failed to answer that subpoena was the day he was subject to impeachment, because he took the power from Congress over the impeachment process away from Congress and he became the judge and jury." Today, by contrast, Graham shows no interest in eliciting any information from the Trump administration. "I'm not going to do any more. Enough already. It's over," Graham told reporters in explaining why he would not call Mueller to testify before the Senate Judiciary Committee. Likewise, Senate Majority Leader Mitch McConnell (R-Ky.) proclaims "case closed" even though new evidence continues to emerge of Trump's misconduct (including possible financial fraud).
The Republicans' reluctance to investigate Trump is sometimes explained by pointing to their devotion to unlimited executive power — a GOP obsession ever since Watergate. But their past statements make clear that this is not the case. Republicans believe in presidential power only when the president is a Republican. When it's a Democrat, they suddenly discover the importance of congressional oversight. There is no disinterested principle that could possibly explain or excuse Republican conduct. Their only principle is blind partisanship. We are in a "constitutional crisis," as Rep. Jerrold Nadler (D-N.Y.) says, and Republicans are siding with their party over the Constitution.
This is, as noted Republican moralist Bill Bennett would say, shameful — except of course Bennett is one of the Republican hypocrites who refuse to call out a Republican president. After the Mueller report was released, Bennett appeared on Fox News to say that even if Trump's aides had followed his orders to stop the Mueller investigation, "that wouldn't be obstruction of justice, either. … The executive power rests with the president. He can do what he wants."
Back in 1998, Bennett expressed his deep "deep disappointment" in the "silence of thoughtful Democrats." Today he does not even have the decency to remain silent. By talking, he is removing all doubts about his insincerity, unseriousness and opportunism — and that of his fellow party members. https://www.washingtonpost.com/opinions/2019/05/09/republicans-believe-presidential-power-only-when-president-is-republican/
3.  Tina Nguyen: Rudy Giuliani Asks Ukraine To Interfere In U.S. Election To Help Re-Elect Trump
Fox News is all over the Biden-Clinton-Manafort-Ukraine conspiracy. (Yes, there are also connections to Hillary Clinton and Paul Manafort, which my colleague Abigail Tracy details here.) At the center of the effort to make Bidengate the next Benghazi is Rudy Giuliani, who sees nothing wrong with pressuring the Ukrainian government to reopen the investigation into Burisma. "We're not meddling in an election, we're meddling in an investigation, which we have a right to do," he told The New York Times in a story published Thursday, on the eve of a trip to Kiev to launch his charm offensive.
The irony is so rich it could give you a heart attack. Giuliani's efforts in Ukraine are, of course, precisely what Republicans accuse Clinton's campaign of doing in 2016, when Fusion GPS and Christopher Steele went fishing for Ukrainian dirt on Donald Trump. On Thursday night, Giuliani told Laura Ingraham on Fox News that there had been "massive collusion" between "the Democratic National Committee, officials of the Obama administration, Clinton people, and the Ukrainian officials" to "create false information about Trump, about Manafort." Naturally, then, Giuliani wants to counter that with some collusion of his own.
"There's nothing illegal" about asking the Ukrainian government to open investigations into Trump's political enemies, Giuliani told the Times. "Somebody could say it's improper. And this isn't foreign policy—I'm asking them to do an investigation that they're doing already, and that other people are telling them to stop. And I'm going to give them reasons why they shouldn't stop it because that information will be very, very helpful to my client, and may turn out to be helpful to my government."
Apparently Giuliani's client and the United States government are one and the same. https://www.vanityfair.com/news/2019/05/rudy-giuliani-joe-biden-ukraine
4. Elizabeth Kolbert: Climate Change and the New Age of Extinction
Last week, an international group of scientists issued what the Times called "the most exhaustive look yet at the decline in biodiversity." The findings were grim. On the order of a million species are now facing extinction, "many within decades." "What's at stake here is a liveable world," Robert Watson, the chairman of the group, Intergovernmental Science-Policy Platform on Biodiversity and Ecosystem Services, told Science.
To keep nearly eight billion people fed, not to mention housed, clothed, and hooked on YouTube, humans have transformed most of the earth's surface. Seventy-five per cent of the land is "significantly altered," the I.P.B.E.S. noted in a summary of its report, which was released last week in Paris. In addition, "66 per cent of the ocean area is experiencing increasing cumulative impacts, and over 85 per cent of wetlands (area) has been lost." Approximately half the world's coral cover is gone. In the past ten years alone, at least seventy-five million acres of "primary or recovering forest" have been destroyed.
Habitat destruction and overfishing are, for now, the main causes of biodiversity declines, according to the I.P.B.E.S., but climate change is emerging as a "direct driver" and is "increasingly exacerbating the impact of other drivers." Its effects, the report notes, "are accelerating." Watson wrote last week, in the Guardian, that "we cannot solve the threats of human-induced climate change and loss of biodiversity in isolation. We either solve both or we solve neither."
So far, it could be argued, the casualties haven't slowed us down. The I.P.B.E.S. report cautions, however, against assuming that this pattern will continue. Nature, it succinctly observes, "is essential for human existence." The report points to pollinators as one group of organisms that humans can't readily do without. Ninety per cent of flowering plants and seventy-five per cent of all types of food crops rely on pollination by animals—birds, bats, and (mostly) insects. Cash crops including coffee, cocoa, and almonds are pollinator-dependent. In many regions, important pollinators, like native bees, are in decline. It's not clear exactly why, but probably one of the major factors is an increasing reliance on synthetic pesticides, which don't distinguish between insects that are useful and those that are unwanted. These chemicals are supposed to prevent crop failures; the danger is that they may end up causing them.
As much as six hundred billion dollars' worth of annual agricultural production "is at risk as a result of pollinator loss," the I.P.B.E.S. warned. In an earlier report, on pollinators and the food supply, the group predicted that "total pollinator loss" would decrease production of the most important dependent crops "by more than 90 per cent."
We would, it seems, be well advised to shift course, if only for our own, species-centric reasons. And, according to the I.P.B.E.S., there is still time for "transformative changes" in the "production and consumption of energy, food, feed, fibre and water." Regrettably, though, all signs point to more of the same. In 2018, carbon-dioxide emissions from the energy sector rose to a new high of thirty-six billion tons. Also in 2018, nearly thirty million acres of tropical forest were lost—an area the size of Pennsylvania. As the Web site InsideClimate News noted, this destruction occurred "even as more corporations and countries made commitments to preserve tropical forests." As long as we continue to tear through the biosphere, expect the losses to continue to mount. https://www.newyorker.com/magazine/2019/05/20/climate-change-and-the-new-age-of-extinction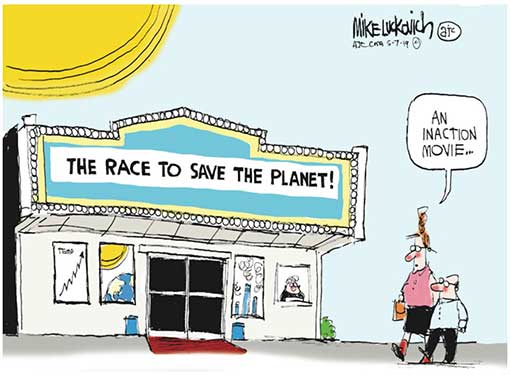 5. Paul Waldman: Trump's tax return scam has taken yet another turn
While the best con is one in which the victim never even realizes they got scammed, that can seldom be guaranteed. So the con artist needs a final argument to make to their mark if they get confronted, and the one they often use goes as follows: Sure, I conned you. But this is your fault. You were dumb enough to believe me. Now get lost, sucker.
That is what President Trump is now saying to the American public on the subject of his tax returns. He spent years saying that he would be releasing his returns as soon as a routine IRS audit of them was complete, so the American public could understand exactly where he gets his money and where he might have conflicts of interest as president.
This was and remains a pressing question, because Trump's greed is so encompassing that we can never be sure that if faced with a choice between doing what is in the best interests of the country and making money for himself, he won't choose the latter. After all, this is a man who while running for president was pursuing a hotel deal in Moscow, sucking up to Russian dictator Vladimir Putin and claiming falsely that he had no business interests in Russia. https://www.washingtonpost.com/opinions/2019/04/08/trumps-tax-return-scam-has-taken-yet-another-turn/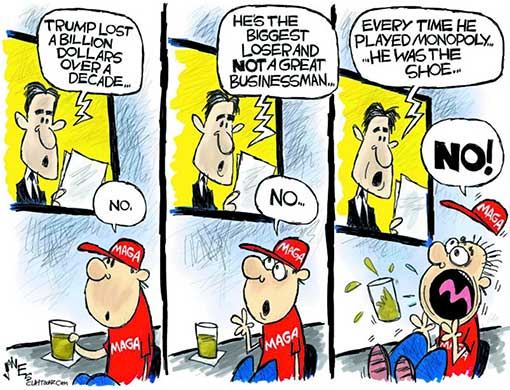 6. Jeffrey Toobin:"The Constitutional System Is Not Built to Resist Trump's Defiance of Congress
Our constitutional system never contemplated a President like Donald Trump. The Framers anticipated friction among the three branches of government, which has been a constant throughout our history, but the Trump White House has now established a complete blockade against the legislative branch, thwarting any meaningful oversight. The system, it appears, may simply be incapable of responding to this kind of challenge." The Constitutional System Is Not Built To Resist Trump's Defiance Of Congress. https://www.newyorker.com/news/daily-comment/the-constitutional-system-is-not-built-to-resist-trumps-defiance-of-congress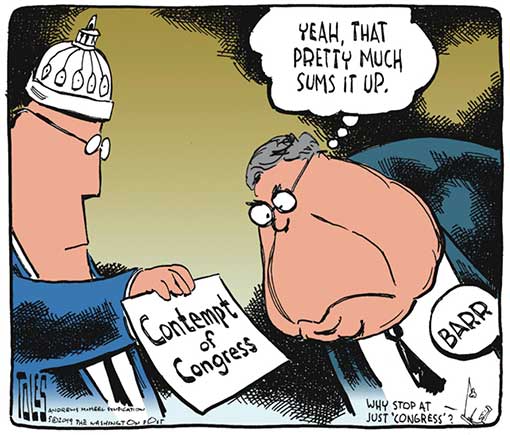 7. Eric Lutz: Trump's New Border Plan: Make The Military Pay For The Wall
In the halcyon days of 2015, back when his "build the wall" mantra was more of a mnemonic device, Donald Trump claimed that constructing his "beautiful" barrier along the southern border would be "easy." "It's not even a difficult project if you know what you're doing," he insisted. Fast forward to 2019, and his quest for a wall has been anything but simple. Mexico isn't paying, and Trump's emergency declaration, a last-ditch effort to fund the thing, is facing multiple legal challenges. In desperation, the president has reportedly turned to the Pentagon for help. And according to The Washington Post, his newly-installed acting defense secretary, Patrick Shanahan, is happy to comply.
Per the Post, the Pentagon is planning to shift another $1.5 billion to Trump's project from its own programs—including its ballistic missile program, its Airborne Warning and Control System, and a program that funds war efforts abroad. Shanahan maintains the diversion won't adversely effect military operations: "The Department carefully selected sources for the reprogramming that are excess or early to need and will not adversely affect military preparedness," read a document reviewed by the Post. Still, the fact that the D.O.D. is funneling money from bona fide defense systems to fund a wall that will be largely ineffective is deeply ironic.
Also ironic: that Trump, who has claimed the D.O.D. was "depleted" by Barack Obama's administration, would siphon funds from D.O.D. programs to fund his pet project. Democrats, too, are incensed at the move, noting that raiding the Pentagon's coffers is yet another way Trump has subverted Congressional authority, and that the funds could be better spent on, say, disaster relief for military personnel. "Once again, the Department of Defense has ignored decades of precedent and cooperation with the Congress in carrying out a transfer of funds without regard to any consultation with the Appropriations Committee," a team of Democratic senators including Dick Durbin, Patrick Leahy, and Jack Reed wrote in a letter to Shanahan on Friday. "We are dismayed that the Department has chosen to prioritize a political campaign promise over the disaster relief needs of our service members, given the finite reprogramming authority available. https://www.vanityfair.com/news/2019/05/trumps-new-border-plan-make-the-pentagon-pay-for-border-wall
8. Greg Sargent: The big unanswered question at the core of Trump's corruption
Why?
In recent days, the unanimous message that has blared forth from President Trump, his media propagandists and his Republican allies in Congress on the Mueller report is that it is now "case closed" on this whole story, as Mitch McConnell put it.
Countless Republicans have uttered the same talking point in every conceivable forum: No collusion, no obstruction. This is an entirely settled matter — total exoneration.
Yet at the same time, the full force of the administration's legal resources — backed up by the Senate majority leader and virtually all congressional Republicans — has been marshaled against further fact-finding of any and all kinds, on just about every single remaining front where outstanding unknowns remain.
Why? Why is this massive effort to close down every last remaining line of inquiry necessary, if Trump has been totally exonerated? https://www.washingtonpost.com/opinions/2019/05/10/big-unanswered-question-core-trumps-corruption/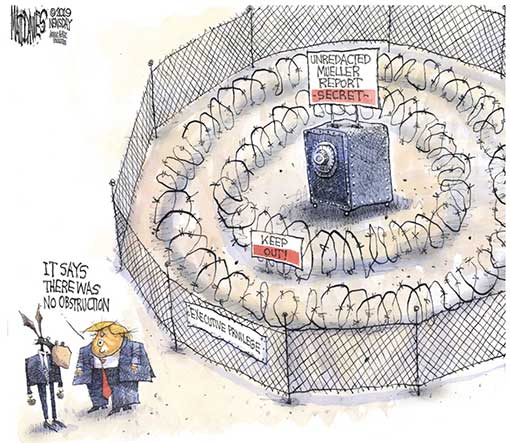 9. Karen Tumulty: A real story of fake news: Trump's wealth
In 1985, Trump reported losses of $46.1 million from his casinos, hotels and apartment buildings, which hemorrhaged $1.17 billion over the next decade. "Year after year, Mr. Trump appears to have lost more money than nearly any other individual American taxpayer," the Times wrote.
Even now, Trump would rather be thought of as a tax cheat than a loser. "You always wanted to show losses for tax purposes . . . almost all real estate developers did — and often re-negotiate with banks, it was sport," he tweeted in response to the recent Times report.
His backup singers at "Fox & Friends" chimed in, noting that piling up 10 digits' worth of losses was a testament to Trump's financial genius. "If anything, you read this and you're like 'Wow, it's pretty impressive, all the things that he's done in his life,' " co-host Ainsley Earhardt said in wonder. "It's beyond what most of us could ever achieve."
During the final debate of the 2016 campaign, Trump vowed to "run our country the way I've run my company." As we are learning, that is one campaign promise he's on track to keep. https://www.washingtonpost.com/opinions/it-turns-out-trumps-business-success-was-a-media-made-myth/2019/05/09/eb22825e-71dc-11e9-8be0-ca575670e91c_story.html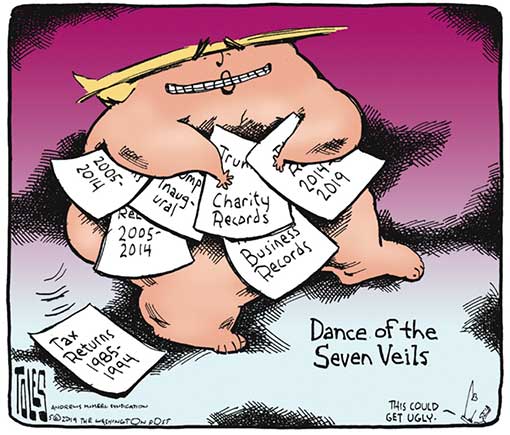 10.  Bess Levin: Report: No One Wants Live In Trump's Decrepit, Tainted Tower
When Donald Trump first opened Trump Tower, the centerpiece of his property empire, he was able to convince everyone from Steven Spielberg to Johnny Carson to Sophia Loren to pay top dollar to live in the place, with units selling for as much as $15 million. Now, thanks to a name that's synonymous with "racist blowhard of debatable mental stability and questionable moral conduct," not to mention a lack of updates in recent years, people can't get away from the building fast enough. Nobody wants to go there. If you've got a Marriott and a Hyatt and a Trump, you're not going to Trump." https://www.vanityfair.com/news/2019/05/no-one-wants-live-in-trumps-decrepit-tainted-tower-new-york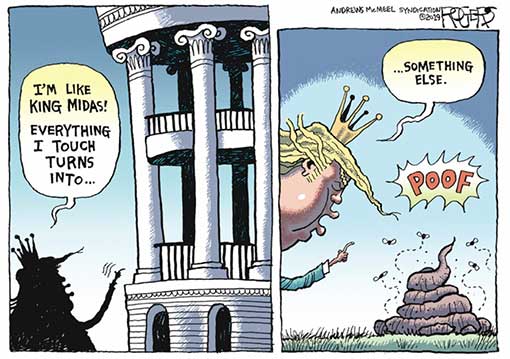 11. Jonathan Chait: The Banal Complicity of Rod Rosenstein
Trump's progress in corrupting the Department of Justice — and, to some extent, the entire federal government — into a weapon of his autocratic aspirations relies on the acquiescence of figures like Rod Rosenstein. It is the Rosensteins who translate the president's lizard-brain impulses into practical directives and create a patina of normalcy around them. (Or, in some increasingly rare cases, refuse to do so.) And so Rosenstein's spate of valedictory remarks attempting to cleanse and justify his service to Trump give us real insight into the worldview of the compliant bureaucratic functionary.
Rosenstein's idea of nonpartisan neutrality does not require abstaining from political commentary. It merely requires abstaining from criticism of his boss. In another recent speech, Rosenstein attacked the Obama administration for failing "to publicize the full story about Russian computer hackers and social media trolls, and how they relate to a broader strategy to undermine America." (Blaming Obama for doing too little to stop the Russian operation, when Trump was abetting it and Republican leader Mitch McConnell threatened to publicly attack any administration statement against it, is one of Trump's Orwellian talking points.) http://nymag.com/intelligencer/2019/05/rod-rosenstein-comey-barr-mueller-trump-russia-department-justice.html
12.  Bess Levin: White House Admits Trump Is Blatantly Lying About His Trade War
Last Friday, after escalating his now-year-long trade war with Beijing, Trump insisted, "Tariffs are NOW being paid to the United States by China of 25% on 250 Billion Dollars worth of goods & products. These massive payments go directly to the Treasury of the U.S." And on Monday morning, he doubled down on his insistence that American consumers should be thanking him on bended knee: "There is no reason for the U.S. Consumer to pay the Tariffs, which take effect on China today," he tweeted. "Very bad for China, very good for USA!"
Of course, in reality, tariffs are not paid for by China, but by U.S. companies. If the companies manage to stay in business at all, those costs are then passed on to American consumers. It's a (massive) point of clarification that's been noted by economists, analysts, and the media alike. But what really seems to have set Trump off is that, over the weekend, National Economic Council Director Larry Kudlow acknowledged this point, too!
It can't be underscored enough that Kudlow isn't some ex-Goldman globalist admitting that the president is lying through his caps about who's paying for his "good and easy to win" trade war, but a longtime lackey who has had no issue making patently absurd statements in service to Trump in the past. And in a move everyone outside the Oval Office saw coming. https://www.vanityfair.com/news/2019/05/donald-trump-larry-kudlow-china-tariffs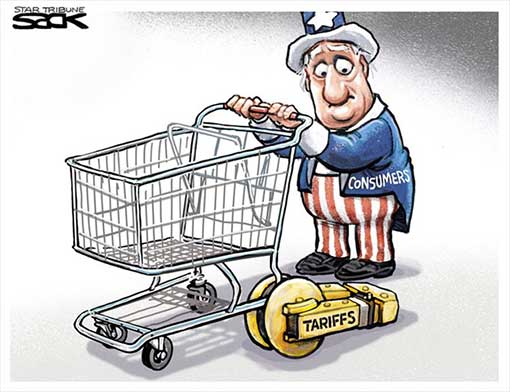 13. Betsy Woodruff: NRA Legal Bills Raise 'All Sorts of Red Flags'
"One hundred thousand dollars a day? That's just off the charts."
That's how Deborah Rhode, a legal ethics expert from Stanford Law School, put it after reviewing a memo from ex-NRA president Oliver North. In the document, North laid out allegations against the embattled gun rights group's outside law firm, claiming the firm has billed the association about $24 million since last March and $8.8 million in the first three months of 2019—averaging to more than $97,000 per day. Meanwhile, the NRA's latest financial disclosures forms show its revenue has slumped under the gun-friendly Trump administration.
North's memo—which NRA top brass dispute—raises new questions about the association's finances at an extraordinarily fraught moment for the grassroots gun-rights powerhouse. On the one hand, it finds its most powerful ally ever in President Trump. But at the same time, it faces acute challenges from inside and out: an increasingly organized, media-savvy movement calling for tighter gun laws, a belligerent foe in the New York governor's mansion, and internal turmoil that has left its members' heads spinning. Plus, there's the whole money problem.
Now North claims the group's legal bills are a new, huge strain on its finances—which have contracted.
"The Brewer invoices are draining NRA cash at mindboggling speed," reads the memo, referring to the legal bills, and adding that they "pose an existential threat to the financial stability of the NRA." https://www.thedailybeast.com/nra-legal-bills-raise-all-sorts-of-red-flags