December 3, 2020
ON THE RECORD. . .
Biden can only enter the White House as President if he can prove that his ridiculous "80,000,000 votes" were not fraudulently or illegally obtained. When you see what happened in Detroit, Atlanta, Philadelphia & Milwaukee, massive voter fraud, he's got a big unsolvable problem! — Donald Trump tweet, baselessly alleging election fraud and malfeasance in four heavily Black cities in states that voted for Biden.

TRUMP is now starring in his own reality show that fewer and fewer people appear to care about. The world has turned the channel and he's still talking. — POLITICO Playbook

"History will record the shameful irony that a president who lied to avoid military service staged a bogus event on the hallowed grounds of Gettysburg in a brazen attempt to undermine the Republic for which scores of real patriots had fought and died to preserve since its founding." — Former Pennsylvania Gov. Tom Ridge (R), on Twitter.

We just don't have time to waste time. — Senate Majority Leader Mitch McConnell (R-Ky.) in response to a  coronavirus aid proposal worth about $908 billion introduced by a bipartisan group of senators, aiming to break a months-long partisan impasse over emergency federal relief for the U.S. economy amid the ongoing pandemic.

President Trump should pardon Flynn, the Thanksgiving turkey, and everyone from himself, to his admin, to Joe Exotic if he has to. The Left has a bloodlust that will only be quenched if they come for those who fought with @realDonaldTrump to deliver for the American people. —Rep. Matt Gaetz (R-FL) tweet shared by Donald Trump.

"He's the only person I've ever met who can gaslight himself." — Mary Trump on how President Trump has convinced himself he actually won the election.

"There is no doubt in my mind that he (Trump) won this election. Hands down. In a landslide. I believe that at the end of the day we're going to find out that he won by a massive landslide and he'll be inaugurated come this January." — Michael Flynn, in his first interview since being pardoned.

"You're just a lightweight. Don't talk to me that way. I'm the President of the United States. Don't ever talk to the President that way." — President Trump, snapping at a reporter who objected to his false claims about the election.

This was an election aftermath without precedent in U.S. history. With his denial of the outcome, despite a string of courtroom defeats, Trump endangered America's democracy, threatened to undermine national security and public health, and duped millions of his supporters into believing, perhaps permanently, that Biden was elected illegitimately. — Washington Post

"Oh my God. @realDonaldTrump Please for the sake of our Nation please drop these arguments without evidence or factual basis. #stopthestupid "— Rep. Paul Mitchell (R-MI) tweet.

"This was not hardball, this was not even softball. This was tee-ball." — CNN media analyst Brian Stelter, criticizing Fox Business host Maria Bartiroma for letting Trump "lie and lie and lie."

"The president out the door needs to pardon his whole family and himself, because they want this witch hunt to go on in perpetuity ... he should be able to pardon anybody that he wants to" — Fox News host Sean Hannity 

"I think he should concede. I think the race is over." — Sen. Lisa Murkowski (R-AK)

"I'm nothing special. I'm just — I'm kind of relentless." — Stacey Abrams on what she did to turn out the vote and turn Georgia blue for the first time in 30 years.

"If we have any personnel announcements, I'll let you know." — Press secretary Kayleigh McEnany when asked if Trump still has faith in Attorney General William Barr, a day after Barr said there was no significant evidence to support the president's claim that widespread ballot fraud led to his defeat.

"In my judgment, if only lawful votes by eligible American citizens were cast, Donald Trump won the Electoral College by a significant margin, and Congress's certification should reflect that. This election was stolen by the socialists engaging in extraordinary voter fraud and election theft measures." — Rep. Mo Brooks (R-AL) who plans to challenge the Electoral College votes when Congress certifies Biden's victory, as long as a Senate Republican joins him in the long-shot effort. 

VIDEOS:

It's our final Christmas with Melania Trump, and we shall celebrate in the usual way: by accompanying FLOTUS on an annual tour of her White House decor, a one-minute video that also appears to serve as a trailer for a movie about a woman who wakes up in a castle one holiday season and goes searching for the person who spiked her eggnog with mushrooms. https://wapo.st/36pbGWG
---
IN THIS ISSUE
FYI
OPINION
1. Andy Borowitz: White House Says Pardons Will Be Given First to Essential Frontline Criminals
With fewer than fifty days until the Inauguration, the White House is facing the daunting task of distributing thousands of pardons to those who are desperately in need.

In an effort to insure an orderly rollout of pardons, the Trump Administration announced that the first recipients would be essential frontline criminals.

According to the announcement, essential frontline criminals include all White House staffers and Cabinet members who have spent the past four years receiving improper emoluments, destroying evidence, and subverting democracy.

"These essential criminals have risked imprisonment day in, day out, for the good of President Trump," the White House press secretary, Kayleigh McEnany, said. "They need to be immunized, so that they can continue their important work."

The announcement immediately raised concerns among frontline criminals, who fear that their swelling numbers, believed to be in the tens of thousands, could mean that there would not be enough pardons to go around.

McEnany, however, sought to allay those fears. "President Trump has invoked the Defense Production Act to ramp up the manufacturing of Sharpies," she said. https://www.newyorker.com/humor/borowitz-report/
2. They're baaack: Trump and allies still refuse election loss
The 2020 presidential race is turning into the zombie election that Trump just won't let die. Despite dozens of legal and procedural setbacks, his campaign keeps filing new challenges that have little hope of succeeding and making fresh, unfounded claims of fraud.
But that's the point. Trump's strategy, his allies concede in private, wasn't to change the outcome, but to create a host of phantom claims about the 2020 presidential race that would infect the nation with doubt and keep his base loyal, even though the winner — Biden — was clear and there has been no evidence of mass voter fraud.
"Zombies are dead people walking among the living — this litigation is the same thing," said Franita Tolson, a professor at the University of Southern California Gould School of Law. "In terms of litigation that could change the election, all these cases are basically dead men walking." https://apnews.com/article/election-2020-joe-biden-donald-trump-pennsylvania-elections-93dbc7576bc75f7d4e2be1cdfedb03c7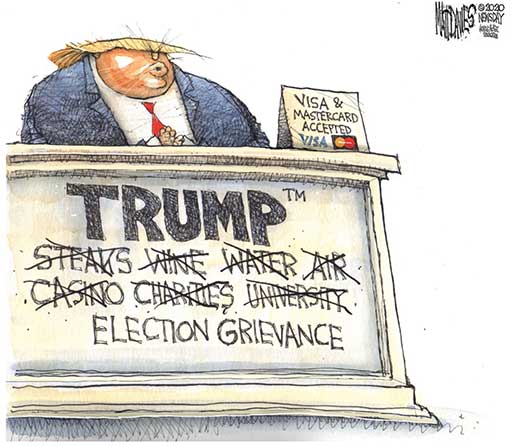 3. Trump raises more than $170 million appealing on false election claims
Trump's political operation has raised more than $170 million since Election Day, using a blizzard of misleading appeals about the election to shatter fundraising records set during the campaign, according to people with knowledge of the contributions.
The influx of political donations is one reason that Trump and some allies are inclined to continue a legal onslaught and public relations blitz focused on baseless claims of election fraud, even as their attempts have repeatedly failed in court and as key states continue to certify wins for President-elect Joe Biden.
Much of the money raised since the election is likely to go into an account for the president to use on political activities after he leaves office, while some of the contributions will go toward what is left of the legal fight. https://www.washingtonpost.com/politics/trump-raises-more-than-150-million-appealing-to-false-election-claims/2020/11/30/82e922e6-3347-11eb-afe6-e4dbee9689f8_story.html
4. As Trump Attacks Georgia Republicans, Party Worries About Senate Races
President Trump's sustained assault on his own party in Georgia, and his repeated claims of election fraud in the state, have intensified worries among Republicans that he could be hurting their ability to win two crucial Senate runoff races next month.
The president has continued to claim without evidence that his loss in the new battleground state was fraudulent, directing his ire in particular at Gov. Brian Kemp and Secretary of State Brad Raffensperger, both conservative Republicans, whom he has accused of not doing enough to help him overturn the result.
Over the weekend, he escalated his attacks on Mr. Kemp, saying he was "ashamed" to have endorsed him in 2018, and on Monday he called Mr. Kemp "hapless" as he urged him to "overrule his obstinate Republican Secretary of state."
Mr. Trump's broadsides have quietly rattled some Republicans in the state, who fear that concerns about the fairness of the presidential election could depress turnout for the Senate races, which will determine whether Democrats or Republicans control the chamber. https://www.nytimes.com/2020/11/30/us/politics/georgia-republicans-trump-kemp.html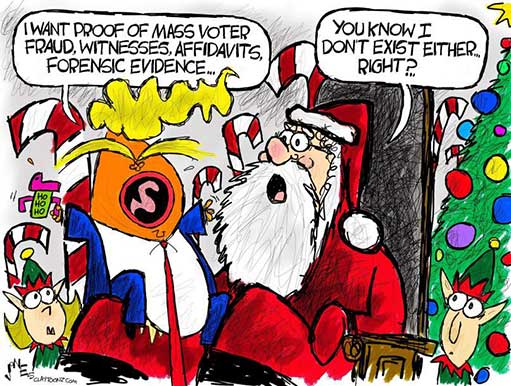 5. Trump Lawyer: "DHS Whistleblower Should Be Executed"
On Monday President Trump's campaign lawyer and former U.S. Attorney Joe diGenova appearing on the Howie Carr show, which simulcasts on Newsmax, said that fired Trump cybersecurity chief Chris Krebs should be executed for saying that the election was the "most secure in United States history."
"Anybody who thinks the election went well, like that idiot Krebs who used to be the head of cybersecurity [for Trump]. That guy is a class A moron. He should be drawn and quartered. Taken out at dawn and shot," diGenova said.
This is not just a random Parler troll trying to get attention. This is an attorney speaking on behalf of the President of the United States' re-election campaign. And while it may read like a macabre joke, the direct nature of diGenova's comments make it impossible to interpret as anything other than a real wish/threat against a public servant for offering truthful testimony
In addition to threatening Krebs, over the course of the interview diGenova made ominous and false suggestions about "circuit breakers" shutting down on election night in multiple states, which allowed for vote fraud; millions of votes showing up in dump trucks, tow trucks, and vans without detection; and he called on state legislatures to have the "cojones" to overturn the results of the election.
In other words: Just a normal day for Elite Strike Force.
https://thebulwark.com/trump-lawyer-dhs-whistleblower-should-be-executed/
6. QAnon's Rise in Japan Shows Conspiracy Theory's Global Spread
QAnon's days as a solely U.S. phenomenon are over.
The conspiracy theory's foothold in Japan -- home to one of its most active networks outside the U.S. -- demonstrates how the movement can be made palatable in a range of countries as it gains popularity from Europe to Brazil.
Research by social media analytics firm Graphika Inc. shows the Japan-based QAnon community is among the most developed international chapters, with distinct terminology, influencers, and behaviors -- such as idolizing Michael Flynn, a former U.S. national security adviser in the Trump administration. https://www.bloomberg.com/news/articles/2020-11-29/qanon-s-rise-in-japan-shows-conspiracy-theory-s-global-spread
7. Trump Moves Forward With Changes to Federal Hiring, Firing
The Trump administration is rapidly moving forward with a last-minute push to ease hiring and firing standards for many senior federal workers, setting off a clash with Democrats in Congress over whether civil servants should maintain longstanding job protections.
Democrats have proposed legislation canceling the order, requested documents about its use and pushed to include measures in year-end spending legislation blocking its implementation. The Government Accountability Office, the legislative branch's nonpartisan watchdog, has begun reviewing the change, and the National Treasury Employees Union has filed a lawsuit seeking to block the order. https://www.wsj.com/articles/trump-moves-forward-with-changes-to-federal-hiring-firing-11606918431
8. Ivanka Trump was deposed Tuesday in DC attorney general's inauguration lawsuit
Ivanka Trump sat for a deposition Tuesday with investigators from the Washington, DC, attorney general's office as part of its lawsuit alleging the misuse of inaugural funds. https://www.cnn.com/2020/12/02/politics/ivanka-trump-deposition/index.html
9. Pompeo invites hundreds to indoor holiday parties after subordinates are warned against hosting 'non-mission critical events'
Following a sharp spike in coronavirus cases across the country, State Department leadership sent out a notice to employees one week ago recommending that "any non-mission critical events" be changed to "virtual events as opposed to in-person gatherings."
That same week, U.S. event planners were told that the guidance did not apply to the upcoming functions they were working on: large indoor holiday parties hosted by Secretary of State Mike Pompeo and his wife, Susan, on the eighth floor of the State Department involving hundreds of guests, food and drinks.
Pompeo's lineup of parties in the next three weeks comes as the Trump administration's own health experts are imploring Americans to limit travel and avoid large gatherings amid a pandemic that has killed more than 270,000 Americans and infected nearly 14 million across the United States. https://www.washingtonpost.com/national-security/pompeo-coronavirus-holiday-parties/2020/12/02/9a06d0a6-3421-11eb-afe6-e4dbee9689f8_story.html
10. UN calls on humanity to end 'war on nature,' go carbon-free
As an extreme year for hurricanes, wildfires and heat waves comes to an end, the head of the United Nations challenged world leaders to make 2021 the year that humanity ends its "war on nature" and commits to a future free of planet-warming carbon pollution.
With new reports highlighting 2020's record-breaking weather and growing fossil fuels extraction that triggers global warming, U.N. Secretary-General Antonio Guterres delivered yet another urgent appeal to curb climate change. It was tinged with optimism but delivered dire warnings, as the UN gears up for a Dec. 12 virtual climate summit in France on the 5th anniversary of the landmark 2015 Paris climate agreement. https://apnews.com/article/un-calls-end-war-nature-go-carbon-free-d144cda34053abbd0758e22d9ff8f7c6
11. Republicans cheer on a Trump 2024 run
In a series of interviews Wednesday, House and Senate Republicans made clear that the GOP has no intention of turning its back on Trumpism — or Trump himself. That's in part because Trump remains an exceedingly popular figure in his party, far more than most congressional Republicans. Some Republicans declined to discuss the 2024 race, however, deeming it too speculative.
The political calculus is also clear. While he will soon lose the Oval Office, he'll still have his Twitter handle and will still be in firm control of his base. Republicans are loath to get cross with Trump, who could play a central role in Senate and House primaries in 2022 and create trouble for incumbents that break with him. Future GOP presidential candidates will also be eager to court his supporters if he ultimately passes on another campaign. https://www.politico.com/news/2020/12/02/republicans-cheer-on-a-trump-2024-run-442310
12. NRA reports alleged misspending by current and former executives to IRS
After years of denying allegations of lax financial oversight, the National Rifle Association has made a stunning declaration in a new tax filing: Current and former executives used the nonprofit group's money for personal benefit and enrichment.
The NRA said in the filing that it continues to review the alleged abuse of funds, as the tax-exempt organization curtails services and runs up multimillion-dollar legal bills. The assertion of impropriety comes four months after the attorney general of New York state filed a lawsuit accusing NRA chief executive Wayne LaPierre and other top executives of using NRA funds for decades to provide inflated salaries and expense accounts. https://www.washingtonpost.com/politics/nra-irs-disclosure-990/2020/11/25/50521108-2d34-11eb-9c71-ccf2c0b8d571_story.html
13. Trump administration removes experts from Defense Policy Board
Several high profile members of the Defense Policy Board were removed on Wednesday by the Trump administration, in yet another purge of longstanding foreign policy experts and national security establishment figures in the final days of the Trump era, according to three defense officials.
Members who were suddenly removed include former Secretaries of State Madeleine Albright and Henry Kissinger, former ranking member of the House Intelligence committee Jane Harman and former House Majority Leader Eric Cantor, two of the officials said.
The Defense Policy Board is an outside advisory group of former high profile national security officials who "provide the Secretary of Defense and the Deputy Secretary of Defense, independent, informed advice and opinions concerning matters of defense policy in response to specific tasks from the Secretary of Defense, the Deputy Secretary of Defense," according to their website. https://www.cnn.com/2020/11/26/politics/trump-administration-defense-policy-board/index.html
14. Fact-checking Trump's cellphone rant of election falsehoods
On Thanksgiving eve, Trump called into a news conference held by his allies in a Gettysburg, Pa., hotel, yet again falsely claiming that Joe Biden stole the presidential election. The presidential rant lasted less than 10 minutes,  but Trump still managed to squeeze in at least 15 false or misleading statements. For a rundown of his numerous falsehoods go to: https://www.washingtonpost.com/politics/2020/11/26/fact-checking-trumps-cellphone-rant-election-falsehoods/
15. Donor In Trump's Election 'Fraud' Fight Sues To Snatch Back His $2.5 Million Contribution
A major contributor to a group backing President Donald Trump's fight to overturn the presidential election sued to recover $2.5 million in donations after the campaign failed in several court cases and was unable to prove any fraud.
The lawsuit filed Wednesday in the U.S. District Court for the Southern District of Texas by North Carolina venture capitalist Fred Eshelman argued that the nonprofit group True the Vote promised to keep him informed of how his millions were being used in what was pitched as a strong case against alleged election fraud. Instead, the suit alleged, he was fed "vague responses, platitudes and empty promises of follow-up" that never occurred.
A fed-up Eshelman last week ordered True the Vote in an email to immediately wire back his contribution. When the organization failed to comply, he filed the lawsuit. https://www.huffpost.com/entry/fred-eshelman-trump-contribution-lawsuit-election-fraud_n_5fc033e5c5b63d1b770aa2bf
16. 'Betrayed' Black asylum seekers say Trump administration is ramping up deportations by force and fraud
During President Trump's last weeks in office, Black and African asylum seekers say, the administration is ramping up deportations using assault and coercion, forcing them back to countries where they face harm, according to interviews with the immigrants, lawyers, lawmakers, advocates and a review of legal complaints by The Times.
Since last month, lawyers have filed multiple complaints with the Homeland Security Department's Office of Civil Rights and Civil Liberties and Inspector General's Office documenting the cases of at least 14 Cameroonian asylum seekers at four detention facilities in Louisiana and Mississippi who were allegedly subjected to coercion and physical abuse by ICE to force their deportation. The complaints call for investigations and an immediate halt to the deportations, arguing that officials are violating U.S. and international law, including the Convention Against Torture and due process rights.
In that time, more than 100 asylum seekers also have reported ICE using or threatening force to put them on deportation flights, in particular to Haiti and West Africa, according to lawyers and calls received on a national immigration detention hotline run by nonprofit Freedom for Immigrants.
The Times has interviewed nine asylum seekers, most from Cameroon, as well as Haiti and Ethiopia, many of whom requested anonymity for fear of retaliation. Five have been deported in the last month, and three remain detained after ICE attempted to remove them in recent weeks. One Cameroonian was released Monday after roughly 20 months in immigration detention.
They include teachers, law students, mothers, fathers, a 2-year-old boy and a 3-year-old girl, who have fled corrupt governments, political persecution, gang rape, torture by security forces, assassination attempts and arbitrary detention. https://www.latimes.com/politics/story/2020-11-27/black-asylym-seekers-trump-officials-push-deportations
17. Federal Judge Advances Lawsuit Accusing Felix Sater of Laundering Loot Through Trump Properties
A federal judge on Monday partially advanced a lawsuit accusing Russian mafia-tied businessman Felix Sater of laundering millions stolen from Kazakhstan's BTA Bank through Trump Organization properties. https://lawandcrime.com/high-profile/federal-judge-advances-lawsuit-accusing-felix-sater-of-laundering-loot-through-trump-properties/
18. The DAILY GRILL
"To date, we have not seen fraud on a scale that could have effected a different outcome in the election." — Attorney General Barr

VERSUS

"For the attorney general of the United States to make that statement — he is either a liar or a fool or both." — Fox Business host Lou Dobbs

Barr had revealed himself as "totally deaf, dumb and blind."... "Barr's masquerade as someone opposed to the criminality of the Deep State" had been "exposed as a venal lie. You either fix the damn corrupt system or we will abandon you...Our days of tolerating betrayal are over."-- The Gateway Pundit, a fringe website which Trump has repeatedly promoted.

 

TRUMP: "In Wisconsin, somebody has to be indefinitely confined in order to vote absentee. In the past there were 20,000 people. This past election there were 120,000...and Republicans were locked out of the vote counting process."

VERSUS

THE FACTS: This is flat-out wrong. The numbers are off, the characterization of absentee voting is incorrect and the assertion that Republicans were locked out of vote counting is false.

 

"Why won't Governor Brian Kemp, the hapless Governor of Georgia, use his emergency powers, which can be easily done, to overrule his obstinate Secretary of State, and do a match of signatures on envelopes. It will be a 'goldmine' of fraud, and we will easily WIN the state…..Also, quickly check the number of envelopes versus the number of ballots. You may just find that there are many more ballots than there are envelopes. So simple, and so easy to do. Georgia Republicans are angry, all Republicans are angry. Get it done!" — Trump continuing to slam Georgia Gov. Brian Kemp (R).

VERSUS

"Georgia law prohibits the Governor from interfering in elections. The Secretary of State, who is an elected Constitutional officer, has oversight over elections that cannot be overridden by executive order." — Georgia Gov. Brian Kemp (R) pushing back on exhortations by Donald Trump.
 

 

President @realDonaldTrump already has an ALL FEMALE Senior White House Press Team.
So does @VP
So does @FLOTUS
So does @SecondLady
The completely DISCREDITED @washingtonpost once again reveals their blinding propagandist Fake News proclivities' — Kayleigh McEnany tweet.

VERSUS

Mr. Judd Deere has served as Deputy Press Secretary to the White House since Jan. 31, 2019.
Mr. Devin O'Malley has served as Press Secretary for Mike Pence.since January 2017
Mr. Brian Morgenstern is Deputy Comms Director and Deputy Press Secretary
19. From MEDIA MATTERS (They watch Fox News so you don't have to)
Right-wing media figures are lying about the election being stolen to grift their followers for money. https://www.mediamatters.org/voter-fraud-and-suppression/right-wing-media-figures-are-lying-about-election-being-stolen-grift

Tucker Carlson warns Biden DHS choice Alejandro Mayorkas will turn America into "a different country overnight. He plans to use the agency to radically increase the amount of immigration from the Third World into America" https://www.mediamatters.org/tucker-carlson/tucker-carlson-warns-biden-dhs-choice-alejandro-mayorkas-will-turn-america-different
1. Max Boot: Trump won't concede because it's so profitable to keep the con going
Given that Trump cares nothing about the public weal, why should he ever admit defeat? Keeping the long con going not only offers a salve for his wounded ego but also possible salvation for his debt-riddled balance sheet. (Forbes 
reports
 that he owes at least $1 billion.)
Trump's political operation has raised more than $150 million since Election Day with fraudulent claims of fraud. The campaign wasted $3 million on a recount in Wisconsin that expanded Biden's lead in that state by 87 votes. It might as well have used donors' money to light Donald Trump Jr.'s cigars — and it still might. As my colleague Philip Bump notes, contributions to Trump's political action committee, Save America PAC, can be used "to fund basically anything," including "memberships at golf clubs," "travel," "rallies," "even payments directly to Trump himself, as long as he declares it as income."
Trump claims to be an expert on winning. His actual area of expertise is how to profit from losing. He survived the bankruptcy of six of his businesses, and he will survive the moral bankruptcy of his presidency. He has now figured out how to monetize assaults on our democracy. He will keep going at least until 2024, and then either regain the Republican nomination for himself or hand it off to a favored sycophant. https://www.washingtonpost.com/opinions/2020/12/01/trump-is-an-expert-making-money-off-losing-now-hes-doing-it-again/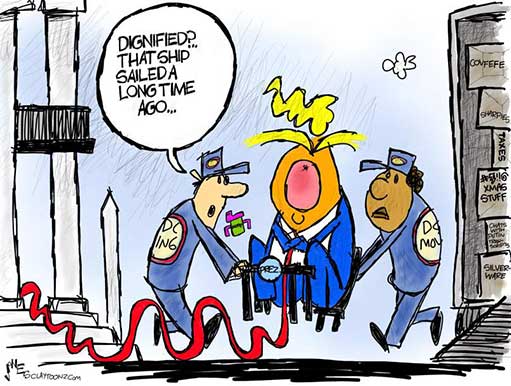 2. Amber Phillips: Predictably, some Republican voters in Georgia are turning on the party
Part of what makes President Trump's hold over the Republican Party so powerful is that the Republican establishment doesn't fully understand it. And that means it is unsure about how to wield it without Trump helping.
That's manifesting in an ugly way for the party in Georgia. As Trump tries to burn down democratic institutions on his way out of office, at least some hardcore Trump supporters in the state are turning on the GOP.
This couldn't come at a worse time for the party. Republicans are trying to rally their loyalists to vote Jan. 5 in two Senate runoff races that will decide whether Democrats have full governing control in Washington next year or Republicans can block some of their policies.
But almost all the establishment Republican figures in Georgia or campaigning there have recently faced accusations from some voters that they're not Trumpian enough for not wading completely into the president's baseless claims that the election was stolen from him. https://www.washingtonpost.com/politics/2020/11/30/georgia-republican-voters/
3. David Frum: Trump Pardoned Flynn to Save Himself
Here's the first and most important thing to understand about the crime for which President Trump just pardoned former National Security Adviser Michael Flynn: Flynn did not lie to protect himself. He lied to protect Donald Trump.
At the end of December 2016, Flynn had a series of conversations with Russian Ambassador Sergey Kislyak. A month later, on January 24, 2017, Flynn was asked about those conversations by the FBI agent Peter Strzok.
In the first set of conversations, Flynn urged Kislyak to oppose a United Nations Security Council resolution condemning Israeli settlement activity. The second set occurred a week later, while Flynn was on holiday in the Dominican Republic. There, Flynn sought to convince Kislyak to persuade the Russian government not to retaliate against the United States, over a round of sanctions punishing Russia for intervening in the 2016 election to help Donald Trump.
From Flynn's own narrow personal point of view, there was no reason to lie about any of these conversations. Yes, he was pushing the limits a little bit, doing diplomacy before the new administration took office. A more elegant diplomat would have found a way to honor the rule that there's only one administration at a time, while also communicating what he wanted the Russians to know about the differing intentions of the incoming administration. But such limit-pushing has surely happened often before in the history of American foreign policy. All Flynn had to say to avoid legal jeopardy was, "Yes, I spoke to Ambassador Kislyak. Possibly I was premature. My bad."
So why didn't he say that? https://www.theatlantic.com/ideas/archive/2020/11/trump-pardoned-flynn-protect-himself/617220/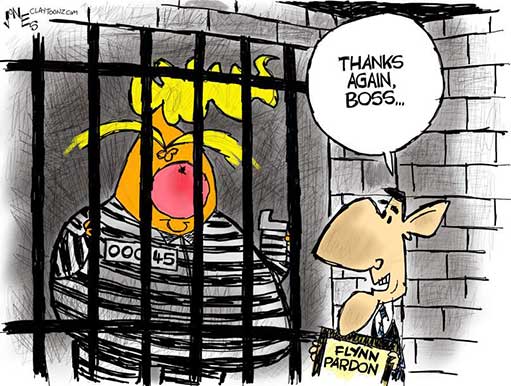 4. Dan Barry: 'Loser': How a Lifelong Fear Bookended Trump's Presidency
President Trump went on the attack this month after failing to win a In the now-distant Republican presidential primaries of 2016, Senator Ted Cruz of Texas handily won the Iowa caucuses. This was determined by a method that has lately come under attack but at the time was considered standard: elementary math.
One of the losers in Iowa, the developer and television personality Donald J. Trump, soon accused Mr. Cruz of electoral theft. He fired off several inflammatory tweets, including this foreshadowing of our current democracy-testing moment: "Based on the fraud committed by Senator Ted Cruz during the Iowa Caucus, either a new election should take place or Cruz results nullified."
The episode vanished in the tsunami of political vitriol to come during the Trump presidency. Still, it reflects what those who have worked with Mr. Trump say is his modus operandi when trying to slip the humiliating epithet he has so readily applied to others.
Loser.
"The first thing he calls someone who has wronged him is a loser," said Jack O'Donnell, who ran an Atlantic City casino for Mr. Trump in the 1980s. "That's his main attack word. The worst thing in his world would be to be a loser. To avoid being called a loser, he will do or say anything."
Across his long career, he has spun, cajoled and attacked — in the press, in lawsuits and lately, of course, on Twitter — whenever faced with appearing as anything less than the superlative of the moment: the greatest, the smartest, the healthiest, the best. This has at times required audacious attempts to twist a negative into a positive, often by saying something over and over until it either displaces the truth or exhausts the audience into surrender. https://www.nytimes.com/2020/11/26/us/politics/trump-election-loss.html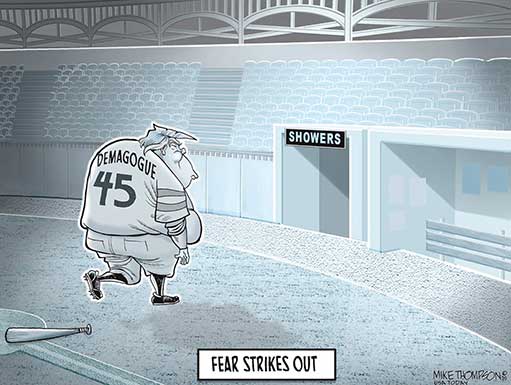 5. Eric Lutz: Republicans Are Really Trying To Argue That Biden's Cabinet Picks Are Corrupt
As Joe Biden introduced his first round of Cabinet picks Tuesday, one thing that stood out was the fact that none of the people on the stage were total nutcases. None had rivulets of dye-stained sweat streaking down their cheeks. No one suggested consuming bleach. And most importantly: Whatever criticisms they invite, they all at least seemed to know what their jobs entailed and evinced an ability to carry out the duties entrusted to them. Fulfilling these basic prerequisites should not be notable, but after four years of dopes in posts they don't understand, truculent goons working to undermine the very departments they lead, and an unending parade of incompetence, grift, and empty swagger from Donald Trump and his administration, the fact that Biden, Kamala Harris, and the people they've surrounded themselves with all had their shoes on the right feet and spoke in complete sentences was a refreshing change of pace.
Republicans, though, are already trying to paint Biden's nominees as dangerous, inept kooks. Indeed, in the bizarro world of the GOP, it's not Trump and the stooges he's had running the United States government the last four years you need to look out for—it's Biden and his team of experienced establishment figures. Biden's nominees, Marco Rubio tweeted Tuesday, seem impressive on paper, but will actually be the "polite & orderly caretakers of America's decline." The private consulting work of Tony Blinken and Avril Haines, Biden's picks for secretary of state and director of national intelligence, respectively, is of great interest to John Cornyn, who showed considerably less interest in the tangle of conflicts and foreign ties of Trump and others around him. "I want to see what foreign countries, if any, they have worked for," he wrote Tuesday. And Mike Pompeo, the blustering secretary of state, took direct aim at his successors. "I know some of these folks. They took a different view," he said in a Fox News interview. "They lived in a bit of a fantasy world."
It's rich for a guy in Trumpworld—home to QAnon conspiracy theorists and a president who still maintains he won re-election by a landslide—to suggest someone else is living in a fantasy. But it's likely a preview of the confirmation fights that lie in store for Biden's nominees, and probably for the next four years of his presidency. After helping Trump drive the nation down the road to ruin, Republicans will quickly pivot to vilifying the new administration as loony radicals and casting themselves—the lot that lined up behind a reality television star many of them actively despised—as the grown-ups in the room. https://www.vanityfair.com/news/2020/11/republicans-joe-biden-cabinet-criticism-marco-rubio-mike-pompeo
6. Jonathan Chait: Republicans Remain Opposed to Any Policies That Would Reduce Fossil-Fuel Use
The relief of Donald Trump's long good-bye will begin yielding to the stark reality that his party remains fundamentally pathological. No issue highlights this depressing reality more clearly than climate change.
For more than a decade, the GOP has stood alone among major right-of-center parties in industrialized democracies worldwide in its refusal to endorse climate science. But during the Trump era, the party's rhetorical emphasis shifted. The major Republican point of agreement is now to insist on fossil-fuel use as an inherent good.
The conservative Washington Examiner reported not long ago on what kinds of climate policies, if any, Republicans may support under a Biden administration. Most of the Republicans queried for the story implicitly agree that climate change is a problem but insist that big government is not the solution. Their buzzword is innovation. A spokesperson for Senator John Barrasso, chairman of the Committee on Environment and Public Works, explains, "He believes free-market innovation, not government taxation or regulation, is the best way to address climate change." Representative Tom Reed says, "You lead with innovation." And the Chamber of Commerce likewise asserts, "It's OK to have ambitions, goals, and targets, but our focus is on innovation and technology."
"Innovation" sounds like promising grounds for cooperation. The green-energy sector has seen an explosion of innovation over the past decade, with the price of solar energy, batteries, and other green technology plummeting rapidly.
But what kind of innovation do Republicans want? Halfway through the Examiner story, we arrive at the bottom line: "Republicans remain opposed to any policies that would reduce fossil-fuel use."
Well, then, that would rule out any policy. Innovation in this case actually means keeping all the incumbent energy technologies in place permanently. In other words, their actual priority is the opposite of innovation. https://nymag.com/intelligencer/2020/11/republicans-climate-change-biden-science-greenhouse-gas.html
7. Robert Barnes: Trump's imprint on Supreme Court shows conservative effect in key coronavirus ruling
The Supreme Court's new conservative majority showed its muscle on Thanksgiving Eve, with Justice Amy Coney Barrett playing a key role in reversing the court's past deference to local officials when weighing pandemic-related restrictions on religious organizations.
All three of President Trump's nominees to the court were in the 5-to-4 majority that blocked New York Gov. Andrew M. Cuomo's restrictions on houses of worship in temporary hot spots where the coronavirus is raging.
The court's most conservative justices distanced themselves from Chief Justice John G. Roberts Jr. Justice Neil M. Gorsuch, Trump's first nominee, went out of his way to say that lower courts should no longer follow Roberts's guidance of deference, calling it "mistaken from the start."
The Supreme Court on Nov. 25 backed Christian and Jewish houses of worship challenging New York state's pandemic restrictions on religious organizations. (Reuters)
"Even if the Constitution has taken a holiday during this pandemic, it cannot become a sabbatical," Gorsuch wrote. Rather than applying "nonbinding and expired" guidance from Roberts in an earlier case from California, Gorsuch said, "courts must resume applying the Free Exercise Clause."
"Today, a majority of the court makes this plain."
The halt of Cuomo's orders, which had been allowed to remain in place by lower courts, was the first evidence that Roberts may no longer play the pivotal role he occupied over the past couple of years. He had been at the center of the court, with four consistently more conservative justices and four more liberal ones. https://www.washingtonpost.com/politics/courts_law/supreme-court-coronavirus-restrictions/2020/11/26/5cf84020-2ffb-11eb-bae0-50bb17126614_story.html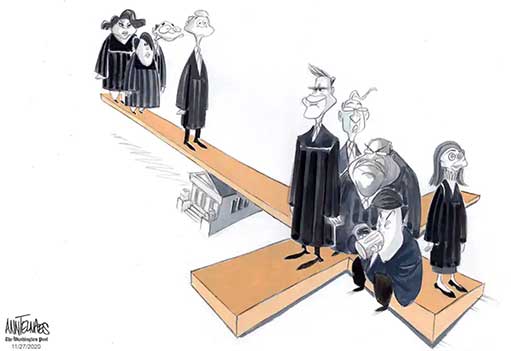 8. Colbert I. King: I am thankful that Trump will be out of office. But dark days still lie ahead.
On Thanksgiving Day, I expressed gratitude that Donald Trump will no longer be president of the United States as of noon on Jan. 20. I also gave thanks that Air Force One, the presidential limousine, the White House mansion and all other appurtenances of the executive branch of the U.S. government will fall within the purview of President Joe Biden and Vice President Kamala D. Harris.
The thought that Trump aides Jared Kushner, Stephen Miller, Peter Navarro and Kayleigh McEnany and her crew of spin doctors will have to surrender their White House passes, and thereafter resort to taxis, ride-hailing companies, Metro or their own two feet to get around town is, well, delicious.
Today, I am looking forward to a William P. Barr-free Justice Department, a State Department no longer under the thumb of Mike Pompeo and a Defense Department led by experienced and competent professionals, all of which ensures that the causes of justice, diplomacy and our national defense will soon be in good hands.
Post Senior Producer Kate Woodsome talks to Americans who voted for Trump, or simply don't feel like denouncing him, about why they feel wrongly scorned. (Kate Woodsome, Joy Sharon Yi/The Washington Post)
Yet, I stop short of breathing a sigh of relief because Trump will be out of office. He will, after all, only be out of the building.
What that narcissistic demagogue has already done, and what his vindictive nature is causing him to now do, foreshadows that dark days may lie ahead.
The unscrupulous and defeated president, who continues to press unfounded charges of being cheated out of the election, is more than an American abnormality. Trump is doing damage to our democratic system by undermining confidence in our elections. There is also an added aspect to his recklessness. Trump's unconscionable actions might be laying the groundwork for politically motivated violence. https://www.washingtonpost.com/opinions/i-am-thankful-that-trump-will-be-out-of-office-but-dark-days-still-lie-ahead/2020/11/27/8c83f75e-30cc-11eb-860d-f7999599cbc2_story.html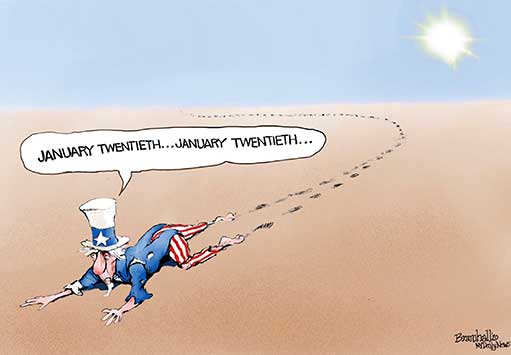 9. Zak Cheney-Rice: Losing Hasn't Changed Trump's Stance on White Supremacy
In July, President Trump tweeted that he would veto any defense spending bill that renamed military bases that honor Confederate leaders, like Fort Bragg in North Carolina and Fort Lee in Virginia. Legislation matching that description, the annual National Defense Authorization Act, currently has bipartisan support in the House and the Senate, but Trump has said privately that he hasn't changed his mind about blocking it, according to NBC News. As recently as the September debates, reporters were still asking the president if he was willing to condemn white supremacist and militia violence in cities like Kenosha, Wisconsin, and Portland, Oregon, which he seemed hellbent on exacerbating amid nationwide protests. His apparent commitment to thwarting a perfunctory spending bill because it might diminish the veneration of prominent white supremacists is more evidence that this was an absurd question. Even as a lame duck, Trump's stance remains clear. https://nymag.com/intelligencer/article/trump-renaming-bases-honoring-confederates.html
10. David Brooks: The Rotting of the Republican Mind
In a recent Monmouth University survey, 77 percent of Trump backers said Joe Biden had won the presidential election because of fraud. Many of these same people think climate change is not real. Many of these same people believe they don't need to listen to scientific experts on how to prevent the spread of the coronavirus.
We live in a country in epistemological crisis, in which much of the Republican Party has become detached from reality. Moreover, this is not just an American problem. All around the world, rising right-wing populist parties are float
Under Trump, the Republican identity is defined not by a set of policy beliefs but by a paranoid mind-set. He and his media allies simply ignore the rules of the epistemic regime and have set up a rival trolling regime. The internet is an ideal medium for untested information to get around traditional gatekeepers, but it is an accelerant of the paranoia, not its source. Distrust and precarity, caused by economic, cultural and spiritual threat, are the source.
What to do? You can't argue people out of paranoia. If you try to point out factual errors, you only entrench false belief. The only solution is to reduce the distrust and anxiety that is the seedbed of this thinking. That can only be done first by contact, reducing the social chasm between the members of the epistemic regime and those who feel so alienated from it. And second, it can be done by policy, by making life more secure for those without a college degree.
Rebuilding trust is, obviously, the work of a generation. https://www.nytimes.com/2020/11/26/opinion/republican-disinformation.html
11. National Review Editorial: Trump's Disgraceful Endgame
Almost nothing that the Trump team has alleged has withstood the slightest scrutiny. In particular, it's hard to find much that is remotely true in the president's Twitter feed these days. It is full of already-debunked claims and crackpot conspiracy theories about Dominion voting systems. Over the weekend, he repeated the charge that 1.8 million mail-in ballots in Pennsylvania were mailed out, yet 2.6 million were ultimately tallied. In a rather elementary error, this compares the number of mail-ballots requested in the primary to the number of ballots counted in the general. A straight apples-to-apples comparison finds that 1.8 million mail-in ballots were requested in the primary and 1.5 million returned, while 3.1 million ballots were requested in the general and 2.6 million returned.
Flawed and dishonest assertions like this pollute the public discourse and mislead good people who make the mistake of believing things said by the president of the United States.
Trump's most reprehensible tactic has been to attempt, somewhat shamefacedly, to get local Republican officials to Trump's most reprehensible tactic has been to attempt, somewhat shamefacedly, to get local Republican officials to block the certification of votes and state legislatures to appoint Trump electors in clear violation of the public will. This has gone nowhere, thanks to the honesty and sense of duty of most of the Republicans involved, but it's a profoundly undemocratic move that we hope no losing presidential candidate ever even thinks of again.
Getting defeated in a national election is a blow to the ego of even the most thick-skinned politicians and inevitably engenders personal feelings of bitterness and anger. What America has long expected is that losing candidates swallow those feelings and at least pretend to be gracious. If Trump's not capable of it, he should at least stop waging war on the outcome. https://www.nationalreview.com/2020/11/trump-election-fraud-disgraceful-endgame/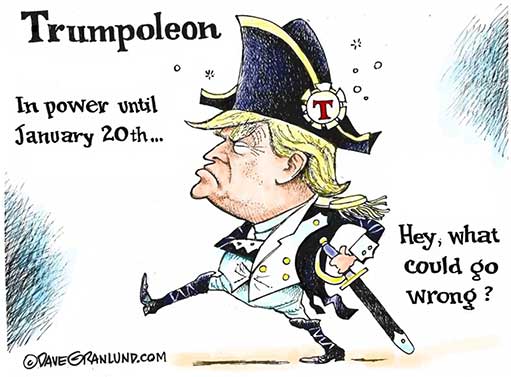 12. Jonathan V. Last: The Flavors of Crazy
There is a sliding scale of crazy. For instance, if we were going to list a set of beliefs in ascending order of insanity—from a little strange to pathologically nuts—it might look something like this:
There are an awful lot of unexplained flying objects.
Atlantis was real.
Bigfoot is real.
The earth is actually flat.
I was abducted by aliens.
Your reaction to these views being espoused by a person you just met would be quite different.
If someone told you they were interested in UFOs, you might be curious to know more. If someone told you they believed that Atlantis was real, you'd probably find it charming.
If someone told you they had personally been captured by little green men, you'd back away slowly.
So there's crazy. And then there's crazy.
Furthermore, our indulgence for craziness varies on the context. If your barber thinks the earth is flat, you might still let him cut your hair. If your oncologist told you that the earth was flat, you would find another doctor that afternoon.
So let's talk about Michael Flynn.
Over the weekend, Flynn gave an interview to an outlet called Worldview Weekend. In the course of his remarks, Flynn had this to say about Donald Trump and the 2020 election:
"There is no doubt in my mind that he won this election. Hands down. In a landslide," Flynn said about Mr. Trump during a phone interview that was uploaded to the internet afterward.

"I believe that at the end of the day we're going to find out that he won by a massive landslide and he'll be inaugurated come this January," Flynn stated later during the interview.
Where does this fall on the crazy scale?
Let's start by noting that Flynn is not doing the coy "just-asking-questions" routine. He's not saying, nudge-nudge, wink-wink, Who can really say what happened?
He's going the full monty. He doesn't just believe that Trump probably won. He has no doubt—literally none!—that Trump won.
And not just won, but won by a "landslide."
And not just a normal landslide, but a "massive landslide."
And Michael Flynn doesn't just believe that this is true, but he believes that this truth is going to be demonstrated and that in 51 days, Donald Trump will be sworn in for a second term.
On our list of crazy, where does this fall? Probably between "the earth is flat" and "I was abducted by aliens."
Except that Michael Flynn does not cut hair for a living.
He was the forking National Security Advisor to the president of the United States.
How in God's name did America let something like this happen?
I have some theories. https://thetriad.thebulwark.com/p/the-flavors-of-crazy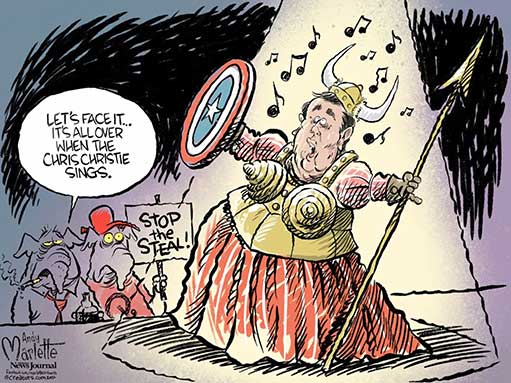 13. Bess Levin: Stephen Miller: Races To F--K Over Immigrants On His Way Out The Door
When he wasn't making the case, via Twitter, that he should be put under conservatorship, or speaking to Fox & Friends for hours on end, Donald Trump spent much of the last four years enacting despicable policies, many of which concerned immigration. The top hits obviously include the travel ban, family separation, and spending billions of dollars in taxpayer money on his ridiculous border wall, but also using ICE to terrorize undocumented immigrants, attempting to allow the deportation of 700,000 people who came to the U.S. as children, cutting the refugee cap to the lowest level in history, and generally demonizing anyone who wasn't born here and making their lives as miserable as possible. Behind these policies was World's Biggest Bastard nominee for four years running Stephen Miller, the 35-year-old adviser who cut his teeth working for Jeff Sessions and defied his upbringing in Santa Monica to become a white supremacist. And if you thought he was going to ease up the immigrant-bashing policies on his way out the door, you sadly underestimated the depths to which Miller clearly hates himself, a self-loathing that he takes out on anyone with less power than him or who doesn't have to spray on their hair.
Instead, Miller is reportedly doing everything he can to limit immigration, legal and otherwise, on his way out the door. Per Politico.  https://www.vanityfair.com/news/2020/11/stephen-miller-final-anti-immigration-push
14. Jochen Bittner: 1918 Germany Has a Warning for America
HAMBURG, Germany — It may well be that Germans have a special inclination to panic at specters from the past, and I admit that this alarmism annoys me at times. Yet watching President Trump's "Stop the Steal" campaign since Election Day, I can't help but see a parallel to one of the most dreadful episodes from Germany's history.
One hundred years ago, amid the implosions of Imperial Germany, powerful conservatives who led the country into war refused to accept that they had lost. Their denial gave birth to arguably the most potent and disastrous political lie of the 20th century — the Dolchstosslegende, or stab-in-the-back myth.
Its core claim was that Imperial Germany never lost World War I. Defeat, its proponents said, was declared but not warranted. It was a conspiracy, a con, a capitulation — a grave betrayal that forever stained the nation. That the claim was palpably false didn't matter. Among a sizable number of Germans, it stirred resentment, humiliation and anger. And the one figure who knew best how to exploit their frustration was Adolf Hitler.
Don't get me wrong: This is not about comparing Mr. Trump to Hitler, which would be absurd. But the Dolchstosslegende provides a warning. It's tempting to dismiss Mr. Trump's irrational claim that the election was "rigged" as a laughable last convulsion of his reign or a cynical bid to heighten the market value for the TV personality he might once again intend to become, especially as he appears to be giving up on his effort to overturn the election result.
But that would be a grave error. Instead, the campaign should be seen as what it is: an attempt to elevate "They stole it" to the level of legend, perhaps seeding for the future social polarization and division on a scale America has never seen. https://www.nytimes.com/2020/11/30/opinion/trump-conspiracy-germany-1918.html.
15. Brian Klaas: How to protect our democracy from a future Donald Trump
American democracy has survived Trump, for now. We were saved partly by Trump's bumbling incompetence and partly by the verdict of voters. But it was close.
We can't afford more close calls. To prevent them, we need three crucial reforms.
First, Trump demonstrated how easy it is for a president to politicize the rule of law, turning it into a weapon against opponents and a shield for his friends. In many countries, such warping of the legal system is the first step on the road to authoritarianism.
Second, Trump exploited flaws in our election system to undermine confidence in the democratic process. We need to overhaul federal election laws. The patchwork of maddeningly complex state variations creates public confusion, and that confusion provides an opening for authoritarian-style demagogues such as Trump to falsely claim victory despite defeat.
Third, Trump demonstrated that presidents can be openly corrupt and suffer no consequences. Ethics norms must become ethics laws. Presidents should be required to divest from potentially compromising financial interests. Major-party nominees should be compelled to release 10 years of tax returns. And, given what potentially looms ahead in Trump's post-presidency, there need to be more specific laws ensuring that former presidents don't abuse their security clearances for future profits. https://www.washingtonpost.com/opinions/2020/11/30/how-protect-our-democracy-future-donald-trump/
16. Greg Sargent: Tom Cotton's dumb attack on a Biden nominee hints at the future of Trumpism
The 2024 Republican presidential primary is already underway, and the battle to inherit the mantle of Trumpism is at the center of it all. There is no clearer sign of this than the colossally stupid attacks that the would-be Trumpist 2024 hopefuls are already lobbing at President-elect Joe Biden's nominees.
Case in point: Sen. Tom Cotton of Arkansas has now debuted a new attack line on Neera Tanden, Biden's nominee to run the Office of Management and Budget.
Cotton told Fox News that Tanden would rather send relief checks to undocumented immigrants than to American families. This comes after another 2024 Republican hopeful — Sen. Josh Hawley of Missouri — attracted widespread scorn for suggesting that Janet Yellen, Biden's nominee to head the Treasury Department, is simultaneously "corporatist" and driven by "Marxist" impulses. https://www.washingtonpost.com/opinions/2020/12/02/tom-cottons-dumb-attack-biden-nominee-hints-future-trumpism/

17. David Corn: While Kelly Loeffler Opposed New COVID Aid, Her Husband's Firm Sought to Profit Off the Pandemic
Sen. Kelly Loeffler (R-Ga.), like her fellow Senate Republicans, has not said much (or anything) about the looming eviction and foreclosure crises. But the new "wave of foreclosures" will likely lead to a real estate buying spree. That could be good news for Intercontinental Exchange (ICE), the Fortune 500 company run by her husband—in which she holds between $5 million and $25 million in stock given the company's acquisition of Ellie Mae.
Loeffler, thanks to her stock deals, had become "a poster child for Washington swampiness." Yet her ongoing relationship to ICE perhaps illustrates a deeper issue. With her husband at the helm and with a large chuck of ICE shares within her personal portfolio, Loeffler stands to gain if the company succeeds in exploiting pandemic conditions to expand its hold on the digital mortgage business. The coronavirus crisis afforded ICE and her husband a huge opportunity, and they took an $11 billion leap with the Ellie Mae deal. So far, Loeffler has been far stingier when it comes to Georgians and other Americans for whom the pandemic means nothing but loss and misfortune. https://www.motherjones.com/politics/2020/12/while-kelly-loeffler-opposed-new-covid-aid-her-husbands-firm-sought-to-profit-off-the-pandemic/