March 7, 2019
ON THE RECORD. . .
"It is impossible to watch Trump's two hour meltdown at CPAC and think this person is of sound mind. Republicans are now in Weekend At Bernie's territory." — Stuart Stevens on Twitter
But if there is one defining characteristic of McConnell's more than three decades in national politics, it is the prizing of political expediency over integrity, ideology, and any other impulse that should define public service in a representative democracy. For McConnell, as for the president whom he has repeatedly enabled, winning is the only thing that matters. All other considerations are secondary to that goal. — Michael A. Cohen in NYR Daily.
"I did the same thing you're doing now for ten years. ... protecting Mr. Trump ... The more people that follow Mr. Trump blindly are going to suffer the same consequences I'm suffering." — Michael Cohen in a punctuated warning to GOP questioners at the House Oversight Committee hearing.
"The words that he said today that would send a chill up my spine at the White House would be, 'I am in constant contact with the southern district.'" — Former NJ Gov. Chris Christie (R) saying that this remark Michael Cohen made during his House Oversight Committee testimony should worry President Trump.
"Why don't we just adopt the constitution of Venezuela and be done with it? Let's have a dictator because that's really what you're gonna boil down to. What would happen if they do what they say they're gonna do, white people will not have anything to say. It's only going to be the minorities who would elect. It would be California, Texas, Florida," he added. — Two-term Maine governor Paul LePage (R)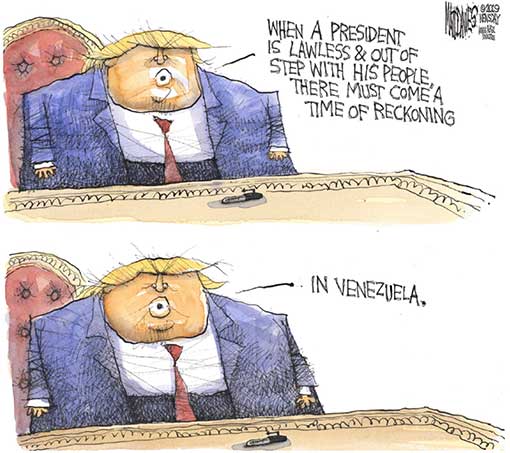 "What we saw in Hanoi was amateur hour with nuclear weapons at stake and the limits of reality-TV diplomacy." — Sen. Robert Menendez (D-NJ).
The Republicans argued that we should not believe Cohen because he is a proven liar. But if a proven liar should not be believed, why do these same Republicans believe Trump? After all, Trump has made 8,718 false or misleading statements  since taking office, according to The Washington Post's count. —  Nicholas Kristof
"We have been respectful during this summit process. Now we must speak out. Kim and his evil regime are responsible for the death of our son Otto. Kim and his evil regime are responsible for unimaginable cruelty and inhumanity. No excuse or lavish praise can change that." —— Fred and Cindy Warmbier, parents of Otto Warmbier blaming Kim Jong Un for their son's death a day after President Trump said he believed Kim when he that he was not responsible.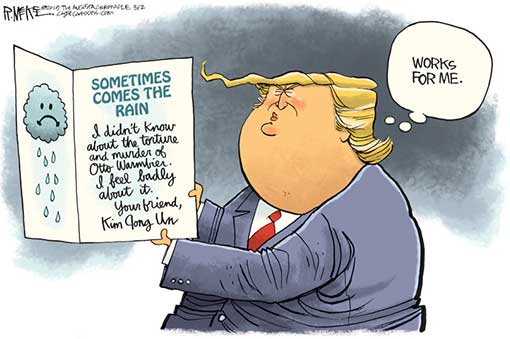 "We are better than this. As a country, we are so much better than this." He is right, of course. But the path back to "normal" may prove long and twisted, and I am not sure we will get to the end of it very soon. -- Rep. Elijah E. Cummings (D-MD) at the end of the Cohen hearings
"So everybody is having a good time, I'm laughing, we're all having fun. Then that fake CNN and others say, 'He asked Russia to go get the emails. Horrible. These people are sick, and I'm telling you, they know the game and they play it dirty, dirtier than anybody has ever played the game."— Trump at CPAC
"Right now we have people in Congress that hate our country. And you know that, and we can name every one of them if we want. They hate our country." — Trump at CPAC
"No planes, no energy. When the wind stops blowing, that's the end of your electric, let's hurry up. Darling, is the wind blowing today, I'd like to watch television." — Trump at CPAC expressing fear that "The Green New Deal" will keep him from being able to watch Fox News. (VIDEO)
″In the end, how can I lose? My campaign will combine the short peppy speeches of Joe Biden, the common touch of Mike Bloomberg, the collegiality of Ted Cruz and the chipper upbeat personality of Bernie Sanders." — Amy Klobuchar at the Gridiron dinner.
"I think there is direct evidence in the emails from the Russians through their intermediary offering dirt on Hillary Clinton as part of what is described in writing as the Russian government effort to help elect Donald Trump. They offer that dirt. There is an acceptance of that offer in writing form the president's son, Don Jr., and there is overt acts and furtherance of that.That to me is direct evidence. But there's also abundant circumstantial evidence." — House Intelligence Committee Chairman Adam Schiff (D-CA)
"There's no one that could factually say there's not plenty of evidence of collaboration or communications between Trump Organization and Russians." —  Senate Intelligence Committee ranking member, Sen. Mark Warner (D-VA)
"It's very clear" that President Trump obstructed justice. "1,100 times he referred to the Mueller investigation as a 'witch hunt.' He tried to protect Flynn from being indicted by the FBI. He fired Comey in order to 'stop the Russia thing. He's dangled pardons, he's intimidated witnesses in public." — House Judiciary Chairman Jerry Nadler (D-NY) 
"I can't vote to give the president the power to spend money that hasn't been appropriated by Congress. We may want more money for border security, but Congress didn't authorize it. If we take away those checks and balances, it's a dangerous thing." — Sen. Rand Paul (R-Ky.) disclosed on Saturday that he will vote in support of a resolution this month to block President Trump's emergency declaration.
"It's the Trump party,. When Trump passes on, one way or the other, the party will no longer exist and the Republican party will have — it has no fundamental belief. You have to believe in something, and I don't know what the Republican Party believes in or what its message is anymore." — GOP strategist Rick Tyler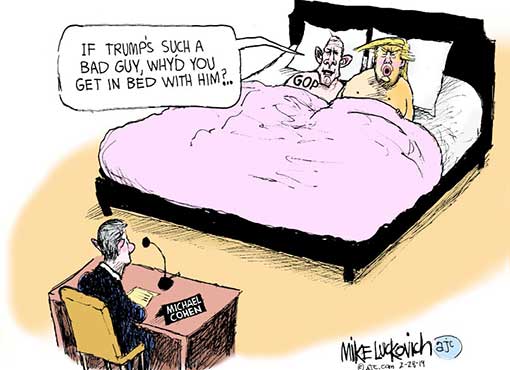 "Setting out to capture the rise of Trump in the widest-possible lens, I conducted more than 300 interviews to craft a deeply reported narrative of the 10-year civil war inside the Republican Party, from the twilight of George W. Bush's presidency through the beginning of Trump's campaign for reelection. What I discovered—the incredible untold stories of treachery and tribalism, disloyalty and demagoguery inside the GOP—explain not only Trump's takeover of the party but his lasting imprint on its identity." — Tim Alberta, author of the new book, "American Carnage: On the Front Lines of the Republican Civil War and the Rise of President Trump."
"The special prosecutor has a specific mandate to investigate only the possible — only the Russian interference with the election and possible collusion by the Trump administration or anybody else with that interference with the election, and only to look at crimes. Our job is to protect the rule of law in this country. That means we have to look at the three major threats to the rule of law that we have seen and that is corruption, personal enrichment and violation of the emoluments clause." — House Judiciary Committee Chairman Jerry Nadler (D-NY), in an interview on The Rachel Maddow Show.
"I think it has as much to do with trying not to have public discussions about something that is, for him, a private matter that he didn't want to have discussed with his family." — Sen. Mike Rounds (R-SD) saying that Trump made hush money payoffs to adult film star Stormy Daniels because "this president loves his family."
---
IN THIS ISSUE
FYI
OPINION
1. Andy Borowitz: Trump Storms Out of McDonald's After Failing to Close Six-Dollar Meal Deal
Capping a singularly disastrous week for the Commander-in-Chief, Donald J. Trump stormed out of a Washington, D.C., McDonald's restaurant on Friday after failing to close a six-dollar Meal Deal at the establishment.

At approximately 12:30 p.m., Trump took a break from his designated "executive time" to travel to the nearby McDonald's, where he placed an order for a Meal Deal consisting of a Quarter Pounder with cheese, fries, Coke, and an apple pie.

Tracy Klugian, the McDonald's employee who took Trump's order, said that he was aware of Trump's difficulty in closing deals and therefore hiked the price of the Meal Deal to twelve dollars.

"I really thought he would drive a harder bargain, what with 'The Art of the Deal' and all," the McDonald's staffer said. "I was kind of surprised when he just bailed."

With the McDonald's deal in tatters, one White House aide acknowledged that Trump "really needs a win right now," and that he was en route to Arby's. https://www.newyorker.com/humor/borowitz-report/
2. Video: The Cohen Hearing In Three Minutes
Michael Cohen's testimony pointed to President Trump's offenses from his time in office. The highlights are at https://video.newyorker.com/watch/the-cohen-hearing-in-three-minutes
3. 60 false claims in 2 hours: Trump's CPAC speech was by far his most-dishonest single event as president
Donald Trump made 60 false claims in his speech to the Conservative Political Action Conference on Saturday, shattering his old record for false claims in a single speech.
At 2 hours and 2 minutes, Trump's speech to CPAC was also by far the longest of his presidency. If you're counting false claims per minute, Star editor Ed Tubb notes, Trump made almost an identical amount to CPAC, 0.49 per minute, as he did in the Pennsylvania rally speech in August at which he set his old record of 36, 0.46 per minute. https://www.thestar.com/news/world/analysis/2019/03/06/60-false-claims-in-2-hours-trumps-cpac-speech-was-by-far-his-most-dishonest-single-event-as-president.html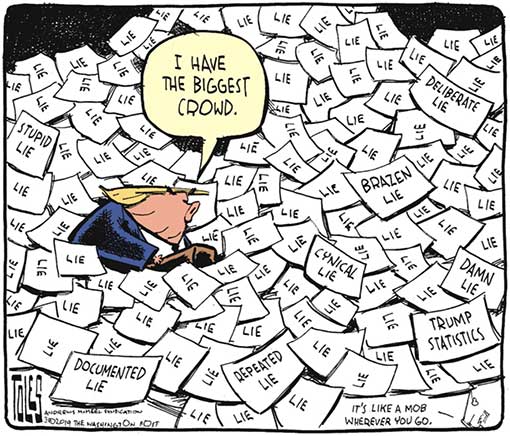 4. Democrats' post-Mueller plan
Even before Robert Mueller has delivered his final communiqué, Democrats have activated a new phase in the Trump-Russia wars that ultimately could prove more damaging to the president than the special counsel's investigation. For Trump, this has been a behind-the-scenes probe, with sensational yet intermittent revelations. Now, it's about to become a persistent and very public process — at best, a nuisance; at worst, a threat to his office.
Whether or not Mueller is sitting on a grand finale, Democrats are picking up the baton with a vast probe that already involves a half-dozen committees, and will include public hearings starring reluctant witnesses. https://www.axios.com/donald-trump-investigations-house-democrats-mueller-6b3be63f-3dd9-4f65-86a0-d51de04f7d22.html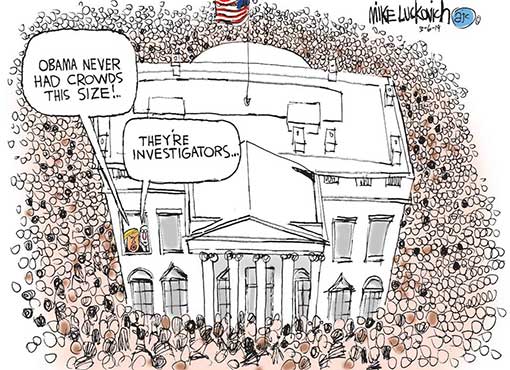 5. Truth and consequences: How Trump's dishonesty has caught up to him
That's precisely the situation President Trump is facing when a Quinnipiac poll released Tuesday found voters saying — by a 50 percent-to-35 percent margin — that they believe Michael Cohen more than his former boss.
The only groups who believe Trump more than Cohen are Republicans (79 percent to 11 percent), whites without college degrees (50 percent to 37 percent) and white men (51 percent to 37 percent). https://www.nbcnews.com/politics/meet-the-press/truth-consequences-how-trump-s-honesty-problem-has-caught-him-n979896
6. 'We're not going to turn on our own': Republicans rally around Trump as threats mount
Acquiescence to Trump is now the defining trait of the Republican Party more than two years into his presidency — overwhelming and at times erasing principles that conservatives viewed as the foundation of the party for more than a half century.
Trump's ownership of the GOP was on vivid display again Saturday, when the president appeared at the Conservative Political Action Conference (CPAC) in Maryland, an annual gathering that has transformed into a raucous celebration of Trump, featuring propaganda-style art and a speaker who declared that the president was "chosen by God."
Standing before an exuberant crowd chanting "Trump!" and "U-S-A," Trump spent two hours railing against the "failed ruling class," calling the special counsel's Russia investigation "bullshit" and portraying his election as a major moment in global history.
"We are reversing decades of blunders and betrayals," Trump declared at one point, before asserting that he was only joking in 2016 when he asked Russia to release Hillary Clinton's private emails.
"Lock her up! Lock her up!" CPAC attendees roared at the mention of the former Democratic presidential nominee.
In interviews over the past week, Republicans on Capitol Hill offered an array of reasons for their unflinching loyalty to Trump as the 2020 campaign begins to take shape: a deep-seated fear of his pull with their supporters in primary races; fraying consensus about conservatism as nationalism takes hold of the party; and shared partisan disdain for Trump's perceived enemies in the news media and the Democratic Party.
"We're not going to turn on our own and make the Democrats happy," said Sen. John Cornyn (R-Tex.), who is up for reelection in 2020. "We don't see any benefit in fracturing, but we do see a lot to lose." https://www.washingtonpost.com/politics/were-not-going-to-turn-on-our-own-republicans-rally-around-trump-as-threats-mount/2019/03/02/6b9786ac-3bb2-11e9-aaae-69364b2ed137_story.html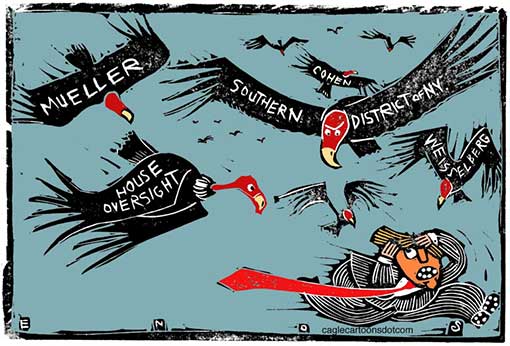 7. The DAILY GRILL:
"Very proud of perhaps the greatest golf course anywhere in the world. Also, furthers U.K. relationship!" —- Trump's predawn tweet Saturday boasting about Trump International Golf Links, constructed near Aberdeen, Scotland, among the high, wind-raked dunes along the North Sea.

VERSUS

This is Trump's most explicit commingling of personal interests and public office to date.
This is the tone from the top that leads his appointees to violate ethics rules.
This is shameless, corrupt and repugnant presidential profiteering.
This is an invitation to graft.
— Walter Shaub, CREW's senior adviser who formerly led the Office of Government Ethics,

 

"It's going to be a choice. Are we going to want capitalism? Look at all the great achievements of our country: flight, cars, the Internet. Sorry, Al Gore. The Internet. None of that came from government. It came from innovation. It came from the greatness of America." — RNC Chair Ronna McDaniel at the Conservative Political Action Conference.

VERSUS

"So here's the thing. The Internet very much did come from government, quite literally. As Scientific American wrote in 2012, the Internet itself derived directly from government work. It began as ARPAnet — named for the Department of Defense's Advanced Research Projects Agency. In 1972, ARPA became DARPA, the Defense Advanced Research Projects Agency. —Philip Bump

 

Jane Mayer reports Trump ordered Gary Cohn to pressure the DOJ to file the lawsuit to block the AT&T/Time Warner lawsuit … — Hadas Gold on Twitter

VERSUS

If proven, such an attempt to use presidential authority to seek retribution for the exercise of First Amendment rights would unquestionably be grounds for impeachment. — George Conway on Twitter

 

8. From MEDIA MATTERS (They watch Fox News so you don't need to)

Tucker Carlson: Outrage over Trump's response to Charlottesville Nazi rally was "fraudulent, entirely manufactured by the left and its servants in the media." https://www.mediamatters.org/video/2019/02/28/tucker-carlson-outrage-over-trumps-response-charlottesville-nazi-rally-was-fraudulent-entirely/223016

Laura Ingraham says that America is plagued by "white-aphobia" Shelby Steele: "I mean identity politics is every bit as divisive as segregation was, as racism of old was."  https://www.mediamatters.org/video/2019/02/28/laura-ingraham-says-america-plagued-white-aphobia/223014

Fox News won't run an anti-Nazi ad, but will let Laura Ingraham compare Planned Parenthood to Hitler. https://www.mediamatters.org/blog/2019/03/01/fox-news-won-t-run-anti-nazi-ad-will-let-laura-ingraham-compare-planned-parenthood-hitler/223025

Boris Epshteyn calls Michael Cohen a "rat" in a Sinclair must-run segment airing across the country. https://www.mediamatters.org/blog/2019/03/01/boris-epshteyn-calls-michael-cohen-rat-sinclair-must-run-segment-airing-across-country/223029

Fox's Stuart Varney: "I think the New Deal is a Trojan horse. It's a vehicle that allows the socialists to take control of the economy." Climate change denier Marc Morano: "The Green New Deal is nothing but a planned recession and de-growth -- a permanent planned recession." https://www.mediamatters.org/video/2019/03/01/foxs-stuart-varney-i-think-green-new-deal-trojan-horse-its-vehicle-allows-socialists-take-control/223024

Fox & Friends complains about congressional oversight of Trump: "The idea is to slowly wear down the public." Brian Kilmeade: "Questioning the Trump Organization, what does that have to do with the Trump presidency?" https://www.mediamatters.org/video/2019/03/04/fox-friends-complains-about-congressional-oversight-trump-idea-slowly-wear-down-public/223032

NRATV host credits gun owners with preventing an invasion of the US. Grant Stinchfield: "It is no coincidence that no foreign nations have ever stormed the beaches of America." https://www.mediamatters.org/video/2019/03/04/nratv-host-credits-gun-owners-preventing-invasion-us/223037

Trump campaign adviser says on Fox Business that Democratic Rep. Ilhan Omar is "filth." https://www.mediamatters.org/video/2019/03/04/trump-campaign-adviser-says-fox-business-democratic-rep-ilhan-omar-filth/223036

Fox News guest co-host claims that FDR's New Deal created the Great Depression. Larry Elder says Democrats supporting the Green New Deal "apparently have no real idea of what the old New Deal did." https://www.mediamatters.org/video/2019/03/04/fox-news-guest-co-host-claims-fdrs-new-deal-created-great-depression/223039

Sebastian Gorka is officially bringing his anti-Muslim commentary to Sinclair stations across the country. Sebastian Gorka, a D.C. swamp creature with barely a degree of separation from a Nazi-linked group, will no longer be a Fox News contributor -- but the public can still find his bigoted, anti-Muslim commentary on local Sinclair Broadcast Group stations around the country. https://www.mediamatters.org/blog/2019/03/06/sebastian-gorka-officially-bringing-his-anti-muslim-commentary-sinclair-stations-across-country/223055
9. From the Late Shows
Michael Cohen Hearing Cold Open - SNL: https://youtu.be/Mp8kFqycfFM

Weekend Update: Michael Cohen's Congressional Testimony - SNL: https://youtu.be/SuGuqHeEmnk

The Tonight Show Starring Jimmy Fallon: Jimmy Recaps Michael Cohen's Testimony to Congress About Trump: https://youtu.be/bUlmcMnDO68

Late Night with Seth Meyers: Michael Cohen Testifies to Congress About Trump: A Closer Look: https://youtu.be/3ytg29ps2uI
10. Public's Views of the Democratic Health Care Agenda
This month's Kaiser Family Foundation Health Tracking Poll continues to find majority support (driven by Democrats and independents) for the federal government doing more to help provide health insurance for more Americans. One way for lawmakers to expand coverage is by broadening the role of public programs. Nearly six in ten (56 percent) favor a national Medicare-for-all plan, but overall net favorability towards such a plan ranges as high as +45 and as low as -44 after people hear common arguments about this proposal.
Larger majorities of the public favor more incremental changes to the health care system such as a Medicare buy-in plan for adults between the ages of 50 and 64 (77 percent), a Medicaid buy-in plan for individuals who don't receive health coverage through their employer (75 percent), and an optional program similar to Medicare for those who want it (74 percent). Both the Medicare buy-in plan and Medicaid buy-in plan also garner majority support from Republicans (69 percent and 64 percent­).

Moving forward, half of Democrats would rather see the new Democratic majority in the U.S. House of Representatives focus their efforts on improving and protecting the ACA (51 percent), while about four in ten want them to focus on passing a national Medicare-for-all plan (38 percent). https://www.kff.org/health-reform/poll-finding/kff-health-tracking-poll-january-2019/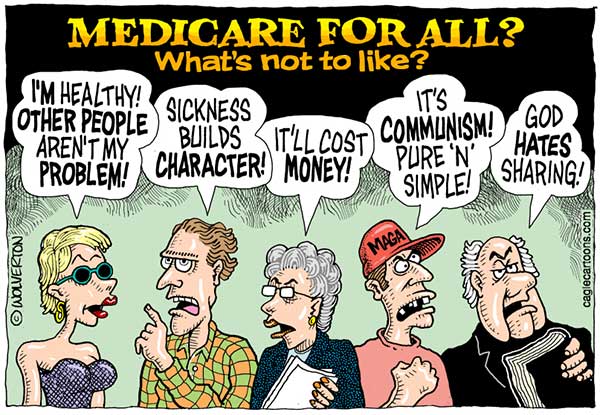 11. Pennsylvania Democrats Wonder How Far Is Too Far Left in 2020
"This should be an upbeat moment for Pennsylvania Democrats, desperate to deprive President Trump of a second term," the New York Times reports.
In elections last year, two Trump-like Republicans running for governor and senator lost to Democrats by blowout margins. Four Democrats wrestled away Republican-held congressional seats, including Conor Lamb, whose victory here outside Pittsburgh seemed to be a template for how to win back voters in Trump country.
But, listening to strategists and voters in a critical state for Democrats, the midterms feel like a long time ago. Instead, there are widespread worries that the momentum in Pennsylvania, and in other key Rust Belt states, could screech to a halt if the issues in the 2020 presidential primaries and the party's eventual nominee stray too far left for the region's many centrist voters. https://www.nytimes.com/2019/03/03/us/politics/2020-democrats-pennsylvania-.html
12. 2020 Will Be Uphill Race for Trump
According to the latest NBC News/Wall Street Journal poll just four in 10 voters say they would re-elect him next year; 58 percent don't think he's been honest and truthful regarding the Russia probe; and 60 percent disapprove of his recent national emergency declaration to build a border wall.
But Democrats who want to defeat Trump have hurdles of their own. The president's job rating remains stable with nearly 90 percent of Republicans approving of his job. And a majority of Americans remain confident in the economy, believing that there won't be a recession in the next year.
Add it up, and 2020 is shaping up to be yet another close presidential race, say the Democratic and Republican pollsters who conducted the NBC/WSJ survey.
"It's a 45-55 against the president at this stage of the game," said Democratic pollster Peter Hart. https://www.nbcnews.com/politics/meet-the-press/nbc-news-wsj-poll-2020-race-will-be-uphill-trump-n978331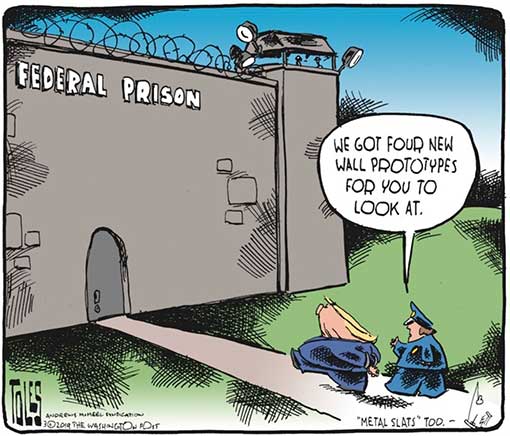 13. Trump's Shifting Net Worth May Bear Clues for Investigators
How President Donald Trump may have inflated and deflated his personal wealth is more than mere curiosity: It could be of keen interest to any authorities trying to figure out if he misrepresented himself to insurance companies and lenders.
Former Trump fixer Michael Cohen attested to Trump's shifting wealth valuations to lawmakers on Wednesday, bearing what he said were annual net-worth summaries prepared for Trump earlier this decade. Trump handed the summary with high valuations to lenders and journalists, Cohen testified. When it came to tax authorities, he lowballed.
If falsehoods went to financial institutions, that would provide fertile ground for prosecutors in New York, according to Seth Taube of Baker Botts. While Cohen's history of lying means his testimony shouldn't necessarily be taken at face value, Taube said, he presented the sort of information that could be bolstered with documents and other cooperators, and then brought to a jury. https://www.bloomberg.com/news/articles/2019-02-27/trump-s-shifting-net-worth-may-bear-clues-for-investigators
14. Bill would have ended child marriage for those under age in Idaho. The House voted it down
Idaho has the highest rate of child marriage in the U.S., according to a national report.
This statistic isn't likely to change soon because the House of Representatives on Thursday voted to kill a bill that would end child marriage in Idaho.
From 2000 to 2010, 4,080 children in Idaho were married, according to data compiled from 38 states by Unchained at Last, a national advocacy group working to end forced and child marriages in America. The youngest minor wed in Idaho was 13.
The House, comprised of 56 Republicans and 14 Democrats, voted down the bill, 39-28. https://www.idahostatesman.com/news/politics-government/state-politics/article226944034.html
15. Liar, Racist, Cheat: This is Your President, America -- With the CPAC Seal of Approval
Until his arrival at the Conservative Political Action Conference on Saturday, President Donald J. Trump was having a pretty crummy week. Presumably low on sleep, after pulling something of an all-nighter in Hanoi on Wednesday/Thursday to watch his former fixer break some shit before the House Oversight Committee, and then dealing with the jet lag of his return from a failed summit in Vietnam with North Korea's Kim Jong Un, Trump must've chug-a-lugged a six-pack of Diet Cokes before his appearance at the Gaylord Convention Center in National Harbor, Maryland. There he delivered the longest speech of his presidency—perhaps of any U.S. presidency so far. 
For longer than two hours, the leader of the United States of America unleashed a relentless stream of lies, hate speech, insults, and violent imagery, all to the delight of those in attendance. "Four more years!" they chanted. (That is, when they weren't chanting "Lock her up!" at the mention of Hillary Clinton, against whom Trump appears to be still running.)
Trump took aim at his usual targets: the media, the Mueller probe, Democrats, immigrants. He lied again about the crowd size at his inauguration, saying that the aerial shot taken of the Capitol grounds and National Mall on the day of his swearing-in was snapped hours before the ceremony began.
In remarks apparently meant to be about the investigations into Russia's interference in the 2016 election and possible Trump campaign involvement, the president said, 
Now we have people that lost—and unfortunately you put the wrong people in a couple of positions and they leave people for a long time that shouldn't be there. And all of a sudden, they're trying to take you out with bullshit.
I'll allow that the syntax and whatnot in those two sentences may demand a bit of interpretation: "people that lost"= Democrats in 2016; "wrong people in a couple of positions" = former Attorney General Jeff Sessions and Deputy Attorney General Rod Rosenstein; "they leave people for a long time that shouldn't be there" = Andrew McCabe; "bullshit"= any criminal-looking activity by Trump to be revealed in the ongoing investigations. (At least, those are my best guesses.) https://prospect.org/article/liar-racist-cheat-your-president-america-cpac-seal-approval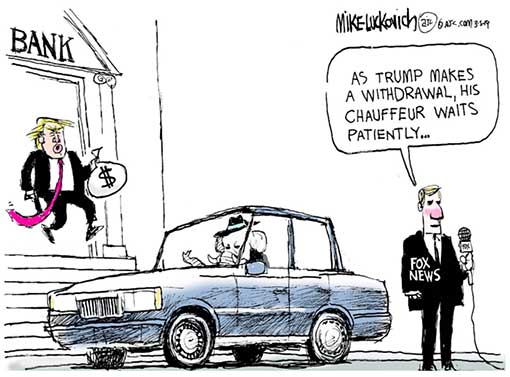 16. Pressed by Climate Activists, Senate Democrats Plan to 'Go on Offense'
Facing a showdown vote as early as this month over the embattled "Green New Deal," Senate Democrats are preparing a counteroffensive to make combating climate change a central issue of their 2020 campaigns — a striking shift on an issue they have shied away from for the past decade.
Senator Chuck Schumer of New York, the Democratic leader, outlined the new strategy in an interview last week, casting it as a way to mobilize millennial voters, a key part of the Democratic constituency that the party will need to turn out to win in swing states.
With progressives pushing Democrats to embrace the Green New Deal — and Republicans ridiculing the idea as socialism — Mr. Schumer is effectively trying to turn a weakness into a strength. He is planning daily floor speeches attacking Republicans for inaction and a proposal for a special Senate committee focused on the issue, which he intends to announce this week.
https://www.nytimes.com/2019/03/04/us/politics/senate-democrats-climate-change.html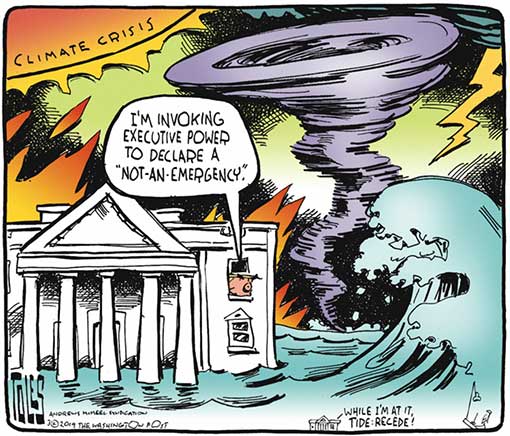 17. Being a socialist or over 75 are the least desirable characteristics for a presidential candidate
According to a new NBC News/Wall Street Journal poll just 18% of all Americans say they view the term "socialist" positively, versus 50% who see it in a negative light. The numbers for capitalism are almost the exact opposite: 50% positive, 19% negative. https://www.nbcnews.com/politics/meet-the-press/nbc-news-wsj-poll-2020-race-will-be-uphill-trump-n978331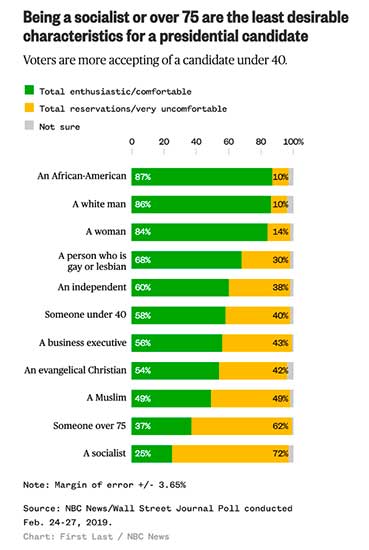 18. Cohen gives documents to House panel on Trump attorney alleged changes to 2017 testimony
Michael Cohen on Wednesday provided the House Intelligence Committee with new documents showing edits to the false written statement he delivered to Congress in 2017 about the Trump Organization's pursuit of the Trump Tower Moscow project into the 2016 campaign season, according to multiple sources familiar with the matter.
The documents Cohen provided are intended to further explain his public testimony last week, in which Cohen said that President Donald Trump's then-personal lawyer Jay Sekulow made changes to his statement to the House and Senate Intelligence Committees, and that it was reviewed ahead of time by lawyers like Abbe Lowell, an attorney for Ivanka Trump and Jared Kushner, the President's daughter and son-in-law who are both White House advisers. https://www.cnn.com/2019/03/06/politics/michael-cohen-testimony-congress/
19. Federal deficit up 77 percent so far this budget year
So far this budget year, the total deficit is 77 percent higher than the same period a year ago.
The Treasury Department said Tuesday that the deficit for the first four months of this budget year, which began Oct. 1, totaled $310.3 billion. That's up from a deficit of $175.7 billion in the same period a year ago. The surplus in January was $8.7 billion.
The higher deficit reflected greater spending in areas such as Social Security, defense and interest payments on the national debt. Meanwhile, the government collected lower taxes from individuals and corporations, reflecting the impact of the $1.5 trillion tax cut President Donald Trump pushed through Congress in 2017.
Individual income taxes withheld from paychecks total $818 billion for the October-January period, down 3 percent from the same period last year. Corporate income taxes total $73 billion over the four-month period, down 23 percent. https://www.nbcnews.com/politics/politics-news/federal-deficit-77-percent-so-far-budget-year-n979631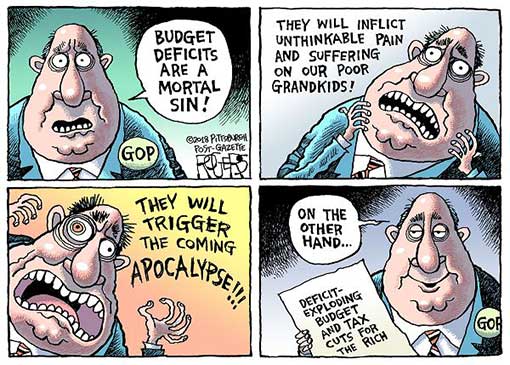 1. Virginia Heffernan: If Michael Cohen can see the light, so can Trump's lackeys – even you, Jim Jordan
When told by Rep. Mark Meadows (R-N.C.) that one of Trump's employees, presumably because of her race, would not work for Trump if he were a racist, Cohen shot back, "As neither should I, as the son of a Holocaust survivor."
Cohen's message was clear. Under the influence of ambition, desperation and a cult of personality, people do things they know are wrong. A person can lose his bearing — and learn to cheat, tell lies and advance con games.
Sound familiar? An array of formerly self-respecting adults inexplicably have forfeited their principles and dignity for the president, as Cohen did. A small sample might include Vice President Mike Pence, musician Kanye West, Sen. Lindsey Graham (R-S.C.), First Lady Melania Trump, Rep. Matt Gaetz (R-Fla.) and reformed Trump troll David Weissman. The red hats and MAGA acolytes across the country who regularly embarrass themselves in Trump's name also seem to be intoxicated, mesmerized and often caught up in wrongdoing.
Perhaps, Cohen suggested time and time again, Trump's lackeys will one day be lucky enough or smart enough to get what he got — along with felony convictions, disbarment and a stint in federal prison — out from under. Maybe one day they will be willing to tell the truth, spite the devil, and free themselves.
Cohen wasn't quite willing to promise rapture to anyone who broke with Trump. But he did present himself as a cautionary example of the misery awaiting those who don't see the light. "I can only warn people," he said. "The more people that follow Mr. Trump as I did, blindly, are going to suffer the same consequences that I'm suffering. https://www.latimes.com/opinion/op-ed/la-oe-heffernan-cohen-hearings-trump-20190302-story.html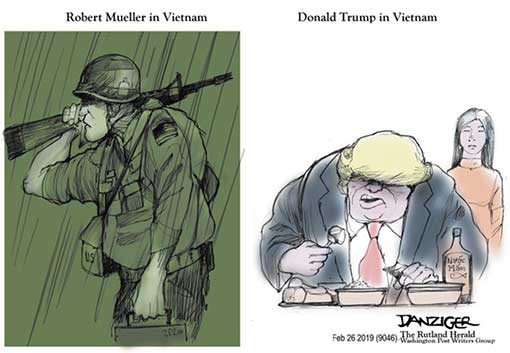 2. Susan Page: For President Trump, Cohen's allegations were explosive. Will they matter?
It's not clear whether the litany of lies and unsavory behavior – some of it criminal, if true – will significantly sway voters' attitudes toward Trump, including whether he deserves to be impeached now, say, or re-elected next year.
Because up until now, nothing has.
But, the portrait Cohen painted of Trump was damning. He called the president a bully, a liar, a racist, a con man. He testified that Trump submitted inflated financial statements to Deutsche Bank when he was applying for a loan. He said Trump lied when he denied under oath knowing a businessman with alleged Russian mob ties.
As a presidential candidate, despite his denials, Trump knew in advance – via adviser Roger Stone – that Wikileaks was going to unload a "massive dump" of hacked Democratic emails, Cohen said. While he was president, Trump told Cohen to lie to reporters about whether he knew about money being paid to buy the silence of an adult film star about an alleged sexual encounter, a payment that prosecutors say would be an illegal campaign contribution.
Whatever the impact of Cohen's testimony, the hearing sets the stage for the forthcoming report from special counsel Robert Mueller – and the former FBI director who has led the inquiry into Russian meddling in the 2016 election doesn't have the credibility issues that opened Cohen to attack. https://www.washingtonpost.com/opinions/the-gop-performance-at-the-cohen-hearing-was-a-study-in-moral-corruption/2019/02/28/4e013046-3b8c-11e9-a06c-3ec8ed509d15_story.html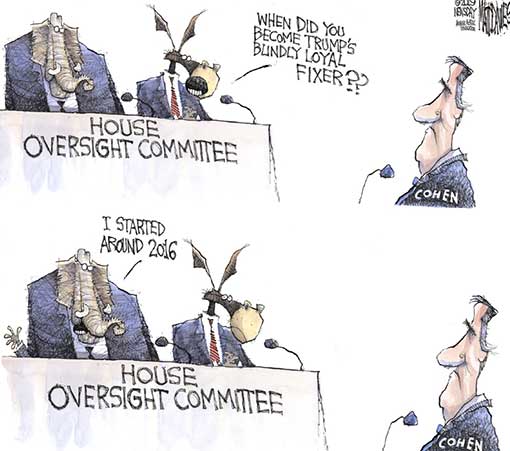 3. Eric Lutz: Fordham Confirms: Trump Was Obsessed With Hiding His Sat Scores
Don't take Michael Cohen's word for it—Fordham University, one of the president's alma maters, has confirmed that it did, in fact, receive a threatening letter warning it not to release Donald Trump's grades in the lead-up to the 2016 election, supporting the embarrassing allegation his former fixer made in his explosive testimony on Wednesday. Bob Howe, a spokesperson for the university, said in a statement to the Associated Press that the school received a call from someone on Trump's team, as well as a follow-up letter from a Trump attorney threatening to "take action against the university if we did, in fact, release Mr. Trump's records."
It's an especially ironic demand coming from Trump, who frequently brags about his intelligence. Not only has he proclaimed himself a "stable genius" with "the best words," those he dislikes are deemed "not smart," "stupid," or "wacky." He took special pains to question the intelligence of Barack Obama, calling on the then-president to "[open] up and [give] his college records and applications"—part of his campaign to cast Obama as a "terrible student."
As Cohen testified Wednesday, Trump fought to keep his own grades secret, directing his former fixer to threaten his alma maters not to release his transcripts—something they said they couldn't legally do anyway. "I'm talking about a man who declares himself brilliant, but directed me to threaten his high school, his colleges, and the College Board to never release his grades or SAT scores," Cohen told the House Oversight Committee. https://www.vanityfair.com/news/2019/02/fordham-confirms-trump-obsessed-with-hiding-sat-scores-cohen-testimony
4. Josh Rogin: Trump got played by Kim Jong Un — again
Trump administration officials constantly say the foreign policy establishment's decades-long failure with North Korea meant there was no choice but to give Trump's fresh, personal, top-down method a fair trial. Today the verdict is in. Trump's approach has failed, and Pyongyang is happily reaping the rewards.
Make no mistake, the collapse of this week's U.S.-North Korea summit in Hanoi is a win for Kim Jong Un. Trump and his officials are already spinning this as a draw, stating that North Korea has promised to continue its testing moratorium, claiming unspecified progress was made inside the talks and promising the negotiations will continue.
But by securing an extension of the process while giving up nothing on denuclearization, Kim can continue improving his country's nuclear and missile capabilities, benefit from an ever-eroding sanctions regime and enjoy his elevated status as a newly respected member of the international community.
The real question is: Did Kim plan it this way? Did he lure Trump to Hanoi only to set demands he knew the United States could never agree to, while holding Trump's hand so he would acquiesce? There's plenty of evidence that's exactly what happened.
As Sen. Robert Menendez (D-N.J.) said, the Hanoi summit showed us "amateur hour with nuclear weapons at stake and the limits of reality-TV diplomacy."
Trump may see a personal political benefit to dragging out his love affair with Kim and dragging the world along with them on this Sisyphean effort. But the stink of this summit's failure and the danger of the North Korean threat are only increasing over time. No deal is better than a bad deal — but Trump getting played by Kim again and again is even worse. https://www.washingtonpost.com/opinions/global-opinions/trump-got-played-by-kim-jong-un--again/2019/02/28/784a3228-3b8f-11e9-a2cd-307b06d0257b_story.html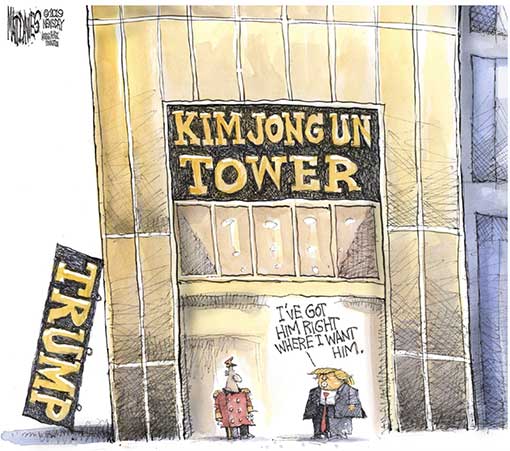 5. David Brooks: Morality and Michael Cohen
Cohen has left the Thugs for Trump club and passed that baton to certain House Republicans. I would have loved to have been in the strategy session when the House Republicans decided to be incurious about Trump's sins and crimes but to rip the skin off Cohen.
Normal people have moral sentiments. Normal people are repulsed when the president of their own nation lies, cheats, practices bigotry, allegedly pays off porn star mistresses.
Were Republican House members enthusiastic or morose as they decided to turn off their own moral circuits, when they decided to be monumentally unconcerned by the fact that their leader may be a moral cretin?
Do they think that having anesthetized their moral sense in this case they will simply turn it on again down the road? Having turned off their soul at work, do they think they will be able to turn it on again when they go home to their spouse and kids? https://www.nytimes.com/2019/02/28/opinion/michael-cohen-testimony.html
6. Sarah Jones: Republicans' Extreme Abortion Rhetoric Isn't Just Wrong, It's Dangerous
It should go without saying, but in case anyone's confused — nobody is taking babies home from the hospital to "abort" them at home. But as strange as Walker's statement is, it's not without precedent. Abortion opponents have made hyperbolic, often inaccurate claims about the procedure for years, sometimes with violent consequences. And Walker is probably following his president's example. Trump made similar claims on Twitter and in his State of the Union address.
It's not yet clear if the Trump administration's hostile posture toward abortion rights has emboldened anti-abortion extremists the way it appears to have emboldened violent white nationalists. But there are recent examples of threats or actual attempts of violence directed at abortion providers. In 2018, a West Virginia man was arrested for threatening to kill Planned Parenthood employees in Pittsburgh, whom he blamed for "murdering" his child. The same year, an Indiana man pleaded guilty to emailing threats to local abortion clinics. "I will do what I feel is necessary to protect the innocent and stop these atrocities you commit," he wrote, according to the Riverfront Times. In February of this year, CNN reported that the FBI had begun investigating a fire set at a Missouri Planned Parenthood as a potential hate crime. And on Wednesday, Texas police arrested a 17-year-old for threatening "jihad" on abortion clinics.
The Republican Party may well energize its base with its false infanticide claims. They may also put abortion providers in real danger. http://nymag.com/intelligencer/2019/02/republicans-extreme-abortion-rhetoric-wrong-and-dangerous.html
7. Susan B. Glasser: Donald Trump Went to Vietnam, and Michael Cohen Made It Hell
The stubborn, reality-defying character of Donald Trump was very much the theme of Cohen's testimony on Capitol Hill this week, and I suspect that is what will be remembered about the epic hearing years from now. Cohen's appearance was a daylong advanced seminar in the study of Trump by one of its most experienced practitioners, and the portrait of the President that emerged was both compelling and devastating. Of course, America has had Presidents of bad character before, but never one whose close confidant was willing to publicly accuse him, under oath in a congressional hearing, of being a "racist," a "con man," and a "cheat."
It's the little details regarding how Trump operates that stuck with me: the petty scams, the constant lying, insecurity, and meanness that Cohen described. Trump dumped on his son Donald, Jr., as an idiot, Cohen said, with "the worst judgment of anyone in the world." Trump was so embarrassed about his grades and SAT scores that he ordered Cohen to threaten and intimidate in order to keep them private. At Trump's direction, Cohen said he hired someone to rig online polls inflating his popularity. He lied about the size of his business, inflating it for publicity purposes, shrinking it at tax time, Cohen said. He gave bad numbers to insurance companies, Cohen said. He told Cohen to lie to his wife about his extramarital affairs.
After listening to this, it was hard not to wonder whether Republicans might (at least secretly) heed Cohen's warning about being sycophantically devoted to a man devoid of loyalty. "People that follow Mr. Trump, as I did blindly, are going to suffer the same consequences that I'm suffering," Cohen said. "When Mr. Trump turned around early in the campaign and said, 'I can shoot somebody on Fifth Avenue and get away with it'—I want to be very clear—he's not joking. He's telling you the truth," Cohen warned. "You don't know him. I do." https://www.newyorker.com/news/letter-from-trumps-washington/donald-trump-went-to-vietnam-and-michael-cohen-made-it-hell
8. Evan Osnos: Trump, Kim, Cohen, and the Limits of the President's Power
"I play to people's fantasies," Trump said, in "The Art of the Deal," and when he and Kim reunited in Hanoi he kept up his patter about their "fantastic success." Even before they sat down to negotiate, the White House had scheduled a signing ceremony for a "joint agreement," fuelling talk of a breakthrough that might involve a declaration of peace and an economic infusion for North Korea in exchange for a reduction in its nuclear ambitions. But it soon became clear that the joint agreement was a hollow promise. There was no deal. The two sides could camouflage their disagreements for only so long. Kim wanted relief from the international sanctions that have severely hampered North Korea's ability to import goods and to generate cash. Trump could not say yes. If he gutted the sanctions, he would be denounced not only by critics at home but also by the nations that have joined the United States in the sanctions regime. Trump abruptly announced that he was leaving early. "Sometimes you have to walk," he said.
This was not simply a failure of negotiation—Trump had ignored reality at every turn. In January, when his own intelligence chiefs testified on Capitol Hill that North Korea had no intention of giving up its weapons, Trump tweeted, "Progress being made—big difference!" But, by last week, the two sides had not even agreed on a definition of the key word under discussion: "denuclearization." (Pyongyang contends that denuclearizing the Korean Peninsula requires the removal of U.S. forces from South Korea, a step that neither Washington nor Seoul is willing to accept.) Trump's distortion of reality produced an especially shameful moment when he was asked if he had spoken with Kim about the case of Otto Warmbier, the American college student who died after seventeen months in North Korean custody. "He tells me that he didn't know about it," Trump said. "And I will take him at his word." https://www.newyorker.com/magazine/2019/03/11/trump-kim-cohen-and-the-limits-of-the-presidents-power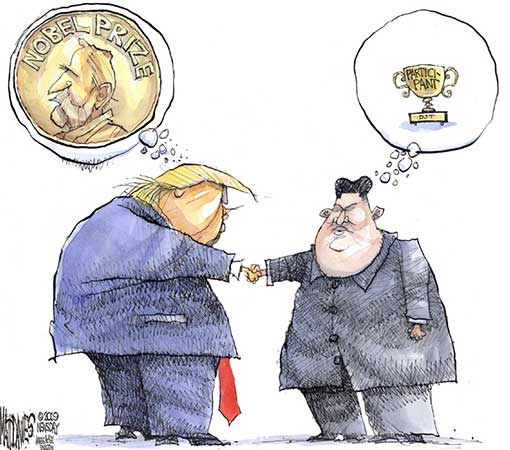 9. Garrett M. Graff: Measuring the Investigation's success
After a week of fevered speculation about the Mueller report, it's worth taking stock of the investigation as it stands now. There seems to be a general sense that if "Mueller doesn't nail Trump" he's "failed" in the investigation. That's not true.
If Mueller doesn't land a single additional indictment (and, to be clear, I think there will be more), he will have conducted one of most important counterintelligence investigations in US history, something that will stand with cases like Aldrich Ames or the Rosenbergs.
Moreover, he will have exposed and prosecuted what is—already—surely the most criminal and corrupt presidential campaign in modern US history, even if there is "NO COLLUSION"! — https://twitter.com/vermontgmg/status/1099758368565141504
10. John Cassidy: This Week Was a Preview of the Partisan Fight for the 2020 Presidential Election
Trump and the Republicans will seek to portray the Democratic Party leadership and its Presidential candidates as the captives of left-wing radicals such as Alexandria Ocasio-Cortez, the first-term congresswoman. This tactic was also on display at the CPAC conference, which on Friday featured a panel session titled "AOC's Green New Deal: Debunking the Climate Alarmism Behind Bringing Full Socialism to America." In an interview on the eve of the conference, its host, Matt Schlapp, the chairman of the American Conservative Union, said, "When the American people see the radical policies Democrats have added to the agenda, it gives Republicans a great opening." Evidently, many of the conference speakers agree with Schlapp. Mark Meadows, the head of the House Freedom Caucus, accused Ocasio-Cortez of "embracing socialism"—a cardinal sin, apparently. Sebastian Gorka, the odious former White House aide, declared, "What is America's biggest problem? Not socialism in Russia but in America!"
With Trump's approval ratings still languishing in the low forties, it would be easy to dismiss this Republican strategy as desperate posturing that is unlikely to convince Americans to support the embattled President come November of next year. Many of the policies that leftist Democrats like Ocasio-Cortez and Bernie Sanders are pushing, such as aggressively tackling climate change, raising the minimum wage, and pushing for universal health-care coverage, are popular with voters, according to opinion surveys. But the anxious signals being emitted by some moderate Democrats in Congress will give the G.O.P. strategists hope that all is not entirely lost. In a closed-door meeting on Thursday, Ocasio-Cortez and some Democrats elected from purple districts clashed verbally after the New York firebrand objected to some moderates breaking with the Party in a gun-control vote. Representative Xochitl Torres Small, who won election last November from New Mexico's Second District, "reacted sharply to Ocasio-Cortez's comments and rose to urge her colleagues to respect the political reality of representing a swing district, according to multiple people present," the Washington Post reported on Friday.
In the months ahead, Trump and his Republican colleagues will be looking to exploit these sorts of tensions and make life difficult for the Democratic Presidential candidates. The Democrats on Capitol Hill, meanwhile, will be doing their utmost to insure that Trump, even if he survives the threat of impeachment, remains unpopular and vulnerable. Policies will matter as well, of course. But this week we got a glimpse of how the two parties' over-all battle strategies are shaping up. https://www.newyorker.com/news/our-columnists/this-week-was-a-preview-of-the-partisan-fight-for-the-2020-presidential-election
11. David Remnick: Alexandria Ocasio-Cortez Is Coming for Your Hamburgers!
Sebastian Gorka, late of the Trump Administration, stood before the annual gathering of the Conservative Political Action Conference last week and made plain the inner frenzy of a party that must place its hopes for 2020 on a President who had just been described before a congressional committee as "a racist," "a con man," and "a cheat." Hence the rhetorical smoke bombs. Wild-eyed Democrats are coming! Gorka declared, "They want to take your pickup truck! They want to rebuild your home! They want to take away your hamburgers! This is what Stalin dreamt about but never achieved!"
The Stalinist nightmare that Gorka had on his mind is the Green New Deal, a still rough proposal that calls on the U.S. government to come to the belated rescue of the planet with the same sense of urgency that it displayed in rescuing the economy during the Great Depression. To Gorka, such a proposal is a communist "watermelon": "green on the outside, deep, deep red communist on the inside."
The President, who dismisses climate change as "a Chinese hoax," also waxed derisive at CPAC. "New Green Deal or whatever they hell they call it . . . I encourage it," he said caustically, in a sweaty, two-hour rant on Saturday. "I think it's really something Democrats should promote. . . . No planes! No energy! When the wind stops blowing, that's the end of your electric. "Darling, is the wind blowing today? I'd like to watch television, darling."
The focus of this fear campaign, the nexus of all danger, is a member of Congress who has been in office for two months: Alexandria Ocasio-Cortez, who, at twenty-nine, represents parts of the Bronx and Queens. With Senator Ed Markey, a Democrat from Massachusetts, she is a co-sponsor of the Green New Deal. Because she questions our habits of fossil-fuel consumption and industrial agriculture, her opponents reason, she can't possibly be trying to head off global catastrophe. She just wants to steal your Chevy Colorado and your Big Mac. https://www.newyorker.com/news/daily-comment/alexandria-ocasio-cortez-is-coming-for-your-hamburgers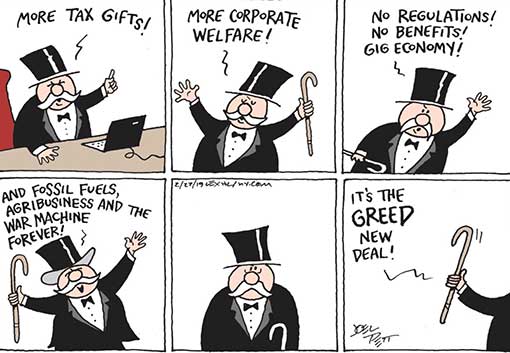 12. Christopher R. Browning: The Suffocation of Democracy
In the 1920s, the US pursued isolationism in foreign policy and rejected participation in international organizations like the League of Nations. America First was America alone, except for financial agreements like the Dawes and Young Plans aimed at ensuring that our "free-loading" former allies could pay back their war loans. At the same time, high tariffs crippled international trade, making the repayment of those loans especially difficult. The country witnessed an increase in income disparity and a concentration of wealth at the top, and both Congress and the courts eschewed regulations to protect against the self-inflicted calamities of free enterprise run amok. The government also adopted a highly restrictionist immigration policy aimed at preserving the hegemony of white Anglo-Saxon Protestants against an influx of Catholic and Jewish immigrants. (Various measures barring Asian immigration had already been implemented between 1882 and 1917.) These policies left the country unable to respond constructively to either the Great Depression or the rise of fascism, the growing threat to peace, and the refugee crisis of the 1930s.
Today, President Trump seems intent on withdrawing the US from the entire post–World War II structure of interlocking diplomatic, military, and economic agreements and organizations that have preserved peace, stability, and prosperity since 1945. His preference for bilateral relations, conceived as zero-sum rivalries in which he is the dominant player and "wins," overlaps with the ideological preference of Steve Bannon and the so-called alt-right for the unfettered self-assertion of autonomous, xenophobic nation-states—in short, the pre-1914 international system. That "international anarchy" produced World War I, the Bolshevik Revolution, the Great Depression, the fascist dictatorships, World War II, and the Holocaust, precisely the sort of disasters that the post–World War II international system has for seven decades remarkably avoided.
In threatening trade wars with allies and adversaries alike, Trump justifies increased tariffs on our allies on the specious pretext that countries like Canada are a threat to our national security. He combines his constant disparagement of our democratic allies with open admiration of authoritarians. His naive and narcissistic confidence in his own powers of personal diplomacy and his faith in a handshake with the likes of Vladimir Putin and Kim Jong-un recall the hapless Neville Chamberlain (a man in every other regard different from Trump). Fortunately the US is so embedded in the international order it created after 1945, and the Republican Party and its business supporters are sufficiently alarmed over the threat to free trade, that Trump has not yet completed his agenda of withdrawal, though he has made astounding progress in a very short time.
It is possible that Trump is engaged in excessive rhetorical posturing as a bargaining chip and will retreat to more moderate positions in both cases. But it is also possible that adversarial momentum will build, room for concessions will disappear, and he will plunge the country into serious economic or military conflicts as a captive of his own rhetoric. Historically, such confrontations and escalations have often escaped the control of leaders far more talented than Trump. https://www.nybooks.com/articles/2018/10/25/suffocation-of-democracy/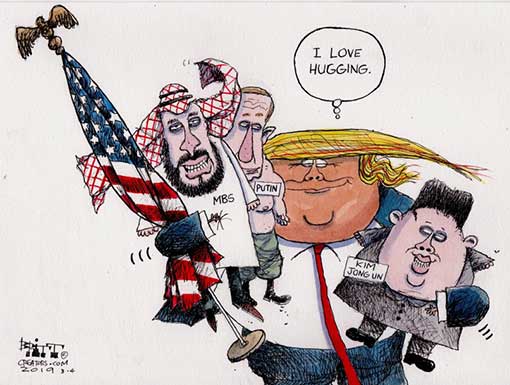 13. Jane Mayer: The Making of the Fox News White House
As Trump has been condemning reporters as "enemies of the people," Fox News, too, has been cracking down on dissenting voices. Van Susteren was replaced by Tucker Carlson, and under the leadership of Fox's current C.E.O., Suzanne Scott, a longtime deputy of Shine's, the prime-time lineup has become more one-sided than ever. Fox has become Trump's safe space in times of stress. When he was alone in the White House on New Year's Eve, he called in to Pete Hegseth's live broadcast and wished him a happy New Year. A few weeks later, when Trump was humiliated by the news that the F.B.I. had considered launching a counterintelligence investigation of him, he called the Fox host Jeanine Pirro for on-air reassurance. Conservative critics of Trump who used to appear on Fox, such as Stephen Hayes and George Will, have largely vanished; Will told the Washington Post that Fox discontinued his contract, in 2017, without explanation. It's almost shocking to recall that, as recently as 2009, Fox balanced Hannity with a liberal co-host, Alan Colmes.
The biggest test yet of Fox's journalistic standards is the impending showdown over Mueller's findings. For two years, the network has been priming its viewers to respond with extraordinary anger should the country's law-enforcement authorities close in on the President. According to Media Matters, in the first year after Mueller was appointed Hannity alone aired four hundred and eighty-six segments attacking the federal criminal investigation into Russian interference in the 2016 election; thirty-eight per cent of those segments claimed that law-enforcement officials had broken the law. In recent weeks, Hannity has spoken of "a coup," and a guest on Laura Ingraham's program, the lawyer Joseph diGenova, declared, "It's going to be total war. And, as I say to my friends, I do two things—I vote and I buy guns."
Jerry Taylor, the co-founder of the Niskanen Center, a think tank in Washington for moderates, says, "In a hypothetical world without Fox News, if President Trump were to be hit hard by the Mueller report, it would be the end of him. But, with Fox News covering his back with the Republican base, he has a fighting chance, because he has something no other President in American history has ever had at his disposal—a servile propaganda operation." https://www.newyorker.com/magazine/2019/03/11/the-making-of-the-fox-news-white-house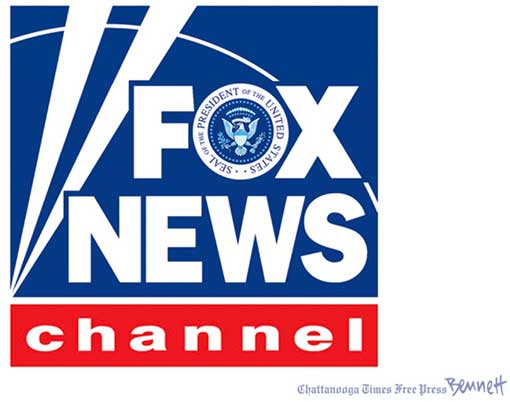 14. Matthew Yglesias: Conservative propaganda television is a big deal
A study by Emory University political scientist Gregory Martin and Stanford economist Ali Yurukoglu estimates that watching Fox News translates into a significantly greater willingness to vote for Republican candidates.
Specifically, by exploiting semi-random variation in Fox viewership driven by changes in the assignment of channel numbers, they find that if Fox News hadn't existed, the Republican presidential candidate's share of the two-party vote would have been 3.59 points lower in 2004 and 6.34 points lower in 2008. Without Fox, in other words, the GOP's only popular vote win since the 1980s would have been reversed and the 2008 election would have been an extinction-level landslide.
And Fox is not the only thing out there. The Sinclair Broadcast Group is not a television network in a traditional sense. Instead, it's a company that owns a disparate bunch of local television stations affiliated with all four major networks. But Sinclair does exert centralized control over the 'local' television news broadcasts. https://www.vox.com/2019/3/4/18249847/fox-news-effect-swing-elections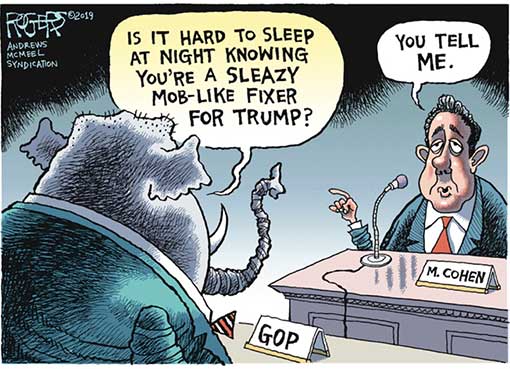 15. Garrett Graff: How Giuliani Might Take Down Trump
Indicting the whole Trump Organization as a 'corrupt enterprise' could also help prosecutors address the thorny question of whether the president can be indicted in office; they could lay out a whole pattern of criminal activity, indict numerous players — including perhaps Trump family members — and leave the president himself as a named, unindicted co-conspirator. Such an action would allow investigators to make public all the known activity for Congress and the public to consider as part of impeachment hearings or re-election. It would also activate powerful forfeiture tools for prosecutors that could allow them to seize the Trump Organization's assets and cut off its income streams."

The irony will be that if federal prosecutors decide to move against President Trump's empire and family together, he'll have one man's model to thank: his own TV lawyer, Rudy Giuliani, who perfected the template to tackle precisely that type of criminal enterprise. https://www.nytimes.com/2019/03/04/opinion/rudy-giuliani-trump.html
16. Michael Gerson: Trump boldly asserts that he has learned nothing these past two years
Trump's CPAC speech was a bold assertion that he has learned nothing — absolutely nothing — during his first two years in office. Not manners. Not economics. Not geopolitics. Not simple decency.
Having gotten that out of my system, let me turn to what really bothered me. Our president lacks dignity.
The president has made the denial of dignity to certain people and groups a political rallying cry. This kind of cruelty and dehumanization is the defining commitment of his political life. He is not merely undignified as a leader; he is committed to stripping away the dignity possessed by others.
There is a tie between incivility and injustice. When a president uses his office to demean others, he is undermining an essential democratic premise — that those out of power are still protected from abuse by general respect for their inherent worth and dignity. They are still partners in a common enterprise. And they deserve better than cruelty and contempt. https://www.washingtonpost.com/opinions/trump-boldly-asserts-that-he-has-learned-nothing-these-past-two-years/2019/03/04/e85aa238-3eb8-11e9-922c-64d6b7840b82_story.html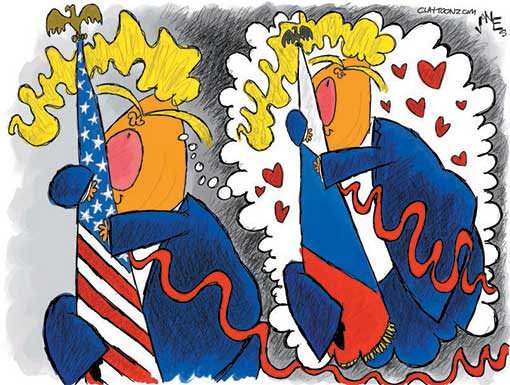 17. Chris Cillizza: Donald Trump is laying the groundwork to de-legitimize the 2020 election
Of course, Trump is less interested in the facts about voter fraud -- or lack thereof -- than he is about convincing his base that if he loses, it's not because he got less votes, it's because something nefarious is being perpetrated against him by the elites.
How do I know? Because Trump was doing it in the 2016 election -- before he knew he actually won.
In an interview on Fox News Channel on Election Day 2016, Trump said this:
"It's largely a rigged system. And you see it at the polling booths, too. There are reports that when people vote for Republicans the entire ticket switches over to Democrats. You've seen that. It's happening at various places today. It's been reported. In other words, the machines, you put down a Republican and it registers as a Democrat. They've had a lot of complaints about that today."
So, yeah.
This is straight from the Trump blueprint -- and not just in politics, either. In his past life as a businessman, Trump would regularly declare victory on a deal loudly and publicly -- even when the facts didn't bear out his bluster. Hell, he somehow spun three bankruptcies as wins for him!
It's not just that Trump doesn't like losing. (No one likes losing.) It's that he is unwilling to accept any sort of loss for fear that defeat might take some of the shine off of his all-I-do-is-win persona.
In the business world, that approach was mostly harmless. Trump could say whatever he wanted but, at the end of the day, it was pretty clear who won and who lost a deal. Money, usually, changed hands. And while lots of people Trump dealt with rolled their eyes about his massive exaggerations, they usually just ignored them.
In politics, Trump's inability to accept that he could lose fair and square is far, far more dangerous.
Michael Cohen, Trump's former longtime fixer, said as much during his congressional testimony in front of the House Oversight Committee last month. "Given my experience working for Mr. Trump, I fear that if he loses the election in 2020, that there will never be a peaceful transition of power," said Cohen.
Sit with that for a minute. And realize what it would mean if the sitting incumbent President of the United States simply refuses to concede he has lost in 2020. https://www.cnn.com/2019/03/06/politics/donald-trump-2020-election-illegitimate/index.html