April 27, 2023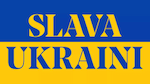 To subscribe to this FREE weekly newsletter simply email jellison@san.rr.com with "subscribe" as the subject.
THE WEEK'S BEST QUOTES. . .
Hey, @elonmusk — as a U.S. taxpayer funded Select Committee, we are grateful our American viewers on Twitter know that we represent them. However, we are curious why @Twitter suddenly removed China state-funded media labels from organizations that exist to disseminate CCP propaganda? Including China Xinhua News, Global Times, CGTN and China Daily.— The House Select Committee on the CCP
https://twitter.com/committeeonccp/status/1650528324546904067
"I'm not a paid assassin. When you're waking up for your 45th morning at the Hilton Garden Inn in Manchester, you better think you can win, because that walk from the bed to the shower, if you don't think you can win, it's hard." — Former Gov. Chris Christie (R) about running for president just to take out Donald Trump.
https://www.politico.com/news/2023/04/20/chris-christie-interview-00092999
"I think he's an asshole. I don't think he cares about people." — Former Rep. David Trott (R-MI) about Ron DeSantis.
https://www.politico.com/newsletters/playbook/2023/04/21/how-to-lose-friends-and-alienate-people-by-ron-desantis-00093235
"The courtroom reckoning promised to be a highlight of the Twitterati/media season. Instead, the Fox-Dominion case ended like a sexual liaison with Trump—with gasps, an abrupt ending, and a check being written." — Graydon Carter.
https://airmail.news/issues/2023-4-22/the-view-from-here
"It's time to introduce the concept of the 'enemy of the people': there's no need to be shy about this." Do I want Stalinist repressions? I do! Moreover my grandfather served nine years on this charge." — Russian State Duma deputy Andrei Gurulyov openly called for the return of Stalinist methods to crack down on dissent.
https://www.thedailybeast.com/russian-lawmaker-andrei-gurulyov-lets-bring-back-stalinist-repressions
"I STAND WITH TUCKER CARLSON!" — Rep. Lauren Boebert (R-Colo.)
https://twitter.com/RepBoebert/status/1650527321508442112
VIDEOS ...
"On day one of my new administration, I will direct the DOJ to investigate every radical DA and Attorney General in America for their illegal racist in reverse enforcement of the law." — Donald Trump, already plotting a purge of "radical" prosecutors.
https://twitter.com/acyn/status/1649569833225424897
Democratic House Majority PAC TV ad tying House Republicans to the threat of default.
https://www.youtube.com/watch?v=2yDldPGbwug&t=6s
Donald Trump's new ad attacking Ron DeSantis for not being "grateful" enough for Trump's help getting him elected governor.
https://truthsocial.com/@realDonaldTrump/posts/110256360937764164
---
IN THIS ISSUE
IN THE NEWS
OPINION
Andy Borowitz: Fox Replaces Tucker Carlson with Lying Chatbot
Fox News has announced that it has replaced Tucker Carlson with a state-of-the-art lying Chatbot.
In a brief statement, Fox chairman Rupert Murdoch thanked Carlson for his service but said that he had been "rendered obsolete by swift advances in lying technology."
A dry run of the Chatbot showed it emitting nine lies per minute, besting Carlson's average of eight.
News of the Chatbot's arrival sent shock waves down the corridors of Fox's midtown Manhattan headquarters. "I'll be next," a reportedly shaken Sean Hannity said. 
https://www.newyorker.com/humor/borowitz-report/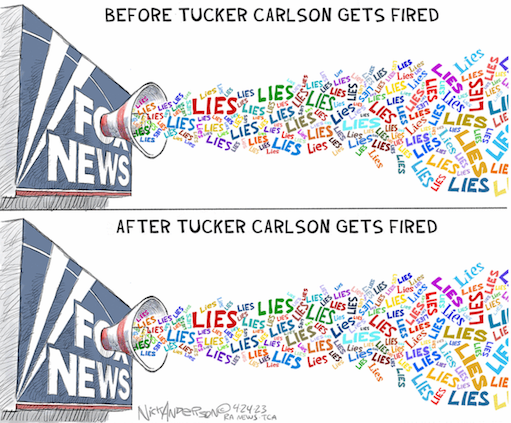 Frequent shootings put US mass killings on a record pace
The U.S. is setting a record pace for mass killings in 2023, replaying the horror on a loop roughly once a week so far this year, the AP reports.
The carnage has taken 88 lives in 17 mass killings over 111 days. Each time, the killers wielded firearms. Only 2009 was marked by as many such tragedies in the same period of time.
https://apnews.com/article/mass-killings-record-pace-2023-d685a6cd67e0f449f3f9d1d8713d451c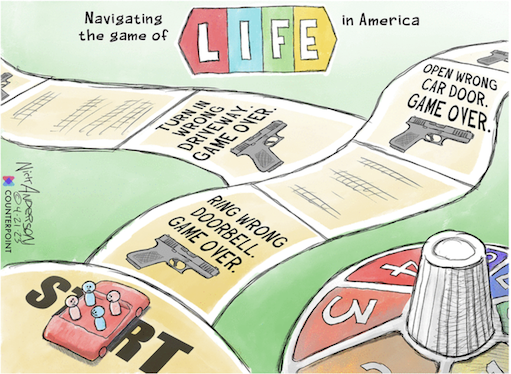 The right-wing bubble is real
Actions being taken in many Republican-controlled states over the last couple of weeks suggest that the elected officials don't really care about what Americans want from their government and the feedback they're getting in their right-wing bubble only encourages them. ● In Tennessee, the response to a horrific school shooting was to shield gun makers and expel two Black Democratic lawmakers who protested. https://apnews.com/article/tennessee-gun-lawsuits-shooting-e35ded1be99d504b7ae1694ad030be1
Meanwhile, lawmakers in multiple red states are threatening to defund libraries, ban books and even bring back child labor.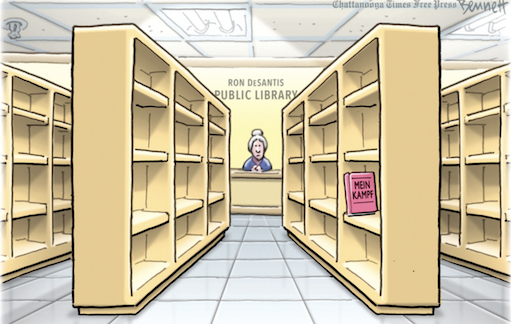 Twitter once muzzled Russian and Chinese state propaganda. That's over now
Under Twitter CEO Elon Musk, the company has stopped its previous practice of limiting the spread of tweets from Russian, Chinese and Iranian government media accounts.

Dmitry Medvedev, a leading government official and former president of Russia, took to Twitter earlier this month to denigrate Ukraine in a post using language reminiscent of genocidal regimes.

And Twitter didn't stop him.

In his 645-word tweet titled, "WHY WILL UKRAINE DISAPPEAR? BECAUSE NOBODY NEEDS IT," Medvedev called Ukraine a "Nazi regime," "blood-sucking parasites" and "a threadbare quilt, torn, shaggy, and greasy."

The post garnered more than 7,000 retweets and 11,000 likes.

One response, though, asked Twitter CEO Elon Musk why he allowed Russian officials to broadcast tweets like this, especially when they used language often associated with genocide.

"All news is to some degree propaganda," Musk responded. "Let people decide for themselves."

Musk's stance of allowing Russian government posts to pop up freely on people's feeds has now become company procedure. And it's a radical departure from the so-called "shadow bans" — or in Twitter parlance "visibility filtering rules" — that were previously placed on those accounts. https://www.npr.org/2023/04/21/1171193551/twitter-once-muzzled-russian-and-chinese-state-propaganda-thats-over-now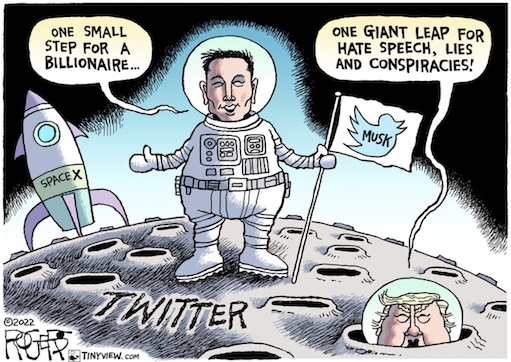 Lost on abortion politics, Republicans struggle for a solution
The GOP is so divided over abortion politics that even top Mitch McConnell allies — who could succeed him as Senate leader — have opposing ideas on how to approach it.

It's a microcosm of the bigger problem facing Republicans as the 2024 election draws near: With the national right to an abortion overturned, there's no clear course for a safe political harbor on an issue where many voters are seeking middle ground. Republicans acknowledge that abortion is costing them votes in some races, but their tactical disagreements over what to do about it are tough to settle without a clear leader to follow. https://www.politico.com/news/2023/04/20/gop-struggles-to-find-winning-abortion-strategy-00093039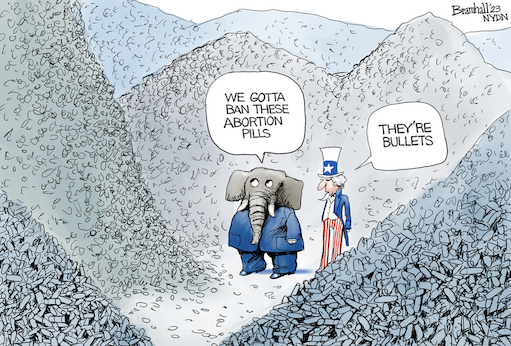 Kremlin tries to build antiwar coalition in Germany
The documents record meetings between Kremlin officials and Russian political strategists, and the Kremlin's orders for the strategists to focus on Germany to build antiwar sentiment in Europe and dampen support for Ukraine. The files also chronicle the strategists' efforts to implement these plans and their reports back to the Kremlin.
https://www.washingtonpost.com/world/2023/04/21/germany-russia-interference-afd-wagenknecht/
'Deeply frustrated': Florida legislators worn out by DeSantis
Florida Gov. Ron DeSantis' iron-clad grip on the Republican-controlled Legislature may be slipping amid growing frustration among GOP legislators.

Republican lawmakers are stalling a handful of his key remaining legislative priorities with just weeks left in the annual session. And what started out as whispers in private about unhappiness over the governor are starting to become louder…

DeSantis' announcement this week that he wanted legislators to take aim again at Disney has irritated conservative Republicans loathe to target private businesses.

Said one GOP legislator privately: We're not the party of cancel culture. We can't keep doing this tit for tat. https://www.politico.com/news/2023/04/20/florida-republicans-desantis-campaign-00092994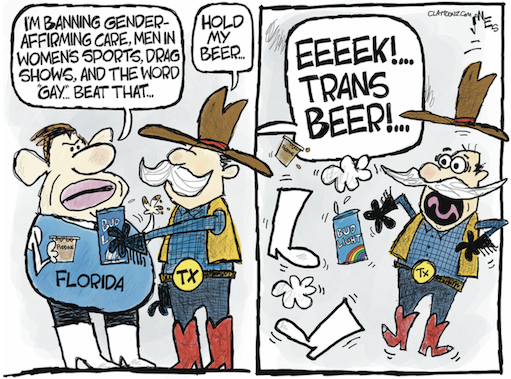 Top GOP lawyer decries ease of campus voting in private pitch to RNC
A top Republican legal strategist told a roomful of GOP donors over the weekend that conservatives must band together to limit voting on college campuses, same-day voter registration and automatic mailing of ballots to registered voters.

Cleta Mitchell, a longtime GOP lawyer and fundraiser who worked closely with former president Donald Trump to try to overturn the results of the 2020 presidential election, gave the presentation at a Republican National Committee donor retreat in Nashville on Saturday. https://www.washingtonpost.com/nation/2023/04/20/cleta-mitchell-voting-college-students/
Global Warming Is Already Hitting Europe Hard
Drought conditions not seen in some places since the Renaissance are becoming the continent's new normal, with perilous knock-on effects for food security and supply chains in the European Union, the world's third-biggest economy. Water levels on European rivers have been shrinking now for six years, with farmland drying up and Alpine glaciers in retreat.

Taken together, they're creating climate feedback loops. Hotter temperatures mean more glacial melting and evaporation; less rainfall and Alpine runoff reduce river flows; dried-out water basins and shriveled vegetation create fuel for wildfire.

While heat and drought are also afflicting regions from Asia to East Africa, Europe is a climate change front-runner, warming at twice the rate as other inhabited continents. https://www.bloomberg.com/news/newsletters/2023-04-20/europe-s-shrinking-rivers-show-global-warming-is-hitting-it-hard
Mike Lindell's firm told to pay $5 million in 'Prove Mike Wrong' election-fraud challenge
MyPillow founder and prominent election denier Mike Lindell made a bold offer ahead of a "cyber symposium" he held in August 2021 in South Dakota: He claimed he had data showing Chinese interference in the 2020 election and said he would pay $5 million to anyone who could prove the material was not from the previous year's U.S. election.

He called the challenge "Prove Mike Wrong."

On Wednesday, a private arbitration panel ruled that someone did.

The panel said Robert Zeidman, a computer forensics expert and 63-year-old Trump voter from Nevada, was entitled to the $5 million payout.

Zeidman had examined Lindell's data and concluded that not only did it not prove voter fraud, it also had no connection to the 2020 election. https://www.washingtonpost.com/investigations/2023/04/20/mike-lindell-prove-wrong-contest/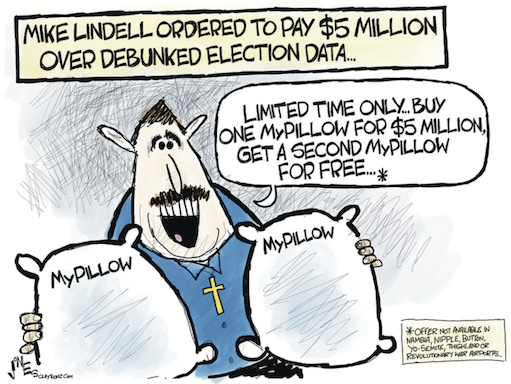 MO House passes bill allowing guns on buses, in churches and synagogues
The Missouri House passed a bill Monday allowing guns to be carried on public buses and inside churches and other places of worship, chipping away at the list of places where guns are prohibited even with a concealed carry permit. https://www.kansascity.com/news/politics-government/article274413340.html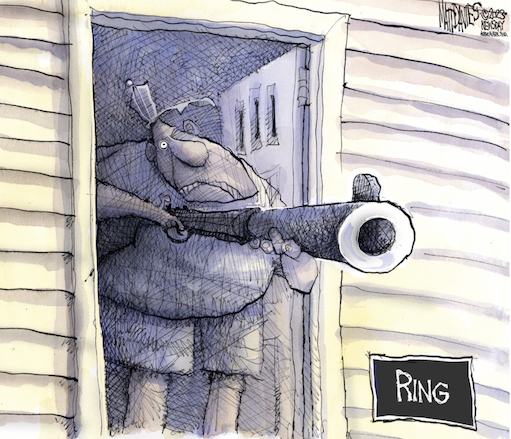 Capitol rioter shot at local deputies after FBI informed him of Jan. 6 charges
A Texas man facing charges in the January 6 riot opened fire last week on sheriff's deputies who had gone to his home to check on him ahead of his scheduled surrender to the FBI. https://www.nbcnews.com/politics/justice-department/capitol-rioter-shot-local-deputies-fbi-informed-jan-6-charges-rcna80725
Fox Can Claim Tax Writeoff For Defamation Settlement
The company says it can deduct the cost of its $787 million payout to Dominion over its election lies.

Fox's massive settlement with private equity-backed voting machine company Dominion Voting Systems didn't just spare the conservative news organization from a lengthy public defamation trial or a full public reckoning for its election lies — it could also mean a tax break as large as $213 million. https://www.levernews.com/fox-can-claim-tax-writeoff-for-defamation-settlement/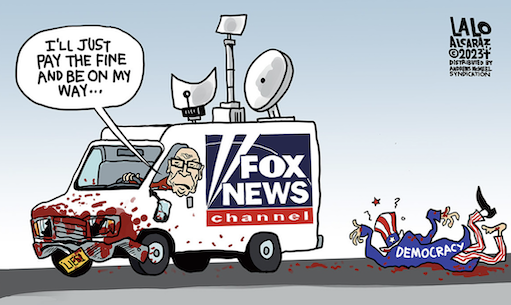 House Republicans pass bill banning transgender girls from participating in women's sports
Republicans in the US House of Representatives passed legislation that would restrict the participation of transgender girls from participating in school sports in the gender with which they identify.

The Protection of Women and Girls in Sports Act of 2023 passed on an exclusively party-line vote with 219 Republicans voting for it and 203 Democrats voting against the legislation.

Recently, the Biden administration proposed its own rules that would prohibit outright bans on transgender athletes participating in sports that align with the gender with which they identify. But the proposal would also allow schools to implement rules that determine the eligibility criteria that could include some restrictions against transgender athletes, specifically citing fairness in competition and competitive high school and college athletic environments.

Casey Pick, director of law and policy at the Trevor Project, also denounced the bill. "
We can protect the progress women have made in sports and promote fairness, while also fostering the inclusion of transgender women and girls," she said in a statement. As our nation continues to face a mental health crisis and an onslaught of anti-LGBTQ state laws, our elected officials in Congress should focus their time and our taxpayer dollars on making our schools safe and mental health care more accessible — not pushing trans young people further to the sidelines.

The bill is unlikely to pass in the Democratic-controlled Senate. https://www.independent.co.uk/news/world/americas/us-politics/gop-transgender-sports-ban-bill-b2323627.html
Smartmatic wants more than Dominion's $787 million payout, plus a retraction from Fox for its 2020 election lies
A top lawyer for Smartmatic, the voting technology company whose defamation lawsuit against Fox News is still pending, said Thursday that he won't accept any settlement smaller than the $787 million Fox agreed to pay Dominion, and that his client needs a 'full retraction' from the right-wing network disavowing the lies it spread about the 2020 presidential election.

Said the lawyer: They need to get an apology. They need to get a full retraction. https://www.cnn.com/2023/04/20/media/smartmatic-fox-news-retraction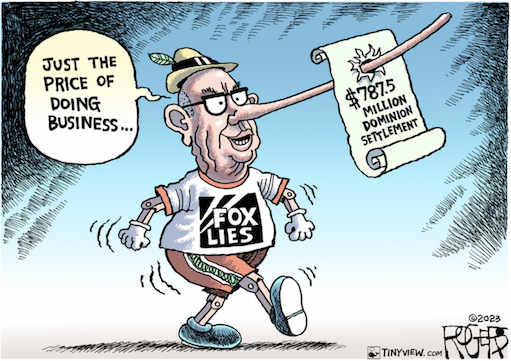 Trump touts authoritarian vision for second term: 'I am your justice'
Donald Trump has steadily begun outlining his vision for a second-term agenda, focusing on unfinished business from his time in the White House and an expansive vision for how he would wield federal power. In online videos and stump speeches, Trump is pledging to pick up where his first term left off and push even further.

Where he earlier changed border policies to reduce refugees and people seeking asylum, he's now promising to conduct an unprecedented deportation operation. Where he previously moved to make it easier to fire federal workers, he's now proposing a new civil service exam. After urging state and local officials to take harsher measures on crime and homelessness, Trump says he is now determined to take more direct federal action…

Trump's emerging platform marks a sharp departure from traditional conservative orthodoxy emphasizing small government. https://www.washingtonpost.com/elections/2023/04/21/trump-agenda-policies-2024/
Oklahoma Official Who Discussed Killing Reporters Resigns
A county commissioner in far southeast Oklahoma who was caught on tape discussing killing reporters and lynching Black people has resigned from office.
https://www.huffpost.com/entry/oklahoma-official-who-discussed-killing-reporters-resigns_n_64402466e4b011a819becb9e
'Devastating' melt of Greenland, Antarctic ice sheets found
The Greenland and Antarctic ice sheets are now losing more than three times as much ice a year as they were 30 years ago.
https://apnews.com/article/ice-sheet-greenland-antarctica-melt-climate-49405a4999b1af5e3964781ff72bc59a
Nebraska lawmakers pass permitless concealed carry gun bill
Nebraska lawmakers passed a bill Wednesday to allow people to carry concealed guns in the state without a permit, just as national attention has ramped up over gun violence in the wake of several mass shootings, including the killing last month of six people at a Tennessee school. https://apnews.com/article/constitutional-carry-bill-nebraska-a8168215d00c1e4bf51017e82e8da80b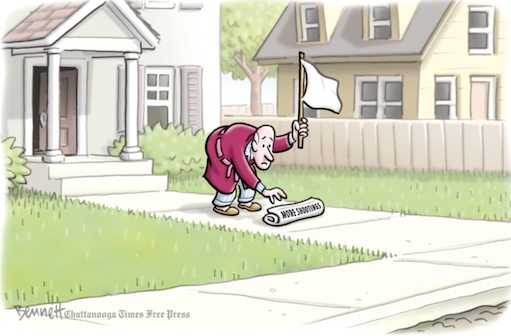 US charges 4 Americans, 3 Russians in election discord case
Four Americans affiliated with a Black empowerment and political organization have been charged along with three Russians with conspiring to covertly sow discord in U.S. society, spread Russian propaganda and interfere illegally in U.S. elections, according to an indictment unsealed Tuesday.

The U.S. citizens and two Russians were added to an existing case in Tampa, Florida, federal court involving Aleksandr Ionov, described by prosecutors as the founder of a Moscow-based organization funded by the Russian government to carry out a clandestine influence campaign in the U.S.

Much of the alleged cooperation involved support for Russian's invasion of Ukraine. In March 2022, Omali Yeshitela, chairman of the U.S.-based organization, held a news conference in which he said the "African People's Socialist Party calls for unity with Russia in its defensive war in Ukraine against the world colonial powers." He also called for the independence of the Russian-occupied Donetsk region in eastern Ukraine.

In addition, the Justice Department announced a separate indictment in Washington charging Russian national Natalia Burlinova with conspiring with Russian intelligence to recruit U.S. academics and researchers to attend programs that advanced Russian interests. Burlinova concealed that her efforts were funded by the Russian government, prosecutors said. https://apnews.com/article/russian-interference-florida-elections-americans-charged-32324ddc67b2f32b0cdab13db6f6acb4
Texas Senate passes bill requiring public school classrooms to display Ten Commandments
The Texas Senate passed a bill Thursday requiring each public school classroom to display a copy of the Ten Commandments, a move that drew backlash from civil liberty advocates who say lawmakers should not dictate what religious materials students are exposed to.
https://www.cnn.com/2023/04/22/us/texas-senate-passes-bill-ten-commandments/index.html
Losing Ballot Issues on Abortion, G.O.P. Now Tries to Keep Them Off the Ballot
Voters pushed back decisively after the Supreme Court overturned Roe v. Wade last year, approving ballot measures that established or upheld abortion rights in all six states where they appeared.
Now, with abortion rights groups pushing for similar citizen-led ballot initiatives in at least six other states, Republican-controlled legislatures and anti-abortion groups are trying to stay one step ahead by making it harder to pass the measures — or to get them on the ballot at all.
https://www.nytimes.com/2023/04/23/us/republicans-abortion-voting.html
So much for that promise: Debt bill talks again done in the backroom
House Republicans, after months of pledging to devolve power to legislative committees conducting business out in the open, have reverted to the tradition of working behind closed doors.

For almost two months, Republicans of all stripes filed into House Speaker Kevin McCarthy's office to cobble together a sweeping 320-page bill that would touch many aspects of domestic policy while also allowing the Treasury to continue borrowing another $1.5 trillion to fund the federal government.

Not a single committee held a hearing on a bill that would slash trillions of dollars from federal agency budgets and revoke clean climate tax credits. Not one committee held the traditional legislative markup to consider amendments and further debate on the measure. Not one Democrat had input into the measure.

And a surprising thing happened along the way. The Republicans, even the most conservative antagonists who decried this type of legislating, learned to like backroom dealmaking despite their demands in early January for McCarthy (R-CA) to promise a more open legislative process in exchange for their votes for speaker. https://www.washingtonpost.com/politics/2023/04/22/debt-ceiling-mccarthy/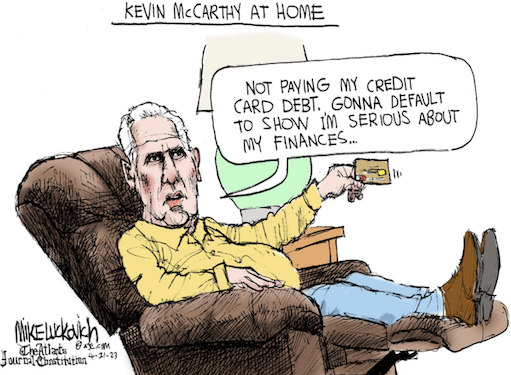 Tucker Carlson, Who Downplayed Putin's Invasion of Ukraine and Slammed Aid to the Country, Offered Job by Kremlin-Backed Russia Today
Russia Today, the Kremlin-backed cable news network, tweeted at Tucker Carlson on Monday shortly after he was fired from Fox News to seemingly offer him a job.

Carlson has repeatedly downplayed Russia's attempts to meddle in the 2016 presidential election on behalf of Donald Trump. More recently, he has endeared himself to Moscow by offering stridently anti-Ukraine commentary, even after Russia launched a war of aggression against the country in February 2022. His commentary has been featured multiple times on Russian state media.

Ahead of the invasion, Carlson spent months mocking the idea that Russia's military buildup near its border with Ukraine signaled an imminent attack. After the invasion, he criticized the Biden administration for sending aid to the besieged country, stating that doing so will bring the U.S. and Russia closer to war. He also demonized Ukrainian President Volodymyr Zelensky as an autocrat and – bizarrely – a "strip club manager."

Earlier this month, Carlson cited leaked intelligence reports to claim U.S. soldiers are fighting the Russians in Ukraine. A White House spokesman denied this, saying the troops are providing security at the American embassy in the country.

Shortly before Russia's invasion last year, Carlson rattled off a series of problems facing the U.S. and declared, "Vladimir Putin didn't do any of that." https://www.mediaite.com/news/tucker-carlson-who-downplayed-putins-invasion-of-ukraine-and-slammed-aid-to-the-country-offered-job-by-kremlin-backed-russia-today/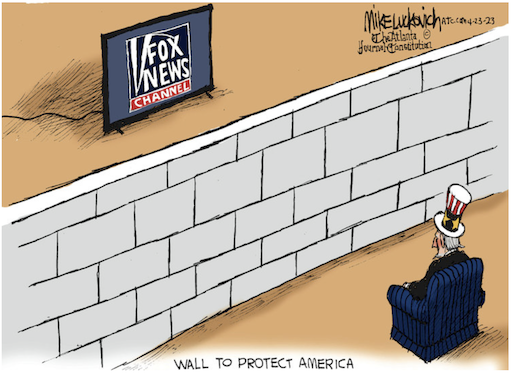 North Dakota governor signs law banning nearly all abortions
North Dakota on Monday adopted one of the strictest anti-abortion laws in the country as Republican Gov. Doug Burgum signed legislation banning the procedure throughout pregnancy, with slim exceptions up to six weeks' gestation.
In those early weeks, abortions would only be allowed in cases of rape or incest, or in medical emergencies. After six weeks, rape and incest victims cannot get abortions. Abortions to treat some medical emergencies, such as ectopic pregnancies, are allowed at any stage of pregnancy.
"This bill clarifies and refines existing state law ... and reaffirms North Dakota as a pro-life state," Burgum said in a statement.
https://apnews.com/article/abortion-north-dakota-six-week-ban-2bccde2925d30dd4772aaed84f3c2d98
McCarthy's authority is on the line as debt ceiling crisis mounts
Speaker Kevin McCarthy will put his shaky control of the thin Republican majority on the line this week with a bid to pass a bill slashing spending that is designed to jam President Joe Biden over the looming government debt crisis.
The standoff is deepening between the Republican speaker and the Democratic president, which could be fateful for the country and both their political careers. And the ability of each side to unify their parties and shape public opinion to avoid – or dispense – blame will be crucial.
https://www.cnn.com/2023/04/24/politics/kevin-mccarthy-debt-ceiling-crisis/index.html
Hunter Biden's lawyer seeks ethics probe of Greene for 'verbal abuses'
"Representative Greene's unethical conduct arises from her continuous verbal attacks, defamatory statements, publication of personal photos and data, and promotion of conspiracy theories about and against Robert Hunter Biden," lawyer Abbe Lowell wrote in a letter to the Office of Congressional Ethics. "None of these could possibly be deemed to be part of any legitimate legislative activity, as is clear from both the content of her statements and actions, and the forums she uses to spew her often unhinged rhetoric."

In the letter, Lowell cited a series of social media posts, including some with videos, in which Greene baselessly accused the 53-year-old Biden of being linked to "an Eastern prostitution or human trafficking ring."

In another example cited in the letter, Greene posted photos of Hunter Biden driving his niece and her cousin in President Biden's convertible and falsely alleged he was "on crack" and with prostitutes.

"Not only are these statements false, defamatory, and malicious, but they are undignified from a Member of Congress and far beyond anything close to genuine legislative activities or political advocacy," Lowell wrote. https://www.washingtonpost.com/politics/2023/04/24/hunter-biden-marjorie-taylor-greene-ethics/

THE DAILY GRILL
 
"I didn't vote for Donald Trump. I actually voted for Biden. Not saying I'm a huge fan of Biden because I would think that probably would be inaccurate." Musk said presidential elections pose a "difficult" decision and he would prefer a candidate who is a "normal person with common sense and whose values are smack in the middle of the country."  — Elon Musk to Tucker Carlson. https://thehill.com/blogs/blog-briefing-room/3956887-trump-rails-against-musk-for-saying-he-supported-biden-in-2020-elon-is-just-trying-to-make-friends/

VERSUS

Trump said in a post on Truth Social on Tuesday that he does not believe for a minute that Musk voted for Biden in 2020, alleging that Musk told him he voted for him.  Elon is just trying to make friends with the absolutely horrible Biden Administration because of all the government subsidies he gets, and all the permits he needs. — Donald Trump. https://thehill.com/blogs/blog-briefing-room/3956887-trump-rails-against-musk-for-saying-he-supported-biden-in-2020-elon-is-just-trying-to-make-friends/
Elon @elonmusk, since you're all for free speech, maybe unban RT and Sputnik accounts and take the shadow ban off mine as well? — Margarita Simonyan, editor-in-chief of the Russian state-controlled media organizations RT. Oct 27, 2022. https://twitter.com/M_Simonyan/status/1585582290226257922

VERSUS

"Twitter de-labeled me and all of our channels as 'public funded media'. Now you can even find me in the search. Brotherly, Elon, from the heart." —  Margarita Simonyan, editor-in-chief of the Russian state-controlled media organizations RT. Apr 21, 2023
https://twitter.com/M_Simonyan/status/1649376627254611968
Andrew Marantz: The World According to Tucker Carlson
Donald Trump had the raw power on the right. But it was Carlson who set the ideological agenda.

Tucker Carlson's last hour as a Fox News host—"last" as in most recent, and also, we now know, as in final—ended with him sitting at a shiny white desk, a green-screened image of the Capitol behind him, eating a soggy, sad-looking slice of sausage-and-pineapple pizza. "It is a disgusting order," he admitted. "But I have no shame." He wore a Rolex, a repp tie, and a slightly manic grin; his hair, as usual, was jauntily mussed, as if he'd just stepped off a catamaran. The segment seemed calculated to promote three things: Carlson's salt-of-the-earth charisma; the heroism of a particular Delaware County, Pennsylvania, pizza-delivery man, a ruggedly handsome white guy who had acted as a vigilante assistant to the local police; and a new special on his streaming show "Tucker Carlson Originals,"a half-hour documentary called "Let Them Eat Bugs." ("Could there really be a plan to make us all eat bugs?" Carlson asked, in an ominous voice-over, followed by a guest providing a putative answer: "It's a global agenda that is pushing all of these things.") In the studio, Carlson put down his slice. "What a great way to end the week," he said, with a satisfied chuckle. "We'll be back on Monday. https://www.newyorker.com/news/daily-comment/the-world-according-to-tucker-carlson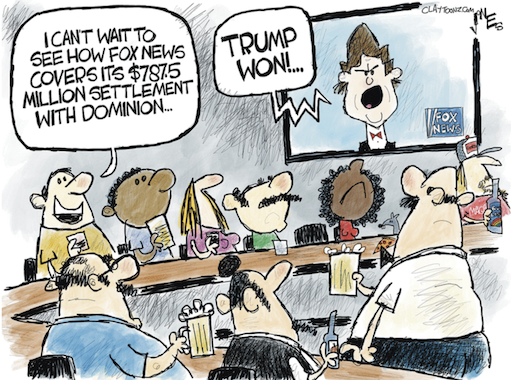 Jennifer Rubin: Republicans' 'best' issue on the debt is still horrible
Sober Republicans certainly must know their threat to blow up the economy and cause a default is untenable. They probably know that draconian cuts they propose, which will amount to 22 percent of law enforcement, veterans benefits, health care and the rest of nondefense discretionary spending, won't endear them to most voters. However, they might be under the illusion that instituting work requirements for food stamps and Medicaid is going to score with working people who resent others getting something for "free." In fact, it's rotten policy that will not encourage more people to work.

Upon closer examination, we can see Republicans are taking away funds for food and medical coverage for poor people and sending the money to tax cheats. The estimated cost of the "savings" from denying food and health care to the poor is roughly the amount they want to take away from IRS funding that would be used to go after tax cheats (those people who are by definition stealing from the taxpayers). House Republicans say their Medicaid and SNAP cuts save tens of billions; the Congressional Budget Office score shows a $114 billion cost for repealing the IRS enforcement.

Taking a step back, the work requirements are advancing a noxious vision to make the government budget (taxes and spending) more regressive. MAGA Republicans want to keep all the Trump tax cuts and eliminate President Biden's plan to make corporations pay something and to tax stock buybacks. The things that help poor and middle-class people have either already expired at Republicans' insistence (e.g., the child tax credit expansion) or have been put on the chopping block (e.g., $35 insulin, drug caps on Medicare, green-energy subsidies, student loans). One doesn't have to be a "socialist" to think it grotesque to make the rich even richer as a result of cutting benefits to the poor.

As Biden says, show me your budget and I'll tell you your values. For Republicans, that means making the poor sicker and more food insecure while fattening the wallets of the super rich. Fortunately, little to none of the Republicans' debt plan will see the light of day. https://www.washingtonpost.com/opinions/2023/04/24/work-requirement-republicans-debt/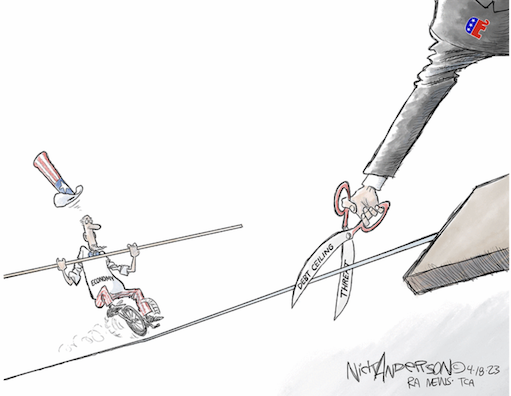 Michelle Goldberg: Tucker Carlson's Great Replacement
When Fox settled the defamation lawsuit brought by Dominion Voting Systems for $787.5 million, the conventional wisdom was that it would alter little about the way Fox News operates. "Don't Expect Fox News to Change After Massive Dominion Payout," said a Vanity Fair headline. "Will Fox Settlement Alter Conservative Media? Apparently Not," said The Associated Press.

Maybe the settlement didn't change much, but it increasingly looks as if the lawsuit itself did. On Monday, news broke that Tucker Carlson, Fox News's highest-rated and most demagogic prime time host, was out, and wouldn't even get a final show to say goodbye. The Los Angeles Times reported that Carlson was defenestrated by Rupert Murdoch himself, and that his exit was related to the discrimination lawsuit filed by Carlson's former head of booking Abby Grossberg. Grossberg alleges that Fox coerced her into giving misleading testimony in the Dominion case, and has said she filed the discrimination suit, as well as a separate lawsuit, after fearing that the network was going to make her a scapegoat. The Washington Post, meanwhile, reported that Murdoch was incensed about insubordinate remarks Carlson made about Fox management, which were revealed during the discovery phase of the Dominion case.

All this suggests that Dominion was responsible for shaking loose the information that brought Carlson down. The end of his Fox News tenure should be a reminder to people on the left not to surrender to the cynical illusion that, to revive a Trump-era phrase, LOL nothing matters. Sometimes the terrible elements of our political culture seem so immutable that it's tempting to give in to despair as a prophylactic against perpetual disappointment. But it turns out that it is in fact sometimes possible to shame the shameless. Once in a while, justice is delivered. https://www.nytimes.com/2023/04/24/opinion/tucker-carlson-fox-news-dominion.html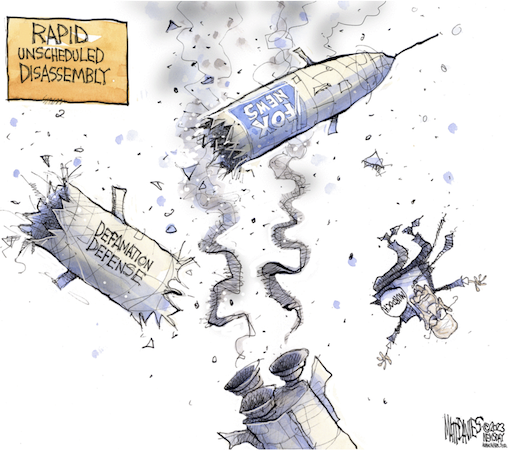 Rick Wilson: A few quick thoughts about Tucker
The white nationalists loved Tucker, whom they called "Our guy" and correctly saw him as a gateway drug for their more virulent and obvious messages. For normies, Tucker could wink and nod about it, but the white-robe crowd filled their hate spank banks with Tucker clips.There was nothing he couldn't amp up. election fraud, vaccine denial, Soros, and every other nutbird conspiracy was laundered into the "THEY are hiding the SECRET TRUTH from you"...and it validated the crazies in the same way as the white nationalists.

Which leads us to a fascinating prospect…

What if he runs for president? He's rich enough. He'd instantly have an online fundraising juggernaut second only to Trump, and perhaps surpassing him. He's polarizing, terrible, and utterly amoral...in short, better than Ron DeSantis for the base.

I'd argue he's the only Republican..who presents a material danger to Donald Trump in a primary.

Celebrity, money, mental acuity, cynicism, pro-Putin isolationism, and an overt love of authoritarianism are a pretty strong secret sauce for the MAGA base.

Celebrity got Trump the WH.

It could certainly do the same for Tucker. And spare me your "That could never happen. Even Trump's GOP would never vote for a former TV host pushing white replacement theory."

That's PRECISELY who they'd vote for.

This iteration of "A Face In the Crowd" doesn't end with a revelation of the real character of the showman-as-politician. This one ends with Tucker running and possibly winning a herrenvolk campaign, where his flaws don't matter, only his capacity for hate. https://twitter.com/TheRickWilson/status/1650840580002398208?
Jonathan Chait: Tucker Carlson, Fake Populist and Genuine Racist
The diabolical brilliance of his racist character was that he was able to occupy a grounds between traditional Republicans and actual Nazis, bridging the beliefs of both groups and winning the adoration of both. "Tucker Carlson is literally our greatest ally. I don't believe that he doesn't hate the Jews," wrote neo-Nazi Andrew Anglin

in the Daily Stormer, a white-supremacist publication. Ben Shapiro, a Jewish conservative, marked Carlson's departure from Fox by calling him "immensely talented and one of the most important voices on the right, and he's going to continue to be those things no matter what comes next."

Carlson's credibility with the most nativist, paranoid, and bigoted constituents in the Republican Party made him a valuable authenticator for its leaders. Kevin McCarthy leaked footage of January 6 to Carlson, which he shared selectively to claim the insurrectionists had behaved lawfully and peacefully. Ron DeSantis gave Carlson a written statement calling Russia's invasion of Ukraine a "territorial dispute."

It may have been kismet but was completely fitting that Carlson's downfall came swiftly after leaked internal messages revealed him expressing personal hatred for Trump, a figure he lavished with praise on the air. Twenty years after he prophesized O'Reilly's fall, the shtick was up. https://nymag.com/intelligencer/2023/04/tucker-carlson-fired-fox-news-fake-populist-genuine-racist.html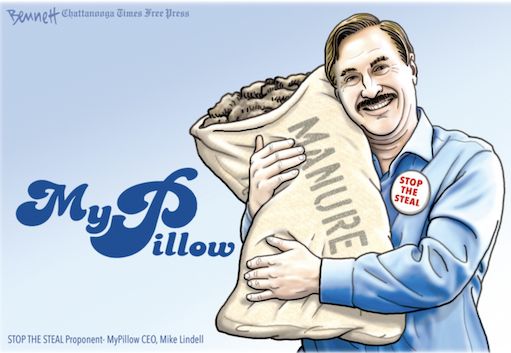 Susan B. Glasser: Fox News Doesn't Do Apologies
Throughout the Trump era in American politics—which began in 2015 with that escalator ride and, 2020 election results notwithstanding, has hardly ended—there has been at most a thin line separating current events from cynical satire. Donald Trump's own lies have been so prolific that it would be wrong to call even a transcript of his words a nonfictional document. His premeditated and endlessly repeated falsehoods about the rigged 2020 election, including a bizarre international conspiracy theory about Dominion voting machines, were so laughably untrue and yet still so effective that millions of Americans still believe Joe Biden is not the legitimate President.

In the redemptive Hallmark-movie version of America, the inevitable reckoning for this offense against democracy finally, if belatedly, began this week with the announcement that Fox News would pay an extraordinary seven hundred and eighty-seven million dollars to Dominion for its role in spreading those lies. This amounts to one of the largest-ever defamation settlements. "The truth matters. Lies have consequences," Justin Nelson, a lawyer for Dominion, told reporters outside a Delaware courthouse, where the deal was announced on Tuesday, just as the trial in the case was about to begin. "Today represents a ringing endorsement for truth and for democracy." Dominion's C.E.O., John Poulos, added, "Throughout this process, we have sought accountability, and believe the evidence brought to light through this case underscores the consequences of spreading lies."

Truthfulness has never been counted among the political virtues, as Hannah Arendt famously observed five decades ago, in the aftermath of the Pentagon Papers' release. I'm sure there's been someone who believed at every low moment in American history that it was a time uniquely rife with falsehood and deceptions. There's little point in being naïve about it. The war on truth is the hardiest of perennials. It is routinely deployed with reckless abandon by those who have power and those who seek it.

But not all political lies are created equal. It is important to insist on that. Organized lying with an explicit goal in mind is a direct threat to democracy, as Arendt wrote about the dangerous affinity between politics and lying back in the Vietnam era. By historic standards, Trump's attack on the legitimacy of the 2020 election is a big lie, on a par with those of other regime-defining untruths.

This is not the everyday stuff of political malfeasance we are talking about. https://www.newyorker.com/news/letter-from-bidens-washington/fox-news-doesnt-do-apologies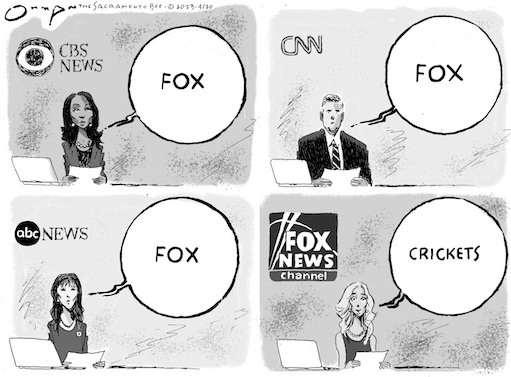 E.J. Dionne Jr.: McCarthy's debt ceiling plan is theater unworthy of a high school gym
It is truly astonishing, as my Post colleagues Greg Sargent and Paul Waldman wrote on Friday, that any Republican operating under labels such as "moderate," "mainstream" or "problem solver" would vote for a McCarthy proposal that hides its ferocity behind sanitized budgetary gobbledygook. McCarthy would cut federal spending back to 2022 levels and limit its growth to 1 percent a year.

What this means in plain English, as The Post's Tony Romm reported, are "massive spending cuts," but without having to specify them. Shalanda Young, director of the Office of Management and Budget, helpfully translated the impact to particular programs. If Republicans exempted defense spending from their ax, as they seem inclined to do, all other programs would suffer 22 percent cuts, she said, which "would grow deeper and deeper with each year of their plan."

That 22 percent would mean, to take just a few of her examples, 30 million fewer veteran outpatient visits; layoffs of 108,000 teachers in schools with low-income students and kids with disabilities; 200,000 fewer children in Head Start; and 180,000 children losing access to child care. And right-to-lifers take note: "1.7 million women, infants, and children would lose vital nutrition assistance through the Special Supplemental Nutrition Program for Women, Infants, and Children."

The Economist magazine recently devoted its cover to the U.S. economy as "a marvel to behold." Allowing the fractious politics of an unstable House GOP caucus to tank it would be unconscionable. https://www.washingtonpost.com/opinions/2023/04/23/mccarthy-debt-ceiling-plan-theater/
Eugene Robinson: As in 2016, Trump's GOP rivals haven't figured out a way around him
A  study released last week, by Alan I. Abramowitz, a political scientist at Emory University, traced the dramatic change in the makeup of the American electorate over the past 40 years. The study, published by the University of Virginia's Center for Politics, found that "racial and cultural issues, rather than economic ones," have driven the enormous gains Republicans have made with noncollege Whites.

In the meantime, Abramowitz noted in an interview, Democratic gains with White college-educated voters reflect the decay of what had once been the political base for more moderate Republicans, particularly in the Northeast. Again: The pressure in the party is to the cultural right — and to Trump.

No wonder that Trump's favorability among Republicans in the latest YouGov poll late last week stood at 78 percent, compared with 34 percent among independents and 12 percent among Democrats.

Even Republicans who are fully aware of the damage Trump is doing and the cost of Trump-backed candidates to the party's electoral fortunes thus hold back from criticizing him. "They know this is disastrous, but they are reluctant to speak up, and they don't know how to stop it," Abramowitz said. Which just allows the show to go on.

A substantial majority of the country would like to be done with Trump and the nastiness he sows. Many Republican leaders may quietly agree, but their electorate and the nature of the places they represent push them toward timidity. Until the incentives change or the party's leaders discover the fortitude to defy them, we're stuck in the world that Trump's neuroses create for us. https://www.washingtonpost.com/opinions/2023/03/26/why-republican-politicians-do-not-criticize-trump/
Dana Milbank: Republicans follow their new leader, Marjorie Taylor Greene
This is the price America pays for Kevin McCarthy's ambition.

To understand the consequences of the many concessions the House speaker made to get his job, look at what has happened to the House Committee on Homeland Security. Created in the aftermath of the 9/11 attacks, it used to be a place where lawmakers took pride in overcoming partisanship for the sake of national security.

Then came the GOP takeover of the House this year. In his wisdom, McCarthy agreed not only to restore Rep. Marjorie Taylor Greene's committee assignments (she had been stripped of them for glorifying violence against colleagues) but also to give her a seat on Homeland Security.

Last week, the Georgia Republican used her elevated status to praise Jack Teixeira, the National Guard airman and suspected leaker of highly classified U.S. intelligence about Ukraine, China and more. "Jake (sic) Teixeira is white, male, christian, and antiwar. That makes him an enemy to the Biden regime," Greene tweeted, adding, "Ask yourself who is the real enemy? A young low level national guardsmen? Or the administration that is waging war in Ukraine, a non-NATO nation, against nuclear Russia without war powers?"

But Greene wasn't content merely to label the American president "the real enemy." Next came a hearing Wednesday at which the panel was to grill Homeland Security Secretary Alejandro Mayorkas about the Biden administration's proposed 2024 budget. Midway through the session, after Rep. Eric Swalwell (D-Calif.) questioned Mayorkas about the effects of calls from GOP officials such as Donald Trump and Greene to "defund the FBI," Greene began her five minutes of questioning with a sweet smile and a breathtaking libel.

"That was quite entertaining from someone that had a sexual relationship with a Chinese spy, and everyone knows it," she said.

It was the very definition of slander. Democrats demanded that her words be "taken down." Swalwell was one of several officials targeted a decade ago by a Chinese spy, but no evidence of a sexual relationship came to light.

Yet Republicans jumped to Greene's defense. Chairman Mark Green (R-Tenn.) ruled that Greene's slander was "not going to be stricken from the record." He went so far as to suggest the unsubstantiated innuendo was a "statement of fact." And, when Democrats challenged the ruling, Republicans on the panel voted unanimously, in an 11-9 party-line tally, to defend Greene's defamation of her colleague.

It brought to mind the old admonition not to wrestle with a pig: You'll both get muddy, and the pig enjoys it. https://www.washingtonpost.com/opinions/2023/04/21/marjorie-taylor-greene-homeland-security-committee-house-gop/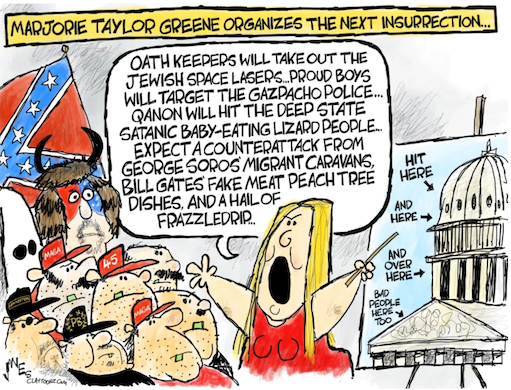 E.J. Dionne Jr.: Why we're still stuck in Trump's world
There is a madness running through our nation's public life. Our country seems nearly powerless to counteract it because it's built into the structure of American politics, the belief system of Republican voters and the polarization of opinion in Congress.

The journalistic obsession with Trump is certainly part of the problem. "I can't tell you the number of calls I've gotten from reporters asking me about the implications of Trump being indicted," Whit Ayres, a Republican pollster, told, well, this reporter. "They were asking me about the implications of something that's unknowable because it's without any precedent in our history."

But there is something the Trump-obsessed news media did not cover because it didn't happen.
There were no widespread Republican criticisms of Trump's unhinged attacks on Manhattan District Attorney Alvin Bragg as an "animal" and "a degenerate psychopath," no official GOP condemnation of Trump's wee-hours-of-the-morning threat on Friday that an indictment could lead to "potential death and destruction."

On the contrary: Violating his party's incessant claims to believe in states' rights and local control, House Judiciary Committee Chairman Jim Jordan (R-Ohio) wrote to Bragg demanding materials related to the investigation of hush-money payments to adult-film actress Stormy Daniels. It's bad enough to be silent about Trump's abusive rants, but to make a chamber of Congress part of Trump's defense team reveals the depth of the rot. https://www.washingtonpost.com/opinions/2023/04/23/mccarthy-debt-ceiling-plan-theater/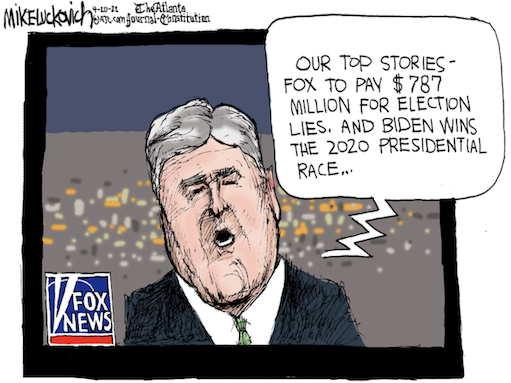 Jonathan Chait: Is DeSantis Just Not Dumb Enough for Republicans?
A little over four years ago, Elizabeth Warren's presidential campaign appeared to be, if not inevitable, then at least like the most strongly positioned candidacy to win her party's nomination. The former Harvard professor had won over a large segment of the progressive intelligentsia with her impressive array of domestic-policy proposals. But the enthusiasm of activists and intellectuals seemed to augur a groundswell of support from the base that never arrived.

The Warren precedent sprung to mind when Florida governor Ron DeSantis yesterday ventured to South Carolina, where he railed against the 'woke mind-virus,' which he defined, perhaps unhelpfully, as 'a form of cultural Marxism.' These are terms and concepts that have ricocheted across the conservative elite, especially Republicans trapped in New York, Washington, Silicon Valley, and other citadels of liberal elitism, where teachers and human-resource staffers have grown enamored of Robin DiAngelo–speak. But is this worldview, and the jargon DeSantis uses to express it, actually familiar to the voters? Are Republicans in South Carolina truly in a state of despair over 'cultural Marxism'?

DeSantis's struggles have consumed the national media and inspired sundry explanations. Perhaps his misanthropy is the problem… Maybe the issue is that Donald Trump was indicted. Maybe it's his refusal to engage the mainstream media. Or maybe his struggles are a passing phase, willed into existence by a campaign press corps that quadrennially seizes on any wisp of momentum, positive or negative, and blows it up into a self-perpetuating narrative, before getting bored and overcorrecting the other way… But the deepest problem may be that he has simply brain-poisoned himself into an abstract worldview that his constituents don't recognize. https://www.newyorker.com/news/letter-from-bidens-washington/fox-news-doesnt-do-apologies