October 6, 2016
ON THE RECORD. . .
"I never said I didn't pay taxes. [Hillary Clinton] said, 'Maybe you didn't pay taxes.' And I said, 'Well, that would make me smart,' because tax is a big payment. But a lot of people say, 'That's the kind of thinking that I want running this nation.'" -- Donald Trump 9/29/16
"I think he's great when he pivots. I would encourage him to do even more pivoting." — Trump campaign manager Kellyanne Conway.
"People who stay up at 3 and 4 and 5 o'clock in the morning tweeting about sex tapes — these are not normal people. And there is something the matter with him and I don't know what it is." —Former Gov. Howard Dean on Donald Trump's middle-of-the night tweet storm.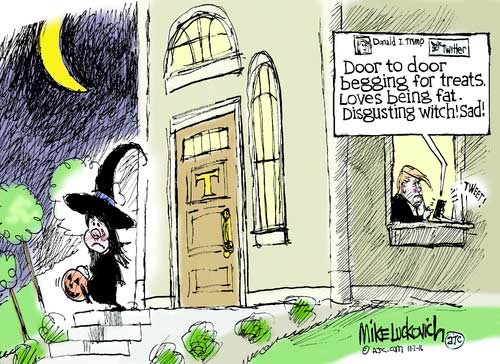 When I look at this year's presidential race, it's clear which candidate believes the same thing. Only one person running truly understands the struggles of an Akron child born into poverty. And when I think about the kinds of policies and ideas the kids in my foundation need from our government, the choice is clear. That candidate is Hillary Clinton." -- Cleveland Cavaliers star LeBron James 10/02/16
"Here's my question: What kind of genius loses a billion dollars in a single year? This is Trump to a T. He's taken corporate excess and made a business model out of it. He abuses his power, games the system, puts his own interests ahead of the country's. It's Trump first and everyone else last." -- Hillary Clinton 10/03/16
"Everybody does (have their own infidelities). You know, I'm a Roman Catholic and I confess those things to my priest." -- Rudolph Giuliani, a Trump surrogate, suggesting that that "everybody" commits infidelity
"Senator, you whipped out that Mexican thing again." -- Mike Pence responding to Tim Kaine who brought up Donald Trump's controversial comments about Mexican immigrants.10/04/16 https://www.yahoo.com/news/pence-that-mexican-thing-vp-debate-034257523.html
"67% of Americans said it is "selfish" for a presidential candidate to pay no taxes, 61% said it is "unpatriotic,"while some 46% of Americans, including 35% of Democrats and 62% of Republicans, thought a presidential candidate who pays no taxes is 'smart.'" -- New Reuters/Ipsos poll 10/05/16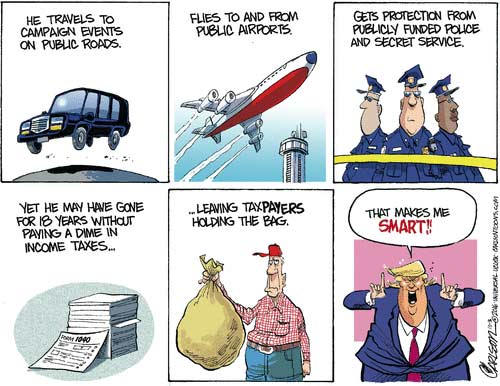 "He'll climb over your cold dead body and get on his helicopter, right?. I don't mean to be dramatic, but that's what's at stake." -- Rep. Tim Ryan (D-Ohio) 10/05/16 http://www.politico.com/story/2016/10/trump-ohio-workers-tim-ryan-229187
---
IN THIS ISSUE
1. Andy Borowitz: Christie Calls Trump Genius For Plan To Burn Down White House And Collect Insurance
2. The DAILY GRILL
3. From MEDIA MATTERS (They watch Fox News so you don't have to)
4. From the Late Shows
5. Political Ads/Statements
6. Why Not To Vote For Donald Trump From A-Z
7. I sold Trump $100,000 worth of pianos. Then he stiffed me.
8. Clinton Opens Up Wide National Lead
9. Trump Supporters Grow Angrier With Clinton
10. Trump Wanted to Fire Women Who Weren't Pretty Enough
11. How Donald Trump Turned the Tax Code Into a Giant Tax Shelter
12. How Russia Wants to Undermine the U.S. Election
13. Proud Adulterer Blames Woman For Not Stopping Husband's Adultery
14. Mark Fiore Animation: Debating the Debate
15. Late Night Jokes for Dems
1. Jonathan Chait: Will Clinton Lose the Corruption Issue to Trump?
2. Michael Tomasky: Hillary Clinton Saved the Bombshells for Round 2
3. Maria T. Cardona: America cannot elect a fat-shaming misogynist as president
4. USA TODAY's Editorial Board: Trump is 'unfit for the presidency'
5. Eugene Robinson: Trump falls into Clinton's artfully laid trap
6. Nicholas Kristof: That Seventh-Grade Bully Is Running for President
7. Joan Walsh: Donald Trump Is Being Outplayed by Women—and He's Losing His Mind Over It
8. Ruth Marcus: Most people grow out of middle school. Not Donald Trump.
9. Dana Milbank: Republicans predicted an Obamacare apocalypse. It hasn't happened.
10. Maureen Dowd: Girl Talk at Trump Tower
11. Washington Post Editorial: The clear and present danger of Donald Trump
12. Frank Bruni: Donald Trump's Pathetic Fraternity
13. Charles M. Blow: Donald Trump: Terroristic Man-Toddler 
14. E.J. Dionne Jr.: Trump's last tweet?
15. Greg Sargent: Mike Pence just revealed the core weakness of Trump's candidacy
1. Andy Borowitz: Christie Calls Trump Genius For Plan To Burn Down White House And Collect Insurance
Governor Chris Christie, of New Jersey, called Donald J. Trump a "genius" on Monday for his controversial plan to burn down the White House to collect insurance money.

Appearing on Fox News, Christie said that Trump's scheme to collect fire-insurance payments on the White House would "make a serious dent" in the national debt.

"It's not just the White House," Christie told Fox's Sean Hannity. "That building is chock-full of priceless antiques, paintings, and rugs, all of which, when burned, would fetch a pretty penny."

The New Jersey governor said that Trump's "totally genius business acumen" would set him apart from all previous Presidents. "We've had forty-plus occupants of the White House, and not one of them ever considered the business advantages of burning it down," Christie said.

Christie called criticism of the plan to burn down the White House "typical media bias," and said that Trump was moving forward with plans to see "how much he could get" for burning down the Lincoln Memorial. Read more athttp://www.newyorker.com/humor/borowitz-report/
2. The DAILY GRILL
Trump is increasingly invoking the specter of a conspiracy by big corporations, media companies and donors to elect Hillary Clinton. -- Politico 10/01/16

VERSUS

Only about one-third of Republicans say they have a great deal or quite a bit of confidence that votes on Election Day will be counted fairly." -- Associated Press-NORC Center for Public Affairs Research poll.

 

"Did Crooked Hillary help disgusting (check out sex tape and past) Alicia M become a U.S. citizen so she could use her in the debate?" -- Donald J. Trump @realDonaldTrump at 3 am.

VERSUS

What kind of man stays up all night to smear a woman with lies and conspiracy theories? -- Hillary Clinton @HillaryClinton

 

"Now the people who destroyed the emails are all pleading the Fifth Amendment in front of Congress today. Have you seen that is going on before Congress? Fifth Amendment, Fifth Amendment, Fifth Amendment — horrible, horrible." -- Donald Trump criticizing one of Clinton's former staffers and two outside computer experts who pleaded the Fifth during the investigation of her use of a private email server as secretary of state.

VERSUS

Trump Pleaded The Fifth 97 Times To Avoid Admitting To Adultery" --The Huffington Post 9/29/2016

 

"The reality is, this is part of our tax code. The man's a genius. He knows how to operate the tax code to the benefit of the people he's serving." -- Rudy Giuliani, on Trump exploiting loopholes in the tax code to get out of paying any income taxes. for nearly two decades.

"There's no one who's shown more genius in their way to maneuver around the tax code."--Gov. Chris Christie using the same talking points 10/02/16

VERSUS

"Trump is a billion-dollar loser who won't release his taxes because they'll expose him as a spoiled, rich brat who lost the millions he inherited from his father. Despite losing a billion dollars, Trump wants to reward himself with more tax breaks on inherited wealth while stiffing middle-class families who earn their paychecks with hard work." --Senate Minority Leader Harry Reid 10/02/16
3. From MEDIA MATTERS (They watch Fox News so you don't have to)
Trump Surrogate Jon Voight: Black People Will Vote For Trump "If They Can Be Educated" http://mediamatters.org/video/2016/09/29/trump-surrogate-jon-voight-black-people-will-vote-trump-if-they-can-be-educated/213444

Fox's Gingrich: Clinton Criticizing Trump's Sexist Attacks On Machado Are "The New Benghazi Lie" -- Gingrich: "An Ambush As False As Benghazi" http://mediamatters.org/video/2016/09/29/foxs-gingrich-clinton-criticizing-trumps-sexist-attacks-machado-are-new-benghazi-lie/213441

CNN's Lewandowski Lies About The Clinton Foundation: "They Haven't Saved Anybody's Lives" http://mediamatters.org/video/2016/09/29/cnns-lewandowski-lies-about-clinton-foundation-they-havent-saved-anybodys-lives/213440

Trump Ally: Former Miss Universe "Might As Well Have Been Sucking On A Helium Gun" -- Howie Carr: Alicia Machado's Weigh Gain Made Her "Unable To Perform The Function Of A Beauty Queen, Which Is Being Attractive To The Male Gender" http://mediamatters.org/video/2016/09/29/trump-ally-former-miss-universe-might-well-have-been-sucking-helium-gun/213431

Sean Hannity Unhinged: "America Lives Or Dies In 39 Days" http://mediamatters.org/video/2016/09/30/sean-hannity-unhinged-america-lives-or-dies-39-days/213466
4. From the Late Shows
Full Frontal with Samantha Bee: Advice She Didn't Ask For

The Daily Show With Noah : Donald Trump's Long History of Sexism

http://www.cc.com/video-clips/kqdjut/the-daily-show-with-trevor-noah-donald-trump-s-long-history-of-sexism

SNL Debate Cold Open: Donald Trump vs. Hillary Clinton -

Last Week with John Oliver: presidential debate with Donald Trump VS Hillary Clinton

The Late Show with Stephen Colbert: It Takes A Genius Like Donald Trump To Lose A Billion Dollars

Late Night with Seth Meyers: Trump's Terrible Week Continues: A Closer Look
5. Political Ads/Statements
Never said that | The Briefing

Having fun | The Briefing

What Donald Trump's tax returns reveal | The Briefing

Mike Pence couldn't defend Donald Trump at the Vice Presidential debate | The Briefing
6. Why Not To Vote For Donald Trump From A-Z
http://video.rollingstone.com/previews/AkLOQWBW-necgKPaX
7. I sold Trump $100,000 worth of pianos. Then he stiffed me.
During the first presidential debate Sept. 26, Republican presidential nominee Donald Trump said he takes advantage of the laws to ensure the success of his company. (The Washington Post)
At Monday night's debate, Donald Trump was called out for stiffing the people who work for him. Trump has been accused of failing to pay hundreds of contractors. And so far, he hasn't seemed very sorry. When asked about failing to pay someone by Hillary Clinton this week, Trump replied, "Maybe he didn't do a good job and I was unsatisfied with his work."
J. Michael Diehl, the retired owner of Freehold Music Center in Freehold, N.J., says he takes that attack personally. "I'm one of the many small business owners who've been used by Trump, exploited and forced to suffer a loss because of his corporation's shady practices." 9/28/16 https://www.washingtonpost.com/posteverything/wp/2016/09/28/i-sold-trump-100000-worth-of-pianos-then-he-stiffed-me/?utm_term=.02e7902c0837&wpisrc=nl_most-draw5&wpmm=1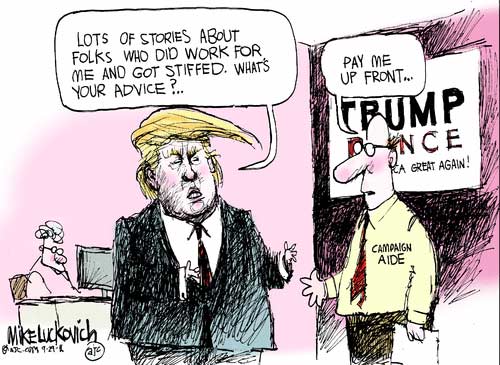 8. Clinton Opens Up Wide National Lead
A new Fairleigh Dickinson Public Mind poll finds that 50% of all likely voters say that if the election were held today, they would vote for Clinton, 40% would vote for Trump. When third-party candidates are included among the list of candidates, Clinton and Trump both experience a four percent reduction in support  - Clinton to 46% and Trump to 36%. 10/05/16 http://view2.fdu.edu/publicmind/2016/161005/
9. Trump Supporters Grow Angrier With Clinton
As Donald Trump slumps in the polls and spins from one controversy to another, many of his supporters are even angrier than before at his Democratic rival, Hillary Clinton.
For years, they have not liked or trusted her — many say it's fair to describe their feelings as ­hatred — and the nine days since Trump's poor debate performance have only confirmed and intensified their feelings. At several recent Trump rallies, anti-Clinton sentiment felt stronger than ever as attendees screamed out nicknames and criticisms of her, erupted in chants of "Lock her up!" and angrily accused reporters of promoting her candidacy.
Trump supporters have long worn shirts or buttons labeling Clinton a "b----," but there's a new T-shirt popping up at recent events with an even harsher message: "I wish Clinton had married O.J.," the former football star who was acquitted in 1995 on charges that he murdered his ex-wife. 10/05/16 https://www.washingtonpost.com/politics/as-clinton-gains-trump-supporters-seem-to-hate-her-more-than-ever/2016/10/04/07470fd6-871b-11e6-92c2-14b64f3d453f_story.html
10. Trump Wanted to Fire Women Who Weren't Pretty Enough
After the Trump National Golf Club in Rancho Palos Verdes opened for play in 2005, its world-famous owner didn't stop by more than a few times a year to visit the course hugging the coast of the Pacific.
When Trump did visit, the club's managers went on alert. They scheduled the young, thin, pretty women on staff to work the clubhouse restaurant  — because when Trump saw less-attractive women working at his club, according to court records, he wanted them fired. 9/29/16 http://www.latimes.com/projects/la-na-pol-trump-women/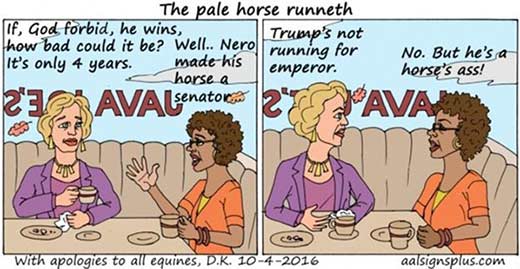 11. How Donald Trump Turned the Tax Code Into a Giant Tax Shelter
Now we know: Donald J. Trump racked up losses so huge in the early 1990s that he wouldn't have had to pay federal or New York State income tax on nearly a billion dollars in income.
None of this seems to have made the slightest dent in Mr. Trump's opulent lifestyle over the years. At the nadir of his personal financial crisis in the early 1990s, his lenders put him on a monthly "budget" of $450,000 in personal expenses — more than enough to sustain his lifestyle of lavish homes, private jets, country clubs and golf courses — even as he was using the tax code to avoid paying any federal income tax.
It's hard to imagine a starker contrast with the vast number of Americans who struggle to both pay taxes and make ends meet, or a more damning indictment of a tax code that makes that possible. http://nyti.ms/2cMLLOx http://www.nytimes.com/2016/10/03/business/how-donald-trump-turned-the-tax-code-into-a-giant-tax-shelter.html?em_pos=medium&emc=edit_cn_20161003&nl=first-draft&nl_art=9&nlid=74243604&ref=headline&te=1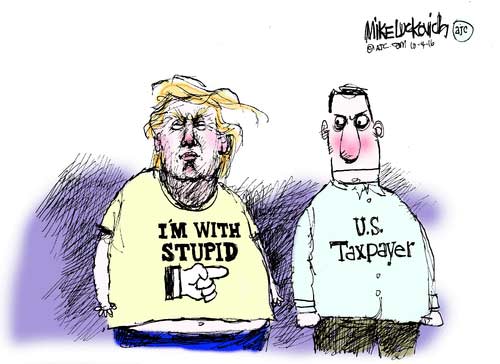 12. How Russia Wants to Undermine the U.S. Election
Russia's interference in the U.S. election is an extraordinary escalation of an already worrying trend. Over the past 2½ years, Russia has executed a westward march of election meddling through cyberspace, starting in the states of the former Soviet Union and moving toward the North Atlantic. "On a regular basis they try to influence elections in Europe," President Obama told NBC News on July 26. With Russia establishing beachheads in the U.S. at least since April, officials worry that in the final weeks of the campaign the Russian cybercapability could be used to fiddle with voter rolls, election-reporting systems and the media, resulting in confusion that could cast a shadow over both the next President and the democratic process. http://time.com/4512771/how-russia-wants-undermine-us-election/
13. Proud Adulterer Blames Woman For Not Stopping Husband's Adultery
Trump's attack on Bill Clinton's affair – which Hillary Clinton had nothing to do with–is a bizarre campaign strategy for a man whose own sordid affair captivated the country in 1990. But Trump's calling out Hillary Clinton for her husband's actions is the way Trump has always looked at marriage. Putting the onus on women to stop their husband's affairs is classic Trump. The way he handled his own messy personal life decades ago suggests a disdain for the wronged woman, her husband's philandering a sign of her own shortcomings. http://talkingpointsmemo.com/dc/proud-adulterer-blames-woman-for-not-stopping-husbands-adultery
14. Mark Fiore Animation: Debating the Debate
15. Late Night Jokes for Dems
"There are now about six more weeks left in the election. And we know that because this morning, Trump's hair popped out and saw its shadow." –Jimmy Fallon

"Yesterday, a group of Democratic senators sent a letter to Yahoo asking why they took so long to report the hack of 500 million users. That's how little faith they have in Yahoo email — they sent a LETTER." –Jimmy Fallon

"The organizer of the presidential debates is allowing social media users to vote on debate questions. That's why, as of today, the No. 1 question for the next presidential debate is 'hey, u up?'" –Conan O'Brien

"Donald Trump told an audience that before Monday's debate — this is a quote — 'I pretended I was talking to my family.' Then he admitted he frequently accuses his family of deleting emails and creating ISIS." –Conan O'Brien

"Yesterday was National Register to Vote Day. Singer Katy Perry got naked and told people to vote. The video got like 6 million views already. Hopefully it encouraged people to sign up. But here's the thing: Anyone who needs Katy Perry to take her shirt off in order to register to vote should not be allowed to register to vote." –Jimmy Kimmel

"SpaceX CEO Elon Musk announced plans yesterday to colonize Mars, saying the main requirement for early settlers would be that they are, quote 'ready to die.' Said Hillary, 'I'll let you know November 9th.'" –Seth Meyers
1. Jonathan Chait: Will Clinton Lose the Corruption Issue to Trump?
Donald Trump's campaign is signaling that its new, post-first-debate message will be an attack on Hillary Clinton's finances, under the catchphrase 'Follow the money.; This is probably Trump's most fruitful avenue of attack. The Clinton Foundation has created appearances of a conflict of interest, and the Clintons' policy of accepting speaking fees from any source as long as the check would clear the bank has tarnished her image, and months of bashing at the hands of Bernie Sanders left her branded in the mind of many young liberals as a handmaiden of Wall Street."
"And yet the notion that a voter ought to support Trump over Clinton on grounds of financial ethics or transparency is insane. Trump is corrupt on a world-historic scale. Andrew Prokop's summary merely skims the surface of a career that has left hardly any rule or norm of business conduct un-violated. It is not only Trump's history of misconduct, or even his ongoing abuse of his foundation for personal gain, but his astonishing promise, if elected, to continue to abuse his power to enrich himself by having his children manage his branded business that he will enhance via public office."
"Even if none of that were true, it remains the case that Trump has shattered modern precedent by refusing to disclose his tax returns. How on Earth can a candidate run on the slogan 'Follow the money' while stonewalling any questions about his own money?" 9/29/16 http://nymag.com/daily/intelligencer/2016/09/clinton-cant-let-trump-win-the-corruption-issue.html?mid=twitter-share-di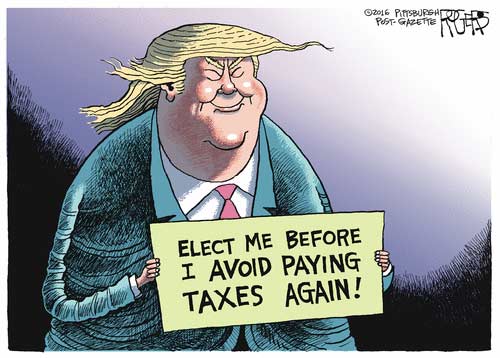 2. Michael Tomasky: Hillary Clinton Saved the Bombshells for Round 2
Come along with me, people, because it's already time to look ahead to the second debate. Consider this thought: Hillary Clinton took Donald Trump to the house Monday night without even playing some of the heaviest cards against him.
What did come up in the realm of Trump dirt? Really, just two things: his failure to pay income taxes, and his sexist remarks. They spent a lot of time on the taxes, and Trump's eye-popping remarks that "It would be squandered, believe me" seemed an oblique admission that he has not paid any net federal income tax. Then Clinton zinged him on his comments about the former Miss Universe, Alicia Machado, comments that Trump so coarsely doubled-down on the next morning.
Now consider: What didn't come up? Loads of things including Trump University, Trump Foundation,Trump's vow to create a giant police force to round up and deport 12 million people, how young female models in Trump's employ were working in the country illegally and were treated worse than many people treat their dogs, and ripping off contractors. There's tons more. 
Clinton should be more than ready. She has plenty of rounds in her magazine that she didn't fire Monday. Hillary Clinton Saved the Bombshells for Round 2. 9/28/16
http://www.thedailybeast.com/articles/2016/09/28/hillary-clinton-saved-the-bombshells-for-round-2.html
3. Maria T. Cardona: America cannot elect a fat-shaming misogynist as president
We are in Day 3 of the Alicia Machado-Donald Trump campaign debacle. At the end of Monday night's debate, Hillary Clinton landed quite a punch on an unsuspecting Trump.
She reminded Trump of the former Miss Universe who, after winning the crown in 1996, gained a few pounds, only to have Trump fat-shame her by forcing her to work out in front of a bunch of journalists.
At the time, Trump owned the Miss Universe pageant, and according to Ms. Machado, he called her horribly demeaning names like Miss Piggy and Miss Housekeeping, a particularly offensive remark given Ms. Machado is a Latina with an accent. 
He also publicly derided her on the Howard Stern show as "an eating machine."
Who knew that a two-decade-old episode of debasing, demeaning and dehumanizing a young, insecure 19-year-old Venezuelan woman would become a defining moment in Trump's misogynistic, racially fueled, divisive and bigoted presidential campaign?
So while this might be Day 3 of this issue, it certainly is not going away. The now-39-year-old Alicia Machado is ready to speak up, fight for and urge other Latinos and women and Americans who have ever felt bullied and belittled to have their voices heard by voting.
We should all do the same. That is how you stop Trump the bully in the political arena. Si se puede! http://thehill.com/blogs/pundits-blog/presidential-campaign/298484-america-cannot-elect-a-fat-shaming-misogynist-as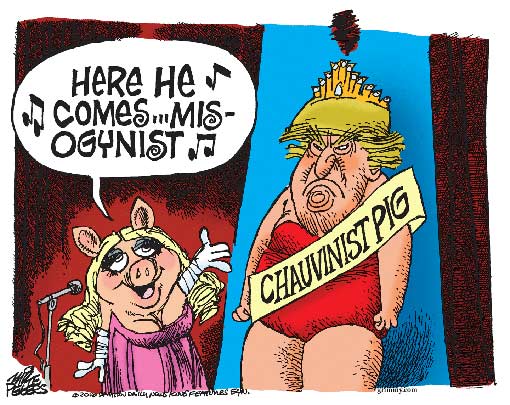 4. USA TODAY's Editorial Board: Trump is 'unfit for the presidency'
In the 34-year history of USA TODAY, the Editorial Board has never taken sides in the presidential race. Instead, we've expressed opinions about the major issues and haven't presumed to tell our readers, who have a variety of priorities and values, which choice is best for them. Because every presidential race is different, we revisit our no-endorsement policy every four years. We've never seen reason to alter our approach. Until now.
This year, the choice isn't between two capable major party nominees who happen to have significant ideological differences. This year, one of the candidates — Republican nominee Donald Trump — is, by unanimous consensus of the Editorial Board, unfit for the presidency.
From the day he declared his candidacy 15 months ago through this week's first presidential debate, Trump has demonstrated repeatedly that he lacks the temperament, knowledge, steadiness and honesty that America needs from its presidents.
Whatever you do, however, resist the siren song of a dangerous demagogue. By all means vote, just not for Donald Trump. http://www.usatoday.com/story/opinion/2016/09/29/dont-vote-for-donald-trump-editorial-board-editorials-debates/91295020/?siteID=je6NUbpObpQ-bkfzqrQdqXzptgbKSEWbtA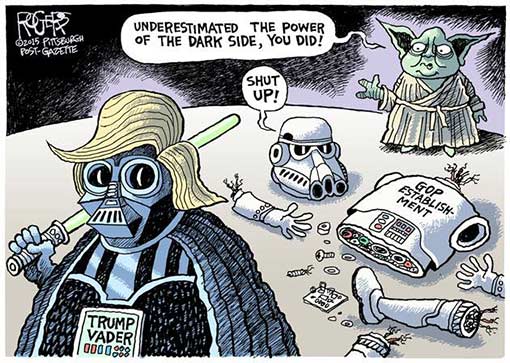 5. Eugene Robinson: Trump falls into Clinton's artfully laid trap
It is hopelessly retro, but perhaps unsurprising, that womanhood has become a prominent issue in the presidential race. This has to be bad for Donald Trump, a hall-of-shame sexist — and good for Hillary Clinton, an actual woman.
It was political idiocy for Trump to fall into Clinton's artfully laid trap at the debate Monday night when she mentioned how he treated the woman who won his Miss Universe pageant in 1996: "He called this woman 'Miss Piggy.' Then he called her 'Miss Housekeeping,' because she was Latina. Donald, she has a name."
Clinton was referring to Alicia Machado, whom Trump threatened with taking away her title after she gained a few pounds. Trump seemed flustered and could only respond with a complete non sequitur — a defense of the many ugly things he has said about comedian Rosie O'Donnell, maintaining that "I think everybody would agree that she deserves it and nobody feels sorry for her."
I, for one, do not think O'Donnell, or any other woman, deserves being called "a slob" who is "disgusting" and has "a fat, ugly face," among other gross insults Trump has hurled over the years. But aside from congratulating himself for his restraint in not saying something "extremely rough to Hillary, to her family," Trump had no response to the question of his treatment of Machado. 9/29/16 https://www.washingtonpost.com/opinions/trump-falls-into-clintons-artfully-laid-trap/2016/09/29/153fb6b4-867c-11e6-a3ef-f35afb41797f_story.html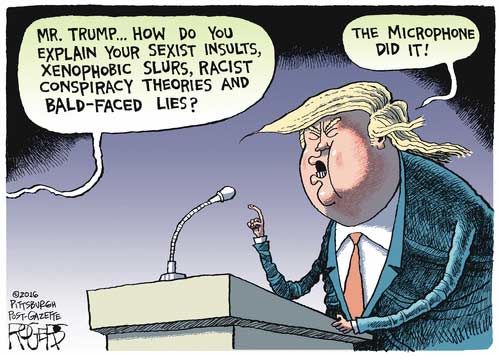 6. Nicholas Kristof: That Seventh-Grade Bully Is Running for President
Something about Trump is paradigmatic of the most atrocious kind of seventh-grade boy: The boasts about not doing homework, the habit of blaming others when things go wrong, the penchant for exaggerating everything into the best ever, the braggadocio to mask insecurity about size of hands or genitals, the biting put-downs of others, the laziness, the self-absorption, the narcissism, the lack of empathy — and the immaturity that reduces a woman to her breasts.
O.K., now I've just insulted 13-year-old boys by comparing them to the man who may become our next president. Sorry, kids, most of you are far better than that!
Trump is puerile not only where gender is concerned. He also seems to boast about what he can get away with, such as not paying taxes.
When Clinton noted in the debate that for at least a couple of years he paid no federal income tax at all, Trump responded, "That makes me smart!" He seems to think that people who pay taxes are chumps — which is irritating for all of us who do pay taxes and would love to glimpse his returns.
There are important policy reasons to reel at the thought of Trump in the White House, but voters perhaps flinch even more at his personal conduct: We already run into enough jerks in daily life, so why would we want one as our head of state?
Middle school is the wrenching, jungle stage of life that we all must struggle through. Why would we subject ourselves to a "leader" who is permanently in the seventh grade? 9/29/16 http://www.nytimes.com/2016/09/29/opinion/that-seventh-grade-bully-is-running-for-president.html?ref=opinion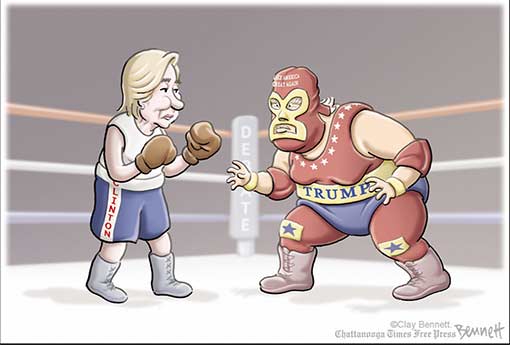 7. Joan Walsh: Donald Trump Is Being Outplayed by Women—and He's Losing His Mind Over It
Four days after his pathetic debate performance, Donald Trump is still digging himself deeper down the hole that Hillary Clinton dispatched him to on Monday night when she disclosed his racist and sexist treatment of former Miss Universe Alicia Machado. He didn't deny Clinton's claims that he'd fat-shamed his employee, calling her "Miss Piggy" and "Miss Housekeeping"; he essentially confirmed it, telling Fox and Friends the next morning that she'd gained weight and it was a problem for him. Then his allies began attacking Machado for rumors that she'd been involved in a murder plot—she was never charged, with anything—and in the porn trade. The story's latest twist is Trump's meltdown in the wee small hours of Friday morning, attacking both Clinton and Machado on Twitter, and urging his 11 million followers to look at a "sextape" of Machado (one that Snopes.com says doesn't actually exist).
We already know the Trump phenomenon channels the tremendous and tragic backlash to the advancements of women and people of color in the last few decades. The folks in those "Make America Great Again" hats are almost always white and usually male. They are in thrall to a reassuring story that restores men to the head of society and whites to their central, superior place. Sure, there's a strain of economic anxiety that reflects troubling economic trends for the white working class over the last 40 years. But Trump is also relying on male anger at female advancement. His serial adultery and his swaggering misogyny are key to his appeal to some older white men.
But they're appalling to women of every race and age group, who are coming to see Trump as the belittling boss and callow playboy who shames employees, wives, and daughters alike with cruel or crude comments about their appearance. The notion of a man who is clinically obese fat-shaming a beautiful but curvy young woman exemplifies the double standard that reduces women to their youth and beauty, but allows men (especially wealthy ones) a lifetime of presumed virility and social prestige. https://www.thenation.com/article/donald-trump-is-being-outplayed-by-women-and-hes-losing-his-mind/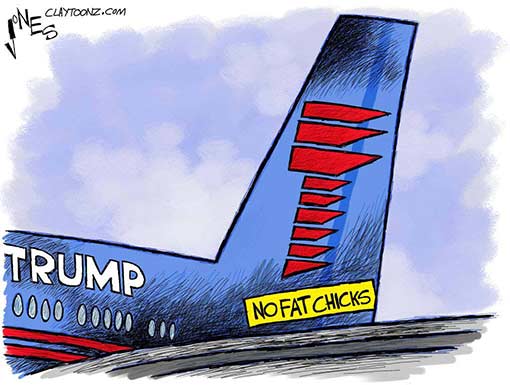 8. Ruth Marcus: Most people grow out of middle school. Not Donald Trump.
Perhaps the best way to understand Donald Trump is as a case of arrested development.
In terms of personality and worldview, Trump is stuck in middle school. Early middle school.
And that's being charitable.
Part of growing up is developing self-control. Trump never has. Listen to him in the presidential debate, interjecting compulsively, and flash back to seventh grade and the boy in the back of the class who kept interrupting the teacher with wisecracks. It was amusing the first time or two. Then it became annoying.
We grew so inured to Trump's antics during the primary campaign that there is a risk of forgetting how great a departure his mugging for the camera and interrupting opponents is from the rather staid norm, especially during general-election debates. Trump interrupted Hillary Clinton and moderator Lester Holt a whopping 55 times . "Not," Trump said. "Wrong." "Facts." "Take a look at mine." 9/30/16 https://www.washingtonpost.com/opinions/most-people-grow-out-of-middle-school-not-donald-trump/2016/09/30/f8de0d7e-8732-11e6-a3ef-f35afb41797f_story.html
9. Dana Milbank: Republicans predicted an Obamacare apocalypse. It hasn't happened.
Americans remain split on Obamacare, but this is about partisanship and feelings about President Obama, not the law. Individual Republicans claim they've been personally hurt by the law, while Democrats say they've been helped. In reality, few have been affected one way or the other. Even doctors polled about Obamacare split along party lines. The few health-care issues that do register with voters, such as rising deductibles and drug prices, have nothing to do with Obamacare.
In normal times, lawmakers would help the couple of million who have been hurt by Obamacare, by using "risk stabilization" to give insurers incentives to stay in non-lucrative markets. They could also provide a government insurance plan — the dreaded "public option" — for such markets.
Instead, foes of the original law are sabotaging the marketplaces by refusing to implement such risk-stabilization plans the way they did with previous health-care changes. "We're in a boat, somebody's shooting holes in the boat and then they're complaining that there's water in the boat," Burwell protested.
The irony here is that the "big government" parts of the program — expanding Medicaid, ordering coverage expansions and removing coverage limits and exclusions — are working just fine. What's struggling is the law's attempt to preserve the free market: the Obamacare exchanges.
There are still big problems in the U.S. health-care system. The biggest is that 27 million people still don't have insurance. Lawmakers motivated by something other than vindictiveness could do more for them and for the small minority hurt by Obamacare. 9/30/16 https://www.washingtonpost.com/opinions/republicans-predicted-an-obamacare-apocalypse-it-hasnt-happened/2016/09/30/7fa2c6c6-8709-11e6-a3ef-f35afb41797f_story.html?utm_term=.0dd4912d99db or http://wpo.st/W0u12
10. Maureen Dowd: Girl Talk at Trump Tower
He has done us an enormous public service.
After this down-and-dirty battle of the sexes, we will never look at gender in politics the same way.
For centuries, women were seen as unfit to hold public office. Ambition, power and business were the province of men. Unlike gossipy feminine chatter in the parlor, manly discourse was considered impersonal, unemotional, forthright and reasonable.
Every minute of every day, Trump debunks that old "science" when he shows that the gossipy, backbiting, scolding, mercurial, overly emotional, shrewish, menopausal one in this race is not the woman.
Trump is surrounded by a bitchy sewing circle of overweight men who are overwrought at the prospect of a distaff Clinton presidency.
Newt Gingrich, Chris Christie, Roger Ailes and Rudy Giuliani are the Really Desperate Housewives of Trumpworld. They are so shrill that Trump sometimes needs to remind them that he's the Queen Bee. 10/02/16 http://www.nytimes.com/2016/10/02/opinion/sunday/girl-talk-at-trump-tower.html?emc=eta1 or http://nyti.ms/2d4scgk or http://nyti.ms/2d4r4te
11. Washington Post Editorial: The clear and present danger of Donald Trump
IF YOU know that Donald Trump is ignorant, unprepared and bigoted, but are thinking of voting for him anyway because you doubt he could do much harm — this editorial is for you.
Your support of the Republican presidential nominee may be motivated by dislike of the Democratic alternative, disgust with the Washington establishment or a desire to send a message in favor of change. You may not approve of everything Mr. Trump has had to say about nuclear weapons, torture or mass deportations, but you doubt he could implement anything too radical. Congress, the courts, the Constitution — these would keep Mr. Trump in check, you think.
Well, think again. A President Trump could, unilaterally, change this country to its core. By remaking U.S. relations with other nations, he could fundamentally reshape the world, too.
Given Mr. Trump's ever-evolving positions, and the apparent absence of fundamental beliefs other than in his own brilliance, it would be foolish to make flat predictions of how he would behave. Nor do we underestimate the resilience of the U.S. system or the devotion that U.S. government workers bring to the rule of law.
But it would be reckless not to consider the damage Mr. Trump might wreak. Some of that damage would ensue more from who he is than what he does. His racism and disparagement of women could empower extremists who are now on the margins of American politics, while his lies and conspiracy theories could legitimize discourse that until now has been relegated to the fringe. But his scope for action should not be underestimated, either. In our upcoming editorials, we will examine some arenas where Mr. Trump has been relatively clear about his intentions — and where presidential powers are mighty. We hope you will read them before you vote. 9/30/16 https://www.washingtonpost.com/opinions/a-wrecking-ball-in-the-white-house-the-damage-trump-could-do-from-day-one/2016/09/30/1c69e9cc-85b5-11e6-a3ef-f35afb41797f_story.html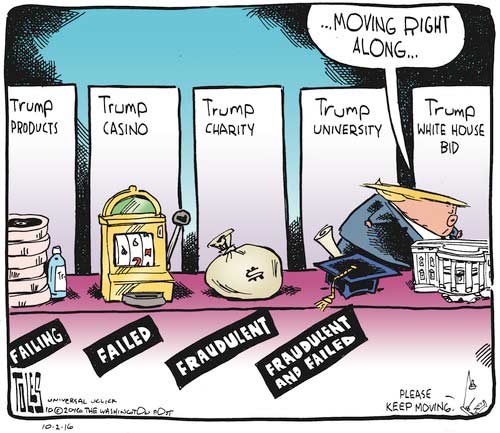 12. Frank Bruni: Donald Trump's Pathetic Fraternity
The Trump campaign has shown me many things that I never thought I'd see and others that I'd never seen so clearly, including the readiness of power-hungry men to trade dignity for relevance and swap pride for a place at the table, even if the table is a despicable one.
Christie made that deal with shocking alacrity, apparently on the theory that by getting to the table first, he could snag the best seat. It was flawed thinking. Mike Pence was given the marquee assignment; Christie was subjected to repeated public humiliations, including an admonition by Trump to stay away from Oreos.
Rudy Giuliani made that deal, too, and Trump has been his ticket to a renewed and terrifying omnipresence. His expression — part sneer, part glare, all menace — turns small forest creatures to stone. At the sound of his voice, roses drop their petals.
He was railing last week about Bill Clinton's sexual history, a kooky case forhim, in particular, to prosecute. Back when he was the mayor of New York, he was no choirboy, and his wife then — No. 2 of three — learned in a famously cruel fashion that he'd be leaving her. He announced it at a news conference.
But then hypocrisy and irony aren't words with much currency on Team Trump, which is crowded with men, starting with Trump himself, whose ugly track records with marriage don't inhibit them from condemning the Clintons' union and whose viciousness toward women doesn't stop them from damning the Clintons as vicious toward women. 10/02/16 http://www.nytimes.com/2016/10/02/opinion/sunday/donald-trumps-pathetic-fraternity.html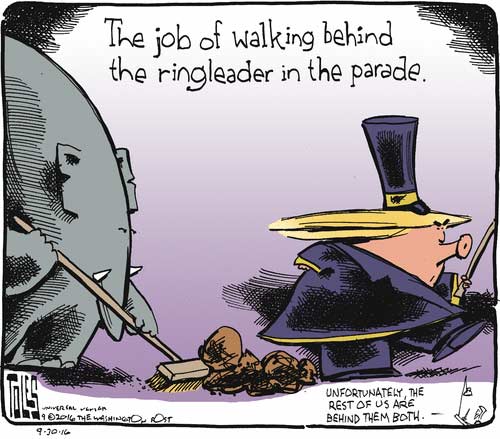 13. Charles M. Blow: Donald Trump: Terroristic Man-Toddler
Donald Trump is a domestic terrorist; only his form of terror doesn't boil down to blowing things up. He's the 70-year-old toddler who knows nearly nothing, hurls insults, has simplistic solutions for complex problems and is quick to throw a tantrum. Also, in case you didn't know it, this toddler is mean to girls and is a bit of a bigot.
It isn't so much that he is a strict disciple of radical ideology, but rather that he is devoid of fixed principles, willing to do anything and everything to gain fame, fortune and power. He has an endless, consuming need for perpetual affirmation. This is a bully who just wants to be liked, a man-boy nursing a nagging internal emptiness.
He's fickle and spoiled and rotten.
So, when he loses at something, anything, he lashes out. When someone chastises him for bad behavior, he chafes. This is the kind of silver-spoon scion quick to yell at those he views as less privileged, and therefore less-than, "Do you know who I am?"
We do now, sir.
America is in need of a leader, not a puerile, sophomoric sniveler who is too easily baited and grossly ill-behaved.
Go to your gilded room, Donald. The adults need to pick a president. 10/03/16 http://www.nytimes.com/2016/10/03/opinion/campaign-stops/donald-trump-terroristic-man-toddler.html?_r=0
14. E.J. Dionne Jr.: Trump's last tweet?
Donald J. Trump has now driven home, in a way no apologist, enabler or timid analyst can plausibly deny, that he is far too nasty, immature and frighteningly undisciplined to be president.
And thanks to Hillary Clinton for the assist: By using the first debate to bring up the case of a Miss Universe who, Trump decided, had put on too much weight, the Democratic nominee unleashed the ugly inner Donald — the man whom the candidate and his handlers have been trying to hide.
This should be a wake-up call to political analysts who have gone out of their way since Trump announced his candidacy to pretend that he was the ingenious creator of a political special sauce who deserved our respect for "speaking his mind." No, Trump all along has been a clinically self-involved con man who never took the issues, the presidency or the future of our country seriously. Can there be any doubt that his campaign is a branding exercise gone, quite literally, mad?
Trump's gift to voters was a series of tweets he started sending out at 3:20 a.m. Friday morning. His behavior gives new meaning to the old ads about 3 a.m. phone calls questioning how a would-be president might respond to crisis. Beware any human being who feels an impulse to send out angry tweets at that hour. 10/02/16 https://www.washingtonpost.com/opinions/thank-you-trump-for-exposing-your-ugly-inner-self/2016/10/02/e7051490-8745-11e6-92c2-14b64f3d453f_story.html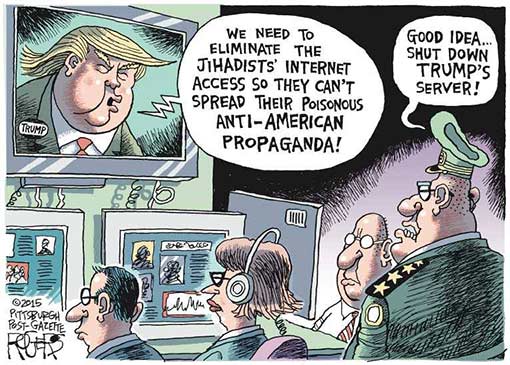 15. Greg Sargent: Mike Pence just revealed the core weakness of Trump's candidacy
Even Pence's undeniably solid performance last night confirmed the basic outlines of this state of affairs. Pence was much more in command of policy, had a smoother, more likable delivery, and prosecuted a stronger case against Clinton than Trump did at his debate. But even there, the intended audience for Pence's arguments — the attacks on Clinton's emails and the Clinton Foundation; the tale that as Secretary of State, Clinton left the Middle East in flames — was mostly GOP base voters.
While such attacks might keep alive doubts about Clinton in the minds of college educated whites and suburban women, what did Pence say that might get them to reconsider their potentially irreversible alienation at the hands of Trump's ignorance, bigotry, chauvinism and unstable temperament? He barely even tried. In essence, what Pence could not successfully do last night is persuade college educated whites and suburban women that Trump is not a racist, is not sexist, and is not dangerously insane. 10/05/16 https://www.washingtonpost.com/blogs/plum-line/wp/2016/10/05/mike-pence-just-revealed-the-core-weakness-of-trumps-candidacy/