December 23, 2021
ON THE RECORD. . .
"We are closer to civil war than any of us would like to believe." — Barbara Walter, in her forthcoming book, How Civil Wars Start.

"I will keep spending it because there is no tomorrow. We lose our country. We either only have two paths: either it gets changed before the 2022 election or we lose our country forever. I will spend every dime I have. I will spend whatever it takes." — MyPillow CEO Mike Lindell told CNBC he has spent $25 million of his own money pushing the false claim that the election was stolen from Donald Trump and he plans to keep spending through the 2022 midterm elections.

"There are people in this country that are Jewish no longer love Israel… I'll tell you, the evangelical Christians love Israel more than the Jews in this country." — Donald Trump to an Israeli journalist.

"There has to be a resignation that there is something deeply broken in this country. The administration has done everything it can do. We'll see how we respond this time. Virtually all these deaths have been preventable since April." — A Biden administration official about the new surge in Covid-19 cases.

"I am deeply saddened in this moment because much needed resources we have fought all year for, that we have fought for decades for, are not coming, We were concerned that Manchin and others weren't negotiating in good faith. And that's exactly what's playing out in real time." — Rep. Jamaal Bowman (D-N.Y.)

Just 27% of Republicans accept President Biden as the winner of the 2020 election. -- New Bright Line Watch poll 

"It is highly likely that Bannon really gave the order to breach the Capitol and maneuvered patriots into dangerous positions. A neophyte Steve Bannon was willing to try crazy things like this to curry favor with Trump who had no interest in Bannon's bullshit." — Roger Stone, who has long been at odds with Bannon over the latter "testify[ing] falsely" against him during his criminal trial.

"Democrats are going to vote on a revised version of the House-passed Build Back Better Act—and we will keep voting on it until we get something done." — Senate Majority Leader Chuck Schumer leading the charge to rescue Biden's agenda.

Strange how Manchin never asked "how we will pay for" the $768,000,000,000 defense budget. — Robert Reich

"It'll be over my dead body that I'll have to get a shot. If enough of us, though, rise up and say, 'No, enough is enough' — There are more of us than there are of them!" — Sarah Palin gloating about being unvaccinated, telling an audience over the weekend that they should "stiffen" their spines against pressure to get vaccinated.

"I don't think I can rebrand. I think this will follow me forever. I believe that I was part of something unusually evil, and I hope that it was a one-time lesson for our country and that I can be a part of making sure that at least that evil doesn't come back now."
— Former Trump aide Stephanie Grisham, in an interview with New York Magazine.

"Maybe we underinvested in research on human behavior. I never imagined a year ago ... that we would still have 60 million people" not get vaccinated. — Dr. Francis Collins on what NIH could have done differently during the pandemic?

"There's a reason historically that the runner-up is almost always the next nominee. That's been true going back to Nixon or Reagan, or McCain or Romney. That's played out repeatedly." -- Sen. Ted Cruz (R-Tex.) explaining that since he "placed second" during the 2016 GOP primaries he thinks it's very likely he'll win the Republican presidential nomination in 2024.
THE WEEK'S BEST QUOTES....
"You were the hero on J6, Steve. You were the guy who had the strategy to go up to Capitol Hill. Pence was the quarterback. We had 100 people working on the team who were going to make sure we remanded the results back to the battleground states." — Former Trump adviser Peter Navarro revealing what appeared to be a plot to overthrow a legitimate presidential election in an interview with Steve Bannon.
Litigation Tracker: Pending Criminal and Civil Cases Against Donald Trump
---
IN THIS ISSUE
IN THE NEWS
OPINION
Andy Borowitz: Hannity Sent Texts Warning Trump That Capitol Riot Was Helping CNN's Ratings
The Fox News host Sean Hannity sent a series of urgent texts on January 6, 2021, warning Donald J. Trump that the attack on the U.S. Capitol was boosting CNN's ratings.

In the texts, released by the House select committee investigating the attack, Hannity described a doomsday scenario in which the insurrection helped lift CNN over Fox in the cable news ratings contest.

"CNN will get better numbers out of this than we will," Hannity warned Trump. "A lot of our viewers can't watch because they're busy rioting."

The texts showed Hannity pleading with Trump to beseech the rioters to prevent CNN from reaping ratings gold.

"You and I are on the same page as far as undermining democracy goes, but we need to think big picture here," Hannity wrote. https://www.newyorker.com/humor/borowitz-report/
Bloomberg: Biden's Economic Performance Has Proved Unbeatable
U.S. financial markets are outperforming the world by the biggest margin in the 21st century, and with good reason: America's economy improved more in Joe Biden's first 12 months than any president during the past 50 years notwithstanding the contrary media narrative contributing to dour public opinion. https://democrats.org/news/icymi-bloomberg-bidens-economic-performance-has-proved-unbeatable/
Republicans' belief in Trump's 'Big Lie' holds steady as confidence in U.S. elections dips
Just over a quarter of Republicans accept President Biden as the winner of the 2020 election, according to a new survey that underscores the instability of American democracy and the growing partisan divide over the legitimacy of elections.
"There was a hope there would see growing acceptance of Biden's victory over time, as people moved away from the 'Stop the Steal' movement after Jan. 6. Instead, we saw the numbers stay in place," said Brendan Nyhan, a Dartmouth political scientist and one of the founders of Bright Line Watch, an organization that monitors the health of U.S. democracy.
Sinking confidence in election outcomes appears to have been fueled by former President Trump's "Big Lie" — his continued claims of voter fraud in key states, even though such allegations were repeatedly discredited in numerous lawsuits and audits. The fallout of such lies was especially evident on Jan. 6, when thousands of Trump supporters violently stormed the U.S. Capitol in a brazen attempt to halt lawmakers' certification of Biden's victory. https://www.latimes.com/politics/story/2021-12-16/republicans-belief-in-trumps-big-lie-holds-steady-as-eroding-confidence-in-u-s-elections-wanes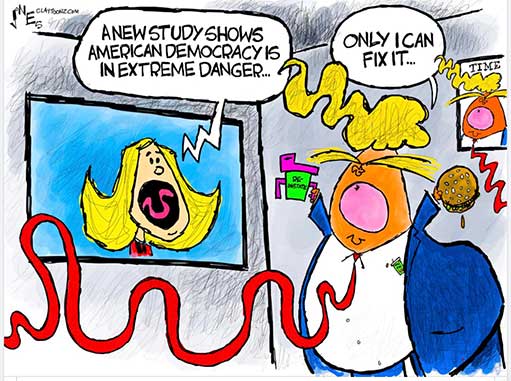 State legislators gear up to pass a 'tidal wave' of voting restrictions ahead of crucial 2022 midterms
The push to impose voting restrictions at the state level is poised to continue next year as Republicans drive forward with an array of new proposals -- ranging from legislation that would eliminate ballot drop boxes to bills that would establish new ID requirements to vote.
In Georgia, for instance, state Sen. Butch Miller, a Republican and president pro tempore of the state Senate, this month introduced legislation that would ban the use of ballot drop boxes in a state that already passed a law this year dramatically restricting their use. In Florida, Republican Gov. Ron DeSantis, wants to establish a new law enforcement office to investigate election crimes. In Arizona, another battleground state, one bill would establish new voter ID requirements.
Lawmakers in four states already have pre-filed at least 13 bills for the 2022 legislative sessions that would make it harder to cast a ballot, according to an analysis released Tuesday from the liberal-leaning Brennan Center for Justice at New York University's law school. https://www.cnn.com/2021/12/21/politics/gop-state-officials-prepare-new-wave-of-voting-restrictions/index.html
Pelosi announces plans for 'solemn observance' of first anniversary of Jan. 6 insurrection
House Speaker Nancy Pelosi has indicated there will be a "full program of events" to mark the first anniversary of the Jan. 6 insurrection, in which a pro-Trump mob stormed the U.S. Capitol to try to stop the confirmation of President Biden's electoral college win, a siege that resulted in five deaths and left some 140 law enforcement officers injured.
"Already, preparations are underway for a full program of events, including a discussion among historians about the narrative of that day; an opportunity for Members to share their experiences and reflections from that day; and a prayerful vigil in the evening," Pelosi wrote. https://www.washingtonpost.com/politics/2021/12/20/nancy-pelosi-jan-6-insurrection-anniversary/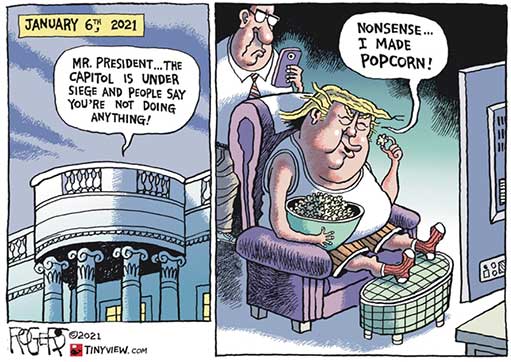 Omicron Threatens Red America
In the U.S., partisanship is the biggest factor determining vaccination rates. If Democratic voters made up their own country, it would be one of the world's most vaccinated, with more than 91 percent of adults having received at least one shot. Only about 60 percent of Republican adults have done so.
This vaccination gap has created a huge gap in death rates, one that has grown sharply during the second half of the year. https://www.nytimes.com/2021/12/17/briefing/omicron-spread-red-america.html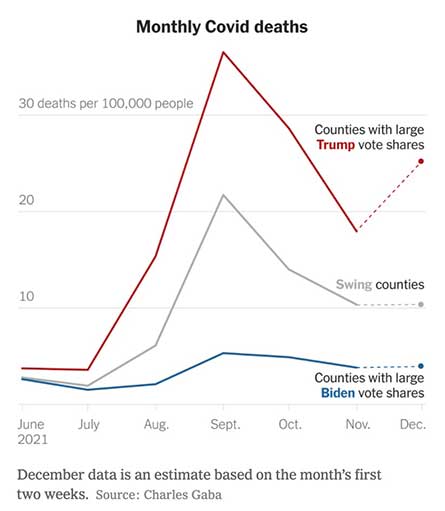 Manchin's opposition to Build Back Better bill undercuts Biden's climate agenda
President Biden's climate agenda suffered a massive setback Sunday after Sen. Joe Manchin III (D-W.Va.) pulled his support from Democrats' spending bill, potentially dooming the legislation amid warnings from scientists that the world is running out of time to prevent climate change's most catastrophic effects.
Manchin's comments on "Fox News Sunday" put at risk a $555 billion package of tax credits, grants and other policies aimed at lowering greenhouse gas emissions that would rank as the largest clean-energy investment in U.S. history. The legislation's passage would have helped Biden meet his goal of cutting America's greenhouse gas emissions in half compared with 2005 levels by 2030. https://www.washingtonpost.com/climate-environment/2021/12/19/manchin-climate-build-back-better/
Texas AG Paxton's $2.2M voter fraud unit closed three cases in Texas in 2020, GOP lawmakers still boosted its budget.
Texas Republican Attorney General Ken Paxton has been one of former President Donald Trump's most reliable allies in spreading the myth of widespread voter fraud, Donald particularly in the 2020 election, and frequently boasts that few states are as vigilant.
His office's election integrity unit added two lawyers to the team in the last year, bringing it up to six staffers total, and worked more than 20,000 hours between October 2020 and September 202Its budget, meanwhile, ratcheted up from $9 to $2.2 million during that time.
Yet records from the office show that the unit closed just three cases this year, down from 17 last year, and opened seven new ones. That includes the newly created unit focused on the 2021 local elections, which has yet to file a single case….
Paxton's office has not uncovered any evidence of voter fraud in 2020 beyond isolated incidents affecting a handful of votes in an election in which more than 11 million Texans cast ballots. https://electionlawblog.org/?p=126369
Dallas QAnon Cultists Are Drinking Toxic Chemicals from A Communal Bowl, Family Says
The family of a Dallas' QAnon cult member is sounding the alarm.
Multiple members of the Leek family confirmed that their relative, who left her husband and children behind in Delaware to follow a fringe QAnon cult leader to Dallas last month, has been drinking a chemical cocktail containing chlorine dioxide, an industrial disinfectant, among other substances. 
People posing as medical professionals continue to sell chlorine dioxide-based products online. They found an especially eager consumer base amongst QAnon followers, who think that the COVID-19 vaccine is part of a malicious government conspiracy. https://www.dallasobserver.com/news/dallas-qanon-cult-members-are-drinking-toxic-chemicals-en-masse-13038506
Kanye West's 'Independent' Campaign Was Secretly Run by GOP Elites
New documents show Kanye West's doomed White House campaign—styled as an "independent" third-party effort—appears to have disguised potentially millions of dollars in services it received from a secretive network of Republican Party operatives, including advisers to the GOP elite and a managing partner at one of the top conservative political firms in the country.
Potentially even more alarming? The Kanye 2020 campaign committee did not even report paying some of these advisers, and used an odd abbreviation for another—moves which campaign finance experts say appear designed to mask the association between known GOP operatives and the campaign, and could constitute a violation of federal laws.
At the heart of Kanye's political operation was Holtzman Vogel, one of the most powerful and well-connected law firms serving major Republican political and nonprofit organizations today. And weaved throughout his campaign, whether the multi-platinum rapper realized it or not, were Republican operatives who may have been less interested in seeing a President West than in re-electing President Donald Trump. https://www.thedailybeast.com/kanye-wests-independent-campaign-was-secretly-run-by-gop-elites
Far-right using COVID-19 theories to grow reach, study shows
"The Jews own COVID just like all of Hollywood," the accompanying text says. "Wake up people."
The post is one of many that white supremacists and far-right extremists are using to expand their reach and recruit followers on the social media platform Telegram, according to the findings of researchers who sifted through nearly half a million comments on pages — called channels on Telegram — that they categorized as far-right from January 2020 to June 2021.
The tactic has been successful: Nine of the 10 most viewed posts in the sample examined by the researchers contained misleading claims about the safety of vaccines or the pharmaceutical companies manufacturing them. One Telegram channel saw its total subscribers jump tenfold after it leaned into COVID-19 conspiracy theories. https://apnews.com/article/coronavirus-pandemic-business-health-race-and-ethnicity-europe-1952ea369c0f4afdb6d23c7706aaadc8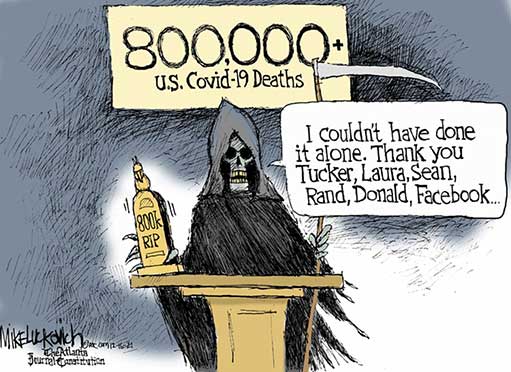 Dominion Defamation Suit Against Fox News Can Proceed
Fox News probably had enough information after the 2020 presidential election to know a conspiracy theory claiming Dominion Voting Systems Inc. rigged the contest was false, a judge said in denying the network's request to dismiss a defamation lawsuit.
Delaware state court Judge Eric M. Davis on Thursday ruled Dominion had presented enough factual allegations against Fox for the $6 billion lawsuit to proceed. https://www.bloomberg.com/news/articles/2021-12-17/dominion-defamation-suit-against-fox-gets-go-ahead-from-judge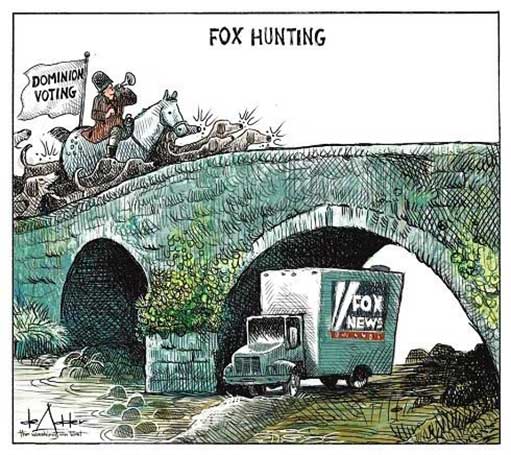 R.N.C. Agrees to Pay Up to $6 Million of Trump's Personal Legal Bills
The Republican National Committee has agreed to cover up to $6 million of Donald Trump's personal legal bills, in an unusual arrangement under which the party is paying to defend the former president from ongoing investigations that focus on his private business practices. https://www.nytimes.com/2021/12/16/us/politics/rnc-trump-investigations.html
Trump White House made 'deliberate efforts' to undermine Covid response
The Trump administration engaged in "deliberate efforts" to undermine the U.S. response to the coronavirus pandemic for political purposes, a congressional report released Friday concludes.
The report, prepared by the House select subcommittee investigating the nation's Covid response, says the White House repeatedly overruled public health and testing guidance by the nation's top infectious disease experts and silenced officials in order to promote then-President Donald Trump's political agenda. https://www.nbcnews.com/politics/congress/trump-white-house-made-deliberate-efforts-undermine-covid-response-report-n1286211
Jan 6 investigators believe Nov. 4 text pushing 'strategy' to undermine election came from Rick Perry
Members of the House Select Committee investigating the January 6 attack on the US Capitol believe that former Texas Governor and Trump Energy Secretary Rick Perry was the author of a text message sent to then-White House chief of staff Mark Meadows the day after the 2020 election pushing an "AGRESSIVE (sic) STRATEGY" for three state legislatures to ignore the will of their voters and deliver their states' electors to Donald Trump, three sources familiar with the House Committee investigation tell CNN.
A spokesman for Perry told CNN that the former Energy Secretary denies being the author of the text. Multiple people who know Rick Perry confirmed to CNN that the phone number the committee has associated with that text message is Perry's number.
The cell phone number the text was sent from, obtained from a source knowledgeable about the investigation, appears in databases as being registered to a James Richard Perry of Texas, the former governor's full name. https://www.cnn.com/2021/12/17/politics/rick-perry-jan-6-text-mark-meadows-nov-4/index.html
Meadows and the Band of Loyalists: How They Fought to Keep Trump in Power
The lawmakers — all of them members of the ultraconservative House Freedom Caucus — worked closely with the White House chief of staff, Mark Meadows, whose central role in Mr. Trump's efforts to overturn a democratic election is coming into focus as the congressional investigation into Jan. 6 gains traction.
The men were not alone in their efforts — most Republican lawmakers fell in line behind Mr. Trump's false claims of fraud, at least rhetorically — but this circle moved well beyond words and into action. They bombarded the Justice Department with dubious claims of voting irregularities. They pressured members of state legislatures to conduct audits that would cast doubt on the election results. They plotted to disrupt the certification on Jan. 6 of Joseph R. Biden Jr.'s victory.
There was Representative Jim Jordan of Ohio, the pugnacious former wrestler who bolstered his national profile by defending Mr. Trump on cable television; Representative Andy Biggs of Arizona, whose political ascent was padded by a $10 million sweepstakes win; and Representative Paul Gosar, an Arizona dentist who trafficked in conspiracy theories, spoke at a white nationalist rally and posted an animated video that depicted him killing Representative Alexandria Ocasio-Cortez, Democrat of New York. https://www.nytimes.com/2021/12/15/us/politics/trump-meadows-republicans-congress-jan-6.html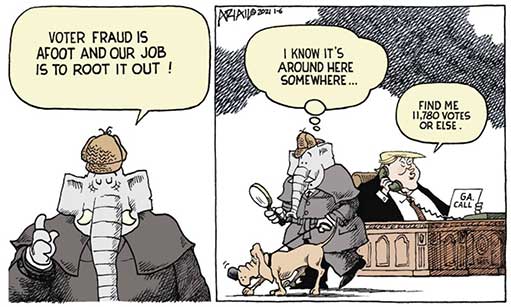 William Saletan: The chilling lesson of Mark Meadows' text messages.
The more we learn about what Donald Trump and his aides heard and did on Jan. 6, the more clearly we understand his corrupt intent. The latest revelations come from newly disclosed text messages sent to Mark Meadows, Trump's then-chief of staff, that afternoon. The messages show that Trump's family, his media allies, and people inside the U.S. Capitol begged him to call off the attack but were ignored for most of the day. And they confirm that Meadows, who has refused to testify in the Jan. 6 investigation and now faces possible indictment for contempt of Congress, was at the center of what unfolded that day.
But the messages also clarify a standoff that took place in the middle of the afternoon. Shortly after 2:30, Trump sent out a tweet urging his followers to "stay peaceful." That tweet has been cited as proof that he tried to end the crisis. But the texts, combined with other evidence, show that trusted figures in Trump's orbit were asking him to do more. They wanted him to tell the rioters to leave the Capitol and go home. On the surface, this looks like a small difference. But Trump refused to do it. Why?
The simplest answer is that, as his prior behavior demonstrated, he saw the mob as leverage in a last-ditch effort to overturn the election. He had summoned his followers to Washington to pressure Congress to halt the certification of the election, and the pressure had succeeded. If he were to disperse the mob—not just ask it to curtail its violence—he would lose his leverage. So, for nearly two hours, he held out. That's what the texts are showing us: that the president was being asked to make a specific concession, and that he refused to do so. https://slate.com/news-and-politics/2021/12/the-chilling-lesson-of-mark-meadows-january-6-text-messages.html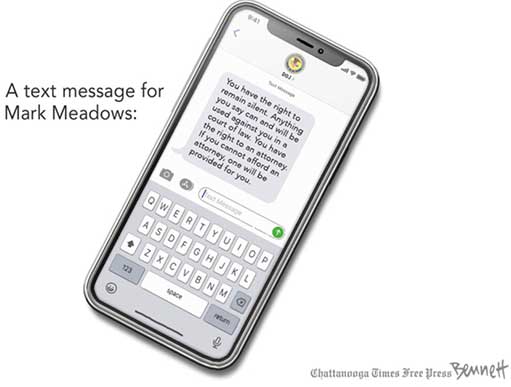 Majority in U.S. Supports Biden COVID-19 Vaccine Mandates
Americans generally support vaccination mandates, including for air travel, attendance at crowded events, and other activities. The latest poll also finds 63% of U.S. adults in favor of vaccination requirements for teachers and staff in K-12 schools, something the New York and Los Angeles school districts, among others, have adopted.
Biden clearly has the backing of his fellow Democrats, with more than nine in 10 favoring all four elements of his plan that were tested in the survey. Independents' opinions are mixed, while Republicans oppose all four proposed actions. Both independents and Republicans are more likely to favor vaccination mandates for workers at hospitals receiving federal funds and paid time off for employees who get vaccinated than the other two mandates. https://news.gallup.com/poll/354983/majority-supports-biden-covid-vaccine-mandates.aspx
Susan Collins is open to a revived push to overhaul an expiring child tax credit
Republicans including Collins have been in lockstep against Democratic stimulus plans in 2021, the Maine senator said a revived tax-credit push led by Sen. Mitt Romney, R-Utah, is among "a number of proposals worthy of consideration" on that issue. While she stopped short of backing it outright, it could signal a bipartisan willingness to make a narrower deal, though the plan still faces obstacles.
"I am open to proposals that would support working families and reduce childhood poverty and look forward to working with colleagues of both parties on bipartisan solutions," Collins said in a statement.
The U.S. has had a child tax credit since the late 1990s. It was expanded in former President Donald Trump's 2017 tax-cut package, but many lower-income families were prevented from getting the full benefit because they did not earn enough.
Roughly 90 percent of Maine children are in families that qualify for the credit and it was expected to reduce child poverty here by 50 percent, the liberal Maine Center for Economic Policy said. https://bangordailynews.com/2021/12/21/politics/susan-collins-is-open-to-a-revived-push-to-overhaul-an-expiring-child-tax-credit/
The DAILY GRILL
"And I cannot vote to continue with this piece of legislation. I just can't. I've tried everything humanly possible. I can't get there. This is a no on this legislation. I have tried everything I know to do. And the President has worked diligently. He's been wonderful to work with. He knows I've had concerns and the problems I've had and, you know, the thing that we should all be directing our attention towards the variant, a Covid that we have coming back at us in so many different aspects in different ways, it's affecting our lives again." -- Sen. Joe Manchin

VERSUS

"On Tuesday of this week, Senator Manchin came to the White House and submitted—to the President, in person, directly—a written outline for a Build Back Better bill that was the same size and scope as the President's framework, and covered many of the same priorities. If his comments on FOX and written statement indicate an end to that effort, they represent a sudden and inexplicable reversal in his position, and a breach of his commitments to the President and the Senator's colleagues in the House and Senate." -- White House press secretary Jen Psaki
3 retired generals: The military must prepare now for a 2024 insurrection
As we approach the first anniversary of the deadly insurrection at the U.S. Capitol, we — all of us former senior military officials — are increasingly concerned about the aftermath of the 2024 presidential election and the potential for lethal chaos inside our military, which would put all Americans at severe risk.
In short: We are chilled to our bones at the thought of a coup succeeding next time.
One of our military's strengths is that it draws from our diverse population. It is a collection of individuals, all with different beliefs and backgrounds. But without constant maintenance, the potential for a military breakdown mirroring societal or political breakdown is very real.
The signs of potential turmoil in our armed forces are there. On Jan. 6, a disturbing number of veterans and active-duty members of the military took part in the attack on the Capitol. More than 1 in 10 of those charged in the attacks had a service record. A group of 124 retired military officials, under the name "Flag Officers 4 America," released a letter echoing Donald Trump's false attacks on the legitimacy of our elections.
Recently, and perhaps more worrying, Brig. Gen. Thomas Mancino, the commanding general of the Oklahoma National Guard, refused an order from President Biden mandating that all National Guard members be vaccinated against the coronavirus. Mancino claimed that while the Oklahoma Guard is not federally mobilized, his commander in chief is the Republican governor of the state, not the president.
The potential for a total breakdown of the chain of command along partisan lines — from the top of the chain to squad level — is significant should another insurrection occur. The idea of rogue units organizing among themselves to support the "rightful" commander in chief cannot be dismissed.
Imagine competing commanders in chief — a newly reelected Biden giving orders, versus Trump (or another Trumpian figure) issuing orders as the head of a shadow government. Worse, imagine politicians at the state and federal levels illegally installing a losing candidate as president.
All service members take an oath to protect the U.S. Constitution. But in a contested election, with loyalties split, some might follow orders from the rightful commander in chief, while others might follow the Trumpian loser. Arms might not be secured depending on who was overseeing them. Under such a scenario, it is not outlandish to say a military breakdown could lead to civil war.
In this context, with our military hobbled and divided, U.S. security would be crippled. Any one of our enemies could take advantage by launching an all-out assault on our assets or our allies.
The lack of military preparedness for the aftermath of the 2020 election was striking and worrying. Trump's acting defense secretary, Christopher C. Miller, testified that he deliberately withheld military protection of the Capitol before Jan. 6. Army Gen. Mark A. Milley, the chairman of the Joint Chiefs of Staff, reportedly scrambled to ensure the nation's nuclear defense chains were secure from illegal orders. It is evident the whole of our military was caught off-guard.
With the country still as divided as ever, we must take steps to prepare for the worst.
First, everything must be done to prevent another insurrection. Not a single leader who inspired it has been held to account. Our elected officials and those who enforce the law — including the Justice Department, the House select committee and the whole of Congress — must show more urgency.
But the military cannot wait for elected officials to act. The Pentagon should immediately order a civics review for all members — uniformed and civilian — on the Constitution and electoral integrity. There must also be a review of the laws of war and how to identify and deal with illegal orders. And it must reinforce "unity of command" to make perfectly clear to every member of the Defense Department whom they answer to. No service member should say they didn't understand whom to take orders from during a worst-case scenario.
In addition, all military branches must undertake more intensive intelligence work at all installations. The goal should be to identify, isolate and remove potential mutineers; guard against efforts by propagandists who use misinformation to subvert the chain of command; and understand how that and other misinformation spreads across the ranks after it is introduced by propagandists.
Finally, the Defense Department should war-game the next potential post-election insurrection or coup attempt to identify weak spots. It must then conduct a top-down debrief of its findings and begin putting in place safeguards to prevent breakdowns not just in the military, but also in any agency that works hand in hand with the military.
The military and lawmakers have been gifted hindsight to prevent another insurrection from happening in 2024 — but they will succeed only if they take decisive action now. https://www.washingtonpost.com/opinions/2021/12/17/eaton-taguba-anderson-generals-military/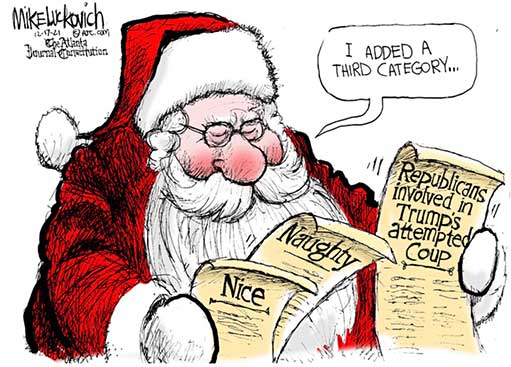 Dana Milbank: 'We are closer to civil war than any of us would like to believe,' new study says
If you know people still in denial about the crisis of American democracy, kindly remove their heads from the sand long enough to receive this message: A startling new finding by one of the nation's top authorities on foreign civil wars says we are on the cusp of our own.
Barbara F. Walter, a political science professor at the University of California at San Diego, serves on a CIA advisory panel called the Political Instability Task Force that monitors countries around the world and predicts which of them are most at risk of deteriorating into violence. By law, the task force can't assess what's happening within the United States, but Walter, a longtime friend who has spent her career studying conflicts in Syria, Lebanon, Northern Ireland, Sri Lanka, the Philippines, Rwanda, Angola, Nicaragua and elsewhere, applied the predictive techniques herself to this country.
Her bottom line: "We are closer to civil war than any of us would like to believe." She lays out the argument in detail in her must-read book, "How Civil Wars Start," out in January. "No one wants to believe that their beloved democracy is in decline, or headed toward war," she writes. But, "if you were an analyst in a foreign country looking at events in America — the same way you'd look at events in Ukraine or the Ivory Coast or Venezuela — you would go down a checklist, assessing each of the conditions that make civil war likely. And what you would find is that the United States, a democracy founded more than two centuries ago, has entered very dangerous territory."
Indeed, the United States has already gone through what the CIA identifies as the first two phases of insurgency — the "pre-insurgency" and "incipient conflict" phases — and only time will tell whether the final phase, "open insurgency," began with the sacking of the Capitol by Donald Trump supporters on Jan. 6.
Things deteriorated so dramatically under Trump, in fact, that the United States no longer technically qualifies as a democracy. Citing the Center for Systemic Peace's "Polity" data set — the one the CIA task force has found to be most helpful in predicting instability and violence — Walter writes that the United States is now an "anocracy," somewhere between a democracy and an autocratic state.
U.S. democracy had received the Polity index's top score of 10, or close to it, for much of its history. But in the five years of the Trump era, it tumbled precipitously into the anocracy zone; by the end of his presidency, the U.S. score had fallen to a 5, making the country a partial democracy for the first time since 1800. "We are no longer the world's oldest continuous democracy," Walter writes. "That honor is now held by Switzerland, followed by New Zealand, and then Canada. We are no longer a peer to nations like Canada, Costa Rica, and Japan, which are all rated a +10 on the Polity index."
Dropping five points in five years greatly increases the risk of civil war (six points in three years would qualify as "high risk" of civil war). "A partial democracy is three times as likely to experience civil war as a full democracy," Walter writes. "A country standing on this threshold — as America is now, at +5 — can easily be pushed toward conflict through a combination of bad governance and increasingly undemocratic measures that further weaken its institutions."
Others have reached similar findings. The Stockholm-based International Institute for Democracy and Electoral Assistance put the United States on a list of "backsliding democracies" in a report last month. "The United States, the bastion of global democracy, fell victim to authoritarian tendencies itself," the report said. And a new survey by the academic consortium Bright Line Watch found that 17 percent of those who identify strongly as Republicans support the use of violence to restore Trump to power, and 39 percent favor doing everything possible to prevent Democrats from governing effectively.
The question now is whether we can pull back from the abyss Trump's Republicans have led us to. There is no more important issue; democracy is the foundation of everything else in America. Democrats, in a nod to this reality, are talking about abandoning President Biden's Build Back Better agenda in favor of pro-democracy voting rights legislation. Republicans will fight it tooth and nail.
The enemies of democracy must not be allowed to prevail. We are on the doorstep of the "open insurgency" stage of civil conflict, and Walter writes that once countries cross that threshold, the CIA predicts, "sustained violence as increasingly active extremists launch attacks that involve terrorism and guerrilla warfare, including assassinations and ambushes."
It is no exaggeration to say the survival of our country is at stake. https://www.washingtonpost.com/opinions/2021/12/17/how-civil-wars-start-barbara-walter-research/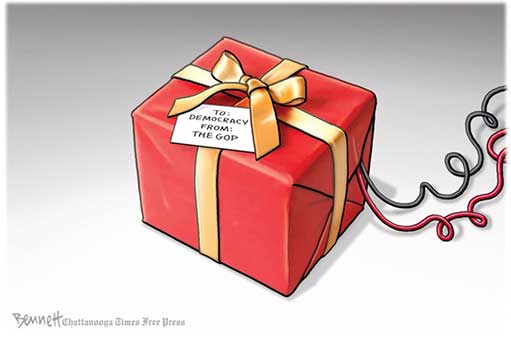 Jonathan Chait: Trump Claims Israel Controlled Congress, Jews Run New York Times
Donald Trump is the most openly anti-Semitic president in American history. There is no close second. While many presidents expressed anti-Semitic beliefs in private, only Trump has done so repeatedly, and usually in public.
If you go through the list of classic anti-Semitic beliefs, Trump has checked off nearly every box.
Trump's rhetoric has often employed anti-Semitic tropes, such as his 2016 tweet, borrowed from a white supremacist, using a Star of David to label Hillary Clinton as "corrupt" or his ad attacking "a global power structure that is responsible for the economic decisions that have robbed our working class, stripped our country of its wealth, and put that money into the pockets of a handful of large corporations and political entities," over images of Janet Yellen, George Soros, and Lloyd Blankfein, all of whom happen to be Jewish.
In his most recent comments, Trump casually tells Barak Ravid, "It used to be that Israel had absolute power over Congress," that Jews run the New York Times, and that "the Jewish people in the United States either don't like Israel or don't care about Israel."
(Times publisher Arthur Ochs Sulzberger Jr. is not actually Jewish, but, of course, anti-Semitic beliefs don't require any factual basis.)
What has prevented this undisguised bigotry from exploding into a scandal — other than the normal dynamic where Trump's misconduct is always being blotted out by other cases of Trump's misconduct — is the unusual delinkage on the political right of anti-Semitism from support for Israel's occupation of the West Bank.
Conservatives, including right-wing Jews, have long argued that support for Israel (in particular the Israeli right) matters far more than any other traditional measure of support for Jewish rights. In the 1990s, Norman Podhoretz once excused a deranged, conspiratorial anti-Semitic rant by Pat Robertson on the grounds that Robertson was a good ally to the Jewish State.
Like so many long-standing pathologies of right-wing politics, Trump represents a comical apotheosis. He combines militant support for Israeli expansionism with irrepressible contempt for the Jews and all they stand for. Trump's anti-Semitism bleeds out into many aspects of his political style: his attacks on disloyal "globalists," his demagogic manipulation of the "War on Christmas," and his blood-and-soil nationalism. That Nazis, who sat out domestic partisan politics, have rallied behind Trump is no coincidence. He is the first major-party nominee to incorporate their themes.
The fact none of this will seriously register on the right as "anti-Semitism" is evidence that the right's definition of the term has lost all meaning. https://nymag.com/intelligencer/2021/12/trump-israel-controlled-congress-jews-run-new-york-times-anti-semitism.html
Charlotte Klein: Joe Manchin Is The Grinch Who Stole Democrats' Christmas
It was a less-than-relaxing Sunday for Democrats. White House officials and lawmakers alike were reportedly caught off guard by Joe Manchin, the conservative Democratic senator from West Virginia, declaring he "just can't" support President Joe Biden's Build Back Better bill. Manchin made his announcement in an appearance on Fox News Sunday, telling host Bret Baier that he "cannot vote" for the package, which aims to create a universal pre-K program, lower prescription drug prices, invest in combating climate change, and expand affordable health care coverage, among other things. Manchin's opposition effectively killed the $2 trillion spending plan—and any sense of unity Democrats were hoping to project ahead of next year's midterms. 
Among the landmark provisions imperiled by Manchin's about-face is what would be the largest investment in combating climate change in U.S. history. Some $555 billion of the $2.2 trillion plan is set to be funneled into climate action, according to the New York Times. The outlet pointed out that Manchin, who personally profits from coal production, specifically took issue with climate and clean-energy aspects of the bill in his follow-up statement Sunday. One climate activist told the Times that no legislative action on climate change would have "enormous consequences next year for the Democrats when they have nothing to show for their trifecta government." And it would have disturbing ramifications for the rapidly warming planet, especially if Democrats lose their grip on Washington in 2022. Despite executive action and regulations at the administration's disposal, failing to pass climate legislation would make it "virtually impossible" to meet Biden's goal of aggressively cutting the country's emissions, according to the Times. "This is our last chance to prevent the most catastrophic effects of the climate crisis, and failure is not an option," Sen. Ron Wyden of Oregon said in a statement on Sunday speaking to "the path forward" for the package. But Tiernan Sittenfeld of the League of Conservation Voters, an environmental advocacy group, told the Times that the bill's "historic and urgent" climate provisions are "already a compromise," so "there really isn't more to give there."
Still, White House officials are "reimagining a scaled-back version that they hope could win Manchin's approval," according to Politico. Prospects for further negotiations seem dim, given the scorched-earth response the White House had after Manchin's Fox News Sunday interview. One way the party could pivot is by advocating for fewer programs in the legislation but funding them for longer periods of time, an approach that Rep. Suzan DelBene, a centrist New Democrat, said "could open a potential path forward for this legislation" and that the White House bolstered on Sunday:
https://www.vanityfair.com/news/2021/12/joe-manchin-is-the-grinch-who-stole-democrats-christmas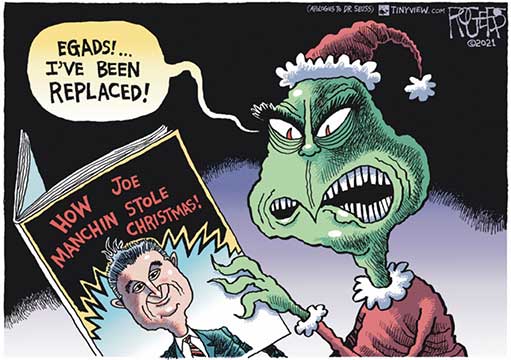 David Frum: Biden Won Big With a Bad Hand
Relative to its strength in Congress, the Biden administration has proved outstandingly successful. In 11 months, Biden has done more with 50 Democratic senators than Barack Obama did with 57.
He signed a $1.9 trillion COVID-relief bill in March 2021: $1,400-per-person direct payments, $350 billion in aid to state and local governments, an extension of supplemental unemployment-insurance benefits and subsidies under the Affordable Care Act. He signed a $1 trillion infrastructure bill in November. He signed some 75 executive orders, many of them advancing liberal immigration goals.
He's also won confirmation for some 40 federal judges, more than any first-year president since Ronald Reagan, and twice as many as Donald Trump confirmed in his first year with a 54-vote Senate majority. https://www.theatlantic.com/ideas/archive/2021/12/joe-manchin-biden-majority-agenda/621085/