August 3, 2023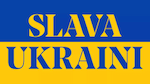 To subscribe to this FREE weekly newsletter simply email jellison@san.rr.com with "subscribe" as the subject.
THE WEEK'S BEST QUOTES. . .
"Pardon the morbidity, but I really have to say what everybody is (or should be) saying about what happened with Mitch McConnell yesterday. Imagine if that had happened to Donald Trump. Or Joe Biden.Our politics would be upended in the blink of an eye. The margin is that thin. But this is what living in a gerontocracy is like. — Charlie Sykes.
https://morningshots.thebulwark.com/p/american-gerontocracy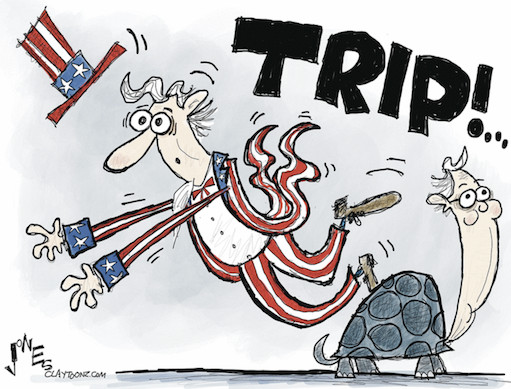 "While Republicans have worked to share our beautiful values with voters, Democrats and dangerous groups funded by the far left have simply focused on collecting ballots. But you know what? It turned out to be not such a bad idea."  — Donald Trump shifting away from his previous stance against early voting.
https://www.youtube.com/watch?v=tE2luFSMaxo
"Congress should refuse to authorize a single additional shipment of our depleted weapons stockpiles … to Ukraine until the FBI, DOJ and IRS hand over every scrap of evidence they have on the Biden Crime Family's corrupt business dealings." — Donald Trump at a rally in Pennsylvania.
https://www.washingtonpost.com/politics/2023/07/29/trump-ukraine-congress-hunter-biden/
"Trump is making regular Americans pay his legal fees.  Think about that.  A Billionaire making regular Americans pay his legal fees." —  Chris Christie.
https://twitter.com/AdamKinzinger/status/1685642318240428032
"I'm not concerned about his age. And even if I was, who cares? There's nothing you can do about his age. I've spent enough time around him. He's sharp, he's aware, he is absolutely up to the task. I'll be doing whatever his campaign asks of me. I know Pennsylvania, I've won Pennsylvania. I'll be helping with whatever he asks."— Sen John Fetterman (D-PA) about President Biden.
https://www.nytimes.com/2023/07/28/us/politics/john-fetterman-pennsylvania-interview.html
"Donald Trump is running to stay out of prison." — Former Rep. Will Hurd (R-TX), to loud boos at the Iowa Republican Party's Lincoln Dinner.
https://www.axios.com/2023/07/29/will-hurd-donald-trump-iowa-prison
"If you go through with this profoundly misguided vanity project you will go down as one of history's most venal rubes, but hey man you do you." — Sen. John Fetterman's chief of staff Adam Jentleson to No Labels national director Joe Cunningham.
https://www.politico.com/newsletters/huddle/2023/07/28/more-on-mcconnell-and-signs-of-a-terrible-september-00108712
"That was a sad thing to see. He had a bad fall, I guess, and probably an after-effect of that. But it was also sad that he gave trillions and trillions and trillions of dollars to the Democrats to waste on the Green New Deal, destroying our oceans and destroying our great, beautiful vistas and plains all over our country with windmills that are very expensive energy. So that's a very sad thing also. We have some people in the Senate that are fantastic and would be great at that position. But it's just amazing he would do that — but at the same time, I hope he's well." — Donald Trump weighing in on Sen. Mitch McConnell's (R-KY) freeze-up before at a press conference last week.
https://www.breitbart.com/politics/2023/07/30/exclusive-video-trump-mcconnell-health-problems-sad-should-step-down-have-have-new-gop-leader-senate/
"Six months ago, you would have said there were two tiers: Trump and DeSantis, and then everyone else. Now you have Donald Trump in a tier by himself and you have everyone else trying to be the alternative to Trump." — GOP strategist Craig Robinson.
https://www.nytimes.com/2023/07/29/us/politics/trump-desantis-republican-presidential-iowa-caucus.html
A 15-year-old at a coffee shop asked Gov. Ron DeSantis about military service restrictions on people with mental health disorders — a topic in line with his desire to highlight his military expertise.
TEEN: I can't legally vote, but I struggle with major depressive disorder.
DeSANTIS: It's never stopped the other party from not letting you vote. https://www.nbcnews.com/politics/2024-election/ron-desantis-awkward-comeback-effort-rcna97317
"When our research and campaign legal team can't back up any of the claims made by our Elite Strike Force Legal Team, you can see why we're 0-32 on our cases. I'll obviously hustle to help on all fronts, but it's tough to own any of this when it's all just conspiracy shit beamed down from the mothership." — A senior advisor to the Trump 2020 campaign, quoted in Special Counsel Jack Smith's indictment of Donald Trump. https://storage.courtlistener.com/recap/gov.uscourts.dcd.258149/gov.uscourts.dcd.258149.1.0_1.pdf

"They will teach this case in the history books: a president of the United States charged with conspiring against democracy itself." — Susan Glasser. https://twitter.com/sbg1/status/1686497519147024384
 
VIDEOS ...-
Sen. Lindsey Graham (R-SC) was interviewed by Sean Hannity on Fox News last night about the new criminal charges brought against Donald Trump:
HANNITY: Do you believe the end goal is to prevent Donald Trump from running for president in 2024?
GRAHAM: Absolutely. What other conclusion could you reach? https://twitter.com/PoliticusSarah/status/1684748532505321472
TIRED: Trump University
WIRED: Ron DeSantis' Slave Trade Trade School. — The Lincoln Project.
https://twitter.com/ProjectLincoln/status/1684579406419836928
"I don't think it's responsible for us to talk about impeachment." — Rep. Ken Buck (R-CO) pushed back on CNN against Speaker Kevin McCarthy's apparent openness to impeaching President Biden, claiming the speaker is just distracting the public with a "shiny object."
https://twitter.com/justinbaragona/status/1684246409527148545
"When I woke up this morning at 7:00, I was getting picked up at 7:45. Patrick, my fiancé, tried to pull me by my waist over this morning in bed and I was like, 'No, baby, we don't got time for that this morning. I got to get to the prayer breakfast and I got to be on time.'" — Rep. Nancy Mace (R-SC)  telling fellow attendees of a prayer breakfast that she delayed having sex with her fiancé to make it to the event on time.
https://twitter.com/theblaze/status/1684593650355798017
"I consider it a great badge of honor because I'm being indicted for you - and I believe the "you" is the more than 200 million people who love our country." — Donald Trump, at a rally in Pennsylvania.
https://twitter.com/Acyn/status/16854
"I want voters to listen to this: It is most likely that by the time we get on the debate stage on August 23, the front-runner will be out on bail in four different jurisdictions, Florida, Washington, Georgia, and New York." — GOP candidate Chris Christie.
https://twitter.com/therecount/status/1685981824957218817
"After he loses, I don't think he's going quietly. He's kind of a crybaby … but he's not gonna be the nominee." — Gov. Chris Sununu (R-NH) who says he'd still support Donald Trump if he's the GOP nominee.
https://twitter.com/therecount/status/1686030794819608576
---
IN THIS ISSUE
IN THE NEWS
OPINION
Andy Borowitz: Trump Only a Few Indictments Away from Clinching G.O.P. Nomination
After the special counsel Jack Smith brought new charges against Donald J. Trump, political experts agreed that the former President is but a few indictments away from clinching the Republican nomination.
With felony counts in the double digits, Trump is well ahead of his closest rival, Ron DeSantis.
Harland Dorrinson, a prominent G.O.P. pollster, said that, "for today's Republican voter, felony counts confer instant credibility, and, by that measure, no other candidate comes close to Trump."
He added that the pressure is on DeSantis "to get indicted for something—and fast."
"There's a chance that he could be charged with human trafficking for transporting migrants from the Mexican border to Martha's Vineyard," Dorrinson said. "But that indictment might be too little, too late."
https://www.newyorker.com/humor/borowitz-report/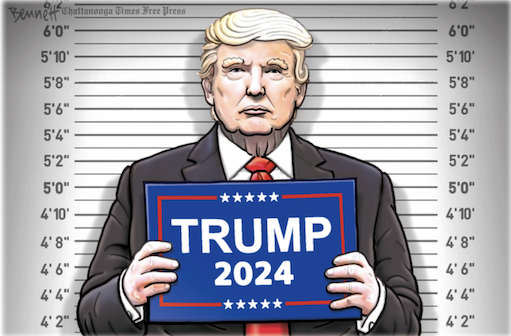 Trump has been charged by the Department of Justice with the following four counts:
    A conspiracy to defraud the United States "by using dishonesty, fraud and deceit to obstruct the nation's process of collecting, counting, and certifying the results of the presidential election," according to the special counsel's office. This count carries a 5-year maximum sentence.
    A conspiracy to impede the Jan. 6 congressional proceeding at which the collected results of the presidential election are counted and certified. This count carries a 20-year maximum sentence.
    A conspiracy against the right to vote and to have that vote counted. This count carries a 10-year maximum sentence.
    Obstruction of, and attempt to obstruct and impede, the certification of the electoral vote. This count carries a 20-year maximum sentence.
https://www.nbcnews.com/politics/donald-trump/live-blog/trump-live-updates-grand-jury-2020-election-probe-arrives-courthouse-rcna96825
The full text of the Trump Jan. 6 indictment
Read the full text of the third indictment against former Donald Trump at:
https://www.washingtonpost.com/documents/8a7503af-fde7-4061-818c-7d7e0ee06036.pdf
Trump's "delusion" defense
Trump's legal team is teasing a risky defense to his historic third indictment, the idea that the former president genuinely believed his own lies about election fraud — despite being told by dozens of his closest advisers, allies and agencies that they were baseless.
If they proceed to trial, Trump's lawyers effectively could be asking a jury to believe that the former president was delusional — undermining special counsel Jack Smith's core thesis that Trump "knowingly" sought to defraud the country.
The gambit could prove successful in court, where an already unfurling debate over the First Amendment is expected to play a starring role.
Politically, however, the "delusion defense" would force Republicans into the uncomfortable position of defending a candidate who can't be trusted to distinguish reality from conspiracy — and who now wants to be president again.
https://www.axios.com/newsletters/axios-sneak-peek-7fc196ed-b283-44ec-8870-4abb679e89c6.html
Trump Fundraising Blitz Follows Latest Indictment
Within two hours after he was criminally charged for his failed efforts to overturn the results of the 2020 presidential election, a political action committee connected to Donald Trump's campaign sent out fundraising emails to supporters.
One message – sent from the "Official Trump Store" – advertises a "limited-edition" commemorative "I Stand with Trump" T-shirt that includes the date of the latest indictment against him. "And what better way to show that YOU stood by the President's side through *EVERY* phony indictment than your very own Limited-Edition 'I STAND WITH TRUMP' T-Shirt."
Supporters who pledge $47 to his campaign will receive the shirt "for FREE," according to the message.
https://www.independent.co.uk/news/world/americas/us-politics/trump-indictment-shirts-campaign-donations-b2386497.html
'Everything has fallen off a cliff': Battleground state GOPs nosedive in Trump era
Michigan's Republican party is broke. Minnesota's was, until recently, down to $53.81 in the bank. And in Colorado, the GOP is facing eviction from its office this month because it can't make rent.
Around the nation, state Republican party apparatuses — once bastions of competency that helped produce statehouse takeovers — have become shells of their former machines amid infighting and a lack of organization.
Among some state GOP officials, the mood is grim. One Michigan Republican operative, who was granted anonymity because he wasn't authorized by the state party to comment, said of that state party: They're just in as bad a place as a political party can be. They're broke…Their chair can't even admit she lost a race. It's defunct.
The demise of the GOP state parties could have a profound impact on the 2024 election. Operatives fear that hollowed out outfits in key battlegrounds could leave the party vulnerable, especially as Democrats are focusing more on state legislative races. Traditionally, state parties perform the basic blocking and tackling of politics, from get out the vote programs to building data in municipal elections.
https://www.politico.com/news/2023/08/02/broke-state-gop-parties-across-the-country-00109387
Civil War-era rights law key in Trump election interference charges
Federal prosecutors base one charge, conspiring to deprive citizens of constitutional or legal rights, on a law enacted during post-Civil War Reconstruction in 1870, when federal lawmakers sought to integrate into society enslaved people who had been freed.
Prosecutors have long used the deprivation of rights statute, known as Section 241, to fight disenfranchisement of Black voters, and a string of landmark U.S. Supreme Court cases have affirmed the law's use for that purpose.
https://www.reuters.com/legal/trump-election-interference-charges-include-civil-war-era-legal-rights-law-2023-08-01/
X Says It Has Sued Nonprofit That Tracks Hate Speech
In a blog post Monday evening, X announced that it had filed a lawsuit against the Center for Countering Digital Hate for "actively working to prevent free expression."
Elon Musk has over the last year threatened legal action against tech competitors, employees and people who use Twitter, which he owns. Now he is also taking aim at an organization that studies hate speech and misinformation on social media.
The letter was at least the third legal threat or action by X Corp. in the last two months. In May, it sent a letter to Satya Nadella, Microsoft's chief executive, accusing the tech giant of improperly using its data. This month, it also sent a letter to Meta, which owns Facebook and Instagram, saying it had copied Twitter's trade secrets when creating Threads, a new social app.
X also sued Wachtell, Lipton, Rosen & Katz, a leading corporate law firm, this month over what it said were unjust payments related to Mr. Musk's $44 billion acquisition of Twitter.
https://www.nytimes.com/2023/07/31/technology/twitter-x-center-for-countering-digital-hate.html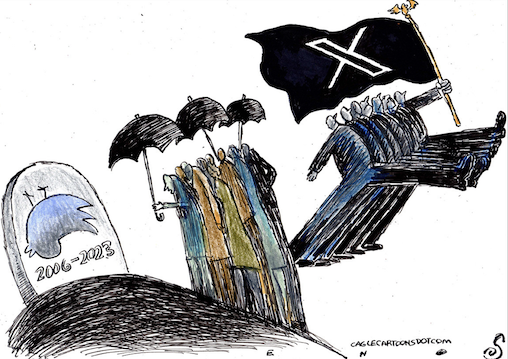 The Michigan Democratic governor signs ban on 'conversion therapy' for minors
Michigan Gov. Gretchen Whitmer has signed two bills banning so-called conversion therapy, a scientifically discredited practice intended to change a person's sexual orientation, for minors in the state.
https://www.cnn.com/2023/07/27/politics/michigan-conversion-therapy-ban-minors-whitmer/index.html
We don't talk about Hunter Biden back at home
Donald Trump keeps flogging the Hunter Biden saga to cast President Joe Biden as the head of a crime family. Earlier this week, House Speaker Kevin McCarthy floated the idea of moving forward with impeachment proceedings over the matter.
But as the Hunter Biden case came to a head in recent days — with Biden pleading not guilty to tax and gun charges on Wednesday as a plea deal fell apart — some prominent Republicans were questioning the effectiveness of going after the president's son on the issue, at all.
https://www.politico.com/news/2023/07/27/republican-hunter-biden-focus-00108406
Republican lawsuit asks Ohio Supreme Court to block abortion rights measure from November ballot
A new lawsuit from Republicans asking the Ohio Supreme Court to block the abortion rights amendment from the November ballot comes three days after the Ohio Secretary of State's office approved the amendment for the November ballot, certifying that advocates cleared the required number of valid signatures to put the issue before voters.
Abortion rights activists call the lawsuit a dirty trick.
Anti-choice extremists know they can't win at the ballot box, so they are resorting to dirty tricks to try to silence the voices of Ohioans, said Lauren Blauvelt, spokesperson for Ohioans United for Reproductive Rights. A clear majority of Ohioans support reproductive freedom, so we expected desperate challenges like this one.
According to the lawsuit, those laws include a ban on doctors performing abortions after cardiac activity is detected; a ban on abortions after a fetal diagnosis of Down syndrome; and parental consent for abortions.
https://www.dispatch.com/story/news/politics/2023/07/29/gop-lawsuit-seeks-to-boot-abortion-rights-measure-from-november-ballot/70490982007/
A Very Narrow Electoral College Playing Field
The Cook Political Report's initial race ratings for the Electoral College in 2024 and finds only four states are toss-ups:
Arizona, Georgia, Pennsylvania and Wisconsin
.
https://www.cookpolitical.com/analysis/national/national-politics/very-narrow-electoral-college-playing-field
How George Santos Used Political Connections to Fuel Get-Rich Schemes
In the years since Mr. Santos first ran for the House in 2020, he has become adept at finding ways to extract money from politics. He founded a political consulting group that he marketed to other Republicans. He sought to profit from the Covid crisis, using campaign connections. And he solicited investments for and from political donors, raising ethical questions.
Mr. Santos has been charged with 13 felonies for misrepresenting his earnings, collecting $24,000 in unemployment while employed, and pocketing $50,000 he solicited from political supporters through what he claimed was a super PAC.
https://www.nytimes.com/2023/07/26/nyregion/george-santos-money-donors.html
Fani Willis warns Fulton leaders 'stay alert' as decision looms
As potential charges against Donald Trump in Georgia loom, Fulton County District Attorney Fani Willis warned a group of county leaders to "stay alert" and "make decisions that keep your staff safe."
https://www.ajc.com/politics/politics-blog/the-jolt-fani-willis-warns-fulton-leaders-stay-alert-as-decision-looms/3BRWYBSPXJFWDODE4WE2YVKEPE
22% of Republicans Don't Care About Trump's Crimes
New York Times/Siena Poll: "Mr. Trump's grip on the Republican Party is so strong that in a head-to-head contest with Mr. DeSantis, Mr. Trump still received 22 percent among voters who believe he has committed serious federal crimes — a greater share than the 17 percent that Mr. DeSantis earned from the entire G.O.P. electorate."
https://www.nytimes.com/2023/07/31/us/politics/2024-poll-nyt-siena-trump-republicans.html
Biden Orders U.S. to Share Evidence of Russian War Crimes With Hague Court
President Biden has quietly ordered the U.S. government to begin sharing evidence of Russian war crimes in Ukraine with the International Criminal Court in The Hague, signaling a major shift in American policy.
The decision, made by Mr. Biden in recent days, overrides months of resistance by the Pentagon, which argued that it could pave the way for the court to prosecute American troops.
https://www.nytimes.com/2023/07/26/us/politics/biden-russia-war-crimes-hague.html
House Leaves Early for August Recess
House Republican leaders on Thursday punted a second government funding bill and dismissed lawmakers for a six-week break from Washington, hamstrung by conservative demands for more spending cuts and internal division over social issues like abortion.
The House's decision to adjourn for a six-week break amid the GOP stalemate portends a rocky September, when lawmakers will return to the Hill with just three weeks left to stave off a government shutdown.
Speaker Kevin McCarthy 's leadership team hoped to pass as many of their 12 annual funding bills as possible on the floor this month, aiming for a show of Republican unity that might bolster the House in a coming standoff with the Senate over federal funding. Now House GOP lawmakers are leaving the Capitol on a note of disarray rather than cohesion, with a single passage vote to tout on a veterans funding bill and two spending measures still stuck in committee.
https://www.politico.com/news/2023/07/27/house-gop-funding-fight-00108524
Marjorie Taylor Greene to Star in Democratic Ads
 
Democrats claim the GOP is withholding evidence contradicting claims in Hunter Biden probe
House Democrats are demanding the release of a transcript from a new FBI witness that they say contradicts Republicans' claims in the expanding congressional inquiry into President Joe Biden's son, Hunter Biden.
Rep. Jamie Raskin, the top Democrat on House Oversight Committee, sent a letter Friday to Rep. James Comer, the Republican chair of the committee, asking him to produce the transcribed interview this month with an FBI agent who worked on the investigation into the younger Biden's taxes and foreign business dealings. The witness was interviewed on July 17.
"This failure to release a transcript is the latest in your troubling pattern of concealing key evidence in order to advance a false and distorted narrative about your 'investigation of Joe Biden' that has not only failed to develop any evidence of wrongdoing by President Biden but has, in fact, uncovered substantial evidence to the contrary," Raskin wrote in the letter, which was obtained by The Associated Press.
https://apnews.com/article/hunter-biden-congress-republicans-irs-whistleblowers-2042e6e755d0322d07fc42b71705f6d5
Indictment in Michigan's Voting Machine Tampering Probe
A key suspect in an alleged plot to illegally access Michigan voting machines following the 2020 presidential election says she has been indicted in the long-running probe and expects to be arraigned next week.
https://www.bridgemi.com/michigan-government/i-have-been-indicted-says-suspect-michigan-vote-machine-tampering-probe
Republicans Reframe 2024 as a Race Versus Harris – Not Biden
Republicans view President Joe Biden as ripe for defeat in 2024. But recently, they've been zeroing in on who they see as an even easier target: Kamala Harris.
As Harris has stepped up her role as campaign trail attack dog, GOP presidential candidates are leaning even harder into attacking the vice president as a way to highlight voters' wariness over Biden's age. Given that the 80-year-old Biden is the oldest person to ever occupy the Oval Office, the argument goes, a vote for him is equivalent to elevating Harris — who by many measures is even less popular than her boss — to commander-in-chief.
https://themessenger.com/politics/republicans-reframe-2024-as-a-race-versus-harris-not-biden
Democratic Rep. Dean Phillips eyes 2024 challenge to Biden
Rep. Dean Phillips (D-Minnesota), a moderate, has been receiving encouragement to consider challenging President Joe Biden for the Democratic presidential nomination and will travel to New York City next week to discuss the possibility with donors.
A source familiar with Phillips' thinking tells CNN the public report of his plans has spurred additional encouragement.
Phillips has said publicly he does not believe Biden should run for reelection, telling a Minnesota radio station last year that the country would be well served by a new generation of compelling, well-prepared, dynamic Democrats to step up.
Some Democrats have privately raised concerns about Biden's advanced age, and Phillips' planned meeting comes with age currently front-and-center on the political stage.
https://www.cnn.com/2023/07/28/politics/dean-phillips-2024/index.html
Trump's rivals let GOP voters believe he's a winner — and it's coming back to bite them
Donald Trump's primary rivals have had a hard time convincing GOP voters that they'd be more electable than the indicted former president — but they may, at least in part, have themselves to blame for it.
Most of the 2024 candidate field has spent the past two and half years validating or turning a blind eye to Trump's false claims that he won the 2020 election, priming the Republican base to believe that Trump is a proven winner against President Joe Biden. Now they have only a few months to try to undo that perception but appear reluctant to press the case.
https://www.nbcnews.com/politics/donald-trump/trumps-rivals-let-gop-voters-believe-winner-coming-back-bite-rcna96980
Ex-Missouri Gov. Jay Nixon joins push for third-party presidential bid as Democrats try to stop it
Former Missouri Gov. Jay Nixon (D) "is joining No Labels ' increasingly contentious effort to lay the groundwork for a moderate third-party presidential ticket in the 2024 election.
He gives the embattled organization another prominent ally amid escalating concerns from Democratic officials that the No Labels campaign could unintentionally help Republican Donald Trump return to the White House.
https://apnews.com/article/no-labels-third-party-president-2024-election-8267add25f8a9b1b01fd42e8a046513f
THE DAILY GRILL ...
Wake the fuck up you little shits. What the fuck are you all doing? Get the fuck out of here. You are defiling the space you pieces of shit. — Rep. Derrick Van Orden (R-WI), to a group of teenage Senate pages were resting on the ground in the Capitol rotunda — a regular occurrence when a session goes late. https://nymag.com/intelligencer/2023/07/rep-van-orden-defends-cursing-out-no-good-teens-at-capitol.html

VERSUS

Wonder if he told that to his fellow insurrectionists, who were beating police officers on the same ground? — Rep Marc Pocan (D-WI), about Van Orden, who used campaign funds to travel to the Stop the Steal rally. https://twitter.com/MarkPocan/status/1684631642277654528



NYT's banner headline: "JAN. 6 RIOT 'FUELED BY LIES,' INDICTMENT SAYS."
CNN's T1 headline: "Trump indicted over efforts to overturn 2020 election."
HuffPost: "TRUMP CHARGED FOR COUP ATTEMPT."
Drudge Report: "MAGA NIGHTMARE"; "JACK SMITH CIRCLES DON."
The New York Post's front page: "CONSPIRACY TO DEFRAUD THE UNITED STATES." https://view.newsletters.cnn.com/messages/1690942429923fe1e8160b247/raw

VERSUS

Meanwhile, at Fox News, via its lower-thirds banners:
"THE DOJ HAS BECOME BIDEN CAMPAIGN HQ AT THIS POINT";
"THE DOJ HAS CRIMINALIZED POLITICS";
"IS JACK SMITH PRESIDENT BIDEN'S NEW UNOFFICIAL CAMPAIGN MANAGER?";
"SMITH'S INDICTMENT IS A LEGAL EMBARRASSMENT." https://view.newsletters.cnn.com/messages/1690942429923fe1e8160b247/raw
Ruth Marcus: New indictment proves Trump never learned the first lesson of Watergate
If the allegations in the latest indictment of Donald Trump hold up, the former president is a common criminal — and an uncommonly stupid one.
Everyone knows, as the Watergate scandal drove home: The coverup is always worse than the crime. Everyone, that is, but Trump.
According to the superseding indictment handed up late Thursday, even after Trump knew the FBI was onto his improper retention of classified information, and even after he knew they were seeking security camera footage from the Mar-a-Lago storage areas where the material was kept — in other words, when any reasonably adept criminal would have known to stop digging holes — Trump made matters infinitely worse.
The alleged conduct — yes, even after all these years of watching Trump flagrantly flout norms — is nothing short of jaw-dropping: Trump allegedly conspired with others to destroy evidence.
As set out in the indictment's relentlessly damning timeline, Trump enlisted his personal aide, Waltine Nauta, and a Mar-a-Lago worker, Carlos De Oliveira, in a conspiracy to delete the subpoenaed footage.
Consider: According to the indictment, on June 22, 2022, the Justice Department emailed to a Trump lawyer a draft grand jury subpoena for security camera footage. The next day, the former president called De Oliveira — who has reportedly worked for Trump for almost two decades — and they spoke for approximately 24 minutes. Hard to imagine what that might have been about.
After that, the pace picked up. Nauta claiming a family emergency, changed plans to accompany Trump to Illinois and made a secret trip to Florida, where he met up with De Oliveira. On June 27, 2022, De Oliveira met with another Trump employee, and, after saying the conversation should remain between the two of them, asked how many days the server retained video footage — and advised him that the boss wanted the server deleted.
Trump Employee 4 responded that he would not know how to do that, and that he did not believe that he would have the rights to do that, the indictment relates. De Oliveira then insisted to TRUMP Employee 4 that 'the boss' wanted the server deleted and asked, 'what are we going to do?'
And then: At 3:55 p.m., TRUMP called DE OLIVEIRA and they spoke for approximately three and a half minutes.
That isn't all. On August 26, 2022, two weeks after the FBI seized classified documents at Mar-a-Lago, Nauta called another Trump employee and said words to the effect of, 'someone just wants to make sure Carlos is good.' The employee reassured Nauta that De Oliveira would not do anything to affect his relationship with Trump. That same day, the indictment states, Trump called De Oliveira and assured him that Trump would get him a lawyer.
Even before this new evidence, the allegations of obstruction lodged against Trump were already damning. Wouldn't it be better if we just told them we don't have anything here? Trump allegedly asked his lawyer — after the documents were subpoenaed. He tried to get the lawyer to deep-six any problematic documents. As the lawyer recalled, He made a funny motion as though — well okay why don't you take them with you to your hotel room and if there's anything really bad in there, like, you know, pluck it out.
But drip by drip, count by count, obstructive act by obstructive act, the seriousness of this situation comes into focus, the stakes of the next election become clearer. Trump in office was willing to do whatever it took to remain in power. Trump out of office was willing to do whatever it took to keep my boxes. One demonstration of narcissistic entitlement bolsters the other and deepens the urgency of holding this man to account, once and for all, and for all that he has done.
https://www.washingtonpost.com/opinions/2023/07/27/trump-new-indictment-watergate/
Susan B. Glasser: The Boss and His Botched Coverup
The ex-President now stands accused not only of absconding from the White House with "hundreds" of secret documents that he then sought to withhold from the government but also of secretly ordering his staff to destroy incriminating surveillance tapes. According to a superseding indictment that was made public on Thursday evening, soon after Trump had received a subpoena demanding footage from the tapes,"the Boss" summoned one of his co-defendants, his personal valet Walt Nauta, who, in turn, reached out to the Mar-a-Lago property manager Carlos De Oliveira. "Hey brother You working today?" Nauta texted De Oliveira. Together, they attempted to carry out a coverup that prosecutors depicted as so ham-handed that it recalls the Watergate plumbers at their worst. Who says history doesn't rhyme? (Nauta has pleaded not guilty; De Oliveira, who has also been named as a co-defendant, is set to appear in federal court on Monday.)
How bad does it look for Trump? Consider the opinion of his former lawyer. "I think this original indictment was engineered to last a thousand years and now this superseding indictment will last an antiquity," Ty Cobb, who represented Trump in the Mueller investigation, told CNN. "This is such a tight case, the evidence is so overwhelming." Meanwhile, as of Friday afternoon, the main event—the charges that Trump's critics have been waiting so anxiously for these past two and a half years—was still pending.

It is already quite clear, of course, how Republicans will respond to the former President's metastasizing legal troubles. They have revealed their hand for months now. There will be manufactured outrage, deflection, and whataboutism so shameless that it would impress the Soviets who perfected this technique during the Cold War. Already this week, Speaker Kevin McCarthy has publicly mused to Sean Hannity about impeaching Biden—for what, exactly, he did not say.

Since January, McCarthy and his House Republicans have sought to weaponize their control of the chamber on Trump's behalf, providing political cover for the former President by launching investigations of what Trump calls the "Biden crime family." They have yet to find definitive evidence tying Biden himself to any wrongdoing, but the long-running saga of his son Hunter Biden—with its tawdry elements of cocaine addiction, extramarital affairs, tax dodging, and questionable payments from foreign-owned companies during his father's Vice-Presidency—has supplied endless fodder for the G.O.P.

The point, in the end, is not so much about Hunter Biden. It's about tarnishing the President, at a time when Trump needs him to be tarnished. This is his and his defenders' specialty—the mirror-imaging, the false equivalence. If Trump is a crook who sought to co-opt the machinery of the federal government for his own political benefit, whose family members monetized his office and took huge sums from questionable foreign interests, then Biden must be shown to have done the same thing. If Trump was impeached twice, then Biden, too, must be hit with it. This is, as even Ken Buck, a Republican congressman and no friend of Biden's, admitted to CNN this week, "impeachment theater." It's not "responsible," Buck said. https://www.newyorker.com/news/letter-from-bidens-washington/trump-indictment-the-boss-and-his-botched-coverup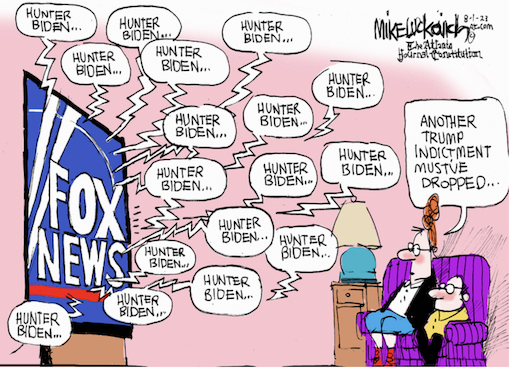 Philip Bump: The right's current thing: claiming Trump probes are a distraction
Soon after the office of special counsel Jack Smith revealed its expanded indictment of former president Donald Trump on Thursday, Sen. Josh Hawley (R-Mo.) appeared on Laura Ingraham's Fox News program.

Senator, it seems like, again, the two-tiered system of justice, Ingraham said after introducing her guest. Hunter — referring, as anyone who's seen Fox News in the past two years is aware, to President Biden's son — gets an agreement that would give him all this broad immunity. And meanwhile they just keep piling on Trump from every corner.

Yeah, we're down to charging, like, random people, just throwing those into the indictment, Hawley replied, referring to the addition of a Mar-a-Lago staffer to the indictment. Is it any coincidence that the [Justice Department] rushes to add these new indictments today after the Hunter debacle, after their own self-dealing and two-timing is exposed, after they tried to hide from us the true extent of this plea deal that gets blown up? And then it's like, oh, we got to go indict Trump on something else. I mean, it's so brazen right now, what they're doing.

There is a lot with which we can take issue here, certainly. Like Ingraham's effort to suggest that Hunter Biden and Trump deserve an equivalent legal response despite the enormous differences in the charges each faces. Or we might point out that the Mar-a-Lago staffer is accused of both moving boxes in an apparent effort to keep Trump's attorneys from finding documents marked as classified and then with allegedly telling an IT staffer that the boss wanted to delete subpoenaed surveillance footage.

But let's instead zero in on the goofiest of Hawley's claims, one that is enjoying a moment in the right-wing spotlight — this idea that the expanded indictment is just meant to distract from Hunter Biden.

You'll recall that Hunter Biden arrived in court on Wednesday expecting to finalize a plea agreement with the federal government. The judge overseeing the case, though, found the existing agreement lacking, forcing it to be redrafted. It was a moment of frustration for Hunter Biden and the government — and then it was over. Round Two will unfold at some point in the future.

Then, more than 24 hours later, the expanded indictment was released. Hawley's argument is that it was intended to distract from the discussion of Hunter Biden but that discussion had already petered out. You can see that below. On MSNBC, there had been no mention of Hunter Biden at all in the three hours before the expanded indictment was made public; on CNN, there was one mention of him in the preceding five hours.

How frustrating for Jack Smith that he spent all of that time planning to distract the national conversation away from Hunter Biden by compiling a detailed delineation of Trump's alleged crimes — only to learn that it had already been distracted! Foiled again!

Even beyond the evidence that this was not a distraction — since CNN and MSNBC had already moved on and since Fox News wasn't going to anyway — it's ridiculous to argue that the special counsel's timing is dependent on left-wing public relations. The idea is, what, that the Democratic National Committee calls Smith up and they compare calendars? And then they waste a Trump indictment on an already-dissipated court hearing?
The irony is that Hawley was trying to do what he claimed Biden's allies were doing: distract from his side's bad news by pointing at the other side's. Googly-eyed Fox News viewers no doubt nodded along. https://www.washingtonpost.com/politics/2023/07/28/trump-right-wing-distraction/
Dana Milbank: Aliens are among us — and they want to impeach Biden
The aliens have landed. And they have a gavel!
That is as plausible a takeaway as any from this week's House Oversight Committee hearing on unidentified anomalous phenomena, the curiosity formerly known as UFOs. The panel's national security subcommittee brought in, as its star witness, one David Grusch, a former Defense Department intelligence official who now claims:
That there are quite a number of nonhuman space vehicles in the possession of the U.S. government.
That one partially intact vehicle was retrieved from Italian dictator Benito Mussolini in 1933 by the United States, acting on a tip from Pope Pius XII.
That the aliens have engaged in malevolent activity and malevolent events on Earth that have harmed or killed humans.
That the U.S. government is also in possession of dead pilots from the spaceships.
That a private defense contractor is storing one of the alien ships, which have been as large as a football field.
That the vehicles might be coming from a higher dimensional physical space that might be co-located right here.
That the Roswell, N.M., alien landing was real, and the Air Force's debunking of it was a total hack job.
And that the United States has engaged in a nearly century-long sophisticated disinformation campaign (apparently including murders to silence people) to hide the truth.
I'd tell you more, but then they would have to kill me.
Alas, Grusch has no documents, photos or other evidence to corroborate any of his fantastic claims. It's classified, you see.
Maybe everything he says is true, even the claim that the Vatican was involved in pursuing extraterrestrials, and Grusch has just exposed the best-kept secret and most sprawling conspiracy in the history of the universe. Or maybe Grusch himself is a conspiracy theorist, or he's just having a lark at the subcommittee's expense. Easier to discern was the motive of several Republicans on the panel: They greeted his out-of-this-world claims with total credulity, using them as just more evidence that the deep-state U.S. government is lying to the American people, covering up the truth and can never be trusted. Their anti-government vendetta has gone intergalactic.
https://www.washingtonpost.com/opinions/2023/07/28/aliens-house-hearing-biden-impeachment/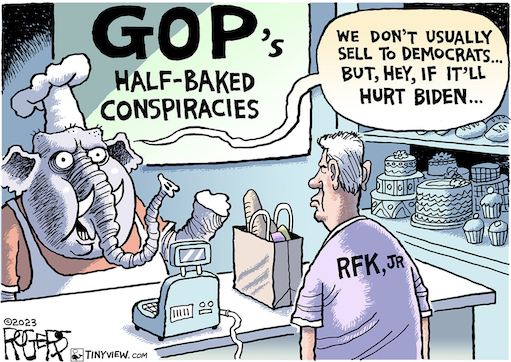 Nate Cohn: Why Trump Is So Hard to Beat
In the half century of modern presidential primaries, no candidate who led his or her nearest rival by at least 20 points at this stage has ever lost a party nomination. Today, Donald J. Trump's lead over Ron DeSantis is nearly twice as large: 37 points, according to a New York Times/Siena College poll of the likely Republican primary electorate released Monday morning.
Of course, there's still plenty of time left before the Iowa caucuses in January. The candidates haven't even set foot on a debate stage. And while no candidate has ever lost a nomination with so much support, no candidate with so much support has faced so many criminal indictments and investigations, either.
But even if it might be a mistake to call Mr. Trump inevitable, the Times/Siena data suggests that he commands a seemingly unshakable base of loyal supporters, representing more than one-third of the Republican electorate. Alone, their support is not enough for Mr. Trump to win the primary. But it is large enough to make him extremely hard to defeat — perhaps every bit as hard as the historical record suggests.
The MAGA base doesn't support Mr. Trump in spite of his flaws. It supports him because it doesn't seem to believe he has flaws.
Zero percent — not a single one of the 319 respondents in this MAGA category — said he had committed serious federal crimes. A mere 2 percent said he did something wrong in his handling of classified documents. More than 90 percent said Republicans needed to stand behind him in the face of the investigations.
https://www.nytimes.com/2023/07/31/upshot/poll-trump-republican-primary.html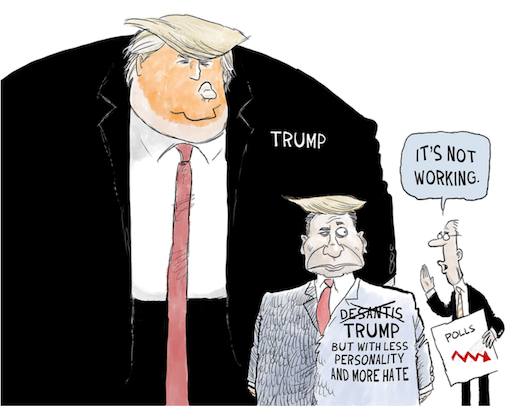 David Axelrod: The indictment is stunning. Will Trump supporters care?
Georgia prosecutors investigating Trump's efforts to overturn the 2020 election results in the state are preparing a sprawling racketeering indictment, according to press reports. If they move ahead, charges might come as early as this month.
There was a time when even a fraction of Donald Trump's record of lawlessness and depravity would have shattered a person's political career, rendered his party ashamed of its association with him, and left him humiliated and seeking forgiveness. But that day is long gone, at least if you're a Republican.
The GOP made its Faustian bargain years ago. Early in Trump's presidency there was a transmutation; his brutal style of politics, his lies and conspiracy theories, and his corruption, which were once tolerated, became celebrated.

The base of the Republican Party fell in love with the Trump Show—with his owning the libs and willingness to validate conservatives' grievances and resentments, his chaos-creating ways, and his capacity to shatter norms and channel hatreds. To his supporters, Trump is entertaining and cathartic, a fighter, a middle finger to an establishment they revile. Every criticism of him, every legal action taken against him, provides them with one more reason to rally around him. The stronger the evidence against him, the deeper their devotion to him and the more intense their rage at those who call him out. (After Trump was found liable for sexual assault, Republican Senator Tommy Tuberville said that the verdict makes me want to vote for him twice.)

For years, many people, including normie Republican lawmakers who privately wanted to rid the party of Trump, wondered when Trump would finally cross a line that the base of the party could not accept, when he would commit an act too sickening to defend.

That moment never came.

It never came, because most Republicans—some cynical, some too afraid to speak out, some cultlike in their devotion to Trump—decided early on to reject any evidence that would discomfort them, that would call into question their partisan loyalties, that would cause them to have serious second thoughts. Most of all, they decided to reject any evidence showing that their opponents were right about Trump and they were wrong. They decided that the awful things Trump has done can't be true because they don't want them to be true. This is their political a priori.
But it went beyond that, as inevitably it had to. Trump's enemies became his base's, and so did his pathologies. To every dark and ugly place he has gone, his MAGA supporters have followed, and they have dragged the Republican Party along with them.

Here's something we should prepare for: If Donald Trump thinks he's going down, he's going to try to burn down our institutions. He will mobilize his MAGA base, his Republican enablers, and the right-wing media to unleash yet more lies and conspiracy theories. He will portray himself as a martyr who is being persecuted for the sake of his supporters. He will claim that his legal troubles prove that the system is corrupt, and not him. Trump and his supporters will try to tamper with witnesses, intimidate jurors, and threaten public officials. And he will try to cause enough confusion, disorientation, discord, fear, and even violence to escape accountability yet again.
Donald Trump has already deeply wounded our nation. He's perfectly willing to break it. It's up to us to keep him from succeeding. https://www.theatlantic.com/ideas/archive/2023/08/trump-indictment-gop-trial/674813/
Rick Hasen: U.S. v. Trump Will Be the Most Important Case in Our Nation's History
It is hard to overstate the stakes riding on this indictment and prosecution. New polling from the New York Times shows that Trump not only has a commanding lead among those Republicans seeking the party's presidential nomination in 2024; he remains very competitive in a race against Joe Biden.
After nearly a decade of Trump convincing many in the public that all charges against him are politically motivated, he's virtually inoculated himself against political repercussions for deadly serious criminal counts. He's miraculously seen a boost in support and fundraising after each indictment (though recent signs are that the indictments are beginning to take a small toll). One should not underestimate the chances that Donald Trump could be elected President in 2024 against Joe Biden—especially if Biden suffers any kind of health setback in the period up to the election—even if Trump is put on trial and convicted of crimes.
A trial is the best chance to educate the American public, as the January 6 House committee hearings did to some extent, about the actions Trump allegedly took to undermine American democracy and the rule of law. Constant publicity from the trial would give the American people in the middle of the election season a close look at the actions Trump took for his own personal benefit while putting lives and the country at risk.
It, of course, also serves the goals of justice and of deterring Trump, or any future likeminded would-be authoritarian, from attempting any similar attack on American democracy ever again.
https://slate.com/news-and-politics/2023/08/trump-trial-2024-historic-jack-smith-indictment.html
Scott R. Anderson, Quinta Jurecic, Gia Kokotakis, Katherine Pompilio, Natalie K. Orpett, Benjamin Wittes: The Big One: Trump is Indicted for Jan. 6
The charges laid out in Special Counsel Jack Smith's 45-page, four-count indictment will be the ones forever attached to Trump's name. They will appear in the first line of his obituary. They will be the facts school children learn about him as long as school children learn facts about American presidents. Among the many extraordinary features of his most extraordinary presidency, the facts alleged here—and which the government must now prove beyond a reasonable doubt to a unanimous jury—are singularly defining.
Trump will always be the president charged by the government he led with pursuing, as the indictment puts it, unlawful means of discounting legitimate votes and subverting the results of the presidential election that he lost.
https://www.lawfaremedia.org/article/the-big-one-trump-is-indicted-for-jan.-6
Charlotte Klein: Fox Pundits Are Trying to Get Back on Trump's Good Side After Third Indictment
History was made Tuesday evening, when former president Donald Trump was indicted for the third time this year as result of a federal investigation into his attempt to overturn the 2020 election. But that wasn't entirely apparent last night on Fox News, whose pundit, Greg Gutfeld, was doodling while his fellow panelists on The Five reacted to the unprecedented news. "It's just not as fun as the other topics we were going to do," he claimed of the new charges, which, according to the Daily Beast, Gutfeld found less interesting than allegations that a bear in a Chinese zoo is actually a human in disguise.
Gutfeld said that "any sensible American" should "take what's happening very seriously, adding that "it should anger them." But "the actual charges," he continued, "you can't take seriously. They are feelings masquerading as facts. They're opinions trying to be passed off as crimes. It's garbage dressed up with a legal thesaurus." While Gutfeld told viewers that the charges against Trump are effectively "criminalizing thoughts" and "criminalizing speech," the indictment, as the New York Times notes, makes clear that Trump's "unlawful means of discounting legitimate votes and subverting the election results"—not Trump's false claims about the election, which he has a First Amendment right to make—are the focus of the criminal case.
The network's defense of Trump continued into primetime, with Jesse Watters declaring that the charges were akin to "political war crimes" and "overkill," per Media Matters. Watters also claimed that "this is the establishment terrified of Donald Trump's reelection," warning that if Trump is reelected, "Payback is going to be a you know what. And you guys started it."
https://www.vanityfair.com/news/2023/08/fox-news-donald-trump-indictment