December 30, 2021
THE WEEK'S BEST QUOTES. . .
"I think you should home school. I was home schooled all the way through. I am proudly a college dropout. Unless you are becoming a doctor or lawyer or engineer, I highly encourage you to drop out." — Rep. Madison Cawthorn (R-NC), speaking to an audience of mostly college students.

"If somebody thinks it's a scandal, they can kiss my ass." —Vermont state Rep. James Gregoire (R) defending himself on social media after photographs from a nude photoshoot surfaced and began circulating throughout the community this week.

"Having alienated college-educated suburban voters, many consequential Republicans decided their best bet is to keep their contracting coalition in a state of constant agitation and fear, combatants in a never-ending culture war. Right now, the Republican Party is a grave threat to American democracy." —  Peter Wehner, a former aide to President George W. Bush, wrote earlier this year.

"He's been right on everything except this issue. He's so horribly wrong on this issue, and the best way to put it, ironically, is that he's dead wrong, because people are dying! When everyone I know dies, you are getting the blame, President Trump!" — Conservative radio host Wayne Allyn Root wants to stage an "intervention" with Donald Trump over the former president's support for the Covid-19 vaccine.

"We (The Select Committee to Investigate the January 6th Attack on the U.S. Capitol) are making rapid progress. We anticipate next year, we will be conducting multiple weeks of public hearings, setting out for the American people in vivid color exactly what happened, every minute of the day on January 6th, here at the Capitol and at the White House, and what led to that violent attack. I would urge all of you on this panel to recognize that history is watching. We hold these positions of public trust to do what is right and just. Above all, our duty is to preserve our Republic, not to act for political convenience, not to attempt to conceal what happened. I would ask each of you, please, do your duty." — Vice Chair Liz Cheney (R-WY).

I hope your family dies in front of you. I pray to God, if you got any children, they die in your face." — One of many death threats against Rep. Debbie Dingell (D-MI) and her family since being singled out by Donald Trump.

"The U.S. Constitution is the sacred text of American government and civic life. But it's time to face facts: The document, written in 1787, isn't working." — John Kennith White in The Hill.

"Donald Trump Jr. is both intensely unappealing and uninteresting. He combines in his person corruption, ineptitude, and banality. He is perpetually aggrieved; obsessed with trolling the left; a crude, one-dimensional figure who has done a remarkably good job of keeping from public view any redeeming qualities he might have." —- Peter Wehner
Litigation Tracker: Pending Criminal and Civil Cases Against Donald Trump
---
IN THIS ISSUE
IN THE NEWS
OPINION
Andy Borowitz: Marjorie Taylor Greene Accuses Jewish Space Lasers of Trying to Shoot Down Santa
Claiming that the "enemies of Christmas" are taking their war against the holiday to "a whole new level," Representative Marjorie Taylor Greene warned of a conspiracy to use "state-of-the-art Jewish space lasers" to shoot down Santa.

"If you want to win the war on Christmas, first you take out the person who makes Christmas possible," Greene said. "As I speak, Jewish space lasers are being trained on the North Pole."

Noting that norad tracks Santa's route each year, she urged those military officials monitoring his progress "to be on the lookout for any incoming of a space-laser-ish nature."

In her most incendiary claim, she asserted that the Rothschild banking family is masterminding the anti-Santa plot "because they don't worship Santa the way regular people do."

"The Rothschilds have already celebrated their own holiday with their little Rothschildren," she said. "They call it the Festival of Lasers." https://www.newyorker.com/humor/borowitz-report/
Trump and the January 6 committee are now locked in a full-on confrontation
Nearly a year after his failed coup attempt, Donald Trump's habit of putting his own political gain over truth is playing out again as the ex-commander-in-chief and his associates seek to delay and defy the House select committee probing the January 6 insurrection.
Trump's campaign of obstruction, which has now reached the Supreme Court, raises questions about whether the panel, already facing a racing clock ahead of next year's midterms, will fulfill its goal of a historic accounting of his efforts to overturn the election. Trump's inner circle is locked into a strategy of preventing a comprehensive reckoning over one of the most notorious days ever in the United States and seeking to whitewash history as he readies an apparent new run for the White House.
The panel's attempt to reach deep into Trump world and behind the scenes in the West Wing on January 6 kicked into higher gear in the days before Christmas, offering new insight into its areas of focus. Trump responded by stepping up his own strategy of defying the truth. It is now clear committee members are trying to build a detailed picture of exactly what Trump said, did and thought in the days leading up to the insurrection and in the hours when it raged on Capitol Hill after he incited the mob with fresh election fraud lies. https://www.cnn.com/2021/12/27/politics/donald-trump-january-6-committee/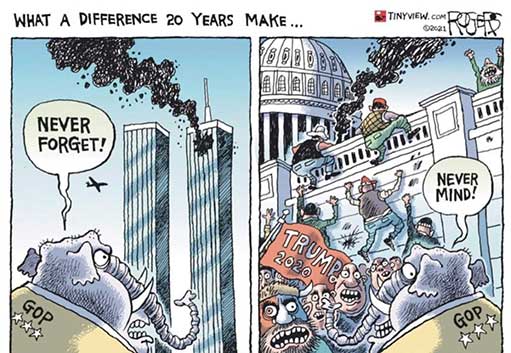 House MAGA squad seeks to expand by boosting challengers to fellow Republicans
The defiant far-right acolytes of former president Donald Trump in the House Republican caucus have embarked on a targeted campaign ahead of the midterm elections to expand their ranks — and extend their power — on Capitol Hill.
The effort, backed by Trump and guided by House members such as Marjorie Taylor Greene (R-Ga.) and Madison Cawthorn (R-N.C.), is part of a broader push by followers of the "Make America Great Again" movement to purge the GOP of those not deemed loyal to the former president and his false claims that the 2020 election was rigged in favor of Joe Biden.
The goal, organizers of the effort say, is to supersize the MAGA group in the House from its current loose membership of about a half-dozen — and give it the heft that, combined with its close alliance with Trump, would put it in a position to wield significant influence should Republicans win the House majority. https://www.washingtonpost.com/politics/house-maga-squad/2021/12/26/654f49ea-5448-11ec-8769-2f4ecdf7a2ad_story.html
Inside the nonstop pressure campaign by Trump allies to get election officials to revisit the 2020 vote
More than a year after Donald Trump lost the presidency, election officials across the country are facing a growing barrage of claims that the vote was not secure and demands to investigate or decertify the outcome, efforts that are eating up hundreds of hours of government time and spreading distrust in elections.
The ongoing attack on the vote is being driven in part by well-funded Trump associates, who have gained audiences with top state officials and are pushing to inspect protected machines and urging them to conduct audits or sign on to a lawsuit seeking to overturn the 2020 results. And the campaign is being bolstered by grass-roots energy, as local residents who have absorbed baseless allegations of ballot fraud are now forcing election administrators to address the false claims. https://www.washingtonpost.com/politics/trump-election-officials-pressure-campaign/2021/12/22/8a0b0788-5d26-11ec-ae5b-5002292337c7_story.html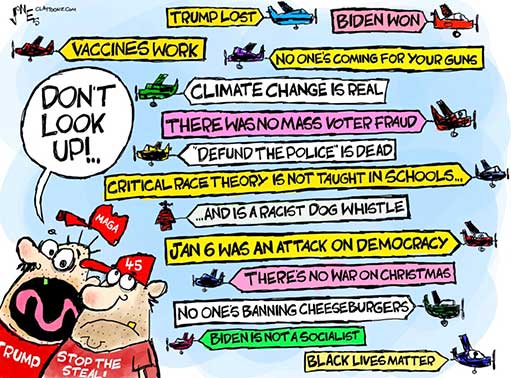 Why Convincing the Unvaccinated Is Nearly Impossible
An  Axios-Ipsos poll finds that trust in the federal government dropped across the board, as the Delta and then Omicron variants emerged and the pandemic refused to end. Trust among America's unvaccinated dropped more precipitously — from 43% in the first half of the year to 22% in the second half of the year.
White unvaccinated Americans posted the lowest trust numbers, dropping from 38% to 15%. https://www.axios.com/axios-ipsos-poll-unvaccinated-covid-0b2f2a54-472e-418b-9281-b32763f4c7b4.html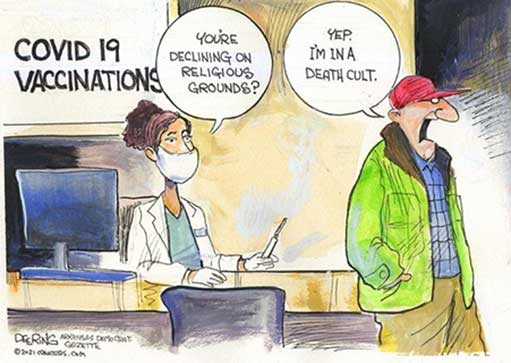 The One Thing Biden Is Doing Exceptionally Well
There is one front on which Biden has a near-perfect score: judicial nominations. Over the past year, the White House has put forth slate after slate of diverse, well-qualified, progressive nominees—and the Senate has swiftly confirmed them. Biden's breakneck pace, combined with his choice of nontraditional judges, has shattered too many records to count. No, the president has not loosened Donald Trump's stranglehold on the Supreme Court. But his transformation of the lower courts will still have a profound impact on American law for decades to come. https://slate.com/news-and-politics/2021/12/biden-judges-confirmed-record-pace.html
Oklahoma bill gives parents the right to have a book removed from a school library
If just one parent objects to a book it must be removed within 30 days under Senate Bill 1142, introduced by State Sen. Rob Standridge (R). If it is not, the librarian must be fired and cannot work for any public school for two years. Parents can also collect at least $10,000 per day from school districts if the book is not removed as requested. https://www.mcalesternews.com/cnhi_network/oklahoma-bill-gives-parents-the-right-to-have-a-book-removed-from-a-school-/article_2cd5f468-641c-11ec-9674-475897eac565.html
Big Majority of Republicans Say Biden Didn't Win
A new University of Massachusetts Amherst Poll finds 71% of Republicans — and one-third of the nation — continue to believe that Joe Biden's victory in 2020 was illegitimate. https://www.umass.edu/news/article/one-year-later-new-umass-amherst-poll-finds-continued-national-political-division-over
Jan. 6 panel signals interest in whether Trump committed crime
The Jan. 6 Select Committee has signaled it intends to explore potential criminal wrongdoing by former President Trump, marking a significant escalation for the investigation that could put pressure on the Biden administration.
The panel has said it could refer Trump to the Justice Department for prosecution if it finds damning evidence, in what would be seen as an open invitation to Attorney General Merrick Garland to be more aggressive toward the former president than he has been in his tenure thus far.
Rep. Liz Cheney (R-Wyo.), the select committee's vice chair, gave the first indication at a hearing earlier this month that the panel is examining whether Trump committed a crime.
Quoting the statutory text for a felony obstruction offense, Cheney said that a key question for the select committee investigation is, "Did Donald Trump, through action or inaction, corruptly seek to obstruct or impede Congress' official proceedings to count electoral votes?"
Obstruction of an official proceeding is a charge that carries a maximum possible sentence of 20 years in prison. Federal prosecutors have wielded it against hundreds of rioters accused of participating in the attack on the Capitol.
Any criminal referral from the select committee alleging that Trump violated the law would be an overt escalation of lawmakers' efforts to pressure the Biden DOJ into being more aggressive toward the former president. https://thehill.com/policy/national-security/587171-jan-6-panel-signals-interest-in-whether-trump-committed-crime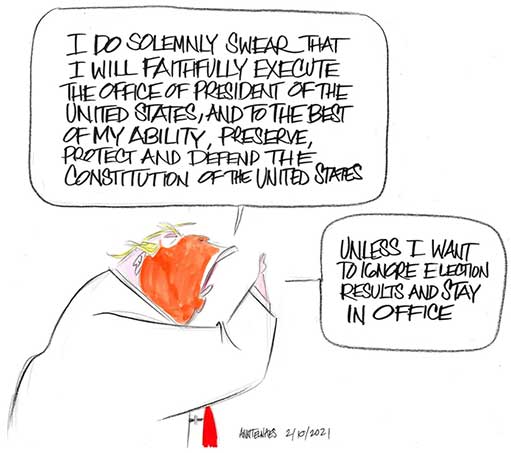 Trump ally, Pennsylvania Republican Scott Perry, and House committee on collision course
The House select committee's investigation into the Jan. 6 insurrection has moved into a new stage as, for the first time, it targets a sitting member of Congress: Rep. Scott Perry, R-Pa. While it is unusual for Congress to investigate one of its own members, it is equally unusual for a sitting lawmaker to be accused of aiding an attempt to overturn a presidential election.
Perry has been in investigators' crosshairs for some time. He was cited more than 50 times in a recent Senate Judiciary Committee report for his efforts tied to Trump's big election lie. In particular, the report outlined how Perry played a direct role in trying to install, loyalists at the Justice Department who would do the former president's bidding. https://www.nbcnews.com/think/opinion/trump-ally-pennsylvania-republican-scott-perry-s-house-committee-collision-ncna1286535
Anger over mask mandates, other covid rules, spurs states to curb power of public health officials
Under a new law in Ohio — one of at least 19 states this year that have restricted state or local authorities from safeguarding public health amid the coronavirus pandemic.
These laws — the work of Republican legislators — inhibit health officers' ability to require masks, promote vaccinations or take other steps, such as closing or limiting the number of patrons in restaurants, bars and other indoor public settings. Often, the measures shift those decisions from health experts to elected officials at a time when such coronavirus-fighting strategies have become politically radioactive. https://www.washingtonpost.com/health/2021/12/25/covid-public-health-laws-restricted/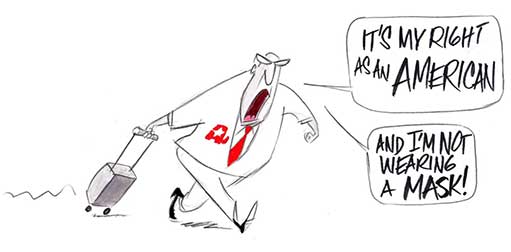 House MAGA squad seeks to expand by boosting challengers to fellow Republicans
The defiant far-right acolytes of former president Donald Trump in the House Republican caucus have embarked on a targeted campaign ahead of the midterm elections to expand their ranks — and extend their power — on Capitol Hill.
The effort, backed by Trump and guided by House members such as Marjorie Taylor Greene (R-Ga.) and Madison Cawthorn (R-N.C.), is part of a broader push by followers of the "Make America Great Again" movement to purge the GOP of those not deemed loyal to the former president and his false claims that the 2020 election was rigged in favor of Joe Biden. https://www.washingtonpost.com/politics/house-maga-squad/2021/12/26/654f49ea-5448-11ec-8769-2f4ecdf7a2ad_story.html
Democrats Score a Big Win in California Redistricting Map
On Monday, California's citizens' redistricting commission voted 14-0 to approve a map that's a dream for Democrats, featuring strong districts for California's 42 Democratic incumbents (save for two who are retiring) and makes five out of 11 GOP incumbents more vulnerable. https://www.cookpolitical.com/analysis/house/redistricting/democrats-score-big-win-california-redistricting-m
The DAILY GRILL
"This is an emergency Christmas Day warning to Pres Trump. You are either completely ignorant .. or you are one of the most evil men who ever lived .. What you told Candace Owens is nothing but a raft of dirty lies." — Right-wing conspiracy theorist Alex Jones https://twitter.com/RonFilipkowski/status/1474873242242453506

VERSUS

"Lol, I know it stings having your golden God, Trump, call you out on your anti vaxxer bullshit." —Meghan McCain https://twitter.com/MeghanMcCain/status/1474211726564417536

 

How to steal an election: "Seeding an area heavy with potential Democratic votes with as many absentee ballots as possible, targeting and convincing potential voters to complete them in a legally valid way, and then harvesting and counting the results." — Senator Rand Paul (R-KY) https://twitter.com/RandPaul/status/1475542595673763848

VERSUS

"You literally described the legal voting method. That's not stealing you idiot. It's called letting American's vote. It feels like stealing because your party is shrinking into nothing." — Fred Wellman https://twitter.com/RandPaul/status/1475542595673763848

 

Jared Schmeck, the Oregon father who wished President Biden and the first lady a wonderful Christmas while adding "Let's go, Brandon" to his remarks, told the Oregonian that "he didn't intend his parting message to be vulgar. At the end of the day, I have nothing against Mr. Biden, but I am frustrated because I think he can be doing a better job. I mean no disrespect to him. He also insisted that he's "not a Trumper." https://www.oregonlive.com/nation/2021/12/oregon-father-of-four-who-told-president-biden-lets-go-brandon-on-christmas-eve-call-said-he-meant-it-in-jest.html

VERSUS

"Donald Trump is my president and he should still be president right now. The election was 100% stolen. So, I just want to make that clear." — But Schmeck showed his true colors speaking with Steve Bannon. https://twitter.com/DavidEdwards/status/1475512987268132874

 

Wishing you a happy and prosperous Kwanza! — College Republicans https://twitter.com/CRNC/status/1475131755489370123

VERSUS

Stop.
It's a fake religion created by a psychopath.
You aren't bringing in new voters, you are turning them away.
People are tired of pandering and BS. — Marjorie Taylor Greene  https://twitter.com/mtgreenee/status/1475235145854734336
Paul Waldman: Surprisingly, there has been a redistricting turnaround
As one analyst after another noted, Republicans control more state legislatures and more redistricting processes, while in many states controlled by Democrats, redistricting is done by independent commissions. As a result, Republicans might be able to win the House through redistricting alone, even without increasing their vote share in the 2022 midterm elections.
At least that's what everyone thought. Until now.
Just in the past few days, the conventional wisdom on redistricting has undergone a dramatic shift. The most informed redistricting experts now say it appears that this process will look more like a wash, or even that Democrats might gain a few seats.
How did this happen? Here are the key factors:
Republicans had already gerrymandered so aggressively in the post-2010 redistricting that they had limited room to add to their advantage.
In the relatively small number of states where they had the opportunity, Democrats are gerrymandering with equal vigor.
Look at the two largest states. If all you knew was that the GOP legislature controls redistricting in red Texas while in blue California the process is run by an independent commission, you might expect a huge net gain for Republicans. But that's not how it worked out.
In Texas, Republicans chose to lock in their current advantage rather than expand it, a decision driven by the way the state is trending in a more Democratic direction. Currently there are 23 Republicans and 13 Democrats in Texas's U.S. House delegation. Above all, the legislature made sure there would be almost no competitive districts in the future. So the new map will have 24 safe Republican seats, 13 safe Democratic ones and one competitive district (which Republicans might win).
Which means Republicans will gain only one or two seats in Texas — the smart move in the long run but not something that ensures victory in 2022 or 2024. https://www.washingtonpost.com/opinions/2021/12/23/redistricting-turnaround/
Dana Milbank: This is the worst economy we never had
For months, the GOP-Fox News axis forecast the bluest of Christmases.
House Republican Leader Kevin McCarthy joined 159 House Republicans in a letter to President Biden saying his policies "will certainly ensure that this Christmas will not be merry" because of a "supply chain crisis" and inflation.
Chairman Jim Banks of the House Republican Study Committee, citing the same reasons, wrote to colleagues: "Our job as Republicans is to explain to the American people what the grinches at 1600 Pennsylvania Ave did to ruin Christmas."
Fox News told viewers that "Christmas presents for your kids may not arrive on time or even at all" (Sean Hannity), that the president is "the Biden Who Stole Christmas" (Laura Ingraham) and that Biden is "facing a nightmare come Christmastime," when "gifts are going to cost a fortune, and that's even if you're lucky enough to snag anything" (Jesse Watters).
Breitbart News trumpeted a Trump campaign adviser's forecast for "a frankly miserable Christmas … the Biden Blue Christmas." Newsmax foresaw "Biden's Blue Christmas: Shortages, Frustration, Economic Malaise."
And then — a Christmas miracle!
Holiday retail sales were the highest ever, jumping 8.5 percent from last year and nearly 11 percent from pre-pandemic 2019, as "consumers splurged throughout the season," Mastercard reported Sunday.
Stores were stocked. Package deliveries were overwhelmingly on time. Inflation, though a serious concern, clearly didn't deter shoppers, and holiday motorists found gas prices 14 cents a gallon lower than in November.
So, did GOP leaders and Fox News acknowledge they fearmongered in error? My closed-caption search might have missed something, but I found only three passing mentions on Fox News of the holiday sales triumph, amid a new round of doomsaying ("it looks like things are about to get a lot worse in the new year"). Republican Twitter guns were similarly silent. https://www.washingtonpost.com/opinions/2021/12/29/this-is-worst-economy-we-never-had/
Laurence H. Tribe, Donald Ayer and Dennis Aftergut: Will Donald Trump Get Away With Inciting an Insurrection?
The legal path to investigate the leaders of the coup attempt is clear. The criminal code prohibits inciting an insurrection or "giving aid or comfort" to those who do, as well as conspiracy to forcibly "prevent, hinder or delay the execution of any law of the United States." The code also makes it a crime to corruptly impede any official proceeding or deprive citizens of their constitutional right to vote.
Based purely on what we know today from news reports and the steady stream of revelations coming from the House select committee investigating the attack, the attorney general has a powerful justification for a robust and forceful investigation into the former president and his inner circle. As White House chief of staff, Mark Meadows was intimately involved in the effort to overturn the election. He traveled to Georgia last December, where he apparently laid the groundwork for the phone call in which the president pressured Georgia's secretary of state, Brad Raffensperger, to "find 11,780 votes." Representative Jim Jordan of Ohio reportedly promoted a scheme to pressure Vice President Mike Pence to reject duly certified Joe Biden electors. And from their war room at the Willard Hotel, several members of the president's inner circle hatched the legal strategy to overturn the results of the election.
The pending state and local investigations in New York and Atlanta will never be able to provide the kind of accountability the nation clearly needs. The New York case, which revolves around tax fraud, has nothing to do with the attack on our government. The Atlanta district attorney appears to be probing Mr. Trump's now infamous call to Mr. Raffensperger. But that is just one chapter of the wrongdoing that led up to the attack on the Capitol.
Significantly, even if the Atlanta district attorney is able to convict Mr. Meadows and Mr. Trump for interfering in Georgia's election, they could still run for office again. Only convicting them for participating in an insurrection would permanently disqualify them from office under Section 3 of the 14th Amendment.
Some have expressed pessimism that the Department of Justice would be able to convict Mr. Trump. His guilt would ultimately be for a jury to decide, and some jurors might believe he deluded himself into believing his own big lie and thus genuinely thought he was saving, rather than sabotaging, the election. But concerns about a conviction are no reason to refrain from an investigation. If anything, a federal criminal investigation could unearth even more evidence and provide a firmer basis for deciding whether to indict.
To decline from the outset to investigate would be appeasement, pure and simple, and appeasing bullies and wrongdoers only encourages more of the same. Without forceful action to hold the wrongdoers to account, we will likely not resist what some retired generals see as a march to another insurrection in 2024 if Mr. Trump or another demagogue loses.
Throughout his public life, Mr. Garland has been a highly principled public servant focused on doing the right thing. But only by holding the leaders of the Jan. 6 insurrection — all of them — to account can he secure the future and teach the next generation that no one is above the law. If he has not done so already, we implore the attorney general to step up to that task. https://www.nytimes.com/2021/12/23/opinion/trump-capitol-riot-january-6th.html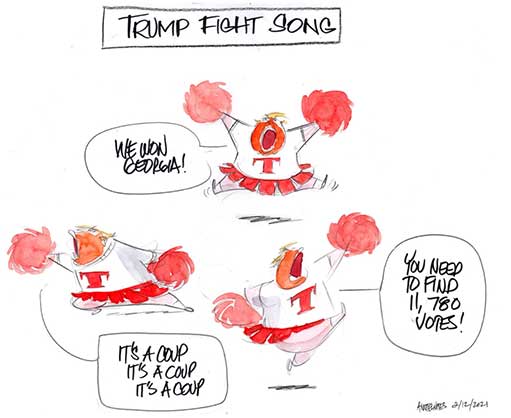 William Kristol: Trump's Defeat a Year Ago Was Dunkirk, Not D-Day
Where do we stand, as year 2021 of the common era and year one of the Biden presidency comes to an end?
We're much better off than we might have been.
We're not as well off as we might have hoped to be.
Respectable Republicans are not, at the end of 2021, doing much if anything to repudiate the conspiratorial craziness, the incitements to violence, the hostility to rational discourse, that are all around us and which have moved from the fringes of conservatism to close to dead center.
So the guardrails of liberal democracy and civic sanity are not stronger than they were a year ago. We did prevent the destruction of those guardrails, which is no small thing. But we haven't succeeded in repairing or rebuilding them. Or to construct new ones. The forces of democracy remain beleaguered, the forces of sanity on the defensive. To the degree they're regrouping, they're doing so slowly and fitfully. And time is not on our side.
After Dunkirk, Churchill concluded his June 4, 1940, speech to the House of Commons with his famous peroration, "We shall not flag or fail. We shall go on . . . until in God's good time, the New World, with all its power and might, steps forth to the rescue and the liberation of the old."
But there is no one today who will step forth to rescue and liberate us from beyond the ocean. It's not enough if we merely hold on. We have to be the source of our own rescue, the cause of our own liberation. And that work we have only just begun. https://www.thebulwark.com/trumps-defeat-a-year-ago-was-dunkirk-not-d-day/
Evan Osnos: Dan Bongino and the Big Business of Returning Trump to Power
Every weekday from noon to three—the coveted time slot once held by the late Rush Limbaugh—"The Dan Bongino Show" goes live across the United States, beginning with an announcer's voice over the sound of hard-rock guitars: "From the N.Y.P.D. to the Secret Service to behind the microphone, taking the fight to the radical left and the putrid swamp."
In Bongino's world, it matters little that Trump's claims of rampant fraud were dismissed by his own top appointees at the Departments of Justice and Homeland Security, as well as by federal and state judges. To the true believer, the lack of solid evidence simply confirms how well hidden the rigging was. In the study of conspiracy theories (a description Bongino rejects), this is known as "self-sealing": the theory mends holes in its own logic. "A corrupted intelligence community, in conjunction with a corrupt media, will eat this country like a cancer from the inside out," Bongino told his audience, as he built to a takeaway. "This is why I'm really hoping Donald Trump runs in 2024," he said. "He's the best candidate suited to clean house. Because if we don't clean house the Republic is gone."
One follower celebrated the campaign against vaccine mandates and gloried in the prospect of vindication. "Seeing a rise in people turning to NOT getting so many jabs, quitting jobs, and telling govt. to screw off is the first sign of a revolt," she wrote, and added, "Let the revolt happen."  https://www.newyorker.com/magazine/2022/01/03/dan-bongino-and-the-big-business-of-returning-trump-to-power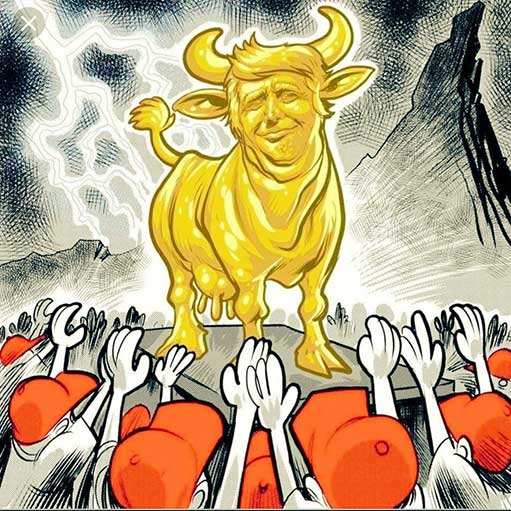 Paul Waldman: Joe Manchin has all the power — and a catastrophic lack of imagination
Manchin's vision for the future of coal country seems to involve nothing more than letting the state's ownership class — including him and his family — squeeze the last drops of wealth from a dying industry, then leave the people who labored in that industry with few economic prospects.
Yet for just a few billion dollars, we could give every one of them a new house, a truck and a seed grant to start a small business. Manchin could have asked for something like that and a whole lot more, and he would have gotten it. But he didn't.
You could argue that Manchin isn't ideologically inclined toward lots of government spending. Fine. But what does he want, other than to cut things out of the BBB that other Democrats favor? No one seems to know, maybe because the answer is that he doesn't want anything.
Which raises a broader question: Is West Virginia a better place because of Manchin's time in the Senate? More prosperous, more vital, more fair, better positioned for the future? What has he actually done for West Virginia?
Even if it's hard for one senator to completely transform his home state, this is Manchin's chance to do it. He's in a position to do for West Virginia what no senator has ever done for their home state, if he really wanted.
But he doesn't seem to want to. He has all the power, and no imagination. This failure has to be counted among one of the greatest lost opportunities in the history of Congress. https://www.washingtonpost.com/opinions/2021/12/22/manchin-has-no-imagination/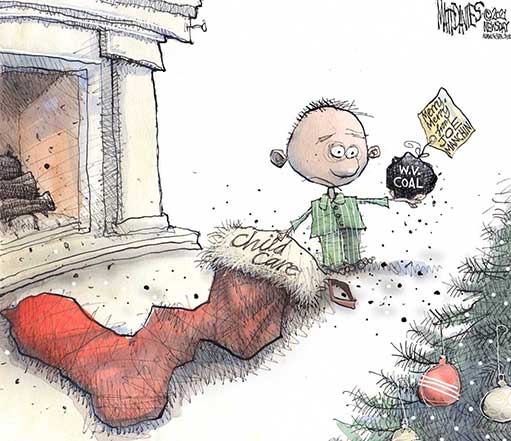 Ed Kilgore: Donald Trump Jr. Rejects Christianity's 'Turn the Other Cheek' Teaching
 We have grown accustomed to the irony of conservative Christians all but idolizing a politician who is the most heathenish public figure of our generation, inordinately proud of his power over women in particular and supposedly lesser beings generally and incapable of confessing a single sin or weakness or defeat. But it's still a bit jarring to hear this chip off the old block openly calling for an ethic of hatred, resentment, and vengeance against his imagined persecutors.
There is, of course, an ancient tradition in right-wing politics and culture of loudly proclaiming fidelity to Christianity while strategically ignoring its less convenient tenets. The authoritarian tradition of the 20th century, which so many of us fear the MAGA movement emulates, was conspicuous for promoting an extremely un-Christ-like worship of violence and repression in the name of defending "traditional Christian culture." Adolf Hitler spoke of valuing "positive Christianity," by which he meant the few teachings of Jesus Christ that did not directly contradict his gospel of racism, nationalism, and total war as a biological necessity. The Trumps aren't typically articulate enough to promulgate a similar revision of the faith and may not personally subscribe to the crude racism and nationalism they relentlessly and cynically exploit. But it's clear they appeal to a sort of cafeteria Christianity in which conservatives are encouraged to downplay or simply forget about the Jesus who condemned blood-and-soil loyalties on behalf of a universal ethic of love.
Mock it all you want, and I will, but this distorted Christianity has "worked" pretty well for Donald Trump Sr. and Jr. It has "gotten them" the White House for four years, dominion over of one of America's two major political parties, and saddest of all, the especially devoted support of so many conservative followers of the Prince of Peace, who are willing to dismiss the savior's teachings as T-ball and pursue an eye for an eye in order to smite their many enemies. So long as this thirst for holy violence and sanctified score-settling persists, the Trumps and their successors will always have a political base. https://nymag.com/intelligencer/2021/12/donald-trump-jr-rejects-jesuss-turn-the-other-cheek.html