February 24, 2022
THE WEEK'S BEST QUOTES. . .
"The idea that an accounting firm's announcement that no one should rely on a decade's worth of financial statements that it issued based on numbers submitted by an entity somehow exonerates that entity and renders an investigation into its past practices moot is reminiscent of Lewis Carroll ('When I use a word, Humpty Dumpty said ... it means just what I chose it to mean – neither more nor less'); George Orwell ('War is peace, freedom is slavery, ignorance is strength'); and 'alternative facts.'" —
From Judge Arthur Engoron's order
requiring Donald Trump, Donald Trump Jr., and Ivanka Trump to Comply with AG James' Subpoenas.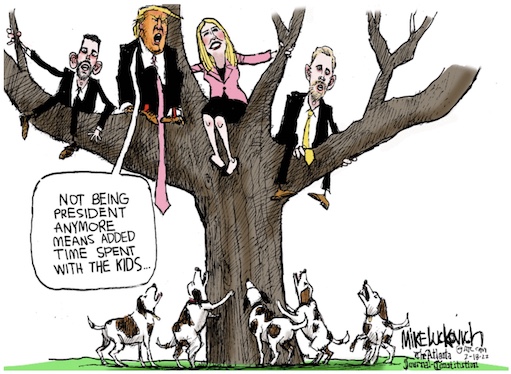 As Trump circles the drain and the pressure increases from all sides, we will see increasingly wild accusations which will lump everything under one grand conspiracy to steal the 2020 election and keep him out of the 2024 election. This is a dangerous narrative, from 2016 to 2024, but it will now set in as MAGA dogma. — Jason Miciak
Carter's false story about a death (of a woman trampled by a Canadian horse patrol) was amplified by a number of other prominent people, including Sen. Ted Cruz, and has been retweeted more than 11,000 times. (The original false tweet remains online.) — Daniel Dale
So now his accountants have fired him and investigations draw closer to him and right on cue, the noise machine gets turned up. Fox leads the charge with accusations against me counting on their audience to fall for it again. They're getting awfully close to actual malice —
Hillary Clinton
The word "infiltrate" has been mentioned at least 47 times on Fox News/Business this week -- the idea being Clinton spied on (or "infiltrated") the Trump WH. But the word appears nowhere in Durham's filing. It's from a quote Kash Patel made to Fox News! Extremely misleading. — Aaron Rupar While lies about Clinton"infiltrating" Trump servers have been mentioned at least 47 times this week on Fox News/Business, Trump's longtime accounting firm dumping him and citing the NY investigation of his business has been brought up once. Once! https://twitter.com/atrupar/status/1493638768401821696
Rep. Yvette Herrell (R-NM) compared Canada's handling of vaccine mandate protesters to "an authoritarian regime like Venezuela" and said she will introduce legislation to temporarily grant asylum to Canadians protesting vaccine requirements — Mediaite reports.
When you are encouraging America to invade Canada and hoping that Russia invades Ukraine, your political party is beyond repair. — MeidasTouch
These people (Fox News Hosts) and a great deal of the GOP leadership will have blood on their hands. They're fanning flames, encouraging Putin to attack Ukraine. Putin and his regime perceive opportunities because such fools suggest the U.S. is weak, divided, and distracted. — Lt. Colonel Alexander S. Vindman
A truck is not a speech. A horn is not a voice. An occupation is not a protest. A blockade is not freedom, it blocks the liberty of all. A demand to overthrow a government is not a dialogue. The expression of hatred is not a difference of opinion. A lie is not the truth. — Bob Rae, Canada's ambassador to the United Nations, lashing out at protesters who have clogged roads and bridges in his country for over three weeks because they object to vaccine mandates.
"If you are digesting Russian misinformation and parroting Russian talking points, you are not aligned with long-standing bipartisan American values, which is to stand up for the sovereignty of countries, like Ukraine. Those American values include a country's "right to choose their own alliances" and to stand against "potential attempts by any country to invade and take territory of another country. That applies to Senator Hawley, but it also applies to others who may be parroting the talking points of Russian propagandist leaders," — White House press secretary Jen Psaki accusing Sen. Josh Hawley of "parroting" Russian propaganda.
"Former President Trump's adulation of Putin today — including calling him a 'genius' — aids our enemies. Trump's interests don't seem to align with the interests of the United States of America." — Rep. Liz Cheney (R-WY), on Twitter.
Why do Democrats want you to hate Putin? Has Putin shipped every middle class job in your town to Russia? Did he manufacture a worldwide pandemic that wrecked your business? Is he teaching your kids to embrace racial discrimination? Is he making fentanyl? Does he eat dogs? — Tucker Carlson, on his Fox News show.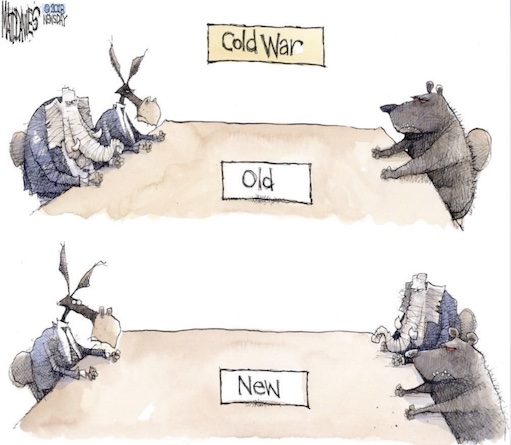 VIDEOS
Eminem Responds To Rudy Giuliani: https://youtu.be/b1a_DBZKJOQ
Jordan Klepper Takes On Canadian Truckers | The Daily Show: https://youtu.be/YbmiKG56zuw
"They're getting close to actual malice in their attacks." — Hillary Clinton calls out Fox News for propagating conspiracy theories about her as investigations draw closer to Trump. Fox News quickly cut away from Hillary Clinton's speech as she called for people to reject Trump's big lie about the 2020 election.
Litigation Tracker

: Pending Criminal and Civil Cases Against Donald Trump.
---
IN THIS ISSUE
IN THE NEWS
OPINION
Andy Borowitz: Republicans Support Democracy in Ukraine as Long as It Does Not Spread to U.S.
In a powerful statement, Republican congressional leaders said that they strongly support democracy in Ukraine, as long as it does not spread to the United States.
"Vladimir Putin should make no mistake," the G.O.P. statement read. "We Republicans will do everything in our power to preserve democracy in Ukraine, and to keep it over there."
Drawing a line in the sand, the Republicans argued that democracy "must be allowed to thrive within the territorial borders of Ukraine and should not be permitted to leak out into Florida, Texas, or Georgia."
Calling Russian aggression "a slippery slope," the G.O.P. declared, "If Vladimir Putin is allowed to undermine democratic norms in Ukraine, he will be emboldened to attack our proud American traditions of gerrymandering, disenfranchisement, and voter suppression." https://www.newyorker.com/humor/borowitz-report/republicans-support-democracy-in-ukraine-as-long-as-it-does-not-spread-to-us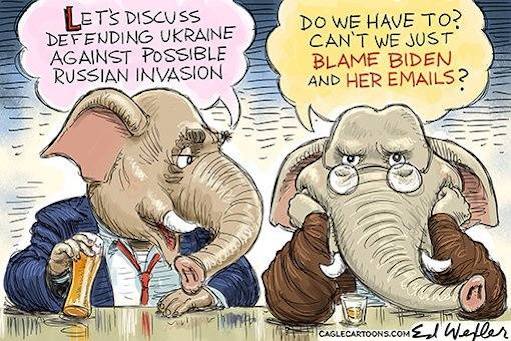 Federal judge rejects Trump effort to toss Jan. 6 lawsuits
A federal judge on Friday denied former President Donald Trump's request to toss lawsuits accusing him and others of triggering the Jan. 6 Capitol riot, ruling that he is potentially liable for damages over actions he took as president.
"To deny a president immunity from civil damages is no small step," U.S. District Judge Amit Mehta wrote in a 112-page ruling. "The court well understands the gravity of its decision. But the alleged facts of this case are without precedent, and the court believes that its decision is consistent with the purposes behind such immunity."
The lawsuits accuse Trump and others of violating federal civil rights and local incitement laws and were filed by members of Congress and two police officers. Trump had sought to dismiss the lawsuits, with his lawyers arguing he has absolute immunity from civil lawsuits over his official actions while in office and that his advocacy for Congress to stop the formalization of President Joe Biden's victory was within the bounds of protected political speech.
Also included in the lawsuits were Trump's eldest son, Donald Trump Jr., former New York City mayor Rudy Giuliani, Rep. Mo Brooks, R-Ala., Proud Boys leader Enrique Tarrio and the Oath Keepers. Mehta, who was appointed by former President Barack Obama, also denied the Oath Keepers and Tarrio's motions to dismiss but dropped the cases against Trump Jr. and Giuliani. He also said he would drop Brooks from the suits as soon as he requests it. https://www.nbcnews.com/politics/donald-trump/federal-judge-rejects-trump-effort-toss-jan-6-lawsuits-rcna16906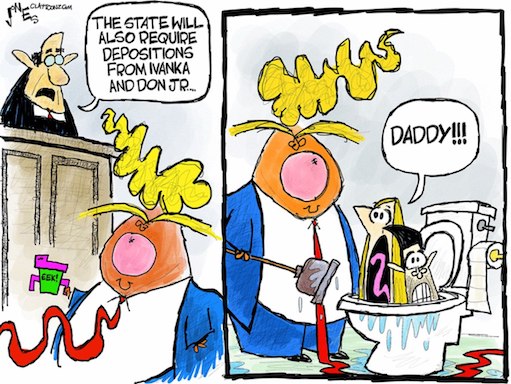 Court ruling on social cost of carbon upends Biden's climate plans
The Interior Department has paused oil and gas lease sales on public lands after a federal judge barred the government from considering climate damages in major decisions
A recent court ruling that bars the Biden administration from accounting for the real-world costs of climate change has created temporary chaos at federal agencies, upending everything from planned oil and gas lease sales to infrastructure spending.
The Feb. 11 decision by a Louisiana federal judge blocked the Biden administration from using a higher estimate for the damage that each additional ton of greenhouse gas pollution causes society. This formula, called the social cost of carbon, applies to consequential decisions affecting fossil fuel extraction on public lands, infrastructure projects and even international climate talks. https://www.washingtonpost.com/climate-environment/2022/02/21/social-cost-of-carbon-biden/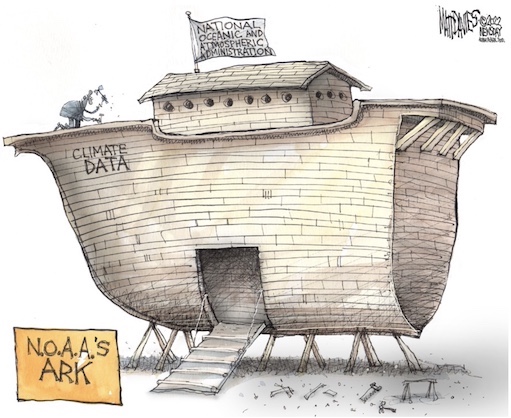 Biden is winning the war against covid. Is anyone noticing?
In 13 months, the Biden administration has managed to fully vaccinate three-quarters of American adults, almost two-thirds of whom are boosted. It has also rolled out a variety of effective treatments. With infection and hospital rates dropping dramatically, the CDC seems ready to catch up with many states in setting a timetable for lifting masking and other restrictions, though CDC Director Rochelle Walensky warned that a variety of factors must be considered, including hospital capacity.
Nearly all schools are operating in-person, and majorities of parents continue to support mask requirements (no doubt because younger kids are not yet eligible for vaccines, and because not all students are yet vaccinated). https://www.washingtonpost.com/opinions/2022/02/17/biden-is-winning-the-war-against-covid/
How many people died believing vaccine misinformation?
In a just-published nationwide survey of 18,782 people across all 50 states and the District of Columbia, the Covid States Project asked about four vaccine misinformation claims, asking respondents whether they were "true" or "false" or if a respondent was "not sure." Five percent said they thought that vaccines contained microchips; 7 percent said vaccines used aborted fetal cells; 8 percent said the vaccines could alter human DNA; and 10 percent were concerned that vaccines could cause infertility. Forty-six percent were uncertain about the veracity of at least one of the four false statements.
The survey shows how misinformation about vaccines continues to erode confidence in them. What kind of message is sent when Fox News host Tucker Carlson compares coronavirus vaccine mandates to medical experiments conducted by Nazi Germany and Imperial Japan, as he did Jan. 21? Or Mr. Carlson's many previous broadcasts raising questions in a haphazard way and relying on dubious sources? The new survey found that people who believe vaccine misinformation, or express uncertainty about it, tend to register higher degrees of trust in Fox News than those who reject the false vaccine claims. It also identified other groups of people who are more inclined to believe the misinformation. Young parents stood out as vulnerable to false claims. https://www.washingtonpost.com/opinions/2022/02/22/coronavirus-vaccine-misinformation-still-erodes-confidence/
GOP tensions boil over Trump's fundraising tactics
Donald Trump's spamming of Republican donors could kneecap party efforts to build a steady funding stream for future elections and compete with Democratic fundraising, top GOP officials are privately warning.
Trump's decision to bombard donors with numerous daily emails and texts is sucking up record sums. Four top GOP digital strategists tell Axios it's also imperiling efforts to build a sustainable, grassroots base of financial support for anyone not named Trump. https://www.axios.com/gop-tensions-trumps-fundraising-tactics-41199f5e-ed80-4d99-a60c-ea9f8ee92081.html
Fringe Scheme to Reverse 2020 Election Splits Wisconsin G.O.P.
First, Wisconsin Republicans ordered an audit of the 2020 election. Then they passed a raft of new restrictions on voting. And in June, they authorized the nation's only special counsel investigation into 2020.
Now, more than 15 months after former President Donald J. Trump lost the state by 20,682 votes, an increasingly vocal segment of the Republican Party is getting behind a new scheme: decertifying the results of the 2020 presidential election in hopes of reinstalling Mr. Trump in the White House.
Wisconsin is closer to the next federal election than the last, but the Republican effort to overturn the election results here is picking up steam rather than fading away — and spiraling further from reality as it goes. The latest turn, which has been fueled by Mr. Trump, bogus legal theories and a new candidate for governor, is creating chaos in the Republican Party and threatening to undermine its push to win the contests this year for governor and the Senate.
The situation in Wisconsin may be the most striking example of the struggle by Republican leaders to hold together their party when many of its most animated voters simply will not accept the reality of Mr. Trump's loss. https://www.nytimes.com/2022/02/19/us/politics/wisconsin-election-decertification.html
Democracy Is On The Ballot In For 11 Secretary Of State And Attorney General Elections
This year, 27 secretaries of state and 30 attorneys general will be elected nationwide (other states either elect them in other years or don't elect them at all). And since the secretaries of state and attorneys general who are elected in 2022 will wield power in 2024, this year's elections could plunge our democracy into further danger if would-be election subverters win them. https://fivethirtyeight.com/features/democracy-is-on-the-ballot-in-these-11-secretary-of-state-and-attorney-general-elections/
143 Republicans are running for Congress in Texas. Only 13 say the 2020 election was legitimate.
With the Texas primary looming in less than two weeks, the Houston Chronicle did something very interesting: They asked every Republican candidate running for Congress whether or not they believed the 2020 election was stolen or fraudulent.
Here's what they found:
"Of the 86 with discernible stances, at least 42 have said outright that the 2020 election was stolen, called the results illegitimate or said they would have voted not to certify. Another 11 candidates have said there was enough fraud or irregularities to cast doubt on the results of the election. Just 13 said the results were legitimate."
A bit of quick math produces this: Just 9% of Republicans running for Congress this year are willing to publicly state the fact that the 2020 election was free and fair. NINE percent! https://www.cnn.com/2022/02/17/politics/texas-primary-republican-party/index.html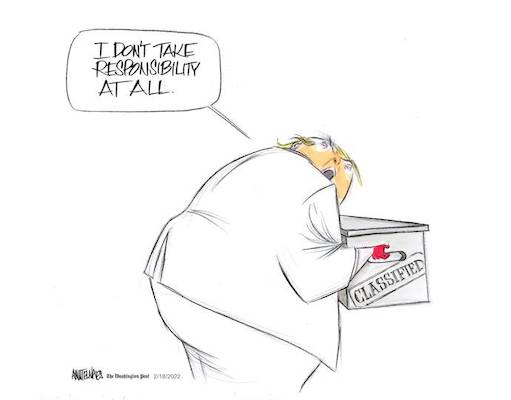 GOP plunges into season of 'self-hate' that will rewire the party
Republicans are embarking on a primary season that is poised to reshape the GOP for a generation, and that journey begins in Texas.
In less than two weeks, the first primary election of 2022 will take place in the nation's second-most populous state, and it's a blockbuster: The state's Republican governor, attorney general and agriculture commissioner all face spirited challenges, as do several GOP House incumbents.
From there, fractious primaries will unfold across the electoral map in the coming months, cementing a more populist orientation for the GOP and Donald Trump's status as the party's lodestar, or setting a more traditionally conservative course.
These aren't simple match-ups between Trump and anti-Trump forces, or isolated intraparty feuds. Safely ensconced Republican officeholders are being bombarded by challengers from coast to coast, in many cases spurred on by Trump directly. Redistricting and retirements have further scrambled the established order in many places, opening up seats and drawing fields filled with combative candidates eager to move the party in a different direction. Combine that with high levels of energy — and anger — in the party base, and it's a recipe to remake the party from the ground up. https://www.politico.com/news/2022/02/17/primaries-redefining-post-trump-republicans-00009337
For Trump, a Perilous Exclamation Point to Years of Wealth Inflation
On Tuesday evening, former President Donald J. Trump, rattled by news that his longtime accountants had declared that years of his financial statements were not reliable, issued a statement of self-defense with new claims about his wealth.
These, too, did not add up.
In a rambling emailed message, Mr. Trump referred to a "June 30, 2014 Statement of Financial Condition" prepared by the accounting firm, Mazars USA, showing that the year before his first presidential run his net worth had been $5.8 billion. But that is not what he said back then.
When he declared his candidacy in 2015, he produced what he called his "Summary of Net Worth as of June 30, 2014" with a very different number: $8.7 billion. A month later, he upped the ante, releasing a statement pronouncing that his "net worth is in excess of TEN BILLION DOLLARS." The shape-shifting valuations, even in the face of mounting legal peril with Mazars' decision to sever ties and disavow its past financial statements, get to the core of a problem for Mr. Trump. He has spent a lifetime bending reality to his will, often making it up as he went along, inventing facts and figures to support his needs in the moment. In fact, in his Tuesday email he suggested the intangible value of the "Trump brand" was actually worth an extra $3 billion in 2014. https://www.nytimes.com/2022/02/16/business/trump-wealth-mazars.html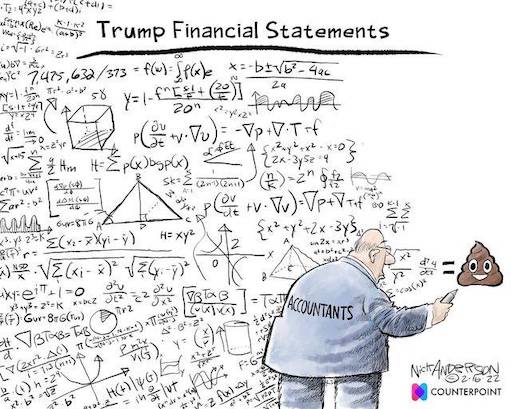 GOP Lawmaker Wants Asylum for Truck Protesters
Rep. Yvette Herrell (R-NM) compared Canada's handling of vaccine mandate protesters to "an authoritarian regime like Venezuela" and said she will introduce legislation to temporarily grant asylum to Canadians protesting vaccine requirements, Mediaite reports. https://www.mediaite.com/politics/gop-rep-will-introduce-bill-to-provide-temporary-asylum-to-canadian-trucker-protesters-compares-trudeaus-actions-to-an-authoritarian-regime-like-venezuela/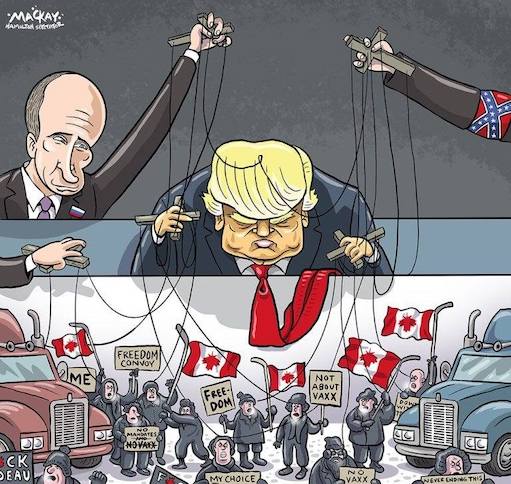 House panel asks federal agency to end Trump's lease of DC hotel as questions rise over his financial statements
A House committee urged a federal agency Thursday to consider terminating the lease on a Washington, D.C., hotel held by former President Donald Trump and his business.
The House Committee on Oversight and Reform cited accounting firm Mazars' recent announcement that it is dropping the Trump Organization as a client and stating that a decade of the company's financial statements cannot be relied on as accurate. https://www.cnbc.com/2022/02/17/house-panel-asks-gsa-to-end-trump-lease-of-old-post-office-dc-hotel.html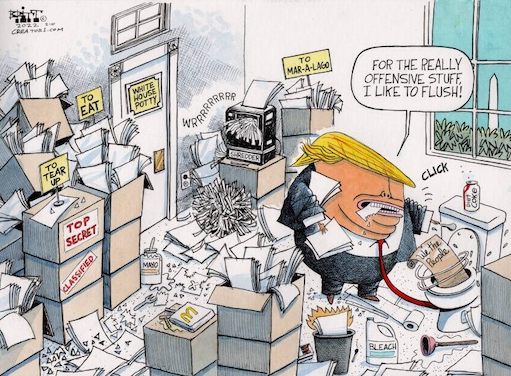 Durham Distances Himself From Furor in Right-Wing Media Over Filing
John H. Durham, the Trump-era special counsel scrutinizing the investigation into Russia's 2016 election interference, distanced himself on Thursday from false reports by right-wing news outlets that a motion he recently filed said Hillary Clinton's campaign had paid to spy on Trump White House servers.
Citing a barrage of such reports on Fox News and elsewhere based on the prosecutor's Feb. 11 filing, defense lawyers for a Democratic-linked cybersecurity lawyer, Michael Sussmann, have accused the special counsel of including unnecessary and misleading information in filings "plainly intended to politicize this case, inflame media coverage and taint the jury pool." https://www.nytimes.com/2022/02/17/us/politics/durham-right-wing-media-trump.html
Vast Majority of Districts Aren't Competitive
Thanks to new congressional maps, most Americans' votes won't matter
As many as 94% of representatives may be running in safe districts, fueling polarization as candidates play to their bases
The most fundamental concept in American government is that all politicians are accountable to the people. Constituents accept laws shaped by the people they vote for, knowing that they have the power to eventually vote them out of office if they disagree.
But when it comes to the US House of Representatives, this pillar of democracy is crumbling. An overwhelming majority of seats in the US House are becoming non-competitive. That means that when voters show up at the polls in November to vote for their candidates, the contests will already be decided. Their votes won't matter.
It felt strange writing that as the opening to a story we published last weekend exploring the decline of competitive congressional seats. How could voters' choices not matter in an American election? But academics, analysts and other experts say the trend is undeniable.
Just 27 of the 335 congressional districts that have been drawn so far as part of the redistricting process are considered competitive – meaning either party has less than a five-point advantage – according to FiveThirtyEight. Dave Wasserman, an elections expert for the non-partisan Cook Political Report, told me he expects there to be 30 to 35 competitive seats in total once states finish drawing all 435 district boundaries. That means that as many as 94% of representatives would be running in relatively safe seats – a figure that astonished me. https://www.theguardian.com/us-news/2022/feb/17/newly-drawn-district-lines-safe-seats-congress
Partisan tactic by Lt. Gov. Dan Patrick's campaign delays thousands of requests for mail-in ballots from Texas voters
Thousands of applications for mail-in ballots submitted by Texas voters have been delayed — and some voters may ultimately not receive ballots — because Lt. Gov. Dan Patrick's campaign instructed eligible voters to send requests for absentee ballots to the Texas secretary of state's office instead of their local elections offices.
A mass mailing by Patrick went out to Republican voters across the state in January, ahead of the March primary, and included a two-page letter emblazoned with the seal of his office encouraging voters to submit the requests following "three easy steps." The problem was the third step, which instructed voters to return the applications in an enclosed reply envelope that was addressed to the state.
The lieutenant governor's campaign said it used the secretary of state's address because "many Republican voters are rightly suspicious of Blue County election officials."
"The decision to direct return mail to the Secretary of State (SOS), someone who is trusted and respected, gave voters an added layer of comfort," Allen Blakemore, a campaign consultant for Patrick, wrote in an email.
But the campaign's approach forced the secretary of state, which had a stated policy of rejecting applications erroneously sent its way, to sort and forward the Patrick-inspired forms to the counties where they should have been sent originally.
The delayed delivery could put voters' requests for mail-in ballots at risk as counties continue to see higher-than-normal rejection rates of applications under new ID requirements enacted by Republicans last year. Any issues with defective applications must be resolved by Friday so voters can receive a mail-in ballot. https://www.texastribune.org/2022/02/17/texas-voting-by-mail-2022-dan-patrick/
Trump moves to close off Liz Cheney's political escape hatch
Former President Donald Trump and his allies have been privately lobbying Wyoming lawmakers to change the state's election laws as part of an effort to unseat Rep. Liz Cheney (R-Wyo.).
On Thursday, Trump endorsed Wyoming legislation that would prevent crossover voting in a primary election. Were the law to pass, Democrats, Republicans, or independents would no longer be able to switch party affiliation on the day of the state's primary to vote for a candidate in another party. https://www.politico.com/news/2022/02/17/trump-moves-to-close-off-liz-cheneys-political-escape-hatch-00009928
The DAILY GRILL
Critical race theory is "every bit as racist as the Klansmen in white sheets." -- Sen. Ted Cruz (R-TX)
VERSUS
That led John Oliver to deliver a Dr. Seuss-like rhyme about Cruz, no doubt due to Cruz once wasting time by reading "Green Eggs and Ham" aloud on the Senate floor.
I do not like that Ted Cruz man
I do not like him shouting 'klan'
I do not like him in a room
I do not like him in Cancun
I do not like him playing ball
I do not like his face at all
I wish he'd lose his cushy job
That man Ted Cruz is a fucking knob
"There is not a dead American son or daughter overseas that hasn't made Barry McCaffrey richer. Let's be honest about that…Let's be honest about the fact that he's taken a ton of money to advocate for nonstop wars that have nothing to do with our national interest." -- JD Vance for U.S. Senate ..... AND ..... Your entire time in military leadership we won zero wars. You drank fine wine at bullshit security conferences while thousands of working class kids died on the battlefield. Oh, by the way, how much do you stand to gain financially from a war with Russia, Barry? — J.D. Vance for U.S. Senate
VERSUS
You'd think a former Marine (who worked in Public Affairs) or, well, anyone with proper home training, would refer to McCaffrey as "General" and not "Barry," but J.D. Vance is leaning into his Trump-inspired asshole persona. The "conservative populism" that's seemingly critical of the military-industrial complex is not a potential area of agreement with the Jill Stein far left. No, Trump has reportedly been confused by military leaders and troops, because they made personal sacrifices he never would. They abide by a code of honor that would make his brain melt.
We guess McCaffrey is one of the military leaders Carlson and other right-wing commentators have now decided to lump into the liberal "elite" they hate so much. Vance should ask Steve Bannon how much "fine wine" he's enjoyed while "working-class kids died on the battlefield." Stephen Robinson
Paul Waldman: Rick Scott reveals the GOP's election strategy: All culture war, all the time
When you're in the opposition and your party lacks a clear leader (other than your mad exiled king), there are plenty of opportunities for political entrepreneurship. If you come up with a new way to threaten trans kids or a bold new agenda for Republicans to follow should they take over Congress, you can get a bunch of attention and perhaps boost your profile and ambitions.
So it is that Sen. Rick Scott of Florida, a potential future presidential candidate and chair of the National Republican Senatorial Committee, which tries to elect Republicans to the Senate, has released an 11-point blueprint that he hopes all Republicans will rally around as the midterms approach.
It's as good a summary as you'll find of what passes for an "agenda" for today's Republican Party, in all its vulgar, paranoid, resentful glory.
The document's first words are "Dear Fellow Americans, the militant left now controls the entire federal government, the news media, academia, Hollywood, and most corporate boardrooms," and it only gets worse from there.
The 11 points resemble policy proposals, but every one is wrapped in culture-war provocation. Is the critical race theory panic No. 1? Of course it is: "Our kids will say the pledge of allegiance, salute the Flag, learn that America is a great country, and choose the school that best fits them," reads the first item.
From there, we get a string of meaningless chest-thumping ("We will protect, defend, and promote the American Family at all costs"), culture-war grunts ("Men are men, women are women, and unborn babies are babies"), and the requisite nod to Trump ("We will secure our border, finish building the wall, and name it after President Donald Trump").
What it adds up to is not so much an "agenda" as a rotating list of things to be mad about. One thing's for sure: Republicans are feeling as confident as they ever have, and they won't be bothered with complicated problems that demand difficult policy solutions. It's going to be nothing but culture war from here on out. https://www.washingtonpost.com/opinions/2022/02/22/rick-scott-culture-war/
Max Boot: Ukraine's fight is our fight, too. We are all Ukrainians now.
President Biden has done an excellent job of calling out, even preempting, Russian propaganda about Ukraine. The U.S. willingness and ability to respond to Russia's "war of words" have helped build an impressive facade of Western unity — as seen in Germany's decision Tuesday to suspend the Nord Stream 2 pipeline from Russia. But even such countermeasures are unlikely to prevent Russian strongman Vladimir Putin from proceeding with an actual, rather than simply an oratorical, war.
Dictators are not dissuaded by having their lies called out; at least this one isn't. On Monday, Putin went through an elaborate charade of deliberation. then proceeded to give an hour-long, scripted harangue denying, yet again, that Ukraine is an actual country whose borders should be respected. He also claimed, once again, notwithstanding all evidence to the contrary, that Ukraine somehow poses a military threat to Russia. The entirely predictable conclusion was Russia's recognition of two breakaway regions of Ukraine — the "people's republics" of Donetsk and Luhansk.
This was followed by the announcement that Russian "peacekeeping" forces would enter the "republics" to protect them from imaginary threats. The Russian troops are "peacekeepers," of course, in the same sense that the Jan. 6, 2021, attack on the U.S. Capitol was an expression of "legitimate political discourse." This is another Orwellian use of language by those bent on destroying truth as a means of destroying democracy.
Monday's absurd spectacle in the Kremlin was an exercise in industrial-strength gaslighting. Biden and others have called out Putin's lies, but in the end, it doesn't matter. Dictators and demagogues revel in making their subjects believe the nonsensical: It is a sign of their strength. The same phenomenon is evident in the United States, where former president Donald Trump — Putin's No. 1 fan — has convinced most of his followers that he actually won the 2020 election.
The only thing holding back a lawless new phase of world history is the willingness of Ukrainians to defend their country from Russian aggression. With his military superiority, Putin can invade Ukraine and maul its armed forces. He can even install a puppet regime in Kyiv. But he cannot make Ukrainians accept the Russian yoke. He cannot prevent Ukrainians from fighting back, whether with massive "people power" demonstrations (like the ones that toppled a previous pro-Russian ruler in 2014) or with guerrilla attacks (like the ones carried out by Ukrainian fighters against Soviet rule in the 1940s and 1950s).
The West must do whatever it can to support Ukrainian patriots. Ukraine's fight is our fight, too. As Sen. John McCain said in 2014, during the last Russian invasion of Ukraine, "We are all Ukrainians." https://www.washingtonpost.com/opinions/2022/02/22/we-are-all-ukrainians-now-putin-russia-invasion/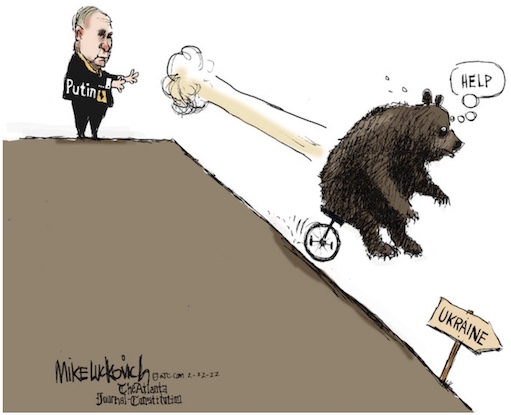 Max Boot: J.D. Vance's attack on Gen. Barry McCaffrey is obscene. It's also not unusual for today's GOP.
If you want to see the calamitous impact of Trumpism on the GOP, look no further than the party's primary to succeed Portman, who is retiring. The two loudest voices in the contest belong to J.D. Vance and Josh Mandel. Both are onetime moderate conservatives doing their best imitation of Trump — or is it Marjorie Taylor Greene? These faux populists, who are, in fact, exemplars of elitist striving, are locked in a race to the bottom to see who can say the dumbest, vilest things to rouse the MAGA hordes.
Vance may have just won the offensiveness Olympics — and lost his soul — by trashing one of America's most distinguished soldiers. It all began when Vance said during an appearance on a right-wing podcast: "I don't really care what happens to Ukraine." That led to a withering riposte from retired Gen. Barry McCaffrey: "JD Vance is a shameful person unsuitable for public office. His comments are those of a stooge for Russian aggression."
Rather than slink off in shame, Vance shot back: "Your entire time in military leadership we won zero wars. You drank fine wine at bull---- security conferences while thousands of working class kids died on the battlefield. Oh, by the way, how much do you stand to gain financially from a war with Russia, Barry?"
Vance may think his brief stint in the Marine Corps (where he did public affairs work) gives him the standing to insult one of America's greatest war heroes. He is wrong. While Vance was spending his time in the military writing news releases about aircraft maintenance, McCaffrey was earning four stars on his epaulets and receiving three Purple Hearts, two Distinguished Service Crosses (the Army's second-highest award for valor) and two Silver Stars. He served in both the Vietnam and Gulf wars. In the latter conflict, he commanded the 24th Infantry Division as it executed the "left hook" that pulverized Iraqi forces in Kuwait. That was, in fact, a war that we won — in no small part because of McCaffrey's inspired leadership. https://www.washingtonpost.com/opinions/2022/02/21/jd-vance-attack-on-barry-mcaffrey-shows-decline-of-gop-ohio/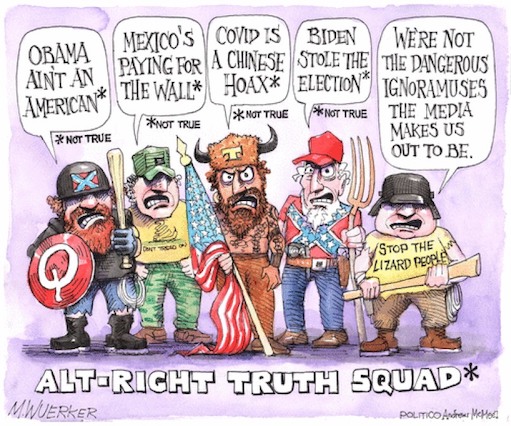 Bess Levin: You'll Never Believe It But Hillary Clinton Did Not, In Fact, Spy On Trump's White House
In less breaking news, Donald Trump remains a moron.
Imagine, if you will, that a special counsel appointed by the federal government declared in a court filing that he had evidence that a major political figure—let's call her Hillary Clinton—had paid spies to infiltrate the White House and run surveillance on Donald Trump in order to frame him as a foreign asset. The whole thing would be a big flipping deal! One for which there would be major, major consequences and far-reaching fallout. The country, nay, the world would be gripped by the story, and for good reason—a former candidate for office spying on the president? In the White House? That would be crazy! And you're right—it would be crazy if something like that had actually happened. Which it didn't, though unfortunately for reason, logic, and the concept of the truth, Donald Trump, Fox News, and various other deranged conservatives cannot be convinced of that.
Yes, as you've probably heard, on Saturday the former president released a statement claiming "Special Counsel Robert Durham"—he meant to say "John Durham" but was apparently too angry to keep his Johns and his Roberts straight—had uncovered "indisputable evidence that my campaign and presidency were spied on by operatives paid by the Hillary Clinton Campaign in an effort to develop a completely fabricated connection to Russia," a "scandal far greater in scope and magnitude than Watergate" for which Trump suggested those involved should be executed but would settle for criminal prosecution. The problem? Neither Robert Durham nor John Durham nor anyone else for that matter had actually provided evidence of any such crime, let alone even suggested it.
According to the filing, Sussmann had gotten his information from technology executive Rodney Joffe, whose company, Neustar, had performed server-related work for the White House. In Durham's estimation, Joffe and his colleagues had "exploited this arrangement by mining [certain records] for the purpose of gathering derogatory information about Donald Trump." Fox News took this line from Durham's filing and ran with it, claiming Durham had said he had found that the Clinton campaign had paid the technology company to "infiltrate" White House servers. The lack of similarly baseless claims from the mainstream media led Trump to declare "The press refuses to even mention the major crime that took place. This in itself is a scandal, the fact that a story so big, so powerful and so important for the future of our nation is getting zero coverage from LameStream, is being talked about all over the world."
Strangely, there wasn't a lot of fact-checking going on down at Mar-a-Lago, but the actual reason that the "LameStream" media hadn't covered the story was likely because, as the Times notes: (1) Sussmann's conversation with the CIA had already been reported last October (2) Durham never once said anything about the White House being "infiltrate[d]" (3) the special counsel also never claimed the Clinton campaign had paid Joffe's company and (4) perhaps most importantly, "the filing never said the White House data that came under scrutiny was from the Trump era." In fact, lawyers for the data scientist who helped develop the data analysis in question, say this happened during— wait for it—Barack Obama's presidency.
"What Trump and some news outlets are saying is wrong," attorneys Jody Westby and Mark Rasch told the Times. "The cybersecurity researchers were investigating malware in the White House, not spying on the Trump campaign, and to our knowledge all of the data they used was nonprivate DNS data from before Trump took office."
In other words, Trump and company got the whole thing hilariously, mortifyingly incorrect. But fear not: We're sure they'll issue a lengthy correction and heartfelt apology to the people whose reputations they impugned—and the ones Trump suggested should be put to death—in no time. https://www.vanityfair.com/news/2022/02/donald-trump-hillary-clinton-white-house-spying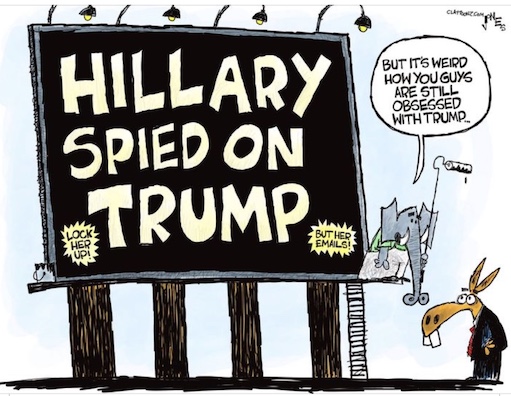 George T. Conway III: Trump's new reality: Ex-president, private citizen and, perhaps, criminal defendant
So Trump would face a heap of problems even if the New York attorney general (and the Manhattan district attorney she's working with) closed up shop tomorrow. No wonder Trump's son Eric was all but crying when he mentioned the prosecutors this week on Fox News.
But as Thursday's ruling makes clear, the prosecutors aren't going away anytime soon. And in 21 days, absent some relief from a higher court, Trump will face a profound conundrum at his deposition.
Will he testify and (assuming he's even capable of it) tell the truth, and possibly implicate himself in crimes? Or will he provably lie under oath, and virtually guarantee himself an indictment for perjury?
Or will he do the sensible thing — plead his Fifth Amendment right against self-incrimination hundreds of times, as Eric Trump and the company's finance chief, Allen Weisselberg, already have done — and face the political embarrassment (and, in civil litigation, the negative inferences) that would entail? In court Thursday, Trump's lawyer said that he was advising his client to do precisely that.
Stay tuned. Could this be, at long last, the beginning of the end for Trump?
As always, don't bet on it — but this time, don't be surprised if it is. https://www.washingtonpost.com/opinions/2022/02/18/george-conway-trump-mazars/
Robin Wright: Does the U.S.-Russia Crisis Over Ukraine Prove That the Cold War Never Ended?
From the vantage point of history, some experts now view the current tensions as merely a new phase in a Cold War that never ended. "We can trace current strains back to the Cold War," Robert Daly, the director of the Kissinger Institute, at the Wilson Center, told me. "There are important continuities." He said the crisis today was not preordained or inevitable. If American, Russian, and Chinese leaders had made "a whole slew" of different choices along the way, history could have taken a different and less troubled course. "But it now looks like the period between the Cold War and today was an interregnum," he said. "We thought issues were resolved, but it's now clear that they weren't." The new prism on the past will be hard for Americans to accept, he said, because the crisis today reflects a "collective failure" over decades.
From today's vantage point, the root causes of the tensions between Washington and Moscow have not changed much since the Cold War, Sergey Radchenko, an international-relations expert at the School of Advanced International Studies, at Johns Hopkins University, told me. The assumption in Washington that the Cold War was over in 1989 was "unduly American-centric" and ignored Moscow's historic desire to be seen and respected by the U.S. and Europe as a major power, regardless of ideology. "It was never about this conflict between capitalism and communism," he said. "It was much more about challenging the hierarchy of global politics and climbing up the hierarchy at the expense of the United States." Gaining acceptance as an equal power, with its own sphere of influence, has been Moscow's goal—whether under Communist or post-Communist rule—dating to the summit in Yalta, in 1945, of the three Allied leaders in the Second World War, Radchenko said.
The one constant is Moscow's ambition, Francis Fukuyama, the author of "The End of History and the Last Man," told me. Putin has openly lamented the Soviet Union's collapse as a "huge tragedy. His foreign policy has been really to try to reassemble as much of that entity as possible." But otherwise, Fukuyama said, the stakes between 1947 and 1989 were higher, and the conflict "much more enveloping" globally. The Cold War was often considered a conflict between rival universalist ideologies. In 2022, Putin is instead seeking "to undermine the belief of Western democracies in their own systems, but he's actually not trying to pretend that Russia has a superior system that would apply in other countries," Fukuyama said. The ideological battles of the Cold War have been replaced by more traditional geopolitical competition. "Russia is simply trying to gain influence using the sort of limited military leverage that it has in different parts of the world. But that's not the Cold War," Fukuyama said. Russia today, he added, is far weaker than the Soviet empire was, especially as much of Eastern Europe is "pretty solidly aligned with the West."
The Cold War lasted nearly a half century. Whether Russia actually invades Ukraine, the crisis has the potential to drag out and ripple across the other countries on Russia's borders, as the Cold War did. "Moscow has made it clear that it is prepared to contest the fundamental principles that have underpinned our security for decades, and to do so by using force," NATO Secretary-General Jens Stoltenberg said, on Wednesday. "I regret to say that this is the new normal in Europe."
President Bush got one thing right in his final address to Congress, three decades ago. Despite the collapse of the Soviet Union, "the world is still a dangerous place," he said. "Only the dead have seen the end of conflict. And though yesterday's challenges are behind us, tomorrow's are being born." https://www.newyorker.com/news/daily-comment/does-the-us-russia-crisis-over-ukraine-prove-that-the-cold-war-never-ended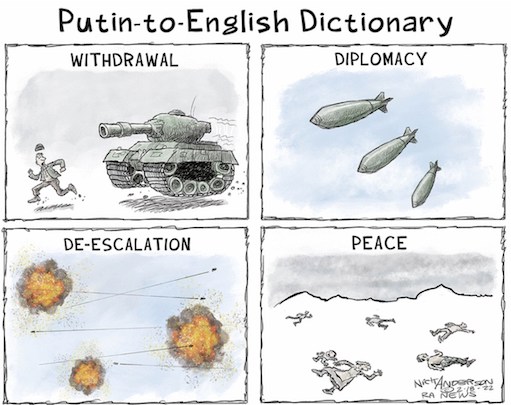 Charlie Sykes: Putin's Right-Wing Shills
The loudest defender of the Kremlin's view is, of course, the loudest voice in right wing media, Tucker Carlson, whose anti-Ukraine commentary has become a running feature of Russian State television.
"Vladimir Putin does not want Belgium," explains Tucker. "He just wants to keep his western borders secure. That's why he doesn't want Ukraine to join NATO, and that makes sense."
As for Ukraine? "It's run by a dictator who's friends with everyone in Washington," Carlson said.
The Russian are, of course, thrilled.
Tucker is not the only voice on Fox News arguing that the focus on Ukraine-Russia is all a big distraction.
The conspiracy maven formerly known as the "money honey," Maria Bartiromo, insists that the whole Ukraine-Russia threat has been fabricated to distract from (checks notes) Hillary Clinton.
"Was this a ruse?" she continued. "Was this whole thing an effort to take everybody's attention away from what Hillary Clinton did and what we know to be a complete hoax over this Russia investigation?" After all, she continued, Sullivan worked for Clinton, and he had been involved in "peddling this Russia collusion lie."
Laura Ingraham also tells her viewers that the whole thing is a distraction from the real crisis.
"Anyone paying attention to Biden's presser last week heard the sounds of the war-drums beating [as] the media desperately wants to get off the raging crime, raging COVID, raging inflation story that's driven Biden to another new low in the polls today."
But this sort of thing is by no means confined just to Fox News. Prominent voices in the MAGA-centric media have also taken up Putin's cause. As Cathy Young wrote in the Bulwark over the weekend, right-wing commentators like Sohrab Ahmari are eagerly pushing smears of Ukrainians as anti-Semitic fascists (while ignoring Russian fascism and anti-Semitism).
Ben Shapiro's Candace Owens has not only defended Putin's position, she has also suggested that we should be be invading Canada instead.
Marjorie Taylor Greene has also deployed her deep knowledge of international affairs to lie about Ukraine, saying"Ukraine was the number one donor to Hillary Clinton when she was running for president."
Then there is GOP Representative Paul Gosar:
"We have no dog in the Ukraine fight. Not one American soldier should die there. Not one American bullet should be fired there. We just lost Afghanistan to sandal-wearing goat herders. I assure you [the] Russian military is no joke either," said Republican Congressman Paul Gosar.
Ukraine has no basis to be in NATO, and NATO itself — a Cold War relic — arguably has no current purpose or mission. Getting involved in a military situation with no U.S. interest is America Last, not America First," he said. Note: No one — as in no one — is suggesting that any American troops be deployed in Ukraine.
What is Putin making of all of this? I think it's reasonable to assume that he thinks these are the authentic echoes of the Once and Future MAGA king.
And Putin very much has the measure of Trump, who has lavished him with praise, tried to weaken NATO, sided with him over his own government's intelligence agencies, and actually held up military aid as part of his pressure campaign to get Ukraine's president to dig up dirt on Biden https://morningshots.thebulwark.com/p/putins-right-wing-shills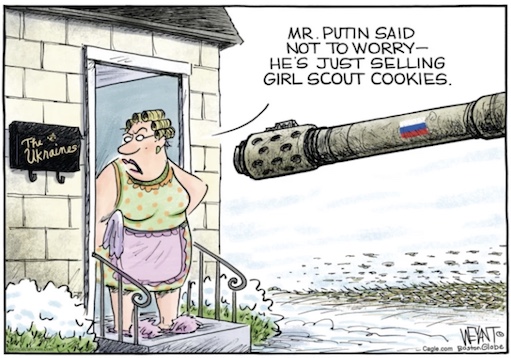 Matthew Dallek: Prosecuting Trump would set a risky precedent. Not prosecuting would be worse.
When President Richard Nixon resigned in disgrace, the odds of his standing trial for obstruction of justice seemed high: His actions undermining the Watergate investigation had been tape-recorded, and his part in the coverup led to pressure on the legal system to hold him accountable. In September 1974, however, one month after Nixon left office, his successor, Gerald Ford, pardoned him. Ford later told a congressional subcommittee that the pardon was designed to "shift our attentions from the pursuit of a fallen President to the pursuit of the urgent needs of a rising nation."
It didn't — not in the immediate aftermath and, in some ways, not ever. Although views later softened, many Americans at the time saw the pardon as a mistake. Some were livid. One powerful man had essentially condoned the criminality of another. The get-out-of-jail-free card exacerbated public cynicism and deepened the nation's social fractures. The White House switchboard lit up with calls that ran 8 to 1 against Ford's action. The New York Times captured some of the liberal rage when it described the pardon as an affront to "the American system of justice." A president who thought he was doing the right thing had taken justice into his own hands, casting doubt on a bedrock idea: Justice is blind; no one is above the law.
Nearly five decades later, Joe Biden is president, and a pardon for Donald Trump isn't happening. But whether Trump will eventually be prosecuted for his conduct in the White House is more of a conundrum: If the country crosses this inviolate threshold, all hell will break loose. If we don't cross it, all hell will break loose. There will be no "shifting our attentions" by advocates of either course. And whichever path the nation follows will have lasting repercussions. One thing is increasingly clear — fear will play a greater role than facts in determining it. https://www.washingtonpost.com/outlook/2022/02/18/trump-prosecute-risk-law/
William Saletan: Father Carlson: Tucker Carlson is on Russia's side.
Eighty years ago, when a dictator rose to power in Europe and invaded his neighbors, he found an ally in the United States. The dictator was Adolf Hitler, and his ally was Charles Coughlin, a popular radio host. Coughlin belittled democracy, defended the Nazis, and opposed America's entry into the war, arguing that the movement to enlist the United States was a conspiracy on behalf of a sinister minority: Jews.
Today, a new demagogue has taken up Coughlin's mantle: Fox News host Tucker Carlson.
Like Coughlin, Carlson has spewed venom for years. And, like Coughlin, he has gradually made his treachery, nihilism, and bigotry unmistakable. If anyone still thought there was an innocent explanation for his behavior, Carlson's latest monologue, delivered on Tuesday night, rendered such generosity indefensible.
To begin with, Carlson mocked the idea that rolling tanks into another country was wrong. In the view of liberals, he joked, "Invading America is called 'equity'"—apparently he was referring to illegal immigration—but "invading Ukraine is a war crime." He delivered this line with scornful incredulity, ignoring the fact that Russia's invasions of Ukraine—this is the second one in eight years—are indeed acts of war and violations of international law. https://www.thebulwark.com/father-carlson/