February 2, 2017
ON THE RECORD. . .
"We're going to have to resist; we're going to have to march and protest and rally and never let up. We are going to have to demand that those elected officials who say that they are opposed to him show up and say it, and make sure that they understand that we are not playing, and know that we're about the business of stopping Trump." -- Rep. Maxine Waters
Given that like all Republicans had enthusiastically signed on with the Bush administration's torture program, I wouldn't expect them to stand up against Trump in some kind of profile in courage if he should get his wish on torture. Which means whether America starts torturing prisoners again will probably depend on Donald Trump's whims. Isn't that encouraging? -- Paul Waldman 1/26/17
"Of those votes cast, none of 'em come to me. None of 'em come to me. They would all be for the other side. None of 'em come to me. Those were Hillary votes." — Trump, in an interview with ABC News, on the 3 to 5 million votes he falsely claims were cast illegally.
"I got a standing ovation. In fact, they said it was the biggest standing ovation since Peyton Manning had won the Super Bowl and they said it was equal. I got a standing ovation. It lasted for a long period of time. What you do is take — take out your tape — you probably ran it live. I know when I do good speeches. I know when I do bad speeches. That speech was a total home run. They loved it… People loved it. They loved it. They gave me a standing ovation for a long period of time. They never even sat down, most of them, during the speech. There was love in the room." — Trump, in an interview on ABC News, on his speech at the CIA last weekend.
"A week in office and we have seen the President of the United States and his officials repeatedly lying to the American public and pushing out what could be called -- what we've seen in other regimes throughout history -- what can be called propaganda to mislead the public. He needs to be called out on it, and we, as an American public, should not accept a president that routinely lies, blatantly, to the American people." -- Sen. Cory Booker (D-NJ) http://www.cnn.com/2017/01/26/politics/cory-booker-donald-trump-cnntv/index.html
"They're more interested in the verbal jockeying and the confrontational verbal approach than the results," he said. "So as long as he's poking a stick in the eye of the people his constituency feels are a problem, the rest won't matter." --Judd Gregg, a former Republican governor and senator from New Hampshire, said that for Trump supporters, concrete changes may be beside the point, at least initially.
"The media should be embarrassed and humiliated and keep its mouth shut and just listen for awhile. I want you to quote this. The media here is the opposition party. They don't understand this country. They still do not understand why Donald Trump is the president of the United States."--Steve Bannon to The New York Times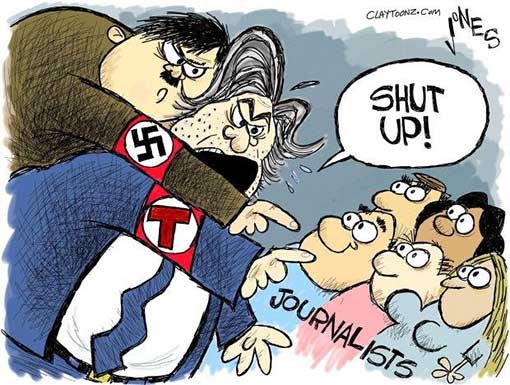 "I stand with the people gathered across the country tonight defending our values and our Constitution. This is not who we are." — Hillary Clinton, on Twitter last night backing those protesting President Trump's travel ban.
"To those fleeing persecution, terror and war, Canadians will welcome you, regardless of your faith. Diversity is our strength." — Canadian Prime Minister Justin Trudeau, on Twitter.
"I'll tell you the whole history of it, when he first announced it, he said 'Muslim ban.' He called me up, he said 'put a commission together, show me the right way to do it, legally." -- Rudy Giuliani saying Donald Trump came to him for guidance on implementing a so-called "Muslim ban" and from that, he helped construct the controversial order crippling international travel from predominantly Muslim countries.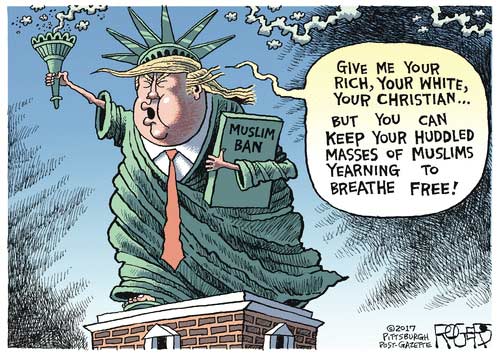 "Mr. Trump's actions pander to rage and fear of outsiders. Yet our long history shows these fears are unfounded. The diversity, experience and striving of immigrants and refugees have immeasurably strengthened the United States; outbursts of anti-alien sentiment have only weakened it." -- Washington Post Editorial 1/28/17
Trump; has criticized: Republicans, Democrats, the Pope, US elections, CIA, FBI, NATO, Meryl Streep. Trump hasn't criticized; Vladimir Putin. -- Garry Kasparov on Twitter
"This is a stolen seat. This is the first time a Senate majority has stolen a seat. We will use every lever in our power to stop this." -- Sen. Jeff Merkley (D-OR) saying Senate Democrats are going to try to bring down Donald Trump's Supreme Court pick no matter who the president chooses to fill the current vacancy
"Much of media is distorted and fake. Knowingly false. We don't have truthful media. I actually think they're sick people." — Trump, in an interview with CBN.
"Our First Amendment is under attack. We, as attorneys, are foot soldiers of the American Constitution and took an oath to protect all from being targeted by the government because of their faith," -- Shereef Akeel, co-counsel on the lawsuit filed by the Committee on American-Islamic Relations in a Virginia federal court on Monday. 1.30.17
"I noticed Chuck Schumer yesterday with fake tearsI'm going to ask him, 'Who is his acting coach?' Because I know him very well. I don't see him as a cryer. If he is, he's a different man. There's about a 5 percent chance that it was real but I think they were fake tears." -- Trump about Sen. Schumer who choked up as he condemned Trump's order on Sunday, saying the ban is "mean-spirited and un-American.
"These tweets by Fox News dishonor the memory of the six victims and their families by spreading misinformation, playing identity politics, and perpetuating fear and division within our communities," -- Canadian Prime Minister Justin Trudeau's statement slamming Fox News for "spreading misinformation, playing identity politics, and perpetuating fear and division" by describing the alleged gunman in a shooting at a Quebec City mosque as Moroccan in a tweet posted Monday. 
"Donald Trump can try to silence heroic patriots like Sally Yates who dare to speak truth to power about his illegal anti-Muslim ban that emboldens terrorists around the globe. But he cannot silence the growing voices of an American people now wide awake to his tyrannical presidency." -- DNC statement. 1/30/17
"Earlier this week, President Donald Trump mocked Senate Minority Leader Chuck Schumer (D-NY) for crying about the plight of immigrants, saying he was faking, and wondering aloud from the White House who his acting coach was. Now he's asking Schumer to expedite the consideration and support Neil Gorsuch, his nominee for the Supreme Court. Do you think that's how this works, Mr. President?" -- POLITICO Playbook
"To put it bluntly, this is truly crazy... Being a racist and misogynistic political adviser is one thing, but when that person controls domestic and national-security policy, it's time to break glass because of emergency. I shudder to think what is next, once Bannon's operation is fully staffed up." -- Senior Obama administration official. 1/31/17
"We have a lot of good people vying for this important job. But I do think for this moment and in this time, Tom Perez is our best bet to help bring the party back. I've watched him work. I think I know his heart. That's why I endorse him as the next Chairman of the DNC." -- Joe Biden 2/01/17
---
IN THIS ISSUE
1. Andy Borowitz: Scientists Baffled By McConnell And Ryan's Ability To Stand Upright Without Spines
2. Gallup: Trump Net Approval Rating Drops 8 Points In First Week In Office
3. How Steve Bannon Took Charge Of The Trump Administration
4. Kushner and other staff members registered to Vote In Two States
5. The DAILY GRILL
6. From MEDIA MATTERS (They watch Fox News so you don't have to)
7. From the Late Shows
8. EPA Science Under Scrutiny by Trump Political Staff
9. Trump Has Already Filed for Re-Election
10. McCain Is One of Few Republicans to Take On Trump
11. West Wing leaker goes dark after pulling back the curtain: Trump "irrational", staff "demoralized"
12. Trump's campaign paid his businesses millions over course of campaign
13. Late Night Jokes for Dems 
14. White House aides who wrote Trump's travel ban see it as just the start
15. One-in-Four Believe Trump's Voter Fraud Claim\
1. Joe Klein: The Ideological Challenge at the Core of Donald Trump's Radical Presidency
2. Maureen Dowd: Who knew it would get so weird so quickly? 
3. Adam Gopnik: Orwell's "1984" And Trump's America
4. Jonathan Chait: Donald Trump's Presidency Is the Twilight Zone Episode About a Terrifying 6-Year-Old
5. Chris Cillizza: The leaks coming out of the Trump White House cast the president as a clueless child
6. Jonathan Chait: Republicans Quietly Admit There Will Be No Obamacare Replacement
7. Brian Beutler: Trump and the Republicans Are on a Suicide Mission Together
8. Alan Levinovitz: Trump Sold America a Miracle Cure
9. David Brooks: The Republican Fausts 
10. Trump Has Already Filed for Re-Election
11. McCain Is One of Few Republicans to Take On Trump
12. Bannon Takes Over 
13. Eliot Cohen:: A Clarifying Moment for Conservatives
14. David Barstow: 'Up Is Down': Trump's Unreality Show Echoes His Business Past
15. Damon Linker: President Trump: The normal, the abnormal, and the truly alarming
16. NY Times Editorial: Donald Trump's Muslim Ban Is Cowardly and Dangerous 
17. E.J. Dionne: For the Media, Shutting up Is Not an Option
18. Ed Kilgore: Radicalizing American Politics Is Part of the Game Plan for Team Trump
19. Frances Stead Sellers and David A. Fahrenthold: 'Why let 'em in?' Understanding Bannon's worldview and the policies that follow 
1. Andy Borowitz: Scientists Baffled By McConnell And Ryan's Ability To Stand Upright Without Spines
Calling it a "medical mystery of the first order," scientists are baffled by the ability of Senate Majority Leader Mitch McConnell and House Speaker Paul Ryan to stand upright without the benefit of spines.

Doctors at the University of Minnesota Medical School, who have been studying the skeletal structures of both Republicans for months, believe that their ability to stand, walk, and even break into a brisk trot when confronted by reporters' questions is "virtually inexplicable."

"The fact that they can do these things without the aid of spines makes McConnell and Ryan anomalies in the animal kingdom," said Dr. Davis Logsdon. "According to everything medical science teaches us, their bodies should be collapsing to the ground in two heaps."

EARLIER: Donald J. Trump's personal war with Mexico escalated further on Friday after Mexican President Enrique Peña Nieto cancelled his meeting with Trump and scheduled one with Meryl Streep instead.

LATER: Donald Trump fired the acting Attorney General, Sally Q. Yates, after learning that she had downloaded a copy of the United States Constitution to her computer, Trump told reporters on Monday night.

According to the Trump Administration's code of ethics, established by Steve Bannon, a counselor to the President, "possessing, reading, or referring to the United States Constitution" is a violation that is punishable by termination. Read more at .http://www.newyorker.com/humor/borowitz-report/
2. Bannon Attacks News Media as 'the Opposition'
Trump adviser Stephen Bannon laced into the American press during an interview, arguing that news organizations had been "humiliated" by an election outcome few anticipated, and repeatedly describing the media as "the opposition party" of the current administration, the New York Times reports.
Said Bannon: "The media should be embarrassed and humiliated and keep its mouth shut and just listen for awhile."
He added: "I want you to quote this: The media here is the opposition party. They don't understand this country. They still do not understand why Donald Trump is the president of the United States." http://nymag.com/daily/intelligencer/2017/01/bannon-tells-press-to-keep-its-mouth-shut.html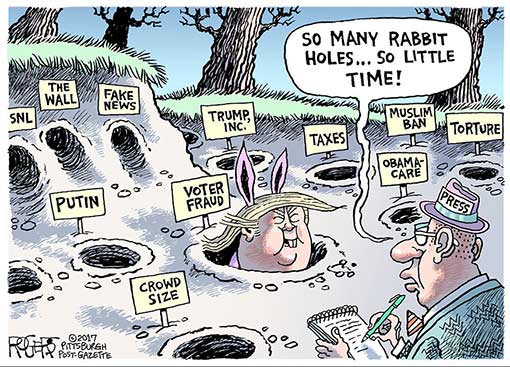 3. How Steve Bannon Took Charge Of The Trump Administration
As Bannon emerges as central to the administration, the former Breitbart boss — who seems to enjoy controversy but avoids interviews — has also become the central target for Trump's opposition. The top hashtag on Twitter for a time Sunday was #StopPresidentBannon.
Bannon, at least, may see his role in historical terms. In an interview with The Hollywood Reporter, he compared himself to Thomas Cromwell, the 16th-century chief minister to King Henry VIII.
Cromwell became the most trusted adviser of the king, helping to usher in the English reformation and "giving force to Henry's grand declarations." Bannon's telling of the story, however, left out the ending: Cromwell was executed for treason by a fickle king. https://www.buzzfeed.com/adriancarrasquillo/how-steve-bannon-took-charge-of-the-trump-administration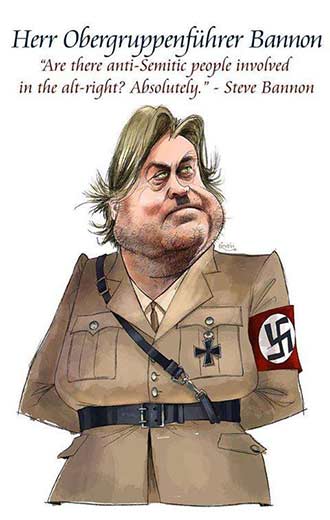 4. Trump Is Remaking the Republican Party
It's a mistake for observers in Washington and New York to fixate on Mr. Trump's daily faux pas at the expense of the political meaning of what he's doing. He's changing the face of the GOP…"
"And here is the important political point: Democrats don't have a playbook for this. They have a playbook to use against normal Republicans: You're cold, greedy, racist, sexist elitists who hate the little guy."
"They don't have a playbook to use against a political figure like Mr. Trump yet, because he jumbles all the categories. Democrats will wobble around, see what works. For now they'll stick with saying he's scary, unstable, right-wing. It's going to take them a while to develop a playbook against an independent populist, some of whose advisers hate Republicans more than they do. https://politicalwire.com/2017/01/26/trump-remaking-republican-party/
5. The DAILY GRILL
"Our most important allies in the fight against ISIL are the vast majority of Muslims who reject its apocalyptic ideology of hatred. This executive order sends a signal, intended or not, that America does not want Muslims coming into our country. That is why we fear this executive order may do more to help terrorist recruitment than improve our security." Statement By Senators Mccain & Graham

VERSUS

The joint statement of former presidential candidates John McCain & Lindsey Graham is wrong - they are sadly weak on immigration. The two...Senators should focus their energies on ISIS, illegal immigration and border security instead of always looking to start World War III. -- Donald J. Trump ✔@realDonaldTrump

Trump repeated his false claim that there was rampant voter fraud in the election, and when pressed on the fact that his claim has repeatedly been debunked, Trump said: "No it hasn't. Take a look at the Pew reports."

VERSUS

The Pew report that Trump is citing did not show what Trump claims it did. The author of that report has repeatedly stated this in numerous interviews. -- Greg Sargent in the WA Post

 

When ABC pressed Trump on the fact that the author of the Pew report undermined his claims, Trump claimed, somewhat unintelligibly, that this author was "groveling."

VERSUS

This is not even remotely true. In fact, the author told The Post's fact-checking team last night that he stood by his claim that the report did not say what Trump says it did. -- Greg Sargent in the WA Post

 

"Those were Hillary votes. And if you look at it they all voted for Hillary. They all voted for Hillary. They didn't vote for me. I don't believe I got one. Okay, these are people that voted for Hillary Clinton. And if they didn't vote, it would've been different in the popular." -- Trump saying this about all of the people who he falsely claims voted illegally in the election:

VERSUS

There is no way Trump could possibly know this even if those illegal voters existed, which they don't. -- Greg Sargent in the WA Post

 

"I had a tremendous victory, one of the great victories ever. In terms of counties I think the most ever or just about the most ever. When you look at a map it's all red. Red meaning us, Republicans." -- Trump about his glorious victory

VERSUS

The context here was the size of Trump's victory, but there is no reasonable metric by which his margin was either tremendous or one of the greatest ever. Trump lost the popular vote by nearly three million, and the size of his electoral college win was down toward the bottom in historical terms. -- Greg Sargent in the WA Post

 

"We have to stop people from just pouring into our country." -- Trump said this about immigration

VERSUS

This is not exactly a lie, since "pouring in" is not a precise statement, but it leaves an enormously misleading impression. People are not by any reasonable metric "pouring into our country." -- Greg Sargent in the WA Post
6. From MEDIA MATTERS (They watch Fox News so you don't have to)
Trump's Immigration Order Targeting Muslims Is Greeted With Praise By Conservative Media And Dismay By Experts. ACLU: The "Intent To Discriminate On The Basis Of Religion, Even Hidden Behind Pretextual Religious Neutrality, Violates The Establishment Clause And Equal Protection" http://mediamatters.org/research/2017/01/27/trump-s-immigration-order-targeting-muslims-greeted-praise-conservative-media-and-dismay-experts/215161

Trump Praises Fox News, Claims "Much" Of The Media "Is Fake News. During Interview With Sean Hannity, Trump Lashes Out At Media Outlets For Calling Out His Lies, Claiming "They Make Things Up" http://mediamatters.org/video/2017/01/26/trump-praises-fox-news-claims-much-media-fake-news/215150

Carl Bernstein: For Trump And His Administration, "The Opposition Is Not The Media; The Opposition Is Becoming The Truth" http://mediamatters.org/video/2017/01/27/carl-bernstein-trump-and-his-administration-opposition-not-media-opposition-becoming-truth/215152

White Nationalists Praise Trump's Muslim Ban: "God Bless You," "Feel Like Crying" With Joy http://mediamatters.org/blog/2017/01/30/white-nationalists-praise-trump-s-muslim-ban-god-bless-you-feel-crying-joy/215175

Fox & Friends Hosts Leader Of Anti-Muslim Hate Group To Defend Trump's Muslim Ban - Trump Cited A Misleading Center For Security Policy Poll When He Originally Announced His Muslim Ban In 2015 http://mediamatters.org/video/2017/01/30/fox-friends-hosts-leader-anti-muslim-hate-group-defend-trumps-muslim-ban/215173
7. From the Late Shows
Full Frontal with Samantha Bee: Coronation Street: https://youtu.be/k1AvNnJRMts

Full Frontal with Samantha Bee: Who March the World? Girls. https://youtu.be/8pEcvteQo9g

The Daily Show with Trevor Noah: Welcome to President Trump's Reality: https://youtu.be/x2YLS80Nmls

The Tonight Show Starring Jimmy Fallon: Trump Unveils Huge Wheel of Decisions: https://www.youtube.com/watch?v=yhvs69QUZZ0

Late Night with Seth Meyers: Trump's Travel Ban Sparks Global Backlash: A Closer Look: https://youtu.be/B_KPOqPGoxU

The Late Show with Stephen Colbert: How Much Damage Could The President Do In One Week?: https://youtu.be/JuSDet45aKI

The Daily Show with Trevor Noah: President Trump's Muslim-Targeted Travel Ban: https://youtu.be/IxhGjDyBT30
8. EPA Science Under Scrutiny by Trump Political Staff
"The Trump administration is mandating that any studies or data from scientists at the Environmental Protection Agency undergo review by political appointees before they can be released to the public," the AP reports. https://apnews.com/c1423276fb574b07953651a68a082db9/EPA-science-under-scrutiny-by-Trump-political-staff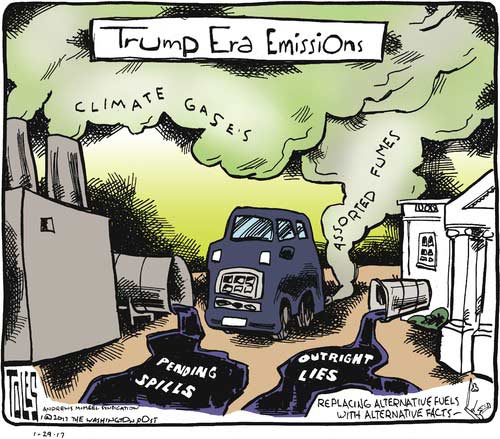 9. Trump Has Already Filed for Re-Election
President Trump filed papers with the Federal Election Commission for his re-election in 2020 last Friday — on Inauguration Day. http://docquery.fec.gov/pdf/569/201701209041436569/201701209041436569.pdf
10. McCain Is One of Few Republicans to Take On Trump
The Arizona Republican has been relishing his role as Trump's tormentor. Over the past several days, Senate Armed Services Committee chairman has publicly broken with Trump over his voter fraud claims and reports that Trump was considering reinstating torture and panned his OMB pick over military spending and votes to shut down the government. And while some of his colleagues are giving Trump latitude on building a wall on the Mexico border, McCain said Thursday he won't support it without seeing more details and continues to have concerns with Trump's relationship with Putin."
"Not a lot of Republicans are willing to go toe to toe with Trump for fear they'll end up battered and bullied by the president and his loyal army of followers. But the 80-year-old former Republican presidential nominee just got re-elected. He clearly doesn't like Trump or his policies and isn't afraid to tell everyone about it." http://www.politico.com/tipsheets/playbook/2017/01/power-dinner-jared-and-ivanka-break-bread-with-tim-cook-and-lisa-jackson-philly-update-peacefor-now-putin-and-trumps-saturday-phone-date-ryan-intvw-today-at-3-bday-keith-olbermann-218429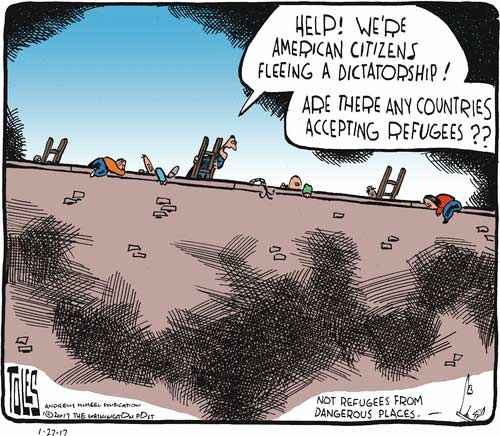 11. West Wing leaker goes dark after pulling back the curtain: Trump "irrational," staff "demoralized"
The tweeter, @WhiteHouseLeak, was an anonymous mid-level staffer in the West Wing of the White House, who described a chaotic atmosphere, a demoralized staff, and an unfocused and irrational President incapable of processing information. The staffer is a Republican who apparently worked on the Trump campaign, but is now thoroughly disillusioned by what has been going on.  During his brief presence he was tweeting to real reporters, including Fox News and the New York Daily News. Read his tweets at http://www.dailykos.com/story/2017/1/26/1625349/-West-Wing-leaker-silenced-after-pulling-back-the-curtain-Trump-irrational-staff-demoralized
12. Trump's campaign paid his businesses millions over course of campaign
The final bill is in: Donald Trump's campaign paid his companies $12.8 million from the time he launched his improbable presidential bid in the lobby of his company's flagship Trump Tower property through the end of last year, according to a POLITICO analysis of Federal Election Commission data. 2/01/17 http://www.politico.com/story/2017/02/trump-campaign-paid-trump-business-234489
13. Samantha Bee Will Host 'Not the White House Correspondents' Dinner' Opposite Trump
Samantha Bee, host of TBS' Full Frontal, announced on Monday that she will host an alternative event to the annual White House Correspondents' Dinner in Washington D.C. this spring. "Not the White House Correspondents' Dinner," as it as being called, will be held on April 29th, the same night President Donald Trump is set to speak at the official event alongside a comedian to be named later. http://www.thedailybeast.com/cheats/2017/01/30/samantha-bee-will-host-not-the-white-house-correspondents-dinner-opposite-trump.html
14. Late Night Jokes for Dems
"There are reports that Trump adviser Kellyanne Conway actually punched a guy while trying to break up a fight at Trump's inaugural ball. Though she says it wasn't a punch, it was an 'alternative high-five.'" –Jimmy Fallon

"President Trump has called for an investigation into voter fraud during the presidential election. Trump said, 'I mean for God's sake, look who they chose!'" –Conan O'Brien

"According to a report from the Brennan Center for Justice, the rate of voter fraud, the real rate in U.S. elections, is between .00004% and .00009%. In other words, about the same rate as the couples on 'The Bachelor' who get married." –Jimmy Kimmel

"Today Trump said he believes in torturing prisoners. Which is bad news for Melania." –Jimmy Kimmel

"US Weekly released their new cover story on Donald Trump's children and promised 'everything you didn't know about the Trump kids.' 'Is it their names?' asked Trump." –Seth Meyers

"Rolling Stone just did a big profile on Vice President Mike Pence, and revealed that Pence grew up with a cornfield in his backyard. I guess at times, he even heard a voice coming from it that said, 'If you build it ... Mexico won't pay for it.'" –Jimmy Fallon

"President Trump announced he will nominate a new Supreme Court Justice sometime next week. Trump said, 'I just need a few more days to come up with someone completely unqualified.'" –Conan O'Brien

"It is true, I'm not making this up, he did call his inauguration day 'A National Day of Patriotic Devotion.' So today, Trump was accused of fascism by Democrats and plagiarism by Kim Jong Un." –Conan O'Brien

"The Oscar nominations came out today and the movie 'La La Land' got 14 nominations. However, that's only because 3 to 5 million undocumented immigrants voted illegally." –Conan O'Brien

"Following President Trump's inauguration, the White House website no longer has an option for translation into Spanish. So, sorry, Mexican immigrants, if you want to live here, you'll just have to learn to speak Russian." –Seth Meyers

"President Trump today met with the leaders of Fiat, Chrysler, Ford, and General Motors. And he asked them one question, 'How many people do you think were at my inauguration?'" –Seth Meyers
15. White House aides who wrote Trump's travel ban see it as just the start
Even as confusion, internal dissent and widespread condemnation greeted President Trump's travel ban and crackdown on refugees this weekend, senior White House aides say they are only getting started.
Trump's top advisors on immigration, including chief strategist Steve Bannon and senior advisor Stephen Miller, see themselves as launching a radical experiment to fundamentally transform how the U.S. decides who is allowed into the country and to block a generation of people who, in their view, won't assimilate into American society. That project may live or die in the next three months, as the Trump administration reviews whether and how to expand the visa ban and alter vetting procedures. White House aides are considering new, onerous security checks that could effectively limit travel into the U.S. by people from majority-Muslim countries to a trickle. http://www.latimes.com/politics/la-na-pol-trump-immigration-20170130-story.html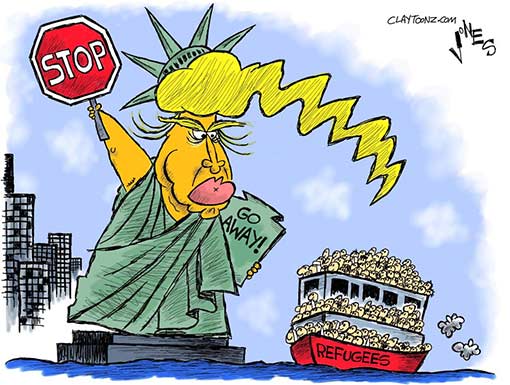 16. One-in-Four Believe Trump's Voter Fraud Claims
A new Politico/Morning Consult poll finds that 25% of voters believe President Trump's unsupported claim that millions of votes were illegally cast in the 2016 election. http://www.politico.com/story/2017/02/poll-donald-trump-voter-fraud-234458
1. Joe Klein: The Ideological Challenge at the Core of Donald Trump's Radical Presidency
In addition to a loaded slogan — 'America First' — and a questionable demeanor, it is now apparent that President Donald J. Trump actually has a governing ideology. His Inaugural Address, the strongest and most coherent speech he's ever delivered, was a clear statement of that philosophy. It may change the shape of domestic politics. It may overturn the international order that has existed for 70 years. It certainly deserves more than the "divisive" dismissal it received from liberals–and more than the puerile crowd-size diversion that its perpetrator stumbled into during the days after he delivered it.
Here's the crucial paragraph: "For many decades, we've enriched foreign industry at the expense of American industry; subsidized the armies of other countries, while allowing for the very sad depletion of our military. We've defended other nations' borders while refusing to defend our own; and spent trillions of dollars overseas while America's infrastructure has fallen into disrepair and decay.
The amazing thing about this litany is that most of the policies Trump criticizes had been peripheral to our recent political battles, at least until he came along. http://time.com/4649909/ideological-challenge-donald-trump/
2. Maureen Dowd: Who knew it would get so weird so quickly?
 So now we're getting the crazy straight up. The Doomsday Clock is ticking faster, the resistance is growing, and teetotaller Donald Trump already seems drunk with power.
He's got the role of his life and he's casting his show: Steve Bannon is his Roy Cohn, the combative hammer and agitprop genius; Theresa May is Maggie to his Ronnie; Ivanka and Jared are his consiglieri, family to help him figure out who stays and who gets iced; Vladimir Putin echoes the role of Trump's dad, Fred, who was supremely aggressive and calculating, cool where Donald was hot, someone who believed the world was divided into killers and losers. (But in Putin's case, it's literal.)
It took us years to find out that Richard Nixon was swilling Scotch, eating dog biscuits, talking to the White House portraits and blowing up the Vietnam peace talks in 1968 to help his election bid. It took us years to find out that, despite that deep, reassuring voice, Dick Cheney was a demented megalomaniac.
But with President Trump, it's all right out there – the tantrums, the delusions, the deceptions, the self-doubts and overcompensation. If the last president was too above the fray, this one is the fray. We've gone from no drama to all drama, a high ethical standard to no ethical standard.
Those who go into the Oval Office with chips on their shoulders and deep wells of insecurity, like Nixon, W and Trump, are not going to suddenly glow with self-assurance. The White House tends to bring out paranoia and insecurity. Still, it was stunning how fast it got weird. http://www.irishtimes.com/news/world/us/maureen-dowd-who-knew-it-would-get-so-weird-so-quickly-1.2955784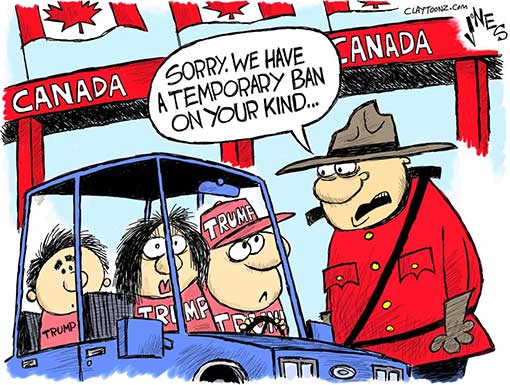 3. Adam Gopnik: Orwell's "1984" And Trump's America
There is nothing subtle about Trump's behavior. He lies, he repeats the lie, and his listeners either cower in fear, stammer in disbelief, or try to see how they can turn the lie to their own benefit. Every continental wiseguy, from Žižek to Baudrillard, insisted that when they pulled the full totalitarian wool over our eyes next time, we wouldn't even know it was happening. Not a bit of it. Trump's lies, and his urge to tell them, are pure Big Brother crude, however oafish their articulation. They are not postmodern traps and temptations; they are primitive schoolyard taunts and threats.
The blind, blatant disregard for truth is offered without even the sugar-façade of sweetness of temper or equableness or entertainment—offered not with a sheen of condescending consensus but in an ancient tone of rage, vanity, and vengeance. Trump is pure raging authoritarian id.
And so, rereading Orwell, one is reminded of what Orwell got right about this kind of brute authoritarianism—and that was essentially that it rests on lies told so often, and so repeatedly, that fighting the lie becomes not simply more dangerous but more exhausting than repeating it. Orwell saw, to his credit, that the act of falsifying reality is only secondarily a way of changing perceptions. It is, above all, a way of asserting power.  http://www.newyorker.com/news/daily-comment/orwells-1984-and-trumps-america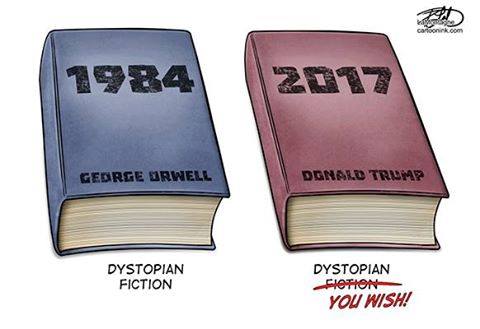 4. Jonathan Chait: Donald Trump's Presidency Is the Twilight Zone Episode About a Terrifying 6-Year-Old
If there was some lingering hope among Republican professionals that Donald Trump would somehow, as the old cliché has it, "grow" into the office, his first 48 hours as president dispelled it immediately. The White House is already jittery with fright at the unpredictability of a childlike figure who has been handed terrifying powers, like the famous Twilight Zone episode about a 6-year-old-boy with magical abilities.
Trump's inability to read anything of length has unfortunately freed him up for hours of channel surfing. But his addiction to television reinforces other character weaknesses: his wild mood swings and irritability. "One person who frequently talks to Trump said aides have to push back privately against his worst impulses in the White House, like the news conference idea, and have to control information that may infuriate him," reports Josh Dawsey. "He gets bored and likes to watch TV, this person said, so it is important to minimize that."
Trump reportedly instructed his press secretary to read a comically dishonest boast about the size of the crowds at his Inaugural address after being irritated by photos showing a much more sparse crowd than he had predicted.
In a speech to CIA officers Trump used the occasion to tell rambling fantasies about his crowds because he could not contain the massive wound to his ego. Oliver Wendell Holmes famously summed up Franklin Roosevelt as a second-class intellect but a first-class temperament. Trump has a third-class intellect and a third-class temperament. The frightening surreality of what has happened to the United States has only begun to sink in. http://nymag.com/daily/intelligencer/2017/01/trump-is-twilight-zone-episode-about-terrifying-6-year-old.html
5. Chris Cillizza: The leaks coming out of the Trump White House cast the president as a clueless child
All White Houses leak. Sometimes the leaks are big, sometimes small. But there are always people willing to talk to reporters about the "real" story or about why the chief executive made a mistake in regard to some decision he made.
That said, I've never seen so much leaking so quickly — and with such disdain for the president — as I have in the first six days of Donald Trump's presidency.
Time and again, the image of Trump pushed by his "aides" is one of a clueless child — someone who acts on impulse, disregarding the better advice of people who know better. We know he needs to be managed or else he will say and do stupid things, the message seems to be. We're working on it.
It doesn't take much imagination to conjure up an image of an irate Trump surrounded by the various clips of his aides driving the perception that he badly needs to be managed at every moment. If Trump's entire #brand is centered on being the best/classiest/smartest, these sort of leaks fundamentally undermine that image. And we're only six days into his presidency!
The frequency — and nature — of these leaks are yet another reminder that the Trump presidency is nothing like anything that's come before it. There is no blueprint. We're through the looking glass.
But my educated guess is that these leaks must be driving Trump absolutely crazy. And when he gets mad, history suggests he will try to get even. And quickly. https://www.washingtonpost.com/news/the-fix/wp/2017/01/26/the-leaks-coming-out-the-trump-white-house-cast-the-boss-as-a-clueless-child/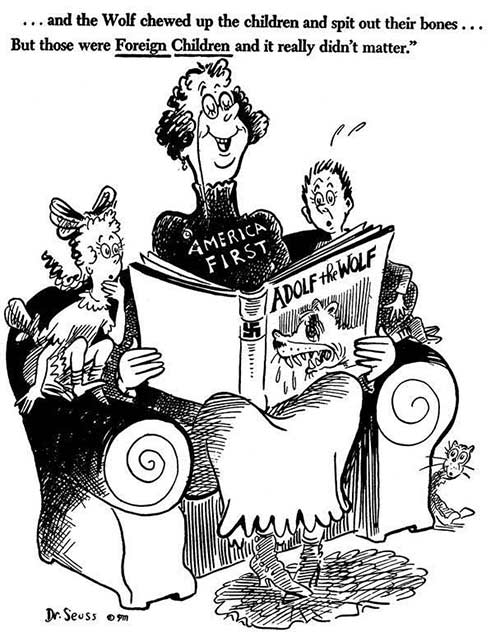 3. Eugene Robinson: Don't Dismiss Trump's Rants as Distractions
The president's most acute obsession is with the false notion that he only lost the popular vote to Hillary Clinton because of widespread election fraud committed by "millions" of people.
There were, in fact, four documented cases of voter fraud in the election, not millions. Yes, I said four; two of them involved individuals who said they were Trump supporters. House Speaker Paul Ryan, R-Wis., is among the many officials who have acknowledged there is zero evidence of the kind of fraud Trump alleges. It simply did not happen.
When pressed on the subject, Trump cites a 2012 report by the Pew Center on the states that found problems with inaccurate voter registration rolls -- but no indication of fraud, according to the study's author. When David Muir of ABC News pointed this out to Trump in an interview Wednesday, the president claimed the author of the Pew study was now "groveling," whatever that means. I have read the study, and indeed it presents no evidence of voter fraud.
At a meeting with congressional leaders on Monday, Trump cited a different piece of purported proof, according to The New York Times: He told a story about how professional golfer Bernhard Langer tried to vote in Florida on Election Day but was not allowed to do so, while suspicious-looking voters ahead of and behind him, possibly Latin American immigrants, were permitted to cast provisional ballots.
At the risk of repeating myself, this simply did not happen. Langer indeed lives in Florida but is a German citizen. He has never voted in this country.
My point is that Trump's off-the-wall statements and Twitter rants cannot be dismissed as mere attempts to distract. We have a president who is obsessed with his public standing, given to outlandish statements, eager to believe in conspiracy theories and unwilling to admit when he is wrong. To our peril, his character and moods will shape his policies. 1/27/17 .http://www.realclearpolitics.com/articles/2017/01/27/dont_dismiss_trumps_rants_as_distractions_132911.html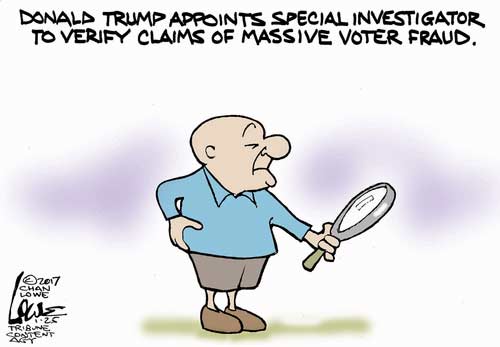 6. Jonathan Chait: Republicans Quietly Admit There Will Be No Obamacare Replacement
The history of the development of the Republican alternative to Obamacare since the beginning of the health-care debate, in 2009, has been an endless loop of loud promises that a full plan will be announced soon, followed by quiet admissions that it will not. Seventeen days ago, Donald Trump promised a vote to repeal the law "probably some time next week" with a vote for a replacement "very quickly or simultaneously, very shortly thereafter." At a meeting in Philadelphia yesterday, Trump and his House Republican allies produced no agreement on a plan. If there is a consensus, it is that there will be no replacement plan at all.
Representative Greg Walden, a key leader of the House Republican efforts on health care, tells Julie Rovner, "There's no single fix. There's no single plan." Representative Marsha Blackburn touted bills to limit medical malpractice lawsuits and to allow the sale of state-regulated insurance across state lines. Neither of these proposals would have any significant impact on insurance coverage. If Obamacare is repealed, this would leave the individual-health-insurance market a smoldering crater.
Republicans are portraying the lack of a plan as a philosophical aversion to lengthy legislation. "If you're waiting for another 2,700-page bill to emerge, you're going to have to wait until the sun doesn't come up, because that's not how we're going to do it," says Walden. You may not need 2,700 pages of legislative text. But you can't blow up the health-care system and replace it with a series of piecemeal measures. Any real plan to provide even crappy coverage — let alone the better, more affordable coverage Trump has repeatedly promised — is going to need to be paid for. Making those trade-offs means figuring out some big-picture strategy for where the money will come from.
Several Senate Republicans have expressed severe reservations about repealing Obamacare without having a replacement. Now the House is admitting there isn't going to be a replacement. So now the choice falls to Republicans to either defeat repeal, or allow the system to hurtle toward chaos. http://nymag.com/daily/intelligencer/2017/01/gop-quietly-admits-there-will-be-no-obamacare-replacement.html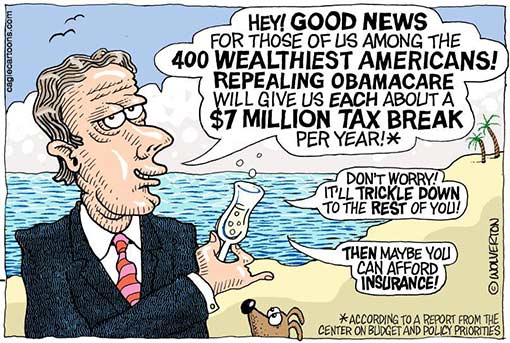 7. Brian Beutler: Trump and the Republicans Are on a Suicide Mission Together
One of the things supposedly driving President Donald Trump to distraction, in what should be a celebratory first week in office, is that he isn't getting a honeymoon period from the media and the general public. "Trump has been resentful, even furious, at what he views as the media's failure to reflect the magnitude of his achievements," The Washington Post reported this week, "and he feels demoralized that the public's perception of his presidency so far does not necessarily align with his own sense of accomplishment."
Trump is still widely disliked, as he was even the day after he defeated Hillary Clinton; the fact that he's so unpopular contributed to the weak turnout at his inauguration; on Friday, reporters noted (accurately) that far fewer people attended his swearing-in than attended Barack Obama's first inauguration; on Saturday, they noted (again, accurately) that a massive anti-Trump protest on the first day of his presidency was also better attended than his inauguration.
Trump hasn't been able to let it go. His preoccupation with popularity hasn't motivated him to do popular things, but it has driven him to manic outbursts about imaginary voter fraud and media conspiracies. An apparently typical digression about fraud and the popular vote during a meeting with congressional leaders this week "was greeted with silence, and Mr. Trump was prodded to change the subject by Reince Priebus, the White House chief of staff, and Senator John Cornyn, Republican of Texas," according to The New York Times.
House Speaker Paul Ryan and Senate Majority Leader Mitch McConnell are at pains to maintain a façade of unity. But behind these conspicuous morale-boosting exercises, Republicans are doing a poor job concealing their awareness of how terribly this fledgling government is going. What they haven't done is anything meaningful to change the trajectory. They have signed up for a suicide mission with Trump, without a complete understanding of what the purpose of the mission is, whether it will succeed, or how severe the collateral damage will be. 1/27/17 .https://newrepublic.com/article/140169/trump-republicans-suicide-mission-together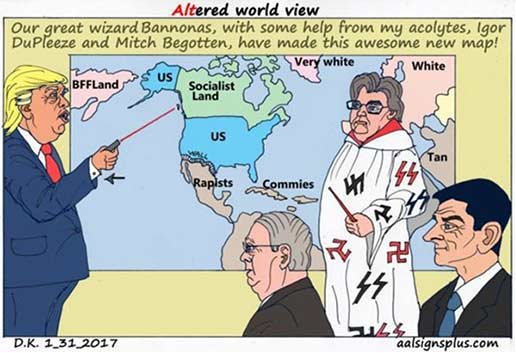 8. Alan Levinovitz: Trump Sold America a Miracle Cure
The process of embracing a charlatan's empowering vision is not rational, which means that rational arguments are unlikely, in isolation, to dispel it. Studies have repeatedly demonstrated that people cling tenaciously to their worldviews, and conflicting data may actually strengthen their beliefs. (Just look at this family who thinks Trump is "a man of faith who will bring Godliness back.") To renounce Trump would mean admitting that one's worldview—of a country wracked by carnage, as the president put it in his inaugural address, and a truth-telling hero who can heal it—is fundamentally mistaken. And that can also mean confronting existential panic without a panacea. It is much easier to forgive Trump for not locking her up than to wrestle with such truths.
I wish I could offer an easy formula for countering this kind of deception, but I am not in the business of selling panaceas or telling fairy tales.
Ultimately, Trump is a symptom of a deep problem, deeper than institutional failures and poor education, deeper even than racism or sexism. Humans need myths to make manageable life's overwhelming complexity and evident injustice. Time and time again, we fall for self-serving saviors spinning tales about Eden and the evil forces that drove us out, who promise that faith in their solutions will get us back. Of course, it never has and never will. In reality, there is no "back" to get to.
But the sales pitch still persists, over time and across cultures. So it is imperative that we focus on creating citizens more capable of resisting it. The cost of a bad investment, for individuals and our society, is too high and too difficult to recoup. We will never succeed in fully protecting against the appeal of people like Trump. There will always be a market for zappers. The best we can do is shrink that market through education and continued vigilance, strengthened in our resolve by the honest acknowledgement of our own inevitable failure—and the danger of not trying at all. http://www.slate.com/articles/health_and_science/cover_story/
2017/01/trump_sold_america_a_miracle_cure_it_will_fail_he_ll_get_off_for_free.html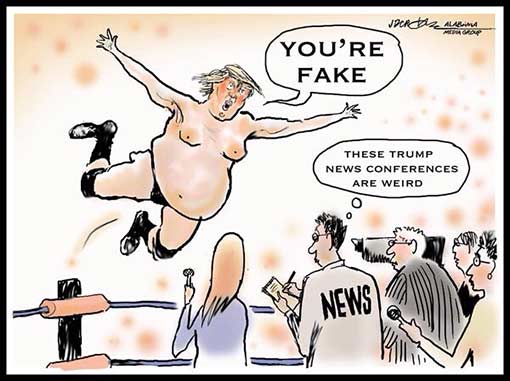 9. David Brooks: The Republican Fausts
Many Republican members of Congress have made a Faustian bargain with Donald Trump. They don't particularly admire him as a man, they don't trust him as an administrator, they don't agree with him on major issues, but they respect the grip he has on their voters, they hope he'll sign their legislation and they certainly don't want to be seen siding with the inflamed progressives or the hyperventilating media.
Their position was at least comprehensible: How many times in a lifetime does your party control all levers of power? When that happens you're willing to tolerate a little Trumpian circus behavior in order to get things done.
But if the last 10 days have made anything clear, it's this: The Republican Fausts are in an untenable position. The deal they've struck with the devil comes at too high a price. It really will cost them their soul.
With most administrations you can agree sometimes and disagree other times. But this one is a danger to the party and the nation in its existential nature. And so sooner or later all will have to choose what side they are on, and live forever after with the choice. https://www.nytimes.com/2017/01/31/opinion/the-republican-fausts.html
10. Roger Cohen: The Closing of Trump's America
Donald Trump is an ahistorical man. He knows nothing of European history and cares less, as his cavalier trashing of the alliance and union that ushered the Continent from its darkest hours demonstrates.
He knows little enough of American history to have chosen as his rallying cry "America First," a slogan with a past clouded by allies-be-damned isolationism at the start of World War II. (Or perhaps that's why he embraced it.)
The president does not even know the history of the C.I.A., as his self-regarding speech before the hallowed Memorial Wall showed. This was desecration of patriotic sacrifice through advanced narcissistic disorder.
He called the speech a "home run."
From Trump's White House there now seeps a kind of ignorance mixed with vulgarity and topped with meanness that I find impossible to wash from my skin. I wake up to its oleaginous texture.
This is worse than had seemed possible: Trump's inexhaustible obsession with the crowd size at the inauguration; his constant untruths; his perverse inability to accept that he won the election, to the point that he wants to investigate the popular vote that he lost; his startling lust for torture, walls, banishment and carnage. https://www.nytimes.com/2017/01/27/opinion/the-closing-of-trumps-america.html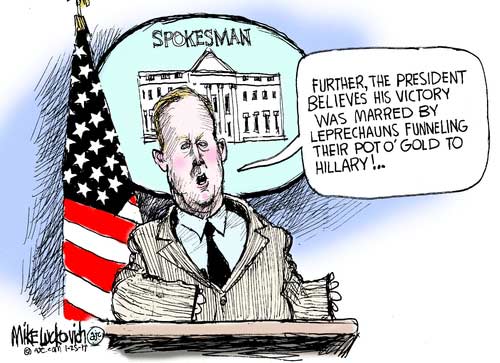 13. Eliot Cohen: A Clarifying Moment for Conservatives
There is in this week's events the foretaste of things to come. We have yet to see what happens when Trump tries to use the Internal Revenue Service or the Federal Bureau of Investigation to destroy his opponents. He thinks he has succeeded in bullying companies, and he has no compunction about bullying individuals, including those with infinitely less power than himself. His advisers are already calling for journalists critical of the administration to be fired: Expect more efforts at personal retribution. He has demonstrated that he intends to govern by executive orders that will replace the laws passed by the people's representatives.
In the end, however, he will fail. He will fail because however shrewd his tactics are, his strategy is terrible—The New York Times, the CIA, Mexican Americans, and all the others he has attacked are not going away. With every act he makes new enemies for himself and strengthens their commitment; he has his followers, but he gains no new friends. He will fail because he cannot corrupt the courts, and because even the most timid senator sooner or later will say "enough." He will fail most of all because at the end of the day most Americans, including most of those who voted for him, are decent people who have no desire to live in an American version of Tayyip Erdogan's Turkey, or Viktor Orban's Hungary, or Vladimir Putin's Russia.
There was nothing unanticipated in this first disturbing week of the Trump administration. It will not get better. Americans should therefore steel themselves, and hold their representatives to account. Those in a position to take a stand should do so, and those who are not should lay the groundwork for a better day. There is nothing great about the America that Trump thinks he is going to make; but in the end, it is the greatness of America that will stop him. https://www.theatlantic.com/amp/article/514868/
14. David Barstow: 'Up Is Down': Trump's Unreality Show Echoes His Business Past
As a businessman, Donald J. Trump was a serial fabulist whose biggest-best boasts about everything he touched routinely crumbled under the slightest scrutiny. As a candidate, Mr. Trump was a magical realist who made fantastical claims punctuated by his favorite verbal tic: "Believe me."
Yet even jaded connoisseurs of Oval Office dissembling were astonished over the last week by the torrent of bogus claims that gushed from President Trump during his first days in office.
But for students of Mr. Trump's long business career, there was much about President Trump's truth-mangling ways that was familiar: the mystifying false statements about seemingly trivial details, the rewriting of history to airbrush unwanted facts, the branding as liars those who point out his untruths, the deft conversion of demonstrably false claims into a semantic mush of unverifiable "beliefs."
Mr. Trump's falsehoods have long been viewed as a reflexive extension of his vanity, or as his method of compensating for deep-seated insecurities. But throughout his business career, Mr. Trump's most noteworthy deceptions often did double duty, serving not just his ego but also important strategic goals. Mr. Trump's habitually inflated claims about his wealth, for example, fed his self-proclaimed image of a business genius even as they attracted lucrative licensing deals built around the Trump brand. https://www.nytimes.com/2017/01/28/us/politics/donald-trump-truth.html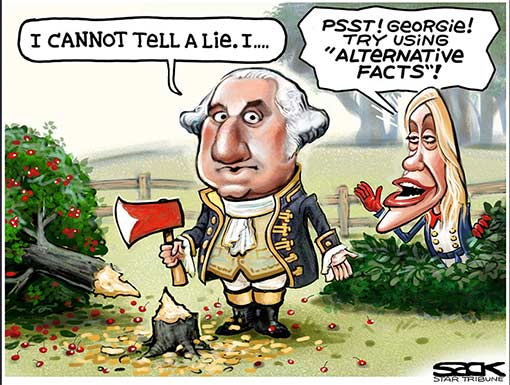 15. Damon Linker: President Trump: The normal, the abnormal, and the truly alarming
Here's where things get very, very worrying. Can America truly remain a liberal democracy while led by a corrupt, paranoid, potentially despotic president who actively spreads falsehoods and conspiracies? Maybe not. Which is why of all the dozens of eyebrow-raising stories from the first week of the Trump administration, the ones that belong in the category of the truly alarming are those that focus on the president's erratic personal statements, behavior, and tweets — and the actions of his senior staff in response to these tendencies.
There were the 40 staffers Trump brought with him to CIA headquarters last Saturday afternoon to act as a personal cheering section. And the press secretary's first bizarre, hostile, extravagantly dishonest press conference about the size of the crowd at the inauguration. And Trump's insistence on repeating the wholly unsubstantiated assertion that 3 to 5 million people voted illegally in the November election. And his subsequent vow to launch an investigation of voter fraud (just a decade after a five-year investigation by the Bush administration's Justice Department uncovered "virtually no evidence of any organized effort to skew federal elections"). And his threat (inspired by data promoted by Bill O'Reilly on Fox News) to "send in the feds" to combat violent crime in Chicago. And the news that Trump's hotel management company hopes to triple the number of Trump-branded hotels in the United States, despite widespread calls (so far ignored) for the president to divest his holdings.
With every such story, the office of the presidency is degraded. With every flouted ethical norm, tolerance for corruption expands. With every officially sanctioned falsehood, the distinction between truth and lies, fact and fiction, becomes blurrier. And as each of these new thresholds is crossed, another barrier to outright authoritarian government gets kicked away.
It's far harder to reverse the collapse of fundamental norms and assumptions than it is to change policy direction, even when the change is significant. Which is why, however troubling the Trump administration's policy agenda might be, we should reserve our greatest outrage and most heated opposition for the times when the president indulges his penchant for outright demagoguery and begins behaving like the deranged tinpot dictator his character apparently inclines him to be. http://theweek.com/articles/676011/president-trump-normal-abnormal-truly-alarming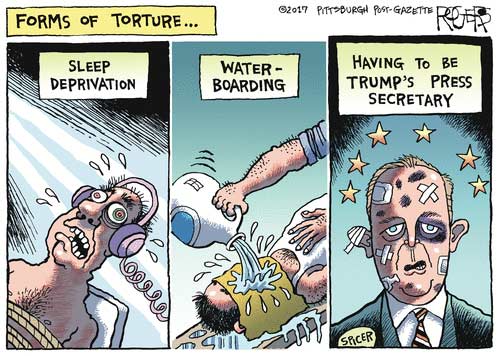 16. NY Times Editorial: Donald Trump's Muslim Ban Is Cowardly and Dangerous
First, reflect on the cruelty of President Trump's decision on Friday to indefinitely suspend the resettlement of Syrian refugees and temporarily ban people from seven predominantly Muslim nations from entering the United States. It took just hours to begin witnessing the injury and suffering this ban inflicts on families that had every reason to believe they had outrun carnage and despotism in their homelands to arrive in a singularly hopeful nation.
The first casualties of this bigoted, cowardly, self-defeating policy were detained early Saturday at American airports just hours after the executive order, ludicrously titled "Protecting the Nation From Foreign Terrorist Entry Into the United States," went into effect. A federal judge in Brooklyn on Saturday evening issued an emergency stay, ordering that those stuck at the airports not be returned to their home countries. But their future and the future of all the others subject to the executive order is far from settled.
The order's language makes clear that the xenophobia and Islamophobia that permeated Mr. Trump's campaign are to stain his presidency as well. Un-American as they are, they are now American policy. "The United States must ensure that those admitted to this country do not bear hostile attitudes toward it and its founding principles," the order says, conveying the spurious notion that all Muslims should be considered a threat. (It further claims to spare America from people who would commit acts of violence against women and those who persecute people on the basis of race, gender or sexual orientation. A president who bragged about sexually assaulting women and a vice president who has supported policies that discriminate against gay people might well fear that standard themselves.)
Republicans in Congress who remain quiet or tacitly supportive of the ban should recognize that history will remember them as cowards. https://www.nytimes.com/2017/01/28/opinion/donald-trumps-muslim-ban-is-cowardly-and-dangerous.html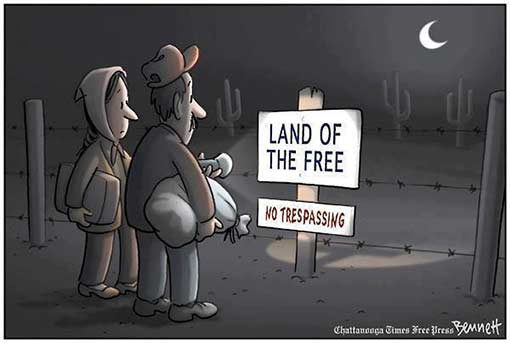 17. E.J. Dionne: For the Media, Shutting up Is Not an Option
Let me begin with a word of thanks to Stephen K. Bannon, the chief White House strategist. With a single interview, he dispelled any illusions that normal or productive relations with the media will even be possible under the Trump administration.
When confronted with untruths, all journalists have one and only one choice: to call them what they are. They cannot, without misleading the public, pretend that there are two sides to a purely factual question. Further, they need to avoid vague language about facts being "in dispute" when there is absolutely no question about what the facts are. Partisans might well emphasize some facts over others. But facts themselves aren't partisan.
This, in turn, means that reporters may indeed seem "oppositional" when they confront an administration that, day after day, shows so little regard for fact or truth. But this is not the media's problem. It's Trump's.
When the policymaking process veers wildly from point to point because it is driven by in-the-moment presidential impulses, not careful analysis, the country is in trouble. This, too, is something down-the-middle journalists will have to describe and analyze dispassionately.
Calmly pointing out the obvious may be the most damaging thing my reporting colleagues do to the Trump administration. Doing so won't make them partisans or oppositionists, no matter what Bannon & Co. say. They'll be patriots, and they'll be doing their jobs. 1/30/17 http://www.realclearpolitics.com/articles/2017/01/30/for_the_media_shutting_up_is_not_an_option_132935.html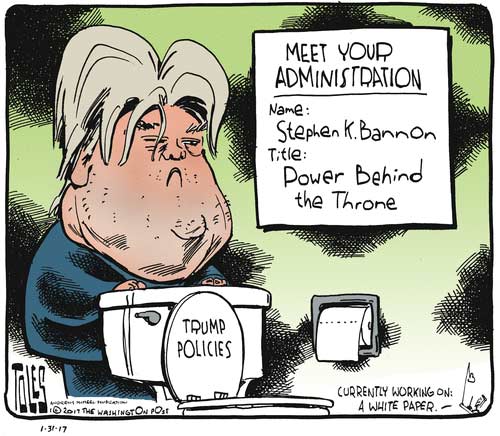 18. Ed Kilgore: Radicalizing American Politics Is Part of the Game Plan for Team Trump
The chaos surrounding Donald Trump's executive orders suspending entry into America for refugees and (subject to case-by-case exceptions) anyone from a select list of Muslim countries is being widely interpreted as signaling a major blunder. Internationally, the mess is alienating allies, ruining America's image, and quite possibly inciting the very terrorism it is alleged to prevent. At home, protests have erupted at most airports with international flights, where federal judges are beginning to intervene to stop implementation of the orders. Confusion is evident within the administration, with the Departments of Justice and Homeland Security having been blindsided by the orders. And Republicans, whose relationship with Team Trump is already being strained by confusion and conflict over a host of domestic policy issues, are mostly running for the hills or publicly protesting.
It is all, to bring back a metaphor from the 2016 campaign, a dumpster fire. And as with major elements of the Trump general-election campaign, the whole brouhaha is being micromanaged by Stephen Bannon and Stephen Miller, two nonlawyers and outside-the-mainstream political operatives who are ignoring the legal and political ramifications of their actions.
It's all so familiar that Trump's critics should resist the temptation to underestimate these people yet again. They do not give a damn about respectable opinion; they live to defy it. They will not be shaken by judicial thunder; they view judges as pawns in larger battles involving more powerful political and economic forces. They don't fear GOP elected officials; they've watched Republicans turn tail, roll over, and beg for tax-cut treats and other policy concessions; just the day before Trump started this latest conflagration the entire congressional party assembled in Philadelphia to beg its new master for direction. http://nymag.com/daily/intelligencer/2017/01/radicalized-politics-is-part-of-the-game-plan-for-team-trump.html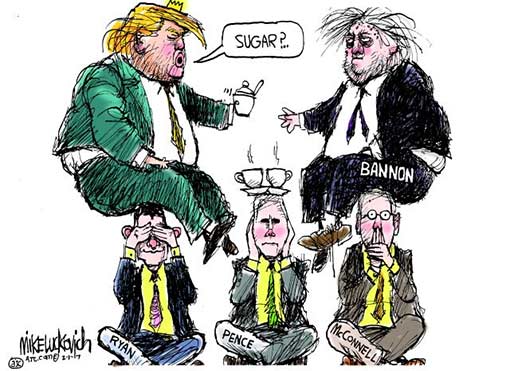 19. Frances Stead Sellers and David A. Fahrenthold: 'Why let 'em in?' Understanding Bannon's worldview and the policies that follow
Now, at the center of power in the White House, Bannon is moving quickly to turn his ideas into policy, helping direct the biggest decisions of Trump's administration. The withdrawal from a major trade pact. A ban on all visitors from seven majority-Muslim countries. And — in an echo of that conversation with Zinke, who is now Trump's nominee for interior secretary — there was a temporary ban on all new refugees.
The result has been intense fury from Democrats, discomfort among many Republicans, and a growing sense of unease in the world that Trump intends to undermine an America-centered world that has lasted 70 years. This sense of turmoil, welcomed by many Trump supporters as proof that the new president is following through on his vow to jolt Washington, reflects the sort of transformation that Bannon has long called for.
That worldview, which Bannon laid out in interviews and speeches over the past several years, hinges largely on Bannon's belief in American "sovereignty." Bannon said that countries should protect their citizens and their essence by reducing immigration, legal and illegal, and pulling back from multinational agreements.
At the same time, Bannon was concerned that the United States and the "Judeo-Christian West" were in a war against an expansionist Islamic ideology — but that they were losing the war by not recognizing what it was. Bannon said this fight was so important, it was worth overlooking differences and rivalries with countries like Russia.
It is not yet clear how far Bannon will be able to go to enact his agenda. His early policy moves have been marred by administrative chaos. But his worldview calls for bigger changes than those already made.
In the past, Bannon had wondered aloud whether the country was ready to follow his lead. Now, he will find out. https://www.washingtonpost.com/politics/bannon-explained-his-worldview-well-before-it-became-official-us-policy/2017/01/31/2f4102ac-e7ca-11e6-80c2-30e57e57e05d_story.html