May 13, 2021
ON THE RECORD. . .
While embracing or ignoring Trumps statements might seem attractive to some for fundraising and political purposes, that approach will do profound long-term damage to our party and our country. Trump has never expressed remorse or regret for the attack of Jan. 6 and now suggests that our elections, and our legal and constitutional system, cannot be trusted to do the will of the people. This is immensely harmful, especially as we now compete on the world stage against Communist China and its claims that democracy is a failed system. — Liz Cheney

Her crime: acknowledging the reality that Trump lost the election. The Republican Party is no longer a conservative party. It is an anti-democratic cult pushing the Big Lie and conspiracy theories. —Sen. Bernie Sanders (I-VT) commenting on Rep. Liz Cheney's ouster from the House Republican leadership.

I'm gonna just go ahead and say this ain't unity. Its capitulation to craze. — Rep. Adam Kinzinger - (R ILL) commenting on the expected ouster of Rep. Liz Cheney (R-WY) from the House GOP leadership.

Thanks for making "The Tyranny of Big Tech" a best seller a week on Amazon! - - Sen. Josh Hawley (R-MO), on Twitter, apparently not understanding the irony of who is selling his new book.

We're in the middle of this slow sink. We have a band playing on the deck, telling everybody its fine, and meanwhile Donald Trumps running around, trying to find women's clothing and get on the first lifeboat. — Rep. Adam Kinzinger (R-IL) likening the GOP to the Titanic.

"Mitch McConnell has some personal animus toward Democrats that ought not be. We are one nation, under God, indivisible, with liberty and justice for all. Let's operate like that. This Republican Party is losing its way on all fronts, and Mitch McConnell is contributing to that in a big way." — Rep. Jim Clyburn (D-SC).

"It just bothers me that you have to swear fealty to the Dear Leader or get kicked out of the party. It doesn't make any sense." — Maryland Gov. Larry Hogan (R), on Republicans still making Donald Trump the face of the party.

"Remaining silent and ignoring the lie emboldens the liar. I will not participate in that. I will not sit back and watch in silence while others lead our party down a path that abandons the rule of law." — Representative Liz Cheney

"You have to lie to qualify to be a Republican." — David Brook

What's happening in this moment is that Rep Liz Cheney is becoming an international symbol for anti-authoritarian freedom. She is a dissident facing down a thuggish power structure just as Alexei Navalny is in Russia. We are a democracy in danger. Pick a side. The fight is on. — Stuart Stevens

"There was no insurrection and to call it an insurrection is a bold face lie." — Rep. Andrew Clyde (R-GA) claimed at a House Oversight Committee hearing that there was no insurrection on January 6th and said the people entering the Capitol were just tourists. VIDEO

"Na na na na, na na na na, hey hey, goodbye Liz Cheney." — Rep. Madison Cawthorn (R-NC).

"If you want leaders who will enable and spread his destructive lies, I'm not your person, you have plenty of others to choose from. That will be their legacy."— Rep. Liz Cheney in a closed-door meeting of House Republicans.

Today, Rep. Liz Cheney chose truth over lies. She chose country over party. She chose a cause greater than herself. She chose democracy. Thank you, Liz, for your courage. — Cindy McCain
VIDEOS
Newsmax segment intended to be about Elon Musk hosting Saturday Night Live — instead he called out Newsmax for its election lies.over the network's promotion of conspiracy theories about Donald Trump winning the 2020 election. Watch HERE.

Desi Lydic Foxsplains: Is America a Racist Country? The Daily Show
REMINDER: Just Security is continuing to track every pending criminal and civil case against Donald Trump.
---
IN THIS ISSUE
IN THE NEWS
OPINION
Andy Borowitz: Fauci Says Nausea and Splitting Headache Are Symptoms of Talking to Rand Paul
Anthony Fauci has revealed that nausea and a splitting headache are two common symptoms of talking to Rand Paul.

The esteemed virologist disclosed that he had taken part in a clinical study that required him to converse with the senator from Kentucky several times in a one-year period.

In addition to nausea and headaches, those who come in contact with Paul's voice may experience "a sensation of wanting to be anywhere but there," Fauci said.

"After thirty seconds of him talking, bam, it hits you," he said. "You have to lie down in a dark room someplace."

To avoid these symptoms, Fauci recommended social distancing from Paul "as much as possible."

The virologist said that he deserved no special credit for subjecting himself to the Rand Paul experiment. "I was just doing my job as a scientist," he said. "I talked to Rand Paul so that the American people wouldn't have to." https://www.newyorker.com/humor/borowitz-report/
Border Patrol agents are working to sabotage the Biden administration, according to insiders
On Monday, House Minority Leader Kevin McCarthy accused President Joe Biden and his administration of fomenting a crisis along the US-Mexico border. In McCarthys telling of events, US Border Patrol agents are catching people from such far-flung nations as Iran, Yemen, and Sri Lanka who are attempting to illegally enter the country. Another House Republican Homeland Security Committee Ranking Member John Katko went even further, claiming that a number of those caught by Customs and Border Protection officers are on the Department of Homeland Security's terror watch list. 
But while Republicans and right-wing media outlets are making noise about a Biden border crisis in hopes of inflaming the anti-immigrant base that helped Trump win the White House in 2016, insiders who have worked at DHS, Border Patrol, and other executive branch agencies have a different view. These insiders say that many of the allegations being made by House Republicans and some of the problems arising at the border, such as the large number of minors remaining in CBP custody longer than court-ordered and statutory limits, have a the hallmarks of a coordinated push by Border Patrol officers, including the leadership of NBPC, the Border Patrol's pro-Trump labor union, to undermine the current administration.  https://www.independent.co.uk/voices/border-patrol-biden-crisis-dhs-kevin-mccarthy-republicans-insiders-b1818116.html
Inside Liz Cheney's plan to take on former president Donald Trump
Rep. Liz Cheney lost her House leadership position Wednesday, but she aims to become an even more influential political figure capable of weakening former president Trump's hold on their party — and continuing to push for his purge.
Rather than focusing on whipping votes to save her job as conference chair, the Wyoming Republican has drafted plans for increased travel and media appearances, such as an interview Wednesday on NBC's "Today Show," meant to drive home her case that Trump is unfit for a role in the Republican Party or as the nation's leader were he to run in 2024, according to a person briefed on the plans.
She also is considering an expanded political operation that would allow her to endorse and financially support other Republican candidates who share her view of the danger she thinks Trump poses to the Republican Party and the country, the person said. https://www.washingtonpost.com/politics/cheney-trump-fight/2021/05/11/09f7906c-b267-11eb-a980-a60af976ed44_story.html
Cheney Saga Boils the GOP Down to Its Essence
The decision by House Republicans to oust Conference Chair Liz Cheney (R-WY) looks like one of those historical hinge moments, a party solidifying around the idea of loyalty to a single person, one who is obsessed with repeating crackpot lies about election fraud, rather than to policy or ideas. https://www.politico.com/newsletters/playbook/2021/05/06/cheney-saga-boils-the-gop-down-to-its-essence-492750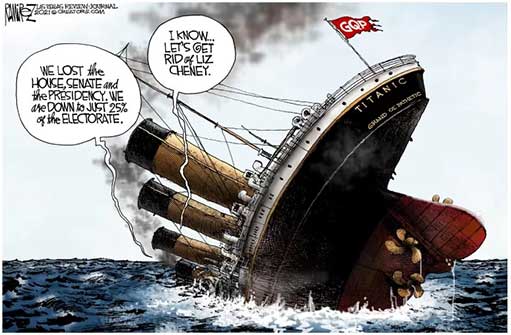 QAnon Has an Alarming New Plan to Steal Arizona for Trump
A group of Arizona citizens, including one Republican Congressional candidate, is asking the states Supreme Court to invalidate a election results since 2018 and remove elected officials from their offices immediately. 
And who should replace the ousted election officials? We, the citizens who filed the lawsuit, of course. https://www.vice.com/en/article/93yy75/qanon-has-an-alarming-new-plan-to-steal-arizona-for-trump
Kaitlyn Jenner Is Running For Governor Because Her Private-Jet-Flying Friends Are Sick Of The Homeless
Last week Caitlyn Jenner unveiled her first campaign ad, in which she said she's running to replace Gavin Newsom as governor because California used to be the place of the American dream, but career politicians and their policies have destroyed that dream. Obviously the American dream means different things to different people, and on Wednesday, in a prime-time interview with Fox News's Sean Hannity, the Keeping Up With the Kardashians star explained that for her and her wealthy friends, it means being able to get in their private planes and fly around the state without having to see the filthy homeless.
Speaking to Hannity from, yes, her private airplane hangar in Malibu, Jenner said her friend who has his own hangar across from hers is so sick of a these poor people that he's packing his belongings (private jets, etc.) and moving to Arizona. https://www.vanityfair.com/news/2021/05/caitlyn-jenner-private-planes-homeless
The census shows the US needs to increase immigration, by a lot
The results of the 2020 census are a warning sign that America is on a course for slow population growth.
Economists broadly agree that population growth fuels economic growth in wealthy countries. But the recently released census figures show the US population was 331.5 million people, an increase of just 7.4 percent between 2010 and 2020 the lowest rate since the 1930s. Projections suggest that, unless current trends change, those numbers could continue to diminish dramatically over the next two to three decades, with the population growing by just 78 million by 2060.
Some parts of the US are already beginning to experience some of the downsides of population slowdown or decline: Shrinking tax bases in rural areas have made it harder for government budgets to support essential services, such as infrastructure and public schools. As population growth slows, the pressure for cuts wi likely grow. Meanwhile, the existing population wi continue to age; by 2030, the Census Bureau estimates that one in five US residents will be of retirement age.
Slow population growth, at least in the United States and a lot of other developed countries, wi become a dire age dependency problem, William Frey, a senior fellow at the Brooking Institutions metropolitan policy program, said. It puts a big strain on the rest of the population. https://www.vox.com/policy-and-politics/22411236/immigration-census-population-growth
New York AG Sues Jacob Wohl for $2.75 Million Over Robocalls
New York Attorney General Letitia James announced Thursday that her office has filed a lawsuit against bumbling right-wing conspiracy theorists Jacob Wohl and Jack Burkman over robocalls the pair allegedly made to suppress the Black vote ahead of the 2020 presidential election.
James says 5,500 New Yorkers were affected; she's asking for Wohl and Burkman to pay $500 for each violation and forfeit a profits. If successful, they will be on the hook for $2.75 million, in addition to the felony charges they face in other states for the alleged scheme. Wohl and Burkman have a history of failed schemes, including an attempt to pin false sexual assault allegations on now-U.S. Secretary of Transportation Pete Buttigieg, former special counsel Robert Mueller, and Sen. Elizabeth Warren. https://www.thedailybeast.com/ny-ag-letitia-james-sues-jacob-wohl-jack-burkman-over-alleged-robocall-plot
The Big Lie is the GOPs one and only truth
This is not the first time that Republicans have declared a Democratic president as somehow illegitimate. They impeached Bill Clinton on flimsy grounds, after previously accusing him of crimes ranging up to murder; there was a widespread campaign to label Barack Obama an unlawful foreign-born president (led by Trump, but tolerated by GOP elites). These campaigns were effective: A 2019 poll found that 56 percent of Republicans still believed that Obama was born in Kenya.
Nor is this the first time Republican elites have ginned up suspicion of voter fraud for political purposes. After Republicans won a series of statehouse elections in 2010, they spent the next few years falsely claiming that voter fraud was a serious threat in order to pass voter ID laws that were nakedly designed to suppress the vote among Democratic-leaning minority groups. Research has found that, even prior to Trump, this convinced Republicans that voter fraud was a real problem when it's exceptionally rare.
These earlier campaigns laid the intellectual groundwork for 2020. Republicans were already primed to believe elected Democrats were somehow illegitimate and to believe in widespread fraud in the American electoral system. Trumps innovation - claiming that an entire presidential election result was fraudulent - was pushing on an open door.
Since at least the 1990s, the GOP has worked consistently to undermine the legitimacy of its political opponents. In the Trump era, that has fused with their efforts to sow panic about voter fraud into a generalized sense that if Democrats win, it's because they broke the rules.
So is the Republican Party capable of ever recognizing a Democratic president as legitimate again? Its a question that no one can really answer and one that suggests our democracy's existential crisis is very far from resolved. https://www.vox.com/22420764/liz-cheney-trump-republicans-democracy-2024
Most Republicans Still Won't Accept That Biden Won
President Biden took office more than three months ago, but Republicans are not any closer to accepting his victory now than they were then. The latest CNN/SSRS survey, released on April 30, found that 70 percent of Republicans believed the false allegation that Biden did not legitimately defeat former President Trump; just 23 percent said Biden legitimately won. Meanwhile, Democrats (97-3 percent) and independents (69-27 percent) said Biden had won fairly. These numbers are very similar to what CNN/SSRS found in mid-January, just before Biden's inauguration. https://fivethirtyeight.com/features/most-republicans-sti-wont-accept-that-biden-won/
Tennessee bans public schools from teaching critical race theory amid national debate
The Tennessee General Assembly has banned the teaching of critical race theory, passing a law at the very end of the legislative session to withhold funding from public schools that teach about white privilege.
Republicans in the House made the legislation a last-minute priority, introducing provisions that ban schools from instructing students that one race bears responsibility for the past actions against another, that the United States is fundamentally racist or that a person is inherently privileged or oppressive due to their race.
Similar proposals surfaced in other states this year, including one in Idaho that has been signed into law by the governor. Texas Republicans are also pushing a proposal to ban CRT in schools. https://www.tennessean.com/story/news/politics/2021/05/05/tennessee-bans-critical-race-theory-schools-withhold-funding/4948306001/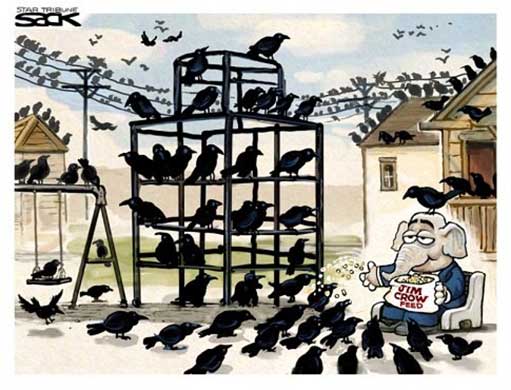 Inside Mitch McConnell's personal push to defeat Democrats voting reforms
Sen. Mitch McConnell has made it crystal clear that defeating the For the People Act is his top priority of this two-year legislative session.
McConnell has conveyed his vehement opposition to the bi repeatedly in public. Whats different, conservatives say, is his personal level of commitment behind-the-scenes to educate activists on just how damaging the legislation would be to the future electoral prospects of Republicans. To those involved, they have noticed a level of engagement from the GOP leader they haven't seen before. https://www.mcclatchydc.com/news/politics-government/article251179289.html
How Trump is hunting down the GOPs leading families
In the civil war between Donald Trump and the GOPs waning establishment, no Republican has crossed the former president and come out ahead.
Yet as Rep. Liz Cheney's ouster from House leadership lays bare, Trump has reserved a special fury for the scions of the GOPs leading families in his attempt to exercise full dominion over the Republican Party.
Whether it's the Cheneys, the Bushes or the lesser bloodlines such as the Romneys or the Murkowskis Trump has been relentless in his efforts to force them to bend the knee. Even Cindy McCain, the widow of the late Sen. John McCain, who herself has never run for office has been knocked down, censured by Trump allies who run the state Republican Party in Arizona.
Its the clearest sign that the modern Republican Party hasn't just broken with its traditionalist past. Its shredding every vestige of it. https://www.politico.com/news/2021/05/07/trump-cheney-gop-families-485528
Biden's Audit-the-Rich Target of $700 Billion Seen as Tall Order
President Joe Biden's plan to raise $700 billion over a decade from increased tax audits of the wealthy and corporations -- a major funding source for his economic-investment proposals -- will probably take years to bear fruit and faces skepticism that the figure is realistic.
The Biden administration has proposed a more than 10% funding increase for the Internal Revenue Service for the next fiscal year and an overall investment of $80 billion over the next 10 years to beef up the agency's depleted auditing staff and outdated technology. Biden's American Families Plan, released last week, highlighted the audit take as a principal way to pay for $1.8 trillion in initiatives including child care and education.
But some former IRS officials said it will take several years to produce significant results, especially after accounting for the time it takes to hire and train new employees and to complete audits of highly complex returns. Moreover, such audits are prone to appeals and litigation that could tie up any payments for additional years, and past efforts to recoup unpaid taxes have returned a tiny fraction of what Biden envisions. https://www.bloomberg.com/news/articles/2021-05-06/biden-s-audit-the-rich-target-of-700-biion-seen-as-ta-order
Tiny, fragile majorities will be the Senate's new normal
It's still early, and an electoral wave in one direction or the other could completely reshuffle the map. For now, only a handful of races look competitive. But we live in a volatile and changing political era. Best bet: The most likely result is another thin and fragile majority for whichever party prevails in the 2022 Senate races. Which means a dwindling number of moderates will retain outsize influence in the upper chamber. https://www.washingtonpost.com/opinions/2021/05/10/senate-new-normal-tiny-majorities/
What Happens When Republicans Simply Refuse to Certify Democratic Wins?
What will the institutions of liberal democracy do when Republican officials simply refuse to concede Democratic victories? The question isn't as far-fetched as it may seem, and the reckoning may be coming far sooner than most expect.
The entire left-leaning political world has spent the months after the 2020 election obsessed over the fairness of elections, and conservative attempts to rig the vote through gerrymandering and voter suppression. This is for good reason, of course: Republicans know they lack the support to win majority support in a fair contest, but believe they have the right to rule nonetheless for reasons that ultimately boil down to white supremacy, religious dominionism and antiquated patriarchal beliefs. So Republicans have been busy passing bills to restrict voting among young people and non-whites, while doing their best to ensure that exurban conservative whites continue to be dramatically and unfairly over represented in the House, Senate and Electoral College.
It's hard to overstate how dangerous this is, and what its consequences might entail in the very near future. As Greg Sargent notes, the "GOP appears to be plunging headlong into a level of full-blown hostility to democracy that has deeply unsettling future ramifications." https://washingtonmonthly.com/2021/05/08/what-happens-when-republicans-simply-refuse-to-certify-democratic-wins/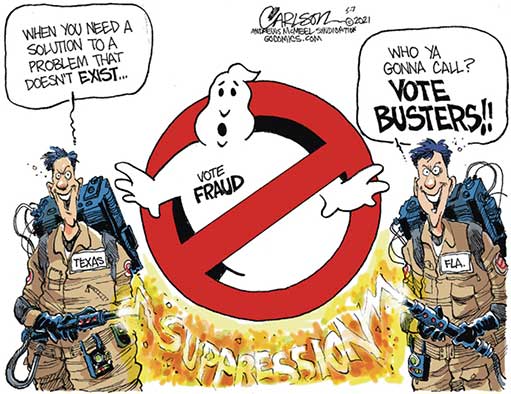 Arizona GOP's Fraud Fantasies Live On
On the floor of Veterans Memorial Coliseum, where NBA stars like Charles Barkley and Michael Jordan once dunked basketballs and Hulk Hogan wrestled King Kong Bundy, 46 tables are arrayed in neat rows, each with a Lazy Susan in the middle.
Seated at the tables are several dozen people, mostly Republicans, who spend hours watching ballots spin by, photographing them or inspecting them closely. They are counting them and checking to see if there is any sign they were flown in surreptitiously from South Korea. A few weeks ago they were holding them up to ultraviolet lights, looking for a watermark rumored to be a sign of fraud. https://www.washingtonpost.com/politics/inside-arizonas-election-audit-gop-fraud-fantasies-live-on/2021/05/10/1b1152f0-b147-11eb-bc96-fdf55de43bef_story.html
AZ Secretary of State Katie Hobbs assigned protection over threats amid election audit
Arizona Governor Doug Ducey has assigned protection to Secretary of State Katie Hobbs after death threats amid the latest election audit. ABC15 confirmed with Hobbs that she and her family have been given Arizona Department of Public Safety protection as of Friday morning. https://www.abc15.com/news/state/secretary-of-state-katie-hobbs-assigned-protection-over-threats-amid-election-audit
FBI still after 'worst of the worst' in Capitol riot as new arrests come at steady pace
Four months after the Jan. 6 riot at the U.S. Capitol, FBI agents maintain a steady pace of arresting people accused of taking part, as one of the largest criminal investigations in American history keeps growing.
"We're not done rounding up the worst of the worst," said one law enforcement official. "We're not slowing down."
More than 440 people have been charged with taking part in the Capitol siege, coming from a but six states, Mississippi, North and South Dakota, Rhode Island, Vermont and Wyoming. The largest number come from Texas, Pennsylvania, and Florida, in that order. https://www.nbcnews.com/politics/justice-department/fbi-sti-after-worst-worst-capitol-riot-new-arrests-come-n1266580
Chinese greenhouse gas emissions now larger than those of developed countries combined
China's greenhouse gas emissions in 2019 surpassed those of the United States and the developed world combined, according to an analysis published Thursday by the research firm Rhodium Group.
China's share of global emissions rose to 27 percent of the worlds total, while the United States remained the second-largest emitter at 11 percent. India's share came third at 6.6 percent, edging out the 27 nations in the European Union, which accounted for 6.4 percent, the report found.
With the effects of climate change intensifying and pressure growing the developed world has sought to make China, India and other developing nations a central part of the global push to restrict emissions for the sake of the planet. Those emissions include six key gases, as we as changes resulting from deforestation and land use.
Meanwhile, China's emissions reached 14.1 gigatons of carbon dioxide equivalents in 2019, the Rhodium analysis calculated at more than triple 1990 levels and a 25 percent increase over the past decade.
Measuring China's greenhouse gas emissions on a per capita basis also shows a sharp increase. China is home to more than 1.4 billion people, and its per capita emissions have reached 10.1 tons annually, nearly tripling over the past two decades.
This comes in just below average levels across the OECD bloc, the Rhodium report states, referring to the 37 nations that make up the Organization for Economic Cooperation and Development, but still significantly lower than the U.S., which has the highest per capita emissions in the world at 17.6 tons/capita. https://www.washingtonpost.com/climate-environment/2021/05/06/china-greenhouse-emissions/
Donald Trump's Adult Children Are Still Costing Taxpayers Thousands Of Dollars A Day
Ivanka Trump, Donald Trump Jr. and Eric Trump, three of ex-President Donald Trumps adult children continue to stick taxpayers with the cost of their Secret Service protection.
They racked up more than $140,000 in charges in the first month following President Joe Biden's inauguration on Jan. 20, according to watchdog group Citizens for Responsibility and Ethics in Washington, which analyzed Secret Service spending records obtained under the Freedom of Information Act.
Agents protecting Trumps progeny spent $52,296.75 on travel and $88,678.39 on hotel costs during the 30-day period, including on trips to Salt Lake City, Miami and New York, the group said Wednesday.
It works out to around $4,699 per day. https://www.huffpost.com/entry/trump-children-secret-service_n_6093ec54e4b02e74d2309eb1
Why Republicans are so fixated on suppressing the vote
If Republicans cannot find enough non-college-educated Whites and, worse for them, cannot count on White evangelicals (more than 80 percent of whom voted for the MAGA party) to keep pace with the growth of nonreligious voters, their nativist party driven by fears of an existential threat to White Christianity will no longer be viable at the national level.
Republicans, in essence, are trying to eke out as many election cycles as they can with its shrinking base. Deathly afraid of alienating the most rabid MAGA supporters, they continue to stoke racial resentment, fear of immigrants and bizarro conspiracy theories all of which push away non-Whites, women, college-educated voters and younger voters. In sum, Republicans base is vanishing and they haven't the slightest idea what to do about it other than a possibly self-destructive effort to disenfranchise voters. https://www.washingtonpost.com/opinions/2021/04/21/why-republicans-fixate-suppressing-vote/
The DAILY GRILL
Had Mike Pence referred the information on six states (only need two) back to State Legislatures ... we would have had a far different Presidential result. — Trump in a statement Wednesday. https://apnews.com/article/donald-trump-michael-pence-electoral-college-elections-health-2d9bd47a8bd3561682ac46c6b3873a10

VERSUS

Trumps trash talk about his former vice president is fantasy. Pence had no authority under the Constitution, congressional rules, the law or custom to refer the results back to the states. — AP Fact Check. https://apnews.com/article/donald-trump-michael-pence-electoral-college-elections-health-2d9bd47a8bd3561682ac46c6b3873a10

 

In Georgia, there was unconstitutional overreach when the Secretary of State unilaterally gutted signature matching for absentee ballots and in essence eliminated voter verification required by state election law. In addition, more than 140,000 votes came from underage, deceased, and otherwise unauthorized voters in Fulton County alone. And many individuals testified to not being able to meaningfully observe the counting of ballots. — Rep. Elise Stefanik (R-N.Y.), in a statement to the Albany Times-Union, Jan. 6, 202https://www.3newsnow.com/news/news-literacy-project/ap-fact-check-yes-trump-lost-election-despite-what-he-says

VERSUS

The Georgia election was overseen by Republicans, the ballots were counted three times and, while the margin was close, it's clear that Biden narrowly won Georgia. With the passage of time, the appropriate thing for Stefanik to do now would be to admit her statements on Jan. 6 were false. — Glenn Kessler, The Washington Post Fact Checker. https://www.3newsnow.com/news/news-literacy-project/ap-fact-check-yes-trump-lost-election-despite-what-he-says

 

In Thursday's interview with conservative radio host Vicki McKenna, Republican Sen. Ron Johnson of Wisconsin suggested there have been thousands of deaths connected to Covid-19 vaccinations. To defend his position and call into question the safety of Covid-19 vaccines, Johnson cited numbers from the federal Vaccine Adverse Event Reporting System (VAERS), which allows anyone to submit a report. Johnson said that according to the system, "we're over 3000 deaths after within 30 days of taking the vaccine," suggesting these deaths were tied to Covid-19 vaccines. https://www.cnn.com/2021/05/07/politics/ron-johnson-vaccine-misinformation-fact-check/index.html

VERSUS

Johnson's insinuation that these reported deaths are tied to Covid-19 vaccines is entirely false. VAERS is not an official, vetted report of vaccine-related incidents. Anyone can submit a report and, as the system's website notes, VAERS is not designed to determine if a vaccine caused a health problem and the reports may contain information that is incomplete, inaccurate, coincidental, or unverifiable. Instead, the system allows the US Centers for Disease Control and Prevention and US Food and Drug Administration to monitor for vaccine adverse events and conduct follow-up investigations.— CNN Fact Check https://www.cnn.com/2021/05/07/politics/ron-johnson-vaccine-misinformation-fact-check/index.html
Bess Levin: Mitch McConnell Vows To Block Biden's Entire Agenda Just To Be A Dick
Something you've probably picked up on by now is that Senate Minority Leader Mitch McConnell literally cares about nothing but amassing and maintaining power. Whereas even some of the worst people in Washington typically have something they care about beyond power for powers sake, or a set of beliefs to guide them, the Kentucky lawmaker truly has none. Give up, someone who knows McConnell we told The New Yorkers Jane Mayer last year when she set out to find the larger principles or sense of purpose that animates the senator. You can look and look for something more in him, but it isn't there. I wish I could tell you that there is some secret thing that he really believes in, but he doesn't.
Perhaps to remind people that, despite being an elected official ostensibly sent to D.C. to work on behalf of the Americans who pay his salary, he doesn't give a fuck about anything but his own interests, McConnell on Wednesday told reporters that while he could spend his time helping to end the pandemic, or aiding the economic recovery, or stopping mass shootings, he's actually got something else in mind: blocking Joe Biden's entire agenda. One hundred percent of my focus is standing up to this administration, the Kentucky Republican said at a press conference in his state in response to questions about fighting among House Republicans. What we have in the United States Senate is total unity from Susan Coins to Ted Cruz in opposition to what the new Biden administration is trying to do to this country, he said, referring to his colleagues from Maine and Texas. What sort of things has Biden proposed that McConnell is dead set on opposing? In a word, everything. https://www.vanityfair.com/news/2021/05/mitch-mcconnell-joe-biden-obstruction
Thomas L. Friedman: The Trump G.O.P.'s Plot Against Liz Cheney — and Our Democracy
I met a girl who sang the blues
And I asked her for some happy news
But she just smiled and turned away
— "American Pie"
I didn't want to write again about the House Republicans ousting Liz Cheney from their leadership for calling out Donald Trump's Big Lie. I was going to make this my week for happy news. But to write about anything else on the verge of Trump's G.O.P. moving to formally freeze out Cheney would be like writing a column about the weather the day after Watergate exploded or about Ford Theater's architecture after Lincoln was shot. This is a big moment in American history.
One of America's two major parties is about to make embracing a huge lie about the integrity of our elections — the core engine of our democracy — a litmus test for leadership in that party, if not future candidacy at the local, state and national levels.
In effect, the Trump G.O.P. has declared that winning the next elections for the House, Senate and presidency is so crucial — and Trump's ability to energize its base so irreplaceable — that it justifies both accepting his Big Lie about the 2020 election and leveraging that lie to impose new voter-suppression laws and changes in the rules of who can certify elections in order to lock in minority rule for Republicans if need be.
It is hard to accept that this is happening in today's America, but it is. https://www.nytimes.com/2021/05/11/opinion/liz-cheney-gop.html
Jeff Flake: In today's Republican Party, there is no greater offense than honesty
On Wednesday, Rep. Liz Cheney (R-Wyo.) lost her leadership post within the House Republican Conference, not because she has been untruthful. Rather, she will lose her position because she is refusing to play her assigned role in propagating the "big lie" that the 2020 election was stolen from Donald Trump. Cheney is more dedicated to the long-term health of our constitutional system than she is to assuaging the former president's shattered ego, and for her integrity she may well pay with her career.
No, this is not the plot of a movie set in an asylum. Ladies and gentlemen, this is your contemporary Republican Party, where today there is no greater offense than honesty. https://www.washingtonpost.com/opinions/2021/05/11/jeff-flake-liz-cheney-republican-party/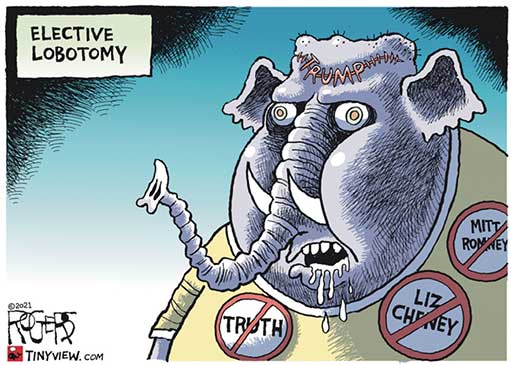 Ashley Parker and Josh Dawsey: Trumps out-of-power agenda: Retribution against foes, commanding the spotlight and total domination of GOP
Six months removed from his Election Day loss, Trump has emerged from his West Palm Beach hibernation, refashioning himself as the president of the Republican States of America and reshaping the party in ways both micro and macro.
He has also privately revived his claims that he plans to run for president again in 2024, decrying what he views as the low ratings of the Biden administration, said one person who has spoken with Trump recently. He rails that President Biden is a disaster and argues that Joe isn't in charge, everybody knows it's Kamala's preview of his likely message portraying Biden as an unwitting stooge of Vice President Harris, this person said. Nonetheless, Trump is not expected to make an official decision or announcement until after the midterm elections, an adviser said.
Trumps reappearance is fueled by an ego-driven desire to remain at the center of national attention, said former advisers and allies who are in touch with him.
The defeated ex-president is propelled primarily by a thirst for retribution, an insatiable quest for the spotlight and a desire to establish and maintain total dominance and control over the Republican base, said several former senior White House advisers. He has boasted to some in his orbit that he expects a book deal at some point, though there is no known offer, two advisers said. https://www.washingtonpost.com/politics/trump-republicans-retribution/2021/05/07/daf0cd4e-ae7c-11eb-b476-c3b287e52a01_story.html
Jonathan Chait: When Trump's Next Coup Happens, the Republican Party Will Find a Way to Support It
The Republican Party and its voters are not to question Trump's crusade to delegitimize the election.
Contesting Biden's election is a poor public-facing message for the GOP, which indeed has a stronger interest in changing the subject to issues that poll better. On the other hand, the communication by Trump and his cultists has not stopped and will not stop. They are laying the groundwork for another challenge to the democratic system with a more favorable response. The question is whether Cheney can answer their arguments, or whether the party's leadership should stay silent and leave the field to Trump.
If and when Republicans mount their next effort to subvert an election, it wi be in their interest to succeed, though it will not be in the country's interest. But note that while Cheney's argument is framed around the country's interest, McLaughlins response is framed around the party's interest. The reason he doesn't even bother addressing Cheneys concern about the ongoing danger of a Republican Party that refuses to accept defeat is that he does not see it as a danger to the party.
There is a long-standing belief on the right that Democratic Party victories are inherently fraudulent. They rely on massive levels of undetected fraud in Democratic-run cities teeming with lawlessness, and mobilize majorities who use their power to illegitimately redistribute wealth from its rightful owners to themselves.
The highbrow version of this belief has long been articulated in conservative organs such as National Review. Trump expressed a crude, lowbrow version, and employed crude, lowbrow tactics. Highbrow right-wing authoritarians look at their lowbrow cousins with contempt and embarrassment. The lowbrow authoritarians look at the highbrows as snobs and wimps. Ultimately, however, their shared beliefs outweigh their differences.
So when the next right-wing coup attempt takes place, backed by the overwhelming majority of Republican voters who believe Trump legitimately won in 2020, what wi the mainstream Republicans do? The answer should already be clear. The next insurrection wi be a Brooks Brothers riot. https://nymag.com/inteigencer/article/trumps-next-coup-cheney-purge-riot-insurrection-democracy.html
Michael Hiltzik: Republicans are trying to drag free preschool and college into the culture war
Let me see if I have this straight. The Republican Party is rebranding itself as the nations leading supporter of family and child education.
Yet it's launched an all-out attack on President Biden's proposals to help families pay for child care and provide free preschool and college, painting them as intrusive social engineering.
Senate Minority Leader Mitch McConnell (R-Ky.) fired a broadside at Biden's plan the day it was announced. McConnell contended that Biden wants to jack up taxes in order to nudge families toward the kinds of jobs Democrats want them to have, in the kinds of industries Democrats want to exist, with the kinds of cars Democrats want them to drive, using the kinds of child-care arrangements that Democrats want them to pursue.
More bizarrely, a plan that offers expanded opportunities for child care and higher education for low-income families is being recast as a mandatory giveaway to the wealthy. This was the theme hit by Sen. Marsha Blackburn (R-Tenn.) on Fox Business even before Biden gave his speech announcing the plan last week.
Lost was any discussion of what Biden actually proposed. His plan calls for spending $200 billion for free universal preschool for a 3- and 4-year-olds and an additional $109 billiion for two years of free community college so that every student has the ability to obtain a degree or certificate, as the administrations fact sheet specifies.
The plan would expand Pell grants, which assist low-income students with higher education expenses. Biden's preschool proposal recognizes the manifest lifelong benefits that such programs provide for children. The plan also would impose quality standards on preschool programs, including low student-to-teacher ratios and high-quality curriculums. https://www.latimes.com/business/story/2021-05-03/gop-free-pre-school-college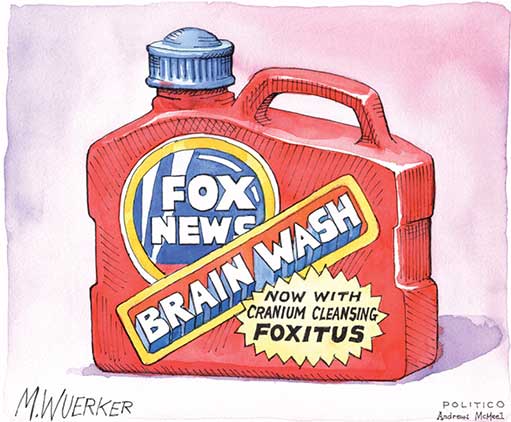 George T. Conway III: What Trump has to fear from Rudy Giuliani
Even before he peddled nutso election-fraud claims, Giuliani had firmly established himself as one of the worlds worst lawyers. He's the bumbler who blurted out on national TV that his client, Individual-1, had reimbursed a $130,000 payment made to a porn star, a transaction that triggered a sprawling and ongoing New York grand jury investigation into Trumps overall business affairs.
The former first client wasn't too thrilled about that. But he ought to be even more ticked about what came next: not one, but two, impeachments, both Rudy-enabled. Nobody other than perhaps the impeachee himself did more than Giuliani to get his client charged with high crimes and misdemeanors.
According to a transcript published last week of a Giuliani phone call with one of the Ukrainian presidents top aides, it was Giuliani who first urged the Ukrainians to announce a bogus investigation of Joe and Hunter Biden so Ukraine could have a much better relationship with the United States. It was Giuliani who told the media that his Ukrainian adventure isn't foreign policy, but was meant to be very, very helpful to my client.
It wasn't. It also wasn't helpful for Giuliani to fill the former guy's head with fertilizer for the Big Lie about the 2020 vote. But at least he's loyal, standing alongside his client and urging trial by combat at the insurrectionist rally on Jan. 6 that led to impeachment No. 2. https://www.washingtonpost.com/opinions/2021/05/06/george-conway-giuliani-raid-trump-fear/
Washington Post Editorial: Liz Cheney told the truth.
This week was a defining moment for the Republican Party. Rep. Liz Cheney (Wyo.), the third-ranking House Republican, has been removed her from her leadership position, perhaps as early as May 12. The underlying question is simple: Is the GOP a party in which embracing lies about the United States system of government is a prerequisite for leadership?
A strong conservative on policy, Ms. Cheney was punished for refusing to embrace, or at least to accept with silence, the falsehood that the Democrats stole the 2020 presidential election. Ms. Cheney is among the few Republican patriots for whom former president Donald Trumps toxic lies about voter fraud, and the Jan. 6 invasion of the Capitol they sparked, were a red line. After the former president insisted on Monday that his failure in last years election is THE BIG LIE, Ms. Cheney shot back: The 2020 presidential election was not stolen. Anyone who claims it was is spreading THE BIG LIE, turning their back on the rule of law, and poisoning our democratic system.
In a Post op-ed posted Wednesday, Ms. Cheney spelled out the stakes for her party: The Republican Party is at a turning point, and Republicans must decide whether we are going to choose truth and fidelity to the Constitution, she wrote. While embracing or ignoring Trump's statements may seem attractive to some for fundraising and political purposes, that approach will do profound long-term damage to our party and our country. https://www.washingtonpost.com/opinions/liz-cheney-told-the-truth-republicans-must-decide-whether-they-value-trump-over-it/2021/05/05/7449c0cc-adc9-11eb-b476-c3b287e52a01_story.html
Greg Sargent: The mask slips, revealing the truth about the GOP voter suppression game
The truth here is plain to see: Florida Republicans are trying to make it harder for the oppositions voters to participate, to the point where party operatives even floated the idea of exempting their own voters from provisions that would accomplish this.
But, unable to manage that, they're calculating that in the end, any impact on their own voters wi be outweighed by the benefits of the impact these efforts will have on the other side. No matter how you cut this, the real aim is to make it harder to vote, and hope for the best.
By itself, this might not mean much, except for one thing: Republicans can't furnish any genuine public interest rationale for what they're doing.
Notably, a lead sponsor of the Florida measure was recently pressed on claims of voter fraud that are supposed to justify these efforts. He replied: "I don't know, but Im sure it was going on."
Meanwhile, the ubiquitous nonsense that these measures are necessary to restore voter confidence in the 2020 election and our electoral system is falling apart.
Sen. Cynthia Lummis (R-WY) was recently asked to justify this, given that Donald Trump and Republicans themselves have relentlessly undermined that confidence. She admitted there's no basis for doubting the 2020 outcome, and dissembled wildly to explain why voters should nonetheless lack confidence anyway.
And in Arizona, Republicans have commissioned a recount of votes in populous Maricopa County, justified by this same supposed goal of restoring confidence. But the recount is being conducted by a contractor whose chief executive has promoted nonsense about fraud in the election.
Both of these give away the game: The real aim is to continue undermining confidence in our electoral system, often as justification for more voter suppression, not to restore it.
What's striking is that this effort to undermine their own voters confidence in the electoral system is now consuming the GOP. Republicans who dared to vouch for the integrity of the 2020 outcome are facing censure and condemnation, and this is becoming a dividing line in GOP primaries.
A significant chunk of the Republican primary electorate appears to be driven with incredible intensity by the belief that the election was illegitimate, Richard Pildes, a professor at New York University who specializes in election law, told me.
Bottom line: The GOP claim that voters need their confidence restored is, if anything, only further undermining that confidence. So this quest to create a fake justification for more voter suppression is also pushing the GOP primary electorate further to the right.
There's no indication that this ongoing radicalization will abate anytime soon. And one can only guess at the damage it will ultimately unleash. https://www.washingtonpost.com/opinions/2021/05/03/voter-suppression-bill-florida-gop/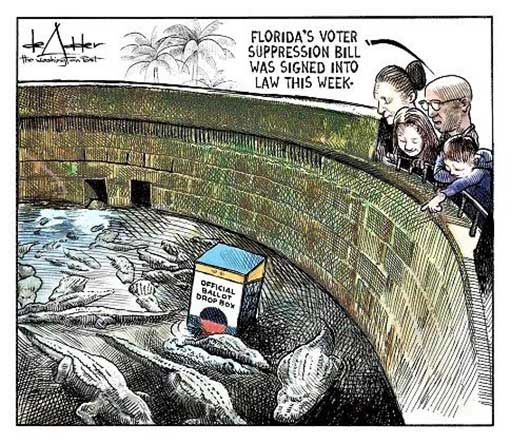 Greg Sargent: How GOP rage at Liz Cheney makes a future stolen election more likely
Cheney has urged Republicans not to turn their back on the rule of law. And she insists that the commission examining Jan. 6 should focus on the insurrection, not on leftist extremism that Republicans are hyping to muddy the waters around their ongoing radicalization.
So why is all this disqualifying? The soft version of this spun by Republicans is that it will muddle the GOP messaging effort to win the House, which relies on portraying Democrats as the Real Extremists.
Some Republicans are increasingly asserting a willingness to overturn future elections. Rep. Jody Hice's primary challenge to the Georgia secretary of state is driven by the promise to use his power to invalidate future outcomes.
Other Republicans are asserting the freedom to keep alive the fiction that the election was stolen forever. In Arizona, a GOP-sponsored recount is underway thats plainly designed to manufacture fake evidence bolstering that false conclusion.
This combination is toxic: Republicans are untethering themselves from any obligation to recognize future legitimate election outcomes, which will provide the rationale to overturn them, a freedom they are also effectively in process of appropriating. Cheney is insisting on a GOP future premised on a full repudiation of these tendencies, and getting punished for it.
Guess what: These same House Republicans might control the lower chamber when Congress is counting electors after the 2024 presidential election.
We should start to very much worry about what Jan. 6, 2025, looks like, Edward Foley, a renowned election law scholar and a Post contributing columnist, told me.
Imagine a 2024 election decided in one state, where a GOP-controlled legislature sends electors for the GOP candidate in defiance of a close popular vote. The same House Republicans who punished Cheney, many of whom already voted against President Biden's electors, but now control the House and have continued radicalizing, could vote to certify that slate.
There are many possible scenarios here that would turn on whether the governor in that state was a Democrat, on what the Senate did, and on how the Supreme Court sorted out the mess.
The core component of the democratic process is that we count the votes as cast, Foley told me. The punishing of Cheney, Foley concluded, suggests that the Republican Party might be institutionally abandoning the very essence of democracy. https://www.washingtonpost.com/opinions/2021/05/05/liz-cheney-ouster-gop-leadership-future-stolen-election/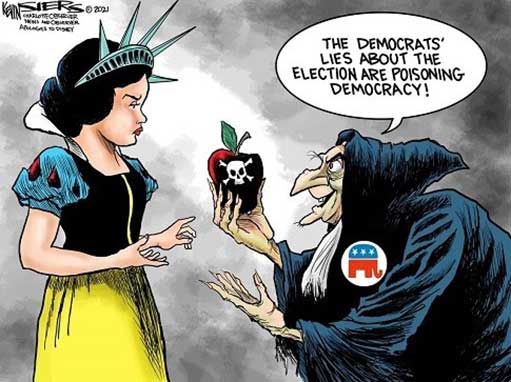 Susan B. Glasser: Forced to Choose Between Trump's Big Lie and Liz Cheney, the House G.O.P. Chooses the Lie
On January 11, 2017, Donald Trump held his first Presidential press conference following his upset victory in the November, 2016, election. It was anything but Presidential. In perhaps the days most notable exchanges, he attacked BuzzFeed for publishing a former British spy's unverified dossier on his extensive ties to Russia -- the news organization, Trump said, was a failing pile of garbage. He also singled out CNN and its White House correspondent, Jim Acosta, for particular scorn. You're fake news! Trump raged at Acosta, refusing to take a question from him. It was his first spoken utterance of a phrase that, arguably more than any other, would come to be associated with his Presidency.
Trump has learned the lesson of previous demagogues: the bigger and more flagrant the untruth, the better to prove the fealty of his Party. After all, it actually demands more loyalty to follow your leader into an absurd conspiracy theory than it does to toe the official line when it doesn't require a mass suspension of disbelief. Back in January, the Big Lie had been rightly affixed to Trumps preposterous falsehoods about the rigged election and his followers insurrection, on January 6th, to prevent Congress from certifying the results. His claims were so preposterous that a lawyer who advanced them on Trumps behalf, Sidney Powell, is now defending herself in court with a filing that states no reasonable person would conclude that the statements were truly statements of fact. There was no fraud. Or, as Trump might put it, if he weren't lying about it, no fraud! And yet Trump has successfully proved throughout the past few months that the repetition of these lies over and over again, even without accompanying evidence"is more than enough to get millions of Americans to believe him. He has run this play before. He knows that it works. Fake News indeed.
It took a long time, but arguably Liz Cheney today is McCain's heir. She is, at the least, willing to call a lie a lie. She applied the Big Lie to Trumps crimes against American democracy long before Trump sought, this week, to steal the phrase for his own destructive purposes. But there is one matter about which I must disagree. In a scathing opinion article she published on the Posts Web site Wednesday night, Cheney wrote that she will not back down from this fight because it is a turning point for her party, which will show whether Republicans choose truth and fidelity to the Constitution or the dangerous and anti-democratic Trump cult of personality. She is wrong about this one. The choice has already been made. https://www.newyorker.com/news/letter-from-bidens-washington/forced-to-choose-between-trumps-big-lie-and-liz-cheney-the-house-gop-chooses-the-lie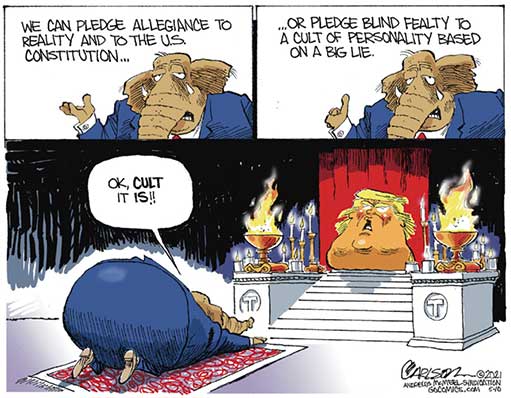 Ruth Ben-Ghiat: Why Do People Believe Liars?
Seeing the same messages over and over can lead some to tune out, but it may also boost confidence that the content is truthful. Repetition can lead to familiarity, which increases acceptance -- especially when the state has silenced alternate voices.
Often, people just want to believe the liar. Personality cults increase the leaders credibility, since they present him as possessed of special powers or ruling with a divine mandate, making him seem infallible (the slogan Mussolini is always right says it all. Strongmen also know how to be persuasive, especially if they previously worked as journalists (Mussolini and the Congos Mobutu Sese Seko), in television (Italys Silvio Berlusconi and Trump) or were professional dissemblers (Putin was a KGB case officer). These practiced liars work hard to seem authentic --- just look at Narendra Modi's Instagram performances.
Moreover, once people bond with the leader, they may be inclined to dismiss any evidence that conflicts with his claims, or overlook contradictions in his messages. They believe him because they believe in him. Or, in an interesting twist, they know he is lying, but they decide that they don't care: better him than his enemy (who, as they have been taught to believe, lies even more). And some people actually approve of a the lying, seeing it as rule-breaking by a rogue they adore. https://lucid.substack.com/p/why-do-people-believe-liars
David Atkins: What Happens When Republicans Simply Refuse to Certify Democratic Wins?
What will the institutions of liberal democracy do when Republican officials simply refuse to concede Democratic victories? The question isn't as far-fetched as it may seem, and the reckoning may be coming far sooner than most expect.
The entire left-leaning political world has spent the months after the 2020 election obsessed over the fairness of elections, and conservative attempts to rig the vote through gerrymandering and voter suppression. This is for good reason, of course: Republicans know they lack the support to win majority support in a fair contest, but believe they have the right to rule nonetheless for reasons that ultimately boil down to white supremacy, religious dominionism and antiquated patriarchal beliefs. So Republicans have been busy passing bills to restrict voting among young people and non-whites, while doing their best to ensure that exurban conservative whites continue to be dramatically and unfairly overrepresented in the House, Senate and Electoral College.
But there's another even more sinister trend among conservative politicians that deserves greater attention: an unwillingness to concede any electoral victory by a Democrat as legitimate, and an eagerness to punish any Republican elected official who concedes the will of the voters. The Big Lie that Trump really won the election is now canon among a majority of Republican voters. Any Republicans who refuses to toe the line is branded a heretic, and elections officials who dared to certify Biden's win are being censured or stripped of their power. Arizona Republicans have sponsored a bogus audit of the election full of crackpot conspiracy theories, and Republican legislatures have been busy taking control of both running and certifying elections out of the hands of county official in Democratic-run cities and counties. The context of the January 6th insurrection at the Capitol was the attempt by Congressional Republicans to refuse to certify the Electoral College tally, in the hopes of sending the election back to gerrymandered Republican state legislatures, thus handing Trump a win as part of a anti-democratic coup. It was a physical coup attempt designed to intimidate Congress into enforcing a legislative coup. Republicans who refused to back the latter are facing steep primary challenges. https://washingtonmonthly.com/2021/05/08/what-happens-when-republicans-simply-refuse-to-certify-democratic-wins/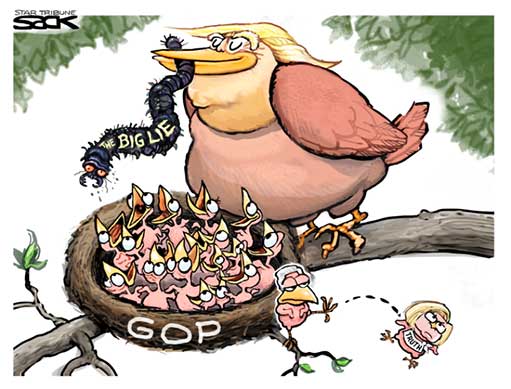 Lisa Lerer: Marooned at Mar-a-Lago, Trump Still Has Iron Grip on Republicans
Locked out of Facebook, marooned in Mar-a-Lago and mocked for an amateurish new website, Donald J. Trump remained largely out of public sight this week. Yet the Republican Party's capitulation to the former president became clearer than ever, as did the damage to American politics he has caused with his lie that the election was stolen from him.
In Washington, Republicans moved to strip Representative Liz Cheney of her House leadership position, a punishment for denouncing Mr. Trump's false claims of voter fraud as a threat to democracy. Lawmakers in Florida and Texas advanced sweeping new measures that would curtail voting, echoing the fictional narrative from Mr. Trump and his allies that the electoral system was rigged against him. And in Arizona, the state Republican Party started a bizarre re-examination of the November election results that involved searching for traces of bamboo in last year's ballots.
The churning dramas cast into sharp relief the extent to which the nation, six months after the election, is still struggling with the consequences of an assault by a losing presidential candidate on a bedrock principle of American democracy: that the nation's elections are legitimate.
They also provided stark evidence that the former president has not only managed to squelch any dissent within his party but has persuaded most of the G.O.P. to make a gigantic bet: that the surest way to regain power is to embrace his pugilistic style, racial divisiveness and beyond-the-pale conspiracy theories rather than to court the suburban swing voters who cost the party the White House and who might be looking for substantive policies on the pandemic, the economy and other issues. https://www.nytimes.com/2021/05/08/us/politics/trump-republicans-liz-cheney.html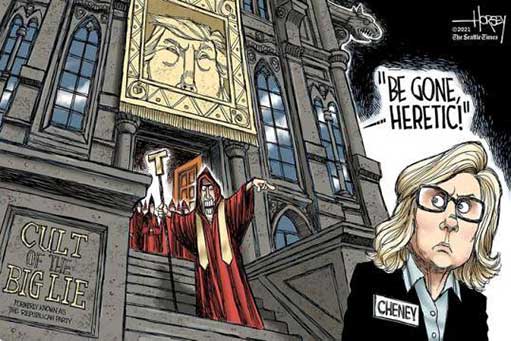 Dan Rather: The BIG LIE Is A Big Deal
The press needs to start taking this even more seriously than it does now. Every elected Republican who has played footsie with the BIG LIE should have to defend that record before they can speak on any other topic. They can't be allowed to dodge. The questions aren't difficult. Did Joe Biden win the election? Where is your evidence to the contrary? And because there is no such evidence, if they try to quote something, they should be pressed on the truth. Live interviews are particularly problematic because politicians can stretch out a string of lies so long that they can spin their way to a commercial break. Those with a history of such actions should not be given prominent platforms for their performance art. 
The BIG LIE must be the context for everything that is taking place in Washington, and political stories across the country. It is not old news. January 6 is not old news. This denial of reality is the animating principle driving the Republican Party. We can't talk about legislation in Washington, immigration, climate change, fiscal policy, foreign policy, civil rights, education, or any other issue politicians are "debating" without talking about the BIG LIE. Because if we have roughly half of elected officials espousing rhetoric and taking actions that undermine our elections and the legitimacy of our chosen leaders then our ability to do anything productive, to respond to the needs of the American people, will be undermined. https://steady.substack.com/p/the-big-lie-is-a-big-deal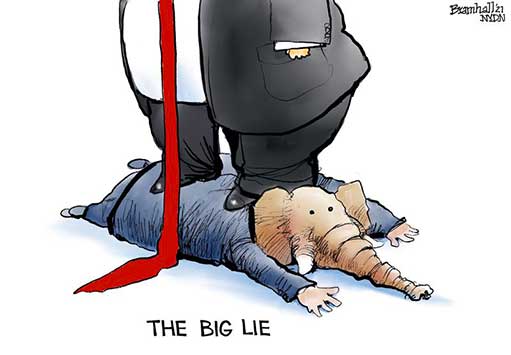 Reid J. Epstein and Nick Corasaniti: Inside Democrats' Scramble to Repel the G.O.P. Voting Push
Democrats are struggling to build a surefire legal strategy to block new Republican-backed restrictions on voting rights, relying on broadly worded warnings and urgent pleas that are designed, in part, to build political pressure on the White House, Congress and the Justice Department to act, as well as to engage their supporters to mobilize in advance of the 2022 midterm elections.
The approach is aimed at persuading recalcitrant Senate Democrats in Washington to pass a sweeping federal elections bill, painting the new Republican laws in the news media as suspect on arrival, and convincing the swing voters who last year helped elect President Biden that the G.O.P. is more interested in fixing elections for itself than in winning those voters back.
Locked out of power in the Republican-run states that are enacting laws making it harder to vote, Democrats are engaged in a partywide effort to push back against the legislation that has as much to do with winning hearts and minds outside courtrooms as it does legal victories inside them.
"We're taking an all-of-the-above approach because we can't allow these things to stand," Jaime Harrison, the chairman of the Democratic National Committee, said in an interview on Friday. "As Democrats, we have to make this personal and we have to tell the story as to why this is important. This is fundamental. The most fundamental thing we have to do is protect the right of all folks to vote. https://www.nytimes.com/2021/05/07/us/politics/democrats-republican-voting-rights.html
Eric Lutz: Mitch McConnell Is Personally Going To Bat For Voter Suppression
It may be Democrats' best chance to beat back GOP attacks on voting rights—and it's already in danger. Sure, the For the People Act is a lock to move forward out of the Senate Rules Committee, which began marking up the sweeping election law on Tuesday. But from there, it will go to a full chamber where Republicans, who stand to benefit from the very disenfranchisement the bill seeks to combat, are unlikely to give it the 10 votes it needs to pass—and where Democrats, some of whom are divided over language and procedure, may not be able to overcome the stonewalling.
Republicans are digging in their heels against the House-passed legislation, which would expand access to the ballot, strengthen government ethics rules, and dismantle the laws that states like Georgia and Florida have enacted based on Donald Trump's election lies. Painting SB1 as a "politically motivated federal takeover of the election system that would make elections more chaotic and less secure," as a memo obtained by Politico put it, the GOP is set to go on the offensive against the measure, with Mitch McConnell leading the charge. "It's a horrible bill," the Senate minority leader said in a radio interview over the weekend. "I'm going to do everything I can and my colleagues are going to do everything we can to prevent it."
McConnell upped the ante on Tuesday, saying in a fiery statement, "Our democracy is not in crisis, and we're not going to let one party take over our democracy under the false pretense of saving it. The Democratic Party wants to rewrite the ground rules of American politics for partisan benefit."
They may not have to do much. Without 10 GOP votes, the bill won't have enough support to break through the filibuster. And even if Democrats were all united behind the legislation, Senator Joe Manchin has made plain he views killing the obstruction tactic as a nonstarter. "There is no circumstance in which I will vote to eliminate or weaken the filibuster," he wrote in April.
That makes things complicated for the Democrats. Not only is their Capitol Hill majority at stake in midterm elections if Republican broadsides against the vote are allowed to stand, but the rights of Americans, particularly those in marginalized communities, are also in jeopardy. "Our Republican colleagues face a critical choice between working with Democrats in good faith to pass a law to protect our democracy," Senate Majority Leader Chuck Schumer said on the floor Monday, "or siding with Republican state legislatures that are orchestrating the largest contraction of voting rights in decades."
But the GOP has already made its priorities clear. High-profile GOP lawmakers continue to parrot Trump's bogus fraud claims, while party leaders see the partisan redistricting the For the People Act would target as an important path toward reclaiming Capitol Hill in 2022. "It kind of feels like an all-hands-on-deck moment for the conservative movement," Jessica Anderson, executive director of Heritage Action, told the Associated Press in March. Democrats will likely be forced to negotiate with their counterparts to see if they can move some pieces of the bill forward, but it's unclear what concessions they would be able to extract from those who continue to embrace Trump's election-theft conspiracy and are poised to exile one of their leaders for refusing to go along with it. https://www.vanityfair.com/news/2021/05/mitch-mcconnell-personally-going-to-bat-for-voter-suppression-for-the-people-act