March 16, 2023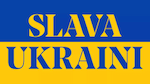 To subscribe to this FREE weekly newsletter simply email jellison@san.rr.comwith "subscribe" as the subject.
THE WEEK'S BEST QUOTES. . .
This Animal Prosecutor that they stuck on me over the Boxes Hoax is trying to TORTURE my people into telling lies. It's all for political reasons, and the fact that I'm leading, big, in all of the polls. He's flying people from all over and throwing them in front of a D.C. Grand Jury. They are confused and scared – they've never done this before. These Democrat Marxist pigs should be the ones that are investigated. The nice guy prosecutor in the Biden documents case hasn't even started yet! — Trump ranting to Truth Social users.
https://www.mediaite.com/news/trump-loses-it-ahead-of-cpac-speech-accuses-animal-prosecutor-of-trying-to-torture-my-people/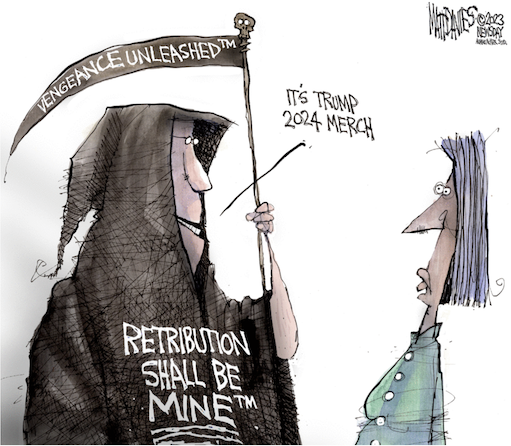 So, we're going to haul witnesses in here today and claim that they did not comply with subpoenas or requests, he continued. And that request is so rich because it's coming from a chairman who himself did not comply with the Jan. 6 committee's requests. — Rep. Eric Swalwell (D-Calif.) slammed Rep. Jim Jordan (R-Ohio) at a Judiciary subcommittee hearing on Thursday about compliance with committee oversight, pointing out that the chairman of the Judiciary Committee previously failed to comply with a congressional subpoena.
https://thehill.com/homenews/house/3893780-swalwell-hits-jordan-at-hearing-over-subpoena-compliance-quite-rich/
"President Trump was wrong. I had no right to overturn the election. And his reckless words endangered my family and everyone at the Capitol that day. And I know that history will hold Donald Trump accountable. …The American people have a right to know what took place at the Capitol on January 6th. But make no mistake about it, what happened that day was a disgrace, and it mocks decency to portray it in any other way." — Former vice president Mike Pence at Washington's annual Gridiron Dinner.
https://www.washingtonpost.com/lifestyle/2023/03/11/pence-says-history-will-hold-donald-trump-accountable-jan-6th/
"I have yet to meet a person in Minnesota that is hungry." — Minnesota State Sen. Steve Drazkowski (R) saying he was voting against a bill to provide free breakfast and lunch for school students in part because he'd never encountered anyone in the state who was hungry.
https://www.nbcnews.com/politics/politics-news/state-gop-senator-says-never-met-hungry-minnesotan-rcna74969
"I knew them all — and every one of them kissed my ass, and now I only have half of them kissing my ass." — Donald Trump, talking to Breitbart about the famous people who wrote him letters over years, which are compiled in a new book.
https://www.breitbart.com/politics/2023/03/12/exclusive-trump-letters-trump-book-people-see-fascinating-life/
"I mean, this bank, they're so concerned with diversity, equity and inclusion and politics and all kinds of stuff. I think that really diverted from them focusing on their core mission." — Gov. Ron DeSantis blaming the collapse of Silicon Valley Bank on woke politics instead of, where it belongs, on the bank's investment strategy.
https://floridapolitics.com/archives/594666-svb-desantis-dei/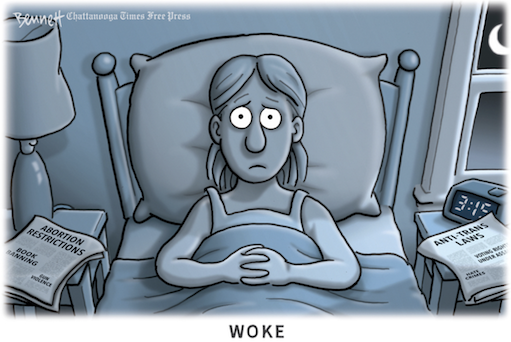 VIDEOS ...
"Why do I care what is going on in the conflict between Ukraine and Russia? I'm serious. Why shouldn't I root for Russia? Which I am." — Tucker Carlson
https://twitter.com/NikkiMcR/status/1199135926955466753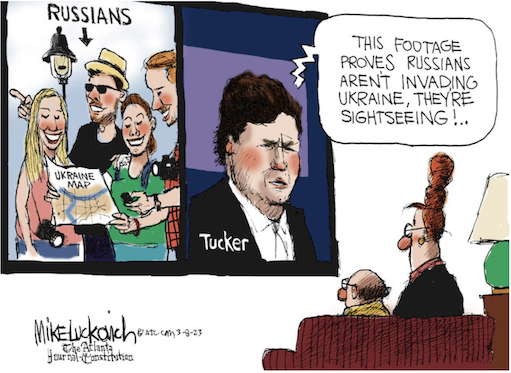 "They used COVID to cheat." — Donald Trump complains about rigged elections at Kimberly Guilfoyle's birthday party.
https://twitter.com/AccountableGOP/status/1634257518804213770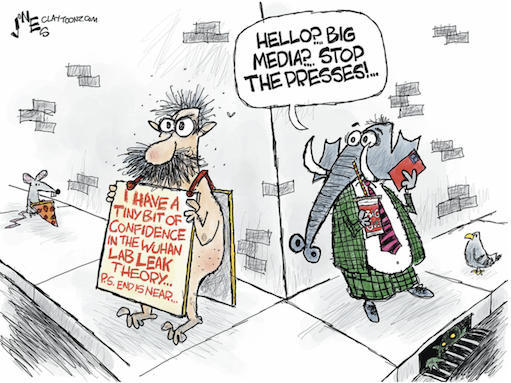 LITIGATION TRACKER
Pending Criminal and Civil Cases Against Donald Trump

. https://www.justsecurity.org/75032/litigation-tracker-pending-criminal-and-civil-cases-against-donald-trump/
---
IN THIS ISSUE
IN THE NEWS
OPINION
Andy Borowitz: Ron DeSantis has unveiled an ambitious plan to raze Disney World and replace it with a "Dilbert"-themed attraction
Ron DeSantis has unveiled an ambitious plan to raze Disney World and replace it with a "Dilbert"-themed attraction.
The new theme park, tentatively called Dilbert World, will attract "millions of Americans deprived of their favorite comic strip by the left-wing media Reich," the Florida governor said.
Calling the new tourist destination "a woke-free zone," DeSantis promised, "Parents who go to Dilbert World can rest assured that their children will not be exposed to the vile multicultural propaganda that it's a small world, after all."
DeSantis was vague about what kind of rides might be featured in Dilbert World, saying only that "they will probably involve cubicles.
https://www.newyorker.com/humor/borowitz-report/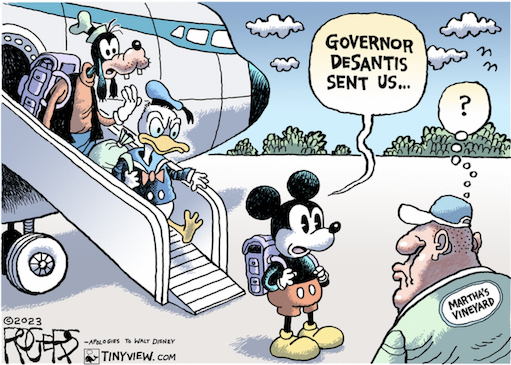 Fox News braces for more turbulence as second defamation lawsuit advances
As Rupert Murdoch's Fox Corporation battles to contain the Dominion lawsuit scandal that has engulfed its top executives and stars, another crisis is building in the wings that has the potential to cause further turbulence for the media empire, The Guardian reports.

Smartmatic USA Corporation's lawsuit against Fox News has attracted only a fraction of the attention garnered by the legal action of Dominion Voting Systems. Yet both firms are suing Fox for defamation related to its coverage of Donald Trump's stolen-election lie, and both pose a serious threat to Fox's finances and reputation. https://www.theguardian.com/media/2023/mar/13/smartmatic-defamation-lawsuit-against-fox-news
House conservatives issue new spending demands in debt ceiling debate
A powerful group of far-right Republicans on Friday issued a new set of demands in the fight over the debt ceiling, stressing they may only supply their votes to raise the limit if they can secure about $130 billion in spending cuts, cap federal agencies' future budgets including:
● Repealing the nearly $400 billion to boost clean energy and combat pollution in the Inflation Reduction Act.
● An end to the "student loan bailout."
● Rescinding the roughly $80 billion recently approved to help the IRS pursue tax cheats.
● Tougher work requirements on food stamps,
● Cuts to Medicaid and other programs that aim to help low-income Americans.
● Repeal of federal funds to fight the coronavirus and climate change.
https://www.washingtonpost.com/us-policy/2023/03/10/house-conservatives-issue-new-spending-demands-debt-ceiling-debate/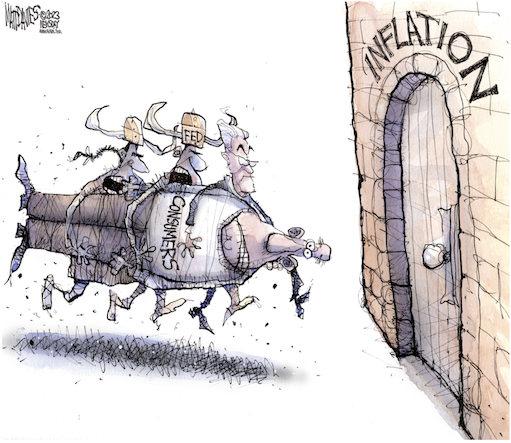 21 South Carolina GOP Lawmakers Propose Death Penalty for Women Who Have Abortions
Twenty-one members of the South Carolina State House are considering a bill that would make a woman who has an abortion in the state eligible for the death penalty.

The "South Carolina Prenatal Equal Protection Act of 2023" would amend the state's code of laws, redefining "person" to include a fertilized egg at the point of conception, affording that zygote "equal protection under the homicide laws of the state" — up to and including the ultimate punishment: death. https://www.rollingstone.com/politics/politics-features/south-carolina-death-penalty-abortion-1234695566/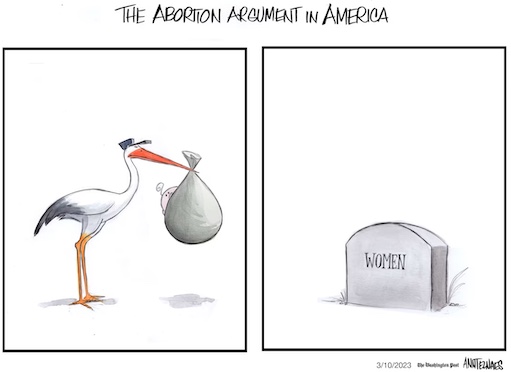 Kevin McCarthy's Bind: Bipartisan Achievements or Partisan Purity
In order to tackle some of the most essential issues Congress is facing this term—let alone produce any sort of legislative accomplishment that Republicans could run on next year—McCarthy will need to strike bipartisan deals.
But there are plenty of Republicans who think 'bipartisan deals' are exactly the sort of words that may cost Republicans the majority, while other GOP lawmakers think ideological purity at the expense of actual achievements is the recipe for disaster.
https://www.thedailybeast.com/kevin-mccarthys-bind-bipartisan-achievements-or-partisan-purity
International Court to Open War Crimes Cases Against Russia
The International Criminal Court intends to open two war crimes cases tied to the Russian invasion of Ukraine and will seek arrest warrants for several people, according to current and former officials with knowledge of the decision who were not authorized to speak publicly.
The cases represent the first international charges to be brought forward since the start of the conflict and come after months of work by special investigation teams. They allege that Russia abducted Ukrainian children and teenagers and sent them to Russian re-education camps, and that the Kremlin deliberately targeted civilian infrastructure.
https://www.nytimes.com/2023/03/13/world/europe/icc-war-crimes-russia-ukraine.html
Prosecutors say newly aired Chansley footage paints misleading portrait of his Jan. 6 conduct
Prosecutors on Sunday rejected the notion that newly public footage of Jacob Chansley — known as the QAnon Shaman — accompanied by police in the Capitol undercuts his criminal conduct on Jan. 6, 2021.
In their first response since Fox News' Tucker Carlson aired the footage — supplied to him by Speaker Kevin McCarthy — prosecutors indicated that Carlson aired footage only from a four-minute period toward the end of Chansley's hour long trip through the Capitol, omitting the most incriminating aspects of his conduct.
https://www.politico.com/news/2023/03/12/qanon-shaman-jacob-chansley-footage-00086703
Senate GOP's 2024 landmines
Senate Republicans have been gifted a historically favorable map for 2024, but they are again facing the risk of problematic candidates emerging in must-win races.
https://www.axios.com/2023/03/12/senate-republicans-flawed-candidates-2024
Ex-Trump aide at Fox wrestled with election lies, network's interests
The emails and text messages involving Raj Shah, who had served as a senior aide in Donald Trump's White House for two years before his hiring at Fox, offer a particularly vivid example of the pattern, demonstrating how elements of Fox, the Republican Party and the then-president's own staffers spent years accommodating some of Trump's worst impulses and amplifying some of his lies. When it came to the baseless election fraud narrative — including that counting dead voters had lifted the Democrats to victory — many of these people were aware of the likely falsity of the allegations but were unwilling to anger Trump or his supporters by clearly stating so publicly.
Shah is also a reminder of how Trump's operation had become fused to the nation's most watched conservative news channel, whose coverage had helped fuel his rise before his 2016 election. Shah was part of a long line of Trump underlings who passed back and forth between Trump's orbit and Fox's on- and off-air ranks.
https://www.washingtonpost.com/politics/2023/03/12/raj-shah-fox-trump/
House conservatives issue new spending demands in debt ceiling debate
A powerful group of far-right Republicans on Friday issued a new set of demands in the fight over the debt ceiling, stressing they would only supply their votes to raise the limit if they can secure about $130 billion in spending cuts, cap federal agencies' future budgets and unwind the Biden administration's economic agenda.

The ultimatum from the House Freedom Caucus — led by Rep. Scott Perry (R-PA) — threatened to deal a massive blow to government health care, education, science and labor programs. Seeking tougher work requirements on welfare recipients and the repeal of federal funds to fight coronavirus and climate change, the conservatives' wish list appeared to complicate the work to clinch a deal and avert a looming fiscal calamity. https://www.washingtonpost.com/us-policy/2023/03/10/house-conservatives-issue-new-spending-demands-debt-ceiling-debate/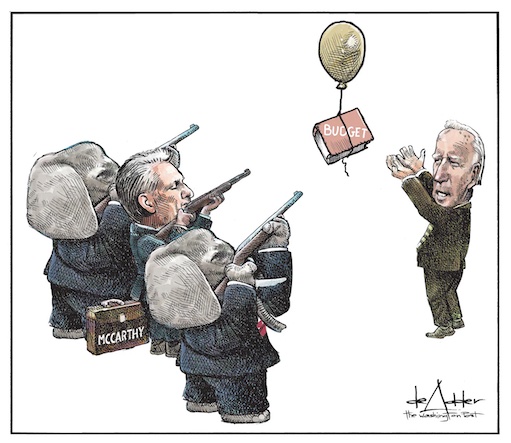 Will Criminal Charges Trip Up Trump?
In what would be a historic and unprecedented move, prosecutors from the Manhattan district attorney's office invited Trump to testify before a grand jury in the investigation of hush money payments made during the 2016 presidential campaign to adult film star Daniels.
Such offers almost always indicate an indictment is close; it would be unusual for the district attorney, Alvin Bragg, to notify a potential defendant without ultimately seeking charges against him.
Trump, in a long, rambling statement on Truth Social, denied having an affair with Daniels, insulted her appearance and likened the investigation to the Russia and Ukraine inquiries that dominated his presidency.
While any indictment of Trump could flip 2024 on its head, even if Mr. Trump is indicted, convicting him or sending him to prison will be challenging, the trio write. The case against the former president hinges on an untested and therefore risky legal theory involving a complex interplay of laws, all amounting to a low-level felony.
Don't expect Trump to cooperate: A Trump spokesperson blasted the reported threat as simply insane in a statement last night. President Trump was the victim of extortion then, just as he is now. It's an embarrassment to the Democrat prosecutors, and it's an embarrassment to New York City.
In another indication of Trump's mindset, he told reporters separately that Richard Nixon's greatest Watergate regret was that he didn't fight, he should have fought, per the Washington Examiner.
And it remains unclear whether an indictment would actually hurt Trump in a primary. After years of sowing doubt and disinformation about any institution that investigated or stood against him, it is possible that any charges could have something of a rally around the flag effect with his core supporters.
https://www.politico.com/newsletters/playbook/2023/03/10/the-gops-2024-picture-snaps-into-focus-00086519
Democrats Pick 29 'Frontline' Members
House Democrats on Friday identified 29 members who are most at risk in the 2024 elections - a list that includes Mike Levin from California's 49th CD.
https://rollcall.com/2023/03/10/dccc-picks-29-frontline-members-for-extra-help-next-year/
Trump Is Losing His Grip on the Grassroots
A new Politico survey of national Republican county chairs finds that Ron DeSantis has nudged ahead with 19% support in the invisible primary, compared to 17% for Donald Trump.
But it's still wide open: Half say they're uncommitted.
Also interesting: When asked which candidates they're open to considering, 73% list DeSantis — but just 43% say Trump.
https://www.politico.com/news/magazine/2023/03/10/trump-desantis-presidential-survey-00085111
Sarah Huckabee Sanders thinks child labor laws have been working a little too well
  The Republican Party is currently obsessed with the idea that it needs to protect children from things like being read to in libraries, men wearing dresses within 1,000 feet of them, historically accurate versions of US history, and the knowledge that gay people exist. Arkansas governor Sarah Huckabee Sanders is one of these Republicans, and on Wednesday, she signed a sweeping education bill that, among other things, bans talk of gender identity, sexual orientation, and sexual reproduction prior to fifth grade and curriculums that include critical race theory. How else is Sanders going to bat for kids? By loosening child labor laws, of course.  
On Wednesday, the former White House press secretary signed the Youth Hiring Act of 2023, which says that children under 16 do not need to get permission from the Division of Labor to work or obtain an employment certificate verifying their age, work schedule, and written consent from a parent or guardian. In explaining Sanders's thinking, her communications director claimed that previous permit requirements put an arbitrary burden on parents. (It's not actually clear how any of this was arbitrary.)
https://link.vanityfair.com/view/5bd66eaa2ddf9c61943861e4ibx61.4ob/d8baa91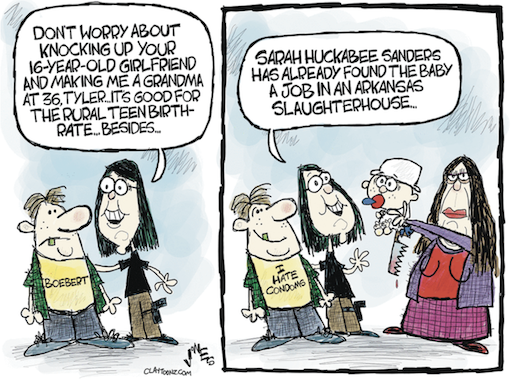 Russia tried to influence U.S. elections in 2022 and will do it again, nation's top intel agency says
A new
U.S. intelligence community report
found Russia conducted malign influence operations in the 2022 U.S. midterm elections and is using increasingly clandestine means to penetrate the Western information environment.
https://www.cnbc.com/2023/03/08/russia-tried-to-influence-us-elections-in-2022-and-will-do-it-again-intel-agency-says.html
Biden to Urge 25% Billionaire Tax, Levies on Rich Investors
President Joe Biden is proposing a series of new tax increases on billionaires, rich investors and corporations in his latest proposal for how Congress should prioritize taxes and spending.

Biden's budget request to Congress, which is slated to be released Thursday, calls for a 25% minimum tax on billionaires. The plan would also nearly double the capital gains tax rate for investment to 39.6% from 20% and raise income levies on corporations and wealthy Americans. https://www.bloomberg.com/news/articles/2023-03-09/biden-to-urge-25-billionaire-tax-big-levies-on-rich-investors
Elon Musk Is Planning a 'Utopian' Company Town
Elon Musk is adding one more title to his resume: town owner. The multi-billionaire is reportedly working on building his own utopia near Austin,Texas.
https://gizmodo.com/musk-plans-company-town-texas-called-snailbrook-1850209426
The Facebook MAGA mills are open for business
The FWIW newsletter has identified a large-scale, opaque, and interconnected network of over 70 right-wing Facebook pages – which are run by only a handful of individuals – that crank out hundreds of hyper-partisan, conservative posts daily.

With names like 'President Trump is My Wingman,' 'Freedom From The Press', and 'The American Tribune,' these pages have built a cumulative owned audience of 38 million followers and have generated more than 100 million reactions, shares, and comments on their posts over the past year. https://fwiwnewsletter.substack.com/p/the-facebook-maga-mills-are-open
Will it take market crash for Congress to raise debt limit?
There's one way to force President Joe Biden and Congress to solve the looming crisis over the debt limit: a financial market crash, the AP reports.

That's a view held by several economists and a former White House official, mindful that Congress rarely acts unless an emergency forces lawmakers to.

There is a widening recognition that a massive sell-off tied to debt limit tensions would provide instant clarity and snap everyone out of their ideological stagnancy. No one is rooting for the markets to sink, but as Republican lawmakers weigh the possibility of prioritizing repayments to debt holders — a risky short-term fix — there is a sense that markets need to jolt Congress into action. https://apnews.com/article/debt-limit-financial-market-crash-biden-mccarthy-d3457c2b464e826bb7672f7f8a2707fd
Three Texas women are sued for wrongful death after allegedly helping friend obtain abortion medication
A Texas man, is suing three women who he claims assisted his ex-wife in terminating her pregnancy under the state's wrongful death statute, the first such case brought since the state's near-total ban on abortion last summer.
The lawsuit alleges that assisting a self-managed abortion qualifies as murder under state law, which would allow Silva to sue under the wrongful death statute. The women have not been criminally charged. Texas' abortion laws specifically exempt the pregnant person from prosecution; the ex-wife is not named as a defendant.
https://www.texastribune.org/2023/03/10/texas-abortion-lawsuit
House GOP's budget could hurt the party in key Senate races
Several House Republicans are likely to run for competitive Senate seats in 2024. If they vote to cut Medicare, Social Security or some other entitlement programs in the meantime, they could hurt their own chances.
https://www.axios.com/2023/03/11/2024-house-republicans-senate-debt-medicare
THE DAILY GRILL
Governor DeSantis told Fox News' Tucker Carlson in a lengthy statement that "becoming further entangled in a territorial dispute between Ukraine and Russia" is not a vital U.S. national interest, putting him on the side of Donald Trump and at odds with top congressional Republicans. 
https://twitter.com/TuckerCarlson/status/1635446265692532738
VERSUS
Ron DeSantis as a congressman in 2014 and 2015, urged then-President Obama to send "defensive and offensive" weapons to help Ukraine repel Russia's proxy forces in the east. As recently as 2017, DeSantis criticized Obama for refusing to send lethal aid to Ukraine and described himself as part of "the Reagan school that's tough on Russia.
https://www.cnn.com/2023/02/26/politics/ron-desantis-supported-ukraine-russia-kfile/index.html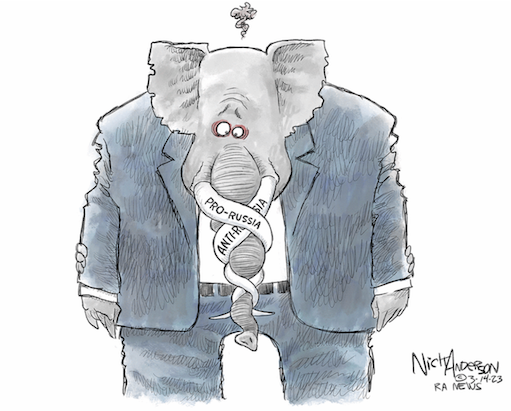 Jonathan Chait: The Republican Party May Not Be Fascist, But It's Definitely Getting Fasci-er
On the narrow point of terminology, I largely agree that fascist should not be used to describe figures like Donald Trump and Ron DeSantis. Historians and political theorists have innumerable definitions of fascism — some narrow, others extremely broad. But most people understand fascism to mean a single-party state in which effective political opposition is impossible — or at least extremely dangerous. Neither Trump nor DeSantis is trying to build a system like this.

What I do believe is that it's accurate to describe Trump and DeSantis as engaging in and advocating authoritarian measures that weaken democracy without eliminating it altogether as a fascist would. A more limited and precise term might be democratic backsliding — a term I favor (despite its unsuitability in headlines), because it correctly conceives of democracy and dictatorship as existing on a continuum rather than in a binary. I think Joe Biden's term, 'semi-fascist,' captures this well enough. https://nymag.com/intelligencer/2023/03/republican-fascist-authoritarian-democratic-trump-desantis-bessner.html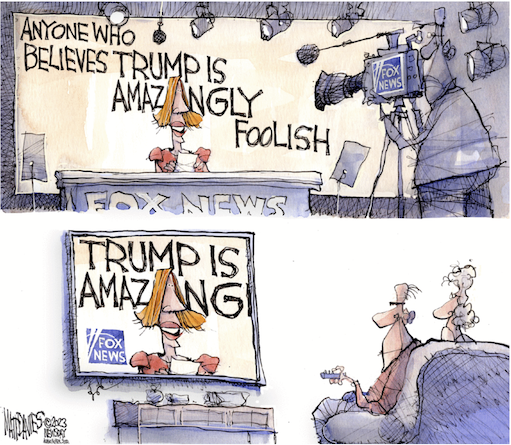 Sen. Elizabeth Warren: Silicon Valley Bank Is Gone. We Know Who Is Responsible.
No one should be mistaken about what unfolded over the past few days in the U.S. banking system: These recent bank failures are the direct result of leaders in Washington weakening the financial rules.

In the aftermath of the 2008 financial crisis, Congress passed the Dodd-Frank Act to protect consumers and ensure that big banks could never again take down the economy and destroy millions of lives. Wall Street chief executives and their armies of lawyers and lobbyists hated this law. They spent millions trying to defeat it, and, when they lost, spent millions more trying to weaken it.
Greg Becker, the chief executive of Silicon Valley Bank, was one of the ‌many high-powered executives who lobbied Congress to weaken the law. In 2018, the big banks won. With support from both parties, President Donald Trump signed a law to roll back critical parts of Dodd-Frank. Regulators, including the Federal Reserve chair Jerome Powell, then made a bad situation worse, ‌‌letting financial institutions load up on risk.

Banks like S.V.B. ‌— which had become the 16th largest bank in the country before regulators shut it down on Friday ‌—‌ got relief from stringent requirements, basing their claim on the laughable assertion that banks like them weren't actually "big" ‌and therefore didn't need strong oversight. ‌ https://www.nytimes.com/2023/03/13/opinion/elizabeth-warren-silicon-valley-bank.html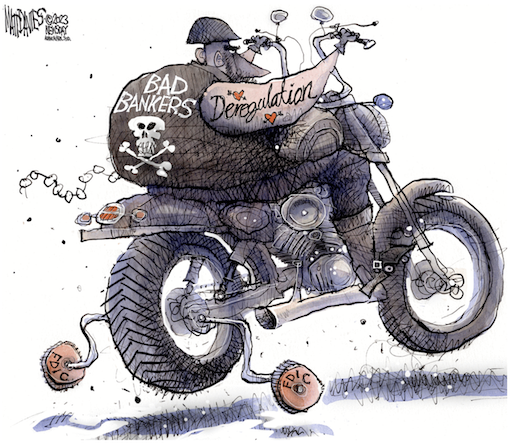 Dana Milbank: Kevin McCarthy joins the insurrection
Not since the Know-Nothing Party disappeared in the 1850s has a public figure boasted about his ignorance with as much gusto as Kevin McCarthy does.

It doesn't seem to matter what you ask the speaker of the House. He hasn't read it, seen it or heard about it.

The explosive documents from the Dominion case showing Fox News hosts privately said Donald Trump's election lies were hokum but promoted the lies on air anyway?

"I didn't read all that. I didn't see all that," McCarthy told The Post.

The way Fox News's Tucker Carlson (predictably) manipulated the Jan. 6, 2021, security footage McCarthy (foolishly) gave the propagandist, giving the false appearance that the bloody insurrection was mostly peaceful?

"I didn't see what was aired," McCarthy asserted.

Senate GOP leader Mitch McConnell, in an implicit rebuke of McCarthy, blasting the Carlson propaganda while holding up a statement from the Capitol Police chief denouncing Fox News's "outrageous," "false" and "offensive" portrayal of the insurrection?

You guessed it. McCarthy "didn't see" McConnell do that.

The benighted McCarthy has been amassing this impressive body of obtuseness for some time. If ignorance is bliss, the California Republican has been in nirvana for years now.

How about Trump's speech on the Ellipse on Jan. 6, 2021, provoking the sacking of the Capitol?

"I didn't watch it," McCarthy said.

Rep. Andrew Clyde (R-Ga.) calling the insurrectionists' rampage a normal tourist visit?

"I don't know what Congressman Clyde said," quoth McCarthy, and "I didn't see it."

When his own designated negotiator reached a bipartisan agreement to form a commission to probe the Jan. 6 attack (a commission McCarthy ultimately killed)?

"I haven't read through it."

Trump, in a recorded phone call, demanding Georgia's secretary of state find enough votes to overturn the election results?

"I have to hear it first."

Trump telling four congresswomen of color (three of them U.S.-born) to go back where they came from, prompting chants of send her back among his rallygoers?

"I didn't get to see the rally."

Rep. Marjorie Taylor Greene (R-Ga.) harassing Rep. Alexandria Ocasio-Cortez (D-N.Y.) with shouts and slander just off the House floor?

"I didn't see that. I don't know what happened." https://www.washingtonpost.com/opinions/2023/03/10/kevin-mccarthy-i-know-nothing-insurrection-questions
Katie Phang: The true cost of Dominion's devastating Fox News bombshells
In the Dominion versus Fox News defamation case, Fox is now trapped in an ever-worsening spiral of lies of its own creation. Time and time again, Fox allegedly trafficked in lies and falsehoods. And the result just might be a financial death penalty for the network…

Armed with thousands of pages of texts and internal chats and emails by and between Fox hosts, producers and executives, Dominion seeks to convince a Delaware judge that a jury no longer needs to hear the case because, as a matter of law, there is no work left to be done to decide whether Fox defamed Dominion. On March 21, both sides will appear in court for oral arguments. As Dominion has argued, "It is the rare case to grant summary judgment of actual malice, but it is also the rare case where direct evidence of actual malice exists, as it does here." 

And some legal experts agree: Dominion doesn't just have the upper hand, it has the truth on its side. If Dominion is successful, then all that would be left to determine is the amount of damages that Dominion is entitled to receive. That's where the numbers become astronomical. Dominion is seeking $1.6 billion in lost profits and reputational harm. But it's also seeking punitive damages, which are not capped under New York state law and could also be in the billions of dollars. Punitive damages are intended to punish the wrongdoer and to deter others from repeating that egregious conduct. And a multi-billion-dollar punitive damages verdict would not just punish Fox News. It would send a ringing message to all media companies to keep themselves in check and uphold the truth. https://www.msnbc.com/opinion/msnbc-opinion/fox-news-dominion-damages-rcna74446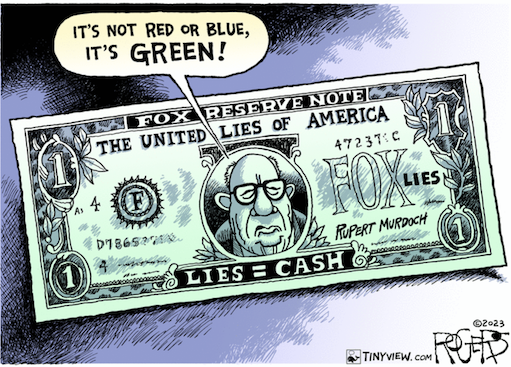 Bess Levin: Donald Trump's VP Short List Is A Who's Who Of Uniquely Awful Republican Women.
In January, we learned that Donald Trump was reportedly considering GOP representative Marjorie Taylor Greene to be his 2024 running mate. As a stark raving lunatic—who, among other things, believes there's some truth to what QAnon says about Democrats being Satanic cannibal pedophiles, has insisted there's no evidence a plane crashed into the Pentagon on 9/11, and claimed the Clintons had JFK Jr. killed—the Georgia Republican is obviously a perfect complement to the most deranged president in modern history. But apparently, Greene isn't the only certifiably insane candidate Trump has his eyes on.

That's right, Axios reports that Trump is also mulling over Kari Lake as a VP pick. Like the 45th president, the former news anchor also has exactly zero government experience, although unlike Trump, she's never actually won an election. But don't tell her that! Since losing the Arizona gubernatorial race last November, Lake has insisted the whole thing was stolen from her; despite having her claims rejected by two different courts, she apparently believes the Arizona Supreme Court will rule in her favor. That defiance, in the face of utter facts, is presumably a large part of what Trump sees in her, in addition to liking that, per Axios, she has shown she's willing to defend him vociferously, no matter the issue or controversy. (Ahead of the 2022 midterms, Lake called for her opponent to be thrown in jail for certifying the 2020 election results, which Trump surely loved. More recently, she called Maricopa County election officials crooks who need to be locked up for not buying her own election fraud claims.)  https://www.vanityfair.com/news/2023/03/donald-trump-vp-short-list-kari-lake
Eric Lutz: Tucker Carlson Doesn't Think Much Of Donald Trump—Or His Audience
It's long been clear that Fox News wasn't buying the election denial it was selling. That much was made plain by the January 6 committee, which uncovered messages from hosts like Sean Hannity attempting to get Trump to put an end to the riot that day. But unsealed documents from Dominion Voting Systems' defamation suit against the network further underscore the full extent to which Fox knowingly misled its viewers: Last month, a Dominion court filing revealed internal communications that showed everyone from leaders like Fox Corp. Chair Rupert Murdoch to on-screen personalities like Laura Ingraham mocking the Trumpworld election conspiracy theories they were promoting on air. And just this Tuesday, the day after Carlson tried to convince Americans that the insurrectionists were actually more like "sightseers," a new trove of emails, texts, and deposition transcripts went public.
In the latest batch of findings, Murdoch describes Trump and Rudy Giuliani as "increasingly mad" and dangerous. Raj Shah, a senior vice president and Fox and former Trump administration official, described Trump lawyer Sidney Powell as "MIND BLOWINGLY NUTS," but expressed concern that the network could lose viewers to Newsmax and One America News if they felt "betrayed" by Fox's coverage. And then, of course, there's Carlson, who not only acknowledged despising Trump personally, but suggested in a text that he didn't see any benefit to him politically. "We're all pretending we've got a lot to show [for the last four years], because admitting what a disaster it's been is too tough to digest," Carlson wrote in a January 4, 2021 exchange. "But come on. There really isn't an upside to Trump."
Nevertheless, Carlson and Co. remained publicly loyal to Trump—and for obvious reasons. "It is not red or blue, as Murdoch put bluntly in a Dominion deposition, it is green." The network knew it was feeding its audience bullshit. But it kept doing so—at the expense of those very viewers, some of whom are now serving jail sentences for acts they committed in service of the conspiracy theories they were sold by the right-wing media—because it was good for business. "The emails, texts, and deposition testimony speak for themselves," as a spokesman for Dominion, the voting system Trump and his allies claimed was rife with fraud, told NBC News.
https://www.vanityfair.com/news/2023/03/tucker-carlson-doesnt-think-much-of-donald-trump-or-his-audience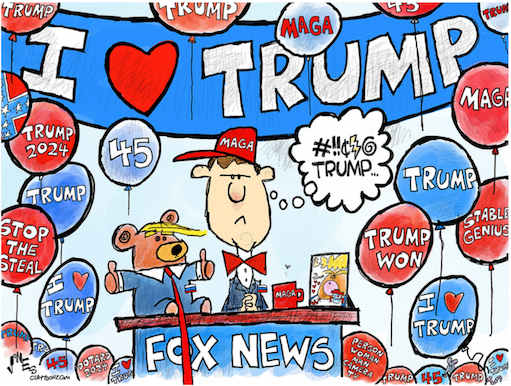 Dan Pfeiffer: How to Fight a Vulnerable Fox News
Rupert Murdoch and his merry band of insurrectionists (Hannity), racists (Tucker), propagandists (Ingraham), and fake journalists (Baier) are in a whole heap of legal trouble.
As I am sure you know by now, Fox News is being sued by Dominion Voting Systems for $1.6 billion for defamation. The testimony and text messages released in the court filings have been devastating. Fox News Chairman Rupert Murdoch and his Viet Dinh, the Chief Legal Officer, both admitted under oath that the network failed to meet its responsibility to knowingly stop false information from making it onto the airwaves.
While defamation cases are typically tough to win, the folks at Fox decided to violate the "Stringer Bell" principle and repeatedly text about their culpability in real time. Many legal experts believe Fox will lose the case, and executives and on-air personalities could get the ax to stanch the bleeding.
The revelations in the Dominion lawsuit make it clear that even journalists like Bret Baier are complicit in the worst behavior at Fox. They are propagandists — nothing more and nothing less. And it is essential that we treat them like political adversaries. Never again, should a Democrat feel a need to accommodate a Fox News reporter, answer their question, or appear on their show out of fairness or duty.
Those days are over. There are no objective journalists at Fox. There are just obvious propagandists writing opinion pieces and, more dangerously, subtle propagandists who pretend to be journalists.
https://messagebox.substack.com/p/how-to-fight-a-vulnerable-fox-news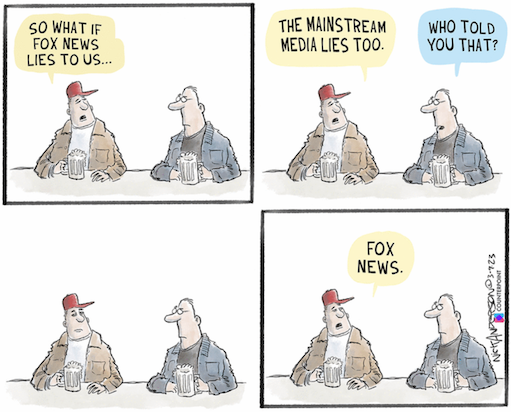 Susan B. Glasser: 2024 Trump Is Even Scarier Than 2020 Trump
In politics, as in life, there is a tendency to overcomplicate things. And the simple truth about the 2024 campaign is that, like the two Presidential elections that preceded it, the race is all about Donald Trump.
On the Republican side, no potential candidate has registered in the national polls as anything close to a Trump-toppler, and that includes, so far, the much touted governor of Florida, Ron DeSantis. I was reminded of this while listening to the conservative radio host Hugh Hewitt interview the former New Jersey governor Chris Christie the other day. Christie is considering running again for President as a former Trump friend who's seen the light, but it's hardly clear whether there is a path for him in the field. Hewitt summed up the state of the Republican electorate as being divided into four categories: Never Trump, Sometimes Trump, Always Trump, and Only Trump. The Only Trump category constitutes a more or less immovable twenty-five to thirty per cent of the Party, Hewitt said—which is also the estimate he gave for the percentage of Republicans who will never again vote for Trump. The Party, in other words, is stuck in a Trump doom loop, and the primary will come down to a referendum one way or the other on the former President.
Among Democrats, who are united at least in their loathing of the ex-potus, the Trump factor hangs over the race in a different way. Without him running again, it's at least conceivable that Joe Biden might choose, at age eighty, not to seek reëlection. But with Trump as the Republican front-runner, Biden has positioned himself as an indispensable opponent: the one proven Trump-beater.
Their fates are intertwined. Once again, it's all about Trump, Trump, Trump.
For Republicans, the strongest argument that's been advanced against a Trump redux is that of simple electability. The Party has lost the popular vote in seven of the last eight Presidential elections, and few believe that Trump, already a two-time popular-vote loser, is likely to convince many general-election voters to change their minds the third time out. In that same interview with Hewitt, Christie argued that Trump simply could not win suburban women—and a Republican not winning suburban women can't win the Presidency. Christie's appeal to the pragmatism of G.O.P. voters may seem eminently reasonable, but that hardly means his logic will prevail. It should be noted that Christie was one of many who believed Trump would not, and could not, win the Republican nomination in 2016—before eagerly climbing on board Trump's campaign.
The point is that we've been here before. Let's not make the mistake once again of failing to take Trump seriously. Or literally. Today's Republican Party is a lot closer to Forever Trump than it is to Never Again Trump. The revenge play continues.
https://www.newyorker.com/news/letter-from-bidens-washington/2024-trump-is-even-scarier-than-2020-trump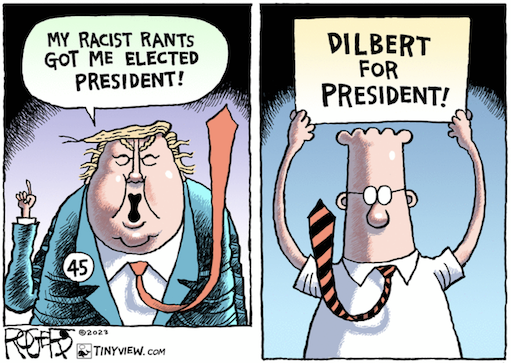 Steve Coll: The Republicans Begin to Eye 2024
Holed up in his gilded bunker at Mar-a-Lago, Trump might not appear to be the political force he once was, and he has clearly lost some mojo since the Republicans' disappointments in the midterm elections, which followed his endorsement of weak and extremist candidates in key races. By Trump's robust standards, his fund-raising since the midterms has been anemic. His love-hate relationship with Fox News has been aggravated by a lawsuit's recent revelations that Rupert Murdoch and some of his network's personalities seem to have privately thought that Trump's claims of election fraud were nonsense. As the primary field for 2024 takes shape, G.O.P. establishment figures are calling Trump a liability. "If we nominate Trump again, we're going to lose," the former Republican House Speaker Paul Ryan said late last month.
Yet Trump remains the top choice for 2024 among likely Republican primary voters, often by sizable margins, according to many national polls, including two released last week. Among other possible contenders, only Florida's governor, Ron DeSantis, attracts double-digit support. And, although he and other high-profile Party leaders such as former Vice-President Mike Pence and former Secretary of State Mike Pompeo are testing the waters, for now the only other prominent figure to have officially declared is Nikki Haley, who has served as both U.N. Ambassador and governor of South Carolina.
Our two-party apparatus of Presidential primaries—absurdly long, media-saturated, corrupted by big money—can hardly be justified as a model of democratic decision-making. Yet it does allow Republicans and Democrats to resolve their factional conflicts in the open, and it gives motivated partisan voters at the grass roots a say. The Republican primaries will offer an early measure of whether our constitutional system remains strong enough to expunge by democratic means the anti-democratic movement that Trump continues to mobilize. 
https://www.newyorker.com/magazine/2023/03/13/2024-presidential-race-republican-field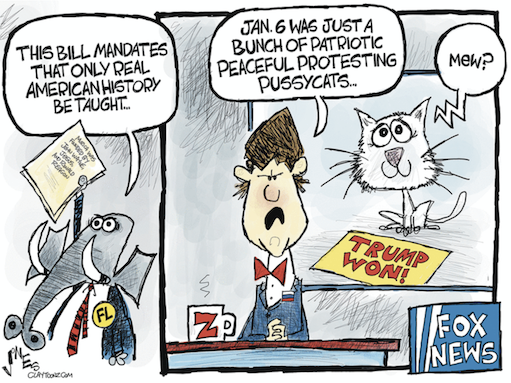 Marina Koren: Elon Musk Is Spiraling
When Elon Musk acquired Twitter, he articulated a vision for making the social network a platform for free speech. But in practice, the self-described Chief Twit had gotten dragged into—and has now articulated—the thing that many people understand to be true about Twitter, and social media at large: that, far from providing a space for full human expression, it can make you a worse version of yourself, bringing out your most dreadful impulses.
.
We can't blame all of Musk's behavior on social media: Visionary Elon has always relied on his darker self to achieve his largest goals. Only now his online persona so alienating people that more of his fans and employees are starting to object. Last summer, a group of SpaceX employees wrote an open letter to company leadership about Musk's Twitter presence, writing that "Elon's behavior in the public sphere is a frequent source of distraction and embarrassment for us."
SpaceX responded by firing several of the letter's organizers. By being so focused on Twitter—a place with many digital incentives, very few of which involve being thoughtful and generous—Musk seems to be ceding ground to the part of his persona that glories in trollish behavior. On Twitter, Egregious Elon is rewarded with engagement, "impressions." Being reactionary comes with its rewards. The idea that someone is "getting worse" on Twitter is a common one, and Musk has shown us a master class of that downward trajectory in the past year. (SpaceX, it's worth noting, prides itself on having a "no-asshole policy.")
Does Visionary Elon have a chance of regaining the upper hand? Sure. An apology helps, along with the admission that maybe tweeting in a contextless void is not the most effective way to interact with another person. Another idea: Stop tweeting. Plenty of people have, after realizing—with the clarity of the protagonist of
The Good Place
, a TV show about being in hell—that this is the bad place, or at least a bad place for them. For Musk, though, to disengage from Twitter would now come at a very high cost. It's also unlikely, given how frequently he tweets. And so, he stays. He engages and, sometimes, rappels down, exploring ever-darker corners of the hole he's dug for himself.
https://www.theatlantic.com/technology/archive/2023/03/elon-musk-twitter-disability-worker-tweets/673339/
Tom Nichols: The Ugly Elitism of the American Right
Fox News will likely never face any real consequences for the biggest scandal in the history of American media. But will Republican voters finally understand who really looks down on them?
Loathing and Indifference
It's time to talk about elitism.
Last month, I wrote that the revelations about Fox News in the Dominion Voting Systems lawsuit showed that Fox personalities, for all their populist bloviation, are actually titanic elitists. This is not the elitism of those who think they are smarter or more capable than others—I'll get to that in a moment—but a new and gruesome elitism of the American right, a kind of hatred and disgust on the part of right-wing media and political leaders for the people they claim to love and defend. Greed and cynicism and moral poverty can explain only so much of what we've learned about Fox; what the Dominion filings show is a staggering, dehumanizing version of elitism among people who have made a living by presenting themselves as the only truth-tellers who can be trusted by ordinary Americans.
Unlike people such as Tucker Carlson or Sean Hannity or Laura Ingraham, I have never told anyone—including you, readers of The Atlantic—anything I don't believe. What we're seeing at Fox, however, is lying on a grand scale, done with a snide loathing for the audience and a cool indifference to the damage being done to the nation. Fox, and the Republican Party it serves, for years has relentlessly patronized its audience, cooing to viewers about how right they are not to trust anyone else, banging the desk about the corruption of American institutions, and shouting into the camera about how the liars and betrayers must pay.
Fox's stars did all of this while privately communicating with one another and rolling their eyes with contempt, admitting without a shred of shame that they were lying through their teeth. From Rupert Murdoch on down, top Fox personalities have admitted that they fed the rubes all of this red, rotting meat to keep them out of the way of the Fox limos headed to Long Island and Connecticut.
You can see this same kind of contemptuous elitism in Republicans such as Ted Cruz, Josh Hawley, and Elise Stefanik. They couldn't care less about the voters—those hoopleheads back home who have to be placated with idiotic speeches against trans people and critical race theory.
These politicians were bred to be leaders, you see, and having to gouge some votes out of the hayseeds back home requires a bit of performance art now and then, a small price to pay so that the sons and daughters of Harvard and Yale, Princeton and Stanford, can live in the imperial capital and rule as is their due and their right.
https://www.theatlantic.com/newsletters/archive/2023/03/the-ugly-elitism-of-the-american-right/673350/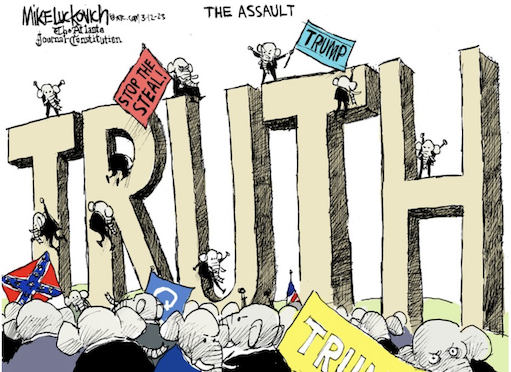 Paul Waldman: Thank you, Kevin McCarthy and Tucker Carlson
Certain political leaders inspire grudging respect or even fear from their opponents, but let's face it: House Speaker Kevin McCarthy (R-CA) is not among them. His latest political gambit, a ham-handed attempt to rewrite the history of the Capitol insurrection in collaboration with Fox News host Tucker Carlson, was not just a spectacular faceplant. It turned out to be a service to all of us.
The McCarthy-Carlson collaboration put Jan. 6 back on the top of the news agenda, reminding everyone of Trump's refusal to acknowledge his 2020 defeat, the violent reaction of his radical supporters and the craven response of Republican politicians who fed deranged conspiracy theories to their base to save their own political skins.
More important, it created an opportunity to revisit the actual events of that day. Some people watched Carlson's fantasy depiction of Jan. 6 as a peaceful protest where Trump supporters strolled into the Capitol and took selfies while milling around. But a much larger audience likely saw multiple news reports on TV, newspapers and the internet in which both journalists and Republican leaders reiterated the ugly truth about that day's attack on democracy.
The episode has also further discredited Fox News as it reels from extraordinary revelations showing network executives and personalities privately acknowledging in emails and texts that claims of a stolen election were preposterous even as they amplified those claims on the air. It's long been argued that Fox News is in no real sense a news organization but is instead a propaganda machine that advances the interests of the Republican Party. That's never been more clear than it is today.
McCarthy probably thought it was shrewd to give Carlson access to the surveillance footage. Instead, his decision helped reinforce an accurate understanding of Jan. 6, undermined the status of the right's most important media outlet and reminded the electorate of the rotten core at the heart of the GOP. It's quite an accomplishment.
https://www.washingtonpost.com/opinions/2023/03/09/mccarthy-carlson-fox-january-6-propaganda/