November 8, 2018
ON THE RECORD. . .
"I always want to tell the truth. When I can, I tell the truth. And sometimes it turns out to be where something happens that's different or there's a change, but I always like to be truthful."
— Trump, in an interview with ABC News.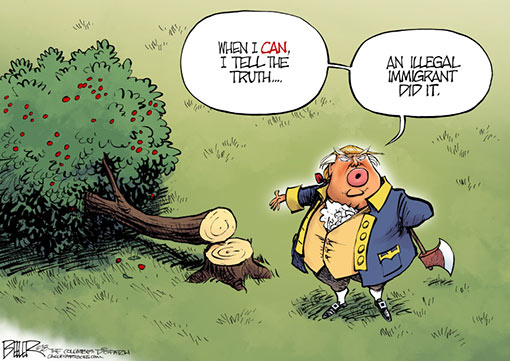 "According to the Vermont Department of Health, there were 5908 deaths in Vermont in 2016, about 16 a day. Thus, during the 45 day 'early voting' period about 720 Vermonters will pass on to that great voting booth in the sky, but those who have cast their votes early will influence the Election tally from beyond the grave! OMG, the votes of the dead are counted in Vermont!" – Vermont Secretary of State candidate Brook Page (R), on Facebook, arguing against laws that allow early voting.
"The caravan of Central American migrants seeking asylum is just like his Jewish ancestors who fled Europe and came to the US as refugees before World War II. They are just like our family. We needed to come here. We needed to find someplace to go and those that couldn't suffered the consequences." -- The uncle of White House senior policy adviser Stephen Miller
"No, no, you know what, you're creating violence by your questions. You are creating, you. And also a lot of the reporters are creating violence by not writing the truth. The fake news is creating violence." -- "President" Trump
I don't know who, but I wouldn't be surprised. A lot of people say yes." -- Trump saying that he "wouldn't be surprised" if billionaire philanthropist George Soros or someone else is funding the caravan of Central American migrants moving toward the U.S.
"The fall of Lindsey Graham into the dark Trumpian pit of demagoguery, division and incitement is complete." -- Former Republican strategist Steve Schmidt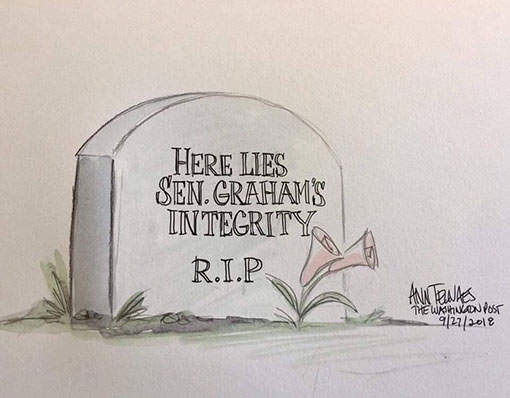 When people speculated about October Surprise/Wag the Dog scenarios with Trump, I don't think the one that came to mind was going to war against families walking on a highway in southern Mexico. -- Monika Bauerlein on Twitter
"You have hate emanating from the highest official in the land. It's one thing when you have white supremacists saying these terrible things on their own to each other, or even trying to propagandize, and it's a far different situation when they have the sanction of the highest office and, frankly, other folks in the G.O.P. who are parroting those ideas." -- Heidi Beirich,  head of the Southern Poverty Law Center's Intelligence Project.
"We have our military on the border. And I noticed all that beautiful barbed wire going up today, barbed wire used properly can be a beautiful sight." — Donald Trump, quoted by ABC News.
"I've been telling my neighbors for two years that this is not who we are. The overtly fascist rhetoric. The demonizing, vilifying, verminizing—if that's a verb—of the other. I keep telling people that's not who we are. But if in these midterms, with this first opportunity to correct our mistake, people vote for 'this,' then maybe that's who we've become." — Former Maryland Gov. Martin O'Malley (D)
"A lot of things are offensive. Your questions are offensive" pic.twitter.com/rAElL01ST6 —Trump
Rep. Steve King (R-IA) said that he hopes Republicans will "have a 7-2 court" after the midterm elections, suggesting that if the party is lucky Justices Elena Kagan and Sonia Sotomayor "will elope to Cuba." -- The Washington Post 
"I would indict Hillary Clinton." — Mark Whittaker, who was appointed Acting Attorney General today, writing in USA Today in July 2016.
"I'd say this, protecting Mueller and his investigation is paramount. It would create a constitutional crisis if this were a prelude to ending or greatly limiting the Mueller investigation." -- Senate Minority Leader Charles Schumer (D-NY)
"That's enough… I tell you what, CNN should be ashamed of itself having you working for them. You are a rude, terrible person." -- Trump responding to CNN reporter Jim Acosta
Trump: "Take a look at the CNN polls, how inaccurate they were. That's called voter suppression." pic.twitter.com/PfniTzZ1vM — TPM Livewire (@TPMLiveWire) November 7, 2018
---
IN THIS ISSUE
FYI
OPINION
1. Satire from The Borowitz Report: Putin Loses Control of the House
Calling it "the biggest disappointment of my political career," Vladimir Putin conceded late Tuesday night that he had lost control of the United States House of Representatives.

Putin made his concession speech from the Kremlin, where he congratulated the Democrats for waging a "tough fight."

"Maybe if Facebook and Twitter hadn't banned so many of my fake accounts, the results would have been different," Putin said. "But I don't want to make excuses—I threw everything I had at these races, and I lost."

Putin did, however, have harsh words for Donald Trump, who opted for a fear-mongering closing argument about immigration despite the Russian President's objections.

"I warned him that that would kill us in the suburbs, and he ignored me," Putin said. "I hope this teaches him never to disobey my orders again." https://www.newyorker.com/humor/borowitz-report/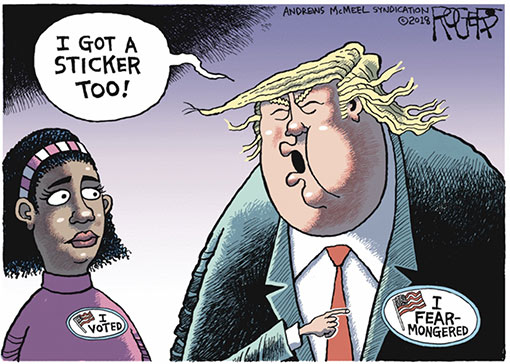 2. A Blitzkrieg Strategy Of Lies and Distractions
George Lakoff: "Trump's 'big lie' strategy is designed to exploit journalistic convention by providing rapid-fire 'news' events for reporters to chase. Trump spews falsehoods in a blitzkrieg fashion, but the lies are only part of the game. What reporters continue to miss is the strategy behind the big lies: to divert attention from big truths. The technique is simple: create controversy and confusion around politically-charged topics to stoke his conservative base and distract from stories that harm Trump."
"It's a numbers game. The more he can get his key terms and images repeated in the media — even as 'fact checks' — the more he wins. That's just how our brains work. The more we hear about something, the more it sticks. Even if it's not true." https://medium.com/@GeorgeLakoff/a-blitzkrieg-strategy-of-lies-and-distractions-829c59880015
3. The National Hotline for Voter Complaints Has Received More than Twenty Thousand Calls on Election Day
When voters showed up at Anderson-Livsey Elementary School in Gwinnett County, Georgia, this morning, they found voting machines but no power cords. At Annistown Elementary, not far away, poll watchers reported that the polling place could not open because every single voting machine was broken. In parts of Atlanta, where the average wait to vote has been three hours, election workers are running out of ballot cards for the voting machines and, with an insufficient number of provisional ballots, may effectively disenfranchise voters. At an arts center in Mebane, North Carolina, where broken machines are leading to long wait times, voters were told—erroneously—that if they left the line they'd forfeit their right to vote. In Greensboro, even voters who had cast ballots in the primary were told that they'd been placed on the "inactive" voter rolls. In Pennsylvania, broken machines across the state, but especially in Philadelphia, caused polling places to open late and people to walk away before they'd had a chance to vote. "We saw these issues cropping up in early voting," Karen Hobert Flynn, the president of Common Cause, an organization with six thousand five hundred volunteers monitoring polling places in thirty states, said this afternoon. "These are old machines."
As of 2 p.m., the center had received more than seventeen thousand calls. An hour later, Clark ran down a list of problems that have been coming in by phone and by text, in English, Spanish, Arabic, Chinese, and American Sign Language, among others: machines flipping votes in South Carolina; power outages in Tennessee; a shuttered polling place at a school in Arizona that went into foreclosure last night; a polling place in St. Louis County without functioning machines or provisional ballots; polling places in Florida's Miami-Dade County where voters were sent away when all the machines had broken down; and long lines in New York City because scanners were jamming. A number of voters in Panama City Beach, Florida, where the population is largely African-American, were told to take a trolley to a voting "mega-center," but the trolley hasn't operated all day. "There is no cookie-cutter approach to solving these problems," Clarke old me. "In some places, election officials are cooperative, but in others it will take a full-throated fight... As we get deeper in the day, we get concerned that we can't get election officials to act to ensure that no voter is locked out of the process."https://www.newyorker.com/news/dispatch/the-national-hotline-for-voter-complaints-has-received-more-than-twenty-thousand-calls-on-election-day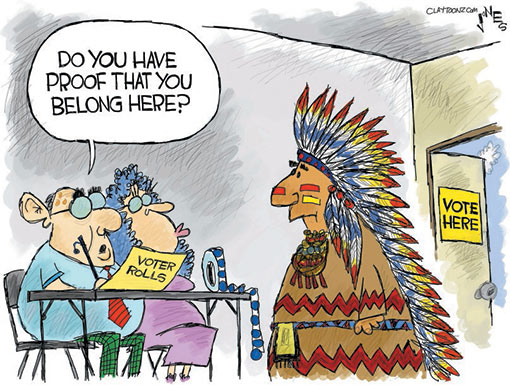 4. McConnell Now Wants to Fix Obamacare
Senate Majority Leader Mitch McConnell (R-KY) called for "working on a bipartisan basis to address shortcomings in the Affordable Care Act as Democrats prepare to take control of the House,
His comments marked a sharp departure from Republican efforts during the past two years to repeal former president Barack Obama's signature health-care law while the party controlled both chambers of Congress and held the presidency. https://www.washingtonpost.com/politics/2018/live-updates/midterms/midterm-election-updates/mcconnell-calls-for-bipartisan-work-on-fixing-the-affordable-care-act/
5. Ex-Green Party candidate earns more votes than difference between Sinema, McSally
Arizona's former Green Party Senate candidate Angela Green is defending herself against accusations that she has spoiled the Democrat's chances of winning the race.
While the race is still too close to call, Republican nominee Martha McSally currently leads Democratic nominee Kyrsten Sinema by 15,908 votes (with 99.3 percent of precincts reporting). Green got more than twice that amount, 38,597 votes, despite dropping out of the race less than a week before Election Day — too late for her name to be removed from the ballot. https://www.washingtonpost.com/politics/2018/live-updates/midterms/midterm-election-updates/ex-green-party-candidate-earns-more-votes-than-difference-between-sinema-mcsally/
6. GOP Tax Law Authors Take a Beating
Tuesday was a rough night for authors of the GOP tax law.
Four Republican members of the Ways and Means Committee who all touted the law on the campaign trail lost their seats. Mike Bishop of Michigan, Carlos Curbelo of Florida, Erik Paulsen of Minnesota and Peter Roskam of Illinois won't return to Congress next year. https://www.wsj.com/livecoverage/2018-midterms-live-elections-coverage-analysis/card/1541602047
7. Three Deep Red States Vote to Expand Medicaid
Voters in Idaho, Nebraska and Utah on Tuesday were on track to approve what their Republican-led legislatures repeatedly would not: free or low-cost health coverage for most poor adults through an expansion of their Medicaid programs.
"The three deep-red states are now poised to join 33 others that have already expanded Medicaid, an option under the Affordable Care Act since 2014. https://www.nytimes.com/2018/11/07/health/medicaid-expansion-ballot.html
8. Dennis Hof, deceased brothel owner, wins Nevada Assembly race
Dennis Hof, a Nevada brothel owner and reality TV star who died last month after fashioning himself as a Donald Trump-style Republican candidate has won a heavily GOP state legislative district. https://www.nbcnews.com/politics/elections/dennis-hof-brothel-owner-who-died-last-month-wins-election-n933366
9. Here's A Running List Of Hoaxes And Misleading Information About The Midterm Elections
Two busloads of "Illegals" were not paid to vote for Texas gubernatorial candidate Beto O'Rourke.

Yes, an NBC News truck took a parking spot for people with disabilities, but it did not prevent a vet with disabilities from voting.

ICE will not be patrolling polling stations.

This video does not expose voter fraud. It shows a student receiving a voter ID.

Florida gubernatorial candidate Andrew Gillum's siblings have not been charged with voter fraud.

Don't believe "early voting" numbers in Michigan. There is no early voting in that state.

A Facebook post claiming Kurt Russell praised Donald Trump's courage and determination is fake.

The Pope did not encourage migrants to "pile up" at the American border. His speech was taken out of context.

The North Dakota Democrats ran a misleading Facebook ad discouraging hunters from voting.

This image, shared by Illinois Republican candidate Dr. Nick Stella, does not show a street in the United States. It's actually a town in England.

People in the first migrant caravan did not attack the Mexican police. Note: See all the hoaxes and falsehoods about the caravan. https://www.buzzfeednews.com/article/janelytvynenko/were-tracking-misinformation-about-the-migrant-caravan

The pipe bomb suspect is not a registered Democrat. He is a registered Republican.

The Democratic nominee for governor in Georgia, Stacey Abrams, did not pose with a "communist" and "#MuslimBrotherhood" sign.

A racist robocall is spoofing Florida gubernatorial candidate Andrew Gillum.

An attack ad is spreading falsehoods about Southern California candidate for Congress Ammar Campa-Najjar.

Baseless, years-old conspiracy theories are still trying to tie George Soros to voting machine manipulation.

Eric Brakey, the Republican nominee for Senate in Maine, spread a hoax conspiracy about ISIS fighters being in the refugee caravan.

An old attack on Minnesota Congress candidate Ilhan Omar is being spread again by her opponents and right-wing media.

Matt Gaetz, a Florida member of Congress up for reelection, shared an unverified video of the refugee caravan and claimed it might show people being paid by George Soros or US NGOs to participate.
Details at https://www.buzzfeednews.com/article/janelytvynenko/midterms-fake-news-hoaxes
10. The DAILY GRILL
New Fox Poll shows a "40% Approval Rating by African Americans for President Trump, a record for Republicans." Thank you, a great honor — Donald J. Trump (@realDonaldTrump) November 4, 2018

VERSUS

TPM found no evidence of poll results saying that. A Fox News poll released Oct. 17 showed 29 percent approval of the President among all non-white registered voters, and 47 percent overall approval among registered voters.
11. From MEDIA MATTERS (They watch Fox News so you don't have to)
Sean Hannity: "According to a top Mexican official some caravan members are planning to firebomb anyone that gets in their way." https://www.mediamatters.org/video/2018/11/02/sean-hannity-caravan-members-are-planning-firebomb-anybody-gets-their-way/221983\

Fox News said Sean Hannity wasn't going to campaign for President Donald Trump at Monday night's rally. Sean Hannity said he wasn't going to campaign for Trump. Hannity proved them both liars last night. https://www.mediamatters.org/blog/2018/11/06/sean-hannity-and-end-fox-news-standards-charade/222003

NRATV's Grant Stinchfield: "The people enabling dangerous criminals to cross our border want to lead Washington and take away your right to protect yourselves."  https://www.mediamatters.org/video/2018/11/06/nratv-go-vote-stop-migrant-mob-filled-dangerous-criminals-entering-us/222005

Fox News was made for this moment. With Jeff Sessions forced out, Robert Mueller's Russia probe is in jeopardy. https://www.mediamatters.org/blog/2018/11/07/fox-news-was-made-moment/222018
12. From the Late Shows
Caravan Cold Open - SNL: https://youtu.be/kG7szS15O8Q

Weekend Update: Trump Deploys Troops to Stop Migrant Caravan - SNL: https://youtu.be/2OQY0kv-DPk

The Late Late Show with James Corden: Barbra Streisand Carpool Karaoke: https://youtu.be/cSG7Os-Uzlk

Bill Maher hilariously mocks Trump's lies about the "caravan": https://youtu.be/Oi6TqbjIkRI

The Late Show with Stephen Colbert: Trump Paints A False Portrait Of The Migrant Caravan: https://youtu.be/NQHHfdRwja8
13. Nigerian Army Uses Trump's Words to Justify Fatal Shooting of Rock-Throwing Protesters
The Nigerian Army, part of a military criticized for rampant human rights abuses, on Friday used the words of President Trump to justify its fatal shootings of rock-throwing protesters. https://www.nytimes.com/2018/11/02/world/africa/nigeria-trump-rocks.html
14. Washington state lawmaker Matt Shea defends advocacy for 'Holy Army'
Washington state Rep. Matt Shea (R) acknowledged he had distributed a four-page manifesto titled "Biblical Basis for War," which describes the Christian God as a "warrior," details the composition and strategies of a "Holy Army" and condemns abortion and same-sex marriage, and makes a chilling prescription for enemies who flout "biblical law." https://www.seattletimes.com/seattle-news/politics/state-lawmaker-matt-shea-defends-advocacy-for-holy-army-as-spokane-sheriff-refers-his-writings-to-fbi/
15. GOP Candidate: No Peace In Israel Until Jews Convert To Christianity
Mark Harris, the Republican candidate running in a competitive House race in North Carolina has a history of making anti-Muslim comments. As the senior pastor of Charlotte's First Baptist Church, Harris claimed Islam was "dangerous" and the work of Satan. He also said peace between Israel and the Palestinians could not be achieved until Muslims and Jews accepted Jesus Christ as their savior. https://www.cnn.com/2018/11/02/politics/kfile-mark-harris-story/index.htm
16. U.S. militia groups head to border, stirred by Trump's call to arms
Gun-carrying civilian groups and border vigilantes have heard a call to arms in President Trump's warnings about threats to American security posed by caravans of Central American migrants moving through Mexico. They're packing coolers and tents, oiling rifles and tuning up aerial drones, with plans to form caravans of their own and trail American troops to the border. https://www.washingtonpost.com/world/national-security/us-militia-groups-head-to-border-stirred-by-trumps-call-to-arms/2018/11/03/ff96826c-decf-11e8-b3f0-62607289efee_story.html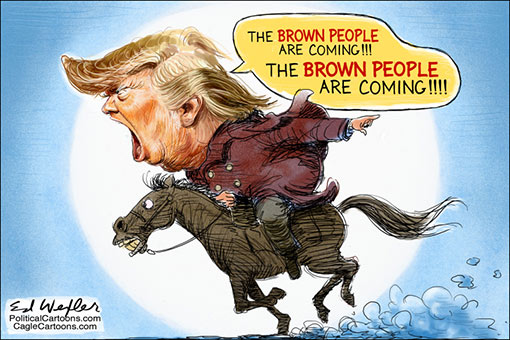 17. Forget The Midterms—West Wing Insiders Brace For The Mueller Storm
The bigger threat for Trump than losing control of Congress is Robert Mueller's looming report. Sources say Trump advisers are girding themselves for Mueller to deliver the results of his investigation to the Justice Department as early as Wednesday, although it's more likely he'll wait till later this month. Sources say besides the president, the ones with the most exposure are Roger Stone and Donald Trump Jr. 
"I'm very worried about Don Jr.," said another former West Wing official who testified before the Senate Intelligence Committee. The possible exposure would be that Mueller would demonstrate that Don Jr. perjured himself to investigators when he said he didn't tell his father beforehand about the June 2016 Trump Tower meeting to gather "dirt" on Hillary Clinton. https://www.vanityfair.com/news/2018/11/west-wing-insiders-brace-for-the-mueller-storm"
1. Ryan Cooper: America repudiates Trump
Democrats convincingly won the 2018 midterm elections, though it was not as big of a wave election as some liberals had hoped. Just as in 2016, the polls were badly wrong in a number of states, particularly Indiana and Florida, where Democrats lost tough races they were predicted to win.
Nevertheless, it was a solid victory — and a clear repudiation of the odious politics of the Republican Party. The Democrats have taken control of the House of Representatives with an estimated 7-point popular vote margin and won a number of key structural races at the state level. Michigan will now have automatic voter registration and nonpartisan redistricting, while Florida will re-enfranchise some 1.4 million ex-felons, just for starters.
This election is a clear demonstration that the Republican Party and its leader Donald Trump are badly out of step with the mainstream of American society. Polls have already demonstrated that many of its policy views are extremely unpopular, but talking to a pollster is a considerably different proposition than casting a vote for someone who will exercise political power. On Tuesday we saw that a sizable majority of the American public was willing to put their votes where their mouths are.
In this election, the Republican Party competed on some of the most favorable terrain it is likely to have over the next several cycles. The 2020 election year will see President Trump on the ballot, an extremely difficult Senate map for Republicans, several more states that are not under full GOP control, and quite possibly a much less favorable economic environment.
A battle has been won, and the next might win the war. https://theweek.com/articles/805997/america-repudiates-trump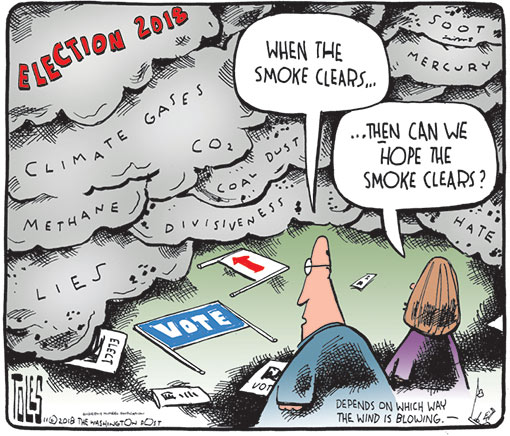 2. Frank Rich: Trump Won't Change Course — He Thinks He Won
Trump is the Republican Party. Most of the few remaining feckless, and, frankly, worthless "moderate" Republicans in the House were wiped out yesterday even as a quasi–Nazi sympathizer like Steve King won reelection in Iowa. So the notion that "the party" might rethink anything is a non sequitur. The only question is whether Trump would rethink anything, and the answer is a resounding no. His entire political program is white male nationalism, with a full arsenal of racism, misogyny, anti-Semitism, Islamophobia, and homophobia that he wields with both glee and malice for his own political (and often financial) profit. I doubt that he would change course even if there had been a two-chamber blue wave in the midterms. He certainly won't change it now. As his morning-after tweetfest predictably reveals, he thinks he won. He is plotting more MAGA rallies for the start of the year. More immigrant caravans will soon be wall-to-wall on Fox. The moment presumptive Democratic House committee chairmen like Adam Schiff and Jerry Nadler start wielding gavels, we will be hearing about how they are in the pay of George Soros and other shadowy "globalists." http://nymag.com/intelligencer/2018/11/frank-rich-trump-wont-change-course-he-thinks-he-won.html
3.  Jonathan Chait: Democrats Won the House Because of Obamacare
Since 2009, the Republican Party's posture on health care has been a giant lie. Republican elected officials promised in public to work cooperatively to solve the problems in the system, especially a broken individual market in which insurance was unaffordable to anybody with a preexisting condition. But both their political interest in denying Obama a victory and their ideological opposition to bigger government in any form drove them to a very different goal: blocking any bill at all. Republicans strung out negotiations with the Obama administration for a year, publicly blaming Democrats for rushing through a partisan bill while refusing to be pinned down on any concrete proposals or demands.
They insisted if Obamacare could be blocked — and then, after it passed, repealed — Republicans would design a better alternative that would do all the good things Obamacare delivered, without costing anybody anything. Supporters of Obamacare believed the absurdity of the lie could not be sustained, that the successful operation of the law would create beneficiaries who would demand its protection.
And yet it seemed for years on end that the lie would never be exposed. Republicans could sabotage the law at the state level, and Democrats would be blamed for its shortcomings. In places where Obamacare was helping people, its beneficiaries largely did not realize it. A stream of tragicomic reporting revealed people whose lives had been changed for the better by Obamacare believing they were not on the program at all, or voting for Trump out of the conviction that he would preserve or even expand the program. In this upside-down world, Republicans could work feverishly to take access to health care away from millions of Americans while piously promising to deliver it to one and all — and being believed. http://nymag.com/intelligencer/2018/11/democrats-won-the-house-because-of-obamacare.html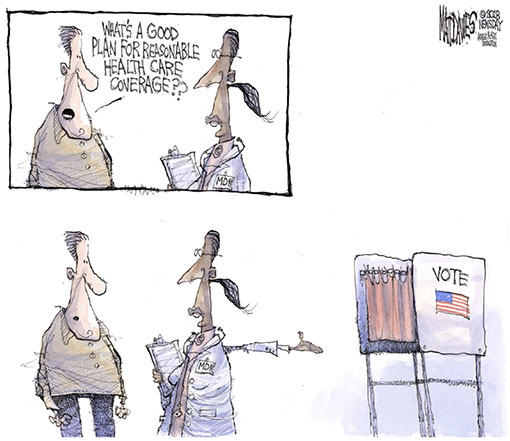 4. Max Boot: The battle with Trumpism is just beginning
 Trump's contemptible campaign did not help Republicans hold the House. To the contrary, it sparked a backlash in suburban districts among more moderate, better-educated voters. There is, I am happy to report, quite a lot of decency left in America. Hence the blue wave that swept the Republicans out of the House majority. The irony is that many of the Republicans who lost, such as Carlos Curbelo in Florida and Barbara Comstock in Northern Virginia, were relative moderates — albeit moderates who never did much to stand up to Trump. The remaining House GOP caucus, indeed the entire GOP, is likely to be Trumpier than ever, even as the majority of the country expresses its disgust with Trumpism.
But with the Democrats in control of the House, there will finally, belatedly, be some pushback. There are so many scandals to investigate, it is difficult to know where to start. This is the most dishonest administration in history, and it cries out for accountability. Imagine what Rep. Richard E. Neal (D-Mass.), the possible new chairman of the House Ways and Means Committee, will discover if, as is his right, he requests the president's long-hidden tax returns from the Internal Revenue Service.
Partisan rancor, already high, will reach stratospheric levels in the next two years. But that is the price of checks and balances — which have been mainly lacking so far. The election results restore some of my faith in our democracy, but I am sobered by the realization that the battle is far from over. It could last another two years, or even six years. It is quite possible the Democrats will overplay their hand and that Trump will use his demagogic skills to win reelection. To paraphrase Winston Churchill, this is not the end of Trumpism. It is not even the beginning of the end. But it is, perhaps, the end of the beginning. https://www.washingtonpost.com/opinions/the-battle-with-trumpism-is-far-from-over/2018/11/07/e4bcc54a-e254-11e8-b759-3d88a5ce9e19_story.html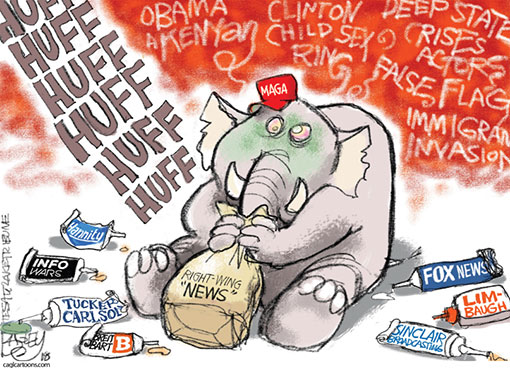 5. Masha Gessen: How the Media Normalizes Trump's Anti-Immigrant Rhetoric
Thousands of people are trying to make their way to the United States' southern border. President Donald Trump calls them "criminal aliens," a "national emergency," an attack on the nation's sovereignty, and a threat to the "safety of every single American." He claims that "very bad people," MS-13 gang members, and "unknown Middle Easterners"—by which he apparently means terrorists—are in the group. Of those last claims, even Fox News has seen fit to fact-check Trump and point out that his statements are unfounded. And yet the story of the procession across Honduras and Mexico has served to normalize more of Trump's xenophobic anti-immigrant rhetoric.
But the people walking through Mexico right now are not an army or a hurricane. They are not even planning to cross the border illegally. International law guarantees their right to seek asylum. The U.S. has an obligation to consider their claims. Trump does not have a moral or legal leg to stand on when he talks about deterring the asylum seekers, much less when he promises to send the military to stop them. But most of the media, across the political spectrum, is standing right there with him. They may be mortified by some of the language that Trump uses in discussing immigration, but he has still succeeded in shifting their frame. They are being more polite than the President, but by discussing the effectiveness of "deterrence" and the immediacy of the caravan's danger, they reinforce his politics of hatred and fear-mongering. https://www.newyorker.com/news/our-columnists/how-the-mainstream-media-normalizes-trumps-anti-immigrant-rhetoric
6. Fareed Zakaria: The GOP has become the party of fake news and paranoid fantasies
It is commonplace to hear and read about President Trump's takeover of the Republican Party. And certainly there is lots of evidence that the GOP is animated these days by an unquestioning devotion to Trump and whatever his ideas may be at any given moment. But the problem is that Republicans are now becoming the party not of Trump but of Joseph McCarthy, the Wisconsin senator who in the 1950s accused the State Department of treason, called George Marshall — head of the Army during World War II, later secretary of state and defense — a traitor, and implied that the American government was being secretly run by the Kremlin.
The Republican Party today has become a vast repository of conspiracy theories, fake news, false accusations and paranoid fantasies.
Consider the most recent example. Trump has scared much of the country about a small group of Central Americans, fleeing poverty and violence, who are hoping to come to the U.S. border and apply for asylum. It's perfectly reasonable to oppose letting them in, though it is cruel to demonize them constantly. But Republicans have not been content to oppose granting asylum. They have concocted facts out of thin air and invented conspiracies about who is behind this group of impoverished migrants.
Last week, one of the prominent hosts at Fox News, which is now the Pravda of the Republican Party, suggested that more than 100 Islamic State fighters had been caught "trying to use this caravan." Trump, a devoted Fox News viewer, pounced on that claim, declaring that "unknown Middle Easterners" had joined the caravan. Rep. Matt Gaetz (R-Fla.) asked whether Democratic donor George Soros was funding this movement.
None of these claims has an iota of truth to it. But they are repeated and reinforced across the country. The notion that Soros is the dark mastermind behind all kinds of movements is now deeply lodged in the Republican Party — so much so that senior party leaders such as House Majority Leader Kevin McCarthy (Calif.) and Sen. Charles E. Grassley of Iowa repeat it almost reflexively. Rep. Steve King (Iowa) has accused Soros of backing a grand scheme to systematically introduce foreigners in order to replace "Americans" — in other words, whites — with "somebody else's babies." https://www.washingtonpost.com/opinions/the-gop-has-become-the-party-of-fake-news-and-paranoid-fantasies/2018/11/01/0f45ba88-de13-11e8-85df-7a6b4d25cfbb_story.html
7. Amy Davidson Sorkin: Trump's Dangerous Midterm Musings: Renouncing Birthright Citizenship and Maybe Firing on Migrants
At the White House, on Thursday, after President Trump had wrapped up his remarks about immigration, a reporter in the room asked him to clarify a statement. The President had spoken, ominously, about dispatching the U.S. military to the border, where it would "do the job" of stopping a group of would-be immigrants from entering the country. "We hope nothing happens," he said, but the military was "prepared."
"Do you envision them firing upon any of these people?" the reporter asked.
"I hope not," Trump said, in a tone that was more a warning than a reassurance. "It's the military—I hope—I hope there won't be that. But I will tell you this. Anybody throwing stones, rocks—like they did to Mexico and the Mexican military, Mexican police, where they badly hurt police and soldiers of Mexico—we will consider that a firearm." Later, when asked what he meant about the rocks, he added, "If they want to throw rocks at our military, our military fights back. We're going to consider—and I told them, consider it a rifle."
A rock is a rifle, and—in an even bigger conceptual leap that Trump repeatedly makes—a caravan "is an invasion." The migrants travelling north by foot from Honduras and Guatemala are "pretty tough people" able to "blast through the Mexican military and Mexican police," Trump claimed. They are unknown mystery men—"a lot of young men, strong men"—geared up for an assault. (In fact, the migrants include many women and children.) He continued, "I don't want them in our country. And women don't want them in our country. Women want security. Men don't want them in our country. But the women do not want them. Women want security. You look at what the women are looking for." Less than a week before the midterm elections, Trump has returned to the image that he invoked on the day, three years ago, when he announced that he was running for President: rapists on their way from Mexico. https://www.newyorker.com/news/our-columnists/trump-considers-shooting-migrants-and-abandoning-the-promise-of-citizenship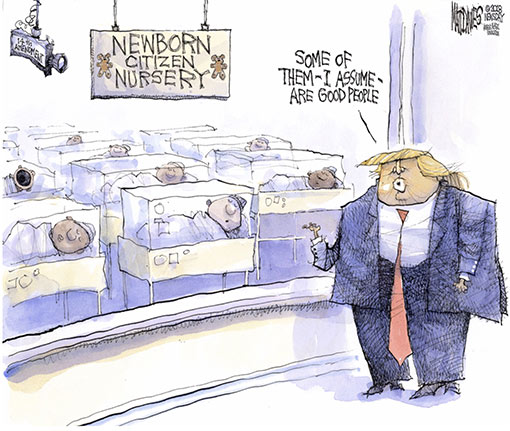 8. Jonathan Chait: Trump Isn't Inciting Violence by Mistake, But on Purpose. He Just Told Us.
At a weekend rally, President Trump launched a riff that, even by the feverish standards of his closing campaign argument, stands out for its brutal authoritarian overtones. The president mocked Antifa demonstrators: "You see these little arms, these little arms," he shouted, forming his fingers into tiny circles to illustrate their puny biceps. And then he invited his supporters to imagine these weaklings having to fight against Trump's own militant cadres. "Where are the Bikers for Trump? Where are the police? Where are the military? Where are — ICE? Where are the border patrol? No," he continued, lamenting the restraint his sentries have displayed, "we've taken a lot, we've taken a lot."
Telling passage where Trump portrays Antifa as a Democratic paramilitary vs "his" "bikers," cops, military, ICE and border patrol. https://twitter.com/joshtpm/status/1059204301673979904/video/1 — Josh Marshall (@joshtpm) November 4, 2018
This is a revealing setpiece of authoritarian theater. There is, first of all, the evocation of strength as a moral signifier. Trump's people are strong and good, and his opponents weak and bad, a classically fascist ethos. Second, he conflates his private political militia, "Bikers for Trump," with government agencies that are not supposed to operate as a political arm of the president (police, military, ICE.) Trump, of course, has always believed the government's law enforcement apparatus should be at his personal command, and has in fact deployed the military to the border for the benefit of his party's campaign messaging. http://nymag.com/intelligencer/2018/11/trump-isnt-inciting-violence-by-mistake-he-just-told-us.html