November 22, 2018
ON THE RECORD. . .
"The White House is running very smoothly and the results for our Nation are obviously very good. We are the envy of the world. But anytime I even think about making changes, the FAKE NEWS MEDIA goes crazy, always seeking to make us look as bad as possible! Very dishonest!" — Trump pushing back on media reports about infighting at the White House.
"I'm watching this thing and you know it's like, the administration is like a shit show in a dumpster fire." — George Conway, husband of Kellyanne, on the Skullduggery podcast.
"Are we just sitting here, helpless against anyone who wants to cross that border, and to have their way with the American way?"— Fox Business host Lou Dobbs falsely claiming that "millions of illegal immigrants cross our borders" and that "many" voted in this year's midterm elections.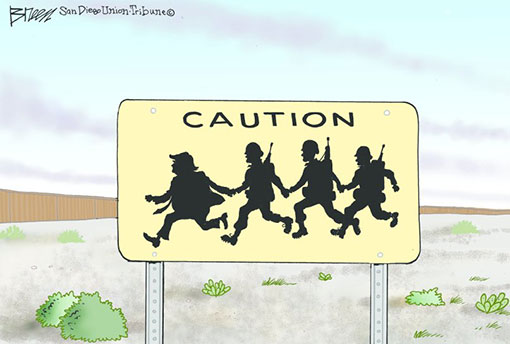 "I've accidentally established a reputation for using Twitter to point out that he's lying within seconds of him telling a lie. People sometimes ask in response how I can blast out these corrections so quickly. But I have no special talent. My secret is that Trump tells the same lies over and over." — Daniel Dale, the Washington correspondent for the Toronto Star.
"If I was ever going to do a shutdown over border security — when you look at the caravan, when you look at the mess, when you look at the people coming in… This would be a very good time to do a shutdown." -- Trump, suggesting he was prepared to shut down the federal government next month if Congress fails to give him the money he wants to build a wall along the U.S. border with Mexico
"Trump said he would not intervene if Matthew Whitaker, his acting U.S. attorney general, moved to curtail Special Counsel Robert Mueller's investigation of Russian interference in the 2016 presidential election." — Amanda Becker in Reuters.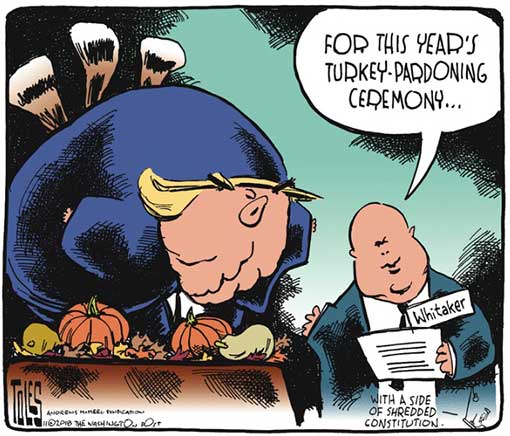 "I did not back Hillary Clinton or anyone else. I am a fan of President Obama and President George W. Bush, both of whom I worked for. I admire all presidents, regardless of their political party, who uphold the dignity of the office and who use that office to bring the nation together in challenging times. I stand by my comment that the President's attack on the media is the greatest threat to our democracy in my lifetime." — Retired Adm. William McRaven standing by his previous statement that President Trump's attacks on the news media represent 'the greatest threat to democracy' after the President dismissed him as a 'Hillary Clinton backer' in an interview that aired on Fox News." 
"Well, no, he didn't talk about the news, he didn't talk about anything. I'm only saying it very differently than anyone's ever said it before, I'm saying fake news, false reporting, dishonest reporting of which there is a lot, and I know it. See, I know it because I'm a subject of it, a lot of people don't know but when I explain it to them, they understand it." — Trump responding to Fox's Chris Wallace, who pointed out that Barack Obama complained about Fox News all the time but he never said we were the enemy of the people.
"I suspect that posterity will look back on this bizarre time in history like we were living on the pages of a Dickens nove. Lincoln famously had his Team of Rivals. Trump had his Team of Vipers. We served. We fought. We brought our egos. We brought our personal agendas and vendettas. We were ruthless. And some of us, I assume, were good people. I was there. This is what I saw. And, unlike the many leakers in the White House, I have put my name on it." — From "Team of Vipers," by Cliff Sims, a former aide in the White House communications office who had previously worked on the Trump campaign.
"It's called person of the year, right? It's no longer man of the year, right? I've been there before. I can't imagine anybody else other than Trump." — Donald Trump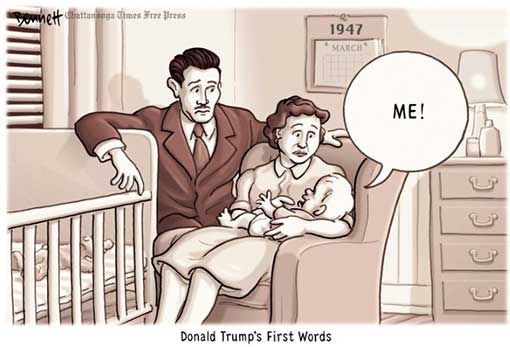 "Nancy Pelosi will go down as one of the most effective legislative leaders that this country's ever seen. Nancy is not always the best on a cable show or with a quick soundbite or what have you. But her skill, tenacity, toughness, vision, is remarkable. Her stamina, her ability to see around corners, her ability to stand her ground and do hard things and to suffer unpopularity to get the right thing done, I think, stands up against any person that I've observed or worked directly with in Washington during my lifetime." — Barack Obama
"If Donald Trump can have a fan base of 30-40 percent despite everything he's done in life, all bets are off. Anybody can be president, regardless." — Former Sen. Gary Hart (D-CO) in an interview set to broadcast Sunday. 
"This is a president who doesn't understand that the government, that foreign countries, that everybody doesn't exist to serve him like some kind of medieval king. — Rep. Jim Himes (D-CT)
"As a man, who cannot get pregnant or seek an abortion, I can only imagine the anxiety and turmoil a woman might experience when she decides whether to terminate her pregnancy through an abortion. Respecting her autonomy demands that this statute be enjoined." — Federal Judge Carlton Reeves on blocking a Mississippi state law that sought to ban most abortions after 15 weeks of pregnancy, while issuing a stinging rebuke of "controlling" male lawmakers who "gaslight" the public into believing they care about women's health.
"Once again, our President proves that you can't buy a moral compass. And Saudi Arabia proves that you can, on the other hand, buy a President."— Rep.-elect Ilhan Omar (D-MN) on Twitter
---
IN THIS ISSUE
FYI
OPINION
1.  Andy Borowitz: Trump Refuses to Pardon White House Turkey After Accusing It of Working for Soros
In a startling break with Thanksgiving tradition, Donald J. Trump refused to pardon the White House turkey after claiming that it was working as a secret operative of the billionaire George Soros.

A group of fourth graders from Bethesda, Maryland, who had gathered on the White House lawn for the annual turkey-pardoning ceremony appeared unprepared for the anti-Soros outburst that Trump unleashed on the Thanksgiving bird.

"That turkey was sent by Soros to spy on me," Trump said, angrily turning on the fowl. "A lot of people are saying this."

While the oblivious turkey pecked desultorily at the ground, an increasingly enraged Trump spewed a stream of conspiracy theories linking the feathered animal to global élites, election fraud in Florida, and Jim Acosta.

Trump attempted to lead the fourth-grade class in a chant of "Lock It Up," apparently directed at the Thanksgiving delicacy, but the students slowly backed away from him in silence.

Tracy Klugian, one of the children who witnessed Trump's meltdown, said that he found it "sad."

"I get that he's upset about Mueller and the midterms, but he shouldn't take it out on a turkey," he said. https://www.newyorker.com/humor/borowitz-report/
2. While Trump feasts on Thanksgiving, troops on the border eat rations and await Pancho Villa
President Trump is reportedly planning to celebrate Thanksgiving once again at his members-only Mar-a-Lago Club in Florida, feasting on a 24-dish extravaganza of turkey, stuffing, mashed potatoes, marshmallow sweet potatoes, red snapper, leg of lamb, grilled diver scallops, stone crab, ahi tuna martinis, Maine lobster bisque, short ribs, beef tenderloin and seven desserts.
It will likely all be topped off by what the president calls "the most beautiful piece of chocolate cake" — available exclusively to members ($200,000 initiation fee) and guests.
Things will be rather less sumptuous along the southern border, to which Trump, just before the midterm elections, ordered some 5,600 troops, with another 1,400 on the way, to contain the "national emergency" posed by the approaching caravan of Central American families seeking asylum.
Since the election, Trump has forgotten about the mortal peril posed by the caravan "invasion" — he has mentioned the "caravan" only once, and only when asked — but the troops he ordered to act in this political advertisement can't forget. They will remain on the border through Thanksgiving, the New York Times reported, eating MRE rations, living in tents without electricity, receiving neither combat pay nor hostile-fire pay. https://www.washingtonpost.com/opinions/while-trump-feasts-on-thanksgiving-troops-on-the-border-eat-rations-and-await-pancho-villa/2018/11/16/4d60d4c8-e9b8-11e8-bbdb-72fdbf9d4fed_story.html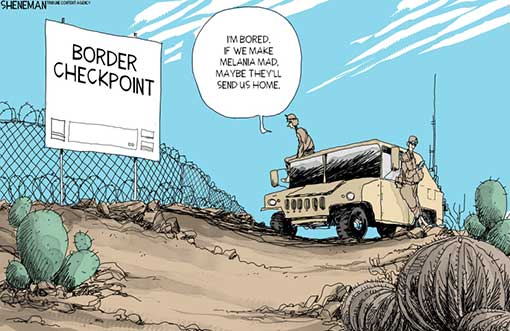 3. Trump's battle to destroy the Mueller investigation is officially doomed
The president himself might not quite realize it yet, and he probably doesn't understand why it happened. But he has lost that conflict, and the reason is simple: His attempts to fight Mueller were so ham-handed and so public that it made it impossible for him and his administration to shut Mueller down.
The president is simply incapable of subtlety and judges everything by how it plays out in the media. But in this case, the more attention he drew to his rage at Mueller, the greater the consequences of moving against Mueller became. And now it's too late. https://www.washingtonpost.com/blogs/plum-line/wp/2018/11/16/trumps-battle-to-destroy-the-mueller-investigation-is-officially-doomed/
4. Democrats won House popular vote by largest midterm margin since Watergate
Not since the Watergate scandal have Democrats run up such a large margin of victory in midterm House races.
With votes continuing to be tallied more than two weeks after Election Day, Democrats hold a lead over Republicans in the House popular vote by more than 8.6 million votes.
That's the largest total victory in a midterm House election since Democrats defeated Republicans by more than 8.7 million votes in 1974, just months after President Richard Nixon resigned from office in disgrace. https://www.nbcnews.com/politics/elections/democrats-won-house-popular-vote-largest-midterm-margin-watergate-n938996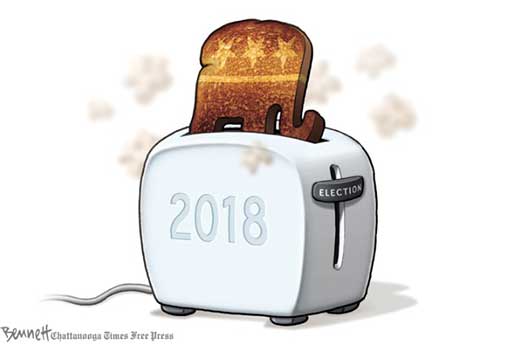 5. Trump's Midterm Blues Are Roiling the White House
As Donald Trump's West Wing careens through one of the most turbulent weeks of his presidency, White House officials are struggling to understand the source of the fury fueling the president's eruptions… Current and former officials are debating different theories for Trump's outbursts, ranging from his fears over his son Don Jr.'s legal exposure to the prospect that House Democrats will unleash investigations in January.
Said one former West Wing staffer: "This is a level of insanity I've never seen before.
What's surprising to some advisers about how bad the past week has been is that Trump initially seemed to take the midterm losses in stride… But by Wednesday, after hours of commentary about the suburbs' distaste for him and with seat after undecided House seat slipping toward the Democrats, his mood slid, too, hitting bottom in a bizarre and combative press conference. https://www.vanityfair.com/news/2018/11/trumps-post-midterms-blues-roil-the-white-house
6. Members of Parliament called for Trump to be banned from a state visit to the UK
Video at https://www.facebook.com/attn/videos/1577524995616287/
7. The Two Parties Represent Two Different Economies
Among other results, this year's midterm elections affirmed this much: in Washington, the two parties now speak for dramatically different segments of the American economy.
Republicans represent the smaller, fading segment, with less-educated, more homogenous work forces reliant on traditional manufacturing, agriculture and resource extraction. Democrats represent the larger, growing one, fueled by finance, professional services and digital innovation in diverse urban areas. https://www.cnbc.com/2018/11/15/charts-democrats-represent-modern-economy-republicans-left-behind.html
8. Ohio Democrats nearly match Republicans in Statehouse votes, but will remain in the deep minority; what's ahead for gerrymandering
As Ohio Republicans won the race for every statewide executive job from the governor on down this year, something different happened in lower-profile races. The Democrats actually collected more total votes in the 116 Ohio House and Senate elections across the state.
It's a takeaway from Election 2018 that isn't the usual headline grabber. More importantly, in terms of controlling Ohio's government, the GOP won 72 of the 116 Statehouse races. But the Republicans scored their wins for 62 percent of the seats while collecting just under 50 percent of the total vote.
This is a lot like what happened in Ohio's 16 congressional districts, where Republicans won 75 percent of the seats with just 52 percent of the overall vote. https://www.cleveland.com/expo/news/erry-2018/11/0f32e762411182/ohio-democrats-outpolled-repub.html
9. The DAILY GRILL
"I can get Nancy Pelosi as many votes as she wants in order for her to be Speaker of the House. She deserves this victory, she has earned it — but there are those in her party who are trying to take it away. She will win!" — Trump tweeti

VERSUS

"Oh please, no. Never. Never. Never." — Rep. Nancy Pelosi (D-CA) about accepting help from Republicans.

 

"I'm not on the ticket, but I am on the ticket, because this is also a referendum about me. I want you to vote. Pretend I'm on the ballot. — Trump at a rally in Southaven, Miss. 

VERSUS

"I wasn't on the ballot. I didn't run. I wasn't running. My name wasn't on the ballot." There are many people that think I don't like Congress that like me a lot, get it all the time: 'Sir, we'll never vote unless you're on the ballot.'"— Trump to Chris Wallace on Fox News Sunday, after repeatedly telling his supporters to vote for Republican congressional, gubernatorial and other candidates as if he himself were on the ballot, Trump took the opposite view when confronted with the scope of GOP losses in the midterm elections.

 


"You look at other countries where they do it differently, and it's a whole different story, I was with the president of Finland. We have a much different — we're a forest nation. He called it a forest nation. And they spent a lot of time on raking and cleaning and doing things, and they don't have any problem. And when it is, it's a very small problem. So I know everybody's looking at that to that end. And it's going to work out, it's going to work out well." -- Trump on Saturday standing among the charred ruins of the Skyway Villa Mobile Home and RV Park in the town of Paradise.

VERSUS

President Sauli Niinistö of Finland told Ilta-Sanomat, the country's second-largest newspaper, on Sunday that he never discussed raking with Trump during their brief meeting in Paris last weekend.

 

So funny to see little Adam Schitt (D-CA) talking about the fact that Acting Attorney General Matt Whitaker was not approved by the Senate, but not mentioning the fact that Bob Mueller (who is highly conflicted) was not approved by the Senate! — Donald J. Trump

VERSUS

Wow, Mr. President, that's a good one. Was that like your answers to Mr. Mueller's questions, or did you write this one yourself? — Rep. Adam Schiff (D-CA)

 

We do not have Obama judges or Trump judges, Bush judges or Clinton judges. What we have is an extraordinary group of dedicated judges doing their level best to do equal right to those appearing before them. That independent judiciary is something we should all be thankful for." — Chief Justice John G. Roberts Jr., defending the federal judiciary in the wake of Trump's criticism of an "Obama judge" who ruled against the administration's attempt to bar migrants who cross the border illegally from seeking asylum.

VERSUS

"Sorry Chief Justice John Roberts, but you do indeed have 'Obama judges,' and they have a much different point of view than the people who are charged with the safety of our country." — Trump responded to Roberts on Twitter

 

Oil prices getting lower. Great! Like a big Tax Cut for America and the World. Enjoy! $54, was just $82. Thank you to Saudi Arabia, but let's go lower! — Trump on Twitter

VERSUS

The government of Saudi Arabia is deliberately starving the Middle East's poorest country. One recent estimate suggests that 85,000 children under 5 years old have died from malnutrition as a result of Riyah's intervention in Yemen's civil war. If the Saudi's bombing and blockade continues, Yemen is poised to collapse into the worst famine humanity has seen in 100 years,. Meanwhile, the  crown prince of Saudi Arabia ordered the murder and dismemberment of a U.S. resident last month, according to the CIA. And yet, this Thanksgiving, Donald Trump is thankful for the House of Saud. --  Eric Levitz in NY Magazine

 

So-called comedian Michelle Wolf bombed so badly last year at the White House Correspondents' Dinner that this year, for the first time in decades, they will have an author instead of a comedian. -- Trump on Twitter

VERSUS

"I bet you'd be on my side if I had killed a journalist. #BeBest" — Michelle Wolf onTwitter.
10. From MEDIA MATTERS (They watch Fox News so you don't have to)
Fox's Jason Chaffetz says that Broward County intentionally reported recount results late to hurt Rick Scott's campaign. https://www.mediamatters.org/video/2018/11/16/foxs-jason-chaffetz-says-broward-county-intentionally-reported-recount-results-late-hurt-rick-scotts/222098

NRATV is still pushing the conspiracy theory that George Soros is behind the migrant caravan. https://www.mediamatters.org/video/2018/11/16/nratv-still-pushing-conspiracy-theory-george-soros-behind-migrant-caravan/222096

Fox News pushes Trump administration's bogus claim that CNN's Jim Acosta "placed his hands" on an intern, after judge orders White House to reinstate Acosta's press pass. https://www.mediamatters.org/video/2018/11/16/fox-news-pushes-trump-administrations-bogus-claim-cnns-jim-acosta-placed-his-hands-intern-after/222095

Fox guest: Migrant caravan is "nothing short of an invasion." Art Del Cueto: "These individuals are entering our country by force" and "it does not seem like they're asylum seekers. It looks a lot more like invaders to me." https://www.mediamatters.org/video/2018/11/16/Fox-guest-Migrant-caravan-is-nothing-short-of-an-invasion/222094

Fox's Stuart Varney says he doesn't care how Facebook "handled trouble" but accuses the company of anti-conservative bias. Varney: "I don't like the free speech of conservatives being censored by faceless Facebook employees. And that's what they're doing." https://www.mediamatters.org/video/2018/11/16/foxs-stuart-varney-says-he-doesnt-care-how-facebook-handled-trouble-accuses-company-anti/222093

Trump's Fox propagandists are trying to scuttle the bill to protect Mueller. Fox hosts with close ties to President Donald Trump are denouncing Sen. Jeff Flake's (R-AZ) legislative effort to protect special counsel Robert Mueller's investigation into Russian interference in the 2016 presidential election, blasting the senator for insufficient loyalty to the president and claiming his bill is unnecessary because Trump has said he does not plan to curtail the probe. https://www.mediamatters.org/blog/2018/11/15/trump-s-fox-propagandists-are-trying-scuttle-bill-protect-mueller/222082

Lou Dobbs suggests with no evidence that sweeping Democratic victories in 2018 were due to migrants who voted illegally. Lou Dobbs: "Millions of illegal immigrants cross our borders, and many of them voting in the past election that's what, just a couple weeks ago, and having an immense impact." https://www.mediamatters.org/video/2018/11/15/lou-dobbs-suggests-no-evidence-sweeping-democratic-victories-2018-were-due-migrants-who-voted/222092

Fox's obsession with Alexandria Ocasio-Cortez. Since New York Democratic Rep.-elect Alexandria Ocasio-Cortez' primary win in June, Fox personalities have spent a remarkable amount of time and energy focusing on her. The network has complained about her platform (Medicare for everyone, green jobs, housing as a human right, women's rights, etc.), claimed Democrats support her only "because she's a woman," and generally devoted breathless coverage to the newly elected congresswoman from Queens and the Bronx. Here's a sampling: https://www.mediamatters.org/blog/2018/11/15/foxs-obsession-alexandria-ocasio-cortez/222085 VIDEO at https://youtu.be/pupmuOLj5Mg

NRATV host defends Trump, says environmentalists to blame for deaths in California wildfires. Grant Stinchfield: "I talked to a lot of Californians" who said "environmentalists went too far, to the point where it cost so many people in many respects their houses and in other respects their lives." https://www.mediamatters.org/video/2018/11/19/nratv-host-defends-trump-says-environmentalists-blame-deaths-california-wildfires/222109z
11. From the Late Shows
Voter Fraud Cold Open - SNL: https://youtu.be/Z8UZn7PmyXc

RBG Rap - SNL: https://youtu.be/e6e_rGWbFqs

Weekend Update: Amazon Opens New York Headquarters - SNL: https://youtu.be/-CWfpMkYFlo
12. Operation Infektion: A Three-Part Video Series On Russian Disinformation
Russia's meddling in the United States' elections is not a hoax. It's the culmination of Moscow's decades-long campaign to tear the West apart. "Operation InfeKtion" reveals the ways in which one of the Soviets' central tactics — the promulgation of lies about America — continues today, from Pizzagate to George Soros conspiracies. Meet the KGB spies who conceived this virus and the American truth squads who tried — and are still trying — to fight it. Countries from Pakistan to Brazil are now debating reality, and in Vladimir Putin's greatest triumph, Americans are using Russia's playbook against one another without the faintest clue.
EPISODE 1: MEET THE KGB SPIES WHO INVENTED FAKE NEWS
The NY Times reveals how one of the biggest fake news stories ever concocted — the 1984 AIDS-is-a-biological-weapon hoax — went viral in the pre-internet era. Meet the KGB operatives who invented it and the "truth squad" that quashed it. For a bit.
Video

EPISODE 2: THE SEVEN COMMANDMENTS OF FAKE NEWS
The Pizzagate playbook: same tactics, new technologies. How the seven rules of Soviet disinformation are being used to create today's fake news stories.
Video

EPISODE 3: THE WORLDWIDE WAR ON TRUTH
Governments from Pakistan to Mexico to Washington are woefully unequipped to combat disinformation warfare. Eastern European countries living in Russia's shadow can teach us how to start fighting back, but only if our politicians decide to stop profiting from these tactics and fight them instead. https://www.nytimes.com/2018/11/12/opinion/russia-meddling-disinformation-fake-news-elections.html
13. Republican senator claims 'the left' will start a civil war unless federal highway system abolished
On Thursday, Sen. Mike Lee (R-UT) delivered a speech to the conservative Federalist Society that would have been more at home on Alex Jones' radio show than at a gathering of many of the most powerful lawyers and judges in the country.
In it, Lee warned of a brewing civil war, and claimed that the only way to avert violence would be to eradicate a long list of federal programs including "the interstate highway system," funding for "K through 12 public education," "federal higher education accreditation," "early childhood education, the Department of Commerce," "housing policy, workforce regulation," and what Lee labeled the "huge glut of federally owned land."
Lee, of course, blamed this state of affairs on "the left." https://thinkprogress.org/mike-lee-civil-war-highways-86be306e06b9/
14. New Evidence Emerges of Steve Bannon and Cambridge Analytica's Role in Brexit
For two years, observers have speculated that the June, 2016, Brexit campaign in the U.K. served as a petri dish for Donald Trump's Presidential campaign in the United States. Now there is new evidence that it did.
Newly surfaced e-mails show that the former Trump adviser Steve Bannon, and Cambridge Analytica, the Big Data company that he worked for at the time, were simultaneously incubating both nationalist political movements in 2015." https://www.newyorker.com/news/news-desk/new-evidence-emerges-of-steve-bannon-and-cambridge-analyticas-role-in-brexit
15. Election Roundup 2018
In spite of all the GOP flim-flammery, the house has been flipped upside down; it is now sunny-side up, which is frightening for the creatures of the dark in the WH. Expect to see trump flap around wildly in the hurricane that is about to hit him called Mueller and Congress.
Here is a simple charts that illustrates the heartwarming Blue Flip.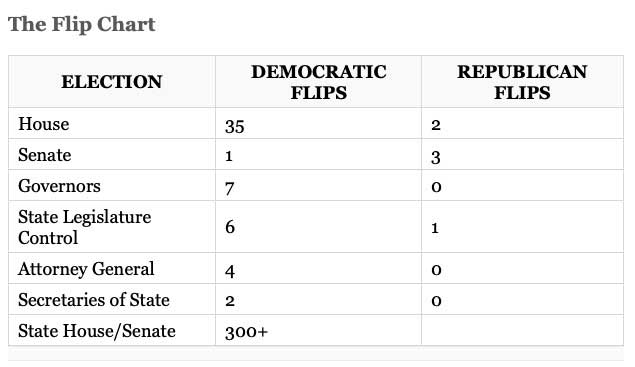 https://www.dailykos.com/stories/2018/11/12/1811905/-Election-Roundup-2018-Final-Edition-Recaps-and-Recounts
16. Trump Says in Interview He Is the Sole Arbiter of Truth
The conservative movement has long dismissed the value of neutral expertise — environmental scientists, arms control analysts, budget forecasters, or any other meddlesome nerds who question the simple verities of right-wing politics — as biased. Conservative media is built on this insight, constructing an alternate information ecosystem, in which only conservative sources can be trusted.
Donald Trump, an avid consumer of conservative media, has taken this style to its next step. Trump insists he is the sole arbiter of truth. Anybody who questions Trump is by definition biased. By his circular logic, any attempt to question Trump is inherently false, since the act of challenging Trump reveals the source to be dishonest. Reporters can try to chase the lies down one by one, but they always lead back into this same logical cul-de-sac. http://nymag.com/intelligencer/2018/11/trump-chris-wallace-interview-enemy-of-the-people-fake-news.html
17. A $12 Billion Program to Help Farmers Stung by Trump's Trade War Has Aided Few
America's farmers have been shut out of foreign markets, hit with retaliatory tariffs and lost lucrative contracts in the face of President Trump's trade war. But a $12 billion bailout program Mr. Trump created to "make it up" to farmers has done little to cushion the blow, with red tape and long waiting periods resulting in few payouts so far.
According to the Department of Agriculture, just $838 million has been paid out to farmers since the first $6 billion pot of money was made available in September. Another pool of up to $6 billion is expected to become available next month. The government is unlikely to offer additional money beyond the $12 billion, according to Sonny Perdue, the agriculture secretary.
https://www.nytimes.com/2018/11/19/us/politics/farming-trump-trade-war.html
18. Big Latino Turnout In Midterms Raises Stakes For 2020
Election after election, pundits predict that Latinos will be a powerful voting bloc. And Latino voters consistently under perform those expectations by failing to turn out at the polls in big numbers.
But this year's midterm results in Nevada, Arizona and other states suggest that Latino turnout is up dramatically — a development that could reshape the electoral landscape for 2020 and beyond. https://www.npr.org/2018/11/19/668665372/big-latino-turnout-in-midterms-raises-stakes-for-2020
19. Beto O'Rourke blows up the 2020 Democratic primary
Sparked by his narrow defeat in a Texas Senate race, Beto O'Rourke is scrambling the 2020 presidential primary field, freezing Democratic donors and potential campaign staffers in place as they await word of his plans.
Even prior to O'Rourke's meteoric rise, many Democratic fundraisers had approached the large number of 2020 contenders with apprehension, fearful of committing early to one candidate. But the prospect of a presidential bid by O'Rourke, whose charismatic Senate candidacy captured the party's imagination, has suddenly rewired the race.
O'Rourke — who raised a stunning $38 million in the third quarter of his race — is widely considered capable of raising millions of dollars quickly, according to interviews with multiple Democratic money bundlers and strategists, catapulting him into the upper echelons of the 2020 campaign. https://www.politico.com/story/2018/11/19/beto-orourke-2020-democratic-primary-995353
20. Eight white-majority districts elected black members of Congress this year. That's a breakthrough.
This year, Americans appear to have elected a record 53 African Americans to the House — assuming that Republicans William Hurd of Texas and Mia Love of Utah will win their tight races, which haven't been called as of this writing. Hurd and Love would be the only two black Republicans in this wave; the 51 others are Democrats. Forty-four were reelected. Of those, four-fifths won reelection from majority-minority districts — defined here as districts where non-Hispanic whites form a minority of the voting-age population according to the 2010 Census. That's what we've seen in the past: Historically, black representatives have been elected from majority-minority districts.
But here's the big news: Eight of the nine newly elected African Americans won in districts dominated by non-Hispanic whites. 
https://www.washingtonpost.com/news/monkey-cage/wp/2018/11/19/this-november-eight-mostly-white-districts-elected-black-members-of-congress-thats-a-breakthrough/
21. Trump's Base Isn't Enough
There shouldn't be much question about whether 2018 was a wave election. Of course it was a wave. You could endlessly debate the wave's magnitude, depending on how much you focus on the number of votes versus the number of seats, the House versus the Senate versus governorships, and so forth. Personally, I'd rank the 2018 wave a tick behind both 1994, which represented a historic shift after years of Democratic dominance of the House, and 2010, which reflected an especially ferocious shift against then-President Barack Obama after he'd been elected in a landslide two years earlier. But I'd put 2018 a bit ahead of most other modern wave elections, such as 2006 and 1982. Your mileage may vary.
In another important respect, however, the 2018 wave was indisputably unlike any other in recent midterm history: It came with exceptionally high turnout. Turnout is currently estimated at 116 million voters, or 49.4 percent of the voting-eligible population. That's an astounding number; only 83 million people voted in 2014, by contrast. https://fivethirtyeight.com/features/trumps-base-isnt-enough/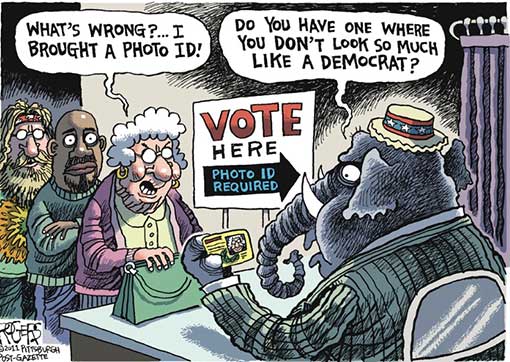 1. E.J. Dionne: Will the GOP Keep Dancing with Autocracy?
When a national leader urges that votes be ignored, or that an election result he doesn't like might best be set aside, we label him an autocrat or an authoritarian.
When it's President Trump, we shrug. Worse, many in his party go right along with his baseless charges of fraud.
We are in for a difficult two years. Surviving them will require that Republican senators take seriously the pledge they made in their oath of office to 'support and defend the Constitution of the United States against all enemies, foreign and domestic.' What we have seen so far is not encouraging. https://www.washingtonpost.com/opinions/will-the-republican-party-keep-dancing-with-autocracy/2018/11/14/92d5f9d2-e848-11e8-b8dc-66cca409c180_story.html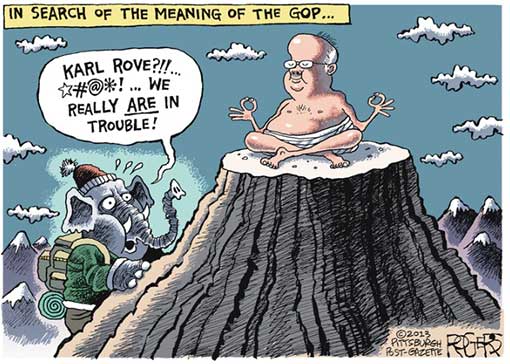 2. Bloomberg Editorial: The U.K. needs to admit that Brexit has failed.
The toxic compromise that May has extracted from Europe's negotiators has only one justification — that it's better than no deal at all. To be sure, avoiding the calamity of a chaotic no-deal Brexit next March is essential. But this can be done without May's plan, if Britain's government steels itself to admit that Brexit was an error, and Europe plays its part in allowing that mistake to be corrected.
If Parliament rejects the plan — as it should, and as it seems likely to — May or her successor ought to declare Brexit a failure and call a second referendum to confirm the country's wish to remain in the union. Crucially, Europe's leaders would then need to say that they'd welcome this development, that they'd grant the time it would require, and that they'd impose no hard Brexit on schedule next March. Even if it were too late to prevent the U.K. formally exiting at that point, transitional arrangements could be made to ensure no interruption to trade, pending the U.K.'s resumption of membership.
Granted, rejecting May's plan involves risk. There'd be further delay and uncertainty; the Tory government might fall; new elections might install a Labour government whose views on Brexit aren't clear; and referendums, as the Brexit farce has proved, don't always go as expected. Even so, the main point stands: May's universally disliked plan is not the only way to avoid a chaotic Brexit. As the prime minister herself said, there's another option. https://www.bloomberg.com/opinion/articles/2018-11-15/theresa-may-s-brexit-deal-is-not-the-answer
3. Frank Rich: Trump Is Starting to Panic
Since the Democrats made gains in last week's election — and, in some places, may continue to make more still — Donald Trump has retreated into what the Los Angeles Times calls "a cocoon of bitterness and resentment," canceling travel plans, lashing out at allies and adversaries, meddling in the remaining undecided races and, apparently, sitting for hours of meetings with his personal lawyers. Should we take his tantrums as an early indicator of additional bad news?
I will make the reckless prediction that "Donald Trump" and "good news" are not fated to appear in the same sentence unless the good news happens to be that his presidency is ending. Everything about his behavior since the midterms suggests that even he has figured this out. It has belatedly dawned on him that (a) he lost the election he thought he won; (b) the Robert Mueller investigation has moved faster than his efforts to thwart it; (c) any of his legislative fantasies, notably the funding of his border wall, are doomed; and (d) and his pouting in Paris elevated his international image as a buffoon to a whole new level of notoriety. Remember when Republicans attacked Barack Obama (falsely) for allegedly barring Winston Churchill's bust from the White House? Now the GOP's hero is a president whom Churchill's own grandson, the Conservative member of Parliament Nicholas Soames, has labeled "pathetic," "inadequate," and "not fit to represent this great country" after Trump failed to show up at the French cemetery rites honoring the fallen of World War I.
That all this makes Trump panic at some gut level is visible not merely in his widely reported spells of rage and bitterness and in his increasingly empty official schedule. He is also stepping up his already impressive efforts to discredit and destroy those democratic institutions that might prevent him from escaping criminal jeopardy. And so he has returned to ridiculing the very lifeblood of America, the electoral process, by declaring elections that don't go his way a fraud; he has escalated his assault on a free press by barring a CNN reporter and trying to frame him as a fellow misogynistic bully with a deceptively edited video; and, last but not least, he has appointed an acting attorney general, Matthew Whitaker, who has ridiculed the judicial system, been on the board of a fly-by-night company that practiced Trump University–style consumer frauds, and publicly attacked the Mueller probe in Trump's own language. http://nymag.com/intelligencer/2018/11/frank-rich-trump-is-starting-to-panic.html
4. Abigail Tracy: "Congress Is Going To Force Transparency On This President": House Democrats Prepare To Turn Trump's Life Upside Down
Kurt Bardella, who served as a spokesperson and senior adviser for the Oversight and Government Reform Committee from 2009 to 2013, predicted that Democrats would double the size of their staff after the House changes hands in January, with investigators and lawyers comprising the bulk of new hires. Congressman Elijah Cummings, the ranking Democrat who is expected to take over as chairman, has said he "will not be looking to make headlines." But, like his fellow committee-chairs-in-waiting, his definition of the job presumes a mandate for revenge. "My aim is to do what I swore to do—uphold the Constitution," Cummings said in a statement Tuesday. "We haven't been doing that because Republicans have been aiders and abetters."
With Democrats running O.G.R., top priorities will include lifting the veil on the Trump administration's security-clearance process—bad news for Jared Kushner and Rob Portman, the former White House staff secretary—as well as the president's financial conflicts. One potential avenue of inquiry will be Trump's potential violations of the Emoluments Clause, as well as the alleged widespread corruption at government agencies and by administration officials, including Scott Pruitt, the former head of the Environmental Protection Agency, and Ryan Zinke, the secretary of the Department of the Interior.
Other House committees will coordinate with O.G.R., focusing on lines of inquiry that dovetail with its jurisdiction. For instance, the House Foreign Affairs Committee will likely investigate allegations in Foggy Bottom that Trump appointees targeted State Department employees based on their perceived political beliefs and ideologies—something, as I have previously reported, that Secretary Mike Pompeo has yet to answer for. The House Homeland Security Committee will likely probe issues including the administration's response to Hurricane Maria, domestic terrorism, and election security, along with a bevy of controversial immigration measures such as family separations at the southern border, DACA, and the travel ban. "We will be doing the rigorous oversight the Republicans have not done and we have tried to do," one of the Democratic congressional aides familiar with the plans told me. "Congress cannot be a rubber stamp for the administration." https://www.vanityfair.com/news/2018/11/democratic-majority-house-donald-trump
5. Dan Balz: What has President Trump learned from defeat?
All presidents suffer defeats and setbacks, whether through elections, legislative battles, international events or scandals. Most learn from them and adapt. Will President Trump be an exception?
That's the question ahead for the president: Will the second two years of his first term be any different from the first two years? His actions and words in the days following the midterm elections indicate things actually could get worse rather than better. He has never been a gracious winner. In defeat, he has shown worse: ill-tempered, withdrawn, even more unpredictable.
It may be premature to draw a conclusion about what lessons he has learned, but rather than moving to mitigate the damage done to his party in the midterms or to assert international leadership, Trump has done the opposite in the days since the elections. He has reinforced what his presidency has wrought, domestically and internationally, and left others to worry about what comes next. https://www.washingtonpost.com/politics/what-has-president-trump-learned-from-defeat/2018/11/17/8c105250-ea6e-11e8-bbdb-72fdbf9d4fed_story.html
6. Derek Thompson: Trump's Lies Are a Virus, and News Organizations Are the Host
The news media today face an epistemic crisis: how to publish the president's commentary without amplifying his fabrications and conspiracy theories.
One flashpoint came several weeks ago, when President Donald Trump told Axios reporters that he planned to use an executive order to end birthright citizenship because, as he put it, "we're the only country in the world where a person comes in and has a baby, and the baby is essentially a citizen." On Twitter, Axios CEO and co-founder Jim VandeHei wrote, "Exclusive: Trump to terminate birthright citizenship."
As many journalists quickly pointed out, this was multilayered malarkey. The president was proposing an unconstitutional means of obliterating the Fourteenth Amendment on the basis of a falsehood; more than two dozen countries in the Western Hemisphere have unrestricted jus soli laws, like the U.S. Axios was treating as fact a haphazard plan, in search of an impossible outcome, justified by a false assertion.
Axios took about as much grief as it deserved. But as others have shown, it's far from the only media outlet whose headlines and tweets are guilty of passing along Trump's falsehoods as straightforward and noteworthy quotes.
• When Trump incorrectly described the GOP health bill as covering preexisting conditions, Politico simply declared: "Trump guarantees coverage for people with pre-existing conditions in health care bill."

• When Trump falsely took credit for Ford moving a plant from Kentucky to Mexico, ABC News reported: "Donald Trump Takes Credit for Keeping a Kentucky Ford Plant From Moving to Mexico."

• When Trump claimed, without evidence, that millions of people voted illegally in the 2016 election, CBS News tweeted: "Donald Trump: 'Millions' voted illegally for Hillary Clinton."

• When Trump claimed dubiously that he would sever ties with his businesses, it was reported as straightforward fact by CNN ("Trump Cutting Ties With Businesses") and the AP ("Trump Says He's Leaving Businesses to Focus on Presidency").
That brings us to Monday, when Trump called ballots cast in the Florida Senate election "massively infected" by fraud. ABC News and Bloomberg both quoted the president's accusation in their headlines, but neither noted that it was baseless. Once again, journalists on Twitter erupted with outrage that these headlines failed to call out the conspiracy theory, the motivations behind the conspiracy, or the actual truth. Indeed, there is no evidence of any voter fraud whatsoever in the Florida Senate election. https://www.theatlantic.com/ideas/archive/2018/11/should-media-repeat-trumps-lies/576148/
7. Harry Litman: Mueller might soon bring charges that even Trump die-hards can't trivialize
Commentators predict the next chapter of the Department of Justice's Russia investigation at their peril, but there is good reason to expect one or more blockbuster developments in the next few weeks.
There are concrete indications that special counsel Robert S. Mueller III is now about the business of laying down the last big pieces of the puzzle of Russian intervention in the 2016 election.
Mueller already has done the difficult digging on the Russian side of the equation, bringing detailed indictments in February 2018 for a wide-ranging Russian trolling operation related to the campaign, as well as the July 2016 hacking of Democratic Party emails. Now he's looking to tie those allegations to people close to the Trump campaign.
The upshot may be allegations of "collusion," of the sort the president has long denied. The actual charges are likely to be one of three criminal conspiracies: violating federal election laws, violating computer laws, or soliciting or receiving something of value from a foreign government. Charges, in other words, that not even the most ardent Trump die-hard could trivialize. They bring with them the possibility that Mueller might opt to name President Trump himself as an unindicted co-conspirator.
Even if Mueller is not about to close up shop, it is increasingly likely that the full contours of his inquiry will be sketched out and known to the public by year's end. For the president and his circle, it is not shaping up to be a pretty picture. https://www.latimes.com/opinion/op-ed/la-oe-litman-mueller-probe-blockbuster-developments-20181120-story.html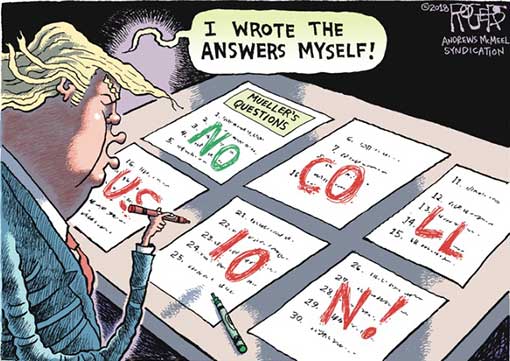 8. Jonathan Chait: Trump Writes Bonkers Defense of Saudi Prince for Murder of Journalist
Saudi Arabia, I get along with all of them," said Donald Trump as a candidate for office in 2015. "They buy apartments from me. They spend $40 million, $50 million. Am I supposed to dislike them? I like them very much."
Today, the Trump administration released an official presidential statement on Saudi Arabia and the murder of journalist Jamal Khashoggi. Written in Trump's authentic dialect, and featuring no fewer than eight exclamation points — or approximately eight more than the number of exclamation points normally found in a diplomatic statement about a murder — there is no doubt that this statement was written, or at least dictated, by the president himself. Its reasoning more or less tracks his reasoning from three years before, only now applied to the entire country rather than Trump's own bank account.
The first two sentences — "America First! The world is a dangerous place!" — set the basic predicate for his argument. People get murdered, dismembered, dissolved in acid, all the time, and we need to look out for our interests.
Nowhere in his statement does Trump reiterate the point he made in 2015 — he personally has business with the Kingdom, including $270,000 in spending in Trump's Washington hotel alone, just last year. http://nymag.com/intelligencer/2018/11/trump-statement-saudis-journalist-murder.html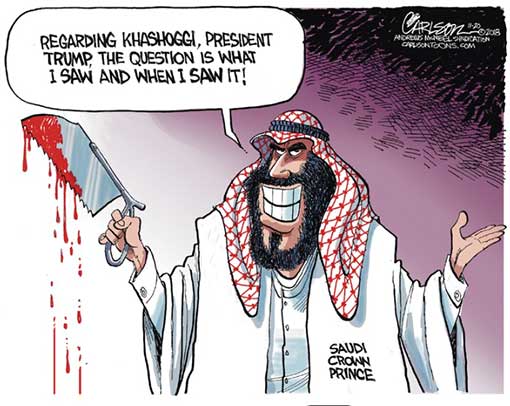 9. David Axe: Trump, Who Loves Nukes and Hates Treaties, Is Putting Us on the Road to the Apocalypse
Every so often, critics of President Donald J. Trump wonder aloud and in print about the danger posed by putting nuclear weapons in the hands of a man who is so impulsive and vindictive. Those same fingers punching out storms on Twitter could, theoretically at least, press the button that brings on an apocalypse.
Because of a number of failsafes that prospect, for now, is remote. There is no threat that could prompt such an action, and not likely to be one. But Trump policy, deliberately and methodically, is laying the groundwork for a new arms race that will set the stage for greater nuclear tensions than we have seen since the height of the Cold War.
Having pledged in October to pull the United States out of a 1987 treaty limiting intermediate range nuclear missiles, Trump now has a new target in sight.
The New Strategic Arms Reduction Treaty is a 2011 accord between the United States and Russia that caps the two countries' overall nuclear arsenals, including the most powerful intercontinental ballistic missiles and similar submarine-launched ballistic missiles.
New START is set to expire in February 2021 unless Washington and Moscow agree to extend it. But every expert The Daily Beast surveyed warned that Trump is likely to kill the treaty, either through quiet neglect or by declaring it un-American and refusing to negotiate its extension.
Ending the Intermediate-Range Nuclear Forces treaty would be bad, experts said. But ending New START could be catastrophic, they stressed. https://www.thedailybeast.com/trump-who-loves-nukes-and-hates-treaties-is-putting-us-on-the-road-to-the-apocalypse
10. Greg Sargent: No, Trump isn't putting 'America first.' He's putting himself first
Trump's extraordinary response to the horrifying murder of Jamal Khashoggi has renewed attention to what is widely described as his "America first" doctrine. But an error of logic has seeped into the coverage of this alleged doctrine and the bearing it has on the Khashoggi killing — and many other matters, as well.
It's a subtle error, but a serious one.
In the media discussion of Trump's response to the murder, you often see variations of the claim that Trump has revealed an unpleasant, unstated truth about his worldview — that Trump will put America first even if it requires sanctioning the most reprehensible conduct, or doing things that are necessary even if people find them deeply unsettling.
Need more? The New York Times reports that Trump privately wanted to order the Justice Department to prosecute Hillary Clinton and James Comey. There is no possible way this is based on any conception of the national good, unless Trump is totally delusional, which would itself mean there's no such operative conception here. Everyone knows Trump appointed Matthew Whitaker as acting attorney general not because of his qualifications, but for the sole purpose of protecting him from the special counsel.
There is no big and unpleasant truth at the core of Trump's vision of what's good for the country. That vision is largely a void filled with unchecked self interest, both disguised and sustained by lies. https://www.washingtonpost.com/blogs/plum-line/wp/2018/11/21/no-trump-isnt-putting-america-first-hes-putting-himself-first/