September 27, 2018
ON THE RECORD. . .
"We got a little hiccup here with the Kavanaugh nomination. We'll get through this and we'll get off to the races." — Sen. Dean Heller (R-NV)
"That's like somebody saying I can't play ball. That doesn't bother me at all. What bothers me is that he has time to even do that. He has the most powerful job in the world. Like, you really got this much time that you can comment on me?" — LeBron James on Trump insulting his intelligence.
"In the last midterm, voters didn't believe the threat of health care repeal was real. Now, if you ask a Republican why they voted for health care repeal, they'll change the topic faster than you can blink your eyes. They're like the crew of the Titanic trying to talk about the nice weather they're having after the ship already hit the iceberg and was taking on water." -- Democratic strategist Jesse Ferguson.
"Trump has completely destroyed the Republican Party. It is a terrible thing because it doesn't give Americans an opportunity to vote on the issues. It's either you're for Trump or against Trump."
— Former Rep. Charles Rangel (D-NY)
"You know, I met a Holocaust survivor in Long Beach. He survived concentration camps, and he said this was worse. He's 90 years old and he had to wait four hours down in Long Beach. Can you imagine that?" — California gubernatorial candidate John Cox (R), comparing long lines at the Sacramento DMV office to the Holocaust.
"He was hired by Jeff Sessions. I was not involved in that process because, you know, they go out and get their own deputies and the people that work in the department." — Trump, quoted by Fox News, talking about Deputy Attorney General Rod Rosenstein.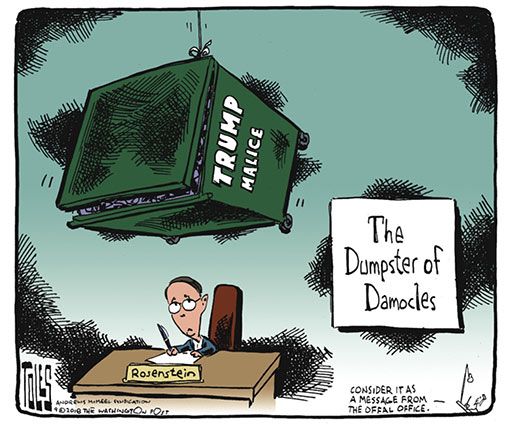 "Kavanaugh is a massive liability now for a party that is already heavily identified with the grossest and most predatory aspects of male sexual entitlement. Keeping Kavanaugh at this point would be an act of sheer madness." -- Jonathan Chait
McConnell has already announced the outcome of the proceeding. No doubt McConnell simply doesn't care very much if Kavanaugh sexually assaulted one or more women in his youth as long as he can be counted on to vote the Federalist Society party line from the bench. But he doesn't actually want to defend that position, and so he is grudgingly providing the barest pretense of due diligence before handing down his predetermined verdict. The Republican position is due process without any process. -- Jonathan Chait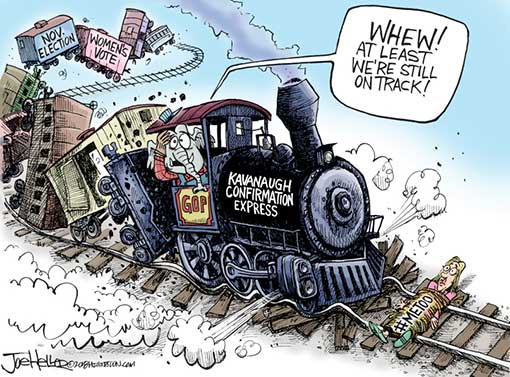 Brett Kavanaugh must also be asked about this entry in his yearbook: "FFFFFFFourth of July." We believe that this stands for: Find them, French them, Feel them, Finger them, F*** them, Forget them. As well as the term "Devil's Triangle." Perhaps Sen. Grassley can ask him. #Basta -- Michael Avenatti on Twitter.
"How did you find me?" -- Mark Judge, the man who's been named as the only witness to an alleged high-school sexual assault by Brett Kavanaugh, who has been holed up in a beach house in Delaware amid a media firestorm. -- Gabriel Pogrund, Carol D. Leonnig and Aaron C. Davis
"Perhaps Brett Kavanaugh was a virgin for many years after high school. But he claimed otherwise in a conversation with me during our freshman year in Lawrance Hall at Yale, in the living room of my suite." — Steve Kantrowitz, a Yale classmate of Supreme Court nominee Brett Kavanaugh, on Twitter
---
IN THIS ISSUE
FYI
OPINION
1.  Satire from The Borowitz Report: Republican Party Declares Moral Bankruptcy
The Republican Party officially filed for moral bankruptcy on Tuesday morning, a move that many in the nation considered long overdue.

In filing for moral bankruptcy, the Republicans will formally attest that they have no morals, standards, or ethics on their balance sheet, and will agree to cease all activity as a political party in exchange for indemnity from any and all legal actions.

Harland Dorrinson, a Washington attorney who specializes in moral bankruptcies, said that, by making its moral vacuum official, the G.O.P. could theoretically break itself up and sell off the parts, but, he warned, "There are no buyers."

"From Lindsey Graham to Ted Cruz to Mitch McConnell to Chuck Grassley, all of the Republican Party's assets could only be described as toxic," he said. "Their breakup value is zero."

Further complicating such a sale, Dorrinson said, is the fact that the lion's share of the Republican Party is already owned by the National Rifle Association, Koch Industries, and the Russian government.

"All of those entities are going to take a major loss on their investment," he warned. "The Kochs have been trying to sell Paul Ryan for months, and they can't give him away."

While bemoaning the demise of a once legitimate political party, Dorrinson did see one silver lining. "The bankruptcy of the Republican Party will be presided over by Donald Trump, and no one has more experience in this area," he said.

MEANWHILE: Calling his speech to the United Nations General Assembly on Tuesday "an unbelievable success," Donald J. Trump bragged that he "got much bigger laughs than Obama."

"When Obama spoke at the U.N. he did not get a single laugh—not one," Trump told reporters. "I feel sorry for the people who had to sit through his speeches. They weren't funny at all." https://www.newyorker.com/humor/borowitz-report/
2. ICE Is Targeting Immigrants Who Agree to Take In Migrant Children
The U.S. government does not have the resources to deport every undocumented immigrant in the United States. America only has so many deportation judges, detention beds, and ICE agents. Thus, federal authorities must set priorities for immigration enforcement. In the final years of the Obama administration, ICE prioritized the removal of undocumented people suspected of involvement in serious crimes; under the Trump administration, the agency is, ostensibly, prioritizing the deportation of immigrants who volunteer to look after migrant children stranded in the U.S. without a guardian.
But earlier this year, in response to previous instances in which the government put children in dangerous circumstances — or lost track of them, completely — HHS and ICE adopted a policy of running background checks on all sponsors. And instead of using such checks exclusively to ensure the safety of migrant children, the Trump administration opted to use them as a means of identifying undocumented immigrants for ICE to hunt down. http://nymag.com/daily/intelligencer/2018/09/ice-is-targeting-immigrants-who-take-in-migrant-children.html
3. Trump's trade wars start biting GOP ahead of midterms
President Trump's trade battles are already triggering economic warnings — and rising danger for Republicans just ahead of the midterm elections..
As fresh U.S. tariffs on $200 billion in Chinese imports take effect Monday, surveys show consumers growing increasingly worried about higher prices this fall. Giant retailers such as Walmart are warning of price increases for manufactured goods. And smaller businesses in swing states and districts from Washington state to Iowa to Tennessee are complaining bitterly about big hits to their exports." https://www.politico.com/story/2018/09/24/trump-midterms-trade-wars-china-801315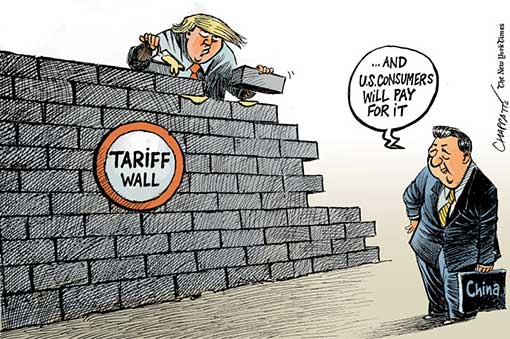 4. GOP's midterm health care strategy: Rally the base
With the midterm elections fast approaching and Democrats riding a clear advantage on health care, many Republicans are nevertheless doubling down on largely unpopular ideas like repealing the Affordable Care Act and cutting Medicare.
"This strategy may seem counterintuitive on its face. However, it likely reveals that the party has all but abandoned independent voters this year and instead is focused on turning out its base." https://www.axios.com/republicans-midterm-elections-health-care-turnout-base-08fef418-b623-41c6-b6b4-8679562632ff.html
5. Yale cancels some classes as law students protest Brett Kavanaugh nomination
Dozens of students dressed in black staged a sit-in at Yale Law School on Monday to protest the nomination of Judge Brett Kavanaugh to the Supreme Court and demand an investigation into sexual misconduct allegations against him.
Organizers said allegations of sexual assault and harassment should be taken seriously, and Kavanaugh poses a ''real threat'' to the country. Other Yale students traveled to Washington to protest Kavanaugh's nomination on Monday. https://www.bostonglobe.com/news/politics/2018/09/24/yale-law-students-protest-brett-kavanaugh-nomination/VO7p24g20Y31E5XJWmM77N/story.html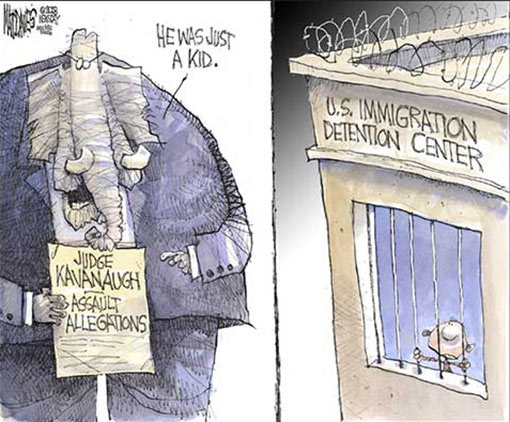 6. The DAILY GRILL
David Brill, an Arizona Democrat going after Republican Rep. Paul Gosar's seat in Congress, released a campaign ad attacking Gosar's character, morals and politics while urging Arizona residents to vote him out. The videos star none other than six of Gosar's siblings ― David, Gaston, Grace, Jennifer, Joan and Tim ― who are all endorsing their brother's opponent.

VERSUS

"My siblings who chose to film ads against me are all liberal Democrats who hate President Trump. These disgruntled Hillary supporters are related by blood to me but like leftists everywhere, they put political ideology before family. Stalin would be proud!" — Rep. Paul Gosar (R-AZ), on Twitter

 

"With the mayor of San Juan as bad as she is and as incompetent as she is, Puerto Rico shouldn't be talking about statehood until they get some people that really know what they're doing," -- Trump, who falsely accused Democrats of inflating the Puerto Rican death toll to make him "look as bad as possible."

VERSUS

"The president said he is not in favor of statehood for the people of Puerto Rico based on a personal feud with a local mayor. This is an insensitive, disrespectful comment to over 3 million Americans who live in the U.S. territory of Puerto Rico. -- Gov. Ricardo Rossello, an advocate of statehood for the island, saying that Trump's remarks had trivialized the statehood process because of political differences.
7. From MEDIA MATTERS (They watch Fox News so you don't have to)
While discussing Kavanaugh, Fox host warns that "false accusations" of sexual assault are a bigger threat than terrorism. Greg Gutfeld: "It doesn't help. False accusations do not help. women."  https://www.mediamatters.org/video/2018/09/20/while-discussing-kavanaugh-fox-host-warns-false-accusations-sexual-assault-are-bigger-threat/221395

Matt Schlapp on report of sexual assault by Brett Kavanaugh: He "is the victim here." Fox's Host Dana Perino: Is "Kavanaugh basically boxing against a ghost. If she doesn't show up, what is he supposed to do?"  https://www.mediamatters.org/video/2018/09/20/matt-schlapp-report-sexual-assualt-brett-kavanaugh-he-victim-here/221392

Right-wing fever swamps are now smearing Christine Blasey Ford over her high school yearbooks. Alex Jones baselessly identified a yearbook picture of a girl in a miniskirt as Ford in order to call her "captain of the sluts." https://www.mediamatters.org/blog/2018/09/20/right-wing-fever-swamps-are-now-smearing-christine-blasey-ford-over-her-high-school-yearbooks/221393

After demanding release of DOJ documents, Trump admits he's just doing what his sycophants tell him to do. In an interview conducted Tuesday by The Hill's John Solomon and Buck Sexton, Trump admitted that he did not review the documents in question and soberly consider the national security implications of their release. Instead, he simply took the advice of "many people" who he says have been urging him to take action, doing so because he thought the release would benefit him politically by delegitimizing special counsel Robert Mueller's probe. https://www.mediamatters.org/blog/2018/09/19/after-demanding-release-doj-documents-trump-admits-hes-just-doing-what-his-sycophants-tell-him-do/221371

NRATV host: Christine Ford's report of sexual assault against Brett Kavanaugh didn't describe a crime but rather was "hijinks for boys." https://www.mediamatters.org/video/2018/09/21/nratv-host-christine-ford-s-report-sexual-assault-against-brett-kavanaugh-didn-t-describe-crime/221406

CRTV's Steven Crowder: Christine Blasey Ford is a "lying whore." Crowder: "I know you're saying ... I labeled her a lying whore without proof, granted -- she did the same, but with attempted rape" against Brett Kavanaugh. https://www.mediamatters.org/video/2018/09/21/crtvs-steven-crowder-christine-blasey-ford-lying-whore/221408

NRA president Oliver North: Brett Kavanaugh is being accused of sexual assault because "he believes in our Second Amendment."https://www.mediamatters.org/video/2018/09/24/nra-president-oliver-north-brett-kavanaugh-being-accused-sexual-assault-because-he-believes-our/221426

Fox host suggests Dr. Christine Blasey Ford was hypnotized. Pirro: "So the question is if there is something awry going on, was there hypnosis? Are they using confablation?" https://www.mediamatters.org/video/2018/09/24/fox-host-suggests-dr-christine-blasey-ford-was-hypnotized/221433

Fox News has failed to mention that Republican staffers reportedly knew about the second report of sexual misconduct by Brett Kavanaugh. According to The New Yorker, some "senior Republican staffers" were aware of Deborah Ramirez's claims last week -- Republican lawmakers chose to push for a faster confirmation. https://www.mediamatters.org/blog/2018/09/24/fox-news-has-failed-mention-republican-staffers-reportedly-knew-about-second-report-sexual/221421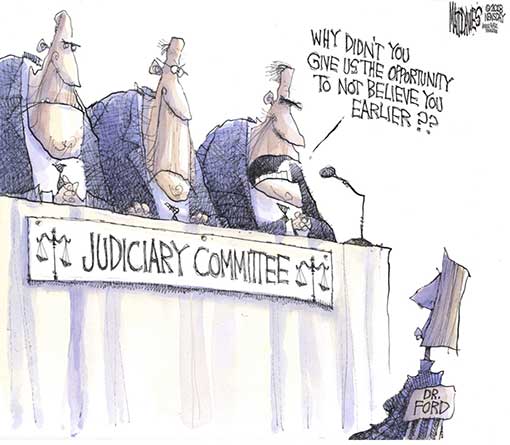 A Facebook page that is little more than a week old and has connections to a Macedonian fake news network shared a video falsely claiming a group of bikers were coming to Washington, D.C., to rally for Supreme Court nominee Brett Kavanaugh. The mislabeled video has received hundreds of thousands of views and tens of thousands of shares. https://www.mediamatters.org/blog/2018/09/25/A-week-old-Facebook-page-with-foreign-connections-pushed-a-fake-Kavanaugh-story-that-went-/221453
8. From the Late Shows
The Late Show with Stephen Colbert: Hillary Clinton Never Had To Steal Things From Obama's Desk: https://youtu.be/6d_HSRm-ba0

The Late Show with Stephen Colbert: The Worst Campaign Ad Of The 2018 Mid-Terms Has Arrived: https://youtu.be/blsVKk0fnkU

The Daily Show with Trevor Noah: Kavanaugh Defends Himself Against Sexual Assault Allegations with His 1982 Calendar: https://youtu.be/zuudCxw1GdQ

Late Night with Seth Meyers: Rod Rosenstein Chaos; Trump Attacks Kavanaugh's Accuser: A Closer Look: https://youtu.be/DOI4uK7wKHQ

An old but funny weekend update: Eric and Donald Trump Jr. on Chaos in the White House: https://youtu.be/Qep9dF75tWk
9. Late Night Jokes for Dems
Stephen Colbert

Our government continues to exist, because this week the Senate passed a spending bill that would keep the government open until December. But no one is sure if Trump will sign it, especially since he tweeted, "I want to know where is the money for border security and the wall in this ridiculous spending bill, and where will it come from after the midterms?" I am going to guess: not from Mexico?

Trump seems to think that walls are the solution to every problem because Spain's foreign minister just revealed that Trump urged him to build a wall across the Sahara. The Sahara Desert, the largest desert in the world. You can't construct a wall in the desert. Building something on sand is literally the metaphor for instability. After you build the wall on sand, you can make yourself a beautiful "House of Cards" to live in.

Does our president really think people who trudge through 1,000 miles of the most brutal desert on the planet will go, "Wait, there's a wall. Darn it, OK. Then let's go back."

The Texas Board of Education has voted to remove a lot of famous Americans from their curriculum, including Hillary Clinton, Helen Keller, Eleanor Roosevelt, feminist Betty Friedan, and the father of modern conservativism, Barry Goldwater. Great, now kids will have to learn about Barry Goldwater like I did — in the streets, passing around dog-eared old copies of the "National Review" they found buried in the woods.

James Corden

In his address to the U.N., Trump discussed the greatest threats to the peace and stability of the world. So, like most of his speeches, it was all about himself.

The White House is still reeling from a bombshell report from The New York Times. The article revealed that Deputy Attorney General Rod once floated the idea of secretly recording conversations with the president by wearing a wire. A wire? If you want to catch Trump saying something incriminating you don't need a wire. Just look at his Twitter feed!

First, Trump's personal lawyer secretly taped him. Then, Omarosa taped him in the White House. Now look, I'm no political expert, but it's probably a bad sign when literally everyone you work with is like, "Oh man, I gotta record this. No one will believe me!"

Trump's Supreme Court nominee Brett Kavanaugh is pushing back on sexual assault allegations. According to The New York Times, his defense will include a high school calendar from 1982 that does not list the party where the alleged incident took place. But this should clear everything up, because I know when I plan to commit a crime, I always write "committing a crime" on my calendar.

The midterm campaigns are heating up. Arizona Republican Congressman Paul Gosar is having some problems with his campaign after an ad aired featuring six people endorsing his opponent. And those six people are all Paul Gosar's brothers and sisters. And you thought YOUR Thanksgiving dinner was going to be awkward this year. "Can you pass the sweet potatoes?" "No. Can you pass healthcare for everybody?"

Conan O'Brien

A second woman has come forward to accuse Supreme Court nominee Brett Kavanaugh of sexual misconduct. For those of you keeping track, 13 more and Kavanaugh can run for president.

There's a rumor that Assistant Attorney General Rod Rosenstein wants to declare President Trump unfit for office. Right now all Rosenstein has to go on is everything Trump has said or done for the past two years.
10. Despite Talk Of 'Bad Hombres,' Trump's Immigrant Arrests Net More Noncriminals
ICE arrests of noncriminals increased 66 percent in the first nine months of the 2018 fiscal year over the same period a year earlier. Arrests of convicts, meantime, rose nearly 2 percent. More noncriminals have also been deported. Among those expelled from the U.S. interior in fiscal 2017, there was a 174 percent increase from the previous year of those with no criminal convictions. Deportations of those with convictions rose nearly 13 percent over the same period.
The result is immigration courts are filling with defendants like Ruben Moroyoqui, a 45-year-old mechanic in Tucson, Arizona, whose only run-in with police came last year, his attorney said, when he was pulled over while picking up auto parts. https://talkingpointsmemo.com/news/trump-immigrant-roundups-typically-noncriminal-ice
11. The Planners Of The Trump Tower Meeting Moved Millions, And Mueller Is Now Investigating
Documents reviewed by BuzzFeed News show that $3.3 million began moving on June 3 between two of the men who orchestrated the infamous Trump Tower meeting during the 2016 presidential campaign: Aras Agalarov, a billionaire real estate developer close to both Vladimir Putin and President Trump, and Irakly "Ike" Kaveladze, a longtime Agalarov employee once investigated for money laundering.
That money is on top of the more than $20 million that was flagged as suspicious, BuzzFeed News revealed earlier this month, after the money ricocheted among the planners and participants of the Trump Tower meeting. Special counsel Robert Mueller's team… is examining the suspicious transactions. https://www.buzzfeednews.com/article/anthonycormier/mueller-investigation-money-trump-tower-meeting
12. Early voting begins as midterms season enters final phase
Associated Press: "While Election Day 2018 is technically Nov. 6, Minnesota law allows in-person voting to begin Friday — a full 46 days early — making it the first battleground state to begin casting actual votes in the broader fight for control of Congress. Voters in every corner of the nation will soon follow. South Dakota also opens early voting on Friday, and four more states follow in the next six days, including key states including New Jersey and Missouri.
It may feel early, but make no mistake: The final phase of the 2018 midterm season has begun. https://apnews.com/68833dbb68bb4101a701ce97c68c5b9e
13. New Ad Features Fox Anchors Slamming Duncan Hunter
Ammar Campa-Najjar (D), who is running against indicted Rep. Duncan Hunter (R-CA), is running a new ad that exclusively uses clips from Fox News to attack Hunter, the Sacramento Bee reports. Video at https://youtu.be/JRArlTw2Nps
14. The GOP's Growing Identity Crisis
The Republican Party is suffering an identity crisis that poses acute short- and long-term risks: President Trump, with 38% approval in Gallup, is giving the party a constricted appeal, with the danger of continuing high-profile defections.
In a 50-50 nation, marginal defections can incapacitate a party.
The GOP, long synonymous with conservatism, is now effectively the Trump Party — in policy, branding and support. That leaves some swaths of traditional conservatives without a major-party home, and endangers Republican electoral fortunes. https://www.axios.com/republicans-growing-identity-crisis-2018-midterms-37485bd4-eeec-46de-8154-0a205eea505d.html
15. Trump HUD Secretary Ben Carson claims Kavanaugh allegations are part of a centuries old socialist plot
Secretary of Housing and Urban Development Ben Carson said that a long-running plot by Socialists to take over America was fueling recent allegations of sexual assault against President Trump's nominee to the Supreme Court.
Said Carson: "If you really understand the big picture of what's going on, then what's going on with Kavanaugh will make perfectly good sense to you. There've been people in this country for a very long time, going all the way back to the Fabians, people who've wanted to fundamentally change this country."
He added: "They don't like what America is and what it represents, and they want to change us to another system. In order to do that, there are three things they must control: the education system, the media, and the courts.The first two of those they have." https://www.cnbc.com/2018/09/21/hud-secretary-ben-carson-kavanaugh-allegation-is-part-of-a-socialist-plot.html
16. The party of men: Kavanaugh fight risks worsening the Trump GOP's gender problem
The Republican Party's fight to save President Trump's embattled Supreme Court nominee amid allegations of sexual assault has surfaced deep anxieties over the hyper-masculine mind-set that has come to define the GOP in the nation's roiling gender debate.
The images are striking: The specter of Republicans on the Senate Judiciary Committee — all 11 of them men — questioning federal Judge Brett A. Kavanaugh's female accuser. A senior GOP aide working on the confirmation resigning amid his own sexual harassment allegations. A viral photo of "women for Kavanaugh" featuring more men than women. A South Carolina Republican congressman making a crude joke about Justice Ruth Bader Ginsburg being groped by former president Abraham Lincoln.
And then there is the party's id, Trump, who as a candidate denied more than a dozen accusations of sexual assault and harassment and sought to silence and retaliate against his accusers — and who as president has defended one accused man after another. https://www.washingtonpost.com/politics/the-party-of-men-kavanaugh-fight-risks-worsening-the-trump-gops-gender-problem/2018/09/23/37d2dd88-bdb5-11e8-b7d2-0773aa1e33da_story.html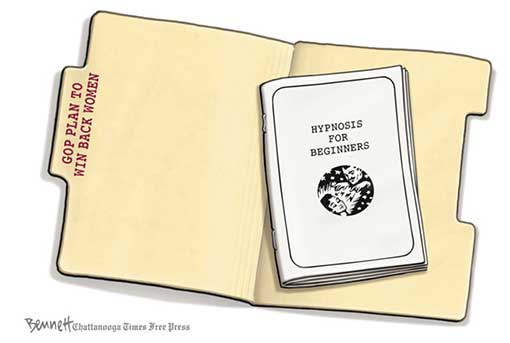 17. Tariffs could mean a 2M drop in car sales and cost 715,000 jobs, warns auto industry group
The impact of President Donald Trump's escalating tit-for-tat over tariffs is already being felt, say auto industry experts. New car prices are beginning to rise, and auto exports are dropping. But a new report warns that sales could plunge by as much as 2 million vehicles a year, resulting in the loss of up to 715,000 American jobs and a hit of as much as $62 billion to the U.S. GDP.
Already enacted tariffs on imported aluminum and steel have added about $240 to the cost of producing a new car, truck, or crossover in the U.S., noted Peter Nagle, a senior economist with research firm IHS Markit. And the first round of tariffs with China is adding still more to the price that manufacturers have to pay for a variety of parts used on American assembly lines.
The impact will grow as a result of the second round of China tariffs, Nagle added, cautioning that a "dizzying" series of trade moves will "exacerbate" the problems the auto industry faces as it struggles to head off the first downturn in sales since emerging from the depths of the last recession. Activating tariffs using Section 232 rules would likely prove devastating, he warned.
Nagel estimated consumers would be "looking at price increases of $1,300 for a typical mass market product, up to $5,800 for a luxury vehicle." Those increases would not be limited to just imported vehicles. Toyota, for example, has forecast the price of a U.S.-made Camry would rise about $1,600.
In line with the new CAR study, IHS forecasts U.S. new vehicle sales would plunge by around 2 million vehicles annually, to 16.5 million a year from 2019 to 2025. https://www.nbcnews.com/business/autos/tariffs-could-mean-2m-drop-car-sales-cost-715-000-n911411?cid=sm_npd_nn_tw_ma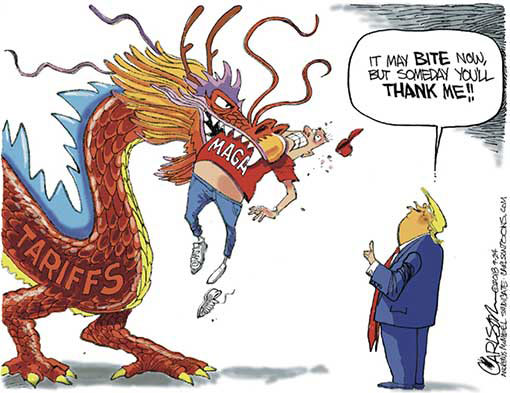 18. Judge Says Wilbur Ross Can Be Deposed About Inclusion of a Citizenship Question on the 2020 Census
A federal court ruled that Commerce Secretary Wilbur Ross must provide, for the first time in 19 years, a deposition in a civil case.
Said U.S. District Judge Jesse Furman: "Applying well-established principles to the unusual facts of these cases, the court concludes that the question is not a close one. Secretary Ross must sit for a deposition because, among other things, his intent and credibility are directly at issue in these cases." https://politicalwire.com/2018/09/22/judge-says-wilbur-ross-can-be-deposed/
19. Gun reform groups ramp up midterm efforts
Democratic operatives tell us that they believe the midterms are going to be a turning point on gun control. Their reasoning: Students from the mass shooting at Marjory Stoneman Douglas High School in Florida have ramped up their activism across the country in an effort to register young voters. And, the WSJ recently put out an analysis with Kantar Media/CMAG data that found there has been a 22% increase in ads promoting stricter gun regulations since four years ago. https://www.politico.com/newsletters/playbook/2018/09/23/gun-reform-groups-ramp-up-midterm-efforts-309644
20. Ben Carson Is Running Hud Like A Safety School For G.O.P. Dropouts
According to an investigation by The Washington Post, at least 24 people hired at HUD since Donald Trump's inauguration have zero housing-policy experience, with 16 seemingly given high-paying positions because they worked on either Trump's or Carson's presidential campaigns. Among them, five extra lucky individuals are political operatives who've enjoyed promotions and pay hikes, three of whom "did not list bachelor's degrees on their résumés." But what these people lack in relevant experience, they've made up for in hamstringing the department's ability to serve the needs of low-income families:
Elsewhere, a conservative commentator and software developer turned senior adviser to Carson—who spread a conspiracy theory on Twitter  that Hillary Clinton's campaign chairman had taken part in a satanic ritual—is reportedly pulling down a cool $131,767 a year, despite having zero housing experience and a belief that government benefits hurt the poor. In a statement, a spokesman for HUD—which did not dispute the Post's salary findings—said that appointing people with "varying experiences to government is not unusual" and makes HUD a "more dynamic organization." https://www.vanityfair.com/news/2018/09/ben-carson-is-running-hud-like-a-safety-school-for-gop-dropouts
21. With growing support from women, Democrats poised for major gains in midterm, new poll shows
Boosted by growing support among suburban women and widespread antipathy toward Donald Trump, Democrats approach the midterm election poised to make major gains nationwide, a new USC Dornsife/Los Angeles Times Poll shows.
Democrats had a 14-point margin, 55% to 41%, when likely voters were asked which party's candidate they would cast a ballot for if the election were held now. If that advantage holds up until election day, just less than six weeks away, it would almost surely be large enough to sweep a Democratic majority into the House.
Roughly 3 out of 4 likely voters said they saw their vote this fall as an opportunity to express a view of Trump. For many, that view is negative: Those saying they planned to register opposition outnumbered Trump supporters, 45% to 29%. http://www.latimes.com/politics/la-na-pol-usc-latimes-poll-20180926-story.html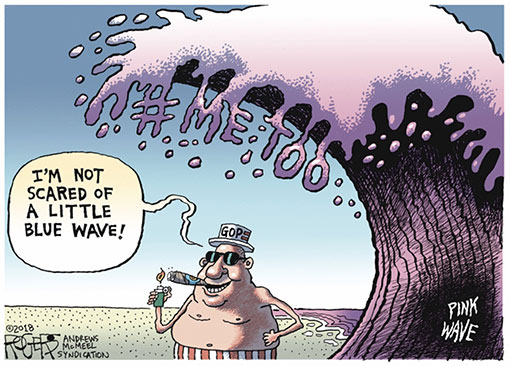 22. RNC Blasts Kavanaugh Accuser for Working 'Toward Human Rights'
RNC's list stands apart from the others though, because it's the only one that questions Ramirez's motives. Though she told The New Yorker she was not "politically motivated" to share her story, the RNC presented other details that, they think, call this into question. Specifically, that Ramirez is a registered Democrat and that she "works toward human rights, social justice, and social change."
In this context, working toward "human rights, social justice, and social change" is a negative quality. The RNC is suggesting that a dedication to such things inherently puts one at odds with the GOP. We already knew that, of course, but it's nice to see the RNC admit it. http://nymag.com/daily/intelligencer/2018/09/rnc-blasts-kavanaugh-accuser-for-work-toward-human-rights.html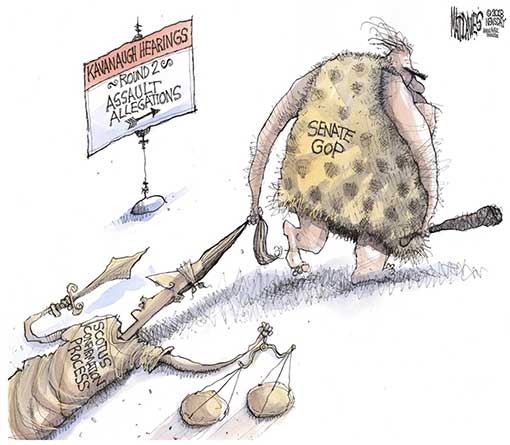 1. Cristian Farias: Brett Kavanaugh's First and Highest Loyalty Is to the Right-Wing Machine
If there's anything to be gleaned from Brett Kavanaugh's background as an assistant for Kenneth Starr, political operative working on judicial nominations for George W. Bush, and his lifetime membership in the Federalist Society, it is his abiding commitment to the partisan interests of the Republican Party. The recent downfall of his friend Ed Whelan, who was forced to take a leave of absence as head of a conservative think tank over a widely condemned doppelgänger theory attempting to discredit the allegations of Christine Blasey Ford, is one of a piece with Kavanaugh's ambitions. If judicial dominance is the game, he'll seemingly stop at nothing to play it. http://nymag.com/daily/intelligencer/2018/09/brett-kavanaugh-fox-news-interview-was-a-disaster.html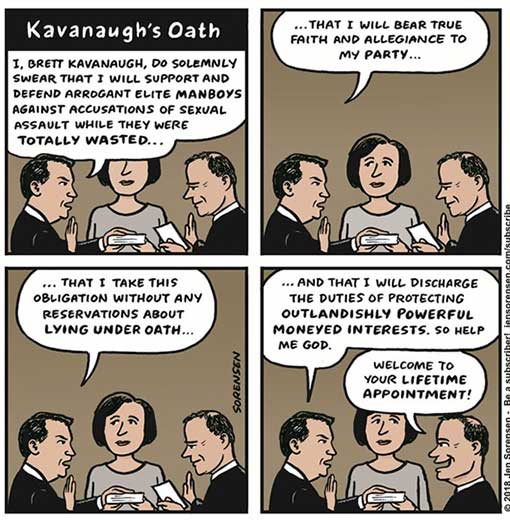 2. Max Boot: The Kavanaugh doppelganger theory shows how far the right has descended into madness
That Kavanaugh is the victim of mistaken identity was the implausible theory put forward by Ed Whelan, president of the Ethics and Public Policy Center in Washington. On Thursday night he posted (and now has deleted) a long series of tweets, complete with links to Zillow and Google Maps, arguing that Ford had indeed been assaulted — but by a friend of Kavanaugh's who looked a lot like him. And then he proceeded to name the friend and post his picture. In the long annals of American politics, a lot of people have done a lot of irresponsible things, but for sheer callousness and craziness it's hard to top an accusation of sexual assault against a specific individual based on, essentially, nothing. This is McCarthyism redux — and if Kavanaugh is revealed to have any connection to the propagation of this loathsome falsehood, he should be voted down overwhelmingly by the Senate.t tells you how far the right has descended into madness that this vile accusation did not come from an anonymous blogger on some online bulletin board or from professional conspiracy theorist Alex Jones. It came from someone with sterling establishment credentials.
Kavanaugh's fate—and, potentially, the fate of the Republican Party writ large—could very well rest on Ford's impending testimony. https://www.vanityfair.com/news/2018/09/kavanaugh-confirmation-battle-christine-ford
3. T.A. Frank: The Ocasio-Cortez vs. Cynthia Nixon Paradox: Can Democrats Overcome Their Political Schizophrenia By November?
Polarization makes a lot of decisions easier, because all you have to do is pick a team and follow the rules. That's true in matters of both culture and politics, and every week seems to reveal yet more personalities, once lively and independent, who've joined the ranks of the pod people. But if, on some fronts, we're more predictable than ever, on others we're somehow less predictable than ever. For all the polling and analysis—and this week it's over the confirmation of Supreme Court nominee Brett Kavanaugh—we're still mystified by the public mood. What do Americans really want or care about? We seem to have barely a clue.
All of this guarantees that the 2020 race will be an amazing spectacle, as each candidate tests out a different formula for the age. We're likely to see not only perpetual campaigners Elizabeth Warren, Kamala Harris, and Cory Booker, but also Bernie Sanders, Joe Biden, and lesser-known governors. Spicing things up could be Michael Avenatti, a Hyde-like celebrity composed of Resistance id, and Jamie Dimon, the financier, who seems to think that the sycophancy that surrounds him represents a meter reading of public sentiment. One can only hope that Michael Bloomberg also joins the mix, as is now rumored. At least a few will unleash the Jeb Effect—what is seen when someone of high societal status requests public support, and instead harvests every available humiliation. But whose formula turns out to be least wrong, we cannot remotely say.
Is there anything Americans can still agree on across political lines, something that looks roughly the same to everyone? There have been a few surprising—or at least unexpected—moments that have been gratifying. We are apparently united in believing the following: 1) That the killing of Botham Jean, a young man shot in his own apartment by a Dallas cop who mistook him for an intruder, was a criminal act, made even more outrageous by subsequent leaks of irrelevant information about the victim possessing marijuana. 2) That Geoffrey Owens, formerly of The Cosby Show, should not have been shamed—if anything should have been applauded—for working at Trader Joe's. It's not a lot, but we must take our moments of unity when we can find them. Otherwise, it's back to resentment, confusion, and a crazy political show that we sometimes can pretend to enjoy, and sometimes can't. https://www.vanityfair.com/news/2018/09/can-democrats-overcome-their-political-schizophrenia-by-november
4. Maureen Dowd: Sick to Your Stomach? #MeToo
It has been almost exactly 27 years since the Anita Hill-Clarence Thomas hearings, and we are still defensively explaining — including to our troglodyte president — why women do not always tell the authorities about verbal and physical sexual assaults, why they bury episodes or try to maneuver past them.
We are still watching a bookish university professor from the West, who tried to anonymously report an alleged blight on the character of a man about to ascend to a lifetime of power, get smeared as a demanding, mixed-up, uptight, loony fantasist.
Like Eve with the apple, she schemed to "come out of the night like a missile and destroy a man," as Republican Senator Alan Simpson said of Hill.
We are still watching on the Republican side of the panel an all-white male chorus — two of these singers were there tormenting Hill three decades ago — plotting to win at all costs.
Post #MeToo, the Republicans know they have to be more careful on the surface. Their wet work to discredit Christine Blasey Ford will have to be outsourced and done mostly outside the hearing room; consider the sordid, outrageous attempt by Ed Whelan — a friend of Brett Kavanaugh's who heads a prominent conservative think tank on, ahem, ethics — to throw suspicion on a look-alike classmate at Georgetown Prep. Backed by the Swift Boat p.r. slimers, as Politico reported, Whelan even tweeted a floor plan to the house the student grew up in.
Dr. Blasey is dealing with some demonic forces not in play with Professor Hill: a vicious partisan internet that drove her out of her house and being discredited not merely by the White House but personally by a president who has bragged on tape about his history of sexual assault, who has consistently defended predators such as Roger Ailes, Bill O'Reilly and Roy Moore, and who is advised by the same man who enabled Ailes's loathsome behavior at Fox News.
We haven't forgotten our history. But we still seem doomed to repeat it. https://www.nytimes.com/2018/09/22/opinion/sunday/kavanaugh-christine-blasey-ford-anita-hill-clarence-thomas.html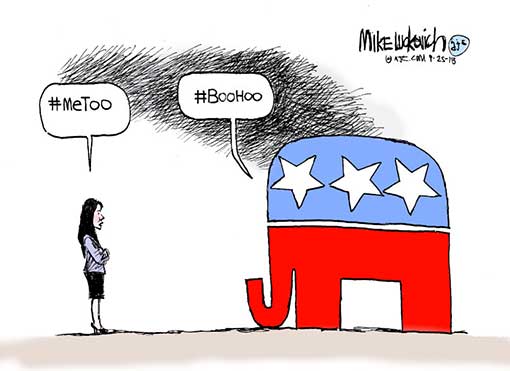 5. Anita Hill: How to Get the Kavanaugh Hearings Right
There is no way to redo 1991, but there are ways to do better.
The facts underlying Christine Blasey Ford's claim of being sexually assaulted by a young Brett Kavanaugh will continue to be revealed as confirmation proceedings unfold. Yet it's impossible to miss the parallels between the Kavanaugh confirmation hearing of 2018 and the 1991 confirmation hearing for Justice Clarence Thomas. In 1991, the Senate Judiciary Committee had an opportunity to demonstrate its appreciation for both the seriousness of sexual harassment claims and the need for public confidence in the character of a nominee to the Supreme Court. It failed on both counts.
As that same committee, on which sit some of the same members as nearly three decades ago, now moves forward with the Kavanaugh confirmation proceedings, the integrity of the court, the country's commitment to addressing sexual violence as a matter of public interest, and the lives of the two principal witnesses who will be testifying hang in the balance. Today, the public expects better from our government than we got in 1991, when our representatives performed in ways that gave employers permission to mishandle workplace harassment complaints throughout the following decades. That the Senate Judiciary Committee still lacks a protocol for vetting sexual harassment and assault claims that surface during a confirmation hearing suggests that the committee has learned little from the Thomas hearing, much less the more recent #MeToo movement.
In 1991, the phrase "they just don't get it" became a popular way of describing senators' reaction to sexual violence. With years of hindsight, mounds of evidence of the prevalence and harm that sexual violence causes individuals and our institutions, as well as a Senate with more women than ever, "not getting it" isn't an option for our elected representatives. In 2018, our senators must get it right. https://www.nytimes.com/2018/09/18/opinion/anita-hill-brett-kavanaugh-clarence-thomas.html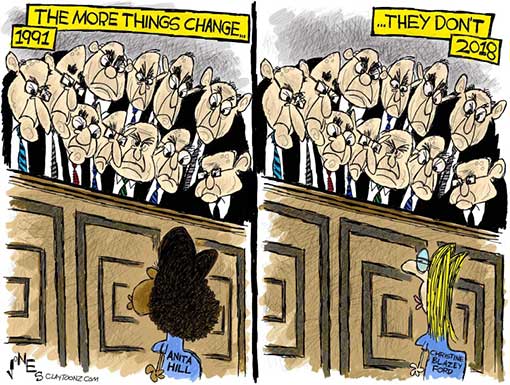 6.  Scott Shane and Mark Mazzetti: The Plot to Subvert an Election. Unraveling the Russia Story So Far
On an October afternoon before the 2016 election, a huge banner was unfurled from the Manhattan Bridge in New York City: Vladimir V. Putin against a Russian-flag background, and the unlikely word "Peacemaker" below. It was a daredevil happy birthday to the Russian president, who was turning 64.
In November, shortly after Donald J. Trump eked out a victory that Moscow had worked to assist, an even bigger banner appeared, this time on the Arlington Memorial Bridge in Washington: the face of President Barack Obama and "Goodbye Murderer" in big red letters.
Police never identified who had hung the banners, but there were clues. The earliest promoters of the images on Twitter were American-sounding accounts, including @LeroyLovesUSA, later exposed as Russian fakes operated from St. Petersburg to influence American voters.
The Kremlin, it appeared, had reached onto United States soil in New York and Washington. The banners may well have been intended as visual victory laps for the most effective foreign interference in an American election in history.
For many Americans, the Trump-Russia story as it has been voluminously reported over the past two years is a confusing tangle of unfamiliar names and cyberjargon, further obscured by the shout-fest of partisan politics. What Robert S. Mueller III, the special counsel in charge of the investigation, may know or may yet discover is still uncertain. President Trump's Twitter outbursts that it is all a "hoax" and a "witch hunt," in the face of a mountain of evidence to the contrary, have taken a toll on public comprehension.
But to travel back to 2016 and trace the major plotlines of the Russian attack is to underscore what we now know with certainty: The Russians carried out a landmark intervention that will be examined for decades to come. Acting on the personal animus of Mr. Putin, public and private instruments of Russian power moved with daring and skill to harness the currents of American politics. Well-connected Russians worked aggressively to recruit or influence people inside the Trump campaign.
To many Americans, the intervention seemed to be a surprise attack, a stealth cyberage Pearl Harbor, carried out by an inexplicably sinister Russia. For Mr. Putin, however, it was long-overdue payback, a justified response to years of "provocations" from the United States.
And there is a plausible case that Mr. Putin succeeded in delivering the presidency to his admirer, Mr. Trump, though it cannot be proved or disproved. In an election with an extraordinarily close margin, the repeated disruption of the Clinton campaign by emails published on WikiLeaks and the anti-Clinton, pro-Trump messages shared with millions of voters by Russia could have made the difference, a possibility Mr. Trump flatly rejects. https://www.nytimes.com/interactive/2018/09/20/us/politics/russia-interference-election-trump-clinton.html
7. Jonathan Chait: The Trump Tax Cuts Did One Thing: Give Rich People More Money
A tax cut has a big first-order effect: the people whose taxes are reduced have more money, and the government has less. Since both of these — more inequality and higher deficits — are generally regarded as bad things, Republicans habitually dismiss them, and instead focus on second-order effects they predict will happen. The supply-side economic theory favored by most Republicans holds that rich people are exquisitely sensitive to tax rates, and their willingness to work or invest rises and falls dramatically in response even to small changes in tax rates.
In the ten months that have passed since Trump signed the tax cuts into law, the second-order effects have been undetectable. Nothing bad has happened to the economy; on the other hand, nothing especially good has happened, either. Growth and wages have tracked at about the same pace as before Trump took office. Republicans built a messaging campaign around one quarter of 4 percent growth, which they treated as unprecedented and now permanent development, ignoring the fact that the economy produced several such quarters under the Obama administration.
The Trump administration's favorite rationale for cutting corporate tax cuts held that a lower rate would encourage American companies to bring back trillions of dollars in cash that they had stashed overseas. "Over $4 [trillion], but close to $5 trillion, will be brought back into our country," promised Trump last month.
There is no sign of any such thing happening. The Wall Street Journal has conducted a review of the public filings of "108 publicly traded companies accounting for the vast majority of an estimated $2.7 trillion in profits parked abroad," and asked each company what it was doing with the funds. The total amount of repatriation so far? $143 billion.
The main measurable impact of the Trump tax cut a large lump-sum wealth transfer to business owners. http://nymag.com/daily/intelligencer/2018/09/trumps-tax-cuts-did-one-thing-give-rich-people-more-money.html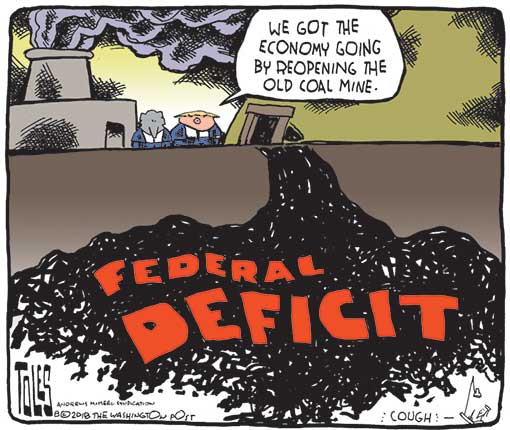 8. Sahil Kapur and Joshua Green: Internal GOP Poll: 'We've Lost the Messaging Battle' on Tax Cuts
A survey commissioned by the Republican National Committee has led the party to a glum conclusion regarding President Donald Trump's signature legislative achievement: Voters overwhelmingly believe his tax overhaul helps the wealthy instead of average Americans.
By a 2-to-1 margin — 61 percent to 30 percent — respondents said the law benefits "large corporations and rich Americans" over "middle class families," according to the survey, which was completed on Sept. 2 by the GOP firm Public Opinion Strategies and obtained by Bloomberg News.
The result was fueled by self-identified independent voters who said by a 36-point margin that large corporations and rich Americans benefit more from the tax law — a result that was even more lopsided among Democrats. Republican voters said by a 38-point margin that the middle class benefits more.
This information is contained in a slide under the title, "But, we've lost the messaging battle on the issue." Indeed they have — they lost both to the Democrats and to reality. https://www.bloomberg.com/news/articles/2018-09-20/internal-gop-poll-we-ve-lost-the-messaging-battle-on-tax-cuts
9. Ruth Marcus: The tax bill is the worst domestic policy legislation in a lifetime
The reality is not in dispute. Around two-thirds of the benefits of the tax cuts went to those in the top quintile of taxpayers, with about 20 percent of the benefits going to the richest 1 percent. By 2025, when the cuts are fully phased in, the top 1 percent will get 25 percent of the benefits. (See details here.) The centerpiece of the plan, furthermore, was a gigantic corporate tax cut. Republicans promised that this cut would produce a wave of investment and wage increases for workers, but so far the only wave that has resulted is a tsunami of stock buybacks benefiting wealthy shareholders, which is exactly what liberals predicted.
If you're going to pass a huge tax cut whose benefits go mostly to corporations and the wealthy, it would seem almost inevitable that it won't be popular. But Republicans were so convinced of the righteousness of their cause that they convinced themselves that the public would simply have to agree with them.
Even though it didn't work out that way, don't think Republicans have any regrets. They knew that if they did nothing else in the first two years of Trump's presidency, they would cut taxes. Having accomplished that goal, many of them, like House Speaker Paul D. Ryan (R-Wis.), are saying their work is done and leaving Congress.
And I promise you that if they lose power in this election or in 2020, the next time Republicans manage to gain control of both the White House and the Congress, the first thing they'll do is cut taxes. It's their nature. Whether the public wants it or not. https://www.washingtonpost.com/blogs/plum-line/wp/2018/09/21/republicans-stunned-to-learn-voters-understand-exactly-what-their-tax-cut-did/?utm_term=.53f6dc3a0c9f
10. Wesley K. Clark: John Bolton is dead wrong. The U.S. has every reason to cooperate with the International Criminal Court
National security adviser John Bolton issued a searing condemnation this week of the International Criminal Court. Not only did he declare that the U.S. government would refuse to cooperate with it, but — extraordinarily — he also threatened its leadership and those working with it.
He was responding to an announcement made late last year by ICC prosecutor Fatou Bensouda, who filed a request with the court's judges to authorize her to investigate the United States' actions in Afghanistan 15 years ago, along with actions of the Taliban and Afghan national security forces. Bolton — and many others — argue that such an investigation would threaten our service members and our ability to prosecute our war on al-Qaeda, the Islamic State and other terrorist groups.
That view couldn't be more wrong. In fact, this is the perfect opportunity to use the court to strengthen our fight against terrorists as well as our overall national security. And we can do this while still protecting our national sovereignty and military and intelligence personnel.
International law protects not only noncombatants, but also our own military forces. We, the United States, helped strengthen it after World War II and the Vietnam War. Even in the 1990s we participated in outlawing blinding laser weapons and torture. During the Yugoslav wars, we saw how fear of prosecution deterred even more hideous war crimes, and how the indictment of Serbian President Slobodan Milosevic by the International Criminal Tribunal for the former Yugoslavia in 1999 was one of the decisive blows ending the conflict in Kosovo. I know, because I was part of this effort.
It was only natural that many nations would come together to seek a permanent investigatory and judicial arm that could further deter and restrain the horrors of warfare between or within nations. This was the International Criminal Court. After agonizing internal debate, the Clinton administration refused to embrace the final text of the Rome Statute, its treaty framework, in 1998. But in 2000 we signed the Rome Statute because progress had been made and we believed in the potential of the Court. Although the United States never ratified the treaty, 123 nations, including most of our major allies, have joined the court. It has been operating since 2002. https://www.washingtonpost.com/news/global-opinions/wp/2018/09/21/john-bolton-is-dead-wrong-the-u-s-has-every-reason-to-cooperate-with-the-international-criminal-court/
11. John Cassidy: The Other Problem With Brett Kavanaugh's Supreme Court Nomination: Privilege
As Brett Kavanaugh's nomination to the Supreme Court approaches a dramatic finale, public attention is rightly focussed on Christine Blasey Ford's allegation that he sexually assaulted her at a high-school party. The idea that members of the "law-and-order party" would appoint someone to the highest court in the land while he is facing an accusation of this nature, and before it has been fully investigated, is outrageous. And what's doubly outrageous is that such special treatment should be afforded to a man whose entire life is testimony to the enduring advantages of America's social élite.
If the Senate Republicans go ahead and confirm him next week, or shortly thereafter, it will be the second time in eighteen months that a graduate of Georgetown Preparatory School, one of the most exclusive private prep schools in the country, has been elevated to the Supreme Court. In a sprawling country of three hundred and twenty-eight million people that likes to see itself as a land of equal opportunity, this would be a mockery. https://www.newyorker.com/news/our-columnists/how-brett-kavanaughs-hobbled-nomination-puts-american-privilege-on-trial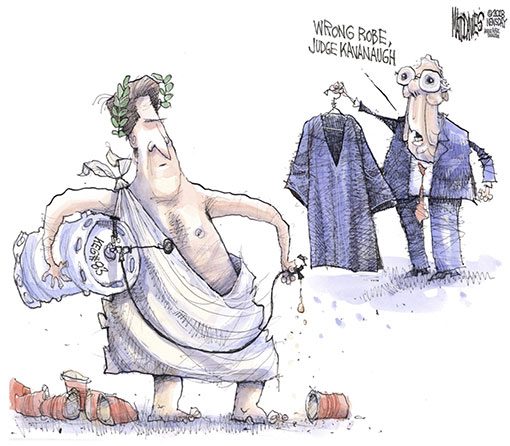 12. Jane Mayer: How Russia Helped Swing the Election for Trump
Donald Trump has adopted many contradictory positions since taking office, but he has been unwavering on one point: that Russia played no role in putting him in the Oval Office. Trump dismisses the idea that Russian interference affected the outcome of the 2016 election, calling it a "made-up story," "ridiculous," and "a hoax." He finds the subject so threatening to his legitimacy that—according to "The Perfect Weapon," a recent book on cyber sabotage by David Sanger, of the Times—aides say he refuses even to discuss it. In public, Trump has characterized all efforts to investigate the foreign attacks on American democracy during the campaign as a "witch hunt"; in March, he insisted that "the Russians had no impact on our votes whatsoever."
Politicians may be too timid to explore the subject, but a new book from, of all places, Oxford University Press promises to be incendiary. "Cyberwar: How Russian Hackers and Trolls Helped Elect a President—What We Don't, Can't, and Do Know," by Kathleen Hall Jamieson, a professor of communications at the University of Pennsylvania, dares to ask—and even attempts to answer—whether Russian meddling had a decisive impact in 2016. Jamieson offers a forensic analysis of the available evidence and concludes that Russia very likely delivered Trump's victory.
The book, which is coming out less than two months before the midterm elections, at a moment when polls suggest that some sixty per cent of voters disapprove of Trump, may well reignite the question of Trump's electoral legitimacy. The President's supporters will likely characterize the study as an act of partisan warfare. But in person Jamieson, who wears her gray hair in a pixie cut and favors silk scarves and matronly tweeds, looks more likely to suspend a troublemaker than to be one. She is seventy-one, and has spent forty years studying political speeches, ads, and debates. Since 1993, she has directed the Annenberg Public Policy Center, at Penn, and in 2003 she co-founded FactCheck.org, a nonpartisan watchdog group. She is widely respected by political experts in both parties, though her predominantly male peers have occasionally mocked her scholarly intensity, calling her the Drill Sergeant. As Steven Livingston, a professor of political communication at George Washington University, puts it, "She is the epitome of a humorless, no-nonsense social scientist driven by the numbers. She doesn't bullshit. She calls it straight."
Her case is based on a growing body of knowledge about the electronic warfare waged by Russian trolls and hackers—whom she terms "discourse saboteurs"—and on five decades' worth of academic studies about what kinds of persuasion can influence voters, and under what circumstances. Democracies around the world, she told me, have begun to realize that subverting an election doesn't require tampering with voting machines. Extensive studies of past campaigns, Jamieson said, have demonstrated that "you can affect people, who then change their decision, and that alters the outcome." She continued, "I'm not arguing that Russians pulled the voting levers. I'm arguing that they persuaded enough people to either vote a certain way or not vote at all." https://www.newyorker.com/magazine/2018/10/01/how-russia-helped-to-swing-the-election-for-trump
13. David Leonhardt: The Supreme Court Is Coming Apart
The Supreme Court is in trouble. And the issues are much larger than the mess of Brett Kavanaugh's confirmation. Absent some kind of course correction, the court risks a crisis of legitimacy.
There are two fundamental problems. The first is that the court has become an intensely partisan institution that pretends otherwise.
The founders envisioned the justices as legal sages, free from the political scrum. They receive lifetime appointments to protect their independence. The justices themselves cherish this image. John Roberts, the chief justice, has famously equated himself with an umpire who merely calls balls and strikes. The comparison is meant to suggest that justices don't have their own opinions: They just follow the law.
But this is laughable. In almost every major decision last term — and many others over the past decade — the justices divided neatly along partisan lines. The five justices chosen by a Republican president voted one way, and the four chosen by a Democrat voted the other. If the justices are umpires, it sure is strange that Republican and Democratic umpires use vastly different strike zones.
This partisanship has turned each court vacancy into a pitched battle. It's why Republican senators took the extreme step of denying Barack Obama the ability to fill a seat. It's why the Kavanaugh fight feels so momentous. It's why liberals care so much about Ruth Bader Ginsburg's health.
The second major threat to the court comes from the radicalness of Republican-appointed justices.
It's true that the Democratic-appointed justices are more reliably liberal than in the past. There are no more conservatives like Byron White (a John Kennedy appointee) or Felix Frankfurter (a Franklin Roosevelt appointee). But the court's Democrats still range from moderate to progressive. Stephen Breyer is only somewhat to the left of White and well to the right of Sonia Sotomayor, academic analysis shows. Merrick Garland, Obama's jilted nominee, was also a moderate.
There are no more Republican moderates. With Anthony Kennedy gone, every Republican justice is on the far end of the spectrum — among the most conservative since World War II. Kavanaugh would almost certainly join them, as would any other Trump nominee. https://www.nytimes.com/2018/09/23/opinion/columnists/supreme-court-brett-kavanaugh-partisan-republicans.html
14. Joel Mathis: Trump, Rosenstein, and the inevitable end of the Mueller probe
It should be astonishing that the president could and would order an end to the investigation of his activities. During normal times, that would be a signal to Congress to step forward and exercise its check-and-balance role on the White House, either through impeachment or some other method. The Republican-held House and Senate, however, have long since demonstrated their disinterest in restraining Trump.Which means that if Mueller is sidelined, it will fall to voters in November — and whether they choose to replace those GOP majorities — to make the ultimate decision about Trump's fate.
There are those who will argue that Rosenstein's exit would amount to the Trump administration's version of the "Saturday Night Massacre," when Richard Nixon tried to undermine the Watergate investigation by firing a special prosecutor, only to cause the attorney general and deputy attorney general to resign.
But the truth is that the Trump administration has been All Massacre, All The Time since the Russia investigation began. The Department of Justice leadership has been undermined and decapitated by the president ever since — the firings of FBI Director James Comey and, later, Deputy FBI Director Andrew McCabe, the constant public belittling of Sessions, and his clear contempt for Rosenstein have brought us to this moment. We don't yet know if Trump's attempt to restock the DOJ with loyalists has had its desired effect, but the intent is nonetheless clear. http://theweek.com/articles/797812/trump-rosenstein-inevitable-end-mueller-probe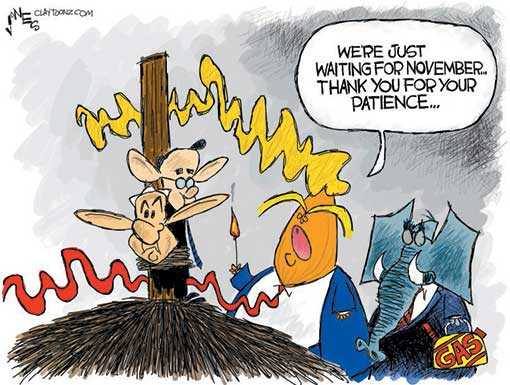 15. Ed Kilgore: Trump Just Can't Stop Himself From Sliming Kavanaugh's Accusers
On the same day that he treated the United Nations General Assembly to its own special Trump rally in a speech that drove the usually staid gathering of diplomats and bureaucrats to laughter, the president went off at impressive length about the allegations against Brett Kavanaugh during a press conference at the U.N. with the Colombian president Iván Duque Márquez. Here's the full video of Trump's not-so-pithy remarks:
To make the long story short, the president attacked both the women who have accused Brett Kavanaugh of sexual assault of being part of a "con" orchestrated by Democrats. Emily Stewart nicely summarizes the presidential take:
He seems to have been thinking of his own experience with accusations of abuse — not an uncommon phenomenon with Trump, to be sure, but one that indicates why he is taking Kavanaugh's plight so personally:
As Stewart notes, just a week ago Trump was careful to say that Ford deserved a hearing for her allegations. Now "the wheels are off the bus for the president," and he's dripping with contempt that the veracity of this obscure woman Deborah Ramirez should be compared to that of a "high-quality person" like Kavanaugh:
f it occurred to Trump that this line of attack would by association drag his Supreme Court nominee down into the misogynistic muck in which he has spent so much of his own life, it did not deter him. Neither of the possible explanations for this outburst is very comforting. The first is that he literally can't stop himself from going off message and personally attacking those who would dare mess up his plans to reward the Christian right and the conservative legal movement with this Supreme Court nomination. The second is that the administration and the GOP have decided to join conservative activists and media in turning Kavanaugh's confirmation into a holy war designed to inflame the conversation and energize conservative base voters now and in November.
We should have a better indication of why Trump keeps intervening in the Kavanaugh fight with increasingly incendiary remarks if the pattern continues in the run-up to Thursday's dramatic Judiciary Committee hearings, and if his party follows his lead with a turn to the dark side. http://nymag.com/daily/intelligencer/2018/09/trump-cant-stop-himself-from-sliming-kavanaughs-accusers.html