February 1, 2018
ON THE RECORD. . .
"The fact is — you people won't say this, but I'll say it: I was a much better candidate than her. You always say she was a bad candidate. You never say I was a good candidate. I was one of the greatest candidates. Nobody else would have beaten the Clinton machine, as crooked as it was. But I was a great candidate. Someday you're going to say that." — Trump
"Bring it,. Your racist political stunts are getting old and will not work on us." -- Lieutenant governor, Gavin Newsom hitting back on Twitter over Sessions' latest tactic, which is to subpoena 23 sanctuary cities for documents about their communications with federal agencies.
Trump: I think a lot of the people in your country like what I stand for, they respect what I stand for, and I do stand for tough borders.

Piers Morgan: To those who don't, what do you say to them?

Trump: I don't care. I don't care. It's just one of those things. I don't say anything. You know why? Because I don't care.
"Fake news, folks, fake news. Typical New York Times, fake story." -- Trump response to a Reporter at the World Economic Forum in Davos who asked "Did you seek to fire Mueller?" Switzerland
"I regret things that I did that brought embarrassment to myself, my family, friends of mine who have been very big supporters." — Former White House press secretary Sean Spicer
"I think there was a lot of false equivalence in the 2016 campaign. That every time we said something, pointed out something about Donald Trump — whether it was his business interests, or grab 'em by the pussy, we felt like, 'Oh, we gotta, like, talk about — we gotta say something bad about Hillary.' And I think it led to a sense of false equivalence that was misleading, and I regret my role in doing that." — CNN legal analyst Jeffrey Toobin
"The evangelical base is about as solid as I've seen for any sitting president. By and large, they're focused on results, and they're willing to overlook any perceived imperfections in the president." — Republican consultant Marc Rotterman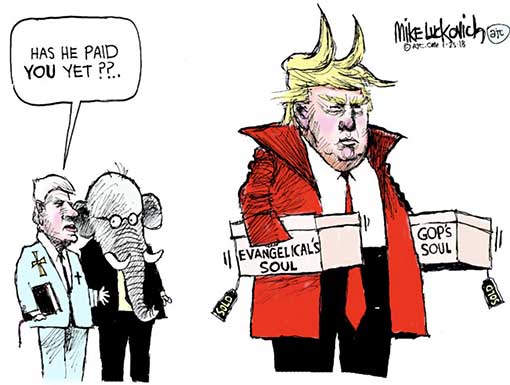 As a Member of the House Judiciary Committee, I read the partisan, classified Nunes House Intel memo. I can't talk about it. However, here's an analogy. Remember Geraldo Rivera and the infamous Mystery of Al Capone's Vaults? It's like that, but Geraldo Rivera has more integrity. -- Ted Lieu✔ e@tedlieu
"He cheats like hell… so I don't quite know how he is in business. They say that if you cheat at golf, you cheat at business. I'm pretty sure he pays his caddie well, since no matter how far into the woods he hits the ball, it's in the middle of the fairway when we get there." — Norwegian golf ace Suzann Pettersen, in an interview with VG, on playing golf with Donald Trump. 
"Here's an important reminder: The investigation into Russia's meddling in the 2016 election — and its ties to the Trump campaign — is real. And everything we've learned over the past year has only confirmed that reality… Indeed, there hasn't been one development that has lessened suspicion of Russia's ties and contacts to the Trump campaign during the 2016 election." -- First Read
"Special Agent Andrew McCabe stood tall over the last 8 months, when small people were trying to tear down an institution we all depend on. He served with distinction for two decades. I wish Andy well. I also wish continued strength for the rest of the FBI. America needs you." — Former FBI Director James Comey, on Twitter, reacting to the ouster of Deputy FBI Director Andrew McCabe.
Today, Congressman Paul Gosar contacted the U.S. Capitol Police, as well as Attorney General Jeff Sessions, asking they consider checking identification of all attending the State of the Union address and arresting any illegal aliens in attendance. -- Rep. Paul Gosar DDS@RepGosar, responding to news that some Democrats are planning to bring DREAMers to the State of the Union speech.
This administration isn't just targeting the laws that protect us,. They're targeting the very idea that we are all worthy of protection. For them, dignity isn't something you're born with, but something you measure by your net worth, your celebrity, your headlines, your crowd size." -- Rep. Joe Kennedy III (D-MA), Democrat's SOTU response.
---
IN THIS ISSUE
FYI
OPINION
1. The Borowitz Report: Trump Collapses From Exhaustion After Ninety Minutes of Faking Empathy
Donald J. Trump collapsed from exhaustion after approximately ninety minutes of pretending to be a human being with empathy, the White House doctor has confirmed.

"In all my years of practicing medicine, I have never met a patient as healthy and vigorous as President Trump," Dr. Ronny Jackson said. "But the sustained effort of simulating compassion proved too much for someone who has never exercised that part of his brain before."

Shortly after Trump spent a gruelling ninety minutes pretending to care about immigrants, the unemployed, and other people whom he normally dismisses as losers, aides noticed that he was turning from a bright orange to a slightly paler orange before crumpling to the ground in a giant heap.

"If you have never spent a moment thinking about a human being besides yourself, imagine trying to pretend you are doing that for a solid ninety minutes," Jackson said. "It's physically punishing."  https://www.newyorker.com/humor/borowitz-report/
2. Rebranding Obama's Economy
When he took office, President Trump painted a bleak picture of a country ravaged by economic turmoil, a landscape of "American carnage," as he so memorably put it. A year later, he presented the nation on Tuesday night with a different narrative, one of a booming economy and a "new American moment."
Never mind that in some fundamental ways the economy is growing no faster than it did at points during President Barack Obama's second term. Mr. Trump is at heart a salesman, and he rarely lets details get in the way of a good story. And by some measures, he has managed to convince many Americans, especially corporate leaders, that the economy really is surging in a way it has not for years.  https://www.nytimes.com/2018/01/30/us/politics/president-trump-sotu.html
3. Even now, Republicans are ignoring the storm clouds
We learned this week that President Trump in June ordered the firing of special counsel Robert S. Mueller III, but few Republicans on Capitol Hill bothered to raise an eyebrow. In more settled times, this kind of presidential assault on an independent investigation would have stirred grave concerns throughout the halls of Congress. But Trump's corrupted coalition has instead trotted out one twisted conspiracy theory after another, all designed to distract the president's most fevered fans and concoct a case against Mueller's investigation."
Wild tales of secret societies, Obama wiretaps and 'deep-state' conspiracies flow freely from the tongues of Trump apparatchiks. Those preposterous narratives are then spread across cable news networks and inside Capitol Hill cloakrooms. -- Joe Scarborough  https://www.washingtonpost.com/opinions/even-now-republicans-are-ignoring-the-storm-clouds/2018/01/26/a6b727e6-02d9-11e8-8acf-ad2991367d9d_story.html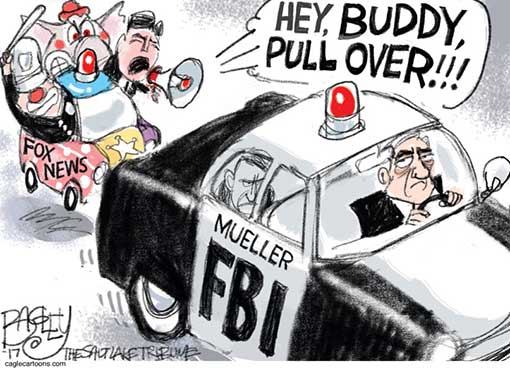 4. Trump Launched Campaign to Discredit Potential FBI Witnesses
President Trump "pressed senior aides last June to devise and carry out a campaign to discredit senior FBI officials after learning that those specific employees were likely to be witnesses against him as part of special counsel Robert Mueller's investigation.
In testimony to the Senate Intelligence Committee on June 8, recently fired FBI Director James Comey disclosed that he spoke contemporaneously with other senior bureau officials about potentially improper efforts by the president to curtail the FBI's investigation of alleged collusion between the Trump campaign and Russia to interfere in the 2016 U.S. presidential election.  http://foreignpolicy.com/2018/01/26/trump-launched-campaign-to-discredit-potential-fbi-witnesses/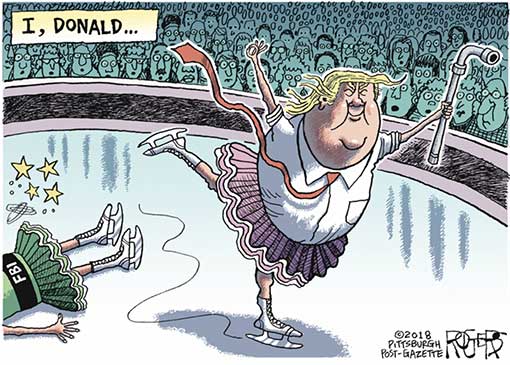 5. Trump's latest interview shows he's not really the president
President Trump's first non-Fox television interview in a long time, conducted with CNBC's Joe Kernen from Davos, Switzerland, is in many respects weirdly devoid of substance. And much of the substance that's there consists of misstatements of fact.
But lurking in that is an important insight: Trump is holding the office of president, but he's not doing the job of president. He seems to have no real idea what's going on, even with his own signature policy moves.
Listening to him talk is interesting from an entertainment perspective (he did once host a popular television show), but it conveys no information about the world, the American government, or the Trump administration's policies. If Kernen wanted to help his viewers understand what's going on, he'd have been better off interviewing someone else. -- Matthew Yglesias  https://www.vox.com/policy-and-politics/2018/1/26/16936802/trump-not-really-president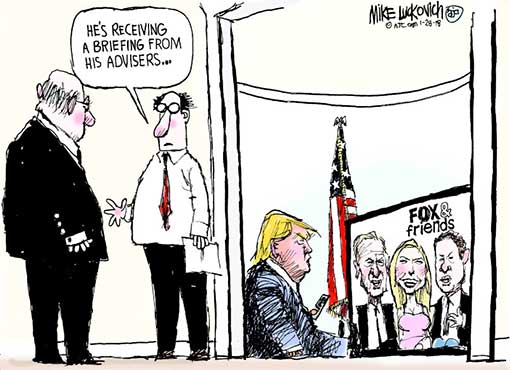 6. The DAILY GRILL
SOTU - Fact vs. Fiction:  http://www.politifact.com/truth-o-meter/article/2018/jan/30/fact-checking-donald-trumps-2018-state-union-speec/

"Just as I promised the American people from this podium 11 months ago, we enacted the biggest tax cuts and reforms in American history."

VERSUS

It is False that the tax-cut package passed in December is the largest cut ever, as Trump has repeatedly claimed. In inflation-adjusted dollars, the recent tax bill is the fourth-largest since 1940. And as a percentage of GDP, it ranks seventh.

 

"After years of wage stagnation, we are finally seeing rising wages."

VERSUS

We rated Trump's claim Mostly False. By the most common measure, wages did go up for the first three quarters of Trump's presidency, but they fell in the fourth, wiping out all the gains on his watch and then some. His assertion also ignores that wages — by two different measurements — began their climb during the final years of Obama's presidency.

 

"The third pillar ends the visa lottery — a program that randomly hands out green cards without any regard for skill, merit, or the safety of American people."

VERSUS

We rated Trump's claim False. While lottery applicants are randomly selected, they must meet education and work experience requirements. They must also be vetted by the United States government before being allowed to come to the United States.

 

"In the past, we have foolishly released hundreds and hundreds of dangerous terrorists, only to meet them again on the battlefield — including the ISIS leader, al-Baghdadi, who we captured, who we had, who we released."

VERSUS

We rated this statement Mostly False. Trump overstated the number of prisoners released from Guantanamo, who were confirmed to have re-engaged in some type of terrorist activity. That number is 122, not "hundreds and hundreds."

 

"We have ended the war on American Energy and we have ended the war on beautiful clean coal. We are now, very proudly, an exporter of energy to the world."

VERSUS

We rated this claim Mostly False. The United States remains a net energy importer, a situation that's not expected to change until midway through the next decade.

 

"It's just so anti-American. I mean, it's just — where's the unity?" -- "Fox & Friends" host Ainsley Earhardt suggesting without evidence that the New York Times sat for six months on last week's report that President Trump tried to fire special counsel Robert S. Mueller III in June 2017.

VERSUS

"We published the story as soon as our reporters were able to confirm the facts. 'Fox & Friends should try it sometime." -- New York Times' statement

 

At Monday's White House briefing, Sanders said: "We spend more time on that than we do any other topic despite the fact that time and time again, poll after poll says that frankly no one cares about this issue (the Russia investigation}, and it's certainly not the thing that keeps people up at night." --  White House press secretary Sarah Huckabee Sanders

VERSUS

Nearly half — 49 percent — of Americans believe Trump tried to interfere with the Russia investigation in a way that amounts to obstruction of justice. And about a quarter — 26 percent — of Americans believe there is "solid evidence" supporting their belief. Half of Americans believe the Trump campaign colluded with Russia, according to the poll. That's not quite "no one." -- Post-ABC poll 

"Modern women can BE anything they want, including traditional women — as millions are fast becoming. Millennial women voters despised Hillary and cost her the election (and they weren't Russians!). I wonder why they despise her? One reason is they look at her personal life's wreckage and didn't want to become like her," -- Courtland Sykes,  one of four Republicans running to challenge Claire McCaskill in November.

VERSUS

Clinton outperformed Trump with all voters between the ages of 18 to 44 by double digits, according to exit polls that showed her at 53 percent with voters in that age range, compared to Trump's 39 percent. She also outperformed Trump with women of all age groups, 54 percent to 41 percent. --  Kansas City Star

 

"The ice caps were going to melt, they were going to be gone by now, but now they're setting records." --  Trump in an interview with Piers Morgan. Trump didn't specify the data behind his statement about setting records.

VERSUS

The amount of the Arctic Ocean frozen over in the coldest points of winter set a record low in 2017 and is declining faster than at any time in the past 1,500 years. -- NOAA, in its annual Arctic Report
7. I've Watched Trump Testify Under Oath. It Isn't Pretty.
I think the president's attorneys should grab their worry beads. Trump sued me for libel in 2006 for a biography I wrote, "TrumpNation," alleging that the book misrepresented his business record and understated his wealth. Trump lost the suit in 2011, but during the litigation my lawyers deposed him under oath for two days in 2007. We had the opportunity to ask Trump about his business and banking practices, his taxes, his personal finances and his professional relationships.
Trump ultimately had to admit 30 times that he had lied over the years about all sorts of stuff: how much of a big Manhattan real estate project he owned; the price of one of his golf club memberships; the size of the Trump Organization; his wealth; his speaking fees; how many condos he had sold; his debts, and whether he borrowed money from his family to avoid going personally bankrupt. He also lied during the deposition about his business dealings with career criminals.
Trump's poor performance stemmed in part from the fact that he was being interrogated by shrewd attorneys wielding his own business and financial records against him. But there were lots of other things that went wrong as well.
Trump is impatient and has never been an avid or dedicated reader. That's OK if you'd rather play golf, but it's not OK when you need to absorb abundant or complex details. Lawyers typically prepare binders full of documents for their clients to pore over prior to a deposition, hoping to steel them for an intense grilling. My lawyers did that prior to my own deposition in the Trump lawsuit. But Trump didn't appear to be well prepared when we deposed him, a weakness that my lawyers exploited (and that surely would as well).  https://www.bloomberg.com/view/articles/2018-01-25/i-ve-watched-trump-testify-under-oath-it-isn-t-pretty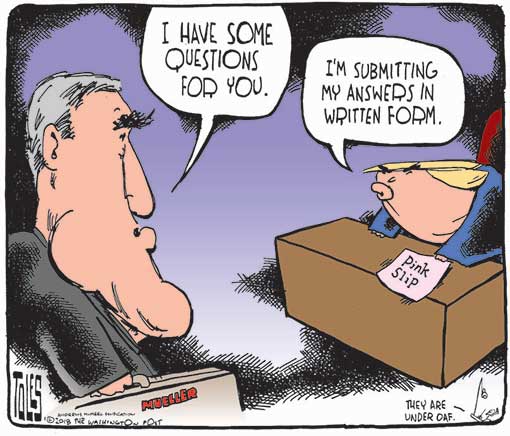 8. From MEDIA MATTERS (They watch Fox News so you don't have to)
"Secret society," "missing texts," and other salvos from the pro-Trump media's conspiracy war.  https://www.mediamatters.org/blog/2018/01/25/secret-society-missing-texts-and-other-salvos-pro-trump-medias-conspiracy-war/219164

Fox goes silent as its "secret society" conspiracy theory falls apart.  https://www.mediamatters.org/blog/2018/01/25/fox-goes-silent-its-secret-society-conspiracy-theory-falls-apart/219167

Sean Hannity immediately attacks FBI statement critical of Nunes memo. Hannity claims anonymous sources at the FBI told "the people at Fox" that nothing in the Nunes memo is inaccurate.  https://www.mediamatters.org/video/2018/01/31/sean-hannity-immediately-attacks-fbi-statement-critical-nunes-memo/219226
9. From the Late Shows
Stephen Goes Live After Trump's State Of The Union:  https://youtu.be/Tz5L-rNWZBs

Jimmy Kimmel on Stormy Daniels and Trump's State of the Union:  https://youtu.be/DAwr_zeGx2o

Trump's State of the Union: Not a Night for Facts: The Daily Show:  https://youtu.be/ZvkK8W03ymI

Jimmy Kimmel's FULL INTERVIEW with Stormy Daniels: https://youtu.be/Ntl5Da1vblI

The Late Show with Stephen Colbert: Trump Is In Switzerland And Melania Is Not:  https://youtu.be/hm62aaImpUE

George W. Bush Returns Cold Open - SNL:  https://youtu.be/lpkRFHSpvGI

Weekend Update on End of Government Shutdown - SNL:  https://www.youtube.com/watch?v=LAfY6gU-PhY
10. Late Night Jokes for Dems
President Trump gave his State of the Union address, and as per tradition, someone who opposes the president gave the rebuttal. So, this year's rebuttal was given by Melania. -- Conan O'Brien

President Trump's approval rating is above 50 percent in just a handful of states. Those states include Georgia, Mississippi, and Denial. -- Conan O'Brien

Trump said he now supports a plan for young immigrants to become citizens. When asked why, Trump said, "Because I may have to look for a new wife soon." -- Conan O'Brien

President Trump's State of the Union address was available to stream live. So, congrats to Logan Paul on no longer being worst thing on YouTube! -- Seth Meyers

I guess most of Trump's State of the Union address was written by his adviser, Stephen Miller. While the rest of Trump's presidency was written by Stephen King. -- Jimmy Fallon

At the beginning of the speech, he listed some of the natural disasters we've endured this year. [clip of Trump] "We have endured floods and fires and storms." And Stormys! Don't forget her! She was one of the most expensive disasters for you, personally. -- Stephen Colbert

"To everyone still recovering in Texas, Florida, Louisiana, Puerto Rico, and the Virgin Islands – everywhere — we are with you, we love you, and we always will pull through together, always." That is going to be a comforting message to the people of Puerto Rico, once they have electricity to turn on their TVs. -- Stephen Colbert

And he followed up on that: "If there is a mountain, we climb it. If there is a frontier, we cross it. If there is a challenge, we tame it. If there is an opportunity, we seize it." And if there's a burger, we eat it. If there's an immigrant, we deport it. If there's an investigation, we undermine it. -- Stephen Colbert
11. Errant court filing suggests feds had informant at Manafort firm
A document that former Trump campaign chairman Paul Manafort's attorneys appear to have accidentally filed in court Wednesday suggests that federal investigators had an informant inside Manafort's consulting firm who provided information about his financial dealings. https://www.politico.com/blogs/under-the-radar/2018/01/24/mueller-manafort-errant-court-filing-suggests-informant-367464
12. Seeing Through the Fog in the Mueller Russia Probe
If you direct your attention to the series of known cases when Trump officials have not told the truth to the F.B.I. and to Congress about Russian contacts, what emerges is a likely conspiracy on the part of Mr. Trump's inner circle to mislead federal officials.
We know that Trump campaign associates did not report to federal authorities their information about Russian efforts during the campaign, even after the F.B.I. urged Mr. Trump and his aides to alert the agency to any suspicious overtures. Far worse are the numerous instances in which Trump campaign officials either lied to federal officials or came perilously close.  https://www.nytimes.com/2018/01/25/opinion/trump-mueller-russia.html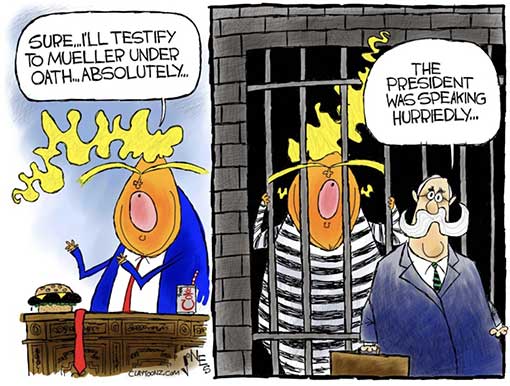 13. Jeb Bush warns Trump's character may drag down GOP in 2018 elections
Former Florida Gov. Jeb Bush (R) "warns that Republicans are in for a beating in the fall elections if congressional races focus on the rhetoric and character of President Trump.
If the election is nationalized and it's not about the economy, then we'll lose," Bush told USA TODAY as Trump prepares to deliver the State of the Union address rounding up his first year in office. "If it's about the economy and it's driven by state or district interest, incumbents can do well.
Bush railed against reports that the president referred to Haiti, El Salvador and African nations as "shithole" countries. He criticized Trump's moves to isolate the U.S. from other global powers. And he decried the revolving door of staffers who have sullied the reputation of the White House on their way out the door.  https://www.usatoday.com/story/news/politics/2018/01/26/jeb-bush-warns-trumps-character-may-drag-down-gop-2018-elections/1067795001/
14. Koch network to spend about $20 million promoting GOP tax law 
After spending $20 million to push the tax-code overhaul through Congress, the influential Koch network is planning to spend up to another $20 million to educate the public about the benefits of the new law," the Washington Post reports.
The network views the education campaign, which will launch in February, as key to holding the Republican congressional majorities in the 2018 midterm elections.  https://www.washingtonpost.com/news/powerpost/wp/2018/01/27/koch-network-to-spend-up-to-20-million-promoting-gop-tax-law/
15. Donald Trump tells Theresa May he won't visit the UK unless she bans protests
President Trump is refusing to visit the UK unless Theresa May can ensure that he is not met with protests, the International Business Times reports.
May told the US president that that was how the UK media operated and she could do little to change it. Trump went on to say that he would not visit the UK unless there were guarantees that he would not be met with protests.  http://www.ibtimes.co.uk/donald-trump-tells-theresa-may-he-wont-visit-uk-unless-she-bans-protests-1656638
16. It's Mueller Time! (video)
https://video.twimg.com/ext_tw_video/924111999306313729/pu/vid/1280x720/rzsxXzUZlwXav1RJ.mp4
17. Trump again sues over property tax bill for Jupiter golf course
Donald Trump again has again sued the Palm Beach County Property Appraiser over the valuation of his Trump National Golf Club.
The suit marks the fifth year in a row that Trump has disputed the property tax bill for the 131-acre course along Donald Ross Road. Even as he fights the county's $19.7 million estimate, Trump's financial disclosures in 2016 and 2017 list the value of Trump National Golf Club in Jupiter as 'over $50 million.'"  https://www.palmbeachdailynews.com/business/trump-again-sues-over-property-tax-bill-for-jupiter-golf-course/W7ceVDmZuHslCxu3XcAnJK/
1. John Cassidy: Trump's Very Trumpian State of the Union Address
If Trump had leveled with the American people, he would have started out by acknowledging that the Union has seldom been more divided. More than half of you think that I am unfit for office, he would have said; about four in ten of you support me. Here in this chamber there are many who would like nothing more than to impeach me and drum me out office. Others are busy trying to prevent such a possibility. I want to thank Devin Nunes and his allies for spreading conspiracy theories and traducing the reputation of the F.B.I. on my behalf. And, to my enemies, I say, stop spreading fake news and get a life.
Rather than going down this route, Trump spent nearly an hour and a half boasting about his Administration's policy achievements, claiming to have spotted a "new American moment," and appropriating the U.S. flag. In a meeting with television anchormen earlier in the day, he had said, "I want to see the country united." But the bipartisan-outreach part of his address was confined to the very beginning, when he said, "Tonight I call upon all of us to set aside our differences, to seek out common ground, and to summon the unity we need to deliver for the people."
After he issued those bromides, Trump's idea of reaching across the aisle was describing at length how he cut corporate taxes and then saying, "We repealed the core of disastrous Obamacare—the individual mandate is now gone." On pending policy issues, particularly immigration, he gave away virtually nothing. Most of the Democrats in the audience sat stone-faced. Even the commentators on Fox News said, afterward, that it was a hard-line conservative speech.  https://www.newyorker.com/news/our-columnists/trumps-very-trumpian-state-of-the-union-address
2. Jonathan Chait: Trump's State of the Union Address Was Filled With False Boasts and Empty Promises
From the standpoint of the business lobby and anti-tax activists, Donald Trump's presidency is a rousing success. He has engineered a massive redistribution of resources toward owners of wealth using tax cuts and a series of pro-business regulations. This win for the rich is very real, and helps explain his party's increasingly unquestioning support for his agenda, personal corruption, and frequent abuses of power.
But Trump obviously also needs to sell his achievements to people who don't own or control businesses or very large inherited estates, claiming there are gains for them, too. Those claims — peppered throughout his State of the Union address, alternating with expressions of nationalism — are almost entirely phantasmal.
After depicting the American economy as a bleak wasteland before his election, Trump has rebranded it as a land of unimaginable prosperity, fueled by the hope inspired by his brilliant reforms. In fact, nothing has changed yet: Economic growth and job gains are running slightly behind the pace of Barack Obama's second term. (The economy created 214,000 jobs per month in Obama's second term, and 174,000 in Trump's first year.) Wages have risen at approximately the same level they did in 2016. It is possible that tighter labor markets will produce faster wage gains, or that the deficit spending Trump has enacted will help short-term growth accelerate. But his rhetoric of economic success is based on absolutely no actual accomplishments.  http://nymag.com/daily/intelligencer/2018/01/trumps-state-of-the-union-address-filled-with-false-boasts.html
3. Frank Bruni: The Fictitious State of Trump's Fantastical Union
The word that came to mind most often as I watched Donald Trump deliver his first State of the Union address was "pretend."
He pretends to be a statesman, and we're supposed to pretend that hundreds of vulgar and recklessly divisive moments before this — thousands, if we're adding tweets — don't negate that claim.
We're supposed to pretend that he gives a fig about decorum, though it disappears almost as soon as the teleprompter does. Above all, we're supposed to pretend that what he says today has any bearing on what he'll say tomorrow, when what he said yesterday contradicted it.
Our president lives in a world of sand and wind and make-believe, where the merest gust can alter the shape of everything, and Tuesday night's remarks — especially his appeal for "common ground" and his vision of "all of us together" as "one American family" — should be seen in that shifting, swirling, fantastical context.  https://www.nytimes.com/2018/01/30/opinion/trump-state-union-make-believe.html
4. Paul Krugman: Worse then Willie Horton
A lot of Trump's speech — and an even greater share of the emotional energy, since he seemed bored reciting misleading economic numbers — was devoted to lamenting a wave of violent crime by immigrants. Was this racist? Yes, of course. But saying that doesn't capture the full evil of what he was doing (and I use the term "evil" advisedly).
For he wasn't exaggerating a problem, or placing the blame on the wrong people. He was inventing a problem that doesn't exist, and using that imaginary problem to demonize brown people.
Racist dog-whistles are, of course, nothing new in American politics. Indeed, much of the rise of the modern, far-right GOP rested on the politics of racial division, with even "respectable" Republicans perfectly willing to exploit racial fear and hostility — most famously, Bush the elder's Willie Horton ad.
But here's the thing: back in the 70s and 80s there really was a crime wave, and a lot of it did involve blacks. That's no excuse for racism, let alone the cynical political exploitation of that racism. But at least the panic was about something real.
This time, by contrast, there is no crime wave — there have been a few recent bobbles, but many of our big cities have seen both a surge in the foreign-born population and a dramatic, indeed almost unbelievable, decline in violent crime.  https://www.nytimes.com/2018/01/31/opinion/worse-than-willie-horton.html
5. Fresno Bee Editorial: Rep. Devin Nunes, Trump's stooge, attacks FBI
What, pray tell, does Rep. Devin Nunes think he's doing by waving around a secret memo attacking the FBI, the nation's premier law enforcement agency?
He certainly isn't representing his Central Valley constituents or Californians, who care much more about health care, jobs and, yes, protecting Dreamers than about the latest conspiracy theory.
Instead, he's doing dirty work for House Republican leaders trying to protect President Donald Trump in the Russia investigation.
It's no accident that this latest attempt to discredit the FBI and distract the public is happening at the same time special counsel Robert Mueller's probe appears to be picking up steam – and focusing on possible obstruction of justice by the president.
Nunes of Tulare is sheltered in a relatively safe Republican district, and may believe he will pay no political price for unfairly attacking law enforcement and protecting Trump. But his performance as chairman of the highly sensitive House Intelligence Committee has been nothing short of embarrassing.  http://www.fresnobee.com/opinion/editorials/article196633904.html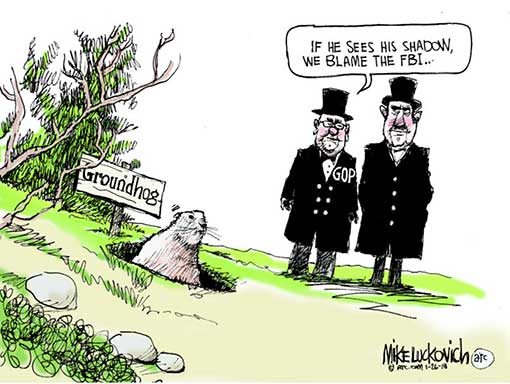 6. Tim Weiner: Donald Trump Wants to Fight the FBI? It's a Suicide Mission.
On Friday, April 27, 1973, a dozen armed FBI agents left their headquarters in the Old Post Office building — today a gilded Trump hotel — and marched up Pennsylvania Avenue. Waving their badges, they walked into the White House.
Their orders were to stand guard in the West Wing, wherein lay evidence of high crimes. "They're going to lock down and secure the business offices, including the president's," the special agent in charge of the FBI's Washington Field Office, Jack McDermott, told an astonished Secret Service man.
Caught in the web of Watergate, President Richard M. Nixon returned from Camp David and found a skinny young FBI man standing at attention down the hall from the Oval Office. Screaming in rage, he grabbed the agent by the lapels. "What the hell is this?" he shouted.
It was the rule of law challenging the power of the commander in chief—and the beginning of the end for Nixon. He knew that he was doomed. Within a year, the president would be named as an unindicted co-conspirator in an iron-clad criminal case. His impeachment inevitable, he resigned the presidency in the summer of 1974.
We now stand on the verge of the same kind of confrontation.
Special counsel Robert S. Mueller III, backed by the full force of the FBI, has one foot inside the White House. He will have another if President Donald Trump makes good on his promise to talk with Mueller in a matter of weeks, a pledge the president made on Wednesday to the evident horror of his lawyers. "You fight back," Trump complained, and the reaction is, "'Oh, it's obstruction.'" Now that we know Trump was a tweet away from starring in Saturday Night Massacre: The Sequel, we need to look at why the G-men have the power and independence to take down the president.  https://www.politico.com/magazine/story/2018/01/26/donald-trump-wants-to-fight-the-fbi-its-a-suicide-mission-216533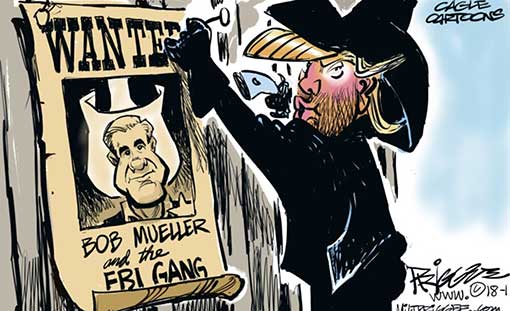 7. Jonathan Chait: Paul Ryan Is the Silent Partner in Trump's War on the Rule of Law
In early January, FBI director Christopher Wray and Deputy Attorney General Rod Rosenstein met with House Speaker Paul Ryan and asked him to rein in his attack dog, Devin Nunes, the chairman of the House Intelligence Committee. Nunes, who also attended the meeting, had supposedly "recused" himself from the Trump-Russia investigation, but in fact was running an increasingly vicious counter-investigation against the Department of Justice in an attempt to defend the administration. Wray and Nunes worried that Nunes's subpoenas were threatening to expose sensitive law-enforcement documents. But, CNN reported on January 4, "it became clear that Ryan wasn't moved and the officials wouldn't have his support if they proceeded to resist Nunes' remaining highly classified requests."
Since then, Nunes's campaign against federal law enforcement has escalated. He has compiled a secret memo making wild allegations of conspiracies and even criminality against all of Trump's legal antagonists. The entire conservative media infrastructure, goaded on by Trump himself, is foaming at the mouth to publish the Nunes memo. Democrats insist the memo is a distortion of the underlying intelligence regarding the FBI, but the Department of Justice also warns that publishing this underlying intelligence — which would be necessary to refute Nunes' allegations — "would be extraordinarily reckless" and compromise national security.
A side effect of Nunes's campaign to discredit Trump's investigators is to threaten to burn down the credibility and effectiveness of federal law enforcement. Here is the point that is largely absent from this drama: This is all happening because Paul Ryan wants it to happen.
And now, Trump and his allies are circulating absurd lies about the Department of Justice in order to enable the administration to avoid any accountability to the rule of law. The heart of this campaign is the chamber Ryan controls. It is not only or even primarily Devin Nunes, The Wall Street Journal editorial page, and Fox & Friends that are marching into the fever swamps. The invisible man at front of the march is Paul Ryan.  http://nymag.com/daily/intelligencer/2018/01/paul-ryan-silent-partner-in-trumps-war-on-the-rule-of-law.html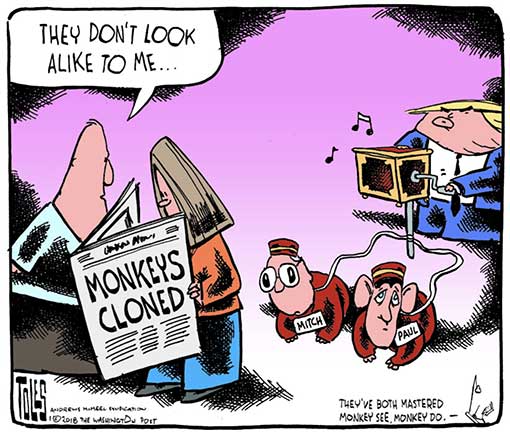 8. Gabe Ortiz: White House 'deal' is Dreamers in exchange for Stephen Miller's white supremacist wish list
It looks like the official White House "immigration deal" is to allow Deferred Action for Childhood Arrivals (DACA) recipients to stay in the U.S. in exchange for Stephen Miller's white supremacist wishlist:
The White House's demands—let's be honest, Miller's demands—take a sledgehammer to American values. Not to mention, wasn't Mexico supposed to pay for that wall? "Dead on arrival," tweeted United We Dream. "We reject a plan that would terrorize, detain and deport the rest of the immigrant community, specially those in the border."
Immigrant rights leader Frank Sharry on this so-called "immigration deal": "President Trump and Stephen Miller are exploiting a crisis that they created, so they can take a wrecking ball to the Statue of Liberty. They think that by offering up a spoonful of sugar – relief for Dreamers – they can get Congress and the American people to swallow the bitter medicine of radical nativism. We are going to fight this tooth and nail. We are not going to stand by while Trump and Miller take Dreamers hostage in order to keep out and kick out millions.  https://www.dailykos.com/stories/2018/1/25/1736007/-White-House-deal-is-Dreamers-in-exchange-for-Stephen-Miller-s-white-supremacist-wish-list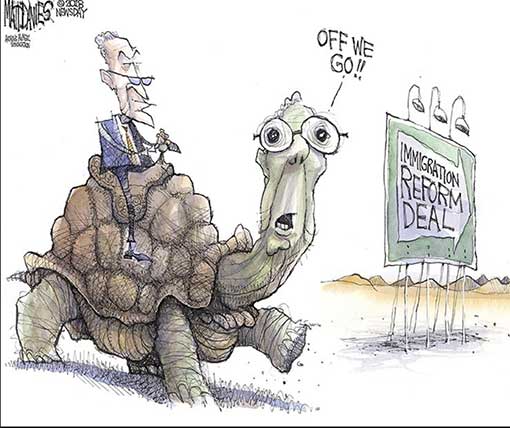 9. Julian E. Zelizer: Out of Control
For all the anger about Trump himself, what Americans have really been awakened to is just how powerful we have allowed the presidency to become at the expense of Congress. When Trump tweeted out one of his provocative statements about North Korea, he dramatized how easy it would be for a reckless president to drag us into a nuclear war. When Trump single-handedly used executive orders to dismantle climate change regulations and international agreements, he showed just how much damage a president can inflict on public policy regardless of what Congress does or does not do. And the reports that Trump has already tried to fire the person whom his own Justice Department appointed to investigate possible collusion in the 2016 election and the obstruction of justice are a reminder that the existing president still possesses many of the powers that were so troubling back in 1973. In some ways, the presidency is even more awesome in its strength.
The past 12 months have opened up a crucial conversation in our democracy about a subject that too often receives insufficient attention: the excessive power of the presidency. One of the best outcomes of Watergate was to trigger congressional pushback as well as to create momentum for reforms that curbed the executive branch.
Unfortunately, we have allowed too many of those reforms to fall away, and we are now in a situation where a president like Trump has the capacity to do some very dangerous things. It is time that we don't just focus all attention on Trump the person but, more importantly, on the nature of the presidency that he controls and the awesome power that he exercises without almost any congressional oversight.  https://www.theatlantic.com/politics/archive/2018/01/the-runaway-presidency/551546/
10. NY Times Editorial: Trump Dangles Hope for Dreamers
While Trump's public statements on immigration have been all over the place, his fundamental hostility to immigrants is obvious, from slogans such as "Buy American, Hire American" to his infamous racist and profane slur against poor third world nations. In August, he gleefully endorsed a billsponsored by two anti-immigration Republican senators, Tom Cotton of Arkansas and David Perdue of Georgia, that would reduce legal immigration by about a half, in large part by terminating the diversity lottery and curtailing family-based immigration, derisively called "chain migration" in their camp. (As for poor, huddled masses, Mr. Miller dismissively noted at a White House briefing that Emma Lazarus's celebrated sonnet was appended to the Statue of Liberty only later.)
Immigrants, legal and illegal, supply, and have always supplied, America with the talents, skills, diversity and dreams that have made it what it is. The fact that Silicon Valley has so many foreign-born workers is not evidence of native-born Americans having been crowded out of work, but of America's ability to tap talent from around the world. And with America's birthrate sagging and baby boomers retiring, immigrant labor will be critical to sustain economic growth. Base nativism must not be allowed to undermine the American dream, or its future.  https://www.nytimes.com/2018/01/25/opinion/trump-citizenship-for-dreamers.html
11. Paul Waldman: How 'values voters' made a deal with the devil
One has to wonder what the phone calls were like when evangelical leaders reached out to one another upon hearing that President Trump paid $130,000 in 2016 to a porn star in exchange for her agreement not to speak publicly about their affair. Were they angry? Shocked? Betrayed?
Franklin Graham, the son of Rev. Billy Graham, said that maybe there was no affair, and anyway it was years ago, and most amazingly, "I believe that he's a changed person." Donald Trump: changed person. Sure, in the past Trump cheated on all three of his wives, proclaimed proudly that he could sexually assault women with impunity, bragged about walking in on pageant contestants so he could see them undressing — including teenagers— but now he's a new man, brimming with righteousness.
Yea, did the values voters find their faith tested, but through it all they stood strong in that faith. Praise be!
However, it does mean that those who claim to be of higher moral character because of their reliance on God's word have to do certain things that are a little uncomfortable. They have to pretend that they believe Trump carries with him a deep religious faith, even though they know it isn't true. They have to excuse his bigotry. They have to go before the cameras when news of the latest Trump scandal breaks and act as though Trump is a man of the highest character and integrity, despite the mountains of evidence to the contrary.
But they'll do it for as long as they have to. After all, they made a deal.  http://theweek.com/articles/750666/how-values-voters-made-deal-devil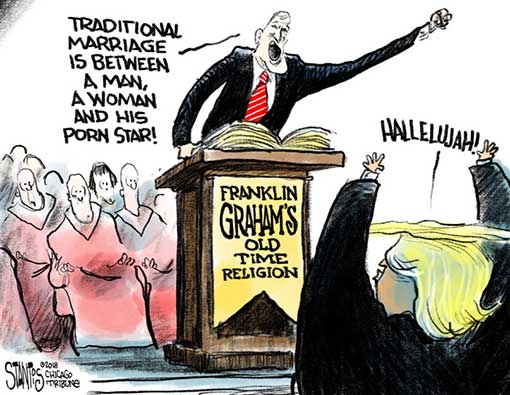 12. Charles M. Blow: Trump Repeats Nixon's Fateful Panic
We now see Trump trying to portray an air of confidence and control, but being betrayed at every turn by his own actions, which reveal a panicked man looking to purge anyone conducting an honest investigation.
The Times's report last week that Trump wanted to fire Mueller only underscores this. That move would have brought us right back to Nixon's firing of Cox.
This is no longer about Trump alone. This is now an indictment of the entire Republican Party — the elected officials and the still strident Trump voters — as well as the Trump propaganda machine at Fox News ("news" clearly being a misnomer).
These folks are engaged in an attack on the country from within. They are attacking our institutions. They are attacking the truth. All of this is being done to protect Trump rather than protect America.
This inches us further away from democracy and closer to despotism. Might as well call a thing a thing.  https://www.nytimes.com/2018/01/28/opinion/trump-nixon-defenders.html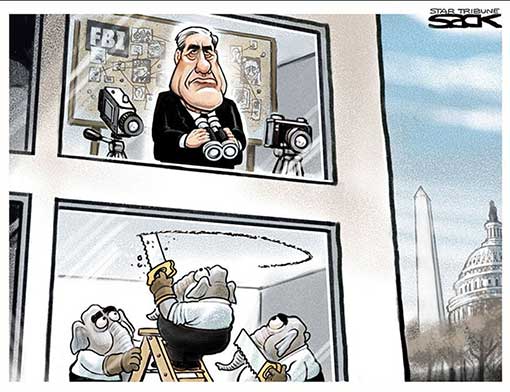 13. Jeff Shesol: Trump's State of the Union and the Consequences of Low Expectations
The President's demands for praise and recognition have grown more emphatic since the passage of the tax bill, but his bid to take ownership of the economy is failing.
Last February, after President Trump delivered his first speech to a joint session of Congress, many commentators seemed surprised that he had actually pulled it off—that he had managed to read from a teleprompter for a full hour without veering off script or insulting Elizabeth Warren. Trump uttered platitudes about a "renewal of the American spirit," just like previous Presidents had done; he made policy proposals in the traditional manner (by listing too many of them); he appeared, people said, blessedly "normal." But the relief was short-lived. Four days after the speech, Trump falsely charged Barack Obama with "wiretapping" his office building during the 2016 campaign. "Bad (or sick) guy!" he tweeted. It was a reminder that, while he might stick, from time to time, to a prepared text, Trump remains self-destructively Trump. Really, we should have expected as much.
Nearly a year later, on the eve of his first State of the Union address, expectations of Trump remain stubbornly low. In some respects, the bar has fallen even further: the question on many Americans' minds today is not "What is the state of our union?" but "What is the state of the President's mental health?" Neither the White House physician's stamp of approval nor Trump's own insistence that he is, in fact, "stable" has put the matter to rest. Publications such as Time are still throwing around terms like "cognitive impairment"; stat, a science-news outlet, has analyzed interviews of Trump, going back to the nineteen-eighties, and notes a "striking" deterioration in the "fluency, complexity, and vocabulary level" of his unscripted remarks. The upside of all this, for Trump, is that he is again set to outperform predictions by speaking, as he likely will on Tuesday night, in complete sentences.  https://www.newyorker.com/news/news-desk/trump-state-of-the-union-consequences-of-low-expectations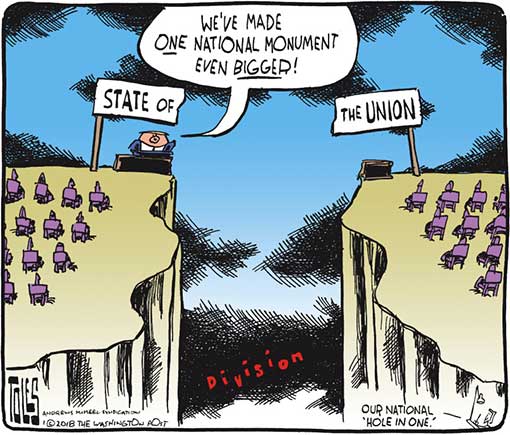 14. Rick Wilson: A Conspiracy of Dunces
Secret societies, government agents of dubious loyalties, dark cabals who work from shadowy bureaucracies seeking to overthrow the president of the United States, sinister masterminds exercising fell powers to serve a diabolical conspiracy, occult powers that shift the levers of control in mysterious ways—no, it's not X-Files fan fiction or some modern-day Lovecraft reboot. It's today's GOP.
The Republican Party's head-first dive into breathless conspiratorial fantasies in defense of Donald Trump is a brand-defining moment as the Party of Lincoln morphs into the Party of LaRouche. Listening as members of Congress, the Fox News/talk-radio world and the constellation of batshit-crazy people drawn to Esoteric Trumpism adopt increasingly baroque theories to protect The Donald isn't just depressing; it's tragic. A diseased slurry of fake news, post-Truth Trumpism, and Russkie agitprop infects the Republican Party. It's an ebola of wild-eyed MK-ULTRA paranoiac raving, spreading to every organ of the Republican body politic.
This loon-centric new world of crazy talk has dissolved the old ideological skeleton of the GOP and reduced it from the Conservative Party of Ideas to the Crackpot Party of Infowars. Covering up the connections among Donald Trump, his campaign officials, and family members with Russia, and this president's efforts to obstruct justice and derail special counsel Robert Mueller will come at a still-untallied cost to our nation, our institutions, and the dignity and reputation of the GOP. It's going to get worse as Mueller closes in.  https://www.thedailybeast.com/trumps-gop-a-conspiracy-of-dunces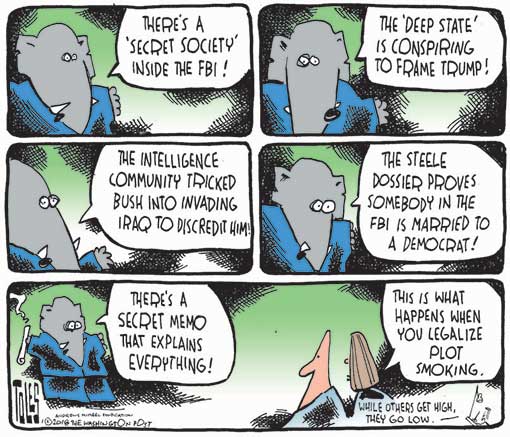 15. McKay Coppins: How the Swamp Drained Trump
On a drizzly january afternoon one year ago, a newly sworn in President Donald J. Trump stood on the steps of the United States Capitol, doing his best to terrify America's ruling class.
"Today, we are not merely transferring power from one administration to another, or from one party to another," Trump declared, peering out at a sea of supporters, "but we are transferring power from Washington, D.C., and giving it back to you, the people."
For all his anti-establishment bluster, Trump has proven to be a paper tiger as president. Instead of cracking down on Wall Street plutocrats, he's appointed them to his cabinet and given them tax cuts. Instead of browbeating world leaders, he's let them flatter him into submission with theatrically obsequious state visits. Instead of locking out the sneering media elites, he's pantingly courted the approval of New York Times reporters and book-writing dandies from Manhattan. And while he hobnobs in Davos with the globalist glitterati, the ragtag team of loyal lieutenants who set out in 2016 to upturn the established order with Trump has been largely shoved to the sidelines or purged altogether from his White House.
In some ways, of course, those initial fears of anarchy have been validated. The first year of Trump's presidency has been defined by chaos. But more often than not, it's the kind of chaos that threatens the vulnerable while sparing the powerful. When the federal government shut down on the anniversary of his inauguration, some of the president's boosters tried to cast it as a heroic stand for Trumpism—the populist disruptor bending Washington to his will. In truth, it was the product of the same infighting, dysfunction, and galloping incompetence that's kept the 45th president from advancing the transformative agenda he promised.  https://www.theatlantic.com/politics/archive/2018/01/swamp-trump/551807/