August 19, 2021
ON THE RECORD. . .
You'd never know it from the TV coverage we're watching, but President Biden's address on Afghanistan was effective because he stressed that America's longest war must end and there will never be a good time to do it. That connected with most people--70% of whom want out now. — Larry Sabato

The Afghan debacle lasted two decades. The media spent two hours deciding whom to blame. — Margaret Sullivan in the Washington Post.

"I recognize the liberal left doesn't like Hungary, but there are so many positive things about what they're doing in that country." — Sen. Ron Johnson (R-WI) a close ally of Donald Trump, calling Tucker Carlson's glowing portrayal of the autocrat 'pretty accurate.'"

"The Republicans haven't lost their way. They have, instead, found it. And it has led them straight toward unabashed white supremacy and fascism." — Mary Trump

"McConnell is the greatest traitor to this country since Robert E. Lee (with the difference that McConnell has been trying to take our country down from within). He has always been expert at using existing rules and procedures in ways they weren't intended to be used, and yet — whether it was denying Merrick Garland a hearing, pushing through Amy Coney Barrett's confirmation, or ending the filibuster as it applied to Supreme Court nominees but employing it to block legislation that would expand voting rights — his anti-democratic maneuvers have been performed within the bounds of the system." — Mary Trump

"Your child will wait for another child to die. In Dallas, we have zero ICU beds left for children." —-Dallas County Judge Clay Jenkins spelling out the dire COVID-19 situation for young people in Texas.

"Ultimately, the Afghan political leadership failed to stand up to the Taliban and to achieve the peaceful solution that Afghans desperately wanted." — NATO Secretary General Jens Stoltenberg blaming Afghan leaders for the "tragedy."

"This is an extremely bitter development. Bitter, dramatic and terrifying. It is a terrible development for the millions of Afghans who want a more liberal society." —German Chancellor Angela Merkel acknowledging that she and other global leaders had "misjudged" the Afghan government's ability to withstand attacks from the Taliban.

We're at the start of one of the biggest geopolitical challenges the modern world has ever faced. Because there's now a whole slew of countries — Libya, Lebanon, Yemen, Afghanistan, Somalia — that have evicted the colonial great powers that once controlled them (and that brought both order and disorder) but have now also manifestly failed at governing themselves. What to do? — Thomas L. Friedman

"That sounds to me like the money-making operation for Pfizer. OK? Think of the money involved... Let's give them another shot. That's another $10 billion of money coming in. The whole thing is just crazy. — Former President Trump slamming booster shots in a Fox Business interview:

The same Republicans who suddenly profess to care about democracy in Afghanistan have been actively undermining democracy in states like Texas & Georgia — Ari Berman

"If history is any guide, and it's always a guide, we'll see many refugees from Afghanistan resettle in our country in coming months, probably in your neighborhood. And over the next decade, that number may swell to the millions. So first we invade and then we're invaded." -- Tucker Carlson calling the Afghans trying to flee the Taliban "invaders" -- adding that they will probably be coming to "your neighborhood."

VIDEOS

The Republican Accountability Project: The New McCarthyism #KevinMcCarthyism

"I started the process, all the troops are coming home, they (Biden) couldn't stop the process. 21 years is enough. They (Biden) couldn't stop the process, they (Biden) wanted to but couldn't stop the process." -— Trump, 1 month ago

The Lincoln Project: Last Week in the Republican Party.
Litigation Tracker: Pending Criminal and Civil Cases Against Donald Trump
---
IN THIS ISSUE
IN THE NEWS
OPINION
Andy Borowitz: Fauci Says It Is Safe to Watch YouTube Now That Rand Paul Has Been Suspended
In a new health advisory, the nation's leading epidemiologist, Dr. Anthony Fauci, said that it is "perfectly safe" for Americans to watch YouTube, following news that Senator Rand Paul had been suspended from the platform.

"In the past, I've warned about the health consequences of listening to Rand Paul," he said. "People experience headaches and nausea. Sometimes, they feel like their brain cells are actually leaking straight out of their heads. That's why I've consistently urged people to limit their exposure to this guy."

Fauci said that, given Paul's suspension from the site, previous health advisories regarding YouTube "no longer apply."

"I think that this would be an excellent time for every American to enjoy YouTube," he said. "Watch some funny cat videos, or maybe some kooky skateboard stunts that went awry. Rand Paul's suspended for only seven days, so watch as much YouTube as you can while it's still safe." https://www.newyorker.com/humor/borowitz-report/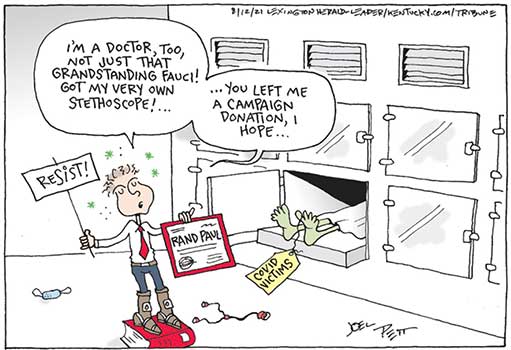 New intel reports indicate fresh efforts by Russia to interfere in 2022 election
The Biden administration is receiving regular intelligence reports indicating Russian efforts to interfere in US elections are evolving and ongoing, and in fact, never stopped, despite President Joe Biden's warnings to Russian President Vladimir Putin over the summer and a new round of sanctions imposed in the spring,. 
https://www.cnn.com/2021/08/13/politics/intel-report-russia-election-interference-2022/index.html
GOP Lawmakers Seek to Reward Workers Who Quit Rather Than Being Vaccinated
Current law stipulates that if an individual is fired or quits a job they are not eligible to receive unemployment benefits. This Wisconsin bill creates an exemption for anyone who quits or is fired over a COVID-19 vaccine mandate. https://twitter.com/MollyBeck/status/142592448367688499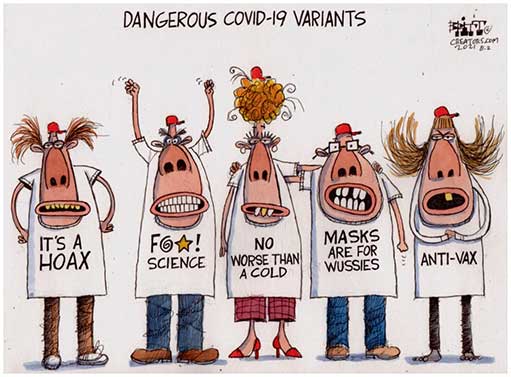 Afghanistan's military collapse: Illicit deals and mass desertions
The spectacular collapse of Afghanistan's military that allowed Taliban fighters to walk into the Afghan capital Sunday despite 20 years of training and billions of dollars in American aid began with a series of deals brokered in rural villages between the militant group and some of the Afghan government's lowest-ranking officials.
The deals, initially offered early last year, were often described by Afghan officials as cease-fires, but Taliban leaders were in fact offering money in exchange for government forces to hand over their weapons, according to an Afghan officer and a U.S. official.
Over the next year and a half, the meetings advanced to the district level and then rapidly on to provincial capitals, culminating in a breathtaking series of negotiated surrenders by government forces, according to interviews with more than a dozen Afghan officers, police, special operations troops and other soldiers. https://www.washingtonpost.com/world/2021/08/15/afghanistan-military-collapse-taliban/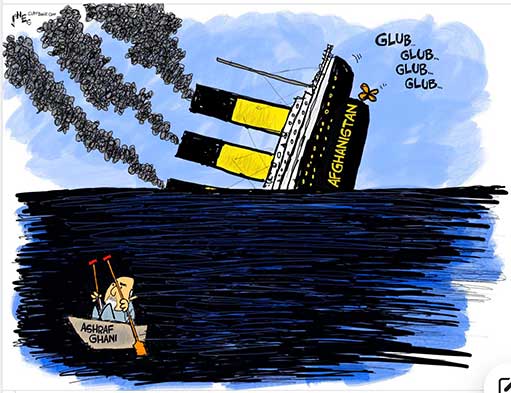 Two California Voters File Suit, Claiming the Recall Election Is Unconstitutional
A pair of voters have filed suit in the U.S. District Court for the Central District of California, claiming the September 14 recall election is unconstitutional, and suggesting that the legal remedy is to add Governor Gavin Newsom's name to the list of 46 candidates who hope to replace him or to simply call the whole thing off.
In the complaint, plaintiffs Rex Julian Beaber and A.W. Clark argue that California's recall law violates the equal protection clause of the Constitution because it allows a sitting Governor to be ousted by a candidate who receives fewer votes, the Sacramento Bee reports.
At issue is the two-question recall ballot, which first asks voters to choose "Yes" or "No" on whether Newsom should be recalled, and then asks which of nearly four dozen candidates should replace him if more than 50 percent of voters say "Yes" to Question One. This could lead to a candidate winning with only small fraction of the vote—for instance when YouTube Democrat Kevin Paffrath and talk show Republican Larry Elder led the squad of hopefuls with 27 and 23 percent of the tally in a recent poll.
Beaber and Clark are asking the court to issue an order prohibiting the recall or to toss Newsom's name on the contender pile, despite the fact that millions of ballots were sent out last week, with many of them already in the hands of L.A. voters. https://www.lamag.com/citythinkblog/recall-election-constitutional/
California GOP recall candidate served with subpoena during debate
John Cox, Republican candidate challenging California Democratic Gov. Gavin Newsom in the upcoming state recall election, was served with a subpoena while onstage during a debate Tuesday. https://www.cnn.com/2021/08/18/politics/california-recall-candidate-john-cox-subpoena/index.html
Most Americans support requiring masks in public places
A new Axios/Ipsos poll finds that 69% of Americans support their local school districts requiring teachers, students, and administrators to wear masks in schools.
Furthermore, 66% oppose state laws that prohibit local governments from creating mask requirements. https://www.ipsos.com/en-us/news-polls/axios-ipsos-coronavirus-index
Texas requests five mortuary trailers in anticipation of Covid deaths
With Covid-19 surging across the state, Texas has requested five mortuary trailers from the federal government in anticipation of an influx of dead bodies. https://www.nbcnews.com/politics/politics-news/texas-requests-five-mortuary-trailers-anticipation-covid-deaths-n1276924
Inside Fox News, DeSantis is 'the future of the party.' And he's taking advantage.
From the week of the 2020 election through February, the network asked DeSantis to appear on its airwaves 113 times, or nearly once a day. Sometimes, the requests came in bunches — four, five, even six emails in a matter of hours from producers who punctuated their overtures with flattery. ("The governor spoke wonderfully at CPAC," one producer wrote in March.)
There are few surprises when DeSantis goes live with Fox. "Exclusive" events like Jan. 22 are carefully crafted with guidance from DeSantis' team. Topics, talking points and even graphics are shared in advance.
By turning to DeSantis to fill the many hours of airtime once devoted to former President Donald Trump, Fox has made Florida's hard-charging leader one of the country's most recognizable Republicans. That has given DeSantis a leg up on others who may seek the party's nomination for president in 2024. A recent nationwide poll of Republican voters put DeSantis atop the field if Trump doesn't run again. No other prospective candidate was close. https://www.tampabay.com/news/florida-politics/2021/08/13/inside-fox-news-desantis-is-the-future-of-the-party-and-hes-taking-advantage/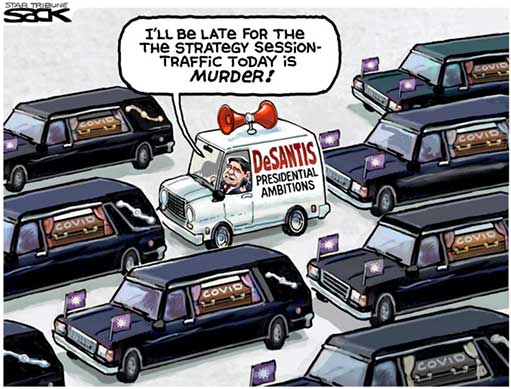 The spectacular implosion of Mike Lindell
Lindell has pushed many false, baseless and crazy theories about voter fraud, but the symposium was billed as focusing on one in particular: "irrefutable" proof that hackers backed by China stole the election for Joe Biden. Lindell had the data, and he was going to show it to you over 72 hours. What's more, his website promised to give $5 million to anybody who could "prove that Mike's cyber data … is not valid."
Well, someone has stepped forward to debunk the data — or at least the claims Lindell is making about it. And it's none other than the cyber expert Lindell himself hired.
Josh Merritt, also known as "Spider" or "Spyder" and who was hired by Lindell for his "red team," told the Washington Times on Wednesday at the symposium that, effectively, Lindell has sold his adherents a bill of goods. Lindell claimed that intercepted network data obtained by other hackers, also known as "packet captures," could be unencrypted to reveal evidence of vote-switching by the Chinese-backed hackers.
But Merritt has now said that's just not true.
"So our team said we're not going to say that this is legitimate if we don't have confidence in the information," Merritt said. And it apparently turns out it was not legitimate. https://www.washingtonpost.com/politics/2021/08/12/spectacular-implosion-mike-lindell/
The GOP's top vaccine skeptics have lost the plot
In the service of denouncing mask and vaccine mandates, Republicans are trading in misinformation, faulty absolutist logic and other highly dangerous rhetoric that suggest the vaccines themselves don't really work.
The most prominent example this week came, yet again, from Rep. Marjorie Taylor Greene (R-Ga.). While Greene has more than dabbled in vaccine conspiracy theories, she went so far as to claim in a tweet that the "vaccines are failing and do not reduce the spread of the virus." Greene has been suspended from Twitter for one week for promoting misinformation.
But the idea that they "do not reduce the spread of the virus?" That's taking things to a whole new, specious level. The vaccines proved highly effective against the early strains of the virus, reducing cases, hospitalizations and deaths substantially in the most-vaccinated countries. We're even seeing this play out incontrovertibly in the United States, with more-vaccinated states doing significantly better than less-vaccinated ones — and the vast majority of coronavirus cases and hospitalizations being unvaccinated people.
If we're being charitable, perhaps Greene was only referring to the more-contagious delta variant? The vaccines' effectiveness in reducing the spread of the variant is still being studied, but the evidence suggests it does.
And none of that is to say anything about the overwhelming evidence that the vaccines significantly reduce severe cases, hospitalizations and deaths. Even if they did nothing to halt transmissions, that alone would be hugely significant. https://www.washingtonpost.com/politics/2021/08/11/gops-top-vaccine-skeptics-have-completely-lost-plot/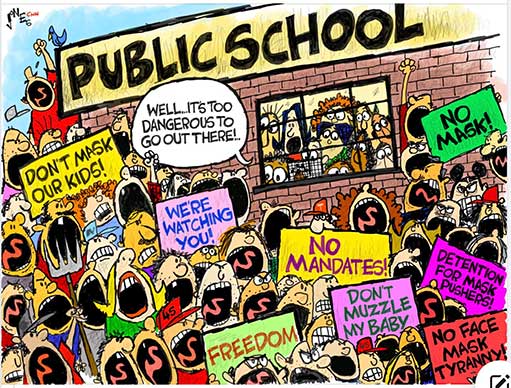 'We are in harm's way': Election officials fear for their personal safety amid torrent of false claims about voting
Nine months after the 2020 election, local officials across the country are coping with an ongoing barrage of criticism and personal attacks that many fear could lead to an exodus of veteran election administrators before the next presidential race.
"The complaints, the threats, the abuse, the magnitude of the pressure — it's too much,'' said Susan Nash, a city clerk in Livonia, Mich., who has contended with ongoing questions about the integrity of the process in her community.
As Trump continues to promote the false notion that the 2020 White House race was tainted by fraud, there is mounting evidence that his attacks are curdling the faith that many Americans once had in their elections — and taking a deep toll on the public servants who work to protect the vote. https://www.washingtonpost.com/politics/election-officials-threats/2021/08/11/bb2cf002-f9ed-11eb-9c0e-97e29906a970_story.html
What Rosen told U.S. senators: Trump applied 'persistent' pressure to get Justice to discredit election
President Donald Trump's last acting attorney general has told U.S. senators his boss was "persistent" in trying to pressure the Justice Department to discredit the results of the 2020 election.
In closed-door testimony Saturday before the Senate Judiciary Committee, Jeffrey Rosen said he had to "persuade the president not to pursue a different path" at a high-stakes January meeting in which Trump considered ousting Rosen as the nation's most powerful law enforcement officer.
According to a person familiar with the testimony, Rosen's opening statement also characterized as "inexplicable" the actions of his Justice Department colleague, Jeffrey Clark, who was willing to push Trump's false claims of election fraud and whom Trump considered installing as acting attorney general to replace Rosen.
The testimony — portions of which were previously reported by the New York Times — is part of a trove of information that congressional investigators are assembling about Trump's frantic efforts to reverse his defeat by Democrat Joe Biden and use the Justice Department to stay in office.
Trump's actions are also being investigated by the House select committee on the Jan. 6 breach of the U.S. Capitol. The Justice Department's inspector general is separately examining whether any current or former agency officials acted improperly to invalidate election results — an effort that could result in recommended disciplinary actions or, if the office finds potential crimes were committed, referrals to the department for prosecution.
The congressional probes got a boost last month, when the White House and the Justice Department cleared the way for Rosen and other former officials to discuss their election-related conversations with the president, saying the Biden administration would not seek to silence them by invoking executive privilege. https://www.washingtonpost.com/national-security/rosen-senate-judiciary-testimony-trump/2021/08/12/4b500618-fabd-11eb-8a67-f14cd1d28e47_story.html
Republicans risk becoming face of delta surge as key GOP governors oppose anti-covid measures
In Texas, Gov. Greg Abbott has banned local governments from implementing mask requirements even as he pleads for emergency medical help in combating a surge in coronavirus cases from the delta variant. In South Dakota, Gov. Kristi L. Noem welcomed hundreds of thousands of revelers to the Sturgis Motorcycle Rally that last year bore characteristics of a superspreader event for the virus.
And in Florida, Gov. Ron DeSantis is waging war on school districts seeking to defy his executive order prohibiting mask mandates for students — while the state sees its rates of hospitalization from covid surge past the worst levels of 2020.
The three Republican governors — all frequently mentioned as potential presidential candidates in 2024 — are at the vanguard of GOP resistance to public-health mandates aimed at stemming the tide of the delta variant, which has caused a new spike in coronavirus cases as the country attempts to reopen schools, restaurants and other businesses. https://www.washingtonpost.com/politics/republicans-delta-masks-vaccines/2021/08/11/639c6862-fa0c-11eb-9c0e-97e29906a970_story.html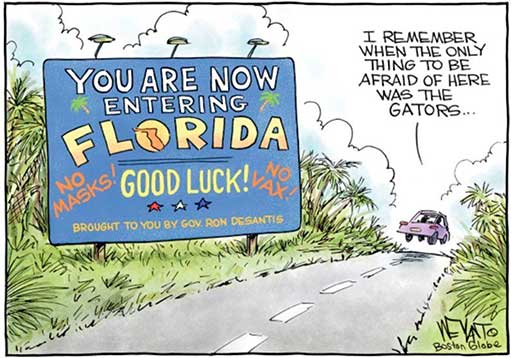 Republicans take to mask wars as virus surges in red states
Top Republicans are battling school districts in their own states' urban, heavily Democratic areas over whether students should be required to mask up as they head back to school — reigniting ideological divides over mandates even as the latest coronavirus surge ravages the reddest, most unvaccinated parts of the nation.
Republican Gov. Ron DeSantis of Florida has issued an executive order threatening to cut funding from school districts that defy a statewide ban on classroom mask mandates. He's now suggesting his office could direct officials to withhold pay from superintendents who impose such rules anyway.
South Carolina Gov. Henry McMaster is threatening to withhold funding to schools in his state's capital of Columbia over masking rules, while Texas Gov. Greg Abbott has vowed to enforce a similar order against mask mandates — despite large school districts around the state, including Dallas and Austin, promising to go ahead with classroom face covering requirements.
Even the Republican gubernatorial candidate in the purple state of Virginia has decried school mask mandates in the name of parental rights. https://apnews.com/article/joe-biden-health-coronavirus-pandemic-fcd36bc56f03fcd46d9ad5839a7b5702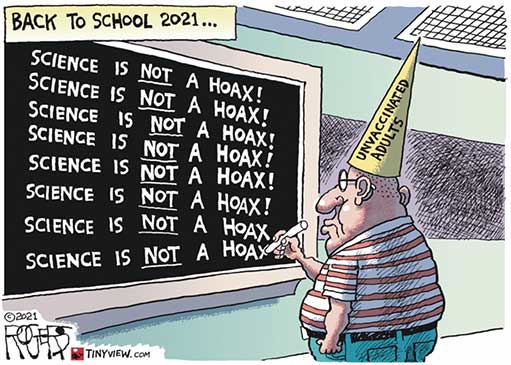 Vaccine latest via new Fox News poll
Biden voters:
86% already vaccinated
3% don't plan to get vaccinated

Trump voters:
54% already vaccinated
32% don't plan to get vaccinated. https://twitter.com/MollyBeck/status/1425924483676884992
Judge rules Dominion case can proceed against Trump allies
A federal judge cleared the way Wednesday for a defamation case by Dominion Voting Systems to proceed against Sidney Powell, Rudy Giuliani and Mike Lindell, allies of former President Donald Trump who had all falsely accused the company of rigging the 2020 presidential election. https://www.nbcnews.com/politics/2020-election/judge-rules-dominion-case-can-proceed-against-trump-allies-n1276632
Lindsey Graham's Quest for Relevance
Mr. Graham's reaffirmed devotion has come to represent something more remarkable: his party's headlong march into the far reaches of Trumpism. That the senator is making regular Palm Beach pilgrimages as supplicant to an exiled former president who inspired the Capitol attack and continues to undermine democratic norms underscores how fully his party has departed from the traditional conservative ideologies of politicians like Mitt Romney, Liz Cheney and Mr. Graham's close friend John McCain.
To critics of Mr. Graham, and of Mr. Trump, that enabling comes at enormous cost. It can be seen, for example, in Republicans' efforts to torpedo the investigations of the Capitol riot and in the way the party, with much of its base in thrall to Mr. Trump's stolen-election lie, is enacting a wave of vote-suppressing legislation in battleground states.
Mr. Graham, of course, describes his role in far less apocalyptic terms. Even as he proclaims that the Republican Party is now "the Trump party," even as he goes on Fox to declare that the party can't "move forward" without the man who twice lost the popular vote, Mr. Graham casts himself as a singular force for moderation and sanity. https://www.nytimes.com/2021/08/14/us/politics/lindsey-graham-donald-trump.html
Ted Cruz's Campaign Bought $153,000 Worth Of His Own Books.
Sen. Ted Cruz's campaign may have boosted his book sales, dropping $153,000 at retailer Books-a-Million in the three months after his newest publication hit the shelves."
Cruz's campaign also bought $5,000 worth of Facebook ads to promote One Vote Away, according to Salon. The Campaign Legal Center, a government watchdog, later filed complaints with the FEC and Senate Ethics Committee. https://www.forbes.com/sites/zacheverson/2021/08/16/ted-cruz-made-320000-as-an-author-last-year-his-campaign-bought-153000-worth-of-books/
The DAILY GRILL
"Is there an enemy for whom [CNN] WON'T cheerlead (In mandatory burkas, no less.) — Ted Cruz sharing a contextless clip of CNN correspondent Clarissa Ward reporting from Kabul. 

VERSUS

Rather than running off to Cancun in tough times, Clarissa Ward is risking her life to tell the world what's happening. That's called bravery. Instead of retweeting a conspiracy theorist's misleading soundbite, perhaps your time would be better spent helping Americans in harm's way. — CNN Communications
Eric Boehlert: The media's Afghan blame game
Treating the Taliban's seizure of Afghanistan's capitol over the weekend as a shocking event in the wake of U.S. troops withdrawing from the war-torn country, the press eagerly jumped into the blame game. In the process, they diligently did the GOP's bidding by omitting key context in its rush to pin the blame for a 20-year, extraordinarily complex and heartbreaking military and foreign policy failure on a single man who took office just seven months ago.
Turning over their platforms to partisan Republicans and pro-war military experts, the media seemed eager to portray President Joe Biden as one being swallowed up in "crisis," even as his call to withdraw troops has drawn overwhelming, bipartisan support at home.
Axios laid it on thick. Doubling as a GOP springboard, the news outlet made sweeping factual declarations in its news coverage: "Rarely has an American president's predictions been so wrong, so fast, so convincingly as Biden on Afghanistan."
Raise your hand if you remember the predictions President George W. made about invading Iraq, long before the U.S. spent $2 trillion and more than 500,000 people died.
A reporter for ABC News typed up GOP talking points on Twitter when he posted a photo of Taliban leaders seizing control of Kabul: "The Biden White House will have to contend with images like this every single day for the foreseeable future."
CNN sounded identical to Fox News when it announced the troop withdrawal threatened to "stain" Biden's entire "legacy," while Time was sure the Afghanistan event "could alter his presidency."
"Biden's Betrayal of Afghans Will Live in Infamy," The Atlantic's George Packer declared, without detailing what steps could have been taken to stop the Taliban from retaking control of the country.
The Washington Post editorial board, which in 2002 and 2003 published nearly 30 endorsements advocating for the invasion of Iraq, howled that the troop withdrawal had been "precipitous." https://pressrun.media/p/the-medias-afghan-blame-game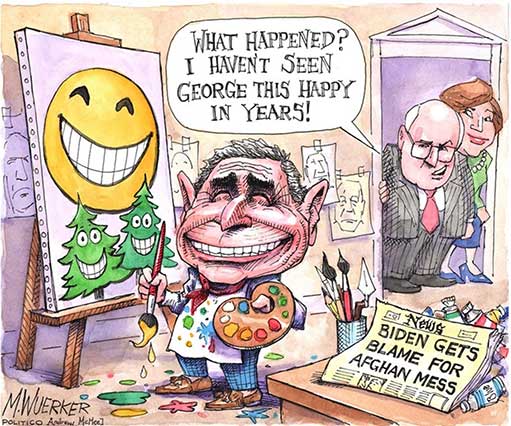 Fareed Zakaria: We lost the war in Afghanistan long ago
The United States had been watching the Taliban gain ground in Afghanistan for years now. It is rich and powerful enough to have been able to mask that reality through a steady stream of counter-attacks and air, missile and drone strikes. But none of that changed the fact that, despite all its efforts, it had not been able to achieve victory — it could not defeat the Taliban. Could it have withdrawn better, more slowly, in a different season, after more negotiations? Certainly. This withdrawal has been poorly planned and executed. But the naked truth is this: There is no elegant way to lose a war. https://www.washingtonpost.com/opinions/2021/08/16/we-lost-war-afghanistan-long-ago/
Paul Waldman: The right unleashes a new wave of fear-mongering over refugees
"They hate us for our freedoms," the idea conservatives repeated so often as a way of explaining terrorism. But while that cry was meant quite intentionally to obscure the foreign policy and military decisions that contributed to anti-Americanism — our support for corrupt and dictatorial governments, our military adventurism — in this formulation it turns into a condemnation of American society, or at least liberal influence over it.
In that story, the foreign enemy still doesn't hate America because of what our government has done. But rather than hating something so fundamental about us we could not possibly change it (the vague and all-encompassing "our freedoms") the enemy supposedly hates only the social changes conservatives don't like.
For Tucker Carlson, this makes a kind of sense: If the Taliban is understood as merely a group of extremely traditionalist conservatives, then of course he'd imply that American conservatives should see them as allies in the real battle, the one against liberalism.
Does this idea sit uncomfortably alongside Carlson's crusade to keep America White? Only a little. You can find momentary common cause with a foreigner while still believing that anyone who looks like him is a threat who should be kept out of your country.
Carlson may give a thumbs-up to the Taliban, but its fighters are not the ones trying to flee Afghanistan. It's the Afghans who embrace American values that Carlson sees as the real threat, because they might come here. And just imagine if the Afghan refugees we accepted were not only non-White and not only Muslims, but turned out to be liberals!
That, of course, is the dark heart of the conspiracy Carlson warns his viewers about on a near-nightly basis, and that Miller echoes: The fight to keep immigrants out of the United States is both civilizational and political, since Democrats are supposedly scheming to bring them in by the millions so they can become Democratic voters. It's not xenophobia and racism for their own sake, it's also about maintaining Republican rule. https://www.washingtonpost.com/opinions/2021/08/17/right-unleashes-new-wave-fear-mongering-over-refugees/
Michael Hiltzik: Like children playing with matches, GOP again toys with US debt ceiling
As is almost always the case, the Republican stance on the debt ceiling depends on mass amnesia. McConnell and other GOP leaders blame Democrats for enacting big spending bills over the last year but forget that some of them, including pandemic relief bills, passed with bipartisan votes.
Nor do they ever mention one of the biggest budget busters of recent times, the 2017 tax cuts, which passed without Democratic votes and will add more than $1.5 trillion to the deficit over 10 years. Every one of the senators who signed Johnson's pledge and were in the Senate in 2017 voted for the tax cuts. (Only four GOP senators are missing from the pledge: Lisa Murkowski of Alaska, Susan Collins of Maine, Richard Shelby of Alabama and John Kennedy of Louisiana.)
Those tax cuts overwhelmingly favored corporations and the wealthy, which points to a strategy that Democrats should consider if the GOP stands firm on insisting they manage the debt ceiling issue all by themselves: Roll the 2017 tax cuts all the way back. That should provide enough money to shut up the GOP deficit hawks, at least for a while. https://www.fltimes.com/news/nation/michael-hiltzik-like-children-playing-with-matches-gop-again-toys-with-us-debt-ceiling/article_9c26ff3a-1f44-5fb3-aa91-4bb20bf143a0.html
The best option, obviously, is for Democrats to take this opportunity to repeal the debt ceiling entirely. It's useless except as a partisan device.
Congress should take the words of 1 Corinthians to heart: "When I was a child, I spake as a child, I understood as a child, I thought as a child: but when I became a man, I put away childish things." Put it away, already. https://enewspaper.latimes.com/infinity/article_share.aspx
Elizabeth Kolbert: The U.N.'s Terrifying Climate Report
The latest U.N. Intergovernmental Panel on Climate Change. effort, released last week, has to be read—or, more likely, not read. Even the shortest and snappiest version of the report, the so-called Summary for Policymakers, which, at forty-one pages, is just one per cent of the length of the full document, is, in its mix of the technical and the turgid, pretty much impenetrable. Still, it manages to terrify. Owing to humans, the report states, the world has warmed by more than one degree Celsius—nearly two degrees Fahrenheit. Global temperatures are now higher than at any other time in the past hundred and twenty-five thousand years. Anthropogenic warming, the report observes, is already producing fiercer heat waves, heavier rainstorms, and more violent cyclones.
In the coming decades, still hotter heat waves and worse flooding are to be expected, as events that are now considered extreme become commonplace. On Twitter, the climate activist Greta Thunberg described the I.P.C.C. report as a "solid (but cautious) summary of the current best available science." The U.N. Secretary-General, António Guterres, called it a "code red for humanity." https://www.newyorker.com/magazine/2021/08/23/the-uns-terrifying-climate-report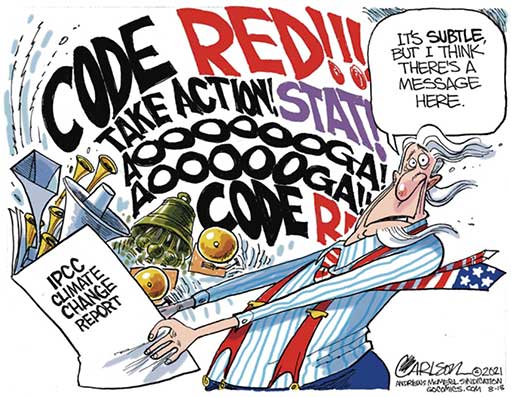 Catherine Rampell: If cops want to defund themselves, let them
Around the country, police officers are threatening to quit if subject to a coronavirus vaccine mandate. And you know what? Good riddance.
This is a useful opportunity to clear law enforcement ranks of their worst, most selfish and least-public-spirit-minded officers. If cops want to defund themselves, let them.
It's not clear whether threats to resign — expressed by individual officers or union leadership — should be taken at face value. After all, many cops would lose seniority and retirement benefits if they quit early. But let's assume they're not bluffing.
So what? Let them quit.
If some police officers want to defund themselves, by all means let them. Let the bad cops go, and replace them with officers actually committed to the noble mission to protect and serve. https://www.washingtonpost.com/opinions/2021/08/12/if-cops-want-defund-themselves-let-them/
Paul Waldman: The new GOP midterm election strategy is to make everyone mad
As they look toward next year's midterm elections, Republicans are hard at work crafting detailed policy proposals they will present to the public to explain why life would improve if they were given control of Congress.
Just kidding; what they're actually doing is trying out different ways of getting their base, and anyone else, as angry as possible. Which isn't anything new, but when it means promoting not just social division but also greater risks to public health in the midst of a pandemic, it presents a threat that goes beyond an election.
As if political divisions around the country's response to covid-19 weren't bad enough already, Republicans seem to believe that a new backlash to public health measures is just their ticket to victory in 2022.
They're right about one thing: Americans are tired of how long we've been living like this, and in despair that the delta variant surge means the extension (or revival) of inconveniences like wearing masks in schools and stores. At the beginning of the year, when vaccines began to roll out, we thought covid might have been nearly behind us by now; knowing that it isn't is enough to make anyone sour.
So the GOP is trying to take the sentiment of "Man, this is a bummer" and turn it into "I am exploding with rage."
In particular, Republicans want people to direct their anger at public health officials who are urging new mask requirements, and Democrats who say those requirements might be a good idea, especially since so many people are refusing to be vaccinated. https://www.washingtonpost.com/opinions/2021/08/11/new-gop-midterm-election-strategy-is-make-everyone-mad/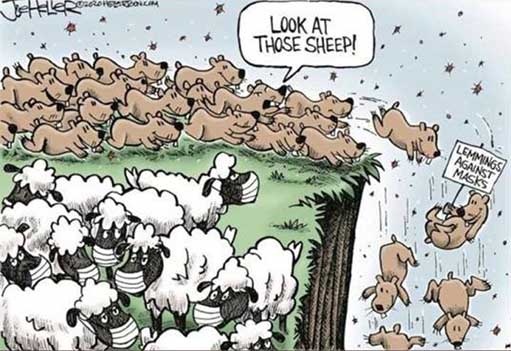 Mary Trump: Donald's Plot Against America
Democrats must stop squandering their advantage as they waste time waiting for Republicans to feel shame. They have none. Over the four years Donald was in the Oval Office, there were any number of opportunities for Republicans to break with a man who, at every turn, undermined everything they claimed to have stood for—law and order, the military, moral conservatism, fiscal responsibility, and small government. And yet they never did.
January 6 should have been a wake-up call for all of us, Republicans in particular. Initially at least, some of them had been scared enough by a mob intent on committing violence against any member of Congress they came across to recognize that the monster they'd deluded themselves into thinking they controlled could not, after all, be tamed. Instead, they have followed Donald's lead. Less than six months after the fact, Georgia Representative Andrew Clyde claimed the insurrection was a "bold-faced lie" and nothing more than "a normal tourist visit," despite the fact that there is a photo of him rushing to help barricade the door against the mob. Donald continues to double down on his claim that these were peaceful people and actually said "there was such love at that rally." There has been no pushback from Republican leadership. There can't be. They know that any investigation into what happened that day is a losing proposition for them—either because they've been covering it over or because they're guilty of sedition. They also know that the 2022 election will turn in part on how many Americans they can convince of the Second Big Lie: that the insurrection never happened. https://newrepublic.com/article/163115/donald-trump-plot-against-america
Aaron Blake: The GOP pushed Benghazi probes for years. It's already done with Jan. 6.
Republicans spent years pushing for investigation after investigation of the tragedy in Benghazi, Libya. But when it comes to the Jan. 6 insurrection, they're already very much over it.
A new poll from Quinnipiac University is the latest to show Republicans don't really want any type of investigation of the riots at the U.S. Capitol on Jan. 6. The poll gave people a choice between the idea that it was an attack on democracy that should "never be forgotten," and the idea that it's overblown and it's time to "move on." Three-quarters of Republicans — 75 percent — chose "move on."
That binary choice is a little overly simplistic, admittedly. It asks people to choose between two polar opposites, when they might be more in the middle. But when asked whether they support Congress's investigation of Jan. 6, GOP support for the probe isn't much higher. Just 29 percent of Republicans support the probe.
It might be tempting to view this as a symptom of how the probe is being conducted, rather than the necessity of some kind of investigation. Republicans cried foul over House Speaker Nancy Pelosi (D-CA.) rejecting GOP picks for the select committee, and Republicans voted overwhelmingly against both an independent commission and Pelosi's fallback plan for a select committee.
But polling suggests that's not really the case — that this really is about just not wanting to investigate at all.
Back in May, as Senate Republicans were killing the independent commission, pollster YouGov asked questions about this. Republicans opposed the commission 61 percent to 23 percent, but they also opposed really any kind of investigation. The pollster asked which of these options people agreed with more:
1. "We still need to find out the truth of what happened."
2. "There have been enough investigations already."
By a 62-to-27 percent margin, Republicans said the matter had been investigated sufficiently already.
That verdict was particularly striking given Congress, well, hadn't actually produced any big investigative products. It had held hearings, yes, but the first big report on intelligence and security failures, a bipartisan product of the Senate, wouldn't arrive for another two weeks. Despite this, less than five months after the insurrection, Republicans didn't see the need to look into how this happened.
Perhaps most tellingly, it's a huge contrast to how the party viewed the Benghazi investigations.
For months and years after the 2012 attack on the U.S. mission in Benghazi that killed four Americans, Fox News's pollsters asked similar questions about people's appetite for investigating it. And Republicans' appetite was voracious and long-lasting.
In June 2013 — nine months after the attack — 88 percent of Republicans said they supported continuing to investigate. In November 2013 and February 2014, it was 83 percent. By April 2014, it was still only slightly diminished, at 77 percent.
In May 2014, the House GOP added a select committee to its previous investigations, bringing the total number to a half-dozen. The committee issued its final big report in June 2016.
But a full year later — in June 2017 — Fox News asked a similar question again. And lo and behold: 65 percent of Republicans still said it was either "extremely" or "very" important that the investigations into Benghazi continue.
This was just shy of five years after the attack, after six congressional investigations, including a select committee run by Republicans that had concluded its work. And nearly two-thirds of Republicans wanted to keep probing. That's similar to the number of Republicans who basically said it was time to move on from investigating Jan. 6 even before the first big report landed. https://www.washingtonpost.com/politics/2021/08/05/gop-pushed-benghazi-probes-years-its-already-done-with-jan-6/
Eugene Robinson: Maybe it's time for doubting Democrats to press pause on the angst
It's time to entertain the possibility that President Biden, Senate Majority Leader Charles E. Schumer and House Speaker Nancy Pelosi actually know what they're doing and are really good at their jobs.
Their fellow Democrats seem to have doubts, because, well, Democrats always have doubts. Dwelling on worst-case scenarios is somehow wired into the party's DNA. Every victory must have some downside; every step forward must lead toward some potential pitfall. If worrying had been an Olympic sport in Tokyo, Democrats would have swept gold, silver and bronze.
This angst is richly nourished by voluminous news media analysis and commentary adhering to the convention of anticipating what might go wrong. What if progressives in the House won't swallow hard and vote for the "hard infrastructure" bill passed by the Senate? What if House moderates insist on a quick vote on the Senate measure and threaten to withhold their votes on the budget with its huge "human infrastructure" spending? What if an asteroid strikes before Biden can sign these transformational pieces of legislation into law?
Let me suggest that Democrats squelch their inner Eeyore for just a moment to appreciate, and celebrate, what their party has accomplished.
There was no way the bipartisan gang of senators trying to craft a compromise measure would succeed. There was no way Minority Leader Mitch McConnell (R-Ky.) would allow anything on infrastructure to pass, thus giving Biden a win. There was no way more than a handful of Republican senators would defy all the threats streaming from Mar-a-Lago and collaborate with Democrats on anything.
Yet here we are. Nineteen Republicans — including McConnell — joined every Senate Democrat in approving $1 trillion worth of desperately needed infrastructure spending. Included are not just funds to fix roads and bridges, but also big money to provide broadband Internet to Americans who can't afford it; upgrade the power grid in ways that facilitate the switch to renewable energy; and create a coast-to-coast network of electric-vehicle charging stations.
Okay, but there was no way (according to the conventionally wise) that the whole Senate Democratic caucus, from Budget Committee Chairman Bernie Sanders (I-Vt.) on the left to Joe Manchin III (D-W.Va.) on the right, would agree on a budget framework. Yet they did, and the massive $3.5 trillion resolution — which Democrats can pass through the reconciliation process, without GOP votes — addresses all the party's major spending priorities, including the urgent need to address climate change.
Well, said worrywarts, there was absolutely, positively no way that the creaking, dysfunctional Senate could possibly do both those things — infrastructure and the budget — at the same time, as Pelosi (D-Calif.) and House Democrats were demanding. Yet, again, that is precisely what Schumer accomplished. Done and done.
So now we're hearing that the hard part actually lies ahead, because Pelosi will inevitably face an uprising by her progressives, her moderates or both. Indeed, this could happen. But I would submit that Pelosi's record demonstrates she knows a lot more about how to get the House to do what she needs than any of the Cassandras predicting her certain failure. https://www.washingtonpost.com/opinions/2021/08/12/democrats-achievements-biden-pelosi-schumer-infrastructure/
Jonathan Chait: 9 Moderate Democrats Threaten to Tank Entire Biden Presidency
Joe Biden's success to date has owed itself to many factors, the largest of which is the willingness of congressional Democrats to compromise with each other. The narrow margins of the party's majority means almost any member in either chamber can blow up any bill, and just as the dynamic of mutually assured destruction prevented the Soviets and the United States from obliterating each other, it has muted the traditionally fractious Democratic caucus.
That dynamic is beginning to change, and the instigators are easy to identity: a handful of moderate House Democrats who have been issuing increasingly aggressive demands, culminating in a new letter threatening to withhold their votes from a budget resolution that will contain Biden's signature domestic legislation and the basis of the party's campaign.
The demand of the letter is that the House votes on the bipartisan infrastructure bill before it votes on the budget. Why are the nine Democrats so insistent on this order when the party's leadership wants to pass both bills? The reason is that they aren't promising to support the budget resolution, either. The House leadership can wait on the infrastructure bill, which they are desperate to pass, to pressure them to support the bigger, Democrats-only budget bill. If the infrastructure bill were to pass the House first, on the other hand, they could threaten to take their ball and go home if the House doesn't give them absolutely everything they want.

The suicidal illogic of the demand may explain why only nine Democrats signed the letter. The most famous Democratic members representing purple districts — Ellisa Slotkin, Abigail Spanberger, and many others — are absent from the list, which is heavy with Democrats focused monomaniacally on protecting the bank accounts of their funders. https://nymag.com/intelligencer/2021/08/9-moderate-democrats-threaten-to-tank-biden-presidency.html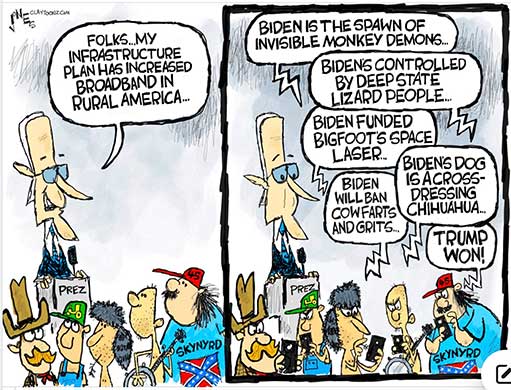 Mark Z. Barabak: Debunking Trump's 'Big Lie,' scholars and statistics show the facts don't add up
In a recent survey of presidential scholars, President Trump finished a dismal third from the bottom, just ahead of perennial duds James Buchanan and Andrew Johnson.
He tied Franklin Pierce, whose political timidity helped lead to the Civil War, and placed just behind two other presidential laggards, the pro-slavery John Tyler and William Henry Harrison, who served only 31 days before dropping dead.
But in just seven months since leaving office, the petulant Trump — who always aims for the top — has already bested his 44 predecessors in one way, building a strong case for conducting the most maligned post-presidency in history. (Tyler was buried with a Confederate flag but at least kept his mouth shut, being dead and all.)
Trump has made it his singular mission to undermine the 2020 election he irrefutably lost, promoting a series of conspiracy theories and fact-free allegations used by Republicans nationwide to justify laws making it harder to vote and easier to overturn elections they don't like, starting in 2022.
"There's this real risk of delegitimization that goes along with people saying this election was conducted incorrectly," said Grimmer, who suggested the allegations shouldn't simply be dismissed out of hand. "We investigate ... and say, 'Look, the evidence just isn't there.' "
Hopefully, the fair-minded will pay attention. All it takes to undermine democracy is for good people to be faced with a crock of lies and do nothing. https://www.latimes.com/politics/story/2021-08-17/trump-big-lie-experts-debunk-voting-fraud-claims
Charles A. Kupchan: Afghanistan's rapid fall shows Biden was right to pull out
It has been excruciating to watch the Taliban roll across Afghanistan, undoing in a matter of months two decades of efforts by the Afghan people and the international community to build a decent, secure and functioning state.
The Taliban's virtually uncontested takeover raises obvious questions about the wisdom of President Biden's decision to withdraw U.S. and coalition forces from the country. However, the rapidity and ease of the Taliban's advance provide a clear answer: that Biden made the right decision — and that he should not reverse course.
Biden doubted that U.S.-led efforts to prop up the government in Kabul would ever enable it to stand on its own. The international community took down Al Qaeda; beat back the Taliban; supported, advised, trained and equipped the Afghan military; bolstered governing institutions; and invested in the country's civil society. None of that created Afghan institutions capable of holding their own.
That is because the mission was fatally flawed from the outset. It was a fool's errand to try to turn Afghanistan into a centralized, unitary state. The country's difficult topography, ethnic complexity, and tribal and local loyalties produce enduring political fragmentation. Its troubled neighborhoods and hostility to outside interference make foreign intervention perilous.
Biden made the tough and correct call to withdraw and end a losing effort toward an unattainable goal.
Finally, Biden is right to stand by his decision to end the military mission in Afghanistan, because doing so is consistent with the will of the electorate. Most Americans, Democrats and Republicans alike, have lost patience with the "forever wars" in the Middle East. The illiberal populism that led to Donald Trump's election (and near reelection) emerged in part as a response to perceived American overreach in the broader Middle East. Against a backdrop of decades of economic discontent among U.S. workers, recently exacerbated by the devastation of the pandemic, voters want their tax dollars to go to Kansas, not Kandahar. https://www.latimes.com/opinion/story/2021-08-16/op-ed-afghanistans-rapid-fall-shows-biden-was-right-to-pull-out