January 11, 2018
ON THE RECORD. . .
"The portrait of an unfit president in a dysfunctional administration at a time the world is characterized by mounting disarray adds up to a truly dangerous moment in history. The best that can be hoped for is drift. The worst to be feared is a disaster of some magnitude somewhere." — Council on Foreign Relations president Richard Haass, on Twitter.
President Trump's insistence that Steve Bannon, his former chief strategist and a top aide at the White House until five months ago, was a mere "staffer" who had "very little to do with our historic victory" is akin to Joseph Stalin trying to erase Leon Trotsky from the history of the Russian Revolution. -- James Hohmann in the Washington Post
"Saying Steve Bannon has nothing to do with me or my presidency is like saying you're not married to your ex-wife. It's true at the moment, but it doesn't erase the marriage." -- John Dickerson on CBS.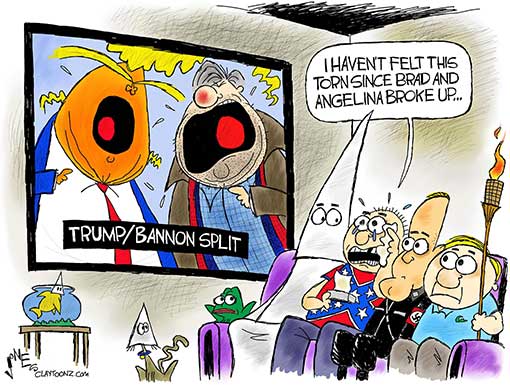 "Where do I send the box of chocolates?… Not only is he helping sell books, but he's helping me prove the point of the book." — Michael Wolff onTrump's attempt to stop publication of Fire and Fury. 
One of the most surprising parts of "Fire and Fury" is how Donald Trump accidentally started a national book club. -- Stephen Colbert@StephenAtHome
"It shouldn't come as a surprise that Trump thinks everything is "fake news" — because on Fox, most of it is." -- Caroline Orr in Shareblue
"President Trump has said he may need a good government shutdown to get his wall. With this demand, he seems to be heading in that direction. It's outrageous that the White House would undercut months of bipartisan efforts by again trying to put its entire wish list of hardline anti-immigrant bills — plus an additional $18 billion in wall funding — on the backs of these young people." -- Sen. Dick Durbin (D-Ill.) calling the Trump administration's proposed new security measures an effort to undermine bipartisan negotiations on Capitol Hill.
"I want all the girls watching here, now, to know that a new day is on the horizon!" -- Oprah Winfrey at the Golden Globes Video
"The tiptoeing is over. The whispers are turning into shouts. President Trump's fitness for office is now the top story in the country" -- @BrianStelter
"People don't think in the White House — don't think that he colluded with Russia. They do think that if the investigation goes near his finances, he's sunk." -- Author Michael Wolff said people in the White House believe that if special counsel Robert Mueller looks into President Trump's finances in the Russia probe, the president is "sunk,"  -- Michael Wolff  
"The innuendo and misinformation circulating about the transcript are part of a deeply troubling effort to undermine the investigation into potential collusion and obstruction of justice,'' -- Sen. Dianne Feinstein (D-CA) saying that she released the Fusion GPS/Senate Judiciary Committee transcript to set the record straight.
"My performance — some people called it my performance, I consider it work — got great reviews by everybody except two networks… Some said it was one of the greatest meetings they've ever seen." — Trump boasting about his handling of yesterday's bipartisan meeting on immigration.
"No wall, nope. It's very important that we have a secure border, but spending billions and billions of dollars on this wall because of a political promise and a campaign promise is ridiculous." -- Sen. Kamala D. Harris (D-CA), drawing a hard line on border security
---
IN THIS ISSUE
FYI
OPINION
1. Andy Borowitz: Trump Angrily Throws Steve Bannon's Signed Copy of "Mein Kampf" in Trash
Furious over a very public breakup with his former adviser Steve Bannon, Donald Trump on Wednesday angrily threw a copy of "Mein Kampf" that Bannon had inscribed to him in the trash.

The book, which Bannon had given to Trump as a token of his love and friendship during the 2016 campaign, had been among Trump's most prized possessions, aides said.

"Trump loved that book, but now he feels that having Bannon's name on it ruins it," an aide said.

While most of Trump's aides reflexively took their boss's side in the dustup with Bannon, one staffer could not help expressing some sympathy for the exiled former adviser. "To be called mentally ill by Donald Trump—that's got to hurt," the aide said.

LATER: Donald J. Trump issued a stark warning to the nation on Monday that, if elected President, Oprah Winfrey would force Americans to read.

"This is a woman who, every chance she got, told people to join her book club," Trump told reporters. "If she were President, you better believe that she would make every single American join that book club."

"People were worried about Obama coming to their homes and taking away their guns," Trump said. "Oprah will come to your homes and leave books there, which is far, far worse.
2. Bannon Banished for Telling Truths About Trump as MAGA Monsters Turn on Each Other
Steve Bannon's spectacular fall from grace in Trump World is a big, salty, delicious bowl of schadenfreude from the political gods in celebration of the new year."
Bannon wasn't just one of Trump's most senior aides and an architect of the destruction of the Republican Party; he was the multi-shirted, red-eyed White House troll, leaking tales of his brilliance to a constellation of reporters in the ostensibly hated mainstream media. His house organ Breitbart and a host of Trump-right websites and news outlets sang praises to his dank genius. Bannon, they proclaimed, was Trumpism in its distilled essence: revanchist, ahistorical, racially inflected, and consumed with an imaginary war on the media and America's broader society.
Now, like two rats in a bag, Trump and Bannon are tearing at one another in a delicious public spat that has every possible bit of drama, except Bannon drunkenly bellowing for a round of fisticuffs with all comers and Trump offering to compare the length of their relative manhoods on live television. They deserve one another in so many ways.  https://www.thedailybeast.com/bannon-banished-for-telling-truths-about-trump-as-maga-monsters-turn-on-each-other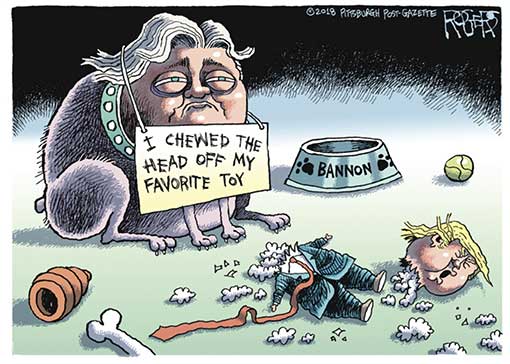 3. Trump administration angers vulnerable Republicans with offshore-drilling expansion and marijuana crackdown
With the proposed expansion of offshore drilling and a crackdown on marijuana, the Trump administration created huge political headaches Thursday for scores of Republicans who were already facing a tough environment in 2018."
Both moves are unpopular with voters, especially key people in places that are likely to determine whether the GOP holds the House. In practice, these two stories probably pose bigger challenges for the president's party in the midterms than any book about White House dysfunction.  https://www.washingtonpost.com/news/powerpost/paloma/daily-202/2018/01/05/daily-202-trump-administration-angers-vulnerable-republicans-with-offshore-drilling-expansion-and-marijuana-crackdown/5a4e9f3430fb0469e883ff27/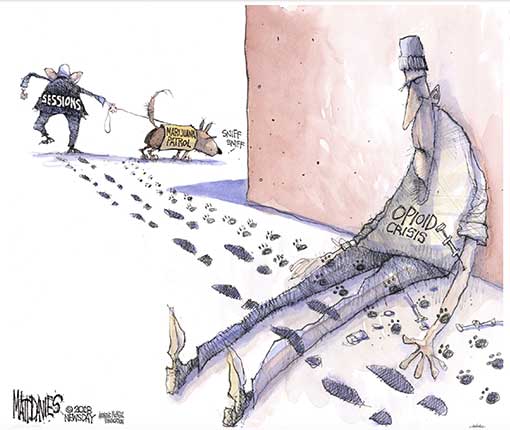 4. The Wolff lines on Trump that ring unambiguously true
There are definitely parts of Michael Wolff's Fire and Fury that are wrong, sloppy, or betray off-the-record confidence. But there are two things he gets absolutely right, even in the eyes of White House officials who think some of the book's scenes are fiction: his spot-on portrait of Trump as an emotionally erratic president, and the low opinion of him among some of those serving him."
"In the past year, we have had many of the same conversations with the same sources Wolff used. We won't betray them, or put on the record what was off.  https://www.axios.com/the-wolff-lines-on-trump-that-ring-unambiguously-true-2522675021.html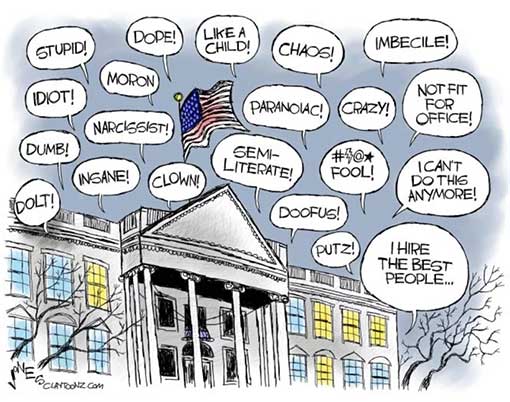 5. The DAILY GRILL
Many mostly Democrat States refused to hand over data from the 2016 Election to the Commission On Voter Fraud. They fought hard that the Commission not see their records or methods because they know that many people are voting illegally. System is rigged, must go to Voter I.D. -- Donald J. Trump@realDonaldTrump

VERSUS

This claim is false. According to a CNN survey in July, at least 44 states rejected at least some of the overly broad request sent to the states by the commission's vice chair, Kansas Secretary of State Kris Kobach (R). Many state governments cited state privacy laws in their responses. Some of the most vocal responses came from Republican officials in deeply red states. -- ThinkProgress

 

"Under the Trump proposal, only one of 26 planning areas in the Arctic Ocean, Pacific Ocean, Gulf of Mexico and the Atlantic Ocean would be off limits to oil and gas exploration." -- Washington Post

VERSUS

Trump is preparing to auction off almost all of our country's coastal waters to oil & gas companies for drilling. This is a recipe for disaster with the potential to devastate the economies of coastal cities and towns. -- Kamala Harris@SenKamalaHarris

 

....to President of the United States (on my first try). I think that would qualify as not smart, but genius....and a very stable genius at that! -- Donald J. Trump✔@realDonaldTrump

VERSUS

Nothing makes a 71-year-old New Yorker sound smarter than delivering a defense of his intelligence that reads like it came from a 12-year-old Valley Girl In 1990. --  Daily Kos 

 

"Since taking office, I have been very strict on Commercial Aviation. Good news — it was just reported that there were zero deaths in 2017, the best and safest year on record!" --  Donald J. Trump✔@realDonaldTrump

VERSUS

Data from the Trump administration's Mine Safety and Health Administration (MSHA), the federal government's mine safety agency, show coal mining deaths nearly doubled in 2017. But unlike the aviation statistics, Trump isn't taking any personal responsibility for the coal mining deaths. What's more, he tapped a former coal executive with a record of safety violations to head MSHA. --  Think Progress
6. From MEDIA MATTERS (They watch Fox News so you don't have to)
Alex Jones claims Brian Stelter "runs your kids, he runs the schools, he runs the banks" and is "drunk on our children's blood." Jones threatens Stelter: "You will pay. Yeah, you don't think I see your face, scum? You don't think I don't see you, Stelter?"  https://www.mediamatters.org/video/2018/01/05/alex-jones-claims-brian-stelter-runs-your-kids-he-runs-schools-he-runs-banks-and-drunk-our-childrens/218987

Tucker Carlson: If the GOP agrees with Democrats on immigration reform, "the Republican Party is done ... suicide. It will be a short epitaph too, suicide."  https://www.mediamatters.org/video/2018/01/05/tucker-carlson-if-gop-agrees-democrats-immigration-reform-republican-party-done-suicide/218992

Ann Coulter: "I'd deport the Dreamers before deporting MS-13 members. ... The Dreamers are all over Congress, the streets, TV," and "I want those guys first, then we'll get the felons."  https://www.mediamatters.org/video/2018/01/05/ann-coulter-id-deport-dreamers-deporting-ms-13-members/218991
7. From the Late Shows
Stephen Colbert Bites Into The Juicy New Trump Book:  https://youtu.be/jUz_MRN-83E

Jimmy Kimmel Live: New Book Claims Trump Sleeps with Friends Wives:  https://youtu.be/-e0bUPfHU4s


The Late Show with Stephen Colbert: Michael Wolff: You Should Believe All Of 'Fire And Fury':  https://youtu.be/vDFZKAS5eQw
8. Late Night Jokes for Dems
Former White House press secretary Sean Spicer said yesterday that Oprah Winfrey does not have enough political experience to run for president. I don't know what he said next, but it had to be "Why is everybody laughing?" -- Seth Meyers

Tickets for the College Football National Championship were at a minimum of $2,000. But, as part of that price you got to see President Trump try to sing our national anthem. It appears he might not know all the words to his anthem he talks about so much. [shows clip of Trump appearing to fumble lyrics] Yeah, no way he wins "Lip-Sync Battle" with a performance like that. The only part of the song he remembers is "red glare," because that's also the shade of the fake tanner he uses. -- Jimmy Kimmel

He did not seem to know all the words to the anthem. But there might be a good explanation for it. You know how the president keeps telling us he's a genius? Well, it turns out he isn't. I know, I was surprised, too. -- Jimmy Kimmel

The College Football National Championship game was last night. And President Donald Trump made an appearance. Now, after months of criticizing football players for taking knees, the president finally got the chance to stand for the national anthem. But some people noticed that Trump may not know all the words. He looks like a guy who just jumped on stage at a karaoke bar to sing "Despacito," and then suddenly remembered he can't speak Spanish. -- James Corden

Trump invited the press to an immigration meeting at the White House. He let them stick around for about an hour. They said, "This is the longest we've ever stayed here!" And Trump said, "Me, too!" -- Jimmy Fallon
9. Making Obama Great Again
One American politician is currently dominating the cultural landscape, from social media to late-night television. His poll numbers look great, his Twitter posts are often among the most read in the world, and with every utterance, his impassioned base of supporters reacts with a fervor more typical for celebrities than former civil servants.
Meet Barack Obama.
The former president left office last January with favorable approval ratings, but historians, former staffers, and political observers now say his societal standing has reached a new echelon — and it's partly due to his successor.  http://www.bostonglobe.com/news/nation/2018/01/06/trump-making-obama-great-again/Ge68WgqS6ljwXtwjSpDTYI/story.html
10. Trump's Greatest Worst Hits of 2017
The number of gaffes, dubious choices, and falsehoods issuing from the president in 2017 was so high that you may have forgotten some of the less notorious ones. To be reminded, go to  http://nymag.com/daily/intelligencer/2018/01/donald-trump-greatest-worst-hits-of-2017.html
11. Trump systematically alienates the Latino diaspora
A Manchurian Candidate who was secretly trying to alienate Hispanics would be hard pressed to do as much damage to the Republican brand as President Trump.
The administration announced Monday that it will terminate the provisional residency permits of about 200,000 Salvadorans who have lived in the United States since at least 2001, leaving them to face deportation. Trump previously ended what is known as Temporary Protected Status for Nicaraguans and Haitians, and he's expected to cut off Hondurans later this year.
This is part of a strategic, full-court press to make America less hospitable to immigrants, both legal and illegal.
Key takeaway: Trump's nativism may cost Republicans Senate seats this year in Arizona and Nevada, as well as several House seats across the Sunbelt.  https://www.washingtonpost.com/news/powerpost/paloma/daily-202/2018/01/09/daily-202-trump-systematically-alienates-the-latino-diaspora-from-el-salvador-to-puerto-rico-and-mexico/5a53c50830fb0469e883ffb1/
12. No Sane Lawyer Would Let Trump Sit for an Interview With Mueller
No lawyer worth his or her salt would let a client like Trump go in for an interview. A person with knowledge of the Mueller investigation who asked to remain anonymous told me that Trump is the kind of client who would "humiliate you and destroy you because he just can't follow directions."
Avoiding a Trump-Mueller one-on-one is not just a good course of action, but the only course of action. "The man's uncontrollable. He's a loose cannon," the person with knowledge of the Mueller investigation said. "No matter how much you prep him, no matter what small words you use to explain to him the potential landmines he could step on … he will leap in blindly and say whatever pops into his head, and that could be a potential disaster.  http://nymag.com/daily/intelligencer/2018/01/no-sane-lawyer-would-let-trump-be-interviewed-by-mueller.html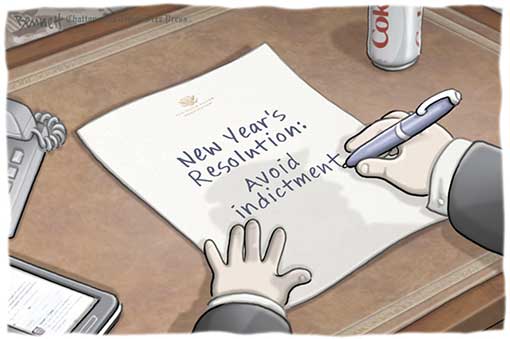 13. Trump has made more than 2,000 false or misleading claims over 355 days
With just 10 days before he finishes his first year as president, Trump has made 2,001 false or misleading claims in 355 days, according to our database that analyzes, categorizes and tracks every suspect statement uttered by the president. That's an average of more than 5.6 claims a day.  https://www.washingtonpost.com/news/fact-checker/wp/2018/01/10/president-trump-has-made-more-than-2000-false-or-misleading-claims-over-355-days/
14. Russia's Election Meddling Fits a Global Pattern
Russia's interference in the 2016 presidential election fits into a nearly two-decade pattern of meddling with governments around the world, and the United States' response to its brazen attack is being hindered by President Trump, a new report prepared by Senate Democrats concludes.
The report, which was released on Wednesday, is one of the most extensive to date on foreign interference by Russia and President Vladimir V. Putin. It tracks Russian efforts in 19 countries, chronicling misinformation campaigns, the funding of far-right political causes and the manipulation of energy supplies long before 2016 in an attempt to glean lessons for American officials considering how to counteract similar efforts here.  https://www.nytimes.com/2018/01/10/us/politics/trump-russia-election-interference.html
15. North Carolina Is Ordered to Redraw Its Congressional Map
A panel of federal judges struck down North Carolina's congressional map on Tuesday, condemning it as unconstitutional because Republicans had drawn the map seeking a political advantage.
The ruling was the first time that a federal court had blocked a congressional map because of a partisan gerrymander, and it instantly endangered Republican seats in the coming elections.
The judges issued their decision fewer than 24 hours before the General Assembly was to convene in Raleigh for a special session. The ruling unmistakably placed lawmakers on the clock, giving them two weeks to present a "remedial plan" and declaring that the court would institute its own map if it finds the new district lines unsatisfactory.  https://www.nytimes.com/2018/01/09/us/north-carolina-gerrymander.html
1. Ben Smithjan: I'm Proud We Published the Trump-Russia Dossier
Exactly one year ago BuzzFeed published what's now known simply as "the dossier": a set of reports put together by a former British intelligence officer named Christopher Steele during the 2016 presidential campaign. The 35-page dossier suggested that the Russian government had both compromised and colluded with President-elect Donald Trump.
Our choice to publish the dossier was greeted by outrage from two sources. Journalistic traditionalists didn't like the idea of sharing an unfiltered, unverified document with the public, whatever the caveats and context. NBC's Chuck Todd told me on air, "You just published fake news." Mr. Trump agreed. He described CNN's reporting on the dossier as "fake news" and called BuzzFeed a "failing pile of garbage."
But a year of government inquiries and blockbuster journalism has made clear that the dossier is unquestionably real news. That's a fact that has been tacitly acknowledged even by those who opposed our decision to publish. It has helped journalists explain to their audience the investigation into Russian influence on the 2016 election. And Mr. Trump and his allies have seized on the dossier in their efforts to discredit the special counsel leading the investigation, Robert Mueller.
Without the dossier, Americans would have found it difficult to understand the actions of their elected representatives and government officials. Their posture toward Mr. Trump was, we now know even more comprehensively than we did in January 2017, shaped by Mr. Steele's report. The Russia investigation, meanwhile, didn't turn out to be some minor side story but instead the central challenge to Mr. Trump's presidency.  https://www.nytimes.com/2018/01/09/opinion/im-proud-we-published-the-trump-russia-dossier.html
2. Scott Lemieux: Why Republican leaders will stand by Trump no matter what
Fire and Fury, Michael Wolff's gossipy tell-all about the inner workings of the Trump administration, has created a media firestorm. Predictably, President Trump's reaction to the book and the attention it received has demonstrated its apparent central theme: that Trump is temperamentally and intellectually unfit for the immensely powerful office he holds. But the book can also help to explain the paradox at the heart of contemporary politics: The more evidence of Trump's unfitness accumulates, the more powerful Republicans are circling the wagons in his defense.
Trump's reaction to Fire and Fury provides a perfect illustration of his character, showing his authoritarian instincts, impulsiveness, disloyalty, and narcissism. He threatened to sue to stop publication of the book, the most dangerous (and flagrantly unconstitutional) form of government censorship. He asserted that when former top strategist Stephen Bannon "was fired, he lost his mind." In an instantly legendary and self-refuting series of tweets, he claimed that "my two greatest assets have been mental stability and being, like, really smart" and that he was "a very stable genius." And at an odd Saturday press conference, he reiterated his wish that the United States had libel laws that prevented books critical of him from being published, repeated his ridiculous argument that Mexico would pay for a wall along the American border, and dismissed claims that his campaign colluded with Russia by quipping: "I do things proper."
Given that Trump's self-evident unfitness for office also comes with an unprecedented level of corruption, you might think that Congress would be using its oversight powers to check him. But the opposite is happening. Not only are Republican legislators refusing to investigate or meaningfully constrain Trump, they're turning the legal apparatus of the state against perceived enemies like Christopher Steele (author of the infamous intelligence dossier about Trump) and, of course, Hillary Clinton.  http://theweek.com/articles/747256/why-republican-leaders-stand-by-trump-no-matter-what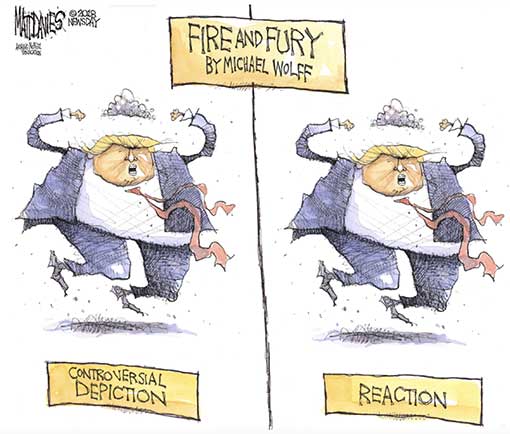 3. Charles M. Blow: 'Like, Really Smart'
This is the problem we face: We have a person occupying the presidency who is impetuous, fragile, hostile, irrational, intentionally uninformed, information-averse and semiliterate.
The question we have to put to the elected officials protecting this president, and indeed to all those being paid a taxpayer-funded salary and then concealing, distorting or denying the truth to make this man look competent, is: Don't you have an obligation, either moral, ethical, patriotic or otherwise, to level with America that you, too, are concerned by Trump's erratic behavior?
At the very least, don't the members of the House and Senate, who swore an oath to support and defend the Constitution, have an obligation to rebuke this president for his attacks on the press and free speech, both protected by the First Amendment of the Constitution?
These elected officials in particular are not only obsequiously placating a man nursing a god complex, they are displaying a staggering lack of national fealty.
You can't say that you love America and not take a stand to defend it from harm.
These politicians are taking the politically expedient track for political gain or political survival. They would rather defend a compromised Republican president than have to live in the wake of a deposed one. They would like to try to manage the damage Trump may do, rather than prevent that damage from occurring.
And in so doing, they are moving dangerously close to the day when being a loyal Trump Republican could be seen as being an unpatriotic American.  https://www.nytimes.com/2018/01/07/opinion/trump-stable-genius-smart.html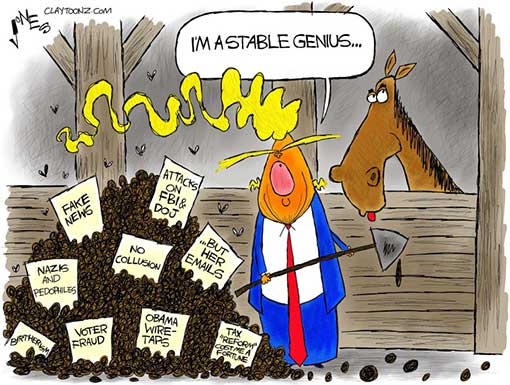 4. Andrew Sullivan: Trump's First Year Has Been a Disaster. Here's Why I Have Hope.
Michael Wolff's new book confirms what we already knew: that the White House is a smoldering crater of chaos and dysfunction. Wolff claims that every single White House source he talked to believes Trump is "incapable of functioning in his job." We have heard these claims about presidents before — but usually from the opposition, not from the White House itself, let alone unanimously. But Wolff's piece in The Hollywood Reporter yesterday also confirmed what is obvious about Trump's fast-eroding mental health: "Everybody was painfully aware of the increasing pace of his repetitions. It used to be inside of 30 minutes he'd repeat, word-for-word and expression-for-expression, the same three stories — now it was within 10 minutes." And: "At Mar-a-Lago, just before the new year, a heavily made-up Trump failed to recognize a succession of old friends." This addled, lazy, and belligerent man-child is nonetheless engaged in a war of insults and threats against a nuclear-armed dictatorship, with the capacity to kill millions. No head of any nuclear-armed country has ever said in public what Trump has now repeatedly broadcast to the world.
Should this tempt us toward optimism? I'd say not. Just because a drunk driver hasn't crashed for a quarter of his journey home carries no assurance that catastrophe isn't still eminently possible. But it seems possible, after a year of this insanity, to entertain some measure of hope that it will some day be over, and the country and the world not irrevocably damaged in the process. There may even be hope that the confirmation of everyone's darkest fears about this president's functionality may at some point break through, and perhaps after a drubbing in the fall elections, the GOP might even begin to reassess its reckless gamble. No, I'm not optimistic about this, but hope flickers in the distance. Reality at some point could finally intrude upon the reality show.  http://nymag.com/daily/intelligencer/2018/01/trumps-first-year-was-a-disaster-heres-why-i-have-hope.html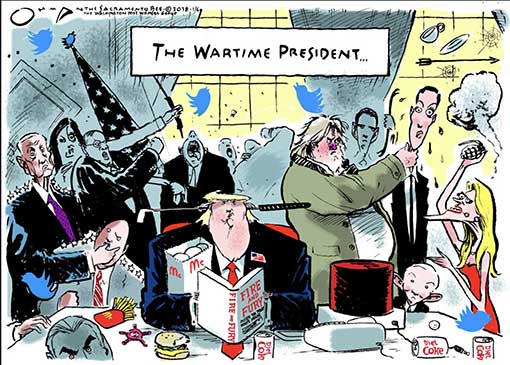 5. Jonathan Chait: Trump Has Created Dangers We Haven't Even Imagined Yet
During Trump's year in office, a great many terrifying things have happened. But the most terrifying are the things that have not happened, yet. Most of them probably never will. But one nuclear war can ruin your whole day, and the same holds true of a wide array of low-probability disasters that have all grown less improbable under Trump.
Throughout Trump's presidency, Michael Wolff observes, he has been "singularly focused on his own needs for instant gratification, be that a hamburger, a segment on Fox & Friends or an Oval Office photo opp." This is not only a matter of cognitive ability. A monomaniacal obsession with the short term has characterized Trump's entire career. He does not think strategically. He lives for the moment. Trump wrote in The Art of the Deal that he prefers to keep his workday unstructured, because "you can't be imaginative or entrepreneurial if you've got too much structure. I prefer to work each day and just see what develops." He makes decisions impulsively, has leveraged his assets precariously — "I'm the king of debt," he bragged — and went into bankruptcy six times. He specialized in unethical maneuvers that enabled him to take short-term profits while burning his partners — like tunneling money out of his failing casinos, defrauding customers, or refusing to pay contractors the agreed-upon price.
Why, besides ethics, haven't more business owners tried Trump's patented method of ripping people off? Because over the long run it poisons your ability to find willing partners. Indeed, mainstream banks eventually refused to deal with Trump, which is what led to his unusual dependence on Russia and other shady foreign sources for capital. In many ways, his presidency has followed the arc of his business career — short-term leverage plays that benefit Trump and his inner circle before his counter-parties wise up.  http://nymag.com/daily/intelligencer/2018/01/trump-has-created-dangers-we-havent-even-imagined-yet.html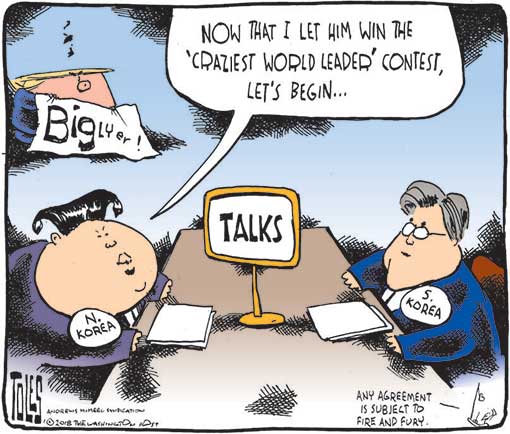 6. James Witcover: GOP tax bill is a Trojan horse
The Republicans jammed their little-explained and little-understood bill through Congress with not a semblance of bipartisanship in its authorship or public sausage-making. Republican advocates confessed to not having read all or even much of the voluminous product that will critically touch the lives of all Americans.
As Mr. Trump leads his party with bravado, with his transparent need for public adulation distorting reality, American politics lurches from one uncertainty to another. After the crushing Republican defeat in the special Senate race in Alabama, in which Mr. Trump invested much in the loser, he now turns to claims of broad benefits and tax cuts for working stiffs, although they are microscopic compared the tax breaks headed to already wealthy individual and corporate businessmen like himself.
As the end of Mr. Trump's first year in office approaches, he promises that the major tax rate reduction for the highest corporate interests will lead to great job growth — the old Republican establishment trickle-down litany.
The impact on voters of his huge tax cuts is yet to be determined. And the jury is still out on that broader question of presidential qualification, which drives the Justice Department and congressional investigations threatening and challenging Donald Trump's incumbency.  http://www.baltimoresun.com/news/opinion/oped/bs-ed-op-0102-witcover-tax-bill-20171228-story.html
7. Paul Waldman: Trump's war on Justice
The provenance of the FBI investigation explodes the claim some on the right — including Trump himself — had been making before now, that the entire investigation is illegitimate because it supposedly originated with the opposition research "dossier" assembled by a former British intelligence agent. "FBI TAINTED," Trump recently tweeted after getting riled up by a segment about the dossier on Fox & Friends. "And they used this Crooked Hillary pile of garbage as the basis for going after the Trump Campaign!"
Well no, they didn't — not to mention the fact that they weren't "going after the Trump Campaign," they were investigating whether a hostile foreign power was meddling in an American presidential election. But I suppose that if you think that any investigation into that question is proof of anti-Trump bias, you'd be willing to countenance all manner of attacks on federal law enforcement.
I'm sure there are more than a few elected Republicans who are deeply uneasy with the fact that so many of their ideological compatriots are vilifying the FBI and the Justice Department. If you're one of them, and you don't want to be one of those screaming for a "purge" of those in government who are insufficiently loyal to Trump (and yes, one congressman actually used that word), up until now it hasn't been too hard to dodge questions on the scandal. You could just say that we should let the investigation run its course and then address the findings, whatever they turn out to be.
But you can only say that for so long. With each new revelation that implicates the campaign and perhaps Trump himself, there will be an intense reaction from Trump's defenders to vilify the investigators. Every Republican will have to decide how far they're willing to go to stand by an increasingly desperate president. As they make that decision, they'll reveal a great deal about themselves.  http://theweek.com/articles/746157/trumps-war-justice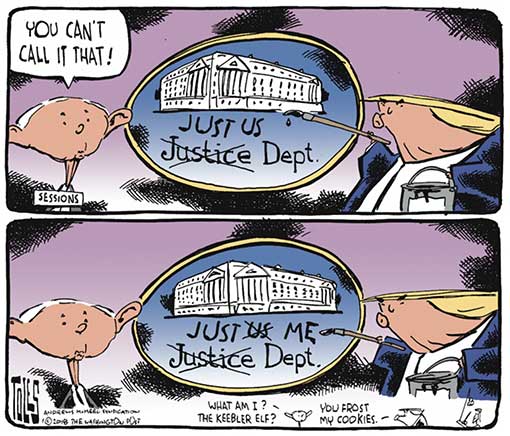 8.  Evan Osnos: Donald Trump and North Korea: Big Button, Small President
Responding to Kim Jong Un's speech from a day earlier—when the North Korean leader said the U.S. is "within the range of our nuclear strike and a nuclear button is always on the desk of my office"—Trump tweeted, "Will someone from his depleted and food starved regime please inform him that I too have a Nuclear Button, but it is a much bigger & more powerful one than his, and my Button works!"
For seventy years, North Korea has baited America with threats of mayhem, and, for seventy years, American Presidents, with rare exceptions, understood that squabbling with a pariah state whose economy is smaller than that of Rhode Island would diminish their own stature and America's standing. Trump, by contrast, summoned the world's attention and then sawed himself off at the knees.
After a year of the President's casual threats of mayhem, of his belittling of American alliances, of claims so bizarre that a man shouting them on a public bus would get a wide berth, the response from Americans generally ranges from disbelief to despair to numbness. They are moments that defy the usual analysis, other than psychoanalysis.
For the moment, Trump's and Kim's bloviations about nuclear buttons on their desks remain in the realm of schoolyard fantasy. (Neither arsenal actually functions via desk button, though this is thin reassurance.) But the occasion is an awful reminder that, between them, they share less than eight years of experience in public office—and seven of them are on Kim's side.  https://www.newyorker.com/sections/news/donald-trump-and-north-korea-big-button-small-president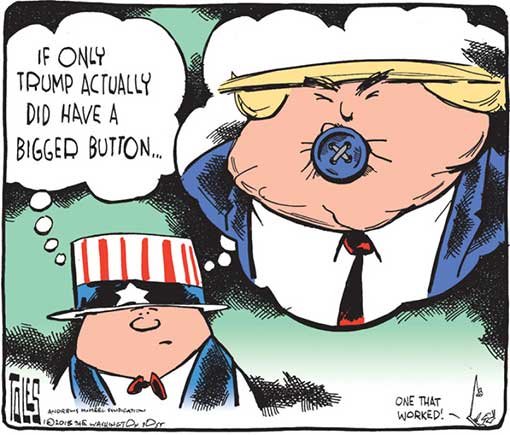 9. Neal F. Lane and Michael Riordanjan: Trump's Disdain for Science
Sound science advice was conspicuously absent from the president's revised budget for the fiscal year 2018, which features draconian cuts at the E.P.A., the Department of Energy, the National Institutes of Health, the National Oceanographic and Atmospheric Administration, the National Science Foundation and other federal agencies — especially those sponsoring climate-change research. Congress has largely refused to go along with the drastic cuts, but significant reductions will almost inevitably occur this year.
The assaults by Mr. Trump and his administration on American science and technology might have been avoided, or at least tempered, had the president already named, and the Senate confirmed, a distinguished scientist as his science adviser — especially if that individual had direct presidential access.
Nowhere is this need for advice more crucial than in the arena of nuclear weaponry. In fact, most presidential science advisers have been physicists, who can knowledgeably address the technologically sophisticated questions that always arise in this arena. For instance, in the case of the 2015 international nuclear agreement with Iran, President Obama benefited from the trusted advice of Dr. Holdren and his energy secretary, Ernest Moniz, an M.I.T. nuclear physicist, both experts on the science, technology and policy of nonproliferation. It's unclear whose advice Mr. Trump relied on when he refused last year to certify Iran's compliance with that deal. This is an exceedingly dangerous situation, particularly in view of the looming threat of a nuclear confrontation with North Korea.
No president in recent history has needed a capable science adviser more while apparently wanting one less. But given Mr. Trump's obvious disdain for science — and for evidence in general — it will be difficult at this point, if not impossible, to find an accomplished, reputable scientist who would agree to work with him.  https://www.nytimes.com/2018/01/04/opinion/trump-disdain-science.html
10. Jonathan Chait: Republicans Turn on Bannon for Telling the Truth About Trump
In his short career as a power within the Republican Party, Steve Bannon committed a litany of crimes and mistakes. He brought white supremacists and Nazis into mainstream party politics; he whipped up discontent against loyal Trump allies in Congress on behalf of insurgents who couldn't win (and who also happened to be theocratic child-molesters). But Bannon has finally done something truly unforgivable: He told the truth about Donald Trump.
Bannon's cooperation with Michael Wolff's dishy account, which paints the president as a man-child and his son as treasonous, has prompted his swift excommunication. Bannon's funders have pulled the plug on his rogue pseudo-populist operation and even his lavish security detail. Trump has given him a derisive nickname. Mitch McConnell, Bannon's bête noire, is openly celebrating the demise of his adversary. Trump had long since abandoned his "nationalist" agenda and given himself over to standard Republican policy.
Bannon's content-free insurgency on Trump's behalf was the last vestige of conflict between the party and the president. Having removed the most pronounced irritant in their relationship, the president and the party apparatus have drawn more tightly together than ever before. And so the publication of a book detailing that nearly everybody who works for Trump considers him utterly unfit for office has had the perverse outcome of solidifying party support for that very president.  http://nymag.com/daily/intelligencer/2018/01/republicans-turn-on-bannon-for-telling-the-truth-about-trump.html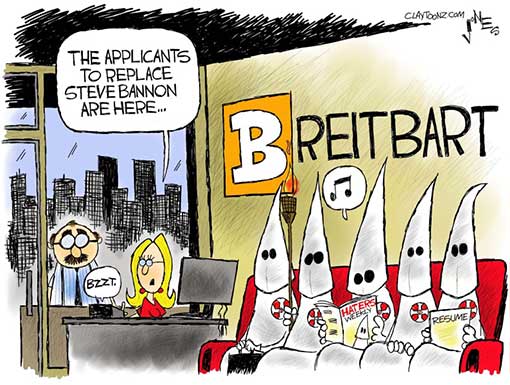 11. Matthew Gertz: I've Studied the Trump-Fox Feedback Loop for Months. It's Crazier Than You Think.
It's no secret, of course, that the president likes to tweet about what he sees on TV. Thanks to diligent reporting from the White House beat, we know Trump often watches several hours of cable news each day via the "Super TiVo" he had installed at the White House. And journalists at CNN, the Washington Post, New York magazine, among others, have compiled lists of Trump tweets they believe were inspired by Fox.
But here's what is shocking: After comparing the president's tweets with Fox's coverage every day since October, I can tell you that the Fox-Trump feedback loop is happening far more often than you think. There is no strategy to Trump's Twitter feed; he is not trying to distract the media. Heis being distracted. He darts with quark-like speed from topic to topic in his tweets because that's how cable news works.
Here's what's also shocking: A man with unparalleled access to the world's most powerful information-gathering machine, with an intelligence budget estimated at $73 billion last year, prefers to rely on conservative cable news hosts to understand current events.  https://www.politico.com/magazine/story/2018/01/05/trump-media-feedback-loop-216248
12. The Increasing Unfitness of Donald Trump
A new book by Michael Wolff, Fire and Fury: Inside the Trump White House, amplifies, in lurid anecdote and quotation, what we have been learning elsewhere every day for the past year: Trump believed that he would lose the election, but would multiply his fame, his fortune, and his standing in American life. To near-universal shock, however, he won. And the consequences followed. Trump has no comprehension of policy and cares about it less. He surrounds himself with aides who are either wildly incompetent or utterly defeated in their attempts to domesticate the mulish and bizarre object of their attention. There are no lingering illusions about the President's capacities: Secretary of State Rex Tillerson called Trump 'a fucking moron' and spared us a denial. Wolff's book, which leans heavily on interviews with Steve Bannon, makes it plain that pretty much everyone in the President's circle agrees that he is, in terms of character and intellect, fantastically limited. There is no loyalty or deliberation in the White House, only a savage 'Lord of the Flies' sort of chaos. Each day is at once preposterous, poisonous, and dangerous."
"In the meantime, there is little doubt about who Donald Trump is, the harm he has done already, and the greater harm he threatens. He is unfit to hold any public office, much less the highest in the land. This is not merely an orthodoxy of the opposition; his panicked courtiers have been leaking word of it from his first weeks in office. The President of the United States has become a leading security threat to the United States.  https://www.newyorker.com/magazine/2018/01/15/the-increasing-unfitness-of-donald-trump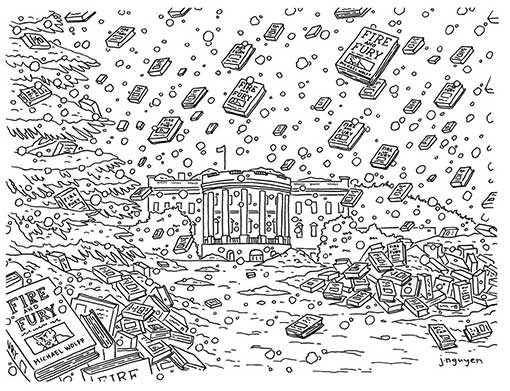 13. David Frum: Donald Trump Goes Full Fredo
In 2016, there were voters who genuinely, in good faith, believed that Donald Trump was a capable business leader, moderate on social issues, who cared about the troubles of working class white America—and would do something to help. There may well still be some people who believe this—but nowhere near enough to sustain a presidency.
What sustains Trump now is the support of people who know what he is, but back him anyway. Republican political elites who know him for what he is, but who back him because they believe they can control and use him; conservative media elites who sense what he is, but who delight in the cultural wars he provokes; rank-and-file conservatives who care more about their grievances and hatreds than the governance of the country.
Michael Wolff has done a crucial service, showing more intimately than any reporter yet the true nature of the man at the center of the American system. But without the complicity of other power-holders, Trump would drop from his central position like a tooth from a rotten gum. What we need to do now is widen the camera angle beyond Fredo Trump to the hard-faced men and women over his shoulders. Those are the people who put Trump where he is, and keep him there, corrupting the institutions of American democracy and troubling the peace and security of the world.  https://www.theatlantic.com/politics/archive/2018/01/donald-trump-goes-full-fredo/549875/