July 13, 2022
THE WEEK'S BEST QUOTES. . .
"He's lied so much that we don't know what's true." — A Herschel Walker campaign adviser. https://www.thedailybeast.com/herschel-walker-lied-about-his-secret-kids-to-his-own-campaign

"Speaking of peaceful transition of power… whatever happens next for Boris Johnson, there is literally zero chance that he will organize a mob to sack Parliament or incite his supporters to try to hang the heir to the throne." — David Frum https://twitter.com/davidfrum/status/1544684836815863808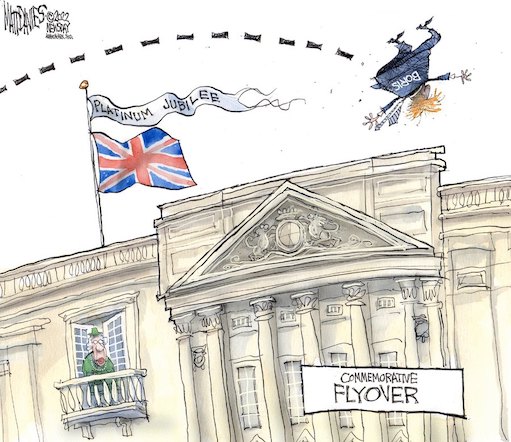 "It's not like Boris sent a mob to Buckingham Palace to sack the Queen or something." — George Conway. https://twitter.com/gtconway3d/status/1544378788544499716

President Biden is "comprised" because he allegedly funded a "global sex scandal, sex… um… operation." — Sen. Ron Johnson (R-WI) to Real America's Voice. https://twitter.com/RonFilipkowski/status/1545153081419206659

"Here's what I have to say. I mean. Two shootings on July 4: one in a rich white neighborhood and the other at a fireworks display. It almost sounds like it's designed to persuade Republicans to go along with more gun control. I mean, after all, we didn't see that happen at all the pride parades in the month of June." — Rep. Marjorie Taylor Greene (R-GA) questioned whether the July 4th shooting in Highland Park, Illinois was "designed" to get Republicans to support gun restrictions, NBC News reports. https://www.nbcnews.com/politics/congress/rep-greene-questions-july-4-shootings-designed-get-republicans-back-gu-rcna37118

"What we're witnessing wasn't a constitutional judgment, it was an exercise in raw political power. We cannot allow an out of control Supreme Court, working in conjunction with extremist elements of the Republican party, to take away freedoms and our personal autonomy." — President Biden while signing an executive order to protect access to abortion services. https://www.reuters.com/world/us/biden-sign-executive-order-help-safeguard-access-abortion-contraception-2022-07-08/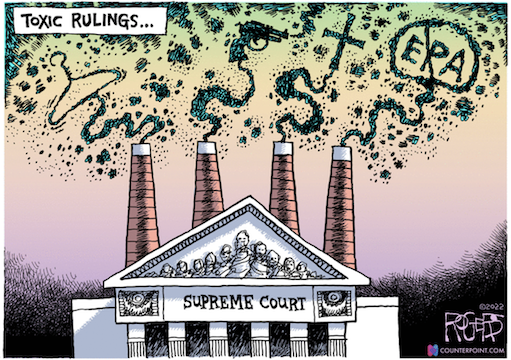 "Poor guy. He left before his soufflé because he decided half the country should risk death if they have an ectopic pregnancy within the wrong state lines. It's all very unfair to him. The least they could do is let him eat cake."— Rep. Alexandria Ocasio-Cortez (D-NY), on Twitter, responding to reports that Supreme Court Justice Brett Kavanaugh left before dessert amid protesters standing outside while he ate his steak dinner. https://twitter.com/AOC/status/1545505082569117698

I feel terribly for Justice Kavanaugh. He tried to make a choice, namely where his body should be and what should be inside of it. Then a small group of people unrelated to him showed up and made it impossible for him to make that choice.…hey wait a minute! https://twitter.com/jayblackisfunny/status/1545379675383517186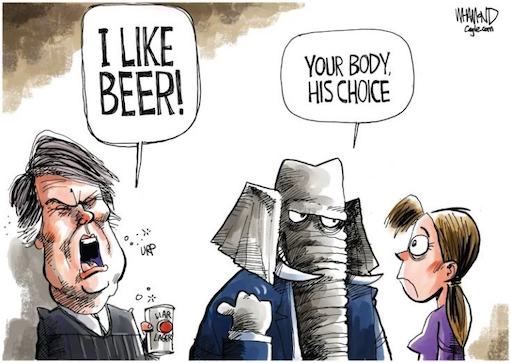 A suicidal 19 year-old can buy an assault rifle and a 10 year-old can be forced to birth her rapist's baby. But the GOP claims America will crumble if teens say "gay" or learn that slave owners owned slaves. — Bryan Behar, https://twitter.com/bryanbehar/status/1544746495705894912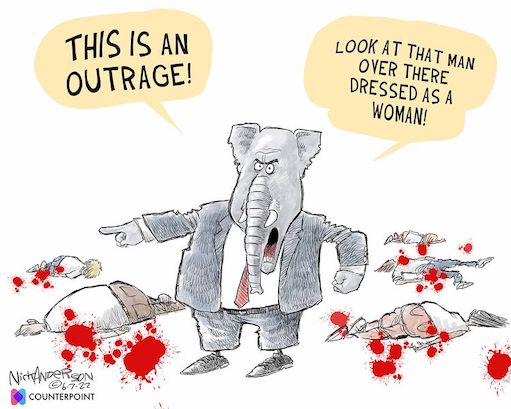 "Quit smoking. Otherwise you die and will not witness Putin's death." — Warning on cigarette packages in Ukraine. https://twitter.com/sumlenny/status/1507838014873088009

"I am here to sound the alarm about a psychopath, killer, in the Middle East with infinite resources, who poses threat to his people, to the Americans and to the planet." — Saad Aljabri, the former second in command of Saudi intelligence, talking about Saudi Arabia's Crown Prince Muhammad bin Salman in a 60 Minutes interview. https://www.cbsnews.com/news/mohammed-bin-salman-alleged-plot-saad-aljabri-60-minutes-2022-07-10/

"Under the law, no matter where you live, women have the right to emergency care — including abortion care. Today, in no uncertain terms, we are reinforcing that we expect providers to continue offering these services, and that federal law preempts state abortion bans when needed for emergency care. Protecting both patients and providers is a top priority, particularly in this moment. Health care must be between a patient and their doctor, not a politician. We will continue to leverage all available resources at HHS to make sure women can access the life-saving care they need." — HHS Secretary Xavier Becerra. https://www.hhs.gov/about/news/2022/07/11/following-president-bidens-executive-order-protect-access-reproductive-health-care-hhs-announces-guidance-clarify-that-emergency-medical-care-includes-abortion-services.html

"I will be supporting somebody in the primary other than Mr. Trump. Because he doesn't represent my party. He doesn't represent the morals and the platform of my party. And I just see it more and more all the time. That guy is just — he's his own party. It's a party of intimidation and I don't like it." — Arizona House Speaker Rusty Bowers, walking back a comment he made after his testimony to the January 6 Committee. https://www.deseret.com/2022/7/10/23200116/q-a-rusty-bowers-opens-up-on-trump-the-jan-6-committee-and-his-latter-day-saint-faith
VIDEOS
"We have bigger problems than that. We'll have a little more beachfront property. That's not the worst thing in the world." — Donald Trump, at a campaign rally in Alaska, dismissing climate change and rising sea levels. https://twitter.com/atrupar/status/1545932219285397505?s=20&t=A5-MN8XFH9w2e9yOjwLWcA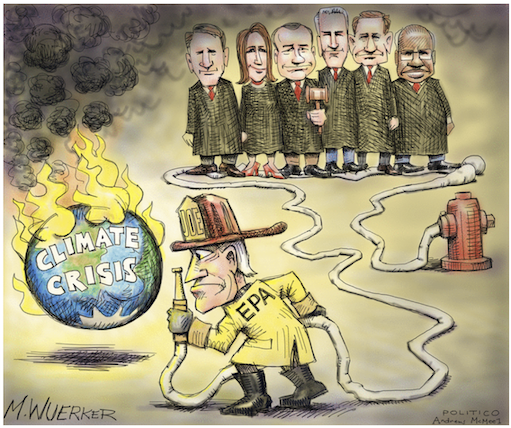 "The reason why I think Pence is guilty of treason, to at least President Trump and perhaps to this country, is that he acted on the basis of a flawed legal opinion concocted by his own general counsel that he did not share with either the president or with the president's White House legal counsel. Due process plus duty to the commander in chief required you to do that." — Peter Navarro saying that Mike Pence committed treason for refusing to overturn the results of the 2020 presidential election. https://twitter.com/Acyn/status/1546655959413624836

"President Trump is a 76 year old man. He is not an impressionable child. Just like everyone else in our country, he is responsible for his own actions and his own choices.". — Liz Cheney beginning the July 12 hearing of the January 6 committee: https://twitter.com/atrupar/status/1546906042927353857

"Pray for our enemies, because we're going medieval on these people. We're gonna savage our enemies. Who needs prayers? Certainly not Steven K. Bannon." — Steve Bannon vowing on his podcast to go scorched earth on his adversaries. https://twitter.com/RonFilipkowski/status/1546883782501883908

We in American have some of the cleanest air and cleanest water of anybody in the world. So what we do, we're gonna put, from the Green New Deal, millions of billions of dollars cleaning our good air up. So all of a sudden China and India ain't putting nothing in cleaning that situation up. All their bad air is still there. But since we don't control the air, our good air decided to float over to China's bad air. So when China gets our good air, their bad air got to move. So it moves over to our good air space. Then now we got we to clean that back up. -- Georgia Republican Senate Candidate Herschel Walker https://twitter.com/stphnfwlr/status/1546476045112676352
LITIGATION TRACKER
Pending Criminal and Civil Cases Against Donald Trump. https://www.justsecurity.org/75032/litigation-tracker-pending-criminal-and-civil-cases-against-donald-trump/
---
IN THIS ISSUE
IN THE NEWS
OPINION
Andy Borowitz: Tucker Carlson Accuses Biden of Lowering Gas Prices
In a blistering takedown of the President, Tucker Carlson accused Joe Biden of cynically leveraging the power of his office to lower gasoline prices.

"For weeks, Biden has been saying that he'd do something about the price of gasoline," the Fox News host said. "Now, lo and behold, gas prices are lower. Joe Biden has been acting in plain sight."

"The American people aren't dumb," Carlson continued. "When they fill up their tanks, they notice that it costs less. They can tell that something's going on, and they're not going to put up with it."

After gas prices showed their biggest one-day drop in almost fifteen years, Carlson said, "It's time to call out the man behind this conspiracy: Joe Biden."

Carlson demanded that Congress "stop investigating January 6th and focus its attention on a real scandal: Joe Biden's corrupt plot to lower gas prices."

"This is worse than anything Hunter has done," Carlson charged. https://www.newyorker.com/humor/borowitz-report
The January 6 Committee Moves the Needle
A new POLITICO/Morning Consult suggests that the Jan. 6 committee's work could be changing the public's understanding of that day's events.
(1) 66% of voters say Trump attempted to overturn the 2020 election;
(2) 66% say he claimed the election was fraudulent without evidence, and;
(3) 59% say he misled the public about the outcome of the election.
Also, 44% of Republicans say Trump lied about the election results. That's up seven points since the end of June. That said, members of the GOP continue to avoid blaming Trump for the Jan. 6 attack: 60% of Republicans said he's not responsible.
https://www.politico.com/f/?id=00000181-f099-d914-a1af-f8d9d08d0000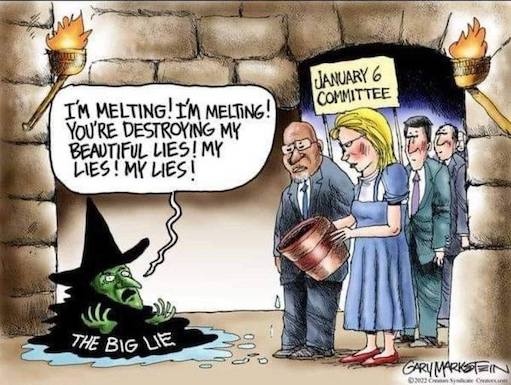 The Coming Red Wave Might Be a Red Mirage
There have now been 9 generic congressional ballot polls since the Supreme Court overturned Roe v. Wade and their average shows Democrats leading by 45.4% to 43.7% lead or 1.7 percentage points. If you take out the Rasmussen polls, Democrats hold a 2.5 percentage point lead.
Looking at this data, Simon Rosenberg concludes the race has shifted 4 to 5 percentage points towards the Democrats in just a couple of weeks.
https://twitter.com/SimonWDC/status/1544720788863041541
Georgia DA won't rule out subpoena for Trump in election interference investigation
A Georgia district attorney said she will not rule out subpoenaing former President Donald Trump as part of her grand jury investigation into whether he criminally interfered in the 2020 election in that state.
https://www.cnbc.com/2022/07/06/georgia-da-wont-rule-out-subpoena-for-trump-in-election-investigation.html
Leaked Audio: Before Election Day, Bannon Said Trump Planned to Falsely Claim Victory
Mother Jones has a leaked audio showing that on October 31, 2020, Steve Bannon "told a group of associates that President Donald Trump had a plan to declare victory on election night—even if he was losing."
"Trump knew that the slow counting of Democratic-leaning mail-in ballots meant the returns would show early leads for him in key states. His 'strategy' was to use this fact to assert that he had won, while claiming that the inevitable shifts in vote totals toward Joe Biden must be the result of fraud, Bannon explained."
https://www.youtube.com/watch?v=OxNoUnxN_cs
Evidence of firearms in Jan. 6 crowd grows as arrests and trials mount
Some of the startling revelations of the recent blockbuster Jan. 6 House committee hearing came in snippets of police radio traffic captured during President Donald Trump's rally on the Ellipse and from Trump's purported response to being told there were armed protesters just outside a secured area.
The full picture of how many among the crowd were armed before the riot occurred is unclear, but court records, trial testimony and accounts from police officers and rioters have supplied growing evidence that multiple people brought firearms to Washington for Jan. 6, 2021. Six men were arrested that day for having guns in the vicinity of the U.S. Capitol, and a seventh who arrived after the riot ended was arrested the following day. Despite some instances in which alerts about people with guns turned out to be false alarms, accounts from police officers and rioters indicate that many firearms were spotted on Jan. 6 but were not seized as law enforcement focused more on defending the Capitol than on arresting gun-law violators.
https://www.washingtonpost.com/dc-md-va/2022/07/08/jan6-defendants-guns/
Arizona law granting human rights to fetuses blocked by federal judge
Acknowledging that the law on abortion in Arizona is "murky," a federal judge on Monday issued an order halting enforcement of a 2021 statute that grants human rights to fetuses.
U.S. District Judge Douglas Rayes' 17-page order says that the law is too vague and risks arbitrary enforcement, siding with abortion rights advocates who filed their challenge one day after the U.S. Supreme Court overturned the landmark Roe v. Wade case in June.
https://www.azcentral.com/story/news/politics/arizona/2022/07/11/judge-issues-injunction-arizona-anti-abortion-personhood-law/10034656002/
A Seismic Shift for Democrats
For the first time in a Times/Siena national survey, Democrats had a larger share of support among white college graduates than among nonwhite voters — a striking indication of the shifting balance of political energy in the Democratic coalition. As recently as the 2016 congressional elections, Democrats won more than 70 percent of nonwhite voters while losing among white college graduates. https://www.nytimes.com/2022/07/13/upshot/poll-2022-midterms-congress.html
Logs show 10 House Republicans attended White House meeting on pressuring Pence
Ten Republican members of Congress attended a Dec. 21 White House meeting focused on efforts to pressure former Vice President Mike Pence to help overturn the 2020 election, according to the Jan. 6 committee.
The revelation underscores how deep the involvement of some lawmakers were in former President Trump's schemes to overturn the election even after the electoral college met to affirm President Biden's victory.
https://www.axios.com/2022/07/12/house-republicans-jan6-white-house
Trump's new money-maker: Political speeches to fans
On a Saturday morning at an arena outside Memphis, Terri Owens joined the crowd streaming in to see former president Donald Trump.
They lined up according to how much they'd paid.
At the far end of a white entrance tent, near a bus wrapped with a photo of Trump's head on a muscular, shirtless body, were attendees who paid $55 for a pair of tickets as "citizens," a general admittance option. At the front, closest to the doors guarded by Secret Service agents, stood a "presidential" tier who shelled out $3,995 each.
Owens, a 53-year-old nurse, bought a pair of VIP tickets for $800. She wasn't clear on where the money was going — nor did she care.
In fact, the fees aren't going to Trump's political action committee, his $100 million war chest. This event was not a Trump rally, where attendance is free.
Instead, it was a for-profit show, more like a rock concert. The proceeds benefit Trump personally as part of a multimillion-dollar deal to speak at the events, according to two people familiar with the matter who spoke on the condition of anonymity.
https://www.washingtonpost.com/nation/2022/07/07/trump-for-profit-speeches-american-freedom-tour/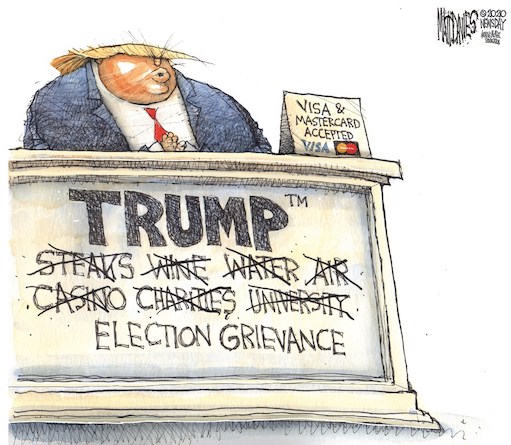 How Redistricting Gives Republicans New Political Power
Republicans are favored to take control of the House in this year's midterm elections, and redistricting has given them a built-in advantage that could span the next 10 years.
The GOP is expected to net a handful of seats based solely on new district lines drawn to reflect population changes captured by the 2020 census. Perhaps more important, the party will start with a larger base of safe seats than Democrats. Such an advantage, which could stretch over the next five election cycles if the new maps survive court challenges and the country's political polarization remains largely unchanged, will allow the Republican Party to direct more resources at fewer seats in seeking a majority. It will also make the party less vulnerable to suffering a large loss of seats in a single election.
https://www.wsj.com/articles/how-redistricting-gives-republicans-new-political-power-11657359001
What the Latest Polls Tell Us About Abortion and the 2022 Midterms
The Court issued its ruling on the morning of June 24. In a CBS News/YouGov survey taken on June 24 and 25, 50 percent of Democrats said the Court's decision to overturn Roe made them more likely to vote in the midterms. Among Republicans, the number was only 20 percent. A Marist/NPR/PBS poll found almost the same gap: by 24 percentage points, Democrats were more likely than Republicans to say that Court's ruling increased their inclination to vote.
Many Republicans were already eager to vote based on other issues, chiefly inflation. So perhaps their enthusiasm didn't have much room to grow. Still, they could have indicated that the abortion ruling would add to their motivation. They didn't. And that makes sense, because voters tend to be mobilized by anger, not satisfaction. The simplest explanation for the partisan gap in polls is that Dobbs has alarmed pro-choice voters, not pro-life voters.
https://www.thebulwark.com/heres-what-the-latest-polls-tell-us-about-abortion-and-the-2022-midterms/
Why Boris Johnson ultimately resigned — and Trump never did
The resignation of British Prime Minister Boris Johnson is testament to the power of elected politicians to hold their leaders accountable. It is a lesson that has been lost on Republican Party officials as they have weighed repeatedly how to deal with former president Donald Trump.
Johnson's resignation Thursday came after a collapse in support among members of his government and Conservative Party backbenchers. Nothing like that has happened to Trump, not during his first impeachment, nor his second impeachment, not even after the role he played in the attack on the Capitol by his supporters on Jan. 6, 2021. In each case, all but a handful of Republican elected officials rallied behind Trump — and still do.
https://www.washingtonpost.com/politics/2022/07/07/boris-johnson-faced-revolt-his-party-trump-never-had-that-problem/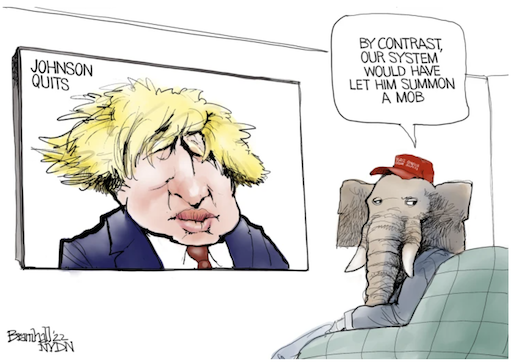 The Irony Meter Has Broken
Fox & Friends obliviously criticizing Boris Johnson for being untrustworthy, refusing to leave office, creating chaos, and mishandling Covid -- after years of running interference for you know who -- is pretty rich.
https://twitter.com/atrupar/status/1545048168844312577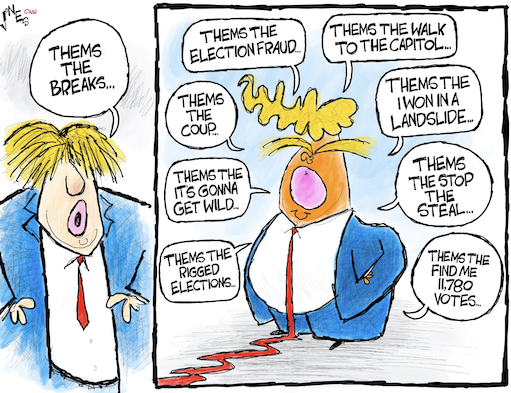 Michael Flynn cited for unauthorized foreign payments
Michael Flynn, the retired Army general and onetime adviser to President Donald Trump, was cited by the Defense Department inspector general for failing to disclose lucrative speaking engagements and other business arrangements with foreign entities, prompting the U.S. government to pursue tens of thousands of dollars in penalties against him, according to documents.
Investigators determined that Flynn received nearly $450,000 from Turkish and Russian interests in 2015, including for an appearance in Moscow alongside President Vladimir Putin, but found no records that he had sought government approval beforehand.
https://www.washingtonpost.com/national-security/2022/07/08/michael-flynn-foreign-payments/
Democrats have a Hispanic problem
Southern Texas, a heavily Hispanic region along the American border with Mexico, was once a Democratic stronghold as reliable as any urban core. But it now appears to be crumbling. Last month a special election was held to pick the next representative for the state's 34th CD, which snakes 250 miles (400km) down from the San Antonio exurbs to the border city of Brownsville and the southernmost tip of the state. Some parts of the district have been represented continuously by Democrats since 1870. Barack Obama carried it by 23 percentage points in 2012. It is 85% Hispanic.
Yet it was a Republican, Mayra Flores, who triumphed. The first Mexican-born congresswoman in American history is hardly a moderate. She is a pro-life, anti-vaccine-mandate Republican who is searingly critical of illegal immigration (and married to a Border Patrol agent, to boot).
https://www.economist.com/united-states/2022/07/07/democrats-have-a-hispanic-problem
Trump's Final Days
Filmmaker Alex Holder's documentary on the final days of the Trump administration, Unprecedented is streaming on Discovery+.
https://twitter.com/alexjholder/status/1544785876542230528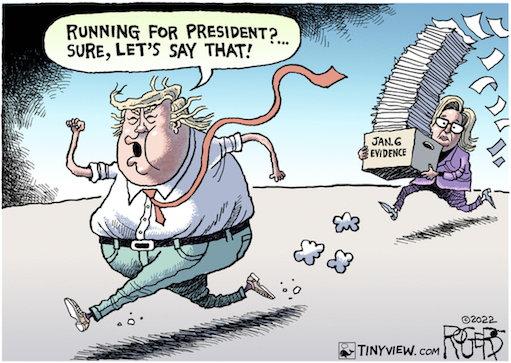 House Republicans weigh national abortion restrictions
House Republicans are weighing what kind of national-level abortion ban legislation to pursue if they win the House majority next year, with a 15-week ban or further on the table.
https://thehill.com/homenews/house/3548140-house-republicans-weigh-national-abortion-restrictions/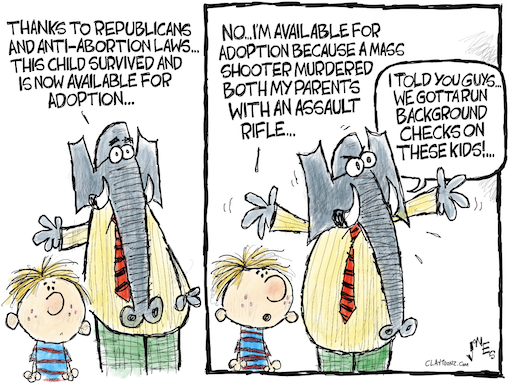 Michigan GOP candidates for governor pledge loyalty to Trump in primary debate
The four leading contenders in Michigan's GOP primary for governor professed loyalty to former President Donald Trump at a debate Wednesday night while promoting debunked conspiracy theories that the 2020 election was stolen from him.
"President Trump is still my president," chiropractor Garrett Soldano responded when candidates were asked if they supported Trump even after recent congressional hearings revealed more about his actions before the Jan. 6 insurrection.
https://www.nbcnews.com/politics/2022-election/michigan-gop-candidates-governor-pledge-loyalty-trump-primary-debate-rcna37028
Poll: Just 18% of Americans say Biden should run for reelection in 2024 — a new low
Just 18% of Americans say President Biden should run for reelection in 2024, according to the latest Yahoo News/YouGov poll — the lowest number to date. Nearly two-thirds (64%) say he should bow out.

And for the first time, more Democrats now say Biden should pass on a second term (41%) than say he should pursue one (35%). https://news.yahoo.com/poll-just-18-of-americans-say-biden-should-run-for-reelection-in-2024-a-new-low-140538311.html
Candidate challenges, primary scars have GOP worried about Senate chances
Not for decades has the midterm environment appeared as favorable to Republicans, with President Biden's approval rating at 39 percent, according to a Washington Post polling average in June and the share of voters approving of the country's direction dropping to 10 percent in a Monmouth poll late last month. But four months from Election Day, Republicans are struggling in several of the marquee Senate races because of candidate challenges and campaigns still recovering from brutal Republican primaries, putting control of the upper chamber of Congress in 2023 up for grabs. https://www.washingtonpost.com/politics/2022/07/10/republicans-senate-midterms/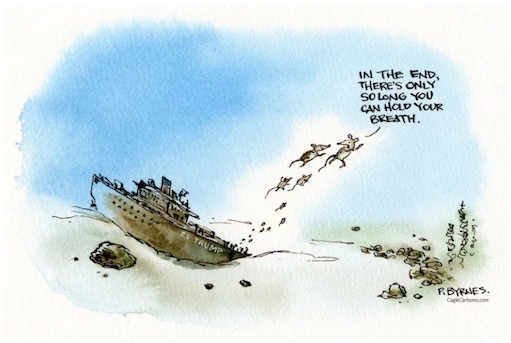 The DAILY GRILL
Great News! We have a SPECIAL EDITION of OUR JOURNEY TOGETHER. Each one is hand signed by me. Very limited edition they won't last long. Get your copy at 45books.com
VERSUS
One thing Trump neglected to mention in his Truth Social post: the special-edition bundle costs nearly $1,000. Why? Well, the short answer, obviously, is that Trump is not one to pass up a good moneymaking scheme.
https://nymag.com/intelligencer/article/trump-our-journey-together-special-edition.html
Items allegedly carried (or placed) in DC on Jan 6 now includes:
Molotov Cocktails
Pipe Bombs
"Bomb making instructions"
Explosives
Gallows & noose
Loaded Guns
Bear Spray
Knives, ax, tomahawk
"Death List"
(and an armed "Quick Reaction Force" across the river in Virginia) —
Scott MacFarlane, CBS News Congressional Correspondent
.
https://twitter.com/MacFarlaneNews/status/1545911174163742721
VERSUS
An insurrection is when people with guns try to overthrow the government. Not a single person in the crowd on January 6th was found to be carrying firearm. Not one.
Tucker Carlson video
https://twitter.com/Acyn/status/1535419250608726017
July 10: Multiple sources confirm there's a high possibility of
rolling blackouts in Texas
between 2 and 6 p.m. in the afternoon for the next three days.
http://quorumreport.com/quorum_report_daily_buzz_2022/multiple_sources_confirm_high_possibility_of_at_le_buzziid31129.html
VERSUS
Last November,
Gov. Greg Abbott (R)
guaranteed that "no one will face danger again from a power failure" in his state.
http://quorumreport.com/quorum_report_daily_buzz_2022/multiple_sources_confirm_high_possibility_of_at_le_buzziid31129.html
I'm not saying it could not have happened. What I'm saying to you is there is not a damn scintilla of evidence." —
Ohio Attorney General Dave Yost
. on Fox News, questioning the report that a 10-year-old rape victim traveled from Ohio to Indiana for abortion services after most abortions became illegal in her home state.
https://www.dispatch.com/story/news/2022/07/13/columbus-man-charged-rape-10-year-old-led-abortion-in-indiana/10046625002/
VERSUS
"We rejoice anytime a child rapist is taken off the streets." —
AG David Yost's
one line statement after news of the arraignment of the Columbus man accused in the child's rape.
https://www.dispatch.com/story/news/2022/07/13/columbus-man-charged-rape-10-year-old-led-abortion-in-indiana/10046625002/
Mark Leibovich: The Most Pathetic Men in America
Trump said and did obviously awful and dangerous things—racist and cruel and achingly dumb and downright evil things. But on top of that, he is a uniquely tiresome individual, easily the sorest loser, the most prodigious liar, and the most interminable victim ever to occupy the White House. He is, quite possibly, the biggest crybaby ever to toddle across history's stage, from his inaugural-crowd hemorrhage on day one right down to his bitter, ketchup-flinging end. Seriously, what public figure in the history of the world comes close? I'm genuinely asking.
Better objects of our scrutiny—and far more compelling to me—are the slavishly devoted Republicans whom Trump drew to his side. It's been said before, but can never be emphasized enough: Without the complicity of the Republican Party, Donald Trump would be just a glorified geriatric Fox-watching golfer.
I've interviewed scores of these collaborators, trying to understand why they did what they did and how they could live with it. These were the McCarthys and the Grahams and all the other busy parasitic suck-ups who made the Trump era work for them, who humored and indulged him all the way down to the last, exhausted strains of American democracy. https://news-papers.co.uk/news/54444/the-most-pathetic-men-in-america/
Michelle Goldberg: The Delightful Implosion of Boris Johnson
For an American liberal the schadenfreude brought by Johnson's collapse is mixed with envy. We are watching a still-functioning democracy dispatch its bombastic populist leader because his amorality and narcissistic dishonesty were simply too much. On Wednesday, a day after resigning as health secretary, Sajid Javid lambasted Johnson during Question Time in the House of Commons: "We've seen in great democracies what happens when divisions are entrenched and not bridged. We cannot allow that to happen here."
Johnson, a nationalist demagogue and mendacious blowhard, has often been compared to Donald Trump, right down to the poufy yellow hair. Their political careers have certain parallels.
The shocking success of the Brexit referendum, the cause Johnson eventually rode to power, presaged Trump's even more shocking presidential victory. Both men created new electoral coalitions by making inroads with disaffected working-class voters. Both were given to cruel anti-immigrant stunts, like the Johnson government's recent plan to deport asylum seekers to Rwanda. Both shared a contempt for truth and the norms of their respective governments.
But, of course, Britain and the United States are very different countries, and not just because the U.K. is a parliamentary system, a generally more effective form of government than our own presidential system. British people are still evidently capable of being shocked by officials' sexual harassment and shameless untruths, even when those officials are on their side. Their country is not heavily armed, and does not have a powerful faction that regularly threatens violence. Britain still appears to have some minimal social agreement about acceptable political behavior. Its government is falling apart precisely because its society is not.
Johnson's career is ending, at least for now, the way Trump's should have ended — with public revulsion leading his own party to oust him. Like Trump, Johnson initially wanted to cling to power when it was no longer feasible; unlike with Trump, there was never a prospect of him summoning an armed mob. Watching Johnson's fall after living through Trump is like chasing a slasher film with a cozy mystery. Both may be murder stories, but only one has a reassuring order to it.
"We deserve a better class of bastards," Dunt said on the podcast. We all do. Still, as an American, I have to say: Be thankful for what you've got. https://www.nytimes.com/2022/07/07/opinion/boris-johnson-resignation.html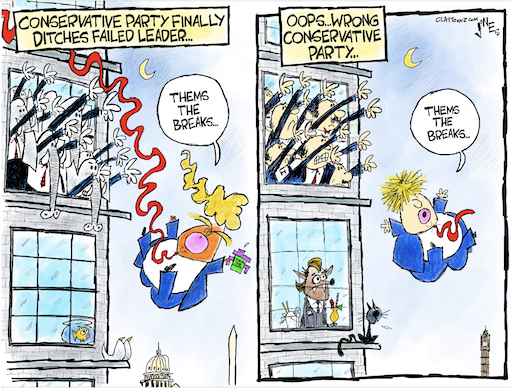 Jonathan Last: The British Trump
I never fully bought the idea that Boris Johnson was the U.K.'s version of Donald Trump. For one thing, he's smart. For another thing, he was semi-competent at the the basics of governing. And for a third thing, Johnson never seemed like he was intent on blowing up NATO because he was a Russian cat's paw.
Certainly, the similarities to Trump were too obvious to ignore. Both old men with extravagantly engineered hair. Both populist avengers who played to the working man while privately reviling the rubes. Both interested in using raw executive power in ways rarely contemplated. Both tabloid darlings. Both guys so corrupt that their scandals had scandals.
And another similarity was Johnson's unwillingness to yield power even as his government collapsed around him. https://thetriad.thebulwark.com/p/the-difference-between-boris-and\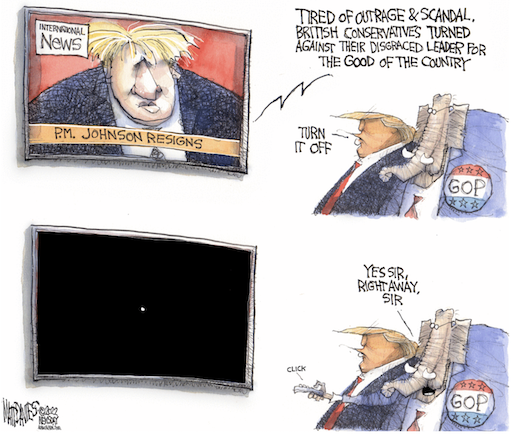 Elizabeth Dias: The Far-Right Christian Quest for Power: 'We Are Seeing Them Emboldened'
Doug Mastriano's ascension in Pennsylvania is perhaps the most prominent example of right-wing candidates for public office who explicitly aim to promote Christian power in America. The religious right has long supported conservative causes, but this current wave seeks more: a nation that actively prioritizes their particular set of Christian beliefs and far-right views and that more openly embraces Christianity as a bedrock identity.

Many dismiss the historic American principle of the separation of church and state. They say they do not advocate a theocracy, but argue for a foundational role for their faith in government. Their rise coincides with significant backing among like-minded grass-roots supporters, especially as some voters and politicians blend their Christian faith with election fraud conspiracy theories, QAnon ideology, gun rights and lingering anger over Covid-related restrictions.

Their presence reveals a fringe pushing into the mainstream. https://www.nytimes.com/2022/07/08/us/christian-nationalism-politicians.html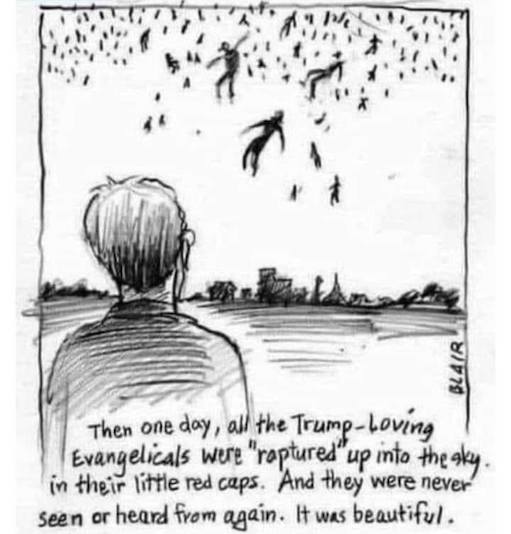 Jonathan Chait: "Ron DeSantis Would Kill Democracy Slowly and Methodically
The Republican mainstream has dismissed Trump's efforts to undermine the election as off-message whining that distracts attention from more potent messages like inflation. "Trump is acting on an entirely personal and selfish priority," complains Lowry. "There's no principle at stake in embracing the Jan. 6 mob or advancing 2020 conspiracy theories."

This dismissal of Trump's project catastrophically misses its profound significance. He has recruited activists and candidates into the party inspired by his belief that Democratic election victories are inherently illegitimate. There is no longer any serious Republican effort to stop election truthers. Trump is winning the war for the heart of the party in a rout. Over the last year, the percentage of Republicans who describe the events of January 6 as a "riot" has declined from 62 percent to 45 percent, while the share who describe it as a "legitimate protest" has risen from 47 percent to 61 percent.

What's just as important as DeSantis's longstanding suspicion of democracy and string of thuggish Orbanist maneuvers is his calculation that he can co-opt these same radical forces. The path to reconstituting the GOP as a party that we can entrust with the Republic involves shoving out at least some of its extremists while bringing the Never Trump wing back into the fold. DeSantis's strategy is just the opposite. He has ignored the slice of Republicans who disdain Trump's authoritarianism and courted anti-vaxxers, QAnon believers, and insurrectionists. And he has demonstrated repeatedly a "no enemies to the right" strategy that inevitably binds him to the party's most fanatical elements.

Whether a President DeSantis would be more or less dangerous than Trump is not a question I can answer with any confidence. Trump poses a greater danger of triggering an immediate constitutional crisis, while DeSantis is more likely to methodically strangle democracy through a series of illiberal Orbanist steps like he has modeled in Florida. I suppose the threat of a quick death is more dire than the threat of a slow one, but I have little confidence in projecting out these comparative dangers. The only meaningful conclusion I can make about the choice of Trump versus DeSantis is "neither." https://nymag.com/intelligencer/2022/07/ron-desantis-authoritarian-democracy-trump-2024-republican.html
The Economist: High noon for Liz Cheney
His fiancée, the pretty schoolmarm from Vermont, has tried to understand his peculiar code of honor. But as she begs the cowboy known simply as "the Virginian" not to go into Medicine Bow's dusty streets to face the bad guy, she accuses him of serving only his pride. "I don't know what you call it," replies the cowboy, played by Gary Cooper in "The Virginian", a film from 1929 based on a classic novel of that name. "But it's somethin' in the feelings of a man, down deep inside. Somethin' a man can't go back on."

When Harriet Hageman, who is running in the Republican primary to be Wyoming's sole member of Congress, mocks the incumbent, Liz Cheney, as "the Virginian"—Ms Cheney grew up there—it is doubtful she means to invoke this tale, which helped mint the heroic image of the cowboy. But, however unintentionally, she does point up how little value many Republicans place these days on rugged individualism, backbone, honor and so forth. In real life, they find these traits pretty annoying. They prefer the cattle to the cowboys.

Ms Cheney's failing, Ms Hageman says, is that she has gone her own way rather than "ride for the brand". You can guess what brand that really is. Back in 2016, Donald Trump barely registered in the Republican primary in Wyoming. Ted Cruz was favored, including by Ms Hageman. She called Mr Trump "racist and xenophobic". Now Mr Trump is so popular in Wyoming that even a Democrat seeking Ms Cheney's seat supports him.

Ms Hageman backs him with zeal and questions the legitimacy of his defeat in 2020. Mr Trump prizes no supporters more than those who once rejected him but then roped, broke and branded themselves. He has endorsed Ms Hageman and appeared last month at a rally in Casper with her. Ms Hageman, a lawyer, stoked the crowd by itemizing things to revile, from illegal immigration to Anthony Fauci. But one bit of elaboration popped out when she said Mr Trump knew she would represent "your fallacies", quickly amending that to "families." https://www.economist.com/united-states/2022/07/06/high-noon-for-liz-cheney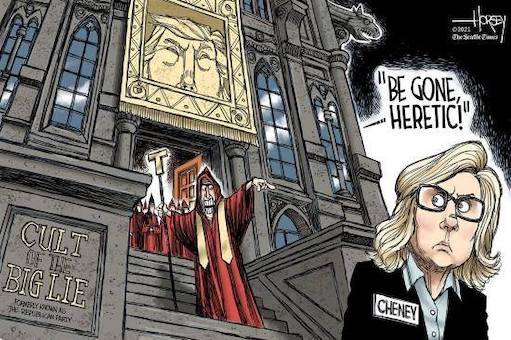 Eugene Robinson: Trump, and Trump alone, turned Jan. 6 into a debacle for our democracy
It was Donald Trump, and Donald Trump alone, who summoned and loosed the mob that sacked the Capitol, threatened Congress and the vice president and imperiled our democracy. That is the powerful message that emerged from Tuesday's televised hearing of the Jan. 6 select committee. And these hearings make clear just how dangerous it would be for the former president to be elected again.

On the night of Dec. 18, 2020, witnesses told the committee, Trump presided over a rancorous, hours-long screaming match between the Crazy and Normal camps that ended after midnight with no real resolution. At 1:42 a.m. that night, Trump embarked on a third, radically different course of action: He posted the infamous tweet telling supporters to come to Washington on Jan. 6, ending it with what MAGA extremists understood as a call to arms: "Be there, will be wild!"

That was his decision, not anyone else's. As Rep. Liz Cheney (R-Wyo.), the committee's vice chair, said in her opening statement: "President Trump is a 76-year-old man. He is not an impressionable child." That might be how Republicans eager to exploit his candidacy saw him in 2016. And it's the accidental subtext in efforts to exculpate him for Jan. 6. But it's not true.

There are still dots left for the committee to connect. But the emerging picture is of one man who made the horrific events of Jan. 6 happen. His name is Donald Trump. https://www.washingtonpost.com/opinions/2022/07/12/trump-owns-january-6-never-give-him-power-again/
Michael Hiltzik: Threats to criminalize out-of-state abortions are a scary reminder of 1850s America
The Fugitive Slave Act was a product of the Compromise of 1850, which brought California into the union as a non-slave state, the act allowed slaveowners, or even purported slaveowners, to pursue escaped slaves across state lines, made harboring a fugitive a criminal act and required local officials to assist the pursuers.

The Fugitive Slave Act was a federal law. Yet several red states are prepared to replicate it on their own books. The quarries this time aren't Black slaves, but those who assist pregnant women to seek abortions out of state, including employers who pay for the travel and others who help them.

Anti-abortion states have passed or are considering laws that would expose out-of-state medical providers to civil or criminal liability for assisting in abortions, while some pro-choice states have taken steps to shield their providers or residents from such actions.

In Texas, those who assist women to get abortions would be vulnerable to civil lawsuits from even out-of-state plaintiffs, who could sue for $10,000 or more in penalties. Oklahoma and Idaho have passed similar laws. Missouri lawmakers are considering a statute that would allow lawsuits against anyone helping a Missouri resident to get an abortion, including an out-of-state doctor who performed the procedure or those who helped the patient cross the state line. The law's sponsor has said it's targeted at a Planned Parenthood clinic in Illinois opened to serve patients from the St. Louis area.

Pro-choice states with shield laws or policies include California, where Gov. Gavin Newsom signed a law on June 24 — the very day that the Supreme Court handed down the Dobbs decision — immunizing Californians from civil liability imposed by other states for abortions.

State legislators and prosecutors are trying to provoke a new Civil War, even though the first one didn't turn out well for the provocateurs, or for the whole country. https://www.latimes.com/business/story/2022-07-12/threats-to-criminalize-out-of-state-abortion