August 10, 2023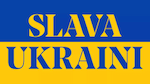 To subscribe to this FREE weekly newsletter simply email jellison@san.rr.com with "subscribe" as the subject.
LITIGATION TRACKER
Pending Criminal and Civil Cases Against Donald Trump

.

https://www.justsecurity.org/75032/litigation-tracker-pending-criminal-and-civil-cases-against-donald-trum

Read the full text of the third indictment against former Donald Trump at: https://www.washingtonpost.com/documents/8a7503af-fde7-4061-818c-7d7e0ee06036.pdf
 
THE WEEK'S BEST QUOTES. . .
I don't think that dog is going to hunt. He wouldn't listen to all the lawyers in the [Justice] Department who — in various departments or the White House that had those responsibilities, or his campaign. He would search for a lawyer who would give him the advice he wanted." — Former Trump AG, Bill Barr on whether the "advice of counsel" defense might work.
https://transcripts.cnn.com/show/skc/date/2023-08-02/segment/01
"Today's sham indictment of Donald Trump is yet another desperate attempt to distract attention away from the mounting evidence of Joe Biden's direct involvement in his family's illegal influence peddling scheme, one of the greatest political corruption scandals in history." — Fox News unsurprising reporting that it is Joe Biden who is guilty of corruption, not Donald Trump.
https://www.foxnews.com/politics/republicans-react-shameful-indictment-trump-outrageous-abuse-power
"Let's be clear about what's happening: Biden's DOJ is cutting sweetheart deals for Hunter to cover for the Biden Family's influence peddling schemes while at the same time trying to persecute his leading political opponent." — House Majority Leader Steve Scalise (R-LA).
https://twitter.com/SteveScalise/status/1686495301312417792
"The left knows they can't beat Trump amid Biden's failures, so they're trying to take him out with criminal charges. Biden's abusing two tiers of justice to target his greatest political opponent." — Sen. Marsha Blackburn (R-Tenn).
https://www.blackburn.senate.gov/2023/8/blackburn-statement-on-new-trump-indictment
"He's committed to draining the swamp, and the left hates him for it. This is yet again another attempt by the current administration to imprison their top political rival." — Rep. Troy Nehls (R-TX).
https://www.facebook.com/RepTroyNehls/
"When you drain The Swamp, The Swamp fights back. President Trump did nothing wrong!" — House Judiciary Committee Chairman Jim Jordan.
https://newrepublic.com/article/174799/trump-indictment-clark-january-6
"Just yesterday a new poll showed President Trump is without a doubt Biden's leading political opponent, Everyone in America could see what was going to come next: DOJ's attempt to distract from the news and attack the frontrunner for the Republican nomination, President Trump." —  Rep Kevin McCarthy on X, the platform formerly known as Twitter.
https://twitter.com/SpeakerMcCarthy/status/1686504890137235456
I am going "to be arrested for having challenged a corrupt, rigged and stolen election. It's a great honor, because I am being arrested for you." — Donald Trump on his way to Washington, D.C.
https://truthsocial.com/@realDonaldTrump/posts/110826519469646840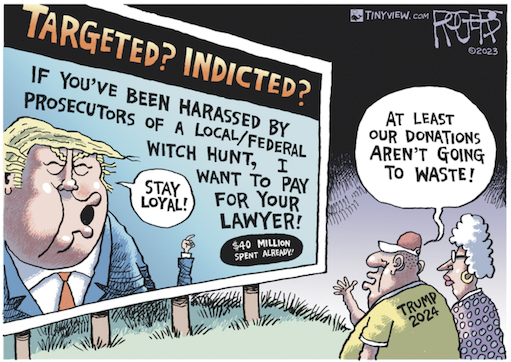 "We're only seeing the tip of the iceberg on this. I think there is a lot more to come, and I think they have a lot more evidence as to President Trump's state of mind."— Former Attorney General Bill Barr, about the latest Trump indictment.
https://www.cnn.com/2023/08/03/politics/bill-barr-trump-arraignment-2020-election/index.html
"What the Republicans need to do is time the impeachment (of President Biden) because that's the main draw. And if you put up impeachment with the Trump trials, I don't think the Democrats want to stomach that." — Fox News host Jesse Watters urging House Republicans to not only impeach President Biden but also to schedule the hearings at the same time as Donald Trump's impeachment trials.
https://twitter.com/justinbaragona/status/1686848559226781697
"Let's be clear on this point. It wasn't that they asked for a pause. The president specifically asked me and his gaggle of crackpot lawyers asked me to literally reject votes which would have resulted in the issue of being turned over to the house of representatives. They asked me to reject votes, return votes, essentially to overturn the election." — Mike Pence told Fox News that Donald Trump personally asked him to "literally reject votes" on January 6.
https://twitter.com/Acyn/status/1686819913833267227
"I get it. Politically, they're all fucked. It's a catch 22 — and by the way, their own cowardice has put them in this position. If any of these candidates publicly oppose Trump, they're done. Chris Christie knows that. Will Hurd, these guys have no shot." — Former Rep. Joe Walsh (R-IL), about the Republican presidential field.
https://www.politico.com/news/2023/08/02/trumps-indictment-for-jan-6-turns-mike-pence-into-a-litmus-test-00109510
"Under a DeSantis presidency, Mexican drug cartels would be "shot stone cold dead," and, when it comes to federal bureaucrats, "we are going to start slitting throats on Day One." —  Gov. Ron DeSantis while in New Hampshire appeared bent on demonstrating that no candidate talks tougher.
https://www.nhpr.org/nh-news/2023-08-02/nh-republicans-size-up-desantis-as-he-offers-harsh-rhetoric-in-primary-campaign
An appointee by Florida Gov. Ron DeSantis to an oversight board of Disney's special tax district taught a seminar in 2021 falsely claiming "Whites were also slaves in America," using discredited research to say there was an "Irish slave trade."
https://www.cnn.com/2023/08/04/politics/kfile-desantis-appointee-discredited-research-white-slaves/
"My political opponent has hit me with a barrage of weak lawsuits, including D.A., A.G., and others, which require massive amounts of my time & money to adjudicate. Resources that would have gone into Ads and Rallies, will now have to be spent fighting these Radical Left Thugs in numerous courts throughout the Country. I am leading in all Polls, including against Crooked Joe, but this is not a level playing field. It is Election Interference, & the Supreme Court must intercede. MAGA." — Donald Trump asking on Truth Social for the Supreme Court to intervene in his criminal cases.
https://truthsocial.com/@realDonaldTrump/posts/110831337231923264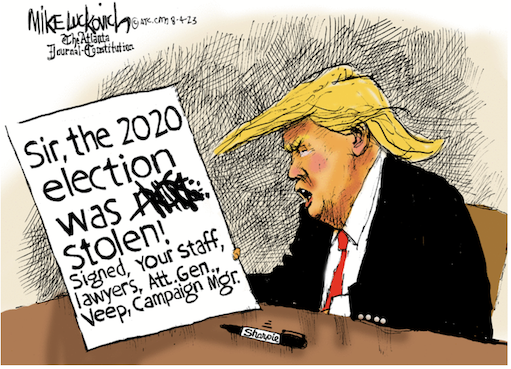 "IF YOU GO AFTER ME, I'M COMING AFTER YOU!!" — Donald Trump, on Truth Social.
https://truthsocial.com/@realDonaldTrump/posts/110833185720203438
"The Democrats don't matter. The real opposition is the media. And the way to deal with them is to flood the zone with shit." — Steve Bannon, who ran Trump's 2016 campaign with Conway in its final months. admitted to Michael Lewis in an interview.
https://www.bloomberg.com/view/articles/2018-02-09/has-anyone-seen-the-president#xj4y7vzkg
"I've probably been called the N word more times in the last two-and-a-half years than most — a hundred people combined." — Fulton County District Attorney Fani Willis.
https://www.wsbtv.com/news/local/atlanta/theyre-very-grotesque-fulton-da-opens-up-about-threats-made-against-her-trump-election-probe/2BPZSSD6HFB65G4AAIZ7RO4HDQ/
The "shocking and totally unexpected" loss by the U.S. Women's Soccer Team to Sweden is fully emblematic of what is happening to the our once great Nation under Crooked Joe Biden. Many of our players were openly hostile to America - No other country behaved in such a manner, or even close. WOKE EQUALS FAILURE. Nice shot Megan, the USA is going to Hell!!! MAGA. — Donald Trump blaming President Biden for the loss suffered by the US women's national soccer team.
https://truthsocial.com/@realDonaldTrump/posts/110845290114601452
"Don't even think of that. Don't think of the world being on fire. It cannot happen, or we will not be the United States of America. If he were to be president, it would be a criminal enterprise in the White House." -- Nancy Pelosi (D-CA) on electing Donald Trump back to the White House in 2024.
https://www.washingtonexaminer.com/news/campaigns/nancy-pelosi-says-trump-winning-again-in-2024-would-be-the-end-of-us
"Everybody has been hoping that Tuberville would back down. We have to come to the conclusion that that is not happening and that he is prepared to burn the military down." — Sen. Chris Murphy (D-CT) on Sen. Tommy Tuberville's (R-AL) blockade of all military promotions.
https://punchbowl.news/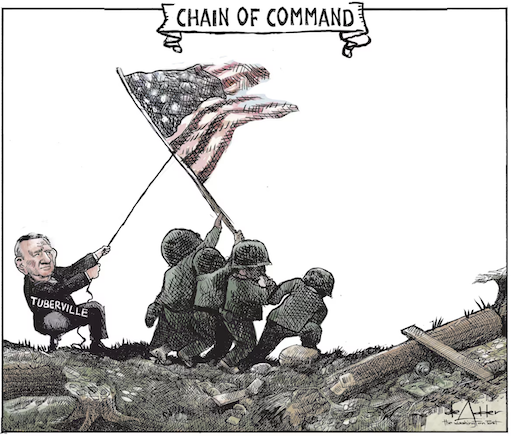 "I'm not aware of the aspirational defense or the free speech defense to a gang leader saying to two of his subordinates, 'I need you two to please rob a bank for me,' and they do it. That's aspirational, but it leads to a crime and that's exactly what Trump did with Pence." — Ty Cobb, a former White House attorney under Donald Trump, dismissed new Trump defense lawyer John Lauro's claim that the former president was simply being 'aspirational' with his attempts to pressure former Vice President Mike Pence into overturning the 2020 election result.
https://www.huffpost.com/entry/ty-cobb-donald-trump-defense_n_64d1df53e4b05c10fd6bf07e
VIDEOS ...-
Congress should "decertify" the 2020 election and "reinstate" Trump because "if you look at the evidence" Biden isn't the "true president." — Kari Lake, the defeated Republican candidate for Arizona governor. https://twitter.com/RpsAgainstTrump/status/1687440498049318913

"You know, people say, 'Well, the Bible is not a political book, and we shouldn't be involved,' and I'm just like, 'Have you ever read it?' It's like every single chapter is like dripping in it!" — Rep. Michael Cloud (R-TX) told a gathering of Christian nationalists that they have been called by God to establish Christ's kingdom and government here on Earth. https://twitter.com/highbrow_nobrow/status/1688622363443703814
---
IN THIS ISSUE
IN THE NEWS
OPINION
Andy Borowitz: Half of All G.O.P. Voters Wish Party Would Nominate Some Other Criminal Besides Trump
Although Donald J. Trump holds a commanding lead over the rest of the Republican Presidential field, approximately half of all G.O.P. voters wish that their party would choose a different criminal, a new poll indicates.
"No disrespect to Donald Trump, who has been an amazing perpetrator," Carol Foyler, a poll respondent who lives in Tempe, Arizona, said. "But it would be great to see a fresh crook in there."
"When he was President, Trump committed crimes at an incredible rate," Tracy Klugian, who resides in Columbus, Ohio, said. "But he's older now, and I worry that he won't be able to keep up that pace."
"Don't get me wrong, Donald Trump deserves major credit for all the laws he's broken," Harland Dorrinson, who lives in Springfield, Missouri, said. "But it's time to pass the torch to a new generation of felons."
https://www.newyorker.com/humor/borowitz-report/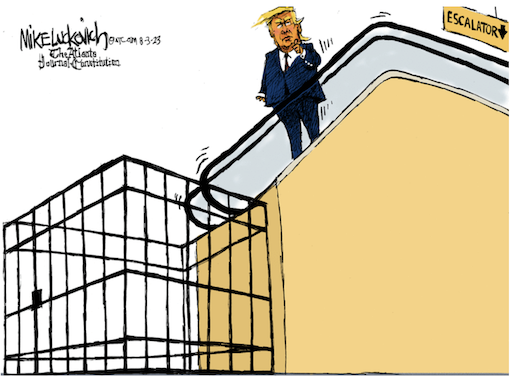 The 2020 Election Fueled a Crisis of Democracy. Voters Fear a Repeat in 2024.
Many Republicans believe that Trump beat Biden and that the next election will be stolen, while Democrats expect another GOP effort to overturn results.
Incredible takeaway: Close to 70% of Republicans believe that President Biden didn't legitimately win the election, several polls show, despite multiple federal and state investigations, as well as court decisions, finding no evidence of fraud extensive enough to have changed the result.
https://www.wsj.com/articles/the-2020-election-fueled-a-crisis-of-democracy-voters-fear-a-repeat-in-2024-72d84fbd
Government Shutdown Threat Builds in Post-Downgrade Fallout
A fresh fiscal showdown is brewing in Washington that threatens to complicate the Federal Reserve's policy making and strengthen Fitch Ratings' warning that self-inflicted wounds are tarnishing America's standing in the global economy.
Congress left for an extended August recess without resolving simmering conflicts over spending and hot-button social issues, raising the risk of a government shutdown when federal funding runs out after Sept. 30. It's the latest case of brinkmanship over the national budget that fueled Fitch's move to strip US debt of its prized AAA status last week — a landmark decision that's caused hand-wringing across Wall Street and Washington.
The credit rating company's determination has emboldened Republicans to call on President Biden and congressional Democrats to yield to their demands for fresh spending cuts.
https://www.bloomberg.com/news/articles/2023-08-07/government-shutdown-threat-builds-after-downgrade-imperiling-wall-street-bets
House Republicans are adding dozens of anti-LGBTQ+ measures to must-pass bills
House Republicans have embedded at least 45 anti-LGBTQ+ provisions into must-pass funding bills — many of which would weaken discrimination protections for same-sex couples or restrict gender-affirming care for adults and minors, The 19th reports.
The volume and severity of these provisions is an unprecedented attempt by federal lawmakers to restrict the rights of LGBTQ+ people, activists say.
The measures are not likely to make it through the Democrats who control the Senate as Congress finalizes a federal budget. But lawmakers' willingness to tie these provisions to the federal budget raises the stakes for a community that has already seen its rights rolled back across many states this year. It is not guaranteed that all of the efforts can or will be blocked in the Senate.
https://19thnews.org/2023/08/house-republicans-anti-lgbtq-measures-federal-spending-bills/
DeSantis's Florida Approves Climate-Denial Videos in Schools
Florida's Department of Education has approved the classroom use of material from the Prager University Foundation, a conservative group that produces videos that distort science, history, gender and other topics.
https://www.scientificamerican.com/article/desantiss-florida-approves-climate-denial-videos-in-schools/
House GOP Eyes Fall Push for Biden Impeachment
Speaker Kevin McCarthy has been insistent: House Republicans are still gathering evidence and have yet to decide whether to open up a formal impeachment inquiry against President Joe Biden.
But many House Republicans privately say that it appears to be a foregone conclusion: Biden will face an impeachment inquiry in the fall and could be just the fourth US president ever charged with high crimes or misdemeanors – and that it might all happen by year's end.
https://www.cnn.com/2023/08/08/politics/house-republicans-impeachment-inquiry-biden/index.html
G.O.P. Contenders Feed Voter Distrust in Courts, Schools and Military
Several have adopted much of Mr. Trump's rhetoric sowing broad suspicion about the courts, the F.B.I., the military and schools. As they vie for support in a primary dominated by Mr. Trump, they routinely blast these targets in ways that might have been considered extraordinary, not to mention unthinkably bad politics, just a few years ago.
https://www.nytimes.com/2023/08/07/us/politics/trump-republican-primary-candidate-trust.html
Trucking Company Bankrupt Despite Trump Intervention
The trucking company Yellow, which received a controversial $700 million pandemic loan from the Trump administration, filed for bankruptcy on Monday and plans to liquidate its business.
Defense Department analysts initially concluded that Yellow didn't qualify for the program, which was aimed at companies considered critical to national security. But the Pentagon reversed course after an apparent lobbying effort from the Treasury Department and White House, according to a lengthy Congressional oversight report.
https://www.semafor.com/newsletter/08/08/2023/who-cares
Welcome to the courtroom campaign
While Trump is correct that his legal troubles have galvanized GOP support so far this year, he will increasingly become a candidate defined by these prosecutions. Court dates, public spats over technical legal issues, finances drained to lawyers, deposition and trial prep — it will all crowd out the campaign trail. It's possible the same dynamic continues, and Republicans in Iowa, New Hampshire, and South Carolina stick with him. But as the campaign becomes about the Trump trials, there may be second thoughts five months from now.
But if Trump is the Republican nominee, there is no persuasive case we have seen that standing trial for falsifying business records, illegally retaining national security secrets, obstructing justice, trying to overthrow an election, and fighting a federal civil case for rape and defamation is a political benefit in a general election.
https://www.politico.com/newsletters/playbook/2023/08/07/welcome-to-the-courtroom-campaign-00110068
Kamala Harris Takes on a Forceful New Role in the 2024 Campaign
In recent weeks, Vice President Kamala Harris has dashed off to Florida on short notice. She sparred with the state's conservative governor, Ron DeSantis, over how to teach slavery in schools. And she flew into Iowa to defend abortion rights while 13 Republican presidential candidates were having dinner a few miles away.
Although her words were directed at Republicans, her message was also aimed at all her doubters.
https://www.nytimes.com/2023/08/06/us/politics/kamala-harris-prosecutor.html
Democrats urge US House Republicans not to cut food aid to the poor
Twenty-five Democratic lawmakers on Monday urged Republican leaders of the U.S. House of Representatives to stop calling for further cuts to the largest U.S. food aid program for low-income Americans as a key committee considers a $728 billion farm and nutrition spending bill.
https://www.reuters.com/world/us/democrats-urge-us-house-republicans-not-cut-food-aid-poor-2023-08-07/
Democrats are drastically overperforming in 2023's special elections. Is it a clue for Biden vs. Trump?
Democrats say that based on 2023 so far, they see plenty of reason for optimism about their chances with voters.
An analysis from FiveThirtyEight found that in 38 special elections held so far this year, Democrats have outperformed the partisan lean — or the relative liberal or conservative history — of the areas where the races were held by an average of 10%, both romping in parts of the country that typically support the party while cutting down on GOP margins in red cities and counties, too.
https://abcnews.go.com/Politics/democrats-overperforming-2023-special-elections-clue-biden-trump/story?id=101850305
Judge Says Manhattan DA Can See Trump's Rude Rape Trial Deposition
A federal judge on Thursday decided to give the Manhattan District Attorney Alvin Bragg Jr. exactly what he wants: a video copy of former President Donald Trump's damning testimony in an unrelated rape and defamation case that was decided earlier this year.
https://www.thedailybeast.com/judge-says-manhattan-da-alvin-bragg-jr-can-see-trumps-rude-rape-trial-deposition-from-e-jean-carroll-case
According To New Legal Documents Rudy Giuliani Is the Biggest Creep Ever
New documents in a sexual abuse lawsuit against Rudy Giuliani reveal that the former New York mayor frequently made misogynistic, antisemitic, and homophobic comments—meaning that he's an even more disgusting creep than previously thought.
Giuliani's former associate Noelle Dunphy sued him in May, accusing him of promising to pay her a $1 million annual salary but instead raping and sexually abusing her over the course of two years. Her lawsuit alleges that Giuliani was constantly drunk, talked openly about trying to overturn the 2020 election, and even plotted to sell pardons with Donald Trump at the low, low price of $2 million each.
https://newrepublic.com/post/174792/rudy-giuliani-biggest-creep-ever-new-legal-documents-say
Biden world moves to stave off Cornel West and No Labels threat
Top Democrats, including those close to Joe Biden, are moving to dull the possibility that not one but two third-party challengers could siphon away critical votes in the upcoming election.
Inside the party, there is bubbling concern of a repeat from what happened seven years ago, when Green Party candidate Jill Stein drew more votes in three critical battleground states than the amount by which Donald Trump beat Hillary Clinton in those places.
https://www.politico.com/news/2023/08/03/third-party-candidates-trump-biden-00109541
Trump Cites Self Incrimination Concern in Lawsuit Against Cohen
Donald Trump is concerned that evidence sought by Michael Cohen in a $500 million lawsuit the former president filed against his ex-lawyer could potentially incriminate him in other cases, Bloomberg reports.
Trump argued in a court filing Wednesday in Miami that documents sought by Cohen, particularly Trump Organization financial records, should be covered by a confidentiality order amid the former president's separate criminal proceedings. Cohen has said the evidence should be made public, regardless of any prosecutions.
https://www.bloomberg.com/news/articles/2023-08-03/trump-cites-self-incrimination-worry-in-lawsuit-against-cohen
Archer Said the Opposite of What Republicans Claimed
Devon Archer, who was Hunter Biden's business partner, actually said the opposite of what House Republicans claimed, according to a transcript of his recent testimony.
That's the pattern here. Comer and Jordan and others hype claims of Joe Biden's involvement in Hunter Biden's work only to see those claims collapse as more information is made public. Devon Archer's testimony was hailed as a central breakthrough in implicating Joe Biden. Instead, it has a top ally of Hunter Biden stating under penalty of perjury that Joe Biden was not involved in Hunter Biden's business and that Biden's trip to Ukraine in 2015 was not centered on protecting Burisma at all.
https://www.washingtonpost.com/politics/2023/08/03/devon-archer-transcript-biden/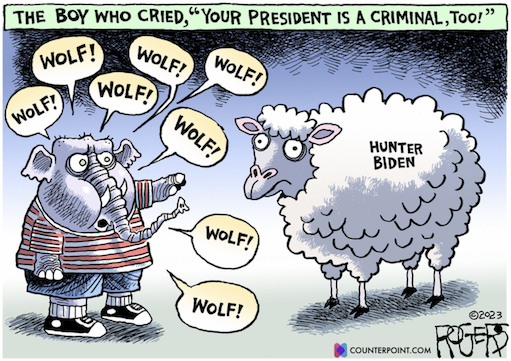 About half of US Republicans could spurn Trump if he is convicted, Reuters/Ipsos poll shows
About half of Republicans would not vote for Donald Trump if he were convicted of a felony, a sign of the severe risks his legal problems pose for his 2024 presidential bid, according to a Reuters/Ipsos poll.
https://www.reuters.com/legal/about-half-us-republicans-could-spurn-trump-if-he-is-convicted-reutersipsos-poll-2023-08-03/
Fitch highlighted Jan. 6 insurrection with Treasury ahead of US credit downgrade
Fitch downgraded the U.S. credit rating due to fiscal concerns, a deterioration in U.S governance, as well as political polarization reflected partly by the Jan. 6 insurrection, Reuters reports.
In a move that took investors by surprise, Fitch downgraded the United States to AA+ from AAA on Tuesday, citing fiscal deterioration over the next three years and repeated down-to-the-wire debt ceiling negotiations that threaten the government's ability to pay its bills.
https://www.reuters.com/markets/us/fitch-decision-cut-us-credit-rating-based-deteriorating-governance-polarization-2023-08-02/
Half of Americans think the economy is getting worse, despite months of stronger economic news
Despite months of increasingly positive economic indicators, the American public remains negative about the state of the nation's economy, with 51% saying they think the economy is still in a downturn and getting worse, according to a new CNN poll.
https://www.cnn.com/2023/08/03/politics/cnn-poll-economic-pessimism-joe-biden/index.html
Cornel West Owes More Than Half a Million in Unpaid Taxes
Veteran Ivy League professor and bestselling author Dr. Cornel West has long advocated for taxing the rich to provide more services to America's lower classes.  
But the academic-turned-Green Party presidential candidate isn't living up to those standards in his own life—as public records from New Jersey and California show, West owes the IRS hundreds of thousands of dollars in back taxes.
https://www.thedailybeast.com/cornel-west-owes-more-than-half-a-million-in-unpaid-taxes
Percentage of Republicans who think Biden's 2020 win was illegitimate ticks back up near 70%
A new CNN poll finds that 69% of Republicans and Republican-leaners say Joe Biden's win in 2020 was not legitimate, up from 63% earlier this year and through last fall, even as there is no evidence of election fraud that would have altered the outcome of the contest.
https://www.cnn.com/2023/08/03/politics/cnn-poll-republicans-think-2020-election-illegitimate/
Jim Crow-era lifetime ban on felons voting is unconstitutional, court rules
Mississippi's lifetime ban on certain felons voting constitutes cruel and unusual punishment and violates the Eighth Amendment, a federal appeals court ruled Friday, potentially paving the way for tens of thousands to regain their voting rights.
If it holds, the decision would affect about 30,000 Mississippians who have served sentences for felonies covered by the disenfranchisement clause, the plaintiffs estimate.
https://www.washingtonpost.com/nation/2023/08/05/mississippi-felons-voting-rights-appeal/
DeSantis' 'anti-woke' bills are costing Florida millions of dollars in business
A slew of new bills signed into law by Republican Florida Gov. Ron DeSantis has draped the Sunshine State in controversy, spurring protests, lawsuits and travel advisories warning the state is 'openly hostile' toward people of color, immigrants, women and LGBTQ+ community members.
The fallout is starting to spread to a key economic artery for an income-tax-free state heavily reliant upon tourism taxes: Florida's convention business.
https://www.cnn.com/2023/08/06/economy/florida-convention-business-cancellations/index.html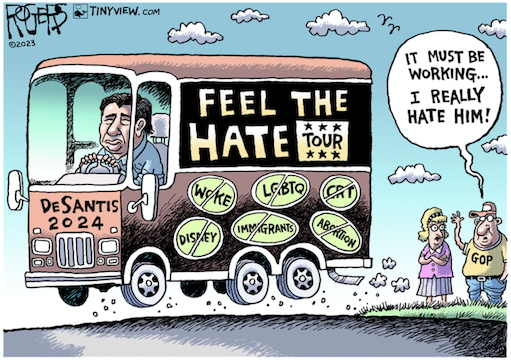 THE DAILY GRILL ...
Former President Trump's legal team says he's been indicted for actions that are protected by the First Amendment — and that the First Amendment will ultimately exonerate him. https://www.axios.com/2023/08/03/trump-defense-jan-6-first-amendment-indictment

VERSUS

To put it simply, if you and I engaged in a criminal conspiracy, and we talked about it in public, no, we couldn't be prosecuted for what we said. But that wouldn't get us off the hook for the underlying crime. We could still be prosecuted for that. https://www.axios.com/2023/08/03/trump-defense-jan-6-first-amendment-indictment



Mike Pence on CBS's "Face the Nation" said he had "no plans" to testify but did not rule it out  being a witness against Trump if the case goes to trial. "But people can be confident we'll obey the law. We'll respond to the call of law, if it comes, and we'll just tell the truth," said Pence. https://www.reuters.com/world/us/ex-vice-president-pence-does-not-rule-out-being-witness-trumps-prosecution-2023-08-06/

VERSUS

"WOW, it's finally happened! Liddle' Mike Pence, a man who was about to be ousted as Governor Indiana until I came along and made him V.P., has gone to the Dark Side, I never told a newly emboldened (not based on his 2% poll numbers!) Pence to put me above the Constitution, or that Mike was 'too honest. He's delusional, and now he wants to show he's a tough guy." https://www.cnn.com/2023/08/05/politics/trump-mike-pence-delusional-truth-social/index.html



Elon Musk says that his fight against Mark Zuckerberg will be live-streamed on X, the social media platform formerly known as Twitter. https://twitter.com/elonmusk/status/1688091377823895552

VERSUS

Zuckerberg responded on Threads: "Shouldn't we use a more reliable platform that can actually raise money for charity?" https://www.threads.net/@zuck/post/CvneFkSS5JT/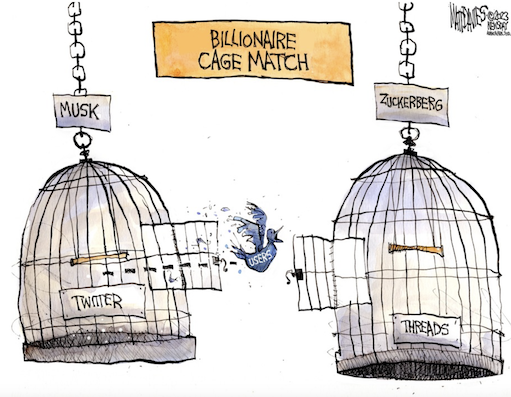 Vivek Ramaswamy suggested canceling Juneteenth, calling it a useless holiday in a conversation with Iowa voters. https://www.nbcnews.com/politics/2024-election/vivek-ramaswamy-calls-juneteenth-useless-rcna98428

VERSUS

"Juneteenth is a new holiday so we still have a chance to define what it means to us. It needn't be about grievance & self-flogging. Let it be a celebration of the American Dream itself. "— Less than two months ago Vivek Ramaswamy posted this video on social media celebrating the day. https://twitter.com/VivekGRamaswamy/status/1670802957565034496
Maureen Dowd: Coup-Coup-Ca-Choo, Trump-Style
The man who tried to overthrow the government he was running was held Thursday by the government he tried to overthrow, a few blocks from where the attempted overthrow took place and a stone's throw from the White House he yearns to return to, to protect himself from the government he tried to overthrow.

Donald Trump is in the dock for trying to cheat America out of a fair election and body-snatch the true electors. But the arrest of Trump does not arrest the coup.

The fact is, we're mid-coup, not post-coup. The former president is still in the midst of his diabolical "Who will rid me of this meddlesome democracy?" plot, hoping his dark knights will gallop off to get the job done.

Trump is tied with President Biden in a New York Times/Siena College poll, and if he gets back in the Oval, there will be an Oppenheimer-size narcissistic explosion, as he once more worms out of consequences and defiles democracy. His father disdained losers and Trump would rather ruin the country than admit he lost.

The Trump lawyer John Lauro made it clear they will use the trial to relitigate the 2020 election and their cockamamie claims. Trump wasn't trying to shred the Constitution, they will posit; he was trying to save it.

"President Trump wanted to get to the truth," Lauro told Newmax's Greg Kelly after the arraignment, adding: "At the end he asked Mr. Pence to pause the voting for 10 days, allow the state legislatures to weigh in, and then they could make a determination to audit or re-audit or recertify."

In trying to debunk Jack Smith's obstruction charges, Lauro confirmed them. Trying to halt the congressional certification is the crime.
While Trump goes for the long con, or the long coup — rap sheet be damned, it's said that he worries this will hurt his legacy. He shouldn't. His legacy is safe, as the most democracy-destroying, soul-crushing, self-obsessed amadán ever to occupy the Oval. Amadán, that's Gaelic for a man who grows more foolish every day. https://www.nytimes.com/2023/08/05/opinion/trump-coup-indict-trial.html
Michael Wolff: Down the Rabbit Hole Into Trump's Brain
There is a special urgency, of course, as Mr. Trump's chances of clinching the Republican nomination seem to grow stronger by the day. The terrible possibility for Democrats, anti-Trump Republicans and the media that he could become the president again is balanced only by their fail-safe certainty of conviction on at least some of the state and federal felony charges he is facing (a complicated paradox for a democracy, to say the least).
Personally, I'm less sure of Mr. Trump's legal fate. Prosecutors will soon run up against the epistemological challenges of explaining and convicting a man whose behavior defies and undermines the structures and logic of civic life.

There's an asymmetric battle here, between the government's precise and thorough prosecutors and Mr. Trump's head-smacking gang of woeful lawyers. The absolute ludicrousness and disarray of the legal team defending Mr. Trump after his second impeachment ought to go down in trial history. Similarly, a few months ago, a friend of mine was having a discussion with Mr. Trump about his current legal situation. A philosophical Mr. Trump said that while he probably didn't have the best legal team, he was certain he had the best looking, displaying pictures of the comely women with law degrees he had hired to help with his cases.

Here liberals see a crushing advantage: As ever, Mr. Trump seems unable to walk a straight line even in his own defense. But his unwillingness or, as likely, inability to play by the rules or even understand them creates a chaos often in his favor. Indeed, the prosecutors' story of his grand scheming will most likely require them to present a figure of the former president — calculated, methodical, knowing and cunning — that none of his supporters or anyone who has ever met him or reasonable jurors and perhaps even the world at large would recognize.

I can't imagine what will be produced by this dynamic of strait-laced prosecutors versus a preposterous Mr. Trump, his malfeasance always on the edge of farce. But my gut tells me the anti-Trump world could be in for another confounding disappointment. https://www.nytimes.com/2023/08/04/opinion/trump-indictment-fraud.html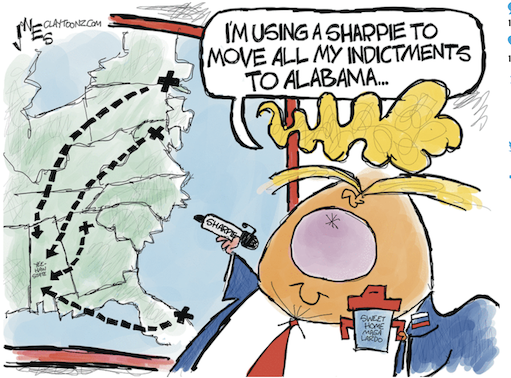 Jonathan Last: A Message for the People Who Run Cable News: You're Doing It Again. Stop It.
I am not suggesting that Trump's arraignment shouldn't be covered. There is a school of thought that seeks to minimize this story in the hope that depriving Trump of oxygen will make him go away. This is foolishness masquerading as prayer.
Here is my simple ask of our broadcast media overlords: Trump's criminal trials should not be covered as if Donald Trump is the star. The star of the story is the rule of law.
I know: 'The rule of law' doesn't drive ratings. It doesn't have influencers with hundreds of thousands of followers. People don't wear rule-of-law regalia to massive rallies and fly rule-of-law flags in boat parades.
But if you don't present the Trump trials as stories about the rule of law, then they become stories about Trump.
https://thetriad.thebulwark.com/p/a-message-for-the-people-who-run
Asawin "Swin" Suebsaeng and Adam Rawnsley: Jack Smith Has an Indictment. Trump Has a Massive Plan for Revenge
Donald Trump is a long, long way from winning the GOP primary, let alone retaking the White House. But he always has revenge on his mind, and his allies are preparing to use a future administration to not only undo all of Special Counsel Jack Smith's work — but to take vengeance on Smith, and on virtually everyone else, who dared investigate Trump during his time out of power, Rolling Stone reports.
Rosters full of MAGAfied lawyers are being assembled. Plans are being laid for an entire new office of the Justice Department dedicated to 'election integrity.' An assembly line is being prepared of revenge-focused 'special counsels' and 'special prosecutors.' Gameplans for making Smith's life hell, starting in Jan. 2025, have already been discussed with Trump himself. And a fresh wave of pardons is under consideration for Trump associates, election deniers, and — the former president boasts — for Jan. 6 rioters.
The preparations have been underway since at least last year, with Trump being briefed on the designs by an array of attorneys, political and policy advisers, former administration officials, and other allies. The aim is to build a government-in-waiting with the hard-right infrastructure needed to turn the Justice Department into an instrument of Trump's agenda.
Now this, if true, is real vengeance. 
https://www.rollingstone.com/politics/politics-features/donald-trump-jack-smith-indictment-jan6-justice-department-1234800968/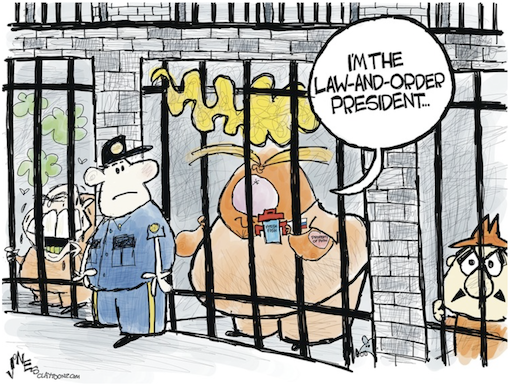 Oliver Darcy: Dark and sinister rhetoric drenches right-wing media amid Trump indictments
Millions of Americans are immersed in a twisted world where language used to describe autocrats is being applied to America's democratic institutions.
The draconian rhetoric, once reserved for the likes of tyrants and dictators, has become commonplace in right-wing media when referring to President Joe Biden and the elected government he leads. The dark and sinister language, normalized on mainstream conservative platforms such as Fox News, has been on full display this week during coverage of Donald Trump's third indictment.
The Biden White House is referred to as the "Biden regime." Federal law enforcement are referred to as the "Gestapo" and Biden's "personal police force." Institutions such as the Department of Justice are referred to as "the Department of Injustice." The indictments against Trump are referred to as "political war crimes" and an "assassination."
Talk of imprisoning Democratic politicians — and even their families — in acts of revenge is par for the course. Even floating the outright execution of Biden, as Charlie Kirk recently did, is accepted in the warped world of MAGA Media, where the audience has been programmed through years of conditioning to welcome such vile rhetoric into their homes.
None of this is an exaggeration. It is the reality of what is being broadcast in millions of homes across the country.
https://www.cnn.com/2023/08/03/media/right-wing-media-rhetoric-reliable-sources/index.html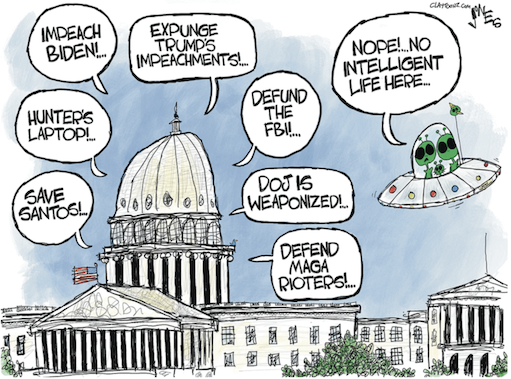 Dana Milbank:  Republicans who fought Biden's agenda now claim credit for it
It's the first week of summer recess for Congress, time for lawmakers to meet constituents at a picnic, fly off on a junket with colleagues or, for some, to take credit for things they voted against.
Sen. John Cornyn (R-Tex.) visited the massive Tesla plant in his home state, met with the company's raving CEO, Elon Musk, and sat in a Tesla Cybertruck prototype.

Said John Cornyn: "Everything is bigger in the Lone Star State including @Tesla's Gigafactory Texas — the 2nd largest manufacturing facility in the U.S.! he trumpeted. Tesla's impressive facility employs 10k Texans & is one of the many reasons why TX is leading in job creation."

Omitted from Cornyn's statement: That he fought bitterly against the clean-energy tax credits that directly prompted Tesla to boost its U.S. manufacturing. Tesla's current expansion in U.S. output includes a massive new investment at the very plant Cornyn toured and touted.

Cornyn and all other Senate Republicans opposed last year's Inflation Reduction Act, which contained massive tax incentives for electric vehicles. Cornyn mocked the credits as pet projects and handouts for rich folks who want to buy electric vehicles. He claimed that the credits would be subsidizing the purchase of Chinese-made, and commercial and used electric vehicles. https://www.washingtonpost.com/opinions/2023/08/04/cornyn-tesla-gigafactory-musk-inflation-reduction-act-tax-credits/
NY Times Editorial:  A President Accused of Betraying His Country
It's the third criminal indictment of Mr. Trump, and it demonstrates, yet again, that the rule of law in America applies to everyone, even when the defendant was the country's highest-ranking official. The crimes alleged in this indictment are, by far, the most serious because they undermine the country's basic principles.
The prosecution's list of false voter fraud claims made by Mr. Trump and his associates is extensive: that 10,000 dead people voted in Georgia, that there were tens of thousands of double votes in Nevada, 30,000 noncitizens voting in Arizona and 200,000 mystery votes in Pennsylvania, as well as suspicious vote dumps and malfunctioning voting machines elsewhere.
After presenting this list, the indictment makes its case with 12 simple but searing words: These claims were false, and the defendant knew that they were false. Mr. Smith points out how many people told Mr. Trump that he was repeating lies. He was told by Vice President Mike Pence that there was no evidence of fraud. He was told the same thing by the Justice Department leaders he appointed, by the director of national intelligence, by the Department of Homeland Security, by senior White House attorneys, by leaders of his campaign, by state officials and, most significantly, by dozens of federal and state courts. The indictment emphasizes that every lawsuit filed by Mr. Trump and his allies to change the outcome was rejected, providing the defendant real-time notice that his allegations were meritless.

Demonstrating Mr. Trump's knowledge that he was lying will be central to the prosecution's case when it comes to trial, because Mr. Smith wants to make clear that Mr. Trump wasn't genuinely trying to root out credible instances of voter fraud. The indictment doesn't charge him with lying or speaking his mind about the outcome of the election, and it notes that he had the right to challenge the results through legal means. But the charges show in detail how, after all those methods failed, his pervasive and destabilizing lies set the table for the criminal activity that followed, specifically fraud, obstruction and deprivation of rights. As much as defense lawyers are trying to frame the case as an attack on Mr. Trump's free speech, the indictment makes clear that it was his actions after Election Day that were criminal.

In many ways, the indictment continues the work of the House Jan. 6 committee, which uncovered many of the same allegations. Several of the committee's members had urged this prosecution, particularly after the Senate failed to convict Mr. Trump after he was impeached for his role in the Jan. 6 insurrection. After he voted to acquit Mr. Trump, Senator Mitch McConnell, the Republican leader, said there were other ways to bring Mr. Trump to account. We have a criminal justice system in this country, he said. We have civil litigation. And former presidents are not immune from being accountable by either one.

In that, at least, Mr. McConnell was right. A former president is now being charged with extreme abuse of office and will eventually be judged by a jury. Mr. Trump tried to overturn the nation's constitutional system and the rule of law. That system survived his attacks and will now hold him to account for that damage. https://www.nytimes.com/2023/08/02/opinion/trump-jan-6-indictment.html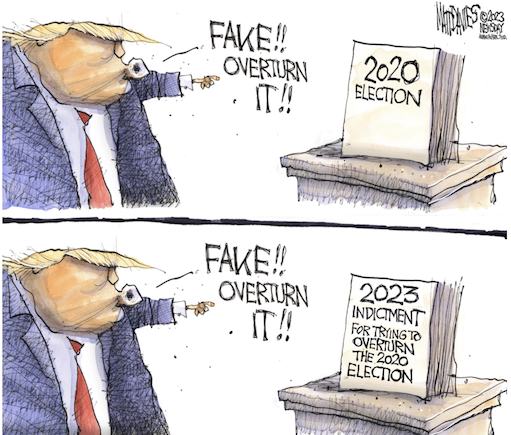 Phil Rotner: Coup Indictment: Here's Why Trump's Usual Defenses Won't Work
And while some of the overt acts alleged against Trump might look less damning if Trump could show he truly believed he won the election, others would not. Even a sincere, deeply held belief that the election had been stolen would not, for instance, give Trump license to participate in a fake-electors scheme. As I wrote over a year ago, none of Trump's standard defenses can excuse this piece of dirty work. Trump can't claim he didn't know about it, and he can't claim that forging election certificates and then attempting to pawn them off as official documents is just fine as long as you believe you won an election.
Think of it this way. You may be absolutely convinced that a charge on your credit card isn't yours, but you can't hack into the bank's server to remove it. You may know with all your heart that your neighbor took your Rolex, but you can't break into his house in the middle of the night to retrieve it (just ask O.J. Simpson about that one). You may hold it as an article of near-religious faith that the government is tyrannical, but you can't blow up the federal building.
https://plus.thebulwark.com/p/trump-usual-defenses-wont-work-new-indictment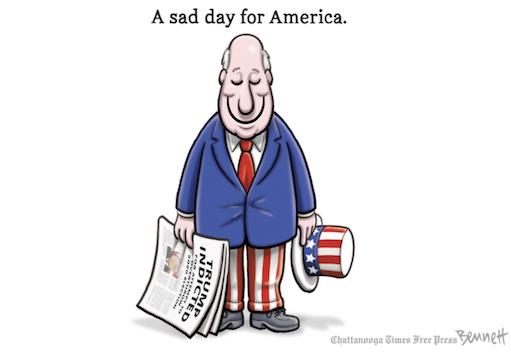 Elena Shao: What This Year's 'Astonishing' Ocean Heat Means for the Planet
Brutal heat waves have baked the world this summer and they haven't been contained to land. Earth's oceans are the hottest they have been in modern history, by an unusually wide margin.

The planet's average sea surface temperature spiked to a record high in April and the ocean has remained exceptionally warm ever since. In July, widespread marine heat waves drove temperatures back up to near-record highs, with some hot spots nearing 100 degrees Fahrenheit, or nearly 38 Celsius.

I find it kind of astonishing, said Gregory Johnson, an oceanographer at the National Oceanic and Atmospheric Administration, referring to this year's trend. This is a pretty big step up.
The North Atlantic has seen some of the most exceptional warmth, with recent temperatures consistently reaching more than 2 degrees Fahrenheit, or 1.1 Celsius, higher than what is typical for this time of year.

Taking a dip in the waters off the coast of the Florida Keys could, at times, feel like stepping into a hot tub. Last week, one reading from a buoy recorded a stunning 101.1 degrees Fahrenheit, or just over 38 Celsius, possibly a world record for sea surface temperatures.

The extreme heat is devastating Florida's coral reefs, but high ocean temperatures can have more widespread impacts, too, disrupting other marine ecosystems and the communities that depend on them.

Global sea surface temperatures have been increasing since at least the early 20th century, when humans began sharply increasing the amount of greenhouse gases pumped into the atmosphere.
https://www.nytimes.com/interactive/2023/08/03/climate/ocean-temperatures-heat-earth.html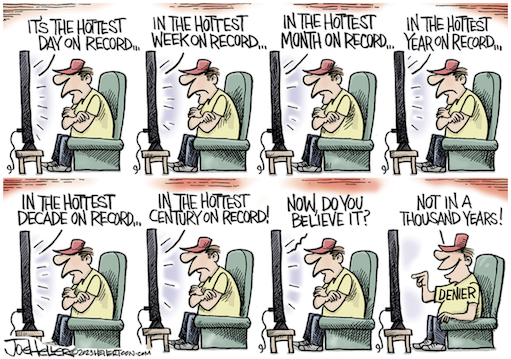 Matt Ford: There Is No First Amendment Right to Organize a Coup
Former President Donald Trump never stops talking. He has an unusual habit of saying whatever is on his mind, no matter how factually inaccurate, off-color, or otherwise counterproductive. This has endeared him to a certain portion of Americans and largely alienated everyone else. Now Trumpworld is still claiming that the Justice Department is somehow violating Trump's First Amendment rights by indicting him this week for conspiring to overthrow the 2020 election.
"This is an attack on free speech and political advocacy," John Lauro, one of Trump's lawyers, told CNN earlier this week. "And there's nothing that's more protected under the First Amendment than political speech." Rudy Giuliani waved around a copy of the indictment on Newsmax and said that "this one will be your legacy, violating the right of free speech of an American citizen," referring to special counsel Jack Smith. "President Trump had every right under the First Amendment to correctly raise concerns about election integrity in 2020," claimed New York Representative Elise Stefanik, a leading House Republican.
In the indictment on Tuesday, federal prosecutors made clear that they were distinguishing between protected First Amendment activities and criminal conduct. "The Defendant had a right, like every American, to speak publicly about the election and even to claim, falsely, that there had been outcome-determinative fraud during the election and that he had won," the indictment said in its third paragraph. "He was also entitled to formally challenge the results of the election through lawful and appropriate means, such as by seeking recounts or audits of the popular vote in states or filing lawsuits challenging ballots and procedures."
"Indeed, in many cases, the Defendant did pursue these methods of contesting the election results," the indictment continued. "His efforts to change the outcome in any state through recounts, audits, or legal challenges were uniformly unsuccessful. Shortly after election day, the Defendant also pursued unlawful means of discounting legitimate votes and subverting the election results." These latter actions are what have earned Trump four charges for conspiring to defraud the United States and prevent people's votes from counting.
To call the president's defenders' legal theories spurious would be an understatement.
Trumpworld's unbounded view of free speech, if applied consistently, would eliminate most state and federal crimes. After all, perjury is speech. (That did not stop independent counsel Ken Starr from investigating Bill Clinton for it or the House for impeaching him over it.) Bribery is speech. Many types of fraud are speech. Insider trading is speech. Identity theft is speech. Forging checks is speech. Telling state secrets to foreign governments is speech. The First Amendment makes it impossible for prosecutors to charge Americans with things like lèse-majesté, blasphemy, heresy, and making bomb threats. It also narrows the government's ability to prosecute speech unless in direct furtherance of a crime. It is not a license for anarchy.
https://newrepublic.com/article/174836/first-amendment-trump-indictment-speech
David Smith: Trump Shatters Laws of Political Physics
A whiff of criminality or scandal used to be career ending for politician. President Richard Nixon resigned over Watergate; Vice-President Spiro Agnew quit after being charged with bribery, tax evasion and conspiracy; Gary Hart's presidential campaign collapsed due to allegations of an extramarital affair; Anthony Weiner resigned from Congress after a series of sexting scandals.
But Trump has shattered the laws of the political physics. He has made the state and federal charges – now a combined 78 across three jurisdictions – against him a central plank of his campaign platform, casting himself as a martyr. At his rallies he portrays the cases as not just an attack on him but his supporters. He told a crowd last week in Erie, Pennsylvania: 'They're not indicting me, they're indicting you.'
A few dissenting voices apart, Republicans have echoed and amplified these talking points with characteristic fervor.
https://www.theguardian.com/us-news/2023/aug/05/trump-indictment-republican-voter-base
David Lurie: Kevin McCarthyism: Why the GOP's culture war on the troops will end badly
Today's Republican Party could learn a lot from Tailgunner Joe McCarthy's disastrous effort 70 years ago to treat the military as a right-wing political plaything.
During the 1950s, President Dwight Eisenhower prevented McCarthy, then a Republican senator from Wisconsin, from running the Republican Party over a political cliff by engulfing the Army in his reckless red baiting. Unfortunately, however, Joe's namesake, House Speaker Kevin McCarthy, along with several other GOP leaders, now seems determined to throw his party over the ledge.
In recent months, the far right — after spending years relentlessly attacking local school boards, public health agencies, and even Bud Light and Disney — has begun to direct its culture warring at the nation's military, and particularly Black, women, and LGBTQ service members. Apart from both being dangerous to national security and morally abhorrent, history teaches that such a political attack on the military could backfire on the GOP, big time.
https://www.publicnotice.co/p/kevin-mccarthyism-gop-war-on-troops-tuberville
David Graham: Trump Is Acting Like He's Cornered
In some ways, Donald Trump's mental state is more transparent than nearly any public figure's: He has no shame, little discretion, and ample channels to broadcast his feelings in real time. Yet his constant stream of consciousness and always elevated dudgeon make it hard to parse the finer fluctuations in his mood.
Even so, the former president's public behavior since Special Counsel Jack Smith indicted him last week suggests a man feeling cornered. This isn't to say that Trump is cornered—his ability to escape tough situations makes him the envy of every house cat—but his handling of the case suggests a man rattled in a way he seldom has been before…
But what neither he nor his allies have done is offer a coherent account of his actions—one that would suggest that he didn't conspire to overthrow the duly elected government. This is likely for the simple reason that he conspired to overthrow the duly elected government.
https://www.theatlantic.com/ideas/archive/2023/08/donald-trumps-unhinged-attacks-smith-and-chutkan/674945/