November 2, 2023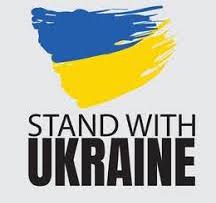 To subscribe to this FREE weekly newsletter simply email jellison@san.rr.com with "subscribe" as the subject.
THE WEEK'S BEST QUOTES. . .
"His verbal skills are limited. If you get him away from 'very, very, very,' you know, the adjectives… they're unfamiliar to him and they spill out, and he goes too far." -- Former U.S. Attorney General Bill Barr about Donald Trump.
https://thehill.com/homenews/4280503-bill-barr-knocks-trump-for-having-verbal-skills-that-are-limited/
"The wife of newly elected House Speaker Mike Johnson (R-LA) runs a counseling business that advocates the belief that homosexuality is comparable to bestiality and incest."
https://www.huffpost.com/entry/mike-johnson-wife-homosexuality-bestiality-incest_n_653abfb6e4b00110fef0462
"Many women use abortion as a form of birth control, you know, in certain segments of society, and it's just shocking and sad, but this is where we are. When you break up the nuclear family, when you tell a generation of people that life has no value, no meaning, that it's expendable, then you do wind up with school shooters." — Speaker Mike Johnson (R-LA) in a 2015 interview.
https://nymag.com/intelligencer/2023/10/mike-johnson-abortion-school-shootings.html
"Johnson is about to become for Democrats what Nancy Pelosi was for Republicans: a base-motivating, money-raising boogeyman who embodies everything they dislike most about the other party. — Playbook
https://www.politico.com/newsletters/playbook/2023/10/26/whats-in-store-for-speaker-johnson-00123692
"Mark Meadows knows everything that Donald Trump said, and did, and ordered other people to do on his behalf, and just as importantly, everything that he was told about the lack of facts to back up his contention that the election was stolen. Yet he continued to act as he did then and as he does now."  — Chris Christie saying Mark Meadows' cooperation with special counsel Jack Smith represents a major blow to Donald Trump in his election interference case.
https://www.mediaite.com/politics/chris-christie-on-what-mark-meadows-immunity-deal-means-for-trump-the-walls-are-closing-in-around-him/
"Everyone's got the right to run, but I'm sorry, I have no idea what he is running on that is different from what President Biden is running on." — Rep. Pramila Jayapal (D-WA) on Democrat Dean Phillips' presidential bid.
https://www.nbcnews.com/meet-the-press/video/full-jayapal-there-are-racists-within-the-netanyahu-government-196643909536
"It's typical of this place. This administration would rather burn the Senate down and that's what would happen… If you change the rules of the Senate then it lasts forever. So they would rather burn down the Senate than negotiate." — Sen. Tommy Tuberville (R-AL), who has held up military promotions for nine months, slamming a proposal to change the chamber's rules to allow a vote on many of the nominations en masse and attacked the White House and Senate Democrats for not negotiating with him.
https://www.cnn.com/2023/10/29/politics/tommy-tuberville-military-nominations-middle-east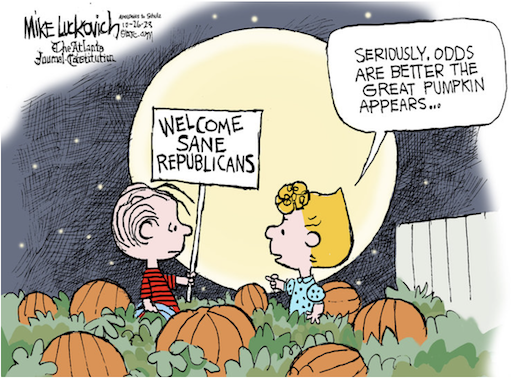 Attacks by "extremist settlers" amounted to "pouring gasoline" on the already burning fires in the Middle East since the Hamas attack. "It has to stop. They have to be held accountable. It has to stop now." — President Biden. speaking out against retaliatory attacks by Israeli settlers against Palestinians in the West Bank.
https://apnews.com/article/biden-west-bank-settlers-israel-hamas-war-0a2f38878720c962a20d9286315cde94
"So, I had family that sent a certified letter disowning me. They said I've lost the trust of great men like Sean Hannity, which is funny, but they believe that. They said I was a member of the devil's army." — Former Rep. Adam Kinzinger (R-IL) saying he was disowned by some family members because of his criticism of Donald Trump.
https://themessenger.com/politics/former-gop-rep-kinzinger-says-family-member-disowned-him-via-certified-letter
VIDEOS ...
"He's on Iran's side and he's on Hamas's side. He is not on our side. He's got a bunch of spies in his Admin. This guy is working for Iran. Why? Maybe because they've infiltrated his Admin the way the communists infiltrated FDR's Admin." — Rudy claiming that Joe Biden is an Iranian spy..
https://twitter.com/RonFilipkowski/status/1716177486713655517
"If you can't see the hand of God in this, then you're just not looking." — Rep. Tim Burchett (R-TN) saying that Rep. Matt Gaetz (R-FL) was sent on a mission from God to make Rep. Mike Johnson (R-LA) Speaker.
https://cdn.jwplayer.com/previews/naBtodH0
Mike Johnson (R-LA) linked school mass shootings to feminism, no-fault divorce and legalized abortion in a videotaped 2017 address to a Louisiana congregation.
https://twitter.com/DNCWarRoom/status/1717660573209407504
"Someone asked me today in the media, 'People are curious, what does Mike Johnson think about any issue?' I said, 'Well, go pick up a Bible off your shelf and read it. That's my worldview." — Speaker Mike Johnson.
https://twitter.com/RonFilipkowski/status/1717718043525099743
"The problem is the human heart. It's not guns… this is not the time to talk about legislation." — Speaker Mike Johnson (R-LA) dismissing gun control in a Fox News interview after the mass shooting in Maine.
https://twitter.com/atrupar/status/1717711644342599702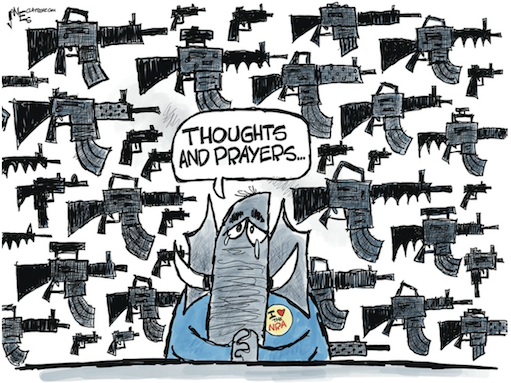 "You know the allegations about these voting machines, some of them being rigged with this software by Dominion, there's a lot of merit to that...They know that in Georgia it really was rigged." — Rep. Mike Johnson on Nov. 17, 2020:
https://twitter.com/AccountableGOP/status/1717202704378761264
"If only women were compelled to bring more 'able-bodied workers' into the world, Republicans wouldn't need to slash Social Security and Medicare." -- Rep. Mike Johnson at a House Judiciary Committee hearing attacking Roe v. Wade.
https://twitter.com/HouseJudiciary/status/1717183190463336780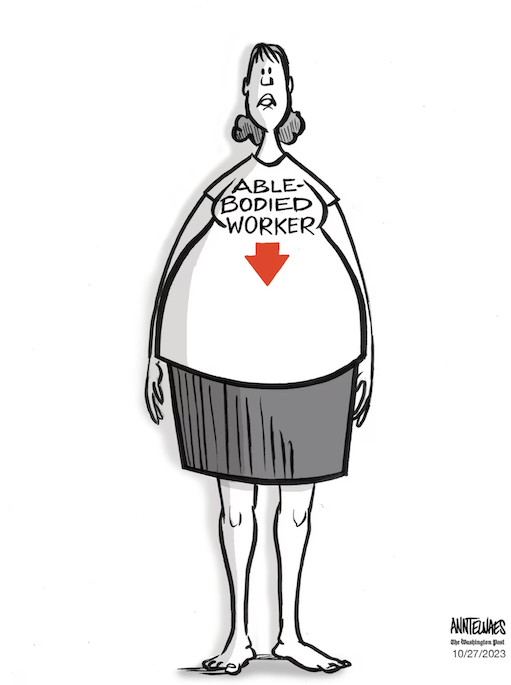 As we celebrate the 2nd annual observance of "Faith Month," this is a great time to explain the true meaning of the so-called "separation of church and state." — Rep. Mike Johnson, Apr 18, 2023.
https://twitter.com/RepMikeJohnson/status/1648361786393911296
"The climate is changing, but the question is, is it being caused by natural cycles over the span of the earth's history? Or is it changing because we drive SUVs? I don't believe in the latter. I don't think that's the primary driver." — Rep. Mike Johnson in 2017: 
https://www.vanityfair.com/news/2023/10/everything-to-know-about-mike-johnson
"We don't live in a democracy, but a "biblical" republic." -- Rep. Mike Johnson.
https://twitter.com/AmandiOnAir/status/1717509738865348775
Reporter to Mike Johnson: "You helped lead the effort to overturn the 2020 election results, do you—
Republicans: *Nooo, shut up, shut up!!"
Mike Johnson: "Next question." https://twitter.com/AdamKinzinger/status/1717159272201740740
War Through the Eyes of Gaza's Children:
https://www.nytimes.com/video/world/middleeast/100000009149198/gaza-children-war-israel.html
"I really believe it's down to one issue on the ballot. Not taxes, not even abortion, nothing. The one issue is: Do you believe in democracy, or do you believe in authoritarianism?" — Former Rep. Adam Kinzinger (R-IL), explaining why he voted for Democrats in the last two elections.
https://twitter.com/AccountableGOP/status/1719173797398372830
"We're gonna have a great country – it's gonna be called the United States of America." — Donald Trump on what he would do in a second term.
https://twitter.com/RpsAgainstTrump/status/1719484941598085595
---
IN THIS ISSUE
IN THE NEWS
OPINION
Andy Borowitz: Ginni Thomas Says Mike Johnson's Wife Seems a Little Crazy
Expressing concern about the wife of the new Speaker of the House, Ginni Thomas said that Kelly Johnson "seems a little crazy" to her.
"I don't know Kelly personally, so this is just based on what I've read," Thomas said. "But I have to say—she comes off like kind of a crackpot."
Noting that the operating agreement of Johnson's counseling company, Onward Christian Counseling, appears to equate sex outside of marriage with bestiality, Thomas added, "I saw that and I was, like, 'Whoa, Nelly! Looks like we've got a bit of a loony tune here.' "
Thomas said she became "even more alarmed" when she read that Johnson offers "temperament counseling" based on the teachings of the ancient Greek physician Hippocrates.  
https://www.newyorker.com/humor/borowitz-report/
Youngkin 'purge' removed nearly 3,400 legal Virginia voters from rolls
Gov. Glenn Youngkin's (R) elections team has admitted in the run-up to pivotal General Assembly elections that it removed nearly 3,400 qualified voters from the state's rolls, far higher than the administration's previous estimate of 270.
Although that number represents a tiny fraction of the state's nearly 6 million registered voters, control of the state House and Senate could come down to a handful of very tight races.
https://www.washingtonpost.com/dc-md-va/2023/10/29/youngkin-virginia-elections-voter-rolls/
McConnell goes all out as Ukraine fight fractures GOP
Mitch McConnell is abandoning his typically cautious style when it comes to aiding Ukraine, shrugging off potshots at his leadership and expending political capital for the embattled country despite a painful rift in the party.
McConnell is at odds with new Republican Speaker Mike Johnson, who wants to split off Israel aid from Ukraine funding rather than pass a sweeping national security package. And the Senate GOP leader faces brewing discontent within his own conference, which is buzzing over whether to stick with McConnell or side with conservatives who want a strategy change on Ukraine.
https://www.politico.com/news/2023/10/30/mcconnell-goes-all-out-as-ukraine-fight-fractures-gop-00123966
How Trump's Verbal Slips Could Weaken His Attacks on Biden's Age
One of Donald J. Trump's new comedic bits at his rallies features him impersonating the current commander in chief with an over-the-top caricature mocking President Biden's age.
With droopy eyelids and mouth agape, Mr. Trump stammers and mumbles. He squints. His arms flap. He shuffles his feet and wanders laggardly across the stage. A burst of laughter and applause erupts from the crowd as he feigns confusion by turning and pointing to invisible supporters, as if he does not realize his back is to them.
But his recent campaign events have also featured less deliberate stumbles. Mr. Trump has had a string of unforced gaffes, garble and general disjointedness that go beyond his usual discursive nature, and that his Republican rivals are pointing to as signs of his declining performance.
For instance:
● During a Sept. 15 speech in Washington the former president warned that America was on the verge of World War II.

● In the same speech, he boasted about presidential polls showing him leading Mr. Obama, who is not, in fact, running for an illegal third term in office.

● Trump gets the name of the city he's in wrong, forcing someone on stage to apparently whisper in his ear where he actually is: You're in Sioux City, Mr. President.

● He erroneously referred to Mr. Obama again during an anecdote about winning the 2016 presidential race. We did it with Obama, Mr. Trump said. We won an election that everybody said couldn't be won, we beat … He paused for a beat as he seemed to realize his mistake. Hillary Clinton.

● At a Florida rally on Oct. 11, days after a brutal terrorist attack that killed hundreds of Israelis, Mr. Trump relied on an inaccurate timeline of events in the Middle East to criticize Mr. Biden's handling of foreign affairs and, in the process, drew headlines for praising Hezbollah, the Iranian-backed militant group.

● Last week, while speaking to supporters at a rally in New Hampshire, Mr. Trump praised Viktor Orban, the strongman prime minister of Hungary, but referred to him as the leader of Turkey, a country hundreds of miles away.

● At another point in the same speech, Mr. Trump jumped into a confusing riff that ended with him telling supporters, You don't have to vote — don't worry about voting, adding, We've got plenty of votes.

● In a speech on Saturday, Mr. Trump sounded as if he were talking about hummus when he mispronounced Hamas (huh-maas), the Islamist group that governs the Gaza Strip and carried out one of the largest attacks on Israel in decades on Oct. 7. https://www.nytimes.com/2023/10/30/us/politics/trump-biden-age.html
Greene pushes censure vote over Tlaib's Israel comments
Rep. Marjorie Taylor Greene (R-GA) is introducing a measure to censure Rep. Rashida Tlaib (D-MI) over her comments on Israel.
The privileged motion will follow a fast-tracked process that bypasses House committees and has to be considered on the floor within two days.
Democrats are likely to respond to Greene's resolution by pushing a retaliatory censure against the Republican firebrand herself, citing her history of incendiary rhetoric — including her past flirtations with antisemitic tropes and comparison of vaccine mandates to the Holocaust.
https://www.politico.com/live-updates/2023/10/26/congress/gop-readies-tlaib-censure-push-00123731
Judge throws out Georgia's redistricting, orders new political maps
A federal judge ruled Thursday that Georgia's district lines must be redrawn to ensure adequate representation of Black voters in Congress and the General Assembly, finding that the state's maps illegally weakened their political power.
The decision could result in the election of additional Black representatives next year, with Democrats hoping to gain a seat in the U.S. House, where Republicans currently hold a 222-212 majority and a 9-5 lead among the state's representatives. Before the 2021 redistricting, the GOP held an 8-6 advantage.
https://www.ajc.com/politics/breaking-judge-throws-out-georgias-redistricting-orders-new-maps/OCXTSZBQ7ZGY7PWJWFELWRK6EA/
Thomas's RV loan was forgiven, Senate committee report says
Senate Finance Committee Chair Ron Wyden (D-Ore.) called Wednesday on Supreme Court Justice Clarence Thomas to tell the committee whether he declared more than a quarter-million dollars of loan forgiveness on his tax filings.
Wyden released a report by the committee's Democratic staff that details a loan that Thomas received from a friend, Anthony Welters, to buy a luxury Prevost Marathon motor coach in 1999.
The report said Thomas made some interest payments on the $267,230 loan, but that it was declared settled by Welters in 2008 without Thomas repaying a substantial portion — or perhaps any — of the principal.
The report continued: The tax code makes clear that in instances where debt is canceled, forgiven, or discharged for less than the amount owed, the borrower must report the amount canceled or forgiven as income for tax purposes.
https://www.washingtonpost.com/politics/2023/10/25/clarence-thomas-rv-loan-forgive/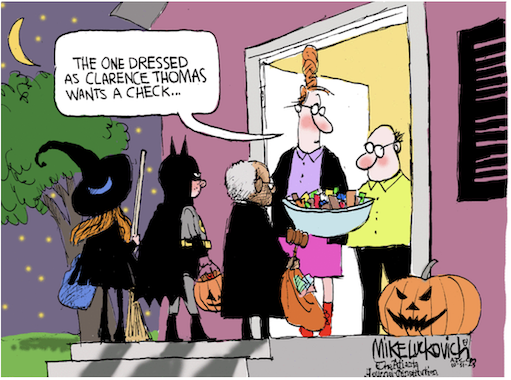 Can the GOP ever come to grips with the lies of 2020?
Whether the Republican Party can ever reconcile its divergent response to Jan. 6 is not the next question. It's the question defining this turbulent political moment in Washington and beyond — roiling and coursing just below the surface. These days, all roads lead back to the original lie that Donald Trump won.
https://www.politico.com/news/2023/10/26/donald-trump-january-6-mike-johnson-00123714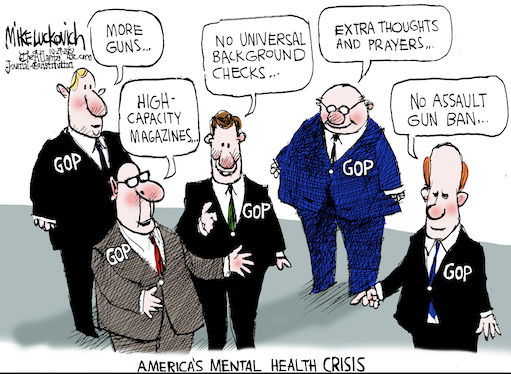 Speaker Johnson raises conservatives' hopes for Biden impeachment
Conservatives who spent months worrying that their drive to impeach Joe Biden would go nowhere under Kevin McCarthy hope it's just a matter of time before Republicans vote to remove the president under Speaker Mike Johnson.
The Louisiana conservative — a longtime member of the committee that'd oversee an impeachment inquiry — has leaned into the right flank's unproven allegation that Joe Biden took actions as president or vice president to benefit his family's business deals. But his calculation is more complicated as speaker, since he has to protect members in battleground districts who worry an impeachment vote would hurt them back home.
https://www.politico.com/news/2023/10/26/speaker-johnson-raises-conservatives-hopes-for-biden-impeachment-00123829
New speaker Mike Johnson's 2020 election denial could have 2024 implications
In the weeks after the 2020 election, an obscure Republican lawmaker from Louisiana led a congressional effort to overturn the presidential results in four battleground states that had helped secure Joe Biden's victory over Donald Trump.
The victories were a sham, Mike Johnson argued, because state election officials had changed voting procedures, without first seeking legislative approval, to address the challenges of casting ballots during the coronavirus pandemic.
Johnson recruited 125 House Republicans to join him in signing a U.S. Supreme Court brief saying as much, and on Jan. 6, 2021, an even larger group of lawmakers, including Johnson, voted against certifying the electoral college vote for Biden in two key battlegrounds.
Johnson has never repudiated his part in any of it. On Wednesday, he was elected speaker of the House.
https://www.washingtonpost.com/politics/2023/10/25/speaker-mike-johnson-election-denier/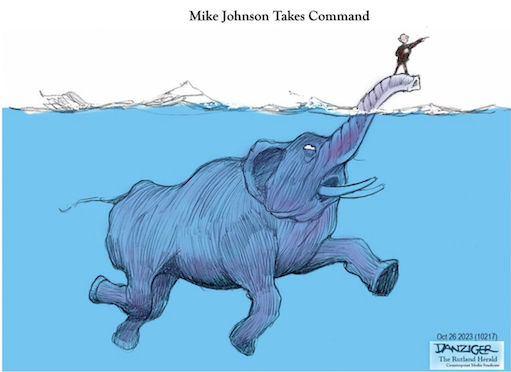 Some Things You Should Know About Mike Johnson
Thanks to Rep. Mike Johnson (R-LA) previous stints as a talk radio host and conservative activist, his beliefs are relatively easy to uncover. Here are a few things we've learned:
● He defended anti-sodomy laws that were struck down by the Supreme Court. https://www.newspapers.com/article/the-times/134066988/
● He opposed giving domestic partner benefits to same-sex couples. https://www.newspapers.com/article/the-times/134051710/
● He called homosexuality inherently unnatural, suggesting same-sex marriage would lead to pedophilia and bestiality. https://www.newspapers.com/article/the-times-kfile/134019997/
● He blamed post-Katrina looting on liberalism and legalized gambling. https://www.newspapers.com/article/the-times/134064345/
● He doesn't believe in the separation of church and state. https://abcnews.go.com/Politics/9-republicans-now-house-speaker-amid-historic-gridlock/story
● He believes we live in a biblical republic and not a democracy. https://twitter.com/AmandiOnAir/status/1717509738865348775
● He supports ending American military aid to Ukraine. https://www.nola.com/news/politics/gop-taps-louisianas-mike-johnson-as-speaker-designate/article_6ae045ae-72c2-11ee-be26-5f32206a38cf.html
● He pledged to serve just three terms in Congress but is now in his fourth.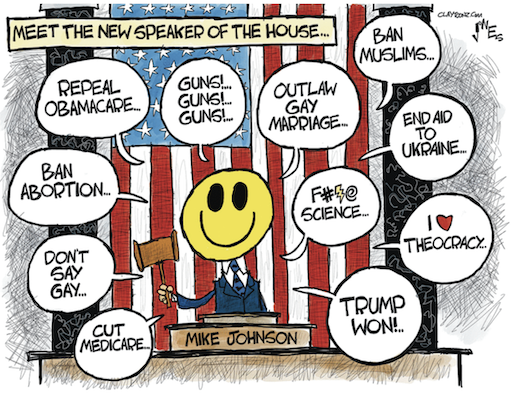 Colorado judge paves way for trial on whether 14th Amendment disqualifies Trump from the 2024 presidential ballot
A Colorado judge has rejected another attempt by former President Donald Trump to throw out a lawsuit seeking to block him from the 2024 presidential ballot based on the 14th Amendment's 'insurrectionist ban.
The ruling Wednesday from Colorado District Judge Sarah Wallace clears the way for an unprecedented trial to begin next week, to determine if Trump is disqualified from returning to the White House because of his role in the January 6, 2021, insurrection.
This is the fifth unsuccessful bid by Trump to throw out the Colorado case, which is one of several pending suits trying to derail his candidacy based on the 14th Amendment.
https://www.cnn.com/2023/10/25/politics/colorado-trump-14th-amendment/index.html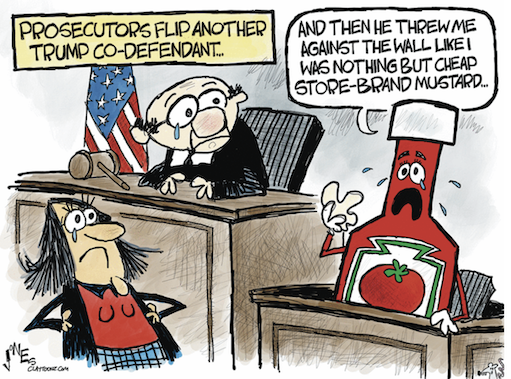 Congress' Job Approval Drops to 13%, Lowest Since 2017
A new Gallup poll finds just 13% of adults say they approve of the way Congress is handling its job, versus 86% who disapprove.
https://news.gallup.com/poll/513410/congress-job-approval-drops-lowest-2017.aspx
Musk's X is tilting right. And sinking.
One year after billionaire Elon Musk bought Twitter for $44 billion, aiming to rid it of a woke mind virus that he believed was suppressing free speech, the site's business outlook appears dire.
The number of people actively tweeting has dropped by more than 30 percent, according to previously unreported data obtained by The Washington Post, and the company — which the entrepreneur behind Tesla and SpaceX has renamed X — is hemorrhaging advertisers and revenue, interviews show.
https://www.washingtonpost.com/technology/2023/10/27/elon-musk-twitter-x-anniversary/
Arizona prosecutors ask about 2020 pressure campaign by Trump allies
The Arizona attorney general's investigation into the coordinated attempt to overturn the 2020 election results by creating and sending documents to the federal government falsely declaring Donald Trump the winner is also zeroing in on the pressure placed on local officials by the president's key allies to help avert his loss.
https://www.washingtonpost.com/politics/2023/10/27/arizona-investigation-2020-election-trump/
Biden's Bet on Auto Workers Pays Off
The pieces are lining up for President Joe Biden to lay claim to a victory for his pro-union stance as the second of Detroit's Big Three car companies reached a tentative agreement with the United Auto Workers, President Shawn Fain confirmed Saturday evening.
https://www.politico.com/news/2023/10/28/biden-uaw-stellantis-00124100
'The next domino to fall': Donald Trump increasingly hemmed in by plea deals
In the span of just one week, three former lawyers flipped on Donald Trump in a sweeping criminal case alleging a conspiracy to overturn the results of the 2020 presidential election in the state of Georgia.
That string of dramatic U-turns has turned some of Trump's most high-profile allies, including former federal prosecutor Sidney Powell, into potential liabilities for the ex-president. Jenna Ellis and Kenneth Chesebro, two former Trump campaign attorneys, also pleaded guilty.
It is still unclear if the lawyers, who have all agreed to testify truthfully in future proceedings, will seek to incriminate Trump in the Georgia case, legal experts said. But their deals could unleash a chain of similar agreements, increasing the number of potential witnesses prosecutors have on their side as they pursue the former president.
https://www.ft.com/content/3c7a5dad-6a3b-45b3-9fda-aaf042921665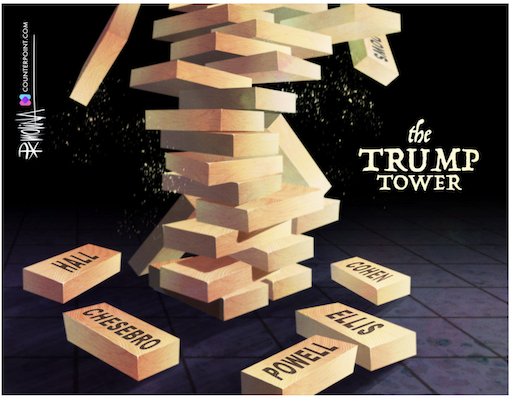 New danger for Ukraine: Taking Israel's side in war against Hamas and Gaza
Ukrainian President Volodymyr Zelensky's immediate and forceful support for Israel in its fight against Hamas has imperiled almost a year of concerted efforts by Kyiv to win the support of Arab and Muslim nations in its war against Russia.
Hamas and Russia are the "same evil, and the only difference is that there is a terrorist organization that attacked Israel and here is a terrorist state that attacked Ukraine," Zelensky said in a speech to NATO's Parliamentary Assembly on Oct. 9.
But with Israel's military operation set to enter its fourth week, and Palestinian civilian casualties mounting, the war in Gaza is posing one of the most difficult diplomatic tests for Ukraine since Russia's invasion in February 2022.
Countries like Turkey, Saudi Arabia and Qatar, which at times have provided crucial support to Ukraine, have accused the West of double standards in Gaza, alluding to the broad condemnation of civilian deaths in Ukraine compared with the muted criticism of Israel.
Tension with Muslim and Arab nations, however, is just one risk facing Kyiv, which must now also contend with the world's attention shifting largely to a new war in the Middle East, as well as competing demands for U.S. military support at a time when House Republicans just elected a new speaker, Mike Johnson (La.), who has opposed sending additional aid to Ukraine.
https://www.washingtonpost.com/world/2023/10/29/ukraine-israel-gaza-russia-support/
Michael Tomasky: New House Speaker: A Soft-Spoken, Mild-Mannered, Raging Theocrat
In one way, you have to be impressed by the Republicans. They keep going further and further right, completely undeterred. They keep somehow finding these people. And they keep elevating them. And now, MAGA Mike Johnson—a hard-core theocrat who is, in terms of his obviously deeply held philosophical beliefs, to Jim Jordan's right, and indeed perhaps well to Jim Jordan's right—is two heartbeats away from the presidency, after having been elected House speaker.
No one except Capitol Hill reporters and people who are such serious politics junkies that they need help had heard of Johnson until this week. I sure hadn't.
https://thenewrepublic.substack.com/p/new-house-speaker-soft-spoken-mild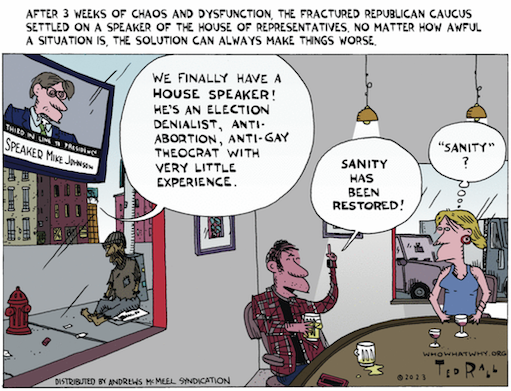 Charlie Sykes: Matt Gaetz, the Most Hated Man in Congress Won
Matt Gaetz may be loathed and detested by his colleagues, but in the end, it was Gaetz and his fellow members of the crazed slavering jackal caucus who feasted on the carcass of the GOP normies.
Gaetz and his confederates blew up the House, destroyed Kevin McCarthy, torpedoed Steve Scalise, and watched Trump shiv Tom Emmer. They bullied. harassed, and exhausted the majority, and on Wednesday they got a full-throated election denier and coup-plotter as speaker.
For a few halcyon moments, it looked like the center would hold as a modest rump of 'moderates' blocked the ludicrous Jim Jordan. But in the end, the squishes did what squishes do; and their defeat was as comprehensive as it was condign.
https://plus.thebulwark.com/p/and-the-winner-is
Bess Levin: Election Denial, Sexual Anarchy, Noah's Ark: All the Mike Johnson Details We Regret to Inform You Of
On October 25, after several weeks that saw dysfunction, chaos, humiliation, and anonymous threats to at least one lawmaker's wife, Republicans finally elected a Speaker of the House to succeed Kevin McCarthy: Mike Johnson, a representative from Louisiana who has the distinction of being the least experienced Speaker in more than a century.
At the time of Johnson's accession, a lot of Americans likely had no idea who he was; actual Republican senator Susan Collins, for one, told a reporter she didn't know Johnson but planned to remedy that by googling him. And if you weren't familiar with Johnson, you might've assumed that that was maybe even a good thing—that he was just a quiet Republican who hadn't gotten wrapped up in the insanity plaguing the GOP over the last seven or so years. He didn't have the name recognition of, say, Jim Jordan or Matt Gaetz, but perhaps that simply spoke to the fact that he wasn't leading a series of absurd hearings in an attempt to take down Joe Biden; or bragging about being so devoted to Donald Trump that he answered his phone calls during sex. Maybe, you might have thought, he wasn't someone you'd have to constantly worry about re: undermining democracy or trying to take away people's rights.
Unfortunately, that is not the case with Johnson, who may not have been well known prior to being given one of the most powerful jobs in government but is very much someone whose extremist views and actions should keep you up at night.
By now you've likely heard that Johnson spent a significant amount of time and energy trying to
overturn the 2020 election—an effort that included leading the amicus brief signed by more than 100 GOP lawmakers that asked the Supreme Court to overturn the 2020 election results in Georgia, Michigan, Wisconsin, and Pennsylvania. Johnson also objected to the certification of Biden's win on January 6; his arguments for doing so were adopted by a significant number of Republicans, leading the Times to call him the most important architect of the Electoral College objections. One day prior, per Politico, he told colleagues, This is a very weighty decision. All of us have prayed for God's discernment. I know I've prayed for each of you individually, before pressing them to oppose the Electoral College results. Oh, and he was a Dominion truther:
Thank God the GOP is now free to get back to the important, not-at-all-made-up issues.
https://www.vanityfair.com/news/2023/10/everything-to-know-about-mike-johnson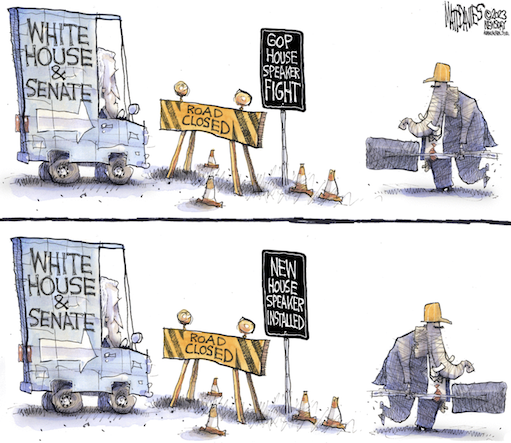 Alexandra Petri: In a total betrayal of principle, Mike Johnson accepts election results
In a stunning abandonment of principle that was sure to reverberate through the country over the coming year, House Republicans, led by Mike Johnson (La.), accepted the results of an election. This was a bewildering move from someone who had previously been a staunch ally of Donald Trump.
Those who watched Johnson's rise to prominence via tireless efforts to attract Republican signatures to a legal brief challenging the results of the 2020 election, and who admired his continued efforts to fight bravely against the democratic process by supplying arguments against certifying the 2020 election, were stunned and heartsick to see this apparent 180 on the legitimacy of majority rule. Just because it was an election that happened to result in his selection as speaker of the House, did that make winning a majority of votes suddenly a legitimate way of obtaining power? Where were the doubts? Where were the questions? Where were the barrage of dubious legal arguments? Why was he just sitting there and letting people congratulate him on his election, as though it were a good thing?
It was unclear exactly what had prompted this shocking change of heart. Some speculated it was the smaller number of voters involved, and the fact that the majority of them were Republicans, that had turned Johnson around. Others thought that perhaps he was tired and confused after more than three weeks of speakerless chaos, and that as soon as he had the opportunity to rest, toy with the gavel and breathe, he would reconsider. Still others thought he did not realize that 220 was greater than 209 and believed himself to be acting consistently with his principles.
https://www.washingtonpost.com/opinions/2023/10/25/mike-johnson-accepts-election-results/
Nick Catoggio: The Perfect Ending. In the GOP's speaker mess, the bad guys win again.
That's the whole party in one clip. There's Johnson, smug at having been not merely absolved by his colleagues for abetting a coup attempt but commended for it with their nomination for speaker.
There's Scalise and Elise Stefanik, two members of leadership leering like gargoyles at the idea that they should care about the party's turn toward insurrectionism. And there's Virginia Foxx, one of the elder statesmen in the conference, goading the press to just shut up about it already.
Participants, enablers, apologists. That's the House GOP. They've moved on from their attempt to block the peaceful transfer of power, they're eager for you to know —unlike a certain someone for whom they'll all be campaigning three or four months from now.
https://thedispatch.com/newsletter/boilingfrogs/the-perfect-ending/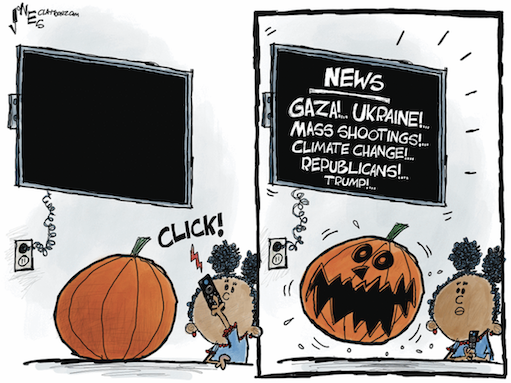 Sam Kiley: Israel's allies fear it could be walking into a trap in Gaza as Hamas and its backers seek a wider conflict
As they watch airstrikes and hot-barreled howitzers pound targets in Gaza, check and recheck their personal weapons, communications and webbing, there can be very few among the thousands of Israeli soldiers poised for combat who don't quietly wonder: Is this a trap?
Hamas, and its backers in Tehran, would have certainly planned to meet a fierce Israeli ground offensive after the terrorizing infiltration of Israel.
It's possible – even probable – that the singular horrors inflicted on so many civilians were intended by Hamas to guarantee a massive Israeli response, no matter the cost to civilians in Gaza.
Israel's next moves will determine the shape of things to come – perhaps for decades. It all comes down to Gaza.
The IDF soldiers poised in their mustering points for what may be a major battle in Gaza might also wonder if, years from now, their sons may be back there again, striking out to be greatly feared.
https://www.cnn.com/2023/10/26/middleeast/israel-military-trap-hamas-battle-analysis-intl-hnk/index.html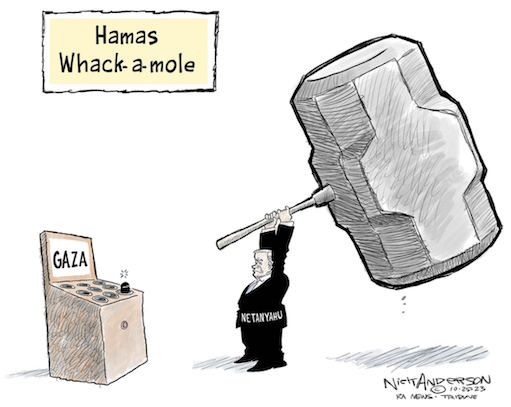 Dana Milbank: A fifth-string speaker suits up for House Republicans
During their three speakerless weeks, House Republicans booted McCarthy (Calif.) and their first three choices to replace him. They heard from 12 candidates, including four who ran more than once. They held five votes on the House floor and about 15 behind closed doors. I mean, what are we going to do, go down and just put everybody's name in a damn hat? asked Rep. Troy Nehls (R-Tex.) asked on Tuesday.
Finally, on Tuesday night, House Republicans picked the name Johnson out of the phone book. He was acceptable because he was unknown on Capitol Hill, even to many Republicans. During Wednesday's roll-call vote on the House floor, Kay Granger (R-Tex.), chair of the Appropriations Committee, rose and mistakenly voted for Mike Rogers — the chairman of the Armed Services committee — before correcting herself to Mike Johnson. Rep. Paul Gosar (R-Ariz.), in a statement congratulating the new speaker, called him Jim Johnson. Susan Collins of Maine, top Republican on the Senate Appropriations Committee, told CNN's Lauren Fox Wednesday morning that she'd have to Google him.
Johnson's anonymity was his greatest asset. In just his seventh year in Congress, he hadn't been around long enough, or had enough power, to make enemies. He is the least-experienced speaker in a century and a half. But he has also been an avid election denier, Trump defender and promoter of the deep-state conspiracy, which appealed to the MAGA hard-liners who had defeated McCarthy, Scalise and Emmer.
Johnson had two other things going for him, too: Exhaustion (about 25 Republicans skipped the final vote in the GOP caucus meeting that nominated him Tuesday night) and a fear that, if yet another nominee failed, a small band of Republican institutionalists might actually make good on their threat to work with Democrats to return the chamber to functioning.
If you do that, you're done, Rep. Wesley Hunt (R-Tex.) told us. That's not even an option.
Now, three weeks before the next deadline to avoid a government shutdown, Republicans have elected a no-name speaker with no experience and no agreement on a way forward. And the hard-liners have already started threatening him. Just minutes after Johnson won the speakership, Rep. Chip Roy (R-Tex.), a leader of the far-right House Freedom Caucus, told Bloomberg News's Erik Wasson that any bill avoiding a shutdown on Nov. 17 would need to impose something like the 30 percent slashing of government spending that House Republicans attempted last month.
https://www.washingtonpost.com/opinions/2023/10/25/house-speaker-mike-johnson-gop-fifth-choice/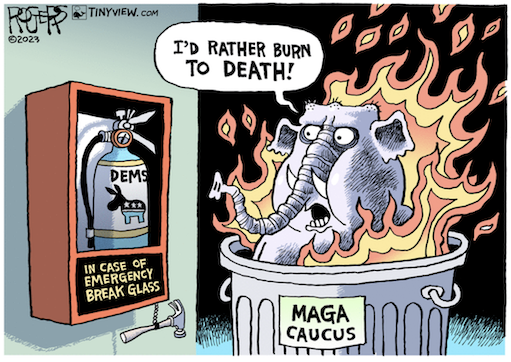 Edward Luce: Triumph of the GOP end-of-days caucus
If Johnson survives the next 13 months — a big conditional given the party's kamikaze frame of mind — he will be Speaker when the next presidential certification happens in January 2025. I don't need to spell out what Trump will want Johnson to do for him if he loses again. It is a safe bet that Johnson would do what he could to
That is the most sobering fact about America's new second in line to be president. But we cannot overlook Johnson's Christian fundamentalism. He is a sincere biblical literalist. As an active legal ally of the Southern Baptist Convention, and also as a Louisiana and now Washington legislator, Johnson has a 25-year record of Christian extremism. He believes homosexuality is unnatural and should be illegal, he supports a federal outlawing of abortion in any circumstances (as co-author of the "life begins at conception" bill before this Congress), he believes the US is a Christian nation founded on biblical principles, and he is a "Christian Zionist" supporter of the politically philo-Semitic and theologically antisemitic view that the Book of Revelation will be fulfilled in modern-day Israel. Remember, that involves the second coming of Jesus in a prophesied rapture in which the righteous will ascend to heaven and the rest, including the Jews, will be slaughtered.
Some people would call Johnson a Christian nationalist. I prefer the term "end-of-days Republican". At any rate, a triumphant Johnson on Wednesday told the house that God had ordained this moment and that his wife had spent the past two weeks "on her knees". The last reference is  puzzling. Literally nobody anticipated Johnson would be Speaker until Tuesday of this week. Yet apparently his wife had been praying for it all along.
My question is whether this GOP extremism, albeit in lamb's clothing, will destroy the Republican party or the US republic. It has to be one or the other.
https://www.ft.com/content/a922cb8e-ddaa-484c-a720-e4c4e970304f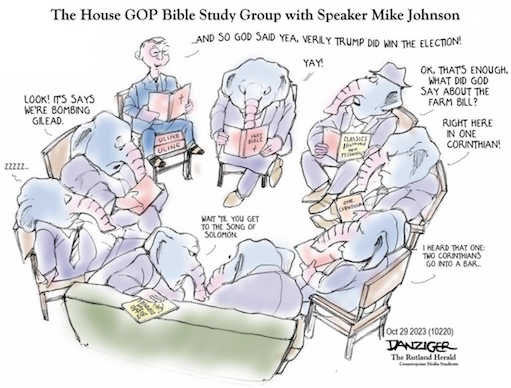 David Ignatius:The U.S. is walking a familiar tightrope on Israel
For all the changes in the Middle East, the United States' core problem there hasn't changed in 60 years: How can it protect Israel, its closest ally in the region, while also bolstering stability and maintaining its partnerships with Arab neighbors?
The same dilemma has recurred with numbing frequency over the decades: Israel is attacked by Palestinian or Arab foes; it retaliates decisively in an effort to restore deterrence; Arab civilians are killed; and calls mount for a cease-fire. The United States works to broker a formula that defuses the crisis. And an eventual U.S.-brokered cease-fire sets the stage for the next catastrophe.
Because of the monstrous terrorist attack by Hamas on Oct. 7, this time appeared different. The world seemed to understand the need for Israel to take decisive action. But memories proved short: As Gaza was hit by more than 7,000 airstrikes and Palestinian civilian deaths soared, international support for Israel weakened. Now, the United States is trying to keep faith with the Israelis as it also seeks to calm the Arabs and avert a wider war.
https://www.washingtonpost.com/opinions/2023/10/26/biden-netanyahu-israel-gaza-war/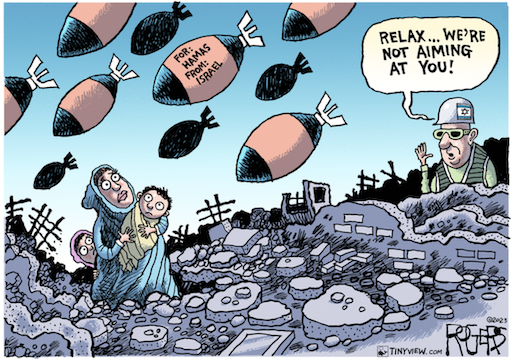 Eric Garcia: Did Republicans just sacrifice their majority by voting for Johnson?
Getting behind someone as staunchly hard-right as Mr Johnson is a huge gamble for Republicans.
Mr Jordan and Mr Johnson have near-identical records and, if anything, Mr Johnson is an even more potent force on the right. Where Mr Jordan simply plotted with Donald Trump to overturn the election and is little more than a bloviator who never took the bar exam to practice law, Mr Johnson led an amicus brief seeking to overturn the election.
Mr Johnson's ascent to the top job in the House does not just mean he is the leader of the lower chamber of Congress and third-in-line to the presidency; he is now the highest-ranking Republican in the country.
Throughout the 2010s, Republicans tied Democrats, including moderates who voted against her, to former House speaker Nancy Pelosi, whom they depicted as an out-of-touch liberal from San Francisco, long a synecdoche for an enemy of conservative values.
And it worked swimmingly for them; throughout that decade, Republicans turned the rural white Democrat into an endangered species in the House, despite the fact many of them were more moderate Blue Dog Democrats.
Democrats these days don't win as many Republican districts anymore. The smart folks at the Centre for Politics at the University of Virginia found that while 18 Republicans represent districts Mr Biden won, only five Democrats won seats in districts where Donald Trump won.
But the suburban districts that once voted for Republicans in places like Arizona, Pennsylvania, California, Georgia and Texas have changed drastically. Mr Trump's presidency – and the fact Democrats nominated relatively moderate presidential candidates – started moving these areas into the blue column. The Dobbs v Jackson decision last year which overturned the right to have an abortion in Roe v Wade further repelled the suburbs away from Republicans.
Mr Johnson is a hardliner on abortion, saying he looks forward to the day there are none. His ascent comes after Republicans radically underperformed in the 2022 midterm elections, largely in response to the Dobbs decision, which Mr Johnson praised.
Democrats now will likely try to tie every Republican to Mr Johnson. And the argument of folks like him who say that they don't work for a speaker might ring hollow for voters when he enthusiastically backed Mr Johnson.
And Republicans seem to be trying to create some distance from the rest of their party now that the speaker fracas is over. On Thursday, Mr D'Esposito, who represents Long Island, introduced legislation to expel embattled Rep George Santos, a fellow Long Island Republican, from Congress. But it's unclear if that will give him the distance he needs to win this time next year.
https://www.independent.co.uk/voices/republicans-house-majority-mike-johnson-b2437235.html
Alexandra Petri: The problem is the human heart. It's not guns'
The heart is a uniquely American problem. Speaker Johnson, I hear, had his removed long ago, which allows him to look on the suffering of his fellow man with equanimity and detachment, because of his serene awareness of the Divine Plan. Some people's hearts are simply bad (learned too much Darwinism, or too little prayer, or too much bodily autonomy). Johnson has been saying things of this kind for as long as he has been in the public eye. The problem is never guns. The problem is abortions. (When you break up the nuclear family, when you tell a generation of people that life has no value, no meaning, then you do wind up with school shooters.) The problem is not guns; it is teaching evolution. It is the theories of Charles Darwin! Because we've taught a whole generation — a couple of generations now — of Americans,that there's no right or wrong, that it's about survival of the fittest, and [that] you evolve from the primordial slime. Why is that life of any sacred value? Because there's nobody sacred to whom it's owed. Imagine thinking that the only reason to protect the human heart was allegiance to your God! The valiant little muscle clenching inside your chest, keeping you alive, powering your moves through the world, letting you see birthdays and graduations and beating faster when you see something you love — what could be more obviously worth protecting?
But the problem is never the gun. Hearts stop all the time, for myriad reasons. They are vulnerable to poverty and despair and anxiety, and the United States has all of those in ample supply.
https://www.washingtonpost.com/opinions/2023/10/27/mike-johnson-problem-human-heart-gun-violence-satire/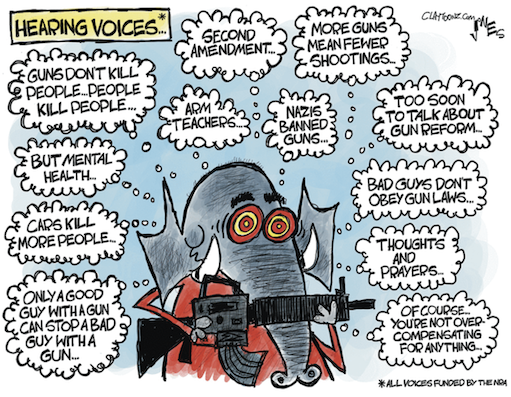 Noah Berlatsky: The Christofascism of Mike Johnson
It took Mike Johnson just a couple days last week to rise from a relatively obscure Louisiana congressman to House speaker. Suffice it to say his background and policy positions did not hold up well under their first exposure to national attention.
Johnson is an opposition researcher's goldmine. Even over the weekend, news reports and video clips steadily trickled out exposing the new speaker for embracing views that are far out of step with mainstream America.
In particular, Johnson is deep in the Christofascist derp. And if you didn't know that already, it became clear last Thursday during his first big TV interview as speaker, a spot on Sean Hannity's show where he explained that his position on any issue comes straight from the Bible.
"Well, go pick up a Bible off your shelf and read it. That's my worldview; that's what I believe," Johnson told on Hannity, with a proud little head tilt.
What Johnson means when he says that his worldview is that of the Bible is not that he's going to make a good faith (as it were) effort to follow biblical prescriptions. Rather, it means he's certain that his own particular white evangelical Christian nationalist tradition is sanctioned by God, and that, therefore, whatever smug and barmy thing comes out of his mouth is divinely inspired.
And much of what has come out of Johnson's has been barmy indeed — not to mention smug, and often terrifyingly cruel. Based on his stated supposedly biblical positions, the Bible in Johnson's head is a silly, vicious farrago of ignorance and bigotry, and a blueprint for Christofascist tyranny.
https://www.publicnotice.co/p/mike-johnson-christofascism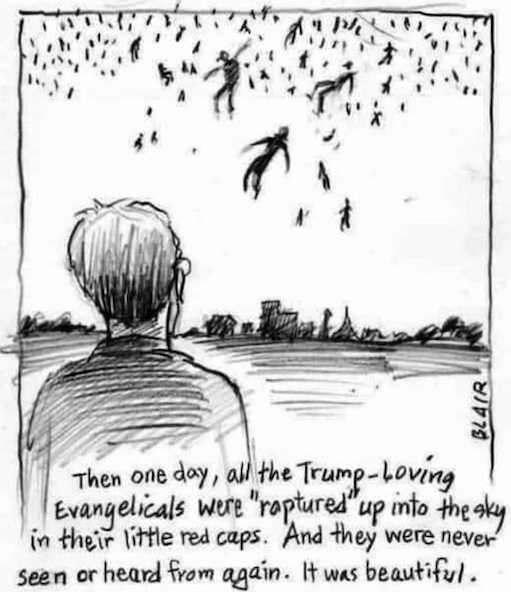 Tom Nichols:Stop Asking Americans in Diners About Foreign Aid
Americans don't understand foreign aid. Instead of relying on misinformed citizens, we should demand better answers from national leaders who want to cut aid to our friends and allies and imperil American security.
Let's review some important realities.
First, foreign aid is about 1 percent of the U.S. budget, roughly $60 billion. Special appropriations to Ukraine have, over the course of 18 months, added up to about $75 billion, including both humanitarian aid and weapons. Israel—a far smaller country that has, over the past 70 years, cumulatively received more foreign aid from the United States than from any other country—usually gets about $3 billion, but Joe Biden now wants to add about $14 billion to that.
That's a lot of money. To put it in perspective, however, Americans forked over about $181 billion annually on snacks, and $115 billion for beer last year. (They also shell out about $7 billion annually just for potato chips. The snack spending is increasing, perhaps because Americans now spend about $30 billion on legal marijuana every year.) Americans also ante up a few bucks here and there on legal sports gambling, and by "a few" I mean more than $220 billion over the past five years.
I know suds and weed and sports books and pretzels are more fun than helping Ukrainians stay alive. And I know, too, that supposedly small-government conservatives will answer: It's none of your damn business what Americans are spending their money on.
They're right—up to a point. But we are, in theory, adults who can establish sensible priorities. We pay taxes so that the federal government can do things that no other level of government can achieve, and national security is one of them. Right now, the Russian army—the greatest threat to NATO in Europe—is taking immense losses on a foreign battlefield for a total investment that (as of this moment) is less than one-tenth of the amount we spend on defense in a single year. This is the spending Mike Johnson is so worried about?
Of course, we might repeat one more time that much of the food and weapons and other goods America sends to places like Israel and Ukraine are actually made by Americans. And yet many Republican leaders (and their propaganda arm at Fox and other outlets) continue to talk about aid as if some State Department phantom in a trench coat meets the president of Ukraine or the prime minister of Israel in an alley and hands over a metal briefcase filled with neatly wrapped stacks of bills.
https://www.theatlantic.com/newsletters/archive/2023/10/the-diner-trap/675841/
Molly Jong-Fast: Welcome to MAGA Mike's House
But perhaps "MAGA Mike" Johnson's biggest problem will end up being his enormous catalog of comments showcasing his wildly out-of-the-mainstream, religious views. Johnson isn't as cartoonishly Trumpy as Matt Gaetz, Marjorie Taylor Greene, or Lauren Boebert, so his extreme views on social issues had fallen largely under the radar until now. "Many women use abortion as a form of birth control, you know, in certain segments of society, and it's just shocking and sad," he once told New York's Irin Carmon, adding that "when you break up the nuclear family, when you tell a generation of people that life has no value, no meaning, that it's expendable, then you do wind up with school shooters."
Johnson is also staunchly anti-LGBTQ+ rights. He called being gay a "dangerous lifestyle" and "inherently unnatural" and said of gay sex, "States have many legitimate grounds to proscribe same-sex deviate sexual intercourse." Johnson was also bothered by Emmer for voting in favor of the legalization of same-sex marriage, saying of Emmer's vote, "You know how I voted on it. Everybody votes their conscience but I've always been very resolute on that issue."
As Johnson's extremist views surface, the clock is ticking toward another shutdown, with the government only funded until November 17, along with other pressing matters. According to Punchbowl, "House Republicans are planning to try to offset the $14 billion for Israel with spending cuts elsewhere. The White House has sought this as emergency funding, and it's unheard of for Congress to seek such cuts."
The fantasy that Johnson will somehow find pay-fors to offset emergency aid seems like some Ayn Rand fan fiction. But we'll see. Did I mention Johnson still hasn't changed the one-person motion to vacate? His Speakership could be even shorter than McCarthy's.
https://www.vanityfair.com/news/2023/10/maga-mike-johnson-speaker