December 31, 2020
ON THE RECORD. . .
Trump's pardons exemplify the abuse of power, and the worst of them go beyond caprice or even score-settling to the demolition of core Justice Department functions. Granting clemency to war criminals and corrupt congressmen has a grotesque sort of purity that proves the rule of this presidency: With Donald Trump, there is no bottom. -- Harry Litman

"If a Democrat Presidential Candidate had an Election Rigged & Stolen, with proof of such acts at a level never seen before, the Democrat Senators would consider it an act of war, and fight to the death. Mitch & the Republicans do NOTHING, just want to let it pass. NO FIGHT!" — Trump ramping up his criticism of Senate Republicans over their unwillingness to aid his efforts to overturn the election.

Every significant Mueller defendant who refused to cooperate (or started but then stopped) has now been pardoned. Only Rick Gates and Michael Cohen - both of whom testified publicly, in court or Congress - have not been pardoned. This math isn't hard to do. — Elie Honig.

"Trump is using the pardon power as his latest slush fund to reward his backers, allies and cronies. Trump is like a crooked Santa. If you were going to make a movie about these pardons, you'd call it Bad Santa: Part II." — " Norm Eisen, one of Trump's impeachment prosecutors.

Where the hell is the Durham Report? They spied on my campaign, colluded with Russia (and others), and got caught. Read the Horowitz Reports about Comey & McCabe. Even the Fake News @nytimes said "bad". They tried it all, and failed, so now they are trying to steal the election! — Trump, railing against the the Department of Justice and U.S. attorney John Durham for failing to produce a report that exposed wrongdoing in the FBI's Russia probe.

Once one party allows the pardon power to become a tool of criminal enterprise, its danger to democracy outweighs its utility as an instrument of justice. It's time to remove the pardon power from the Constitution. — Chris Murphy @ChrisMurphyCT

"Today we were surprised that the American president issued a decision to pardon these criminals, murderers and thugs. I'm really shocked. ... The American judiciary is fair and equitable. I had never imagined that Trump or any other politician would affect American justice." — Hassan Salman, one of the Iraqis who were shot during the Blackwater ambush, had made trips to the U.S. to testify in the proceedings against the four Blackwater guards who killed killing of 14 Iraqi civilians and wounded of 17 others.

"This is a scam." — Rep. Adam Kinzinger (R-IL) on continued efforts by Trump and some House Republicans to overturn the election of President-elect Joe Biden.

Peter Navarro releases 36-page report alleging election fraud 'more than sufficient' to swing victory to Trump. A great report by Peter. Statistically impossible to have lost the 2020 Election. Big protest in D.C. on January 6th. Be there, will be wild! — Trump. (January 6th is the day Congress is scheduled to finalize the presidential election results.) https://twitter.com/realDonaldTrump/status/1340185773220515840

"Mr. President, it's time to end this dark charade… If you insist on spending your final days in office threatening to burn it all down, that will be how you are remembered. Not as a revolutionary, but as the anarchist holding the match." — New York Post editorial

"He's just angry at everybody and wants to inflict as much pain on Congress as possible." — People close to the White House on Trump's decision to hold up the emergency relief package.

"It's not surprising that a criminal like Trump pardons other criminals. But apparently to get a pardon, one has to be either a Republican, a convicted child murderer or a turkey." — Senior U.S. District Judge Robert Pratt of the Southern District of Iowa.

VIDEOS

Never Happens Here | The Lincoln Project: https://youtu.be/BpA_TIAU228

330k+ dead and counting because of the #TrumpVirus. This is #TrumpsWall. | The Lincoln Project: https://twitter.com/ProjectLincoln/status/1343998088671801349
---
IN THIS ISSUE
FYI
OPINION
1. Pence under pressure as the final step nears in formalizing Biden's win
"I'll make you a promise: We're going to keep fighting until every legal vote is counted, we're going to keep fighting until every illegal vote is thrown out. So — for all we've done, for all we have yet to do — stay in the fight." -- Pence said at the event Tuesday.
But in less than two weeks, it will fall to Pence to declare that fight over — and lost. A joint session of Congress on Jan. 6 will take the last step in formalizing President-elect Joe Biden's victory, and Pence, in his role as president of the Senate, will preside over the session after four years of ceaseless efforts to demonstrate his loyalty to Trump. https://www.washingtonpost.com/politics/pence-biden-congress-electoral/2020/12/24/48f48da8-4604-11eb-a277-49a6d1f9dff1_story.html
2. Michael Flynn Is Now Shilling QAnon Merch
Disgraced former Trump National Security Adviser Michael Flynn is going all in on the QAnon conspiracy theory, promoting an online store to sell QAnon hats and T-shirts, the proceeds of which will benefit his partnership with a prominent QAnon booster.
Flynn's drawn-out legal battle with Special Counsel Robert Mueller turned him into a hero for QAnon believers. Many QAnon supporters, who rely on mysterious online clues to construct a worldview where the Democratic Party and other institutions are controlled by a cabal of pedophile-cannibals, claim that Flynn is "Q", the anonymous figure behind the conspiracy theory. They also took a previously obscure Flynn quote about the American military's "digital soldiers" as their banner, adopting the phrase to refer to QAnon believers themselves. https://money.yahoo.com/michael-flynn-now-selling-qanon-203907741.html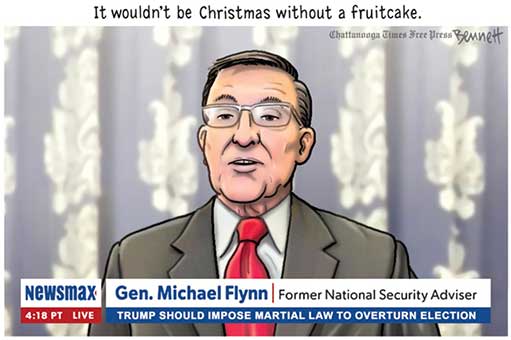 3. WSJ editorial board: Trump's push for $2,000 checks will hand Democrats the Senate
The Wall Street Journal published an editorial on Monday effectively accusing President Trump of sabotaging Republicans' chances of winning the Georgia Senate runoffs with his push for $2,000 stimulus checks, calling it an "in-kind contribution to Minority Leader Chuck Schumer and Joe Biden."
It's another sharp criticism from a newspaper owned by Rupert Murdoch — co-chair of Fox Corp. and executive chair of News Corp — that comes one day after the New York Post said Trump is "cheering for an undemocratic coup" with his efforts to overturn the election he lost.https://www.axios.com/wall-street-journal-trump-stimulus-checks-senate-60ef8910-2af4-44fe-b729-2473d1502ae1.html
4. Trump's Aberrant Pardons and Commutations Chart
Donald Trump's commutation of Roger Stone's sentence was his most controversial exercise of the pardon power to date. The Stone commutation fit a pattern: Almost all of the beneficiaries of Trump's pardons and commutations have had a personal or political connection to the president. This general pattern is well known. But we examined publicly available information to try to get some precise numbers. The result is this chart.
We considered whether Trump's pardons and commutations cam be explained by one or more of four criteria:
(1) Did it advance a clear political goal of the president?;
(2) Did the person who was pardoned or the person who supported the pardon have a personal connection to Trump or someone Trump knows well?;
(3) Was the person who was pardoned brought to the President's attention by television or a television commentator?;
(4) Was the pardon based on Trump's admiration for celebrity? Interpretations in some cases were difficult.
The bottom line: Of the 34 people who received pardons or commutations (or both) from President Trump, 29 of them fit at least one (and often more than one) of the above criteria. https://www.lawfareblog.com/trumps-aberrant-pardons-and-commutations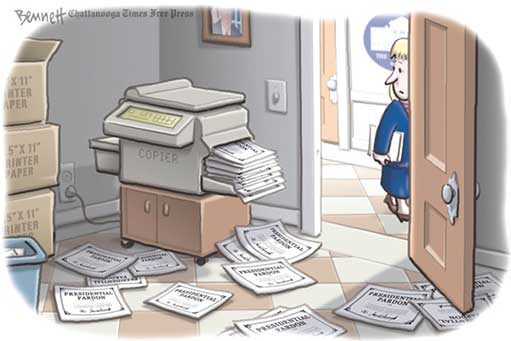 5. Democratic Voters Think Biden Will Try To Work With Republicans. GOP Voters Don't Think So
Most voters are pessimistic about the prospects for bipartisanship under the new Biden administration, according to a new HuffPost/YouGov survey. The results are a clear case of partisan asymmetry. About half of voters think President-elect Joe Biden will attempt to work with Republicans, but fewer than one-third believe the GOP will try to work with him. Democratic voters say by a 10-percentage-point margin that they'd like Biden to compromise in order to work across the aisle rather than stick to his positions even if it means not coming to an agreement. Republican voters, by a 29-point margin, say Republicans in Washington should stick to their positions. https://www.huffpost.com/entry/bipartisanship-biden-republicans-poll_n_5fea631dc5b64e442105afd3
6. As Trump leaves office, 50% of Americans say he'll be seen as 'failed' president
Donald Trump leaves the White House next month with the country more sharply divided than when he moved in and amid caustic assessments of his record in office, a new USA TODAY/Suffolk University Poll finds.
Asked how history would judge Trump's presidency, 16% predict he will be seen as a great president, 13% as a good president, 16% as a fair president, and 50% as a failed president. Five percent are undecided.  https://www.msn.com/en-us/news/politics/exclusive-as-trump-leaves-office-50-of-americans-say-he-ll-be-seen-as-failed-president/ar-BB1ccjTh?li=BB141NW3
7. Deportations of migrant families spiked in 2020
Federal immigration officials deported about 14,500 migrant family members in fiscal year 2020, returning more parents and children in a single year than they did during the first three years of President Trump's term combined, according to U.S. Immigration and Customs Enforcement's annual report released Wednesday. https://www.washingtonpost.com/immigration/ice-deportations-decline/2020/12/23/b9c8841c-4532-11eb-b0e4-0f182923a025_story.html
8. Dominion sends letters threatening defamation lawsuits to pro-Trump media figures
Dominion Voting Systems has sent letters to Fox News, as well as the right-wing media outlets Newsmax and One America News, along with Fox News's Sean Hannity, Lou Dobbs, and Maria Bartiromo, as well as Rush Limbaugh and Newsmax host Greg Kelly, warning it may sue over the baseless conspiracy theory that the election technology company manipulated the results of the 2020 presidential election.
The letters, dated December 22, warn the recipients to preserve documents and copies of correspondence related to Dominion. The company is at the center of a conspiracy theory that it has secret ties to the rival election tech company Smartmatic, as well as the regime of the now-dead Venezuelan dictator Hugo Chavez, and developed technology to secretly flip votes from President Donald Trump to President-elect Joe Biden.
"We have put Fox and Newsmax and OAN on notice that we have claims, and that we are evaluating those claims, and that we're intending to pursue those claims," Dominion attorney Tom Clare told Insider in an interview Wednesday night. "We want to make sure that not only are they preserving documents, but they're not doubling down on these same allegations."https://news.yahoo.com/exclusive-dominion-sends-letters-threatening-190853833.html
9. Trump Back At Mar-A-Lago, Raising Taxpayer Golf Tab To $151.5 Million
Donald Trump has arrived at his Palm Beach, Florida, resort for the 31st golf vacation there of his presidency, raising the taxpayer-funded travel and security total for his hobby to $151.5 million, according to a HuffPost analysis.
Trump has already played golf on his own properties 289 times since taking office in January 2017, although he claimed during his 2016 campaign that he would not have time for a vacation at all. "I just want to stay in the White House and work my ass off," he said in February 2016.
Trump's insistence on playing at his own properties ― rather than courses on military bases close to the White House, as former President Barack Obama mainly did — has made his outings enormously expensive for American taxpayers. Each trip to Mar-a-Lago costs $3.4 million flying Trump, his staff and the vehicles needed for his motorcade on Air Force One and a number of cargo planes, as well as the expenses incurred by the Coast Guard to patrol both the Intracoastal Waterway and the Atlantic Ocean adjacent to his for-profit resort.
Trump has also made 23 trips to his course in Bedminster, New Jersey, at a cost of $1.1 million each as well as trips to his courses in Palos Verdes, California; Doral, Florida; Turnberry, Scotland; and Doonbeg, Ireland.
The trip to Scotland cost taxpayers an extra $3 million over what it would have cost for Trump to remain in London an extra two days before flying to Helsinki, Finland, for his meeting with Russian dictator Vladimir Putin. A Mar-a-Lago visit over Thanksgiving 2019 cost taxpayers an additional $5.3 million because of all the extra expenses of flying both modified Boeing 747s across the Atlantic and back necessitated by Trump's decision to visit Afghanistan from Florida, rather than leaving from Washington, D.C.
The $151.5 million total means that Trump has now spent the equivalent of 379 years of presidential salary — which he and his supporters frequently boast that he does not take — playing golf.
https://www.huffpost.com/entry/trump-151-million-golf_n_5fe3bc61c5b6e1ce83383074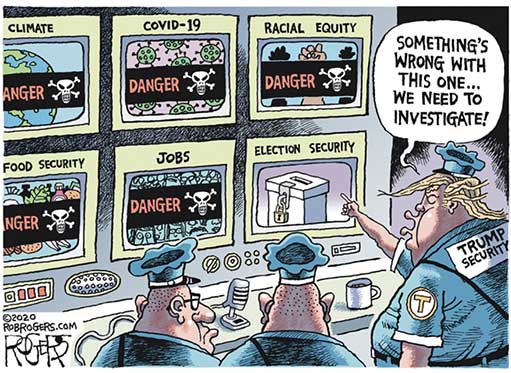 10. CNN's Tapper: 'No Value' to Interviewing People Like Kayleigh McEnany Who 'Lie the Way Most People Breathe'
CNN's Jake Tapper said he won't interview certain pro-Donald Trump people because they've established themselves as liars for the president with "no value" being aired on TV.
"Well, there are some people that are so mendacious, I just wouldn't put them on air. Kayleigh McEnany, I never booked her. Jason Miller from the Trump campaign, I would never book him. These are just people who tell lies the way that most people breathe. There was no value in that." https://www.mediaite.com/tv/cnns-tapper-no-value-to-interviewing-people-like-kayleigh-mcenany-who-lie-the-way-most-people-breathe/
11. Trump's Fraud Claims Died in Court, but the Myth of Stolen Elections Lives On
After bringing some 60 lawsuits, and even offering financial incentive for information about fraud, Mr. Trump and his allies have failed to prove definitively any case of illegal voting on behalf of their opponent in court — not a single case of an undocumented immigrant casting a ballot, a citizen double voting, nor any credible evidence that legions of the voting dead gave Mr. Biden a victory that wasn't his.
"It really should put a death knell in this narrative that has been peddled around claims of vote fraud that just have never been substantiated," said Kristen Clarke, the president of the National Lawyers' Committee for Civil Rights Under Law, a nonprofit legal group, and a former Justice Department attorney whose work included voting cases. "They put themselves on trial, and they failed."
Yet there are no signs that those defeats in the courts will change the trajectory of the ongoing efforts to restrict voting that have been core to conservative politics since the disputed 2000 election, which coincided with heightened party concerns that demographic shifts would favor Democrats in the popular vote.
The false notions have lived on in Mr. Trump's Twitter and Facebook feeds; on the television programming of Fox News, Newsmax and One America News Network; and in statehouse hearings where Republican leaders have contemplated more restrictive voting laws based on the rejected allegations. https://www.nytimes.com/2020/12/26/us/politics/republicans-voter-fraud.html
12. Trump's Donors Funnel $10.5 Million Into His Businesses During His Presidency
Donald Trump's donors — the vast majority of whom are working-class supporters and retirees contributing just a few dollars a month — put $10.5 million into the erstwhile billionaire's own personal businesses over the course of his presidency, a HuffPost analysis found.
Some $8.5 million came from the Trump campaign and related entities that Trump controls directly. Another $2 million came from other Republican candidates and committees.
Through a trust that he controls, Trump owns the hotels, golf courses and buildings that received the money, with every penny of profit flowing to him personally.
"If you're a hammer, everything looks like a nail. If you're Donald Trump, everything looks like a chance to make money," said Jordan Libowitz with Citizens for Responsibility and Ethics in Washington, a watchdog group that has filed multiple lawsuits to obtain details of government spending at Trump's businesses. https://www.huffpost.com/entry/trump-self-dealing-campaign-slush-fund-donations_n_5fe7b503c5b6acb534585c51
13. Even If It's 'Bonkers,' Poll Finds Many Believe QAnon And Other Conspiracy Theories
A significant number of Americans believe misinformation about the origins of the coronavirus and the recent presidential election, as well as conspiracy theories like QAnon, according to a new NPR/Ipsos poll.
The poll results add to mounting evidence that misinformation is gaining a foothold in American society and that conspiracy theories are going mainstream, especially during the coronavirus pandemic. This has raised concerns about how to get people to believe in a "baseline reality," said Chris Jackson, a pollster with Ipsos.
"Increasingly, people are willing to say and believe stuff that fits in with their view of how the world should be, even if it doesn't have any basis in reality or fact," Jackson said.
"What this poll really illustrates to me is how willing people are to believe things that are ludicrous because it fits in with a worldview that they want to believe." https://www.npr.org/2020/12/30/951095644/even-if-its-bonkers-poll-finds-many-believe-qanon-and-other-conspiracy-theories
14. Trump's Fraud Claims Died in Court, but the Myth of Stolen Elections Lives On
After bringing some 60 lawsuits, and even offering financial incentive for information about fraud, Mr. Trump and his allies have failed to prove definitively any case of illegal voting on behalf of their opponent in court — not a single case of an undocumented immigrant casting a ballot, a citizen double voting, nor any credible evidence that legions of the voting dead gave Mr. Biden a victory that wasn't his.
"It really should put a death knell in this narrative that has been peddled around claims of vote fraud that just have never been substantiated," said Kristen Clarke, the president of the National Lawyers' Committee for Civil Rights Under Law, a nonprofit legal group, and a former Justice Department attorney whose work included voting cases. "They put themselves on trial, and they failed."
Yet there are no signs that those defeats in the courts will change the trajectory of the ongoing efforts to restrict voting that have been core to conservative politics since the disputed 2000 election, which coincided with heightened party concerns that demographic shifts would favor Democrats in the popular vote. https://www.nytimes.com/2020/12/26/us/politics/republicans-voter-fraud.html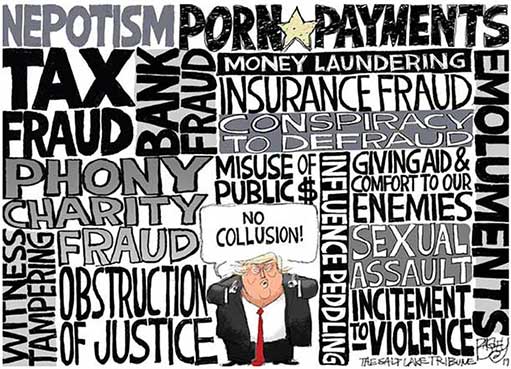 15. Trump asks U.S. Supreme Court to set aside Wisconsin's election
Donald Trump on Tuesday asked the U.S. Supreme Court to reverse Wisconsin's high court, set aside the state's presidential election and allow Republicans who control the Legislature to decide how to cast the state's 10 electoral votes.   
In his initial lawsuit Trump sought to have 220,000 ballots thrown out in the state's two most Democratic counties. Now, he's asking the U.S. Supreme Court to reject the state's election entirely and have the Republican-led Legislature decide how to cast Wisconsin's electoral votes.  https://www.jsonline.com/story/news/politics/2020/12/29/trump-asks-u-s-supreme-court-set-aside-wisconsins-election/4081415001/
16. The DAILY GRILL
Dr. Fauci lied about masks in March
Dr. Fauci has been distorting the level of vaccination needed for herd immunity
It isn't just him
Many in elite bubbles believe the American public doesn't know "what's good for them" so they need to be tricked into "doing the right thing" — Sen. Marco Rubio (R-FL) tweet

VERSUS

In the course of his young political career, Marco Rubio has been a Tea Partier, a Reformicon, and a neoconservative. Now he's auditioning for the role of MAGA FAN #7 by trying to paint Anthony Fauci as the real villain of the pandemic. His strategy seems to be: Dazzle the Trumpenproletariat so completely that they adopt him as their new king. — Christian Schneider in the Bulwark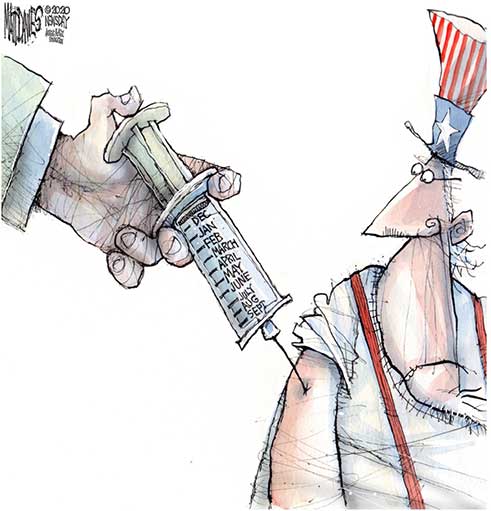 17. From MEDIA MATTERS (They watch Fox News so you don't have to)
Amid President Donald Trump's numerous flailing attempts to reverse the results of the 2020 election, members of his legal team and his supporters in right-wing media have pushed an array of bizarre conspiracy theories about election systems company Smartmatic — theories which now have three right-wing news networks facing legal threats. https://www.mediamatters.org/voter-fraud-and-suppression/smartmatic-conspiracy-theories-proliferated-throughout-right-wing-media
1. Toluse Olorunnipa and Josh Dawsey: Trump wields pardon power as political weapon, rewarding loyalists and undermining prosecutors
Among the dozens of people who received pardons from President Trump this week were several who lied to investigators and obstructed a federal probe into the president's links to Russia.
Some had personal connections to Trump or his most loyal backers. A handful were Republican lawmakers rewarded for fealty to the president after betraying the public trust. Others abused their authority in more violent ways, killing or injuring unarmed civilians.
Taken together, the rogues' gallery of criminals receiving clemency this week showcased Trump's willingness to exert raw political power for his own personal gain, handing out favors to friends at a time when he is seeking GOP support for his flailing bid to reverse his election loss.
In a process White House aides describe as ad hoc, many of the pardon seekers ended up on the president's radar after conservative activists, television commentators or other friends of Trump made personal appeals on their behalf.
The brazenness of the announcements — which included pardons for his daughter's father-in-law, a former campaign manager and convicted killers from a private security firm founded by a longtime political ally — rocked Washington and sparked calls for an overhaul of the constitutional power.
Trump's wave of pardons, coming less than a month before he is set to leave office, is his latest exploitation of his executive powers in ways that offend the spirit of the Constitution, if not its letter, said Russell Riley, a presidential historian at the University of Virginia's Miller Center.
"The pardon is an unfettered power, so I don't think that there was ever a chance that he wasn't going to look after the people he's been quietly authorizing and protecting all along," he said. "Nobody with a straight face can argue that this use of the pardon power is consistent with what the Framers envisioned when they conveyed it in Article II." https://www.washingtonpost.com/politics/trump-pardon-power-russia-probe-mueller/2020/12/24/c55000c8-45fd-11eb-b0e4-0f182923a025_story.html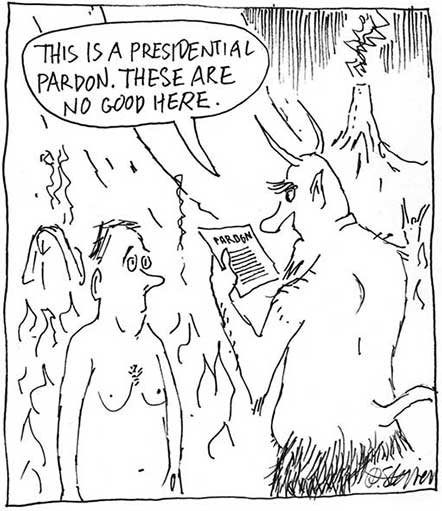 2. Susan B.Glasser: The Trümperdämmerung Is a Fitting End to 2020
As the awful year of 2020 and the awful tenure of Donald Trump both come to an end, the President has partied with the unmasked in Palm Beach and taken credit for a vaccine against a virus that he once counseled could be beaten with bleach. He has pardoned mercenary child-killers and Paul Manafort. He has golfed. He has raged. He has vetoed the annual defense bill and threatened to shut down the government over the holidays. He has turned against even some of his most loyal henchmen, and some, in turn, have finally flipped on him. "Mr. President . . . STOP THE INSANITY," the New York Post blared on Monday, after four years of relentless cheerleading.
But, of course, the President did not, and he will not. He continues to refuse to accept his defeat in the election, and just the other day he retweeted a claim that "treason" kept him from winning. Injecting still more political drama into the most ministerial of constitutional processes, Trump and his most fanatical supporters now want Congress to refuse to confirm Joe Biden's Electoral College win on January 6th—which is both pointless, in that it will not happen, and incredibly destructive. Meanwhile, more than a hundred thousand Americans have died of the coronavirus just since the election, and only two million Americans—not the hundred million he once promised—have so far received the vaccine.
he Trümperdämmerung is finally here, and it is every bit the raging dumpster fire that we, the unlucky audience for this drama, have come to expect. Is there anyone left who is surprised that the President is careening through the last days of his Administration with a reckless disdain that simply has no precedent in American public life? https://www.newyorker.com/news/letter-from-trumps-washington/the-trumperdammerung-is-a-fitting-end-to-2020
3. Laurence Tribe: Donald Trump's pardons must not obstruct justice
If, as Alexander Pope reflected in 1711, "to err is human, to forgive, divine," then the US Constitution's pardon power — the prerogative of forgiveness — should be beyond reproach.
Instead, a godless US president who appears incapable of forgiveness has seemingly perverted this instrument of mercy into another grave threat to the rule of law. Donald Trump's recent twisting of the pardon power risks leaving a damaging legacy: a blueprint for manipulating this vestige of royal prerogative to place presidents and their cronies above the law. But a remedy exists: investigation and potential prosecution. We must treat any obstructions of justice we uncover as the crimes they are.
It is critical to distinguish between two types of corrupt pardons. There are those that are merely contemptible for their intrinsic immorality — they may give a free walk to American war criminals (the Blackwater contractors convicted of a massacre), corrupt politicians (former Illinois governor Rod Blagojevich, convicted of trying to sell a Senate seat), and relatives (Mr Trump's son-in-law's criminally convicted father Charles Kushner). There are others that pose structural dangers by placing the president and his circle above the law and thwarting investigations into wrongdoing.
If Mr Trump abuses pardons to shield himself and key allies from justice, that could be charged as criminal obstruction of justice, an abuse of the constitutional power of clemency to accomplish an illegal end.
In a poetic turn of justice, such obstructive pardons would make prosecuting a president who granted them easier. If Messrs Manafort and Stone and former national security adviser Michael Flynn were called to testify against Mr Trump, their pardons would make it much harder for them to invoke their constitutional rights to remain silent to avoid self-incrimination.
If Mr Trump has used his pardon power to commit crimes, he must be prosecuted; failing to do so would set a perilous precedent for future administrations. In future investigations of presidential misconduct, essential witnesses might routinely protect the boss in hopes of (or in exchange for) immunity. Worse yet, future presidents could treat their terms in office as four-year licenes to commit heinous crimes with impunity. As Mason worried in 1788, the president would have "establish[ed] a monarchy, and destroy[ed] the republic." https://www.ft.com/content/e73fdd69-1fee-4886-b299-959ce9647151
4. Jonathan Chait: Trump Completes Russiagate Cover-up by Pardoning Paul Manafort
"The official White House statement justifying the pardon of Paul Manafort explains that his prosecution "was premised on the Russian collusion hoax." But Trump's pardon — a ploy so well signaled its inevitability was clear even before he stepped into the Oval Office and that he has floated for years to keep Manafort quiet — is the final proof the Russia investigation was not a hoax but a scandal Trump used his powers to thwart.
Trump has already pardoned Michael Flynn and commuted the sentence of Roger Stone, both of whom lied to investigators to protect him.
The Manafort pardon is the final piece of his Russiagate cover-up. Before Trump hired him as campaign manager in 2016, Manafort spent the bulk of the decade managing the campaign of corrupt, pro-Russian Ukrainian president Viktor Yanukovych. Manafort was being paid for this job by Russian oligarch Oleg Deripaska, and Manafort — who had grown accustomed to a lavish lifestyle — apparently fell into such debt to Deripaska that he disappeared before resurfacing as Trump's campaign chairman, a job he oddly accepted at no pay in spite of his severe financial distress.  https://nymag.com/intelligencer/2020/12/pardon-paul-manafort-trump-russia-cover-up-collusion-mueller.html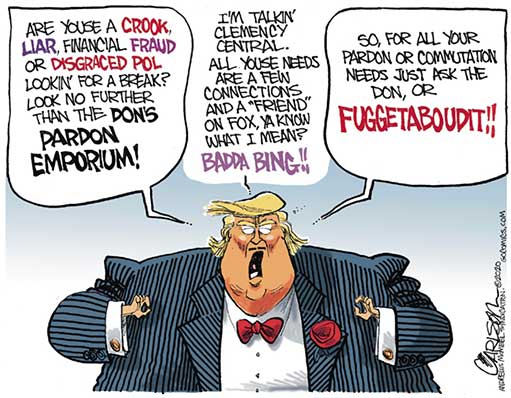 5. Greg Sargent: Republicans raging at Trump are getting exactly what they deserve
House Republicans are in a fury with President Trump, now that he is threatening to blow up the carefully negotiated settlement that led to passage of the $900 billion economic rescue package. They are raging that he abandoned them after the White House asked them to support the deal.
Oh, dear. Given what a cartoonish farce this has all become, let's let Mr. Krabs of SpongeBob SquarePants do the honors:
"Boo, hoo. Let me play a sad song for you on the world's smallest violin."
The corrupt GOP bargain with Trump has long been as follows. Republicans would politely ignore his corruption (among many other hideous degradations) or even actively shield him from accountability wherever possible. In exchange, they would get conservative judges and Trump's active support as they pursued tax cuts for the rich and other deeply regressive obsessions like the failed rollback of the Affordable Care Act.
Republicans scored heavily on all these fronts, and in return they delivered beyond what should have been Trump's wildest dreams. And this went well beyond their backing for Trump's effort to overturn the election. During impeachment, House Republicans went to extraordinary, farcical lengths to function as dutiful propagandists and literal bodyguards against accountability for Trump. They worked to thwart transparency into Trump's finances, helping to shield his self-dealing from the public they purport to serve.
But not only was all this still not good enough for Trump, he's now also further punishing them in a way that exposes a politically damaging core truth about that very bargain. Congressional Republicans, motivated by orthodox conservative opposition to spending, are the real obstacle to robust assistance to the American people, amid two of the biggest crises our nation has faced in decades.
That, after all this, House Republicans feel abandoned and betrayed by Trump — well, it couldn't be happening to a bunch of nicer sycophants, enablers and betrayers of our democracy. https://www.washingtonpost.com/opinions/2020/12/24/house-republicans-trump-covid-relief/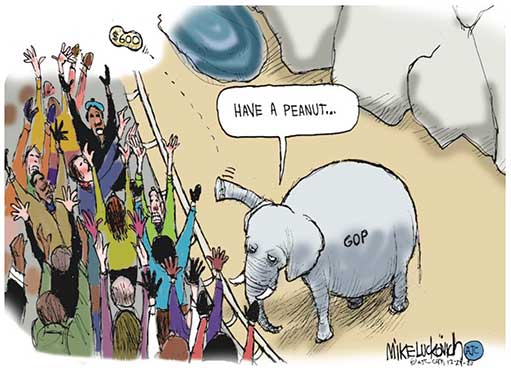 6. Texas Fracking Billionaires Drew Covid-19 Aid While Investing in Rivals
But the industry was already under pressure from international competition and a sagging oil price by the time the pandemic hit, and its mounting woes prompted the Wilkses and others to turn to allies in Washington, including Mr. Cruz. The Republican senator helped convince the Trump administration and the Federal Reserve to change the rules for pandemic loans to ensure oil and gas firms could participate.
Soon after the U.S. government changed the rules of its lending program in April, a Wilks family company, ProFrac Holdings LLC, applied for and received a $35 million loan, federal records show. ProFrac, a supplier of pumping equipment and services, is just one slice of the sprawling portfolio of fracking businesses that the Wilks family owns in part or outright across the American West and Canada.
The Wilks brothers are longtime financial backers of Mr. Cruz. The brothers donated $15 million to a super PAC called Keeping the Promise that championed Mr. Cruz's 2016 presidential campaign, making them the largest financial backers of his political career.
Mr. Cruz "worked to ensure small and medium-sized businesses directly harmed by the economic impacts of this pandemic had access to emergency liquidity," said Lauren Blair Aronson, a spokeswoman for the senator. "The result of his leadership was a program that has helped about 25 U.S. energy producers, including roughly a dozen in Texas, and helped protect over 300,000 oil and gas jobs in Texas."
BailoutWatch, a nonprofit group that tracks pandemic aid to industry, said Mr. Cruz's efforts to get relief for the oil-and-gas industry amount to a reward for a campaign contributor.
"ProFrac's loan is blatant misappropriation of taxpayer dollars," said Chris Kuveke, an analyst for the organization, which has received funding from Climate Nexus, a group that advocates for clean energy. He said Mr. Cruz's biggest political benefactors ended up receiving one of the relief program's largest loans to the fossil-fuel industry. "It's hard not to connect the dots." https://www.wsj.com/articles/texas-fracking-billionaires-drew-covid-19-aid-while-investing-in-rivals-11609070400?mod=djemalertNEWS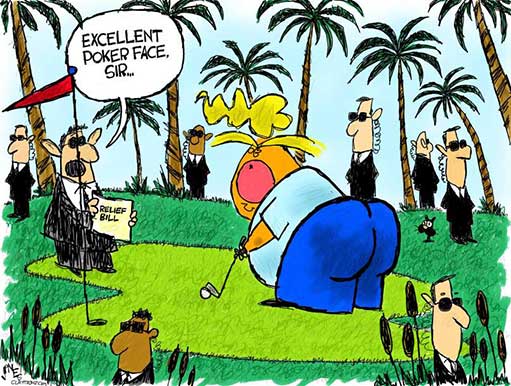 7. Robert Reich: Americans' acceptance of Trump's behavior will be his vilest legacy
Trump has brought impunity to the highest office in the land, wielding a wrecking ball to the most precious windowpane of all – American democracy.
The message? A president can obstruct special counsels' investigations of his wrongdoing, push foreign officials to dig up dirt on political rivals, fire inspectors general who find corruption, order the entire executive branch to refuse congressional subpoenas, flood the Internet with fake information about his opponents, refuse to release his tax returns, accuse the press of being "fake media" and "enemies of the people", and make money off his presidency.
And he can get away with it. Almost half of the electorate will even vote for his reelection.
A president can also lie about the results of an election without a shred of evidence – and yet, according to polls, be believed by the vast majority of those who voted for him. https://www.theguardian.com/commentisfree/2020/dec/26/americans-acceptance-of-trumps-behavior-will-be-his-vilest-legacy
8. Sam Stein and Asawin Suebsaeng: In His Final Month in Office, Trump Works Overtime to Drag the GOP Down With Him
Donald Trump has spent his final weeks in office much as he has the preceding years: setting fire to the relationships that buttressed his rise to power.
Over the past few days, the president has floated primaries against top-ranking Republicans, pushed out administration officials who were bedrock allies, threatened major bills crafted in conjunction with his team, and turned on officials who won't help him cling to power. Inside the White House, the response to it all has been growing alarm, coupled with resignation that this is the 45th U.S. president's modus operandi. Trump's profound self-interest is no secret. But never has that trait been so visible against a backdrop this consequential, with his legal team and administration's attack on democratic processes so blatantly anti-democratic.
"The president spent much of the Christmas weekend [at Mar-a-Lago] talking about other Republicans who weren't doing what he wanted and acting like failures and defeatists," said one person present at his private Florida club who was on the receiving end of his grievances. Even behind closed doors, the source said, "he was not finding much to be happy about this Christmas."
But Trump's actions raise questions about his future as well. And they have illuminated—once more—the fundamental paradox behind his political rise: How can someone burn so many bridges and not eventually find himself alone?
"He is no longer the celebrity mogul magnate as he was in New York, and now he is part of… that exclusive Jimmy Carter, George H.W. Bush [one term president] club," said Sam Nunberg, a Trump supporter and former political adviser. "He has gone from handling this in a manner that would have helped him keep this power base that he had to now going through conspiracy theories and giving over the portfolio to two bumbling morons in Rudy Giuliani and Sidney Powell… You don't want to go out like this with him. It's not like you're in a bunker at the end of WWII. You're in Crazy Town.
That Trump would disregard his party and turn on top aides in a time of duress surely couldn't have been a surprise to those on the short end of the exchange. Few, if any, relationships with Trump end in a place better than where they started. https://www.thedailybeast.com/trump-works-overtime-to-drag-the-gop-down-with-him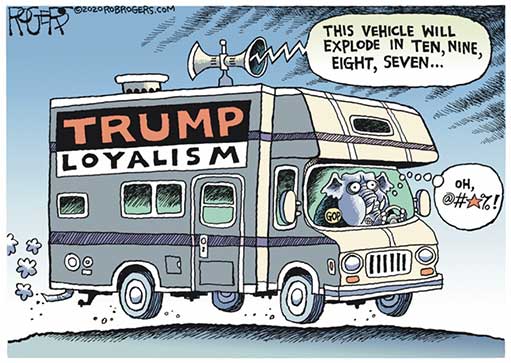 9. Fintan O'Toole: Trump has unfinished business. A republic he wants to destroy still stands
This is Trump's legacy: he has successfully led a vast number of voters along the path from hatred of government to contempt for rational deliberation to the inevitable endpoint: disdain for the electoral process itself.
In this end is his new beginning. Stripped of direct power, he will face enormous legal and financial jeopardy. He will have every reason to keep drawing on his greatest asset: his ability to unleash the demons that have always haunted the American experiment – racism, nativism, fear of "the government".
Trump has unfinished business. A republic he wants to destroy still stands. It is, for him, not goodbye but hasta la vista. Instead of waving him off, those who want to rebuild American democracy will have to put a stake through his heart. https://www.irishtimes.com/opinion/fintan-o-toole-trump-has-unfinished-business-a-republic-he-wants-to-destroy-still-stands-1.4435655
10. From Dave Barry's Year in Review 2020
Long term, the economic outlook remains troubling, with the U.S. economy being kept afloat mainly by consumers making monthly payments to Netflix, Hulu, Amazon Prime Video, Disney Plus, CBS All Access, HBO Now, Peacock, HBO Max, Discovery Plus, Starz, Chickadee, Eyeballz, Amazon Super Deluxe, HBO Medium Rare, Chickadee Plus, Disney Extra Special, Amazon Supreme Unleaded, HBO Gluten Free and a bewildering array of other streaming services that consumers rarely watch but keep paying for because they can't figure out how to cancel their subscriptions.
"These people are pumping millions of dollars a month into the economy," states Treasury Secretary Steve Mnuchin. "God help us if they ever remember their passwords."
In other national news, President Trump, faced with soaring coronavirus cases and a congressional stalemate over a desperately needed relief package, devotes his energies, as chief executive, to tweeting approximately once per hour that the election was RIGGED. The Trump legal team, alleging that there was a massive organized conspiracy to commit vote fraud, files multiple lawsuits but achieves basically the same legal outcome as Hamilton Burger, the stupendously ineffective district attorney on the "Perry Mason" TV show, who went to court week after week for many seasons and almost never won a case, WHICH ONLY PROVES HOW MASSIVE AND ORGANIZED THIS CONSPIRACY IS.
While the president continues to insist that he was reelected, members of his staff quietly prepare for the transition by updating their résumés and conducting a search for the briefcase containing the nuclear launch codes, believed last seen in the back of a golf cart in Bedminster, N.J.
But this is no normal year, and we're nervous. We worry that something major, by which we mean bad, will happen after our deadline — something involving the presidential election, or the virus, or some awful thing we cannot even imagine. Like, for example, maybe astronomers will announce that because of the human race snacking at historically high levels during the pandemic lockdown, the Earth has gained a huge amount of mass, which has slowed the planet down in its orbit around the sun and, as a result, to make the calendar work out, we have to add an ENTIRE MONTH to 2020. This month would of course be called ...PANDEMBER... which you probably think can't possibly happen, right? What a crazy idea!
As crazy as masked Americans fighting over toilet paper.
Our point is, we don't know what else will happen this year, including when it will end. We're just hoping that it eventually does, and that next year is nothing like it. In that spirit, we'll close with the wish we always offer at the end of our annual review, although this time it's more of a prayer:
Happy new year. https://www.washingtonpost.com/magazine/2020/12/27/dave-barrys-year-review-2020/