October 10, 2019
ON THE RECORD. . .
"Sometimes, I think he is having a limbo contest with himself, to see how low he can go in his rhetoric." — Speaker Nancy Pelosi, about Donald Trump.

"A president of the United States encouraging a foreign nation to interfere again to help his campaign by investigating a rival is a fundamental breach of the presidential oath." — House Intelligence Chairman Adam Schiff (D-CA)

"The re-election of Donald Trump would do irreparable damage to the United States. We have some serious repair and healing to do in our country for what he's done so far. I'm not sure that two terms — it might be irreparable." — Speaker Nancy Pelosi.

"I have known former vice president Biden for 24 years, and the suggestion that he would be influenced in his duties as vice president by money for his son simply has no credibility to me. I know him as a man of integrity and dedication to our country." — Kurt Volker, the former U.S. special representative to Ukraine.

"I feel there was in the 2016 campaign — there was tremendous corruption against me. I was investigated, I was investigated, okay? "Me! Me!" You won't say that, will you?" I was investigated. I was investigated. And they think it could have been by U.K. They think it could have been by Australia. They think it could have been by Italy. So when you get down to it, I was investigated by the Obama administration. By the Obama administration (shouting now, and using both hands to point at himself). I was investigated!" — Trump expressing the aggrieved alternate reality that has consumed him since House Democrats launched their impeachment inquiry.

Our first president, George Washington, famously could not tell a lie. President Trump seemingly cannot tell the truth — about anything. He slanders anyone he sees as a threat. That is why is he is frantically pushing flat-out lies, debunked conspiracy theories and smears against me and my family, no doubt hoping to undermine my candidacy for the presidency. — Joe Biden

Donald Trump is not a Commander-in-Chief. He makes impulsive decisions with no knowledge or deliberation. He sends military personnel into harm's way with no backing. He blusters and then leaves our allies exposed when adversaries call his bluff or he confronts a hard phone call.-- Brett McGurk@brett_mcgurk who served as Trump's envoy for the fight against the Islamic State.

As I have stated strongly before, and just to reiterate, if Turkey does anything that I, in my great and unmatched wisdom, consider to be off limits, I will totally destroy and obliterate the Economy of Turkey (I've done before!). Donald J. Trump@realDonaldTrump

"The President of the United States is in great danger of losing the mandate of Heaven if he permits this to happen." — Pat Robertson told his television audience he is "appalled" by President Trump's decision to withdraw U.S. troops from northern Syria.

"What kind of message is that to the next ally that wants to side with us? All we did is arm them, and they did all the work. And now we say 'good luck. Good luck surviving. … What a disaster." —Fox & Friends host Brian Kilmeade on Trump's decision to withdraw troops from Syria.

"Nobody wants to be the zebra that strays from the pack and gets gobbled up by the lion. They have to hold hands and jump simultaneously." — A former senior Trump administration official on the unwillingness of Senate Republicans to criticize President Trump.

"The Republican party has got to get a grip on itself. Republican leaders and members of the Congress… are holding back because they're terrified of what will happen [to] any one of them if they speak out." — Former Secretary of State Colin Powell

"Nancy Pelosi knew of all of the many Shifty Adam Schiff lies and massive frauds perpetrated upon Congress and the American people, in the form of a fraudulent speech knowingly delivered as a ruthless con, and the illegal meetings with a highly partisan 'Whistleblower' & lawyer. … This makes Nervous Nancy every bit as guilty as Liddle' Adam Schiff for High Crimes and Misdemeanors, and even Treason. I guess that means that they, along with all of those that evilly 'Colluded' with them, must all be immediately Impeached!" -- Donald J. Trump @realDonaldTrump

"Batshit crazy." — Former national security adviser Susan Rice on Trump's decision to withdraw U.S. troops from northern Syria.

Despite Graham's compulsive turd-polishing of the last few years, Trump didn't even consult him before making the decision to abandon the Kurds. Graham, who had given up so much self-respect to prevent just this outcome, was not even in the room. He didn't even get a text." — Charlie Sykes

So Crooked Hillary Clinton can delete and acid wash 33,000 emails AFTER getting a Subpoena from the United States Congress, but I can't make one totally appropriate telephone call to the President of Ukraine? Witch Hunt! -- Donald Trump tweet returning to the "but her emails!" defense.

"I have a little conflict of interest 'cause I have a major, major building in Istanbul. It's a tremendously successful job. It's called Trump Towers — two towers, instead of one, not the usual one, it's two." — Trump in December 2015, raising questions about whether Trump's unsavory personal motives are influencing some of his most consequential decisions.

 "The real risk of the Trump administration's blanket stonewalling of Congress is that it's fundamentally altered the balance of power that our framers intended. If a president can thwart congressional oversight, that means any future president can be as corrupt as they choose and there's no recourse." —  Adam Schiff, chair of the House Intelligence Committee.

"I cannot fathom how any self-respecting member of the bar could affix his name to this letter. It's pure hackery, and it disgraces the profession." — George Conway, reacting to the White House's letter to House Democrats refusing any cooperation with their impeachment probe.

"The day Richard Nixon failed to answer that subpoena is the day he was subject to impeachment because he took the power from Congress over the impeachment process away from Congress, and he became the judge and jury." — Rep. Lindsey Graham (R-SC) (VIDEO)
---
IN THIS ISSUE
FYI
OPINION
1. Andy Borowitz: Trump Sees New Polls and Orders Ukraine to Investigate Elizabeth Warren
After looking at the most recent polls for the Democratic Presidential race, Donald J. Trump has ordered the President of Ukraine, Volodymyr Zelensky, to investigate Senator Elizabeth Warren.

"What Elizabeth Warren and her crooked kids have been doing in Ukraine is a disgrace," Trump told reporters on the White House lawn. "This is maybe the biggest scandal in the history of our country."

After Jim Acosta, of CNN, pointed out that there had been no reports of any involvement in Ukraine on the part of either Warren or her children, Trump responded, "You bet there's been no reporting, because you people are even more crooked than she is."

Trump brushed aside an official statement by the Ukrainian government indicating that Warren's children had never set foot in the country. "That is because the Warren kids are basically spies, and everyone knows that spies are invisible," he said. "You people are so dumb." https://www.newyorker.com/humor/borowitz-report/
2. Majority of Americans Back Trump Impeachment Probe, WSJ/NBC Poll Finds
A majority of Americans say that President Trump's actions regarding Ukraine are a serious matter and merit an impeachment inquiry by Congress, but a plurality says that, based on what they know now, the president shouldn't be removed from office, a new Wall Street Journal/NBC News poll finds.
Some 55% of poll participants said Congress should take up the Ukraine matter, with 31% supporting the House impeachment inquiry that House Speaker Nancy Pelosi launched last month and an additional 24% saying enough evidence exists already for lawmakers to remove Mr. Trump from office.
By contrast, 39% said Congress shouldn't hold an impeachment inquiry and should allow Mr. Trump to finish his term as president. https://www.wsj.com/articles/majority-of-americans-back-trump-impeachment-probe-wsj-nbc-poll-finds-11570568421
3. Senate Report Concludes Russia Sought to Help Trump
The Senate Intelligence Committee released its bipartisan report on Russia's use of social media to interfere in the 2016 presidential election and concludes the Kremlin sought to help Donald Trump's presidential campaign by spreading disinformation.
The Committee found, that the IRA sought to influence the 2016 U.S. presidential election by harming Hillary Clinton's chances of success and supporting Donald Trump at the direction of the Kremlin.
The Committee found that the IRA targeted not only Hillary Clinton, but also Republican candidates during the presidential primaries. For example, Senators Ted Cruz and Marco Rubio were targeted and denigrated, as was Jeb Bush. … IRA operators sought"to impact primaries for both major parties and "may have helped sink the hopes of candidates more hostile to Russian interests long before the field narrowed."
The Committee found that IRA activity on social media did not cease, but rather increased after Election Day 2016. The data reveal increases in IRA activity across multiple social media platforms, post-Election Day 2016: Instagram activity increased 238 percent, Facebook increased 59 percent, Twitter increased 52 percent, and YouTube citations went up by 84 percent21 As John Kelly noted: "After election day, the Russian government stepped on the gas. Accounts operated by the IRA troll farm became more active after the election, confirming again that the assault on our democratic process is. much bigger than the attack on a single election.
https://www.intelligence.senate.gov/sites/default/files/documents/Report_Volume2.pdf
4. Mounting evidence buttresses claims in whistleblower complaint
Since the revelation of an explosive whistleblower complaint that sparked an impeachment crisis for President Trump, he and his Republican allies have coalesced around a central defense: The document was based on secondhand information, mere hearsay riddled with inaccuracies.
But over the past two weeks, documents, firsthand witness accounts and even statements by Trump himself have emerged that bolster the facts outlined in the extraordinary abuse-of-power complaint.
The description of a July 25 phone call between Trump and the president of Ukraine, which formed the heart of the complaint and was still secret at the time the claim was filed in mid-August, matches a rough transcript of the call that the White House released a day before the complaint was made public.
The whistleblower's assertion that records related to the phone call were transferred to a separate electronic system intended for highly classified material has since been confirmed by White House officials.
And the whistleblower's narrative of the events that led up to the call — including a shadow campaign undertaken by Trump's personal attorney Rudolph W. Giuliani and the attempts of State Department officials to navigate his activities — have been largely confirmed by the text messages of three diplomats released Friday, as well as Giuliani himself in media interviews. https://www.washingtonpost.com/politics/mounting-evidence-buttresses-the-facts-laid-out-in-whistleblower-complaint/2019/10/05/c752843e-e6b5-11e9-b403-f738899982d2_story.html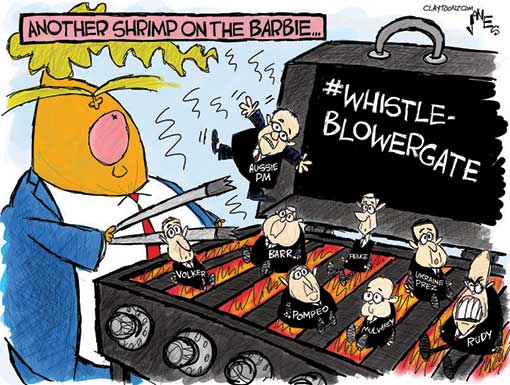 5. Trump's calls with foreign leaders have long worried aides, leaving some 'genuinely horrified'
In one of his first calls with a head of state, President Trump fawned over Russian President Vladimir Putin, telling the man who ordered interference in America's 2016 election that he was a great leader and apologizing profusely for not calling him sooner.
Trump has been consistently cozy with authoritarian leaders, sparking anxiety among aides about the solicitous tones he struck with Chinese President Xi Jinping, Turkish President Recep Tayyip Erdogan and Putin.
"We couldn't figure out early on why he was being so nice to Russia," one former senior administration official said. H.R. McMaster, the president's then-national security adviser, launched an internal campaign to get Trump to be more skeptical of the Russians. Officials expressed surprise in both of his early Putin calls at why he was so friendly.
In another call, in April 2017, Trump told Philippine President Rodrigo Duterte, who had overseen a brutal campaign that has resulted in the extrajudicial killings of thousands of suspected drug dealers, that he was doing an "unbelievable job on the drug problem."
Trump's personal goals seeped into calls. He pestered Japanese Prime Minister Shinzo Abe for help in recommending him for a Nobel Prize, according to an official familiar with the call.
"People who could do things for him — he was nice to," said one former security official. "Leaders with -toonse deficits, strong female leaders, members of NATO — those tended to go badly."
Aides bristled at the dismissive way he sometimes addressed longtime U.S. allies, especially women.
https://www.washingtonpost.com/politics/trumps-calls-with-foreign-leaders-have-long-worried-aides-leaving-some-genuinely-horrified/2019/10/04/537cc7a8-e602-11e9-a331-2df12d56a80b_story.html
6. CIA's top lawyer made 'criminal referral' on complaint about Trump Ukraine call
Weeks before the whistleblower's complaint became public, the CIA's top lawyer made what she considered to be a criminal referral to the Justice Department about the whistleblower's allegations that President Donald Trump abused his office in pressuring the Ukrainian president, U.S. officials familiar with the matter tell NBC News.
The move by the CIA's general counsel, Trump appointee Courtney Simmons Elwood, meant she and other senior officials had concluded a potential crime had been committed, raising more questions about why the Justice Department later declined to open an investigation. https://www.nbcnews.com/politics/trump-impeachment-inquiry/cia-s-top-lawyer-made-criminal-referral-whistleblower-s-complaint-n1062481
7. Trump's approval rating shows there's no sign yet of impeachment backlash against Democrats
A new Gallup poll out this week finds that President Donald Trump's approval rating is 40%. His disapproval rating is 56%.
Trump is in worse shape than he was in early September, when Gallup put his approval rating at 43% and his disapproval rating at 54%.
What's the point: Throughout the Trump administration, Democrats were arguing among themselves over whether to impeach or, at minimum, start an impeachment inquiry against the President. One of the political arguments against it was that it would cause an electoral backlash -- that is, trying to impeach Trump would allow his consistently low approval ratings to rise.
So far, that hasn't happened. Trump, at this point, has not improved his position following the impeachment inquiry. If anything, his numbers have dipped. https://www.cnn.com/2019/10/05/politics/trump-approval-rating-impeachment-poll-of-the-week/index.html
8. Trump Orders Cut to National Security Staff After Whistle-Blower
Donald Trump has ordered a substantial reduction in the staff of the National Security Council, according to five people familiar with the plans, as the White House confronts an impeachment inquiry touched off by a whistle-blower complaint related to the agency's work. https://www.bloomberg.com/news/articles/2019-10-05/trump-orders-cut-to-national-security-staff-after-whistle-blower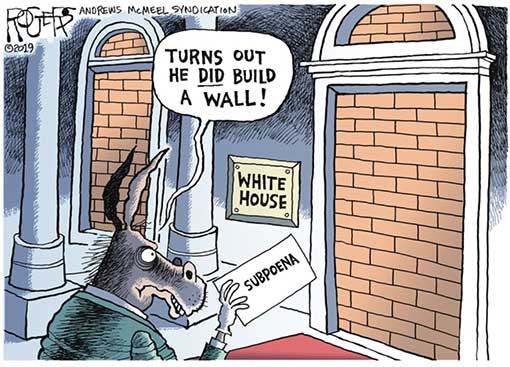 9. Beneath the impeachment spin: Growing GOP concern
What you most hear from congressional Republicans on impeachment this week is the sound of silence.
GOP sources tell CNN they have a good reason for that fear. They have no idea what else House Democrats' investigation will uncover or what comes next.
Along with that fear is frustration with President Donald Trump: his ranting in performances full of false claims, like Wednesday in the Oval Office and White House East Room, and stream of consciousness rapid-fire tweets -- curse words and all -- are not exactly an anti-impeachment road map for his fellow Republicans. https://www.cnn.com/2019/10/02/politics/republican-response-impeachment-inquiry/index.html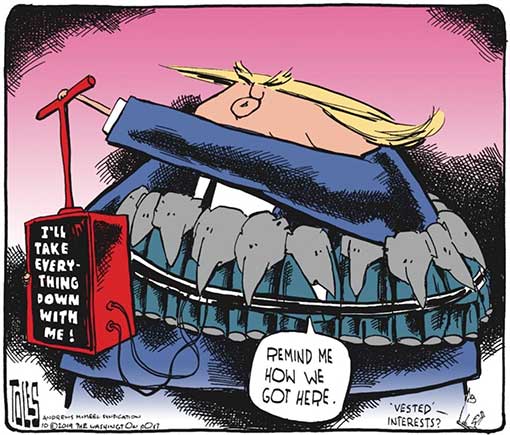 10. Mitch McConnell raises money vowing to stop impeachment
In a new campaign video on Facebook, Senate Majority Mitch McConnell pitches himself as the man who can end the House's impeachment inquiry, a sign of how the chief Republican in the chamber might handle an impeachment trial should the House pass articles charging President Donald Trump with crimes. https://www.cnn.com/2019/10/03/politics/mitch-mcconnell-impeachment/index.html
11. CNN Refuses to Air Trump Ad Pushing Biden-Ukraine Claims and Bashing Network Anchors
In a move that is sure to ratchet up tension with the White House, cable news channel CNN is declining to run a new Trump 2020 presidential campaign ad, citing falsehoods and the ad's open attacks on network stars.
The 30-second ad, titled "Biden Corruption," peddles misleading accusations about Joe Biden and his son Hunter in an attempt by President Donald Trump to deflect from controversy over his pressuring of Ukrainian President Volodymyr Zelensky to dig up dirt on the former vice president. 
"Joe Biden promised Ukraine $1 billion if they fired the prosecutor investigating his son's company," the cinematic trailer-like narrator blares. "But when President Trump asks Ukraine to investigate corruption, the Democrats want to impeach him," the ad continues over footage of House Majority Leader Nancy Pelosi (D-CA).  https://www.thedailybeast.com/cnn-refuses-to-air-trump-ad-pushing-biden-ukraine-claims-and-bashing-network-anchors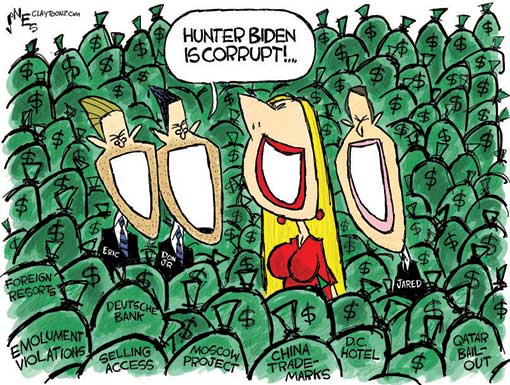 12. Trump wanted to have U.S. forces equipped with bayonets to stop migrants at the border, among other ideas, officials say
Trump told aides last year he wanted U.S. forces with bayonets to block people from crossing into the United States across the Mexico border, one of several proposals he floated at moments of peak frustration with his inability to contain a migration surge, according to current and former administration officials involved in those discussions. https://www.washingtonpost.com/national/trump-wanted-to-have-us-forces-equipped-with-bayonets-to-stop-migrants-at-border-among-other-ideas-officials-say/2019/10/03/445fc788-e554-11e9-a6e8-8759c5c7f608_story.html
13. The DAILY GRILL
When the only American citizen President Trump singles out for China's investigation is his political opponent in the midst of the Democratic nomination process, it strains credulity to suggest that it is anything other than politically motivated. — Mitt Romney@MittRomney

VERSUS

-- I'm hearing that the Great People of Utah are considering their vote for their Pompous Senator, Mitt Romney, to be a big mistake. I agree! He is a fool who is playing right into the hands of the Do Nothing Democrats! #IMPEACHMITTROMNEY. — Donald J. Trump@realDonaldTrump

-- The Democrats are lucky that they don't have any Mitt Romney types. They may be lousy politicians, with really bad policies (Open Borders, Sanctuary Cities etc.), but they stick together! -- Donald J. Trump@realDonaldTrump
14. From MEDIA MATTERS (They watch Fox News so you don't have to)
Fox's Ed Henry says Trump has been "honest and transparent" about wanting foreign governments to investigate his political rival. https://www.mediamatters.org/fox-friends/foxs-ed-henry-says-trump-has-been-honest-and-transparent-about-wanting-foreign

Trump's Schiff smear shows how a few words can make all the difference when it comes to stopping the spread of misinformation. https://www.mediamatters.org/donald-trump/trumps-schiff-smear-shows-how-few-words-can-make-all-difference-when-it-comes-stopping

Media outlets uncritically quote Trump's unhinged accusation of "treason" against House Democrats. https://www.mediamatters.org/trump-impeachment-inquiry/media-outlets-uncritically-quote-trumps-unhinged-accusation-treason

Fox White House correspondent downplays Trump accusing House Democrats of treason: "I think he's sort of poking fun just a bit here." https://www.mediamatters.org/trump-impeachment-inquiry/fox-white-house-correspondent-trump-was-poking-fun-just-bit-treason
15. From the Late Shows
Mike Pence Impeachment Strategy Cold Open - SNL: https://youtu.be/7Ssl7abAEhs

Weekend Update: Trump Brushes Off Impeachment Concerns - SNL: https://youtu.be/GvFgMFPsyJU

Weekend Update: Sen. Elizabeth Warren Fundraises for Her 2020 Campaign: https://youtu.be/SoRc298lahI

The Late Show with Stephen Colbert: President Trump, In His 'Great And Unmatched Wisdom,' Decides To Abandon Kurds: https://youtu.be/F_KlNNuMVxo
16. Trump's order will deny visas to immigrants who lack health-care coverage
The White House late Friday issued a proclamation saying it would deny visas to immigrants who "will financially burden" the U.S. health-care system starting Nov. 3, demanding that foreign nationals prove that they have insurance or are affluent enough to cover their own health-care costs before entering the United States.
The new rule — issued at 7 p.m. on a Friday night less than 13 months before Election Day — comes as President Trump is facing an impeachment inquiry and intensifying his efforts to fulfill his campaign promises to curb immigration. Like many of Trump's immigration policies, it is likely to face swift legal challenges in federal courts. https://www.washingtonpost.com/immigration/trump-will-deny-visas-to-immigrants-who-lack-health-care-coverage/2019/10/04/81e4f48a-e710-11e9-b403-f738899982d2_story.html
17. Escalating Impeachment Inquiry Rattles State Department
The State Department has been deeply shaken by the rapidly escalating impeachment inquiry, as revelations that President Donald Trump enlisted diplomats to dig up dirt on a political rival threaten to tarnish its reputation as a nonpartisan arm of U.S. foreign policy, former senior officials said Friday.
A department where morale was already low under a president who, at times, has seemed hostile to its mission is now reeling from days of disclosures that place it at the center of an escalating political scandal, say former diplomats who fear that the turmoil will damage American foreign policy objectives around the world. https://www.huffpost.com/entry/escalating-impeachment-inquiry-rattles-state-department_n_5d988a32e4b03b475f99cf05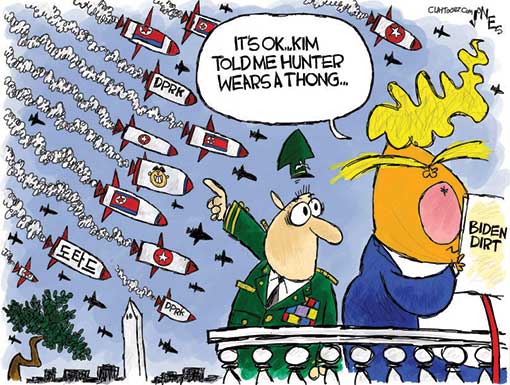 18. Trump told Theresa May he doubted Russia was behind Skripal poisoning
Donald Trump disputed that Russia was behind the attempted murder of a former Russian spy in a tense call with Theresa May, it has emerged.
Despite the widespread conclusion that Vladimir Putin's regime was behind the poisoning of Sergei Skripal and his daughter Yulia last year, the US president is said to have spent 10 minutes expressing his doubts about Russian involvement.
According to the Washington Post, Trump "harangued" May about Britain's contribution to Nato in a phone call with Britain's then prime minister in the summer of last year, before disputing Russian involvement in the Skripal case.
Stephen Gethins, a Scottish National party member of the foreign affairs select committee, said: "The evidence of Russian involvement in the poisoning of Mr Skripal and his daughter is overwhelming. It was an appalling chemical weapons attack that should horrify us all. https://www.theguardian.com/us-news/2019/oct/05/trump-told-theresa-may-he-doubted-russia-was-behind-skripal-poisoning
19. Barr's Requests for Foreign Help Prompt Backlash in Australia, Italy, U.K.
Attorney General William Barr is stoking tensions in several foreign capitals, going outside usual channels to seek help from allies in reviewing the origins of a U.S. counterintelligence investigation begun during the 2016 presidential campaign.
By meeting directly with foreign leaders—rather than relying on investigator-to-investigator channels—Mr. Barr has stirred up domestic politics in some of the countries he has tapped for assistance. https://www.wsj.com/articles/barrs-requests-for-foreign-help-prompt-backlash-in-australia-italy-u-k-11570369938
20. 'Sack me if you dare,' Boris Johnson will tell the Queen
Boris Johnson will dare the Queen to sack him rather than resign as prime minister in an attempt to drive through Brexit on October 31, cabinet ministers have revealed.
In an unprecedented escalation of the constitutional crisis, senior aides said Johnson would not stand aside if his proposals were rejected by Brussels and MPs tried to unseat him to avert a no-deal Brexit.
They said Johnson was prepared to "squat" in Downing Street even if MPs declare no confidence in his government and agree a caretaker prime minister to replace him. https://www.thetimes.co.uk/edition/news/sack-me-if-you-dare-boris-johnson-will-tell-the-queen-fsbpsnjdc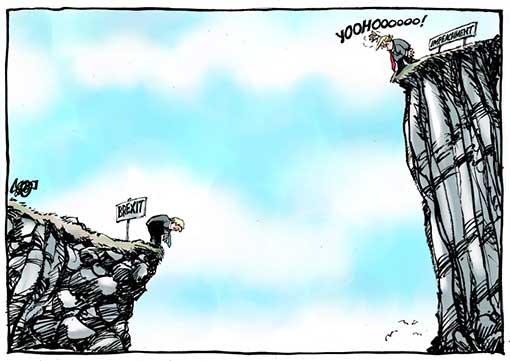 21. "Bounty" offered for any information on the whistleblower's identity
Lawyers for the whistleblower expressed concern in a Sept. 28 letter to the acting director of National Intelligence, Joseph Maguire, that their client's safety could be at risk after Trump suggested he was a spy who had committed treason.
They said certain individuals had offered a $50,000 "bounty" for any information on the whistleblower's identity after the official complained to a government watchdog that Trump had pressured Ukrainian President Volodymyr Zelenskiy in a July 25 phone call to investigate his political rival, Joe Biden. https://www.usnews.com/news/top-news/articles/2019-10-07/us-authorities-protecting-whistleblower-in-trump-ukraine-matter-source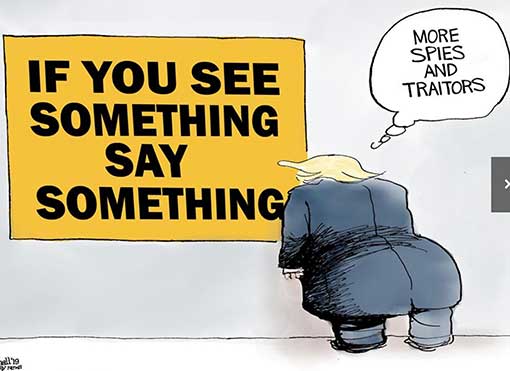 22. Impeachment tentacles spread throughout Trump's team
The tentacles of the Democratic impeachment investigation are extending far beyond the arms of President Donald Trump.
The vice president's office, acting chief of staff's office, State Department, Energy Department, Office of Management and Budget and Justice Department are among the government entities quickly finding themselves ensnared in the Democrats' impeachment inquiry, joining a huge squad of White House lawyers, Cabinet officials and national security staffers — many of them detailed from the Pentagon, CIA and elsewhere in the intel community — potentially tainted by the widening investigation.
The impeachment fight under Trump is quickly surpassing the reach of the presidential impeachment battles under Richard Nixon and Bill Clinton, swallowing even larger swaths of the federal government. The whistleblower complaint and the resulting investigative sprawl are making the probe harder for Trump and his White House to stamp out, with Democrats gaining new avenues to uncover damaging details that contradict Trump. https://www.politico.com/news/2019/10/07/trump-impeachment-investigation-agencies-034109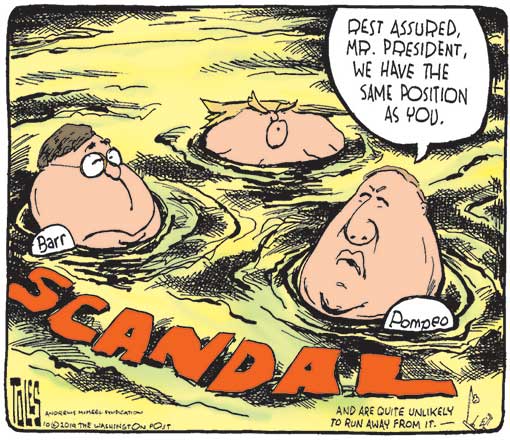 23. Profit, not politics: Trump allies sought Ukraine gas deal
As Rudy Giuliani was pushing Ukrainian officials last spring to investigate one of Donald Trump's main political rivals, a group of individuals with ties to the president and his personal lawyer were also active in the former Soviet republic.
Their aims were profit, not politics. This circle of businessmen and Republican donors touted connections to Giuliani and Trump while trying to install new management at the top of Ukraine's massive state gas company. Their plan was to then steer lucrative contracts to companies controlled by Trump allies, according to two people with knowledge of their plans. https://apnews.com/d7440cffba4940f5b85cd3dfa3500fb2
24. The Rich Really Do Pay Lower Taxes Than You
For the first time on record, the 400 wealthiest Americans last year paid a lower total tax rate — spanning federal, state and local taxes — than any other income group, according to newly released data.
That's a sharp change from the 1950s and 1960s, when the wealthy paid vastly higher tax rates than the middle class or poor. https://www.nytimes.com/interactive/2019/10/06/opinion/income-tax-rate-wealthy.html
25. Giuliani's answer to impeachment inquiry: Sue Adam Schiff
 President Trump's personal attorney, Rudolph Giuliani, says he is working with outside lawyers to prepare lawsuits against prominent Democrats such as House Intelligence Committee Chairman Adam Schiff of California and Rep. Rashida Tlaib of Michigan.
In several conversations with Yahoo News, Giuliani dismissed at least one critic of such a lawsuit as a "nitwit," arguing that there were no constitutional constraints on bringing such litigation against sitting members of Congress. https://news.yahoo.com/giulianis-answer-to-impeach-inquiry-sue-schiff-164553599.html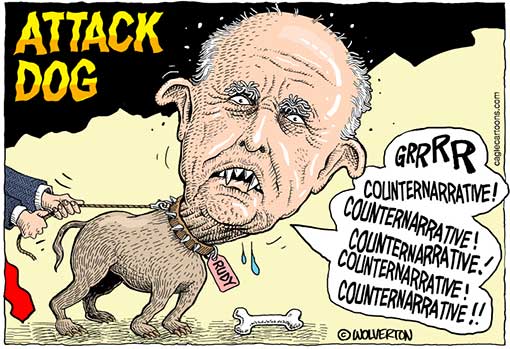 26. Barr's review of Russia investigation wins Trump's favor. Those facing scrutiny suspect he's chasing conspiracy theories.
Attorney General William P. Barr has taken an interest in a mysterious European professor whose conversation with an adviser to President Trump's 2016 campaign helped launch the FBI investigation into possible coordination with Russia — and who has since become the focal point of an unproven conservative theory that the entire inquiry was a setup, people familiar with the matter said.
Those involved in the FBI investigation said they are mystified by the attorney general's activities and interest in the professor, Joseph Mifsud, and they suspect that Barr might be using Justice Department resources to validate conjecture that Mifsud was deployed against a Trump adviser by Western intelligence to manufacture a basis to investigate the campaign.
"It just seems like they're doing everything they can to delegitimize the origins of that investigation," said one person involved with the Russia probe, who, like others, spoke on the condition of anonymity to discuss the politically sensitive matter that is still being reviewed. "I just don't think there's any real basis to disparage it." https://www.washingtonpost.com/national-security/barrs-review-of-the-russia-investigation-has-won-trumps-favor-but-some-facing-scrutiny-suspect-hes-chasing-conspiracy-theories/2019/10/05/cea0f994-e612-11e9-a331-2df12d56a80b_story.html
27. Budget Office Estimates US Deficit Just Under $1 Trillion
The government ran a budget deficit of just under $1 trillion in the just-closed fiscal year, the Congressional Budget Office said Monday.
The $984 billion deficit tally for 2019 came in more than $200 billion more than last year's, despite very low unemployment and continuing economic growth. https://www.nytimes.com/aponline/2019/10/07/us/politics/ap-us-budget-deficit.html
28. The Elizabeth Warren pregnancy smear shows how poisoned the media world is
Margaret Sullivan looks at the story that challenged Elizabeth Warren's claim that she was fired as a teacher for being pregnant and concludes, "A news report can be narrowly factual, and still plenty unfair."
There is no big controversy here. No apparent lie and no 'character issue' that should unduly concern the voting public. If there is a scandal here, it's how — in the bad-faith media world — narrowly presented facts without sufficient context can do unfair harm.
They can and will be weaponized, falsely regurgitated and twisted beyond recognition. https://www.washingtonpost.com/lifestyle/style/the-elizabeth-warren-pregnancy-smear-shows-how-poisoned-the-media-world-is/2019/10/09/6d9db186-ea96-11e9-9306-47cb0324fd44_story.html
1. Adam Serwer: The Mad King's Enablers
Elected Republicans know that Trump is unfit for office. The president's own subordinates know that Trump is unfit for office. They know this, because when the president issues ridiculous orders, such as the demand that a leader of the opposition party be arrested, they ignore his demands. A nation in which the opposition cannot criticize the head of state without facing criminal sanction is not a democracy, but it is the kind of country over which Donald Trump would like to preside. The result is that American democracy rests on the willingness of bureaucrats to ignore the commands of their democratically elected chief executive.
Unable to defend the substance of the president's extortion attempt, Republicans have turned to complaining about the process. But Thursday's performance on the White House lawn renders those baseless complaints moot—the president just did publicly what the Democrats have accused him of doing privately. The only argument against removing Trump from office is that Trump's raving is just Trump being Trump, and is not to be taken seriously. But the fact that the president's madness must be ignored from time to time for America to continue to function as a democracy is an argument for, not against, his removal.
Although congressional Democrats and Republicans are divided on impeachment, there is vanishingly little disagreement on whether or not Trump abuses his authority or is fit to be president. The distinction is that, for the moment, Republicans appear not to care. https://www.theatlantic.com/ideas/archive/2019/10/republicans-deal-impeachable-conduct-ignoring-them/599392/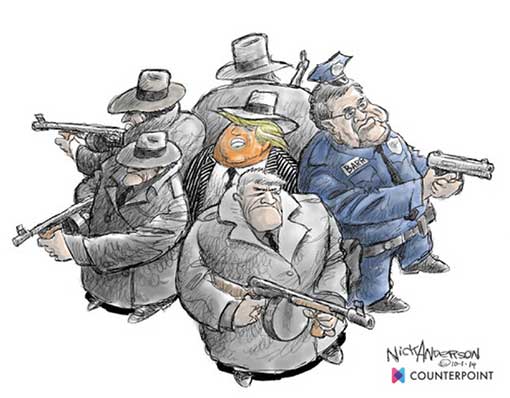 2. Andrew Sullivan: Trump Is Begging to Be Impeached. Give Him What He Wants — Immediately
Remember that sultry July day during the 2016 campaign when Donald Trump went in front of the television cameras and asked the Russian government to intervene in the looming presidential election on his behalf? "Russia, if you're listening, I hope you're able to find the 30,000 emails [by Hillary Clinton] that are missing. I think you will probably be rewarded mightily by our press." We now know, thanks to the Mueller report, that Moscow responded by hacking Hillary Clinton's server that very day. We also know that the Mueller report itself concluded, after exhaustive examination, that there was no prosecutable evidence of a "conspiracy" between Trump and the Russian government to influence the 2016 election. Yet we saw one in broad daylight.
This has long been the paradox of this administration. We tend to assume that nefarious activities of an impeachable variety will always be conducted away from the glare of the media, hidden from the public record, scrubbed of incriminating information. We always assume that what lies under the rock is always more damning than what lies basking on top of it. And we do so for a simple reason. Most criminals assume they might be caught, and take care to avoid it. Nixon ordered the break-in and the cover-up and tried to keep it all on the down low, where indeed it might have stayed if he hadn't taped all his incriminating conversations.
Trump is different. He proudly released a "transcript" of a "perfect" phone call that proved a direct attempt to leverage pending U.S. military aid in order to get the Ukrainian government to investigate one of his likeliest opponents in the 2020 campaign, Joe Biden.  http://nymag.com/intelligencer/2019/10/andrew-sullivan-trump-wants-to-be-impeached-so-do-it-now.html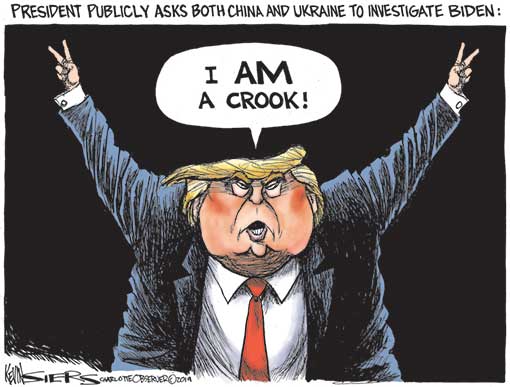 3. Brian Klaas: Trump has turned U.S. foreign policy into a subsidiary of his reelection campaign
Are blatant abuses of power any less impeachable if they're done in plain sight in front of television cameras rather than on a secret phone call?
President Trump must hope so. On Thursday, he fired yet another smoking gun, this time on the South Lawn of the White House. After days of Trump and his spineless surrogates denying that he ever pressured Ukraine to investigate former vice president Joe Biden, Trump again pressured Ukraine to investigate Biden. Then, for good measure, he pressed China to do the same, a mere 30 seconds after he threatened Beijing by saying "if they don't do what we want, we have tremendous power." It doesn't take a "very stable genius" to read between those lines.
Foreign governments have now learned a disturbing lesson: If you target Democrats or put money in Donald Trump's pockets, you might earn diplomatic benefits from the United States government.
For example, Trump's July 25th phone call with the president of Ukraine offered a horrifying glimpse into the ways Trump has drastically reshaped U.S. foreign policy — not by shifting it toward Republican principles, but by making it revolve around Republican politics and Trumpian self-interest. In the phone call, Trump responds to his counterpart's request for military assistance with one of his own: "I would like you to do us a favor, though." https://www.washingtonpost.com/opinions/2019/10/04/trump-has-turned-us-foreign-policy-into-subsidiary-his-reelection-campaign/
4. Max Boot: The GOP's choice: Betray Trump or betray the country?
When President Trump stood Thursday on the South Lawn of the White House and brazenly called for Ukraine and China to investigate Joe Biden, I thought of what E.M. Forster wrote in 1939: "If I had to choose between betraying my country and betraying my friend, I hope I should have the guts to betray my country." That choice — between your friend and your country — is not one that most of us ever have to make. But it is one that Trump is now forcing on his Republican friends. They must decide whether they will betray the president or the country. It is as simple and stark as that.
At first Trump tried to shield his supporters from the awful truth by claiming that his conversation with Ukrainian President Volodymyr Zelensky was "beautiful" and that reports to the contrary were mere hearsay. The rough transcript shows otherwise: Trump had engaged in a mafia-like shakedown. In return for generous U.S. support, he demanded that Zelensky do him a "favor" — or rather, two favors: investigate Biden and exonerate Russia from hacking the 2016 election. Newly released text messages from U.S. diplomats confirm that a White House meeting that Zelensky wanted, along with nearly $400 million in U.S. aid, were held hostage to get what Trump wanted.
Now Trump tries to legitimize his misdeeds by openly promising to commit more of them. On Thursday, he pivoted from talking about his "tremendous power" over China to demand that China "should start an investigation into the Bidens, because what happened to China is just about as bad as what happened with Ukraine." It's as if Richard Nixon announced on TV that, yes, his men broke into the Democratic National Committee offices and that the McGovern headquarters was next. There is zero evidence of any illegality by the Bidens in either Ukraine or China. Trump doesn't want a legitimate investigation. He wants to enlist foreign governments to smear his political foes. https://www.washingtonpost.com/opinions/2019/10/04/gops-choice-betray-trump-or-betray-country/
5. Robert Reich: Trump is the kid with his hand in the cookie jar – and Republicans know it
There are only two questions at stake, and the answers to both are becoming more obvious to more Americans every day.
The first is whether asking a foreign power to dig up dirt on a political opponent is an impeachable offense.
The answer is indubitably yes.
When the framers of the constitution gave Congress the power to impeach a president, one of the high crimes they had in mind was acceding to what Alexander Hamilton called "the desire in foreign powers to gain an improper ascendant in our councils." James Madison argued for impeachment lest a president "might betray his trust to foreign powers".
The second question is whether Trump did this. The answer is also an unqualified yes. In the published version of his phone conversation with Ukraine's president, Volodymyr Zelenskiy, Trump asks for the "favor" of digging up dirt on Joe Biden.
It's still unlikely Trump will be pushed out of office before the 2020 election but the odds are rising by the day. And Trump knows it, which is causing him to behave more like a wild child who deserves to be impeached. https://www.theguardian.com/commentisfree/2019/oct/05/donald-trump-impeachment-republicans-senate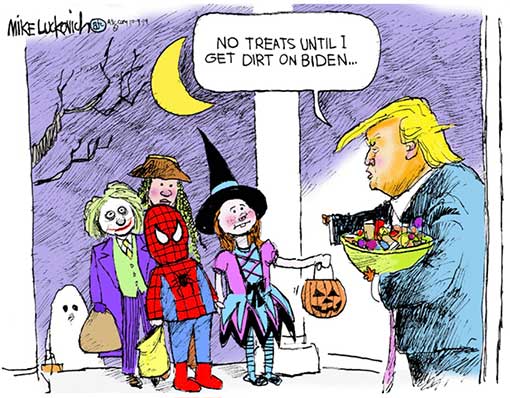 6. Isaac Stanley-Becker: Trump's removal would require Republican dissidents. But those who speak out become targets of viral disinformation
The flood of baseless attacks and misleading innuendo buffeting Romney, which began after he became a rare Republican to express concern about Trump's interactions with the Ukrainian president, serves as a preview of the viral attacks likely to be unleashed on GOP lawmakers if they buck their president during an impeachment showdown that Trump has denounced as a "coup."
Holding the line on impeachment, particularly by pressuring Republicans to remain in lockstep behind Trump, has quickly become the core mission of a squadron of pro-Trump television personalities, talk radio hosts, conservative blogs, fringe Facebook groups and Twitter accounts. Together, these voices form an alternative worldview, built on hostility to mainstream news media and capable of shaping the information consumed by core Republican voters. https://www.washingtonpost.com/politics/trumps-removal-would-require-republican-dissidents-but-those-who-speak-out-become-targets-of-viral-disinformation/2019/10/03/35c35ad0-e394-11e9-b403-f738899982d2_story.html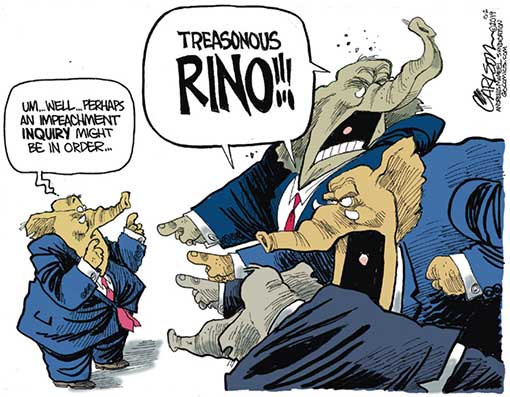 7. Rick Wilson: Trump Is Going to Burn Down Everything and Everyone, and Republicans, That Means You
"In private, Republicans are in the deepest despair of the Trump era. They've got that hang-dog, dick-in-the-dirt fatalism of men destined to die in a meaningless battle in a pointless war. They've abandoned all pretense of recapturing the House, their political fortunes in the states are crashing and burning, and the stock-market bubble they kept up as a shield against the downsides of Trump—'but muh 401(k)!'—is popping.
You want to know why so few Republicans have held town-hall meetings since early 2017? Because Trump is the cancer they deny is consuming them from the inside out. They see the political grave markers of 42 of their GOP House colleagues—and several hundred down-ballot Republicans—booted from office since 2017 and know that outside of the deepest red enclaves, they're salesmen for a brand no one is buying.
I have some bad news, Republicans. It never gets better. There is no daylight at the end of this tunnel. Trump is a suicide bomber, and you've strapped yourselves to him so tightly that when he explodes, you're going out to meet the 72 porn stars of the Trumpian afterlife with him. (Spoiler alert: They all look like Ivanka.)" Trump Is Going to Burn Down Everything. https://www.thedailybeast.com/trump-is-going-to-burn-down-everything-and-everyone-and-republicans-that-means-you
8. Jonathan Chait: Pence: I Participated in the Ukraine Plot But Only As a Patsy
Vice-President Mike Pence is knee-deep in the Ukraine scandal. He is floating the absurd that, while he did participate in Trump's plan to extort Ukraine into investigating Joe Biden, he was completely ignorant of what he was doing.
Although President Trump "used Pence to tell [Ukrainian president Volodymyr] Zelensky that U.S. aid was still being withheld," the Washington Post reports, Pence's aides insist he had no idea what he was actually being used for. "Officials close to Pence insist that he was unaware of Trump's efforts to press Zelensky for damaging information about Biden and his son," the Post notes. Pence, by their accounting, is like a man who delivers a ransom note to a bank teller, failing to place any significance in the fact that the tellers have their hands in the air, the bank patrons are lying on the floor, and the guy who asked him to bring the note to the bank had a mask and a gun.
If Pence is so ignorant that he could be pulled into an extortion plot without having any idea what he was doing, while missing numerous public and private signs that would have spelled it out, he is too dumb to serve as vice-president or even to be allowed to use metal cutlery. There is no way Pence is quite that stupid. http://nymag.com/intelligencer/2019/10/pence-i-participated-in-ukraine-plot-but-only-as-a-patsy.html
9. Zak Cheney-Rice: Jeff Flake Wants to Save the Republican Party's Soul. The Party Seems Uninterested.
Trump may be a more boorish manifestation of this pact than many Republicans have grown accustomed to. But considering they've habitually made peace with much the same forces in the past, the notion that he'd be a dealbreaker becomes less convincing by the day. If nothing else, it's at odds with popular will within their party's rank and file. Trump's approval ratings among Republicans have consistently topped 80 percent. His campaign manager claims that 50,000 new donors committed money in the two days after Speaker Nancy Pelosi announced the impeachment inquiry in September. You can count on one hand the Republican officials who've expressed support for it.
But perhaps most telling is how Trump's Ukraine call has come to be framed as the moment of truth. His virulent racism, persistent lies, flaunting of the judiciary, and refusal to divest from his private businesses has elicited no less than a staunch and concerted defense from his party compatriots. As Flake wrote, "[Truly] devastating has been our tolerance of that conduct. Our embrace of it." He's not wrong, but he makes a poor case for why years of enabling it can be redeemed by not voting for him again. The damage is done, the consequences unerasable. And the foundation that enabled Trump's rise — the GOP's anti-democratic impulse, its bigotry, its entertainment of outlandish and often racist conspiracy theories — will remain intact either way. By truly dismantling it, Republicans risk almost certain electoral ruin for the foreseeable future. But anything less is just cosmetic. http://nymag.com/intelligencer/2019/10/jeff-flake-says-republicans-shouldnt-support-trump-in-2020.html
10.  Frank Rich: Trump's Wrecking-Ball Impeachment Defense
We can safely assume that even Trump's most ardent fans would not put him and "focused plan" or "strategy" in the same sentence. His brand is chaos, and his default position is human (or more often inhuman) wrecking ball. That will never change, nor does he want it to change. The question is less whether Trump's malevolence will allow him to escape impeachment than whether American governance, already on the ropes, will tumble into a coma before he leaves office and allow opportunistic American enemies like Vladimir Putin and Kim Jong-un to pounce. An ancillary question is whether Trump will in fact leave the Oval Office voluntarily if he is convicted in an impeachment trial or defeated in the election that's now 13 months away. A president who finds new constitutional norms to violate daily can hardly be counted upon to respect the verdicts of either Congress or the voters.
Could he and his country sink even lower while impeachment is adjudicated? Quite possibly; there seems to be no bottom. If this historical moment echoes Watergate in some regards, it also echoes the rise of toxic anti-government rhetoric and right-wing American terrorist militias and cults in the period leading up to the bombing of the Alfred P. Murrah Federal building in Oklahoma City in 1995. Back then it was the likes of NRA chief Wayne LaPierre who were railing against "jack-booted government thugs." Now it's the president of the United States who is doing so, relentlessly suggesting that Schiff, the whistle-blower, and members of the press (among others) be punished for committing treason. And he is doing so in a society that is, if anything, even more gun-crazy and gun-saturated now than it was in the 1990s.
Let's be clear here: As he retreats more and more into his bunker, Trump is not being careful about what he wishes for, and what he is wishing for is violence. Yet the Vichy Republicans — even those senators up for reelection like Susan Collins and Cory Gardner — remain silent. Be assured that they'll be among the first to offer their thoughts and prayers on camera if this dam breaks. http://nymag.com/intelligencer/2019/10/frank-rich-trumps-wrecking-ball-impeachment-defense.html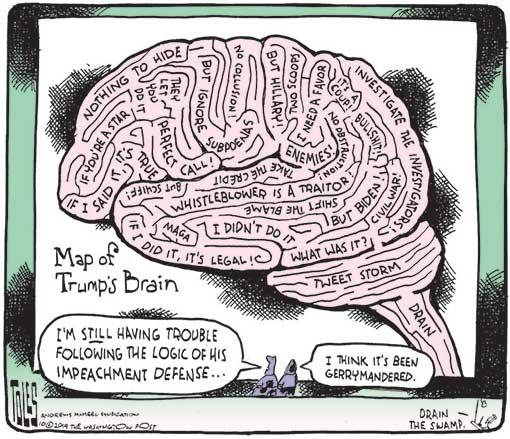 11. George Conway: Unfit for Office
And so it is, or ought to be, with Donald Trump. You don't need to be a weatherman to know which way the wind blows, and you don't need to be a mental-health professional to see that something's very seriously off with Trump—particularly after nearly three years of watching his erratic and abnormal behavior in the White House. Questions about Trump's psychological stability have mounted throughout his presidency. But those questions have been coming even more frequently amid a recent escalation in Trump's bizarre behavior, as the pressures of his upcoming reelection campaign, a possibly deteriorating economy, and now a full-blown impeachment inquiry have mounted. And the questioners have included those who have worked most closely with him.
No president in recent memory—and likely no president ever—has prompted more discussion about his mental stability and connection with reality. Trump's former chief of staff John Kelly is said to have described him as "unhinged," and "off the rails," and to have called the White House "Crazytown" because of Trump's unbalanced state. Trump's former deputy attorney general, Rod Rosenstein, once reportedly discussed recruiting Cabinet members to invoke the Twenty-Fifth Amendment, the provision addressing presidential disability, including mental disability. https://www.theatlantic.com/ideas/archive/2019/10/george-conway-trump-unfit-office/599128/
12. Will Bunch: There is no justice in AG Barr and Trump's insane, paranoid world of political vendettas |
Attorney General William Barr, who spent a good chunk of his summer on an itinerary more befitting a '70s hippie college backpacker, jetting to Rome, London, and God knows where else. Presumably, the nation's top law enforcement official was working with his international counterparts to smash a global terror ring, or stop the transoceanic flow of drugs, right?
Well, actually, how William Barr spent your summer vacation was largely chasing down insane conspiracy theories that live largely on the Fox News Channel and inside the muddled brain of America's 45th president. He was trying to jump-start an investigation meant to show that what eventually became Robert Mueller's probe into Russian interference in the 2016 presidential election was the result of a vast FBI/CIA/"Deep State" conspiracy — and not the well-established fact that Russia actually did interfere in our election and there were a lot of weird contacts between the Trump campaign and Russians.
And the mad, mad, mad, mad, mad world of William Barr didn't end with his lampoonable European vacation. This all happened after the attorney general's yeoman's work in sugarcoating Mueller's eventual report to make sure it landed with a "thud" that deadened (for a time, anyway) calls for his boss' impeachment. And it was before Justice Department lawyers took the extraordinary step of trying to shut down a New York state probe seeking Donald Trump's tax returns, arguing that a sitting U.S. president is not just above the law but can't even be investigated.
Hard to believe, Harry, but Barr has only been head of the Justice Department for eight months. We now know that's how long it takes to put the "bananas" in our suddenly banana republic, to take a once-envied agency and warp the rule of law to turn it into a politicized neutron bomb that will incinerate the enemies of Donald Trump while leaving his edifice of corruption intact.
For more than 200 years, the Justice Department has striven — quite imperfectly — to carve out its freedom from undue political interference. Trump and his appointed lackeys blew that up in less than three years. God help the next responsible American president and attorney general who'll have to sift through this flaming pile of rubble. https://www.inquirer.com/columnists/attytood/trump-impeachment-william-barr-politicized-justice-department-ukraine-italy-20191003.html
13.  Tina Nguyen: Trump Says Screw It, Is Blatantly Corrupt On Camera
Trump hasn't bothered denying that he asked Zelensky to investigate Biden, seemingly because he doesn't think doing so was wrong. That's also a favored talking point of his lawyer, Rudy Giuliani, who has himself become ensnared in the Ukraine plot, and could face legal consequences as a result. "I see that as exactly what a president should do," Giuliani said, of Trump's Thursday ask. "I'm not saying Trump never did anything wrong but there are other people who did things wrong too." This, so far, has been the strategy: Paint Biden's potential corruption as so egregious—the new "crooked Hillary"—that Trump is in the right by default for attempting to ferret it out. The fact that doing so would kneecap Trump's most likely opponent in the 2020 election, of course, is just a happy accident. (In a statement, the Biden campaign hypothesized Trump is getting desperate because he's "terrified that Joe Biden will beat him like a drum.") Vice President Mike Pence, naturally, has bought in too. "The American people have a right to know if the vice president of the United States, or his family, profited from his position," he said Thursday, with absolutely no hint of irony.
All of which is unfortunate for Trump's allies, who find themselves struggling to defend a man who's admitted to the corrupt behavior of which he's been accused. Short of the "Biden is worse" argument, which has so far failed spectacularly for Congressional allies like Jim Jordan and Kevin McCarthy, they're left empty-handed, waiting for a coordinated defense strategy from the White House that will likely never come. https://www.vanityfair.com/news/2019/10/donald-trump-ukraine-china-biden-investigation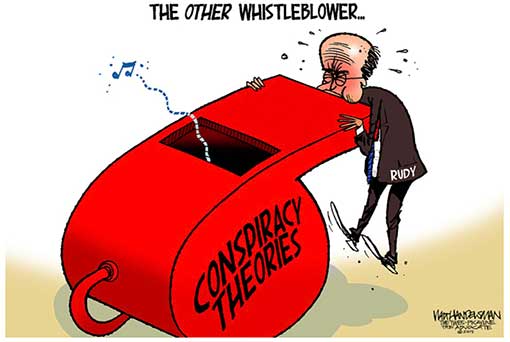 14.  Abigail Tracy: "Do What You Can, Or Quit": The Ukraine Disaster Reveals How Trump Corrupted U.S. Diplomacy
Still, the depths of  special envoy to Ukraine, Kurt Volker's involvement, and the astounding scope of the Trump administration's pressure campaign to get Ukrainian president Volodymyr Zelensky to investigate one of Trump's top political rivals, has sent shock waves throughout the diplomatic community. Even more disturbing, diplomats say, is what the Ukraine episode has exposed about the rot within the State Department and the distinct challenges civil servants are forced to navigate in the Trump era, where loyalty to the president is valued above allegiance to the United States. "This is the conundrum for the career people: Do you try to earn the trust of these bad, corrupt people so that you can affect things in small ways? Or do you come out swinging and they will mow you down?" the former ambassador explained. In sum, they added, the choice is: "Do what you can, or quit."
The White House argues that there was no "quid pro quo" between Trump and Zelensky, despite Trump withholding military aid from the war-torn country. But a batch of text messages released Thursday night by House Democrats, hours after Volker's closed-door testimony on Capitol Hill, reveals that even Trump's envoys didn't see it that way. Indeed, the messages detail an effort by Volker, Giuliani, and U.S. ambassador to the European Union Gordon Sondland to get Zelensky to promise an investigation into Burisma, a Ukrainian gas company that counted Hunter Biden among its board members, in order to "get to the bottom of what happened" in 2016. The conversations, which Volker provided to the House committees, suggest that a White House visit, sought after by the new Ukrainian administration, had been made contingent upon such a commitment from Zelensky. https://www.vanityfair.com/news/2019/10/donald-trump-state-department-kurt-volker-ukraine
15. Fred Hiatt: It's not news that Trump is corrupt. What's new is how he is succeeding in corrupting our government.
It is no longer surprising to see President Trump wielding the government as an instrument purely for his personal benefit or vengeance.
What is both alarming and new is how government, increasingly, is giving way and giving in.
Three years into Trump's term, we are witnessing the accelerating erosion of a bedrock American principle: that the awesome power of government will be wielded fairly, based on facts and evidence, and without regard to political fear or favor.
A normal government that cared about corruption in Ukraine, as officials in this administration sometimes pretend they do, would seek improvements in its judicial system. But Trump has no such concern, as you can tell from his July 25 phone call with Ukraine's president. He never mentions corruption, but presses only for two specific investigations he hopes will benefit his domestic political fortunes.
A government committed to rescuing Americans from unfair detention abroad — as Trump likes to boast he is — would be committed to rescuing all Americans from unfair detention abroad.
But this administration picks and chooses, based on Trump's whims and grudges. For a Christian cleric held in Turkey, Trump goes all out. For a New York Times reporter endangered in Egypt, the administration does not bestir itself, as Times publisher A.G. Sulzberger recently recounted.
Some officials have indulged these impulses almost from the start. That Times reporter barely escaped arrest two years ago. Commerce Secretary Wilbur Ross's dishonest maneuverings to get a question about citizenship added to the 2020 Census took place in the spring of 2017. Last year, officials devised their policy to separate children from parents at the border, and then repeatedly lied about it.
But as time goes on, the government more and more is endorsing and amplifying policies that serve Trump's political interest. Just recently: https://www.washingtonpost.com/opinions/its-not-news-that-trump-is-corrupt-whats-new-is-how-he-is-succeeding-in-corrupting-our-government/2019/10/06/c492b6ba-e6d3-11e9-b403-f738899982d2_story.html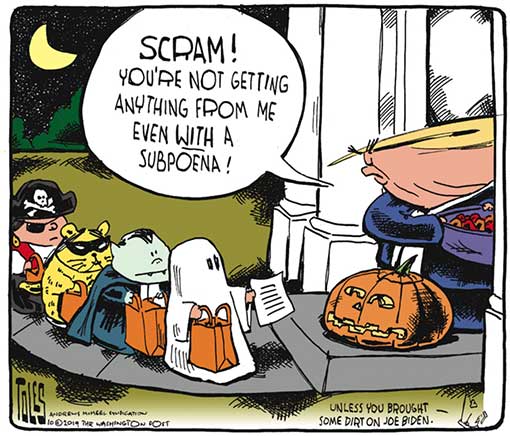 16. Ronald Radosh: The Deep State Conspiracy Is About to Go Into Overdrive
For decades the American far right has depended on conspiracy theories to explain why the nation keeps adopting progressive policies of which they disapprove.
Sen. Joseph McCarthy famously argued in 1951 that the World War II hero Gen. George C. Marshall, who had been both Harry Truman's secretary of state and then secretary of defense, had made decisions that helped the Soviet Communists in their drive to dominate the world. McCarthy did not go as far as branding Marshall a traitor, but he did charge that Marshall—a great war hero who helped lead the planning of D-Day and had been Time Magazine's Man of the Year in 1943—led "a conspiracy so immense and an infamy so black as to dwarf any previous venture in the history of man." 
Were old Joe McCarthy still with us he would be in awe of the lengths to which Donald Trump and his GOP and "conservative" lackeys have gone to discredit their perceived Democratic enemies.
Each day Trump ups the ante by openly seeking the help of foreign governments (Russia, Ukraine and now China) to take action to destroy his main political rival in 2020, former Vice-President Joe Biden.  https://www.thedailybeast.com/the-deep-state-conspiracy-is-about-to-go-into-overdrive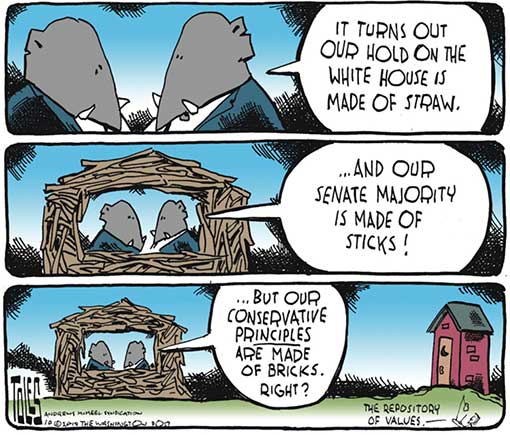 17. Washington Post Editorial: Trump's Syria decision reflects his stunning ignorance of the situation
LAST DECEMBER, following a phone call with Turkish President Recep Tayyip Erdogan, President Trump abruptly ordered the withdrawal of U.S. troops from Syria — without consulting his national security team, Congress or U.S. allies. In the weeks that followed, Mr. Trump was slowly coaxed into reversing his decision, which, he was warned, would lead to the revival of the Islamic State and deliver a strategic windfall to Iran and Russia, at the expense of Israel and other U.S. allies.
Now, after another phone call with Mr. Erdogan, Mr. Trump has repeated his blunder. Again ignoring the advice of the Pentagon and disregarding allies and Congress, he ordered U.S. forces to withdraw from the area along the border between Syria and Turkey, thereby facilitating a Turkish invasion. The Turkish objective is to evict the Syrian Democratic Forces (SDF), a Kurdish-led group that has been an invaluable U.S. partner in fighting the Islamic State. Mr. Erdogan wants to send hundreds of thousands of Syrian refugees now in Turkey to the 20-mile-wide strip his army intends to occupy.
The consequences are likely to be the same that Mr. Trump was warned of before. Betrayed by the United States and forced to fight a potentially bloody conflict with Turkey, the Kurdish-led forces could quickly abandon any further effort to control the Islamic State. They might well set free the tens of thousands of former militants and family members held in SDF-controlled camps. The 1,000 U.S. troops in Syria could be forced to withdraw entirely, which would be a major victory for Russia and open the way for Iran to entrench its forces along Israel's northern border. U.S. allies around the world meanwhile will have reason to question whether they should cooperate with a government that so casually abandons military partners. https://www.washingtonpost.com/opinions/global-opinions/trumps-withdrawal-from-syria-is-a-gift-to-russia-iran--and-the-islamic-state/2019/10/07/47c9880a-e91e-11e9-9306-47cb0324fd44_story.html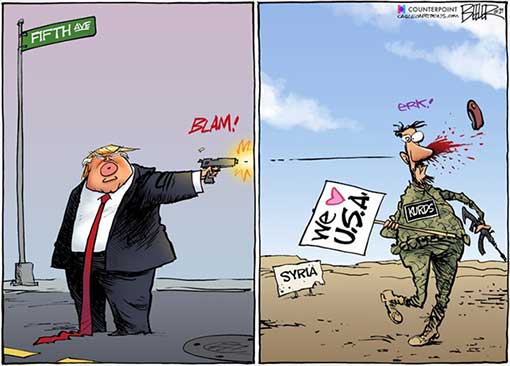 18. Jonathan Chait: Trump's Ukraine Extortion Was Also a Mafia-Style Shakedown by Rudy's Clients
When autocratic leaders attack "corruption," they are usually using it as a pretext to clear out the competition and establish their own racket. President Trump's campaign to pressure Ukraine to investigate his domestic enemies follows this pattern. While Trump attorney Rudy Giuliani was leaning on the government in Kiev, he was simultaneously running a side hustle trying to extort the Ukrainians into throwing some energy business at his clients.
Some of the facts surrounding Rudy's energy scam trickled out over the weekend, but the most damning revelations were contained in an explosive Associated Press story Sunday evening. If it were not a sidecar to a historic scandal, the energy scam would itself constitute a large enough scandal to bring most presidencies to their knees.
This is the basic outline of the story: While he was representing Trump as a lawyer, Giuliani was being paid by two men who were seeking business with Ukraine's government. Giuliani was wearing two hats: simultaneously representing the president of the United States and his paid clients. The conflict of interest between the two roles is overt. Giuliani's clients could use his name to leverage Ukraine to give them business. http://nymag.com/intelligencer/2019/10/ukraine-scandal-giuliani-rick-perry-impeachment-parnas-fruman-gas.html
19. Eugene Robinson: The GOP's bootlicking cowardice knows no bounds
President Trump's defense against impeachment is bombastic, full of lies and incoherent to the point of lunacy, which is no surprise. Republicans are beclowning themselves to pretend Trump is making sense — and that, sadly, is also no surprise.
Trump has described his smoking-gun phone call with Ukrainian President Volodymyr Zelensky as "perfect," which is only true from the point of view of the prosecutors in his impeachment trial — if it comes to that. His lawyer, Rudolph W. , has claimed that Zelensky was the first to mention Joe and Hunter Biden, while the rough transcript of the call clearly shows it was Trump who did so. Trump has demanded that the whistleblower be unmasked, and claimed that he or she somehow misrepresented the call, hoping no one will notice that the allegations in the whistleblower's complaint have been confirmed by documents and statements released by the White House.
Trump has accused House Intelligence Committee Chairman Adam B. Schiff (D-Calif.) and Speaker Nancy Pelosi (D-Calif.) of "treason" and demanded that they be impeached. After first refusing to say whether he wanted Ukraine to investigate the Bidens, he admitted it and called on China to investigate them, too. And as for Sen. Mitt Romney (R-Utah) — who said that Trump's call with Zelensky was "troubling in the extreme " and that his requests to Ukraine and China were "wrong and appalling" — Trump has called him a "pompous 'ass'  " and wants him impeached, too. https://www.washingtonpost.com/opinions/the-gops-bootlicking-cowardice-knows-no-bounds/2019/10/07/ff4a12e0-e934-11e9-9306-47cb0324fd44_story.html
20. Dana Milbank: Trump's defense: You can't impeach me. I impeach you.
On Saturday Trump said that Sen. Mitt Romney (R-Utah) is a "pompous 'ass' " who should be impeached. (Romney had criticized Trump actions as "wrong and appalling.") The (real) Constitution does not provide for impeaching lawmakers, but Trump on Sunday expanded his extra-constitutional demand, saying "Nervous Nancy" Pelosi and "Liddle' Adam Schiff" were guilty of "Treason" and must be "immediately impeached."
It's a variant of Trump's "No puppet, you're the puppet" defense. You can't impeach me — I impeach you!
Fighting impeachment, Trump employs two familiar arguments. One is to accuse his opponents of whatever he's accused of. The other is to blurt out obscenities. Before branding Romney an "ass," Trump informed 65 million Twitter followers that the Democrats' case is "BULLSHIT." (Objectively accurate headline: "Trump Tweets Bullshit.")
It hardly matters that Trump's new plan to impeach his accusers is not, technically, legal. As during the Russia inquiry, ignorance of the law might be his best (and perhaps only) defense. The ignorance seems genuine: In addition to developing a 12-article Constitution, Trump has mused about attacking migrants with bayonets and alligators, "ordered" U.S. businesses to find alternatives to China, proposed to rewrite a constitutional citizenship provision by fiat and routinely accused those who criticize him of "treason."
Trump, also calling his critics "spies," recently pined for the "old days when we were smart with spies and treason" and "we used to handle it a little differently." Ah, yes, the good old days, when those accused of treason were summarily shot. Perhaps he'll also use his Article XII powers to bring back the halcyon days of cruel and unusual punishment; he could order that Romney be given 30 stripes, send Pelosi to the ducking stool and crop Schiff's ears.
Even if he did, it's a safe bet Republicans would respond as they are now: by looking the other way or by insisting Trump was just joking. Only unelected Republicans seem to notice how awful they look excusing this behavior. Colin Powell says the GOP "has got to get a grip on itself." Kerry Kircher, House counsel for the Republicans between 2011 and 2016, told The Post's Seung Min Kim and Rachael Bade that Trump "is shaking the foundations of the republic." Even Trump loyalist Tucker Carlson wrote of Trump's Ukraine call: "Some Republicans are trying, but there's no way to spin this as a good idea." https://www.washingtonpost.com/opinions/trump-takes-a-journey-into-the-constitutional-wilderness/2019/10/07/15c92fb4-e940-11e9-85c0-85a098e47b37_story.html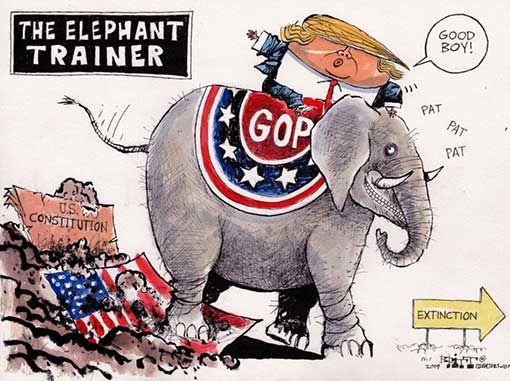 21. Gabriel Sherman: "Romney Is The Pressure Point In The Impeachment Process": Mitt Won't Primary Trump—But He's Trying To Bring Him Down
A Romney adviser told me, Romney believes he has more potential power as a senator who will decide Trump's fate in an impeachment trial. "He could have tremendous influence in the impeachment process as the lone voice of conscience in the Republican caucus," the adviser said. In recent days, Romney has been reaching out privately to key players in the Republican resistance, according to a person briefed on the conversations. "Romney is the one guy who could bring along Susan Collins, Cory Gardner, Ben Sasse. Romney is the pressure point in the impeachment process. That's why the things he's saying are freaking Republicans out." (Romney, through a spokesperson, declined to comment.) https://www.vanityfair.com/news/2019/10/mitt-romney-wont-primary-trump-but-trying-to-bring-him-down-impeachment-2020
22. Jack Shafer: Why Trump Can't Tweet His Way Out of This
You needn't believe the hype about President Donald Trump being a 21st-century media wizard to concede he has a special talent for powershifting through the gears of the news cycle to blow past whatever current event might threaten his presidency. Whether it's a function of Trump's volatility or a measure of his craft, he has a knack for freezing out damaging news by creating his own news storms that transfix the press. He fires members of his Cabinet and staff, over-reaches with executive orders, picks fights with a Gold Star mother and football players, engages in ad hominem, and insults entire friendly countries.
In recent days as bad news has swelled around him, Trump has taken to screaming "treason" and "coup" at full volume to divert the news flow. But this time, Trump's hydraulics don't seem to be working. Instead of Trump flooding the news cycle, the news cycle has begun to flood Trump. His special talents—if they really exist—have begun to fail him, and he seems to know it. In two recent press sprays, with the Finnish president and on the White House lawn, Trump's peach complexion has gone scarlet with rage as he dodged and parried all the bad publicity. https://www.politico.com/magazine/story/2019/10/07/trump-impeachment-syria-kurds-ukraine-media-229619
23.  David Remnick: "Stupid Watergate" Is Worse Than the Original
Where Watergate and "Stupid Watergate" might diverge most radically is in the potential endgame. We soothingly remind ourselves that, after many months of reporting revelations, court decisions, and hearings in the House and the Senate, Nixon bent to reality and left the capital in Marine One. What makes anyone imagine that Trump will do the same before he has exacted maximal damage? And what institution will force his hand? The Republican Party?
"Look, nothing is going gently into the night at the end of this drama, no matter who wins," Bernstein told me. "Nixon was a reflection of Nixon. Watergate was not about the country. It was, above all, about Nixon. The Trump story is all tied up with the country itself. I felt even before this started that we are in a cold war. And Trump has brought the cold civil war to the point of near ignition. It's much worse and deeper than just polarization. It's not just political, it's cultural. These are different times than the Watergate era. We're a different people than we were in 1972 to 1974. And the Republican Party is a different party." https://www.newyorker.com/news/daily-comment/stupid-watergate-is-worse-than-the-original