May 6, 2021
ON THE RECORD. . .
"I'm not a doctor, I'm a fucking moron. I'm not a respected source of information, even for me … But I at least try to be honest about what I'm saying." — Joe Rogan back-pedaled on statements he made on his podcast last week when he suggested young people who are healthy do not need to get the coronavirus vaccine.

"They're terrible — everybody agrees on this floor that they have burned, that they have threatened, that they have destroyed, that's what they're famous for, would you agree that when people burn, threaten, kill, intimidate, that they are a terrorist group, and that Black Lives Matter meet that same description?"— OK state Rep. J.J. Humphrey (R) comparing Black Lives Matter to the Ku Klux Klan.

The reason the CDC is being cautious is because they want to avoid "spreading bullsh*t around during a global pandemic like a frozen-dinner duke with a TV show. Anyway, I hope that answers at least one of your gape-mouthed, bad-faith wonderings, Tucker, you scrunched-faced fear-baboon. Ok, it is genuinely weird to see someone hosting a show on a supposed news network and ending every sentence with a question mark … Especially when answers to most of those questions are out there for everyone who cares to know." — John Oliver video

"I don't know, but I'm sure it was going on."— Florida state Rep. Blaise Ingoglia (R), when asked if he could identify any real-world instances of illegal ballot collection in Florida.

"My primary reason for refusing the vaccine is much simpler: I dislike the people who want me to take it, and it makes them mad when they hear about my refusal. That, in turn, makes me happy." — Pete D'Abrosca, conservative campaign strategist, author, and columnist. The lies these days are moving at the speed of light while spreading so much darkness. Take, for example, the uproar over this New York Post story that claimed that copies of a children's book written by Vice President Kamala Harris were being given to migrant kids in their welcome kits. That tale from the border didn't just border on B.S., this was USDA, grade A bullshit. And the reporter who wrote this story resigned, claiming she was forced to make it up, but the damage was done, pumped out over the airwaves at the bullshit factory known as Fox News. — Jim Acosta

"We can't embrace the notion the election is stolen. It's a poison in the bloodstream of our democracy. We can't whitewash what happened on January 6 or perpetuate Trump's big lie. It is a threat to democracy. What he did on January 6 is a line that cannot be crossed." — Wyoming Rep. Liz Cheney at the annual retreat for the American Enterprise Institute.

The KGB manipulated Trump with simple flattery. "In terms of his personality, the guy is not a complicated cookie," he said, "his most important characteristics being low intellect coupled with hyperinflated vanity. This makes him a dream for an experienced recruiter." — Reporter Craig Unger, who got Yuri Shvet, a former KGB spy, to confirm on the record that Russian intelligence had been working Trump for decades.  

"There are a lot of exotic notions about what are the most important points in American history. I simply disagree with the notion that The New York Times laid out there that the year 1619 was one of those years." — Senate Minority Leader Mitch McConnell. (Note: 1619, the year the first enslaved Africans were brought to and sold in the Virginia colony, a point often considered as the beginning of American slavery.)

Many conservatives attacking John Kerry for discussing with Iran that Israel covertly struck 200 Iranian targets in Syria, per leaked audio. @StateDeptSpoxnotes that those strikes had already been disclosed by a gov't in the region (i.e. Israel) — John Hudson @John_Hudson

"If a prerequisite for leading our conference is continuing to lie to our voters, then Liz is not the best fit. Liz isn't going to lie to people. Liz is going to say what she believes. She's going to stand on principle. And if that's going to be distracting for folks, she's not the best fit. I wish that weren't the case." —Rep. Anthony Gonzalez (R-OH), who hasn't been in Washington long, but has been there long enough to understand his party is rotting from the inside out.
VIDEOS
Voices: The radicalization of the Republican Party is a danger to us all. We must reject it. MeidasTouch: https://twitter.com/MeidasTouch/status/1388274665991262210

Jon Stewart Drills to the Core of Fox's Bullshit Mountain in this 2012 video: https://youtu.be/pQQNiPIotho

It Never Ended: The Lincoln Project: https://youtu.be/P4oFu7X--bs
REMINDER: Just Security is continuing to track every pending criminal and civil case against Donald Trump.
---
IN THIS ISSUE
IN THE NEWS
OPINION
Andy Borowitz: DeSantis Says Florida Will Lift Coronavirus Restrictions to Focus on Voting Restrictions
Governor Ron DeSantis announced that Florida will lift its coronavirus restrictions in order to focus all its attention on voting restrictions.

"While the danger posed by the virus has largely dissipated, voting remains as dangerous as ever," DeSantis said.

The Governor indicated that he was "taking a hard look" at indoor voting, which he said was responsible for "many bad outcomes," and noted that outdoor voting, involving people placing ballots in mailboxes, could also be curbed.

"Until the danger has passed, we may have to ban voting by groups of five or more people," he said, adding that it would "depend on who the people were."

DeSantis said that the measures to restrict voting should be passed into law as soon as possible. He warned, "We must stop the spread of democracy." https://www.newyorker.com/humor/borowitz-report/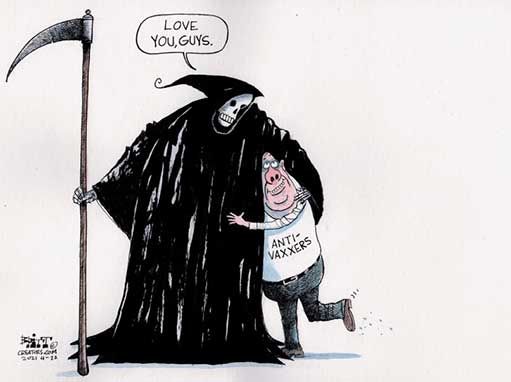 Number of children held in Border Patrol facilities drops 84% since peak last month
Unaccompanied migrant children held in jail-like conditions by US Customs and Border Protection dropped nearly 84% in the span of a month, according to a White House official, underscoring the significant progress made by the administration after reaching record high custody figures. https://www.cnn.com/2021/04/29/politics/border-patrol-unaccompanied-minors/index.html
Biden cancels border wall projects Trump paid for with diverted military funds
The Biden administration said Friday it has canceled border wall projects paid for with funds diverted from Defense Department accounts, a widely expected move that follows Biden's decision to suspend construction activity on President Donald Trump's signature project.
Trump diverted about $10 billion from military construction accounts and counternarcotics programs to pay for hundreds of miles of steel barriers along the Mexico border, an effort that Biden has denounced as wasteful and ineffective.
Trump built 450 miles of new barriers during his term, much of it across the deserts and mountains of southern Arizona where his administration built along national forest land, wildlife preserves and other federal property already under government control. It built far less in the Rio Grande Valley of South Texas, the busiest area for border crossings and the epicenter to a major migration influx. https://www.washingtonpost.com/national/border-wall-cancelled/2021/04/30/98575af0-a9ec-11eb-b166-174b63ea6007_story.html
Giuliani's Legal Bills Are Growing. His Allies Want Trump to Pay Them.
As a federal investigation into Rudolph W. Giuliani escalates, his advisers have been pressing aides to former President Donald J. Trump to reach into a $250 million war chest to pay Mr. Giuliani for his efforts to overturn the results of the 2020 election on Mr. Trump's behalf.
The pressure from Mr. Giuliani's camp has intensified since F.B.I. agents executed search warrants at Mr. Giuliani's home and office last week, according to people familiar with the discussions, and comes as Mr. Giuliani has hired new lawyers and is facing his own protracted — and costly — legal battles. https://www.nytimes.com/2021/05/04/us/politics/rudy-giuliani-warrant-trump.html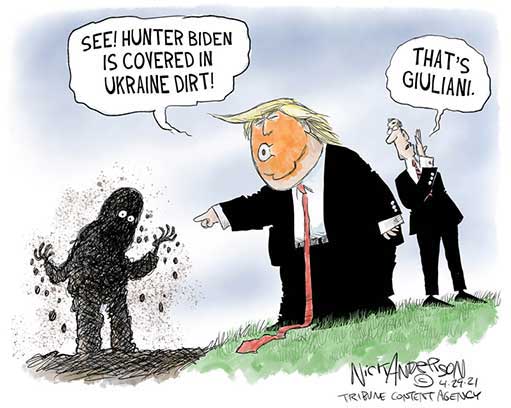 Florida Republicans rushed to curb mail voting after Trump's attacks on the practice. Now some fear it could lower GOP turnout.
Virtually every narrow Republican victor of the past generation — and there have been many, including two of the state's current top officeholders, Gov. Ron DeSantis and Sen. Rick Scott — owes their victory, at least in part, to mail voting.
Now, some Florida Republicans are reacting with alarm after the GOP- dominated state legislature, with DeSantis's support, passed a far-reaching bill Thursday night that puts new restrictions on the use of mail ballots.
Not only are GOP lawmakers reversing statutes that their own predecessors put in place, but they are also curtailing a practice that millions of state Republicans use, despite former president Donald Trump's relentless and baseless claims that it invites fraud.
Even as Democrats and voting rights advocates accuse the proponents of Senate Bill 90 of attempting to suppress the votes of people of color, these Republicans say their own political fortunes are in peril, too.
The potential fallout in the key swing state illustrates how the Republican Party is hurting itself in its rush to echo Trump's false allegations, they said.
"Donald Trump attempted to ruin a perfectly safe and trusted method of voting," said one longtime Republican consultant in the state who spoke on the condition of anonymity to offer a candid assessment. https://www.washingtonpost.com/politics/florida-republicans-mail-voting/2021/05/02/4c133920-a9bf-11eb-8c1a-56f0cb4ff3b5_story.html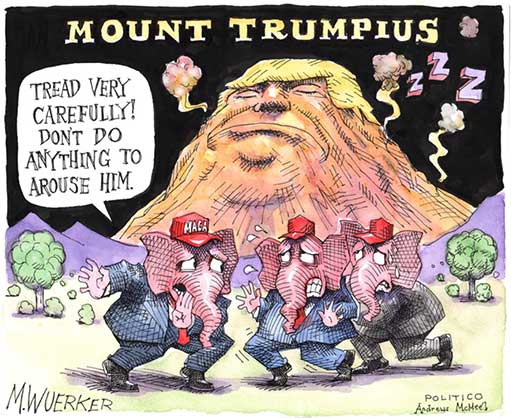 Newsmax Apologizes To Dominion Exec As It Settles Lawsuit Over False Voter Fraud Claims
Right-wing cable outlet Newsmax settled a defamation suit brought by Dominion security director Eric Coomer with an apology and admitted that allegations of voter fraud that it aired were untrue, the latest backtracking as Newsmax and other conservative outfits face legal retribution for amplifying former President Donald Trump's baseless vote-rigging claims.
Newsmax admitted it doesn't have evidence that Coomer confessed to rigging the election during a conference call with antifa, an outlandish allegation repeated on-air by former Trump lawyer Sidney Powell, who is also facing a lawsuit from Coomer. https://www.forbes.com/sites/joewalsh/2021/04/30/newsmax-apologizes-to-dominion-exec-as-it-settles-lawsuit-over-false-voter-fraud-claims/?sh=6a2ff7bd15cd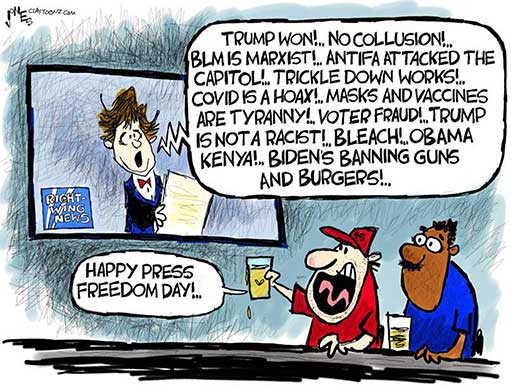 In nod to Trump, Florida is set to ban 'deplatforming' by tech companies
Florida is on track to be the first state in the nation to punish social media companies that ban politicians like Donald Trump under a bill approved Thursday by the state's Republican-led Legislature.
The Florida bill would prohibit social media companies from knowingly "deplatforming" political candidates, meaning a service could not "permanently delete or ban" a candidate. Suspensions of up to 14 days would still be allowed, and a service could remove individual posts that violate its terms of service.  https://www.nbcnews.com/politics/politics-news/nod-donald-trump-florida-set-ban-big-tech-deplatforming-rcna784
Sheriff's deputy boasted to extremists about beating Black man, called it 'sweet stress relief,' feds say
As federal investigators searched the phone records of a violent extremist in California last August, they discovered an unexpected voice of authority joining in a group chat with racist slurs and threats.
In texts with a group that called itself "Shadow Moses," a Georgia sheriff's deputy boasted about beating a Black man during an arrest, threatened to falsely charge Black people with felonies so that they could not vote and advocated for killing politicians and others he viewed as political enemies, the FBI said in court documents.
This week, Cody Richard Griggers pleaded guilty to a weapons charge after federal agents uncovered his ties to a violent extremist group and found 11 unregistered firearms at his home and in his police car, the Department of Justice said in a statement on Wednesday. Griggers, 28, who was fired by the Wilkinson County Sheriff's Office last November, faces up to 10 years in prison, a $250,000 fine and will never work as a police officer again. https://www.washingtonpost.com/nation/2021/04/30/cody-griggers-georgia-extremist-racism/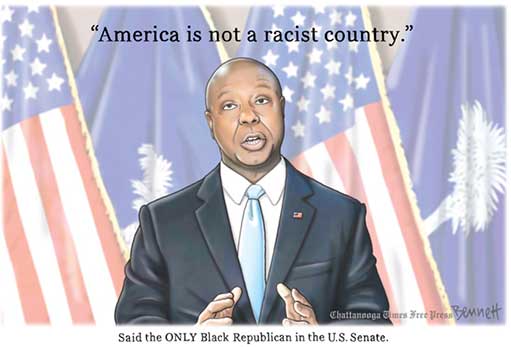 GOP Risks Purging Eligible Voters in Drive to Cull States' Rolls
Republican lawmakers across the country are proposing an aggressive culling of voter rolls by checking names against other government databases that may be flawed, meaning eligible voters could be swept out and blocked from voting.
Nationally, at least 50 bills have been proposed that would trim voter rolls more vigorously than in previous legislative sessions, and several have already been signed into law, spurred by record turnout in the 2020 election and allegations, led by former President Donald Trump, that the outcome was somehow rigged. https://www.bloomberg.com/news/articles/2021-04-30/gop-risks-purging-eligible-voters-in-drive-to-cull-states-rolls
As Trump seizes on Arizona ballot audit, election officials fear partisan vote counts could be the norm in future elections
More than five months after the 2020 presidential election, and after numerous failed attempts to overturn the results, former president Donald Trump has seized on a new avenue to try to call the outcome into question: a hand recount of 2.1 million ballots cast in Arizona's largest county.
Several advisers said the former president has become fixated on the unorthodox process underway in Phoenix, where the GOP-led state Senate took ballots and voting equipment from Maricopa County and turned them over to Cyber Ninjas, a private contractor whose chief executive has echoed baseless claims that the election was fraudulent but has now promised a fair review of the November results.
Ensconced at his private club in Florida, Trump asks aides for updates about the process multiple times a day, advisers said, expressing particular interest in the use of UV lights to scrutinize Maricopa's ballots — a method that has bewildered election experts, who say it could damage the votes. https://www.washingtonpost.com/politics/trump-arizona-recount/2021/04/29/bcd8d832-a798-11eb-bca5-048b2759a489_story.html
The DAILY GRILL
"There is not systemic racism in America. We live in the greatest country in the history of mankind. And I'll just tell you in Mississippi, I was very proud of the fact that last year we had, we had peaceful protesters, but we did not have one event in which there was a riot. And the reason for that is because in our state, we back the blue, we support the police." - Gov. Tate Reeves (R-Miss.). https://www.washingtonpost.com/politics/2021/04/30/there-is-not-systemic-racism-says-governor-who-named-april-confederate-heritage-month/

VERSUS

Gov. Tate Reeves has had a pretty good week. In addition to his Fox News appearance, he got Monday off since it was a state holiday: Confederate Memorial Day. In fact, he was speaking to Fox at the tail end of what he on April 7 declared to be Confederate Heritage Month. April, according to the proclamation obtained by the Mississippi Free Press, should be a period in which Mississippians "honor all who lost their lives in this war" and to "come to a full understanding that the lessons learned yesterday and today will carry us through tomorrow if we carefully and earnestly strive to understand and appreciate our heritage." https://www.washingtonpost.com/politics/2021/04/30/there-is-not-systemic-racism-says-governor-who-named-april-confederate-heritage-month/

 

Republican Tennessee Sen. Marsha Blackburn tried Wednesday to portray President Joe Biden's new $1.8 trillion American Families Plan proposal as an "anti-family" initiative that would reduce Americans' control over their own lives. "Three-year-old pre-K: they're going to mandate this. Two years of college whether you like it or not. These are the things that take away choices from the American people," Blackburn said in an interview on Fox Business. https://amp.cnn.com/cnn/2021/04/29/politics/fact-check-blackburn-biden-families-plan-pre-k-college/index.html VIDEO

VERSUS

As a Blackburn spokesman acknowledged to CNN on Thursday, it's not true that Biden is planning to "mandate" pre-kindergarten or to force people to attend two years of college whether they "like it or not." While Biden proposed this week to spend $200 billion to offer free, "universal" pre-K for 3-year-olds and 4-year-olds, no child would be required to attend pre-K, the White House says. Similarly, while Biden has proposed to spend $109 billion to allow all Americans and undocumented "DREAMers" to attend two years of community college for free, nobody would be required to enroll. https://amp.cnn.com/cnn/2021/04/29/politics/fact-check-blackburn-biden-families-plan-pre-k-college/index.html

 

"The Fraudulent Presidential Election of 2020 will be, from this day forth, known as THE BIG LIE!" — Former president Donald Trump, for his part, sent out this missive on Monday morning. https://www.independent.co.uk/news/world/americas/us-politics/biden-press-freedom-statement-trump-b1841403.html

VERSUS

"We celebrate the courage of truth-tellers who refuse to be intimidated, often at great personal risk, and we reaffirm the timeless and essential role journalism and a free media play in societies everywhere." — President Joe Biden praising the media in a statement on World Press Freedom Day on Monday, https://www.independent.co.uk/news/world/americas/us-politics/biden-press-freedom-statement-trump-b1841403.html

 

A Pennsylvania man, who illegally registered his dead mother as a Republican and cast a vote on her behalf in the 2020 presidential election, has been sentenced to five years of probation, Delaware County prosecutors said.  https://www.phillyvoice.com/trump-voter-fraud-pennsylvania-delaware-county-bruce-bartman-dead-mother/

VERSUS

Crystal Mason, black woman in TX who voted while on supervised release when she didn't know she was ineligible, gets 5 years in prison. https://www.nytimes.com/2021/04/03/us/texas-provisional-ballot-appeal.html

 

The Tax Foundation has said that Biden wants to raise the capital gains tax to "highs not seen since the 1920s." Suzanne Clark of the U.S. Chamber of Commerce called the same plan "outrageous." Jay Timmons of the National Association of Manufacturers called the proposed increase in the corporate tax rate "archaic." And Brendan Bechtel, the chief executive of the construction company that bears his family name, said that "it doesn't feel fair."https://messaging-custom-newsletters.nytimes.com/template/oakv2

VERSUS

All of this rhetoric has obscured a basic fact about Biden's tax plan: It would not actually raise tax rates on the rich to high levels, historically speaking. If all of Biden's proposed tax increases passed — on the corporate tax, as well as on investment taxes and income taxes for top earners — the total federal tax rate on the wealthy would remain significantly lower than it was in the 1940s, '50s and '60s. It would also remain somewhat lower than during the mid-1990s, based on an analysis that Gabriel Zucman of the University of California, Berkeley, did for The Morning. https://messaging-custom-newsletters.nytimes.com/template/oakv2

 

John Kerry was ratting out Israeli covert operations in Syria directly to the Iranian foreign minister. Let that sink in. Wow. Noah Pollak https://twitter.com/NoahPollak/status/1386510351483621385

VERSUS

"Only just now it was published - in the name of military sources, so I can quote it too - that in the last two years Israel has taken military action more than 200 times within Syria itself," — Intelligence Minister Israel Katz told a conference hosted by the IDC Herzliya college in September, 2018. https://www.reuters.com/article/us-mideast-crisis-israel-syria-iran/israel-says-struck-iranian-targets-in-syria-200-times-in-last-two-years-idUSKCN1LK2D7
Susan B. Glasser: Biden's Speech Offers an Alternative Vision for Democrats to Love, After Four Years of Trumpian Fantasy
Candidate Joe Biden campaigned as the centrist exemplar of a return to pre-Trump normal, but President Joe Biden has moved swiftly to enlarge the scope of his ambitions far beyond the status quo ante. On Wednesday night, the ninety-ninth of his Presidency, Biden offered a striking vision of a country renewed by an activist government. Harkening back to the early-twentieth-century liberalism of his party forebears, Biden envisioned a new age of "once in a generation" federal investments in everything from child care to electric cars, while promising benefits as varied as free community college and an end to cancer.
In his speech Biden made no mention of culture wars or admiring references to brutal dictators; he did not gaslight the nation about "criminal illegal aliens" or interrupt his speech to give one of the country's highest honors to a man famous for disparaging "feminazis." On the eve of his hundredth day in office, Joe Biden never publicly uttered the name Donald Trump, but being the un-Trump means Biden has already accomplished the first and most important promise of his Presidency. https://www.newyorker.com/news/letter-from-bidens-washington/bidens-speech-offers-an-alternate-reality-for-democrats-to-love-after-four-years-of-trumpian-fantasy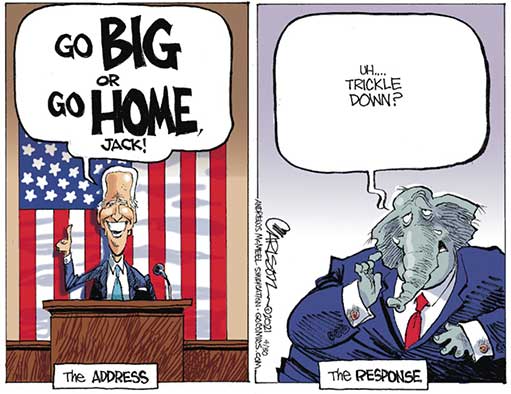 Doyle McManus: Biden never declared war on meat, but Republicans didn't let truth ruin a good attack
The big story on Fox News last weekend was Joe Biden's purported "war on meat" — a breathless disclosure that the president plans to limit every American to 4 pounds of steaks a year. Republican politicians jumped on the issue, defiantly promising to defend your right to consume hamburgers. "Not gonna happen in Texas," Gov. Greg Abbott declared.
There was only one problem: The story was nonsense, a work of imagination concocted by a British newspaper after Biden pledged to reduce greenhouse gas emissions sharply. Fox later quietly admitted the story was wrong, but that didn't stop House Republican leader Kevin McCarthy of Bakersfield from repeating it. Biden "wants control of your life," he charged. "He's gonna control how much meat you can eat. Can you imagine that?"
Actually, no.
On one level, the GOP's crusade against fictional meat rationing is just one more sign of Donald Trump's lasting imprint on his party: Why let the truth get in the way of a good attack?
But it also reflects a serious problem for Republican leaders as they try to organize a coherent opposition to Biden's ambitious — and largely popular — economic proposals: Some of the loudest voices in their party remain focused on waging a Trump-style "culture war."
Before the meat scare, they warned that pandemic mask regulations posed a threat to the American way of life.
Before that, the menace was embodied by a publisher's decision to take certain Dr. Seuss books off the market. And before that, a dispute over the gender of Mr. Potato Head.
None of those controversies appeared to dent Biden's standing, probably because they just didn't seem as important to most people as the president's priorities: ending the pandemic and reviving the economy.
But the GOP's internal divisions — between pro-Trump militants, an anti-Trump minority and a fence-straddling, can't-we-all-get-along middle faction — have gotten in the way of Republicans' ability to articulate a coherent set of policy goals, and that's left many party members reliant on the Trumpian strategy of ridiculing the opposition.
"We need to create a sense that the party is ready to govern," a Republican strategist told me. "We haven't gotten there yet." https://www.latimes.com/politics/story/2021-05-02/biden-war-meat-republican-attacks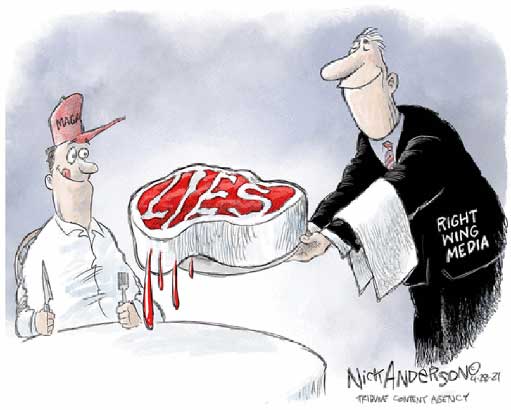 E.J. Dionne Jr.: Stranded on Trump Island, the GOP lets Biden play the long game
Political realignments don't happen easily. Bill Clinton and George W. Bush, gifted politicians in their different ways, plausibly hoped they could create coalitions that would outlast them. The achievement eluded both.
Donald Trump never had a popular majority behind him, but he was the Great Disrupter. By shattering old assumptions, he clarified the battlefield for the future.
Trump sped up two trends that began gathering steam in the 1990s: the steady shift of well-educated and professional voters toward the Democratic Party, and the move of White working-class voters to the GOP. Biden won in 2020 partly because he cut into Trump's working-class margins a bit, but largely because he swept increasingly diverse suburban areas that were at the heart of the Democrats' gains in the 2018 midterms.
This raises two questions: Can Republicans begin to claw back some of the upscale, well-educated voters they lost under Trump? And can Democrats expand on the inroads Biden began to make among voters who didn't attend college?
Democrats hold the initiative, and not just because they control the presidency and narrow congressional majorities. As long as the vast majority of GOP politicians refuse to break with Trump, they will be tethered to his minority coalition. A comeback will be tough if moderate middle- and upper-middle-class professionals continue to associate the party with Trump, far-right extremists and the Jan. 6. attack on the Capitol. It's why reducing the size of the electorate is the GOP's most visible initiative.
This creates a vulnerability Biden hopes to exploit. It's hard to imagine that any Republican will win more of the White, non-college-educated vote than Trump did, so some parts of that electorate are up for grabs. Democrats do not need to carry this group; a shift of five or 10 points among these voters would put the GOP on its heels.
With Republicans stranded on Trump Island, Biden has an opportunity to hold his party's base and begin poaching the GOP's core voters. He's made no secret of his intentions. https://www.washingtonpost.com/opinions/2021/05/02/stranded-trump-island-gop-lets-biden-play-long-game/
Michael Gerson: Elected Republicans are lying with open eyes. Their excuses are disgraceful.
"Lord, Lord, how this world is given to lying!"  — "Henry IV," Part 1, Act 5
For the activist base of the Republican Party, affirming that Donald Trump won the 2020 presidential contest has become a qualification for membership in good standing. For the party's elected leaders, accepting the clear result of a fair election is to be a rogue Republican like the indomitable Rep. Liz Cheney (Wyo.) — a target for Trump's anger, public censure and primary threats.
Nothing about this is normal. The GOP is increasingly defined not by its shared beliefs, but by its shared delusions. To be a loyal Republican, one must be either a sucker or a liar. And because this defining falsehood is so obviously and laughably false, we can safely assume that most Republican leaders who embrace it fall into the second category. Knowingly repeating a lie — an act of immorality — is now the evidence of Republican fidelity.
This kind of determined mendacity requires rolling out the big guns. Said the prophet Isaiah: "Woe unto them that call evil good, and good evil."
The context for Trump's lies has been particularly damning. When Trump falsely asserted that Barack Obama was born in Africa and thus illegitimate as president, it was permission for racism. When he claimed he saw Muslims in New Jersey celebrating on Sept. 11, 2001, it was a vicious lie to feed a prejudice.
But the lie of a stolen election is the foundational falsehood of a political worldview. Believing it requires Trump's followers to affirm the existence of a nationwide plot against him and his supporters — a plot led by ruthless Democrats and traitorous Republicans, and ignored or endorsed by useless courts and a complicit media. The claim's plausibility is not the point. Does it really make sense that Attorney General William P. Barr, who found no evidence of election fraud that could have changed the result, was in on the plot? Were the conservative judges Trump appointed who dismissed his rubbish lawsuits really out to get him?
Such considerations don't seem to matter. In the 1930s and '40s, was it plausible that the democratic leaders of Weimar Germany had stabbed their own country in the back and betrayed its people? Or that an international conspiracy of powerful Jews was controlling world events?
The people who accepted this political mythology and stormed the Capitol were not lying about their views. They seemed quite sincere. And who knows what Trump really thinks? When a congenital liar surrounds himself with sycophantic liars, he can easily lose radio contact with reality.
No, it is the elected Republicans who are lying with open eyes, out of fear or cynicism, who have the most to atone for. With the health of U.S. democracy at stake, their excuses are disgraceful.
https://www.washingtonpost.com/opinions/2021/05/03/trump-republicans-big-lie/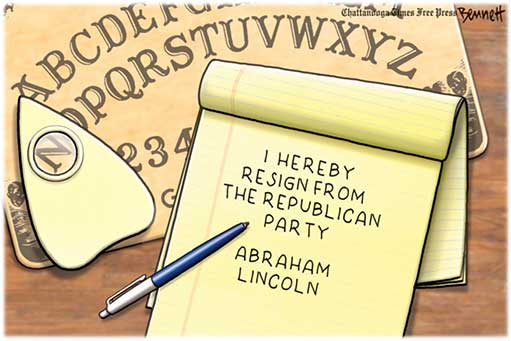 Michael Hiltzik: Biden's American Families Plan would make the social safety net a reality
The scope of President Biden's American Families Plan, which was formally unveiled in a nationally televised speech to Congress on Wednesday evening, has been described in terms of unalloyed awe.
It's called "sweeping," "sprawling" and, more mildly, merely "ambitious." Democrats call it "big" and "bold," Republicans label it "radical" (and they don't mean that as a compliment).
Placing it in historical terms, the plan is all that and more. It's the first concrete recognition by a president in more than a generation that social programs shouldn't be classified as spending, but as investing.
The Biden White House says so explicitly, referring in a fact sheet distributed in advance of the speech to a 2016 paper by Jorge Luis Garcia and James J. Heckman of the University of Chicago, along with colleagues at USC, which estimated that every dollar spent on an early childhood education program returned $7.30 in gains.
It's worthwhile to consider how novel a concept expanding the social safety net is for the vast majority of Americans. Some 70% of the population was born after 1965. That's the year that Lyndon Johnson's Great Society, consisting of Medicare and Medicaid, was enacted in the last major expansion of the safety net.
Since then, conservative critiques of social spending have taken center stage in American politics. In part that was because such spending was seen as an instrument to expand Democratic Party support and therefore opposing it became a partisan imperative. https://www.latimes.com/business/story/2021-04-28/bidens-families-plan-safety-net
Catherine Rampell: Biden upends the Republican 'unity' test
Biden has proved a challenging adversary for Republicans to vilify. He's a generally congenial and empathetic politician, who has a compelling personal story rife with loss. He has working-class bona fides and has resisted conscription into Republican-framed culture wars. Republicans have tried caricaturing him as old and ineffectual — yet also somehow unusually effective at transforming the country into a socialist hellscape. (GOP strategists appear aware that these critiques are somewhat at odds.)
So, Republicans keep returning to a Swift-boat-like attack: Strike at his strength — his compelling message of "unifying" the country — and portray it as a devious ploy to divide Americans instead.
Republicans argue that Biden offered a bait-and-switch, that he ran on healing our divisions but now plans to . . . pass a bunch of social programs benefiting the poor and middle class. If you're wondering how that latter agenda supposedly contradicts the former, you're not alone. The connective tissue, according to Republican officials, is that programs redistributing money to help the poor and middle class are somehow inherently divisive (class warfare!), regardless of the polls suggesting their popularity; or, in the GOP telling, only the programs Republican lawmakers vote for should count as unifying.
In other words, Republicans have decided that the test of Biden's desire to unify the country is whether Republicans themselves defect from the project — and they have made clear their decision to always do so. As Republicans learned during the Obama years, the easiest way to ensure a president fails at achieving promised cooperation is to refuse to cooperate. https://www.washingtonpost.com/opinions/2021/04/29/biden-upends-republican-unity-test/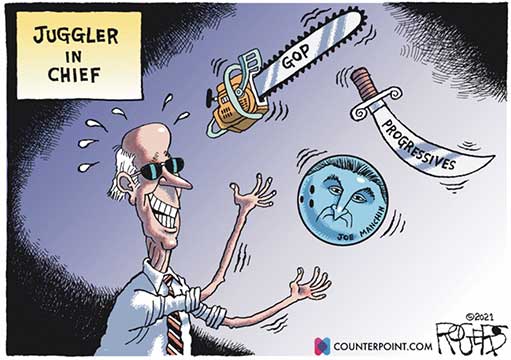 Eric Levitz: Why the GOP Is Ideologically Lost
Beneath the proximate causes of the GOP's ideological confusion, there may be this fundamental one: America's moral traditionalists are wedded to an economic system that is radically anti-traditional. They are too individualistic to countenance a total break with liberal capitalism, but are also repulsed by the social consequences of their own economic customs. And contra Greer, such consequences do not just trouble New Right intellectuals, but also the GOP's rank-and-file Evangelicals, the Trumpist right's aggrieved men's rights activists, and garden-variety right-leaning voters perturbed by the loosening of family ties (which, in some communities, has been supplanted by atomization, not a broader or more freely-chosen collectivity). Given that capitalist development is also the primary force that propels migrants across borders, the nativist right is similarly squeezed between its economic folk wisdom and cultural nostalgia.
These days, when American social conservatives wish to see a model of their desired polity, some turn to the countries of the former Soviet bloc — Russia, Poland, and Hungary — where moral traditionalism appears aberrantly strong. Many have remarked on the irony of this affection, given how large Western chauvinism once loomed in the conservative imaginary. But these post-Soviet states do not appeal to the American right in spite of communism's influence upon their societies; they appeal to the American right because of that influence.  https://nymag.com/intelligencer/2021/04/why-the-republican-party-has-no-agenda.html
Ed Kilgore : Democrats Are Shooting for the Moon in 2021, and That's Okay
The idea that pulling legislative punches will improve future electoral outcomes may be a vestige of a bygone era of swing-voter hegemony and plausible bipartisanship. It's not clear exactly who in the electorate will award Democrats for "moderation" in fully pursuing their policy goals. To put it another way, no matter what Biden and congressional Democrats do, McCarthy and the conservative-media machine are going to accuse them of "going so far left." That was the great lesson of the Obama administration, in which every conciliatory gesture simply gave the GOP incentives to radicalize its demands and ramp up the volume of its protests against alleged Democratic extremism.
It also offers an alternative interpretation of the relative disappointment of Democratic underachievement in 2020. Instead of neurotically looking around to see which "woke" or "socialist" pol gave Republicans the opportunity to shriek about the terrible consequences of Democratic power, as many Democrats are doing now, it may make more sense to recognize that the Donkey Party can do nothing short of surrender that would undermine such messaging. The Republican base is clearly in a state of cultural panic that has little to do with the specter of the Green New Deal or the Iran nuclear pact or anything else Democrats say or do. Sure, Democrats can try to lower the temperature of political conflict as their chill president is doing, but they may as well use their current leverage as not. Joe Manchin will ensure that they don't go hog wild. https://nymag.com/intelligencer/article/biden-democrats-ambitious-agenda.html
Ashley Parker and Marianna Sotomayor: For Republicans, fealty to Trump's election falsehood becomes defining loyalty test
Debra Ell, a Republican organizer in Michigan and fervent supporter of former president Donald Trump, said she has good reason to believe the 2020 presidential election was stolen.
"I think I speak for many people in that Trump has never actually been wrong, and so we've learned to trust when he says something, that he's not just going to spew something out there that's wrong and not verified," she said, referring to Trump's baseless claims that widespread electoral fraud caused his loss to President Biden in November.
In fact, there is no evidence to support Trump's false assertions, which culminated in a deadly insurrection at the U.S. Capitol on Jan. 6. But Ell, a Republican precinct delegate in her state, said the 2020 election is one of the reasons she's working to censure and remove Jason Cabel Roe from his role as the Michigan Republican Party's executive director — specifically that Roe accepted the 2020 results, telling Politico that "the election wasn't stolen" and that "there is no one to blame but Trump."
"He said the election was not rigged, as Donald Trump had said, so we didn't agree with that, and then he didn't blame the Democrats for any election fraud," said Ell, explaining her frustration with Roe. "He said there was no fraud — again, that's something that doesn't line up with what we think really happened — and then he said it's all Donald Trump's fault."
Nearly six months after Trump lost to Biden, rejection of the 2020 election results — dubbed the "Big Lie" by many Democrats — has increasingly become an unofficial litmus test for acceptance in the Republican Party. In January, 147 GOP lawmakers — eight senators and 139 House members — voted in support of objections to the election results, and since then, Republicans from Congress to statehouses to local party organizations have fervently embraced the falsehood.
A CNN poll released Friday found that 30 percent of Americans say Biden did not legitimately win enough votes to win the presidency, including 70 percent of Republicans. Fewer than a quarter of Republicans — 23 percent — believe Biden legitimately won enough votes for the presidency. However, the percentage of Republicans who falsely say there is solid evidence that Biden did not win has dropped by eight percentage points, from 58 percent in January to 50 percent now. https://www.washingtonpost.com/politics/republicans-trump-election-falsehood/2021/05/01/7bd380a0-a921-11eb-8c1a-56f0cb4ff3b5_story.html