March 31, 2022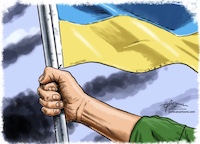 As the Russian military invasion of Ukraine has unfolded, so too has a humanitarian crisis that has forced civilians to flee their homes or take refuge in bomb shelters and subway stations. For a list of organizations that are helping the people in Ukraine go to https://www.npr.org/2022/02/25/1082992947/ukraine-support-help
THE WEEK'S BEST QUOTES. . .
"This is a very special case." —
House Minority Leader Kevin McCarthy (R-CA)
after endorsing Rep. Liz Cheney's primary opponent.
"Plan B is complete fucking chaos in the Democratic primary. If Biden does not run .. what then?" —
Pollster Cornell Belcher
.
"Help This Great President stand firm, Mark!!!...You are the leader, with him, who is standing for America's constitutional governance at the precipice. The majority knows Biden and the Left is attempting the greatest Heist of our History." —
Virginia 'Ginni' Thomas
to White House Chief of Staff Mark Meadows.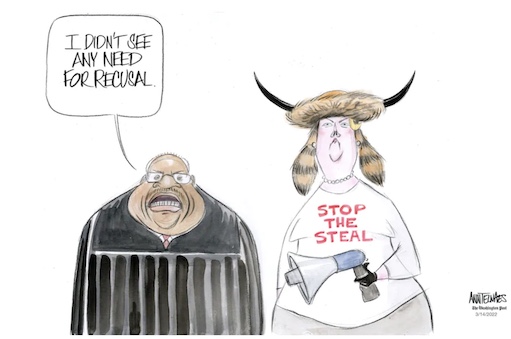 "This is a fight of good versus evil. Evil always looks like the victor until the King of Kings triumphs. Do not grow weary in well doing. The fight continues. I have staked my career on it. Well at least my time in DC on it." —
WH chief of staff Mark Meadows
to Virginia "Ginni" Thomas on Nov. 24.
So…GOP senators will eat up long minutes in a confirmation hearing asking Ketanji Brown Jackson irrelevant questions about CRT. But when a story breaks that the wife of a sitting SCOTUS member sent texts urging the overthrow of a fair election…crickets? —
Eric Deggans
at NPR's tweet.
"Biden crime family & ballot fraud co-conspirators (elected officials, bureaucrats, social media censorship mongers, fake stream media reporters, etc) are being arrested & detained for ballot fraud right now & over coming days, & will be living in barges off GITMO to face military tribunals for sedition." —
Virginia "Ginni" Thomas to Mark Meadows
on Nov. 5.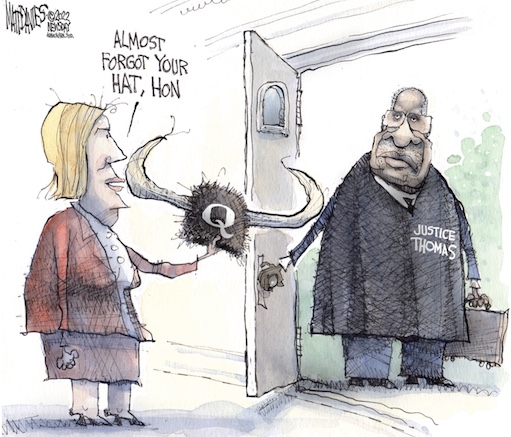 Americans deserve to have confidence in the Supreme Court. Clarence Thomas has shown all Justices are not capable of self-policing. Chief Justice Roberts must establish a recusal procedure. Like, "if you sleep with a nutcase conspiracy theorist, you should not vote on some shit". —
Ana Navarro-Cárdenas
tweet.
"I'm fine with opinion: conservative opinion, liberal opinion. But when people start to question the truth — Who won the 2020 election? Was Jan. 6 an insurrection? — I found that unsustainable." —
Former Fox News Anchor Chris Wallace
, explaining why he left Fox News.
"You know what? Pete Buttigieg can take his electric vehicles and his bicycles, and he and his husband can stay out of our girl's bathrooms." —
Rep. Marjory Taylor Greene
, confusing her homophobia with her transgender hatred.
"The invaders do not even mourn their own casualties. This is something I do not understand. Some 15,000 [Russian soldiers] have been killed in one month...[Vladimir Putin] is throwing Russian soldiers like logs into a train's furnace. And, they are not even burying them. Their corpses are left in the streets. In several cities, small cities, our soldiers say it's impossible to breathe because of the stench of rotting flesh."" —
Ukraine President Volodymyr Zelensky
.
"Does anyone know who employed Darwin, where Darwinism comes from? Look it up: The Rothschilds. It goes back to 10 Downing Street. The same people who employed Darwin, and his theory of evolution and so on and so on. I'm not saying that none of that is true. I'm just saying Darwin was hired by someone to come up with a theory — based on evidence, OK, fine." —
Lara Logan
, a former correspondent for CBS News on the right-wing podcast "
And We Know
," suggesting that the theory of evolution is the result of a wealthy Jewish family paying Charles Darwin to devise an explanation for what gave rise to humanity.
"Let me be very clear. Very clear. In the state of Georgia, thanks to Brian Kemp, our elections were absolutely stolen. He sold us out." —
Former Sen. David Perdue (R-GA)
claiming that he didn't lose to Sen. Jon Ossoff (D-GA) in the 2021 runoffs but that he and Donald Trump were both victims of "stolen" elections.
"If he were to come back as the U.S. president, I think it would represent a pretty dramatic departure for the world, and they would rethink whether they can count on the United States to lead NATO to lead other nations as they push back against China and against Russia." —
Sen. Mitt Romney (R-UT)
suggesting that NATO would have to "rethink" whether they can rely on the U.S. if Donald Trump is re-elected.
VIDEOS
A floor speech from
Nebraska State Senator Bruce Bostelman
that is about something called furries.
LITIGATION TRACKER
Pending Criminal and Civil Cases Against Donald Trump.
https://www.justsecurity.org/75032/litigation-tracker-pending-criminal-and-civil-cases-against-donald-trump/
---
IN THIS ISSUE
IN THE NEWS
OPINION
Andy Borowitz: Ginni Thomas Accuses Critics of Ignoring Her Thirty Years of Service as Supreme Court Justice
In a blistering attack on the Supreme Court nominee Ketanji Brown Jackson, Senate Republicans accused the judge of having been nominated by President Biden.
Senator Josh Hawley led the charge, telling reporters that he had "conclusive evidence" linking Jackson to Biden.
Judge Jackson met with Biden, talked to Biden, and allowed herself to be nominated by Biden," Hawley said. "Three strikes, you're out."
Senator Mitch McConnell called Jackson's apparent ties to Biden "gravely troubling."
Unless Judge Jackson is prepared to prove, under oath, that she has not been nominated by President Biden, I would call her confirmation a lost cause," McConnell said.
Hawley said that, in the event that Jackson is not confirmed, there are a number of candidates who would be acceptable to him, including Alex Jones, the My Pillow guy, and the QAnon shaman. https://www.newyorker.com/humor/borowitz-report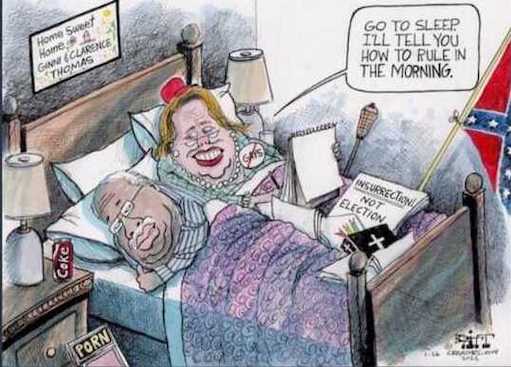 Tucker Echoes the Kremlin and Tries to Tie in Hunter Biden With a Supposed Ukrainian Bioweapons Lab
Tucker Carlson on Thursday amplified a story from the right-wing website National Pulse alleging that a Hunter Biden-linked firm funded research into pathogens at a Ukrainian bioweapons lab – the same baseless theory that Russian state media had pushed earlier in the day. https://www.thedailybeast.com/tucker-carlson-echoes-the-kremlin-and-tries-to-tie-in-hunter-biden-with-a-supposed-ukrainian-bioweapons-lab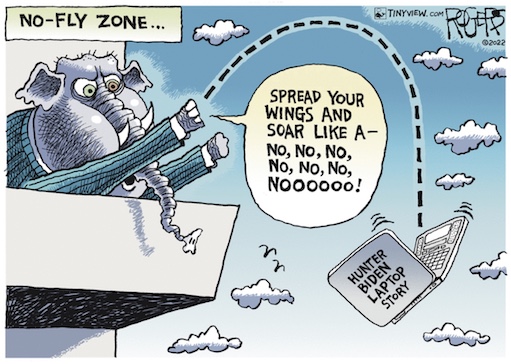 Trump calls on Putin to release info on Hunter Biden's dealings with oligarchs
Former President Donald Trump, who was impeached in 2019 for asking Ukrainian President Volodymyr Zelensky to dig up dirt on Joe Biden and his son said, during an interview with a far-right television show, that Russian President Vladimir Putin "should release" information on business dealings between Hunter Biden and oligarchs in Eastern Europe. https://justthenews.com/politics-policy/all-things-trump/trump-calls-putin-release-info-hunter-bidens-dealings-oligarchs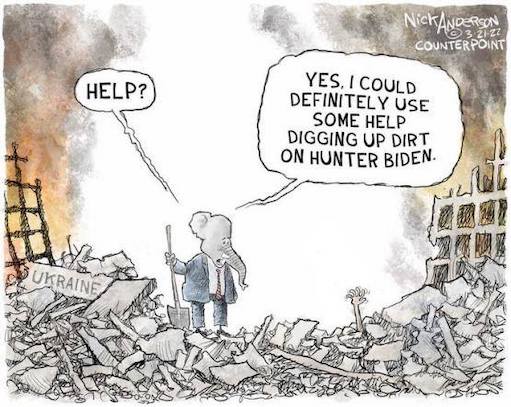 Rep. McCarthy threatens tech and telecom firms that comply with Jan.6 committee's request
House Minority Leader Kevin McCarthy (R-CA) is threatening telecommunications and social media companies that comply with a request by the committee investigating the Jan. 6 attack on the Capitol by a pro-Trump mob, declaring that Republicans 'will not forget' their actions.

McCarthy spoke with then-President Donald Trump on the day of the attack and is a potential witness in the select committee's probe. https://www.washingtonpost.com/powerpost/jan-6-riot-mccarthy-trump-telecom-companies/2021/09/01/cad1753c-0b1d-11ec-9781-07796ffb56fe_story.html
Biden's Justice Department wants to hire 131 more lawyers to prosecute January 6 cases
The Justice Department wants to hire 131 additional lawyers to help with the hundreds of prosecutions stemming from the January 6, 2021 attack on the Capitol, according to the Biden administration's budget request for the upcoming fiscal year.

In the nearly 15 months since a pro-mob stormed the Capitol, the Justice Department has brought more than 770 prosecutions, including cases charging members of far-right groups with seditious conspiracy. https://www.businessinsider.com/biden-justice-department-prosecutors-january-6-capitol-attack-cases-2022-3
QAnon Cheers Republican Attacks on Jackson. Democrats See a Signal.
The online world of adherents to the QAnon conspiracy theory sprang into action almost as soon as Senator Josh Hawley tweeted his alarm: that Judge Ketanji Brown Jackson, the Biden administration's Supreme Court nominee, had handed down sentences below the minimum recommended in federal guidelines for possessing images of child sexual abuse.

"An apologist for child molesters," the QAnon supporter Zak Paine declared in a video the next day, on March 17, asserting without evidence that Democrats were repeatedly "elevating pedophiles and people who can change the laws surrounding punishment" for pedophiles.

By Wednesday, as Judge Jackson appeared for the third day before the Senate Judiciary Committee, claims that she was lenient toward people charged with possessing the illegal imagery had emerged as a recurring theme in her questioning by Republicans. https://www.nytimes.com/2022/03/24/us/qanon-supreme-court-ketanji-brown-jackson.html
Ted Cruz May Have Just Boosted Sales For The Anti-Racist Children's Book He Attacked
Sen. Ted Cruz (R-Texas) made a big production on Tuesday about how wrong it is that children's books promoting anti-racism are being taught at a private school in Washington, D.C., where Supreme Court nominee Ketanji Brown Jackson is a board member.

During Jackson's confirmation hearing, Cruz propped up posters featuring blown-up images from some of these books and held up individual copies of them. One of the books he singled out was "Antiracist Baby" by Dr. Ibram X. Kendi.

As of Tuesday night, "Antiracist Baby," which came out two years ago, is currently one of the bestselling children's books on Amazon in multiple categories, including the bestselling children's book on prejudice and racism. https://www.huffpost.com/entry/ted-cruz-anti-racist-baby-ketanji-brown-jackson_n_623b4907e4b0f1e82c52288e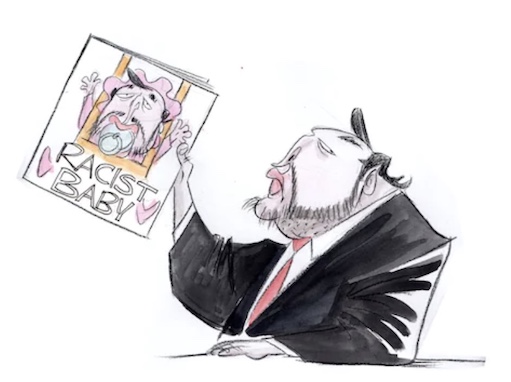 Issa lays groundwork for House GOP probe into Hunter Biden laptop story
Rep. Darrell Issa (R-Calif.) is spearheading an effort to investigate 2020 censorship and suppression of news coverage about the contents of Hunter Biden's laptop, previewing the kind of oversight House Republicans plan to engage in if they win back the House. https://thehill.com/homenews/house/599803-issa-lays-groundwork-for-house-gop-probe-into-hunter-biden-laptop-story
U.S. cancels talks with Taliban over U-turn on girls' education
The United States abruptly cancelled meetings with the Taliban in Doha that were set to address key economic issues, officials said on Friday, after Afghanistan's Islamist rulers reversed a decision to allow all girls to return to high school classes.

The cancellation of talks was the first concrete sign that recent Taliban moves on human rights and inclusivity could directly impact the international community's willingness to help the group, some of whose leaders are under U.S. sanctions. https://www.reuters.com/world/exclusive-us-officials-cancel-talks-with-taliban-over-bar-girls-education-state-2022-03-25/
More than 100 House Republicans to cohost fundraiser for Cheney challenger
More than 100 House Republicans have signed on to host a fundraiser for Harriet Hageman, who is waging a primary challenge to Cheney in Wyoming. The figure amounts to roughly half of the entire House GOP. According o details about the event obtained by POLITICO, the list of hosts includes House Minority Leader Kevin McCarthy and ep. Elise Stefanik of New York, who succeeded Cheney as chair of the House GOP conference last May. https://www.politico.com/news/2022/03/23/republicans-fundraiser-liz-cheney-challenger-00019758
GOP lawmakers push historic wave of bills targeting rights of LGBTQ teens, children and their families
Nationwide, GOP lawmakers have filed nearly two hundred state bills this year that seek to erode protections for transgender and gay youth or to restrict discussion of LGBTQ topics in public schools.

The explosion of legislation is in part the culmination of efforts by a trio of conservative organizations, which are helping state legislators write and promote the bills. One of the most active — the Alliance Defending Freedom — has a decades-long history of fighting LGBTQ rights, including in battles to preserve state laws criminalizing consensual sex between gay adults, court records show.

Today, at least 166 measures to restrict LGBTQ rights are still pending in state legislatures across the nation — nearly quadruple the number of similar bills introduced just three years ago, according to data from Freedom for All Americans, an LGBTQ advocacy group. https://www.washingtonpost.com/politics/2022/03/25/lgbtq-rights-gop-bills-dont-say-gay/
U.S. Military Spent Nearly $150,000 at Grifter's Properties
The United States military spent at least $147,000 at former president Donald Trump's properties during his presidency, according to documents obtained by The Washington Post.

The military often booked rooms or cottages at Trump's golf club in Bedminster, N.J., and at his Mar-a-Lago Club in Florida for weeks at time at rates of $566.64 and $396.15 per night, respectively, the documents obtained through a Freedom of Information Act request show. Some of the dates appear to correspond to Trump's stays at the properties. Military aides usually accompany the president wherever he goes.

The newly released documents show again how Trump personally benefited from government spending at his properties, as Secret Service agents, military officials and others followed him as he frequently visited his hotels, clubs and golf courses. As some of those properties struggled during the coronavirus pandemic and because of the polarizing nature of his presidency, that government spending became a stable source of income. https://www.washingtonpost.com/nation/2022/03/25/trump-properties-military-spending-mar-a-lago/
In a suburban Fort Worth House runoff, Republicans debate killing women over abortion
Should Texas punish abortions by putting teenage girls and women to death?

Or not?

That's the current debate in the Republican Party of Texas, where outlawing abortion is no longer a question of "if" or "when" but a question of whether to kill women for getting one. https://www.star-telegram.com/opinion/bud-kennedy/article259670215.html
The DAILY GRILL
Senators who vote to confirm a Supreme Court Justice while the current President has a low approval rating are violating their sacred duty— Fox's Laurel Ingraham.

VERSUS

Trump appointed three Supreme Court justices with some of the lowest presidential approval ratings in history. — Molly Jong-Fast



Donald Trump has filed a sprawling RICO case against Hillary Clinton and others, alleging a conspiracy to make him look compromised by Russia.

VERSUS

Fact check: A GOP-led Senate panel found Russia used Manafort and WikiLeaks to try to help Trump's campaign



"I have no idea what a burner phone is, to the best of my knowledge I have never even heard the term." — Trump on Monday night.

VERSUS

Former Trump national security adviser John Bolton in an interview Tuesday, after the CBS-Post reporting was published, saying that he recalls Trump using the term "burner phones" in several discussions and that Trump was aware of its meaning…
Maureen Dowd: Real Justice: Justice Jackson
A snarling pack of white male Republicans ripping apart a poised, brainy Black woman at a Senate Judiciary Committee hearing, using sordid innuendos and baseless claims about race and porn to smear her, as her pained family sits behind her.

It has been 31 years since I watched this scene, disgusted, when Anita Hill was questioned during confirmation hearings for Justice Clarence Thomas. Now Ketanji Brown Jackson has been cast into the same medieval torture chamber on Capitol Hill, with Democrats once more struggling to shield their witness from being mauled.

This time, the male Torquemadas were joined by a female inquisitor, Marsha Blackburn. The Tennessee Republican is all magnolia Southern charm — until she spits venom.

"Can you provide a definition for the word woman?" Blackburn asked Judge Jackson, invoking the controversy over a transgender swimmer from the University of Pennsylvania. Blackburn's question inspired Tucker Carlson to later hold up a graphic of a woman's reproductive system, along with a silhouette of a woman so shapely that Roger Ailes would have approved.

What is a woman? Jackson shows that a woman is someone who stays cool in the face of calumny and is headed for the Supreme Court. And that will be justice for Justice Jackson.

A better question might be: What is a senator?

Is it a dolt who cares more about boosting unrealistic presidential ambitions with distorted information than making the Senate, for once, look like a dignified body?

Feral Republicans took an exemplary record and twisted it to make Jackson look like an enabler of pedophiles. Tom Cotton all but accused her of lying, just as Arlen Specter accused Hill of perjury — based on nothing.

Less than a year ago, Lindsey Graham voted to confirm Jackson for the D.C. Court of Appeals, calling her "qualified." Now he berates her with odd questions and seems to blame her for Brett Kavanaugh's grilling. If only John McCain could appear to him like Hamlet's father's ghost and slap him into shape. https://www.nytimes.com/2022/03/26/opinion/ketanji-brown-jackson-clarence-thomas.html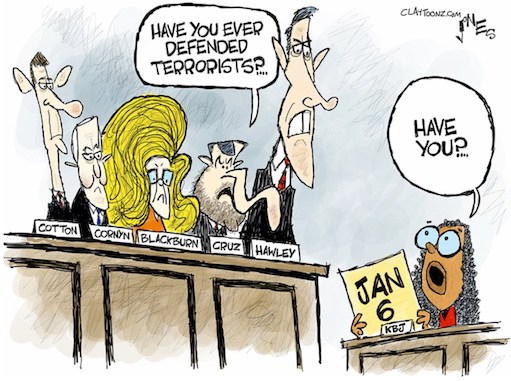 Eugene Robinson: Biden's Putin ad lib wasn't a gaffe. He was right.
Let me stipulate that, on balance, President Biden probably should not have implied that the United States seeks to oust Russian President Vladimir Putin from office. Let me further stipulate that perhaps a White House sound engineer should cut Biden's microphone whenever he strays from prepared remarks.

That said, the nine words about Putin that Biden ad-libbed into his speech in Warsaw on Saturday — "For God's sake, this man cannot remain in power" — hardly constitute the massive "gaffe" his critics accuse him of committing.

Yes, Biden was overly passionate. Yes, he was insufficiently diplomatic. But was he wrong?

Putin is engaged in an unprovoked campaign of mass murder that borders on genocide. Fought to a standstill by Ukraine's brave and skillful defense forces, Putin's army, navy and air force have resorted to targeting defenseless civilians in apartment buildings, shopping centers, theaters and hospitals. The carnage is unspeakable, the devastation gratuitous. If and when the Russians finally enter Mariupol, the port on the Sea of Azov that remains under brutal siege, there literally will be no city left to occupy.

We are witnessing a war crime on a massive scale, and one man is wholly responsible: Putin. He alone decided to attack a sovereign nation and he alone can decide when this obscene slaughter ends.

In Biden's words, I heard anger, frustration and resolve. But I did not hear — even before the cleanup — any change in U.S. policy toward Putin and Russia. It is not our place to decide who leads the Russian Federation. Nor is it within our power.

In Warsaw, with the "cannot remain" phrase, Biden was giving voice to the victims and refugees of Putin's war-of-choice. "I was expressing moral outrage that I feel, and I make no apologies for it," Biden said Monday. His controversial words were not by any standard "horrendous." Perhaps to a fault, they were human. https://www.washingtonpost.com/people/eugene-robinson/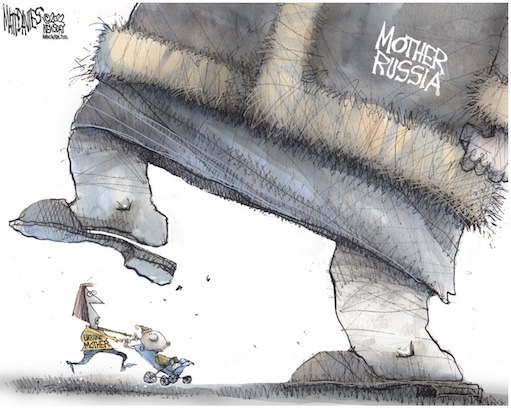 Ruth Marcus: Forget advise and consent. This is smear and degrade.
The pretense is gone — the pretense that Supreme Court confirmation hearings are about determining nominees' fitness for office, gleaning a sense of their legal acumen and approach to judging, and gathering the information necessary to exercise a solemn senatorial power.

No longer. Advise and consent has yielded to smear and degrade. The goal is not to illuminate but to tarnish: If a nominee can't be stopped, at least the other side can inflict some damage on her and the opposition party.

The confirmation hearings just concluded for Supreme Court nominee Ketanji Brown Jackson represented the culmination of a sad trajectory. Nominations and hearings have always had a political component; after all, the Framers assigned the confirmation power to a political branch.

But never has a confirmation hearing been less about law and more about partisan point-scoring and presidential campaign-launching.

But with minds made up, substantive probing mostly gave way to posturing — none — was designed to elicit useful information from Jackson. Its goal was to rough her up and underscore GOP talking points.

Hence the microscopic — and out-of-context — focus on what Jackson called "this small subset of my sentences," in child pornography cases, as if a Justice Jackson would somehow use her power to unleash child predators on the country. https://www.washingtonpost.com/opinions/2022/03/25/ruth-marcus-senate-confirmation-jackson/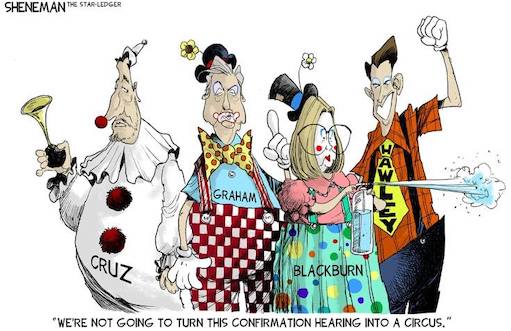 David Atkins: Refusing to Prosecute Trump Is a Political Act
It is a sacred tenet of democracy that the judicial and prosecutorial processes must be independent of political pressure. These decisions must be made as objectively as possible.

If the facts warrant prosecuting Donald Trump and anyone in his circle, they should be charged. Prosecuting them would not be political. Failure to prosecute them would be.

Unfortunately, Republican elected officials are lobbing heavy threats at both the DOJ and Democrats, insisting that prosecuting Trump over January 6 (or anything else) would be seen as a political act—and that they would seek revenge. Their anger is particularly directed toward the House January 6 committee, which concluded that there is adequate evidence to implicate Trump and several of his allies in serious crimes.

The House committee and DOJ officials should studiously ignore these threats for several reasons.

First and foremost, democracy cannot thrive if crimes go unpunished because their prosecution would be interpreted as political, especially by the allies of those held accountable. The result of this practice would be devastating escalation: Elected officials would commit bigger and bolder crimes to win and hold power, knowing that their opponents cannot do anything about it whether they succeed or fail.

If the crimes are apparent, then failing to prosecute is a politically motivated act. Democracy cannot function if politicians are free to commit grandiose crimes simply because their political allies might throw a fit if they are held accountable. Reports that the Manhattan district attorney has essentially given up on prosecuting Trump underscores how quickly a criminal case can deflate because of a lack of will. One can only hope that Garland won't go wobbly and is using the time he's taking to sharpen his case, not to waver about whether to bring it. https://washingtonmonthly.com/2022/03/23/refusing-to-prosecute-trump-is-a-political-act/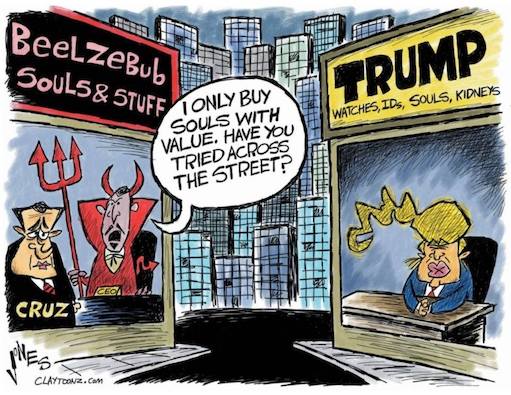 Greg Sargent: Chris Wallace's stark admission about Tucker Carlson shames Fox News
When Chris Wallace resigned from Fox News last December, media observers correctly diagnosed the move's real meaning: This stripped away one of the last fig leaves disguising Fox's increasing role as a propaganda operation on Donald Trump's behalf.

Now Wallace has shared new details about his reason for leaving Fox, and the revelations sharpen this point considerably. It turns out Wallace quit in part because of Fox host Tucker Carlson's depiction of the Jan. 6 insurrection attempt as a "false flag" operation, creating a situation Wallace describes as "unsustainable."

We should be clear on what this means. Wallace seems to have decided he could no longer credibly practice journalism on Fox in part because, increasingly, the only acceptable narrative at Fox about Trump's effort to overturn U.S. democracy to remain in power illegitimately is one that falsifies it entirely.

Wallace has tried to hold Republicans accountable for feeding Trump's lies about the election's outcome, validation that likely helped inspire the Jan. 6 violence, and for helping cover up Trump's seeming relishing of the violence as a potential tool to carry out his coup.

This is the sort of journalistic conduct that doesn't have a future home at Fox, apparently: The Republican coverup for Trump must not be scrutinized. That's what Wallace's actions seem to suggest, even as Carlson's propagandizing about Jan. 6 is seen as a smashing ratings success.

What that says about Fox as a journalistic organization is bad enough. What it says about Fox's low opinion of its audience's incapacity for exposure to the truth might be even worse.
https://www.washingtonpost.com/opinions/2022/03/28/chris-wallace-tucker-carlson-shames-fox-news/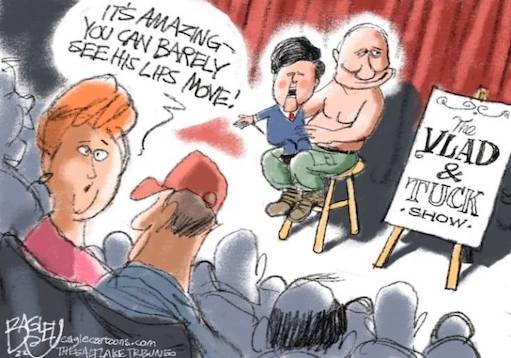 David Remnick: What Is Putin Thinking?
Putin came to power, in 1999, advertised not as a man of ideology but as a figure of rude health and managerial competence. In truth, he was a man of the K.G.B., trained to view the West, particularly the U.S., as his enemy, and to see conspirators everywhere trying to weaken and humiliate Russia. He did not form any committees to devise a national idea; he set up no hotline. He established, over time, a personalist regime built around his patronage and absolute authority. And the national identity he has helped promulgate––illiberal, imperial, resentful of the West––has played an essential role in his brutal invasion of Ukraine.

To create the trappings of this Russian identity, Putin seized on existing strands of reactionary thought. While most observers paid closer attention to the intellectual and political turn to the West in the late nineteen-eighties and nineties, many Russian thinkers, publications, and institutions drew inspiration from far different sources. Newspapers such as Dyen (The Day) and Zavtra (Tomorrow) published screeds about the pernicious influence of American cultural and political power. Various academics celebrated the virtues of "the strong hand," exemplified by such repressive tsars as Alexander III and Nicholas I and foreign autocrats such as Augusto Pinochet. A crackpot philosopher named Aleksandr Dugin published neo-fascist apocalyptic tomes about the eternal battle between the "sea power" of the West and the "land power" of Eurasia, and found an audience in Russian political, military, and intelligence circles.

Putin, from his first years in office, was obsessed with the restoration of Russian might in the world and the positioning of the security services as the singular institution of domestic control. NATO's expansion and the bombing of Belgrade, Iraq, and Libya propelled his suspicion of the West and his inward turn. He also recognized the importance of symbols and traditional institutions that could unify ordinary people and help define the particularities of a new Russian exceptionalism. He restored the old Soviet anthem with updated lyrics. He told interviewers and visitors that he was an Orthodox believer and did nothing to dispel rumors that he had taken on a dukhovnik, a spiritual guide, named Tikhon Shevkunov. Father Tikhon, who has appeared in films and runs the Web site Pravoslavie.ru., denied that he had notable influence over Putin ("I am no Cardinal Richelieu!"), but made it plain that he was a conservative nationalist who believed in the "special path" of Russia.

When Putin returned to the Presidency, in 2012, his attention to distinctly conservative values had deepened. He cracked down on dissenters, vilifying them as "traitors," an American-backed "fifth column." He occupied Crimea and invaded eastern Ukraine. His vision of Moscow as a center of anti-liberal ideas and Eurasian power intensified. During the pandemic, he rarely met in person with his advisers, yet, according to the political analyst Mikhail Zygar, he spoke for days at his dacha with Yury Kovalchuk, a media baron and the largest shareholder in Rossiya Bank, who shares his messianic vision and sybaritic life style. In recent years, Putin has even succeeded in exporting his particular brand of illiberalism to, among others, the National Front, in France; the British National Party; the Jobbik movement, in Hungary; Golden Dawn, in Greece; and the right wing of the Republican Party. As Donald Trump's ideologist, Steve Bannon, put it recently, "Ukraine's not even a country."

The devastation of Mariupol and other Ukrainian cities suggests that there is little mercy or modesty in Putin's faith. Early in his reign, according to the journalist Catherine Belton, he went with his confidant, banker, and eventual antagonist Sergei Pugachev to an Orthodox service on Forgiveness Sunday, which is celebrated just before Lent. Pugachev, a believer, told Putin that he should prostrate himself before the priest, as an act of contrition. "Why should I?" Putin is said to have replied. "I am the President of the Russian Federation. Why should I ask for forgiveness?" https://www.newyorker.com/magazine/2022/04/04/what-is-putin-thinking-russia-ukraine
Jonathan Chait: The Future of Trumpism
The greatest threat to Donald Trump's hold on the GOP comes from Ron DeSantis, who may be more MAGA than the MAGA king himself.
In late February, as daily deaths from COVID-19 tallied in the thousands across the country, Florida governor Ron DeSantis announced his latest effort to dismantle his state's response to the coronavirus pandemic. Private businesses, he insisted, should stop requiring their employees to wear masks at work. Here was a perfectly selected message to build the brand he has established: Ron DeSantis, scourge of public-health bureaucrats, enemy of woke corporations, and friend of the little guy.

Both the form and content of the message reflected careful planning. As DeSantis spoke, he looked like a man who had been mimicking Donald Trump's speeches in front of the mirror. He performed a series of hand thrusts, in which he drew his thumbs together until they were almost touching, then jerked them apart in quick horizontal motions, as if he were playing an invisible accordion. After five such accordion pulls, he swung his right hand, thumb pointing up, in a semi-circular motion back inward to the center. DeSantis tweeted out the clip, and any MAGA fan watching, even without the sound on, would have grasped the gist just through the eerie physical impersonation.

Republicans have collectively recognized that however much Trump may exasperate them, their president-in-exile will not be purged, nor will the changes he brought to their party be rolled back. He might, however, be co-opted. And if this is to happen, they have settled with remarkable unanimity on DeSantis as the person to do it.

People who do not ingest large amounts of conservative media may have difficulty comprehending the extent of the adulation both the Trumpist and the Trump-skeptical wings of the party have lavished on DeSantis. On a daily basis, the right-wing press churns out stories with headlines like "The Promise of Ron DeSantis," "Could Gov. Ron DeSantis Be the Favorite GOP Frontrunner for 2024?," "A Ron DeSantis Master Class in Rope-a-Dope," "Media Keep Trying — and Failing — to Take Down Florida's Ron DeSantis," "Karol Markowicz on What Gov. Ron DeSantis Is Really Like: 'So Real and Down to Earth,' " and on and on. https://nymag.com/intelligencer/article/ron-desantis-trumpism.html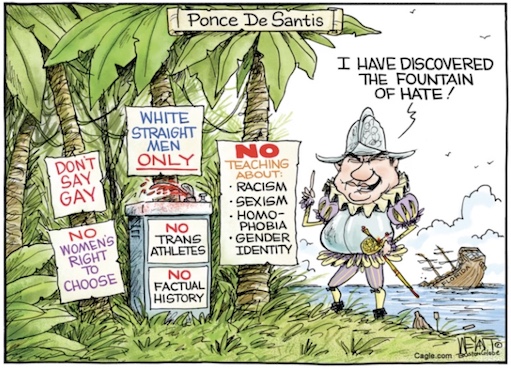 Jonathan Last: What Is Ginni Thomas?
Here is a secret no one in Washington is willing to say out loud: Ginni Thomas is an idiot. The only reason she was texting the president's chief of staff instead of being the angry cat lady on Facebook is because she married a man who got himself appointed to the Supreme Court.

The Thomases were never a duo of intellectual equals, or a power couple where each member had their own thing going on, and where the merger of the two was like Voltron coming together.

This isn't James Carville and Mary Matalin. Or Norman Podhoretz and Midge Decter. Or Irving Kristol and Gertrude Himmelfarb. Or any number of other famous couples. Heck, this isn't even Sonny and Cher.

No. The Thomases are more like Ivanka and Jared: The senior partner in the arrangement held a position of such high importance that their society scrabbled around to find something for the dimmer partner to do in order to make them feel important. In Jared's case, that has been destroying newspapers, losing money on real estate, and being tasked with brokering peace in the Middle East. https://thetriad.thebulwark.com/p/what-is-ginni-thomas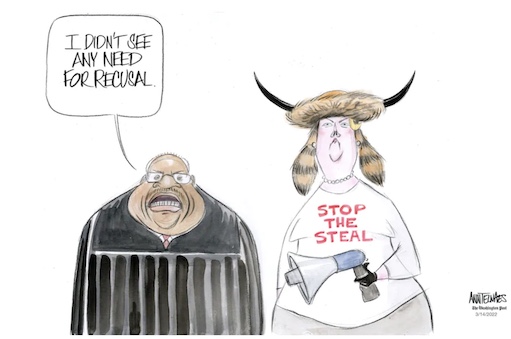 Benjamin Wittes: Donald Trump, John Eastman and the Silence of the Justice Department
It is no exaggeration to say that the history of the United States has never seen an account of a president's conduct quite so devastating as the first nine pages of Judge David Carter's opinion of March 28 in Eastman v. Thompson. The opinion, legally speaking, concerns the Jan. 6 committee's efforts to secure emails from John Eastman, the law professor who provided President Trump with advice aimed at overturning the 2020 election. But that is not why it will be remembered.

Certainly Watergate produced no document about Richard Nixon comparable to it in its combination of brevity, spare factual simplicity, and total evisceration of its subject's honor and conduct. Nor did Teapot Dome or the Whiskey Ring scandals produce such material concerning Warren Harding or Ulysses S. Grant. Nothing that Lawrence Walsh had to say about Ronald Reagan or that Kenneth Starr wrote about Bill Clinton, both after years of investigation and exposition at great length, remotely approaches it in power.

Yet at the risk infuriating readers, I want to point out a paradox about the opinion: Despite the power of its narrative, despite its correct statement that Trump likely violated criminal laws, and despite its laying out the contours of those violations clearly and without apparent ambiguity, the opinion will actually not necessitate a Justice Department criminal investigation of the former president.

Before explaining this point, I want to take a moment to appreciate a genuinely historic piece of judicial writing. The opinion's first section—entitled "A. Facts"—begins on page three of Judge Carter's opinion and runs through the middle of page 12. In a footnote attached to the word "Facts" in the subhead leading the section, Judge Carter notes in a fashion characteristic of the section's understatement, "In this discussion, the Court relies solely on facts provided by Dr. Eastman and the Select Committee in their briefing and attached exhibits."

He is not exaggerating. The section contains no judgments, no legal interpretations, no conclusions. It contains virtually no rhetoric at all. What's more, the section does not contain a whole lot of new facts. The story of Eastman and Trump's efforts to overturn the 2020 election, the relationship between that effort and Trump's concurrent plot to decapitate the Justice Department, and ultimately to the insurrectionary activity of January 6, 2021, has dribbled out bit by bit over the months already. And to the extent the current litigation has revealed new material, that mostly emerged in the committee's briefing and the accompanying exhibits a few weeks ago.

What makes Judge Carter's account so powerful is that it is linked tightly to record evidence, that it tells the story in an end-to-end fashion crisply and efficiently, and that it thus assembles the evidence into a coherent account of the big picture. I cannot do Judge Carter's account justice; please do read it. For present purposes, let me just say that it leaves the fair-minded reader in no doubt that the events that took place between Joe Biden's defeat of Trump at the polls and congressional certification of Biden's victory on Jan. 6 were an all-out effort by the lame duck president to seize and retain power in unapologetic defiance of the law using extra-constitutional means—up to and including violence directed against a coordinate branch of government.

Such a story requires no denunciation from the judge. His account of it alone constitutes its own denunciation, at least it should to decent citizens of a functioning democracy. https://www.lawfareblog.com/donald-trump-john-eastman-and-silence-justice-department