September 10, 2020
ON THE RECORD. . .
"Fox News Polls are, as in the past, Fake News. They have been from the beginning, way off in 2016. Get a new pollster. I believe we are leading BIG!" —Trump on Twitter

"Oh that it were, but it's not" -- Bernie Sanders, asked by S. Ruhle about Trump/Fox characterization that JoeBiden has adopted his "agenda."

"We're probably about three months or so away from the entire Republican Party, the conservative movement, the business press and many commentators becoming obsessed with deficits, inflation and tightening monetary policy." — Chris Hayes, on Twitter.

"He better have an army if he thinks he's gonna walk down the street in New York. New Yorkers don't want to have anything to do with him." — New York Gov. Andrew Cuomo responding to a story that Trump is looking to pull federal funds from "lawless" cities including New York.

Seriously, @JeffreyGoldberg piece is important and terrific reporting. Where the hell were these sources when it happened? Did I miss the part where any of those who heard the President attack war heroes quit in protest, or went on the record to tell us about this now? — Susan Glasser.

"No matter what he says or what he claims, you are not safer in Donald Trump's America. You are not safe in Donald Trump's America where people are dying at a rate last seen when Americans were fighting in World War II." — Joe Biden.

"He acted in self-defense and showed "incredible restraint. He also exhibited incredible restraint and presence and situational awareness. He didn't empty a magazine into a crowd." — Rep. Thomas Massie (R-KY) praising the the 17-year-old who fatally shot two protesters in Kenosha, Wisconsin.

5/9 For the first time in American history, a president has repeatedly shown utter and vulgar contempt and disrespect for those who have served and died serving our country. — Capt. Chesley "Sully" Sullenberger

"The president means no disrespect to our troops; it's just that the way he speaks, he can sound like an asshole sometimes. That's how he is when the cameras are off… It's his style." — Senior administration official

"I'm not sure what he means." — Dr. Anthony Fauci on Trump saying the country is 'rounding the corner on the virus.'

"if you're young, and in this era, and if you have any guilt about not having gone to Vietnam, we have our own Vietnam. It's called the dating game." — Trump, who avoided military service by citing a bone spur in his foot, has disparaged veterans who were wounded or captured or went missing in action and even, in 1993 comparing his fear of sexually transmitted diseases to the experience of a soldier.

"I was skeptical that all the different threads amounted to anything more than bumbling incompetence, a confederacy of dunces who were too dumb to collude. In my view, they were most likely a collection of grifters pursuing individual personal interests: their own money- and power-driven agendas." — Ex-FBI agent Peter Strzok in his new book, "Compromised: Counterintelligence and the Threat of Donald J. Trump."

Trump personally approved the payment to Stormy Daniels in 2016, saying $130,000 'is a lot less than I would have to pay Melania.' — Michal Cohen, who also recounts Trump musing that, if it got out, his supporters might 'think it's cool that I slept with a porn star.'

"I'm not saying the military's in love with me, the soldiers are. The top people in the Pentagon probably aren't, because they want to do nothing but fight wars so that all of those wonderful companies that make the bombs and make the planes and make everything else stay happy." — Trump

The Real Polls are starting to look GREAT! We will be having an even bigger victory than that of 2016. The Radical Left Anarchists, Agitators, Looters, and just plain Lunatics, will not be happy, but they will behave! — Donald J. Trump

"Trump asked me if I had known of any country that's run by a Black that's not a shithole. And I said, 'Well, how about America?' To which he gave me the proverbial F-you." — Michael Cohen on whether he had witnessed any moments where Trump was exhibiting racism or used a racial slur.

"I describe Mr. Trump as a cult leader, and I was in this cult. While I was in the cult, I was really refusing to acknowledge that the actions I was performing for my boss were morally wrong," — Michael Cohen.

"Watch all the stealing and robbing they do. This is important." — Trump urging his supporters to be "poll watchers" on Election Day.

Authorities rescued numerous people from the waters of Lake Travis in Texas on Saturday after at least four boats sank at an event promoted as a Trump Boat Parade.

"His attention span is like a minus number." — Dr. Anthony Fauci quoted by Bob Woodward.

"Not to mention my fucking generals are a bunch of pussies. They care more about their alliances than they do about trade deals." — Trump, quoted by Bob Woodward.

California fires in 2019:

- 4,927 fires
- 118k acres burned.

California fires in 2020 (so far):

- 7,606 fires
- 2.3 million acres burned.

CLIMATE. CHANGE. IS. REAL. — Gavin Newsom

POLITICAL ADS.....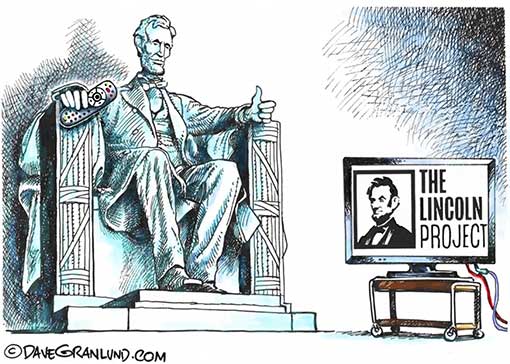 Adultery | The Lincoln Project: https://youtu.be/2dEYnLpGzl4

Out Of Time | Joe Biden: https://youtu.be/cGm6VYU6iPw

POW | The Lincoln Project: https://youtu.be/c_6MGxvSaAY

He has disgraced every service member past and present | Reesus Patriot: https://twitter.com/ReesusP/status/1301915221968039936

Losing | VoteVets: https://youtu.be/hQVLY8ME-Kg

Morning Joe airs 'Enemy' | VoteVets: https://youtu.be/l8d3RI-oPVc

They Knew who Trump Really Was All Along. Conservatives in their own word | act.tv: https://youtu.be/P43wDpKQxaM

Donald Trump can't comprehend what it means to sacrifice. He's un-American | The Lincoln Project: https://twitter.com/ProjectLincoln/status/1302381954340454400

The MAGA Church | The Lincoln Project: https://youtu.be/yoglNFN5-Js

Trumps war on the USPS | VoteVets: https://youtu.be/UJ8OTriUThA

Putin's puppet | VoteVets: https://youtu.be/sQy6GuP7g2I

98-year-old WWII POW has a clear message for Republicans who stand in unified silence against our military and fallen heroes with every moment they don't call out Donald Trump. | VoteVets: https://twitter.com/votevets/status/1303319038400102401

---------------------------------------------------------------------------------------------------

Donald J. Trump: The Greatest President in History of All Time | The Daily Social Distancing Show: https://youtu.be/Y7FvR8hkr6w

Sarah Cooper Impersonating Trump Compilation (lip sync parody)
https://www.youtube.com/watch?v=CCkWzr1o4EU
---
IN THIS ISSUE
FYI
OPINION
1. Andy Borowitz: Trump Blasts Supporters Who Plan to Vote for Him Only Once
In a withering critique of his own voters, Donald J. Trump on Thursday blasted supporters who plan to vote for him only once.

Speaking to reporters, Trump called supporters who intend to cast only one vote for him "disgracefully low-energy," claiming that they are "like Jeb Bush and Sleepy Joe put together."

"I like supporters who have stamina," he said. "Stamina means you keep voting for me until someone tells you to stop."

He said that voters should vote for him once by mail, again in person, and "maybe even more than that."

"Let's say you vote in person," he said. "Go away, put a mustache or wig on, and try to vote again."

Asked about the legality of Trump's suggestions, Attorney General Bill Barr said, "As Attorney General, I try to stay out of things involving laws." https://www.newyorker.com/humor/borowitz-report/
2. Mapping Corruption in the Trump Administration: An Interactive Exhibit
The Trump administration has brought its brand of corruption and self-dealing to every agency in the federal government, and it's hard for anyone to keep on top of it all. American Prospect has mapped it out - just click on any agency building and unlock an extensive dossier of the corrupt activities happening inside. https://prospect.org/mapping-corruption-interactive
3. In new book, former Trump lawyer Michael Cohen describes alleged episodes of racism and says president likes how Putin runs Russia
Trump's longtime lawyer and personal fixer, Michael Cohen, alleges in a new book that Trump made "overt and covert attempts to get Russia to interfere in the 2016 election" and that the future commander in chief was also well aware of Cohen's hush-money payoff to adult-film star Stormy Daniels during that campaign, the Washington Post reports.
In the book, Cohen lays out an alarming portrait of the constellation of characters orbiting around Trump, likening the arrangement to the mafia and calling himself "one of Trump's bad guys." He describes the president, meanwhile, as "a cheat, a liar, a fraud, a bully, a racist, a predator, a con man."
The memoir also describes episodes of Trump's alleged racism and his "hatred and contempt" of his predecessor, Barack Obama, the nation's only African American president. https://www.washingtonpost.com/politics/cohen-trump-book/2020/09/05/235aa10a-ef96-11ea-ab4e-581edb849379_story.html
4. Trump pivots to narrow coronavirus testing strategy as election looms
Just eight weeks from election day, the White House has stopped trying to contain the coronavirus — shifting instead to shielding the nation's most vulnerable groups and restoring a sense of normalcy.
The change is part of a concerted effort by the White House to increase public approval of President Donald Trump's pandemic response — and bolster his reelection chances — by sharply reducing Covid-19 case counts and the number of deaths and hospitalizations attributed to virus, according to five people familiar with the strategy. https://www.politico.com/states/new-york/city-hall/story/2020/09/02/trump-pivots-to-narrow-coronavirus-testing-strategy-as-election-looms-1315039
5. Trump Lauches Twitter Tirade
Trump launched a tweet storm on Tuesday, suggesting the story that he disparaged the military was "planted" by Joe Biden's campaign.
He also blasted Michael Cohen, who has a new book out today. He claimed the election would be rigged. He has also again launched a tirade against Black Lives Matter "anarchists."
And he claimed the "real polls" are starting to look great for him.
He insisted that 'New York City must stop the shutdown now and then claimed that virus restrictions in other states were 'only being done to hurt the economy prior to the most important election, perhaps, in our history.'
6. Trump Emerges as Inspiration for Germany's Far Right
Mr. Trump was neither in the embassy nor in Germany that day — and yet there he was. His face was emblazoned on banners, T-shirts and even on Germany's pre-1918 imperial flag, popular with neo-Nazis in the crowd of 50,000 who had come to protest Germany's pandemic restrictions. His name was invoked by many with messianic zeal."
"It was only the latest evidence that Trump is emerging as a kind of cult figure in Germany's increasingly varied far-right scene." https://www.nytimes.com/2020/09/07/world/europe/germany-trump-far-right.html
7. Kevin McCarthy warns Trump's war on mail could screw GOP
House Republican Leader Kevin McCarthy (R) is privately encouraging voting by mail and warned President Trump the party could be "screwed" by his fight against mail-in voting.
McCarthy said the party can't afford for Republicans to sit home, afraid of getting COVID-19, while Democrats flood the field with mail-in ballots. https://www.axios.com/republicans-mail-in-voting-trump-a75b7b58-6405-4840-a48f-e26caf72b0fc.html
8. Trump says Department of Education will investigate use of 1619 Project in schools
Donald Trump is continuing to wage battle against interpretations of history which he claims are un-American.
In a Sunday morning tweet, the President said the US Department of Education would investigate whether California schools are using the New York Times' "1619 Project" in public school curriculum. The Pulitzer-Prize winning collection reframes American history around the date of August 1619, when the first slave ship arrived on America's shores.
"Department of Education is looking at this. If so, they will not be funded!" he wrote on Twitter, citing a message from an unverified account saying it was being taught in schools there.
The message came after the President on Friday night banned federal agencies from conducting racial sensitivity training related to "white privilege" and "critical race theory." https://www.cnn.com/2020/09/06/politics/trump-education-department-1619-project/
9. Two-thirds of Americans say they won't get COVID-19 vaccine when it's first available, USA TODAY/Suffolk Poll shows
Two-thirds of U.S. voters say they won't try to get a coronavirus vaccine as soon as it becomes available, and one in four say they don't want to ever get it, according to a new USA TODAY/Suffolk Poll released the same week that the number of COVID-19 cases surpassed 6 million.
"I don't plan on being anyone's guinea pig," said Ebony Dew, an independent from Capitol Heights, Maryland. "I don't plan on getting it at all. https://www.usatoday.com/story/news/politics/2020/09/04/covid-19-two-thirds-us-wont-take-vaccine-right-away-poll-shows/5696982002/
10. Trump and allies ratchet up disinformation efforts in late stage of campaign
For Trump and his allies, it was a week spent spreading doctored and misleading videos.
On Aug. 30, the president retweeted footage of a Black man violently pushing a White woman on a subway platform under the caption, "Black Lives Matter/Antifa" — but the man was not affiliated with either group, and the video was shot in October. White House social media director Dan Scavino shared a manipulated video that falsely showed Democratic presidential nominee Joe Biden seeming to fall asleep during a television interview, complete with a fake TV headline.
And Rep. Steve Scalise of Louisiana, the second-ranking House Republican, released a video splicing together quotes from activist Ady Barkan — who has Lou Gehrig's disease and uses computer voice assistance — to falsely make it sound as if he had persuaded Biden to defund police departments.
For the president and his top supporters, it was a campaign push brimming with disinformation — disseminating falsehoods and trafficking in obfuscation at a rapid clip, through the use of selectively edited videos, deceptive retweets and false statements. https://www.washingtonpost.com/politics/trump-disinformation-campaign/2020/09/06/f34f080a-eeca-11ea-a21a-0fbbe90cfd8c_story.html
11. Companies Recruit 350,000 Poll Workers for U.S. Election
Big employers including Gap Inc.'s Old Navy, Target Corp. and Warby Parker are telling employees they can take paid time off to volunteer as election workers this fall as they aim to help solve a national poll-worker shortage and offer workers a way to find a sense of purpose. https://www.wsj.com/articles/companies-recruit-350-000-poll-workers-for-u-s-election-11599384600
12. White House directs federal agencies to cancel race-related training sessions it calls 'un-American propaganda'
Even as senior government officials continue to raise alarms about foreign actors seeking to attack the election, the major entities of federal government that share responsibility for election security—the Department of Homeland Security, the Department of Justice, and the Office of the Director of National Intelligence, which oversees and coordinates the nation's 17 intelligence agencies—have taken steps that appear to undermine or compromise the nation's ability to conduct a fair and free election in November and combat foreign interference. https://www.washingtonpost.com/politics/2020/09/04/white-house-racial-sensitivity-training
13. Trump-Backed QAnon Candidate Posts Meme Showing Off Gun And Urging 'Going On The Offense' Against AOC, The Squad
Marjorie Taylor Greene, the House candidate and professed QAnon acolyte whom President Trump called "a future Republican star," posted a photo of herself holding a gun she plans to raffle off, saying she wanted to go on the "offense" against the three Congresswomen known as "The Squad"— and her campaign said anyone who takes offense is "paranoid and ridiculous." https://www.forbes.com/sites/jackbrewster/2020/09/03/trump-backed-qanon-candidate-posts-meme-showing-off-gun-and-urging-offense-against-aoc-the-squad/#68c66f6a6aca
14. Trump expands oil drilling moratorium for Florida
Trump announced on Tuesday a decade-long ban on oil drilling off the coast of Florida, Georgia and South Carolina — a decision that surprised energy industry executives by reversing the administration's earlier pledges to open those waters to exploration. https://www.politico.com/news/2020/09/08/trump-oil-drilling-florida-410042
15.

Republicans Revive 2018 Strategy, Hoping for Better Result: Scare Voters
Trump is using a fear-based playbook that is as familiar to him as it is questionable in actually helping Republicans get elected in recent years. Some of the players have changed — instead of MS-13 gang members and migrant caravans, now there are rioters and looters — but the target audience and themes are the same: suburban communities that he claims Democrats won't keep safe. The president is even reusing phrases and imagery from 2018, with slogans like "jobs not mobs" and ads showing Democratic politicians and liberal figures kneeling during the national anthem.
Democrats can point to the 41 House seats they picked up in 2018 to show that the Republican strategy did not work then, and that voters were more concerned about health care than havoc. Even Republicans say there is no solid evidence in their polling that proves the president's tactics are helping him today. https://www.nytimes.com/2020/09/08/us/politics/trump-republicans-fear-strategy.html
16. Trump puts pressure on FDA for coronavirus silver bullet ahead of Election Day
Facing a persistent polling deficit and a struggling economy, President Donald Trump has cranked up pressure on administration health officials to expedite work both on a coronavirus vaccine and on treatments that might signal to voters there is an end in sight to the life-altering pandemic that has imperiled his reelection prospects.
In both his public remarks and through private prodding, Trump has pushed for more good news on the pandemic and has insisted that even developments considered minor by health experts be expanded into major announcements for which he can claim credit. https://www.cnn.com/2020/09/03/politics/white-house-fda-coronavirus-vaccine/index.html
17. The Trump Administration Continues to Erode Election Security
With the presidential election just over 60 days away, recent actions and reports over the last week from all three of the government departments responsible for protecting the vote raise new concerns about the Trump administration's commitment to a free and fair election.
Even as senior government officials continue to raise alarms about foreign actors seeking to attack the election, the major entities of federal government that share responsibility for election security—the Department of Homeland Security, the Department of Justice, and the Office of the Director of National Intelligence, which oversees and coordinates the nation's 17 intelligence agencies—have taken steps that appear to undermine or compromise the nation's ability to conduct a fair and free election in November and combat foreign interference. https://www.wired.com/story/trump-election-security-dhs-doj-odni/
18. Judge orders Trump Organization to court for fight over NY attorney general subpoenas eyeing asset values
A New York judge has ordered lawyers for Donald Trump's company and his son Eric to court later in September to explain why they should not be subject to subpoenas issued by the state attorney general's office as part of an ongoing civil investigation.
Attorney General Letitia James is investigating whether the Trump Organization incorrectly valued several real estate assets on annual financial statements that were used to obtain loans, as well as to get economic and tax benefits related to those properties. https://www.cnbc.com/2020/09/03/judge-orders-trump-company-to-court-for-new-york-subpoenas.html
19. Senior DHS official alleges in whistleblower complaint that he was told to stop providing intelligence analysis on threat of Russian interference
A senior Department of Homeland Security official alleges that he was told to stop providing intelligence reports on the threat of Russian interference in the 2020 election, in part because it "made the President look bad," an instruction he believed would jeopardize national security.
The official, Brian Murphy, who until recently was in charge of intelligence and analysis at DHS, said in a whistleblower complaint  <> that on two occasions he was told to stand down on reporting about the Russian threat and alleged that senior officials told him to modify other intelligence reports, including about white supremacists, to bring them in line with President Trump's public comments, directions he said he refused.
On July 8, Murphy said in the complaint, acting homeland security secretary Chad Wolf told him that an "intelligence notification" regarding Russian disinformation efforts should be "held" because it was unflattering to Trump, who has long derided the Kremlin's interference as a "hoax" that was concocted by his opponents to delegitimize his victory in 2016. https://www.washingtonpost.com/national-security/senior-dhs-official-alleges-in-whistleblower-complaint-that-he-was-told-to-stop-providing-intelligence-analysis-on-threat-of-russian-interference/2020/09/09/9d0661c4-f2b6-11ea-b796-2dd09962649c_story.html
20. The DAILY GRILL
"I would take a vaccine tomorrow if one became available—but I would want to see what the scientists say. I want full transparency on the vaccine." — Joe Biden cautioning against taking only Trump's word for it.

VERSUS

"[Biden and Harris] should immediately apologize for the reckless anti-vaccine rhetoric that they are talking right now. It undermines science. — Trump, who said coronavirus will magically disappear, hasn't killed as many people as has been reported, and might be able to be cured by unproven anti-malarials, a botanical extract championed by a deranged pillow salesman, or maybe even disinfectant—suggesting someone else is undermining science is truly a thing to behold.

 

"Elections that have been held with mail have found substantial fraud and coercion. For example, we indicted someone in Texas, 1,700 ballots collected, he — from people who could vote, he made them out and voted for the person he wanted to. Okay?"-- AG Barr

VERSUS

Federal prosecutors brought no such indictment. That's not what happened at all. Barr's description doesn't match the facts. … unfortunately, it speaks volumes to the credibility of Attorney General Barr when he submits half-truths and alternative facts as clear evidence of voter fraud without having so much as even contacted me or the district attorney's office for an understanding of the events that actually occurred," — Andy Chatham, the assistant district attorney on that case which was a local prosecution involving suspected mail-in voting fraud in a city council election.

 

President Trump has been nominated for the 2021 Nobel Peace Prize. .The nomination submitted by Christian Tybring-Gjedde, a member of the Norwegian Parliament, lauded Trump for his efforts toward resolving protracted conflicts worldwide. — Fox News  "exclusive."

VERSUS

"Fox didn't mention that hundreds of people are nominated every year, and that Trump's nomination—for his role in the new Israel-United Arab Emirates agreement—came from one of Norway's most well-known anti-immigration cranks, who also nominated Trump in 2018. — Daily Beast

 

"It is interesting that everyone's always mentioning Russia… but I think probably China at this point is a nation you should be talking about much more so than Russia." — Trump saying there is "not any proof yet" of Kremlin involvement in the poisoning of corruption fighter Alexei Navalny, urging reporters to focus their criticism on China instead.

VERSUS

"It's the latest example of Trump declining to condemn Russia and its president, Vladimir Putin, for authoritarian actions. In the case of the Navalny poisoning, leaders around the world, including German Chancellor Angela Merkel and British Prime Minister Boris Johnson, offered strong condemnation and called for answers from the Russian government." — Nikki Carvajal, CNN

 

"I never called John a loser and swear on whatever, or whoever, I was asked to swear on, that I never called our great fallen soldiers anything other than HEROES. This is more made up Fake News given by disgusting & jealous failures in a disgraceful attempt to influence the 2020 Election! — Trump denying on Twitter that he ever called Sen. John McCain a loser.

VERSUS

"He was a war hero because he was captured… I like people who weren't captured… He lost and let us down. I've never liked him as much after that…. I don't like losers."— Trump, quoted by NPR, talking about McCain in July 2015.

 

"If you told a Republican to vote twice, they'd get sick at even the thought of it." — Trump, in May.

VERSUS

"If you get the unsolicited ballots… send it in early, and then go and vote." — Trump, to his supporters yesterday.

"I accept that there is some preliminary activity that suggests that they might try again." — AG Barr responding to Wolf Blitzer, who asked Barr about Russian interference.

VERSUS

Preliminary? Might? It is happening, right now. American intelligence reported earlier this month on ongoing Russian election interference, saying  Russia is using a range of measures to primarily denigrate former Vice President Biden and what it sees as an anti-Russia "establishment" and that "some Kremlin-linked actors are also seeking to boost President Trump's candidacy on social media and Russian television.'  -- New York Magazine

 

Among those was the Fox News national security correspondent, Jennifer Griffin, who confirmed in a Twitter thread that Trump called soldiers "suckers", had questioned why anyone would want to become a soldier and had not wanted to honor war dead at the Aisne-Marne cemetery in France.

VERSUS

Jennifer Griffin should be fired for this kind of reporting. Never even called us for comment. @FoxNews is gone! — Trum

 

"Steve Jobs would not be happy that his wife is wasting money he left her on a failing Radical Left Magazine that is run by a con man (Goldberg) and spews FAKE NEWS & HATE. Call her, write her, let her know how you feel!!!" — Trump going after Laurene Powell Jobs, the philanthropist billionaire who owns a majority stake in The Atlantic.

VERSUS

The Atlantic's story about Trump calling Americans who died in battle "losers" and "suckers," was just the tip of the iceberg. I would fully expect more reporting to come out about this and more confirmation and new pieces of information in the coming days and weeks. We have a responsibility and we're going to do it regardless of what he says." — Jeffrey Goldberg, editor-in-chief of The Atlantic.

Mr. Trump has called climate change a hoax, weakened oversight of drilling in federal waters, opened up the Arctic National Wildlife Refuge to oil and gas companies and moved to repeal about 100 environmental regulations.

VERSUS

On Tuesday, Trump congratulated his administration for what he called "our incredible record of natural conservation and environmental protection."

 

Attorney General Barr intervened in the defamation lawsuit brought by a woman who says President Trump raped her years ago, moving the matter to federal court and signaling it wants to make the U.S. government — rather than Trump himself — the defendant in the case. In filings in federal court in Manhattan, the Justice Department asserted that Trump was "acting within the scope of his office as President of the United States" when he denied during interviews in 2019 that he had raped journalist E. Jean Carroll more than two decades ago in a New York City department store. Carroll sued Trump over that denial in November.

VERSUS

"Even in today's world, that argument is shocking. It offends me as a lawyer, and offends me even more as a citizen. Trump's effort to wield the power of the U.S. government to evade responsibility for his private misconduct is without precedent, and shows even more starkly how far he is willing to go to prevent the truth from coming out." — Roberta Kaplan, Carroll's lawyer

 

We're gonna have a vaccine very soon. Maybe even before a special date. You know what date I'm talking about. — Trump

VERSUS

In this statement, Trump explicitly tied the vaccine to his reelection schedule. Yet, remarkably, the question of whether Trump is politicizing this process is still being treated as one that's up for debate, even though he shouted the corrupt part out loud, as he so often does, only this time with a bullhorn. -- Greg Sargent
21. From MEDIA MATTERS (They watch Fox News so you don't have to)
In a podcast unearthed by Media Matters, Department of Health and Human Services spokesperson Michael Caputo spread baseless conspiracy theories about the coronavirus, praised white supremacist Milo Yiannopoulos, and said Democrats are "counting" on COVID-19 fatalities in order to win the election against President Donald Trump. https://www.mediamatters.org/coronavirus-covid-19/hhs-spokesperson-michael-caputo-pushed-covid-19-conspiracy-theories-and

Prime-time shows repeatedly cherry-picked images and videos of violence to create a false sense of a large-scale crisis across the United States, particularly in "Democrat-controlled cities." Oftentimes, Fox relied on old footage to support its violence narrative, airing clips older than five days at least 50 times in August. On more than 20 occasions, the images or videos shown in August were from May or June. Fox displayed images and footage of violence -- protesters clashing with police, crime scenes, shootings, sexual assaults, or fires -- during nearly every show throughout its prime-time broadcasts in August. The images were shown during hosts' opening monologues, in their predesigned graphics, and while they conducted interviews with guests. Tucker Carlson Tonight showed the most violent imagery, with an hour and 42 minutes shown in August. https://www.mediamatters.org/fox-news/fox-news-prime-time-shows-spent-over-3-hours-displaying-violent-imagery-august

TUCKER CARLSON (HOST): Getting Democrats to vote on Election Day requires enormous effort. Sometimes it requires financial incentives like walking around money or giving free cigarettes to the mentally ill homeless. Sometimes, under extraordinary circumstances, convincing Democrats to vote requires race riots and a nation-wide fear campaign. Unfortunately that's what we're seeing right now. The only way to understand the last three months in this country is with the presidential election in mind. This has been the most radical and ambitious get out the vote operation ever staged in a democracy. Politicians are now saying and encouraging things that could easily the country. Things that could fracture the nation, divide our people forever, turn this beautiful happy place into a permanent maelstrom of angry tribalism. https://www.mediamatters.org/tucker-carlson/tucker-carlson-claims-democrats-are-using-race-riots-get-out-vote-operation

Donald Trump has once again amplified a bogus coronavirus misinformation campaign -- this time by retweeting a QAnon supporter's false claim against the Centers for Disease Control and Prevention that only 6% of recorded COVID-19 deaths are actually due to the disease, while the other 94% are falsified. While this conspiracy theory isn't new, Trump has amplified and legitimized the false 6% narrative, and it is now spreading across major social media platforms while QAnon accounts celebrate and the CDC suffers. https://www.mediamatters.org/qanon-conspiracy-theory/trump-amplified-bogus-qanon-misinformation-campaign-against-cdc-now

Sinclair Broadcast Group host Eric Bolling, who has a pattern of airing dangerous coronavirus claims and conspiracy theories, pushed the debunked claim that only a fraction of COVID-19 deaths in the U.S. were caused by the disease in a new episode of his program America This Week: United We Stand. He also aired a segment which seemingly elevated a strategy for 80% of Americans to get infected with coronavirus to achieve herd immunity, which would kill millions. https://www.mediamatters.org/coronavirus-covid-19/sinclairs-america-week-pushes-more-dangerous-claims-about-covid-19
1. Woodward book: Trump says he knew coronavirus was 'deadly' and worse than the flu while intentionally misleading Americans
President Trump's head popped up during his top-secret intelligence briefing in the Oval Office on Jan. 28 when the discussion turned to the coronavirus outbreak in China.

"This will be the biggest national security threat you face in your presidency," national security adviser Robert C. O'Brien told Trump, according to a new book by Washington Post associate editor Bob Woodward. "This is going to be the roughest thing you face."

Matthew Pottinger, the deputy national security adviser, agreed. He told the president that after reaching contacts in China, it was evident that the world faced a health emergency on par with the flu pandemic of 1918, which killed an estimated 50 million people worldwide.

Ten days later, Trump called Woodward and revealed that he thought the situation was far more dire than what he had been saying publicly.

"You just breathe the air and that's how it's passed," Trump said in a Feb. 7 call. "And so that's a very tricky one. That's a very delicate one. It's also more deadly than even your strenuous flu."

"This is deadly stuff," the president repeated for emphasis.

At that time, Trump was telling the nation that the virus was no worse than a seasonal flu, predicting it would soon disappear and insisting that the U.S. government had it totally under control. It would be several weeks before he would publicly acknowledge that the virus was no ordinary flu and that it could be transmitted through the air.

Trump admitted to Woodward on March 19 that he deliberately minimized the danger. "I wanted to always play it down," the president said.
In their final interview, on July 21, Trump vented to Woodward, "The virus has nothing to do with me. It's not my fault." https://www.washingtonpost.com/politics/bob-woodward-rage-book-trump/2020/09/09/0368fe3c-efd2-11ea-b4bc-3a2098fc73d4_story.html
2. Dana Milbank How you can help save the Trump campaign from financial ruin
Well, this is embarrassing.
Seems President Trump has run his reelection campaign into financial distress, a status that will not surprise those familiar with the Trump Taj Mahal, the Trump Castle, the Trump Plaza Atlantic City, the Trump Plaza New York, Trump Hotels and Casino Resorts, Trump Entertainment Resorts, the Trump Tower Tampa, the Trump Shuttle, Trump: The Game, Trump magazine, Trump Mortgage, Trump Steaks, Trump mattresses, Trump pillows, Trump perfume, Trump shirts, Trump underwear, Trump shoes, Trump eyeglasses, Trump University, Trump Vodka, the Trump Foundation and the U.S. Treasury.
The New York Times's Shane Goldmacher and Maggie Haberman report that Trump and the Republican National Committee squandered their $200 million cash advantage, spent $800 million of the $1.1 billion raised and now face the possibility of a "cash crunch." The culprit: "profligate habits" such as a car and driver for the now-former campaign manager, payments to Trump businesses, and a "vanity splurge" on Super Bowl ads.
Now, the cash-strapped campaign has had to abandon a $3 million plan to put the Trump name on a NASCAR race car. Sad! https://www.washingtonpost.com/opinions/2020/09/08/how-you-can-help-save-trump-campaign-financial-ruin/
3. Kathleen Parker: A classy Fox News reporter nails Trump
I am eager to defend Jennifer Griffin, the Fox News military reporter whom President Trump has targeted for firing. Though she has plenty of friends at Fox News, several of whom have commented on her behalf, Griffin deserves a robust endorsement from all her colleagues. I've followed her closely for more than a decade, and I can say without qualm that she's as good as it gets — a solid, hard-working, fair-minded journalist and, as others have said, a class act.
Yet, the most powerful person in the entire world has decided to make  Jennifer Griffin, the Fox News military reporter, Public Enemy No. 1. All media are the enemy to Trump, as we know, but singling out an individual reporter for punitive action is tantamount to making her a target at a time when everybody has a short fuse.
Griffin's offense was confirming some of the allegations published last week by the Atlantic of derogatory remarks Trump had made about members of the U.S. military killed in action. The article, by Atlantic editor in chief Jeffrey Goldberg, concerned a 2018 trip to Paris when Trump canceled a planned visit to the World War I Aisne-Marne American Cemetery. Trump, according to Goldberg's sources, said the graves belonged to "suckers" and "losers."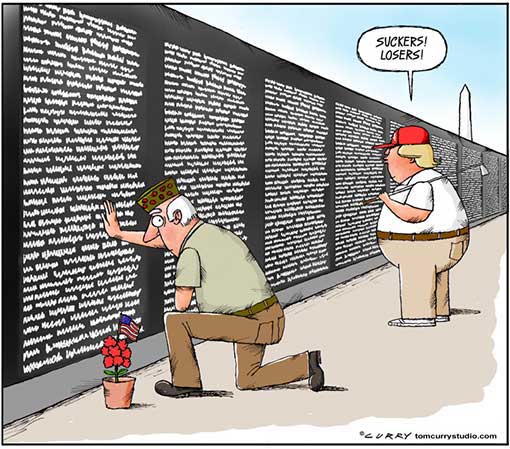 Based on her own reporting, Griffin tweeted that two former senior Trump administration officials had confirmed Goldberg's reporting that "President Trump disparaged veterans and did not want to drive to honor American war dead at Aisne-Marne Cemetery outside Paris." She also tweeted that, according to one former senior Trump administration official, "When the President spoke about the Vietnam War, he said, 'It was a stupid war. Anyone who went was a sucker.' "
In a normal world, a man like Trump couldn't get elected to the PTA, much less the White House. But these are far from normal times, thanks in part to the man charged with defending a Constitution he seems so often to abhor. The job of journalists, meanwhile, is to hold people in power accountable, which reporters such as Griffin and Goldberg have done with honesty and accountability throughout their respective and exceptional careers.
A president or political leader with nothing to hide has no reason to fear — nor need to demonize — the press. If some people wonder whether the president of the United States truly used "losers" and "suckers" to describe men and women who died at the behest of their own commander in chief, they might also ask, Why is Donald Trump so afraid? https://www.washingtonpost.com/opinions/a-classy-fox-reporter-nails-trump/2020/09/08/f186d786-f209-11ea-999c-67ff7bf6a9d2_story.html
4. Harry LItman: Trump is our first pro-vigilante president. Now stop and think about what that means
Trump's claim to being a "law and order" president would be risible were it not tragic. His presidency represents the antithesis of law and order. No president has been less respectful of law, both specific legislative enactments and the very concept of the rule of law, not of men.
Is it any wonder that chaos follows him like a bridal train? This is his governing strategy. But the aberration of his presidency goes much deeper than his phony lip service to law and order.
As his comments about Rittenhouse demonstrate, Trump encourages his supporters to take the law into their own hands. It serves his purposes to have them ignite a melee with Black Lives Matter protesters. Trump's only campaign tactic left at this point, given the COVID-19 catastrophe, is to play out the lie that murderous left-wing mobs are amassing at the gates and only he can stop them.
He is our first pro-vigilante president. https://www.latimes.com/opinion/story/2020-09-02/donald-trump-kenosha-vigilantes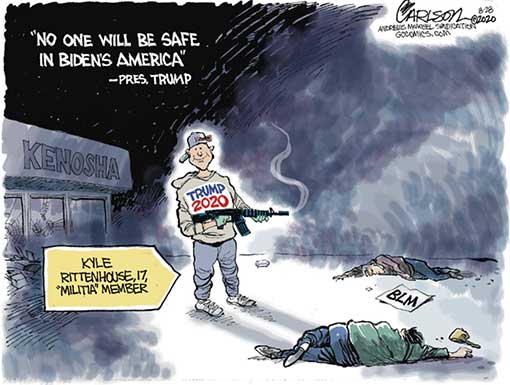 5. Eric Lutz: Democrats Are Girding For Post-Election Chaos
In mid-August, after Donald Trump endorsed QAnon-supporting Congressional candidate Marjorie Taylor Greene, the president was asked about his own thoughts on the deranged, right-wing conspiracy theory. At one press conference, he mostly demurred, declining to condemn the batshit beliefs and pivoting to praise for Greene. But a few days later, when he was asked more directly about Q, he threw his weight behind the fringe movement. "I've heard these are people that love our country," he said at an August 19 briefing. "If I can help save the world from problems, I'm willing to do it," he continued, after being told that the cult views him as a warrior fighting a shadowy Democratic cabal of cannibalistic sex traffickers. "I'm willing to put myself out there."
Trump is no longer simply encouraging rally-goers to commit assault on his behalf. As my colleague Abigail Tracy reported Tuesday, Trump is fanning the flames of domestic terrorism. That would be dangerous at any time. But with the fever rising in the weeks of a testy—and perhaps contested—election, Democrats are bracing for a potential surge in political violence, and grappling with what that could mean for the country.
Even through much of Trump's norm-shattering and democracy-eroding presidency, the notion of the president refusing to leave office—and the possibility that he could deputize supporters to engage in violence to help him hold onto power—perhaps seemed remote. But amid the trouble and turmoil of 2020, with the nation ravaged by a pandemic and in the throes of a reckoning over systemic racism, the peaceful transition of power Americans took for granted seems far from guaranteed. https://www.vanityfair.com/news/2020/09/democrats-are-girding-for-post-election-chaos
6. Amanda Carpenter: Get Ready for the Foreign-Ballot Conspiracy. The gaslighting has already begun.
What I'm about to tell you may sound nuts. That is, until you remember who the president is and everything he has done thus far to convince his base that the election is rigged against him. The only question is how far he will push the story.
In this case, President Trump has already given away the plot. Check out this tweet of his from June:
RIGGED 2020 ELECTION: MILLIONS OF MAIL-IN BALLOTS WILL BE PRINTED BY FOREIGN COUNTRIES, AND OTHERS. IT WILL BE THE SCANDAL OF OUR TIMES! —Donald J. Trump
So the president has already laid the groundwork for claiming that foreign intervention will damage the integrity of the 2020 election. And he has an incredibly powerful government ally joining him in pushing the foreign-ballot narrative: Attorney General Bill Barr. https://thebulwark.com/get-ready-for-the-foreign-ballot-conspiracy/
7. Rick Wilson: Thought It Was Bad Before, America? Welcome to Trump's Real Hellscape.
The desperate, dangerous weeks ahead are the most important and fraught since the eve of the American Civil War. Sure, you know there's a pandemic, a looming crisis in bankruptcies, evictions and homelessness as Washington squabbles. You know we're sliding into a racial conflict engineered by political hacks and juiced by social media tools in the hands of digital terrorists. Other than that, Mrs. Lincoln, how are you liking 2020?
At a moment when a sensible, smart, decent normal president of either party would be working to face the monsters confronting us, Donald Trump's hurt feelings and bad electoral prospects are leading us to a moment where the pain we're suffering will be amplified and we will be pushed at least to our limits.
We'll suffer because Donald Trump is scared of losing, and he'll burn down everything to cling to power. We'll suffer because his administration is filled with ass-sniffing toadies without a whit of courage or integrity. We'll be put through a ringer of lies, propaganda, and strife designed by the best minds that the Trump campaign, the RNC, and their allies at the Internet Research Agency can muster. (Remember, while Trump may have a shit-tier intellect, the people desperate to keep him in the office of the president are smart, amoral, and absolutely fanatical about using the tools and technologies at their fingertips to ensure victory, no matter the cost. )
He will drag this country into three deep, dark places and his little minions (folks I like to think of as "people who were only following orders" types at the 2023 Truth and Reconciliation Commission hearings) will help him every step of the way.
Next, he'll drag us into the vortex of lies, conspiracy twaddle, scamecdotes ("He was a huge guy with tears in his eyes, saying, 'Mr. Trump...I'm worried Antifa is in my laundry room.'") and deadly deceptions. He'll start lying about a vaccine—a beautiful vaccine, the best vaccine—in the next few weeks, and people in his base will decide that it's time to cast off their masks and end social distancing. Sure, a lot of them will be dead soon, but it's a small price to pay for a bump in the Rust Belt, right? https://www.thedailybeast.com/thought-it-was-bad-before-america-welcome-to-trumps-real-hellscape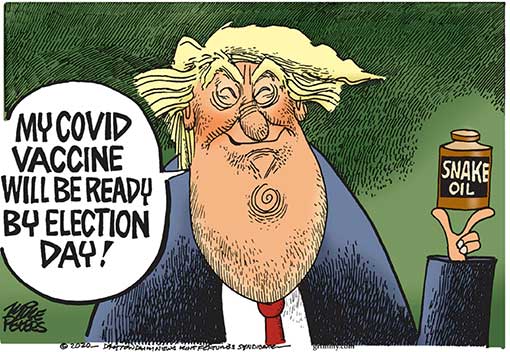 8. Joan Walsh: A Lawless Attorney General Hits New Lows
It's tough to choose the worst thing Attorney General William Barr said in a shocking Wednesday interview with CNN's Wolf Blitzer. He claimed that Jacob Blake, shot seven times in the back by Kenosha police last month, was armed; he was not. He appeared to back up Donald Trump's demented claim that thugs in black boarded planes headed to Washington bent on mayhem, and then dissolved in "I don't know what the president was specifically referring to." When Blitzer asked if Trump's outrageous suggestion that North Carolina supporters vote twice—ostensibly to check whether voting by mail made it possible—was illegal, Barr repeatedly averred, insisting, "I don't know what the law in the particular state says."
I do, and I don't have a law degree. In none of our 50 states, nor the District of Columbia, is it legal to vote or attempt to vote twice. (That's actually federal law.) You're welcome.
A sinister arrogance, the smirking sense that he's above the law, pervaded Barr's replies. As well as brazen racism. Like Trump, he refused to admit the country, or law enforcement particularly, suffers from "systemic racism." Cops don't treat black men differently from white men because of "discrimination," he insisted. "If anything's been baked in, it's a bias toward nondiscrimination." Citing a comment the Rev. Jesse Jackson made 30 years ago about how even he sometimes feared young black men, Barr seemed to make the case that the disparity in their treatment by police stems from their own criminality, not police bias. Never mind that research shows that whether they're obeying the law or breaking it, black men are much more likely than white men to suffer violence and abuse at the hands of police.
We can't get numb to Barr's repeated willingness to bend, break, or deny the law on behalf of his boss. This election is going to require us to vote in record-breaking numbers. Use your outrage—"good outrage," to paraphrase the late John Lewis—to get in "good trouble": organizing energetically to put an end to the lawless Trump-Barr era. https://www.thenation.com/article/politics/william-barr-cnn/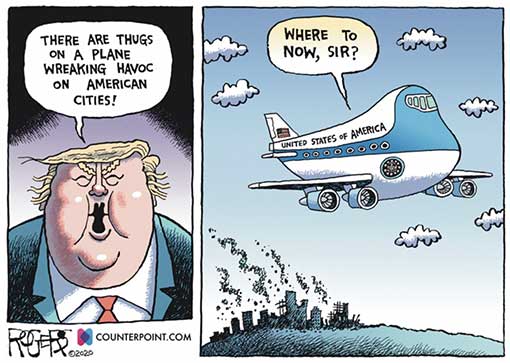 9. Jeffrey Goldberg: Trump: Americans Who Died in War Are 'Losers' and 'Suckers'
When President Donald Trump canceled a visit to the Aisne-Marne American Cemetery near Paris in 2018, he blamed rain for the last-minute decision, saying that "the helicopter couldn't fly" and that the Secret Service wouldn't drive him there. Neither claim was true.
In a conversation with senior staff members on the morning of the scheduled visit, Trump said, "Why should I go to that cemetery? It's filled with losers." In a separate conversation on the same trip, Trump referred to the more than 1,800 marines who lost their lives at Belleau Wood as "suckers" for getting killed.
Belleau Wood is a consequential battle in American history, and the ground on which it was fought is venerated by the Marine Corps. America and its allies stopped the German advance toward Paris there in the spring of 1918. But Trump, on that same trip, asked aides, "Who were the good guys in this war?" He also said that he didn't understand why the United States would intervene on the side of the Allies.
Trump's understanding of concepts such as patriotism, service, and sacrifice has interested me since he expressed contempt for the war record of the late Senator John McCain, who spent more than five years as a prisoner of the North Vietnamese. "He's not a war hero," Trump said in 2015 while running for the Republican nomination for president. "I like people who weren't captured." https://www.theatlantic.com/politics/archive/2020/09/trump-americans-who-died-at-war-are-losers-and-suckers/615997/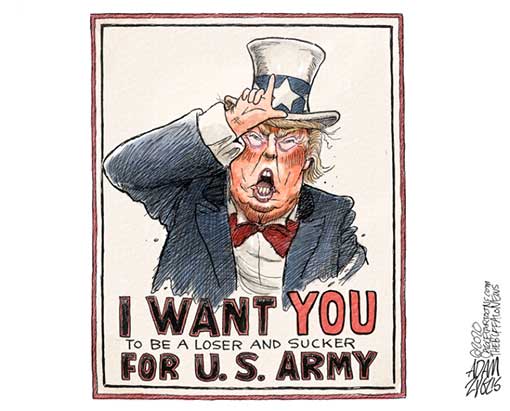 10. Eliot A. Cohen: America's generals must stand up to Trump
Many senior officers have expressed worry about Trump's understanding of the rules governing the use of the armed forces. This issue came to a head in early June, during demonstrations in Washington, D.C., in response to police killings of Black people. James Mattis, the retired Marine general and former secretary of defense, lambasted Trump at the time for ordering law-enforcement officers to forcibly clear protesters from Lafayette Square, and for using soldiers as props: "When I joined the military, some 50 years ago, I swore an oath to support and defend the Constitution," Mattis wrote. "Never did I dream that troops taking that same oath would be ordered under any circumstance to violate the Constitutional rights of their fellow citizens—much less to provide a bizarre photo op for the elected commander-in-chief, with military leadership standing alongside."
Another explanation is more quotidian, and aligns with a broader understanding of Trump's material-focused worldview. The president believes that nothing is worth doing without the promise of monetary payback, and that talented people who don't pursue riches are "losers." (According to eyewitnesses, after a White House briefing given by the then-chairman of the Joint Chiefs of Staff, General Joe Dunford, Trump turned to aides and said, "That guy is smart. Why did he join the military?")
Trump has been, for the duration of his presidency, fixated on staging military parades, but only of a certain sort. In a 2018 White House planning meeting for such an event, Trump asked his staff not to include wounded veterans, on grounds that spectators would feel uncomfortable in the presence of amputees. "Nobody wants to see that," he said. https://www.theatlantic.com/politics/archive/2020/09/trump-americans-who-died-at-war-are-losers-and-suckers/615997/
11. Greg Sargent: The real lawless extremist in the race is Trump. And he has William Barr's help.
Barr has repeated his frequent claims that vote-by-mail elections have been riddled with fraud and that a foreign power could fabricate thousands of mail ballots. Both are utter nonsense. But in saying them, Barr is telegraphing his willingness to legitimize Trump's eventual effort to try to invalidate untold numbers of mail ballots, which Trump has already told us is coming.
Meanwhile, Barr is party to another extraordinary move: Trump just approved a memo declaring the intention to restrict federal funding to Democratic-led cities designated as "anarchist jurisdictions." Barr will determine which cities earn this label.
Meanwhile, Barr will help delegitimize an official accounting of foreign sabotage of the 2016 election to create cover for another round of it on Trump's behalf. Barr's grotesque exaggerations of the leftist threat help give Trump justification for urging right-wing vigilantes to take matters into their own hands, lawlessly.
So let's be clear on who the real lawless extremists are here. They aren't Biden and Democrats. They're Trump and his enablers. https://www.washingtonpost.com/opinions/2020/09/03/only-one-candidate-is-lawless-extremist-he-has-william-barrs-help/
12. Paul Waldman: Joe Biden is the only one trying to act like a president
When Trump began laying the blame for unrest occurring in a few cities at the feet of the Democratic presidential nominee, referring to the alleged horrors of "Joe Biden's America," many found it odd. After all, Biden is not president at the moment; if we're living in anyone's America, surely it's Trump's.
Trump is now less the manager of a government than the head of an election campaign who involves himself in the work of running the country only when it can be twisted and warped to help his reelection.
He throws insults at governors who fail to bow down to him. He tries to cut off funds to cities run by Democrats. Agencies that had been resistant to political influence are now utterly infected by it, from the Justice Department to the Centers for Disease Control and Prevention to the Food and Drug Administration.
We now take it as a given that, just before the election, Trump will announce some kind of major development on the pandemic, probably related to a vaccine. Indeed, the CDC has issued a guidance to states telling them to prepare for the release of a vaccine "by early November," a date whose significance no one misses.
Biden isn't president yet, but at least he's trying to act like one. And he's the only one doing it. https://www.washingtonpost.com/opinions/2020/09/03/joe-biden-is-only-one-trying-act-like-president/
13. Susan B. Glasser: The 2020 Election, a Race in Which Everything Happens and Nothing Matters
Previous Presidents—all of them—saw their ratings go up and down depending, at least in part, on their performance in office. Not Donald Trump.
It's long been apparent how bizarrely consistent and impervious to events Trump's approval ratings are. Through impeachment and scandal and now pandemic and recession, a more or less straight line of roughly forty per cent of Americans have supported the President, no matter what he does or says and regardless of what is happening in the country or around the world. Previous Presidents—all of them—saw their ratings go up and down depending, at least in part, on their performance in office. Not Trump. He appears to be living a politician's dream: a Presidency free of consequence and devoid of accountability. What this means for the nation, for American democracy, is a different issue altogether.
The remarkable constancy of America's division over Trump predates his Presidency, and has nothing whatsoever to do with Joe Biden or the most-important-of-your-lifetime 2020 election. Four years ago, on August 25, 2016, Quinnipiac University released results of a national survey in which Trump trailed his Democratic opponent, Hillary Clinton, by ten points, taking only forty-one per cent to her fifty-one. This Wednesday, Quinnipiac released its latest survey. In it, Trump trails Biden by ten points, with forty-two per cent to Biden's fifty-two. America, in other words, is in almost exactly the same place as it was four years ago—before Helsinki and Robert Mueller, Stormy Daniels and the Mooch; before Roger Stone's pardon and Jim Mattis's quitting and the "perfect" phone call to Ukraine; and before Trump took "no responsibility at all" for the pandemic that has, at least for now, changed life as we know it in America. If a botched government response that contributes to the deaths of tens of thousands of Americans can't move the polls five points against Trump, can anything? https://www.newyorker.com/news/letter-from-trumps-washington/the-2020-election-a-race-in-which-everything-happens-and-nothing-matters
14. Richard North Patterson: Trump's Racist Referendum
Trump's aim, quite obviously, is to weaponize white fears of demographic change through simplistic calls for law and order steeped in authoritarian rhetoric and McCarthyesque scapegoating. Black Lives Matter, he trumpets, is a "Marxist organization." Further, "the violence is fueled by dangerous rhetoric from far-left politicians that demonize our nation and demonize our police. . . . The violent rioters share Biden's same talking points, and they share his same agenda for our nation."
"No one," he warns, "will be safe in Biden's America." The only bulwark is Donald Trump, who stands ready to dispatch the National Guard should pusillanimous Democratic governors or mayors but request it. https://thebulwark.com/trumps-racist-referendum/
15. A.B. Stoddard: It's Still All About Russia—and It's Outrageous
DHS and the director of national intelligence have decided Russian election interference is no big deal. Hey, it's not like it's new. Russia has never stopped working to help Trump, and in four years he has never once rejected their help, instead he has relished it. He has denied intelligence findings, politicized intelligence, sided with Vladimir Putin on the world stage in Helsinki over our intelligence community, and made clear in an interview with George Stephanopoulos last year that any foreign assistance offered to his campaign would be considered.
At every turn Trump has not only helped Putin but thwarted the examination of Russia's attack on the 2016 election. Trump told White House counsel Don McGahn to fire Special Counsel Robert Mueller and likely obstructed justice in many other ways all recounted in the Mueller report. Even before there was a special counsel investigation, Trump welcomed Russian Foreign Minister Sergey Lavrov and Russian ambassador to the United States Sergey Kislyak to the Oval Office by boasting that firing FBI Director James Comey had relieved "great pressure." https://thebulwark.com/its-still-all-about-russia-and-its-outrageous/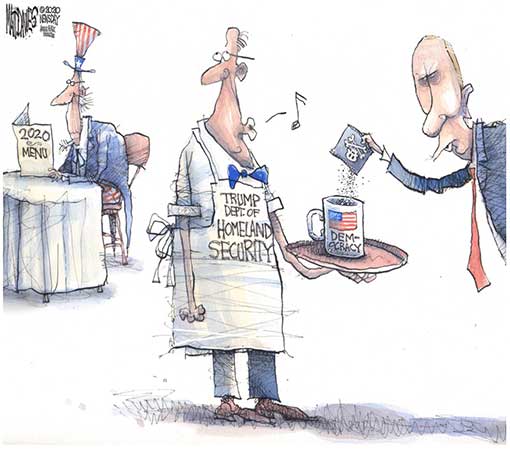 16. Bess Levin: Donald "Grab 'Em By The Pussy" Trump Thinks People Should Be Fired For Disrespecting Women
As many of you know, Donald Trump is a colossal hypocrite with a predilection for accusing people of and attacking them for the very things he does in droves. Despite effectively being the head of a crime syndicate, he tried to get Hunter Biden investigated for wrongdoing in Ukraine. Despite exhibiting all the symptoms of a traumatic brain disease, he'd like people to believe it's his 2020 opponent who suffers mental deficiencies. He famously watches TV for seven hours a day, responding to various shows in real time, but apparently it's the Democratic nominee we need to be worried is a TV addict. He spent the majority of the Obama administration attacking the 44th president for golfing and then proceeded to spend 2,580 hours (and counting) teeing off since January 2017. Lately, his campaign strategy is to warn people that if they don't like the chaos, violence, and destruction happening right now they had better not vote for Joe Biden, even though Trump is literally the president at this moment and responsible for everything going on. And of course, despite being credibly accused of sexual misconduct by dozens of women—all of which he naturally denies—and being caught on tape bragging about how it's fine to "grab" women "by the pussy" when you're famous, he wants someone else to resign for showing "disrespect" to women. https://www.vanityfair.com/news/2020/09/donald-trump-sexual-harassment-chris-cuomo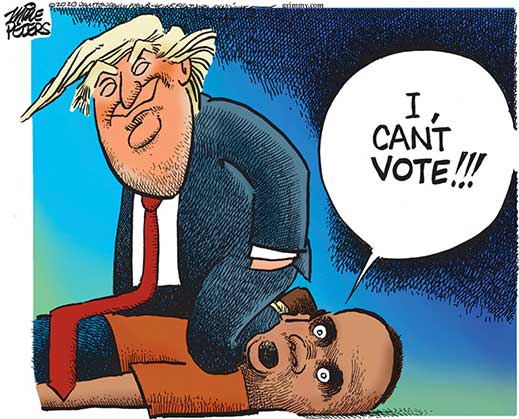 17. Susan Glasser: The 2020 Election, a Race in Which Everything Happens and Nothing Matters
Trump spent the past week betting his Presidency on a notion that Americans—or, at least, that subset of Americans who still might possibly support him in November—can be convinced that "law & order" in the cities is a more urgent and pressing matter than controlling the pandemic and reviving the economy. I reviewed eleven ads that the Trump campaign aired on broadcast TV during and after the Convention. (With the notable exception of Minnesota, these appear to be running mostly in states won by Trump in 2016, a sign of a campaign playing defense.) The word "coronavirus" is never mentioned in a single one of them; in fact, it's as if the pandemic and the economic crisis simply do not exist. Notably, the phrases and policies most associated with Trump are also missing. There is no "America First," not even a "Make America Great Again, Again"—the awkward new slogan that Vice-President Mike Pence rolled out at the G.O.P. Convention—just attacks on Biden as a tool of the "radical left" and hellish scenes of unrest in America's burning cities. Trump even flew to Kenosha, Wisconsin, this week to pose for a picture in front of one such tableau of destruction: a pile of rubble outside a block of looted stores, after protests following the police shooting of a young Black man, Jacob Blake. "Strong leadership when America needs it most," the generic tagline in the new wave of Trump ads says. This, then, is what the President is betting his campaign's money on.
Polls, so far, do not confirm that this is a winning hand. In fact, the latest Reuters/Ipsos poll, which has Biden up by seven points over all, shows that the issues which Americans care most about right now are the coronavirus, the economy and jobs, and health care. Crime was cited by just eight per cent of respondents as a top priority. A majority of both Democrats and Republicans said that it was not increasing in their communities. A majority unchanged from late July also said that they were sympathetic to the nationwide protests. About the only thing that seems to have changed since before the Republican Convention is Trump's nickname for Biden. "Sleepy Joe" Biden, it seems, is out. "Hiden' Biden" is in. Will it make a difference? I'm going to go out on a limb and say no, not at all. https://www.newyorker.com/news/letter-from-trumps-washington/the-2020-election-a-race-in-which-everything-happens-and-nothing-matters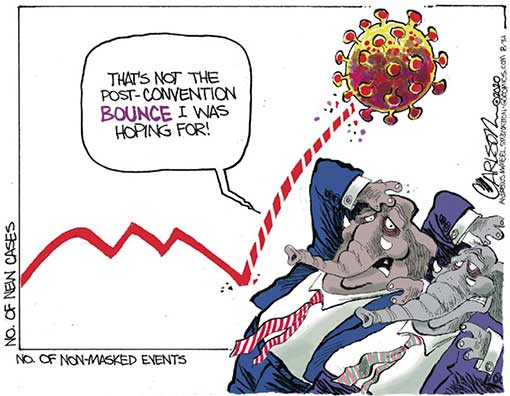 18. Stephen Collinson: After wild week, the Trump train looks close to full derailment
There have been many weeks when the Trump train has looked like it's going to jump the tracks. But in the seven days since the Republican convention, the President has come perhaps as close as he ever has to a full derailment.
On Thursday, even the President and the White House seemed to think he might have gone too far with his suggestion that North Carolinians try to vote twice to test election security, a potential crime and the latest attempt by the President to cast as illegitimate an election that polls suggest he may lose. At a rally on Thursday in Pennsylvania, Trump again said mail-in ballots are a "disgrace," charging that dogs have received them in the mail. He advised his supporters to "follow" their ballots and go vote if they're not tabulated.
As well as the North Carolina furor, Trump this wek claimed that plane-loads of dark-clad rioters were crisscrossing the country. He appeared to justify the actions of a teenage vigilante who killed two protesters in Kenosha, Wisconsin. He denied he had a series of "mini strokes," sparking speculation about his health. It emerged that the President and Russia, yet again, are on the same page, as an intelligence revealed that Moscow is also spreading misinformation about mail-in voting to harm the integrity of the election. And he mocked Biden for wearing a mask as the country continues to lead the world in coronavirus cases, with more than 6 million infections. https://www.cnn.com/2020/09/04/politics/donald-trump-joe-biden-election-2020-drama/index.html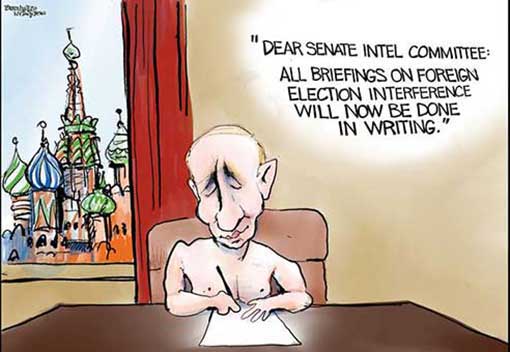 19. Maggie Haberman and Katie Rogers: Trump's Tactic: Sowing Distrust in Whatever Gets in His Way
For decades, President Trump has sown distrust in almost everything he touches. From Native Americans and business competition in New York to President Barack Obama's birthplace to America's intelligence agencies to the special counsel investigation he calls the "Russia hoax," Mr. Trump's goal has been to undermine the opposition, rely on conspiracy theories to discount any evidence that might discredit him — and, above all, leave people uncertain about what to believe.
In the past week, Mr. Trump has reposted messages asserting that the real death toll from the coronavirus was only around 9,000 and not 185,000. He has talked cryptically about a planeload of "thugs" in black uniforms flying to Washington to disrupt the Republican National Convention. And he has asserted without a shred of evidence that his Democratic opponent, former Vice President Joseph R. Biden Jr., was "on some kind of an enhancement" drug.
People who have known the president for years say one of his most sustained assaults, on the integrity of the 2020 election, is straight from his New York tactics. https://www.nytimes.com/2020/09/03/us/politics/trump-2020-election.html
20. Steve Coll: Battling Anxiety Over Making Sure Your Vote Gets Counted
Voting this year will be different in ways that could alter past patterns, because it will be more risky and, for many people, more difficult than in any recent Presidential election. The pandemic is one reason; another is Trump's vocal, unabashed campaign of voter suppression, in which he has denounced well-established and secure practices, and spread misinformation about the potential for fraud in mail voting and in the use of drop-off boxes. Last week, Trump tweeted that "fraud and abuse" from mail voting "will be an embarrassment to our Country," even as the F.B.I., contradicting earlier Presidential tweets, affirmed that it had no evidence of any foreign plot to manipulate mail voting. Trump's demagoguery is clearly aimed at delegitimizing the election and intimidating voters, and it may also be designed to sway Trump-friendly judges who will decide myriad partisan lawsuits over voting practices. All in all, it constitutes the most blatant use of Presidential power to prevent lawful voting since the days of Jim Crow. Trump and his allies appear to be succeeding, at least in the realm of perception: the Pew survey found that sixty per cent of Biden supporters expect voting to be difficult this fall, while just thirty-five per cent of Trump supporters do.
That gap almost certainly reflects, in part, the long history of obstacles that Democratic voters of color, particularly African-Americans, have faced when trying to exercise their right to vote. But it also suggests that Trump's tweetstorms and offhand comments are persuading even many white Democrats that they will have a hard time casting their ballots successfully. According to data assembled by the political scientist Michael McDonald, Democrats are already attempting to vote by mail at higher rates than Republicans in battleground states such as Florida. The anxieties of mail-in voters are hardly irrational: the easiest way to vote safely during the pandemic—by mail—also carries heightened risks of disenfranchisement, because the Trump campaign donor recently installed as Postmaster General has overseen a slowdown in mail-delivery times.
"A lot of confusion has been injected into the process because of bad actors," Nse Ufot, the chief executive of the New Georgia Project, a nonprofit working for voter enfranchisement that was founded by Stacey Abrams, the former minority leader of the Georgia House of Representatives, told me. Helping low-income voters cast their ballots requires navigating one barrier after another. For example, the state's Republican governor and legislature have refused to pay for the postage on mail-in ballots, so groups like the New Georgia Project are raising funds to do it. "It is not the work of civil-rights organizations to do the work of government," she said. "It is not our responsibility to pay for postage . . . and yet that is what we find ourselves doing." https://www.newyorker.com/news/daily-comment/battling-anxiety-over-making-sure-your-vote-gets-counted
21. John Pavlovitz: Donald Trump Needs "Suburban" White Fear. It's All He Has Left.
Dear Suburban White People in America,
Donald Trump is right: you should be very afraid.
Though, just not of the people he tells you to fear.
I know this year has been relentless in its terrors and challenges, and in your exhausted state it may be difficult to think clearly but I want to try because it's important.
I want you to step back and consider the message he's been sending to you in his press conferences and via overnight tweet storms and through his bottom-feeding surrogates and in his dollar store stormtrooper deployments—and especially with his extremely rare silence:
Police brutality against people of color is somehow always acceptable and justified—but protesting that brutality it is never under any circumstance: not silently kneeling on a football field or wearing a jersey or any other method.
White, anti-mask Americans with weapons on capitol steps are courageous patriots—but disparate citizens marching with children and signs are dangerous subversives.
Killing unarmed civilians with a high-powered rifle is an act of reasonable self-defense—while standing in the streets with locked arms to express outrage at it, is an act of aggressive and lawless provocation.
Property merits curfews and armed defense, while black human beings are left abandoned and discarded. https://johnpavlovitz.com/2020/09/02/yes-suburban-white-people-be-very-afraid/
22. Michael Hiltzik: Trump's plotting for a pre-election vaccine carries real dangers for your health
The Trump administration is plainly counting on a vaccine for COVID-19 becoming approved by the Nov. 3 election, in the expectation that news of the discovery will inspire a tide of public optimism that will sweep Trump to reelection.
Here's a more judicious counsel about how you should be reacting to the administration's push for rapid approval of a vaccine: Be afraid. Be very afraid.
Premature approval of a COVID-19 vaccine will sabotage public confidence in its safety. That in turn will give fuel to the anti-vaccine movement, undermining public health by allowing a resurgence of vaccine-preventable diseases such as measles.
Trump's attacks on the Food and Drug Administration, which must certify that any vaccine is safe and effective, already have undermined public confidence in the agency's determination to hew to hard science in approving a vaccine, rather than crumbling to political pressure.
The reputation of the Centers for Disease Control and Prevention, a second key federal public health regulator, has also been sapped by indications that it has tailored its recommendations related to COVID-19 to fit Trump's political strategy.
The consequences of a botched rollout could be dire.
In 1955, one such manufacturing glitch halted the nationwide campaign to vaccinate children against polio in its tracks. A small Berkeley manufacturing firm, Cutter Laboratories, allowed a live polio virus to contaminate some of its batches of the Salk vaccine, which was based on a deactivated virus.
An estimated 40,000 children contracted polio from the Cutter vaccine. https://www.latimes.com/business/story/2020-09-04/trump-vaccine-debacle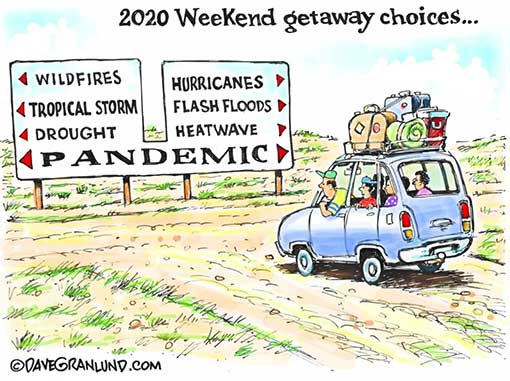 23. Juan Williams: Swamp creature at the White House
For all my criticism of President Trump, I've got to be honest — I loved the fireworks.
Fireworks swirled around the Washington Monument after Trump accepted the GOP nomination on the White House lawn on Aug. 27. They spelled "TRUMP" in the night sky.
If you are reading this column years from now, you might think this is a parody. You can't believe that any president got away with turning the White House into a gaudy stage for partisan politics.
Did I mention the opera singer on the White House balcony?
When Trump ran for president he promised to "drain the swamp" of Washington political corruption.
Now, Trump is king of the swamp. https://thehill.com/opinion/white-house/515334-juan-williams-swamp-creature-at-the-white-house
24. Peter Baker: More Than Ever, Trump Casts Himself as the Defender of White America
After a summer when hundreds of thousands of people took to the streets protesting racial injustice against Black Americans, President Trump has made it clear over the last few days that, in his view, the country's real race problem is bias against white Americans.
Just days after returning from Kenosha, Wis., where he staunchly backed law enforcement and did not mention the name of Jacob Blake, the Black man shot seven times in the back by the police, Mr. Trump issued an order on Friday to purge the federal government of racial sensitivity training that his White House called "divisive, anti-American propaganda."
The president then spent much of the weekend tweeting about his action, presenting himself as a warrior against identity politics. "This is a sickness that cannot be allowed to continue," he wrote of such programs. "Please report any sightings so we can quickly extinguish!" He reposted a tweet from a conservative outlet hailing his order: "Sorry liberals! How to be Anti-White 101 is permanently cancelled!"
Not in generations has a sitting president so overtly declared himself the candidate of white America. While Mr. Trump's campaign sought to temper the culture war messaging at the Republican National Convention last month by showcasing Black and Hispanic supporters who denied that he is a racist, the president himself has increasingly made appeals to the grievances of white supporters a centerpiece of his campaign to win a second term.  https://www.businessinsider.com/racist-great-replacement-conspiracy-far-alt-right-gop-mainstream-2020-9