November 1, 2018
ON THE RECORD. . .
A very big part of the Anger we see today in our society is caused by the purposely false and inaccurate reporting of the Mainstream Media that I refer to as Fake News. It has gotten so bad and hateful that it is beyond description. Mainstream Media must clean up its act, FAST! — Donald J. Trump (@realDonaldTrump) October 25, 2018
Stop blaming others. Look in the mirror. Your inflammatory rhetoric, insults, lies, & encouragement of physical violence are disgraceful. Clean up your act….try to act Presidential. The American people deserve much better. BTW, your critics will not be intimidated into silence. https://t.co/cS5qNiuU7o — John O. Brennan (@JohnBrennan) October 25, 2018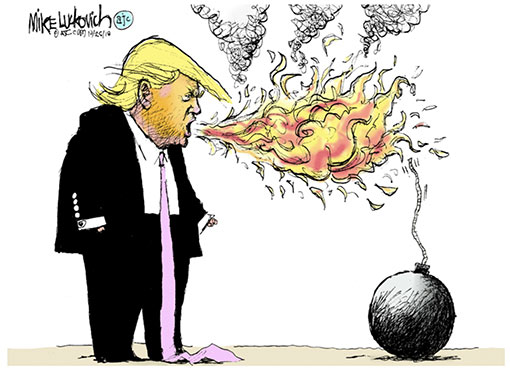 "Well I think I've been toned down, if you want to know the truth. I could really tone it up because, as you know, the media's been extremely unfair to me and the Republican Party," -- Trump hours after the FBI arrested a suspect in connection to the mailed pipe bombs sent to prominent Democrats and CNN this week.
"Throughout human history, certainly throughout American history, politicians have exaggerated. But what we have not seen before in our recent public life is politicians just blatantly, repeatedly, baldly, shamelessly lying. Making stuff up." -- Former President Barack Obama  during a rally with Democrats in Wisconsin
"What I can tell you is in 2016 we saw a 34 percent increase in acts of harassment, vandalism and violence against the Jewish community. But last year, a 57 percent increase, the single largest surge that we've ever seen in anti-Semitic acts in the United States."-- The Fort Worth Star Telegram endorses Rep. Beto O'Rourke (D-TX) for U.S. Senate
The pivotal issue before our country is public leadership, and here we believe O'Rourke's tone aligns with what is required now. This inclusive and hopeful tone, along with O'Rourke's approach of starting with shared principles and working toward solutions, offset any policy differences we have with him. Leadership is more than policy, and whether we are addressing the very real challenges before us now turns on our ability to find points of agreement. -- The Dallas Morning News endorses Rep. Beto O'Rourke (D-TX) for U.S. Senate
"Our Jewish community is not the only group you have targeted.  You have also deliberately undermined the safety of people of color, Muslims, LGBTQ people, and people with disabilities. Yesterday's massacre is not the first act of terror you incited against a minority group in our country.  President Trump, you are not welcome in Pittsburgh until you stop targeting and endangering all minorities." -- From an open letter to President Trump from the leaders of a Pittsburgh-based Jewish group, signed by 35,000 people.
"The propaganda industry that Kellyanne Conway commands, with the vile president that she serves, abetted by Mark Levin and Rush Limbaugh and Breitbart and NewsBusters and Judicial Watch and all the rest of them have blood on their hands for the incitements that they have made that have triggered and radicalized these crazy people." — Former GOP strategist Steve Schmidt, on MSNBC.
"I am sick and tired of this administration. I'm sick and tired of what's going on. I'm sick and tired of being sick and tired, and I hope you are, too." — Joe Biden
"A lot of his views are just very out there. He's made multiple comments that are racist and homophobic and how he doesn't like the Jews." -- Emily West who is telling everyone who listens not to vote for her father, Steve West, the Republican candidate for the Missouri General Assembly Kansas City Star reports.
Seconds after falsely claiming he's not fear-mongering about immigration, Trump fear-mongers about immigration. pic.twitter.com/4cEA2IalE8Matt Shuham (@mattshuham)
"The president's deployment of the world's strongest military against a band of vulnerable asylum seekers is embarrassing," -- Kevin Appleby, of the Center for Migration Studies, criticizing Mr. Trump's decision to send troops, saying it shows weakness instead of strength.
"The Democrats want to invite caravan after caravan of illegal immigrants into our country and they want to sign up them for free health care, welfare, and they want to sign them up for the right to vote." --Trump lying at the rally in Charlotte.
---
IN THIS ISSUE
FYI
OPINION
1. Satire from The Borowitz Report: Citizenship from Children of Immigrants, Thus Disqualifying Himself from Presidency
Donald J. Trump on Tuesday signed an executive order stripping the children of immigrant mothers of their citizenship, thus disqualifying himself from being President of the United States.

The constitutional crisis came to light moments after the signing ceremony, when a fourth grader visiting the Oval Office on a school tour pointed out the far-reaching legal ramifications of the order.

"Hey, wait, wasn't your mother from Scotland?" the student, Tracy Klugian, asked. "That means you're not a citizen and you can't be President."

Stephen Miller, a senior adviser to Trump and the author of the executive order, quickly grabbed the document from the Oval Office desk, panic spreading across his face as he reread it.

"Oh, my God," Miller gasped. "What have I done?"

Trump immediately called Supreme Court Justice Brett Kavanaugh for help in voiding the executive order, but Kavanaugh was unable to take the call because he was "sleeping off a rough night," an aide to the Justice said.

Asked to comment on Trump's predicament, former President Barack Obama said, "I can't imagine what it would be like not to be an American citizen. Of course, my mom was born here, so I'm good." https://www.newyorker.com/humor/borowitz-report/
2. How Trump-Fed Conspiracies About Migrant Caravan Intersect With Deadly Hatred
With the kind of dark language usually reserved for true catastrophes like the Sept. 11 attacks, conservative commentators and politicians have led a concerted push to elevate the caravan as an issue. They have called it 'an invasion.' 'a national emergency,' 'an illegal alien mob,' 'an attack on America,' and a crisis with implications that are 'critical to the future of our civilization.'
These outcries, which have included unfounded claims about the caravan's origins and wildly fluctuating estimates of its size, are playing out in a clear pattern. They often start with right-wing commentators, conspiracy theorists and activist groups with large followings; their talk then breaks through more broadly on Fox News, Breitbart News and other outlets that are popular with conservative voters; and ultimately Mr. Trump tweets or remarks about them, acting as an amplifier and a validator. https://www.nytimes.com/2018/10/29/us/politics/caravan-trump-shooting-elections.html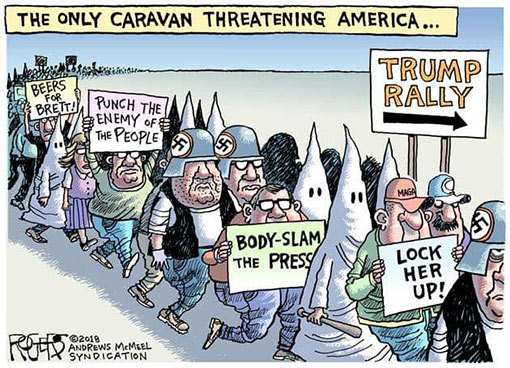 3. Where All the Key Races Stand, 6 Days Before the Midterms
Here's the latest on the most consequential, and most contentious, races we'll be watching on November 6:
At present the odds are good if not overwhelming that Democrats will regain control of the House and make significant gubernatorial and state legislative gains, while Republicans maintain control of the Senate (possibly even increasing their margin over Democrats there). Cook Political Report's David Wasserman calls the House landscape "fairly stable," with Democrats "poised to gain between 25 and 40 seats" (they need a net gain of 23 for control).
FiveThirtyEight gives Democrats six in seven odds of winning the House. Cook rates 69 House races as highly competitive, with all but two of those occurring in districts currently controlled by Republicans. FiveThirtyEight considers 110 races competitive — again, the vast majority are for Republican-controlled seats. Democrats have an advantage in the generic congressional ballot — an approximation of the national House popular vote — of 7.6 percent according to the RealClearPolitics polling average, and of 8.5 percent according to FiveThirtyEight.
Cook considers 13 Senate races — eight in seats controlled by Democrats, five in seats controlled by Republicans — competitive, which is obviously a far better landscape for the GOP than in the House. FiveThirtyEight suggests there is an equal probability (just 10 percent) that Republicans will pick up at least three net seats, or that Democrats will gain the two seats they need to flip the Senate
Over half the 35 governors' races on tap this year are rated as competitive by Cook, with an amazing 12 considered toss-ups. Because Republicans are defending 26 governorships, Democrats are almost certain to make gains.
Turnout is likely to be high for a midterm nearly everywhere. Early voting has grown as a share of total voting for a good while now, but so far, this year's numbers are especially impressive. http://nymag.com/intelligencer/2018/10/where-key-midterm-races-stand.html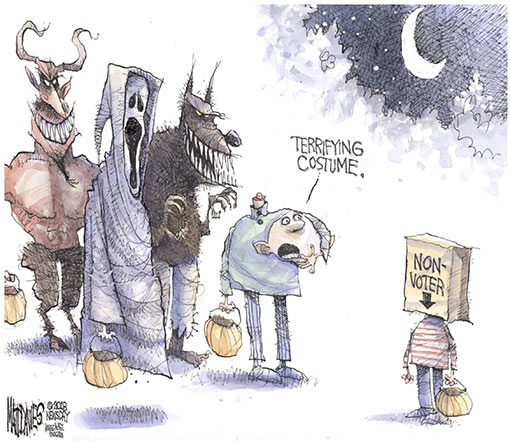 4. Democrats Open Up Wide Lead on Generic Ballot
A new USC Dornsife/Los Angeles Times poll finds Democrats leading Republicans in the generic congressional ballot by a stunning 17-points, 57% to 40% among likely voters. http://www.latimes.com/politics/la-na-pol-usc-latimes-poll-20181029-story.html
5. The DAILY GRILL
"We're the only country in the world where a person comes in and has a baby, and the baby is essentially a citizen of the United States for 85 years, with all of those benefits." -- Donald Trump

VERSUS

In fact, at least 30 other countries, including Canada, Mexico and many others in the Western Hemisphere, grant automatic birthright citizenship. -- A study by the Center for Immigration Studies.
 

With what happened early today, that horrible, horrible attack in Pittsburgh, I was saying maybe I should cancel both this and that. And then I said to myself, I remembered Dick Russell, a friend of mine, great guy, he headed up the New York Stock Exchange on September 11th, and the New York Stock Exchange was open the following day. -- Trump defending holding a campaign rally hours after 11 people had been murdered in a Pittsburgh synagogue.

VERSUS

The stock markets never opened for trading the morning of the attacks and were closed until Sept. 17 — the longest shutdown since 1933. And Dick Grasso was the head of the New York Stock Exchange. Dick Russell was a senator from Georgia, known as a fierce defender of segregation. -- Glenn Kessler the Wash Post Fact checker

 

"There is great anger in our Country caused in part by inaccurate, and even fraudulent, reporting of the news. The Fake News Media, the true Enemy of the People, must stop the open & obvious hostility & report the news accurately & fairly. That will do much to put out the flame . . . of Anger and Outrage and we will then be able to bring all sides together in Peace and Harmony. Fake News Must End!" -- Donald J. Trump (@realDonaldTrump) October 29, 2018

VERSUS

"This is, for all practical purposes, a call for more violence against the press. My god . . . what is happening???" -- Sen. Chris Murphy (D-Conn.) on Twitter

 

"There are constitutional scholars who say the 14th amendment has been misinterpreted and actually the Supreme Court has never gave a solid opinion on this." — White House adviser Kellyanne Conway, quoted by CBS News.

VERSUS

"Sometimes the Constitution's text is plain as day and bars what politicians seek to do. That's the case with President Trump's proposal to end 'birthright citizenship' through an executive order. Such a move would be unconstitutional and would certainly be challenged. And the challengers would undoubtedly win." — George Conway, husband of Kellyanne, writing in the Washington Post with Neil Katyal.

 

There's "entire populations coming in here" bringing "diseases," and keeping them out is "part of the reason why America's America. -- Fox and Friends Brian Kilmeade

VERSUS

"There is no invasion. No one's coming to get you. There's nothing at all to worry about." — Fox News anchor Shepard Smith, dismissing President Trump's claim of an invading caravan moving towards the Mexican border.
6. From the Late Shows
The Late Show with Stephen Colbert:The Tariff President Says 'We Don't Have Tariffs' https://youtu.be/OPy0CqYiINE

Seth's Favorite Jokes of the Week: Beautiful Ted, Trump's National Emergy: https://www.nbc.com/late-night-with-seth-meyers/video/seths-favorite-jokes-of-the-week-beautiful-ted-trumps-national-emergy/3818942
7. From MEDIA MATTERS (They watch Fox News so you don't have to)
As a serial bomber targets Democrats and the media, Fox contributor says "conservatives are the ones who really know what it feels like" to be targeted by "hate." Rachel Campos-Duffy: Trump rally attendees "complained to me that ... they felt unsafe wearing their Trump gear."  https://www.mediamatters.org/video/2018/10/25/serial-bomber-targets-democrats-and-media-fox-contributor-says-conservatives-are-ones-who-really/221838

The Federalist's Mollie Hemingway: Pipe bombs were "threatening-looking as opposed to actual threats." https://www.mediamatters.org/video/2018/10/26/federalist-s-mollie-hemingway-pipe-bombs-were-threatening-looking-opposed-actual-threats/221872

Sean Hannity reacts to arrest of bomber by ranting about CNN's "abusively biased news coverage." Hannity: "If there's any hate there, it's their hatred of the president." https://www.mediamatters.org/video/2018/10/26/sean-hannity-reacts-arrest-bomber-ranting-about-cnns-abusively-biased-news-coverage/221873

Fox personalities repeatedly pushed conspiracy theories about George Soros funding migrant caravans. Will the network do anything about them? https://www.mediamatters.org/blog/2018/10/29/fox-personalities-repeatedly-pushed-conspiracy-theories-about-george-soros-funding-migrant-caravans/221909

Fox News guest claims migrant caravan is bringing "small pox and leprosy and TB that is going to infect our people." David Ward: Migrants have "extreme" medical conditions. https://www.mediamatters.org/video/2018/10/29/fox-news-guest-claims-migrant-caravan-bringing-small-pox-and-leprosy-and-tb-going-infect-our-people/221905

Tucker Carlson who claims to have nothing in common with neo-Nazis and white supremacists, constantly echoes their talking points on his show. For a timeline of the public devolution of Tucker Carlson's thinly veiled racism into full-throated white supremacy go to: https://www.mediamatters.org/research/2018/10/29/tucker-carlsons-descent-white-supremacy-timeline/221741

Fox's Brian Kilmeade says immigrants are "sneaking into the country" to have children and "change the trajectory of generations." https://www.mediamatters.org/video/2018/10/30/foxs-brian-kilmeade-says-immigrants-are-sneaking-country-have-children-and-change-trajectory/221933
8. Pew survey: It's getting harder to be Latino in America
It is harder to be Latino in America than it was before Donald Trump was elected, according to a new survey from the nonpartisan Pew Research Center.
Nearly half of Hispanics say the situation has worsened for people of their ethnicity in the past year — up from about a third just after the 2016 elections. A similar percentage are insecure about their place in the United States with Trump as president, and over 6 in 10 are dissatisfied with the way things are going in the country — the highest rate since the 2008 recession.
The survey — of citizens and noncitizens, immigrants, and native-born people — comes in the final days before the midterm elections, as the Trump administration has moved to curb both legal and illegal immigration and is threatening to close the southwest border to stop a caravan of Central American migrants hoping to seek asylum in the United States. https://www.washingtonpost.com/local/immigration/pew-survey-its-getting-harder-to-be-latino-in-america/2018/10/25/1b11ea34-d649-11e8-83a2-d1c3da28d6b6_story.html
9. Voting Dogs And Other Fantastic Fables From The GOP Voter Fraud Mythology
Numerous studies have found that voter fraud is far from a major issue in the U.S., and in-person fraud of the sort Trump and Kobach like to talk about — things like non-citizens showing up to vote or people returning to vote multiple times under different names — is vanishingly rare. A 2007 study by NYU's Brennan Center for Justice memorably found that an individual American is more likely to get struck by lightning than to commit in-person voter fraud.
And yet, as of last summer, 68 percent of Republicans thought millions of illegal immigrants had voted in 2016, and almost three quarters said voter fraud happens "somewhat" or "very often." The same survey found that nearly half of Republicans believedTrump had won the popular vote.
Trump may have brought the Republican Party into a new era, but such attitudes long predate Trump. For decades, complaints about "voter fraud" have been a core component of Republican right-wing folklore — and one of their most useful election-year tools, particularly in places where winning the white vote isn't enough to win elections. https://talkingpointsmemo.com/feature/stolen-elections-voting-dogs-and-other-fantastic-fables-from-the-gop-voter-fraud-mythology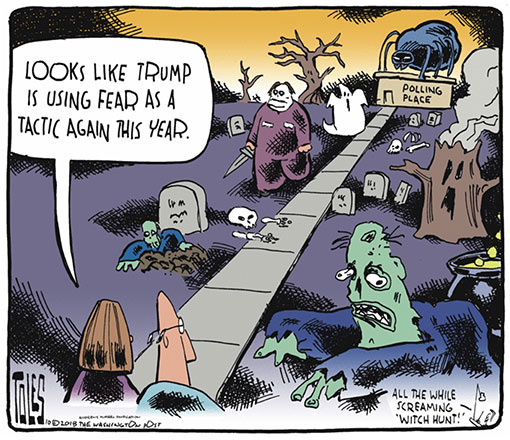 10. Voter Enthusiasm Reaches Historic Levels
There are many unknowns with this year's midterm elections, but one thing seems clear: A lot of people are going to go to be voting. From poll data to actual early ballots, the signs point to 2018 as a blockbuster midterm in terms of turnout"
Overall, 65 percent of those surveyed said they had high interest in this midterm election. That figure is higher than any number seen recently. The closest election was 2006, when 61 percent said they were highly interested in that midterm. Furthermore, the trend in the data holds true for a wide range of demographic groups from women to Democrats and Republicans to white, African–American and Hispanic voters. https://www.nbcnews.com/politics/first-read/midterm-voter-enthusiasm-reaching-historic-levels-n925326?cid=public-rss_20181028
11. Trump Persuaded Struggling People to Invest in Scams, Lawsuit Says
A new lawsuit accuses President Trump, his company and three of his children of using the Trump name to entice vulnerable people to invest in sham business opportunities.
The 160-page complaint alleges that Mr. Trump and his family received secret payments from three business entities in exchange for promoting them as legitimate opportunities, when in reality they were get-rich-quick schemes that harmed investors, many of whom were unsophisticated and struggling financially.
Those business entities were ACN, a telecommunications marketing company that paid Mr. Trump millions of dollars to endorse its products; the Trump Network, a vitamin marketing enterprise; and the Trump Institute, which the suit said offered "extravagantly priced multiday training seminars" on Mr. Trump's real estate "secrets." https://www.nytimes.com/2018/10/29/nyregion/trump-acn-lawsuit.html
12. Where some see tragedy in toxic politics, Trump sees opportunity
There is a fundamental divide about our current politics — the overheated and demeaning rhetoric, the inability to compromise, partisanship all the time. While most politicians, Democrats and Republicans, see this as a problem, President Trump sees it as an opportunity. Something to exploit. Something to help turn out his voters. https://www.nbcnews.com/politics/first-read/where-some-see-tragedy-toxic-politics-trump-sees-opportunity-n925561
13. Trump: Our Plan Covers Pre-existing Conditions. It Does the Exact Opposite.
Neither chamber of Congress has any plan to move forward with regard to health care. If Trump has such a plan, he has kept it completely secret.
But, in place of a "plan," the administration really does have a concrete course of action on health care. It's a lawsuit to overturn federal regulations protecting people with preexisting conditions. The law, the true centerpiece of the Affordable Care Act, prevents insurers from either charging higher prices to people with preexisting conditions or denying coverage for treatments they need.
Republican attorneys general in 20 states, joined by the Trump administration, are supporting an outlandish lawsuit to eliminate these protections. Their case rests on the fact that they originally envisioned having an individual mandate, and since Congress repealed the individual mandate, the protections for preexisting conditions should also be repealed. The legal absurdity of this argument can be seen simply by noting that, if Congress actually meant to repeal the insurance regulations when it eliminated the individual mandate, it would have said something to this effect at the time. It didn't. http://nymag.com/intelligencer/2018/10/trump-plan-covers-preexisting-conditions-lying.html
14. Startling new research finds large buildup of heat in the oceans, suggesting a faster rate of global warming
The world's oceans have been soaking up far more excess heat in recent decades than scientists realized according to new research published Wednesday.
The higher-than-expected amount of heat in the oceans means more heat is being retained within Earth's climate system each year, rather than escaping into space. In essence, more heat in the oceans signals that global warming is more advanced than scientists thought. https://www.washingtonpost.com/energy-environment/2018/10/31/startling-new-research-finds-large-buildup-heat-oceans-suggesting-faster-rate-global-warming/
15. Trump's hate and lies are failing
Trump and Republicans are closing by lying about health care and taxes to limit losses among suburban and well-educated white voters, and lying about immigration while race-baiting against individual Democratic candidates to keep the downscale white GOP base energized. This probably won't be enough for Republicans to keep the House. But whatever is to be on this front, the need to lie so relentlessly about all these matters itself constitutes an admission of failure. The public has seen Trump's fusion of ethno-nationalism and orthodox GOP plutocracy put into governing practice, and is rejecting it. https://www.washingtonpost.com/blogs/plum-line/wp/2018/10/31/trumps-hate-and-lies-are-failing-two-new-studies-show-why/
16. National debt jumps $1.2 trillion in fiscal year 2018
The national debt rose more than $1.2 trillion in the fiscal year that just concluded on Sept. 30, according to a government website that tracks the debt. https://www.treasurydirect.gov/govt/reports/pd/debttothepenny.htm
1. Damon Linker: The revenge of the deplorables
It may have been politically ill-advised and numerically imprecise for Hillary Clinton to declare at a fundraiser in September 2016 that roughly half of Donald Trump's supporters belong in a "basket of deplorables" characterized by irredeemably "racist, sexist, homophobic, xenophobic, Islamophobic" views. But it was undeniably true.
This was obvious at the time, and it's even more so now, after the horrifying events of the past week — including the mailing of a dozen pipe bombs to prominent Democrats and the single deadliest attack on the Jewish community in American history.
Every president is elected by a distinct electoral coalition, and the coalition that elected Trump included an unusually large number of people with virulently illiberal, extreme right-wing views — the kind of people who normally find both major-party nominees far too blandly centrist to inspire much enthusiasm. Trump spoke to these voters. His championing of "birtherism," his denunciation of Mexican "rapists," his denigration and fear-mongering about Muslims, and his attacks on "globalist" bankers convinced these extremist voters that Trump shared their fears of the country becoming less white, less Christian, and less willing to defend its identity as a white, Christian nation against various invaders, including Muslims, immigrants from Latin America, blacks, and Jews.
Along with his substantive message, Trump spoke to these voters with what one might call his habits of mind — his hostility to bedrock liberal norms and institutions (including a free press), his indulgence and encouragement of conspiracy theories, and his refusal to distance himself from far-right people and ideas. https://theweek.com/articles/804382/revenge-deplorables
2. David Corn: In the Wake of the Pittsburgh Massacre, Sarah Huckabee Sanders Gaslights America
It was not surprising. Giving the first White House news briefing in weeks, press secretary Sarah Huckabee Sanders issued predictable words: "The American people reject hatred, bigotry, prejudice, and violence." But President Donald Trump has not rejected any of that. The case is undeniable—except Trump and his minions keep denying it. 
Hatred: Trump has encouraged chants of "lock her up" regarding Hillary Clinton, his opponent in the 2016 presidential election. He has demeaned and demonized other political foes, engaging in name-calling and bully-like taunting. And he has offered comfort to haters, such as when he noted there were "very fine people" among the white nationalists who organized the Charlottesville protest. He has repeatedly called the media the "enemy of the people." He did so once again Monday morning, even as the national discourse focused on the possibility of healing divisions. All this is hate, pure and simple. 
There is great anger in our Country caused in part by inaccurate, and even fraudulent, reporting of the news. The Fake News Media, the true Enemy of the People, must stop the open & obvious hostility & report the news accurately & fairly. That will do much to put out the flame… — Donald J. Trump (@realDonaldTrump) October 29, 2018
Bigotry and prejudice: Trump pushed the racist birther conspiracy theory about former President Barack Obama. He claimed an American federal judge could not be impartial because he was "Mexican." He has routinely referred to his African American critics as "low IQ." He has often uttered misogynistic comments, referring to women as pigs and dogs. (And there is that Access Hollywood tape.) He pressed for a ban on Muslim travelers to the United States (and had to revise course to skirt judicial opposition to its prejudicial nature). 
Violence: Trump recently praised a one Republican congressman for assaulting a reporter. That remark prompted media outlets to review his previous comments that encouraged violence. Here's one. Here's another. These videos don't lie. https://www.motherjones.com/politics/2018/10/in-the-wake-of-the-pittsburgh-massacre-sarah-sanders-gaslights-america/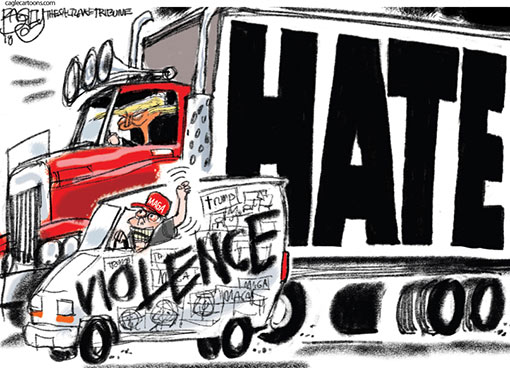 3. Eliana Johnson: Bolton achieving 'life's work' by axing international deals
When John Bolton was a State Department official under President George W. Bush, he loved nothing more than sabotaging international agreements that he felt undermined America's sovereignty and security. His "happiest moment" at the State Department, he recalled in a 2007 memoir, came when he personally extracted the U.S. from the International Criminal Court.
"I felt like a kid on Christmas Day," Bolton wrote.
Now that Bolton is President Donald Trump's national security adviser, Christmas has been coming early and often.
Since his arrival in early April, Bolton has helped to trash, weaken, or undermine four international treaties, organizations and agreements. They range from the major, like the Iran nuclear deal, to the minor, like an obscure 144-year-old international postal treaty from which the Trump administration withdrew last week.
If it is a dream come true for Bolton, it is a nightmare for the Washington diplomatic establishment he has relished torturing for the past three decades. In a Monday op-ed, Joe Cirincione, president of the Ploughshares Fund, wrote that Bolton is "on a serial killing spree of arms control agreements" and asked: "Can he be stopped before he kills again?" https://www.politico.com/story/2018/10/25/john-bolton-trump-white-house-foreign-policy-938604
4. Jennifer Rubin: "President" Trump, ever the victim
It takes remarkable skill, when you think about it, to claim victimhood when your enemies are threatened with assassination. But for President Trump, his state media and his cultish following, victimhood is central to their identity and critical to their mobilization. A party in control of every branch of government is the victim. White males — even a wealthy Yale graduate with a lifetime appointment to the federal bench — are victims. The cops who shoot unarmed black teens are victims. Residents of the small towns in the Rust Belt where few, if any, illegal immigrants live are victims of immigrants. Forget the crime statistics; we're victims of criminals who are here illegally. Conservatives who control an entire media universe devoid of journalistic standards are victims of the mainstream media. Americans are victims (ripped off!) by an international system that made us the world's only superpower.
Given all that, it is hardly surprising that Trump claimed to be the victim in the mailing of pipe bombs (now numbering 12) to some of his favorite targets (e.g. John Brennan, Rep. Maxine Waters, the Clintons):
Funny how lowly rated CNN, and others, can criticize me at will, even blaming me for the current spate of Bombs and ridiculously comparing this to September 11th and the Oklahoma City bombing, yet when I criticize them they go wild and scream, "it's just not Presidential!" — Donald J. Trump (@realDonaldTrump) October 26, 2018
Trump expresses no concern for the actual victims of these threats or for the country that is witnessing this domestic terrorism. Moreover, the attempted assassinations now become his go-to excuse if Republicans lose in the midterms:
Republicans are doing so well in early voting, and at the polls, and now this "Bomb" stuff happens and the momentum greatly slows - news not talking politics. Very unfortunate, what is going on. Republicans, go out and vote! — Donald J. Trump (@realDonaldTrump) October 26, 2018
On one level, this is insane, but on another it is symptomatic of Trump's appeal. His party is now the party of white grievance. Bedraggled immigrants a thousand miles from the U.S. border or the crafty Canadian Prime Minister Justin Trudeau are all threats. China is a threat. Women reporting sexual assault are a threat. Mysterious — make that nonexistent–Middle Easterners who infiltrate a caravan hundreds of miles away are a threat. And most of all, the media — which refuses to accept Trump's invented political universe — is a threat. https://www.washingtonpost.com/news/opinions/wp/2018/10/26/president-trump-ever-the-victim/
5. Caitlyn Jenner: I thought Trump would help trans people. I was wrong.
The reality is that the trans community is being relentlessly attacked by this president. The leader of our nation has shown no regard for an already marginalized and struggling community. He has ignored our humanity. He has insulted our dignity. He has made trans people into political pawns as he whips up animus against us in an attempt to energize the most right-wing segment of his party, claiming his anti-transgender policies are meant to "protect the country." This is politics at its worst. It is unacceptable, it is upsetting, and it has deeply, personally hurt me.
Believing that I could work with Trump and his administration to support our community was a mistake. The recently leaked Department of Health and Human Services memo that suggests — preposterously and unscientifically — that the government ought to link gender to one's genitalia at birth is just one more example in a pattern of political attacks. One doesn't need to look back far to witness the president assault our nation's guardians with a ban on trans people serving in the military or assail our nation's future with a rollback of Obama-era protections for trans schoolchildren.
It's clear these policies have come directly from Trump, and they have been sanctioned, passively or actively, by the Republicans by whose continued support he governs. My hope in him — in them — was misplaced, and I cannot support anyone who is working against our community. I do not support Trump. I must learn from my mistakes and move forward. https://www.washingtonpost.com/opinions/caitlyn-jenner-i-thought-trump-would-help-the-lgbtq-community-i-was-wrong/2018/10/25/3c4cd61e-d86a-11e8-83a2-d1c3da28d6b6_story.html
6. Jonathan Chait: Trump's Party Is the Petri Dish for Diseased Minds That Grew Cesar Sayoc
Rush Limbaugh, the most influential conservative talk show host in the country, and a man whom Republicans made an honorary member of the 1995 freshman class in recognition of his role in helping them win the House majority, explained recently that the still-anonymous bomber could not be on the political right. "Republicans just don't do this kind of thing," he explained. "From the Haymarket riot to the Unabomber, bombs are a liberal tactic," added Ann Coulter.
The discovery that the person suspected of mailing bombs to various figures Donald Trump has described as enemy threats is in fact a Trump-supporting Republican has necessitated a change in emphasis. Whereas before conservatives insisted the bomber's method told us everything we needed to know about his ideology, now they insist it tells us nothing at all about his ideology. "Crazy person attacks Republican Congresspeople: blame the crazy. Crazy person sends bombs to Democrats: blame the Republicans," tweets right-wing commentator Ben Shapiro, whose analysis was recirculated by Donald Trump Jr.
It is of course true that the overwhelming majority of Republicans are not violent. It is likewise true that nothing about conservative ideology or its program requires violent action. Nonetheless, the relationship between the two parties and violence is not symmetrical, and the fact that alleged bomber Cesar Sayoc had a strong identification with Trump and his partisan message is not a coincidence. The Republican Party encompasses an extremist fringe that nurtures violence in a way the Democratic Party does not.
Political violence — when it is attached to political ideology at all, as opposed to simple mental illness — is associated with Manichean, paranoid, illiberal thought. That is a description of a large and steadily growing wing of conservative politics. Elements of paranoid extremism resided in the very beginnings of the Goldwater movement, which took its inspiration from delusional yet wildly paranoid tracts such as "A Choice, Not an Echo" and "None Dare Call It Treason." Sensible conservatives roll their eyes at this sort of nuttery, but by this point in history, such modes of delusional thought have gained such deep inroads in the party that purging them is a hopeless task.
Even figures as deranged as Limbaugh have long since found themselves outflanked by even more deranged minds like Alex Jones, who has received respectful attention from President Trump, himself an avid conspiracy theorist. Trump has praised a member of Congress for assaulting a reporter; pardoned ranchers who inspired a right-wing militia attack, the right-wing conspiracist Dinesh D'Souza, and lawless authoritarian racist Joe Arpaio; literally today, at an event in which he was attempting to project some measure of dignity and decorum, Trump invoked a far-right conspiracy theory by attacking George Soros as a "globalist" and chuckling appreciatively at an audience member shouting "Lock him up!" http://nymag.com/intelligencer/2018/10/bomber-cesar-sayoc-is-trump-republican-extremism.html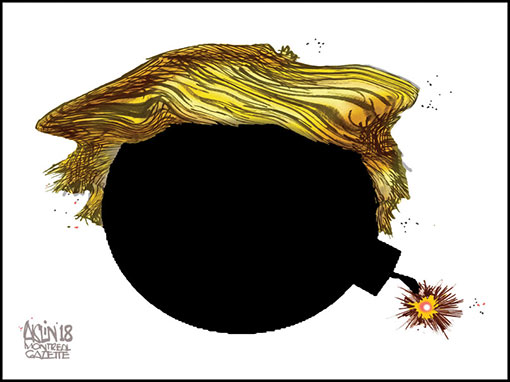 7. Ryan Cooper: All the ways Republicans are trying to destroy pre-existing conditions coverage
Do you have a pre-existing condition, like arthritis, diabetes, asthma, or about a million other problems? About one in four Americans (or over 50 million people) do. Even if you aren't personally in that group, it's highly likely one of your friends or family are — and what's more, such a condition can develop at any time.
That's why it's important for each and every American to know that, contrary to what President Trump claims, the Republican Party has made great efforts to snatch health insurance from people with pre-existing conditions. They have tried multiple times to do it through legislation and are trying to do it right now through legal and regulatory efforts.
Let's take them in turn. Back in 2017, the Republican Party tried multiple times to repeal ObamaCare with the American Health Care Act. Now, this would have preserved "guaranteed issue" regulations, meaning insurers would have to sell you a policy if you had a pre-existing condition — but it would have heavily eroded "community rating" regulations which prevented insurers from charging you through the nose for that policy. For states that set up high-risk pools, those restrictions could be removed. What's more, the AHCA subsidies for these pools were so stingy — about 6 percent of a reasonable amount — that the premiums were sure to be outrageous. An AARP report estimated that premiums in such a pool would cost about $25,000 per year, and the policies would be garbage. (A later conservative amendment had the same waiver problem.)
This is a natural outgrowth of conservative ideology when it comes to health insurance. As House Speaker Paul Ryan has explained in detail, conservatives can't abide the idea of shifting money from one person to another (well, unless the recipient is a bank, oil company, or other wealthy businessman, but never mind). But people with pre-existing conditions often require more treatment than they can afford — sometimes many multiples of their entire income. What happens if you deliver health care through pure market institutions is that people who have expensive conditions go without treatment, unless they are rich. https://theweek.com/articles/803889/all-ways-republicans-are-trying-destroy-preexisting-conditions-coverage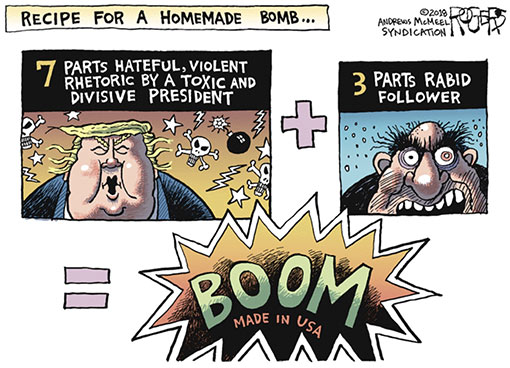 8. David Remnick: The Midterm Elections Are a Referendum on Donald Trump
Trump is a masterful demagogue of the entertainment age. His instruments are resentment, sarcasm, unbounded insult, casual mendacity, and the swaggering assertion of dominance. From his desk in the Oval Office, on Twitter, and at political rallies across the country, he spews poison into the atmosphere. Trump is an agent of climate change, an unceasing generator of toxic gas that raises the national temperature.
The midterm elections are being held in an atmosphere of immense national stress. It could only be so when the singular actor in the drama is Donald Trump, who thrives on the idea that American life is a daily cliffhanger, in which the hero bravely sets out to deepen the divide between his supporters and everyone else, to dismantle international agreements and alliances, and to protect corporate interests over the interests of working people and the natural world. There are, unquestionably, countless local and regional issues being debated, but, above all, this election is a referendum on Trump, a contest between his base and those who feel that it is in the national interest to establish at least some brake—a new majority in the House of Representatives, a new crop of governors and state legislators—to slow his disintegration of American life and his despoilment of the national spirit. Two years ago, the prospect of a Trump Presidency represented an emergency. Tens of millions of voters found a reason to stay home. This year, the polls are tight. The stakes cannot be overstated.  https://www.newyorker.com/magazine/2018/11/05/the-midterm-elections-are-a-referendum-on-donald-trump
9. John McLaughlin: Why dropping the INF Treaty is a terrible idea
When it comes to nuclear weapons, just giving up and walking away from an arms-control treaty reverses the wise course of negotiated reductions we have followed for decades. The likely consequence of killing this treaty is that Russia will build more nukes and so will we. There are about 15,000 nuclear weapons in the world and tons of explosive nuclear material; no one needs more. While nuclear weapons can be stabilizing, that effect is most apparent when there is a degree of cross-national transparency codified in arms control agreements.
Moreover, walking away from this agreement distracts from the most basic truth about nuclear weapons: They are dangerous. The more weapons there are, scattered among more countries, ungoverned by international accords, the greater the likelihood of miscalculation or accidental launch — and the world has had a few close calls. https://www.washingtonpost.com/opinions/why-dropping-the-inf-treaty-is-a-terrible-idea/2018/10/26/c03553ec-d929-11e8-a10f-b51546b10756_story.html
10. Joe Scarborough: Voters are finally on to the GOP
Washington Democrats have been in a political death spiral since the day Donald Trump descended his tacky golden escalator to announce a run for the presidency. In the three years since, the Democratic response to Trump's toxic tweets and putrid pronouncements has been confused and ineffective. Their Capitol Hill news conferences bemoaning the former reality TV star's racism, misogyny and corruption have usually fallen on mostly deaf ears. Even the demagogue in chief's self-inflicted wounds only serve to harden the support of his base.
So it has been fascinating this week to watch Trump Republicans running scared whenever the subject turns to health care.
But voters are finally on to the GOP.  That's why endangered Republican candidates are changing the subject from health care in America to migrant families in Guatemala. Scott, McSally and scores of desperate candidates have decided to follow America's most famous birther by playing to voters' worst instincts. With their congressional majorities on the line, Republicans are frantically trying to stoke fear of "others."
Don't worry about health care, their argument goes, when thousands of brown-skinned marauders — somehow organized and financed by big-money Jewish Democrats — are heading our way. They aren't like us, they have no place in our country, and they will be stopped in their tracks by U.S. troops at the border. This nonsense obviously polls well among low-information voters who have already forgotten that the last such "invasion" from Central America only resulted in a few dozen arrests.
But facts stopped mattering to my former political party a long time ago. Instead, Trump's party is betting its congressional majority on the cynical belief that racism in America is such a toxic force that voters will throw away their families' health-care protections in response to a phony conspiracy theory cooked up in the diseased minds of radicals and race-baiting politicians. https://www.washingtonpost.com/opinions/voters-are-finally-on-to-the-gop/2018/10/26/8bd9ce84-d94c-11e8-83a2-d1c3da28d6b6_story.html
11. Maureen Dowd: 'Riling Up the Crazies'
As long as I've covered politics, Republicans have been trying to scare me.
Sometimes, it has been about gays and transgender people and uppity women looming, but usually it has been about people with darker skin looming.
They're coming, always coming, to take things and change things and hurt people.
A Democratic president coined the expression, "The only thing we have to fear is fear itself." But it was Republicans who flipped the sentiment and turned it into a powerful and remorseless campaign ethos: Make voters fear fear itself.
President Trump was relieved when the F.B.I. arrested a suspect — a racist, homophobic, roid-raging, strip-club-loving, MAGA-worshiping Florida man who was living in a van that looked like a decoupage of Fox News propaganda.
The real fear that Cesar Sayoc Jr. is accused of spreading was distracting from the fake fear Trump was spreading to spur Republicans to the polls. And the president didn't like it. Before Sayoc was caught, Trump implied that the terrorism was a Democratic setup to deflect from his midterms roadshow. Pipe bombs getting in the way of pipe dreams. https://www.nytimes.com/2018/10/27/opinion/sunday/donald-trump-fear.html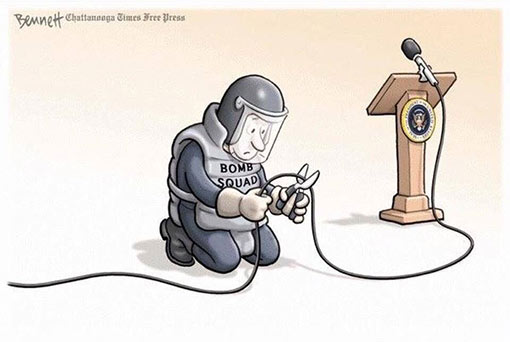 12. Josh Marshall: The Stakes Are Dire
As a friend pointed out yesterday, 2016 can be seen as a fluke. A series of perfect storm factors coming together to make Donald Trump president with a minority of the popular vote and razor thin margins in three critical states. 2018, if it's a winning election for the Republicans, will be a choice. A ratification of everything we've seen over the last two years. That will be a reality we'll all have to contend with for what it says about the state of the country. It will send a signal abroad that this is now the American political reality and unquestionably accelerate all the geo-political processes Trump has spurred or which drove him to the White House in the first place.
Domestically the impact will be worse. The political message will be simple: you can do all this stuff and suffer no political consequences. https://talkingpointsmemo.com/edblog/the-stakes-are-dire
13. Max Boot: What Is Happening to Our Country?
Extremism has been present in America for a long time. But Trump is applying a match to the kindling.

Trump calls Democrats "evil" and "crazy." He accuses them of being "treasonous" and "un-American." He claims they are in league with MS-13 gang members. He says they are trying to open our borders to criminals and to turn America into Venezuela — a bankrupt socialist dictatorship. He denounces the media as "the enemy of the people." He applauds a congressman who assaulted a reporter and calls for his political opponent to be locked up. He singles out minorities such as Waters for opprobrium, and he promotes anti-Semitic conspiracy theories that hold George Soros responsible for everything from the Central American caravan to protests against Brett M. Kavanaugh. https://www.washingtonpost.com/opinions/what-is-happening-to-our-country/2018/10/27/47b462f6-da13-11e8-aeb7-ddcad4a0a54e_story.html
14. Jason Sattler: The tide of hate and the man in the White House
Before Shabbat began Friday night, a Donald Trump superfan had been arrested for a failed domestic terrorism spree against the President's favorite rhetorical targets.
Trump refused to take any blame for inspiring alleged mail bomber Cesar Sayoc's actions and gave a speech in the East Room of the White House in which he called out "globalists" for "cheating our workers."
A fan in the crowd got exactly what the President meant and shouted "Soros."
You know George Soros is the billionaire who'd been targeted by Sayoc and blamed by many on the right for everything from the protests against Brett Kavanaugh to the overhyped "caravan" of asylum seekers that's still close to the Equator than it is to the U.S. border.
Another Trump fan shouted, "Lock him up!"
Trump chuckled and said under his breath, "Lock him up."
Before Shabbat was over, a gunman had killed several members of the congregation and three police officers were killed inside the Tree of Life synagogue in Pittsburgh, on the morning of a baby's bris.
The killer reportedly shouted, "All these Jews must die."
The President responded to this horror with the NRA-approved pabulum, "If they had some kind of a protection inside the temple, maybe it could have been a much different situation."
This attempt to blame the congregation for not defending themselves isn't inventive, but it ignores the fact that when cops arrived, they too were shot.
It's clear what Trump is saying that it would be better to fill our houses of worship with guns than to take any steps to reduce their availability or reduce the volume of rising hate against all minorities that has seen a historic anti-Semitic hate, according to the Anti-Defamation League. http://www.nydailynews.com/opinion/ny-oped-tide-of-hate-man-in-white-house-20181027-story.html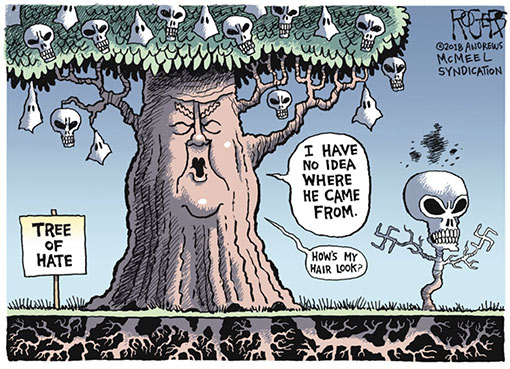 15. E.J. Dionne Jr.: Trump's grip on power depends on splitting the nation in two
It's often innocently assumed that presidents, by virtue of the office they hold, automatically push aside partisanship in the face of national crises. The slaughter at the Tree of Life congregation in Pittsburgh combined with the pipe bombs sent to President Trump's opponents have certainly created such a moment.
But this wishful thinking overlooks the central fact about Trump's approach to politics: His grip on power depends entirely on splitting the nation in two. Angry division — rooted in race, gender, immigration status, religion and ideology — allowed Trump to become president. Absent a politics of us-versus-them, Trumpism makes no sense at all.
This explains why Trump will sometimes offer presidentially appropriate words of concord ("It will require all of us working together to extract the hateful poison of anti-Semitism," he said at an Illinois rally on Saturday) but almost immediately return to baiting and assailing his enemies and also groups against whom he hopes to court a backlash.
For Trump and his enablers, national unity is not a noble goal but a dire threat to their political well-being. https://www.washingtonpost.com/opinions/trumps-grip-on-power-depends-on-splitting-the-nation-in-two/2018/10/28/c7ba9bca-d958-11e8-aeb7-ddcad4a0a54e_story.html
16. Max Boot: Fox News and the rest of the right-wing media can't escape responsibility
Who created the environment in which right-wing terrorismhas become far more commonplace — and, since 9/11, far more deadly — than Islamist terrorism in America?
President Trump — by championing "nationalism," denouncing "globalists" such as Jewish financier George Soros, vilifying immigrants as "snakes" and "animals," fearmongering about a refugee caravan and defending white supremacists as "fine people" — bears a substantial share of the blame.
Some of his Republican followers are even more extreme. Rep. Matt Gaetz (R-Fla.) brought a Holocaust denier to the State of the Union and has blamed Soros for financing a Central American immigrant caravan. Rep. Steve King (R-Iowa) gave an interview to a far-right Austrian website in which he endorsed the white-supremacist claim that white nations are committing "slow-motion cultural suicide" by allowing in immigrants of color.
Where do these politicians get these noxious ideas? From a right-wing media industrial machine that includes Fox News, Breitbart, Infowars, Newsmax, the Daily Caller, Gateway Pundit and many other outlets. It was Maria Bartiromo of Fox Business Network who asked Grassley if Soros was behind the Kavanaugh protests — and after Grassley endorsed the charge, Trump gave it his imprimatur. The Wall Street Journal, in turn, ran an op-ed endorsing this calumny. Last week, Fox Business host Lou Dobbs interviewed Chris Farrell of Judicial Watch, who claimed that the Central American caravan was directed by the "Soros-occupied State Department," echoing neo-Nazi propaganda about a "Zionist-occupied government." (Fox Business has since apologized.)
Fox News isn't just vilifying a major Jewish donor to liberal causes. It is also demonizing all Democrats — literally. Host Jeanine Pirro refers to them as "demon rats." https://www.washingtonpost.com/opinions/ask-the-questions-about-right-wing-terrorists-that-we-ask-about-islamist-militants/2018/10/28/64403b32-daec-11e8-b3f0-62607289efee_story.html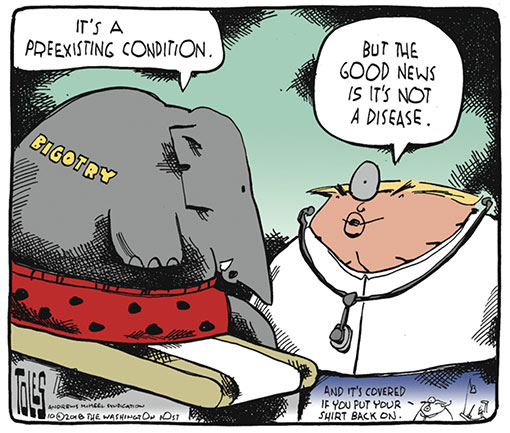 17. Eric Levitz: The GOP's Caravan Propaganda Is Aiding Nazis for No Good Reason
In recent months, President Trump has warned the public that Democrats "want illegal immigrants, no matter how bad they are, to pour in and infest our Country, like MS-13" because liberals "view them as potential voters." The nation's most-watched cable news network has echoed this charge, reporting, in its prime-time hour, that Democrats are "plotting a coup"against the U.S. government, using illegal immigrants as their shock troops.
In recent weeks, Trump has told supporters that the caravan of Central American migrants currently headed towards the U.S. "didn't just happen," and that "the Democrats had something to do with it" — while also stipulating that there were known criminals and Middle Eastern terrorists in the caravan. Meanwhile, Republican congressman Matt Gaetz suggested that migrants were being paid — possibly by George Soros, who frequently donates to Democratic causes — to "storm the US border @ election time." Conservative commentator Erick Erickson made the same point less equivocally, tweeting, "It is not a coincidence that this caravan to the south of us is happening 2 weeks before our federal elections."
And pundits at just about every major right-wing outlet began describing the caravan as a literal invasion of the United States, with some explicitly arguing that the attempt by thousands of (disease-riddled) Central Americans to secure asylum in the United States should be regarded as "an act of war."
Given all of this, it is perfectly appropriate for Democrats to respond to the atrocity in Pittsburgh by calling on the Republican Party to cease its promotion of a paranoid fiction that closely resembles neo-Nazi propaganda. Conservatives who are more troubled by right-wing authoritarians than by liberal straw men will join in such calls; those who aren't will decry Democrats for "using dead Jews as yet another way to attack Trump, " as the reigning authoritarian-in-chief himself carries on blaming anti-Semitic violence on a news media conspiracy, and lambasting his political rivals for organizing an "invasion" of the United States. http://nymag.com/intelligencer/2018/10/trump-migrant-caravan-robert-bowers-anti-semitism-nazis-tree-of-life-shooting.html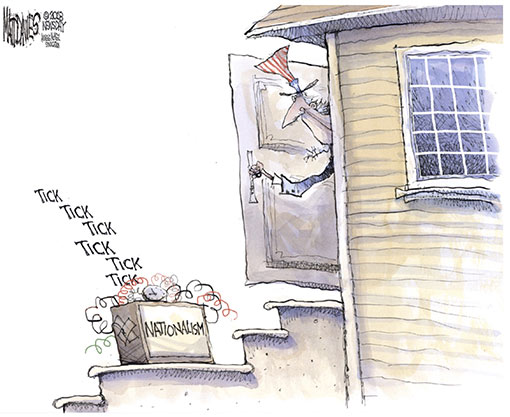 18. Ryan Cooper: The GOP's pathetic caravan distraction
One important implication is that this caravan doesn't represent some huge surge in people coming to the U.S. On the contrary, it's nothing more than a few weeks' worth of the typical refugee flows gathered together in one place. Nearly 300,000 people were apprehended crossing the border in 2017. A few thousand is just not that many. And while monthly apprehensions have increased substantially since early last year, it has only roughly matched 2016 levels, and remains far below 2014 levels.
From an American perspective, everything about this caravan should be small potatoes. America is a country of a 325 million people. There are about 43 million immigrants already living here. Far from being some devious criminal element, the immigrant population commits substantially less crime than the native-born average. A couple thousand refugees just is not going to change very much one way or another.
From the refugee perspective, of course, it is a matter of life and death. Most if not all of these folks are decent, ordinary people, again many of them innocent women and children, whose dearest hope is to not be mercilessly butchered by gangsters, and maybe a half-decent job at Home Depot if they're really lucky. So for a decent country — one which adhered to the words of Jesus Christ about what happens to people who do not care for strangers or the poor, for instance — it would be an absolutely trivial matter to help these unlucky souls. Indeed, if it weren't for Fox News and our addle-brained president contemptuously manipulating the media into giving this thundering wall-to-wall coverage, almost nobody would even notice. A few thousand Hondurans could disappear into existing such communities in El Paso, San Diego, and Washington, D.C., with nary a ripple. https://theweek.com/articles/804064/gops-pathetic-caravan-distraction