November 29, 2018
ON THE RECORD. . .
"A as in the best. Going to that school is like going to the Wharton School of Finance if you happen to be doing what you do." -- Trump to a Coast Guard officer, likening the Coast Guard officer's school to his alma mater.
"I've made a tremendous difference in the country. This country's so much stronger than it was when I took office and you wouldn't believe it." — Trump, when asked by reporters on Thanksgiving what he's thankful for.
"I don't believe it." — Trump about the latest climate report. 
"You watch Fox News, it's always, 'Something terrible is about to happen', 'Something terrible did happen', 'These people are doing all these awful things.' It is totally divorced from reality, but it is superb propaganda. I don't know the best way to puncture that. You have to hope that reality catches up with politics and entertainment at some point." — Hillary Clinton in an interview with the Guardian.
"Unbelievably deadly and tragic wildfires rage in the west, hurricanes batter our coasts — and the Trump administration chooses the Friday after Thanksgiving to try and bury this critical U.S. assessment of the climate crisis. The President may try to hide the truth, but his own scientists and experts have made it as stark and clear as possible." — Al Gore about the recently released government report on climate change   
"I think the (Mueller) report is going to be devastating to the president and I know that the president's team is already working on a response to the report. When I say devastating, I mean it's going to paint a picture that's going to be politically very devastating." — Alan Dershowitz, a frequent defender of Donald Trump.
"These children are barefoot. In diapers. Choking on tear gas. Women and children who left their lives behind — seeking peace and asylum — were met with violence and fear. That's not my America. We're a land of refuge. Of hope. Of freedom. And we will not stand for this." — Governor elect Gavin Newsom tweet.
"So many campaign workers, people inside from the beginning, ask me why they have not been called (they want to be)." — President Trump complaining that Robert Mueller "has thus far ignored Trump 2016 campaign staff who the president said want to be interviewed for the special counsel's Russia investigation, renewing his attacks on Mueller's probe into allegations of collusion between Trump's campaign and the Russian government as biased." 
"He is able to keep his base together by his approach and instead of appealing to our better angels and trying to unite us like most people would try to do, the president tries to divide us. There's just no reason for it, and it doesn't take us to a better place to squander the well-earned good will that we have around the world at a time when our leadership is more important than ever." — Sen. Bob Corker (R-TN) saying that Trump's governing model "is based upon division, anger and resentment, and in some cases, even hate."
"I never said he was the best example of the Christian faith. He defends the faith. And I appreciate that very much." — Evangelical leader Franklin Graham on why he supports Donald Trump.
"He may not be the sharpest knife in our drawer, but he can see his future and knows that if he acted in an extralegal way, he would go down in history for the wrong reasons. I'm sure he doesn't want that." — Former FBI Director James Comey about acting Attorney General Matthew
.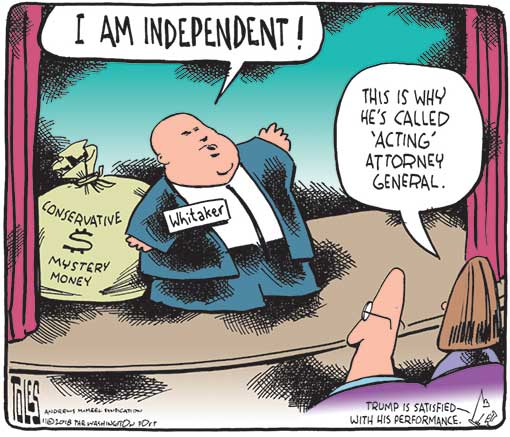 "Texas is no longer, I believe, a reliably red state. We are on the precipice of turning purple." —Sen. John Cornyn (R-TX.
"Heroes will come of this, and it won't be Mueller and his terrible Gang of Angry Democrats. Look at their past, and look where they come from. The now $30,000,000 Witch Hunt continues and they've got nothing but ruined lives. Where is the Server? Let these terrible people go back to the Clinton Foundation and 'Justice' Department!" ... "While the disgusting Fake News is doing everything within their power not to report it that way, at least 3 major players are intimating that the Angry Mueller Gang of Dems is viciously telling witnesses to lie about facts & they will get relief. This is our Joseph McCarthy Era"! — Trump tweets, continuing his relentless attacks on the special counsel investigating possible coordination between Russia and Trump's 2016 campaign.
"It was never discussed, but I wouldn't take it off the table. Why would I take it off the table?" — Trump about a pardon for Paul Manafort.
"The amazing thing is that you have certain people who are conservative Republicans that if my name weren't Trump, if it were John Smith, they would say I'm the greatest president in history and I blow Ronald Reagan away." — Trump quoted in a new book, Trump's Enemies, written by conservative columnists Corey Lewandowski and David Bossie.
"I'm not going to take anything off the table. I haven't been running around to the most obvious states, laying out the groundwork. Am I going to think about it? Yeah, I'm going to think about." — Former Secretary of State John Kerry, hinting at another possible campaign for president in 2020 during a talk with Harvard students.
"I'm talking about any key vote. Anything that you need me for to get out of town, I ain't doing it until we hear from the CIA." — Sen. Lindsey Graham (R-SC) saying he would start voting against priority items for completing the Senate's work if he is not properly briefed by the CIA about the murder of journalist Jamal Khashoggi,
---
IN THIS ISSUE
FYI
OPINION
1.  Andy Borowitz: Obama Willing to Serve as Temp President While Trump Receives Psychiatric Evaluation
Amid concerns about Donald Trump's fitness to be President, former President Barack Obama said on Tuesday that he was willing to serve as "temp President" while Trump undergoes psychiatric evaluation.

"It would just be a temp thing," Obama told reporters. "As soon as psychiatrists determine that Donald Trump is mentally stable and fit to serve as the most powerful officeholder in the world, I'd step aside."

Obama said that he was a "logical choice" to serve as temp President because of his eight years in the White House. "For starters, I know how the light switches work," he said. https://www.newyorker.com/humor/borowitz-report/
2
. Giuliani's bizarre bragging about the Manafort-Trump alliance highlights new obstruction questions
Once you agree to cooperate with the government, your interests no longer align (and often clash) with other subjects of the investigation, and such 'joint defense agreements' are usually instantly voided. That's what happened when Michael Flynn flipped last year and with Michael Cohen this year. But that's not the same as saying anyone involved will be punished — especially if they never misrepresented what they were doing.
There is another possible legal consequence, though, and it involves the broader obstruction of justice investigation. Basically, Mueller's team could decide that this arrangement has amounted to witness tampering or obstruction, or that it adds to a mountain of evidence on that latter count. https://www.washingtonpost.com/politics/2018/11/28/giulianis-bizarre-bragging-about-manafort-trump-alliance-raises-new-obstruction-questions/
3. Signs point to an acceleration of Mueller's endgame
Garrett Graff, one of the most astute Mueller-watchers, says there are at least six signs special counsel Robert Mueller is moving towards more indictments:
1. Mueller is tightening the screws on Jerome Corsi, a friend of former Trump adviser Roger Stone. A plea deal — or charges — appear imminent.

2. Ecuador may be moving toward turning over WikiLeaks founder Julian Assange. The government removed its Assange-backing U.K. ambassador last week, and has prohibited his lawyers from meeting with him.

3. Russian spy and NRA superfan Maria Butina is reported to be in talks for a plea deal.

4. A number of Mueller's prosecutors were hard at work on Veterans Day —when Michael Cohen took the train to Washington to talk to Mueller's team.

5. ABC News reported an "unusually high" number — nearly three dozen, in fact — of sealed indictments filed over the course of the year in D.C. Fourteen of those have been added since August, a period when Mueller's investigation was publicly quiet.

6. And this big one: President Trump last week finally turned in long-awaited written answers to Mueller's investigators. https://www.axios.com/mueller-investigation-endgame-acceleration-manafort-1a590656-cbe9-487f-ad57-181c53122a1b.html
4. Obamaworld's lovefest for O'Rourke is growing
Rep. Beto O'Rourke (D-TX) is inspiring aides and allies of former President Obama, who say they could support him if he decides to run for president in 2020.

Obama allies are quick to point out similarities between O'Rourke, 46, and the former president, who was 47 when he was elected to the White House.
Both are political upstarts with unusual names who seemingly came out of nowhere and inspired thousands upon thousands of people to be part of a movement. https://thehill.com/homenews/campaign/418580-obama-world-lovefest-for-orourke-is-growing
5. Warning Signs Mount for Trump Re-Election Bid
While it's true that most presidents who see their party suffer major losses in their first midterm election get reelected anyway, Trump isn't most presidents — and there are lots of blaring-red warning lights in this month's election results for his bid for a second term.
Unlike most of his predecessors, he's been persistently unpopular, with approval ratings mired in the 40-percent range — so far, he's the only president in the modern era whose job approval ratings have never been over 50 percent, according to Gallup.
Some of Democrats' biggest gains came in the states that powered Trump's Electoral College victory in 2016: Michigan, Pennsylvania and Wisconsin. And while a president's base has stayed home in previous midterm elections, leading to losses, the record turnout in this year's races suggests 2018 was more like a 2016 re-run than Trump voters standing on the sidelines. https://www.politico.com/story/2018/11/23/warning-signs-trump-reelection-bid-1012184
6. If Trump is cornered, the judges he disdains may finally bring him down
Up to now, many of Trump's worst impulses have been resisted by the saner members of his entourage, like the former White House counsel Donald McGahn, who told the president he had no authority to prosecute Clinton and Comey. Other aides in The Perils of Pauline melodrama that is playing on a constant loop in the White House have intervened to save the Mueller investigation.
But as Trump's arrogance of power grows along with his political peril from the newly elected Democratic House, we may be close to the moment when no one is left with the power or the willingness to constrain a cornered president.
The final line of defense of democratic values are judges and top law enforcement officials who answer to a higher loyalty than fealty to Trump. It would be both bracing and ironic if the president were ultimately thwarted by black-robed figures whom he denounces as "Trump judges." https://www.theguardian.com/commentisfree/2018/nov/23/donald-trump-judges-walter-shapiro
7. How Early Voting Could Turn the Democratic 2020 Race on Its Head
Don't be shocked when presidential hopefuls' usual Des Moines–to–Manchester route adds a few stops in Los Angeles, Austin, and Chicago this time around.
That's because when next year's Democratic primary process gets started, it sure looks like the voting, and the all-important delegate counting, won't actually, technically start in Iowa. Instead, because of early-voting rules, the increasing popularity of early voting, and a reshuffled primary calendar, a handful of huge, diverse states could see troves of ballots returned even before some of the traditional small and largely white early-voting states do — a shift that just might herald real changes to the way Democrats nominate their presidential pick, and quite possibly the nominee's identity. http://nymag.com/intelligencer/2018/11/early-voting-could-turn-the-democratic-2020-race-on-its-head.html
8. The DAILY GRILL
The gross domestic product percentage was "going down to minus 4, 5, 6 percent" when I took office. — Trump describing the country as "teetering" under President Barack Obama.

VERSUS

"It was a positive 2.1 percent in the last quarter of 2016." — Washington Post

 

"Migrants at the Southern Border will not be allowed into the United States until their claims are individually approved in court. No 'Releasing' into the U.S....All will stay in Mexico." — Trump

VERSUS


"No agreement of any type between the future government of Mexico and the United States" that will require asylum seekers to wait in Mexico while their claims move through U.S. courts." — Olga Sanchez Cordero, the top domestic policy official for president-elect Andres Manuel Lopez Obrador.

 

General Motors said it will cut production of slow-selling models and slash its workforce by roughly 15,000 jobs, mostly in Michigan and Ohio. Cost pressures on GM and other automakers and suppliers have increased as demand waned for traditional sedans. The company has said tariffs on imported steel, imposed earlier this year by the Trump administration, have cost it $1 billion. — Joseph White and Nick Carey in Reuters

VERSUS

"They better damn well open a new plant there very quickly. I love Ohio. I told them, 'You're playing around with the wrong person.' I said, 'I heard you're closing your plant. It's not going to be closed for long, I hope, Mary, because if it is you have a problem.'" — Trump threating GM president Mary Barra after the company announced it was shuttering several auto plants.

 

"Throughout the world, CNN has a powerful voice portraying the United States in an unfair and false way. Something has to be done, including the possibility of the United States starting our own Worldwide Network to show the World the way we really are, GREAT!" — Trump

VERSUS

The U.S. government currently funds Voice of America, an international radio broadcast source. Congress in 2017 eliminated the board of directors for the organization, with a new CEO position created, which is appointed by the president. -- Politico
9. From MEDIA MATTERS (They watch Fox News so you don't have to)
Lou Dobbs guest says critics are "shrieking" at Trump like "some freshman seminar in feminist literature at Smith College." Christian Whiton says America cannot "turn our backs on Saudi Arabia" after the murder of Jamal Khashoggi. https://www.mediamatters.org/video/2018/11/20/lou-dobbs-guest-says-critics-are-shrieking-trump-some-freshman-seminar-feminist-literature-smith/222132

Where is the media outrage over the violence and harassment abortion providers face on a daily basis? Media fixated on a protest at Tucker Carlson's house should look at how often they cover (or don't cover) anti-abortion violence and harassment. https://www.mediamatters.org/blog/2018/11/20/where-media-outrage-over-violence-and-harassment-abortion-providers-face-daily-basis/222129

After the midterms, Fox previews its strategy for covering economic downturns: Blame Democrats. https://www.mediamatters.org/blog/2018/11/20/Fox-News-blames-Democrats-for-downturn-in-the-stock-market/222131

After Trump submits written answers to the special counsel, Fox & Friends has a "concern" about a "perjury trap or other trap." Todd Piro: The special counsel "is a distraction, we've got to move on. There's a lot bigger issues we got to worry about. ... Like the caravan." https://www.mediamatters.org/video/2018/11/21/after-trump-submits-written-answers-special-counsel-fox-friends-has-concern-about-perjury-trap-or/222133

CNN's Rick Santorum praises Trump administration trying to bury report on climate change: "A lot of these scientists are driven by the money." https://www.mediamatters.org/video/2018/11/25/cnns-rick-santorum-praises-trump-administration-trying-bury-report-climate-change-lot-these/222139

Fox & Friends guest defends use of pepper spray on migrant caravan: "It's natural. You could actually put it on your nachos and eat it." Border Patrol Foundation President Ron Colburn: "This particular group, the caravan, which has been well organized and supported from outside sources, has a core of violence to it that basically communicates a sense of entitlement." https://www.mediamatters.org/video/2018/11/26/fox-friends-guest-defends-use-pepper-spray-migrant-caravan-its-natural-you-could-actually-put-it/222140

On CNN, Border Patrol union head defends use of tear gas on migrants: Tear gas "has been deemed to be safe even for children." Brandon Judd: "Our agents were given absolutely no choice but to take the actions that they took." https://www.mediamatters.org/video/2018/11/26/cnn-border-patrol-union-head-defends-use-tear-gas-migrants-tear-gas-has-been-deemed-be-safe-even/222148

Fox news goes 4 1/2 hours in primetime without once mentioning GM's devastating layoffs. Some things Fox News determined to be more worthy of coverage:

• Hillary Clinton

• Hillary Clinton, again

• Hillary Clinton and Barbra Streisand

• A right-wing troll who lost his Twitter account

• A Trump rally in Mississippi

• Fears of the "Deep State"

• Sean Hannity saying the word "moist"

...oh, and a whole lot of coverage of the migrant caravan. https://www.thedailybeast.com/fox-news-goes-4-12-hours-in-primetime-without-once-mentioning-gm-layoffs

Fox & Friends gave its script to Scott Pruitt before an interview. Don't hold your breath waiting for consequences. Fox News in a statement is shocked that Fox & Friends was caught acting like the wing of the Republican Party. https://www.mediamatters.org/
10. From the Late Shows
Late Night with Seth Meyers:Trump Turns on Allies, Stands by Saudi Arabia: A Closer Look: https://youtu.be/8fOrNWRFsh0

The Daily Show: So Much News, So Little Time - Whitaker, California Fires & Trump's WWI Rain Check: https://youtu.be/dqLTQjSPPhM
11. It's Not Just Trump in House Democrats' Cross Hairs. His Family Is, Too.
The Democrats are already laying out lines of inquiry that could quickly lead not just to Mr. Trump and his White House aides, but also to his immediate family. And Republicans returning to Capitol Hill next year may be forced by the changed political climate to take a harder line toward the Trump family.
Likely Democratic targets include not only the president's personal finances and those of the Trump Organization, but also the actions taken by his sons Donald Jr. and Eric and his son-in-law, Jared Kushner, during the 2016 campaign and its aftermath. https://www.nytimes.com/2018/11/25/us/politics/trump-family-congress-investigations.html
12. Trump's Approval Rate Plummets
A new Gallup poll finds that President Trump's approval rate suddenly plunged last week to 38% to 60%. https://news.gallup.com/poll/203207/trump-job-approval-weekly.aspx
13. Democrats Learn a Big Lesson for 2020 Vote About Taking on Trump
Democratic strategists are absorbing a big lesson from their electoral success this month — stay focused on economic issues and refuse to play on President Trump's turf" Bloomberg reports.
Democrats largely ignored Trump's provocations about the caravan of refugees in Mexico and a call to end birthright citizenship, and didn't engage with most of his inflammatory talk delivered through a string of campaign rallies. Instead they focused on health care and economics. https://www.bloomberg.com/news/articles/2018-11-26/democrats-learn-a-big-lesson-for-2020-vote-about-taking-on-trump
14. In the United States, right-wing violence is on the rise
Over the past decade, attackers motivated by right-wing political ideologies have committed dozens of shootings, bombings and other acts of violence, far more than any other category of domestic extremist," according to a Washington Post analysis of data on global terrorism.
While the data show a decades-long drop-off in violence by left-wing groups, violence by white supremacists and other far-right attackers has been on the rise since Barack Obama's presidency — and has surged since President Trump took office. https://www.washingtonpost.com/national/in-the-united-states-right-wing-violence-is-on-the-rise/2018/11/25/61f7f24a-deb4-11e8-85df-7a6b4d25cfbb_story.html
15. Trump on climate change: 'People like myself, we have very high levels of intelligence but we're not necessarily such believers.'
Trump dismissed a landmark report compiled by 13 federal agencies detailing how damage from global warming is intensifying throughout the country, saying he is not among the 'believers' who see climate change as a pressing problem.
The comments marked the president's most extensive yet on why he disagrees with his own government's analysis, which found that climate change poses a severe threat to the health of Americans, as well as to the country's infrastructure, economy and natural resources. The findings — unequivocal, urgent and alarming — are at odds with the Trump administration's rollback of environmental regulations and absence of any climate action policy.
Said Trump: "One of the problems that a lot of people like myself, we have very high levels of intelligence but we're not necessarily such believers." https://www.washingtonpost.com/politics/trump-on-climate-change-people-like-myself-we-have-very-high-levels-of-intelligence-but-were-not-necessarily-such-believers/2018/11/27/722f0184-f27e-11e8-aeea-b85fd44449f5_story.html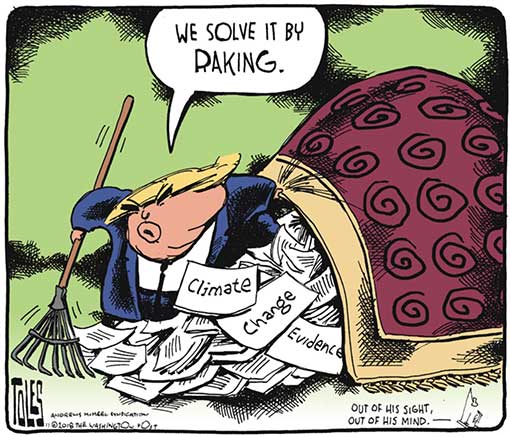 1. Randall Eliason: Judge in Mueller Case Upholds Legal Theory that Makes Collusion a Crime
It's true there is no criminal statute titled "collusion." But as I've noted in several places, the relevant crime is conspiracy under 18 U.S.C. 371. Collusion refers to an agreement with others to achieve some improper end. In criminal law, we call that a conspiracy – a partnership in crime. And the breadth of the federal conspiracy statute makes it particularly well-suited for cases like Mueller's probe of Russian interference with the election.
Title 18 Section 371 prohibits conspiracies to commit an offense against the United States, which means a conspiracy to commit any federal crime. But it also broadly prohibits conspiracies to defraud the United States "in any manner or for any purpose." For nearly a century the Supreme Court has held that conspiracies to defraud the United States include conspiracies to impair, obstruct, or defeat the lawful functions of the federal government through deceit or dishonesty. This is true even if the actions of the conspirators are not independently illegal, and even if the government is not deprived of any money or property.
In the summer of 2017, I argued Mueller could use this theory to charge that individuals who agreed to work together to interfere with the election through deceptive and dishonest methods conspired to impair, obstruct, or defeat the function of the Federal Election Commission to administer a fair and honest election. This legal theory would apply not only to Russians but also to any members of the Trump campaign or other Americans who worked — or colluded — with them. And it applies whether or not the actions taken by the co-conspirators are otherwise illegal; in other words, the "collusion" itself can be the crime. https://sidebarsblog.com/collusion-crime-mueller-judge-decision/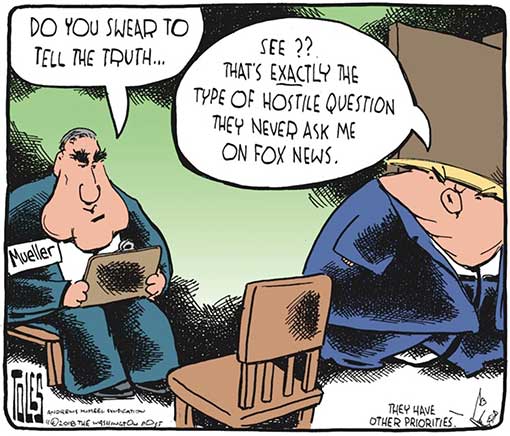 2. Max Boot: The only cause our president is willing to serve is his own well-being
If "President" Trump is familiar with this history, he gives no sign of it. As others have noted, his governing principle is borrowed from King Louis XIV of France: "L'état, c'est moi" — I am the state. If you keep that simple maxim in mind, his conduct, otherwise inexplicable, becomes all too predictable. Whatever he does, he does for his own benefit. The conduct of others he judges based not on whether it's good for the United States but whether it's good for Trump.
Trump cannot be bothered to go out into the rain to honor America's war dead — or to interrupt his frequent golf outings for an unpleasant and possibly perilous trip to visit U.S. troops in a war zone. When asked about soldiers having to spend Thanksgiving away from their families on a pointless political deployment in Texas, Trump expressed complete indifference. "Don't worry," he said on his way to Mar-a-Lago. "These are tough people." No wonder Trump refers to "my military": He treats its members with all the consideration he might accord to groundskeepers at Mar-a-Lago.
Trump feels no compunction about trashing American heroes such as John McCain and William McRaven. In his own mind, they had it coming because they dared to criticize him, which is the only thing that matters to him. Trump called McRaven the worst names he could imagine — a "Hillary Clinton fan" and an "Obama backer" — because this meant that McRaven did not support him. Trump cannot process the possibility that McRaven might be apolitical and that, in calling out attacks on the press and abuse of the security-clearance process, the retired admiral might be acting not out of hatred for Trump but out of love for the country. In Trump's mind, loyalty to a cause higher than his own well-being is simply unimaginable. https://www.washingtonpost.com/blogs/post-partisan/wp/2018/11/23/the-only-cause-our-president-is-willing-to-serve-is-his-own-well-being/?utm_term=.173c587be72b
3. David Ignatius and Karen Attiah: 'His words aren't gone': Our missing friend, Jamal Khashoggi
The same solipsism is evident in Trump's nonchalant reaction to the Saudi murder and dismemberment of Post contributor Jamal Khashoggi. Trump dismissed the CIA's conclusion that Crown Prince Mohammad bin Salman ordered this crime, writing "maybe he did and maybe he didn't!" All that matters to Trump is preserving the U.S. relationship with Saudi Arabia, which he justified with fanciful and fictitious figures – $110 billion in Saudi arms sales and $450 billion in general Saudi investment.
One suspects Trump's sympathies lie with the Saudis for more personal reasons. The Saudi king and crown prince laid out the red carpet, literally, for Trump on his first trip abroad as president in 2017. They haven't criticized him. Why should he criticize them? He is tougher on the SEAL commander who was responsible for killing Osama bin Laden than on the Saudi despot who was responsible for killing Jamal Khashoggi — simply because the latter is nicer to him than the former. https://www.washingtonpost.com/blogs/post-partisan/wp/2018/11/23/the-only-cause-our-president-is-willing-to-serve-is-his-own-well-being/\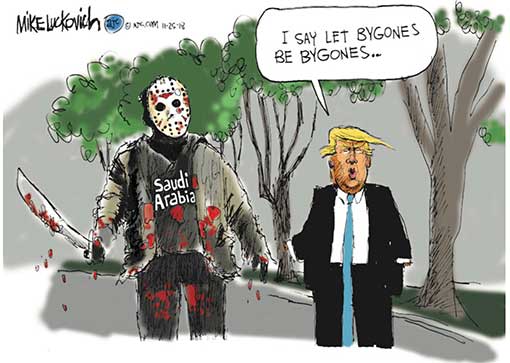 4. Bess Levin: Trump: I'm Thankful For Myself
On Thursday, after using a traditional Thanksgiving phone call with members of the military to rail against the 9th Circuit Court of Appeals and trash refugees attempting to enter the country via the U.S.-Mexico border, Donald Trump was asked by reporters what he was thankful for this year. Initially, it almost looked like he was going to do a successful impression of a functioning human being, responding that he was thankful for his family. But, obviously, he wasn't finished. "[I'm thankful] . . . for having made a tremendous difference in this country," Trump added. "I've made a tremendous difference in the country. This country is so much stronger now than it was when I took office that you wouldn't believe it." Incredibly, he continued: "I mean, you see, but so much stronger people can't even believe it. When I see foreign leaders they say we cannot believe the difference in strength between the United States now and the United States two years ago. Made a lot of progress."
Strangely, Trump did not provide any examples of all the incredible changes he's made since taking office, but we assume, if more pressing issues inside Mar-a-Lago weren't beckoning, he would have listed:
• Freezing federal worker pay;

• Easing restrictions on loan sharks;

• Passing massive, regressive tax cuts designed to allow C.E.O.s and shareholders to pay a lower rate on their passive income than workers do on their wages;

• Exploding the deficit;

• Sabotaging Obamacare;

• Putting a man on the Supreme Court who thinks accusations of sexual assault against him were engineered "as revenge on behalf of the Clintons," and another who believes it should be legal to fire a trucker for abandoning his broken-down truck to get help rather than freezing to death;

• Appointing a guy who once peddled a "masculine toilet" scam as Acting Attorney General;

• Alienating foreign allies while cozying up to murderous autocrats;

• Dragging the U.S. into a self-defeating trade war with China that's caused layoffs and losses at American companies and may create auto jobs in the country it's intended to penalize;

• Using the armed forces for a $200 million election stunt;

• Proposing a plan to let coal plants regulate themselves that would kill 1,400 Americans annually;

• Moving to weaken radiation rules arguing, really, that a little radiation is good for you;

• Presiding over a 17-percent rise in hate crimes last year, including a 37-percent increase in anti-Semitic hate crimes;

• Letting Puerto Rico implode and smearing its dead;

• Ceding any moral high-ground whatsoever when it comes to condemning human rights abuses by letting his Saudi pals get away with murdering a U.S. resident.
To be fair, "tremendous difference" doesn't necessarily mean for the better! https://www.vanityfair.com/news/2018/11/trump-im-thankful-for-myself
5. Bill McKibben: How Extreme Weather Is Shrinking the Planet
Scientists have warned for decades that climate change would lead to extreme weather. Shortly before the I.P.C.C. report was published, Hurricane Michael, the strongest hurricane ever to hit the Florida Panhandle, inflicted thirty billion dollars' worth of material damage and killed forty-five people. President Trump, who has argued that global warming is "a total, and very expensive, hoax," visited Florida to survey the wreckage, but told reporters that the storm had not caused him to rethink his decision to withdraw the U.S. from the Paris climate accords. He expressed no interest in the I.P. C.C. report beyond asking "who drew it." (The answer is ninety-one researchers from forty countries.) He later claimed that his "natural instinct" for science made him confident that the climate would soon "change back." A month later, Trump blamed the fires in California on "gross mismanagement of forests."
Human beings have always experienced wars and truces, crashes and recoveries, famines and terrorism. We've endured tyrants and outlasted perverse ideologies. Climate change is different. As a team of scientists recently pointed out in the journal Nature Climate Change, the physical shifts we're inflicting on the planet will "extend longer than the entire history of human civilization thus far."
The poorest and most vulnerable will pay the highest price. But already, even in the most affluent areas, many of us hesitate to walk across a grassy meadow because of the proliferation of ticks bearing Lyme disease which have come with the hot weather; we have found ourselves unable to swim off beaches, because jellyfish, which thrive as warming seas kill off other marine life, have taken over the water. The planet's diameter will remain eight thousand miles, and its surface will still cover two hundred million square miles. But the earth, for humans, has begun to shrink, under our feet and in our minds. https://www.newyorker.com/magazine/2018/11/26/how-extreme-weather-is-shrinking-the-planet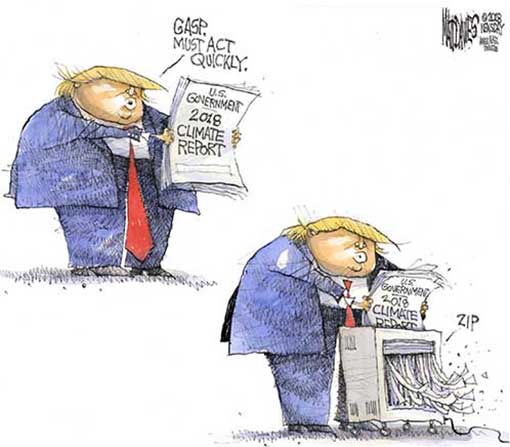 6. Dan Balz: House results underscore that what's good for Trump isn't so good for the GOP
"When President Trump won the White House in 2016, he did it by hijacking the Republican Party. Now, after what happened in the midterm elections, it's clearer than ever that the president's fortunes and his party's future are at odds.
If the enthusiasm for Trump in rural and small-town America constituted the story after 2016, the revolt against him in the suburbs, led by female voters, has become the story of the 2018 elections. The more you analyze the House results, the more the GOP's suburban problem stands out."
Republican candidates throughout the country found themselves tethered to Trump, sometimes by choice, sometimes when they tried to distance themselves. Trump became the drag that brought many of them down.
The House will be up for grabs again in 2020, as about half of the roughly 80 most competitive races were won by five points or fewer, split about evenly between the two parties. For Democrats, maintaining their new majority will require replicating the energy, enthusiasm and anti-Trump fervor that powered them to victory in November. For Republicans in those suburban districts now in Democratic hands, it will mean trying to insulate themselves from that anti-Trump sentiment more successfully than they did this fall. No small task. https://www.washingtonpost.com/politics/house-results-underscore-that-whats-good-for-trump-isnt-so-good-for-the-gop/2018/11/24/930652ce-ef98-11e8-96d4-0d23f2aaad09_story.html
7. Jackson Diehl: How the Khashoggi killing ruinously defined Trump
The Khashoggi affair similarly confirms several fundamental truths about Trump. The first and most obvious is that his narrow, idiosyncratic and sometimes personal interests take precedence over the defense of traditional American values and even the expectation of honest treatment by an ally. Not just Mohammed's fellow Arab rulers but despots everywhere will study this case and conclude: If you heap flattery on Trump, court him with exotic entertainment, patronize his family businesses and promise to buy American, you can get away with outrages that would once have ensured censure and sanction from Washington.
The most enduring and poisonous legacy of the Khashoggi case: the confirmation that truth no longer matters in American foreign policy. A Kissingerian president might have acknowledged that Mohammed was a vicious killer, then argued that we needed to work with him anyway. Trump's innovation is to say that whether a favored thug ordered a murder or not is not worth knowing — even if the CIA confidently concludes he is guilty.
The same goes for the vast benefits Trump claims for the Saudi relationship. It seems to matter not that Riyadh has delivered on virtually none of a promised $110 billion in arms purchases; or that, contrary to Trump's rhetoric, it is seeking to raise rather than lower the price of oil; or that it is hurting rather than helping the containment of Iran.
If the facts are irrelevant, America can easily be fleeced so long as Trump insists that the opposite is happening. The hard-nosed determinations of interest that traditional foreign policy realists so admire are calculated by an alternative math in which only the president's sentiments count. If there is no truth, there is no trade-off between accountability for crimes and other American interests. "Maybe he did and maybe he didn't" becomes the new cover for any dictator — provided he gives Trump cause to say, "He likes me." https://www.washingtonpost.com/opinions/global-opinions/trump-granting-mbs-a-pass-on-khashoggis-murder-gives-dictators-license-to-oppress/2018/11/23/8ec9f64e-ed94-11e8-8679-934a2b33be52_story.html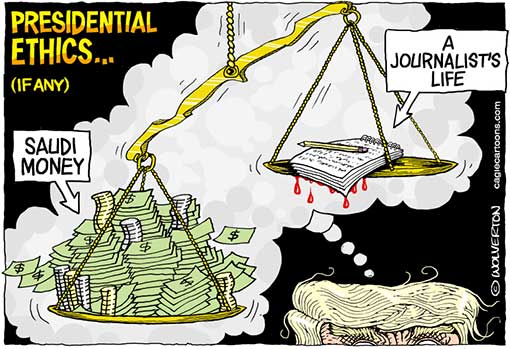 8. Seth Harp: Is the Trump Administration Pivoting the Fight in Syria Toward a War with Iran?
The American intervention in Syria, now in its fourth year, began as a small Special Forces mission of the kind the Pentagon is currently running in a dozen countries. In the fall of 2015, when President Barack Obama deployed fifty commandos to advise the Syrian Kurds in their war with the Islamic State, his Administration denied that he was breaking his promise not to put "boots on the ground." "We have run special ops already," Obama said, "and, really, this is just an extension." Since then, the number of military personnel in the country has steadily grown, first to two hundred and fifty, then to five hundred, then to two thousand, and there's reason to believe the true figure is now twice that. (During a press briefing in October, 2017, an Army general let slip that the number was four thousand.)
Congress has not authorized military action in Syria, nor is there a United Nations mandate permitting the use of force. Nevertheless, over the last three years, the mission has morphed into something more like a conventional ground war. The United States has built a dozen or more bases from Manbij to Al-Hasakah, including four airfields, and American-backed forces now control all of Syria east of the Euphrates, an area about the size of Croatia. Four U.S. service members have died in Syria. But, because Operation Inherent Resolve, as the Pentagon calls its mission here, falls under the authority of the Joint Special Operations Command, known as jsoc, basic facts are kept classified, including the cost of the mission, the units involved, where they are located, and the number of wounded, which is believed to be substantial. https://www.newyorker.com/news/dispatch/is-the-trump-administration-pivoting-the-fight-in-syria-toward-a-war-with-iran
9. Jonathan Chait: The Deficit Grew Because Trump's a Republican, Not Because He's an Idiot
Trump has been demanding that his aides draft a plan to reduce the swelling budget deficit while simultaneously ruling out virtually all categories of possible deficit reduction and demanding new deficit-increasing measures of his own. The Washington Post has plenty of hilarious details from the administration's internal fiscal deliberations, such as they are. Trump comes across as possessing every bit as much fiscal acumen as you would expect from a man who managed to bankrupt a casino, required hundreds of millions of dollars in secret cash infusions from his father to stay afloat, and can barely absorb written material of even the shortest length.
The Post's account draws heavily from the perspective of Trump's current and former advisers, who treat his buffoonery as the central cause of the administration's fiscal straits. But the reality is that Trump is simply expressing a more ignorant version of standard-issue Republican budgeting. https://nymag.com/intelligencer/2018/11/trumps-party-not-his-idiocy-increased-the-deficit.html
10. Jennifer Rubin: Trump's incoherence is too much — and it's getting worse
As striking as Trump's utter inability to grapple with basic problems, his staff's unwillingness to maintain any semblance of unity and loyalty suggests they no long think it's in their personal interest to be associated with a president who makes mincemeat of one policy issue after another. His childish inability to make hard decisions and engender possible complaints from his base makes him a hapless, inept figure. He's not so much leading as he is meandering  — with aides racing after him to prevent bigger disasters and embarrassments.
Republicans would be wise to forge their own course on a whole array of matters and to stop defending an indefensible president (as they are doing on Saudi Arabia). If not, the 2020 election will make 2018 look like a smashing success for the GOP. https://www.washingtonpost.com/news/opinions/wp/2018/11/26/trumps-incoherence-too-much-for-too-long/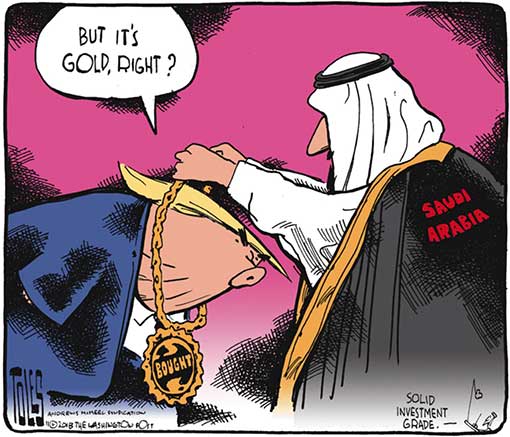 11. Ryan Cooper: The near-certain guilt of President Trump
On Monday we learned that despite going to prison as part of a plea deal, President Trump's former campaign chairman Paul Manafort continued to lie to the FBI, according to Special Counsel Robert Mueller. Then on Tuesday, The Guardian reported  that Manafort met with WikiLeaks founder Julian Assange multiple times, including in March 2016, the same month Manafort was first hired by the Trump campaign. It's as yet unknown what they supposedly discussed — though "Russians" also reportedly were among Assange's visitors.
There is no conclusive smoking gun here, and WikiLeaks has as usual denied everything. But (provided The Guardian has the goods here) politics is not a criminal court, and people can draw sensible conclusions. At this point, we can say with near certainty that Trump conspired at some level with Russian sources to win the presidential election and has tried over and over to cover it up. 
A simple, clear explanation that fits the facts perfectly: Russia helped Donald Trump win the 2016 election by hacking the emails of the DNC and John Podesta, and they used WikiLeaks as an intermediary to disguise their involvement. The circumstantial case is frankly overwhelming, and if Trump weren't president, he would likely be in very serious trouble. https://theweek.com/articles/809544/nearcertain-guilt-president-trump
12. Jonathan Chait: An Insider Book Tries to Praise Trump, But Instead Exposes His Corruption
Trumponomics is a damning exposé of the corrupt bargain between Donald Trump and the party's wealthy insiders. The odd thing is that the book is not intended as an exposé at all, but as an auto-hagiography written by three Republican policy entrepreneurs who helped win Trump over and shape his program, and are so lacking in self-awareness that they earnestly believe they are defending both Trump and his partners.
The extraordinary lack of self-awareness allows the authors of Trumponomics to record a series of predictions that have already failed even before the book's publication. Describing their case for a huge tax cut, they recount convincing Republicans in Congress that cutting the corporate tax rate from 35 percent to 20 percent "would yield about the same revenue – and possibly more — than the current system with a 35 percent rate." (It hasn't — corporate tax revenue has fallen by a third since the passage of the Trump tax cut.) They show Kudlow assuring Trump his tax cut would not lead to deficits because "the phony numbers of Washington's bean counters" are "always wrong." (They weren't wrong — or, to put it more precisely, the bean counters turned out to underestimate the deficit following the tax cut.)
They describe Trump demanding, "I want to make sure that this isn't a tax cut for rich people like me" (it was) and that Trump "didn't want the Trump middle-class voters to think that this plan was self-serving" (they did.) The three record that, after meeting the great man and noticing his skeletal campaign staff, supposedly for money-saving reasons, they marveled to each other that President Trump "would have a field day going through the federal budget and rooting out the rampant waste, fraud and redundancy." (He wouldn't.)
The three authors proudly retell their litany of errors with the satisfaction of conquering heroes taking credit for their triumphs. It's as if Robert McNamara published a book in 1968 boasting of his successful efforts to persuade Lyndon Johnson that the Vietnam War would be won by 1967. http://nymag.com/intelligencer/2018/11/trumponomics-book-trump-tax-cuts-rich-deficits.html