August 9, 2018
ON THE RECORD. . .
"I talk to him all the time, and he checks in on me all the time." — Meghan McCain on how former Vice President Joe Biden has been supportive during Sen. John McCain's illness.

"I'm not in a position to either understand fully or talk about what happened in Helsinki." -- Director of National Intelligence Daniel Coats when asked what he knew about the Trump-Putin summit.

"Hannity is a propagandist for profit, peddling lies every night. He says he's just a talk show host, not a journalist. But he's injecting poison into the nation's political bloodstream warping public attitudes about the press. I'm confident in the long run the truth will prevail." -- CNN's Jim Acosta hitting back at Fox News host Sean Hannity for saying that attendees at President Trump's rally were right for heckling the CNN correspondent.

"I mean seriously, on the tweets, is anybody even paying attention anymore? I mean there's so many of them, they conflict each other so much. Nobody pays attention around here." — Sen. Bob Corker (R-TN), on Trump's use of Twitter.

"It won't be easy. We're going to have to fight uphill. Me? I'm going up that hill. And I hope you are, too.  And I hope that you'll reach your hand out and bring someone else along for the climb." -- At Sen. Elizabeth Warren (D-MA) in her keynote address at Netroots Nation, hinting at the possibility that she could run for president in 2020.

"I have great respect for the U.K. United Kingdom. Great respect. People call it Britain. They call it Great Britain. They used to call it England, different parts." — Trump, at a rally in Pennsylvania.

"This has never happened before. We've had great presidents; we've had terrible presidents, Republicans and Democrats; but we've never had anything like this — where we have a president who is incapable of telling the truth. — Former White House press secretary Joe Lockhart, in an interview on CNN.

"The most bizarre thing I've ever been a part of." — Maine Secretary of State Matthew Dunlap (D), quoted by the Washington Post, on President Trump's "voter fraud" panel.
---
IN THIS ISSUE
FYI
OPINION
1. Satire from The Borowitz Report: Californians Puzzled by Trump's Failure to Blame Wildfires on Hillary
Californians were baffled on Monday by a series of tweets by Donald J. Trump in which he utterly failed to blame the state's current wildfires on Hillary Clinton.

In interviews with residents up and down the Golden State, Californians agreed with the assessment of Harland Dorrinson, a Modesto native, that Trump's failure to pin the fires on Clinton was "nothing short of bizarre."

"When he said that there wasn't enough water to put out the fires, I naturally assumed he was going to accuse Hillary Clinton of sneaking into California and somehow stealing all of our water," Dorrinson said. "It was so confusing when he didn't."

"I thought that the wildfires would be a perfect opportunity for Trump to accuse Hillary of being anti-water and pro-fire, but he didn't even mention her," Tracy Klugian, who lives in San Jose, said. "Maybe he's really distracted by all this Russia stuff and he's off his game."

Carol Foyler, who lives in Monterey, said that Trump's failure to accuse Hillary Clinton of single-handedly causing the wildfires left her shaken and appalled.

"At a time when many of us in California are suffering from historic wildfires, we look to the President of the United States to blame them on Hillary Clinton," she said. "And he let us down." https://www.newyorker.com/humor/borowitz-report/

2. Trade Deficit Soars Under Trump
Under Trump's watch, the U.S. is on track for the highest trade deficit in 10 years
The United States trade deficit widened in June and is on track to be the biggest in a decade despite President Trump's efforts to slash it.
For the first half of 2018, the trade deficit in goods and services hit $291.2 billion, the federal government reported Friday, which is higher than last year and puts the nation on track to have the largest annual deficit since 2008. https://www.washingtonpost.com/business/2018/08/03/trump-hates-trade-deficit-its-track-be-biggest-decade/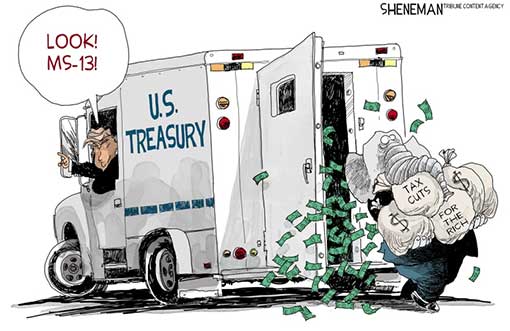 3. Trump makes bizarre claim that tariffs will help pay down the massive U.S. debt
President Trump tweeted Sunday morning that his tariffs are "working big time" and made a bizarre claim that the money raised from these new import taxes will go a long way to helping pay down America's large debt. (Short answer: That's not what will happen).
Trump portrays the tariffs as a tax on foreigners, but the reality is that tariffs are taxes on U.S. companies and consumers. When a big U.S. retail chain or an equipment manufacturer has to pay 10 or 25 percent more to get steel from Canada or a certain part from China, that U.S. company has to pay the tax when it imports that item. U.S. businesses either eat that extra cost or pass it along to consumers. https://www.washingtonpost.com/business/2018/08/05/trump-makes-bizarre-claim-that-tariffs-will-help-pay-down-massive-us-debt
4. Trump has made 4,229 false or misleading claims in 558 days
It turns out that's when the president decided to turn on the spigots of false and misleading claims. As of day 558, he's made 4,229 Trumpian claims — an increase of 978 in just two months.
That's an overall average of nearly 7.6 claims a day. https://www.washingtonpost.com/news/fact-checker/wp/2018/08/01/president-trump-has-made-4229-false-or-misleading-claims-in-558-days/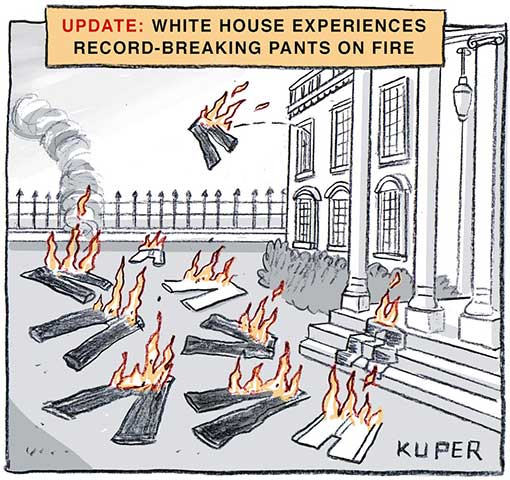 5. Trump's Tweets and the Creation of 'Illusory Truth'
As Special Counsel Robert Mueller's investigation into Russian interference in the 2016 election has heated up, so too have Donald Trump's Twitter fingers. The president is fond of repeating certain disparaging phrases about Mueller's investigation on the social media platform, repeatedly referring to it as a "hoax" and a "scam." But his favorite moniker by far is "Witch Hunt"—embellished, in recent weeks, to "Rigged Witch Hunt"—which Trump has used a whopping 84 times this year alone in reference to Mueller's investigation.
This repeated public condemnation is almost certainly having a psychological effect on how Americans view the investigation. Multiple studies have shown that when something is repeated often enough, people start to think of it as true, whether it actually is—a concept known as illusory truth. "When a statement is repeated, it starts to feel more familiar," said Keith Payne, a psychology and neuroscience professor at the University of North Carolina at Chapel Hill. "That feeling of familiarity is easily interpreted as the feeling of truth." Payne is the co-author of a study that found that even when people know a claim is false, just a few repetitions can make them more likely to think it's true.
Trump's consistent tweeting—and the constant media coverage of those tweets—makes his favorite phrases familiar to the American public. And that familiarity could be key to making his claims seem plausible, even believable. By consistently referring to the investigation as a "hoax" and a "witch hunt," Trump is framing the debate on his terms. https://www.theatlantic.com/politics/archive/2018/08/how-trumps-witch-hunt-tweets-create-an-illusory-truth/566693/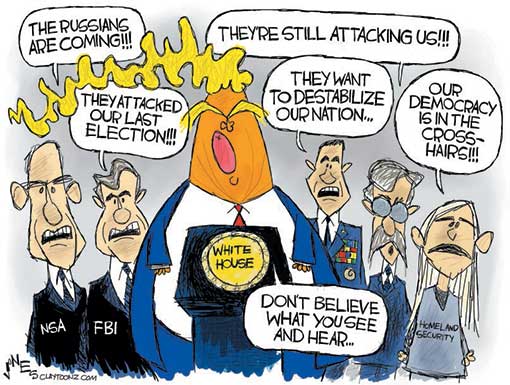 6. Rick Gates Delivers a Public Lesson on Money Laundering and Political Corruption
It's not clear yet how Gates's testimony will affect the outcome of the trial, in which Manafort is charged with tax evasion, bank fraud, and failing to disclose foreign bank accounts. But his time on the witness stand provided an invaluable public lesson in how tax evasion, money laundering, and political corruption work.
The importance of these phenomena goes well beyond this trial, and also beyond the special counsel Robert Mueller's broader inquiry into Russia's activities during the 2016 election. (Among other things, Mueller is widely believed to be looking into whether Donald Trump and his Presidential campaign had any surreptitious financial ties to Russian interests.) The ability of rich people such as Manafort and his oligarchic clients to shuffle money across borders, beyond the purview of tax collectors and law-enforcement authorities, is a huge and intractable problem. In many places, these practices are denuding tax bases, corrupting a large class of professional enablers, and undermining public confidence in the political and financial systems. https://www.newyorker.com/news/our-columnists/rick-gates-delivers-a-public-lesson-on-money-laundering-and-political-corruption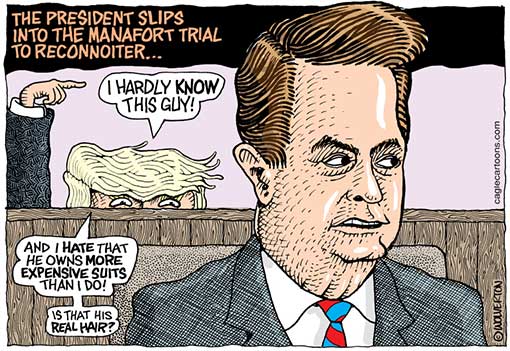 7. Files Contradict Trump's Claims of Voter Fraud
A review of nearly 2,000 documents from President Donald Trump's now-defunct Presidential Advisory Commission on Election Integrity contradicts claims of widespread voter fraud, Maine's secretary of state said Friday.
Matt Dunlap, who was a part of the commission's board, said the files showed no evidence to support such assertions. https://www.politico.com/story/2018/08/03/maine-voter-fraud-trump-files-contradict-761892
8. Presidential historian: Calling press 'enemy of the people' is a 'totalitarian' strategy
Presidential historian Jon Meacham on Friday lashed out at President Trump for calling the media an "enemy of the people," saying it's a "totalitarian" strategy.
Meacham, while appearing on MSNBC's "Morning Joe," said Trump's frequent targeting of the media will become his legacy. 
"It's an elective kind of base management," Meacham said of Trump's frequent attacks on the press. "It's pernicious, it's dangerous — and this is not media elite people defending media elite people."
"It's simply a Stalinist phrase, for God's sake," he added. "It comes out of totalitarian regimes to declare that a free press is the enemy of the people." http://thehill.com/homenews/administration/400244-morning-joe-guest-calling-press-enemy-of-the-people-is-a-totalitarian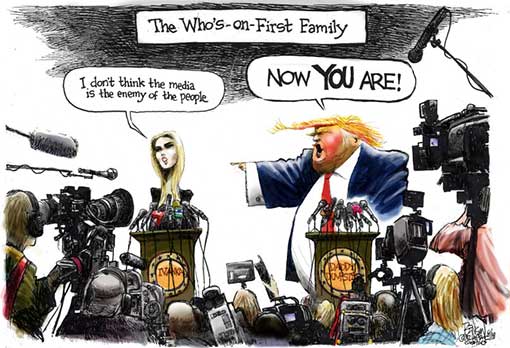 9. The NRA Says It's in Deep Financial Trouble, May Be 'Unable to Exist'
The National Rifle Association warns that it is in grave financial jeopardy, according to a recent court filing obtained by Rolling Stone, and that it could soon "be unable to exist… or pursue its advocacy mission." (Read the NRA's legal complaint at the bottom of this story.)
The reason, according to the NRA filing, is not its deep entanglement with alleged Russian agents like Maria Butina. Instead, the gun group has been suing New York Gov. Andrew Cuomo and the state's financial regulators since May, claiming the NRA has been subject to a state-led "blacklisting campaign" that has inflicted "tens of millions of dollars in damages."
Specifically, the NRA warns that it has lost insurance coverage — endangering day-to-day operations. "Insurance coverage is necessary for the NRA to continue its existence," the complaint reads. Without general liability coverage, it adds, the "NRA cannot maintain its physical premises, convene off-site meetings and events, operate educational programs … or hold rallies, conventions and assemblies." https://www.rollingstone.com/politics/politics-news/nra-financial-trouble-706371/
10. The DAILY GRILL
Fake News reporting, a complete fabrication, that I am concerned about the meeting my wonderful son, Donald, had in Trump Tower. This was a meeting to get information on an opponent, totally legal and done all the time in politics - and it went nowhere. I did not know about it!" --  Trump tweet on Sunday morning 

VERSUS

The Russians offered damaging info on your opponent. Your campaign accepted. And the Russians delivered. You then misled the country about the purpose of the Trump Tower meeting when it became public. Now you say you didn't know in advance. None of this is normal or credible. -- Rep. Adam Schiff (D-CA)

 

Lebron (sic) James was just interviewed by the dumbest man on television, Don Lemon. He made Lebron look smart, which isn't easy to do. I like Mike! -- Donald Trump

VERSUS

Who's the real dummy? A man who puts kids in classrooms or one who puts kids in cages? #BeBest -- CNN news anchor Don Lemon.
11. From MEDIA MATTERS (They watch Fox News so you don't have to)
Koch-funded groups mount PR and media campaign to fight carbon pricing. Worried about momentum for carbon taxes, climate deniers go on attack via right-wing media. https://www.mediamatters.org/blog/2018/08/02/Koch-funded-groups-mount-PR-and-media-campaign-to-fight-carbon-pricing/220862

Alex Jones: President Obama has been "having sex with 10 dudes a day" on taxpayer time. https://www.mediamatters.org/video/2018/08/01/alex-jones-president-obama-has-been-having-sex-10-dudes-day-taxpayer-time/220880

NRATV deceptively edits Nancy Pelosi speech to claim she praised MS-13 gang members. https://www.mediamatters.org/blog/2018/08/03/nratv-deceptively-edits-nancy-pelosi-speech-claim-she-praised-ms-13-gang-members/220899

After Infowars was removed from various platforms, Alex Jones begs Donald Trump for help. Trump must make "censorship" the top issue in the midterm elections or else he will be impeached. https://www.mediamatters.org/video/2018/08/06/after-infowars-removed-various-platforms-alex-jones-begs-donald-trump-help/220911

After Alex Jones was removed from iTunes and Facebook, Fox Business guests says that tech companies are full of "hardcore leftists."  https://www.mediamatters.org/video/2018/08/06/after-alex-jones-removed-itunes-and-facebook-fox-business-guests-says-tech-companies-are-full/220908
12. Late Night Jokes for Dems
President Trump now says that he'd be willing to meet with the president of Iran. After Kim Jong Un and Vladimir Putin, Trump said it's the last meeting he needs to win "Dictator Bingo." -- Jimmy Fallon

Earlier tonight, Trump flew to Tampa, Florida, for a big rally. But before he left, he put Rudy Giuliani in a kennel so he wouldn't destroy everything while he's gone. -- Jimmy Fallon

Right before the rally, Trump took part in a "workforce development roundtable." And just to mess with Trump, the organizers told him to sit at the head of the roundtable – then watched him walk around in circles for 20 minutes. -- Jimmy Fallon

At a rally in Florida last night, President Trump falsely claimed that a photo ID is required to buy groceries in the United States. Dude, what you eating for dinner? Rental cars? -- Seth Meyer

During the same rally President Trump claimed that he could be more presidential than any president in history, quote, "Except for possibly Abe Lincoln with the big hat." Oh, right. That Abe Lincoln. Are you at a campaign rally or Show and Tell? "This is my Abe Lincoln. He has a really big hat. And he hates going to plays." -- Seth Meyer

It's been revealed that during a recent meeting on trade with President Trump, the European Commission president had to use a series of colorful cue cards to explain and simplify economic issues for Donald Trump. Although, it makes sense to use colors because Trump hasn't learned his shapes yet. And to make sure Trump was really paying attention, some of the cards included items from the McDonald's Dollar Menu. Halfway through the meeting Trump started to whine about Hillary's email servers and his advisers knew it was time to put him down for a nap. -- James Corden

Crazy news out of Florida last night. A man in Tampa was spotted wandering around in public rambling incoherent nonsense about the government. Even crazier, that man was our president. -- Jimmy Fallon
13. Mueller Wants Interview with Russian Pop Star
Special counsel Robert Mueller has requested an interview with Russian pop star Emin Agalarov, who helped set up the now infamous 2016 Trump Tower meeting.
Agalarov's lawyer "did not elaborate on whether Mueller is also interested in speaking to Agalarov's father, Aras Agalarov, a billionaire with ties to Russian President Vladimir Putin." https://www.nbcnews.com/news/investigations/mueller-wants-interview-russian-pop-star-emin-agalarov-lawyer-says-n896951
A video by Agalarov, with lookalikes for Donald Trump, Kim Jong Un, Hillary Clinton, Stormy Daniels, Mark Zuckerberg, Ivanka Trump and Jared Kushner features the US President cavorting with Miss Universe contestants, playing poker with Hilary and exchanging briefcases of classified information with the Russian pop star whilst a pleased Kim Jong un watches with glee scoffing popcorn is at https://youtu.be/8cs4tKdiiI4
14. Facebook Is Now the Biggest Right-Wing Media Company
Through the manipulative efforts of conservative activists, a grossly irresponsible, right-wing media outlet. It's time to stop pretending otherwise.
Facebook's efforts to appease right-wing critics have distorted the outlet's political influence in many obvious ways. In response to the hearings on bias in Congress, Facebook hired conservative lobbyist Jon Kyl to lead a review. A six month study by Media Matters found that right-leaning pages continue to rack up more interactions on their posts than left-leaning or politically neutral pages, and conservative memes are by far the highest performing political content on the platform. But here's a data point that hits close to home:
In general, Facebook treats Pod Save America the same as it treats InfoWars—the propaganda channel Alex Jones uses to spread conspiracy theories, and, more recently, to threaten violence against Special Counsel Robert Mueller. https://crooked.com/article/facebook-right-wing-media/
15. Democrats hopeful after poll shows plummeting trust in Trump
"Russia, Immigration and Trade War Sticking to Trump" is the headline of a new polling memo for Priorities USA by Garin-Hart-Yang Research Group and Global Strategy Group.
Trump's dealings with Vladimir Putin, his handling of immigration and the separation of children from their families, and the impact of his trade war have stuck with voters in a way nothing else has since the beginning of his presidency.
This translates into the worst ratings for Trump on his truthfulness, temperament, dealings with Russia, and immigration policies we have not seen in any of our eleven previous national tracking surveys on the Trump presidency. https://www.axios.com/2018-midterm-elections-democrats-poll-trust-trump-852398cc-7173-4ef6-8f4e-2861128bc85b.html
16. Campaigns on their own as cyber threats roil midterms
Kamala Harris has been the target of social media misinformation campaigns since she became a U.S. senator.
Every month for the last 18 months, her office has discovered on average between three and five fake Facebook profiles pretending to be hers, according to a Harris aide. It's unclear who creates the pages, which are often designed to mislead American voters about the ambitious Democratic senator's policies and positions.
The aide spoke on the condition of anonymity, like more than a half dozen campaign officials contacted for this story, for fear of attracting unwanted attention from adversaries or scrutiny on the Senate office's evolving cybersecurity protocols.
Such internet mischief has become commonplace in U.S. politics. Facebook announced earlier this week that it uncovered "sophisticated" efforts, possibly linked to Russia, to influence U.S. politics on its platforms. Senior intelligence officials declared Thursday that foreign adversaries continue waging a quiet war against U.S. campaigns and election systems. https://apnews.com/792fefb2ff9846b98c4a406bbbd21c27/Campaigns-on-their-own-as-cyber-threats-roil-midterms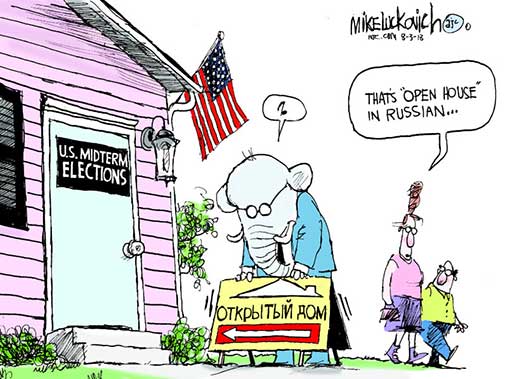 17. RNC warns donors to steer clear of Kochs
The Republican National Committee is sending a warning shot to major GOP donors not to play ball with the powerful Koch political network, escalating a fight between President Donald Trump's allies and the Kochs.
The move follows a weekend retreat in Colorado at which Koch network officials criticized the Trump administration, hinted they would work with Democrats, and announced they would not help a Republican candidate in a key 2018 Senate race.
"Some groups who claim to support conservatives forgo their commitment when they decide their business interests are more important than those of the country or Party," RNC Chairwoman Ronna Romney McDaniel wrote in a memo to party contributors on Thursday afternoon. "This is unacceptable." https://www.politico.com/story/2018/08/02/rnc-warns-donors-kochs-760233
18. A Trump Pardon Is Starting To Look Like Paul Manafort's Best Hope
Amid the headline-grabbing details about Manafort's extravagant spending ― the $15,000 ostrich jacket, the thousands of dollars worth of suits, the red flowers in the shape of an "M" ― prosecutors' narrative about Manafort's shady financial dealings is going to be difficult to refute.
Given the way the trial is unfolding ― and with yet another trial still on the agenda for Manafort in the District of Columbia ― hoping for a pardon or commutation from Trump might be Manafort's best bet. https://www.huffingtonpost.com/entry/paul-manafort-trial-mueller-trump_us_5b621149e4b0de86f49d92d6
19. Why Trump May Force a Shutdown Before the Election
What Hill Republicans believe an immigration showdown before the election would be good for him? His thinking, according to people who speak with him, is that he won an election that was centered on immigration policy, so it's a good issue to have front and center this fall. Furthermore, Trump is being pushed by aides who believe that he'll never have bigger numbers on the Hill than he does now, so he should push for the policies he wants immediately. https://www.politico.com/newsletters/playbook/2018/08/02/trump-mulls-a-pre-election-shutdown-with-rush-and-a-pre-election-anti-pelosi-ad-292967
20. QAnon, the Pro-Trump Conspiracy Theorists, Now Believe JFK Jr. Faked His Death to Become Their Leader
For QAnon believers, special counsel Robert Mueller isn't really investigating the Trump campaign—he's actually working with Trump to take down a cabal of deep-state plotters and pedophiles. Soon, QAnon fans believe, Trump will team up with the military to throw top Democrats like Hillary Clinton and Barack Obama into Guantanamo Bay.
But what QAnon believers actually believe is constantly changing. After taking advantage of the murder of DNC staffer Seth Rich and promoting dangerous ideas like Pizzagate, QAnon supporters have found a new tragedy to exploit: the death of John F. Kennedy Jr., son of the late president.
Until July, QAnon supporters believed that "Q," the anonymous online forum poster whose cryptic clues make up the conspiracy theory, was a high-ranking Trump administration official, or maybe even Trump himself. But now, a good portion of QAnon believers have become convinced that Q is none other than JFK Jr, even though he died in a plane crash nearly 20 years ago. https://www.thedailybeast.com/qanon-the-pro-trump-conspiracy-theory-now-believes-jfk-jr-faked-his-death-to-become-its-leader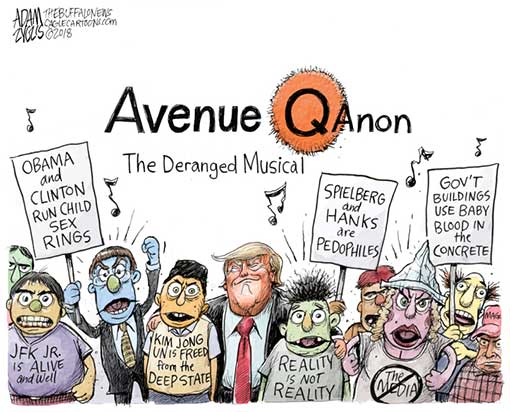 21. Jobs boom favors Democratic counties, not Trump strongholds
The United States is on pace to add about 2.6 million jobs this year under President Trump's watch. Yet the bulk of the hiring has occurred in bastions of Democratic voters rather than in the Republican counties that put Trump in the White House.
On average for the year-ended this May, 58.5 percent of the job gains were in counties that backed Democrat Hillary Clinton in 2016.
Despite an otherwise robust national economy, the analysis shows that a striking number of Trump counties are losing jobs. The AP found that 35.4 percent of Trump counties have shed jobs in the past year, compared with just 19.2 percent of Clinton counties. https://www.pressherald.com/2018/08/05/jobs-boom-favors-democratic-counties-not-trump-strongholds/
22. In Democratic Primaries, It's Often Bernie Sanders Vs. Emily's List
Back in 2016, there wasn't much love lost between Bernie Sanders and EMILY's List, the Democratic advocacy group that backs pro-abortion-rights female political candidates. The groups two sparred over candidate endorsements (including for Hillary Clinton) and the campaign's 'condescending' comments about Clinton's campaign, and — last year — over Sanders' appearance at a women's conference.
Fast forward to now, and the two factions are facing off more and more in the 2018 Democratic primaries. And that's largely been because Sanders — in races that feature prominent women — has often endorsed a rival male candidate instead.
It all feels like a replay of the Sanders-Clinton wars of 2016, a conflict so steeped in gender issues that the term 'Bernie Bro' was born. Our take: In a year when women are such a dominant force in Democratic politics, the narrative that Sanders isn't prioritizing female candidates may not be great for his brand in the long run. https://www.nbcnews.com/politics/first-read/white-house-s-story-trump-tower-meeting-shifts-yet-again-n897891
23. The TiVo presidency: Trump relives Trump
Like an NFL coach reviewing game film, President Trump likes to watch replays of his debate and rally performances. But instead of looking for weaknesses in technique or for places to improve, Trump luxuriates in the moments he believes are evidence of his brilliance.
Trump commentates as he watches, according to sources who've sat with him and viewed replays on his TiVo, which is pre-loaded with his favorites on the large TV in the private dining room adjoining the Oval Office. When watching replays, Trump will interject commentary, reveling in his most controversial lines. 'Wait for it. … See what I did there?' he'll say.
Said Trump, per one insider: "People think it's easy. I've been doing this a long time now and people are used to it, every rally, it's like, people have said P.T. Barnum. People have said that before. And they think that's easy, because hey, P.T. Barnum, he does the circus. … They don't realize, it's a lot of work. It's not easy." https://www.axios.com/donald-trump-replays-tivo-debates-rallies-white-house-23263995-4827-4ead-a29a-626603e2483c.html
24. Now the Trump administration wants to limit citizenship for legal immigrants
The Trump administration is expected to issue a proposal in coming weeks that would make it harder for legal immigrants to become citizens or get green cards if they have ever used a range of popular public welfare programs, including Obamacare, four sources with knowledge of the plan told NBC News.
The move, which would not need congressional approval, is part of White House senior adviser Stephen Miller's plan to limit the number of migrants who obtain legal status in the U.S. each year. https://www.nbcnews.com/politics/immigration/now-trump-administration-wants-limit-citizenship-legal-immigrants-n897931
1. David Atkins: Does Trump Even Understand What He Did Wrong?
Even the briefest observation of Donald Trump is adequate to confirm that he is not a man of profound intellect. He certainly possesses his share of social intelligence, a knack for salesmanship and an obsessive drive to dominate and humiliate others stemming from a yawning maw of overlapping insecurities. But in terms of how we traditionally measure intelligence in the modern developed world–the acquisition of knowledge over time and the ability to process, digest and act cogently in response to complex information–Trump probably doesn't even reach the 50th percentile of Americans. And that is being generous.
This basic fact is difficult to keep in mind when assessing his decisions because we have never had a president like this. Society tends to dramatically overestimate the talent and intelligence of those fortunate enough to be rich and powerful, but rarely are they as objectively ignorant and lacking in basic competency as Trump. Far too often we look for a schema or strategy behind Trump's actions, only to discover that his decisions were precipitated by the dumbest of reasons: because he saw a Fox News segment that made him angry, or because he heard that Barack Obama had originated a policy, because some extraneous person mentioned some falsehood to him that he was credulous enough to believe, or because he was openly bribed. This principle has become known as "Trump's Razor": when seeking to understand the president's behavior, look for the stupidest possible reason.
I mention all this because while I don't fully believe it myself, we must at least consider the possibility that Trump's bizarre behavior with respect to Russian collusion, the Mueller probe, and his obstruction of justice is that he literally does not understand when he committed crimes or what is wrong with what he did. His social intelligence and gut instinct for politics certainly leads him to understand that some aspects of the collusion and obstruction would be politically damaging to him if they fully came out. But it's entirely possible that at a moral level and, crucially, at a legal one, he simply isn't smart enough to grasp the enormity of the crimes he and his associates seem to have committed.
Trump may lack both the moral compass and the legal wherewithal to even comprehend the magnitude of his crimes and the precariousness of his situation. He certainly understands how politically inconvenient all of this is for him, yet it's not entirely clear that he grasps why this isn't a witch hunt, but perhaps the biggest scandal in all of American history.
Again, I'm not entirely convinced of this thesis. It's still most likely that Trump is simply a knowing criminal scurrying like a rat caught in a trap. But that assumes a level of moral and intellectual capacity on Trump's part that may not even be present. https://washingtonmonthly.com/2018/08/04/does-trump-even-understand-what-he-did-wrong/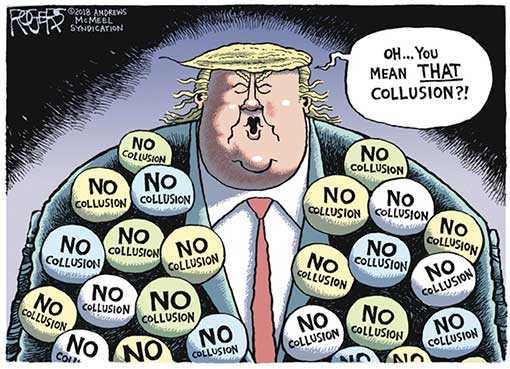 2. Jennifer Rubin: Why Trump is so freaked out by the Manafort trial
Manafort is a mirror image of Trump. He is a man seduced by the oligarch wealth of the former Soviet Union," says Max Bergmann of the Moscow Project. "Putting profit over principles he ends up becoming entangled, entrapped, and then a witting tool of Russian interests. The trial is a preview for much of what's to come. " He adds, "The trial is going to help us understand why the Trump campaign conspired with Russia. It is going to spell out Manafort's motive. It will show that Manafort had deep ties to Russia (just like Trump) and was financially desperate prior to joining the Trump campaign."
Frankly, confirming the presence on the campaign — at its highest level — of a guy as thick as thieves with the Russians will begin to chip away at Trump's emphatic denial of any contacts or ties with Russia. Remember, in July 2016, Manafort was asked by ABC's George Stephanopoulos, "Are there any ties between Mr. Trump, you or your campaign and Putin and his regime?" Manafort answered, "No, there are not. That's absurd. And you know, there's no basis to it." Except that was patently false.
Trump also denied campaign contacts with Russians, as did Reince Priebus, the president's one-time chief of staff. In February 2017, Priebus declared, "The New York Times put out an article with no direct sources that said that the Trump campaign had constant contacts with Russian spies, basically, you know, some treasonous type of accusations. We have now all kinds of people looking into this. I can assure you and I have been approved to say this — that the top levels of the intelligence community have assured me that that story is not only inaccurate, but it's grossly overstated and it was wrong. And there's nothing to it." Except there were dozens and dozens of contacts, including by Manafort.
In short, establishing that Trump's one-time campaign chief was heavily connected with Kremlin characters doesn't prove conspiracy to acquire help during the election, but it sure does bolster the credibility of the investigators and underscores how preposterous were the dozens of denials that the campaign had any Russia contacts. A campaign chief down on his luck going to work for free for Trump certainly provides the back story for Manafort's efforts to "monetize" those Russian connections. As Bergmann suggests, "This trial will also highlight, but not answer, many outstanding questions, such as: How did Manafort end up on the campaign?; Why did someone so cash-strapped work for free?; and, What did he do to conspire with Russia during the campaign? Mueller's answers to those question will come later." In other words, Paul Manafort's trial will set the table for what follows. https://www.washingtonpost.com/blogs/right-turn/wp/2018/08/01/how-the-manafort-trial-may-hurt-trump/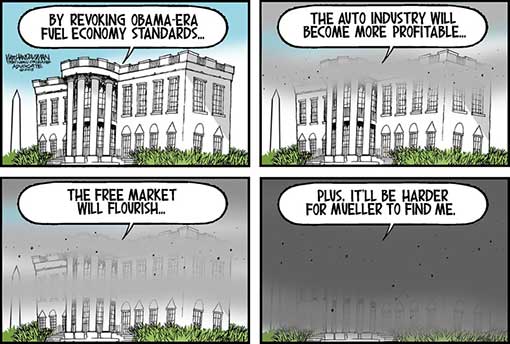 3. Bonnie Kristian: Trump's unutterably stupid trade war
Trump is nowhere near the tradeless world of his factory speech fantasy, but the effects of his trade war are being felt, perhaps most painfully by American farmers, whose industry is already made economically and environmentally precarious by federal meddling. In response to Trump's tariffs on a basket of 800 Chinese goods, China has levied a 25 percent tax on 545 U.S. exports, including agricultural products like rice, beef, pork, and more. Soybean farmers expect a particularly hard hit, as China previously bought fully a third of their product. Maine lobster harvesters are suffering, too, as Chinese buyers turn to Canada, subject to a 7 percent lobster tariff, to avoid 35 to 40 percent taxes on American lobsters.
Rather than call a trade truce, the administration has responded with a $12 billion farm bailout. Beyond the gross hypocrisy of Republicans' supermajority support for the plan — they'd be howling objections had a Democratic president proffered this "fix" — this aid package only compounds the original error. It's like responding to a fever by cranking up the air conditioning and pretending nothing's wrong. The bailout might temporarily ease one symptom, but it will only prolong our pain.
American farmers have a better grasp of economics than does the president. "While $12 billion as a stand-alone number sounds like a lot of money, when you look at the economic impact this trade war has caused, it doesn't even scratch the surface," said a Minnesota soybean farmer named Mike Petefish. His crop has lost $250,000 in value thanks to the president's trade policies as soybean prices have dropped by $2 a bushel — about a fifth of their value — since May. "Imagine someone destroys your car and then says, 'I'll give you a ride to the next place you need to go,'" Petefish added. "Well gee, thanks."  http://theweek.com/articles/787837/trumps-unutterably-stupid-trade-war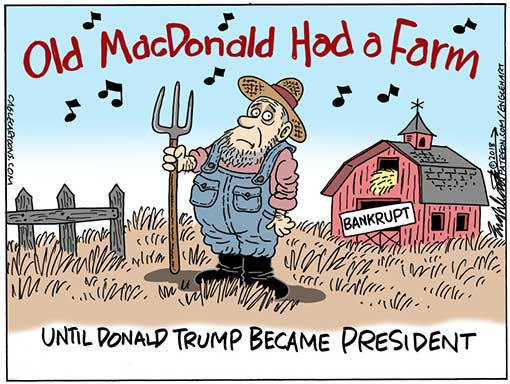 4. David Faris: Why Trump firing Mueller would be pointless
President Trump on Wednesday got on his Twitter machine and suggested, in a rambling, seven-post tirade, that Attorney General Jeff Sessions "should stop this Rigged Witch Hunt right now." Two years ago, it might have been shocking to see the president ordering his top law enforcement official to stop the government's inquiry into him and his campaign's possible collusion with a hostile foreign power — basically obstructing justice in plain sight. But in this case, it was just another miserable morning in occupied D.C.
What exactly precipitated this latest monarchical meltdown is not clear. ABC News reported that Special Counsel Robert Mueller wants to interview Trump about obstruction of justice, so that could be it. The outburst also coincided with the second day of the trial of international man of griftery and former Trump campaign manager ("for a very short time"!) Paul Manafort. The outburst brought with it fresh fears that Trump will conduct some kind of Morning Massacre, firing Sessions, Mueller, and Deputy Attorney General Rod Rosenstein in one fell swoop. But even if he did that, it wouldn't matter. We will, one way or another, finally know what Mueller knows, and no amount of presidential theatrics can change that.
During his Wednesday morning tweetstorm, Trump managed to muster more sympathy for Manafort than he ever has for innocent parents forcibly separated from their children. Indeed, the president got very worked up — one might even call his behavior fussy — that his old pal Manafort has been held in solitary confinement because every time he is allowed contact with the outside world, he relentlessly tries to undermine the case against him. "Who was treated worse, Alfonse Capone … or Paul Manafort?" he asked. http://theweek.com/articles/788089/why-trump-firing-mueller-pointless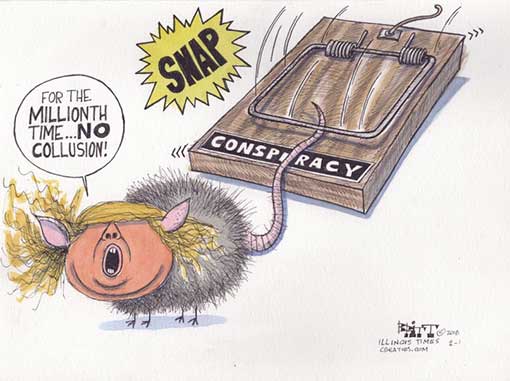 5. Jonathan Chait: Trumpcare Means Leaving the Poor and Sick to Fend for Themselves
Yesterday, the Trump administration unveiled plans to allow insurers to skim healthy customers out of the insurance pool by offering skimpy plans that last for up to three years. The legally dubious maneuver is the crowning touch on the administration's persistent efforts to undermine the Affordable Care Act. Conservative intellectuals are justifiably ecstatic. "Wednesday's rule came to be because dedicated people within the Trump administration worked hard to push federal policy in a libertarian direction," exults Cato Institute scholar and onetime author of the "Anti-Universal Coverage Club Manifesto" Michael Cannon. Indeed, Trump's attacks on Obamacare, taken together as a sum, provide a fair picture of the American right's unique, social Darwinist philosophy of health-care policy.
Many people are either too poor or too sick to afford access to medical care. In every democracy in the world save the United States, a broad social consensus accepts the need to subsidize care for those people. This includes the conservative parties in those countries. Among right-of-center parties in the developed world, only the Republicans are so committed to anti-government dogma as to oppose measures to subsidize medical care for those who can't afford it themselves.
But whenever Democrats have attempted to expand access to health care, Republican leaders have generally declined to present themselves as principled opponents of universal health care. Instead, they have promised they could accomplish the same goal in a better, cheaper fashion, without any of the painful trade-offs in the existing Democratic-authored proposals. No such plan ever emerged, in part because Obamacare was the most market-friendly way to accomplish the bare minimum objectives of any humanitarian health-care reform. The only space to Obamacare's right involved punishing the poor and sick with medical and financial deprivation.
What is striking about the Trump-era Republican health agenda is the lack of policy ambition. Having spent years insisting they had an army of wonks who could design a better alternative to the Obamacare "train wreck," the Republican plan of attack has dissolved into a rearguard sabotage campaign with no pretense of doing anything to help the poor and sick afford medical care. Health care remains a policy ground with which conservative-movement dogma cannot grapple. http://nymag.com/daily/intelligencer/2018/08/trumpcare-leaves-the-poor-and-sick-to-fend-for-themselves.html
6. Eric Levitz: The GOP's New Midterm Message: Nancy Pelosi Wants to Cut Medicare
The Republican Party knows that it won't win many elections by campaigning on its governing agenda. After winning unified control of the federal government in 2016, the GOP Congress prioritized two legislative goals: slashing federal health-care spending by roughly $1 trillion, and cutting taxes on the wealthy and corporations by even more than that.
But one would hardly know that from the GOP's paid messaging in 2018. In their campaign ads, Republican candidates are avoiding all mention of their party's attempts to gut Medicaid and repeal the Affordable Care Act — while giving short shrift to Donald Trump's signature tax cuts. As of May, only one-third of the ads arguing that Republicans should retain control of Congress mentioned the cut, the only major legislation that the current Republican Congress has passed. Instead, the GOP has opted to campaign against "open borders" (which no Democratic elected official supports), for loyalty to Donald Trump, and, above all, in opposition to Nancy Pelosi — and the godless urbanism, rootless cosmopolitanism, and crytpo-communist femi-nazism she (apparently) represents.
Troy Balderson, the Republican candidate in next week's special congressional election in Ohio, abandoned talk of the tax cuts weeks ago. While his rival, Democrat Danny O'Connor, has savaged the GOP's "corporate tax giveaway," Balderson and his allies have tried to keep Buckeye voters focused on what really matters: how scary nonwhite immigrants are. http://nymag.com/daily/intelligencer/2018/08/oh-12-special-election-the-gops-new-midterm-message-pelosi-wants-to-cut-medicare.html
7. Bret Stephens: Trump Will Have Blood on His Hands
What can't be ignored is presidential behavior that might best be described as incitement. Maybe Trump supposes that the worst he's doing is inciting the people who come to his rallies to give reporters like CNN's Jim Acosta the finger. And maybe he thinks that most journalists, with their relentless hostility to his personality and policies, richly deserve public scorn.
Yet for every 1,000 or so Trump supporters whose contempt for the press rises only as far as their middle fingers, a few will be people like my caller. Of that few, how many are ready to take the next fatal step? In the age of the active shooter, the number isn't zero.
Should that happen — when that happens — and journalists are dead because some nut thinks he's doing the president's bidding against the fifth column that is the media, what will Trump's supporters say? No, the president is not coyly urging his supporters to murder reporters, like Henry II trying to rid himself of a turbulent priest. But neither is he the child who played with a loaded gun and knew not what he did.
Donald Trump's more sophisticated defenders have long since mastered the art of pretending that the only thing that matters with his presidency is what it does, not what he says. But not all of the president's defenders are quite as sophisticated. Some of them didn't get the memo about taking Trump seriously but not literally. A few hear the phrase "enemy of the people" and are prepared to take the words to their logical conclusion.
Is my caller one of them? I can't say. But what should be clear is this: We are approaching a day when blood on the newsroom floor will be blood on the president's hands. https://www.nytimes.com/2018/08/03/opinion/trump-fake-news-enemy.html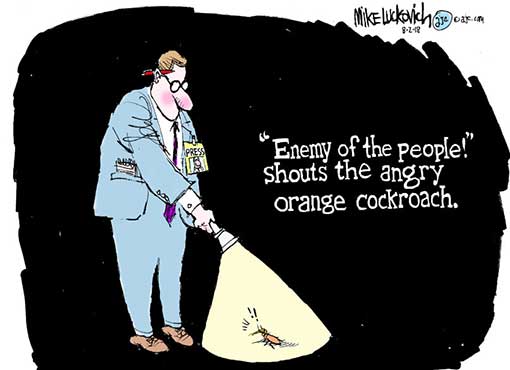 8. Joel Mathis: President Trump's inarticulate defense
College courses are devoted to presidential rhetoric. Generations of schoolchildren were once required to memorize the Gettysburg Address; the words of Lincoln's second inaugural are inscribed on his memorial. You don't have to be a historian — just a reasonably alert American — to recognize how powerful a president's words have been throughout history.
See, for example, how easy it is to match a president to his most famous quote:
"The only thing we have to fear is fear itself."

"And so, my fellow Americans: ask not what your country can do for you—ask what you can do for your country."

"Mr. Gorbachev, tear down this wall!"

"I can hear you! I can hear you! The rest of the world hears you! And the people — and the people who knocked these buildings down will hear all of us soon!"
Trump's most memorable quotes, meanwhile, involve shooting voters on Fifth Avenue and grabbing women by their private parts. It makes you miss the days when Republicans hailed Ronald Reagan as "The Great Communicator." http://theweek.com/articles/788211/president-trumps-inarticulate-defense
9. William Falk:

The world on fire
This summer, forests are bursting into flame all over the world. More than 50 wildfires have scorched a shocked Sweden — some of them north of the Arctic Circle — as temperatures have soared into the 90s amid withering drought. In normally chilly Oslo, the mercury climbed past 86 degrees for 16 consecutive days. The Brits have been gobsmacked by 95-degree weather; it hit 98 in Montreal; and in Japan, 22,000 people were hospitalized when temperatures climbed to a record 106. In Arizona, Southern California, Pakistan, and India, summer's broiler has been turned up to unbearable levels, past 110 degrees, and people are dying. Heat, drought, and fires of this scale and scope are not normal — or perhaps they now are. Climate change, says Elena Manaenkova of the World Meteorological Organization, "is not a future scenario. It is happening now."
It is human nature to postpone change and sacrifice as long as possible. We don't act, especially collectively, until a crisis is upon us. This penchant for procrastination is why the national debt of $21.3 trillion is climbing at a rate of nearly $1 trillion a year, and why we're doing nothing to address the approaching funding shortfalls of Medicare and Social Security. Why deal with such unpleasantness now, when we can push decisions off into the future? So it goes for greenhouse gas emissions and climate change. The evidence clearly shows that the planet is warming, that the jet stream and other wind patterns have been disrupted, that ancient ice is melting and seas are rising, and that weather extremes such as droughts, heat waves, torrential rains, and flooding have all become more common and more prolonged. And the consequences have just begun. But what's most important is our comfort today, the next quarter's GDP, and the re-election of incumbent politicians. Climate change? The national debt? Social Security? Let our children and grandchildren deal with all that. We'll be dead by then, suckers. http://theweek.com/articles/788224/world-fire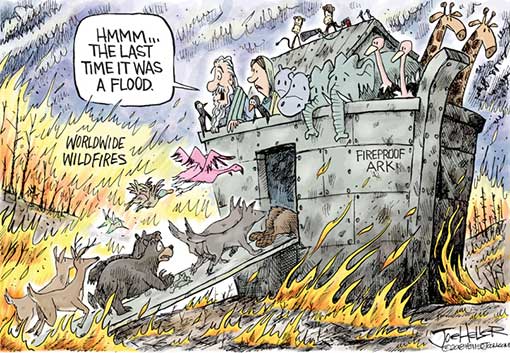 10. Susan B. Glasser: It's True: Trump Is Lying More, and He's Doing It on Purpose
There have been comparisons between Nixon and Trump since Trump first entered office, but these, too, have escalated in recent months as the President has been shadowed by the threat of the ongoing special-counsel investigation into the electronic break-in of the Democratic National Committee (another eerie Watergate echo) and whether Trump or his campaign colluded with Russia. Trump's obsession with the special counsel, Robert Mueller, also comes with metrics: he has called the Mueller probe a "witch hunt" on Twitter more than twenty-one times a month on average this spring and summer, compared with an average of just three times a month in the previous nine months.
Another commonality between Nixon and Trump is their obsession with the press as an enemy or, in Trump's phrase "enemies of the people." Nixon went so far as to order his White House staff to create an actual "enemies list," a document with twenty names on it, which was released as part of the Watergate hearings. Reporters like CBS's Daniel Schorr featured prominently on it. When Sanders announced at her press briefing last week that Trump was considering stripping the security clearances of six former senior U.S. officials who have emerged as scathing Trump critics, many made immediate comparisons to Nixon's list. "An enemies list is ugly, undemocratic, and un-American," Adam Schiff, the top Democrat on the House Intelligence Committee, responded.
Only three members of Nixon's enemies list are still alive. (Ron Dellums, a former member of Congress particularly loathed by Nixon for his anti-war protests and militant civil-rights activism, died on Monday.) I called one of them, Morton Halperin, to ask what he thought of the proliferating Trump-Nixon comparisons. Halperin, who oversaw the writing of the Pentagon Papers and then served on Nixon's National Security Council staff before breaking with him over the invasion of Cambodia, sued when he found out that Nixon had secretly taped him and others in the White House. Over the years, he has been one of Nixon's proudest and most persistent enemies. So I was surprised when Halperin insisted, strongly, that Nixon wasn't nearly as damaging to the institution of the Presidency as Trump has been. "He's far worse than Nixon," Halperin told me, "certainly as a threat to the country." https://www.newyorker.com/news/letter-from-trumps-washington/trumps-escalating-war-on-the-truth-is-on-purpose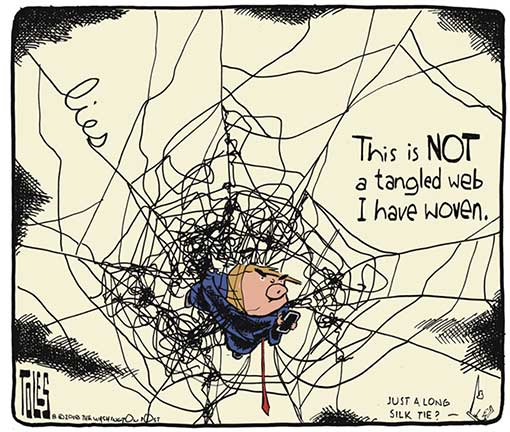 11. Mindy Finn: Trump has built a pyramid scheme of public fraud. It's a taxpayer-backed cash grab.
Far from draining the swamp, Trump and his coterie of grifters, fraudsters and co-conspirators have filled it in entirely, dividing the land into personal fiefdoms to exploit.
In short, Trump has built a clearly organized machine for largesse and corruption. It's a pyramid scheme of public fraud, and the president gleefully sits at its top, reaping the rewards and doling out the shares.
Still, the president and his defenders deny anything is wrong. Many throw up their hands and say "Washington has always been this way." That's certainly what Trump would have us believe. In truth, this level of corruption is rampant in dictatorships across the globe, but unprecedented here.
It's disturbing to see the president ripping this page from the authoritarian textbook, though entirely in character. All around him he's traded his blessing of corrupt dealings for a weakening of the agencies which might hold some check on him. Now, as key voters threaten to rebel over his policies, it's only natural that he'd seek the same bargain with them.
But the American people aren't so easily bought. We've already waged and won numerous battles against the president's corruption, but our fight is far from over. We must reinvigorate the institutions of transparency and accountability in our government. We must hold our leaders to an even higher ethical standard. And, especially when it starts to feel fruitless, we must do so with Donald Trump. https://www.usatoday.com/story/opinion/2018/08/03/donald-trump-taxpayer-cash-grab-unprecedented-corruption-column/871902002/
12. Jonathan Chait: Liberals Are the Real Nazis, Says Donald Trump Jr. Actual Nazis Disagree.
Donald Trump Jr. emerged from an advance screening of the latest cinematic triumph by pardoned felon Dinesh D'Souza burbling with a previously dormant enthusiasm for historical inquiry. "When you have a bunch of kids in dreadlocks running around screaming about 'fascism' and all these things," he explained, "it's like, wait a second, have you actually taken a history class, do you actually know what these words mean that you're running around and spewing. And I think they don't."
Anything that inspires Donald Trump Jr. to want to learn more would seem to be laudable. Sadly, Trump Jr. is not proposing that today's youth should take more history classes. Indeed, he maintains that history classes are filled with lies promoted by liberal academic elites. Instead, he wishes the dreadlocked youth would pay more attention to the revisionist history promoted by D'Souza in his latest film, Death of a Nation. In it, D'Souza continues his long-standing contention that racists and fascists of the far right are actually the true allies of the liberal left. "You see the Nazi platform in the early 1930s … and you look at it compared to like, the DNC platform of today, you're saying, man, those things are awfully similar," said Trump Jr.
It is bizarre that conservatives are still attempting to surmise, through indirect inquiry, what Nazis would say about politics today when there are actual Nazis who are happy to pick up a tiki torch and tell us. There is no mystery here. The people who proudly lay claim to the legacy of the Confederacy and Nazism are openly enthusiastic about Trump. They are fine with his economic populism, and gaga for his nativism.
Calling modern liberals the Real Nazis and neo-Confederates was a fun troll for the right. You can't troll your opponents as Nazis when there are proud Nazis out there marching for you. http://nymag.com/daily/intelligencer/2018/08/trump-jr-dinesh-dsouza-liberals-are-nazis-actual-nazis-love-trump.html
13. Colbert I. King: Follow the Russian money, and tighten your seatbelt
A Financial Times investigation found title deeds and bank records showing that a family from Kazakhstan accused of laundering hundreds of millions of dollars bought apartments in a Manhattan building part-owned by Trump. More recently, an analysis by McClatchy's D.C. bureau  found that "buyers connected to Russia or former Soviet republics made 86 all-cash sales — totaling nearly $109 million — at 10 Trump-branded properties in South Florida and New York City. . . . Many of them made purchases using shell companies designed to obscure their identities."
It's important to stop and note that there's nothing necessarily illegal about any of these real estate transactions. But Trump's nonstop, manic attacks on Mueller's investigation — and the media — look to me like the behavior of the guilty hearing footsteps and finding no place to hide.
Trump's only alternative is to discredit and whip up a body of hate against those who would expose him for what he is: an amoral liar and self-centered, money-grubbing fraud, with a loyal following that would make any other cult leader jealous.
But Mueller, too, has no alternative but to follow the Russian connections and the money and see where they lead.
Folks, tighten your seat belts, there's a bumpy road ahead. https://www.washingtonpost.com/opinions/follow-the-russian-money-and-tighten-your-seatbelt/2018/08/03/a0397c40-967f-11e8-a679-b09212fb69c2_story.html
14. David Wallace-Wells: California's Record-breaking Fire Isn't the Week's Worst Climate News
In an alarming report published in the prestigious Proceedings of the National Academy of Sciences, 16 scientists warned that — thanks to a series of dramatic positive-feedback loops they suggest might be significantly underestimated by the U.N.'s Intergovernmental Panel on Climate Change, which effectively establishes the boundaries of acceptable discourse on global warming — the planet may already be heading down a far more harrowing warming path than most scientists, and certainly most nonscientists, understand.
In particular, the team of 16 scientists suggested that, while the Paris climate accords committed the world to the goal of stabilizing global warming below two degrees Celsius, in fact there may not be a natural planetary equilibrium there — and so even if we managed to hit the emissions targets consistent with only two degrees of warming, a series of accelerating climate-system feedback loops would be triggered anyway, bringing us quickly past three and even four degrees Celsius. They called this possibility the "Hothouse Earth" pathway, and they outlined an even darker, worst-case scenario in which feedback loops brought us up to six or even seven degrees.
How bad would this be? At four degrees of warming, according to some estimates, nearly all of Africa and Australia, most of the United States, South America north of Patagonia and Asia south of Siberia would be rendered uninhabitable by combinations of desertification and flooding. At six degrees, we would see relatively rapid sea-level rise of up to 200 feet. At seven degrees, much of the planet's equatorial band would be so hot that humans could not move around outside without quickly dying. And, keep in mind: while the Paris accords articulated a goal of two degrees, the emissions commitments contained within it were far from sufficient to meet that goal; most previous estimates, which do not account for any dramatic feedback loops, suggest those commitments would only get us to 3.2 or 3.4 degrees. And no major industrialized nation is on track to meet even those commitments. http://nymag.com/daily/intelligencer/2018/08/theres-worse-climate-news-than-the-mendocino-complex-fire.html
15. Damon Linker: The coming Republican wipe-out
Despite the strong economy, Democrats have consistently led in congressional generic ballot polls for more than a year. RealClearPolitics' polling average puts the spread at about 7 points. At no point in the last year has RCP had Republicans getting any closer than 3.2 points.
It's true that Trump does remain extremely popular among the roughly 24 percent of Americans who are self-described Republicans. But this, too, could hurt Republicans in November. Trump's in-party popularity keeps the GOP's elected officials and candidates for office rallying around the president in multiple ways — mimicking his blatant racism and cruelty, his support for far-right policies (including trade wars and immigration restrictionism), his vicious partisanship, his hostility to the Mueller investigation, his attacks on "fake news" and the press as the "enemy of the people," and even his bizarre fondness for Russia and Vladimir Putin in the face of overwhelming evidence that Putin's government interfered in the 2016 election. These might be acceptable, and even necessary, positions for a Republican to take in 2018. But they're unlikely to endear Republican candidates to independent voters, and they may well be enough to motivate Democrats to show up to vote en masse against the president and his morally compromised party.
Three months out from the midterm elections of 2018, the state of play is exactly what one would expect to see in the early stages of the unfolding of precisely such a scenario. http://theweek.com/articles/788811/coming-republican-wipeout