April 13, 2017
ON THE RECORD. . .
"Harry Reid and the Democrats brought in Mexican soap opera stars, singers and entertainers who had immense influence in those communities into Las Vegas, to entertain, get out the vote and so forth. Those are foreign actors, foreign people, influencing the vote in Nevada. You don't hear the Democrats screaming and saying one word about that." -- Rep. Mike Conaway (R-TX) who is replacing Rep. Devin Nunes (R-CA) as head of the House investigation into the Trump campaign's alleged ties to Russia. 1/12/17
With each passing day our new president is discovering that every big problem he faces is like Obamacare — if there were a good, easy solution it would have been found already, and even the less good solutions are more than his own party is ready to pay for or the country is ready to tolerate. -- Thomas L. Friedman 4/06/17
"I don't know that there is one answer. Certainly misogyny played a role, I mean that just has to be admitted. I think in this election there was a very real struggle between what is viewed as change that is welcomed and exciting to so many Americans and change which is worrisome and threatening to so many others. And layer on the first woman president over that and I think some people, women included, had real problems." --Hillary Clinton on her loss to Donald Trump.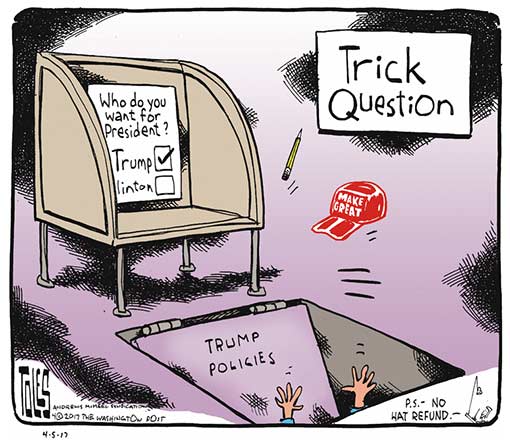 "I also hope that they will recognize that we cannot in one breath speak of protecting Syrian babies, and in the next close American doors to them." -- Hillary Clinton 4/7/17
We should stay the hell out of Syria, the "rebels" are just as bad as the current regime. WHAT WILL WE GET FOR OUR LIVES AND $ BILLIONS?ZERO -- Donald J. Trump @realDonaldTrump 15 Jun 2013
"Let me just say, Mexico's not going to pay for the wall." --Sen. Marco Rubio (R-FL) on ABC Sunday.
"I have never seen anything like this where people just flat-out lie. You know, black is white and white is black, and they mislead you. It's really disconcerting to see the podium in the White House briefing room being used to mislead or misdirect or obfuscate." -- NBC News chief foreign affairs correspondentAndrea Mitchell 4/10, 2017
" I have never seen anything like this, where people just flat-out lie. You know, black is white and white is black, and they mislead you. It's really disconcerting to see the podium in the White House briefing room being used to mislead or misdirect or obfuscate." -- NBC News chief foreign affairs correspondent Andrea Mitchell 4/10/17
"The Trump doctrine appears to be: The United States reserves the right to use force whenever the president is upset by something he sees on TV." -- CJR fellow and Trump critic Max Boot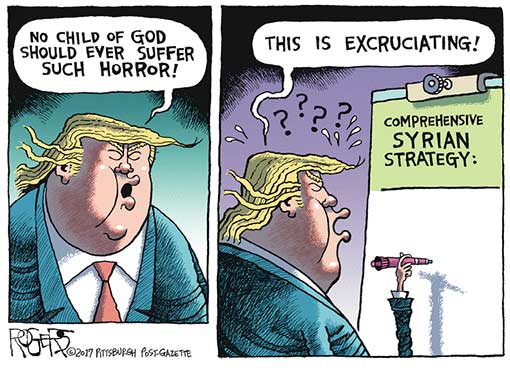 "It is here, on this sliver of land, where we first take our stand against this filth. This is a new era. This is the Trump era." — Attorney General Jeff Sessions directing federal prosecutors to pursue harsher charges against undocumented immigrants who commit crimes or repeatedly cross into the U.S. illegally. 4/11/17 
Mr. Trump had ordered the strike to distance himself from Syria's backers in Moscow, to overcome accusations that he was "pro-Russia."--Xinhua, the Chinese state news agency, calling the cruise missile strike the act of a weakened politician who needed to flex his muscles. 4/10/17 
---
IN THIS ISSUE
1. The DAILY GRILL
2. From MEDIA MATTERS (They watch Fox News so you don't have to)
3. Donald Trump: Liar in Chief
4. Trumpcare update
5. Donald Trump's travel expenses in 10 weeks cost US taxpayers as much as Barack Obama spent in two years
6. C.I.A. Had Evidence of Russian Effort to Help Trump Earlier Than Believed
7. Democrats are winning the fight over wall
8. GOP Lawmakers Face Ads Over Obamacare Repeal
9. Trump No Longer Has a Tax Plan
10. Republicans Avoid Town Hall Meetings
11. From the Late Shows 
12. Army of Russian trolls reportedly targeted swing states with anti-Clinton fake news
13. Reflexive partisanship drives polling lurch on Syria strikes
14. Andy Borowitz: Putin Angrily Resigns From Trump's Reëlection Campaign 
15. Late Nite Jokes

1. Peter Baker: The Emerging Trump Doctrine: Don't Follow Doctrine
2. LA Times Editorials: The Problem With Trump (Continued)

PART V Conspiracy Theorist in Chief
PART VI California Fights Back

3. Elizabeth Drew: No One to Blame But Trump
4. Alex Isenstadt and Andrew Restuccia: Civil war rages throughout Trump administration
5. Maggie Haberman, Jeremy W. Peters and Peter Baker: In Battle for Trump's Heart and Mind, It's Bannon vs. Kushner
6. Andrew Sullivan: The Trump Doctrine: Unpredictability and Incoherence
7. Leonard Pitts Jr.: Give Sessions a Pepsi and a hug, and we're good, right?
8. Philip Gordon: Is Trump Wagging the Dog in Syria?
9. Graydon Carter: The Trump Presidency Is Already A Joke. But it's no laughing matter
10. T.A. Frank: Donald Trump Just Started A War He Cannot Win
11. Steve Coll: Trump's Confusing Strike On Syria
12. NY Times Editorial: After the Airstrikes on Syria, What's Next?
13. James Palmer: What Trump Calls Strength, China Calls Stupidity
14. Max Boot: Is Trump Russia's Useful Idiot, or Has He Been Irreparably Compromised?
15. Ian Reifowitz Red lines and green lights: The moral and strategic bankruptcy of Trump on Syria 
16. Rick Wilison: The Trouble With Trump's White House Is Donald Trump 
17. Paul Krugman: Publicity Stunts Aren't Policy
18. Max Boot: The Trump Doctrine Was Written By CNN
19. Eisen and Painter: Trump's unprecedented war on ethics
1. The DAILY GRILL
Elijah Cummings was in my office and he said, "You will go down as one of the great presidents in the history of our country." -- Donald Trump

VERSUS

During my meeting with the President and on several occasions since then, I have said repeatedly that he could be a great president if … IF … he takes steps to truly represent ALL Americans rather than continuing on the divisive and harmful path he is currently on. -- Rep. Elijah Cummings (D-MD)

 

"There's not any sort of option where a political solution is going to happen with Assad at the head of the regime." — U.N. Ambassador Nikki Haley, in an interview on CNN. 4/09/17

VERSUS

"I think we have to learn the lessons of the past and learn the lessons of what went wrong in Libya when you choose that pathway of regime change." — Secretary of State Rex Tillerson, in an interview on ABC News.

 

"Democratic congressional candidate Jon Ossoff "grew up in Washington, DC." -- NRA Political Victory fund ad.

VERSUS

Ossoff grew up in Georgia's 6th congressional district, where he is running to fill the seat vacated by Tom Price, now President Donald Trump's secretary of Health and Human Services. -- CNN
2. From MEDIA MATTERS (They watch Fox News so you don't have to)
Alex Jones Claims His Violent Adam Schiff Remarks Were Just "Tongue-In-Cheek" And "Art Performance" https://mediamatters.org/blog/2017/04/06/alex-jones-claims-his-violent-adam-schiff-remarks-were-just-tongue-cheek-and-art-performance/215939

Trump's Baseless Smear Of Susan Rice Follows Two Days Of Right-Wing Speculation https://mediamatters.org/blog/2017/04/05/trumps-baseless-smear-susan-rice-follows-two-days-right-wing-speculation/215930

Time's Michael Duffy Joins Chorus Praising Missile Strikes As The "Moment" Trump Became "President" https://mediamatters.org/video/2017/04/09/times-michael-duffy-joins-chorus-praising-missile-strikes-moment-trump-became-president/215964

Fox Turns To Iraq War Architect Bill Kristol To Validate Trump's Missile Strike Against Syria https://mediamatters.org/video/2017/04/09/fox-turns-iraq-war-architect-bill-kristol-validate-trump-s-missile-strike-against-syria/215961
3. Donald Trump: Liar in Chief
"What should a United States senator, or any citizen, do if the president is a liar?" Sen. Bernie Sanders mused in March. The media, elected officials, even Trump's spokespeople have all struggled to reckon with a chronically dissembling commander in chief. Some have opted not to call Trump's false claims "lies" at all. "Without the ability to peer into Donald Trump's head," an NPR reporter reasoned, "I can't tell you what his intent was." But, as Sanders went on to say, "Does ignoring this reality benefit the American people?" We don't think so: Donald Trump is a shameless, brazen, baldfaced liar. He steals credit, describes the average as superlative, invents history and spins conspiracy theories. Trump even lies about the weather. Here, broken down by subject, is a selected list of Trump's lies in office. http://www.rollingstone.com/politics/features/donald-trump-liar-in-chief-w475917?utm_source=email
For a running list of Trump's lies and other BS go to https://www.buzzfeed.com/maryanngeorgantopoulos/president-trump-lie-list
For Politifact's "All Pants on Fire!" statements involving Donald Trump go to http://www.politifact.com/personalities/donald-trump/statements/byruling/pants-fire/
For Politifact's "All False statements" involving Donald Trump go to http://www.politifact.com/personalities/donald-trump/statements/byruling/false/
4. Trumpcare update
The quick, painful re-death of Trumpcare

Looks like Trumpcare isn't going to make a pre-recess comeback after all. The White House would have loved to at least get a new health care agreement before the congressional recess, and a lot of Republicans would have liked it too. Instead, they're going to head into the two-week break with nothing more than the knowledge that at least they didn't murder each other."

The root of the problem: House Republicans, as a group, can't reconcile their promise to cover people with pre-existing conditions — one of the most popular parts of Obamacare — with the fact that it makes individual health insurance more expensive. Conservatives think it's OK to let states put all of the sick people in high-risk pools. The rest of the Republicans don't. Hard to see how that changes after a two-week break. 4/6/17 https://www.axios.com/the-quick-painful-re-death-of-trumpcare-2346896633.html

The new state of Trumpcare: Desperation

Here's the big problem Republicans are facing on Trumpcare: They're facing so much pressure to pass a bill — any bill — that the changes have stopped being about improving the policies, or steering toward a broader, coherent vision of conservative health care reform. It's all about chasing votes now, and the more they try, the more the changes leave health care experts scratching their heads. https://www.axios.com/the-new-state-of-trumpcare-desperation-2348586429.html
5. Donald Trump's travel expenses in 10 weeks cost US taxpayers as much as Barack Obama spent in two years
Donal Trump's trips to his luxury Florida resort "have already cost the US taxpayer at least $24 million — roughly as much as Barack Obama spent on travel in the first two years of his presidency," the Independent reports.
In total, Mr Obama's travel bill over the eight years of his presidency came to $97 million — an average of $12.1 million a year.
President Trump almost matched this figure in his first month - spending $10 million on three golfing holidays. 4/8/17 http://www.independent.co.uk/news/world/americas/us-politics/donald-trump-travel-expenses-10-weeks-us-taxpayer-fifth-barack-obama-eight-years-mar-a-lago-us-a7670541.html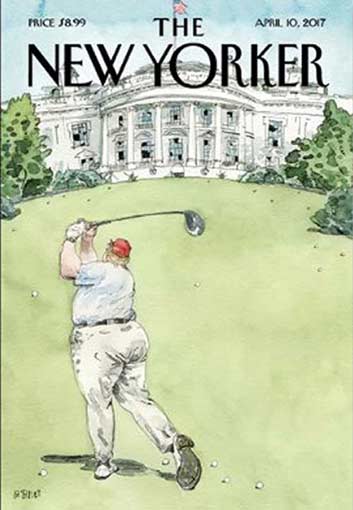 6. C.I.A. Had Evidence of Russian Effort to Help Trump Earlier Than Believed
The C.I.A. told senior lawmakers in classified briefings last summer that it had information indicating that Russia was working to help elect Donald J. Trump president, a finding that did not emerge publicly until after Mr. Trump's victory months later, former government officials say.
"It was not until early December, a month after the election, that it became publicly known in news reports that the C.I.A. had concluded that Moscow's motivation was to get Mr. Trump elected.
In January, intelligence officials publicly released a declassified version of their findings, concluding that President Vladimir V. Putin of Russia had "aspired to help" Mr. Trump to win the election and harm Hillary Clinton, a longtime adversary.
By then, both the F.B.I. and the C.I.A. said they had "high confidence" that Russia was trying to help Mr. Trump by hacking into the internal emails of the Democratic National Committee and of some Clinton aides. (The National Security Agency expressed only "moderate confidence" that the Russians were trying to help him.) 4/6/17 https://www.nytimes.com/2017/04/06/us/trump-russia-cia-john-brennan.html?_r=0
7. Democrats are winning the fight over wall
Despite President Trump's request for more than $1 billion to fund the Mexican border wall this year, GOP leaders are expected to exclude the money in the spending bill being prepared to keep the government open beyond April 28.
The issue has become a political thorn in the side of GOP leaders who are facing pushback from Republicans voicing concerns over the diplomatic fallout, the disruption to local communities and the enormous cost of the project, estimated to be anywhere from $22 billion to $40 billion.
With Democrats united against new wall funding, it's unlikely the Republicans have the votes to get it through and prevent a government shutdown. http://thehill.com/latino/327916-dems-winning-fight-over-wall
8. GOP Lawmakers Face Ads Over Obamacare Repeal
About a half-dozen Republican who represent purple districts and who supported the failed GOP bill that would have repealed Obamacare are being targeted by a seven-figure ad buy from a coalition supportive of the Affordable Care Act.
The seven representatives targeted are Reps. Mike Coffman (R-CO), Carlos Curbelo (R-FL) Darrell Issa (R-CA) Tom MacArthur (R-NJ) Brian Mast (R-FL) Martha McSally (R-AZ) David Valadao (R-CA). The ad is against Darrell Issa is at https://youtu.be/hpQwCy7Rv2c http://talkingpointsmemo.com/dc/pro-obamacare-ads-to-target-house-gopers-who-supported-gop-repeal-bill
9. Trump No Longer Has a Tax Plan
Donald Trump let Congress take the lead on health care. And House Republicans proceeded to craft a bill that they weren't willing to vote for.
So as Republicans turned to tax reform, the president kicked Paul Ryan out of the driver's seat — but he also decided to rip up the directions that his campaign aides had prepared. And now a car full of backseat drivers is shouting conflicting instructions at a highly impressionable senior citizen who has lowered his speed to 10 miles an hour, in hopes of concealing the fact that his failing eyes can barely make out the road in front of him. http://nymag.com/daily/intelligencer/2017/04/trump-no-longer-has-a-tax-plan.html
10. Republicans Avoid Town Hall Meetings
The lack of town hall meetings in key swing districts during a spring break that lasts until April 23 underscores the party's precarious political position on health care and peaking civic activism by progressives. 4/11/17 https://www.usatoday.com/story/news/politics/2017/04/10/republicans-avoid-town-halls-after-health-care-votes/100286290/
11. From the Late Shows
The Late Show with Stephen Colbert: Finally, The Muppets Collaborate With Sean Spicer: https://youtu.be/ARCJMFXHalo

Full Frontal with Samantha Bee: Heir to the White House Throne: https://youtu.be/AzeL_8bdrQA

SNL Cold Open: Trump's People: https://youtu.be/CL7kenX3Vu8

SNL Weekend Update: Donald Trump's Syria Missile Strike: https://youtu.be/ttAbFhnIVog

Full Frontal with Samantha Bee: We Told You So: Russian Hacking: https://youtu.be/L6tVjqfIXFY
12. Army of Russian trolls reportedly targeted swing states with anti-Clinton fake news
IAccording to two members of the Senate Intelligence Committee, Sen. Mark Warner (D-VA) and committee chairman Richard Burr (R-NC), hundreds of Russian trolls were paid in 2016 to generate fake news stories about Clinton and target them at voters in key states in an effort to swing the election for Trump.
"There were upwards of a thousand paid internet trolls working out of a facility in Russia, in effect taking over a series of computers which are then called a botnet, that can then generate news down to specific areas," Warner said.
While he indicated investigators were still trying to figure out exactly what places the trolls were targeting, Warner mentioned they were exploring possible targeting of three states that helped swing the election for Donald Trump: Michigan, Pennsylvania, and Wisconsin. 3/31/17 https://www.aol.com/article/news/2017/03/31/paid-russians-spread-anti-clinton-fake-news/22020336/
13. Reflexive partisanship drives polling lurch on Syria strikes
In 2013, when Barack Obama was president, a Washington Post-ABC News poll found that only 22 percent of Republicans supported the U.S. launching missile strikes against Syria in response to Bashar al-Assad using chemical weapons against civilians.
A new Post-ABC poll finds that 86 percent of Republicans support Donald Trump's decision to launch strikes on Syria for the same reason. Only 11 percent are opposed. 4/11/17 https://www.washingtonpost.com/news/powerpost/paloma/daily-202/2017/04/11/daily-202-reflexive-partisanship-drives-polling-lurch-on-syria-strikes/58ec27d4e9b69b3a72331e6e/
14. Andy Borowitz: Putin Angrily Resigns From Trump's Reëlection Campaign
In a stunning rebuke of a former close political ally, Russian President Vladimir Putin on Wednesday angrily resigned from Donald Trump's 2020 reëlection campaign.

"Given the recent actions of Donald Trump, I feel that I can no longer effectively serve as his campaign chairman," Putin told reporters, while Tillerson looked on awkwardly.

In an unusually emotional comment by the Russian President, a visibly bitter Putin added, "I worked very hard on Trump's 2016 campaign, and, at the end of the day, I have no more to show for it than Chris Christie does."

At the White House, a source close to Trump said that he had not yet decided who would take Putin's place in his 2020 campaign, but that it would "probably be Jared." http://www.newyorker.com/humor/borowitz-report/putin-angrily-resigns-from-trumps-reelection-campaign?intcid=mod-latest
15. Late Nite Jokes
Donald Trump says he is skipping the White House Correspondents Dinner. Of course, New Jersey Gov. Chris Christie was furious. Christie, as you know, has never skipped a dinner in his life. - Jimmy Fallon

President Trump today met with the president of China at his Mar-a-Lago resort. And things got off to an awkward start when Trump said, "I thought you were really funny in the 'Hangover' movies." -- Seth Meyers

A so-called Museum of Failure is opening in Sweden this June. Though, if you can't wait that long, check out the pop-up exhibit in Washington. -- Seth Meyers

President Trump's approval rating dropped and is now at just 35 percent. Or as Trump calls it, "20 under par. I'm doing FANTASTIC!" -- Jimmy Fallon

Today, North Korea conducted a missile test, which escalated tensions in the region. But don't worry — things settled down when Kendall Jenner stepped in and handed them a Pepsi. -- Jimmy Fallon

Donald Trump has removed his good buddy and chief strategist Steve Bannon from the National Security Council. This is quite a humiliating move that has very much left Steve Bannon red-faced, although that is his complexion anyway. -- James Corden

In a statement to The Wall Street Journal, Bannon said leaving the Security Council was always his plan. Really? It sounds like this administration's entire strategy has been failing and then acting like they meant to do that. They're like, "Yeah, our healthcare bill failed. It's exactly what we planned." -- James Corden

During an interview with Forbes published yesterday, Trump's son, Eric Trump, said he might be where he is because of nepotism but that is just a "factor of life." Wow, Eric sounds pretty smug. But then again he inherited that from his father too. -- James Corden

Donald Trump's positive performance mark is now down to 35 percent. Only about a third of Americans polled say they're happy with his job performance. Sixty-six percent say they don't think he's level-headed. In his defense, how is his head supposed to stay level when his hair keeps trying to chase every squirrel? -- Jimmy Kimmel

It's not just the poll, even ISIS is piling on. A spokesman for ISIS released a statement yesterday saying America is drowning, we're bankrupt, and we're being run by an idiot. You hate to agree with anything ISIS says. But I don't know, maybe we are being run by an idiot, maybe we are drowning and bankrupt. But I want to be very clear: If we are those things, you guys in ISIS had nothing to do with that. We chose this bankrupt idiot to drown us ourselves. -- Jimmy Kimmel

You might not have been aware but Monday was Send Your Son-in-Law to Iraq Day. President Trump sent his daughter's husband, Jared Kushner, to Baghdad to meet with the Iraqi prime minister and the chairman of the Joint Chiefs of Staff. The military posted a bunch of photographs of Jared's spring break. I found them on Flickr last night. -- Jimmy Kimmel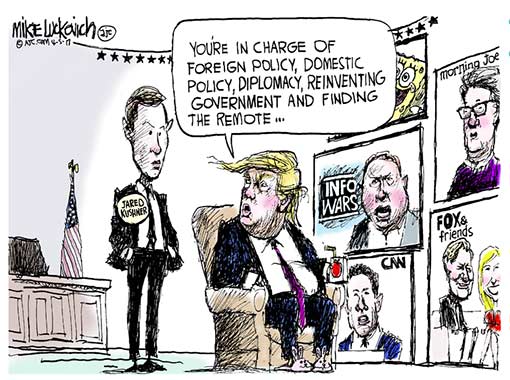 1. Peter Baker: The Emerging Trump Doctrine: Don't Follow Doctrine
As he confronted a series of international challenges from the Middle East to Asia last week, President Trump made certain that nothing was certain about his foreign policy. To the extent that a Trump Doctrine is emerging, it seems to be this: don't get roped in by doctrine.
In a week in which he hosted foreign heads of state and launched a cruise missile strike against Syria's government, Mr. Trump dispensed with his own dogma and forced other world leaders to re-examine their assumptions about how the United States will lead in this new era. He demonstrated a highly improvisational and situational approach that could inject a risky unpredictability into relations with potential antagonists, but he also opened the door to a more traditional American engagement with the world that eases allies' fears.
As a private citizen and candidate, Mr. Trump spent years arguing that Syria's civil war was not America's problem, that Russia should be a friend, and that China was an "enemy" whose leaders should not be invited to dinner. As president, Mr. Trump, in the space of just days, involved America more directly in the Syrian morass than ever before, opened a new acrimonious rift with Russia, and invited China's leader for a largely convivial, let's-get-along dinner at his Florida estate. https://www.nytimes.com/2017/04/08/us/politics/trump-doctrine-foreign-policy.html?ref=todayspaper&_r=1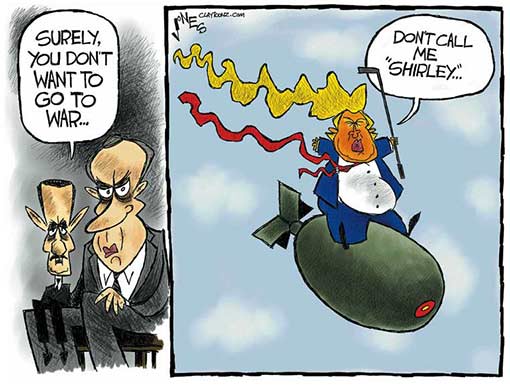 2. LA Times Editorials: The Problem With Trump (Continued)
Part V: Conspiracy Theorist in Chief

t was bad enough back in 2011 when Donald Trump began peddling the crackpot conspiracy theory that President Barack Obama was not a native-born American. But at least Trump was just a private citizen then.

By the time he tweeted last month that Obama had sunk so low as to "tapp [sic] my phones during the very sacred election process," Trump was a sitting president accusing a predecessor of what would have been an impeachable offense.

Trump went public with this absurd accusation without consulting the law enforcement and intelligence officials who would have disabused him of a conspiracy theory he apparently imbibed from right-wing media. After the FBI director debunked it, Trump held fast, claiming he hadn't meant that he had been literally wiretapped.

Most people know by now that the new president of the United States trafficks in untruths and half-truths, and that his word cannot be taken at face value.

Even more troubling, though, is that much of his misinformation is of the creepiest kind. Implausible conspiracy theories from fly-by-night websites; unsubstantiated speculations from supermarket tabloids. Bigoted stories he may have simply made up; stuff he heard on TV talk shows. 4/6/17 http://www.latimes.com/projects/la-ed-conspiracy-theorist-in-chief/

PART VI: California Fights Back

After he was sworn in, Trump went further, singling out the state for attack. "California," Trump declared in February, "in many ways is out of control." In one overwrought tweet, he suggested that the federal government should cut all funding for UC Berkeley because a protest against a conservative guest speaker had turned violent. A few days later, he declared — even more irresponsibly — that he would "defund" the entire state if he felt it wasn't cooperating sufficiently in his efforts to root out undocumented immigrants.

Trump had already alienated many state voters with his plans to build a costly and unnecessary border wall, revoke the health insurance of millions of low-income people and gut climate-change policies. Now, he was taking on California itself, a state in which more than one out of 10 Americans live, and which sends more than $350 billion to Washington each year in federal taxes (and gets substantially less than that back). A state with strong progressive values that it will not happily see undermined.
Support our journalism

To express their dissatisfaction, hundreds of thousands of people gathered at rallies in the state's major cities. One man's quixotic California secession campaign became a cause célèbre. And California's political leaders vowed to fight back.

Gov. Jerry Brown grumbled that if Trump cut climate data-gathering efforts, California would launch its "own damn satellite." Legislators put former U.S. Atty. Gen Eric Holder on a hefty retainer to help challenge Trump's initiatives in court even before he'd announced any. They filed a mountain of bills reacting to an array of reprehensible policies that the new president was thought to be considering. "We're going to do what we need to do to protect the people of California," said state Atty. Gen. Xavier Becerra. http://www.latimes.com/projects/la-ed-california-fights-back/
3. Elizabeth Drew: No One to Blame But Trump
Donald Trump's substance-free approach to governing may be comfortable for him but it's caused his presidency big problems. To take the most prominent example, the health care bill: if Trump had paid attention to the details of legislation he'd have been down on his knees in gratitude toward those who defeated it in the House a couple of weeks ago. Had that bill had any chance of becoming law (which it didn't, since the Senate wouldn't have agreed to it), it was likely to spell election disaster for Trump and the Republican Party. The Congressional Budget Office predicted that the last version of the bill it saw—following which the bill was made even more restrictive—would have caused 14 million people on Obamacare to lose their coverage next year and 24 million to do so by 2026. While the wealthiest citizens would have received a large tax break, millions of poor people would lose their Medicaid coverage, and in a last-minute concession to the hard right, Trump also agreed to drop a requirement that insurance companies cover such basic services as emergency care, hospitalization, treatment for drug addiction, pregnancy, prescription drugs, preventive efforts, pediatric care, and others.
But Trump was clearly unaware of and unperturbed by what was in the bill; he wanted to win. He told his aides that he simply wanted to sign a bill, that it would make him look presidential.
Trump's first great legislative defeat threatens to define his presidency. He came across as blundering and incompetent. He is the first modern president to lose his first major piece of legislation. This came on top of other unfortunate firsts: Trump is the first president whose approval ratings began to go down after he won the election and then after the inauguration, and that have kept doing so since. Recent polls show his approval ratings to be from 35 percent to 42 percent, not enough to form a governing majority. http://www.nybooks.com/daily/2017/04/05/no-one-to-blame-but-trump/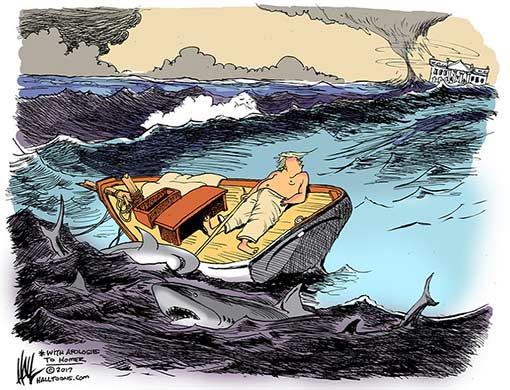 4. Alex Isenstadt and Andrew Restuccia: Civil war rages throughout Trump administration
A civil war between Donald Trump loyalists and establishment-minded Republicans is escalating throughout the federal government — and increasingly the president's allies are losing.
From the State Department to the Environmental Protection Agency, a sharp dividing line has formed: Cabinet secretaries and their handpicked teams of GOP veterans are rushing to take power as Trump campaign staffers — "originals," as they call themselves — gripe that they're being pushed aside.
In over a dozen interviews, the originals, many of whom volunteered to work for candidate Trump when few others were willing to do so, complained that they'd been shut out of meetings and targeted with career-destroying leaks. In recent weeks, a number of longtime Trump supporters have abruptly quit, saying they felt the administration had been overtaken by the same establishment they worked to defeat.
The backbiting is further paralyzing federal agencies, which have been hamstrung by slow hiring, disorganization and an overall lack of direction since Trump's inauguration. Many of the Trump stalwarts were installed at the agencies during the transition to help them prepare for the presidency, part of so-called beachhead teams.
"You're always watching your back," said Sid Bowdidge, a Trump campaign staffer who quit his Energy Department job after news reports that he made anti-Muslim slurs on social media, stories that he blamed on leaks by rival co-workers. "It doesn't bode well for a cohesive team to be successful toward a common goal. How can you when people are looking over their shoulder to see if they have a knife in their back?"
"A lot of us have lost hope and are looking for another gig," said one Trump campaign staffer now working at a federal agency. "And that's the sad part, we're being pushed aside for people who don't give a shit about Donald Trump." 4/5/17 http://www.politico.com/story/2017/04/trump-white-house-civil-war-236917
5. Maggie Haberman, Jeremy W. Peters and Peter Baker: In Battle for Trump's Heart and Mind, It's Bannon vs. Kushner
The schism within Mr. Trump's perpetually fractious White House has grown in recent weeks, fueled by personality, ideology and ambition. At its core are Mr. Bannon, the edgy, nationalist bomb-thrower suddenly in the seat of power, and Mr. Kushner, the polished, boyish-looking scion of New Jersey and New York real estate. Even as Mr. Kushner's portfolio of responsibilities has been expanding, Mr. Bannon's in recent days has shrunk with the loss of a national security post.
The escalating feud, though, goes beyond mere West Wing melodrama, the sort of who's-up-and-who's-down scorekeeping that typically consumes Washington. Instead, it reflects a larger struggle to guide the direction of the Trump presidency, played out in disagreements over the policies Mr. Trump should pursue, the people he should hire and the image he should put forward to the American people.
On one side are Mr. Bannon's guerrilla warriors, eager to close the nation's borders, dismantle decades of regulations, empower police departments and take on the establishment of both parties in Washington. On the other are Mr. Kushner's "Democrats," an appellation used to describe even Republicans who want to soften Mr. Trump's rough edges and broaden his narrow popular appeal after months of historically low poll numbers.
In the middle is Mr. Trump himself, seemingly torn between the two factions, tilting one way or the other depending on the day, or even the hour, while he seeks to recapture momentum after a series of defeats in Congress and the courts. As he did throughout his career in business and entertainment, Mr. Trump plays advisers off one another, encouraging a sort of free-for-all competition for influence and ideas within his circle, so long as everyone demonstrates loyalty to him. https://www.nytimes.com/2017/04/06/us/politics/stephen-bannon-white-house.html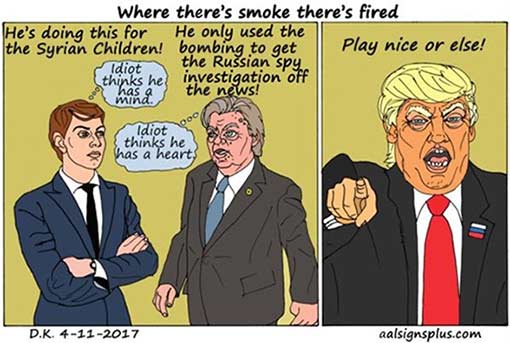 6. Andrew Sullivan: The Trump Doctrine: Unpredictability and Incoherence
While we're on the subject of Trump's "foreign policy," I can't get out of my head two recent White House pressers with two foreign leaders. The first showed a petulant, scowling child seated next to the leader of the free world, Angela Merkel. He pouted; he pursed his lips; and he refused pointedly to shake her hand, even after she suggested it. By many accounts, his private conversation revolved around Germany's financial contribution to NATO, insisting, as if the alliance were a shakedown racket, that the Germans repay the U.S. countless billions for defense over the years. It was as if the Second World War had never happened.
Now watch the public meeting with the Egyptian dictator Abdel Fattah el-Sisi. Trump was almost as fawning, excited, and thrilled as the Egyptian leader himself. "We agree on so many things," the president said. He praised the tyrant for his "fantastic" record; he nodded and beamed when Sisi noted that he hadn't been allowed in the White House under Obama. And then the handshake — except this time, it was markedly un-Trumpy. There was no sudden pull, no endless glad-handing, merely a brief, affectionate normal handshake. And a giant beam on both faces.
The contrast sickens. I completely understand the realist belief that the U.S. needs Egypt for strategic purposes. For all the foulness of its current regime, which overthrew a democratically elected government, there's a reasonable case that developing a good relationship with the leadership there is important. I'm not a purist in these matters. But what I cannot fathom are the supine paeans of praise for a dictatorship, and the obvious thrill Trump got from sitting down with another thug in a suit. After Sisi's military coup, the Egyptian leader was "elected" by a Soviet-style 96.1 percent of the vote. Tens of thousands of people are currently political prisoners. Torture is commonplace. Coptic Christians are persecuted. The press has been completely cowed by threats, violence, and imprisonment. Freedom House argues that civil society in Egypt has been "crushed." Sisi's brutal repression of Islamism has, moreover, led to a surge of terror attacks in the last few years. http://nymag.com/daily/intelligencer/2017/04/the-trump-doctrine-unpredictability-and-incoherence.html
7. Leonard Pitts Jr.: Give Sessions a Pepsi and a hug, and we're good, right?
Sessions also frets over how consent decrees affect the "morale" of these departments. The morale of African-American people goes unmentioned.
It is unclear what, if anything, he can do to reverse the agreements. But the very fact that he has placed them under review is an ominous sign that, henceforth, protecting black folks from police excesses will not be a priority.
That sobering truth makes even more jarring the sight of Jenner flouncing up to a cop with a Pepsi in hand. Did the last three years not actually happen? Did the primal scream rising from the streets of Baltimore, Ferguson and Any Black Neighborhood, USA, reach human ears or was it just flung into the indifferent ether?
The words of 17th-century theologian Matthew Henry seem apropos: "They know not because they will not understand," he wrote. "None so blind as those that will not see."
He could have been speaking about Sessions or Pepsi. Once again, in response to black folks' fears, people choose to be ignorant. They choose to be blind.
Now African Americans must make some choices of their own. http://www.seattletimes.com/opinion/give-sessions-a-pepsi-and-a-hug-and-were-good-right/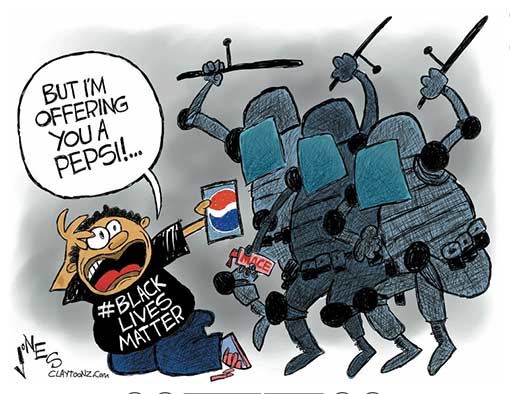 8. Philip Gordon: Is Trump Wagging the Dog in Syria?
It is hard to avoid the conclusion that the president—long opposed to intervention in Syria—is just trying to change the subject.
What is puzzling today, however, is that nothing in Trump's past suggests any sensitivity to these sorts of humanitarian concerns or support for the view that it's the United States' role to protect civilians abroad or enforce international norms. When President Barack Obama considered military strikes in response to the 2013 attacks—which used the same chemical agent as Tuesday's assault and killed 15 times as many Syrians—Trump strongly lobbied against any military response and said it was "dumb" to have issued a red line in the first place. More recently, when Assad was indiscriminately bombing civilians in Aleppo—including targeting hospitals and schools—Trump again opposed U.S. military action, instead advocating that we join with Russia and Assad to "fight the terrorists." The idea that after Tuesday's attack he suddenly decided it was imperative to protect vulnerable women and children also seems inconsistent with his absolute opposition to allowing into the United States even a small number of the refugees—predominantly women and children—fleeing Assad's barrel bombs.
It is hard to avoid wondering whether the purpose of the strikes was less to defend a red line that Trump had never supported than yet another effort by the president to distract the media's attention and change the subject from his problems at home. After all, ever since the investigations into possible Trump campaign collusion with Russian efforts to influence the U.S. presidential election picked up steam, Trump has gone to extraordinary lengths to deflect attention onto other issues—starting with his baseless allegations that Obama wiretapped his phones in Trump Tower and continuing with sustained efforts by him and his surrogates to keep that story alive. With his popularity falling to unprecedented lows for a new president, and major legislative goals on health care and immigration blocked in Congress or in the courts, it's not hard to believe that Trump would take a step that would dominate media's attention, win plaudits from many in his party and some key allies abroad, and might even have some substantive merit. http://www.politico.com/magazine/story/2017/04/why-did-trump-bomb-syria-215001?lo=ap_b1
9. Graydon Carter: The Trump Presidency Is Already A Joke. But it's no laughing matter
Trump's one brief moment of acting presidential—when he read off a teleprompter for 60 minutes and 10 seconds during his address to Congress—served only to show just how low the bar for presidential behavior has plummeted since January. Watching TV commentators applaud him for containing himself for a little over an hour was like hearing a parent praise a difficult child for not pooping in his pants during a pre-school interview. Besides, vintage Trump is not going anywhere anytime soon. A couple of weeks earlier, during a visit by the Japanese prime minister, Shinzō Abe, the president told an acquaintance that he was obsessed with the translator's breasts—although he expressed this in his own, fragrant fashion.
Trump may be a joke, but the chaos and destructive forces around him are not. If he can cause this much havoc during his first few months in office, imagine what the country and the world will look like at the end of four years. Watch him when he walks into a crowd of people. There is a slight grimace, a tightening of the mouth that to me indicates a hesitation, perhaps based on fear. The thing is, if Trump has made any sort of arrangement with the Russians—Kremlin, oligarchs, F.S.B., Mob, or any combination of the four—to drop the Obama-era sanctions in return for past favors, the hoo-ha surrounding his Russian connections now makes that almost impossible to deliver. Whatever support he has received from the Russians over the years presumably came with promises of a payback. If Trump can't follow through on this, he might be in serious trouble.
That Trump's supporters continue to line up behind him remains a mystery. For the Republican leadership—the Vichy Republicans, as they have been labeled—their collaboration will bear a stiff price down the road. As for the president's followers out in the country, their air, their water, their national parks, their pensions, and their health care are all in jeopardy from planned legislation and from regulatory rollbacks already in place. I can understand the desire to effect dramatic change in Washington, but this is like being frustrated with your doctor and calling in the man who sold you aluminum siding to handle your physical. Steve Bannon, the Bugs Bunny to Trump's Elmer Fudd, says that his own destructive tendencies came about in part after a good portion of his father's nest egg of AT&T stock—built up over a half-century of working for the company—was wiped out following the banking crash of 2008. Bannon isn't alone in wanting blood. But what does he do? He helps stuff the Cabinet with people from the banking industries that brought about the crash. And then he works to unravel Dodd-Frank—the legislation put in place to ensure that the same thing doesn't happen again. April 2017 http://www.vanityfair.com/news/2017/03/graydon-carter-trump-presidency-is-already-a-joke
10. T.A. Frank: Donald Trump Just Started A War He Cannot Win
Let's be clear on why Trump's attacks on the Freedom Caucus are bizarre. While Trump fights with people all the time, all of his opponents up until now have been ones that his core supporters were happy to see him thrash. Jeb Bush, Marco Rubio, Paul Ryan, Lindsay Graham, Hillary Clinton, Mitt Romney, Ted Cruz, Rosie O'Donnell, George Will, Barack Obama, Angela Merkel, Vicente Fox, CNN, The New York Times, MSNBC, The Washington Post—all of these were fat establishment targets, and every cry of pain they produced was nourishment for Trump's fans. While Trump often went too far—throwing out unfounded allegations against Obama, attacking Heidi Cruz, belittling John McCain's war service, etc.—his supporters were required only to forgive his means, not his ends. But the Freedom Caucus is a fellow rebel against the establishment. Its brand is likewise one of draining the swamp. Millions of Freedom Caucus supporters are Trump supporters. This is no attack on a common foe but an attack on a friend.
Political fights with people on your own side aren't always damaging in themselves, to be sure. Trump might well be able get away with waging hidden war against the Freedom Caucus, as long as the official line were one about spirited, friendly debate. (The tell-all stories in Politico wouldn't matter.) Trump could even get away with waging open war against establishment Republicans, as long as it were on an issue on which Republican voters sided with Trump, like the border wall. But Trump cannot get away with waging open war against the Freedom Caucus, the very Republicans whose rebellion he claims to champion. For the first time, thousands of Trump's fans are being forced to choose between representatives they know and trust and a president whom they don't yet fully know and can't yet fully trust. Worse, the president is effectively telling them to side with Paul Ryan, the man who represents everything they were resisting when they picked Trump. So it's madness, and Trump is without the credibility to pull it off. The members of the Freedom Caucus have track records. Trump doesn't. He cannot win this fight. He can only lose supporters. 4/6/17 http://www.vanityfair.com/news/2017/04/donald-trump-just-started-a-war-he-cannot-win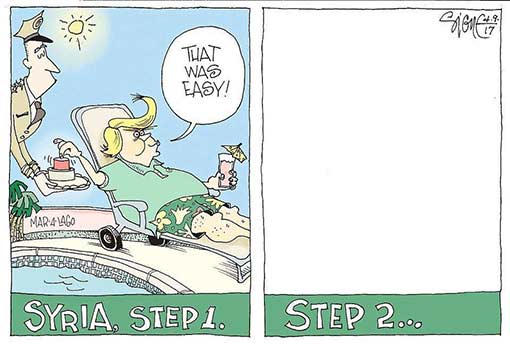 11. Steve Coll: Trump's Confusing Strike On Syria
Syria's civil war is the worst geopolitical disaster of the twenty-first century. It has claimed at least four hundred and seventy thousand lives; prompted a refugee crisis that has destabilized European politics and fuelled the rise of nativist populism; and created a playing field for Russian and Iranian adventurism in the Middle East. Six years of efforts to end the war through diplomacy have failed. The interference of regional and global powers, combined with the fragmentation of militias and guerrillas on the battlefield, have made the conflict appear all but unresolvable. During the past year, the more mainstream rebels opposing Assad have suffered repeated setbacks, including the loss of Aleppo, Syria's second-largest city.
Why, then, would the Trump Administration want to lob a few dozen cruise missiles into this splintered landscape? One limited rationale might be that Syria's conflict has eroded global treaties banning the use of chemical arms—every time gasses civilians, he increases the likelihood that another dictator or general will use them. It seems odd, though, to initiate armed intervention to prevent one sort of Syrian war crime but not others. Assad has tortured and executed thousands of his own people. Syrian and Russian forces routinely violate international law by targeting civilians, physicians, and rescue workers with bombs and artillery shells. And, if Trump has suddenly been moved to address the suffering, he might start recognizing the legitimacy of Syrians as refugees of war and welcoming them to resettle in the United States.
If President Trump broadens his aims against Assad, to establish civilian safe havens, for example, or to ground Syria's Air Force, or to bomb Assad to the negotiating table, he will enter the very morass that Candidate Trump warned against. He would have to manage risks—military confrontation with Russia, an intensified refugee crisis, a loss of momentum against isis—that Obama studied at great length and concluded to be unmanageable, at least at a cost consistent with American interests. 4/14/17 http://www.newyorker.com/magazine/2017/04/17/trumps-confusing-strike-on-syria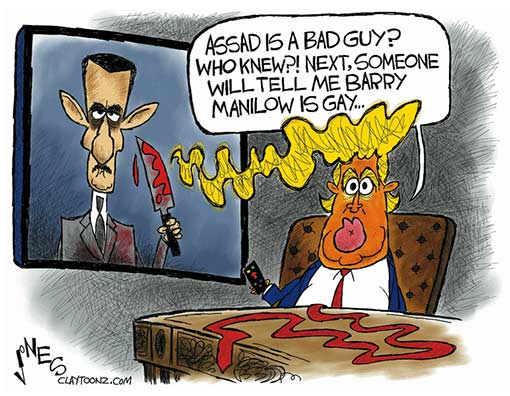 12. NY Times Editorial: After the Airstrikes on Syria, What's Next?
It was hard not to feel some sense of emotional satisfaction, and justice done, when American cruise missiles struck an airfield in Syria on Thursday. The country's president, Bashar al-Assad, needed to understand that there would finally be a cost for his brutality, in this case the use of chemical weapons with sarin, a banned nerve agent, that killed scores of civilians earlier this week in one of the worst atrocities of the Syrian civil war.
But it is also hard not to feel unsettled by the many questions raised by President Trump's decision. Among them: Was it legal? Was it an impetuous, isolated response unrelated to a larger strategy for resolving the complex dilemma of Syria, a nation tormented not just by civil war but also by the fight against the Islamic State? So far, there is no evidence that Mr. Trump has thought through the implications of using military force or figured out what to do next.
For a man who had campaigned on an "America First" platform of avoiding entanglements in overseas conflicts and who repeatedly warned his predecessor, Barack Obama, against military action in Syria, Mr. Trump made a breathtaking turnaround in the space of 63 hours after the chemical attack. He has long argued that the top priority was fighting the Islamic State, not forcing Mr. Assad from power; indeed, as recently as last week, Secretary of State Rex Tillerson and the United Nations ambassador, Nikki Haley, had reinforced the perception that Mr. Trump was perfectly willing to live with Mr. Assad.
Mr. Trump explained the shift by saying that he had been so deeply moved by television footage of child victims gasping for breath that "my attitude toward Syria and Assad has changed very much." However sincere this sentiment, the spectacle of a president precipitously reversing course on war and peace on the basis of emotion or what his defenders describe as "instinct" does not inspire confidence. https://www.nytimes.com/2017/04/07/opinion/after-the-airstrikes-whats-next.html?ref=opinion&_r=0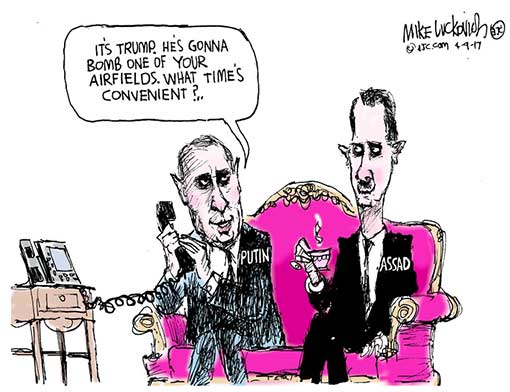 13. James Palmer: What Trump Calls Strength, China Calls Stupidity
In China, political events proceed with clockwork choreography, especially state visits. So President Donald Trump's decision to attack the Assad regime while in the middle of his summit with Chinese President Xi Jinping came as a shock — the equivalent of holding a fancy dinner party for your boss and getting into a yelling match with a neighbor in the middle of it.
And as so often with the Trump administration, there's a smorgasbord of bad motivations to pick from. It's easy to imagine the murine sniggers of anti-Asian racist Stephen Bannon — still skittering around Trump's entourage despite his recent removal from the National Security Council — at the prospect of slapping the Chinese down, or that Trump himself thought it would be the best way to seem like a big man in front of his guest.
Several U.S. commentators have been impressed by the "strength" demonstrated by the strikes in Syria — and the implicit messaging that, hey, we might just get a little crazy with North Korea next. But I doubt that's how Beijing reads things. China is perfectly well aware of the military might and global reach of the United States; it's not like they can't count aircraft carriers. What it's continually and pleasantly surprised by is how stupidly the United States uses that strength. For Xi, the strikes might have been a sign of disrespect — but they were also a reminder of the fundamental dumbness, from a Chinese strategic perspective, of U.S. foreign-policy decisions.
For the moment, though, it's America that, yet again, is getting ready to jump feet-first into the mud. 4/7/17 https://www.yahoo.com/news/trump-calls-strength-china-calls-175315179.html
14. Max Boot: Is Trump Russia's Useful Idiot, or Has He Been Irreparably Compromised?
The big question is whether Trump and his aides participated in the Russian hack-and-leak campaign to influence the U.S. presidential election in his favor. Or was Trump just an unwitting beneficiary of Russian meddling? The FBI is now seeking answers in an unprecedented investigation of a sitting president's ties to a hostile foreign power.
Rather than facilitate the inquiry, Trump and his followers have launched a slash-and-burn campaign to shift the focus away from him and onto his predecessor, former President Barack Obama. Trump launched this counteroffensive in earnest on March 4 when, following revelations that Attorney General Jeff Sessions had lied under oath about his contacts with the Russian ambassador, he tweeted out of the blue that "Obama had my 'wires tapped' in Trump Tower." "Bad (or sick) guy," he said of Obama, comparing him to "Nixon/Watergate."
This vile accusation, which was later extended to include Britain's GCHQ intelligence agency, has been refuted by Trump's own FBI and NSA directors. But that is no obstacle for Trump, who keeps brazenly repeating this falsehood. On April 1, for example — and not as an April Fools' joke — the president tweeted: "When will Sleepy Eyes Chuck Todd and ‪@NBCNews start talking about the Obama SURVEILLANCE SCANDAL and stop with the Fake Trump/Russia story?"
As he showed during the campaign, Trump is a master at uttering so many spurious statements so quickly that it is impossible for the public to sort out what's really going on. He may not convince many people outside of blind partisans to believe in his "alternative facts," but by making so many baseless accusations, he confuses the whole issue and causes normal people of goodwill to throw up their hands in despair. Let us hope that does not happen in this case. We desperately need to get the whole story on Kremlin interference lest the Russians continue manipulating our politics in the future — as they are now doing in France, Germany, Canada, and Ukraine, among other countries. https://www.yahoo.com/news/trump-russia-useful-idiot-irreparably-211732002.html
15. Ian Reifowitz Red lines and green lights: The moral and strategic bankruptcy of Trump on Syria
Let's first acknowledge that Syria is not an easy problem for any American president to deal with. It wasn't easy for Barack Obama, and it won't be easy for Donald Trump. This past week, however, Trump demonstrated that his policy on Syria—if one can even call it that—is both morally and strategically bankrupt.
My question is this: why did a chemical attack that killed 100 people lead Trump to take a diametrically opposite position from the one he took after a chemical attack that killed 1,400 people? Why does the attack he ordered on Thursday make sense when an attack didn't make sense in 2013? How exactly have our interests in Syria changed? How exactly has the moral calculus changed? As Trump stated last October, "I don't like Assad at all. But Assad is killing ISIS." How exactly has the strategic calculus in the fight against ISIS and terrorism changed?
What hasn't changed is Trump's inability to process cause and effect. Who did he blame for this week's attack? Who else but Barack Obama:These heinous actions by the Bashar al-Assad regime are a consequence of the past administration's weakness and irresolution. President Obama said in 2012 that he would establish a 'red line' against the use of chemical weapons and then did nothing.
Really? First, does Trump understand that tweets don't disappear just because their author contradicts them? Second—and here's where cause and effect comes in—the attack resulted from Trump's weakness and irresolution, not Obama's. How do we know? Well—and this isn't too much of a leap here—Trump is the president now, not Obama. Let's do this nice and slow, in case Trump or one of the members of his understaffed White House is reading: if Assad thought Obama was weak, he'd have unleashed this attack while Obama was president. He did it now because Trump told him it was okay. Trump gave him the green light.
Donald Trump has no Syria policy. He has no coherent doctrine or set of principles that guide his approach to the bloody civil war that has ravaged that country for years. By attacking Syria now, he has been revealed, once again, as a dangerous fool with no moral bearings and no strategic vision. That's not all he is, unfortunately. He's also the president of the United States. http://www.dailykos.com/stories/2017/4/9/1642325/-Red-lines-and-green-lights-The-moral-and-strategic-bankruptcy-of-Trump-on-Syria#read-more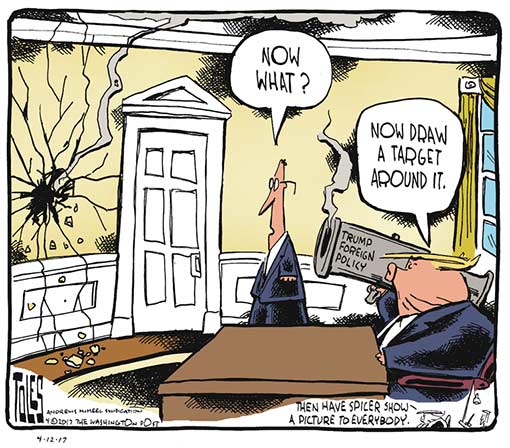 16. Rick Wilison: The Trouble With Trump's White House Is Donald Trump
It took Donald Trump 59 Tomahawk cruise missiles to buy himself one day of kind coverage at the end of another otherwise terrible week. But what the president himself described as an impulsive reaction to heartrending photos of Syrian children gassed by Assad on his watch isn't a coherent strategy to punish Assad for using chemical weapons.
Even supporters who hoped the strike would show Trump as a he-man leader willing to grasp the saber of state in his tiny hands and rattle it firmly, it failed to paper over the political crisis consuming his White House as his staff and family have become warring factions seeking his favor so that the story has become not about the president's goals, policies, or accomplishments, but a group of people around him who make the Borgias look like the Brady Bunch.
Trump is faced with terrible options when it comes to rearranging the deck chairs on the SS White House, and those of us who warned you this was inevitable are ordering popcorn. The cancer in the presidency isn't his staff—though they reflect his shoddy intellect, his shallow impulsiveness, his loose grasp of reality, and Chinese-menu ideology. The problem is Trump himself, and nothing and no one can change that. 4.09.17 http://www.thedailybeast.com/articles/2017/04/10/the-trouble-with-trump-s-white-house-is-donald-trump.html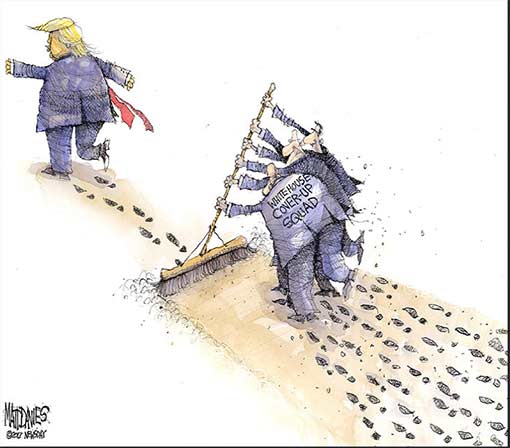 17. Paul Krugman: Publicity Stunts Aren't Policy
Mr. Trump may like to claim that the media are biased against him, but the truth is that they've bent over backward in his favor. They want to seem balanced, even when there is no balance; they have been desperate for excuses to ignore the dubious circumstances of his election and his erratic behavior in office, and start treating him as a normal president.
You may recall how, a month and a half ago, pundits eagerly declared that Mr. Trump "became the president of the United States today" because he managed to read a speech off a teleprompter without going off script. Then he started tweeting again.
One might have expected that experience to serve as a lesson. But no: The U.S. fired off some missiles, and once again Mr. Trump "became president." Aside from everything else, think about the incentives this creates. The Trump administration now knows that it can always crowd out reporting about its scandals and failures by bombing someone.
So here's a hint: Real leadership means devising and carrying out sustained policies that make the world a better place. Publicity stunts may generate a few days of favorable media coverage, but they end up making America weaker, not stronger, because they show the world that we have a government that can't follow through.
And has anyone seen a sign, any sign, that Mr. Trump is ready to provide real leadership in that sense? I haven't. 4/10/17 https://www.nytimes.com/2017/04/10/opinion/publicity-stunts-arent-policy.html
18. Max Boot: The Trump Doctrine Was Written By CNN
Of all the reactions to President Donald Trump's cruise missile strike on Thursday, the least convincing was the impulse by supporters such as Sen. Marco Rubio and John Bolton to label this a "decisive" act. Hardly. In fact, Trump's strike was reminiscent of the kind of low-risk cruise missile attacks that Bill Clinton favored against Sudan, Iraq, and Afghanistan — and that Republicans mocked for their symbolic, ineffectual nature. After 9/11, you'll recall, President George W. Bush vowed, in a swipe at his predecessor, "When I take action, I'm not going to fire a $2 million missile at a $10 empty tent and hit a camel in the butt. It's going to be decisive."
The impact of Trump's attack was further vitiated because the administration decided to warn Russia, which had troops at the base. The Russians, in turn, seem to have passed along the word to their Syrian friends, which helps to explain why almost no Syrian military personnel died in the strike. The early warning to the Russians may have been prudent, but it was also ironic in light of Trump's nonstop criticisms of President Obama for supposedly sacrificing the "element of surprise" in his war-fighting — candidate Trump claimed that Douglas MacArthur and George Patton must be "spinning in their graves when they see the stupidity of our country." President Trump seems, mercifully, to have learned there are considerations that sometimes override the element of surprise, like the need to prevent a war with Russia.
The only point, it seems, was to discourage Assad from killing people with chemical weapons. Killing people with barrel bombs, by contrast, appears to be just fine with the Trump administration. "The American strikes did nothing for us. They can still commit massacres at anytime," a resident of Khan Sheikhoun told the Washington Post. "No one here can sleep properly, people are really afraid."
If there is a coherent administration strategy, it is impossible to discern. Maybe the president is just hiding it so as to preserve the "element of surprise" when he finally springs it on us — to the posthumous approbation of MacArthur and Patton? 4/10/17 http://foreignpolicy.com/2017/04/10/donald-trumps-incredible-shrinking-syria-intervention/
19. Eisen and Painter: Trump's unprecedented war on ethics
The government watchdog organization we help lead called upon the White House last week to investigate whether one of its senior officials, Christopher Liddell, violated ethics laws through acting in his official capacity to benefit his personal investments. We wish this were an isolated incident. But on the contrary, it is only the latest element in an emerging pattern: President Trump and his administration are flagrantly violating ethics laws. Unless they correct course, the consequences will be disastrous — for the president, his team and the country.
The problem starts with tone deafness at the top. Trump's hotels, golf courses and other enterprises continue to do business with foreign and domestic entities that have interests before the government he heads. This raises serious conflicts and legal concerns, including under the Foreign Emoluments Clause of the Constitution, which prohibits U.S. government officials from receiving foreign government payments or benefits "of any kind whatever."
Recent grants of valuable trademarks by the Chinese government to the Trump Organization after his election are the latest emoluments controversy. These and other alleged violations of the emoluments clause are the subject of civil litigation brought by our group, Citizens for Responsibility and Ethics in Washington (CREW).
This unprecedented situation is exacerbated by the fact that we do not yet know the full extent of Trump's conflicts. That is because he has failed to disclose his tax returns, as we were just reminded when two pages of his 2005 returns turned up. This omission has also resurfaced in the news in light of the ongoing investigation regarding possible Trump campaign collusion with Russian interference in the U.S. general election. Democrats in Congress, joined in some cases by Republican colleagues, are calling for the president to turn over his tax returns to shed light on his ties to Russia, among other relevant information. Congress cannot exercise its constitutional authority — indeed, its responsibility — as a coequal branch of government without this information. Trump's failure so far to comply is more evidence of his disdain for ethics considerations. March 20, 2017 https://www.usatoday.com/story/opinion/2017/03/20/trump-unprecedented-war-on-ethics-eisen-painter-column/99388636/