March 28, 2019
ON THE RECORD. . .
"Even if you were invited to my dad's funeral, you would have only wanted to be there for the credit and not for any condolences. Unfortunately, you could not be counted on to be courteous, as you are a child in the most important role the world knows." — Meghan McCain, responding to Trump's complaint that he was never thanked for the late Sen. John. McCain's funeral.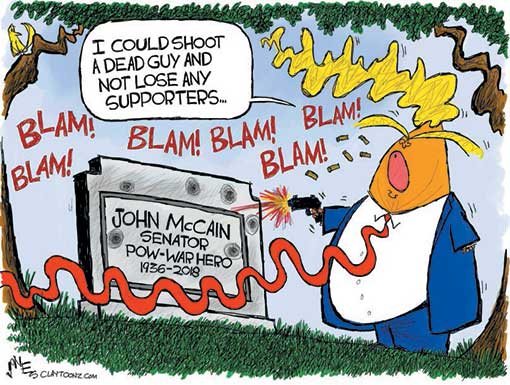 Mueller may be winding down, but the Democrats are just getting wound up. — Maureen Dowd
"As a Christian I certainly believe that's possible." - Secretary of State Mike Pompeo telling the Christian Broadcasting Network that it is "possible" that President Trump is meant to save the Jewish people.
"I think that [the Mueller report] certainly is not the end-all, be-all for legal problems and ethics problems for the president. There's just a lot of really problematic conduct that is being investigated, and that's not to say that what special counsel Mueller found is not going to be incredibly important…but there's some danger to looking at whatever he produces as the definitive statement on whether or not this president did anything wrong. Mueller has a "very narrow mandate" as the special counsel, but "there's a whole lot more out there."" — Noah Bookbinder, executive director at the Citizens for Responsibility and Ethics in Washington
"Today's ruling is a victory for the people of Wisconsin and for preserving the Wisconsin Constitution.The Legislature overplayed its hand by using an unlawful process to accumulate more power for itself and override the will of the people, despite the outcome of last November's election. I look forward to putting this disappointing chapter behind us so we can move forward together to put the needs of the people of Wisconsin first." — Wisconsin Gov. Tony Evers after Circuit Judge Richard Niess issued a temporary injunction blocking Wisconsin Republicans' contentious lame-duck laws limiting the powers he Governor and Attorney General, both Democrats. The ruling also temporarily struck down 82 appointments that former Republican Gov. Scott Walker made during the waning days of his administration, all of which were confirmed by Republican state senators in the lame-duck session.
"I think all of a sudden, the 2020 election went from a slam dunk for Democrats to something where we're going to have trouble beating this guy because he's going to make Democratic socialism swing to the left, which I don't think is real, but he's going to make it into the issue." — Former DNC Chairman Ed Rendell, advising 2020 Democratic presidential candidates to look toward the center and not to the far left.
"Is it that he stopped believing in scripture when he started believing Donald Trump," — Pete Buttigieg wondering how Pence could become "the cheerleader for the porn star presidency."
"On Russia interference, we and others wrote extensively about Russia's attempt to influence the election, both through hacking and direct approaches by Russians to people around candidate Trump. Those stories were true. And nothing has happened to call into question the reporting about Donald Trump's financial history, or the use of his charity, or any of the other fine investigative reporting over the past three years." — New York Times executive editor Dean Baquet.

"Even when Trump thought he was in trouble, he was yelling for Hillary Clinton to be locked up and his supporters cheered and acted like idiots. When he says, 'No collusion!' he'll get great cheers and he'll put on his Mussolini face." — Republican strategist Rich Galen
"Attorney General Barr's letter raises as many questions as it answers. Given Mr Barr's public record of bias against the special counsel's inquiry, he is not a neutral observer and is not in a position to make objective determinations about the report." — House speaker, Nancy Pelosi, and the Senate minority leader, Chuck Schumer in a joint statement.
"He doesn't want another single dollar going to the island." — A senior administration official saying that Trump will not approve any additional help for Puerto Rico beyond food-stamp money.
"Given all of President Trump's tweets yesterday and this morning on Barr's summary of the Mueller report – 'No Collusion, No Obstruction, Complete and Total EXONERATION,' he said — it's notable the president hasn't condemned Russia's interference in the 2016 election." — Chuck Todd, Mark Murray and Carrie Dann
That's one hell of an idea. How this farce started and snowballed based on the actions of unelected bureaucrats into one the greatest hoaxes ever perpetrated on the America should be discovered. Those responsible should be held accountable for this stain on American Democracy. — Donald Trump Jr. tweet
Barr's summary of the Mueller report is like 'having your brother summarize your report card to your parents' — Stacy Abrams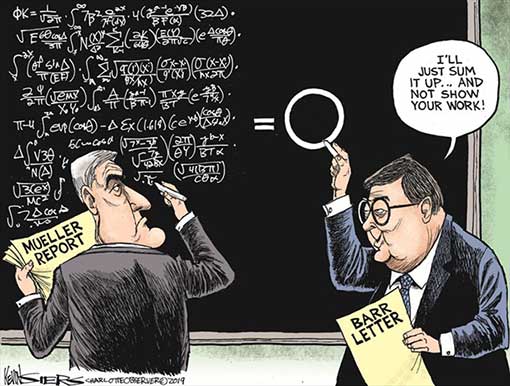 (THREAD) The already-infamous "Barr Letter" is a deeply dishonest and misleading document that richly deserves methodical public evisceration by committed journalists. So I hope you'll read on and retweet this "live" dismantling of the Trump-Russia probe's worst political hit job. — Read the rest of the thread at Seth Abramson@SethAbramson
"We have to see the report. We cannot make a judgment on the basis of an interpretation by a man who was hired for his job because he believes the President is above the law and he wrote a 19-page memo to demonstrate that." — House Speaker Nancy Pelosi telling House Democrats in a private meeting that AG William Barr's words cannot be taken at face value.
It's amazing how it appears Trump and the GOP have already won the narrative of the Mueller report without even reading a full sentence from it. — First Read
"You want to tell people that their concern and their desire for clean air and clean water is elitist? Tell that to the kids in the south Bronx which are suffering from the highest rates of childhood asthma in the country. Tell that to the families in Flint."— Rep. Alexandria Ocasio-Cortez (D-NY), delivering an impassioned defense of the Green New Deal after a GOP congressman attacked the resolution as an elitist plan created by "rich liberals from New York of California."
"I mean it 100 percent, I understand healthcare now, especially very well. A lot of people don't understand it, we are going to be, the Republicans, the party of great healthcare. The Democrats have, they've let you down, they came up with Obamacare, it's terrible." — Trump reiterated that the Republican party will now be the "party of great healthcare,"—  CBS News 
"I'm appalled. I think the Justice Department has a duty to defend the duly enacted laws… I was surprised and disappointed. If the president disagrees with a law, then he should should ask Congress to repeal or change that law. He should not try to get rid of it through the courts." — Sen. Susan Collins (R-ME) on the Trump administration's decision to argue in court that the Affordable Care Act should be thrown out.
---
IN THIS ISSUE
FYI
OPINION
1. Andy Borowitz: William Barr Reads "Moby-Dick," Finds No Evidence of Whales
Attorney General William Barr has just read the classic American novel "Moby-Dick," by Herman Melville, and found that the book contains "no evidence whatsoever of whales," Barr stated on Tuesday.

The Attorney General issued his statement on the absence of whales in the Melville classic in a two-paragraph book report released to the news media.

"Those who read 'Moby-Dick' looking for whales will be sorely disappointed," Barr wrote. "There are no whales here."

To illustrate his point, Barr quoted the book's first sentence: "Call me Ishmael."

"As you can clearly see, that sentence does not have a whale in it," Barr wrote.

The Attorney General indicated that he hoped his report would put an end to "reckless speculation" about the existence of whales in "Moby-Dick." "It's time to move on," he wrote.

Barr disclosed that, after waiting years to read "Moby-Dick," he was able to finish reading it in approximately fifteen minutes. https://www.newyorker.com/humor/borowitz-report/pence-asks-jesus-to-rapture-him-up-before-mueller-can-indict-him
2. As Mueller Report Lands, Prosecutorial Focus Moves to New York
"Even as the special counsel, Robert Mueller, submitted his confidential report to the Justice Department on Friday, federal and state prosecutors are pursuing about a dozen other investigations that largely grew out of his work, all but ensuring that a legal threat will continue to loom over the Trump presidency," the New York Times reports.
Most of the investigations focus on President Trump or his family business or a cadre of his advisers and associates, according to court records and interviews with people briefed on the investigations. They are being conducted by officials from Los Angeles to Brooklyn, with about half of them being run by the United States attorney's office in Manhattan.
Unlike Mr. Mueller, whose mandate was largely focused on any links between the Trump campaign and the Russian government's interference in the 2016 presidential election, the federal prosecutors in Manhattan take an expansive view of their jurisdiction. That authority has enabled them, along with F.B.I. agents, to scrutinize a broader orbit around the president, including his family business. https://www.nytimes.com/2019/03/23/us/trump-investigations-new-york.html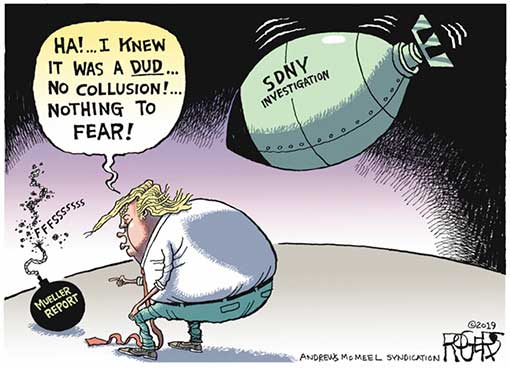 3. Mueller Report Puts Pressure on 2020 Candidates to Emphasize Issues
The conclusion by the special counsel that President Trump did not conspire with Russia all but assures that Mr. Trump's political fate will be determined at the ballot box next year — intensifying pressure on Democrats to settle on a candidate and a policy agenda that offers them the best chance to defeat the president.
With House Democrats now far less likely to impeach Mr. Trump, and Senate Republicans certain to resist removing him if they did, the 2020 race will revolve more around his performance in office than how he won in the first place.
That may disappoint some Democrats, who believe that the Russian interference on Mr. Trump's behalf in the 2016 race makes his presidency illegitimate. But it offers the party a chance to oust him through democratic means that would be harder to dispute, rather than the divisive tactic of impeachment. https://www.nytimes.com/2019/03/25/us/politics/mueller-report-2020-candidates.html
4. U.S. Posts Largest-Ever Monthly Budget Deficit in February
"The U.S. posted its biggest monthly budget deficit on record last month, amid falling corporate and individual tax revenue and increasing federal spending," Bloomberg reports.
The budget gap widened to $234 billion in February, compared with a fiscal gap of $215.2 billion a year earlier. That gap surpassed the previous monthly record of $231.7 billion set seven years ago. https://www.bloomberg.com/news/articles/2019-03-22/u-s-posts-largest-monthly-budget-deficit-on-record-in-february
5. Trump: I hope Barr will 'do what's fair' with regards to investigating Hillary Clinton
Donald Trump said in an interview that aired Friday he hopes Attorney General William Barr will "do what's fair" with regards to opening investigations to perceived crimes by his 2016 opponent Hillary Clinton, former FBI Director James Comey, former intelligence chief James Clapper and former CIA Director John Brennan.
Trump, who offered Clinton something of an olive branch after his election victory and pledged to move forward instead of demanding another investigation into her use of a personal email server as secretary of State, asserted in an interview on Fox Business Network's "Mornings with Maria" he'd been treated "very unfairly" by investigators probing his ties to Russia.
"So when I won, I made my opening speech, everyone's shouting, 'Lock her up! Lock her up! Lock her up!' I said, 'No, no, no, let's forget her. Let's get on to the future,'" the president recalled Friday. "But they have treated me so viciously, and they have treated me so badly and we did nothing wrong — you look at the others — and all of these people you hear about, that had nothing to do with Russia, Russia collusion, nothing."
https://www.politico.com/story/2019/03/22/trump-barr-clinton-investigation-1232147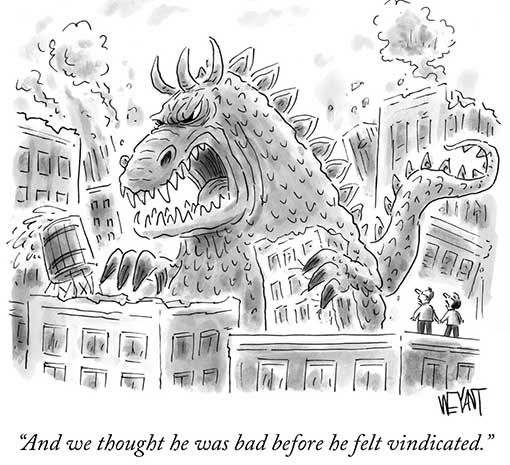 6. Eyes on the prize: In poll, Democrats care more about victory than ideology in 2020 nominee
As the 2020 presidential field takes shape, Democratic voters by double digits say they are more interested in nominating a candidate who can defeat President Trump than one they agree with most on the issues, a new USA TODAY/Suffolk University Poll finds. 
By 55-35 percent, the Democrats surveyed endorse electability over ideological purity even though they also embrace progressive priorities such as the Green New Deal. They are even inclined to be open to a nominee who espouses socialism. https://www.usatoday.com/story/news/politics/elections/2019/03/22/poll-democrats-priority-candidate-to-beat-trump-2020-biden-generates-interest/3220847002/
7. After Devin Nunes Sues @DevinCow, the Twitter Parody Gains a Half-Million Followers
Consider this: A parody account pretending to be an imaginary cow owned by Representative Devin Nunes, the California Republican, is more popular on Twitter than the congressman, a day after he sued the account (and Twitter) for $250 million.
This is how politics and humor now play out in the strange world of social media.
The parody account @DevinCow had only 1,200 followers on Monday, but it ended Wednesday afternoon with 467,000, surpassing Mr. Nunes's account with its 395,000 followers.
And the count was still growing. By Thursday evening, after news coverage, the gap had widened, with the fake cow at 600,000 followers.
But there's more. A website now sells Devin Cow T-shirts. Twitter users have been celebrating with cow-themed items and jokes. Even Mr. Nunes's fellow legislators showed their support for the errant beast. Ted Lieu, a Democratic congressman from Southern California, told Mr. Nunes on Twitter to "lighten up, dude."
Of course, no one might have heard of @DevinCow if Mr. Nunes had not sued Twitter and other users for defamation on Tuesday, seeking $250 million and an end to online mockery he said no one should have to "suffer in their whole life." https://www.nytimes.com/2019/03/20/us/politics/nunes-devincow-twitter.html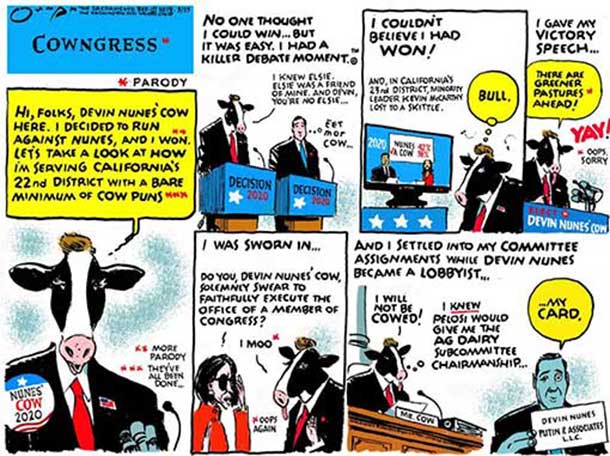 8. Trump surprises Republicans — and pleases Democrats — with push to revive health-care battle
A surprise move by the Trump administration aimed at striking down the Affordable Care Act thrust the partisan battle over health care into the middle of the 2020 campaign on Tuesday, handing Democrats a potential political gift on an issue that damaged Republicans badly in last year's midterm elections.
In a new court filing, the Justice Department argued that the ACA, also known as Obamacare, should be thrown out in its entirety, including provisions protecting millions of Americans with preexisting health conditions and allowing young adults to stay on their parents' health-care plans.
President Trump praised the move during a lunch with Senate Republicans, and suggested the GOP should embrace a new congressional battle over health-care policy ahead of the 2020 elections. https://www.washingtonpost.com/politics/trump-surprises-republicans--and-pleases-democrats--with-push-to-revive-health-care-battle/2019/03/26/068cc2c4-4fd3-11e9-a3f7-78b7525a8d5f_story.html
9. Trump Has Now Shifted $1.3 Million Of Campaign-Donor Money Into His Business
Donald Trump has charged his own reelection campaign $1.3 million for rent, food, lodging and other expenses since taking office, according to a Forbesanalysis of the latest campaign filings. And although outsiders have contributed more than $50 million to the campaign, the billionaire president hasn't handed over any of his own cash. The net effect: $1.3 million of donor money has turned into $1.3 million of Trump money.
In December, Forbes reported on the first $1.1 million that President Trump moved from his campaign into his business. Since then, his campaign filed additional documentation showing that it spent another $180,000 at Trump-owned properties in the final three months of 2018.
None of this seemed likely when Donald Trump first got into politics. "I don't need anybody's money," he announced on the day he launched his 2016 campaign, standing inside the marble atrium at Trump Tower. "I'm using my own money. I'm not using the lobbyists. I'm not using donors. I don't care. I'm really rich."
At first, he acted like it, spending $50 million of his own money from April 2015 to June 2016. But the following month, when he was officially named the Republican nominee for president, his financing model changed. From July to November of 2016, outsiders contributed $234 million while Trump put up just $16 million.  
Once he became president, Trump had a chance to get some money back. The campaign put more than $800,000 into Trump Tower Commercial LLC, the holding company through which Trump owns his interest in the original Trump Tower on Fifth Avenue. Trump Tower Commercial LLC took in an additional $225,000 in rent from the Republican National Committee, which coordinated those payments with the campaign. That means that, since the inauguration, Trump's reelection effort has had a hand in funneling more than $1 million into the president's most famous property. https://www.forbes.com/sites/danalexander/2019/03/20/trump-has-now-shifted-13m-of-campaign-donor-money-into-his-business/#1a211db07aaf
10. The DAILY GRILL
The Trump/Fox victory dance because no one new was indicted for collusion or corruption involving Russia — and therefore claims of "witch hunts" and innocence were vindicated. — Mike Allen in Axios

VERSUS

The bitter reality that this probe has spawned many others stretching far beyond Russia — so it's delusional to think it simply ends with no collusion. — Mike Allen in Axios

 

No Collusion, No Obstruction, Complete and Total EXONERATION. KEEP AMERICA GREAT! — Donald J. Trump@realDonaldTrump

VERSUS

"The Special Counsel . . . did not draw a conclusion — one way or the other — as to whether the examined conduct constituted obstruction," Barr's letter to lawmakers states. "The Special Counsel states that 'while this report does not conclude that the President committed a crime, it also does not exonerate him', signaling that Mueller's team apparently struggled with the issue. --Washinton Post

 

It is my pleasure to announce that @StephenMoore, a very respected Economist, will be nominated to serve on the Fed Board. I have known Steve for a long time – and have no doubt he will be an outstanding choice! — Donald J. Trump@realDonaldTrump

VERSUS

Stephen Moore's career as an economic analyst has been a decades-long continuous procession of error and hackery. It is not despite but precisely because of these errors that Moore now finds himself in the astonishing position of having been offered a position on the Federal Reserve board by President Trump. — Jonathan Chait in the NY Intelligencer

 

"We had to make some difficult decisions with this budget"-- Education Secretary Betsy DeVos appeared on Capitol Hill to defend cuts to the Department of Education budget — including canceling out federal funding for the Special Olympics in next year's budget. told legislators, in defense of her proposals.

VERSUS

Trump's trips to his private club in Florida cost taxpayers about $3.4 million apiece, largely as a function of transporting the president and support material to the state. Looking at it another way, the federal government had spent about as much on getting Trump to Mar-a-Lago by his second month in office as DeVos now wants to cut from supporting the Special Olympics. — Philip Bump
11. From MEDIA MATTERS (They watch Fox News so you don't have to)
Fox's Mark Levin: Democrats would "have sniper towers all over the place" if undocumented immigrants could vote for Republicans. https://www.mediamatters.org/video/2019/03/21/foxs-mark-levin-democrats-would-have-sniper-towers-all-over-place-if-undocumented-immigrants-could/223211

Fox host asks "why not" have the CIA overthrow Nicolás Maduro. Stuart Varney: "Should we use the CIA? I realize I'm going back to the late 1950s or something. But I mean why not? Why not? The guy is a corrupt socialist dictator." https://www.mediamatters.org/video/2019/03/21/fox-host-asks-why-not-have-cia-overthrow-nicol-s-maduro/223207

Hosting a climate change denier, Tucker Carlson complains about "relentless propaganda" about climate change. Carlson says that taking action on climate is "clearly political, not science speaking." https://www.mediamatters.org/video/2019/03/20/hosting-climate-change-denier-tucker-carlson-complains-about-relentless-propaganda-about-climate/223199

Fox host complains that the "term 'assault weapons' offends many Second Amendment advocates." Jedediah Bila on New Zealand adopting gun control measures: "When you have acts of violence like this, there is nothing more valuable than people who are legally entitled to own guns." https://www.mediamatters.org/video/2019/03/21/fox-host-complains-term-assault-weapons-offends-many-second-amendment-advocates/223203

Trump is naming the nation's worst economist to the Federal Reserve. Trump's claim that Moore is "very respected" is, as is typical for this president, a lie. Moore is widely known for being sloppy and dishonest, the kind of shill who spurs a newspaper to promise not to publish his workanymore after needing to append a lengthy correction to one of his op-eds. https://www.mediamatters.org/blog/2019/03/22/trump-naming-nation-s-worst-economist-federal-reserve/223222

Fox News' Gillibrand distortion is a perfect example of how the propaganda machine works. https://www.mediamatters.org/blog/2019/03/22/fox-news-gillibrand-distortion-perfect-example-how-propaganda-machine-works/223218

Frequent NRATV guest Michael Cutler compares mainstream media to Nazi propagandists. Cutler: "This is what [Joseph] Goebbels did during the Second World War with the Nazis, tell a lie, repeat it as frequently as you can and pretty soon people will believe the lie is the truth" https://www.mediamatters.org/video/2019/03/22/frequent-nratv-guest-michael-cutler-compares-mainstream-media-nazi-propagandists/223217 

Fox News' Gillibrand distortion is a perfect example of how the propaganda machine works. Gillibrand was pretty clearly saying that she supports a pathway to citizenship for undocumented immigrants, noting that these are people who in many cases already make contributions into Social Security and local school districts via taxes. The  "GOP War Room" YouTube clip was deceptively titled "Sen. Gillibrand: Expand Social Security To All Illegal Immigrants," a distortion of what she said. https://www.mediamatters.org/blog/2019/03/22/fox-news-gillibrand-distortion-perfect-example-how-propaganda-machine-works/223218

The Mueller probe is over. Now Fox News wants retaliatory investigations. In one day, Fox News aired 26 segments calling for investigations into those involved in the Mueller report and Trump's perceived enemies. https://www.mediamatters.org/blog/2019/03/26/mueller-probe-over-now-fox-news-wants-retaliatory-investigations/223249 

Fox guest: Reps. Ilhan Omar [D-MN] and Rashida Tlaib [D-MI] "don't seem to side with Israel. They seem to side with the terrorists." https://www.mediamatters.org/video/2019/03/26/fox-guest-reps-ilhan-omar-d-mn-and-rashida-tlaib-d-mi-dont-seem-side-israel-they-seem-side/223247

Fox co-host suggests Americans would be better off with nothing instead of the Affordable Care Act. https://www.mediamatters.org/video/2019/03/27/fox-co-host-suggests-americans-would-be-better-nothing-instead-affordable-care-act/223255

The Mueller probe is over. Now Fox News wants retaliatory investigations. .In one day, Fox News aired 26 segments calling for investigations into those involved in the Mueller report and Trump's perceived enemies. https://www.mediamatters.org/blog/2019/03/26/mueller-probe-over-now-fox-news-wants-retaliatory-investigations/223249 
12. Barbara Bush Had a Trump Countdown Clock
According to an excerpt of The Matriach by Susan Page, a friend gave Barbara Bush a small plastic clock that counted down the number of days, hours and minutes until the end of Donald Trump's term in 2021.
It was on her bedside the day she died. https://www.usatoday.com/story/news/politics/2019/03/27/barbara-bush-blamed-trump-heart-attack-leaving-gop-the-matriarch/3270187002/
13. Graham encouraged McCain to turn Trump-Russia dossier over to FBI
GOP Sen. Lindsey Graham said Monday that he told the late Sen. John McCain to turn over the dossier of Trump-Russia allegations to the FBI, pushing back against President Donald Trump's assertions that the Arizona Republican helped fan the flames of the Russia investigation. https://www.cnn.com/2019/03/25/politics/lindsey-graham-john-mccain-dossier-fbi/index.html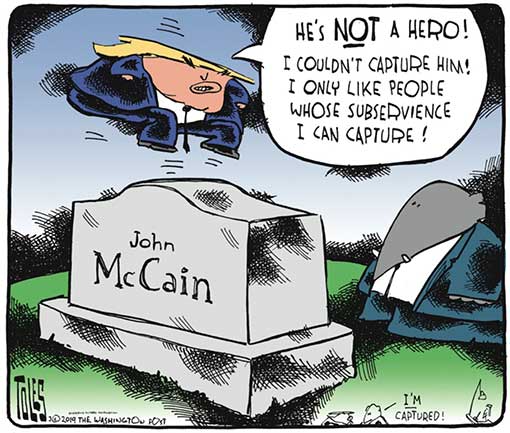 14. Kamala Harris makes a point in Houston: It's not just O'Rourke and Sanders who can draw crowds
Sen. Kamala D. Harris made the first major policy announcement of her campaign Saturday, promising to use federal dollars to boost teachers' salaries as she spoke to a boisterous crowd at Texas Southern University.
Harris didn't reveal details of the plan, which her campaign says will come within days. But the crowd of 2,400 that gathered at the historically black school showed her ability to attract a diverse gathering, including older white voters from the Houston area, Latino students who drove from the University of Texas at Austin and a large contingent of African American voters. https://www.washingtonpost.com/politics/kamala-harris-makes-a-point-in-houston-its-not-just-orourke-and-sanders-who-can-draw-crowds/2019/03/23/5651c538-4d5e-11e9-93d0-64dbcf38ba41_story.html
15. Here are the most socialistic—and most capitalistic—Democrats running for president
To clear the smoke and identify who stands for what, Yahoo Finance analyzed four key economic policies of 15 leading candidates (including Joe Biden, reportedly set to announce soon), and placed each of them on a spectrum ranging from more socialistic to more capitalistic. We used a 3-point scale to rank the candidates' policies on health care, taxes, trade and climate change, then tallied the scores to reveal an overall economic orientation for each.
Here's where each of the 15 candidates stands: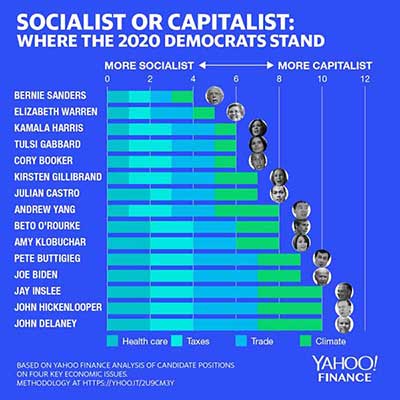 https://finance.yahoo.com/news/here-are-the-most-socialisticand-most-capitalistic-democrats-running-for-president-190000240.html
16. What does socialism even mean anymore?
When president Trump and Rep. Alexandria Ocasio-Cortez (D-N.Y.) talk about socialism, it doesn't sound like they are talking about the same thing. President Trump points to socialism as the root of poverty, tyranny and suffering in countries that have adopted it. Ocasio-Cortez suggests socialism's aim is to level the playing field, providing social services to boost up the poor. Does socialism make countries look more like Venezuela or Denmark? The Washington Post Fact checker video explains at: https://www.washingtonpost.com/video/politics/what-does-socialism-even-mean-anymore--the-fact-checker/2019/03/21/2175483f-a75b-49d1-a08e-3a40076f2ef3_video.html
17. Counties that hosted a 2016 Trump rally saw a 226 percent increase in hate crimes
To test this, the Washington Post aggregated hate-crime incident data and Trump rally data to the county level and then used statistical tools to estimate a rally's impact. We included controls for factors such as the county's crime rates, its number of active hate groups, its minority populations, its percentage with college educations, its location in the country and the month when the rallies occurred.
The Post found that counties that had hosted a 2016 Trump campaign rally saw a 226 percent increase in reported hate crimes over comparable counties that did not host such a rally.
Of course, our analysis cannot be certain it was Trump's campaign rally rhetoric that caused people to commit more hate crimes in the host county. However, suggestions that this effect can be explained through a plethora of faux hate crimes are at best unrealistic. In fact, this charge is frequently used as a political tool to dismiss concerns about hate crimes. Research shows it is far more likely that hate crime statistics are considerably lower because of underreporting.
Additionally, it is hard to discount a "Trump effect" when a considerable number of these reported hate crimes reference Trump. According to the ADL's 2016 data, these incidents included vandalism, intimidation and assault.
What's more, according to the FBI's Universal Crime report in 2017, reported hate crimes increased 17 percent over 2016. Recent research also shows that reading or hearing Trump's statements of bias against particular groups makes people more likely to write offensive things about the groups he targets. https://www.washingtonpost.com/politics/2019/03/22/trumps-rhetoric-does-inspire-more-hate-crimes/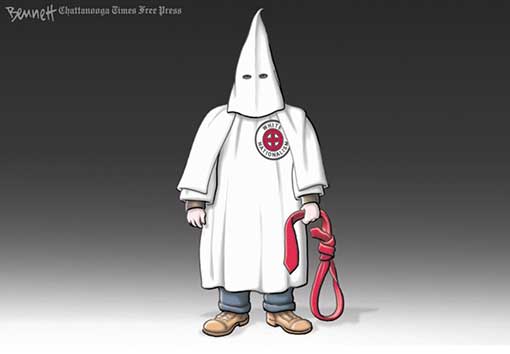 18. From the Late Shows
The Late Show with Stephen Colbert: All The Other Reasons Trump Is A Bad President: https://youtu.be/Y_7wPf9geSM

Late Night with Seth Meyers: Trump and Phil Robertson Freak Out About "Socialism": A Closer Look: https://youtu.be/X9LJV_eO34c

Late Night with Seth Meyers: Trump Attacks Conway and McCain, Nunes Sues Twitter: A Closer Look: https://youtu.be/2S5PYP_TfK4

The Daily Show with Trevor Noah: Mr. Kellyanne vs. Mr. President: A Twitter Feud for the History Books: https://youtu.be/C1O0-_ZNSzQ
19. Why some Democrats say: Don't sleep on 'Mayor Pete' Buttigieg
Pete Buttigieg just might be the anti-Trump.
Unlike President Donald Trump, the South Bend, Ind., mayor, who is still technically in the "exploratory" phase of a 2020 presidential campaign, is young, progressive and gay.
"It's so diametrically opposed to everything Trump," said Molly Jong-Fast, a New York author and socialite who has hosted a dinner for Buttigieg late last year and is planning a fundraiser for him this spring. "Even if Pete is not the candidate, he is the future of the Democratic Party."
That helps explain why, for a growing group of Democrats — from the elite salons of New York, Washington and blue-checkmark Twitter to the small-dollar cash mines of the 50 states — Buttigieg is fast becoming the diamond in a presidential primary rough full of better-known and better-funded rivals. https://www.nbcnews.com/politics/2020-election/why-some-democrats-say-don-t-sleep-mayor-pete-buttigieg-n985906
20. Kamala Harris makes a point in Houston: It's not just O'Rourke and Sanders who can draw crowds
Sen. Kamala D. Harris made the first major policy announcement of her campaign Saturday, promising to use federal dollars to boost teachers' salaries as she spoke to a boisterous crowd at Texas Southern University.
Harris didn't reveal details of the plan, which her campaign says will come within days. But the crowd of 2,400 that gathered at the historically black school showed her ability to attract a diverse gathering, including older white voters from the Houston area, Latino students who drove from the University of Texas at Austin and a large contingent of African American voters. https://www.washingtonpost.com/politics/kamala-harris-makes-a-point-in-houston-its-not-just-orourke-and-sanders-who-can-draw-crowds/2019/03/23/5651c538-4d5e-11e9-93d0-64dbcf38ba41_story.html
21. In first South Carolina swing, Beto O'Rourke faces pragmatic voters intent on beating Trump
South Carolina may well have a reputation of fueling political grudges borne out of decades of dirty politics. But when former U.S. Rep. Beto O'Rourke traveled here on Friday and Saturday, the message from the locals could not have been more emphatic: They want to defeat Donald Trump in 2020, and they have no interest in sour grapes from also-rans.
It was a message the candidate was already selling. https://www.texastribune.org/2019/03/23/beto-orourke-south-carolina-beating-trump/
22. Republican operatives fear putting fundraising data in Trump's hands
The Republican Party's efforts to build a small-dollar donation machine to keep up with the Democrats has hit a wall: a deep mistrust of President Trump and his campaign among Republican operatives.
Republican brass are crafting a new online fundraising tool to match the Democrats' small-dollar fundraising juggernaut that helped carry them to victory in the 2018 midterm elections. But some GOP operatives who would be the ones to purchase the tool don't want Trump and his family raiding their campaign lists for their own benefit, said campaign consultants reached by Yahoo News.
"They're scared of adopting it. Imagine Trump owning our data — handing everything over to that guy, the guy who f****s with everybody, who has destroyed our party," said a senior consultant for a conservative political group with national clients. https://news.yahoo.com/gop-money-machine-stumbles-over-fears-of-putting-data-in-trumps-hands-122818990.html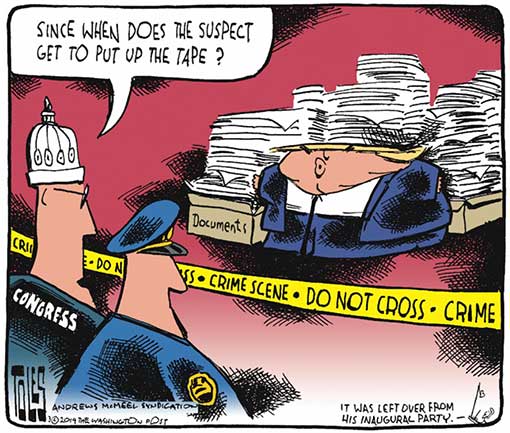 23. GOP congressman quotes Hitler's 'Mein Kampf' to slam Trump's adversaries as liars
Rep. Mo Brooks (R-Ala.) took to the House floor on Monday to portray President Trump's detractors as Nazis but ended up slurring them using an anti-Semitic conspiracy theory drawn verbatim from Adolf Hitler's writings.
It was unclear if Brooks grasped that by leveling charges of the 'big lie,' he had inverted his own analogy, making Democrats the equivalent of interwar German and Austrian Jews. He set out to compare the other side to fascists, but he was the one employing a fascist smear — one that, ironically, came to define Nazi propaganda. https://www.washingtonpost.com/nation/2019/03/26/gop-congressman-quotes-hitlers-mein-kampf-slam-trumps-adversaries-liars/
24. Interior Nominee Intervened to Block Report on Endangered Species
After years of effort, scientists at the Fish and Wildlife Service  found that two of the pesticides, malathion and chlorpyrifos, were so toxic that they "jeopardize the continued existence" of more than 1,200 endangered birds, fish and other animals and plants, a conclusion that could lead to tighter restrictions on use of the chemicals.
But just before the team planned to make its findings public in November 2017, something unexpected happened: Top political appointees of the Interior Department, which oversees the Fish and Wildlife Service, blocked the release and set in motion a new process intended to apply a much narrower standard to determine the risks from the pesticides.
Leading that intervention was David Bernhardt, then the deputy secretary of the interior and a former lobbyist and oil-industry lawyer. In October 2017, he abruptly summoned staff members to the first of a rapid series of meetings in which the Fish and Wildlife Service was directed to take the new approach, one that pesticide makers and users had lobbied intensively to promote.
Mr. Bernhardt is now President Trump's nominee to become interior secretary. The Senate is scheduled to hold a hearing on his confirmation Thursday. https://www.nytimes.com/2019/03/26/us/politics/endangered-species-david-bernhardt.html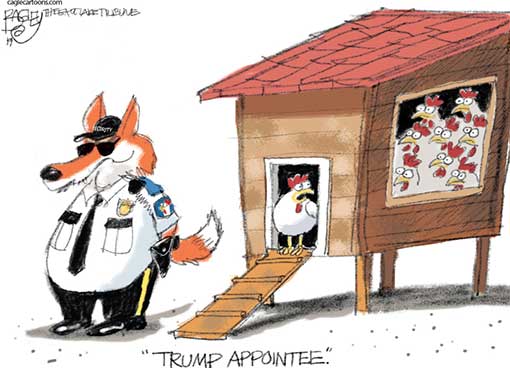 25
. Mueller grand jury 'continuing robustly,' prosecutor says
The special counsel grand jury that investigated Russian collusion into the 2016 presidential election is "continuing robustly" despite the end of Robert Mueller's probe, a federal prosecutor said in court Wednesday.
The revelation — while laced with uncertainty — indicates that the ongoing cases Mueller handed off after concluding his probe could still feature significant developments, legal experts said.
Samuel Buell, a former federal prosecutor, said the grand jury could still be meeting "on drain the swamp cases" akin to the one brought against former Trump campaign chairman Paul Manafort and Gates for failing to disclose foreign lobbying activity. He noted that one of the lead Mueller prosecutors in the Manafort-Gates case, Brandon Van Grack, is now leading a new DOJ unit assigned to enforcing that law. https://www.politico.com/story/2019/03/27/mueller-grand-jury-1238861
26. Trump's Federal Reserve pick owes $75,000 in taxes, US government alleges
Stephen Moore, the conservative economics commentator chosen by President Trump for a seat on the Federal Reserve board, is being pursued by the federal government for $75,000 in taxes that it alleges he owes. https://www.theguardian.com/business/2019/mar/27/stephen-moore-trump-federal-reserve-pick-owes-taxes-us-government-alleges
1. George Conway: Trump is guilty — of being unfit for office
But whether the Mueller report ever sees the light of day, there is one charge that can be resolved now. Americans should expect far more from a president than merely that he not be provably a criminal. They should expect a president to comport himself in accordance with the high duties of his office. As all presidents must, Trump swore an oath to preserve, protect and defend the Constitution, and to faithfully execute his office and the laws in accordance with the Constitution. That oath requires putting the national interests above his personal interests.
Yet virtually from the moment he took office, in his response to the Russia investigation, Trump has done precisely the opposite: Relentlessly attacked an attorney general, Mueller, the Justice Department — including suggesting that his own deputy attorney general should go to jail. Lied, to the point that his own lawyers wouldn't dare let him speak to Mueller, lest he commit a crime. Been more concerned about touting his supposedly historic election victory than confronting an attack on our democracy by a hostile foreign power.
If the charge were unfitness for office, the verdict would already be in: guilty beyond a reasonable doubt. https://www.washingtonpost.com/opinions/george-conway-trump-is-guilty--of-being-unfit-for-office/2019/03/26/0b5f851e-4ffd-11e9-88a1-ed346f0ec94f_story.html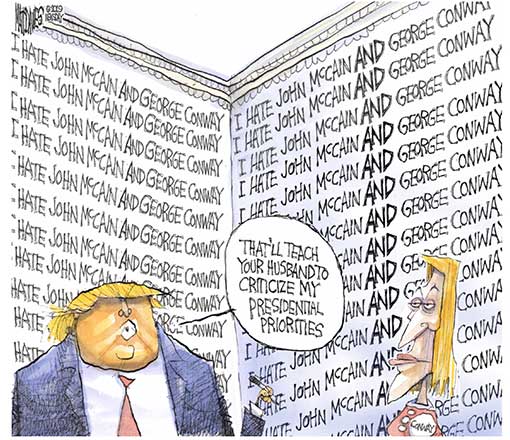 2. Jonathan Chait: Trump Is Bullying the Media Into Falsely Exonerating Him of Russia Corruption
Trump's football-spikers all take as a starting point the premise that Barr's four-page summary conclusively puts to rest any serious questions about Trump's illicit relationship with Russia. That is an oddly credulous approach from people who have treated previous government investigations with withering skepticism. Taibbi dismissed the intelligence community's finding that the Russian government directed the hacking as "head scratching" and "bold assessments based on little to no obvious evidence." Greenwald ridiculed reports that Russia hacked Democratic emails as a neo-McCarthyist smear, and cast doubt on the validity of Mueller's indictment of Russian hackers. Hemingway and the Journal editorial page have uncritically transmitted Devin Nunes's series of fever dreams that Mueller sat atop a deep state conspiracy, all of which disintegrated immediately upon contact with the outside world.
After treating nonpartisan intelligence and law enforcement officials as an untrustworthy cabal, Trump's defenders now assign complete credibility and good faith to William Barr. Not only is Barr far more partisan than the malefactors of the deep state, he auditioned for his job by writing a highly Trump-friendly memo that was meant to remain secret. One could make the case to trust all these officials, or to trust none of them. But the idea that Barr has more inherent credibility than the intelligence community or the FBI stretches all bounds of plausibility. http://nymag.com/intelligencer/2019/03/trump-bullies-media-exonerating-russia-corruption-barr-mueller.html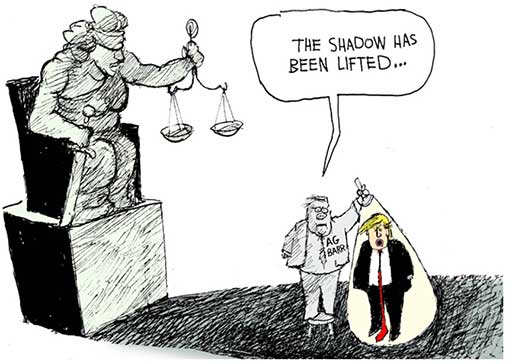 3. David Frum: Mueller Leaves a Big Unanswered Question
Good news, America. Russia helped install your president. But although he owes his job in large part to that help, the president did not conspire or collude with his helpers. He was the beneficiary of a foreign intelligence operation, but not an active participant in that operation. He received the stolen goods, but he did not conspire with the thieves in advance.
This is what Donald Trump's administration and its enablers in Congress and the media are already calling exoneration. But it offers no reassurance to Americans who cherish the independence and integrity of their political process.
The question unanswered by the attorney general's summary of Special Counsel Robert Mueller's report is: Why? Russian President Vladimir Putin took an extreme risk by interfering in the 2016 election as he did. Had Hillary Clinton won the presidency, the most likely outcome, Russia would have been exposed to fierce retaliation by a powerful adversary. The prize of a Trump presidency must have glittered alluringly indeed to Putin and his associates. Why? https://www.theatlantic.com/ideas/archive/2019/03/mueller-report-leaves-one-key-question-unanswered/585625/
4. David Corn: Trump Aided and Abetted Russia's Attack. That Was Treachery. Full Stop.
On Sunday afternoon Attorney General William Barr sent a letter to Congress noting that Special Counsel Robert Mueller's investigation "did not establish that members of the Trump Campaign conspired or coordinated with the Russian government in its election interference activities." The message also noted that Mueller could not exonerate President Donald Trump of obstruction of justice, but that Barr himself had decided that the evidence Mueller developed was "insufficient to establish" that Trump had obstructed justice. Trump proclaimed it was "complete and total exoneration." And Trump champions popped the cork and declared case closed, nothing to see, end of story, no need for further investigation, Trump did no wrong. 
Well, that is fake news. 
Barr's note is clear that Mueller did not uncover evidence Trump and his gang were in direct cahoots with Russia's covert operation to interfere with the US election and boost Trump's odds. But the hyper-focus on this sort of collusion—as if Trump instructed Russian hackers on how to penetrate the computer network of the Democratic National Committee—has always diverted attention from a basic and important element of the scandal that was proven long before Mueller drafted his final report: Trump and his lieutenants interacted with Russia while Putin was attacking the 2016 election and provided encouraging signals to the Kremlin as it sought to subvert American democracy. They aided and abetted Moscow's attempt to cover up its assault on the United States (which aimed to help Trump win the White House). And they lied about all this.
And, yes, there were instances of collusion—not on the specifics of the attack, but secret scheming between Trumpworld and Russia.
None of the evidence underlying this is in dispute. No matter what Mueller report contains, a harsh verdict remains: Trump and his gang betrayed the United States in the greatest scandal in American history.  https://www.motherjones.com/politics/2019/03/trump-mueller-report-russia/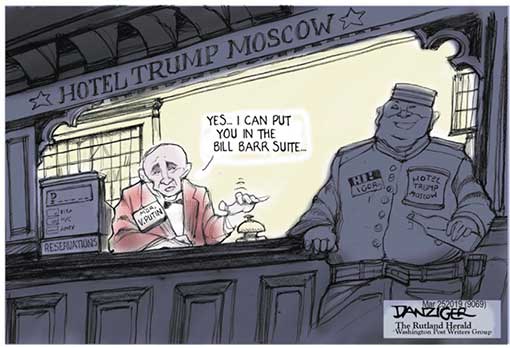 5. Dahlia Lithwick: Mueller Did His Investigation for a World We Don't Inhabit
Someday, when we're sitting around the electronic campfires we've lit to pretend-warm the huts in our Mars colonies, we will tell our grandchildren about whatever vestigial memories we have of facts. Perhaps we will be able to date their demise to the 46-ish hours between the announcement on Friday, March 22, 2019, that Robert Mueller had submitted his final report to Attorney General William Barr, and the letter Barr released on Sunday, March 24, 2019, which purported to summarize its contents and legal conclusions entirely.
In those 46 hours, there were exactly two facts known: that nobody else had been indicted by Mueller, and that Barr did not find any proposed action by Mueller to be "inappropriate or unwarranted." That was, quite literally, all we knew. And into that void—that absence of facts—swept the spin.
On Fox News, the declamation came forth that there had been an actual finding, of, what else, "no collusion." Indeed, as Justin Peters noted, the television news station that exists exclusively to protect and defend the president's preferred narrative declared, without basis in any publicly known or knowable fact, that it was "No Collusion Day!" While every other network was trying to parse out scenarios and future outcomes, and carefully explaining that nothing definitive had been shared with the public, conservative media and congressional Republicans were already claiming that the facts had been amassed, and assessed and released, and supported their cause. Were they clairvoyant? Did they have some insider information? No, they just had the special feeling they get at Fox: The facts are not material to the claim. In the absence of any knowable facts, Republicans declare victory and invent their own. In the absence of any knowable facts, Democrats declare defeat.
The real tragedy of the Barr report is that he has facts at his fingertips—not just facts about the ways in which members of the Trump campaign acted inappropriately and then lied about it, which we all know, but also facts about obstruction that we do not yet know. But like Fox News had done a day before, Barr gave us spin in lieu of facts while asking us to believe that they are the same thing. https://slate.com/news-and-politics/2019/03/mueller-report-trump-mcconnell-facts-dont-matter.html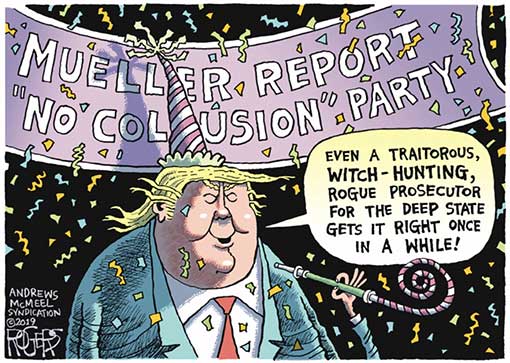 6. Ed Kilgore: The End of Mueller's Probe Renewed the Right's Hillary Clinton Obsession
As pathological as the phenomenon may seem, it's not surprising that the first thought many MAGA folk had after Robert Mueller decided not to pursue further prosecutions in the Russia collusion case was to demand a fresh investigation of Hillary Clinton and her alleged responsibility for the Steele dossier that many of them blamed for the entire "witch hunt" against Trump. 
The psychology of tit-for-tat vengeance here is pretty naked, I'd say. But unsurprising as it is, given Clinton's symbolism as the feminist Red Queen of liberalism in the eyes of angry conservatives for decades, it's amazingly self-indulgent for people who ought to be focused on their still-uphill fight to hang onto power in 2020.
What, exactly, can a renewed vendetta against HRC accomplish for Trump and the GOP at this point? The kind of people who exult at the thought of Clinton donning an orange jumpsuit and dining on prison fare fall into two categories, neither of whom are 2020 swing voters or people who need motivation to vote: hard-core MAGA people who would follow their brutish warlord to hell and back, or hard-core anti-Clinton progressives who are deeply invested in a post-Clinton, left-trending Democratic Party. A GOP that's not only backward-looking in longing to bring back the America of the 1950s, but can't let go of its hatred for a vanquished opponent, is not well-equipped to win an entirely new battle. No wonder conservative media kept buying into idiotic predictions that HRC would run again in 2020. That's the contest they wanted, and will not get. http://nymag.com/intelligencer/2019/03/gops-hillary-clinton-obsession-renewed-after-mueller-probe.html
7. Eric Levitz: The Trump DOJ Just Put Killing Obamacare Above the Rule of Law
The conservative movement knows that its fiscal priorities have no democratic mandate. Thus, it has decided to simply lie to the public about what its priorities are, while exploiting our nation's civic decay and anti-majoritarian institutions, to covertly advance its ideological goals.
The conservative movement sees "the rule of law" as a rhetorical cudgel, not a binding obligation. Conservatives will declare their unconditional fealty to that concept when they need a substance-free justification for reversing a popular policy. The moment deference to existing statutes becomes an obstacle to their own ambitions, however, conservatives will abandon their commitment to lawfulness as abruptly as they ditched their principled opposition to Donald J. Trump.
For these reasons, the movement's approach to governance is fundamentally nihilistic. If it cannot persuade the public to oppose ambitious public-sector programs through argument, it will try to do so through sabotage. After all, the more dysfunctional "big government" becomes, the stronger the case against expanding its purview may appear. And since the movement's gerrymandering and vast propaganda apparatus have left most Republican officeholders more accountable to the paranoid delusions of Limbaugh listeners than to the material interests of their median constituents, ideological posturing takes precedence over administrative competence. http://nymag.com/intelligencer/2019/03/trump-doj-asks-judiciary-to-repeal-all-of-obamacare-by-fiat.html
8. Trump Didn't Collude With Russia. So Why Does He Love Putin So Much?
But there are also many aspects of Trump's behavior toward Russia, both as a candidate and as president, that remain baffling. His obsession with that Kremlin bogeyman, NATO. His failure to disclose his pursuit of a hotel project in Moscow even as he ran for the White House, and his subsequent lying about it. His real estate business' many years of heavy reliance on Russian money.
Strangest of all is Trump's relationship with Putin, whom he never criticizes directly. Flash back to that fawning July 2018 news conference in Helsinki, at which Trump stood next to his Russian counterpart and said, "I have great confidence in my intelligence people, but I will tell you that President Putin was extremely strong and powerful in his denial today." It remains one of the more bizarre performances by an American president abroad. https://www.politico.com/magazine/story/2019/03/24/trump-putin-russia-collusion-226110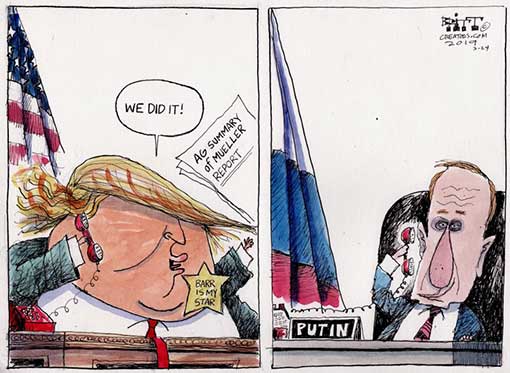 9.  David Remnick: It's Mueller Time
The Trump Presidency has, from the first, represented a threat to truth, liberal democracy, and the rule of law. Donald Trump's contempt for basic norms of governance is accompanied by a lack of decency, empathy, and psychological stability. This was never more evident than this week, when Trump, seemingly rattled by the imminence of the Mueller report, set off a fusillade of unhinged tweets, called the spouse of one of his senior advisers a "whack job," raged about the late Senator John McCain in front of a military audience at a tank plant in Lima, Ohio, and pronounced the Democratic Party "anti-Jewish," deepening, at every turn, the impression that he is unfit for government work.
The perils of such instability are incalculable. Sidney Karper, the wizened Defense Secretary in "Night of Camp David," says of Hollenbach, "It is sheer folly to have that man anywhere near the command and control machinery." In the novel, a self-appointed council of party leaders, Supreme Court Justices, and members of the security establishment secretly deliberates on how to deal with the delusional President, and catastrophe is averted. Hollenbach coöperates in his own removal from office, and, in the end, he is deemed to have "the finest heart in America."
Current realities offer no such reassurance. Trump has the psyche of an emotionally damaged toddler. You hear this not only from his ideological opponents but from countless departing confidants, lawyers, and advisers. He is devoted not to public service but to feeding the demands of his ego and his appetites.
The pressures on Trump will inevitably increase now that the Mueller report has been delivered to the Attorney General. Meanwhile, a raft of investigators on various congressional committees and in outposts of the Justice Department are accelerating their searches into matters including hush-money payments, money laundering, irregular security clearances, foreign interference in the 2016 election, illegal use of inaugural funds, and improper use of foundation money. And yet it is impossible to imagine Trump changing his behavior. He retains the support of the Republican leadership; the odds of his completing his term are considerable. Trump's affinity for the autocratic likes of Rodrigo Duterte, Mohammed bin Salman, Jair Bolsonaro, and Vladimir Putin suggests that he might refuse—as his former satrap and attorney Michael Cohen warned he would—to give up power without trying to undermine the legitimacy of the American political system. What's more, given Trump's skills in the dark arts of campaigning and the general public satisfaction with the economy, no matter its inequities or vulnerabilities, it would be foolhardy to discount his chance of winning reëlection.  https://www.newyorker.com/magazine/2019/04/01/the-increasing-pressure-on-donald-trump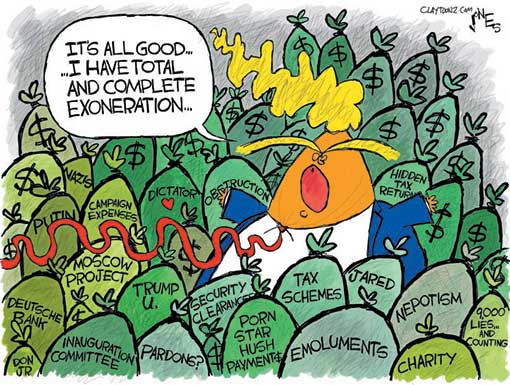 10. Andrew Sullivan: Trump Is a Massive Failure — and Getting Exactly What He Wants
In this post-truth world, where Trump has allied with social media to create an alternate reality, lies work. This week, he approached the press corps simply repeating, "No Collusion! No Collusion!" And he will continue to say this regardless of what the Mueller report may reveal, because it doesn't matter what actually happened. Whatever Trump says will become the truth for 40 percent of the country, while the expectations of the opposition, troubled by pesky empiricism, may well be deflated. Fox, a de facto state propaganda channel, will do the rest.
This remains a surreal state of affairs, does it not? Life goes on; politics has the forms of democracy, even if the substance is now monarchical; and the economy continues to grow. And how did we respond to his usurping the power of the Congress with an emergency declaration, or his marshaling of the military for an election-eve stunt on the border, or his refusing any cooperation with the House committees, or his two-hour, delusional rant at CPAC, or his response to white nationalist mass murder by pivoting to an "invasion" of the U.S., or the blizzard of simply deranged tweets last Sunday? How did we react when he said, in the context of a fight with Democrats, "I have the military." For what? Mr. President. What plans do you exactly have in mind?
Yes, we're numb. Yes, this has become normal. And yes, as far as liberal democracy is concerned, this is an extinction-level event. http://nymag.com/intelligencer/2019/03/trump-is-a-massive-failure-and-getting-exactly-what-he-wants.html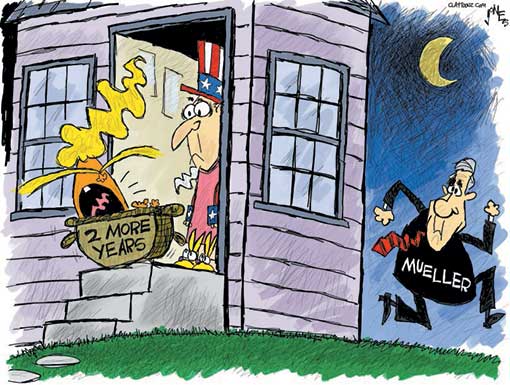 11. Charlotte Alter: 'Change Is Closer Than We Think.' Inside Alexandria Ocasio-Cortez's Unlikely Rise
Every 10 minutes or so, someone knocks on the big wooden door of Alexandria Ocasio-Cortez's office on Capitol Hill. The noise makes staffers stiffen. It's almost always a harmless fan, one of dozens who arrive each day, leaving neon-colored Post-it notes as devotional offerings. But in her first three months in Congress, aides say, enough people have threatened to murder Ocasio-Cortez that Capitol Police trained her staff to perform risk assessments of her visitors.
This is the daily reality for America's newest human Rorschach test. Wonder Woman of the left, Wicked Witch of the right, Ocasio-Cortez has become the second most talked-about politician in America, after the President of the United States. Since beating 10-term incumbent Joe Crowley in the Democratic primary to represent New York's 14th District last June, the 29-year-old former bartender has pressured 2020 presidential candidates into supporting her Green New Deal, made campaign-finance reform go viral and helped activists banish Amazon from Queens with a couple of tweets. No lawmaker in recent memory has translated so few votes into so much political and social capital so quickly. Her Twitter following has climbed from about 49,000 last summer to more than 3.5 million. Thousands of people tune in to watch her make black-bean soup or re-pot her houseplants on Instagram Live. Immediately after she tweeted the name of her signature red lipstick—Beso, by Stila—it sold out online. http://time.com/longform/alexandria-ocasio-cortez-profile/
12. Catherine Rampell: The GOP has turned into the boy who cried socialism
For years, Trump has premised his political pitch on the idea that he alone can protect Americans from the many invaders who wish us harm — chiefly immigrants, terrorists and globalists. Lately, he's added another boogeyman to the bunch, one that's supposedly homegrown: socialists.
In this year's State of the Union, he declared, "Tonight, we renew our resolve that America will never be a socialist country," as if that were ever truly a risk. He has ramped up similar comments in recent months and has now enlisted his economic advisers in his fight against the great socialist straw man.
Ever since  1947, the White House Council of Economic Advisers has released its annual Economic Report of the President. This enormous tome is supposed to summarize the trends in the economy and lay out the president's vision for solving ongoing and future challenges. Though the document usually has some political spin — the president's economic advisers want their boss to look good, after all — it usually sticks to legitimate economic concerns facing the country.
Not so this time. When the council released its report this week, it bizarrely included an entire chapter seemingly designed to flesh out cable-news talking points about how Democrats secretly want to turn the United States into a socialist hellscape. Readers of the report — or of even just the council's slides posted on Twitter  — might reasonably come away thinking that the most pressing economic questions facing the U.S. economy include: Was collective farming under Mao Zedong successful? How much did Joseph Stalin end up shrinking the livestock population? https://www.washingtonpost.com/opinions/trumps-socialist-rhetoric-is-lazy-name-calling-from-a-lazy-thinker/2019/03/21/8a981252-4c14-11e9-9663-00ac73f49662_story.html
13. Catherine Rampell: Stephen Moore could inflict more long-term damage than any of Trump's other nominations
Trump has made a lot of ill-advised nominations. But perhaps no single choice could inflict more long-term damage than the one he announced Friday: Stephen Moore, Trump's pick to join the Federal Reserve Board.
Moore's many economic claims over the years have revealed him to be, shall we say, easily confused.
A decade ago, as the Fed was battling deflation (that is, price  declines ) during the financial crisis, Moore preposterously fearmongered that hyperinflation (that is, out-of-control price increases ) was nigh: Americans could soon be carting "wheelbarrows full" of cash a la Weimar Germany. Moore has also repeatedly predicted that tax cuts would pay for themselves — both at the federal level, and in Kansas — despite all evidence to the contrary.
It's not only his forecasts for the future that have proved chronically incorrect; it's his characterizations of past and present, too.
A newspaper banned him from its pages because of his struggles in getting basic statistics right.During the dozens of times I've debated him on TV, he has persistently misstated easily Google-able facts. These include whether the country is experiencing deflation, whether Canada's tariffs are "twice as high as" ours, and whether the Fed predicted that Trump would crash the stock market. (Nope, nope, and huh ? )
Now, somehow, Moore has been nominated to the Fed. https://www.washingtonpost.com/opinions/stephen-moore-could-inflict-more-long-term-damage-than-any-of-trumps-other-nominations/2019/03/25/af6e6e4e-4f3b-11e9-88a1-ed346f0ec94f_story.html