September 2, 2021
ON THE RECORD. . .
Wisconsin state Sen. Andre Jacque (R), who sponsored bills to ban mask and vaccine mandates, is now on a ventilator after testing positive for COVID-19.

"I'm not an alcoholic. I'm a functioning… I probably function more effectively than 90 percent of the population. I don't think I've ever done an interview drunk. I have… sometimes… I mean, I drink normally. I like Scotch, I drink Scotch." — Rudy Giuliani denying having a drinking problem in an interview with NBC New York.

"I'm actually just shocked by DeSantis. I never thought I'd say this, but I think he may be more of a lunatic than Trump ever was." — Former DNC Chair Howard Dean calling Florida Gov. Ron DeSantis (R) a "lunatic" over his handling of the pandemic.

"When you believe in eternal life—when you believe that living on this earth is but a blip on the screen, then you don't have to be so scared of thing." — Mississippi Gov. Tate Reeves (R) told attendees at a Republican Party fundraiser that Mississippians "are a little less scared" of COVID-19 than other Americans because most share Christian beliefs.

I know it's a legal term of art and so lawyers read right past it... But forgive us non-lawyers for getting stuck on the part of today's ruling where the judge explains that the Trump lawyers will be sanctioned in part for their "empty heads." — Rachel Maddow. Read the judge's ruling HERE.

"I hope to live to see the day when you become president." — California gubernatorial candidate Larry Elder (R), in an email to Trump aide Stephen Miller in 2016.

"The past 17 days have seen our troops execute the largest airlift in U.S. history, evacuating over 120,000 US citizens, citizens of our allies, and Afghan allies of the United States. They have done it with unmatched courage, professionalism, and resolve. Now, our 20-year military presence in Afghanistan has ended."— President Joe Biden, in a White House statement.

"There's no place" for "that kind of politicization" in a health crisis —Dr. Fauci rips DeSantis fundraising site selling Anti-Vax shirts amid COVID crisis.

"The hatred for Trump deranged these people so much, that they're unwilling to objectively study it. So someone like me that's in the middle on it, I can't tell you because they will not study ivermectin. They will not study hydroxychloroquine (an anti-malarial drug touted by Trump as a treatment) without the taint of their hatred for Donald Trump." -- Senator Rand Paul

Rep. Thomas Massie (R-KY) deleted a tweet comparing vaccine mandates to the Holocaust.

"If our election systems continue to be rigged and continue to be stolen, then it's gonna lead to one place and that's bloodshed. And I will tell you: As much as I am willing to defend our liberty at all costs, there's nothing that I would dread doing more than having to pick up arms against a fellow American. And the way that we can have recourse against that is if we all passionately demand that we have election security in all 50 states." —Rep. Madison Cawthorn (R-NC)  speaking at a county event in North Carolina, parroting Trump's lie about a "rigged" election.

"If the only aspect of this catastrophe that our leaders remember is what went wrong in August 2021, then we'll have learned nothing except to always double down on failure, and the next disaster will be worse." — Ross Douthat in the NY Times.

VIDEOS

Compilation of Jen Psaki Humiliating Peter Doocy | MeidasTouch 2021

Ron DeSantis attacks Joe Biden for not ending Covid.
Litigation Tracker: Pending Criminal and Civil Cases Against Donald Trump
---
IN THIS ISSUE
IN THE NEWS
OPINION
Andy Borowitz: Florida Judge Rules That Residents Have a Right to a Smarter Governor
In what many have seen as a legal setback for Governor Ron DeSantis, a Florida judge has ruled that the state's residents have a right to a smarter governor.

"The Constitution does not grant you the right to yell 'fire' in a crowded theatre," Judge John Cooper, of Florida's Second Circuit, wrote. "Similarly, it does not grant you the right to govern a state like a blithering idiot."

"The Declaration of Independence enshrines the rights to life, liberty, and the pursuit of happiness," Cooper continued. "All three are imperilled in a state run by a blazing bonehead."

DeSantis swiftly blasted the ruling, stating that it would have a "chilling effect" on ignorant politicians becoming the governor of Florida going forward. https://www.newyorker.com/humor/borowitz-report/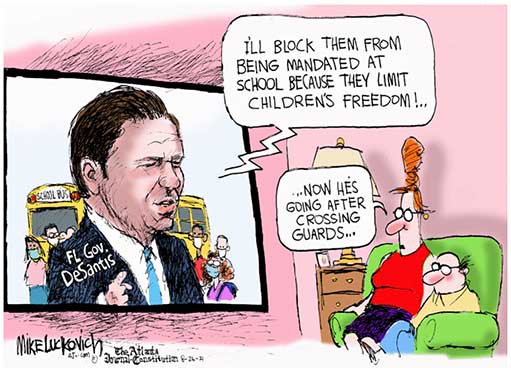 Federal judge throws out Trump administration rule allowing the draining and filling of streams, marshes and wetlands
A federal judge Monday threw out a major Trump administration rule that scaled back federal protections for streams, marshes and wetlands across the United States, reversing one of the previous administration's most significant environmental rollbacks.
The ruling in the U.S. District Court for the District of Arizona, which applies nationwide, will afford new protections for drinking-water supplies for millions of Americans, as well as for thousands of wildlife species that depend on America's wetland acreage. https://www.washingtonpost.com/climate-environment/2021/08/30/water-rule-trump/.
Goldman Sachs estimates 750K households face eviction after moratorium ends
A new report from Goldman Sachs released Sunday estimates that about 750,000 households could face eviction later this year unless Congress acts or rental assistance funds are more quickly distributed.
The Supreme Court blocked President Biden's eviction moratorium last week, dealing a major blow to the administration's hopes of preventing vulnerable Americans from losing housing during the pandemic.
The big picture: Roughly 2.5 million to 3.5 million American households are behind on their rent, according to the Goldman report. They owe landlords between $12 billion and $17 billion
wing a combined $12 billion to $17 billion to landlords." https://www.axios.com/evictions-moratorium-goldman-sachs-84afe20d-2b16-4a50-af4e-b709dd5e6601.html
Partisan divides in trust in national news widens, driven by a decline among Republicans
In just five years, the percentage of Republicans with at least some trust in national news organizations has been cut in half – dropping from 70% in 2016 to 35% this year. This decline is fueling the continued widening of the partisan gap in trust of the media.
Nearly eight-in-ten Democrats and Democratic-leaning independents (78%) say they have "a lot" or "some" trust in the information that comes from national news organizations – 43 percentage points higher than Republicans and Republican leaners (35%) – according to a new Pew Research Center survey conducted June 14-27, 2021. This partisan gap is the largest of any time that this question has been asked since 2016. And it grows even wider – to 53 points – between liberal Democrats (83%) and conservative Republicans (30%). https://www.pewresearch.org/fact-tank/2021/08/30/partisan-divides-in-media-trust-widen-driven-by-a-decline-among-republicans/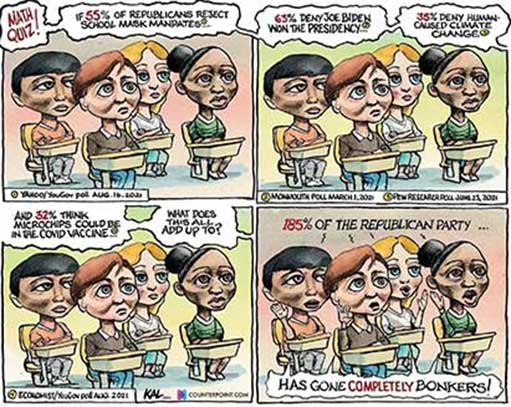 Kevin McCarthy warns GOP majority 'will not forget' if companies turn over phone records to Jan. 6 committee
House Minority Leader Kevin McCarthy warned that "a Republican majority will not forget" telecommunications companies that turn over phone records to the congressional committee investigating the Jan. 6  Capitol attack.
More than 30 companies, including Apple, AT&T and Verizon, received a request from congressional investigators Monday to preserve phone records.
"If these companies comply with the Democrat order to turn over private information, they are in violation of federal law and subject to losing their ability to operate in the United States," McCarthy said in a statement Tuesday. "If companies still choose to violate federal law, a Republican majority will not forget and will stand with Americans to hold them fully accountable under the law."
McCarthy did not specify which federal law. https://www.usatoday.com/story/tech/2021/08/31/trump-capitol-riot-insurrection-mccarthy-threat-apple-verizon/5674059001/
Judge orders Cincinnati hospital to treat COVID-19 patient with Ivermectin, despite CDC warnings
A Butler County judge ruled in favor of a woman last week who sought to force a hospital to administer Ivermectin — an animal dewormer that federal regulators have warned against using in COVID-19 patients — to her husband after several weeks in the ICU with the disease.
Both the U.S. Food and Drug Administration and the Centers for Disease Control and Prevention have warned Americans against the use of Ivermectin to treat COVID-19, a viral disease. It's unproven as a treatment, they say, and large doses of it can be dangerous and cause serious harm. A review of available literature conducted earlier this month by the journal Nature found there's no certainty in the available data on potential benefits of Ivermectin.
The drug has grown in popularity among conservatives, fueled by endorsements from allies of former President Donald Trump like U.S. Sen. Ron Johnson, R-Wisc. or Fox News personalities Laura Ingraham and Sean Hannity. The CDC warned reports of poisoning related to use of Ivermectin have increased threefold this year, spiking in July. https://ohiocapitaljournal.com/2021/08/30/judge-orders-cinci-hospital-to-treat-covid-19-patient-with-ivermectin-despite-cdc-warnings/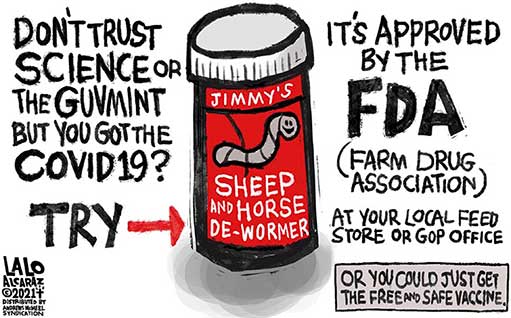 Rapid Increase in Ivermectin Prescriptions and Reports of Severe Illness Associated with Use of Products Containing Ivermectin to Prevent or Treat COVID-19
In 2021, poison control centers across the U.S. received a three-fold increase in the number of calls for human exposures to ivermectin in January 2021 compared to the pre-pandemic baseline.
In July 2021, ivermectin calls have continued to sharply increase, to a five-fold increase from baseline. These reports are also associated with increased frequency of adverse effects and emergency department/hospital visits.
In some cases, people have ingested ivermectin-containing products purchased without a prescription, including topical formulations and veterinary products. Veterinary formulations intended for use in large animals such as horses, sheep, and cattle (e.g., "sheep drench," injection formulations, and "pour-on" products for cattle) can be highly concentrated and result in overdoses when used by humans. Animal products may also contain inactive ingredients that have not been evaluated for use in humans. People who take inappropriately high doses of ivermectin above FDA-recommended dosing may experience toxic effects.
Clinical effects of ivermectin overdose include gastrointestinal symptoms such as nausea, vomiting, and diarrhea. Overdoses are associated with hypotension and neurologic effects such as decreased consciousness, confusion, hallucinations, seizures, coma, and death. Ivermectin may potentiate the effects of other drugs that cause central nervous system depression such as benzodiazepines and barbiturates. https://emergency.cdc.gov/han/2021/han00449.asp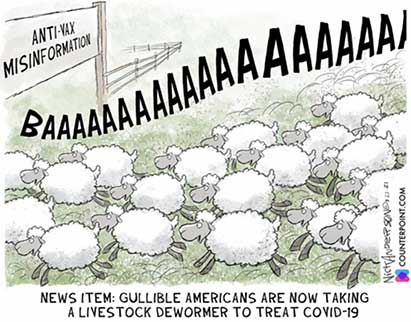 House Majority Leader Kevin McCarthy's family benefited from U.S. program for minorities based on disputed ancestry
William Wages, principal owner of Vortex Construction in Bakersfield, says he is one-eighth Cherokee Indian, which allowed him to win contracts set aside for minorities. Wages is the brother-in-law of House Majority Leader Kevin McCarthy.
A company owned by House Majority Leader Kevin McCarthy's in-laws won more than $7 million in no-bid and other federal contracts at U.S. military installations and other government properties in California based on a dubious claim of Native American identity by McCarthy's brother-in-law, a Times investigation has found.
The prime contracts, awarded through a federal program designed to help disadvantaged minorities, were mostly for construction projects at the Naval Air Weapons Station China Lake in McCarthy's Bakersfield-based district, and the Naval Air Station Lemoore in nearby Kings County.
Vortex Construction, whose principal owner is William Wages, the brother of McCarthy's wife, Judy, received a total of $7.6 million in no-bid and other prime federal contracts since 2000, The Times found.
The Bakersfield company is co-owned by McCarthy's mother-in-law and employs his father-in-law and sister-in-law, Wages said. McCarthy's wife was a partner in Vortex in the early 1990s. https://www.latimes.com/local/california/la-na-pol-mccarthy-contracts-20181014-story.html
Florida changed its COVID-19 data, creating an 'artificial decline' in recent deaths
Until three weeks ago, data collected by DOH and published on the CDC website counted deaths by the date they were recorded — a common method for producing daily stats used by most states. On Aug. 10, Florida switched its methodology and, along with just a handful of other states, began to tally new deaths by the date the person died.
If you chart deaths by Florida's new method, based on date of death, it will generally appear — even during a spike like the present — that deaths are on a recent downslope. That's because it takes time for deaths to be evaluated and death certificates processed. When those deaths finally are tallied, they are assigned to the actual date of death — creating a spike where there once existed a downslope and moving the downslope forward in time.
"So, someone could have died yesterday and we may not know about it for a week, or two weeks," Salemi said. As a result, new death trends as reported by the Florida health department are significantly lower when data are first reported and don't immediately reflect the actual number of people who died that day. https://www.miamiherald.com/news/coronavirus/article253796898.html
Florida withholds funds from two school districts requiring masks — despite court decision against state ban on mandates
Florida officials are now withholding some funding from two counties with tough school mask mandates — despite a court decision against the state's ban on such restrictions and a move by the U.S. Education Department to investigate states with these bans.
The superintendents of both counties said Tuesday that they would continue to mandate masks without a parental opt-out, and Alachua County Superintendent Carlee Simon said her district has already joined with others to take legal action against the state. https://www.washingtonpost.com/education/2021/08/31/florida-school-districts-masks-money/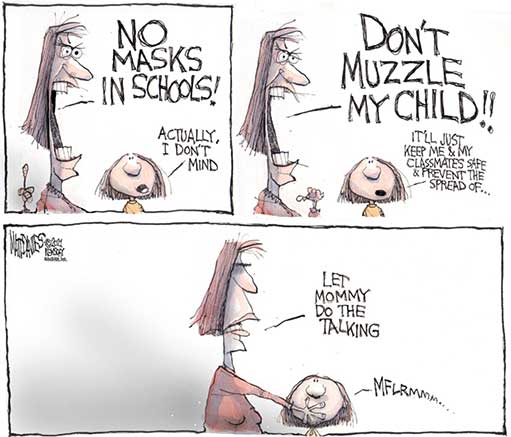 Trump Funding Network Paid $4.3 Million To People, Firms Who Set Up Jan. 6 Rally
OpenSecrets tracked payments through federal records to actors who organized the protest that preceded the Capitol insurrection. https://www.huffpost.com/entry/trump-funding-network-paid-millions-jan-6-rally-organizers-opensecrets_n_612d787fe4b09266434f6216
Biden's child tax credit kept 3 million children out of poverty in just its first round of payments
New research from Columbia University's Center on Poverty and Social Policy finds that the first child tax credit payment has already contributed to the child poverty rate dropping from 15.8% in June to 11.9% in July, or a decline of 25%.The authors note that this monthly decline was driven by the first advance child tax credit payment where the credit alone kept about three million children out of poverty.  https://www.businessinsider.com/child-tax-credit-expansion-reduce-child-poverty-rate-research-2021-8
Florida starts turning on DeSantis
Florida Gov. Ron DeSantis has been untouchable for the past year as he commanded the Republican culture wars to become heir apparent to Donald Trump. The latest coronavirus surge is starting to change that.
Covid infection rates continue to climb as the state faces shortages of health care staff, morgue space and even oxygen for patients. About 16,000 people are hospitalized. Child infection rates have shot up. School districts — even in Republican strongholds — have rebelled against DeSantis' anti-mask mandates. And cruise lines are resisting DeSantis' vaccine passport ban. Even his recent poll numbers are slipping. https://www.politico.com/states/florida/story/2021/08/27/desantis-pandemic-loses-pile-up-as-delta-ravages-florida-1390539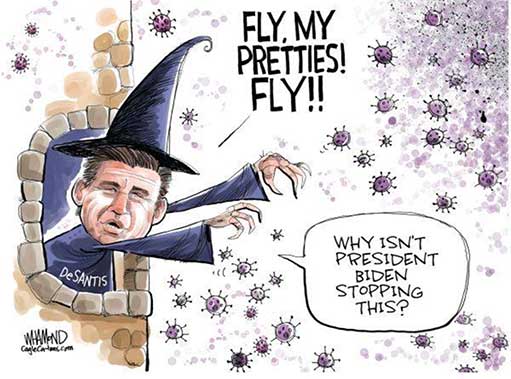 Ron DeSantis Says Biden Should Follow Florida's Lead on COVID
Florida Gov. Ron DeSantis, speaking to Fox News on Wednesday, said that President Joe Biden had failed to "end COVID," whereas his state was experiencing "great success" in treating patients. "You know, he said he was going to end COVID. He hasn't done that. We are the first state to start the treatment centers for monoclonal antibodies. We're having great success with that. That should have been a bigger plan, a bigger part of this whole response throughout the country from the beginning. At the end of the day, he is trying to find a way to distract from the failures of his presidency," DeSantis said. What DeSantis did not mention, however, was that Florida hospitals have operated at full capacity for weeks now, buckling under a crush of new coronavirus cases despite the availability of vaccines. Funeral homes across the state have told local TV stations that they are full to the ceiling with the bodies of COVID-19 victims. The governor has refused to implement mitigation measures to slow the spread of the virus and even barred schools and government agencies from requiring face masks or vaccines. https://www.thedailybeast.com/ron-desantis-says-biden-should-follow-floridas-lead-on-covid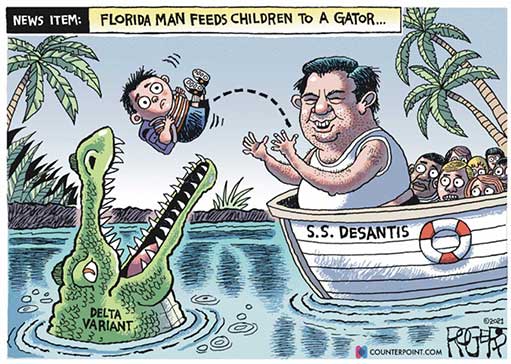 14 portable morgues on way to Central Florida: 'Number of deaths right now is unprecedented'
Fourteen portable refrigerated morgues are headed to Central Florida to help beleaguered hospitals store bodies, officials said Friday. "The number of deaths right now is unprecedented," said Lynne Drawdy, executive director of the Central Florida Disaster Medical Coalition, who ordered the units for health systems here. "What we're hearing from the hospitals is that the death count right now is higher than it ever has been."
Although she could not say how many of the deaths are due to COVID-19, she said COVID-19 is unquestionably the "precipitating event."
Florida is now reporting an average of 227 COVID-19 deaths a day — a state record and by far the highest count in the nation. https://www.orlandosentinel.com/coronavirus/os-ne-coronavirus-morgue-relief-orange-20210827-ljpu6e3lhneshfk42cyivkbnam-story.html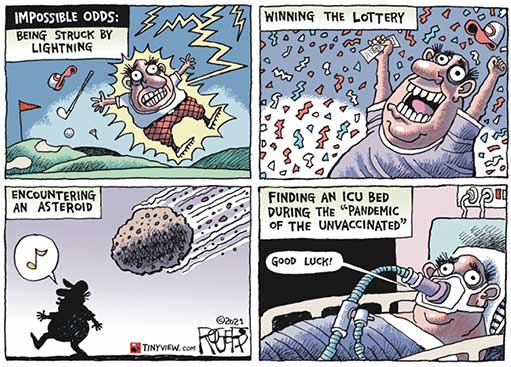 Hate crimes rise to highest level in 12 years amid increasing attacks on Black and Asian people, FBI says
The number of hate crimes in the United States rose in 2020 to the highest level in 12 years, propelled by increasing assaults targeting Black and Asian victims, the FBI reported Monday.
It is the sixth time in the past seven years that the number of attacks rose. The number of hate crimes reported has increased by nearly 42 percent since 2014, according to federal data.
Attacks targeting Blacks rose from 1,930 to 2,755, and the number targeting Asians jumped from 158 to 274, the data showed. Those figures come as civil rights groups have warned of increasing hostility toward minorities, amid a rise in white nationalism and an increase in violent crime levels nationwide. https://www.washingtonpost.com/national-security/hate-crimes-fbi-2020-asian-black/2021/08/30/28bede00-09a7-11ec-9781-07796ffb56fe_story.html
Jan. 6 investigators demand records from social media companies
The select committee investigating the Jan. 6 insurrection is seeking a massive tranche of records from social media companies, on whose platforms many defendants charged in the Capitol attack planned and coordinated their actions.
In a series of letters dated Aug. 26, the Democratic-controlled panel asked the companies, which include Facebook, Google, Twitter, Parler, 4chan, Twitch and TikTok, for all records and documents since April 1, 2020, relating to misinformation around the 2020 election, efforts to overturn the 2020 election, domestic violent extremists associated with efforts to overturn the election and foreign influence in the 2020 election. https://www.politico.com/news/2021/08/27/jan-6-investigation-social-media-records-506936
Controversial Missouri gun rights law has taken a toll on fighting crime
The law, which will go into effect on August 28, "prohibits state and local cooperation with federal officials that attempt to enforce any laws, rules, orders, or actions that violate the Second Amendment rights of Missourians," according to the office of Missouri Governor Michael Parson.
Law enforcement agencies could face a $50,000 fine if they "infringe" on Missourians' rights by enforcing a federal gun law, the governor's office said.
Since the law was passed, 12 of 53 state and local officers with federal deputizations have withdrawn from ATF task forces, [ATF special agent Frederic] Winston wrote in court documents.
By pulling state and local officers from the task forces, the bureau "is no longer able to fulfill its duties as effectively, including preventing, investigating, and assisting in the prosecution of violent offenders," Winston wrote. https://www.cnn.com/2021/08/26/politics/missouri-gun-law-fallout/index.html
Supreme Court strikes down CDC eviction moratorium despite delta's rise
Activists gather near New York's City Hall on Aug. 11 to protest evictions in parts of the country ravaged by the coronavirus pandemic, removing protections for millions of Americans who have not been able to make rent payments.
A coalition of landlords and real estate trade groups in Alabama and Georgia challenged the latest extension of a moratorium imposed by the Centers for Disease Control and Prevention, issued Aug. 3 and intended to run through Oct. 3.
In an unsigned opinion released Thursday night, the Supreme Court's conservative majority agreed that the federal agency did not have the power to order such a ban. https://washingtonpost.com/politics/courts_law/supreme-court-eviction-ban-struck-down/2021/08/26/46bce3e2-0511-11ec-a654-900a78538242_story.html
Seven Capitol Police officers sue Trump, others over Capitol riot
Seven veteran Capitol Police officers who defended Congress during the Jan. 6 attack are suing former President Donald Trump, pro-Trump militias and other associates, claiming they conspired to violently overturn the results of the 2020 election.
The suit, filed Thursday morning in U.S. District Court in Washington by the Lawyers Committee for Civil Rights Under Law, contends that Trump and his allies violated the Ku Klux Klan Act and D.C. law by scheming to block Congress from certifying Joe Biden's win. https://www.politico.com/news/2021/08/26/capitol-police-suing-trump-506944
Latest estimate shows Biden's bipartisan infrastructure bill adding roughly 1 million jobs over a decade
The Infrastructure Investment and Jobs Act, President Joe Biden's $1.2 trillion bipartisan infrastructure proposal, will create nearly 1 million new jobs over the next decade, a new report from S&P Global suggests.
The report, published on Monday, was circulated by the White House on Wednesday afternoon and estimates that a $1 trillion infrastructure investment, such as the bipartisan package, "will alone create 883,600 more jobs by 2030, while increasing per-capita income and consumer spending." https://www.washingtonexaminer.com/news/biden-bipartisan-infrastruction-million-jobs
In Florida, DeSantis cut jobless aid just as virus began terrifying new wave
Few political leaders have rebuffed federal economic aid and public health guidance as much as DeSantis, a presumptive 2024 presidential candidate whose political campaign sold T-shirts that read, "Don't Fauci My Florida." His derision of Anthony S. Fauci, the nation's leading infectious-disease expert, and virtually any other public health expert he disagrees with has made him a conservative hero but a divisive figure in his home state, which is now leading the nation in the number of people hospitalized with covid-19. https://www.washingtonpost.com/business/2021/08/22/unemployment-economy-desantis-florida/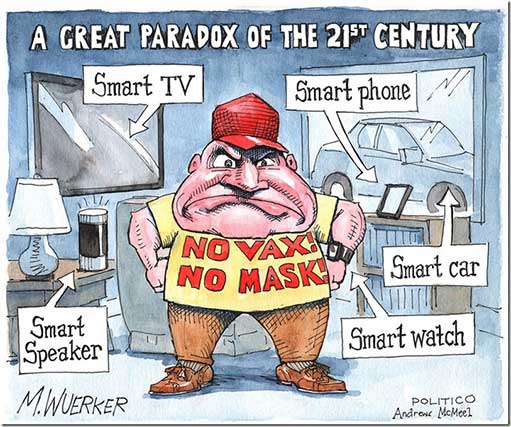 Anti-Immigrant Trump Aide Stephen Miller Laid Groundwork For Disastrous Evacuation
As the United States potentially abandons tens of thousands of Afghans who helped two decades of military and diplomatic efforts there to the mercies of the Taliban, a single person may deserve more credit than any other: top Trump White House aide and immigration foe Stephen Miller.
Miller, who worked for all four years as former President Donald Trump's immigration adviser pushing restrictive policies across the board, was instrumental in slowing down the processing of Special Immigrant Visas (SIV) for Afghan interpreters, embassy staff and others who are now top targets for Taliban assassination, according to both refugee advocates and those who have worked with him.
"The seeds of the insanity that we're seeing right now were planted in Stephen Miller's brain," said Matt Zeller, a former Army officer who served in Afghanistan and co-founded the group No One Left Behind, adding that Miller is as much to blame for the deaths of interpreters and others as the Taliban themselves. "He's complicit in their murders ... He's brilliant at how evil he is." https://m.huffpost.com/us/entry/us_6126b40ee4b06e5d80c95654/amp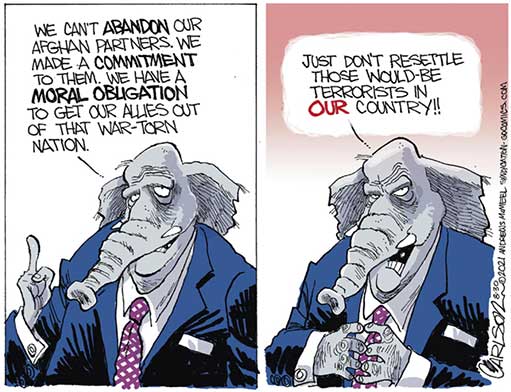 Warnings About the Sturgis Rally Have Come Tragically True
In western South Dakota's Meade County, more than one in three COVID-19 tests are currently returning positive, and over the last three weeks, seven-day average case counts have increased by 3,400 percent. This exponential growth in cases is likely attributable to the 81st Sturgis Motorcycle Rally, which drew an estimated half a million visitors to Meade County and its environs from Aug. 6 through 15, potentially acting as a superspreader event.The pandemic is surging nationally, not just proximal to biker chaos in South Dakota.
Defined in large part by the emergence of the highly transmissible Delta variant, the United States is experiencing its fourth surge of COVID-19 right now, and our nationwide case counts have increased by 64.4 percent over the last 21 days. (For more on our methodology, see our note at the bottom of this column.) https://www.thedailybeast.com/sturgis-rally-is-what-a-vaccine-era-coronavirus-superspreader-event-looks-like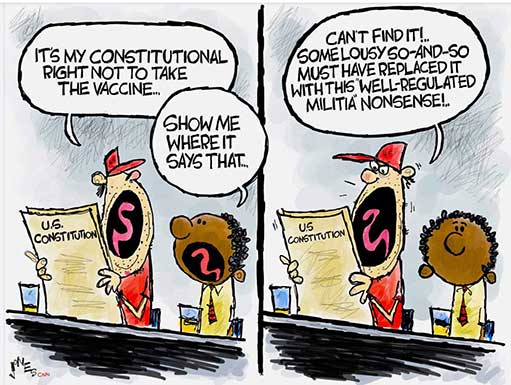 Arizona AG threatens Maricopa County funds over election audit
Arizona Attorney General Mark Brnovich is threatening to withhold millions in state funds from Maricopa County if it doesn't comply with the state Senate's partisan audit of the 2020 election, according to a new report sent to the County Board of Supervisors reviewed by Axios.
Nine months after Election Day, this represents an escalation of a fight by Donald Trump-aligned Republicans — in this case, backed by state laws involving taxpayer funds and the power of the Attorney General's office — to continue baselessly questioning the legitimacy of the 2020 election. https://www.axios.com/arizona-brnovich-election-audit-state-funds-maricopa-county-2e19fa51-8533-481a-ae40-23ad9a04e8d6.html
Anti-parasite drug ivermectin used as COVID treatment for Arkansas jail inmates, despite FDA warning
The Arkansas Medical Board is investigating reports that inmates at a county jail were prescribed the anti-parasitic drug ivermectin to combat COVID-19 even though it hasn't been approved to treat the coronavirus.
Board Director Amy Embry on Thursday declined to elaborate on the panel's investigation, which she said began in the last two days. Embry said the investigation came in response to multiple complaints related to news reports about the use of ivermectin at the Washington County jail. https://ktla.com/news/nationworld/anti-parasite-drug-ivermectin-used-as-covid-treatment-for-arkansas-jail-inmates-despite-fda-warning/
The DAILY GRILL
A new Change Research poll in Virginia finds Terry McAuliffe (D) leading Glenn Youngkim (R) in the race for governor, 49% to 43%. According to the poll, McAuliffe leads by large margins on nearly every issue tested; and on the issue most important to voters — getting COVID-19 under control — nearly 60% of likely voters agree with McAuliffe's positions on vaccine and mask mandates. https://messagebox.substack.com/p/new-poll-what-virginia-tells-us-about

VERSUS

The Republican Party of Virginia filed a lawsuit Thursday seeking to remove Democrat Terry McAuliffe from the ballot for governor because his signature is missing from a candidate form he submitted to the state in March. A similar suit against McAuliffe argued last week by a pair of Virginia voters failed to persuade a Richmond judge to halt the printing of ballots for the November election. https://www.washingtonpost.com/local/virginia-politics/virginia-governor-mcauliffe-signature-lawsuit/2021/08/26/6318e82e-06a6-11ec-8c3f-3526f81b233b_story.html

 

"The Select Committee to Investigate the January 6th Attack on the United States Capitol is examining the facts, circumstances, and causes of the January 6th attack. Our Constitution provides for a peaceful transfer of power, and this investigation seeks to evaluate threats to that process, identify lessons learned and recommend laws, policies, procedures, rules, or regulations necessary to protect our republic in the future," committee Chairman Rep. Bennie Thompson, a Democrat from Mississippi, wrote in a statement Wednesday. https://amp.cnn.com/cnn/2021/08/25/politics/january-6-house-documents-investigation/index.html

VERSUS

Former President Donald Trump on Wednesday threatened to invoke executive privilege in an effort to block the House select committee investigating the January 6 Capitol riot from obtaining a massive tranche of documents it's demanding from several US government agencies, despite his successor having the ultimate say over whether the information can be shared. https://amp.cnn.com/cnn/2021/08/25/politics/january-6-house-documents-investigation/index.html
Ezra Klein: Let's Not Pretend That the Way We Withdrew From Afghanistan Was the Problem
In 2005, two of my colleagues at The American Prospect, Sam Rosenfeld and Matt Yglesias, wrote an essay I think about often. It was called "The Incompetence Dodge," and it argued that American policymakers and pundits routinely try to rescue the reputation of bad ideas by attributing their failure to poor execution. At the time, they were writing about the liberal hawks who were blaming the catastrophe of the Iraq war on the Bush administration's maladministration rather than rethinking the enterprise in its totality. But the same dynamic suffuses the recriminations over the Afghanistan withdrawal.
To state the obvious: There was no good way to lose Afghanistan to the Taliban. A better withdrawal was possible — and our stingy, chaotic visa process was unforgivable — but so was a worse one. Either way, there was no hope of an end to the war that didn't reveal our decades of folly, no matter how deeply America's belief in its own enduring innocence demanded one. That is the reckoning that lies beneath events that are still unfolding, and much of the cable news conversation is a frenzied, bipartisan effort to avoid it.
Focusing on the execution of the withdrawal is giving virtually everyone who insisted we could remake Afghanistan the opportunity to obscure their failures by pretending to believe in the possibility of a graceful departure. It's also obscuring the true alternative to withdrawal: endless occupation. But what our ignominious exit really reflects is the failure of America's foreign policy establishment at both prediction and policymaking in Afghanistan. https://www.nytimes.com/2021/08/26/opinion/afghanistan-us-withdrawal.html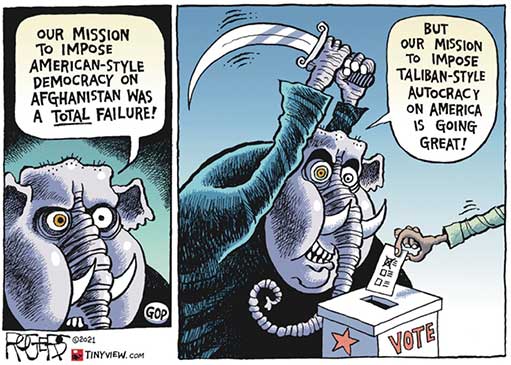 Philip Bump: Ron DeSantis criticizes Biden for not ending the pandemic he's exacerbating
The coronavirus pandemic in Florida is currently worse than it has been at any prior point. More than 21,000 people are contracting the virus each day on average and nearly 230 are dying, well over the state's previous high. Florida's population-adjusted rate of new infections is more than twice the country's overall, and its adjusted rate of deaths is more than three times as high. About 15 percent of all new cases in the United States and one-fifth of national deaths are occurring in the Sunshine State.
DeSantis made a bad bet earlier this year, that the plunge in new cases that followed the broad rollout of coronavirus vaccines and preceded the emergence of the delta variant of the virus meant he could run hard against containment measures such as mask-wearing recommendations. Then delta arrived in a state with a middling vaccine uptake, and cases exploded. Instead of backtracking on his political choice, DeSantis pushed vaccinations and, later, treatments for those already infected. Meanwhile, people keep dying.
Looking past his reelection in 2022 and toward the 2024 Republican primary, DeSantis now finds himself having to sell some questionable soda.
He offered a new pitch in an appearance Wednesday night on Fox News. Appearing on "Fox News Primetime," over the breathtakingly generous chyron "Media hacks are determined to smear Gov. DeSantis & everything he's achieved," DeSantis was asked how he would handle future attacks from President Biden who, host Jesse Watters suggested, was desperate to deflect attention elsewhere.
"We are absolutely going to stand in Biden's way if he's trying to bring his destructive policies to Florida," DeSantis replied. "If he's trying to have the federal government take away parents' rights in terms of their schoolchildren. If he's trying to continue with his inflationary policies, if he's going to continue to try to dump —. https://www.washingtonpost.com/politics/2021/08/26/ron-desantis-criticizes-biden-not-ending-pandemic-hes-exacerbating/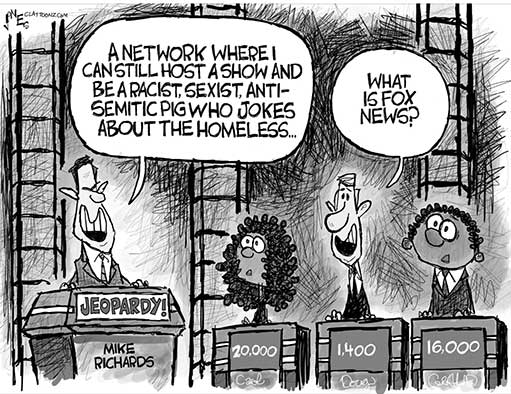 Eugene Robinson: What's happening in Afghanistan is horrible. But how else was U.S. involvement going to end?
How, exactly, did the Biden administration's critics think U.S. military involvement in Afghanistan was ever going to end?
"Certainly not like this" is not a valid answer, however tragic Thursday's attacks near the Kabul airport prove to be. Please be specific. Did you envision a formal ceremony at the U.S. Embassy with the American flag being lowered and the Taliban flag raised? Did you see the Taliban waiting patiently while the U.S.-trained Afghan army escorted U.S. citizens, other NATO nationals and our Afghan collaborators to the airport for evacuation? Did you imagine that the country's branch of the Islamic State would watch peacefully from the sidelines, or that regional warlords would renounce any hope of regaining their power, or that a nation with a centuries-old tradition of rejecting central authority would suddenly embrace it?
This is not an apologia for the tragic and chaotic scenes that have been unfolding in Kabul. Rather, it is a reality check. If there is a graceful, orderly way to abandon involvement in a brutal, unresolved civil war on the other side of the world, please cite historical precedents. I can't find them. https://www.washingtonpost.com/opinions/2021/08/26/whats-happening-afghanistan-is-horrible-how-else-was-us-involvement-going-end/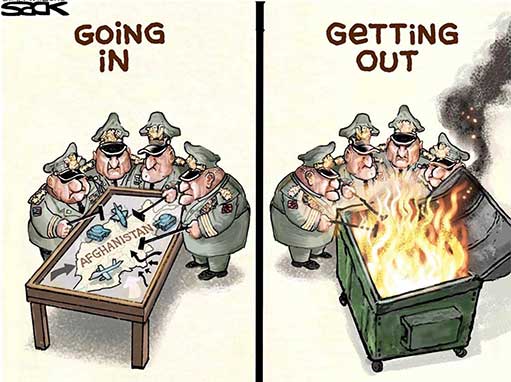 Sam Youngman: California, Just Say No…to Becoming Florida
I have lived in Tennessee, and I have lived in Florida. And I am begging y'all not to send me back.
I've spent my adult life around politics as a reporter for newspapers and wire services back in Washington, D.C. and in a few different states before then. I covered three presidential campaigns and more House and Senate races than I can remember. I spent four years at the White House covering two presidents. In other words, I have seen levels of self-inflicted stupidity you simply would not believe.
And right now, California is flirting with an all-timer on that list.
Because not only is this recall a really, really stupid way to get rid of one governor and choose another—seriously?! One candidate has to get 50 percent of the vote and the other one can limp across the finish line with next to nothing?! I'm from the state of Mitch McConnell and Rand Paul and even we don't do things this dumb!—but it would also open the door to a rush of more genuinely dangerous stupidity.
If you ever want a shot at normal again—or as close to normal as we do out here—then you're gonna need Gavin Newsom to finish leading us through this hell.
Because the other folks running are eager to keep us there.
Only they don't call it hell. They call it Florida. https://www.lamag.com/citythinkblog/opinion-california-recall-florida/
Jonathan Chait: Why the Media Is Worse for Biden Than Trump
Over the last week, the media has hammered Joe Biden with relentlessly critical coverage of his pullout from Afghanistan, resulting in noticeable drops in his approval ratings. Put aside for a moment whether this reflects failures by Biden or biases by the media. One conclusion we can draw is that this sort of dynamic is a regular feature of Democratic presidencies, and — as the Trump administration showed — a near impossibility during Republican ones.
But wait, you're thinking. Didn't the media hound Donald Trump for four straight years at least as hard as it's hounded Biden over the last week?
Well, sort of. The mainstream media certainly gave Trump harsh and even overtly hostile coverage. But the mainstream media only describes roughly half the media landscape. The other half of the media is a right-wing messaging apparatus that makes no effort to follow traditional journalistic norms. Republicans communicate to their base through a media that functionally operates as part of their party, while Democrats communicate to their base through a media that still exerts substantial independence. If you want to understand the strange difficulty that Joe Biden's sane, competent administration has in yielding measurably higher approval than Trump's insane, incompetent presidency, the asymmetrical relationship between the two parties and their respective media environments is the most important place to start. https://nymag.com/intelligencer/2021/08/why-the-media-is-worse-for-biden-than-trump.html
Sara Goddard: Where is The Climate Leadership in Our Government?
The unbridled impunity with which fossil fuel companies and plastics producers greenwash their activities is deeply entrenched. It's accepted with ignorance or cynical resignation by a nation that lacks robust, centralized climate leadership in tackling a planetary crisis of epic proportions.
Oil producers act with abandon, fueled with cash and no guardrails. To counteract (then-presidential candidate) Biden's climate plan, for instance, it was only too easy for companies to dip into their vast wallets and release a torrent of misleading ads on social media, touting the benefits of "clean oil" and a fossil fuel-driven America. (For an exhaustive analysis of how Big Oil has permeated every facet of the American political system, Jane Mayer's Dark Money is a must-read.)
But it's not just the power of money that ensures industry dominance. Energy companies exert an enormous amount of influence in policy-making at every level of government. One example is the recent push by corporate interests for lawmakers to support carbon capture policies that will enable continued production while doing little to reduce greenhouse gas emissions. https://greenthatlife.com/climate-leadership/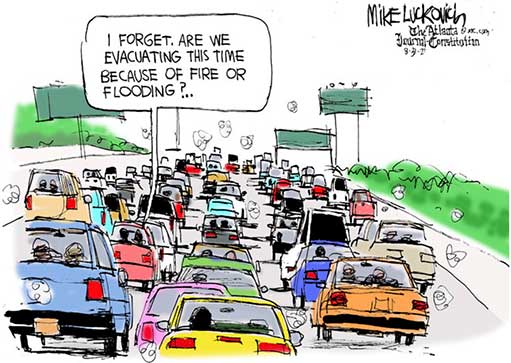 Will Wilkinson: The Density Divide and the Southernification of Rural America
The fundamental geographic division in American politics has traditionally been a sectional conflict setting the North against the South. The idioms of "red states" and "blue states" caught on widely after the 2000 presidential election because they could be applied to a regional divide—blue North, red South—that was already presumed to reflect the main axis of political debate and competition. But the partisan difference between large-metro and rural residents has now become much larger than the gap between northerners and southerners.
I call this widening gap between the partisan loyalties of urban and rural America "the density divide." Hopkins is clearly correct that urban vs. rural has eclipsed North vs. South as the geographic embodiment of our partisan divisions. As the old adage goes, a chart speaks a thousand white papers. The divergence is crazy.
However, I suspect that battle between North and South lives on both culturally and geographically. The North has drifted out of the countryside and concentrated itself into our cities. At the same time, America's rural and exurban counties have slowly become more and more homogenously Southern. The South has risen again … in rural Maine?
One of the puzzles of the 2016 election, and the catastrophe of the Trump presidency, is how populist white nationalism finally prevailed at a time when Americans, taken altogether, were less racist than ever. This is one of the questions I take up in the "Density Divide." But I left out one of my favorite answers to this question largely because it's too speculative and I didn't have the data to prove it. My hunch is that rural white culture, which was once regionally varied and distinctive, became more uniform by becoming increasingly Southern. I call this the Southernification thesis. https://modelcitizen.substack.com/p/the-density-divide-and-the-southernification
Jennifer Rubin: Biden tells some hard truths few want to hear
President Biden on Thursday mournfully delivered information to the country that was disagreeable to many Americans: There is no way to withdraw from a futile war without messiness. The expectation that there would be no misery or casualties was a fantasy.
A case in point is the issue of Afghan refugees. "I know of no conflict, as a student of history — no conflict where, when a war was ending, one side was able to guarantee that everyone that wanted to be extracted from that country would get out," Biden said solemnly. His historical memory is accurate.
We need some sober reflection on the folly of overeager interventionism. We need to come to terms with the delusional feedback loop between civilian and military leaders. Instead we have a media and political culture that are not serious or attentive enough to grasp that dilemmas 20 years in the making have no good answer, just less terrible ones. Everything is reduced to a partisan question. (Is Biden in crisis? Is this a boost for Republicans?) The media, it seems, does not know how to cover a tragedy without viewing it through the lens of horse-race politics. It is so much easier to pronounce the exit a "disaster" than to consider if one's advocacy over 20 years contributed to the groupthink that sent young men and women to die. Confronted with 13 dead Americans, the press is eager to demonstrate Biden missed the obvious, safe course. What that is, they do not explain.
This week's loss of life — both American and Afghan — is heartbreaking. With a mainstream media obsessed with stoking partisan squabbling, and Americans refusing to process the consequences of their own choices, it does make one pessimistic about self-government. https://www.washingtonpost.com/opinions/2021/08/29/biden-tells-some-hard-truths-few-want-hear/
Laurence Tribe: If Garland doesn't prosecute Trump, the rule of law is "out the window"
We need to begin with the fundamental precept that not all crimes are created equal. Those crimes — regardless of who allegedly commits them — whose very aim is to overturn a fair election whereby our tradition of peaceful, lawful succession from one administration to the next takes place — a tradition begun by George Washington, continued by John Adams, and preserved by every president since except Donald Trump — are impossible to tolerate if we are to survive as a constitutional republic. …
Trump's relentlessness has laid bare the defects in many of those accountability mechanisms. Now Garland stands as the final line of defense for our constitutional democracy. No prior attorney general has confronted so daunting a challenge. For what might be the first time in his life and what will surely be the last, Garland could hold the future of the last best hope on earth in his hands. https://www.salon.com/2021/08/30/laurence-tribe-if-garland-doesnt-prosecute-trump-the-rule-of-law-is-out-the-window/
Kori Schake: What Trump's Disgraceful Deal With the Taliban Has Wrought
The problem with Mr. Trump's Taliban deal wasn't that the administration turned to diplomacy. That was a sensible avenue out of the policy constraints. The problem was that the strongest state in the international order let itself be swindled by a terrorist organization. Because we so clearly wanted out of Afghanistan, we agreed to disreputable terms, and then proceeded to pretend that the Taliban were meeting even those.
Mr. Trump agreed to withdraw all coalition forces from Afghanistan in 14 months, end all military and contractor support to Afghan security forces and cease "intervening in its domestic affairs." He forced the Afghan government to release 5,000 Taliban fighters and relax economic sanctions. He agreed that the Taliban could continue to commit violence against the government we were there to support, against innocent people and against those who'd assisted our efforts to keep Americans safe. All the Taliban had to do was say they would stop targeting U.S. or coalition forces, not permit Al Qaeda and other terrorist organizations to use Afghan territory to threaten U.S. security and subsequently hold negotiations with the Afghan government.
Not only did the agreement have no inspection or enforcement mechanisms, but despite Mr. Trump's claim that "If bad things happen, we'll go back with a force like no one's ever seen," the administration made no attempt to enforce its terms. Trump's own former national security adviser called it "a surrender agreement."
Mr. Trump and his supporters clearly considered the deal a great success — until just days ago, the Republican National Committee had a web page heralding the success of Mr. Trump's "historic peace agreement." Really, the Trump administration's deal with the Taliban deserves opprobrium even greater than what it heaped on the Iran nuclear deal struck by the Obama administration. https://www.nytimes.com/2021/08/28/opinion/trump-taliban-deal-diplomacy.html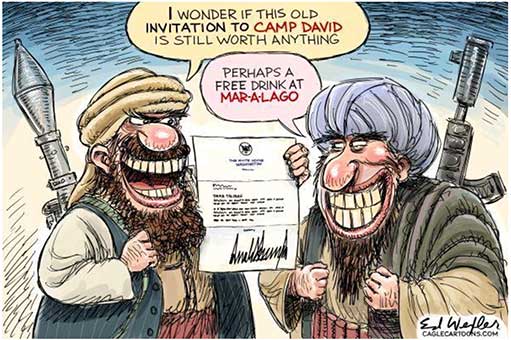 Eugene Robinson: How to be a crisis president when crises don't unite the country anymore
"Biden came into a crisis presidency, and nothing has changed," a senior administration official told me, citing the parlous state of the economy when Biden took office, the need to quickly develop a nationwide covid-19 vaccination system and the massive cyberattacks threatening critical U.S. infrastructure.
The Afghanistan withdrawal "hasn't been pretty." The fact that the United States and its allies have been able to evacuate more than 120,000 people from the country in an around-the-clock airlift is an impressive logistical achievement. But the deaths of 13 U.S. service members in a terrorist bombing at the Kabul airport's Abbey Gate were tragic.
But note the difference between the response to that attack and to the terrorist truck-bombing of the U.S. Marine barracks in Beirut, which claimed the lives of 241 U.S. service members, including 220 Marines, nearly four decades ago.
Back then, the nation joined President Ronald Reagan in mourning the loss. Last week, by contrast, some Republicans in Congress took the occasion of the Kabul bombing to call for Biden to be impeached. House Minority Leader Kevin McCarthy (R-Calif.) threatened that there will be "a day of reckoning" — not for the terrorists who killed our troops, but for Biden as commander in chief.
I can't help but imagine what today's Twitter trolls would have said about President Franklin D. Roosevelt on the day after Pearl Harbor. And I shudder to think what contemporary conspiracy theorists might have said about the announcement of Jonas Salk's polio vaccine 10 years after the death of Roosevelt, who suffered from the disease. https://www.washingtonpost.com/opinions/2021/08/30/how-be-crisis-president-when-crises-dont-unite-country-anymore/
Charlotte Klein: Republicans Bravely Defend Americans' Rights to Treat COVID With Horse Dewormer
Republicans have apparently taken it upon themselves to ensure that Americans continue to receive terrible medical advice now that Donald Trump is no longer offering it up from the White House podium. In the spirit of the former president—whose own penchant for unproven and often dangerous COVID-19 treatments has included suggesting Americans inject bleach or expose themselves to "very powerful light"—Senator Ron Johnson has for months supplemented his vaccine conspiracy theories with enthusiasm for unsound COVID-19 treatments. Most recently, he's latched onto ivermectin, a deworming drug intended for horses and other livestock, and with the assistance of conservative media, helped prompt a warning from the FDA after people were hospitalized for taking it. The anti-parasitic is approved for certain uses in humans, such as head lice, but it "has repeatedly failed in clinical trials to help people infected with the coronavirus," according to the New York Times.
Now, the Wisconsin senator is among the GOP lawmakers claiming that the agency's opposition to ivermectin is not because it hasn't been shown to be effective for treating or preventing COVID-19, or the uptick in poison control calls from people who have taken it, but the result of political bias. In issuing a warning against the use of ivermectin, the FDA is "doing far more than dismissing me, they're attacking me," Johnson told Cheryl Chumley, the opinion editor of the conservative Washington Times, on her podcast last week, according to the Wisconsin Examiner. "I don't care what drug will work. Try a bunch of them," said the senator, who has no medical expertise or background.
Johnson has regularly undermined proven medical treatments such as ventilators and the highly effective and safe vaccine that the FDA has already fully approved for the prevention of COVID-19 in those 16 and older. He went on a different podcast last week to claim that the FDA authorizing Pfizer's product while warning against horse medicine is "all about...the political goal of having mandates," he said, a perceived threat to personal freedom that the senator has said he opposes "unless there's some incredibly deadly disease." https://www.vanityfair.com/news/2021/08/republicans-bravely-defend-americans-rights-to-treat-covid-with-horse-dewormer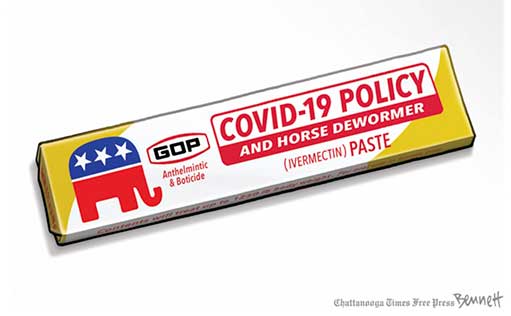 Paul Krugman: The Snake Oil Theory of the Modern Right
Vaccine refusers aren't just rejecting lifesaving vaccines, they're also turning to life-threatening alternatives. We're seeing a surge in sales of — and poisoning by — ivermectin, which is usually used to deworm livestock but has recently been touted on social media and Fox News as a Covid cure.
OK, I didn't see that coming. But I should have. As the historian Rick Perlstein has pointed out, there's a long association between peddlers of quack medicine and right-wing extremists. They cater to more or less the same audience.
That is, Americans willing to believe that Barack Obama was born in Kenya and that Italian satellites were used to switch votes to Joe Biden are also the kind of people willing to believe that medical elites are lying to them and that they can solve their health problems by ignoring professional advice and buying patent medicines instead.
Once you're sensitized to the link between snake oil and right-wing politics, you realize that it's pervasive.
This is clearly true in the right's fever swamps. Alex Jones of Infowars has built a following by pushing conspiracy theories, but he makes money by selling nutritional supplements. https://www.nytimes.com/2021/08/30/opinion/covid-misinformation-supplements.html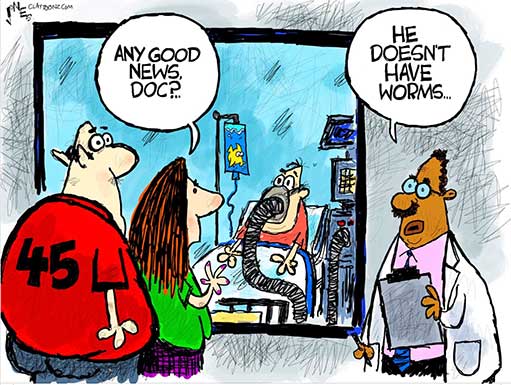 Jonathan Chait: Republican Vaccine Denial Is Not a Political Strategy
The Republican posture toward the coronavirus has not fundamentally changed since Biden's election. Since the virus appeared, the party has consistently denied or downplayed its seriousness and opposed any measures to contain it: masking, vaccines, shutdowns of both public and private spaces.
Ron DeSantis used to enjoy a promising brand as a Republican governor who had flouted restrictions while still registering average-ish public-health outcomes.
But his state has turned into such a basket case that conservative pundits have (at least briefly) paused their incessant demands that the media apologize to him. DeSantis has been left picking unpopular fights with local school boards and cruise lines that are trying to serve the public without getting people killed.
Meanwhile, Republican vaccine skepticism is killing a nontrivial number of Republican voters, including a tragic procession of mid-level party officials. Three unvaccinated conservative talk-show hosts have died of COVID this month alone. For a movement so obsessed with demographic replacement that it sees Afghan refugees as a plot to entrench Democratic majorities, it's odd that it would deliberately kill off its own voters.
Noting this MAGA-cide, Christopher Ingraham accuses Republicans of following "the most breathtakingly cynical political strategy I've witnessed in my lifetime, revealing a stunning level of contempt for the true believers in the party who end up laying down their lives for the cause."
But why should we consider it a "political strategy," or even a strategy at all? https://nymag.com/intelligencer/2021/08/republican-vaccine-denial-is-not-a-political-strategy.html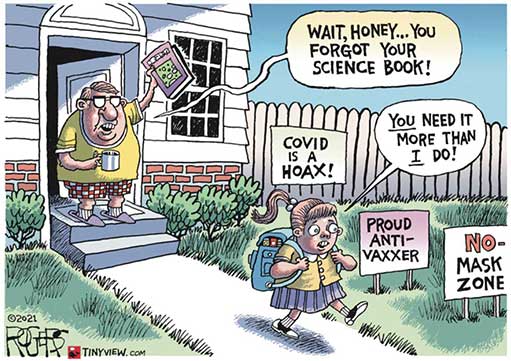 Dana Milbank: Texas shows us what post-democracy America would look like
Texas this week showed us what a post-democracy America would look like.
Thanks to a series of actions by the Texas legislature and governor, we now see exactly what the Trumpified Republican Party wants: to take us to an America where women cannot get abortions, even in cases of rape and incest; an America where almost everybody can openly carry a gun in public, without license, without permit, without safety training and without fingerprinting; and an America where law-abiding Black and Latino citizens are disproportionately denied the right to vote.
This is where Texas and other red states are going, or have already gone. It is where the rest of America will go, unless those targeted by these new laws — women, people of color and all small "d" democrats — rise up.
On Wednesday, a Texas law that bans abortions later than six weeks went into effect, after the Supreme Court let a deadline pass that would have blocked the statute. Because 85 to 90 percent of women get abortions after six weeks, it amounts to a near-total ban. Already on the books in Texas is a "trigger" law that automatically bans all abortions, even in cases of rape and incest, if the Supreme Court overturns Roe v. Wade. At least 10 other states have done likewise.
Also Wednesday, a new law went into effect in Texas, over the objections of law enforcement, allowing all Texans otherwise allowed to own guns to carry them in public, without a license and without training. Now, 20 states have blessed such "permitless carry."
And on Tuesday, the Texas legislature passed the final version of the Republican voting bill that bans drive-through and 24-hour voting, both used disproportionately by voters of color; imposes new limits on voting by mail, blocks election officials from distributing mail-ballot applications unless specifically requested; gives partisan poll watchers more leeway to influence vote counting; and places new rules and paperwork requirements that deter people from helping others to vote or to register. At least 17 states have adopted similar restrictions.
In Texas, the legislature this term also banned the fictional menace of "critical race theory," put in new restrictions on demonstrations and banned homeless encampments. Gov. Greg Abbott (R) also banned mask and vaccine mandates while the pandemic rages. Meanwhile the legislature failed to expand Medicaid eligibility to low-wage workers, refusing billions of federal health-care dollars for the state with the most uninsured residents in the nation. Instead, Texas cleared the way for people to buy beer and wine before noon on Sundays.
Less voting and less health care, but more guns and more booze: This is the present in Texas, and the future for all of us — unless we mobilize to arrest the Republicans' destruction of democracy. https://www.washingtonpost.com/opinions/2021/09/01/texas-shows-us-what-post-democracy-america-would-look-like/