April 30, 2020
ON THE RECORD. . .
"Please don't poison yourself because Donald Trump thinks it could be a good idea." — Hillary Clinton tweet.

"I keep telling everyone I promise you you will know who I'm voting for. But it really shouldn't take a rocket scientist to know there's one man who has made pain in my life a living hell and another man who has literally shepherded me through the grief process. — Meghan McCain signaling that she will vote for Joe Biden in November, saying that "politics is personal" for her.

"The Trumps, they're always making my mom cry. I just think politics is personal too and character is really important. And [I want] someone who's going to tamp down... fear and anger, instead of making it worse." — Meghan McCain

"I wanted to hide. It was a tough moment to watch." — A Trump adviser working with the coronavirus task force admitted to feeling an immediate visceral reaction to Trump's comments suggesting people could inject themselves with sunlight and disinfectants as a cure for the virus."

"I believe this transfer was in response to my insistence that the government invest the billions of dollars allocated by Congress to address the Covid-19 pandemic into safe and scientifically vetted solutions, and not in drugs, vaccines and other technologies that lack scientific merit. I am speaking out because to combat this deadly virus, science — not politics or cronyism — has to lead the way." — Dr. Rick Bright, who was abruptly dismissed this week as the director of the DHHS' Biomedical Advanced Research and Development Authority, ,saying he was pressured to direct money toward hydroxychloroquine, one of several "potentially dangerous drugs promoted by those with political connections" which was repeatedly described by the president as a potential "game changer" in the fight against the virus.

"It's like Jaws—you don't see Jaws very much, but you hear the music, and for Trump he knows Michael is coming and Trump better hear the Jaws music. He told me he's been writing a book and he's pissed. He told me he is going to spill the beans. What has he got to lose now?" — Actor and comedian Tom Arnold about Trump's former lawyer and "fixer" Michael Cohen who is hard at work on a tell-all book about the president that should be published before the November election.

"A lot of Democrats have been hankering for Biden to try and get out to be more part of the daily media conversation. The latest numbers suggest that these voices are likely wrong. Biden's proving that the less media he receives, the better it is for his electoral prospects." — Harry Enten

"Social distancing will be with us through the summer." — Dr. Deborah Birx, head of the White House coronavirus task force.

Trump has at least eight more months in power. In his inaugural address in 2017, he evoked "American carnage" and promised to make it stop. But now that the real carnage has arrived, he is reveling in it. He is in his element. As things get worse, he will pump more hatred and falsehood, more death-wish defiance of reason and decency, into the groundwater. If a new administration succeeds him in 2021, it will have to clean up the toxic dump he leaves behind. If he is re-elected, toxicity will have become the lifeblood of American politics. Either way, it will be a long time before the rest of the world can imagine America being great again. — Fintan O'Toole in Irish Times

"You know what they call that? They call that embalming. That's the medical term." —Nancy Pelosi on Trump's remarks about using disinfectants as a possible cure for the virus.

He can't threaten it with a primary challenge. He can't hold a rally against it. And he can't tweet it away. Instead, the coronavirus has only magnified his shortcomings. Making factually incorrect assertions. Sending mixed signals. Blaming his predecessor. Hawking unproven remedies." — First Read

"First," the Priorities USA Action new TV ad tying the mounting coronavirus death toll and economic turmoil to President Trump's failure to adequately prepare for and respond to the crisis.

"We would want certain things as part of a deal with House Democrats to aid states. including sanctuary city adjustments, because we have so many people in sanctuary cities." -- Trump indicating he wouldn't allow federal aid for states facing budget deficits from the coronavirus outbreak unless they take action against "sanctuary cities."

"We're on the other side of the medical aspect of this. The federal government rose to the challenge, and this is a great success story." — Jared Kushner, the morning after we hit 1 million cases and more deaths than in the 15 year U.S. involvement in theVietnam War.

"If by that time we have put into place all of the countermeasures that you need to address this, we should do reasonably well. If we don't do that successfully, we could be in for a bad fall and a bad winter." — Dr. Anthony Fauci saying a second wave of the coronavirus is "inevitable," but just how bad it is will depend on the progress the U.S. makes in the coming months.
---
IN THIS ISSUE
FYI
OPINION
1.  Andy Borowitz: Trump Advises States Facing Bankruptcy to Borrow Millions from Their Dads
Days after the Senate Majority Leader, Mitch McConnell, advised cash-strapped states to declare bankruptcy, Donald J. Trump added that they could avoid such a filing by borrowing millions from their dads.

"These states need to get on the phone with their dads and explain the mess they've gotten themselves into," Trump said. "Their dads might give them a royal chewing out, but the old men will come through with the cash."

Detailing his plan to return the states to solvency, Trump said, "Their dads can bring the money into the states in a briefcase, or a bag of casino chips. Whatever's easiest."

If, however, their dads "won't cough up the dough," Trump told the states that bankruptcy is "no big deal."

"You can file for bankruptcy four, five, six times," he said. "It works out very strongly and powerfully, and everything will be nice."

Trump expressed his surprise that it had never occurred to the states to ask their dads for money. "Sometimes it feels like I have to do everything around here," he complained. https://www.newyorker.com/humor/borowitz-report/
2. As Trump puts partisan spin on federal aid for states, Republicans and Democrats warn of coming financial calamity
Republican and Democratic governors are warning of financial calamity if Washington doesn't provide relief, some GOP lawmakers have joined with Democrats to call for a massive aid bill, and budget experts contend that leaving states to fend for themselves will only prolong the nation's recovery from the economic shock brought on by the pandemic.
Still, Trump has pushed the idea that a federal aid package would largely benefit fiscally irresponsible states run by Democrats. It's the latest attempt by the president to cast a partisan frame around a crisis that has ravaged much of the country with little regard for political affiliation.
"Why should the people and taxpayers of America be bailing out poorly run states (like Illinois, as example) and cities, in all cases Democrat run and managed, when most of the other states are not looking for bailout help?" Trump wrote Monday on Twitter. "I am open to discussing anything, but just asking?" https://www.washingtonpost.com/politics/as-trump-puts-partisan-spin-on-federal-aid-for-states-republicans-and-democrats-warn-of-coming-financial-calamity/2020/04/27/a542f19e-889a-11ea-8ac1-bfb250876b7a_story.html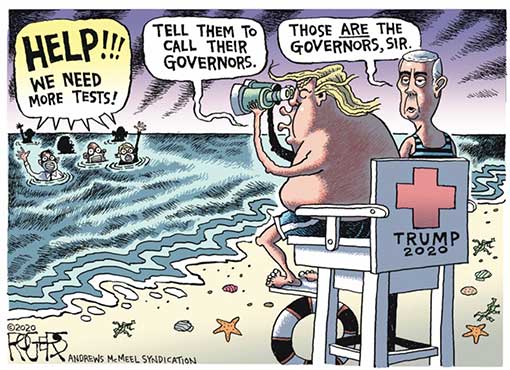 3. Trump's likeability deficit could cost him in 2020
New polling indicates that Trump's low favorability ratings are causing him more electoral difficulty than he should have based on job approval ratings alone.
Trump stands at a negative eight point net favorability (favorable - unfavorable) rating in an average of six recent high quality polls from CNN/SSRS, Fox News, Grinnell College/Selzer & Company, Monmouth University, NBC News/Wall Street Journal and Quinnipiac University. Presumptive Democratic presidential nominee Joe Biden's not helping Trump's cause, as his net favorability rating is higher than Trump's in all these polls, and he's winning the overwhelming share of those voters who like neither Trump nor he.
Put simply, Biden's not allowing Trump to turn this into a choice election between two disliked candidates, as it was in 2016. https://www.cnn.com/2020/04/25/politics/2020-election-trump-favorability/index.html
4. Nervous Republicans See Trump Sinking, and Taking Senate With Him
Trump's erratic handling of the coronavirus outbreak, the worsening economy and a cascade of ominous public and private polling have Republicans increasingly nervous that they are at risk of losing the presidency and the Senate if Mr. Trump does not put the nation on a radically improved course.
The scale of the G.O.P.'s challenge has crystallized in the last week. With 26 million Americans now having filed for unemployment benefits, Mr. Trump's standing in states that he carried in 2016 looks increasingly wobbly: New surveys show him trailing significantly in battleground states like Michigan and Pennsylvania, and he is even narrowly behind in must-win Florida. https://www.nytimes.com/2020/04/25/us/politics/trump-election-briefings.html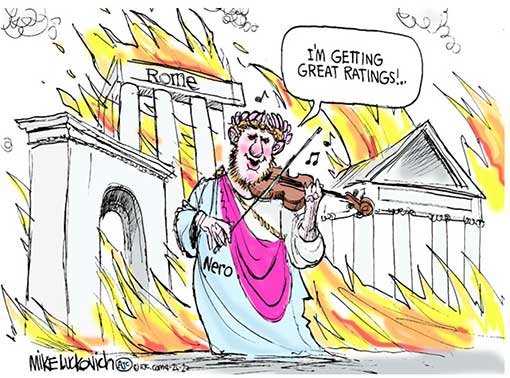 5. Gov. Andrew Cuomo Responds to Mitch McConnell's Bankruptcy Comments
Earlier this week, McConnell suggested states experiencing economic shortfalls should declare bankruptcy rather than accept funding from the federal government. Cuomo has repeatedly requested additional aid from the White House as New York grapples with diagnoses, hospitalizations and deaths related to the new coronavirus in quantities that far exceed every other state in the nation.
Responding to McConnell's bankruptcy suggestion on Thursday, Cuomo called it "one of the really dumb ideas of all time," and pointed out that Kentucky benefits greatly from federal expenditures, whereas New York pays back significantly more than it receives.
"NYS puts $116 billion more into the federal pot than we take out," the New York governor tweeted, referencing findings from the Rockefeller Institute of Government's 2020 analysis of federal budget receipts and expenditures nationwide. "Kentucky TAKES $148 billion more from the federal pot than they put in," Cuomo continued. "But we don't deserve help now because the 15,000 people who died here were predominantly Democrats?" https://www.newsweek.com/cuomo-points-out-kentucky-gets-more-federal-funding-new-york-response-mcconnells-bankruptcy-1499906
6. Home Alone at the White House: A Sour President, With TV His Constant Companion
Trump arrives in the Oval Office these days as late as noon, when he is usually in a sour mood after his morning marathon of television.
He has been up in the White House master bedroom as early as 5 a.m. watching Fox News, then CNN, with a dollop of MSNBC thrown in for rage viewing. He makes calls with the TV on in the background, his routine since he first arrived at the White House.
But now there are differences.
Confined to the White House, the president is isolated from the supporters, visitors, travel and golf that once entertained him, according to more than a dozen administration officials and close advisers who spoke about Mr. Trump's strange new life. He is tested weekly, as is Vice President Mike Pence, for Covid-19, the disease caused by the coronavirus.
The economy — Mr. Trump's main case for re-election — has imploded. News coverage of his handling of the coronavirus has been overwhelmingly negative as Democrats have condemned him for a lack of empathy, honesty and competence in the face of a pandemic. Even Republicans have criticized Mr. Trump's briefings as long-winded and his rough handling of critics as unproductive. https://www.nytimes.com/2020/04/23/us/politics/coronavirus-trump.html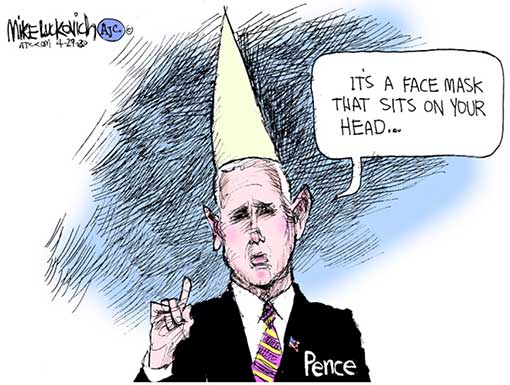 7. Trump's 'disinfectant injections' idea comes straight from internet conspiracy theories
The president claimed he'd gotten his information during a briefing with medical experts and said it would be "interesting" for doctors to "check that." But it's painfully obvious that he's conflating actual science with online conspiracy theories.
Facebook's been inundated with these fake "miracle cures" for COVID-19 for months now (before the pandemic, they were pushed as anti-autism elixirs) and all roads lead to a widespread troll campaign by the loosely held together group of ideological shit-posters known as QAnon (a group the president's been tacitly supportive of for years).
A quick parse of 4chan, 8kun, and other yucky places on the internet shows there's been a months-long campaign to push the conspiracy that big pharma and the Democrats are suppressing information on how effective disinfectants are at combating the coronavirus. Trump, accordingly, is thus rebelling against the New World Order and its leader (Bill Gates) by letting the truth slip about these secret cures.
So we have to ask ourselves, is the president of the United States using his daily pandemic briefings to troll the liberal media with dangerous QAnon conspiracies?
No.
The reality is probably much simpler: Trump didn't understand what the medical experts were talking about when they explained the legitimate study on disinfecting PPE.  He obviously understands the right-wing conspiracy theory that it's okay to drink bleach-based "miracle cures," and so he riffed on that to look and sound smart and unintentionally conflated the two.
Either way, nobody should take any form of medical advice from the President of the United States under any circumstances. https://thenextweb.com/corona/2020/04/24/trumps-disinfectant-injections-idea-comes-straight-from-internet-conspiracy-theories/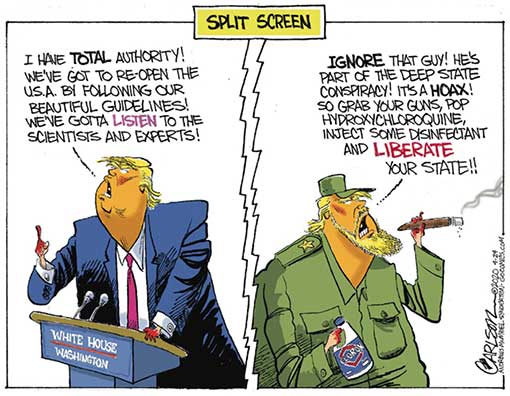 8. Trump's Response to Virus Reflects a Long Disregard for Science
As the nation confronts one of its worst public health disasters in generations, a moment that demands a leader willing to marshal the full might of the American scientific establishment, the White House is occupied by a president whose administration, critics say, has diminished the conclusions of scientists in formulating policy, who personally harbors a suspicion of expert knowledge, and who often puts his political instincts ahead of the facts.
"Donald Trump is the most anti-science and anti-environment president we've ever had," said Douglas Brinkley, a presidential historian at Rice University. The president's actions, he said, have eroded one of the United States's most enviable assets: the government's deep scientific expertise, built over decades. "It's extraordinarily crazy and reckless," he said. https://www.nytimes.com/2020/04/28/climate/trump-coronavirus-climate-science.html
9. Kansas Democrats triple turnout after switch to mail-only presidential primary
Kansas Democrats have already more than tripled their turnout from the 2016 presidential caucus after switching to an all-mail May 2 party primary this year.
"The record-breaking turnout for the 2020 Presidential Primary is testament to the growing enthusiasm and cohesion of Democrats to make Donald Trump a one-term President," Hiatt said in a statement.
It's highly unlikely that Kansas will be in play in the November presidential election, but the strong turnout could be a good sign for the party's legislative and congressional candidates, including state Sen. Barbara Bollier, who is seeking to be the first Democrat to win a U.S. Senate race in Kansas since 1932. https://www.kansascity.com/news/politics-government/article242340181.html
10. Arizona GOP chair encourages anti-stay-at-home protesters to dress like health care workers
"Planning protest to #ReOpenAmerica? EVERYONE wear scrubs & masks - the media doesn't care if you are really in healthcare or not - it's the 'message' that matters." — Arizona Republican Party chairwoman Kelli Ward is encouraging people planning to protest stay-at-home orders imposed amid the coronavirus pandemic to dress like health care workers, https://www.cnn.com/2020/04/28/politics/arizona-kelli-ward-coronavirus-protests/index.html
11. Trump expands battle with World Health Organization far beyond aid suspension
Trump and his top aides are working behind the scenes to sideline the World Health Organization on several new fronts as they seek to shift blame for the coronavirus pandemic to the world body, according to U.S. and foreign officials involved in the discussions. https://www.washingtonpost.com/national-security/trump-expands-battle-with-world-health-organization-far-beyond-aid-suspension/2020/04/25/72c754e6-856e-11ea-9728-c74380d9d410_story.html
12. Trump says he will block coronavirus aid for U.S. Postal Service if it doesn't hike prices immediately
Trump on Friday said he would not be approving an emergency loan for the U.S. Postal Service if it did not immediately raise its prices for package delivery, confirming a recent Washington Post article that said he planned to exert more control over the agency.
Trump and his allies have frequently claimed that higher package rates on Internet shipping companies — Amazon, in particular — could ease the Postal Service's financial troubles. But higher package rates could hurt the agency by artificially raising its prices above those of United Parcel Service and FedEx, analysts say. Higher prices also could impact Amazon, which acts as both retailer and shipper, by forcing it pass off higher costs on its customers to compete.
The Postal Service repeatedly has defended its arrangement with the e-commerce giant, saying it gets fair rates for the services it provides in a highly competitive environment. https://www.washingtonpost.com/us-policy/2020/04/24/trump-postal-service-loan-treasury/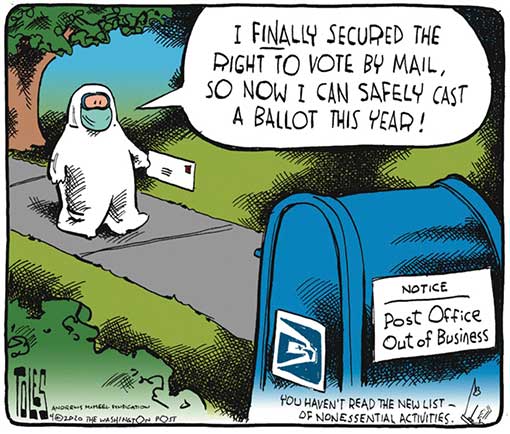 13. New HHS spokesman made racist comments about Chinese people in now-deleted tweets
The new spokesman for the Department of Health and Human Services in a series of now-deleted tweets made racist and derogatory comments about Chinese people, said Democrats wanted the coronavirus to kill millions of people and accused the media of intentionally creating panic around the pandemic to hurt President Donald Trump.
Michael Caputo, a longtime New York Republican political operative who worked on Trump's 2016 presidential campaign, was appointed last week as Assistant Secretary for Public Affairs at HHS, a prominent communications role at the department which serves a central role in the federal government's response to the coronavirus pandemic.
Caputo, a prolific user who often tweeted insults and profanity, recently erased nearly his entire Twitter history from before April 12. CNN's KFile used the Internet Archive's "The Wayback Machine" to review more than 1300 deleted tweets and retweets from late February to early April many of which were regarding the rapidly spreading coronavirus. https://www.cnn.com/2020/04/23/politics/michael-caputo-tweets/
14. Trump's Bleach BS Starts Viral Disinformation Campaign in Africa
ABUJA, Nigeria—Just hours after U.S. President Donald Trump suggested research into whether coronavirus might be treated by injecting disinfectant into the body, viral messaging about drinking such liquids or taking them intravenously began to spread across Nigeria on WhatsApp.
As disinformation about bleaches spreads this time around in Nigeria, doctors have warned that adhering to such advice would be extremely dangerous. Taken internally, as the warning labels on most bottles make clear, the stuff is poison, pure and simple. "The outcome could be fatal," said Dr. Anyachi. https://www.thedailybeast.com/trumps-coronavirus-bleach-bullshit-starts-disinfo-campaign-in-africa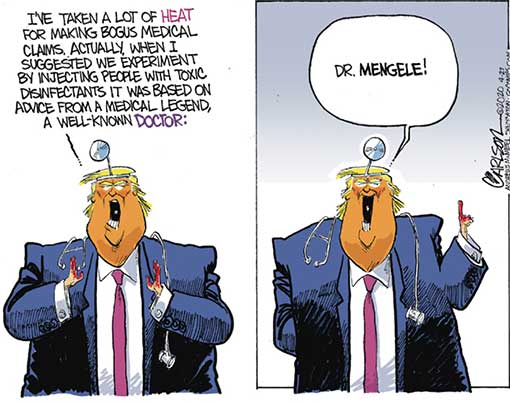 15. Democrats see Senate suddenly within reach, boosted by Biden's ascent
Joe Biden's unexpectedly rapid consolidation of the Democratic presidential nomination has upended calculations in both parties about the U.S. Senate landscape, with Democrats hopeful that Biden can actively help with close races and Republicans increasingly nervous about losing their 53-47 majority.
Biden's ascent has dented GOP plans to paint Democratic candidates as left-wing extremists, something they were eager to do had Sen. Bernie Sanders (I-Vt.) emerged as the nominee. Instead, the Democrats now have a more moderate standard-bearer who is intimately familiar with the Senate, in close touch with top candidates and keenly aware of how Senate control could affect his potential presidency.
The former vice president's emergence is part of a larger shift in prospects that has become clear in states such as Arizona, Colorado, North Carolina and even Montana and Georgia, as a surge in Democratic fundraising, along with President Trump's struggles to manage the coronavirus pandemic, have led independent analysts to upgrade Democrats' chances.
Even in Alabama, one of the most conservative states, underdog Sen. Doug Jones (D) stands an outside chance of an upset, a fact that Jones attributes in part to Biden besting Sanders.
"Was it in fact a relief? Sure, it was a relief — for me and I think a lot of the moderate Democrats that won in 2018," said Jones, who has known Biden for decades and spoke to him this month. "It's always tougher to run when you've got somebody on the ticket that is identified as far more liberal than you are." https://www.washingtonpost.com/politics/democrats-see-senate-suddenly-within-reach-boosted-by-bidens-ascent/2020/04/25/3665fbf4-864c-11ea-ae26-989cfce1c7c7_story.html
16. At Least 52 Infected After Wisconsin Primary
At least 52 people in Wisconsin who said they voted in-person or worked the polls for the US state's April 7 primary election have tested positive for coronavirus, according to the Wisconsin Department of Health Services. https://edition.cnn.com/world/live-news/coronavirus-pandemic-04-29-20-intl/h_639052a862721ae271c3aef64557e297
17. The DAILY GRILL
"There has been so much unnecessary death in this country. It could have been stopped and it could have been stopped short, but somebody a long time ago, it seems, decided not to do it that way. And the whole world is suffering because of it."— Trump, at his coronavirus briefing.

VERSUS

"U.S. intelligence agencies issued warnings about the novel coronavirus in more than a dozen classified briefings prepared for President Trump in January and February, months during which he continued to play down the threat." — Washington Post 

 

Trump and Mike Pence both called Georgia Gov. Brian Kemp (R) on Tuesday night and expressed support and praise for the Republican's move to reopen businesses in his state starting Friday. --CNN reports.

VERSUS

On Wednesday, Trump said the exact opposite at his daily briefing — claiming that he told Kemp he disagreed "strongly" with the decision.

 

"The headline in the Post, 'CDC director warns second wave of coronavirus is likely to be even more devastating,' is ridiculous and fake news." — Trump

VERSUS

"The headline was "inappropriate" but I was accurately quoted in the story." — CDC Director Robert Redfield

 

Well, we're going to be there very soon. If you look at the numbers, it could be that we're getting very close. I mean, I don't have the exact numbers. We would have had them if you asked me the same question a little while ago, because people with the statistics were there. We're going to be there very soon. — Trump responding to a reporter who asked he was confident you can surpass 5 million tests per day?

VERSUS

"There is absolutely no way on earth, on this planet or any other planet, that we can do 20 million tests a day, or even five million tests a day."— Brett Giroir, the assistant secretary of health who runs the government's testing response.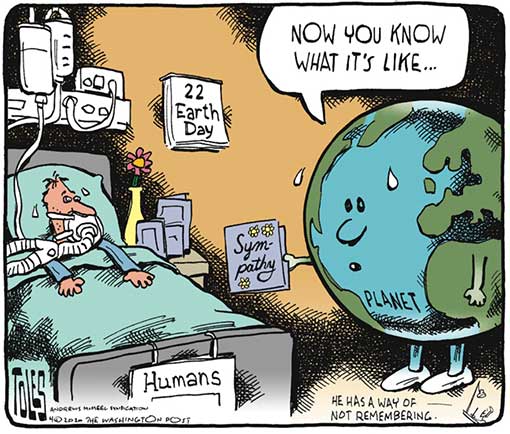 18. From MEDIA MATTERS (They watch Fox News so you don't have to)
Now, I'm not a doctor, I don't play one on TV, but renowned French virologist Dr. Didier Raoult released his own study on hydroxychloroquine and azithromycin just a few weeks ago. It demonstrated 91% effectiveness in more than 1,000 patients with zero side effects. There was one outcome that was not good, but in the patients that recovered, there was zero side effects.  https://www.mediamatters.org/coronavirus-covid-19/laura-ingraham-attacks-veterans-affairs-study-showing-hydroxychloroquine

SEAN HANNITY (HOST): I'm glad Mitch McConnell, rightly saying you're not going to balance your budgets and we're not going to fund everything that you've screwed up in your states. We are going to fund COVID relief and COVID relief only. Period, end of sentence. And that includes everything else. https://www.mediamatters.org/sean-hannity/sean-hannity-praises-mitch-mcconnells-plan-let-states-go-bankrupt-rather-providing

Fox's Steve Doocy suggests letting states go bankrupt to cut pensions and balance budgets. "There are some who say that is actually a smart thing to do, ... if a state were to do what some cities are able to do and declare bankruptcy, they could reduce pensions." https://www.mediamatters.org/coronavirus-covid-19/foxs-steve-doocy-suggests-letting-states-go-bankrupt-cut-pensions-and-balance

OAN host: Coronavirus stay-at-home orders are a "conspiracy" by Democrats akin to Japanese internment during WWII: Our cover story: The continued crushing of economy, crushing of lives, crushing of livelihoods, and crushing of liberty. Yes, Madame Mayor, we know your message: Stay at home, don't go to work, be afraid. This is the coordinated refrain from all the blue city mayors who take their marching orders from blue-state governors who take their marching orders from the Democrat machine. I'm going to use an ugly word here: Conspiracy. At this point, based on all the evidence, all the scientific data, and what we have learned about the Wuhan coronavirus, there is absolutely no doubt in my mind that this has been a governmental overreaction, on purpose, politically motivated, from day one. These mayors and governors are lying to their people. This shutdown is not about peoples' health, it's not. It's about politics and political power. Sheer, raw, unadulterated power. https://www.mediamatters.org/coronavirus-covid-19/oan-host-coronavirus-stay-home-orders-are-conspiracy-democrats-akin-japanese

The National Rifle Association is encouraging Americans to spend their coronavirus stimulus checks on "sweet deals" from gun and firearm accessory manufacturers, including companies that have donated tens of thousands of dollars to the NRA -- and one that's given the gun group over $1 million. This isn't the first time that the NRA has tried to fundraise off of fearmongering during the coronavirus pandemic. Previous instances of alleged financial impropriety have reportedly already cost the group $100 million. https://www.mediamatters.org/coronavirus-covid-19/nra-encouraging-people-spend-their-covid-19-relief-checks-guns

TUCKER CARLSON (HOST): Six weeks later we are happy to say that curve has been flattened, but it's likely not because of the lockdowns. The virus just isn't nearly as deadly as we thought it was, all of us, including on this show. Everybody thought it was, but it turned out not to be. Hospitals never collapsed. Outside of a tiny number of places, they never came close to collapsing, at least not from an influx of infected patients. Instead, something remarkable happened, something amazing, really without parallel in American history. The opposite happened. Thanks to the lockdowns, hospitals have begun to collapse. Why? From a lack of patients. Politicians who couldn't pass ninth grade biology decided that practicing physicians should not be allowed to calculate the risk of transmitting the virus. They're just not qualified -- unlike us. So, these politicians banned so-called "nonessential" procedures, many of which are, in fact, essential. The results of this policy? In many hospitals, entire floors have been mothballed.  Doctors and nurses are being furloughed in the middle of a pandemic. This is insanity. It weakens our healthcare system. Its effects will last for many years. That's all from the lockdown. https://www.newyorker.com/humor/borowitz-report/cnn-to-show-phone-number-of-poison-control-hotline-whenever-trump-speaks
1. Philip Bump and Ashley Parker: 13 hours of Trump: The president fills briefings with attacks and boasts, but little empathy
Trump strode to the lectern in the White House briefing room Thursday and, for just over an hour, attacked his rivals, dismissing Democratic presidential candidate Joe Biden as a "sleepy guy in a basement of a house" and lambasting the media as "fake news" and "lamestream."
He showered praise on himself and his team, repeatedly touting the "great job" they were doing as he spoke of the "tremendous progress" being made toward a vaccine and how "phenomenally" the nation was faring in terms of mortality.
What he did not do was offer any sympathy for the 2,081 Americans who were reported dead from the coronavirus on that day alone — among the now more than 54,000 Americans who have perished since the pandemic began.
What began as daily briefings meant to convey public health information have become de facto political rallies conducted from the West Wing of the White House — events that are now in doubt after an uproar last week over Trump's suggestion of another bogus coronavirus cure. The president has offered little in the way of accurate medical information or empathy for coronavirus victims, instead focusing on attacking his enemies and lauding himself and his allies. https://www.washingtonpost.com/politics/13-hours-of-trump-the-president-fills-briefings-with-attacks-and-boasts-but-little-empathy/2020/04/25/7eec5ab0-8590-11ea-a3eb-e9fc93160703_story.html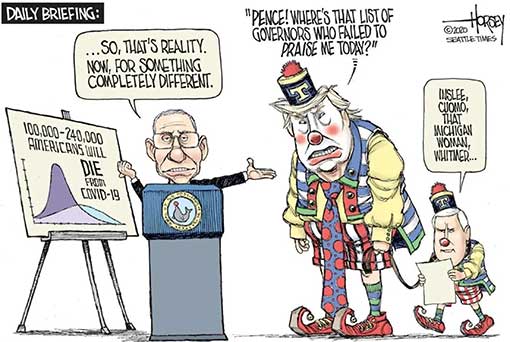 2. Charles M. Blow: For Trump, Lying Is a Super Power
Trump, as a person and politician, is riddled with flaws. But he also has an ignominious super power: He is completely unencumbered by the truth, the need to tell it or accept it. He will do and say anything that he believes will help him. He has no greater guiding principles. He is not bound by ethics or morals. His only alliances are to those who would support and further his devotion to self-promotion.
No one is as shameless a showman as Trump. He was in survival mode. Nothing was too far, nothing was too crass.
Don't fall prey to false hope that defeating Trump will be easy, that his horrifically incompetent response to the coronavirus has doomed him. It hasn't. Trump will fight with everything he has to the bitter end to stay in power. He will never admit any fault. He will lie and lie and lie and lie some more. And the people who support him will stick with him every step of the way.
I put nothing past Trump, absolutely nothing! And neither should you. Be prepared for Trump to do anything and everything to win re-election in November. A man who can dismiss a recording of his own voice bragging about assaulting women is capable of anything. https://www.nytimes.com/2020/04/26/opinion/trump-coronavirus.html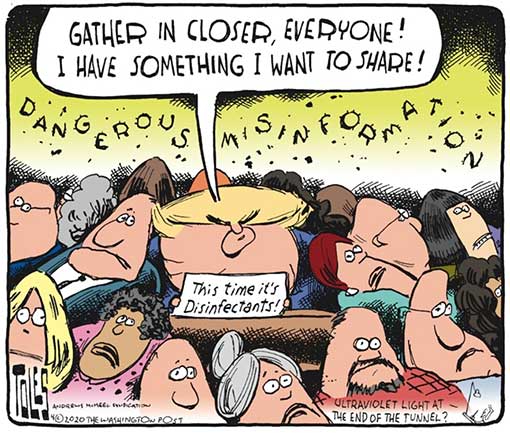 3. John Stoehr: Mitch McConnell's Multiverse of Betrayal
Not so fast, said Mitch McConnell. The Senate majority leader said yesterday that his conference was in no mood for more relief. The national debt is becoming a serious issue, he said. We can't mortgage our children's future on a "blue-state bailout." "We're not going to let them take advantage of this pandemic to solve a lot of problems that they created for themselves with bad decisions in the past," he said. Instead, he said, he'd rather work to change current federal law so states can declare bankruptcy.
It's hard to express the depths of betrayal here, but I'm going to try. First, future insolvencies are not a consequence of past decisions by the states, but instead recent inaction by a president whose gross negligence and incompetence forced cities and states to take matters into their own hands. Second, McConnell is suggesting the country does not owe these cities and states a debt of gratitude deserving of federal compensation even if the money ended up covering "bad decisions in the past." Third, in not recognizing the debt owed, and instead offering the possibility of bankruptcy, he's slapping the face of anyone who has sacrificed, which is to say everyone.
With respect to blue states, the betrayal goes even deeper. Blue states are richer, and they send more tax dollars to Washington than they get in return. That's not so painful given that blue states tend to believe in the common good, plus they used to keep some of the money thanks to a tax code allowing filers to deduct state and local taxes from their federal tax returns. In 2017 Trump, McConnell and the Republicans capped SALT deductions, in effect raising taxes on rich states while cutting taxes for obscenely rich individuals. Blue states were already subsidizing red states. Now that went double.
Make it triple. McConnell is fine with extracting wealth from major cities and blue states, redistributing it to red states and GOP-friendly corporations, while at the same time expressing concern for the national debt just when 56 million Americans, who collectively send Democrats to Washington, are in full need of assistance. McConnell is happy, in other words, to let a pandemic weaken and impoverish his political rivals. That's not what you expect from a leader governing in the interest of all Americans.
It is, however, what you'd expect from a traitor. https://www.nytimes.com/2020/04/22/us/coronavirus-mcconnell-states-bankruptcy.html
4. Jonathan Chait: Top Government Vaccine Expert Fired for Questioning Trump's Fake Science
Yesterday, Dr. Rick Bright was suddenly deposed from his position as head of the Biomedical Advanced Research and Development Authority, an agency at the center of government efforts to produce treatment and a vaccine for the coronavirus. The firing "couldn't come at a more inopportune time for the office, which invests in drugs, devices, and other technologies that help address infectious disease outbreaks and which has been at the center of the government's coronavirus pandemic response," reported the health publication STAT.
Today, Bright gave an explanation for his untimely departure: He believes he was pushed out for insisting on limits to the use of hydroxychloroquine, an unproven treatment that Trump has touted as a miracle cure for the virus. "Specifically, and contrary to misguided directives, I limited the broad use of chloroquine and hydroxychloroquine, promoted by the administration as a panacea, but which clearly lack scientific merit," Bright tells Maggie Haberman.
Bright also alleges that political appointees pressured him to support drugs promoted by Trump's political allies: "I also resisted efforts to fund potentially dangerous drugs promoted by those with political connections." That Trump loyalists' lobbyists tried to subvert the scientific method to allow their donors and political allies to benefit from the billions of dollars in federal funding is an explosive and all-too-plausible charge.
The loss of one of the nation's most highly regarded vaccine specialists is a devastating blow to what is quite literally the most important project in the world. It is also indicative of a Trumpian war on science of which Bright is far from the only casualty. https://nymag.com/intelligencer/2020/04/top-vaccine-expert-fired-trump-hydroxychloroquine-messonnier-science.html
5. Jonathan Bernstein: Trump's Disinfectant Idea Is More Than a Silly Sound Bite
There's a clip circulating of Dr. Deborah Birx, a member of the coronavirus task force, reacting in resigned disbelief as Trump launches into this digression. It was astonishing in a sense. But also: par for the course. Birx is every trade expert when Trump talks tariffs, every health-policy expert when he talks health care, every defense expert when he talks about the military. He combines uncanny confidence with a total lack of knowledge on topic after topic. 
To listen to him in his briefings and other appearances is to hear howler after howler if one has a reasonable grasp of politics and government. The U.S. military, he says, was out of ammunition when he became president. NATO allies owe us money because they're behind on their dues. Trade deficits are simply unilateral transfers of money from one nation to another. I'm pretty sure he doesn't know what "pre-existing conditions" means, even though I've heard him discuss the topic dozens of times.
All presidents enter the White House with significant gaps in their knowledge of public policy. Every modern one has worked reasonably hard or very hard to catch up. Trump by all accounts (including his own) instead watches hours of cable news every day. As I've said, there's nothing wrong with presidents monitoring the media, even though they have much better sources of information. It's a good way to get outside the White House bubble and understand what other people are hearing. But Trump appears to use cable news as a substitute, not a supplement, to basic briefings.
Trump's confused answer underlines the extent to which he is still, even now, disengaged from any real planning to control the pandemic and revive the economy. Perhaps he realized that talking about preparations for the fall might contradict his insistence that the federal response is perfect right now. But even then it's shocking that he didn't have some kind of prepared answer for a question that's so central to the crisis.  https://www.bloomberg.com/opinion/articles/2020-04-24/donald-trump-s-coronavirus-briefings-don-t-inspire-confidence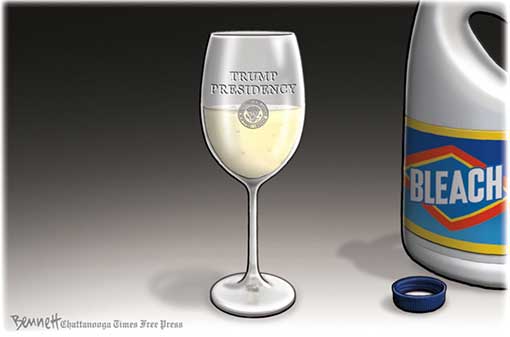 6. Jonathan Martin and Maggie Haberman: Many Republicans believe President Trump's daily news briefings are inflicting grave damage on his political standing.
President Trump's erratic handling of the coronavirus outbreak, the worsening economy and a cascade of ominous public and private polling have Republicans increasingly nervous that they are at risk of losing the presidency and the Senate if Mr. Trump does not put the nation on a radically improved course.
The scale of the G.O.P.'s challenge has crystallized in the last week. With 26 million Americans now having filed for unemployment benefits, Mr. Trump's standing in states that he carried in 2016 looks increasingly wobbly: New surveys show him trailing significantly in battleground states like Michigan and Pennsylvania, and he is even narrowly behind in must-win Florida.
Democrats raised substantially more money than Republicans did in the first quarter in the most pivotal congressional races, according to recent campaign finance reports. And while Mr. Trump is well ahead in money compared with the presumptive Democratic nominee, Joseph R. Biden Jr., Democratic donors are only beginning to focus on the general election, and several super PACs plan to spend heavily on behalf of him and the party.
Perhaps most significantly, Mr. Trump's single best advantage as an incumbent — his access to the bully pulpit — has effectively become a platform for self-sabotage.
His daily news briefings on the coronavirus outbreak are inflicting grave damage on his political standing, Republicans believe, and his recent remarks about combating the virus with sunlight and disinfectant were a breaking point for a number of senior party officials. https://www.nytimes.com/2020/04/25/us/politics/trump-election-briefings.html
7. Rick Wilson: Never forget that the man spouting a stream of absurd BS is the president of the United F*cking States
Abandoning the little things like science, medicine, chemistry, and pharmacology, Alchemist in Chief Donald Trump used his daily rant session to leap so far off the deep end that viewers would not have been shocked to see him in a wizard's robe covered in mystic symbols.
"So supposing we hit the body with a tremendous—whether it's ultraviolet or just a very powerful light," Trump said. "And then I said supposing you brought the light inside the body, which you can do either through the skin or some other way and I think you said you're going to test that too."

Case closed!

But Mr. President, have you considered the role of the bilious humours in COVID-19? Perhaps the falling damps? What about comets? Would you recommend leeches or bloodletting after the mythical light therapy, or should we have a cunning woman from the village mix up some sort of poultice? Is mandrake root contraindicated in the treatment of coronavirus?

It got better, and by better I mean even more insane.

"I see the disinfectant that knocks it out in a minute, one minute. And is there a way we can do something like that by injection inside or almost a cleaning? As you see it gets in the lungs, it does a tremendous number on the lungs, so it would be interesting to check that."

Interesting. Injecting disinfectant. What could possibly go wrong?  https://www.thedailybeast.com/donald-trump-idiot-alchemist-says-sun-bleach-will-save-us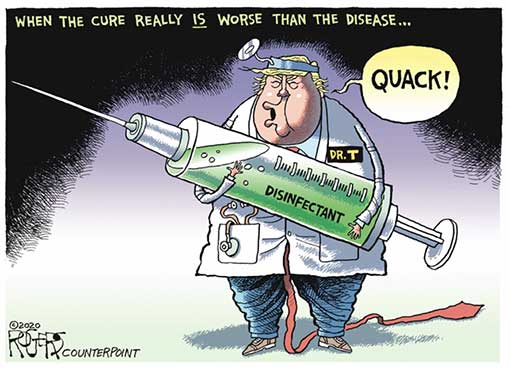 8. John Stoehr: 'Light and Heat,' the Politics of the Occult
It doesn't make any sense, because it's not supposed to.
It's natural to call Trump an idiot. It's understandable to call him deranged. A more sophisticated reaction might be that he's a conspiracy theorist or a fascist demagogue or an anti-intellectual populist. I have touched on all of these. But today, I'd like to suggest another view: that Donald Trump's politics are the politics of the occult.

Coronavirus protesters, sovereign citizen militias, Deep State conspiracists, QAnon (the belief that Democrats worship Satan and have orgies with children), and even white evangelical Christian preachers defying stay-at-home orders and turning congregants into idolaters—all of these and more can be better described as variations on a theme of the politics of the occult. None of it makes sense, because it was never intended to make sense, and our trying to force it to make sense actually empowers it.

I don't intent to besmirch the good names of genuine believers in the occult or the earth-centered religion of magick. (I'm thinking specifically of the late Margot Adler, an esteemed NPR reporter and Wiccan priestess who wrote the book that established what's now known as neopaganism.) But the fact is, occultism has a bad reputation, and I'm not above exploiting it to put Trump's politics in a rhetorical box.

So the next time a white evangelical preacher says his followers can defend against the new coronavirus by drenching themselves in the blood of Christ, know he's not practicing the Christian faith so much as practicing the politics of the occult. Same thing goes for anyone deciding it's a good idea to inject themselves with bleach. https://stoehr.substack.com/p/light-and-heat-the-politics-of-the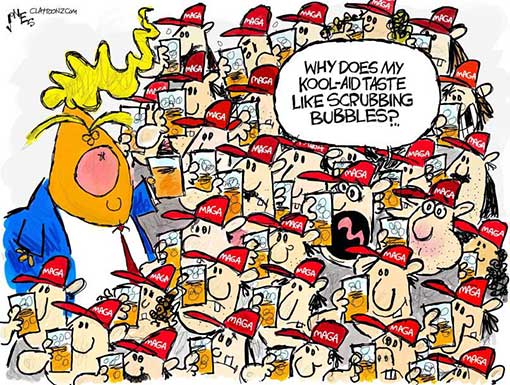 9. Mark Lebovich: Trump Turns Shared American Experiences Into Us vs. Them
Mr. Trump's performance during this pandemic has been a missed opportunity. "The coronavirus could have been Donald Trump's finest hour," Mr. Widmer said. "You really sensed that Americans wanted to be brought together. But now that appears unattainable."
For whatever reason, Mr. Trump seems uninterested in setting aside personal resentment, even when some small gestures — a photo op or a joint statement with Democratic leaders in Congress; a bipartisan pandemic commission chaired by former presidents — could score him easy statesmanship points.
His unwillingness to deal in any way with House Speaker Nancy Pelosi (they have reportedly not spoken since the House voted to impeach Mr. Trump in January) has rendered him a bystander during negotiations with Congress on massive economic recovery bills that were by and large led by Treasury Secretary Steven Mnuchin. He has taken shots at popular Democratic governors in the hard-hit states of Washington and of Michigan; his approval ratings are dipping — and lag behind that of most governors.. https://www.nytimes.com/2020/04/26/us/politics/white-house-correspondents-dinner-bipartisan-trump.html
10. Joe Scarborough: The cost of Trump's deadly state of denial
President Trump has been stumbling through a year of magical thinking. The consequences of this deadly state of denial have been catastrophic for pandemic victims and the U.S.
In January, Trump said the coronavirus threat was "one person coming in from China": "We have it totally under control . . . it's going to be just fine." But the president's intelligence community had been warning him for weeks about the coming threat when he made that spurious claim.
In February, Trump predicted the virus would go away by April. "It's like a miracle. It will disappear." That reckless prediction also came weeks after White House staff warned the virus could imperil millions of Americans' lives while costing the U.S. economy trillions of dollars.
In March, the president told worried Republican senators to "just stay calm" because "it will go away." Trump spent much of that month ignoring Anthony S. Fauci, the director of the National Institute of Allergy and Infectious Diseases, by declaring that the untested use of a malaria drug to treat covid-19 could be "one of the biggest game changers in the history of medicine." This week, the Food and Drug Administration had to warn Americans against the use of hydroxychloroquine to treat the virus because it caused "serious heart rhythm problems."
Throughout April, Trump's magical thinking continued full force, with the flustered president assuring reporters this week that covid-19 "might not come back at all" this fall. Fauci again had to correct the president's spurious claims. The next day, Trump publicly peppered his staff and medical about imagined benefits of ingesting disinfectants and implanting lights for pandemic patients. Once again, Trump's own administration had to warn the public against believing the president's ramblings.
As the former reality TV host trotted out these baseless remedies and delusional denials at his afternoon news conferences, 53,000 Americans died from a disease that did not go away miraculously in April. Instead, as former vice president Joe Biden predicted in January, Trump left America ill-prepared for the coming pandemic. Trump and Fox News's Sean Hannity were still claiming in March that the press was overblowing a crisis that Hannity declared was being used to "bludgeon Trump again with this new hoax." A month after the cable news host pushed out that obscene and dangerous disinformation, covid-19 killed more Americans on a single day in April than died in combat during the United States' 19-year war in Afghanistan. https://www.washingtonpost.com/opinions/the-cost-of-trumps-deadly-state-of-denial/2020/04/25/d0488c5c-8591-11ea-878a-86477a724bdb_story.html
11. Arwa Mahdawi: Trump is unravelling – even his supporters can't ignore it now
The tide now seems to have turned. Recent polls show that most Americans are unimpressed with Trump's handling of the crisis. This includes conservatives: a Siena College poll released on Monday found that 56% of Republican voters in New York say they trust Andrew Cuomo, the state's Democratic governor, to decide how to reopen the state over Trump. Even Fox News seems to have cooled towards Trumpism; the network has just cut ties with Diamond & Silk, a pair of rightwing social-media stars who have been two of Trump's biggest cheerleaders, after they promoted conspiracy theories and disinformation.
Perhaps the only people more incompetent than Trump are the ragtag team of sycophants he has surrounded himself with. According to Politico, Trump is leaning heavily on Hope Hicks, who he reportedly calls "Hopey", to steer him through the coronavirus crisis. Hicks, 31, who was formerly the White House communications director, is one of Trump's most-trusted aides; according to one tell-all book, her duties used to include steaming his trousers – while he wore them. It turns out Hopey is the mastermind who urged Trump to "act as a frontman" during the crisis instead of deferring to health experts. Now that plan has backfired, Hicks – who officially works under boy genius Jared Kushner – is apparently developing a new strategy for Trump. He had better Hopey this one is a little more effective. https://www.theguardian.com/commentisfree/2020/apr/28/trump-is-unravelling-even-his-supporters-cant-ignore-it-now
12.  Robert Draper: Can the Trump Campaign Rewrite the Story of the Trump Presidency?
Trump has pronounced himself a "wartime president" struggling against an " enemy," suggesting the hope that he might benefit from the nation's shared sense of embattlement. The question is whether voters will see him that way or judge him missing in action. The boost in approval he enjoyed early in the pandemic was short-lived and much smaller than other presidents in recent decades have received amid national emergencies; by the middle of April it stood, according to Gallup, at a familiar (for Trump) 43 percent. More ominous, according to a mid-April Morning Consult poll, support for the president's handling of the coronavirus among senior citizens — a stronghold of his electoral support — dropped 20 points in the preceding month. On the other hand, his approval among Republicans remained as stable, and as high (93 percent), as it has been throughout the rest of his presidency.
The selling of a president to voters under such circumstances has no precedent in the history of American politics. Herbert Hoover had three years to try to convince the electorate that the Great Depression was a consequence of World War I, that his administration had staved off catastrophe and that his Democratic opponent, Franklin Roosevelt, would usher in a crippling expansion of federal power. (And he failed.) Parscale will have had eight months to persuade voters that the Trump campaign's official slogan, "Keep America Great," accurately reflects the state of the country they are seeing with their own eyes. https://www.nytimes.com/2020/04/28/magazine/trump-campaign-manager-coronavirus.html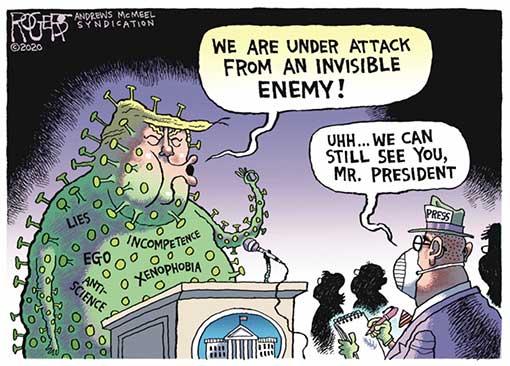 13. Zack Stanton: 'The Nightmare Scenario': How Coronavirus Could Make the 2020 Vote a Disaster
The prospect that terrifies election experts isn't the idea that Trump moves the election (something he lacks the power to do); it's something altogether more plausible: Despite an ongoing pandemic, the 2020 election takes place as planned, and America is totally unprepared.
The nightmare scenario goes something like this: Large numbers of voters become disenfranchised because they're worried it's not safe to vote and that participating makes it more likely they catch the coronavirus. Voter-registration efforts, almost always geared toward in-person sign-ups, bring in very few new voters. A surge of demand for absentee ballots overwhelms election administrators, who haven't printed enough ballots. In some states, like Texas, where fear of coronavirus isn't a valid reason to request an absentee ballot, turnout drops as Americans are forced to choose between voting in person (and risking contact with the coronavirus) or not voting at all.
At the same time, confidence in the cash-strapped U.S. Postal Service — whose coronavirus funding President Donald Trump has already threatened to block — teeters, and its involvement in handling so many absentee votes causes concern. Much as happened during the Wisconsin primary, a flood of mailed-in ballots makes it impossible to get full returns on election night, with heavily blue Democratic cities being, as usual, among the slowest to count. Trump declares victory based on those early returns, and again claims that the yet-to-be-counted absentees are tainted with fraud. Days later, with those votes counted, Joe Biden is declared the victor. Across the political spectrum, faith in the democratic process disintegrates as Americans question both the validity of the election and the ability of the government to respond to challenges it should have seen coming.
In surveying this scenario, what's especially frightening is that it's not far-fetched — at least according to University of California, Irvine professor Rick Hasen, one of the nation's top experts in election law and the author of "Election Meltdown." While much of the hand-wringing for the past month of more has been forward-looking — how coronavirus will change life at some point in the future — Hasen says the coronavirus is already changing American democracy, and that unless we adapt swiftly we're headed for a world of pain in November. https://www.politico.com/news/magazine/2020/04/28/2020-election-coronavirus-disaster-impact-215559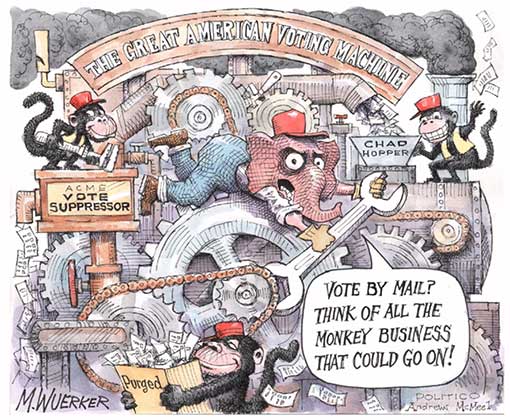 14. Richard Stengel: "You Have to Be Albert Einstein to Figure It Out": Trump's Scientific Ignorance Is Crippling His Coronavirus Response
Disregard for science is part of a long American tradition of anti-intellectualism and scientific know-nothing-ism. The U.S. has overwhelmingly won more scientific Nobel prizes since World War II than any other nation, yet 40% of Americans do not believe in evolution. This scientific backwardness is fueled in particular by a Republican contempt for expertise and elites. Trump's prejudices are a throwback to the 1950s; he treats scientists like delicate eggheads, a rarefied species to be carted out for show but not listened to. He's the class bully who shoots spitballs at the kids who wear glasses and like Bunsen burners. This contempt is dangerous because it influences the American public, which is precisely what it is designed to do. Although popularity and respect levels of Drs. Anthony Fauci and Deborah Birx are far higher than those of the president, a poll reported on this past week shows that almost half of Americans believe the virus was created in a lab. Nearly a third of Americans believe there is already a vaccine, but it is being hidden from the public. Disinformation is also a pathogen, and Trump injects it into the national bloodstream every day.
Trump's own scientific ignorance offers a contrast with a scientifically savvy president. In an interview in May of 2017, Trump was asked about the future of USS Ford-class carriers. Trump said he had been briefed about the catapults on these ships and was told the system was digital. He asked, why don't they use steam anymore? "It sounded bad to me," Trump said. "Digital. They have digital. What is digital? And it's very complicated. You have to be Albert Einstein to figure it out." His quote reminded me that Albert Einstein had actually once given scientific advice to an American president, and it was Einstein's letter to FDR outlining the possibilities of developing a nuclear weapon that launched the Manhattan Project. But of course, Trump has his own views on nuclear weapons: He's reportedly suggested dropping nuclear bombs on hurricanes to prevent them from hitting U.S. shores. https://www.vanityfair.com/news/2020/04/trumps-scientific-ignorance-is-crippling-his-coronavirus-response