March 30, 2023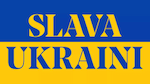 To subscribe to this FREE weekly newsletter simply email jellison@san.rr.comwith "subscribe" as the subject.
THE WEEK'S BEST QUOTES. . .
"This is the best time to do it." — House Budget Committee chairman Jodey Arrington (R-TX), quoted on forcing a debt ceiling crisis by threatening to crash the economy on purpose unless Democrats agree to Republicans' demands.
https://www.msnbc.com/rachel-maddow-show/maddowblog/key-gop-chair-best-time-debt-ceiling-crisis-rcna76399
"America will never be the same… You've got to hope that for the sake of the country, the Biden White House, which will be running against Trump, will put the country above partisanship and stop this. And that Merrick Garland at the DOJ will issue a very public statement saying that this is wrong—which it is—and therefore preserve for our grandchildren our justice system." — Tucker Carlson pleading with Joe Biden to stop the possible indictment of Donald Trump for the sake of America.
https://www.thedailybeast.com/tucker-carlson-begs-biden-to-stop-trump-indictment-for-the-sake-of-the-country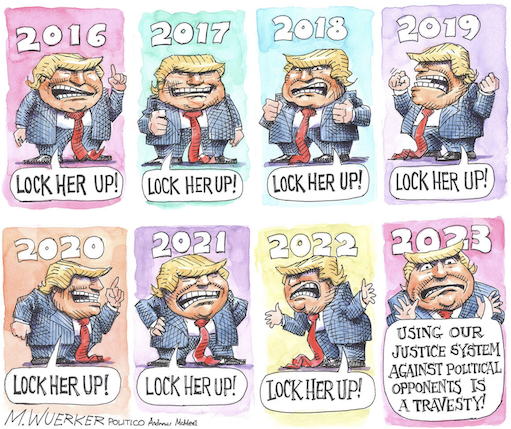 "European countries should detain Vladimir Putin and turn him over to the International Criminal Court if the Russian president visits their countries." — Secretary of State Antony Blinken on International Criminal Court's decision to issue an arrest warrant for Putin, accusing him of being personally responsible for the abductions of children from Ukraine.
https://www.washingtonpost.com/national-security/2023/03/22/blinken-putin-icc-russia-china/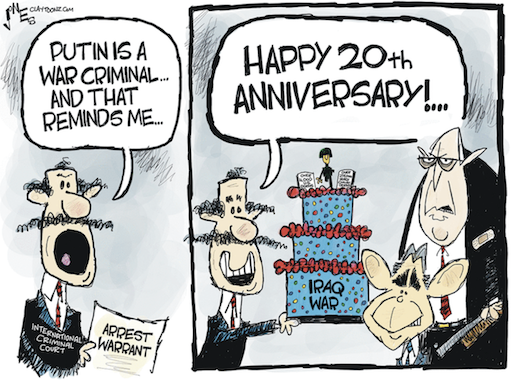 "EVERYBODY KNOWS I'M 100% INNOCENT, INCLUDING BRAGG. BUT HE DOESN'T CARE. HE IS JUST CARRYING OUT THE PLANS OF THE RADICAL LEFT LUNATICS. OUR COUNTRY IS BEING DESTROYED, AS THEY TELL US TO BE PEACEFUL!" —  Trump rant on Truth Social, referring to Manhattan DA Alvin Bragg.
https://s2.washingtonpost.com/camp-rw/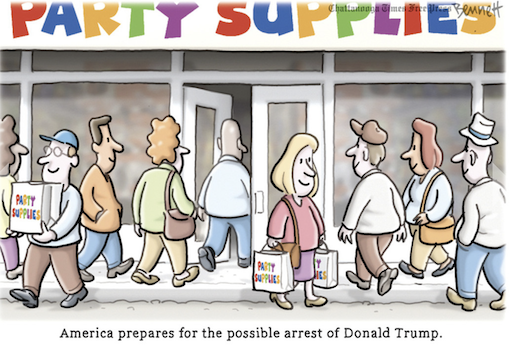 "I don't know what he's talking about." — Speaker Kevin McCarthy responding with bewilderment to House Budget Chairman Jodey Arrington (R-TX) telling reporters that Republicans are working on a written offer on the debt limit, which will likely come out before they release their full budget resolution.
https://twitter.com/sahilkapur/status/1639290794770157571
VIDEOS ...
Italian PM Giorgia Meloni speaks passionately in support of Ukraine.
https://www.youtube.com/watch
All those looming indictments are consuming his very great brain. — John Oliver
https://twitter.com/BradBeauregardJ/status/1637674605329498113
Mark Fiore: FREEDOM-FROM-WOKE BANK:
https://www.markfiore.com/january-march-2023/2023/3/15/freedom-from-woke-bank
DeSantis on "constitutional carry" and rolling back gun regulations: "I'm for everything, I've said that from the beginning."
https://twitter.com/atrupar/status/1640375019065729024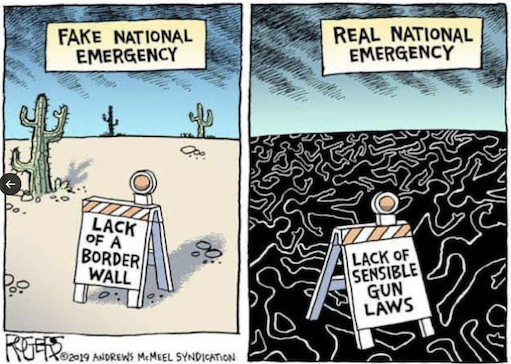 "Foreign adversaries don't take the US seriously anymore because there are "too many men in our military and our administration wearing dresses and doing crazy things." — Rep. Tim Burchett (R-TN)
https://twitter.com/atrupar/status/1640357018882940933
"If we really want to keep our children safe, we need to spend less time banning books and more time stopping the horrific gun violence in our schools." — Former Rep. Liz Cheney (R-WY).
https://twitter.com/Liz_Cheney/status/1640724264696389633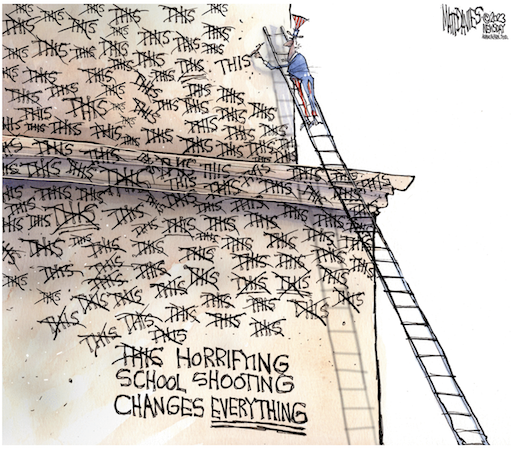 "A former president, a man once entrusted with the Constitution's Article II powers as our chief magistrate and the commander in chief of the most powerful military in the world, an elected official who held our survival in his hands with the codes to our nuclear arsenal, considered it an honor to be serenaded by a group of violent insurrectionists who are sitting in jail for offenses against the government and people of the United States." — Tom Nichols sums up his reaction to Donald Trump's rally in Waco.
https://www.theatlantic.com/newsletters/archive/2023/03/trump-sings-a-song-of-sedition/673535/
Former Gov. Chris Christie (R) took questions at the New Hampshire Institute of Politics at Saint Anselm College:
ATTENDEE: "I'm glad to hear you standing up against Trump, but when the results came in, you jumped ship on us."
CHRISTIE: "Let me explain. Let me explain 2016 to you. I'll be honest with you. We all made a strategic error… I stayed with him in 2016 because I didn't want Hillary Clinton to be president. None of us knew what kind of president he really would be or not."
ATTENDEE: "I did." https://www.semafor.com/article/03/28/2023/the-chris-christie-rebrand-runs-through-new-hampshire
"I am opposed to efforts by some Republicans and Democrats to unilaterally ban an entire social media platform. First of all, I don't like censorship. There are very legitimate concerns about privacy and the harvesting of private user data on social media platforms, but this proposal doesn't address those. Instead it singles out one platform—TikTok—and bans it outright." — TikTok." Rep. Ilhan Omar 
https://patch.com/minnesota/minneapolis/rep-omar-opposes-ban-tiktok-i-don-t-censorship.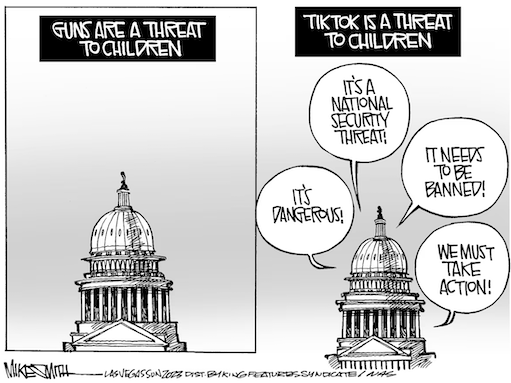 "We're not gonna fix it. Criminals are going to be criminals …" — Rep. Tim Burchett (R-TN) on school shootings.
https://twitter.com/brenonade/status/1640512268927418368
LITIGATION TRACKER
Pending Criminal and Civil Cases Against Donald Trump

. https://www.justsecurity.org/75032/litigation-tracker-pending-criminal-and-civil-cases-against-donald-trump/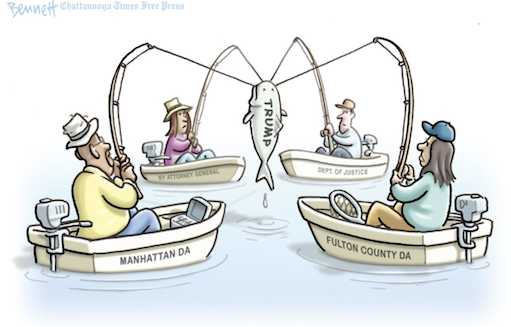 ---
IN THIS ISSUE
IN THE NEWS
OPINION
Andy Borowitz: Trump Claims Failure to Arrest Him Is Conspiracy to Keep Him from Getting Donations
Trump claimed that the failure of the Manhattan District Attorney, Alvin Bragg, to indict him thus far is "quite frankly, a conspiracy" to keep the Republican Presidential candidate from attracting campaign donations.

"Alvin Bragg, who is a disgrace, should have arrested me by now," Trump said. "He has treated me very unfairly."

Trump said that he had made repeated calls to Bragg's office to demand that he be arrested but has received no response.

"There's something going on," Trump said. "Obviously George Soros is telling Bragg not to arrest me. This should never be allowed to happen in this country."

Issuing an ultimatum to Bragg, Trump said that, if he is not arrested by Friday, "I will perform a citizen's arrest on myself."

"We can do this the easy way or the hard way," Trump said. "The easy way would be for Alvin to keep his promise and arrest me, but time is running out." https://www.newyorker.com/humor/borowitz-report/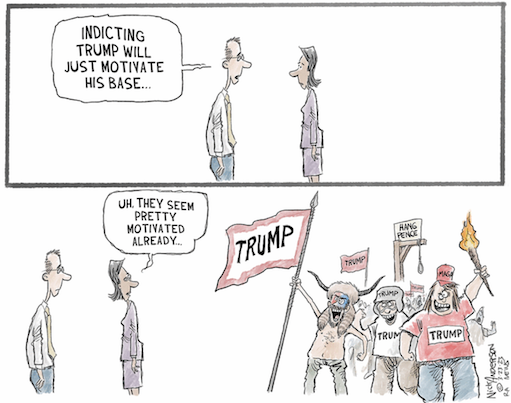 Prosecutor in Trump Hush-Money Case Fires Back at House Republicans
The Manhattan district attorney on Thursday responded to House Republicans who have scrutinized his office's criminal investigation into Donald J. Trump, pushing back forcefully against what the office called an inappropriate attempt by Congress to impede a local prosecution.

The office of the district attorney, Alvin L. Bragg, was responding to a Monday letter demanding that he provide communications, documents and testimony about his investigation — an extraordinary request by three Republican committee chairmen to involve themselves in an inquiry that is expected to result in criminal charges against the former president.

The response from the district attorney's office, signed by its general counsel, Leslie Dubeck, called the Republicans' request "an unprecedented inquiry into a pending local prosecution." saying "the power [of Congress] to investigate must not be confused with any of the powers of law enforcement; those powers are assigned under our Constitution to the Executive and the Judiciary." https://www.nytimes.com/2023/03/23/nyregion/bragg-trump-jordan-congress.html
Abortion puts New York Republicans on defense
Democrats are betting that the road back to the House majority rests with voters who care about abortion access — especially in blue states like New York.

The party lost seven battleground congressional seats in the Empire State, four of which were flipped from blue to red in 2022 — in addition to a handful of others in strongly blue California, New Jersey and Oregon. While advocates for abortion rights organized around specific constitutional or legislative abortion bans in swing states in 2022, many expect the priority of the issue to become more widespread next cycle.

Advocates and Democratic lawmakers believe even the threat of a national abortion ban will activate voters in New York in the same way the initial Dobbs decision did for voters in purple and red states, from Michigan to Kansas, in the midterms. https://www.politico.com/news/2023/03/27/abortion-new-york-republicans-00088809
The New York Post Takes on Trump
From a New York Post editorial:
Trump is not trying to make America a better place.
He's not offering anyone apart from himself a better future.
He's out for revenge.
This is how Trump has been spending his time since announcing his run for president.
Stewing in Mar-a-Lago.
No grievance is too small.
But he's not a mystery anymore.
Americans know that Trump can't stop himself from nursing piddling grudges and throwing out childish insults.
The emperor has no clothes.
Perhaps you don't mind.

But there are plenty of middle-of-the-road voters who do. https://nypost.com/2023/03/24/trump-wont-change-and-that-shows-he-cant-win/

GOP weighs protecting Trump with law shielding ex-presidents from prosecution
A trio of House Republican committee chairs say the House of Representatives could soon take up legislation to strip state and local prosecutors of the authority to prosecute former presidents in response to Manhattan District Attorney Alvin Bragg's potential indictment of former president Donald Trump.

In a letter to Mr Bragg, House Judiciary Committee Chair Jim Jordan, Oversight Committee Chair James Comer, and House Administration Committee Chair Bryan Steil rejected arguments the Manhattan prosecutor gave in response to the trio's demand that he give evidence before their panels about the ongoing investigation into Mr Trump. https://www.independent.co.uk/news/world/americas/us-politics/trump-criminal-charges-waco-rally-b2308057.html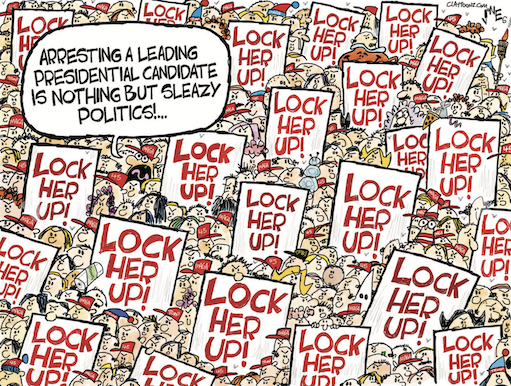 Abortion legal again in Wyoming after judge blocks ban
A judge in Wyoming blocked a state abortion ban that took effect this week, saying it ran afoul of a 2012 constitutional amendment voters approved that guarantees "each competent adult shall have the right to make his or her own health care decisions."

Lawmakers had declared in the new law that abortion is not health care, in an attempt to get around the amendment. https://trib.com/news/state-and-regional/govt-and-politics/abortion-legal-again-in-wyoming-after-judge-blocks-ban/article_dcef175c-c8cb-11ed-b38e-afe63068579f.html
"Significant increase" in threats online ahead of possible Trump indictment
Intelligence sources say that there's been a "significant increase" in threats and violent rhetoric online from domestic violent extremists as Donald Trump claimed he will be indicted by a Manhattan grand jury.

Domestic violent extremists in online postings have warned that prosecutors from the Manhattan District Attorney's Office would cross a red line if Trump is indicted and it would be met with more violence than the Jan. 6, 2021, attack on the U.S. Capitol, the sources said. There have also been postings calling for civil war. https://www.cbsnews.com/news/trump-arrest-possible-significant-increase-threats/
The minimum wage fight that will define the decade
An intraparty fight has broken out in New York over the state's minimum wage laws and how to get more money to the lowest-paid workers without hurting businesses, portending similar skirmishes across the country in the coming years.

The debate is rekindling divisions among Democrats in Albany, pitting liberal lawmakers against their more centrist colleagues and highlighting fissures that have emerged in Democratic strongholds elsewhere, particularly in areas with some of the country's highest costs of living. https://www.politico.com/news/2023/03/22/progressives-new-minimum-wage-20-00087966
McCarthy's newest challenge: Keeping the House GOP peace on war powers
Landing an agreement without exposing awkward internal divides may prove near-impossible.
That's because war powers are the rare topic that unite archconservatives with virtually every House Democrat in favor of repeal — while the majority of House Republicans, including many McCarthy allies, have opposed the idea of nixing the roughly 20-year Iraq War authorization. https://www.politico.com/news/2023/03/22/aumf-mccarthy-gop-war-00088145
Banking Crisis Emboldens House Republicans
The recent collapse of two large regional banks rattled global markets, raising concerns about financial stability during a precarious moment for the U.S. economy. Would this backdrop of uncertainty, we wondered, cause House Republicans to grow wary of launching a debt limit showdown?
From conversations with top GOP lawmakers at the House Republican retreat this week in Orlando, the answer is a hard "no."
Instead of expressing caution, senior GOP lawmakers are leaning into their plans to demand spending cuts in return for raising the nation's borrowing limit. https://punchbowl.news/archive/32223-punchbowl-news-am/
Poll: Signature DeSantis policies unpopular with Americans ahead of likely presidential run
If Florida Gov. Ron DeSantis defeats former President Donald Trump for the 2024 Republican presidential nomination, he may have a harder time winning the general election than his supporters expect, according to the latest Yahoo News/YouGov poll.

The new survey shows that more Americans oppose than favor seven out of eight signature policies put forward by DeSantis in Florida, with support ranging from 36% (for requiring public school books to be reviewed for content "the government deems inappropriate") to a low of 21% (for "granting political appointees the power to fire tenured faculty members at public colleges and universities at any time and for any reason"). https://news.yahoo.com/poll-signature-desantis-policies-unpopular-with-americans-ahead-of-likely-presidential-run-220406760.html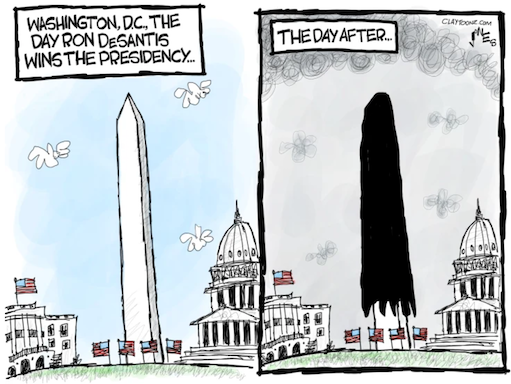 A Utah parent says the Bible contains porn and should be removed from school libraries.
Frustrated by the books being removed from school libraries, a Utah parent says the Bible should be reviewed for being "one of the most sex-ridden books around."

Wrote the parent: "Incest, onanism, bestiality, prostitution, genital mutilation, fellatio, dildos, rape, and even infanticide. You'll no doubt find that the Bible, under Utah Code Ann. § 76-10-1227, has 'no serious values for minors' because it's pornographic by our new definition." https://www.sltrib.com/news/education/2023/03/22/utah-parent-says-bible-contains/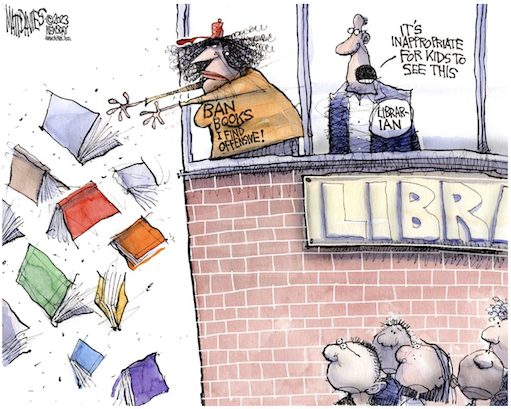 Florida Principal Out After Viewing Of Michelangelo's 'David' Upsets Parents
The principal of Florida's Tallahassee Classical School is out of a job after parents complained that their sixth-grade children were shown Michelangelo's 16th century "David" sculpture, with one parent calling it "pornographic." https://www.huffpost.com/entry/florida-principal-out-after-viewing-of-michelangelos-david-upsets-parents_n_641c621ee4b0fef15248d867
Donald Trump Shares Fake AI-Created Image Of Himself On Truth Social
Images created with artificial intelligence have flooded social media in recent months, with some people using AI tools like Midjourney to imagine what it would look like for Donald Trump to be arrested. But the former president isn't opposed to AI-created photos. Trump shared an image of himself on Thursday morning over at Truth Social.

The image, which has been circulating on pro-Trump Twitter since at least Saturday, shows the former president on one knee praying. At first glance it even looks like it could be a real photo. But anyone who looks closer will notice the telltale signs of AI. https://www.forbes.com/sites/mattnovak/2023/03/23/donald-trump-shares-fake-ai-created-image-of-himself-on-truth-social/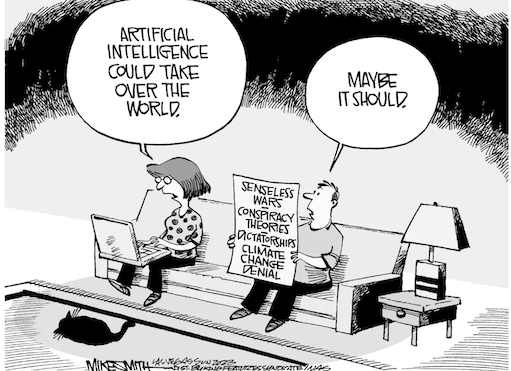 Trump's beer track advantage over Ron DeSantis
Florida Gov. Ron DeSantis' pre-campaign campaign for president has hit the skids — particularly among key blocs of voters he'll need to dethrone former President Donald Trump next year.

Polls show Trump dominating his likely primary competitor among GOP voters in the so-called 'beer track' — a shorthand for the cultural and socioeconomic characteristics of the bloc of voters with lower incomes and levels of educational attainment. While DeSantis is still the preferred candidate of high-income voters and those with college degrees, he is showing signs of bleeding there, too. In recent weeks, Trump's numbers have been rising among all Republicans, including with GOP voters most skeptical of his candidacy in the so-called 'wine track.' https://www.politico.com/news/2023/03/25/trump-desantis-gop-primary-00088730
Idaho Is About To Become The First State To Restrict Interstate Travel For Abortion
Idaho already has some of the most extreme abortion restrictions on the books, with nearly all abortions banned in the state and an affirmative defense law that essentially asserts any doctor who provides an abortion is guilty until proven innocent.

And now Idaho Republicans have set their sights on hindering certain residents from traveling out of state to get an abortion. https://www.huffpost.com/entry/idaho-abortion-bill-trafficking-travel_n_641b62c3e4b00c3e6077c80b
U.S. renewable electricity surpassed coal in 2022
"Electricity generated from renewables surpassed coal in the United States for the first time in 2022. https://apnews.com/article/renewable-energy-coal-nuclear-climate-change-dd4a0b168fe057f430e37398615155a0
Film 'Ruby Bridges' banned in a Florida school
A Florida school district banned the showing of a film about Ruby Bridges — the young girl who became a civil rights icon by wading through a White mob to integrate an elementary school in the South in 1960.

Reports indicate that, once again, a single parent provoked the district's action toward censorship, and the district failed to follow the process when petitioned. https://theweeklychallenger.com/film-ruby-bridges-banned-in-a-pinellas-county-school/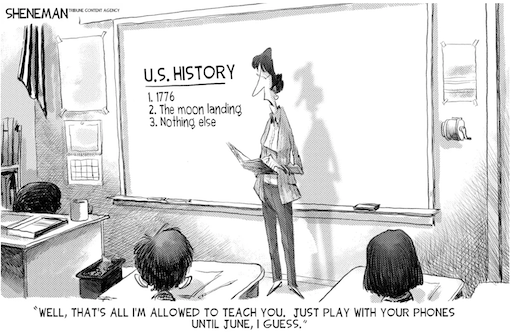 As Washington Calls for TikTok Ban, Its Owner Begins Pushing a New App
As TikTok's chief executive was getting grilled by lawmakers last week about the app's relationship to Beijing, with some even calling for a ban, the company's Chinese owner was sending a message to Americans who regularly make and publish posts on social media: "Come join our new app, "ByteDance.'" https://www.nytimes.com/2023/03/29/technology/tiktok-lemon8-content-creators.html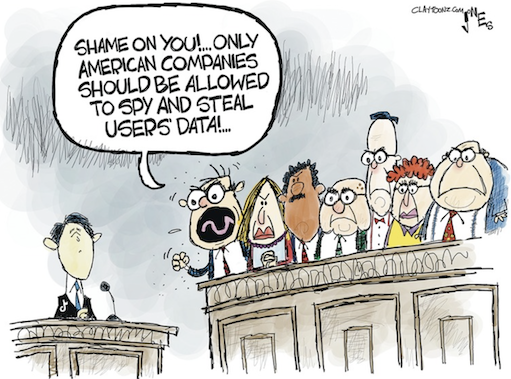 THE DAILY GRILL
"While the U.S. has many vital national interests …becoming further entangled in a territorial dispute between Ukraine and Russia is not one of them." -- DeSantis in a 3/13/23 statement. https://twitter.com/TuckerCarlson/status/1635446265692532738

VERSUS

Vladimir Putin a "war criminal" and he should be "held accountable" for his barbaric invasion of Ukraine. Russia was WRONG to invade Ukraine and was WRONG to invade and take over Crimea in 2014, and won't win the war. — Gov. Ron DeSantis reversing his stance on Ukraine 9 days later. https://nypost.com/2023/03/22/desantis-brands-putin-a-war-criminal-who-should-be-held-accountable-for-ukraine-invasion/



"Old dudes are eating Jell-O, everyone is talking about how great they are. I don't really need to be there for that. That's an hour and a half twice a week that I can get back." — Sen. Kyrsten Sinema (I-AZ) on no longer caucusing with Senate Democrats. https://www.politico.com/news/magazine/2023/03/23/sinema-trashes-dems-gop-00088461

VERSUS

"She's the biggest egomaniac in the Senate." — An anonymous Senate Democrat, describing Sen. Kyrsten Sinema. https://www.politico.com/news/magazine/2023/03/23/sinema-trashes-dems-gop-00088461



"We are sending our thoughts and prayers to the families of those lost. As a father of three, I am utterly heartbroken by this senseless act of violence. I am closely monitoring the situation and working with local officials." — Rep. Andrew Ogles (R-TN) https://twitter.com/RepOgles/status/1640406208942161942

VERSUS

This is the family Christmas card Rep. Ogles sent last year glorifying guns. https://twitter.com/shannonrwatts/status/1640410270014263299
Susan B. Glasser: Trolled by Trump, Again
At the end of another long week of Trumpian fury, signifying not much of anything, we are no closer to knowing how the story ends, only that, for now at least, the fantasy—or nightmare, depending on your perspective—of Trump handcuffed and perp-walked into a sordid new place in American history as our only indicted former President will have to wait a little longer.
But, then again, by now we're used to waiting. It's worth noting, in that context, that more time has elapsed between January 6, 2021, and now, with the Justice Department still contemplating what, if anything, to do about Trump's role in the insurrection, than did during the entirety of the Watergate scandal, from the initial break-in at the Democratic Party headquarters, in 1972, to Richard Nixon's resignation. (We're currently at eight hundred and six days past January 6th and counting, in case you were wondering.) And, of course, it's been far, far longer than that since July, 2006, when Trump had his ill-fated tryst with Stephanie Clifford, a.k.a. Stormy Daniels, and October, 2016, when she received the six-figure payoff from Michael Cohen, acting, he says, at Trump's behest.
So, is this, at last, what the law finally catching up with Trump looks like? I guess we can wait a few more days, weeks, or months to know the answer. In the meantime, we'll still have Donald Trump to kick around. I've just received a new message, in fact, from him. He seems very excited to have lasted the week without being arrested and wants us all to know that Bragg's office is wracked by "tremendous dissension and chaos" because there is in fact "NO CASE" against him. Make of that what you will. You've been warned. https://www.newyorker.com/news/letter-from-bidens-washington/trolled-by-trump-again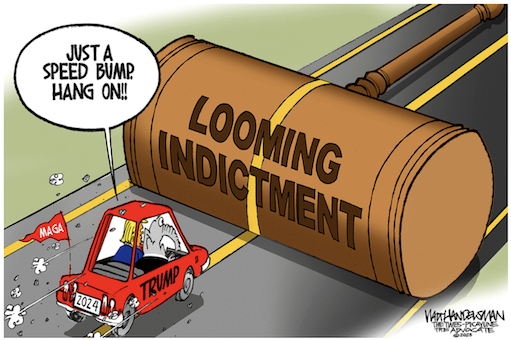 Michael C. Bender and J. David Goodman: As Trump Rallies in Waco, His Followers Shore Up His 2024 Bid
In the last 28 months, former President Donald J. Trump has been voted out of the White House, impeached for his role in the Capitol riot and criticized for marching many of his fellow Republicans off an electoral cliff in the 2022 midterms with his drumbeat of election-fraud lies.
He dined at home with a white supremacist in November. He called for the termination of the Constitution in December. He declared himself "more angry" than ever in January. He vowed to make retribution a hallmark of a second term in the White House in March.

He has embraced the QAnon conspiracy theory movement, described President Vladimir V. Putin of Russia as a genius and used a gay joke to mock a fellow Republican. He has become the target of four criminal investigations, including one in New York that he warned might result in "potential death & destruction."

Still, Mr. Trump remains a strong front-runner for the Republican Party's 2024 presidential nomination. At least one reason for this political durability was assembled Saturday morning outside the airport in the central Texas city of Waco in various combinations of red caps, antagonistic T-shirts and MAGA-button flair — the Trump die-hards. https://www.nytimes.com/2023/03/25/us/politics/trump-2024-rally-waco-texas.html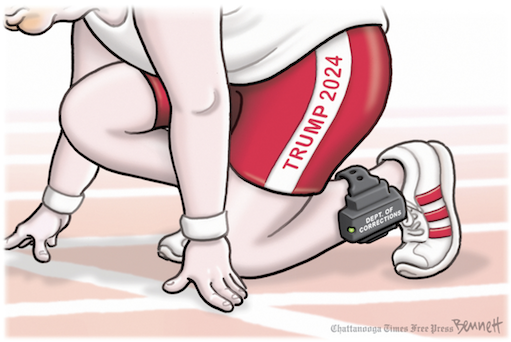 Heather Cox Richardson: Why Trump's Hush Money Payment Is a Big Deal
Trump bought Daniels's silence because he was willing to break laws in order to get elected. Then–Trump fixer Michael Cohen paid Daniels for her story in exchange for a non-disclosure agreement. Cohen testified that he paid her through a shell company to keep Trump's connection to the payment hidden.
Then Trump reimbursed Cohen for 'legal fees.'
That's a problem with regard to business filings and tax fraud. It is also a problem for the campaign finance laws intended to protect clean elections. Cohen's payment was a contribution to the Trump campaign because it was made 'in order to influence the 2016 presidential election.' The payment was intended to make sure voters didn't hear another sex scandal in October 2016, just after the Access Hollywood tape came out in which Trump talked vulgarly about sexually assaulting women, when it might have hurt his chances at election. The $130,000 contribution was far above the individual limit of $2,700, and the Trump campaign did not disclose it.

This is not small potatoes. When the issue came to light, Cohen pleaded guilty for his role in the payments, and he was sentenced to three years in prison. Cohen testified that he made the payments at Trump's direction. https://heathercoxrichardson.substack.com/p/march-22-2023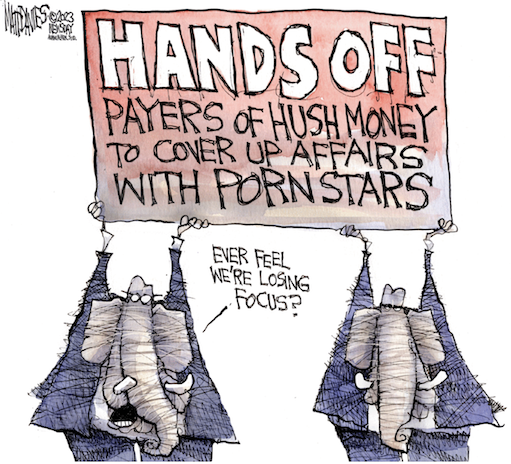 NY Times Editorial Board: The Dangerous Race to Put More Children to Work
In February, the Department of Labor announced that it had discovered 102 teenagers working in hazardous conditions for a company that cleans meatpacking equipment at factories around the country, a violation of federal standards. The minors, ages 13 to 17, were working with dangerous chemicals and cleaning brisket saws and head splitters; three of them suffered injuries, including one with caustic burns.

Ten of those children worked in Arkansas, including six at a factory owned by the state's second-largest private employer, Tyson Foods. Rather than taking immediate action to tighten standards and prevent further exploitation of children, Arkansas went the opposite direction. Earlier this month, Gov. Sarah Huckabee Sanders, a Republican, signed legislation that would actually make it easier for companies to put children to work. The bill eliminated a requirement that children under 16 get a state work permit before being employed, a process that required them to verify their age and get the permission of a parent or guardian.

Arkansas is at the vanguard of a concerted effort by business lobbyists and Republican legislators to roll back federal and state regulations that have been in place for decades to protect children from abuse. Echoing that philosophy, bills are moving through at least nine other state legislatures that would expand work hours for children, lift restrictions on hazardous occupations, allow them to work in locations that serve alcohol, or lower the state minimum wage for minors. The Labor Department says there has been a 69 percent increase since 2018 in the illegal employment of children.

The response in these states is not to protect those children from exploitation, but instead to make it legal. Voters in these states may support deregulation, but they may not know that businesses can use these bills to work children harder, cut their wages and put them in danger. There is time for them to persuade lawmakers to say no to these abuses. https://www.nytimes.com/2023/03/24/opinion/editorials/arkansas-child-labor.html
Ron Brownstein: How Working-Class White Voters Became the GOP's Foundation
The escalating confrontation between the parties over the federal budget rests on a fundamental paradox: The Republican majority in the House of Representatives is now more likely than Democrats to represent districts filled with older and lower-income voters who rely on the social programs that the GOP wants to cut.

House Republicans, in their ongoing struggle with President Joe Biden over raising the debt ceiling, have signaled they will push for sweeping reductions in domestic social programs, likely including Medicaid and the Affordable Care Act, the principal federal programs providing health care for working-age adults. And while House Republicans appear to have backed away from pursuing reductions in Social Security and Medicare, the conservative Republican Study Committee has set a long-term goal of cutting and partially privatizing both programs.

The Republicans who seem least concerned about targeting the social safety net are those who represent the places that need those programs the most. That's another telling measure of just how fully the concrete has settled beneath a modern political alignment that revolves more around culture than class. https://www.theatlantic.com/politics/archive/2023/03/working-class-white-voters-gop-house-agenda/673500/
David A. Graham: Wokeness Has Replaced Socialism as the Great Conservative Bogeyman
Defining what conservatives mean by wokeness is, as the writer Bethany Mandel learned the hard way this week, not easily done. For the purposes of discussion here, it also isn't necessary. Many people use the term in different ways, to describe a general constellation of progressive ideas on race, gender, and sexuality, but what matters is the fact that they are using it, and using it somewhat indiscriminately. After all, most of what an earlier generation of conservatives called "socialism" wasn't really socialist, either.
"Socialism" has faded as a rallying cry because this conservative movement can hardly pretend to be horrified by big government, and it has learned that its voters aren't especially interested in cutting spending programs, either, at least the ones that benefit them.

Attacking wokeness fills that void—we might even cheekily call this the GOP's successor ideology—with an alternative that is malleable enough to apply to nearly any situation. But as the SVB story demonstrates, the malleability is also a weakness. If wokeness is an explanation for everything, it is also an explanation for nothing. Although it's a good way to gather a range of cultural resentments, it offers little in the way of policy ideas to improve lives, even in contrast to vague promises such as trickle-down economics. No one has yet provided any explanation of what an anti-woke bank-regulation regime might look like—and no one will. This is an attack suited to a party that exists only to campaign, with no interest in actually governing. https://www.theatlantic.com/ideas/archive/2023/03/wokeness-socialism-liberal-threat-public-discourse/673430/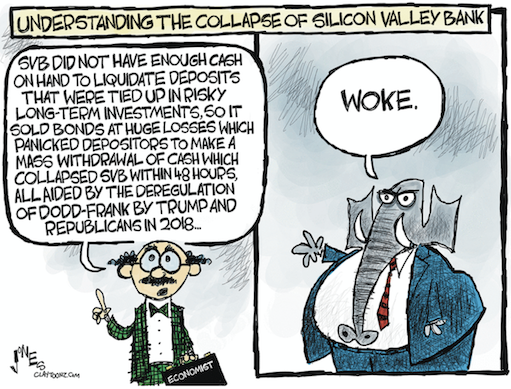 Helen Lewis: How Did America's Weirdest Most Freedom Loving State Fall For An Authoritarian Governor
DeSantis is a politician who preaches freedom while suspending elected officials who offend him, banning classroom discussions he doesn't like, carrying out hostile takeovers of state universities, and obstructing the release of public records whenever he can. And somehow Florida, a state that bills itself as the home of the ornery and the resistant, the obstinate and the can't-be-trodden-on, the libertarian and the government-skeptic, has fallen for the most keenly authoritarian governor in the United States. https://www.theatlantic.com/magazine/archive/2023/05/ron-desantis-florida-state-politics-gop/673489/
The DeSantis Conundrum
DeSantis' biggest political asset is that he's viewed favorably by nearly all of the Republican Party's voters — across the ideological spectrum.

His biggest challenge is that those sky-high approval numbers are likely to falter now that he's sparring with former President Trump — and as he makes tough decisions on where he stands on hot-button national issues.

But, so far in his public pronouncements, DeSantis has left little daylight between himself and Trump on policy — on Ukraine (at first), his combative tone on cultural fights and skepticism toward COVID-19 vaccines (where he's positioned himself to Trump's right).

But by siding with the MAGA wing of the party, he risks alienating traditional Republicans, who still make up a majority of the GOP electorate. https://www.axios.com/2023/03/26/desantis-conundrum-trump-maga-polls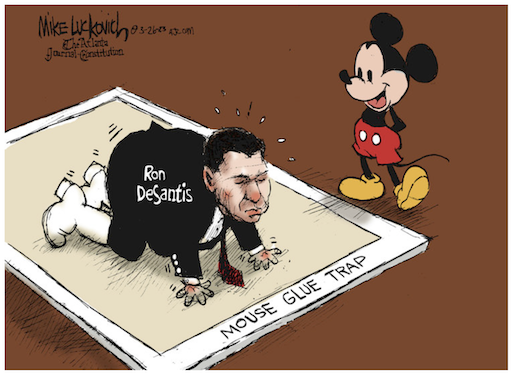 Stephen Collinson: Trump leans into extremism at first 2024 rally as legal woes mount
Donald Trump is igniting his White House bid at a moment of unprecedented peril in the criminal investigations against him – a confluence that could send America into a new political and legal collision.

Trump's wild rhetoric at his first official 2024 campaign rally Saturday previewed the divisive national moment ahead should he be indicted in any of multiple criminal probes. As he whipped up a demagogic fervor in Waco, Texas, to try to secure a new presidency dedicated to "retribution," Trump's extremism – laced with suggestions of violence – left no doubt he would be willing to take the country to a dark place to save himself. https://www.cnn.com/2023/03/27/politics/trump-extremism-2024-legal-woes/index.html
Greg Sargent: In Michigan, an agenda countering the anti-woke GOP frenzy takes shape
The advent of "right to work" in Michigan — and neighboring Wisconsin — resulted from the GOP's 2010 takeover of many state governments. As the American Prospect's Harold Meyerson notes, those laws — entrenching antilabor policy in the heart of the Democratic Rust Belt — were as central to the GOP's radicalization as a national party as its hard-right cultural lurch has been.

If Michigan Democrats repeal "right to work" while protecting abortion and LGBTQ rights — making voters feel represented in the process — it could start undoing those big developments that haunt the party and the country.

There is a long way to go. Wisconsin, where the GOP controls the legislature, will remain "right to work" for years to come. Democratic majorities have proven skittish about implementing pro-labor policy in places with less union history, such as Virginia.

But getting the labor-culture balance right could prove just the antidote to the reactionary GOP frenzy. If Republicans can sell their culture war agenda as appealing to "working-class values," so too can Democrats sell an unabashed liberal answer to it as better for workers — on economic issues and cultural values alike. https://www.washingtonpost.com/opinions/2023/03/27/michigan-democrats-repeal-right-to-work/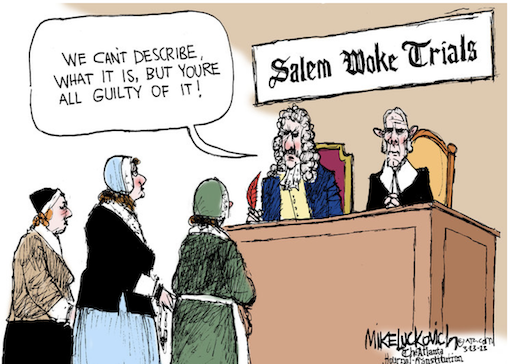 Elaine Godfrey: Trump Begins the 'Retribution' Tour
You'd think that, by now, Donald Trump's fans would be tired of all this. The long lines and the self-indulgent speeches and the relentless blasting of Laura Branigan's "Gloria" as they stand outside exposed to the elements. But they aren't. Not at all.
After six years, the former president's rallies still have summer-camp vibes—at least at first. At last night's event in Waco, Texas—the first rally of his 2024 presidential campaign—Trump's thousands of supporters seemed delighted simply to be together at the Waco airport hangar, wearing their ultra maga T-shirts and drinking lemonade in the hot sun. Sure, the vendors ran out of water at one point, and there was no shade to speak of, but nobody really complained. They were too busy singing along to the Village People and bonding with new friends over their shared interests (justice, freedom, theories about a ruling Deep State cabal).
But the sunny mood of Trump's supporters contrasted with his 2024 campaign message, which is different this time around—darker, more vengeful, and, if such a thing is possible, even more self-absorbed. "The abuses of power that we are witnessing at all levels of government will go down as among the most shameful, corrupt, and depraved chapters" in history, Trump told the crowd in a clear reference to a potential indictment he's facing related to hush-money payments to the porn actor Stormy Daniels—and probably also to the three other main legal cases against him. He spent 30 minutes soliloquizing about Manhattan District Attorney Alvin Bragg, the corrupt "thugs" in America's justice system, and the apparent threat to his attorney-client privilege. Behind Trump, supporters held up witch hunt signs that had been given out by the campaign. https://www.theatlantic.com/politics/archive/2023/03/donald-trump-rally-waco-2024-campaign/673526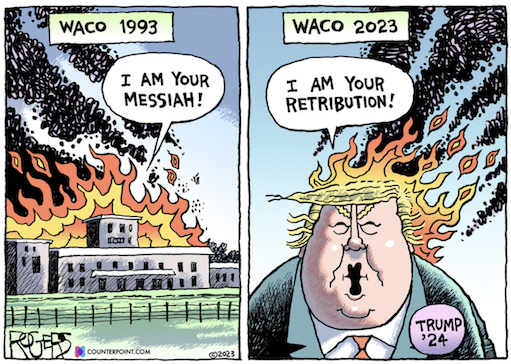 David A. Graham: The Most Disturbing Part of Trump's Latest Rant
At his rallies in 2016, Trump used to tell his supporters, "I am your voice." Last night, he offered something more sinister. "I am your warrior. I am your justice," he told them. "For those who have been wronged and betrayed, I am your retribution."
Choosing Waco for his first campaign rally of the season was a little on the nose even for Trump, a man who has always relished a chance to say the quiet part out loud. In the spring of 1993, federal law-enforcement agents laid siege to the Branch Davidian compound, where a leader had bound his followers to him with apocalyptic warnings. Thirty years later, here was Trump, whipping up his own supporters with claims of similar law-enforcement overreach—which, in Trump's case, may mean being charged with crimes related to his dealings with a star of Porking With Pride 2.

At times over the past week, Trump has seemed almost giddy at the prospect of an indictment, reportedly musing with aides about how he might behave during a potential perp walk. The past few days have also been anxious ones for Trump, according to the New York Times reporter Maggie Haberman, but also according to anyone reading Trump's frantic social-media posts. On Truth Social, in between site ads for mole and skin-tag removal, the former president has been Truthing and Retruthing with the all-caps enthusiasm of a middle schooler hopped up on Pixy Stix. "EVERYBODY KNOWS I'M 100% INNOCENT," he wrote last week. "OUR COUNTRY IS BEING DESTROYED, AS THEY TELL US TO BE PEACEFUL!" Trump predicted an imminent arrest, and urged Americans to "PROTEST, PROTEST, PROTEST!!!" On Thursday, presumably while pacing the gilded halls of Mar-a-Lago, Trump amped up his rhetoric by warning—or maybe, threatening—about the "death & destruction" that could occur if he is eventually charged. https://www.theatlantic.com/ideas/archive/2023/03/trumps-threats-death-and-destruction-if-indicted/673508/