August 25, 2022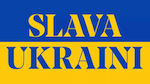 If you have a friend, family member, or neighbor who would like to subscribe to this FREE weekly newsletter they should simply email jellison@san.rr.com with "subscribe" as the subject.
THE WEEK'S BEST QUOTES. . .
The problem the Republican Party has is that they got really stupid people that vote in their primaries, and… really stupid people demand to have really stupid leaders. That's where the Republican Party is now." —
James Carville
.
https://thehill.com/homenews/campaign/3605025-james-carville-trump-scandal-could-be-biggest-story-since-9-11/
"They continue to try to fool you like they're helping you out, but they're not," They're not helping you out, because a lot of the money is going into trees. You know that, don't you? It's going into trees. We've got enough trees. Don't we have enough trees around here?" — Hershel Walker Sunday at a Republican Jewish Coalition event in Sandy Springs, days after President Joe Biden signed the Inflation Reduction Act into law.  https://www.msnbc.com/rachel-maddow-show/maddowblog/problems-herschel-walkers-odd-comments-trees-rcna44367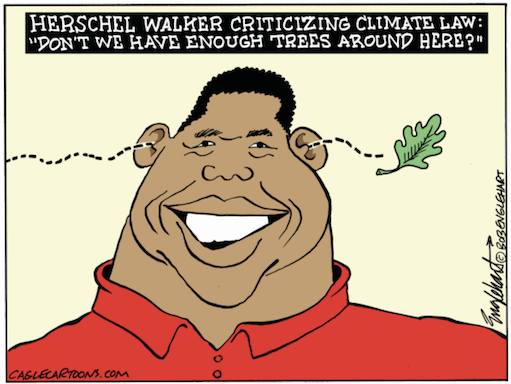 I've covered extremism and violent ideologies around the world over my career. Have never come across a political force more nihilistic, dangerous & contemptible than today's Republicans. Nothing close.  —
Edward Luce
https://twitter.com/EdwardGLuce/status/1557984573354565633
New York congressional candidate Carl Paladino (R)
said on a radio show that Attorney General Merrick Garland "probably should be executed" following the raid of Donald Trump's estate in Mar-a-Lago.
https://buffalonews.com/news/local/govt-and-politics/on-radio-show-paladino-said-merrick-garland-probably-should-be-executed-he-later-said-he/article_c335cdfe-1e5a-11ed-b987-37406c628204.html
"No other president has lived in a hotel." —
Former national security adviser John Bolton
on why Donald Trump keeping classified documents at Mar-a-Lago represented a security risk.
https://www.nytimes.com/2022/08/18/us/politics/trump-fbi-classified-documents.html
The Republican Party just created a free agent (
Liz Cheney
) who can run for President perpetually as an independent on the right, stealing 5-10% of votes in purple states, without taking votes from anyone inclined to voting Democrat.
https://twitter.com/DBarkhuff/status/1559857286012600320
"We now have a presidency where the president has delivered the largest economic recovery plan since Roosevelt, the largest infrastructure plan since Eisenhower, the most judges confirmed since Kennedy, the second largest health care bill since Johnson, and the largest climate change bill in history. … The first time we've done gun control since President Clinton was here, the first time ever an African American woman has been put on the U.S. Supreme Court. … I think it's a record to take to the American people." —
White House chief of staff Ron Klain
. 
https://www.politico.com/newsletters/playbook/2022/08/19/ron-klain-says-season-of-substance-could-save-dems-00052839
FL Republican state house candidate Luis Miguel
was suspended from Twitter after his tweet advocating that Floridians should be able to shoot federal agents on sight."Under my plan, all Floridians will be able to shoot FBI, IRS, ATF, and all other federal troops on sight," Miguel tweeted. "Let freedom ring."
https://floridapolitics.com/archives/548917-miguel-tweet/
The DeSantis narrative
is that he's the culture warrior who gets results, but two big pieces of culture war legislation (Stop WOKE Act and social media law) are now blocked by courts. And FL may have to pay legal fees. Might I suggest this isn't what winning looks like? -- David A. French
https://twitter.com/DavidAFrench/status/1560340216266821633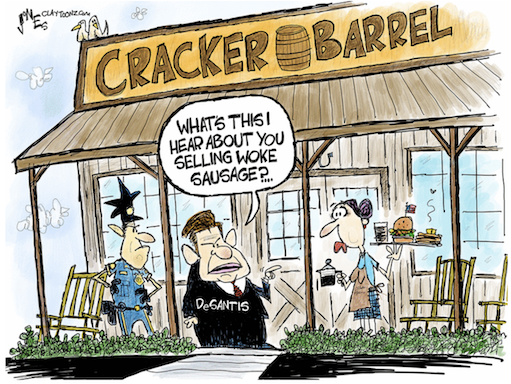 "I'm increasingly of the opinion that Trump's best defense may be that he's delusional — some analog to insanity — because he clearly does not appear to understand the central legal issues and controlling law in his case." —
Asha Rangappa
https://twitter.com/AshaRangappa_/status/1562232454949310464
Gay people are "worthy of death" and "we would be totally in the right" to stone them. —
Oklahoma statehouse candidate Scott Esk (R) Facebook post
.
https://www.usatoday.com/story/news/politics/elections/2022/08/23/oklahoma-candidate-scott-esk-comment-gay-people-worthy-death/7875382001/
Rebekah Jones
, the scientist who Ron DeSantis fired for exposing his hiding the true numbers of COVID deaths in Florida, wins her primary and will now face Trumper Congressman Matt Gaetz.
https://twitter.com/OccupyDemocrats/status/1562332498163531776
VIDEOS
"I'm not conceding, because I'm a winner!" —

Laura Loomer (R)

, attacks the Republican Party and alleges voter fraud after losing the GOP primary to Rep. Daniel Webster (R-FL). https://twitter.com/DeForestNews6/status/1562242537334755328

"I am supporting DeSantis .. DeSantis has gone from being awesome to unbelievabIy good … can look into his eyes on HD video, and I see the real sincerity." —

Former Trump supporter, Alex Jones

. https://twitter.com/RonFilipkowski/status/1560062894984896513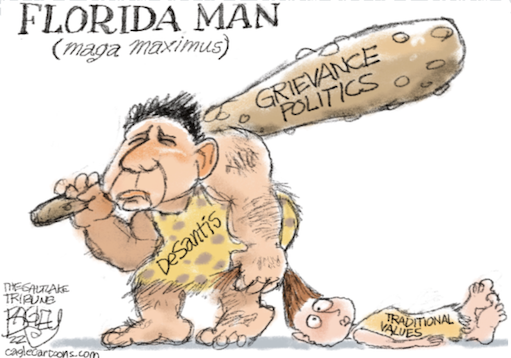 FL law enforcement agencies should refuse to continue to work with the Feds, and "we need to defund these lawless federal law enforcement agencies." — 

FL State Rep Anthony Sabatini
https://twitter.com/RonFilipkowski/status/1560657197608054786

"Hey People Magazine, welcome to my crib(s)" -

Dr. Oz

, literally. As a general rule of thumb, celebrity TV doctors with over $100 million in asset$ + several properties NOT IN PA don't usually fight for working people. —

John Fetterman US Senate candidate, PA

. https://twitter.com/JohnFetterman/status/1542501205351579649
LITIGATION TRACKER
Pending Criminal and Civil Cases Against Donald Trump
. 
https://www.justsecurity.org/75032/litigation-tracker-pending-criminal-and-civil-cases-against-donald-trump/
---
IN THIS ISSUE
IN THE NEWS
OPINION
Andy Borowitz: Republicans Worry That Midterm Voters Might Believe Women Deserve Rights
In the aftermath of the decisive Democratic win in New York's special congressional election on Tuesday, Republican leaders are suddenly concerned that midterm voters might believe that women deserve rights.

The Democrat Pat Ryan's thumping win in Tuesday's election has made Republicans wonder, in the words of House Minority Leader Kevin McCarthy, "Is this thing of women having rights going to be a problem for us in the fall?"

"You look at the results in the Ryan election, and it sure seems like a lot of people thought women should be considered human," McCarthy said. "The question is: is this a part of something bigger or just kind of a onetime fluke?"

McCarthy said that he hopes midterm voters will "think big picture" and consider other issues besides whether women should have rights.

"With our emphasis on environmental deregulation, book banning, and easier access to guns, the Republicans have created a big tent," he said. "It would be a shame to see that wrecked by an obscure special-interest group like women." https://www.newyorker.com/humor/borowitz-report/.
That sound you hear is the crash of expectations of big GOP gains in the House this fall."
Democrats notched a huge victory in New York's 19th CD last night as Democrat Pat Ryan defeated Republican Marc Molinaro 51% to 49% in a Hudson Valley special election both parties had invested in. That's roughly the same margin President Biden had carried the seat by in 2020. The result shouldn't be shocking, considering Democrats had outperformed in other recent specials in NE-01 and MN-01. But Molinaro, regarded as a pragmatic executive of blue-leaning Dutchess County, had led in multiple polls throughout the race. Ryan, the younger Ulster County executive and decorated Army veteran, prevailed after a late push to make abortion rights the centerpiece of the campaign.

What should be most worrying for Republicans is that NY-19 is the kind of district they need to win to have any chance of rolling up big numbers in November. With few Democrats sitting in Trump districts, Republicans' success depends on picking off Democrats in CD's Biden carried by six points or less. Not that long ago, that looked feasible. https://www.cookpolitical.com/analysis/house/2022-primaries/red-wave-looks-more-ripple
Texas judge blocks Biden administration emergency abortion guidance
U.S. District Judge James Wesley Hendrix in Lubbock Texas late on Tuesday blocked President Joe Biden's administration from enforcing new guidance in the Republican-led state requiring hospitals to provide emergency abortions to women regardless of state bans on the procedure. https://www.reuters.com/legal/us-judge-blocks-federal-guidance-emergency-abortions-texas-2022-08-24/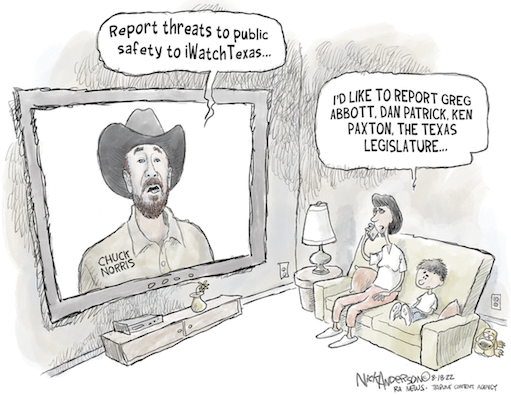 Trump, Without the Presidency's Protections, Struggles for a Strategy
On Tuesday, a Florida judge informed two lawyers representing former President Donald J. Trump, neither of them licensed in the state, that they had bungled routine paperwork to take part in a suit filed following the F.B.I.'s search this month of Mr. Trump's Mar-a-Lago home and private club.

Mr. Trump has projected his usual bravado, and raised millions of dollars online from outraged supporters, since federal agents descended on the property more than two weeks ago and carted off boxloads of material including highly classified documents. But something is different this time — and the errant court filing offered a glimpse into the confusion and uncertainty the investigation has exposed inside Mr. Trump's camp.

The documents investigation represents the greatest legal threat Mr. Trump has faced in years, and he is going into the battle shorn of the protective infrastructure and constitutional armor of the presidency. After years of burning through lawyers, he has struggled to hire new ones, and has a small group of lawyers of varying experience. https://www.nytimes.com/2022/08/23/us/politics/trump-investigation-strategy.html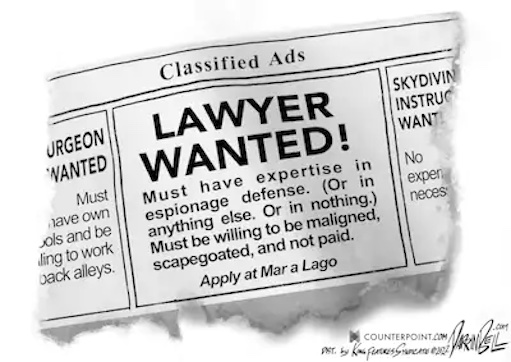 Republicans vow to investigate Fauci after he steps down in December
Dr. Anthony Fauci on Tuesday responded to Republican vows to investigate him after he steps down from his government roles in December, saying he would consider testifying but not submit to "character assassination."

Top Republicans in Congress pounced on the news of his planned departure, saying if they retake the majority in the upcoming midterm election, they will grill the nation's leading infectious disease expert about his role during the COVID pandemic. https://abcnews.go.com/Politics/republicans-vow-investigate-fauci-steps-december/story
Rick Scott's Ill-Timed Italian Vacation

     
Sen. Rick Scott (R-FL) is spending part of his congressional recess on a luxury yacht in Italy with his family after criticizing  <https://twitter.com/SenRickScott/status/1561818208142823424> President Biden for vacationing in Delaware.

Scott is already under fire for his management of the committee. Vacationing in Europe while Republicans face cash problems and rough headlines about their midterm chances could further hurt his standing with his GOP colleagues. https://www.axios.com/2022/08/23/rick-scott-senate-republicans-vacation-italy
Two ringleaders convicted on Whitmer kidnapping conspiracy charges
A federal jury Tuesday convicted two men accused of orchestrating a plan to kidnap Gov. Gretchen Whitmer as prosecutors salvaged the largest domestic terrorism case in a generation that has shed light on political extremism in Michigan.

The verdicts give the U.S. Justice Department a landmark victory prosecuting extremism and domestic terrorism amid an increase in threats nationwide. https://www.detroitnews.com/story/news/local/michigan/2022/08/23/michigan-whitmer-kidnapping-conspiracy-plot-barry-croft-adam-fox/7865780001/
Beto O'Rourke Plans to Knock on 5 Million Doors
As Beto O'Rourke wraps up a seven-week trek across Texas early next month, his gubernatorial campaign is planning to kick off another tour of 120 'volunteer rallies' in cities around the state, aimed at boosting the Democratic candidate's organizing ranks during a critical stretch of the campaign. https://www.houstonchronicle.com/politics/article/Beto-O-Rourke-plans-volunteer-rallies-17388567.php
Weeks before Mar-a-Lago search, ex-Trump DOD official vowed to publish classified documents from National Archives
In June of this year, seven weeks before the FBI raided former President Donald Trump's Mar-a-Lago estate in search of classified materials, former Defense Department appointee and outspoken Trump loyalist Kash Patel vowed to retrieve classified documents from the National Archives and publish them on his website.

Trump had just issued a letter instructing the National Archives to grant Patel and conservative journalist John Solomon access to nonpublic administration records, according to reporting at the time.

Patel, who under Trump had been the chief of staff for the acting defense secretary, claimed in a string of interviews that Trump had declassified a trove of "Russiagate documents" in the final days of his administration. But Patel claimed Trump's White House counsel had blocked the release of those documents, and instead had them delivered to the National Archives.

"I've never told anyone this because it just happened," Patel said in an interview on a pro-Trump podcast on June 22. "I'm going to identify every single document that they blocked from being declassified at the National Archives, and we're going to start putting that information out next week." https://abcnews.go.com/US/weeks-mar-lago-search-trump-dod-official-vowed/story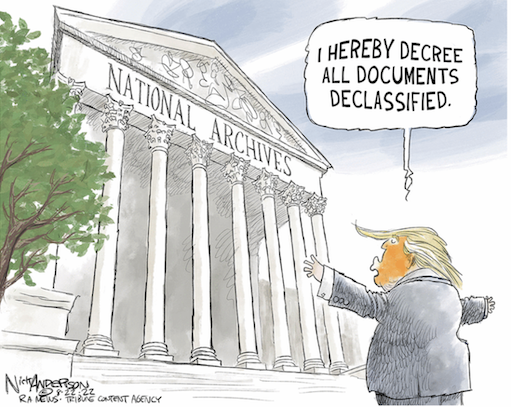 Grifter in Chief rakes in millions off FBI search at Mar-a-Lago
Former president Donald Trump bombarded his supporters with more than 100 emails asking for money based on the FBI's search of his Florida Mar-a-Lago Club for classified materials last week. They paid off.

Contributions to Trump's political action committee topped $1 million on at least two days after the Aug. 8 search, according to two people familiar with the figures. The daily hauls jumped from a level of $200,000 to $300,000 that had been typical in recent months. https://www.washingtonpost.com/politics/2022/08/17/trump-fundraising-fbi-raid/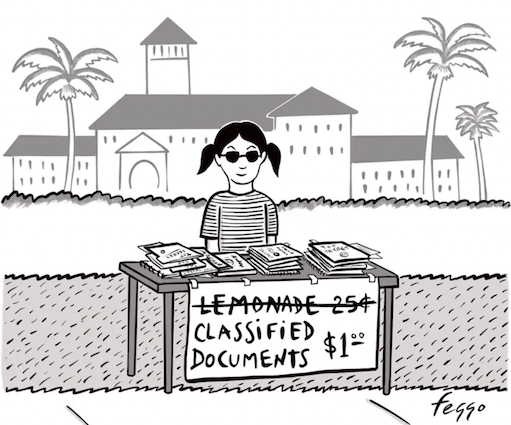 Trump supporters' threats to judge spur democracy concerns
Hundreds of federal judges face the same task every day: review an affidavit submitted by federal agents and approve requests for a search warrant. But for U.S. Magistrate Judge Bruce Reinhart, the fallout from his decision to approve a search warrant has been far from routine.

He has faced a storm of death threats since his signature earlier this month cleared the way for the FBI to search former President Donald Trump's Mar-a-Lago estate as part of a probe into whether he inappropriately removed sensitive materials from the White House. Reinhart's home address was posted on right-wing sites, along with antisemitic slurs. The South Florida synagogue he attends canceled its Friday night Shabbat services in the wake of the uproar.

Trump has done little to lower the temperature among his supporters, decrying the search as political persecution and calling on Reinhart to recuse himself in the case because he has previously made political donations to Democrats. Reinhart has also, however, contributed to Republicans. https://apnews.com/article/donald-trump-mar-a-lago-democracy-congress-government-and-politics-3e957660956399da07b59808bd9c8a71
Abortion Bans May Lead to Economic Costs for States
The Supreme Court's decision to overturn Roe v. Wade and allow states to decide their own stances on abortion access has led 16 states to cease nearly all services. An economic fallout may come next.

Abortion rights advocates have said that the lack of access to reproductive care can lead to poverty or debt and pregnancy can be expensive… Abortion restrictions also disproportionately affect women of color… That study also declared that 'currently employed women aged 15 to 44 would gain $101.8 billion in higher earnings annually if all state-level abortion restrictions were eliminated.' https://abcnews.go.com/US/abortion-bans-lead-economic-costs-states/story
Post-Roe differences surface in GOP over new abortion rules
For decades, Republicans… appealed to conservative voters — and donors — with broad condemnation of abortion. But the Supreme Court's decision is forcing Republicans from state legislatures to Congress to the campaign trail to articulate more specifically what that opposition means, sometimes creating division over where the party should stand…

Some experts say the inconsistency among Republicans about how to move forward underscores how new the debate is — and how unprepared the party was for it. https://apnews.com/article/2022-midterm-elections-abortion-us-supreme-court-government-and-politics-legislature-48279e8a14816377032b491157c72062
Trump's dominance in GOP comes into focus, worrying some in the party
Donald Trump is securing his grip on the Republican Party less than three months before the midterms, with GOP primary voters surging to the polls in Wyoming to oust his most vocal GOP critic, scores of nominees for state and federal offices amplifying his false claims and bellicose rhetoric, and many prominent party figures echoing his evidence-free attacks about the FBI search of his home. https://www.washingtonpost.com/politics/2022/08/17/trump-cheney-wyoming-republicans/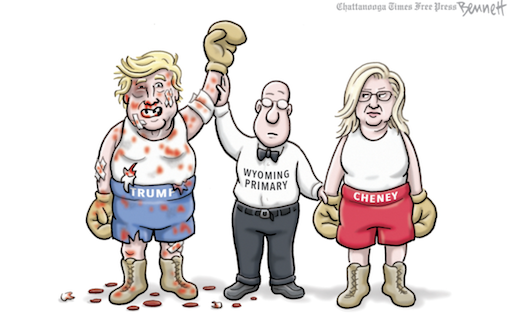 POLLS ...
The Cook Political Report moved the Senate race in Pennsylvania from Toss Up to Lean Democrat. If that holds, Democrats will have flipped a seat.
A Cook Political Report also says the race for Senate control is now a Toss Up.  https://www.cookpolitical.com/analysis/senate/senate-overview/three-senate-rating-changes-pennsylvania-colorado-and-utah

Wisconsin Democratic Lt. Gov. Mandela Barnes has a seven-point lead over two-term Republican Sen. Ron Johnson in one of this year's marquee Senate races, according to a new poll conducted by Marquette University Law School. https://www.businessinsider.com/mandela-barnes-leads-ron-johnson-wisconsin-senate-poll-evers-michels-2022-8

Polling in Georgia  shows incumbent Sen. Raphael Warnock (D-GA) ahead by of Hershel Walker 1.8%.  https://projects.fivethirtyeight.com/polls/senate/2022/georgia/
Polling in  Arizona  shows Mark Kelly (D-AZ) ahead of Blake Masters by 8.3%. https://projects.fivethirtyeight.com/polls/senate/2022/arizona/
In an August 16 University of North Florida's Public Opinion Research Lab, poll Val Demings came out on top in the head-to-head against Marco Rubio for U.S. Senate, 48% ito 44%. https://www.bet.com/article/9bylw3/val-demings-leading-marco-rubio-florida-senate-race
In Ohio, a new Emerson poll shows J.D. Vance leading Democratic U.S. Rep. Tim Ryan by just three points, 45% to 42%. https://emersoncollegepolling.com/ohio-2022-jd-vance-leads-tim-ryan-in-competitive-bid-for-us-senate-gov-dewine-holds-16-point-lead-over-democratic-challenger/
A FiveThirtyEight forecast now shows Democrats with a 63% chance to take control of the Senate. https://projects.fivethirtyeight.com/2022-election-forecast/senate/
A new poll from AARP Michigan finds that 51% of likely voters support Democratic Gov. Gretchen Whitmer's re-election, while 46% of likely voters support her Republican opponent, Tudor Dixon. https://www.nbcnews.com/meet-the-press/meetthepressblog/whitmer-leads-dixon-michigan-governors-race-five-points-new-aarp-poll-rcna43702
A new Yahoo News/YouGov poll shows that President Biden's job-approval rating has shot up 5 percentage points since early August — its largest and most sudden change to date.  But now, days after signing his signature Inflation Reduction Act into law, the president seems to be gaining ground. To be sure, Biden's overall rating is still negative: 40% approve to 53% disapprove. That is his best number, however, since May, and it appears to signal two welcome trends for the White House: improving perceptions of the state of the U.S. economy and rebounding confidence in Biden among Democrats and independents. https://news.yahoo.com/poll-biden-approval-surges-rebounds-to-highest-level-since-may-163225038.html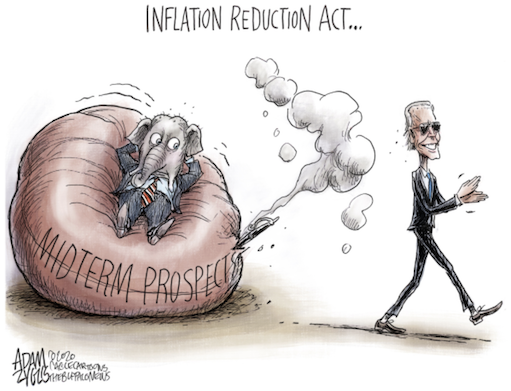 Pew Research poll finds the two political parties are essentially tied on midterm voting intentions: 44% say that if the election were held today, they would vote for the Democratic candidate in their district or lean toward the Democrat, while 42% would vote for the Republican or lean Republican. https://www.pewresearch.org/politics/2022/08/23/midterm-election-preferences-voter-engagement-views-of-campaign-issues/

Another new Pew Research poll finds 55% of registered voters say the issue of abortion will be very important in their midterm vote, up from 43% in March. Virtually all of the increase has come among Democrats: 71% of Democratic and Democratic-leaning registered voters rate abortion as very important; fewer than half (46%) said this in March. By contrast, views among Republicans and GOP leaners have shown almost no change since then (41% now, 40% then). https://www.pewresearch.org/politics/2022/08/23/abortion-rises-in-importance-as-a-voting-issue-driven-by-democrats/

"Lots of focus on Dems being more engaged/energetic post-Dobbs, which is undeniably true. But to me, the GOP/Trump base appears less engaged than it was last November, which is just as big a part of the story." —Dave Wasserman, U.S. House editor of the nonpartisan Cook Political Report. https://twitter.com/Redistrict/status/1562289784520851457
The DAILY GRILL ...
During its search of Mar-a-Lago, the FBI took three passports from Trump's residence. A team of investigators tasked with screening the searched materials for extraneous documents quickly discovered that they had the passports, and they were returned to Trump. In a statement, the FBI said that it follows search and seizure procedures ordered by courts, then returns items that we do not need to be retained for law enforcement purposes.
https://www.vox.com/policy-and-politics/23306941/donald-trump-crimes-criminal-investigation-mar-a-lago-fbi-january-6-election-georgia-new-york
VERSUS
Compare that narrative to how Trump characterized the FBI's brief acquisition of these passports: Wow! In the raid by the FBI of Mar-a-Lago, the stole my three Passports (one expired), along with everything else. This is an assault on a political opponent at at level never seen before in our country. Third  World! —Donald J Trump 
https://www.vox.com/policy-and-politics/23306941/donald-trump-crimes-criminal-investigation-mar-a-lago-fbi-january-6-election-georgia-new-york
Jonathan Last: Everything's Coming Up Brandon!
Some of the intangible good stuff left out of President Biden's accomplishments, but notes he left out."
Joe Biden is not in your face pronouncing on every matter under the sun. You could, if you wanted, go weeks without seeing or hearing him.
When the administration makes mistakes, they are not based on presidential impulses.
Policy is not being made by 1:00 am tweet.
The president is not engaging in the culture war and antagonizing authoritarian-leaning Republicans.
There are no scandals emanating from the executive branch.
https://thetriad.thebulwark.com/p/everythings-coming-up-brandon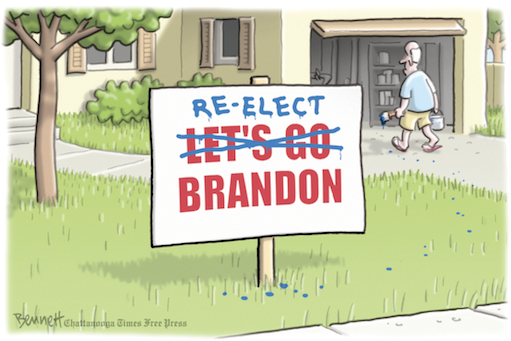 Nathaniel Rakich: Yes, Special Elections Really Are Signaling A Better-Than-Expected Midterm For Democrats
In your typical midterm election with an unpopular Democratic president, you'd expect Republicans to be flying high. But the evidence is mounting that the national political environment right now actually leans toward Democrats.
On Tuesday, Democrat Pat Ryan defeated Republican Marc Molinaro in a special election for New York's swingy 19th Congressional District by 2 percentage points, 51 percent to 49 percent.1 At the same time, Republican Joe Sempolinski defeated Democrat Max Della Pia by a closer-than-expected margin of 7 points in the special election for New York's solid-red 23rd District. On their own, these elections could be dismissed as flukes, chalked up to local factors or particularly strong or weak candidates. But given how these two elections are part of a larger pattern of good results for Democrats over the last two months, they suddenly look a lot more like signal than noise.
We at FiveThirtyEight often track the results of special elections (i.e., elections that occur at unusual times because an office unexpectedly becomes vacant) because of the hints they provide to the national mood. When a party consistently does well in special elections — defined not by winning or losing, but by outperforming a state or district's baseline partisanship — it's often a sign that the national political environment favors that party, and is therefore a good omen for that party in the upcoming regular general election.
https://fivethirtyeight.com/features/yes-special-elections-really-are-signaling-a-better-than-expected-midterm-for-democrats/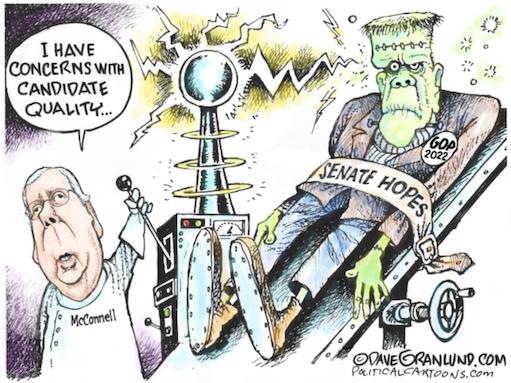 Jennifer Rubin: Trump's risk of indictment for his document snatch just skyrocketed
The sheer number of documents previously recovered and their sources (from the CIA, FBI and National Security Agency) raise the stakes considerably for Trump, undercutting his followers' frivolous excuses and ludicrous accusations of an FBI plot to persecute him.
Even more incriminating, the Times reports, "Mr. Trump went through the boxes himself in late 2021," meaning he was clearly aware of the contents and could view the classification markings. If the FBI and Justice Department are looking for evidence of Trump's direct knowledge of the materials and willful refusal to return all of them, this would fit the bill.
If, contrary to what Trump's counsel said, the government did not previously get back all sensitive materials, the only logical conclusion would be that Trump refused to part with documents he falsely told aides were "mine." This might be the rare case when Trump lacks even a hint of plausible deniability (e.g., the ability to shift blame to his attorney).
If the facts are as damning as they appear, Trump's risk of indictment is quite high. After the evidence is gathered, Attorney General Merrick Garland will need to decide whether to pursue an indictment from the grand jury. With a discrete set of facts that a jury can easily comprehend, powerful evidence of Trump's willfulness and the clear interest in protecting the nation's secrets, Garland will have every incentive to proceed — and surely not wait until the exponentially more complicated Jan. 6 investigation concludes.
https://www.washingtonpost.com/opinions/2022/08/23/trump-documents-indictment-risk-skyrocket/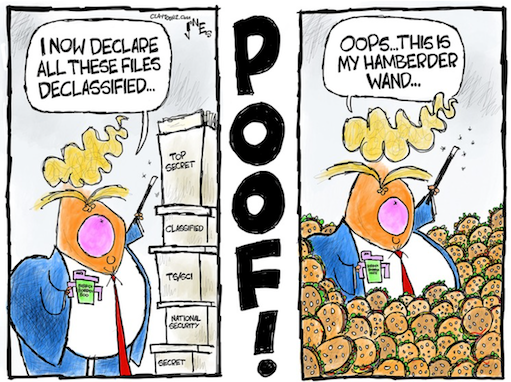 Tom Nichols: Can GOP Voters Handle the Truth?
Cheney's defeat was no surprise, but it is an especially bitter pill to swallow for the Never Trump former Republicans who saw Cheney as the last outpost of the party they once knew. Cheney nodded to the GOP's free fall in her concession speech.
Said Cheney: I believe deeply in the principles and the ideals on which my party was founded. I love its history, and I love what our party has stood for, but I love my country more.
Notice the use of the past tense there. The remarkable thing about Cheney's speech is that it was aimed squarely at the voters. It was certainly not aimed at Trump; Cheney, as well as anyone, knows the pointlessness of addressing Trump in anything like an adult conversation. It wasn't even really directed at the institutional Republican Party, which is beyond repair at this point. Instead, Cheney grabbed Republican voters by the lapels and told them to snap out of their Trump-induced trance.
https://www.theatlantic.com/newsletters/archive/2022/08/can-gop-voters-handle-the-truth/671178/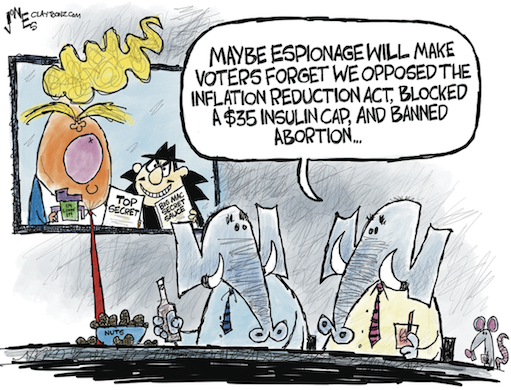 Alyssa Rosenberg: The horror of people willing to die for Donald Trump
On Thursday afternoon, a man whom authorities have identified as Ricky Shiffer was shot and killed in a stand-off with police officers after he allegedly tried to break into a FBI office in Cincinnati. Reports suggest that he may have been motivated by a strong devotion to former president Donald Trump and by anger at the FBI's search of Trump's Mar-a-Lago resort.

On Thursday evening, The Post reported that according to sources, the search at Mar-a-Lago was aimed in part at recovering classified documents relating to nuclear weapons. Trump's response? A post on Truth Social, the platform he founded, declaring, Nuclear weapons issue is a Hoax, and a false suggestion that Barack Hussein Obama had done something similar.

But whatever we may learn about Shiffer's motivations and the results of the FBI search, one thing is clear: The number of people who have died seemingly in service of an idol as unworthy as Donald Trump is tragic.

It's one thing for Trump to relieve his followers of their money for dubious causes. (The former president has raked in millions of dollars ostensibly dedicated to political work, when in reality what money has been spent has gone to Trump's personal expenses, according to Post sources.)

Even the people who seek to martyr themselves in Trump's defense can be redefined and reinterpreted through this corrupt logic: On social media, Trump fans aren't celebrating Shiffer as a Trumpist patriot. They're dismissing him as a false flag planted to paint the FBI in a flattering light.
Those of us who live outside the boundaries of this mad realm may be tempted to count ourselves lucky. Still, we should be concerned for the residents of Trumpland for their own safety. And if that's not enough, we should care because the people who die for Donald Trump may someday take others with them. https://www.washingtonpost.com/opinions/2022/08/12/fbi-cincinatti-standoff-shiffer-people-willing-to-die-for-trump/
Marianna Sotomayor: How the Mar-a-Lago search has helped fuel GOP attacks on the IRS
After Rep. Tom Cole (R-OK) spent 15 minutes on a Monday tele-town hall running through his recent work in Congress, he opened the call up to questions.

First up was James, from Ada, Okla., who wanted to know: What are you going to do about the new brigade of armed Internal Revenue Service agents?

The caller was referencing recent legislation that gives the IRS billions of dollars for tax enforcement, some of which could be used to hire more agents and help close the tax gap of unpaid federal taxes.

But Cole didn't miss a beat in his response, echoing his House Republican colleagues by falsely claiming the funding would double the size of the IRS by hiring 87,000 agents who would work to audit everyone from small-business owners to farmers making less than $75,000 a year. He ignored the questioner's suggestion that the agents would be armed but declared the funding an amazing expansion of government by a party that believes the average American is not paying enough taxes.

That was just another one of the reasons why I voted no on the legislation, Cole said. Sorry that we couldn't defeat it.

The legislation does not direct the hiring of 87,000 armed agents. It does allot $80 billion over a decade throughout the agency to bolster taxpayer services and enforcement of the tax code.

But as Republicans work to find their message in the days after their standard-bearer's Florida residence was searched by the FBI, the verbal attacks on federal law enforcement have become enmeshed with another talking point tied to a totally different issue: the idea that Democrats are supercharging a tax agency to surveil regular Americans.

If the FBI can raid the home of a former US President, imagine what 87,000 more IRS agents will do to you, Rep. Jim Banks (R-Ind.) tweeted hours after the Mar-a-Lago search. https://www.washingtonpost.com/politics/2022/08/18/how-mar-a-lago-raid-has-helped-fuel-gop-attacks-irs/
Eugene Robinson: The GOP put an abortion dystopia on the ballot for the midterms
In their zeal to control women's bodies, Republicans are threatening the lives, health, well-being and privacy of women and girls across the nation. But this modern-day Inquisition is one you can do something to stop when you cast your vote in November.
These are the questions on the ballot:
Should a parentless 16-year-old who says she knows she is not able to care for a baby be denied an abortion by a judge?
Should a woman undergoing a miscarriage, with the fetus showing no cardiac activity, be sent home to suffer 48 hours of heavy bleeding and excruciating pain before doctors will perform a surgical extraction that would have been done immediately just a few months earlier?
Should a teenager and her mother be made to face criminal charges for terminating the girl's pregnancy early in the third trimester based largely on evidence gleaned from private messages they exchanged on Facebook about abortion pills?
Do not dismiss these cases as outliers. Such horrors are likely to be the norm in GOP-controlled states following the Supreme Court's June 24 ruling striking down Roe v. Wade. Republican state legislatures and governors are enacting draconian abortion bans that leave doctors, pharmacists, patients, judges and police officers worried that once-routine decisions about patient care and individual privacy could now be illegal. And even if the worst doesn't come to pass frequently, extreme cases are still important stress tests for the law.
For every American who might become pregnant or have a miscarriage — and for everyone who loves them — your vote matters. https://www.washingtonpost.com/opinions/2022/08/18/gop-abortion-dystopia-midterms/
Susan Glasser: Is There a Serious Case for a Not-Awful Election for Democrats
The conventional wisdom in Washington would indicate that the Democrats are all but certain to lose the House in 2022, and very likely the Senate, too. The yearlong collapse in Joe Biden's approval ratings has been seen as a virtual guarantee of this outcome. Biden has become the most politically unpopular leader at this point in a Presidency since the advent of modern polling—even more unpopular than Trump was during the blue wave election of 2018. That and a worst-in-four-decades inflation outbreak on Biden's watch have convinced almost all political observers that the elections this fall are a sure thing for Republicans.

But, over the summer, a new school of what might be called Trumptimism has taken hold among some Democratic strategists and independent analysts. In the mess of our current politics, they discern a case for optimism—history-defying, experience-flouting optimism that maybe things won't work out so badly after all in November.

Said Democratic strategist Simon Rosenberg: In the age of Trump, nothing is normal. Nothing is following traditional physics and rules, so why would this midterm? https://www.newyorker.com/news/letter-from-bidens-washington/is-there-a-serious-case-for-a-not-awful-election-for-democrats-this-fall
Garrett M. Graff: Trump Is Going After One of the Most Conservative Institutions in the U.S. Government
Of all the weird and historically discordant moments and news stories of the Donald Trump era, few seem stranger than watching the former president and his allies demonize the F.B.I. as some sort of rogue woke Democratic deep state mob. This has been happening for several years now, but in the days since the F.B.I. searched Mr. Trump's home at Mar-a-Lago, the bureau has attracted particularly withering criticism for its supposedly leftist persecution of Mr. Trump, and Republicans have even begun to call to defund the corrupt F.B.I.

Historically, though, the F.B.I. has been arguably the most culturally conservative and traditionally white Christian institution in the entire U.S. government. It's an institution so culturally conservative, even by the standards of law enforcement, that Democratic presidents have never felt comfortable — or politically emboldened — enough to nominate a Democrat to head the bureau.

That's right: Far from being a bastion of progressive thinking, every single director of the F.B.I. has been a Republican-aligned official, going all the way back to its creation. Such history suggests that the issue here is Mr. Trump and not institutional bias.

The irony of Donald Trump and Republicans demonizing the F.B.I. is that over the course of its century-plus existence, the bureau has actually stood as one of America's cultural bulwarks protecting the nation from radicals and subversives who sought to diversify the United States beyond its traditional white, male, Christian power structure. Hoover seemed to fight his entire life to preserve the unique mom, baseball and apple pie nostalgia that would crystallize around the Leave It to Beaver idyll of the 1950s. https://www.nytimes.com/2022/08/18/opinion/trump-fbi-conservative.html