March 25, 2021
ON THE RECORD. . .
"We will see if our Republican friends join us. If they don't join us, our caucus will come together and decide the appropriate action to take. Failure is not an option." — Senate Majority Leader Chuck Schumer, introducing a comprehensive voting reform bill..

With momentum clearly on the side of significantly weakening the filibuster Senate Democrats should plow ahead with a major change to the archaic rule without fearing the retaliation McConnell has promised. If McConnell's tactics become truly onerous Dems can always pass further reforms to end obstruction. McConnell's goal is to make government fail, Dems' goal should be to make it work." — Adam Jentleson, formally on the staff of former Senate Majority Leader Harry Reid (D-Nev.).

"There's no question that some of the damaging rhetoric we saw during the prior administration — calling COVID 'the Wuhan virus' or other things — led to perceptions of the Asian American community that are inaccurate, unfair, have elevated threats against Asian Americans" —  White House press secretary Jen Psaki

Fourteen House Republicans voted against a resolution condemning the military coup in Myanmar. —Manu Raju

"There's old sayings in Texas about find all the rope in Texas and get a tall oak tree. You know, we take justice very seriously, & we ought to do that. Round up the bad guys." -- Rep. Chip Roy (R-TX) glorifying lynchings during hearing on violence against Asian-Americans.

Democrats are trying to expand voting rights to "illegal aliens" and "child molesters" and Republicans must do all they can to stop them. if they push through far-reaching election legislation now before the Senate, the GOP won't win elections again for generations." -- Sen. Ted Cruz (R-TX)

"There will be a cost—and not just a moral one—if continues its march backward. To the extent that there is an impediment to the leadership's plunging the state back into its ugly past, it will likely not be for love of democracy or the Constitution. It will be for reverence of another piece of paper that embodies deeply held American values: the dollar bill." — Jelani Cobb

"Every time there's a shooting, we play this ridiculous theater where this committee gets together and proposes a bunch of laws that would do nothing to stop these murders. But what they propose — not only does it not reduce crime, it makes it worse." — Sen. Ted Cruz (R -TX).

VIDEOS

Here are the 12 House Republicans who voted against honoring the Capitol Police. https://fb.watch/4kRJnErO48/

Inside Xinjiang's Secret Detention Camps (360/VR) | Reeducated | a New Yorker video: https://www.youtube.com/watch?v=FGUyo5dxke8
REMINDER: Just Security is continuing to track every pending criminal and civil case against Donald Trump.
---
IN THIS ISSUE
IN THE NEWS
OPINION
Andy Borowitz: Putin Misses Former Employee
In unusually emotional remarks at the Kremlin, the Russian President, Vladimir Putin, said that he "deeply missed" a former employee.

"I remember one time, in Helsinki, when I told him that I didn't meddle in the American election, and he obediently repeated what I said," Putin recalled. "I knew then and there that I had found a very special employee."

"Then there was the time a reporter asked if I was a killer, and he changed the subject," he said. "I thought to myself, If only everyone who worked for me was this good."

Putin acknowledged that dealing with his employee could sometimes be frustrating, "like when the interpreter would have to translate my instructions into very short and simple words so he could understand them," but admitted that such inconveniences seemed trivial now.

"None of that outweighs the sheer comfort of knowing that he was always working for me," Putin said, choking back tears. "I do miss him so." https://www.newyorker.com/humor/borowitz-report/putin-misses-former-employee
FBI Washington Field Office Releases Videos of Assaults on Officers at U.S. Capitol, Seeks Public's Help to Identify Suspects 
The FBI has released a batch of videos showing suspects wanted for attacking Capitol police officers on January 6. https://www.fbi.gov/contact-us/field-offices/washingtondc/news/press-releases/fbi-washington-field-office-releases-videos-of-assaults-on-officers-at-us-capitol-seeks-publics-help-to-identify-suspects .
If you have any information on the individuals depicted in the videos below, please call 1-800-CALL-FBI or submit a tip online at tips.fbi.gov.
Democrats take their first steps in what they hope will be big changes to election law.
The Senate took its first steps on Wednesday to advance one of Democrats' top legislative priorities, convening an opening hearing on a sweeping elections bill that would expand voting rights and blunt some Republican state legislators' efforts to restrict access to the ballot box.
Chock-full of liberal priorities, the bill, called the For the People Act, would usher in landmark changes making it easier to vote, enact new campaign finance laws and end partisan gerrymandering of congressional districts. The legislation passed the House along party lines earlier this month.
Republicans are adamant in their opposition to the measure that promises to be an extraordinarily heavy lift for Democrats. They call it an attempt by Democrats to give themselves a permanent political advantage by driving up turnout among minority groups and by preventing Republicans, who control a majority of statehouses, from drawing new congressional districts this year that would tilt the playing field in their favor.
So far, not a single Republican supports the nearly 800-page bill, and Democrats are unlikely to win support even from all 50 of their senators without substantial changes.
https://www.nytimes.com/live/2021/03/24/us/biden-news-today#voting-rights-senate
Manchin calls for 'enormous' infrastructure package paid for with new taxes
Sen. Joe Manchin said Wednesday that he favors a large infrastructure package that would be paid for in part by raising tax revenues — a point of contention between the two parties.
"I'm sure of one thing: It's going to be enormous," the West Virginia Democrat, who is seen as a swing vote in a chamber divided 50-50, told reporters at the Capitol. https://www.nbcnews.com/politics/congress/manchin-calls-enormous-infrastructure-package-paid-new-taxes-n1261949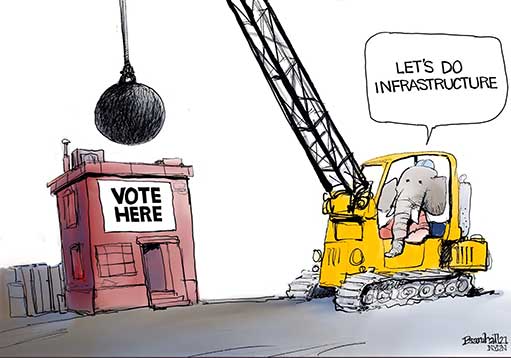 Ohio attorney general sues to block part of the $1.9 trillion Covid relief bill
Ohio's attorney general is seeking to block a piece of the recently passed $1.9 trillion coronavirus relief package, arguing that it unlawfully restricts the state's ability to reduce taxes.
In a court filing Wednesday seeking a preliminary injunction, Attorney General Dave Yost, a Republican, said the provision of the American Rescue Plan, which involves $350 billion tabbed for state and local governments in need of financial aid, is unconstitutional.
Lawmakers added language to the $1.9 trillion measure — which was passed along party lines in the Democratic-controlled Congress and signed into law by President Joe Biden — to prevent states from using the money to offset tax cuts. Yost said the stipulation would hinder Ohio's ability to collect and keep an expected $5.5 billion. https://www.nbcnews.com/news/amp/ncna1261332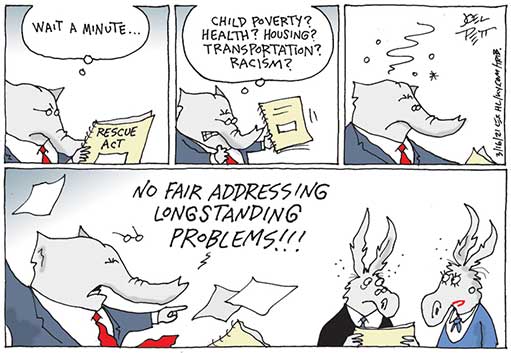 Rep. Paul Gosar plans to go on a popular QAnon talk show
Weeks after Rep. Paul Gosar (R-AZ) gave a speech to a gathering of white nationalists, he is scheduled to appear on Patriots' Soapbox, a leading QAnon talk show, the Arizona Mirror reports.
Patriots' Soapbox is a fringe outlet that broadcasts online 24 hours a day, and that has proliferated QAnon stories for years. https://www.azmirror.com/2021/03/18/paul-gosar-plans-to-go-on-a-popular-qanon-talk-show/https://www.azmirror.com/2021/03/18/paul-gosar-plans-to-go-on-a-popular-qanon-talk-show/
Filibuster opponents just got good news from a key Democratic holdout on reform
"Ideally the Senate can reach bipartisan agreement on those issues," the 87-year-old senator said in that statement. "But if that proves impossible and Republicans continue to abuse the filibuster by requiring cloture votes, I'm open to changing the way the Senate filibuster rules are used."
Feinstein's journey from a vocal defender of the filibuster into someone more open to reform mirrors that of many of her fellow Democrats. https://www.vox.com/2021/3/20/22341271/feinstein-filibuster-reform-talking-joe-manchin-kyrsten-sinema-joe-biden-senate-60-votes
The Intelligence on Russia Was Clear. It Was Not Always Presented That Way.
A report released Tuesday made clear that the intelligence community believed that Russia had long attacked Mr. Biden for the benefit of Mr. Trump. But throughout 2020, senior officials bowed to Mr. Trump's hostility toward any public emphasis of the threat from Russia, and they offered Congress and the public incomplete or misleading portraits of the intelligence on foreign influence in the election. https://www.nytimes.com/2021/03/17/us/politics/russia-elections-trump-intelligence.html
Postal Service finds no evidence of mail ballot fraud in Pa. case cited by top Republicans
U.S. Postal Service investigators found no evidence to support a Pennsylvania postal worker's claim that his supervisors had tampered with mail-in ballots, according to an inspector general's report — allegations cited by top Republicans to press baseless claims of fraud in the presidential election. https://www.washingtonpost.com/business/2021/03/17/usps-ballot-fraud-investigation/
An all-hands moment': GOP rallies behind voting limits
On an invitation-only call last week, Sen. Ted Cruz huddled with Republican state lawmakers to call them to battle on the issue of voting rights.
Democrats are trying to expand voting rights to "illegal aliens" and "child molesters," he claimed, and Republicans must do all they can to stop them. If they push through far-reaching election legislation now before the Senate, the GOP won't win elections again for generations. https://apnews.com/article/legislature-legislation-ted-cruz-vot
Asked if there was room to compromise, Cruz was blunt: "No."
"H.R. 1′s only objective is to ensure that Democrats can never again lose another election, that they will win and maintain control of the House of Representatives and the Senate and of the state legislatures for the next century," Cruz said told the group organized by the American Legislative Exchange Council, a corporate-backed, conservative group that provides model legislation to state legislators. https://apnews.com/article/legislature-voting-rights-ted-cruz-legislation-elections-6270306f67108ac16f4ee7b45a8afdb3
Bannon battling prosecutors who won't dismiss his case after Trump's pardon
Stephen K. Bannon, the firebrand political strategist and ex-confidant to former president Donald Trump, is fighting to get his federal fraud case formally dismissed over the strong objection of prosecutors, who have argued that his full pardon does not mean his indictment must be wiped from the record.
Following Bannon's pardon, which covers only federal charges, the Manhattan District Attorney's Office began its own investigation of the alleged scam, defrauding donors to an online fundraising campaign to build a wall, raising the possibility that Bannon could face state fraud charges. https://www.washingtonpost.com/national-security/steve-bannon-pardon/2021/03/19/49362130-88be-11eb-8a8b-5cf82c3dffe4_story.html
The planet cannot survive our remorseless pursuit of profit
As documents seen by the Guardian reveal, the oil industry has known for half a century that pollution caused by the burning of fossil fuels poses severe threats to human health. By the late 1960s, Shell's internal documents warned air pollution "may, in extreme situations, be deleterious to health", while by 1980, Imperial College was warning of "birth defects among industry worker offspring". And yet the same industry actively lobbied against clean air regulations proposed to protect health and save lives.
This may cause moral revulsion, but the behavior is perfectly rational. An economic system based on accumulating profit will downgrade all other considerations, including the sanctity of human life. There is no economic incentive for a fossil fuel company to willingly support measures that minimize the detrimental impact of their relentless search for profit: indeed, quite the opposite.
https://www.theguardian.com/environment/2021/mar/18/oil-industry-fossil-fuels-air-pollution-documents
A battered Trump takes refuge in San Antonio wax museum's storage, awaiting return to the limelight
Louis Tussaud's Waxworks on Alamo Plaza moved the wax figure of the former president to a storage room because a few museum visitors — with intense feelings and a lack of self-restraint — kept pummeling him.
They punched and scratched the figure, inflicting so much damage that management had it pulled from public view, said Clay Stewart, regional manager for Ripley Entertainment, which owns the wax museum. https://www.expressnews.com/business/local/article/A-battered-Trump-takes-refuge-in-San-Antonio-wax-16031208.php
After years of ducking them, Republicans in 2021 find mean tweets disqualifying
For four years, Republicans had a go-to response for former president Donald Trump's tweets: They hadn't seen them, and they didn't want reporters to tell them about them. But over the past two months, many of these same Republicans have put such great stock in commentary that they have been citing old tweets as part of their reasoning for opposing President Biden's nominees.
A Fix review has found that no fewer than 10 Senate Republicans who previously dodged questions about or defended Trump's tweets have since criticized old tweets from Biden nominees. You can watch examples of these shifts in the video above.
Over the past two months, each of these 10 senators has questioned the fitness of two Biden nominees and defeated the nomination of a third based on their old tweets. And as my colleague Aaron Blake noted last month, most voted to confirm Richard Grenell as ambassador to Germany in 2018 despite his history of controversial tweets. https://www.washingtonpost.com/politics/2021/03/18/after-years-ducking-them-republicans-2021-find-mean-tweets-disqualifying/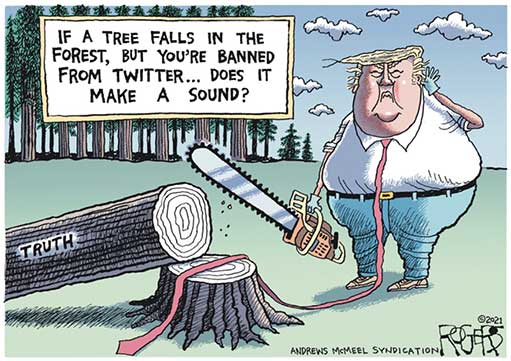 'Climate facts are back': EPA brings science back to website after Trump purge
Canceled four years ago by a president who considered global warming a hoax, climate crisis information has returned to the website of the US government's Environmental Protection Agency (EPA) as part of Joe Biden's promise to "bring science back".
The revival of a page dedicated to the climate emergency <https://www.epa.gov/climate-change> reverses Donald Trump's order in 2017 to drop all references to it from government websites, and prioritizes the Biden administration's pledge to "organize and deploy the full capacity of its agencies to combat the climate crisis". https://www.theguardian.com/environment/2021/mar/20/epa-climate-facts-joe-biden-trump-purge.
14 House Republicans voted against a resolution condemning the military coup in Myanmar
On Friday the House overwhelmingly passed a bipartisan resolution condemning the military coup in Myanmar and calling for the release of those detained — but 14 Republicans voted against the measure. https://twitter.com/mkraju/status/1372961377304899586
Pew Research: Majorities of Americans see at least some discrimination against Black, Hispanic and Asian people in the U.S.
Democrats and Democratic-leaning independents are far more likely than Republicans and Republican leaners to say that Black people, Hispanic people and Asian people face a lot of discrimination, and far less likely than Republicans to say that White people face discrimination.
About seven-in-ten Democrats (71%), compared with 17% of Republicans, say that Black people face a lot of discrimination. White Democrats are 56 percentage points more likely than White Republicans to say this, and the gap between Hispanic Democrats and Hispanic Republicans is 35 points. While majorities of Democrats across racial and ethnic groups say Black people face a lot of discrimination, 82% of Black Democrats say this – a larger majority than among White (70%), Hispanic (67%) or Asian (66%) Democrats. https://www.pewresearch.org/fact-tank/2021/03/18/majorities-of-americans-see-at-least-some-discrimination-against-black-hispanic-and-asian-people-in-the-u-s/
Proud Boys conspired in multiple encrypted channels ahead of Jan. 6 riot, fearing criminal gang charges, U.S. alleges
U.S. prosecutors accused Proud Boys leaders from four states of conspiring to overwhelm police and obstruct Congress in the Jan. 6 Capitol riot, revealing detailed new encrypted communications between alleged leaders including an "unindicted co-conspirator" and two newly arrested defendants.
An indictment unsealed Friday charging Zach Rehl, 35, a president of the group's chapter in Philadelphia, and Charles Donohoe, 33, an organizer in Winston-Salem, N.C., alleges they were among 60 others who communicated on an encrypted channel called "Boots on the Ground" and discussed how one already charged defendant wanted to "go over tomorrow's plan." Charging papers allege the group feared it was so close to being uncovered by the FBI and hit with criminal gang counts that they erased, or "nuked," their prior communications on Jan. 4.
The indictment charged Rehl and Donahoe with six counts, including conspiracy to aid and abet the obstruction of Congress's confirmation of the 2020 presidential election and police trying to prevent civil disorder. https://www.washingtonpost.com/local/legal-issues/captiol-riots-indictment-proud-boys/2021/03/18/971da624-8770-11eb-82bc
'It's not a local issue anymore': D.C. statehood moves from political fringe to the center of the national Democratic agenda
D.C. statehood is viewed with unprecedented urgency among Democrats, who see the disenfranchisement of District residents as a hole in the nation's democracy that has also contributed to the Republicans' hold on power in the Senate. Underscoring the extent to which the Senate structure favors the GOP, today the 50 Democratic senators represent a 29 percent larger population than the 50 Republican senators do.
"It's not a local issue anymore — it's a national issue," said Rep. Jamie B. Raskin (D-Md.), who has advocated for D.C. statehood since the 1990s. "There's obviously a powerful democratic imperative for getting everybody equal political rights and representation. But there's a national political logic for it, too, because the Senate has become the principal obstacle to social progress across a whole range of issues." https://www.washingtonpost.com/politics/dc-statehood/2021/03/20/e7c7efb6-88ca-11eb-bfdf-4d36dab83a6d_story.html
Evidence in Capitol Attack Most Likely Supports Sedition Charges, Prosecutor Says
Evidence the government obtained in the investigation into the Jan. 6 attack on the Capitol most likely meets the bar necessary to charge some of the suspects with sedition, Michael R. Sherwin, the federal prosecutor who had been leading the Justice Department's inquiry, said in an interview that aired on Sunday.
The department has rarely brought charges of sedition, the crime of conspiring to overthrow the government.
But in an interview with "60 Minutes," Mr. Sherwin said prosecutors had evidence that most likely proved such a charge.
"I personally believe the evidence is trending toward that, and probably meets those elements," Mr. Sherwin said. "I believe the facts do support those charges. And I think that, as we go forward, more facts will support that." https://www.nytimes.com/2021/03/21/us/politics/capitol-riot-sedition.html
High-Income Tax Avoidance Far Larger Than Thought
The top sliver of high-income Americans dodge significantly more in income taxes than the Internal Revenue Service's methods had previously assumed, according to forthcoming estimates from IRS researchers and academic economists.
Overall, the paper estimates that the top 1% of households fail to report about 21% of their income, with 6 percentage points of that due to sophisticated strategies that random audits don't detect. For the top 0.1%, unreported income may be nearly twice as large as conventional IRS methodologies would suggest, the researchers wrote. https://www.wsj.com/articles/high-income-tax-avoidance-far-larger-than-thought-new-paper-estimates-11616364001
Average corporate tax rate plunged by more than half after GOP overhaul
The average tax rate on U.S. corporations fell by more than half, to 7.8 percent, in the wake of Republicans' 2017 tax overhaul, according to a new government analysis.
In a report sure to inflame the debate over corporate taxation, the official Joint Committee on Taxation also said businesses continue to make extensive use of offshore tax havens such as the Cayman Islands and Bermuda to reduce their tax bills.
The report comes as Democrats, searching for budget savings to finance their big-ticket spending initiatives, are eyeing multinational corporations. Senate Finance Chair Ron Wyden (D-Ore.) is preparing to release a new framework on international taxes that is expected to call for making provisions for money stowed in low-tax jurisdictions, known as "GILTI, much more stringent. His committee is planning a hearing Thursday on international tax rules. https://www.politico.com/news/2021/03/22/corporate-tax-rate-plunged-gop-overhaul-477485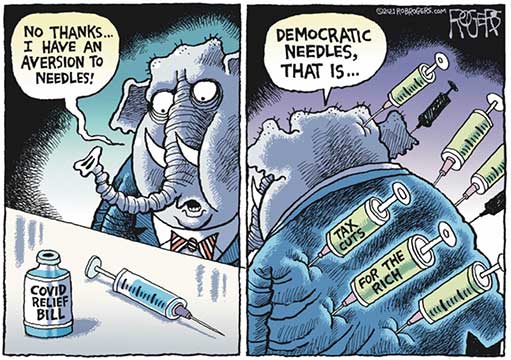 Drug pricing, climate, immigration: House Dems eye 'kitchen sink' for next big bill
Less than two weeks after President Joe Biden signed into law one of Congress' most expansive measures in decades, House Democratic leaders are already dreaming bigger.
With most items on their agenda hobbled by the Senate filibuster, top House Democrats are eyeing ways to muscle through drug pricing and climate policy goals using the same arcane budget process that let the party bypass GOP votes for its pandemic aid bill. Sweeping immigration bills are also on the wishlist for many members, with Democrats eager to fit what they can in Biden's next high-profile package — which could be the party's last shot at using the budget tool before the midterm elections.
"It's gonna be a kitchen sink," House Budget Chair John Yarmuth said in an interview, noting that discussions are just beginning on the next bill. "Virtually everyone's going to want to get their priorities done through reconciliation. We'll see what we accommodate." https://www.politico.com/news/2021/03/19/reconciliation-house-democrats-477246
Sidney Powell moves to dismiss Dominion lawsuit
Sidney Powell, the pro-Trump lawyer who spread baseless claims of election fraud, moved Monday to dismiss Dominion Voting Systems' defamation lawsuit against her.
Powell argues in her motion that "no reasonable person" would conclude that her accusations of Dominion's election-rigging scheme "were truly statements of fact." https://www.axios.com/sidney-powell-dismiss-dominion-lawsuit-cf25a9bd-5aed-4908-959e-c5f9ea9aa425.html
The DAILY GRILL
"They're now finding people from Yemen, Iran, Turkey. People on the terror watch list they're catching. And they're rushing it all at once," -- Rep. McCarthy also suggesting that recently detained individuals on the terror watch list were also coming from Sri Lanka and China.  https://amp.cnn.com/cnn/2021/03/17/politics/republican-southern-border-terror-watchlist-fact-check/index.html

VERSUS

Facts First: There's no evidence of a sudden rush of individuals on the terror watch list showing up at the southern border. The information that is available is vague and leaves many questions unanswered. That said, it's entirely false to imply a small number of individuals on the terror watch list coming to the southern border is a new phenomenon. Furthermore, it's worth noting that being on the FBI's terror watch list does not mean someone is a terrorist or has proven ties to terrorists. https://amp.cnn.com/cnn/2021/03/17/politics/republican-southern-border-terror-watchlist-fact-check/index.html

 

"House Minority Leader Kevin McCarthy tried to rewrite history on Thursday by claiming that he was not involved in former President Donald Trump's efforts to overturn the election in a heated exchange during a news briefing." -- CNN reports. https://www.cnn.com/2021/03/18/politics/mccarthy-rewrite-history-2020-election/index.html

VERSUS

"McCarthy's explanation flies in the face of reality. Trump tried to pressure Congress to overturn the election and McCarthy raised no concerns about it. He also backed a Texas lawsuit to invalidate millions of votes, and ultimately voted in favor of overturning the election results of two states during votes that took place after the January 6 insurrection at the Capitol." -- CNN https://www.cnn.com/2021/03/18/politics/mccarthy-rewrite-history-2020-election/index.html

 

"The good news is that the rescue money likely saved as many as 75,000 jobs, most remaining at full pay. And that money also kept the airlines from filing for bankruptcy, and in a position to ferry passengers all over the country to jump start economic growth as the health crisis subsides." https://www.nytimes.com/2021/03/16/business/dealbook/airline-bailouts.html

VERSUS

"The bad news is that it is also likely that taxpayers massively overpaid: The original grant of $25 billion in April meant that each of the 75,000 jobs saved cost the equivalent of more than $300,000. And with each additional round of bailout money, that price has grown." https://www.nytimes.com/2021/03/16/business/dealbook/airline-bailouts.html
"I would talk 'til I fell over to make sure that the Equality Act doesn't become law." -- Sen. Lindsey Graham R-SC. https://www.rawstory.com/graham-voting-rights

VERSUS

"Make him do it,"— Jonathan Cohn, a Massachusetts-based editor and activist. https://twitter.com/JonathanCohn/status/1372574485275115533

 

Colorado has everything the left has asked for...and it still didn't stop a thug like Ahmad Al-Issa from murdering Americans. — Marjorie Taylor Greene @mtgreenee
https://twitter.com/mtgreenee/status/1374392821285748739

VERSUS

So the man with a Muslim sounding name who killed 10 people is a thug but the white guy who killed 8 people last week is just a guy who had a bad day. — Jean Walch @jean_walch
https://twitter.com/jean_walch/status/1374395201930678274
From MEDIA MATTERS (They watch Fox News so you don't have to)
Florida Gov. Ron DeSantis (R) is continuing his state's defiant response to the coronavirus pandemic by not only refusing to impose public restrictions, but even seeking to crack down on local governments which attempt to take such basic measures as mask mandates. In doing so, he has an ally in Fox News — the network that frequently undermined public health efforts and even now is trafficking in dangerous anti-vaccine theories — and also in mainstream media outlets, which are making some key mistakes in attempting to cover him. https://www.mediamatters.org/coronavirus-covid-19/florida-gov-ron-desantis-relies-fox-news-and-mainstream-medias-mistakes
Jonathan Chait: Republicans: End the Filibuster, and We'll Punish America by Enacting Our Agenda
A specter is haunting the Republican Party. And that specter, oddly enough, is a future world in which Republicans control government and pass bills that they campaigned on.
Mitch McConnell's latest defense of what remains of the filibuster yesterday veered wildly between two irreconcilable claims. On the one hand, he warned a majority-rules Senate would be a "scorched earth," "disaster," "hundred-car pileup" in which nothing happens. On the other hand, he warned that once Republicans gained control of government, the chamber would become a smooth-running machine in which conservative priorities are quickly enacted.
Here is McConnell's complete account of the horrors that await the country were the legislative filibuster to perish:
"As soon as Republicans wound up back in the saddle, we wouldn't just erase every liberal change that hurt the country. We'd strengthen America with all kinds of conservative policies with zero input from the other side. Nationwide right-to-work for working Americans. Defunding Planned Parenthood and sanctuary cities on day one.
McConnell has made gridlock so routine that both he and his imagined audience see the idea of a party enacting the proposals it advocates as fantastical and scary. But if you go to any of the 50 states, that is not how political rhetoric operates. Candidates for office advocate positions, then try to pass them into law when elected, and take credit for them if they work. The opposition party either accepts those changes, modified, or runs against them and tries to reverse them if they remain unpopular. Likewise, every democratic government in the world that I'm aware of operates on the same principle. https://nymag.com/intelligencer/article/republican-filibuster-reform-senate-mcconnell-biden-majority.html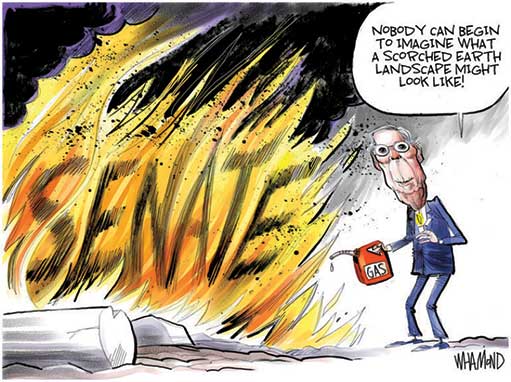 Philip Bump: Which is easier in your state: Buying a rifle or voting?
One might be forgiven for assuming that the order of amendments to the Constitution reflects the country's shifting priorities since its conception. That the First Amendment protects speech and religion probably accurately reflects that these were seen as more important than, say, the amendment preventing homeowners from having to shelter soldiers — but given that this prohibition is the Third Amendment, maybe not.
It is nonetheless the case that the country got around to instantiating the right to own a firearm (Second Amendment) before it decided that the right of non-Whites to vote (15th Amendment) was important to establish, much less the right of women (19th) or 18-year-olds (26th). Whatever asterisks one believes should apply to the Constitution's provision of a right to bear arms, if any, it's clear that this right was in existence well before an 18-year-old Black woman had the right to vote.
That alone reflects on the evolution of the United States. Americans needed guns in 1790 in case the British came back (which, of course, they did). It was about preserving power. But so were the limits on who could vote. The White men who had that power similarly wanted to protect it, and did.
Now, more than 200 years after the Constitution was ratified, we still see tensions between how easy it is for people to avail themselves of these two rights. In Georgia this week, we saw a man reportedly purchase a firearm hours before using it to allegedly kill eight people. At the same time, Republicans in the state legislature are pushing to scale back access to voting in the state, a response to unfounded claims of fraud and the election of President Biden. https://www.washingtonpost.com/politics/2021/03/18/which-is-easier-your-state-buying-rifle-or-voting/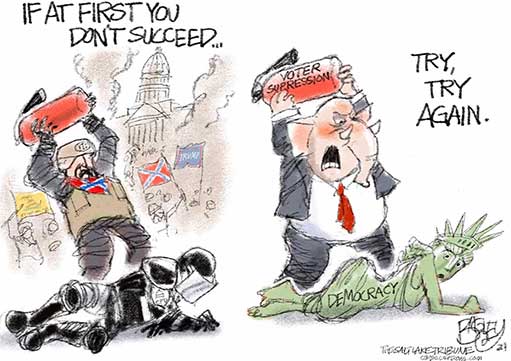 Davis Siders: The Three Men Who Could Take Down Gavin Newsom
The on-air bulb lit red. Strains of the Red Hot Chili Peppers' "Californication" rolled through the introduction. And inside the studio at KABC-AM in suburban Los Angeles one recent Friday night, the three people at the center of the campaign to recall California's governor, Gavin Newsom, settled in for the latest episode of "Friday Night at The French Laundry, " the call-in show they created for the sole purpose of humiliating him. The $2,000 an hour that the campaign pays the station for the block of time is cheaper than advertising, said Orrin Heatlie, the recall's lead proponent.
Norman Heatlie, who filed the initial recall paperwork, when he came across a 2019 video of Newsom advising immigrants of their right to refuse to open their door to anyone without a warrant that he began researching the possibility of a recall. 
Netter, a former office product sales executive who now sells real estate, said he initially "got a hair up my ass" not because of Newsom, but because of then-Senator Kamala Harris, who he saw as rising too fast through politics. When he found out senators couldn't be recalled, he volunteered instead with a previous, failed effort to recall Newsom.
In a normal political environment, none of this would be happening. Not the radio program. Not Susan, the caller on Line 2, referring to Newsom as "Gavin Mussolini." Not the signature-gathering booths that sprung up outside Wal-Marts, Targets and Hobby Lobby stores from San Diego north to Crescent City, or the rallies that followed up and down the state. Not the millions of dollars pouring into the campaign to remove Newsom.
Newsom isn't likely to be recalled. His approval ratings, despite tumbling in recent months, are still far higher than Davis' were in 2003, and the state has swung almost insuperably to the left since then. Democrats now outnumber Republicans nearly two to one in California. There's a reason Newsom beat Cox by about 3 million votes in 2018, why Democrats hold supermajorities in both houses of the state legislature, why Trump lost to Joe Biden by nearly 30 percentage points here last year and why no Republican presidential candidate has carried California since George H.W. Bush in 1988. https://www.politico.com/news/magazine/2021/03/19/gavin-newsom-recall-476746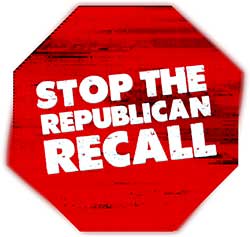 Anna Moneymaker: Assaulting the Truth, Ron Helps Erode Confidence in Government
Senator Ron Johnson (R-WI) is an all-access purveyor of misinformation on serious issues such as the pandemic and the legitimacy of American democracy.
His continuing assault on the truth, often under the guise of simply "asking questions" about established facts, is helping to diminish confidence in American institutions at a perilous moment, when the health and economic well-being of the nation relies heavily on mass vaccinations, and when faith in democracy is shaken by right-wing falsehoods about voting.
The drumbeat of distortions, false theories and lies reminds some Wisconsin Republicans of a figure from the state's past who also rarely let facts get in the way of his agenda: Senator Joseph McCarthy, whose witch hunt for communists in and out of government in the 1950s ruined lives and bitterly divided the country. https://www.nytimes.com/2021/03/21/us/politics/ron-johnson-wisconsin-misinformation.html
Greg Sargent: The quest for a deradicalized GOP
What would a deradicalized GOP look like? One step might be for leading Republicans to just stop telling all these ridiculous lies already. There is no organized violent leftist terror threat tipping the country into civil collapse. In reality, a broad, mainstream Democratic center-left alliance is working hard to solve extremely pressing national crises while Republicans exit the conversation entirely.
Meanwhile, Republicans need to stop obscuring the fundamental truth about the Capitol riot, which is that Trump just did incite an effort to violently overthrow U.S. democracy, after trying to subvert the election through illicit means in order to remain in power illegitimately.
All these tendencies need to be thoroughly repudiated. Defeating Johnson might help start us down a path toward doing that. https://www.washingtonpost.com/opinions/2021/03/22/ron-johnson-defense-trump-capitol-riot/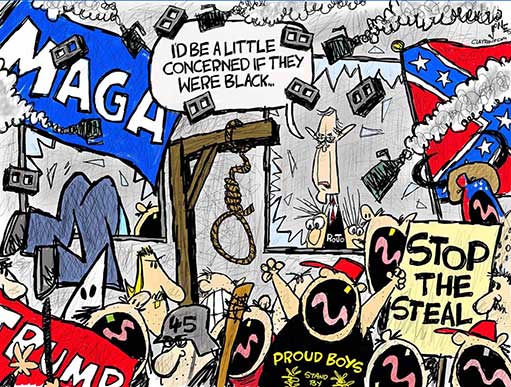 Aaron Blake: The dumbing down of the D.C. statehood debate
There are valid, philosophical reasons to argue that Washington, D.C., should not be a state or have voting rights in Congress — chief among them being that it was created as a federal district.
But as the House held a hearing on the topic Monday, much of the Republican pushback wasn't about that. Instead it was about the idea that it would help Democrats and that D.C. should be deprived of statehood for various other circumstantial reasons.
It was a true commentary on the polarization of our current politics — the idea that anything can be best distilled to raw political power and should be opposed as such.
One of the biggest emerging arguments against D.C. statehood is a thoroughly partisan one. The idea isn't so much that D.C. doesn't necessarily deserve voting rights in the House and Senate, as much as that it would be a boon to Democrats. Senate Minority Leader Mitch McConnell (R-Ky.) has pushed this idea extensively in recent years, casting both the ideas of D.C. and Puerto Rico statehood as thinly veiled efforts to gain Democratic votes. https://www.washingtonpost.com/politics/2021/03/22/dumbing-down-dc-statehood-debate/
NY Times Editorial: How to Collect $1.4 Trillion in Unpaid Taxes
When the federal government started withholding income taxes from workers' paychecks during World War II, the innovation was presented as a matter of fairness, a way to ensure that everyone paid. Irving Berlin wrote a song for the Treasury Department: "You see those bombers in the sky? Rockefeller helped to build them. So did I."
The withholding system remains the cornerstone of income taxation, effectively preventing Americans from lying about wage income. Employers submit an annual W-2 report on the wages paid to each worker, making it hard to fudge the numbers.
But the burden of taxation is increasingly warped because the government has no comparable system for verifying income from businesses. The result is that most wage earners pay their fair share while many business owners engage in blatant fraud at public expense.
In a remarkable 2019 analysis, the Internal Revenue Service estimated that Americans report on their taxes less than half of all income that is not subject to some form of third-party verification like a W-2. Billions of dollars in business profits, rent and royalties are hidden from the government each year. By contrast, more than 95 percent of wage income is reported.
Unreported income is the single largest reason that unpaid federal income taxes may amount to more than $600 billion this year, and more than $7.5 trillion over the next decade. It is a truly staggering sum — more than half of the projected federal deficit over the same period.
The government has a basic obligation to enforce the law and to crack down on this epidemic of tax fraud. The failure to do so means that the burden of paying for public services falls more heavily on wage earners than on business owners, exacerbating economic inequality. The reality of widespread cheating also undermines the legitimacy of a tax system that still relies to a considerable extent on Americans' good-faith participation.
Proposals to close this "tax gap" often focus on reversing the long-term decline in funding for the I.R.S., allowing the agency to hire more workers and to audit more wealthy taxpayers. But Charles Rossotti, who led the I.R.S. from 1997 to 2002, makes a compelling argument that such an approach is inadequate. Mr. Rossotti says that Congress needs to change the rules, by creating a third-party verification system for business income, too.
Mr. Rossotti, together with the Harvard economist Lawrence Summers and the University of Pennsylvania law professor Natasha Sarin, argued in an analysis published in November that investing $100 billion in the I.R.S. over the next decade, for technology and personnel, in combination with better data on business income, would allow the agency to collect up to $1.4 trillion in lawful tax revenue that otherwise would go uncollected.
The logic of such an investment is overwhelming. The government can crack down on crime, improve the equity of taxation — and raise some needed money in the bargain. There are many proposals to raise taxes on the rich. Let's start by collecting what they already owe. https://www.nytimes.com/2021/03/20/opinion/sunday/unpaid-tax-evasion-IRS.html
Tomáš Klvaňa: The GOP and Conservative Media Now Resemble the Communists of My Youth
When, in the early 1990s, I first arrived in Washington, D.C. as a student from the newly free Czechoslovakia, I was impressed by American political culture and the professionalism of the news media. They presented a sharp contrast to Central Europe's post-Communist mess, in which vicious smears, naked lies, and corruption were our daily bread. I remember how much I wished Czech and American media and politics were alike.
And now they are. A significant portion of U.S. politics and media slid down the sewage to be as bad as ours were back then.
The sorry state of American politics is not due solely to Republicans, but they are by far the more responsible party. It is frankly astonishing how closely today's GOP resembles in mentality the Communist party of my youth, right down to Donald Trump's brownnosing to Moscow. It is incredible to see Fox News, let alone Newsmax and OANN, use the same methods as Czechoslovak TV and Rudé právo (Red Right), the official Communist paper, in the 1980s.
Lying about democracy, a mainstay of the old Communist press, has also become standard for American media outlets aligned with Trump's GOP—as witness the months of lies about the "stolen election," for which there is no evidence. At least in the United States, some of those outlets have had to issue retractions and disclaimers. https://thebulwark.com/the-gop-and-conservative-media-now-resemble-the-communists-of-my-youth/