June 7, 2018
ON THE RECORD. . .
"It was like talking to a toddler." -- Rhonda Hart, an Army veteran, whose 14-year-old daughter was killed at a Houston-area school, describing her meeting with President Trump who "kept mentioning" arming classroom teachers.

"I speak out for the simple reason that Mr. Trump is failing to live up to the standards that we should all expect of a president. As someone who had the rare privilege of directly serving four presidents, I will continue to speak out loudly and critically until integrity, decency, wisdom — and maybe even some humility — return to the White House." — Former CIA Director John Brennan

"This is dumb. Europe, Canada, and Mexico are not China, and you don't treat allies the same way you treat opponents. We've been down this road before—blanket protectionism is a big part of why America had a Great Depression. 'Make America Great Again' shouldn't mean 'Make America 1929 Again.'" — Sen. Ben Sasse (R-NE) on President Trump's decision to impose steel and aluminum tariffs.

"There is no Republican Party. There's a Trump party. The Republican party is taking nap somewhere." — Former Speaker John Boehner (R-OH).

"What I think he is doing though, is undermining public corruption investigations by basically saying that if you are a corrupt public official you are going to get a pass from me. He is signaling to people who might be witnesses against him, his family or his business interests—'hold the line, don't give up anything, don't roll over for the prosecutors because even if you get prosecuted, I am going to give you a free pass.'" -- Robert Grant, a top former F.B.I. agent who headed the F.B.I.'s Chicago office during the investigation,

"So I'm warning you, tread very f**king lightly because what I'm going to do to you is going to be f**king disgusting. Do you understand me? Don't think you can hide behind your pen because it's not going to happen. I'm more than happy to discuss it with your attorney and with your legal counsel because motherf**ker you're going to need it." -- Audio of conversation of Trump's personal lawyer, Michael Cohen, making threats against Tim Mack for the Daily Beast in 2015. Listen HERE

"Trump's actions create a feeling of chaos and lawlessness. America is no longer abiding by basic due process and commitments made to other nations," -- Jennifer Hillman, a former commissioner at the U.S. International Trade Commission, on Trump's subverting previously agreed-upon trade pacts.

When I visited an immigration detention center housing the children separated from their families, I was barred entry & the police were called on me. The front doors were locked and blacked out. What are they hiding about the conditions these innocent children are being held in? -- Senator Merkley (D-OR) on Twitter

"In no case can he be subpoenaed or indicted. I don't know how you can indict while he's in office. No matter what it is." — Rudy Giuliani suggesting President Trump couldn't be indicted even "if he shot James Comey."

"If I were President of the United States and I had a lawyer that told me I could pardon myself, I think I would hire a new lawyer." — Senate Judiciary Chairman Charles Grassley (R-IA) on Twitter

"It wasn't raucous, stormy or packed, as many congressional town halls have been in recent years. It was kind of the opposite, actually. One person showed up. And he was pretty polite." -- Rep. Jim Sensenbrenner (R-WI) at a town hall meeting.

Roseanne's tweets were full of racism, conspiracy theories and personal attacks they were described as abhorrent, bordering on presidential.-- Bill Mahar on Twitter https://twitter.com/billmaher/status/1002801517869453312

"America is not currently a functioning democracy, but an evolving kleptrocracy whose apparatchiks have no interest in bringing order to any of this chaos." -- David Faris in "The Week."

"He is about as swampy as you get here in Washington, D.C., and if the president wants to drain the swamp, he needs to take a look at his own cabinet." -- Sen. Joni Ernst (R-IA) on allegations of ethical misconduct by EPA Administrator Scott Pruitt 

"What is the point of saying that there was a spy in the campaign when there was none? You know what I'm saying? It's like, 'Lets create this thing to tweet about knowing that it's not true.' … Maybe it's just to create more chaos but it doesn't really help the case." -- Rep. Tom Rooney (R-FL), a top Republican lawmaker on the House Intelligence Committee.

"They don't have a crime. And that's why I say they're trying to frame him. Because if they had any sense, they would realize they're trying to put together a case on an innocent man. And that's what we call in America framing somebody," -- Rudy Giuliani claiming that Mueller has produced no evidence of wrongdoing by the president, and has stacked his team with partisan Democrats, including supporters of Hillary Clinton's presidential campaign.
---
IN THIS ISSUE
FYI
OPINION
1. Andy Borowitz: Trump's Lawyers Argue That He Cannot Be Impeached Because He Was Never Actually Elected
In what they believe is a legal masterstroke, lawyers for Donald J. Trump are now claiming that he cannot be impeached because he was never actually elected.

In a lengthy memo sent to the special counsel, Robert Mueller, the lawyers pushed back vehemently against any allegation that Trump was legally elected President.

"Because Russian interference made the election of Donald J. Trump wholly illegitimate, any attempt to remove him from an office that he does not legally hold is clearly impossible," the memo asserted.

The memo claimed that the Constitution contains "no provision for removing a person from office when that person was installed there by a foreign power."

The memo went on to argue that, if a subpoena is sent to the White House, it will be returned to Mueller and stamped "addressee unknown."

"A person referred to in a subpoena as 'President' Donald J. Trump simply does not exist," the memo claimed.

Minutes after the memo was leaked, the former New York mayor Rudolph Giuliani appeared on "Fox & Friends" and proudly announced that he was its author.

"Sometimes I have to just step back and say, 'Damn it, Rudy, you're good,' " he said, beaming. https://www.newyorker.com/humor/borowitz-report/
2. The DAILY GRILL
There is no one better to represent the people of N.Y. and Staten Island (a place I know very well) than @RepDanDonovan, who is strong on Borders & Crime, loves our Military & our Vets, voted for Tax Cuts and is helping me to Make America Great Again. Dan has my full endorsement! --Trump's Twitter endorsement of Rep. Dan Donovan (R-NY) who is facing a primary challenge from former Rep. Michael Grimm (R-NY):

VERSUS

"There's only one problem. Donovan voted against the tax-cut bill. He voted against it three times. He voted against it in every incarnation. The only material reason Trump gave to support Donovan was incorrect. Not only did Donovan vote against it, he was vocally opposed to it. He called it a 'tax hike on the people I represent.'" -- Playbook

 

Not that it matters but I never fired James Comey because of Russia! The Corrupt Mainstream Media loves to keep pushing that narrative, but they know it is not true! -- Trump on Twitter

VERSUS

"When I decided to just do it, I said to myself, I said, 'you know, this Russia thing with Trump and Russia is a made-up story, it's an excuse by the Democrats for having lost an election that they should have won.'" -- Trump to NBC.
3. Trump Is Preparing to Prop Up Unprofitable Coal Plants With 'Emergency' Subsidies
As with so many other myths about American conservatism, the Trump era has turned the GOP's supposed reverence for "small government" into dark comedy. A few short years ago, Republicans were decrying the Obama administration's attempts to subsidize sustainable-energy development as "crony capitalism." And when then-President Obama adopted an expansive interpretation of the Clean Air Act — and began aggressively using his executive authority to combat carbon emissions — Republicans lamented his efforts as a tyrannical usurpation of Congress's authority.
Now, the Trump administration is preparing to unilaterally bestow massive subsidies on unprofitable coal companies by invoking extraordinary executive powers that can only be legally exercised in the context of a national- security emergency. http://nymag.com/daily/intelligencer/2018/06/trump-energy-department-to-prop-up-unprofitable-coal-plants-national-security.html
4. From MEDIA MATTERS (They watch Fox News so you don't have to)
The staggering corruption of Dinesh D'Souza's pardon. A conspiratorial, racist fraud gets a reprieve from the like-minded president. https://www.mediamatters.org/blog/2018/05/31/The-staggering-corruption-of-Dinesh-DSouzas-pardon/220345

Fox's Napolitano: Trump pardoning conspiracy theorist Dinesh D'Souza is "a marvelous act of justice. Not mercy, justice." Andrew Napolitano calls D'Souza, who has pushed birtherism and other far-right fantasies, a "brilliant scholar and analyst of the cultural woes of the United States"  https://www.mediamatters.org/video/2018/05/31/foxs-napolitano-trump-pardoning-conspiracy-theorist-dinesh-dsouza-marvelous-act-justice-not-mercy/220342

Discredited conservative author and filmmaker Dinesh D'Souza has revived the long-running and debunked claim that billionaire philanthropist George Soros collaborated with the Nazis as a child. The false claim comes as D'Souza has been trying to promote his latest book, which links Democrats to fascism and pushes the Soros lie. The smear, which has been invoked by other right-wing media figures in the past, has been repeatedly condemned by journalists. Nevertheless, other conservative media and GOP officials have run with D'Souza's recycled and false charge. https://www.mediamatters.org/research/2017/09/01/long-debunked-lie-george-soros-was-nazi-collaborator-resurfaces-thanks-dinesh-d-souza/217826

Fox's Napolitano: Trump pardoning conspiracy theorist Dinesh D'Souza is "a marvelous act of justice. Not mercy, justice. Calls D'Souza, who has pushed birtherism and other far-right fantasies, a "brilliant scholar and analyst of the cultural woes of the United States" https://www.mediamatters.org/video/2018/05/31/foxs-napolitano-trump-pardoning-conspiracy-theorist-dinesh-dsouza-marvelous-act-justice-not-mercy/220342

Fox host defends taking immigrant children from parents because some of the kids may end up in MS-13. https://www.mediamatters.org/video/2018/06/04/fox-host-defends-taking-immigrant-children-parents-because-some-kids-may-end-ms-13/220369

Laura Ingraham: "Bratty players" in the NFL are using racial issues to "disrespect the country," They're "using the excuse of Black Lives Matter or some other issue that they probably haven't even read up on  "https://www.mediamatters.org/video/2018/06/05/laura-ingraham-bratty-players-nfl-are-using-racial-issues-disrespect-country/220379

NRA spokesperson Dana Loesch compares an anti-gay baker having to serve a gay couple to "slavery." "In the real world, we would call this slavery. We would call this some sort of indentured servitude." https://www.mediamatters.org/video/2018/06/05/nra-spokesperson-dana-loesch-compares-anti-gay-baker-having-serve-gay-couple-slavery/220378
5. Late Night Jokes for Dems
Kim Jong Un said he wants to open a McDonald's in North Korea. Which may explain why the summit with President Trump is suddenly back on. -- Conan O'Brien

The latest rumor in Washington is that President Trump could decide to pardon himself. This would be completely constitutional, according to Trump's new Supreme Court Justice, Donald Trump. -- Conan O'Brien

Once the NBA season is over, our lonely nation turns its eyes to a one-on-one basketball game between me and Sen. Ted Cruz of Texas. The back story, in case you don't know: Ted was unhappy that I compared him to a blobfish — even though, in fairness to me, he looks just like one. He should be angry at his parents. So, he challenged me to a game, and I accepted his challenge. But I pointed out that after losing the election to a reality show host, maybe it wouldn't be a great idea to lose a basketball game to a talk show host. -- Jimmy Kimmel

In other White House news, first lady Melania Trump attended a reception today, marking her first public appearance in three weeks. This ended much speculation about her whereabouts. Turns out, Melania was in the White House with her husband, Donald Trump, the whole time. So, it's worse than we all thought. -- James Corden
6. Most Young Adults Are Planning to Vote In 2018
A new AP-NORC/MTV poll finds a majority of young adults who will be old enough to vote in 2018 say they are planning to.
The study found the group highly motivated by the political environment. Forty percent said they felt extremely or very angry about the state of the country and 36% said they felt anxious. Only 13% said they felt positive, with 9% saying they were excited about the state of the country. https://www.cnn.com/2018/05/30/politics/young-people-likely-vote/index.html
7. Trump On Pace for 10,000 False Statements
Glenn Kessler leads the three-member Washington Post fact-checking unit. They put together a database tracking President Trump's misstatements, which made news itself last month when it documented more than 3,000 of Trump's false or misleading statements since he took office.
As of the latest update Friday morning, it's 3,251.
Kessler estimates that, at this pace — 6.5 a day, more than 200 a month — the misstatements could hit 10,000 by January 20, 2021.
What sets Trump apart from his predecessors? Two things, says Kessler, who has kept an eye on presidents since Bill Clinton. One, Trump doesn't seem to have or use the staff to base a statement, even if stretched, on fact. Two, he doesn't seem to care if he is caught in a misstatement — he just repeats it; in one case, more than 70 times. https://www.poynter.org/news/10000-trump-misstatements-end-his-term-washington-post-fact-checker-says-its-possible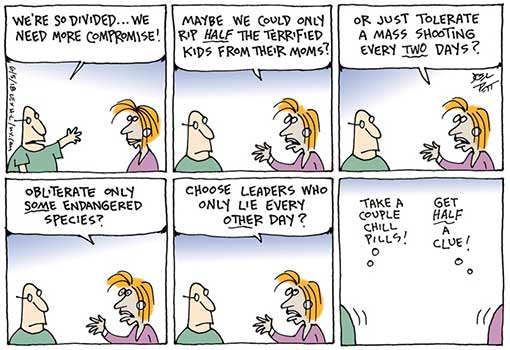 8. Tariffs Will Likely Cancel Out Impact of Tax Cuts
Donald Trump has embarked on an unorthodox follow-up to cutting the taxes American families pay: raising the prices of goods they buy."
Higher prices will result directly from tariffs the White House plans to impose on steel and aluminum imports from allies such as Canada, Mexico and the European Union as well as other countries…
But combined with additional tariffs against other imports from China and retaliatory steps by our trading partners, the measures Trump announced promise to make an impact. And mainstream economists across the political spectrum agree it will be negative."
Said Douglas Holtz-Eakin, a Republican economist who advised President George W. Bush: "Unambiguously bad. The only question is how big." https://www.cnbc.com/2018/06/01/trump-tariffs-will-shrink-savings-americans-gained-from-tax-cuts.html
9. EPA Chief Spent Over $1,500 on Pens From a Place Called the Tiny Jewel Box
Environmental Protect Agency head Scott Pruitt is inarguably one of the biggest grifters of the Trump Administration. He lives every day like he's put in his two weeks notice at a job he's completely checked out from — spending $43,000 on a phone booth, using taxpayer money to exclusively fly first class, being an actual climate change denier. So on one hand, it's not all that surprising to learn that he's also spent $1,560 of taxpayer money on pens. On the other hand, he spent $1,560 of taxpayer money for 12 freaking pens! https://www.thecut.com/2018/06/epa-chief-scott-pruitt-spends-over-usd1-500-on-pens.html
10. Trump has spent more visiting Mar-a-Lago than Mueller has on Russia probe
"President Trump has spent more in taxpayer dollars on his frequent trips to his Mar-a-Lago resort in Florida than Robert Mueller's office has spent on the Russia investigation so far, despite Trump's attacks on the high cost of the Russia probe," The Hill reports.
"The president has repeatedly attacked the Mueller probe for racking up millions of dollars in expenditures after the Justice Department reported this week that the special counsel's office had spent roughly $16.7 million… But that number is dwarfed by the amount required to pay for the president's numerous trips to the 'Winter White House,' which The Washington Post and Politico analyses have estimated to cost taxpayers on average between $1 and $3 million dollars per trip. http://thehill.com/homenews/administration/390422-trump-has-spent-more-visiting-mar-a-lago-than-mueller-has-on-russia
11. Trump Allies Gang Up on Gowdy
Rep. Trey Gowdy (R-SC) "has been a pitbull investigator for Republicans for years. Now, he's is in President Trump's doghouse for daring to challenge the president's unsupported claim that Democrats and their sympathizers in the FBI embedded a spy in his 2016 campaign.
Trump allies have been pummeling Gowdy in recent days, branding him a gullible or clueless backer of the intelligence community.
https://www.politico.com/story/2018/06/02/gowdy-trump-spygate-theory-617948
12. New Russian Site Is Designed to Sway U.S. Voters
A new Russian influence operation has surfaced that mirrors some of the activity of an internet firm that the FBI says was deeply involved in efforts to sway the 2016 U.S. elections.
A website called usareally.com appeared on the internet May 17 and called on Americans to rally in front of the White House June 14 to celebrate President Trump's birthday, hich is also Flag Day… The website's operators once worked out of the same office building in St. Petersburg, Russia, where the Kremlin-linked Internet Research Agency had its headquarters. http://www.mcclatchydc.com/news/nation-world/national/national-security/article212299529.html
13. Behind closed doors: Republicans worry tax reform won't save GOP
Political analyst Charlie Cook confirmed to Axios that when he addressed senior House Republicans a few weeks ago, he told the group "that the tax cut did help among Republican voters, but helped only a little and temporarily among independents and did nothing with Democratic voters."
Said Cook: "The essence of what I said was that if they were going to rely primarily on the tax cuts to hang onto their majority, they were unlikely to succeed."
He added: "Even with the uptick in President Trump's numbers and in the generic ballot test, I still think it is pretty uphill for them to hang onto their House majority. I use the metaphor of a Democratic tidal wave up against a Republican sea wall. In the House, the wave looks taller and stronger than the wall, in the Senate, the wall looks taller than the wave. https://www.axios.com/behind-closed-doors-republicans-worry-tax-reform-wont-save-gop-c4f3581d-022b-4a3a-913e-8e3328682f6c.html
14. Koch brothers taking on Trump with free trade campaign
Days after the president moved forward with imposing steel and aluminum tariffs on the European Union, Canada and Mexico, three political groups affiliated with the billionaire Koch brothers are launching a multi-year, multi-million dollar campaign to tout free trade and oppose tariffs, ABC News has learned.
The campaign, launched by Freedom Partners Chamber of Commerce, Americans for Prosperity and the LIBRE Initiative, all groups funded by the Charles and David Koch, will consist of advertisements, lobbying efforts and grassroots organization.
"This campaign makes a clear statement: Trade is a major priority for our network. We will work aggressively to educate policymakers and others about the facts," James Davis, executive vice president of Freedom partners said. "Tariffs and other trade barriers make us poorer. They raise prices for those who can least afford it. That's why this issue is so important," Davis said. "This announcement is a demonstration of our long-term commitment to advance common-sense trade policies that will ensure America's brightest days are ahead, and to directly confront the protectionist ideas that would hold us back." https://abcnews.go.com/Politics/koch-brothers-taking-trump-free-trade-campaign/story
15. GOP staffers who wrote the tax bill cash in with lobbying gigs
Top-level GOP aides who helped write the new tax law are now leaving the Hill in droves to cash in as lobbyists on K Street and other marquee private-sector destinations.
Powerhouse accounting firm PwC landed one of the biggest prizes, announcing Monday that Mark Prater, the Senate Finance Committee's longtime GOP chief tax counsel, is the new managing director of its tax policy services group. https://www.politico.com/story/2018/06/04/trump-tax-bill-lobbying-jobs-623656
16. Senate Democrats' August messaging plan
Senate Democrats, forced by Republicans to stay in Washington during the August recess, are planning to try to turn the session into a referendum on Republicans' handling of health-care policy.
Said a senior Senate Democratic aide: "August will be health care month. Every time they say 'nominations,' we'll say 'lower premiums.' When they say 'appropriations process,' we'll say 'bring down drug prices.' Health care has been President Trump and Congressional Republicans' biggest failure, and it's the issue that's top of mind for voters. We're going to be relentless in pushing to prevent the Republican rate hikes that are set to land just before Election Day. https://www.politico.com/newsletters/playbook/2018/06/06/senate-democrats-august-messaging-278703
1. Globe editorial: Trump steel tariffs are the work of a reckless bully
The tariffs on Canada are senseless and self-harming, but President Trump's motivations are clear: This is a power move aimed at extracting NAFTA concessions.
The U.S. administration's nominal argument, that unfettered steel imports imperil national security, is obviously bogus – Canada and the U.S. are the closest of allies. Nor can this move be laid at the door of the President's frequently invoked soft spot for industrial workers, because the tariffs will harm American factories that use Canadian steel.
No, this is all about leverage, an obsession of a bullying President who styles himself a deal-maker. That has led him into a foolish way of doing business, especially with close partners, something we hope his administration will see.
Tit-for-tat tariffs probably won't help as much as the fact that U.S. steel production can't meet domestic demand for some products, so manufacturers will simply pay the levy and pass it on to American consumers. Or shut down.
Of course, all this ascribes a certain amount of reason to Mr. Trump, a man who tweets manically about conspiracy theories. Canada has reacted appropriately so far. But it's hard to predict how things will play out in a confrontation with a reckless and erratic bully. https://www.theglobeandmail.com/opinion/editorials/article-globe-editorial-trump-steel-tariffs-are-the-work-of-a-reckless-bully/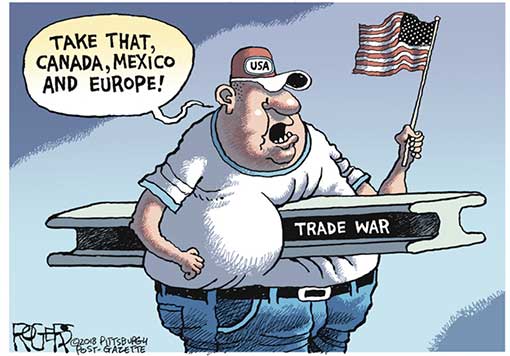 2. John Cassidy: Senior Republicans Are Complicit in Trump's "Spygate" Propaganda
Trump's skills as a propagandist shouldn't be underestimated. Even before he entered politics, he had spent decades trying to manipulate the news media to his advantage. By instinct or design, his attack on Mueller meets many of the requirements for a successful misinformation campaign that the British author A. J. Mackenzie listed in his 1938 book, "Propaganda Boom": repetition; a catchy slogan; color; a specific objective; a kernel of truth; concealment; and timing.
Having seen "spy" and "Spygate," another of his creations, repeated countless times in news stories and on television broadcasts, Trump is now trying to replicate the trick with "13 Angry Democrats," which refers to reports that thirteen members of Mueller's legal team were, at one point, registered as Democrats. The goal is to portray the investigation as a partisan venture, and, therefore, an illegitimate one. (Trump doesn't mention the fact that Mueller is a lifelong Republican and so is Rod Rosenstein, the Deputy Attorney General, who is overseeing the investigation.)
Repetition is key to the Trump strategy. Practically every day, he attacks the Mueller investigation on Twitter. Giuliani, meanwhile, is busy using more traditional platforms to spread the message. On Tuesday, he told the Washington Post that Trump wouldn't sit for an interview with Mueller unless the special counsel allowed the President's legal team to review all the documents relating to the F.B.I.'s use of an informant in 2016. (The Post's story noted that Giuliani used the term "Spygate.")
The one item on Mackenzie's list that is lacking in Trump's strategy is concealment. When CNN's Dana Bash asked Giuliani on Sunday about the President's attacks on Mueller, he replied, "It is for public opinion, because eventually the decision here is going to be impeach or not impeach. Members of Congress—Democrats and Republicans—are going to be informed a lot by their constituents. And so our jury, and it should be, is the American people."
You might think that such a comment would undermine the effectiveness of Trump's propaganda campaign by exposing its true objective. Alas, no. In our highly polarized political system, there are plenty of conservative media outlets eager to parrot Trump's claims, however contrived they are, and plenty of people willing to listen to them, even as fact-based media outlets continue to point out the lack of supporting evidence. https://www.newyorker.com/news/our-columnists/senior-republicans-are-complicit-in-trumps-spygate-propaganda
3. Paul Waldman: MS-13 is Republicans' new Willie Horton
At a rally in Nashville Trump called Nancy Pelosi an "MS-13 lover," saying, "She loves MS-13. Can you imagine?" You'll have to imagine, because it's a lie as repugnant as any Trump has told. It's also perfectly in line with a long GOP tradition, whether it was Richard Nixon campaigning on "law and order" or Ronald Reagan telling of how frustrating it was to be behind a "strapping young buck" buying steaks at the grocery store with food stamps.
The new Republican obsession with MS-13 serves as an excuse for a crackdown on . But like Willie Horton, its primary use is to promote racist fears. That's what Ed Gillespie, the Republican nominee for governor in Virginia last November, was hoping for when he aired a series of ads trying to tie MS-13 to his Democratic opponent. "MS-13 is a menace," one said. "Yet Ralph Northam voted in favor of sanctuary cities that let dangerous illegal immigrants back on the street, increasing the threat of MS-13."
For the record, there are no sanctuary cities in Virginia. And Gillespie failed, losing the election by 9 points. But Republicans aren't done talking about MS-13 or using the immigration issue to show they're the toughest and meanest candidates in the primary field. A recent analysis by USA Today showed that immigration has been mentioned more often than any other policy issue in the television ads of Republicans running for Congress this year (for the Democrats it was health care).
Is MS-13 a problem in some places? Sure. But there are many more serious problems that don't get a fraction of the attention from Republicans that MS-13 does. And you can bet that President Trump, who likes nothing more than telling lurid stories of violence to drum up hatred against those who are not white and native-born, will keep on talking about them. http://theweek.com/articles/776008/ms13-republicans-new-willie-horton
4. Ryan Cooper: The deafening message of Trump's Dinesh D'Souza pardon
Will be giving a Full Pardon to Dinesh D'Souza today. He was treated very unfairly by our government! -- Donald Trump on Twitter
This is a spectacular abuse of the pardon power and a barely-veiled announcement that Trump will use that power to protect odious conservative criminals and undermine the Mueller investigation.
The message is clear: Trump's criminal associates get prime access to pardons. Several of those people, including Michael Flynn and George Papadapoulos, have already agreed to work with the Mueller investigation. But several others, like Paul Manafort and Michael Cohen, have not. It seems extremely likely that if they continue to refuse to cooperate and are convicted, then Trump will immediately pardon them. (They could probably increase their chances by publicly calling Obama a bunch of racial slurs on Fox News.)
So long as Trump remains in office, it seems beyond question that he will continue to abuse his powers of office to protect himself and his criminal associates from the rule of law, and that Republicans in Congress will continue to look the other way or actively enable him. If Trump is going to be reined in at all, Democrats are going to have to win some elections. http://theweek.com/articles/776229/deafening-message-trumps-dinesh-dsouza-pardon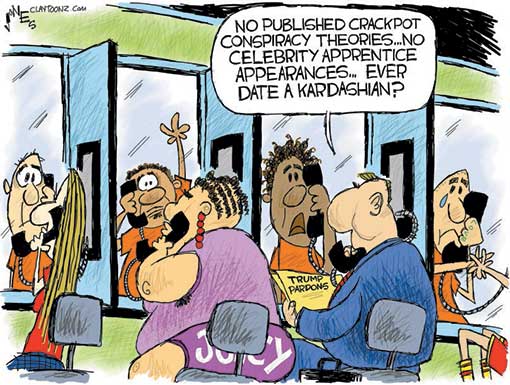 5. Nicholas Kristof: Trump Immigration Policy Veers From Abhorrent to Evil
We as a nation have crossed so many ugly lines recently, yet one new policy of President Trump's particularly haunts me. I'm speaking of the administration's tactic of seizing children from desperate refugees at the border.
There is no excuse for brutalizing children by ripping them away from their parents. I was at times ferociously critical of President Barack Obama's handling of Central American refugees, but past administrations managed these difficult trade-offs without gratuitously embracing cruelty. One fruitful step has been to work with countries to curb gang violence that forces people to flee.
White House Chief of Staff John Kelly hails family separation as a "tough deterrent" and shrugs that "the children will be taken care of — put into foster care or whatever."
So what's next, Mr. President? Minefields at the border would be an even more effective deterrent. Or East German-style marksmen in watch towers to shoot those who cross?
We as a nation should protect our borders. We must even more assiduously protect our soul. https://www.nytimes.com/2018/05/30/opinion/immigration-family-separation-border.html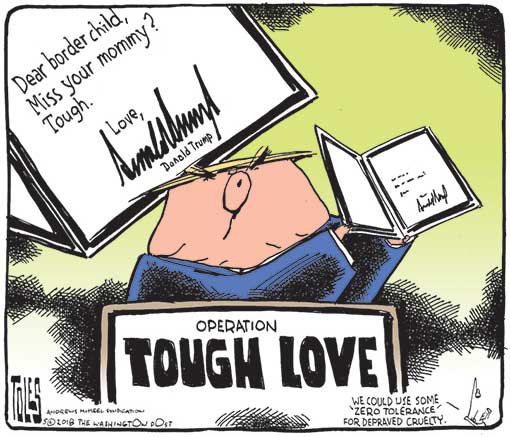 6. Frank Rich: When Trump Attacks Sessions, He Sounds Like a Guilty Man
If Trump is innocent of all potential charges in the Russia probe, why would he want a loyal puppet in charge of the Mueller investigation except to obstruct it? His continued wail about Sessions, not just on Twitter but to anyone in earshot, is so patently self-incriminating that it's laughable. Not to mention over-the-top. Look at our president's priorities: He is now spending more time vilifying Sessions (and Rod Rosenstein and Robert Mueller) than he is on his putative summit with Kim Jong-un, in which America's national security is at stake. He now professes a far lower opinion of Sessions, his own choice for our country's chief law-enforcement officer, than he does of North Korea's murderous dictator.<https://www.politico.com/story/2018/04/24/trump-praise-kim-jong-un-547610
Yet Sessions is in every substantive way the ultimate Trump loyalist. A xenophobic, anti-immigration hardliner with a racist past, he was the first GOP senator to endorse Trump during the campaign and even remained onboard after the Access Hollywood video. He is to this day pursuing the White House's hard-right agenda more effectively than any other member of the administration. How do you parse that record with Trump's relentless, even farcical vitriol? There are only two possible answers: Trump is so anxious about his legal exposure as Mueller closes in that he just can't help betraying his guilt in public like a bargain-basement Macbeth. Or he's batshit crazy. Or both. http://nymag.com/daily/intelligencer/2018/05/when-trump-attacks-sessions-he-sounds-like-a-guilty-man.html
7. William Falk: The art of the threat
Niccolò Machiavelli, that jaundiced student of human nature, pointed out in 1517 that sometimes "it is a very wise thing to simulate madness." I suspect President Trump has not read the Discourses on Livy, but he instinctively practices what Machiavelli preached. Richard Nixon called this approach "The Madman Theory" of foreign policy: Make your adversaries think you're so rabid, so unhinged, that you're capable of anything, including launching the ICBMs.

Our current president has used precisely that message in his dealings with North Korea and Iran, but he's taken the "madman" strategy to a new level. When allies and adversaries at home or abroad fail to bend to his will, Trump invariably goes nuclear. He's threatening to impose a 25 percent tariff on foreign cars and auto parts, and slap other massive penalties, on China, Europe, and the U.S.'s NAFTA partners; he's yanking children from parents to discourage asylum seekers who show up with children at the border; he keeps warning he'll put an end to the Russia investigation if investigators go "too far." http://theweek.com/articles/776241/art-threat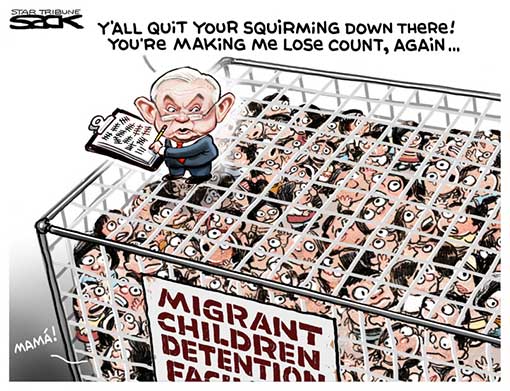 8. Mugsy: An economic timebomb is ticking. And it is set to go off on the Democrats watch
Trump & The GOP have lit the fuse on an economic timebomb that is set to go off on the Democrats watch (pardon the mixed metaphor.)
Two reasons why this is coming (guaranteed):
First, Trump's massive un-paid-for Corporate tax cut will explode the National Debt. The "official" size of the Trump deficit was estimated to be "$1.2 Trillion", but last March, the Treasury reported that the federal government ran a $209 Billion dollar deficit just for the month of March. Multiply that times 12, and if things don't change, that translates to a $2.4 Trillion dollar annual deficit, TWICE the predicted amount. And this was when people were still paying the 2017 tax rate. Next year, the Federal Reserve will be left with no choice but to raise interest rates in order to raise enough capital to cover the shortfall. That will suck hundreds of billions out of the economy… slowing spending, thus slowing the economy and costing jobs.
The next danger sign is the recent rise in oil/gas prices (gasoline is nearly a dollar per gallon higher today than it was the day Obama left office.) "Unofficially", every $1 increase in the price of a gallon of gas is roughly equal to a $100 Billion dollar tax increase on the Middle Class… more than wiping out Trump's "tax cut" that was helping to boost his economy. That's how much money Trump's gas price increase will suck out of the economy this year. (Trump once attacked Obama for rising gas prices in this 2011 tweet.) Rising gasoline prices are the most regressive "tax" of all. The poorer you are, the larger a percentage of your income goes to buying fuel. https://www.dailykos.com/stories/2018/5/30/1767865/-An-economic-timebomb-is-ticking-And-it-is-set-to-go-off-on-the-Democrats-watch
9. Jim VandeHei: Trump's mind-control superpowers
In our lifetime, no president has matched Donald Trump's ability to summon the power of the pulpit, friendly media, and the tweet-by-tweet power of repetition and persuasion to move minds en masse.
You see this in the silence of Republican critics; the instant shifts in GOP views of the FBI, Putin and deficits; and the quick, widespread adoption of his branding efforts around "deep state," "Spygate" and "no collusion." We hear so much, so often that we become numb to what Trump is doing. This allows big things (such as fundamental shifts in governing norms) to seem like small things or nothing at all. 
Trump and allies are floating untested legal arguments: The president can't obstruct justice, or can unilaterally shut down probes of himself, or can even pardon himself. If you think he won't try something unprecedented — and maybe get away with it, at least with Republicans — you aren't paying attention. https://www.axios.com/trump-persuasion-gop-republicans-mueller-investigation-e1f12159-3635-4134-bde9-d8cd4ee7a92e.html
!0. Chris Smith: "This 'Deep-State' Shit Gets Under People's Skin": Inside The F.B.I., Trump's Attacks Fuel A Rising Anger
The feckless firing of their boss, James Comey, infuriated thousands of F.B.I. agents. The steady stream of tweeted presidential insults—the bureau's reputation is "in tatters", "FBI TAINTED"—has been plenty aggravating, too. Nevertheless, most agents went loyally about their investigatory business. But Donald Trump's recent attack—promoting the idea that the F.B.I. planted a spy inside his campaign and is part of a "Criminal Deep State"—appears to have escalated anger inside the bureau to new levels, and that anger is bipartisan.
"There are too many examples to choose from over the past three years, but this 'Deep State' shit gets under peoples' skin probably more than anything else, because it's a criticism of your integrity," says Robert E. Anderson Jr., who spent more than two decades at the F.B.I., rising to its No. 2 leadership post before retiring in 2015. "The notion that the bureau planted a spy in the president's campaign is laughable, when you know how sources are run and how the rules work around counter-intelligence. It shows the naïveté of the people who are talking about it. Trump and his campaign staff, including Mike Flynn, who I've known for years, had no frickin' clue what they were doing when it came to national security." https://www.vanityfair.com/news/2018/06/inside-the-fbi-trumps-attacks-fuel-a-rising-anger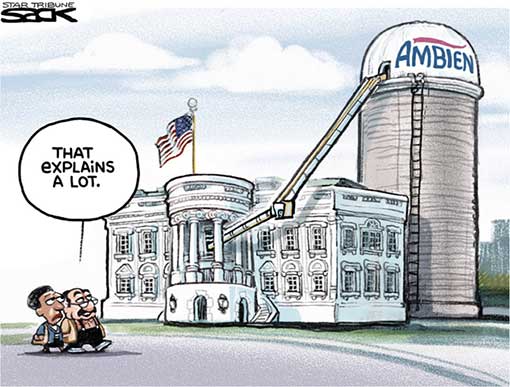 11.  Harry Litman: Trump Thinks He Is a King
The president believes he is above the law. That's the takeaway from the confidential 20-page memo sent by President Trump's lawyers to the special counsel, Robert Mueller, published over the weekend by The Times. And it's the same sentiment that Rudy Giuliani expressed on Sunday when he suggested that Mr. Trump has the power to pardon himself.
The central claim of the legal memorandum is that it is impossible for the president to illegally obstruct any aspect of the investigation into Russia's election meddling. That's because, as president, Mr. Trump has the constitutional power to terminate the inquiry or pardon his way out of it. Therefore — and this is the key and indefensible point — he cannot obstruct justice by exercising this authority "no matter his motivation."
This understanding of presidential power is radical and absolutist. It is also unsound and almost certain to be sharply rejected should it ever be proffered in court.
Mr. Mueller may have practical or policy reasons for staying his hand in finding obstruction, but he needn't worry about the proffered legal impediments. They are all losers. https://www.nytimes.com/2018/06/03/opinion/mueller-trump-executive-power.html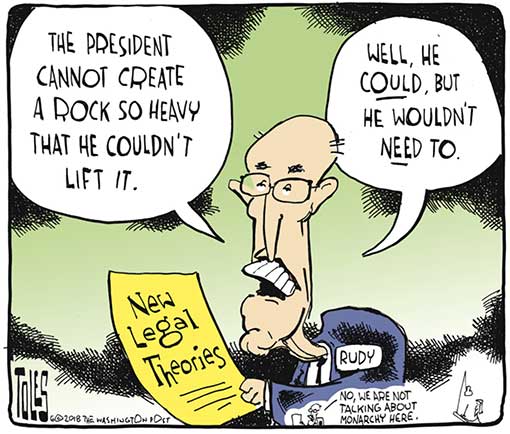 12. Paul Krugman: A Trade War Primer
The world trading system is actually a quite remarkable construction – a framework that has consistently produced a high level of global cooperation. It has been pretty robust in the face of even severe shocks – notably, the world did not see a major resurgence of protectionism after the 2008 financial crisis. But it was never designed to deal with a major world leader who has contempt for anything resembling the rule of law.
Past presidents have used their authority to impose tariffs, and not always for the best of reasons. Even Obama imposed a temporary "market disruption" tariff on Chinese tires. They have always, however, been circumspect: their tariff actions were limited, and the economic basis for their actions was at least vaguely defensible.
But Trump has gone ahead and imposed tariffs using the national security argument, in a context that makes no sense. There is no coherent argument about why imports of Canadian aluminum pose a national security threat; there will be even less justification if he does the same for autos. In fact, his administration is barely even trying to pretend that real national security concerns are at work. He's just doing this because he can.
Worse, there's no obvious end game. What can the Chinese, let alone the Europeans and the Canadians, offer that would satisfy him? An end to U.S. trade deficits? That's not something trade policy can or should deliver.
And of course everyone else in the world is furious with the U.S.. This matters, because trade policy is inherently political; even if giving Trump big concessions were good economics, which is far from clear, our democratic allies – former allies? – are going to be in no mood to go along.
So now you know why Trump has the power to do what he's doing, and why it's such a big, bad deal. https://www.nytimes.com/2018/06/03/opinion/a-trade-war-primer.html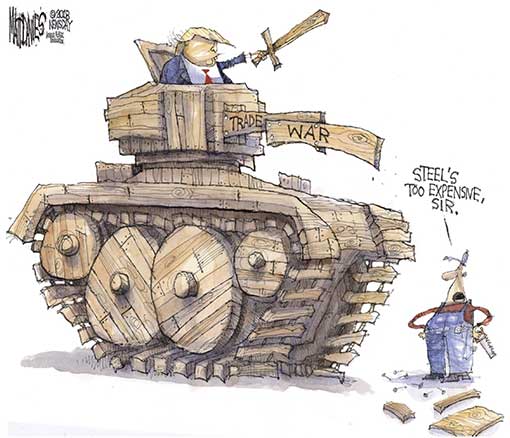 13. David Corn: Witch hunt. Donald Trump Is Getting Away With the Biggest Scandal in American History
Almost every day, Trump pushes out a simple (and dishonest) narrative via tweets and public remarks: The Russia investigation is a…well, you know, a witch hunt. Or a hoax. Or fake news. He blasts out the same exclamations daily: Witch hunt, hoax! Hoax, witch hunt! That's his mantra.
His synopsis is easy to follow. It encompasses (even if by ignoring) every new fact and revelation. It connects all the inaccurate and false dots Trump and his partisans toss out: Unmasking! Obama wiretapped Trump! The FBI improperly obtained warrants to conduct surveillance on his campaign advisers! And so on. He's the victim. The bad guys are the Dems, libs, prosecutors, and deep staters pursuing this huge nothing-burger for nothing but political gain. The Russia story, in Trump's telling, is a black-and-white tale of evildoers persecuting a great man—him. Sad. And this bully uses his pulpit (and smartphone) to transmit this simple message nonstop.
>>>A.P. has just reported that the Russian Hoax Investigation has now cost our government over $17 million, and going up fast. No Collusion, except by the Democrats!
The other side—the accurate perspective—isn't that complicated. In 2016, Vladimir Putin's regime mounted information warfare against the United States, in part to help Trump become president. While this attack was underway, the Trump crew tried to collude covertly with Moscow, sought to set up a secret communications channel with Putin's office, and repeatedly denied in public that this assault was happening, providing cover to the Russian operation. Trump and his lieutenants aligned themselves with and assisted a foreign adversary, as it was attacking the United States. The evidence is rock-solid: They committed a profound act of betrayal. That is the scandal.  https://www.motherjones.com/politics/2018/06/trump-russia-scandal-media/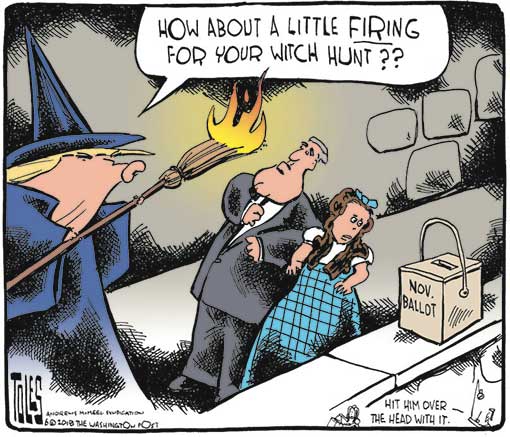 14. Ryan Cooper: America's rickety Constitution is proving no match for the Mad King Donald
The way the Constitution is supposed to work, of course, is that if the president behaves corruptly, then Congress will remove him from office. That is supposedly the whole point of dividing powers between the executive and the legislative, and there between the House and the Senate: "Ambition must be made to counteract ambition," as James Madison wrote in Federalist 51. And indeed, that was kinda-sorta how things worked for most of American history — Nixon resigned before being removed, and previous presidents at least kept their corruption within certain boundaries. But at the same time, all that separation of powers meant American government was often divided between parties and barely able to deal with severe problems. Executive power flowed into the gap left by congressional inaction.
In addition, the system was also helped by the partial multi-party tendency that prevailed from the end of the Civil War until about the 1990s, where each party had a left and right wing, thus making legislative dealmaking, and a self-identity of Congress that was independent from the president, easier.
But as American political parties became more like European ones, with strong ideological identities and rigorous partisan discipline, legislative deadlock skyrocketed, and the independent identity of Congress eroded. And probably most importantly, one of two parties has been recently dominated by an extremist revanchist movement.
As a result, the whole complicated American constitutional edifice designed to prevent tyranny and corruption is melting to nothing before the Trump crisis. His personal corruption alone should have removed him from office when he refused to divest himself of his businesses, or at least when he started blatantly enriching himself through the presidency. But nothing is happening, and there is absolutely no sign that Congress is going to start fulfilling its constitutional obligations absent huge changes in the 2018 midterms. http://theweek.com/articles/776886/americas-rickety-constitution-proving-no-match-mad-king-donald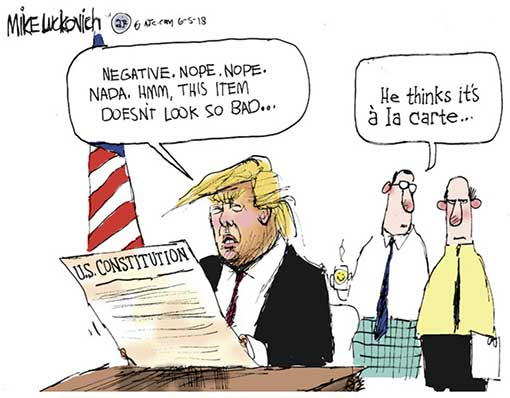 15. Joel Mathis: The disturbing shamelessness of Trump's 'self-pardon' claims
Hamilton, known for a bit of shamelessness himself, probably never imagined a president like Trump. Connivance is plainly part of the package; circumspection less obviously so.
Trump, through his pardons, has already demonstrated whom he sees as his "fellow creatures" worthy of mercy — people like Sheriff Joe Arpaio and conservative provocateur Dinesh D'Souza, men prominent for their ugly treatment of immigrants and minorities, and popular with Trump's base for those stances. (They've also been done without the "scrupulousness and caution" that Hamilton expected — Trump granted both pardons while bypassing the presidential office responsible for evaluating petitions for clemency.) Yes, he also pardoned Jack Johnson, the turn-of-the-20th-century boxer who was the target of racist law enforcement, but that may have been the exception that proves the rule: Trump has not offered such compassion to any living black man.
There is one explicit limit on the president's pardon powers: He cannot save anyone — including himself — from impeachment.
We don't know what Robert Mueller's investigation will determine: Right now, we have more speculation than evidence about what's going on inside the special counsel's offices. At this point, however, it's clear that if he finds wrongdoing by Trump or his inner circle, Trump will issue a pardon in an attempt to short-circuit justice. Rather than feeling shame, it's almost certain he would That would put the ball squarely in Congress' court. And there's little evidence the Republican-held Congress would be inclined to impeach a chief executive from their own party. And if Democrats take Capitol Hill in November, they would have to mount any impeachment by themselves, without bipartisan cover.
Which means the problem of shame isn't limited to Trump. As long as the Republican Party continues to turn a blind eye to the president's lies and misdeeds, shamelessness will continue to rule the land. http://theweek.com/articles/776880/disturbing-shamelessness-trumps-selfpardon-claims