August 22, 2019
ON THE RECORD. . .
"Trump is crazy, everything about him is terrible, or we gotta do everything we can to defeat him. He wants that. The George Conway Twitter feed is an example—and I love George, and he's absolutely right about everything—but Trump has anesthetized the country to George Conway's Twitter feed. Right? You're looking at George Conway going, Okay, he's very emotionally attached to hating on Trump, and he's lighting Trump up every day. Even though he's 100% right. -- Former White House communications director Anthony Scaramucci in Vanity Fair

"We recognize the president is a clear and present danger for the American society the American culture, there are many people inside the White House and inside the cabinet – I would ask the left, let's create an off ramp for those people because when you're trying to deprogram people from a cult you have to allow them to change their mind, allow them the space to change their mind." — Anthony Scaramucci to Fox News

"He said, 'You're a RINO ' and I said, 'No, sir. I am not a RINO.' I said… 'I simply corrected the misinformation you were given by [the Texas] attorney general, and that's all I did.'" — El Paso Mayor Dee Margo (R) telling Trump that he's presenting "misinformation" about crime in his city, and pushed back when the president used a derogatory term to suggest he wasn't a real Republican. The mayor said he was trying to debunk Trump's false claim that El Paso had one of the highest violent crime rates in the U.S. until a barrier fence — the bulk of which was completed in 2009 — was built there.

"The Fake News Media is doing everything they can to crash the economy because they think that will be bad for me and my re-election. The problem they have is that the economy is way too strong and we will soon be winning big on Trade, and everyone knows that, including China!" — Trump accusing the media of trying to "crash the economy," seeking to deflect blame amid signs of a global economic downturn.

"The Good Friday agreement, which helped end three decades of violence in Northern Ireland, dismantled all physical border infrastructure between EU member Ireland and Northern Ireland, a province of Britain, guaranteeing that people and goods on either side can move freely." — "Speaker Nancy Pelosi warning that there is no chance the U.S. Congress would approve a planned U.S.-British trade deal if Britain's exit from the European Union undermines the landmark 1998 Good Friday peace agreement for Northern Ireland," 

"We must take the fight directly to the source of this problem, that person who has caused this pain and placed this country in this moment of peril. And that is Donald Trump. You do not get kids in cages until you've given people permission to put them in cages by calling them 'animals' and seeking to dehumanize them. You don't lose the lives of seven children in the custody and care of the wealthiest, the most powerful country on the face of the planet, unless you have made it possible. And you do not get somebody driving 600 miles to come to this community — in his manifesto repeating the very words used by the president of the United States to justify this act of terror and hatred and violence and death."— Beto O'Rourke

"White nationalism and racism are pure evil and cannot be tolerated in any form. We also can't excuse violence from the left such as the El Paso shooter, the recent Colorado shooters, the Congressional baseball shooter, Congresswoman Giffords' shooter and Antifa." — Congressional Republican's talking points on gun violence that falsely described the El Paso massacre and other mass shootings as "violence from the left."

"If you elect me president, I promise you won't have to think about me for 2 weeks at a time. I'll do my job watching out for North Korea and ending this trade war. So you can go raise your kids and live your lives." — Michael Bennet @MichaelBennet to a Democratic electorate wearied by Trump's near-constant stream of incendiary behavior and racially tinged — and at times overtly racist — invective.

"The Failing New York Times, in one of the most devastating portrayals of bad journalism in history, got caught by a leaker that they are shifting from their Phony Russian Collusion Narrative (the Mueller Report & his testimony were a total disaster), to a Racism Witch Hunt ..."Journalism" has reached a new low in the history of our Country. It is nothing more than an evil propaganda machine for the Democrat Party. The reporting is so false, biased and evil that it has now become a very sick joke...But the public is aware! #CROOKEDJOURNALISM "— Trump lashing out again at the "failing" New York Times, blaming a 'racism witch hunt' for his low poll numbers.

"It wasn't until that moment that I truly understood how critical this moment is and the real consequence and cost of Donald Trump… There is a concerted, organized attack against, against people of color, against those who do not look like or pray like or love like the majority in this country." — Beto O'Rourke on how the El Paso mass shooting changed his views of the stakes of the presidential race.

"May God ruin him." — Muftia Tlaib, the grandmother of Rep. Rashida Tlaib's (D-MI), after President Trump suggested Israel ban the congresswoman from entering the country.

@Scaramucci says Twitter has temporarily suspended his account. "I think it is related to 'fat shaming' President Trump," the president's former communications director says. "I should have said he is the largest proportioned President since William Howard Taft. My bad." — Jonathan Swan @jonathanvswan

"I felt a 'jolt of electricity to my soul' when President Trump announced his candidacy." — Stephen Miller

"He's like a heat-seeking missile for Trump's ass." — A former American ambassador, saying that Secretary of State Pompeo is "among the most sycophantic and obsequious people around Trump."

""For years, Wayne has taken NRA members' money to live the life of a king, but he's not a king. He's the head of a nonprofit trusted by millions to use its funds to secure constitutional rights. He's an odious little grifter and it's time for him to go." — Fox News host Steve Hilton, quoted by The Hill, on National Rifle Association CEO Wayne LaPierre.

 "The Fake News Media is doing everything they can to crash the economy because they think that will be bad for me and my re-election. The problem they have is that the economy is way too strong and we will soon be winning big one, and everyone knows that, including China!" — Trump

Anthony Scaramucci is a highly unstable "nut job" who was with other candidates in the primary who got shellacked, & then unfortunately wheedled his way into my campaign. I barely knew him until his 11 days of gross incompetence-made a fool of himself, bad on TV. Abused staff …. got fired. Wrote a very nice book about me just recently. Now the book is a lie? Said his wife was driving him crazy, "something big" was happening with her. Getting divorced. He was a mental wreck. We didn't want him around. Now Fake News puts him on like he was my buddy!—  Trump, lashing out at aide-turned-nemesis Anthony Scaramucci, after the former White House communications director threatened to cobble together a coalition of former Cabinet officials to speak out against the president as part of an apparent bid to find an alternative Republican nominee in 2020.

"I think that any Jewish people who vote for a Democrat, I think it shows either a total lack of knowledge or great disloyalty." — Trump.

"Denmark is a very special country with incredible people, but based on Prime Minister Mette Frederiksen's comments, that she would have no interest in discussing the purchase of Greenland, I will be postponing our meeting scheduled in two weeks for another time…." -- Donald J. Trump @realDonaldTrump.
"Thank you to Wayne Allyn Root for the very nice words. "President Trump is the greatest President for Jews and for Israel in the history of the world, not just America, he is the best President for Israel in the history of the world...and the Jewish people in Israel love him...like he's the King of Israel. They love him like he is the second coming of God...But American Jews don't know him or like him. They don't even know what they're doing or saying anymore. It makes no sense! But that's OK, if he keeps doing what he's doing, he's good for…all Jews, Blacks, Gays, everyone. And importantly, he's good for everyone in America who wants a job." Wow!
-- Donald J. Trump @realDonaldTrump
"Nobody can be trusted. In my world, in this world, I think nobody can be trusted." — Trump, when asked about the status of negotiations with the Taliban.
"I don't know anyone who would be comfortable with someone who behaves this way having his finger on the button. I mean, we're liable to wake up one morning and Donald, if he were president, would have nuked Denmark." — Sen. Ted Cruz (R-TX) during the 2016 presidential campaign.
---
IN THIS ISSUE
FYI
OPINION
1.  Andy Borowitz: Unskilled Man Fears He Will Lose Job in Recession
A man with no identifiable skills is deeply worried that a recession could cause him to lose his job, people close to the man have confirmed.

The man, who has barely clung to his job for the past two and a half years, is justified in believing that an economic downturn would result in his unemployment, experts said.

"When the economy is good, it's possible for someone like him to hold down a job for which he is woefully unqualified," Harland Dorrinson, a human-resources specialist, said. "But when the economy goes south, look out."

Dorrinson said that the unskilled man's résumé, which lists six bankruptcies and multiple business failures, could come under scrutiny in the event of a recession.

"His employers might find themselves asking, 'How did he get this job in the first place?' " Dorrinson said.

Additionally, the man's near-total lack of education—evidenced by his inability to spell common one-syllable words or to identify the century in which the airplane was invented—could make him vulnerable to termination, the human-resources expert said.

"On the plus side, he enjoys watching television for eight hours a day," Dorrinson said. "During a recession, he'll be able to do even more of that." https://www.newyorker.com/humor/borowitz-report/
2. Royal Dutch Shell Made Workers Attend Trump Event By Threatening Not To Pay Them
Shell officials in Beaver County, PA gave workers a choice, they could either attend Trump's event or not be paid for the day.
As Trump brags about his huge crowd sizes at his rallies, here is the story of how Shell got workers to attend Trump's Western PA event.
The choice for thousands of union workers at Royal Dutch Shell's petrochemical plant in Beaver County was clear Tuesday: Either stand in a giant hall waiting for President Donald Trump to speak or take the day off with no pay. "Your attendance is not mandatory," said the rules that one contractor relayed to employees, summarizing points from a memo that Shell sent to union leaders a day ahead of the visit to the $6 billion construction site. But only those who showed up at 7 a.m., scanned their ID cards, and prepared to stand for hours — through lunch but without lunch — would be paid.
"No yelling, shouting, protesting or anything viewed as resistance will be tolerated at the event. An underlying theme of the event is to promote good will from the unions. Your building trades leaders and jobs stewards have agreed to this."
The union went along with these conditions because they didn't want to make trouble for their workers, and according to the PG story, they are grateful for their jobs. https://www.politicususa.com/2019/08/17/shell-workers-trump-pa.html
3. Republicans Sabotaged Obama's Economy and Assume Democrats Are Doing It to Them
More curious than the right's insistence that a recession won't occur is its certainty that Democrats — working through their agents in the Fake News, naturally — are engineering one. Why would the right imagine such sinister motives?
Maybe it is because cynical people tend to assume everybody shares their cynicism. Republicans seem to assume their adversaries would do everything in their power to harm the economy when the opposition holds power because that is how the Republican Party operates. http://nymag.com/intelligencer/2019/08/gop-suspects-economic-sabotage-because-they-did-it-to-obama.html
4. The Obamas' First Big Anti-Trump Statement of 2020
The documentary, American Factory, on Netflix, never mentions President Donald Trump by name—but its message is clear: Trump's promise to reinvigorate the industrial heartland is going to take a lot more than a campaign slogan. There are no easy solutions. And if some manufacturing jobs do come back, they're going to look nothing like they used to. Americans will have to accept a new reality to stay competitive in the global marketplace—one that they might not like, and one that Trump doesn't acknowledge.
This message is also coming straight from Barack and Michelle Obama. American Factory is the first project to come from the Obamas' production company, Higher Ground, as part of the deal they made with Netflix to produce a slate of series, movies and documentaries that reflect their values. https://www.politico.com/magazine/story/2019/08/20/obama-trump-2020-227627
5. Here's how Trump is underperforming from 2016
The NBC/WSJ poll released Sunday showed just 40 percent of registered voters saying they would definitely or probably back Trump in 2020, versus 52 percent definitely/probably supporting the Democratic candidate.
So not surprisingly, Trump is underperforming in our poll among almost all subgroups from the exit poll in 2016, when he took 46 percent of the popular vote.
Here's the breakdown:
Men: Trump +8 points in the NBC/WSJ poll (was +11 in the 2016 exit poll)
Women: -32 points (was -13)
Whites: +5 (was +20)
African Americans: -84 (was -81)
Latinos: -36 (was -38)
Independents: -19 (was +4)
Whites with college degrees: -19 (was +3)
Whites without college degrees: +18 (was +37)
Of course, Trump won't be facing a generic Democrat next year. Plus, this is among all registered voters, not likely voters. And time could be on his side. Still, this breakdown shows how vulnerable Trump is right now. https://www.nbcnews.com/politics/meet-the-press/here-s-how-trump-underperforming-2016-n1044256
6. U.S. Significantly Weakens Endangered Species Act
The Trump administration on Monday announced that it would change the way the Endangered Species Act is applied, significantly weakening the nation's bedrock conservation law and making it harder to protect wildlife from the multiple threats posed by climate change.
The new rules would make it easier to remove a species from the endangered list and weaken protections for threatened species, the classification one step below endangered. And, for the first time, regulators would be allowed to conduct economic assessments — for instance, estimating lost revenue from a prohibition on logging in a critical habitat — when deciding whether a species warrants protection.
Critically, the changes would also make it more difficult for regulators to factor in the effects of climate change on wildlife when making those decisions because those threats tend to be decades away, not immediate.
Over all, the revised rules appear very likely to clear the way for new mining, oil and gas drilling, and development in areas where protected species live. https://www.nytimes.com/2019/08/12/climate/endangered-species-act-changes.html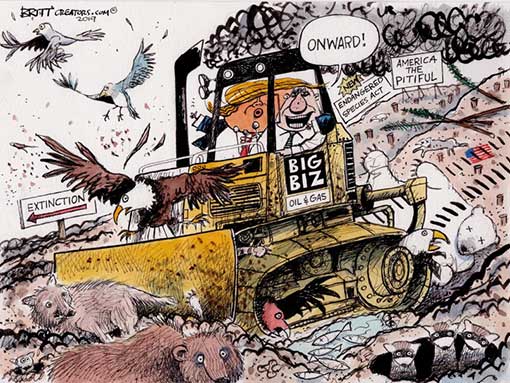 7. Smallest Town Hall Meeting Ever?
Rep. Steve King (R-IA) held a town hall meeting on Saturday - a Reuters photograph shows that just two people showed up. https://twitter.com/corinne_perkins/status/1162806565109473280
8. Support for free trade reaches new high in NBC/WSJ poll
Amid the ongoing trade war with China, nearly two-thirds of Americans say they support free trade in the latest NBC News/WSJ poll.
That represents a new high in the NBC/WSJ survey on this question, and it's a 7-point increase from the last time it was asked in 2017.
Among other findings in the poll, overwhelming majorities support certain gun-control measures, even as the country remains divided on whether the government should restrict access to guns. Those sentiments come in the wake of the shootings in El Paso, Texas and Dayton, Ohio that killed more than 30 people.
And Trump's political standing remains in dangerous territory ahead of his re-election fight next year, with just four in 10 Americans approving of his job and saying they'll vote for him in 2020. https://www.nbcnews.com/politics/meet-the-press/support-free-trade-reaches-new-high-nbc-wsj-poll-n1043601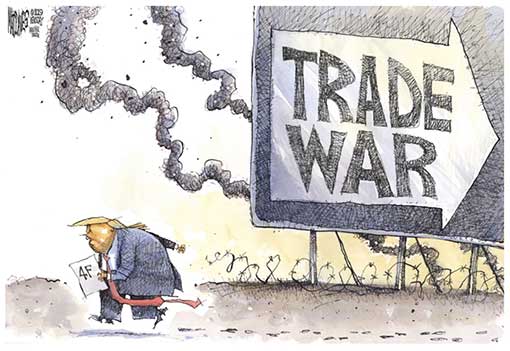 9. The DAILY GRILL
"It would show great weakness if Israel allowed Rep. Omar and Rep.Tlaib to visit. They hate Israel & all Jewish people, & there is nothing that can be said or done to change their minds. Minnesota and Michigan will have a hard time putting them back in office. They are a disgrace!" — Donald Trump @realdonaldtrump

VERSUS

Israel's denial of entry to Congresswomen Tlaib & Omar is beneath the dignity of the great State of #Israel. @realDonaldTrump's statements about the Congresswomen are a sign of ignorance & disrespect, & beneath the dignity of the Office of the President. — Nancy Pelosi @SpeakerPelosi

 

Wow, Report Just Out! Google manipulated from 2.6 million to 16 million votes for Hillary Clinton in 2016 Election! This was put out by a Clinton supporter, not a Trump Supporter! Google should be sued. My victory was even bigger than thought! -- Donald J. Trump@realDonaldTrump

VERSUS

Trump said a new report shows "Google manipulated from 2.6 million to 16 million votes for Hillary Clinton in 2016 Election." The general idea here is that Google gave people search results that in some way affected their vote in the lead-up to the election for president.  Whether such indirect interactions could cause people to change their votes is questionable, and the paper — which is not new — does nothing to establish how that might happen. The paper doesn't explain its methodology, and other academics questioned whether its findings were valid. Finally, Trump seems to have exaggerated the outer bound of the questionable findings. Overall, we rate his statement False. — Politifact

 

On Aug. 5, Trump declared that "Republicans and Democrats must come together and get strong background checks." He tweeted: "We cannot let those killed in El Paso, Texas, and Dayton, Ohio, die in vain. … We must have something good, if not GREAT, come out of these two tragic events!" — Washington Post

VERSUS

Fifteen days later, the president told National Rifle Association chief executive Wayne LaPierre that universal background checks are off the table. "Tuesday's call with LaPierre, which was initiated by Trump, lasted 45 minutes and by the end of it, the two men had no disagreements." — Washington Post.

 

"So it was the G-8 for a long time, and now it's the G-7, and a lot of the time we talk about, we talk about Russia — we're talking about Russia cause I've gone to numerous G-7 meetings, and I guess President Obama, because Putin outsmarted him — President Obama thought it wasn't a good thing to have Russia in, so he wanted Russia out. … For most of the time, it was the G-8, it included Russia, and President Obama didn't want Russia in because he got outsmarted." -- Trump

VERSUS

This is false. Russia was ousted from the Group of Eight (G-8) because of the invasion and annexation of Crimea, with the rest of the group of industrialized democracies saying the act was inconsistent with the "shared beliefs" of the G-8. There had been 22 meetings of the G-7 before Russia was invited to join by then-President Bill Clinton. Then Russia attended 17 meetings before it invaded Crimea. The G-7 meeting in France later this month will be the sixth since Russia was removed. So it's incorrect to say "most of the time" the group included Russia. -- Washington Post
10. ICE raid separates 4-month-old baby from breastfeeding mom
Until a week ago, 4-month-old baby girl had been breastfed by her mother. That abruptly ended when her mother was arrested at Koch Foods in Morton, where she had worked for four years. The mother and hundreds of others are suspected of living and working in the U.S. without permission.
The baby's mother is currently being held at an ICE detention facility in Jena, Louisiana. https://www.clarionledger.com/story/news/2019/08/15/ms-ice-raids-breastfeeding-mom-taken-4-month-old-baby-koch-foods-morton-deportation-detainees/2002278001/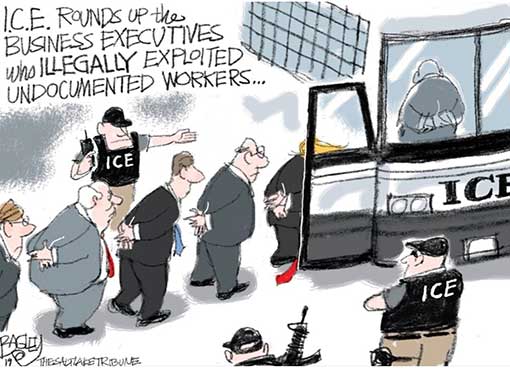 11. After 'fake farmer' claim, Devin Nunes reports he owns small farm that earns no income
For the first time in more than a decade, Rep. Devin Nunes (R-Tulare) is reporting that he owns a stake in a farm.
The new disclosure comes a year after Democratic groups accused Nunesof being a "fake farmer" and unsuccessfully challenged his description of himself as a farmer on California ballots.
Nunes reported on a newly released financial disclosure form that he owns a Tulare County farm that generates no income for him and is worth less than $15,000.
Nunes has never before claimed a farm as one of his assets in annual financial disclosures, according to public records dating back to 2007.
That suggests he either bought a small part in a farm recently or he improperly filed previous financial disclosures, according to Delaney Marsco, legal counsel on ethics for the nonpartisan watchdog group Campaign Legal Center. https://www.fresnobee.com/news/local/article233995452.html
12. From MEDIA MATTERS (They watch Fox News so you don't have to)
Lou Dobbs praises ICE employee for driving his car into a group of protesters — "I know that it must just gladden your heart to see a bunch of demonstrators at an Immigration Customs Enforcement facility blocking the path of a guard and then complaining about the fact that he sought to do what is within his rights, which is to proceed to park his vehicle and go to work. " https://www.mediamatters.org/lou-dobbs/lou-dobbs-praises-ice-employee-driving-his-car-group-protesters

"Mismanagement, cronyism and self-dealing": Following the shuttering of NRATV, turmoil continues at the NRA. Since its online media outlet was shut down, the scandal-ridden National Rifle Association has taken blow after blow, from its chief lobbyist resigning to million-dollar donors withholding gifts until Executive Vice President Wayne LaPierre steps down to outlets reporting that LaPierre had billed the NRA for his own extravagant travel expenses. With calls for ordinary members to reduce donations and campaigns launched to reform the organization, Republican politicians are worried the NRA's turmoil will make it a non-factor in the 2020 elections.   https://www.mediamatters.org/nratv/mismanagement-cronyism-and-self-dealing-following-shuttering-nratv-turmoil-continues-nra

Rush Limbaugh accuses Reps. Ilhan Omar and Rashida Tlaib of "hatred for Jews": "I don't have to know them to know this. All I have to know is Sharia Islam." https://www.mediamatters.org/rush-limbaugh/rush-limbaugh-accuses-reps-ilhan-omar-and-rashida-tlaib-hatred-jews-i-dont-have-know

Fox Nation hosts slam gun safety laws because we didn't "get rid of planes" after 9/11. DIAMOND (CO-HOST): "And see the way we feel, one of the biggest mass killings happened right here in the United States. With 9/11. Where over 3,000 people lost their lives -- innocent people. Now do we implement anti-plane laws? Do we get rid of planes?" https://www.mediamatters.org/fox-nation/fox-nation-hosts-slam-gun-safety-laws-because-we-didnt-get-rid-planes-after-911

Facebook let Trump's campaign run over 2,000 ads referring to immigration as an "invasion. Since May 2018, at least nine other Republican politicians, including Sen. Marsha Blackburn (R-TN), have run Facebook ads pushing the same white supremacist talking point. Facebook's advertising policies and community standards prohibit attacks which target a group of people based on their immigration status. https://www.mediamatters.org/facebook/facebook-let-trumps-campaign-run-over-2000-ads-referring-immigration-invasion
13. From the Late Shows
Is Donald Trump Trying to Deport Melania? | The Daily Show https://youtu.be/Y_MwpagOWo0
14. The New Stephen Miller
Ken Cuccinelli, the former Virginia attorney general joined the Trump administration in late May. His background includes trying to eliminate birthright citizenship, questioning whether Barack Obama was born in the United States, and proposing to make speaking Spanish on the job a fireable offense. Accordingly, Senate Majority Leader Mitch McConnell advised the president against nominating Cuccinelli to any post that required Senate confirmation. To some, Cuccinelli's arrival meant that Miller had, at long last, found the consummate ideological ally. (A representative for Cuccinelli declined my request for a phone interview with the director.)
Cuccinelli may well have been created in a Trump-branded petri dish. He's spent decades advocating for far-right positions on a variety of social issues, and the 50-year-old practicing Catholic enjoys widespread support among conservative evangelicals. Cuccinelli used his 2013 loss to Terry McAuliffe in the Virginia gubernatorial race to reinvent himself as a conservative pundit, and for the past few years has offered a reliably pro-Trump perspective across cable networks (a bonus for anyone seeking this president's favor). As someone who built much of his popularity on polarizing immigration policies and incendiary rhetoric, Cuccinelli was as natural a choice as any for an administration hoping to make progress on the president's signature issue ahead of the 2020 election. https://www.theatlantic.com/politics/archive/2019/08/who-is-ken-cuccinelli/596083/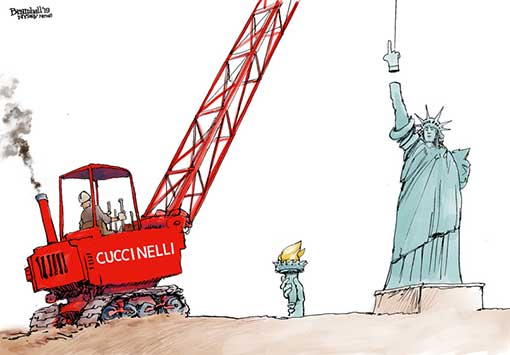 15. Memo reveals a House Republican strategy on shootings: downplay white nationalism, blame left
Congressional Republicans recently circulated talking points on gun violence that falsely described the El Paso massacre and other mass shootings as "violence from the left."
A document obtained by the Tampa Bay Times and sent by House Republicans provides a framework for how to respond to anticipated questions like, "Why won't you pass legislation to close the 'gun show loophole' in federal law?" and "Why shouldn't we ban high-capacity magazines?" The answers are boilerplate Republican arguments against tougher gun restrictions.
But it also included this question: "Do you believe white nationalism is driving more mass shootings recently?" The suggested response is to steer the conversation away from white nationalism to an argument that implies both sides are to blame. https://www.tampabay.com/florida-politics/buzz/2019/08/16/memo-reveals-a-house-republican-strategy-on-shootings-downplay-white-nationalism-blame-left/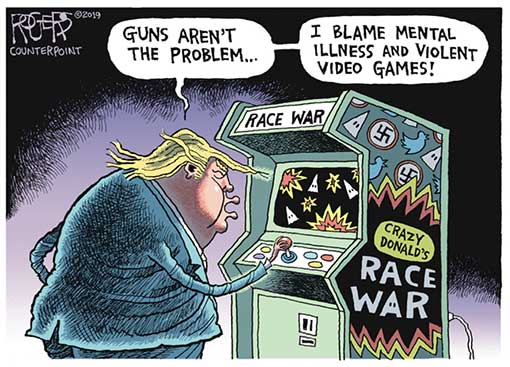 16. Trump's tax cut isn't giving the US economy the boost it needs
John Harwood: "If ever the U.S. economy could use a strong tax cut tail wind, it could use one now as conditions weaken around the world."
"But the tail wind isn't there."
"Instead, benefits from what President  Trump called "the biggest reform of all time" to the tax code have dwindled to a faint breeze just 20 months after its enactment. Half of corporate chief financial officers surveyed by Duke University expect the economy to shrink by the second quarter of 2020. Two-thirds expect a recession by the end of next year." https://www.cnbc.com/2019/08/16/trumps-tax-cut-isnt-giving-the-us-economy-the-boost-it-needs.html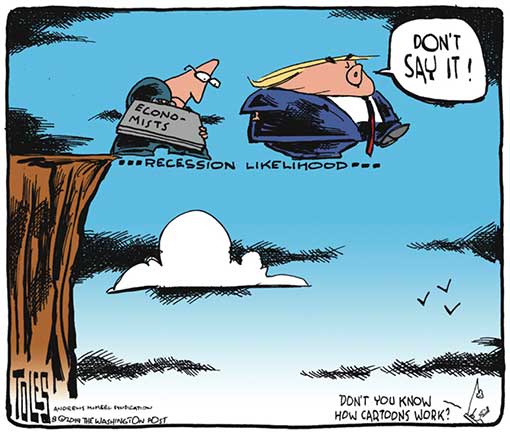 17. The Growing Partisan Divide in Views of Higher Education
A new Pew Research Center survey finds that only half of American adults think colleges and universities are having a positive effect on the way things are going in the country these days. About four-in-ten (38%) say they are having a negative impact – up from 26% in 2012.
The share of Americans saying colleges and universities have a negative effect has increased by 12 percentage points since 2012. The increase in negative views has come almost entirely from Republicans and independents who lean Republican. From 2015 to 2019, the share saying colleges have a negative effect on the country went from 37% to 59% among this group. Over that same period, the views of Democrats and independents who lean Democratic have remained largely stable and overwhelmingly positive.
https://www.pewsocialtrends.org/essay/the-growing-partisan-divide-in-views-of-higher-education/
18. Reuters/Ipsos poll: For Trump, appeals to white fears about race may be a tougher sell in 2020
Donald Trump's anti-immigrant rhetoric and focus on the grievances of white voters helped him win the 2016 election. But a Reuters analysis of public opinion over the last four years suggests that Trump's brand of white identity politics may be less effective in the 2020 election campaign.
The analysis comes amid widespread criticism of Trump's racially charged comments about four minority women lawmakers and the fallout from a mass shooting of Hispanics in El Paso, Texas, that many Democratic presidential candidates swiftly blamed on the president's rhetoric.
Reuters/Ipsos polling of 4,436 U.S. adults in July showed that people who rejected racial stereotypes were more interested in voting in the 2020 general election than those who expressed stronger levels of anti-black or anti-Hispanic biases.
In 2016, it was the reverse. The Reuters analysis shows that Trump's narrow win came at a time when Americans with strong anti-black opinions were the more politically engaged group. While Reuters did not measure anti-Hispanic biases in 2016, political scientists say that people who express them closely overlap with those who are biased against other racial minorities. https://www.reuters.com/article/us-usa-election-race-poll-idUSKCN1V90TX
19. Fed Chief Wedged Between a Slowing Economy and an Angry President
Jerome Powell is entering the most perilous stage yet of his tenure as Federal Reserve chairman, fighting to keep the U.S. from recession while taking the blame from President Trump for skittish markets and a slowing economy.
Mr. Trump's unyielding criticism of the Fed has led people inside the central bank to feel like they are fighting to both buoy the U.S. economy and preserve the Fed's independence from political interference. https://www.wsj.com/articles/fed-chief-wedged-between-a-slowing-economy-and-an-angry-president-11566166246
20. The US won't provide flu vaccines to migrant families at border detention camps
"The U.S. won't be vaccinating migrant families in holding centers ahead of this year's flu season, despite calls from doctors to boost efforts to fight the infection that's killed at least three children at detention facilities in the past year," CNBC reports. https://www.cnbc.com/2019/08/20/the-us-wont-vaccinate-migrant-children-against-the-flu-at-border-camps.html
21. Budget Deficit on Path to Surpass $1 Trillion Under Trump
The federal budget deficit is growing faster than expected as President Trump's spending and tax cut policies force the United States to borrow increasing sums of money.
The deficit — the gap between what the government takes in through taxes and other sources of revenue and what it spends — will reach $960 billion for the 2019 fiscal year, which ends Sept. 30. That gap will widen to $1 trillion for the 2020 fiscal year, the Congressional Budget Office said in updated forecasts released on Wednesday.
The updated projections show deficits rising — and damage from Mr. Trump's tariffs mounting — faster than the office had previously predicted. In May, the budget office said it expected a deficit of $896 billion for 2019 and $892 billion for 2020.
That damage would be even higher if not for lower-than-expected interest rates, which are reducing the amount of money the government has to pay to its borrowers. Still, the 2019 deficit is projected to be 25 percent larger than it was in 2018, and the budget office predicts it will continue to rise every year through 2023. https://www.nytimes.com/2019/08/21/us/politics/deficit-will-reach-1-trillion-next-year-budget-office-predicts.html
22. Council staff working with Idaho migrant kids feel unsafe. After El Paso, they're taking precaution
The Community Council of Idaho plans to remove and conceal signage on buses it uses to transport local children of farmworkers and Head Start participants. A Caldwell bus driver reported a threatening incident with other motorists that made her feel unsafe as she was transporting children younger 5.
"It's really heartbreaking, because they're children," said Sonnay Alvarez, spokeswoman for the Community Council of Idaho. The council runs 10 Head Start centers for children of migrant workers across the state.
"They don't understand what hate is," she said. https://www.idahostatesman.com/news/politics-government/state-politics/article234038627.html
23.The Fed points to trade as the main reason the economy is losing speed
The Federal Reserve's minutes of its July interest-rate setting meeting show policymakers blame the slowing U.S. economy on President Trump's trade feud with China and other nations.
Fed officials also said uncertainty over trade was the source of the recent drop in business investment in the U.S. https://www.cbsnews.com/news/the-fed-points-to-trade-as-the-main-reason-the-economy-is-losing-speed/
24. Trump critics eye GOP primary race, even if defeating him seems 'preposterous'
The anti-Trump movement inside the Republican Party — long a political wasteland — is feeling new urgency to mount a credible opposition to Trump before it's too late. With state deadlines for nominating contests rapidly approaching in the fall, potential candidates face pressure to decide on running within the next few weeks. So far, only former Massachusetts governor Bill Weld has declared that he is running, but he has struggled to gain traction.
Republicans considering bids, as well as those trying to draft other candidates, acknowledge that defeating Trump appears to be nearly impossible but argue that a recession or an unforeseen change in the political climate could weaken him enough to make a primary challenge more than a Never Trump fantasy. https://www.washingtonpost.com/politics/trump-critics-eye-gop-primary-race-even-if-defeating-him-seems-preposterous/2019/08/20/4382f3dc-c360-11e9-b72f-b31dfaa77212_story.html
1. Peter Canellos: What FDR Understood About Socialism That Today's Democrats Don't
For Sen. Bernie Sanders, socialism was a way of distinguishing his left-wing views from those of the dominant moderate wing of the Democratic Party in Vermont. He has proudly, even courageously, worn the socialist moniker since the days of the Cold War, when fears of Soviet-style socialism were rampant. On the presidential campaign trail, however, he does more than just claim the title of "democratic socialist" for himself. By embracing policies shared by many other Democratic candidates, such as Elizabeth Warren and Bill de Blasio, he puts the socialist imprimatur on their platforms, as well. Some younger Democrats, eager to advertise their distance from the party's tired status quo, have also embraced the term. Alexandria Ocasio-Cortez has won plaudits for her unambiguous endorsement of the pro-worker socialist tradition.
The Republicans show every sign of putting the "Socialism" at the very center of their efforts in 2020, with President Donald Trump sounding the charge in his State of the Union speech last winter. "Socialist" has already become a chyron for numerous Democratic initiatives on Fox News. And, indeed, polls suggest that initiatives such as "Medicare for All" attract solid support when described in generic terms, but rather less when the word "socialist" is affixed to them.
Would Franklin Roosevelt applaud these later generations of Democrats, who claim a piece of his legacy, attempting to demystify the term that was used to slight his record? The evidence strongly suggests he would not. Roosevelt the canny salesman might well say that attaching an ideological label to a pragmatic proposal such as Medicare for All—which is intended to eliminate waste and cut costs, after all—is foolish and misleading.
The architect of the New Deal would surely rise up in fist-shaking fury when Donald Trump blasts away at all Democrats as socialists. But when the charge is leveled at Bernie Sanders, he might be tempted to think: He brought this on himself. https://www.politico.com/magazine/story/2019/08/16/democrats-socialism-fdr-roosevelt-227622
2. Joe Walsh: Trump Needs a Primary Challenge
The fact is, Mr. Trump is a racial arsonist who encourages bigotry and xenophobia to rouse his base and advance his electoral prospects. In this, he inspires imitators.
Republicans should view Mr. Trump as the liability that he is: No matter his flag-hugging, or his military parades, he's no patriot. In front of the world, he sides with Vladimir Putin over our own intelligence community. That's dangerous. He encouraged Russian interference in the 2016 election, and he refuses to take foreign threats seriously as we enter the 2020 election. That's reckless. For three years, he has been at war with our federal law enforcement and intelligence agencies, as he embraces tyrants abroad and embarrasses our allies. That's un-American.
And despite what his enablers claim, Mr. Trump isn't a conservative. He's reckless on fiscal issues; he's incompetent on the border; he's clueless on trade; he misunderstands executive power; and he subverts the rule of law. It's his poor record that makes him most worthy of a primary challenge.
Mr. Trump has taken the legitimate differences that Americans have on policy and turned them into personal division. He's caused me to change my tone and to reflect upon where I went over the line and to focus on policy differences moving forward.
We now have a president who retweets conspiracy theories implicating his political opponents in Jeffrey Epstein's death. We now have a president who does his level best to avoid condemning white supremacy and white nationalism.
Yes, William Weld, the former Massachusetts governor, is challenging Mr. Trump from the center. But the president is more vulnerable to a challenge from the right. I'm on the right, and I'm hugely disappointed that challenge hasn't yet materialized.
Mr. Trump's most vulnerable against a challenger who'd make the case for strong borders — instead of warning of "invaders," dragging us down, turning neighbor against neighbor. A majority of Americans want fixes to our most basic problems.
We need someone who could stand up, look the president in the eye and say: "Enough, sir. We've had enough of your indecency. We've had enough of your lies, your bullying, your cruelty, enough of your insults, your daily drama, your incitement, enough of the danger you place this country in every single day. We don't want any of this anymore, and the country certainly can't stand four more years of it." https://www.nytimes.com/2019/08/14/opinion/joe-walsh-trump-primary.html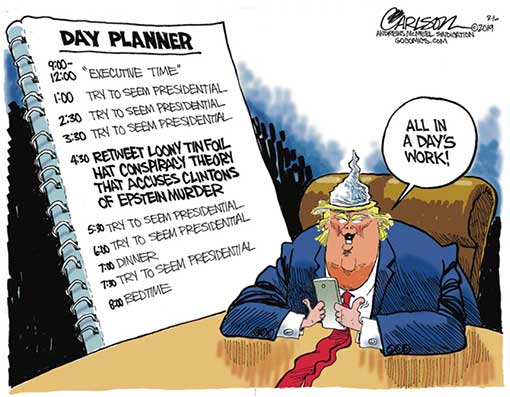 3. Eugene Robinson: Sea level rise could claim Mar-a-Lago — and Trump's empire
Someday, in the not-so-distant future, sea-level rise could claim Mar-a-Lago. Perhaps President Trump — by then no doubt disgraced, shunned and all but forgotten — would still be around to see his beloved Florida resort wiped out by a "Chinese hoax."
Of all the wrongheaded policies Trump and his Republican Party insist on pursuing, their stubborn denial of climate change is the most baffling — and the most obviously self-destructive. Everything is personal with Trump. Can't anybody get it through his head that his own coastal properties are urgently threatened? And that he is going out of his way to hasten their demise?
The National Oceanic and Atmospheric Administration reported Thursday that July 2019 was the hottest month on planet Earth since record-keeping began in the 1880s. Wherever you live, think back to all the punishing heat waves you've experienced. Globally, July was worse.
The month saw unprecedented triple-digit temperatures in parts of Europe where summers are usually mild at best. On July 25, thermometers in Cambridge, England, soared to 101.7 degrees Fahrenheit — a record for the United Kingdom. That same day, Paris saw a high of 108.7 degrees, which broke the previous record by a full four degrees. Meanwhile, much of the United States baked in an unrelenting heat wave, with day after day in the 90s. And earlier in July, Alaska saw its highest temperatures since record-keeping began, with residents of Anchorage enduring a Floridian 90-degree afternoon.
July also saw the area covered by polar sea ice shrink to record lows in both the Arctic and Antarctic regions, according to NOAA. In the Arctic, there was almost 20 percent less ice than normal, or what used to be normal.
Much of the damage this administration is doing can, and I believe will, be repaired after Trump is gone. But we will never get back the precious time he is squandering on climate change. If he retires to Mar-a-Lago, he'd better be able to swim. https://www.washingtonpost.com/opinions/if-trump-retires-to-mar-a-lago-he-better-know-how-to-swim/2019/08/15/569d196e-bf8e-11e9-a5c6-1e74f7ec4a93_story.html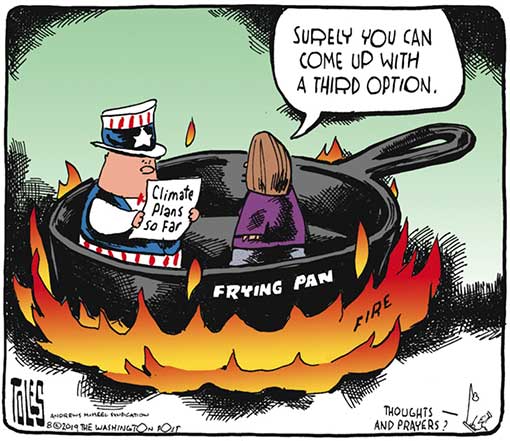 4. Paul Waldman: Donald Trump is terrified, and he wants you to be, too
President Trump is gripped by fear.
That is the message coming through from his public statements, his recent policy decisions, and reporting from inside the White House that paints a picture of a president increasingly rattled and irrational, striking out wildly as he searches for an argument that will frighten Americans enough to reelect him.
Let's take a tour around the news today:
Trump told his fervid supporters at a rally Thursday that if he is not reelected, the economy will crash. "You have no choice but to vote for me because your 401(k)'s down the tubes. Everything is going to be down the tubes. So whether you love me or hate me, you've got to vote for me."
Amid growing signs of a coming economic downturn, he is reportedly experiencing a combination of denial and rage. "Trump has a somewhat conspiratorial view, telling some confidants that he distrusts statistics he sees reported in the news media and that he suspects many economists and other forecasters are presenting biased data to thwart his reelection," The Post reports. But he has also "told aides and allies that [Federal Reserve Chair Jerome H. Powell] would be a scapegoat if the economy goes south."
In the most bizarre bit of news, Trump reportedly has expressed interest in buying Greenland, a suggestion that should make us wonder whether he has gone completely off the deep end. His own staff seems to be wondering too: "The presidential request has bewildered aides, some of whom continue to believe it isn't serious, but Trump has mentioned it for weeks." Perhaps if they stall him for a while, he won't order them to blow up the moon and build him a time machine.
In all this, it's the economic news that really has Trump sweating. As any sensible observer understands, presidents get more credit than they deserve when the economy does well and more blame than they deserve when it does poorly, because most of what happens in a country with about 330 million people and more than $20 trillion of economic activity is out of their control. https://www.washingtonpost.com/opinions/2019/08/16/donald-trump-is-terrified-he-wants-you-be-too/
5.  Alexandra Petri: The Emperor's New Island, a tale of Trump buying Greenland
"We should buy Greenland," the Emperor said. "Harry Truman wanted it, and there are very few things Harry Truman wanted that I do not also want."
"Are you sure you are not thinking of Andrew Jackson?" one of the advisers asked.
"I am always thinking of Andrew Jackson," the Emperor replied.
The advisers glanced from one to the other. They were not exceptionally skilled or wise, and their one task was to keep the Emperor from becoming upset. "If you want it," one said, "I am sure that it can be arranged."
"That is good," said the Emperor. "It is right there. I am certain it must be strategically significant! And it says in the name that it is green. It contains golf courses already and might be induced to contain more. I wish to possess all the finest lands. I will spare no expense until I have Greenland, too."
"All told," the advisers agreed, "it is an excellent plan, although there is one small matter. Denmark owns it."
"That is no great concern," the Emperor said. "I will offer Denmark a great sum of money, and it will part with it. I am sure Denmark cannot want it very much "
"But — why Greenland?" the advisers asked. "All we know about Greenland is that once a man went there and lied that it was green, and then it became Greenland, even though it was not."
"Precisely," the Emperor said. "I wish to live in such a place, where you can say such a thing and it can be so. Now it is only so when I gaze into my mirror, but if I had the island, I could give it whatever name I wished, and it would be so all the time. If I could only say that a thing was so and it could then be so, then I might know rest. Then I might truly be content."
"But it is a lie!" cried a little boy who was passing by.
The Emperor shrugged. "It has never stopped me before." https://www.washingtonpost.com/opinions/2019/08/16/emperors-new-island-tale-trump-buying-greenland/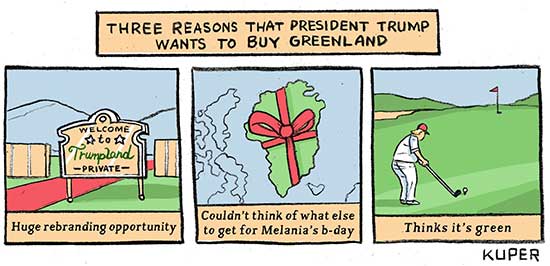 6. Michelle Goldberg: With Trump as President, the World Is Spiraling Into Chaos
In a world spiraling towards chaos, we can begin to see the fruits of Donald Trump's erratic, amoral and incompetent foreign policy, his systematic undermining of alliances and hollowing out of America's diplomatic and national security architecture. Over the last two and a half years, Trump has been playing Jenga with the world order, pulling out once piece after another. For a while, things more or less held up. But now the whole structure is teetering.
To be sure, most of these crises have causes other than Trump. Even competent American administrations can't dictate policy to other countries, particularly powerful ones like India and China. But in one flashpoint after another, the Trump administration has either failed to act appropriately, or acted in ways that have made things worse. "Almost everything they do is the wrong move," said Susan Thornton, who until last year was the acting assistant secretary of state for East Asian and Pacific affairs, America's top diplomat for Asia.
Consider Trump's role in the Kashmir crisis. In July, during a White House visit by Pakistani Prime Minister Imran Khan, Trump offered to mediate India and Pakistan's long-running conflict over Kashmir, even suggesting that Indian Prime Minister Narendra Modi had asked him to do so. Modi's government quickly denied this, and Trump's words reportedly alarmed India, which has long resisted outside involvement in Kashmir. Two weeks later, India sent troops to lock Kashmir down, then stripped it of its autonomy.
Americans have grown used to ignoring Trump's casual lies and verbal incontinence, but people in other countries have not. Thornton thinks the president's comments were a "precipitating factor" in Modi's decision to annex Kashmir. By blundering into the conflict, she suggested, Trump put the Indian prime minister on the defensive before his Hindu nationalist constituency. "He might not have had to do that," she said of Modi's Kashmir takeover, "but he would have had to do something. And this was the thing he was looking to do anyway."
At the same time, Modi can be confident that Trump, unlike previous American presidents, won't even pretend to care about democratic backsliding or human rights abuses, particularly against Muslims. "There's a cost-benefit analysis that any political leader makes," said Ben Rhodes, a former top Obama national security aide. "If the leader of India felt like he was going to face public criticism, potential scrutiny at the United Nations," or damage to the bilateral relationship with the United States, "that might affect his cost-benefit analysis." Trump's instinctive sympathy for authoritarian leaders empowers them diplomatically.. https://www.nytimes.com/2019/08/16/opinion/hong-kong-kashmir-trump.html
7. Michael Luo: America's Exclusionary Past and Present and the Judgment of History
This week, the Trump Administration announced new regulations that deny permanent legal status, or green cards, to immigrants who are likely to need government services, such as Medicaid, public housing, and food stamps. The policy, which is set to take effect in October, is expected to disproportionately penalize immigrants from Mexico, Central America, Africa, and the Caribbean; immigrants from Europe and Canada are less likely to be affected. During an interview for National Public Radio's "Morning Edition," Rachel Martin, one of the show's hosts, pressed Kenneth T. Cuccinelli II, the acting director of U.S. Citizenship and Immigration Services, to defend the policy in light of the ideals expressed in the Emma Lazarus poem "The New Colossus," which appears on the pedestal of the Statue of Liberty. Cuccinelli suggested a twist to the cherished sonnet. "Give me your tired and your poor who can stand on their own two feet and who will not become a public charge," he said. He later added that, in his opinion, the poem referred to "people coming from Europe."
The new regulation is part of a comprehensive effort by the Trump Administration to restrict immigration, which includes steps to reduce refugee admissions, bar entry from certain Muslim-majority countries, deter asylum seekers, and apply greater scrutiny to all immigrant visa applications. Trump's diatribes have offered an unmistakably racist backdrop to these measures. He has railed against immigrants from "shithole countries," characterized the influx of Latinos into the United States as an "invasion," and suggested that four congresswomen of color should "go back" to the countries "from which they came." https://www.newyorker.com/news/our-columnists/americas-exclusionary-past-and-present-and-the-judgment-of-history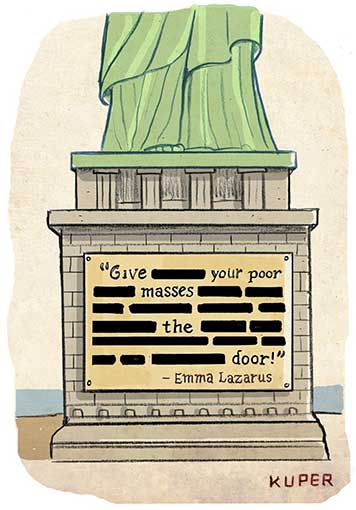 8. Lee Drutman: The Cork Board President
Richard Nixon may have had his enemies list, but no president has ever publicly embraced conspiracy theories quite like Donald Trump. From claiming that Barack Obama was not born in the United States to insisting that millions of people voted illegally in 2016, Trump's rise and presidency have been filled with vague, false accusations targeting his enemies. When one drops, another follows. Trump only gave up on birtherism during the presidential campaign by preposterously declaring that it was his political opponent, Hillary Clinton, who had first raised doubts about Obama's origins.
Trump's taste for the conspiratorial might be a source of idle curiosity were he not the president of the United States. But he also might not be the president of the United States if his style of rambling insinuation and intimidation didn't resonate with many voters. More than two-thirds of Republicans have consistently expressed doubts about Obama's citizenship, making Trump's birtherism an early campaign asset. Trump leaped to the top of primary polls on the strength of an announcement speech filled with baseless assertions, including the claim that Mexicans were sending "rapists" across the border. And now that he is president, his style is spreading, taking on a self-reinforcing logic. https://washingtonmonthly.com/magazine/july-august-2019/the-cork-board-president/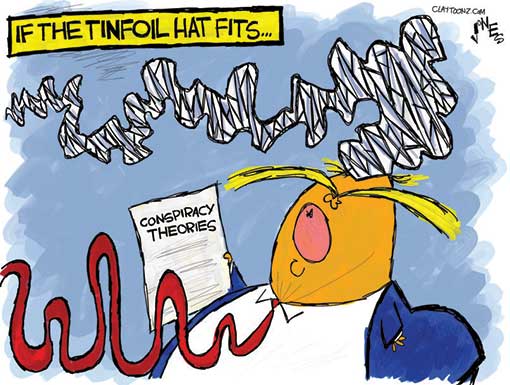 9. Timothy Egan: The Great Western Public Land Robbery
Imagine if the head of Philip Morris were put in charge of the American Cancer Society. Imagine he had spent his career trying to fight cancer cures, while promoting one of the world's leading carcinogens. For good measure, he mocked the mission of his new employer and insulted the prayers of those looking for hope.
No, I'm not talking about Ken Cuccinelli, the acting chief of federal immigration services, who wants to rewrite the poem on the Statue of Liberty to say something like: Keep out, wretched masses. Only
well-off whites are welcome here.
The gallery of awful human beings, monumental incompetents, wife-beaters, frauds and outright criminals appointed to high positions in the Trump administration is large and varied. As wanted posters, they would fill an entire post office wall.
But you have to go pretty deep into the ranks of the Worst People to find someone equal to the man Donald Trump has now put in charge of your public lands — William Perry Pendley. This is another Onion headline that writes itself: Trump's pick for public lands doesn't believe in public lands. https://www.nytimes.com/2019/08/16/opinion/trump-public-lands.html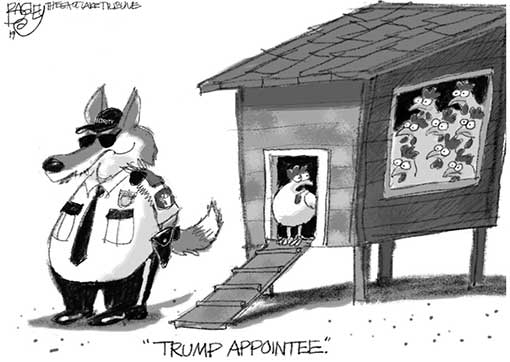 10. David Masciotra: Donald Trump and the Republican Party hate America: It's time to say it
America has collapsed into a prone position, however, where the scoundrels are so brazen in their inhumanity, so bold in their indifference to suffering, and so barbaric in their refusal to compromise for the sake of their own country that only their own language can aptly describe them.
Trump provides an example of love for country by ridiculing Atlanta as "horrible" and "crime-infested," claiming that "no human being" would like to live in Baltimore, and maintaining that black residents of Chicago are "living in hell."
The enlistees of the Trump cult at his bizarre gatherings applaud, cheer and laugh when their high priest derides American cities, and disparages the millions of their compatriots who reside within them.
It does not require the discerning eye of Sherlock Holmes to notice that the geographic objects of Trump's hatred are always metropolitan areas with high percentages of black inhabitants. If the far right were sincere in their concerns about urban decay, they would use their political power to provide assistance, in the form of targeted public policy, to poor neighborhoods. Needless to say, every Trump budget proposal has recommended the reduction of funding for social welfare programs, from after-school activities for children to public transit subsidies for the elderly.
With Trump's every incoherent utterance, racism is the elephant dung in the room. One might have noticed that he never disparages the poorest counties in Appalachian West Virginia, Kentucky and Tennessee.
It would appear that Trump and his sycophantic fascists-in-training simply don't like black Americans, and do not consider predominantly black cities as part of the "real America." Shocking news, no doubt, for anyone who has spent the majority of their days in a coma, but it makes lectures on patriotism from people who so clearly hate so much of their own country particularly vomitous. https://www.salon.com/2019/08/18/donald-trump-and-the-republican-party-hate-america-its-time-to-say-it/
11. Matt Taibbi: Trump 2020: Be Very Afraid
Two and a half years into his presidency, Trump has already staked a claim to a role in history usually reserved for hereditary monarchs at the end of a line of inbreeding. Historians will list him somewhere between Vlad the Impaler and France's Charles VI, who thought his buttocks were made of glass.
Much of America loves its Mad King, whose works are regularly on display. Russians under Ivan the Terrible used to watch dogs being hurled over the Kremlin walls when the tsar's mood was bad. Americans have grown used to late-night insults tweeted at nuclear powers from the White House bedroom.
Royal lunacy is traditionally a secret, but in Twitter-age America it's a shared national experience. We are all somersaulting down and out the sanity chute. The astonishing thing about Trump is that he wasn't foisted on us by a council of Bourbons, or by succession law. We elected the man, and are poised to do it again.
History will judge us harshly for this, and will look with particular venom at Trump's political opponents in both parties, who over the years were unable to win popularity contests against a man most people would not leave alone with a decent wristwatch, let alone their children.
Trump's original destiny was the destruction of the Republicans as a viable entity in modern American politics. Then he ran a general election like he was trying to lose, and won. Now his legacy is the spectacular end of America's fragile racial consensus. https://www.rollingstone.com/politics/politics-features/taibbi-trump-2020-be-very-afraid-872299/
12. Susan B. Glasser: Mike Pompeo, the Secretary of Trump
In the winter of 2016, Donald Trump was roaring through the primaries, and Mike Pompeo was determined to stop him. Pompeo, a little-known congressman from Wichita, helped persuade Marco Rubio to make a late stand in Kansas. Like many Republicans in Congress, Pompeo believed that Rubio had the national-security knowledge and the judgment to be President, and Trump did not. Urged on by Pompeo, Rubio's team pulled money out of other states to gamble on winning the Kansas caucus. It was one of the few remaining contests in which Rubio still hoped to beat Trump, who, he said, was a "con artist" about to "take over the Republican Party."
On March 5th, Trump and Senator Ted Cruz, of Texas, arrived in Wichita for the caucus. Rubio left his closing argument to Pompeo, who told the crowd at the Century II arena, "I'm going to speak to you from the heart about what I believe is the best path forward for America." An Army veteran who finished first in his class at West Point, Pompeo cited Trump's boast that if he ordered a soldier to commit a war crime the soldier would "go do it." As the audience booed, Pompeo warned that Trump—like Barack Obama—would be "an authoritarian President who ignored our Constitution." American soldiers "don't swear an allegiance to President Trump or any other President," Pompeo declared. "They take an oath to defend our Constitution, as Kansans, as conservatives, as Republicans, as Americans. Marco Rubio will never demean our soldiers by saying that he will order them to do things that are inconsistent with our Constitution." Listening backstage, Trump demanded to know the identity of the congressman trashing him. A few minutes later, Pompeo concluded, "It's time to turn down the lights on the circus." https://www.newyorker.com/magazine/2019/08/26/mike-pompeo-the-secretary-of-trump
13. Eugene Robinson: Trump is melting down. Again.
Uh-oh. President Trump is in such a state of panic about his dimming reelection prospects that he's getting his lies mixed up and occasionally blurting out the truth.
"It's tough for Apple to pay tariffs if it's competing with a very good company [Samsung] that's not," the president told reporters Sunday — flatly contradicting the ridiculous and utterly false narrative that he has spent months trying to sell. Trump apparently forgot his standard lie that China is somehow paying "billions of dollars" in tariffs, acknowledging instead that they are taxes paid by U.S. companies and, ultimately, the American consumer.
This reflects more than just the difficulty of juggling multiple lies. Evidence suggests that Trump is melting down. Again.
And for good reason.
Fears of a global recession, greatly exacerbated by Trump's erratic and self-destructive trade policies, have sent financial markets tumbling. A sharp downturn would close off one of the principal lines of attack the president was hoping to use against his Democratic opponent. He tried it out at a rally in New Hampshire last week: "You have no choice but to vote for me," he told the crowd, "because your 401(k)'s down the tubes, everything's gonna be down the tubes" if he loses. "So whether you love me or hate me, you gotta vote for me."
Fact check: No.
https://www.washingtonpost.com/opinions/trump-is-melting-down-again/2019/08/19/814b65e4-c2b3-11e9-b5e4-54aa56d5b7ce_story.html
14. James Hohmann: Trump's erratic style becomes more problematic as the economy slows
Trump's erratic, contradictory pronouncements induce whiplash. They're also de rigueur in this administration. This is a feature, not a bug, of Trumpism. During his first 928 days in office, Trump made more than 12,000 demonstrably false or misleading claims. Our Fact Checker has documented them in a database. (Glenn Kessler has a new piece this morning on the president's economic claims.) There are dozens of separate examples of the president's spokespeople – predating Gidley and Grisham – saying something adamantly, only to have the president cut their legs out from under them later in the day. Why would you take anything they or the president say at face value?
This behavior is riskier in challenging economic times. When the business cycle turns, the wherewithal of our system depends on people having as much confidence and certainty as possible. Trump and his White House flacks inspire neither feelings of confidence nor certainty. Trump's penchant for contradicting himself and his aides, as well as changing his mind hastily, which together fuel the credibility gap, would be problematic in a financial crisis. Investors want a steady hand on the ship of state's tiller. That's how you prevent runs on the banks, freefalls in the stock market and freezes in business investment. The same way that prematurely lowering interest rates takes away flexibility from policymakers down the road when times get tougher, Trump depleting his reservoir of trustworthiness may come back to haunt him. https://www.washingtonpost.com/news/powerpost/paloma/daily-202/2019/08/21/daily-202-trump-s-erratic-style-becomes-more-problematic-as-the-economy-slows/5d5cc71c88e0fa7bb93a8619/
15. Chuck Todd, Mark Murray and Carrie Dann: Whiplash in the West Wing
It's Year 3 of Donald Trump's presidency, and his behavior in office isn't getting better.
Instead, it's getting worse.
On Tuesday night, the president said he was cancelling a trip to Denmark — a U.S. ally — because it wouldn't sell Greenland to the United States. (Who else thought the Greenland story was a joke when they first saw it?)
"Denmark is a very special country with incredible people, but based on Prime Minister Mette Frederiksen's comments, that she would have no interest in discussing the purchase of Greenland, I will be postponing our meeting scheduled in two weeks for another time," Trump tweeted.
And just hours earlier, in discussing Reps. Ilhan Omar and Rashida Tlaib being denied entry into Israel, Trump said this about American Jews: "I think any Jewish people that vote for a Democrat, I think it shows either a total lack of knowledge or great disloyalty."
This is no way to run a country. Or to talk about its citizens. Or to treat an American ally.
Everyone who works in Washington knows this. Staff members at the White House know this. Top officials inside the Republican Party know this.
Yet here we are. https://www.nbcnews.com/politics/meet-the-press/whiplash-west-wing-n1044741