December 15, 2022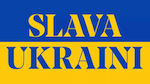 A friend, family member, or neighbor who would like to subscribe to this FREE weekly newsletter should simply email jellison@san.rr.com with "subscribe" as the subject.
THE WEEK'S BEST QUOTES. . .
"Herschel (Walker) was like a plane crash into a train wreck that rolled into a dumpster fire. And an orphanage. Then an animal shelter. You kind of had to watch it squinting between one eye between your fingers." — Republican operative Dan McLagan.
https://morningshots.thebulwark.com/p/sinemas-independence-day
War criminals should not only be convicted after the fall of authoritarian regimes, adding, 'justice cannot wait.' We have to establish an international tribunal and bring Putin, Lukashenko and other war criminals to justice. — Russian Nobel Peace laureate Yan Rachinsky calling Russia's war on Ukraine "insane and criminal" in his acceptance speech in Oslo, Norway.
https://www.cnn.com/2022/12/10/europe/russian-nobel-peace-laureate-slams-putin-war-intl/index.html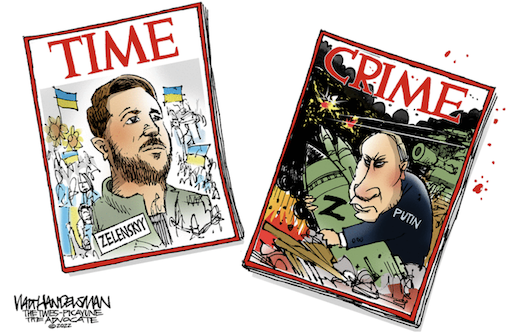 Elon Musk is threatening to sue Twitter employees who leak confidential information to the press. He's asking staffers to sign a pledge indicating they've understood.
https://www.mediaite.com/online/new-leak-to-media-elon-musks-letter-threatening-twitter-employees-who-leak-to-the-media/
"My greatest fear is that we're going to end up in a 1964 division… I can imagine a Trump-anti-Trump war over the next two years that just guarantees Biden's re-election in a landslide and guarantees that Democrats control everything." — Newt Gingrich.
https://www.nytimes.com/2022/12/07/us/politics/georgia-senate-republicans-trump.html
"Sinema was not very popular with anyone, I'm not sure whether today's move increases or decreases her chances of winning another term (I actually suspect decreases) but they were low to begin with and they remain low." — Nate Silver
https://twitter.com/NateSilver538/status/1601207264895201281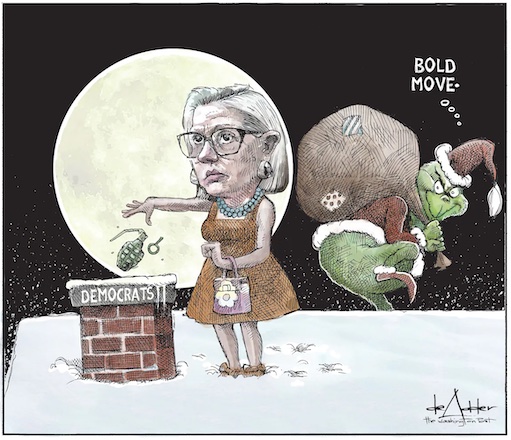 "Jewish Leaders forgot that I was the best, by far, President for Israel. They should be ashamed of themselves. This lack of loyalty to their greatest friends and allies is why large numbers in Congress, and so many others, have stopped giving support to Israel." — Donald Trump leveling criticism at Jewish leaders for not expressing enough 'loyalty' towards him in the wake of his dinner with two antisemitic Holocaust deniers.
https://www.rollingstone.com/politics/politics-news/trump-bashes-jewish-leaders-not-being-loyal-1234644654/
My pronouns are Prosecute/Fauci. — Elon Musk tweeting that Dr. Anthony Fauci, the nation's top infectious disease expert, should be prosecuted. https://twitter.com/elonmusk/status/1601894132573605888
"This is, I would say, the last day of the Lost Cause." -- Richmond Mayor Levar Stoney as workers pulled the the last city-owned Confederate statue in Richmond from its pedestal— honoring Confederate Gen. A.P. Hill — and loaded it onto a flatbed trailer.  https://www.axios.com/newsletters/axios-pm-13f020b3-05f4-420b-b5d4-7e0815b6ba05.html
"I want to tell you something, if Steve Bannon and I had organized that, we would have won. Not to mention, we would've been armed." — Rep. Marjorie Taylor Greene (R-GA), quoted by the New York Post, on the January 6 Capitol riots. https://nypost.com/2022/12/11/marjorie-taylor-greene-donald-trump-jr-bash-dems-at-gop-gala/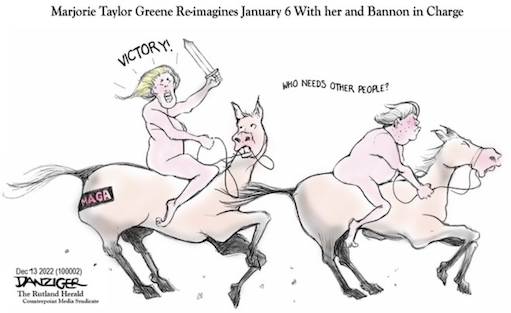 The legal team (investigating Trump) includes "a number of very seasoned prosecutors" who were brought on to assist the probe. "I don't think they would've left their former positions, both in government and private practice, unless there was a serious possibility that the Justice Department was on a path to charge. And I think it'll happen in a month." — Former U.S. attorney Preet Bharara. https://www.nbcnews.com/meet-the-press/meet-press-december-11-2022-n1301862
VIDEOS
"This is yet another step toward the Democrats' goal of dismantling the traditional family, silencing voices of faith and permanently undoing our country's God-woven foundation. I hope and pray that my colleagues will find the courage to join me in opposing this misguided and dangerous bill." — Rep. Vicky Hartzler (R-MO) cried on the House floor as lawmakers moved to pass a historic bill codifying protections for same-sex and interracial marriages.
https://twitter.com/HeartlandSignal/status/1600944582136827904
"I want to clear the air. I want to get this out of here. I don't understand what our former boss is doing. I love the guy, but I do not understand Kanye West, hanging out with White nationalists, hanging out with anti-Semitic people, talking about ending the Constitution or postponing the Constitution. I don't get it. I don't know why he's saying it. And if he says it, why hasn't he given, you know, apologized for it or corrected the record or something? Because he's losing support left and right. I hear it everywhere. Help me." -- Former Trump White House economic adviser Larry Kudlow in an interview with Kellyanne Conway.
https://www.mediaite.com/tv/i-dont-understand-what-our-former-boss-is-doing-kudlow-hits-trump-over-fuentes-dinner-call-to-end-constitution/
Elon Musk was loudly booed by a crowd in San Francisco on Sunday night after he was invited onstage by comedian Dave Chappelle. https://gizmodo.com/elon-musk-booed-stadium-crowd-dave-chappelle-sf-boo-1849881192
Marjorie Taylor Greene laments how AOC gets "Secret Service" protection. https://twitter.com/ZachReports/status/1601793529306554370
LITIGATION TRACKER
Pending Criminal and Civil Cases Against Donald Trump
. 
https://www.justsecurity.org/75032/litigation-tracker-pending-criminal-and-civil-cases-against-donald-trump/
---
IN THIS ISSUE
IN THE NEWS
OPINION
Andy Borowitz: Declaration of Independence Found in Trump Storage Unit
Donald J. Trump's legal team struggled to explain how the original Declaration of Independence made its way to a storage unit leased by the former President in Queens, New York.
The lawyers informed the Justice Department that they had discovered the eighteenth-century document under a stack of hastily packed items, including several pairs of socks and the Oval Office's television remote.
"Mr. Trump will, of course, return the Declaration of Independence to the National Archives as soon as possible," Harland Dorrinson, one of the attorneys, said. "This seems to have been some kind of honest mistake."
That version of events differs from one provided by a source close to the former President, who indicated that Trump had intentionally taken the Declaration of Independence in the hopes that it had a treasure map on the back.
https://www.newyorker.com/humor/borowitz-report/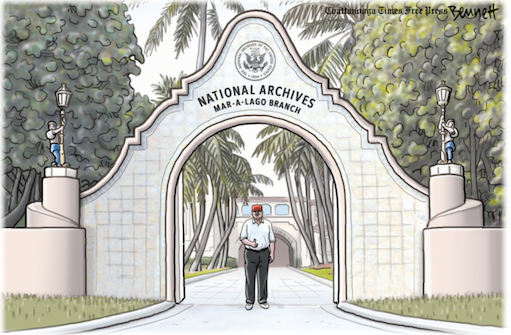 A Plot to Overturn the Election
A new trove of Mark Meadows text messages  provide a real-time record of the plot to overturn the 2020 election.

They show the senior-most official in the Trump White House communicating with members of Congress, state-level politicians, and far-right activists as they work feverishly to overturn Trump's loss in the 2020 election. The Meadows texts illustrate in moment-to-moment detail an authoritarian effort to undermine the will of the people and upend the American democratic system as we know it. https://talkingpointsmemo.com/feature/a-plot-to-overturn-an-american-election
Elon Musk uses QAnon tactic in criticizing former Twitter safety chief
Elon Musk escalated his battle of words with previous managers of Twitter into risky new territory over the weekend, allying himself with far-right crusaders against a purported epidemic of child sex abuse and implying that the company's former head of trust and safety had a permissive view of sexual activity by minors.
In imputing nefarious motives to Twitter's former managers and saying a crime had been committed, Musk adopted techniques used by the QAnon conspiracy movement, which falsely claims that Democrats and elites are running child sex abuse networks. Promoted by Alex Jones and other far-right operatives, claims of Democratic involvement in child abuse, QAnon's precursor, inspired a shooting at Comet Pizza in Northwest Washington when a follower of the theory searched the restaurant intending to rescue any children trapped in a basement that did not exist. The incident became known as "Pizzagate."  https://www.washingtonpost.com/technology/2022/12/12/musk-child-porn-qanon/
January 6 committee considers criminal referrals for at least 4 others besides Trump
The House select committee investigating the January 6, 2021, insurrection is considering criminal referrals for at least four individuals in addition to former President Donald Trump, multiple sources told CNN.
The panel is weighing criminal referrals for former White House chief of staff Mark Meadows, right wing lawyer John Eastman, former Justice Department official Jeffrey Clark and Trump's former lawyer Rudy Giuliani. https://www.cnn.com/2022/12/08/politics/january-6-committee-criminal-referrals/index.html
House Republicans brace for doomsday scenario if McCarthy falls short of 218 votes for speaker
With the increasing likelihood that the speaker's race could go to multiple ballots – something that hasn't happened since 1923 – McCarthy's allies and foes alike are starting to quietly game out the next steps if he can't get the necessary 218 votes on the first round and they move into uncharted territory.
McCarthy's supporters are vowing to keep voting for him on multiple ballots, and GOP sources said there are early discussions about a floor strategy for that potential scenario, including whether to recess the House or let the votes keep rolling – no matter how long it takes.
To prevent that from happening, McCarthy and his team have been engaged in serious talks with a group of conservatives, including over potentially giving them influential committee assignments and more power to drive the legislative process. GOP sources said those negotiations are still early in the process and could ultimately end up giving the group some aspect of what the hardliners desperately want: additional power to seek a sitting speaker's ouster with a vote on the floor. 
https://www.cnn.com/2022/12/09/politics/mccarthy-speaker-house-republicans-218/index.html
Arizona governor builds border wall of shipping crates in final days of office
A makeshift new barrier built with shipping containers is being illegally erected along part of the US-Mexico border by Arizona's Republican governor – before he has to hand over the keys of his office to his Democratic successor in January.
Doug Ducey is driving a project that is placing double-stacked old shipping containers through several miles of national forest, attempting to fill gaps in Donald Trump's intermittent border fencing.
The rusting hulks, topped with razor wire and with bits of metal jammed into gaps, stretch for more than three miles through Coronado national forest land, south of Tucson, and the governor has announced plans to extend that up to 10 miles, at a cost of $95m.
https://www.theguardian.com/us-news/2022/dec/11/arizona-governor-border-wall-shipping-containers
Twitter thread at
https://twitter.com/MelissaLaLinea/status/1598009196347559936
Congressional Republicans divided on attacking Trump investigations
Republicans in Congress are splintering over how aggressively to run interference for former president Donald Trump as he faces potential criminal prosecution, with only his closest allies planning to directly attack the Department of Justice investigations now under the purview of special counsel Jack Smith.
The chasm between lawmakers who have continued to vehemently defend the newly announced presidential nominee and those who have started to quietly inch away from the former president widened last week as top GOP leaders laid out the party's investigative priorities. The emerging split raises another sign of Trump's uncertain position in the party after a month of taking blame for a disappointing midterm and drawing criticism for controversial statements.
https://www.washingtonpost.com/politics/2022/12/12/trump-investigations-republicans-congress/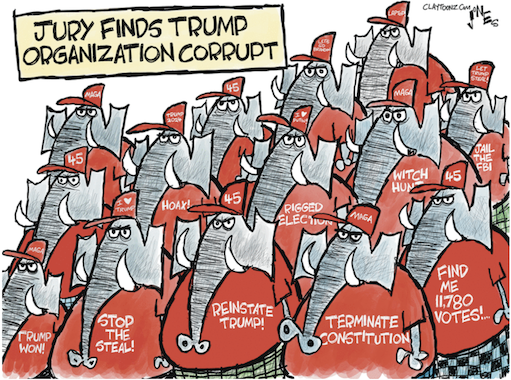 Most voters don't want either Trump or Biden to run again, CNBC survey finds
 "No thanks!"
That's how majorities of the public responded when the CNBC All-America Economic Survey asked if President Joe Biden or former President Donald Trump should run again for president.
The survey found 61% of the public think Trump should not seek the presidency, compared with 30% who believe he should. And 70% say Biden should not run for a second term with just 19% supporting a run.

For Trump, 37% of Republicans who don't want Trump to run along with 61% of independents and 88% of Democrats.

For Biden, 57% of Democrats say he shouldn't stand for office in 2024 along with 66% of independents and 86% of Republicans. https://www.cnbc.com/2022/12/09/majority-of-americans-dont-want-biden-or-trump-to-run-again-in-2024-cnbc-survey-shows.html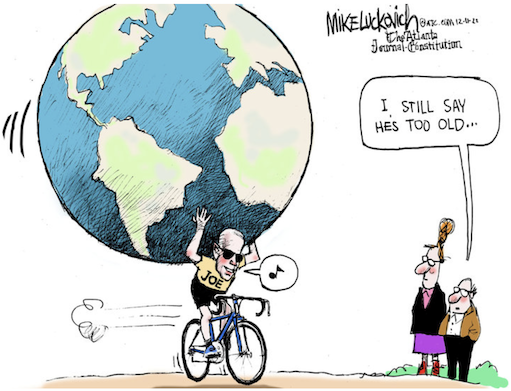 Trump was fresh and new during his 2016 campaign. Has his fame fizzled?
The swagger of 2016 has given way to somnolence in 2022. Opinion polls are grim. Legal setbacks are piling up. A run of dismal results in the midterm elections, culminating in another Republican loss in Georgia this week, have punctured his aura of invincibility within the party.
And Trump has performed astonishing acts of self-sabotage, from dining with antisemites to calling for the constitution to be shredded. He has eschewed a widely-anticipated spree of public rallies, instead remaining largely out of the public gaze. https://www.theguardian.com/us-news/2022/dec/10/donald-trump-presidential-bid-republicans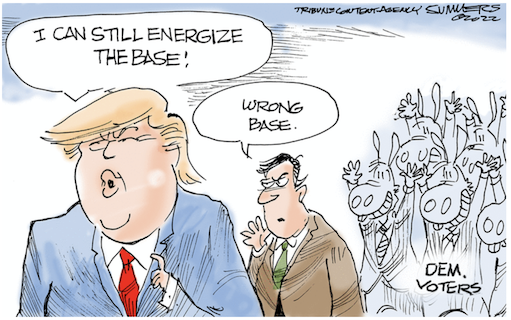 RNC chief: GOP can't 'do an ostrich method' on abortion and 'pretend that it doesn't exist'
RNC Chair Ronna McDaniel addressed GOP midterm election performance, attributing some losses to candidates ignoring the abortion argument.
Said McDaniel: "It was probably a bigger factor than a lot of people thought. We've got to get conversant on that."
She added: "We can't just do an ostrich method and pretend that it doesn't exist when Democrats are spending $30 million on that message." https://thehill.com/homenews/campaign/3770385-rnc-chief-gop-cant-do-an-ostrich-method-on-abortion-and-pretend-that-it-doesnt-exist/
Analysis: The road to the White House now runs through Georgia and Arizona
The midterm outcome makes clear that the nation's political battleground has shifted: The road to the White House in 2024 will run through the South and Southwest. The big industrial states bordering the Great Lakes, which dominated the last several election cycles, remain important, but no longer as exclusively.
That will change not only where presidential candidates campaign, but also the nature of the voters on whom they focus: For Democrats, the shift will intensify the need to mobilize the Black and Latino voters whose support — and large turnout — they need in order to win southern and southwestern states. For Republicans, the fact that both states have relatively young electorates could draw greater attention to the party's growing deficit with millennial and Gen Z voters. https://www.latimes.com/politics/newsletter/2022-12-09/road-to-white-house-now-runs-through-georgia-arizona-essential-politics
Business groups optimistic Congress may finally strike immigration deal
Some of the largest business groups in Washington are making a last-ditch effort to get Congress to pass immigration legislation before the end of the year and are optimistic a bipartisan agreement could fall into place.
Companies in a range of industries, from agriculture to technology, have long urged Congress to make changes to the immigration system to allow for more foreign-born workers and thereby address widespread worker shortages
But with deep partisan divides on the issue, there was little optimism of a deal getting done, until this past week when Sens. Kyrsten Sinema, I-Ariz., and Thom Tillis, R-N.C., began circulating the contours of a possible deal. (Sinema announced on Friday she was leaving the Democratic Party to become an independent.)

While the details of a Sinema-Tillis bill have yet to be finalized, the pair's track record of being able to reach compromise on other issues sparked a wave of optimism among industry lobbyists, who see it as their last best hope to get a deal done on immigration in an increasingly narrow time frame. https://www.nbcnews.com/politics/economics/business-groups-optimistic-congress-may-finally-strike-immigration-dea-rcna60760
Another DeSantis Election 'Fraud' Case Falls Apart
A Miami judge has tossed out another voter fraud case brought by Gov. Ron DeSantis' elections police, the third case to fall apart since the governor announced the arrests.
https://www.miamiherald.com
Turnout by Republicans Was Great. It's Just That Many of Them Didn't Vote for Republicans
In state after state, the final turnout data shows that registered Republicans turned out at a higher rate — and in some places a much higher rate — than registered Democrats, including in many of the states where Republicans were dealt some of their most embarrassing losses.
Instead, high-profile Republicans like Herschel Walker in Georgia or Blake Masters in Arizona lost because Republican-leaning voters decided to cast ballots for Democrats, even as they voted for Republican candidates for U.S. House or other down-ballot races in their states. https://www.nytimes.com/2022/12/08/upshot/georgia-voter-turnout-republicans.html
After Georgia Loss, G.O.P. Stares Down Its Trump Dilemma
The Democrats' capstone re-election victory of Senator Raphael Warnock forced Republicans to reckon on Wednesday with the red wave that wasn't, as they turned with trepidation to 2024 and the intensifying divisions in the party over former President Donald J. Trump.
Mr. Warnock's two-and-a-half percentage point win over Herschel Walker in the Georgia Senate runoff left Democrats with a 51-49 seat majority in the upper chamber, a one-seat gain. That came despite dire predictions for a blood bath for President Biden's party.
It quickly had Republican fingers pointing every which way: at Senator Mitch McConnell of Kentucky, the Republican leader accused by detractors of abandoning or belittling embattled Republican Senate candidates; at Senator Rick Scott of Florida, the chairman of the National Republican Senatorial Committee, who many feel badly mismanaged the Senate Republicans' campaign arm; and at Mr. Walker himself, for hiding and lying about his past, only to see the details stream out steadily over the course of his campaign.
But for a handful of Republicans, newly emboldened by re-election or retirement to say so aloud, the biggest culprit was Mr. Trump. In increasingly biting terms, they slammed him for promoting flawed candidates, including Mr. Walker, dividing his party and turning many swing voters against the G.O.P. for the third election cycle in a row.
https://www.nytimes.com/2022/12/07/us/politics/georgia-senate-republicans-trump.html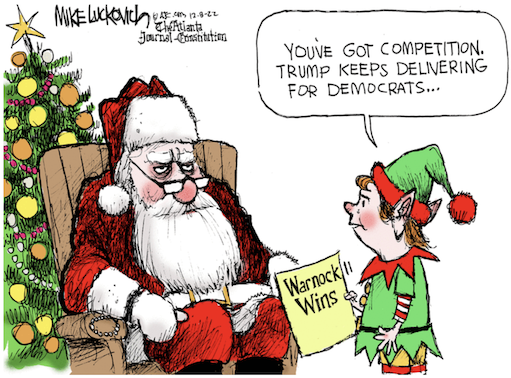 Biden earned political capital this fall. He's quietly spending it
Biden aides have been working with outside advisers to help sketch out components of a reelection ramp up, including Obama alum Jim Messina, with whom the president has discussed polling in recent weeks, according to two people familiar with his involvement. Messina did not return calls for comment.
They are also reengaging donors and zeroing in on key staff roles and hires to fortify a unit that could operate outside the close-knit group that runs operations at the White House. They're further along on finalizing a headquarters for the campaign, too, with Wilmington, Del., the likely destination, although Philadelphia has not been ruled out.
https://www.politico.com/news/2022/12/09/biden-2024-democrats-00073207
Florida Republican who sponsored 'Don't Say Gay' indicted on COVID relief fraud charges
A federal grand jury indicted Florida state Rep. Joe Harding (R) on six counts after authorities said he illegally obtained $150,000 in pandemic-related small business loans by allegedly using the names of two dormant companies.
https://www.yahoo.com/entertainment/florida-republican-sponsored-don-t-224751326.html
DeSantis surges to 5-point lead over weakened Trump in 2024 primary matchup
A new Yahoo News/YouGov poll finds that Florida Gov. Ron DeSantis now leads Donald Trump by 5 percentage points in the race for the 2024 GOP presidential nomination, 47% to 42%.
DeSantis is ahead by even more — a whopping 11 points — among Americans who say they voted in a 2016 Republican primary or caucus in their state.
https://news.yahoo.com/poll-de-santis-surges-to-5-point-lead-over-weakened-trump-in-2024-primary-matchup-100022596.html
Georgia loss piles more pressure on Trump amid bad month
Former President Donald Trump had hoped to jumpstart his 2024 comeback bid buoyed by a team of newly elected MAGA allies.
Instead, Georgia Senate candidate Herschel Walker on Tuesday became the latest high-profile Trump-endorsed candidate to go down to defeat — joining a long list including Pennsylvania's Mehmet Oz, Arizona's Kari Lake and Blake Masters, Wisconsin's Tim Michels and Nevada's Adam Laxalt.
The losses have raised new questions about Trump's political strength and capped off what those close to him concede was a nightmarish month, one that has left the former president badly wounded just as he is embarking on a new campaign. Trump lieutenants have been forced to reckon with everything from the ex-president's much-criticized dinner with the antisemitic rapper formerly known as Kanye West and Holocaust denier Nick Fuentes, to a campaign launch that was widely panned as low-energy, to a widening net of legal investigations on subjects including his conduct before and during the Jan. 6 Capitol riot and his handling of confidential documents.
Trump is also confronting a group of would-be rivals who are showing little deference, instead moving to capitalize on his political setbacks. Virginia Gov. Glenn Youngkin delivered an implicit criticism of Trump on Tuesday just hours before polls closed in Georgia, arguing during an appearance before the Wall Street Journal's CEO Council that "when we start looking back to 2020 we're looking backwards, and it's time for us to … look forward."
https://www.politico.com/news/2022/12/07/trump-world-georgia-2024-00072924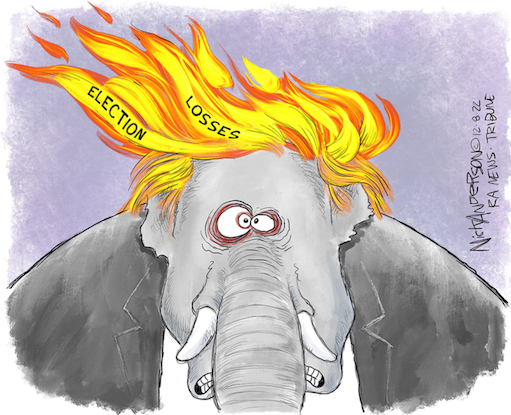 The mass unbanning of suspended Twitter users is underway
Thousands of previously banned Twitter users, including members of the far-right and users sharing blatant misinformation, have begun to have their accounts restored to the platform. https://www.cnn.com/2022/12/08/tech/twitter-unbanned-users-returning/index.html
Some Hunter Biden allies making plans to go after his accusers
Hunter Biden's friend and lawyer Kevin Morris was blunt in laying out his thoughts at a strategy session last September on an expected onslaught of investigations by House Republicans: It was crucial, he suggested, for Biden's camp to be more aggressive,.

Morris, at the meeting in his California home, described defamation lawsuits the team could pursue against the presidential son's critics, including Fox News, Eric Trump and Rudy Giuliani. He outlined extensive research on two potential witnesses against Hunter Biden — a spurned business partner named Tony Bobulinski and a computer repairman named John Paul Mac Isaac. https://www.washingtonpost.com/politics/2022/12/10/hunter-biden-plans-defense/
Twitter Suspends Account that Tracked Elon Musk
Twitter suspended an account that actively tracked Elon Musk's private jet, raising questions about Musk's commitment to free speech on Twitter, a value he has directly linked to his takeover of the platform. https://www.axios.com/2022/12/14/twitter-elon-musk-jet-tracker-account-
Gov. Kate Brown commutes sentences of all 17 people on Oregon's death row
Gov. Kate Brown (D) "announced on Tuesday afternoon that she would commute the sentences of all 17 individuals on Oregon's death row to life in prison without the possibility of parole, the latest in her end-of-term string of clemency decisions. https://www.oregonlive.com/politics/2022/12/gov-kate-brown-commutes-sentences-of-all-17-people-on-oregons-death-row.html
Musk Shakes Up Twitter's Legal Team as He Looks to Cut More Costs
To cut costs, Twitter has not paid rent for its San Francisco headquarters or any of its global offices for weeks… Twitter has also refused to pay a $197,725 bill for private charter flights made the week of Mr. Musk's takeover.

Twitter's leaders have also discussed the consequences of denying severance payments to thousands of people who have been laid off since the takeover.

The aggressive moves signal that Mr. Musk is still slashing expenditures and is bending or breaking Twitter's previous agreements to make his mark. https://www.nytimes.com/2022/12/13/technology/elon-musk-twitter-shakeup.html
Joshua Green: Elon Musk Is Ruining Trump's Presidential Campaign
For years, Donald Trump has survived scandal, scorn and defeat and still managed to keep his warlord grip on the Republican Party. Even this month's epic string of disasters, from his candidates' losses in the midterms and his dinner with white supremacist Nick Fuentes and professed Hitler-fan Ye (Kanye West) to the tax fraud convictions of two of his companies, might not derail him.
But irrelevance might. In the critical weeks since his Nov. 16 campaign launch, the person who has dominated the right-wing attention economy isn't Trump. It's Elon Musk.
Musk didn't just take over Trump's favorite medium, Twitter. He seems to have done so for the explicit Trumpian purposes of striking back at his critics, 'owning the libs,' and stoking the sort of generalized chaos that was once Trump's calling card, before he was banished from Twitter and took up exile in the empty wilderness of Truth Social. He's succeeded on all fronts. https://www.bloomberg.com/opinion/articles/2022-12-12/elon-musk-is-ruining-trump-s-presidential-campaign
Doyle McManus: U.S. policy makes Ukraine fight by rules Russia doesn't follow
Last week, Ukraine pulled off an audacious military feat: three drone strikes deep inside Russia, one against a target less than 150 miles from Moscow.
The drones attacked bases from which Russia has launched airstrikes against Ukraine's cities, electricity grid and other infrastructure.
It's not clear that they caused major damage; at least two airplanes were struck, and a fuel storage tank was set ablaze. But they revealed a surprising weakness in Russia's air defenses.
Equally striking was Russia's low-key response. There were no high-decibel denunciations or threats of retaliation, perhaps out of embarrassment or a desire to avoid rattling Russian civilians.
The Biden administration's response was curious too. Nobody congratulated the plucky Ukrainians for the mission's success. Instead, officials quickly made clear that the United States had nothing to do with it.
"We have neither encouraged nor enabled the Ukrainians to strike inside of Russia," Secretary of State Antony J. Blinken told reporters.
Other officials added that the United States has not supplied Ukraine with weapons that could reach as far as the drones flew.
It's time to change that. https://www.latimes.com/politics/story/2022-12-11/ukraine-drones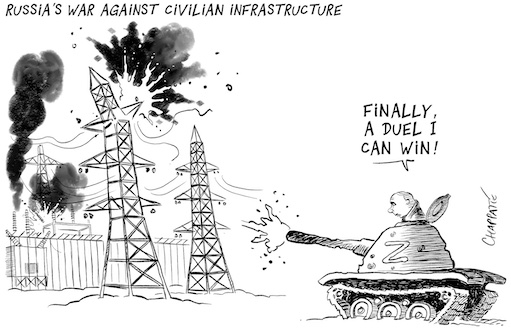 Andrew Marantz: A Supreme Court Case That Threatens the Mechanisms of Democracy
Before last month's midterm election, progressives—and centrists, and socialists, and anyone, really, who thought that it was a bad idea to put election deniers in charge of state elections—braced for a red wave. When it didn't hit, many of those people, for a moment, felt something like relief. And yet, for anyone inclined to commemorate the dodging of one bullet by scanning the horizon for the next, there was still plenty of cause for concern. If the optimistic view was that the electorate had rebuked the maga agenda and saved democracy, a take offered by the political scientists Lynn Vavreck, John Sides, and Chris Tausanovitch was more sobering: voters' identities have become so "calcified" that, no matter what happens (inflation, a global pandemic, an impeachment or two), party loyalists will still show up to vote for their side, or against the other. This is obviously not an ideal way to run a democracy. And that's setting aside the most glaring reason for Democrats to worry: even if they could win a lasting majority and pass robust legislation, those achievements could be unwound by an increasingly emboldened and reactionary Supreme Court.
The Court has had its relatively expansive eras, but it has not been a reliable engine of progress. Last year, in the Harvard Law Review, the law professor Nikolas Bowie called the Supreme Court "the ultimate source of antidemocracy in the United States"—and he was writing before the late-June bout of extraordinary (and extraordinarily unpopular) decisions, including the overturning of Roe v. Wade. This term, the Court seems prepared to curtail gay rights, to prevent President Biden from forgiving student debt, and to reverse decades of precedent regarding affirmative action. But the most ominous cases may be those concerning the mechanisms of democracy itself: how elections should be run and who should resolve the inevitable disputes that arise. https://www.newyorker.com/magazine/2022/12/19/a-supreme-court-case-that-threatens-the-mechanisms-of-democracy
Maggie Astor: Transgender Americans Feel Under Siege as Political Vitriol Rises
Last weekend members of the Proud Boys and other extremist groups, many of them armed, converged outside a planned drag event in Columbus, Ohio. Neo-Nazis protested another event in Lakeland, Fla. There was an anti-L.G.B.T.Q. rally in South Florida, also attended by the Proud Boys. All of this just two weeks after the killing of five people — two of them transgender, a third gay — at an L.G.B.T.Q. club in Colorado Springs.
"I had a full panic attack and breakdown," said Ms. Caraballo, a clinical instructor at the Cyberlaw Clinic at Harvard Law School. "It's one thing knowing there's this extremist hate on the internet and seeing it in the abstract, and I can kind of compartmentalize. When this hate becomes manifested in real-life violence and there's a celebration of it, is when it becomes too much to stomach."
It was one more month in a year in which intimidation and violence against gay and transgender Americans has spread — driven heavily, extremism experts say, by inflammatory political messaging.

Since far-right social media activists began attacking Boston Children's Hospital over the summer for providing care for transgender children, the hospital has received repeated bomb threats. Doctors across the country who do similar work have been harassed. The Justice Department charged a Texas man this month with threatening a Boston doctor; it also recently charged at least two others with threatening anti-gay or anti-transgender attacks.

Twelve times as many anti-L.G.B.T.Q. incidents have been documented this year as in 2020, according to the Armed Conflict Location and Event Data Project, which tracks political violence.

"Being a trans person in particular in this country right now is walking around thinking that it's possible this could happen any day," said Sam Ames, the director of advocacy and government affairs at the Trevor Project, an L.G.B.T.Q. suicide prevention organization, adding, "We are hearing every day from trans youth who are being impacted by that political rhetoric." https://www.nytimes.com/2022/12/10/us/politics/anti-transgender-lgbtq-threats-attacks.html     
Jonathan Weisman and Ken Bensinger: Blowback Over Griner's Release Exposes Depth of America's Divisions
Past hostage exchanges have sparked criticism, but the response to Brittney Griner's homecoming has been fueled by the politics of race, gender and sexual orientation.

There was a time when the release of American citizens who had been unjustly imprisoned by a foreign adversary was a moment for bipartisan relief and celebration: the 2018 return of three men from North Korea, secured by President Donald J. Trump, or the 1991 freeing of Terry Anderson, an American journalist, after years of captivity in Lebanon.

Those moments felt like sepia-toned artifacts on Friday as Brittney Griner, the women's basketball star, slipped quietly into a military base in Texas for evaluation following her release from Russia, while a Fox News reporter peppered the White House press secretary, Karine Jean-Pierre, with pointed questions about an exchange that he said had sent the "Merchant of Death" to Russia for a "professional athlete."

Within hours of Ms. Griner's release, much of the right wing was in full outrage mode, seizing upon both the man Ms. Griner had been exchanged for — Viktor Bout, a notorious Russian arms merchant serving time, in part, for endangering American lives — and the Biden administration's failure to secure the release as well, or instead, of a former Marine, Paul Whelan, who has languished in a Russian prison since his 2018 arrest on espionage charges.

Representative Kevin McCarthy of California, who hopes to be speaker in the Republican-controlled House next year, touched on that when he appeared on Fox News to condemn the "trumped-up charge" against Ms. Griner but to say that the exchange with Mr. Bout had "made us weaker." He added, "It's made Putin stronger, and it's made Americans more vulnerable."

But Ms. Griner's case has gone beyond such calculations, into the fraught arenas of race, gender and sexual orientation, and at a time of make-no-concessions partisanship, when large swaths of the American public are steeped in the grievance politics and adversary demonization of Mr. Trump and his acolytes.

The former president's son Donald Jr. swiped at Ms. Griner's identity when he wrote that the Biden administration "was apparently worried that their DEI score would go down if they freed an American Marine," using the corporate-world acronym for diversity, equity and inclusion. https://www.nytimes.com/2022/12/09/us/politics/griner-blowback.html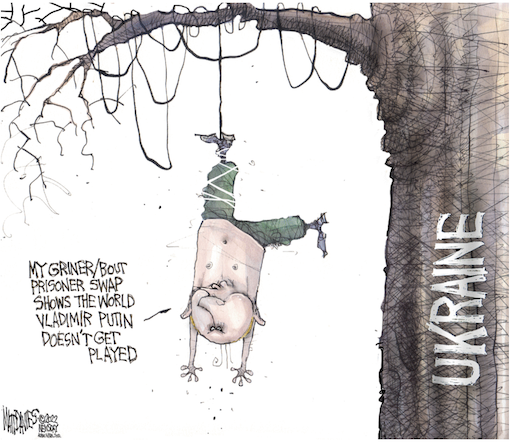 Susan B. Glasser: Trump's 2024 Campaign So Far Is an Epic Act of Self-Sabotage
The official campaign for the 2024 Republican Presidential nomination is barely three weeks old, but there is one clear takeaway so far: Donald Trump is running against himself—and losing. From his low-energy announcement speech at Mar-a-Lago to his dinner with the Hitler-praising Kanye West and the white supremacist Nick Fuentes, Trump has courted more controversy than votes since launching his bid in November. He has held no campaign rallies and hired no campaign manager. He has hosted a QAnon conspiracy theorist and helped raise money for the indicted insurrectionists of January 6th. More classified items have been found in his possession, and his Trump Organization was convicted in New York of a major tax-fraud scheme. He has scared away neither prospective opponents nor prosecutors, and, while openly courting extremists, he seems to be running on a campaign platform that is somehow even more nakedly driven by self-interest than his previous two bids. Just last week, he suggested jettisoning the Constitution so he could be reinstated to the office he was thrown out of by the voters in 2020. "A Massive Fraud of this type and magnitude allows for the termination of all rules, regulations, and articles, even those found in the Constitution," he wrote in a post on his social network, Truth Social.

The fact that he actually put his objections to the Constitution in writing is a classically Trumpian flourish—one that seems more likely to be used against him in a court of law than to win him any support. In Georgia, when Trump's handpicked candidate, Herschel Walker, lost the Senate race in a post-election runoff on Tuesday, Walker made a point of conceding his defeat and urging supporters to retain their faith in the legal order. "I want you to believe in America and continue to believe in the Constitution," he said, in an implicit rebuff of his patron. You know things for Trump are bad when Herschel Walker, a man whom Georgia's Republican lieutenant governor called one of the worst Republican candidates in our party's history, has started rebuking him. https://www.newyorker.com/news/letter-from-bidens-washington/trumps-2024-campaign-so-far-is-an-epic-act-of-self-sabotage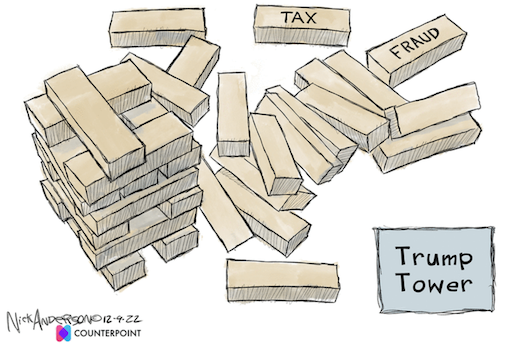 Charlie Sykes: The Warped Electoral Logic Behind Trump's Antisemitism
Trump is seldom careful about who he offends — tossing out jibes, insults, and threats with reckless abandon. He is more than willing to lash out at cultural elites and the people he calls 'disloyal Jews' who support Democrats. But Trump has been consistent in his reluctance to offend what he regards as a crucial part of the base that he has nurtured over the years.

He is unapologetic about associating with overt neo-Nazis, and unwilling to issue full-throated denunciations of antisemitism. Trump is willing to draw this barrage of opprobrium for one simple reason: He believes that he has tapped into something in the American electorate, especially among evangelical Christians, who have ingrained — but complicated — attitudes toward Israel and Jews.

And these are his people. https://www.politico.com/news/magazine/2022/12/07/electoral-logic-behind-trumps-antisemitism-00072661
Michael Hiltzik: By embracing anti-Fauci and QAnon conspiracies, Musk tests how low Twitter can sink
When former astronaut Scott Kelly (the twin brother of Democratic Sen. Mark Kelly of Arizona) upbraided Musk for not only attacking a "dedicated public servant" (Dr. Fauci) but mocking the practice among LGBTQ individuals and others of posting their preferred pronouns online and in emails, Musk doubled down.

"Forcing your pronouns upon others when they didn't ask...is neither good nor kind to anyone," he tweeted back. "As for Fauci, he lied to Congress and funded gain-of-function research that killed millions of people."

Musk's endorsements of such conspiracy theories amplify false narratives and give them credibility among many of his 120 million Twitter followers and 200 million-plus users, including the 13% of Americans who say they regularly get their news from Twitter.

Long-term observers of Musk and his businesses aren't sure what he's up to here. Tech reporter Kara Swisher speculates that he's trying to create another right-wing media company to supplant a fading Fox News.

Conor Friedersdorf of the Atlantic argues that Musk's inviting back onto Twitter a horde of twitterers whose accounts had been blocked for hatefulness or inciting violence or a host of other infringements of civil behavior had been unfairly disparaged by "alarmist" left-wing critics who ignored the amnesty's "potential upsides," such as making Twitter more trustworthy. (Good luck!)
Their conjectures may be plausible. But Musk's behavior is indistinguishable at this moment from that of someone experiencing a personality meltdown and seeking succor from fringe communities willing to shower him with hero-worship because they also resent being treated as outcasts by the big, bad world. https://www.latimes.com/business/story/2022-12-14/column-by-embracing-anti-fauci-and-qanon-conspiracies-musk-tests-how-low-twitter-can-sink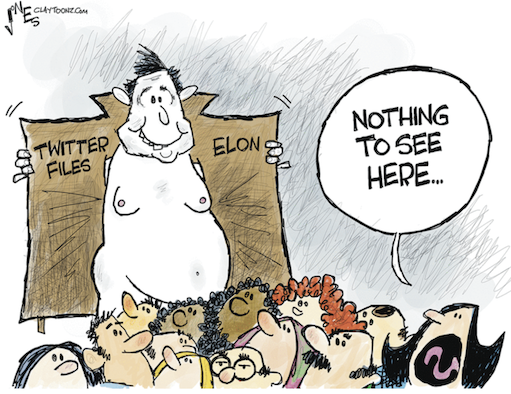 Jonathan Chait: Republicans Don't Have a 'Candidate-Quality Problem,' They Have a Crazy-People Problem
Republicans are certainly wise to try harder next time to nominate candidates who live in the state they are running to represent, are not violent criminals, have avoided publicly calling for the overthrow of the government, and so on. That said, this advice is so blindingly obvious that one wonders why it became a question at all and why it took a cycle of election defeats for this lesson to set in.
"The answer is that the candidate-quality problem is merely the byproduct of a much more deeply rooted crisis of delusion that has spread up and down the ranks of the party. The GOP's voters and its elites reside in a hermetically sealed world of paranoia so far removed from reality that it is often difficult for them to relate to the concerns of average people. The attempts by the likes of McConnell to address this problem at the level of the nominating process only scratch the surface of the predicament. https://nymag.com/intelligencer/2022/12/candidate-quality-problem-republican-mitch-mcconnell-trump-elections.html