August 5, 2021
ON THE RECORD. . .
"Under the weak leadership of Mitch McConnell, Senate Republicans continue to lose. He lost Arizona, he lost Georgia, he ignored Election Fraud and he doesn't fight. Now he's giving Democrats everything they want and getting nothing in return. No deal is better than a bad deal. Fight for America, not for special interests and Radical Democrats. RINOs are ruining America, right alongside Communist Democrats." — Trump after the Senate voted to start debate on a bipartisan infrastructure package.

"When I called the president, I was telling him about what was happening in the Capitol, because none of you would know unless you were in the Capitol." — House Minority Leader Kevin McCarthy about his Jan. 6 phone call with Trump.

Today's Anniversary of Medicare & Medicaid reminds us to reflect on the critical role these programs have played to protect the healthcare of millions of families. To safeguard our future, we must reject Socialist healthcare schemes." — Rep. Elise Stefanik (R-NY)

"Once they pass this bill (bipartisan infrastructure package) out of the Senate, it will sit in the House until they get steamrolled by the biggest government expansion in a generation. Tax increases on everyone, government run health care, more government run schools, amnesty for illegal immigrants, MASKS, and many more terrible socialist programs. Nancy Pelosi has said NO INFRASTRUCTURE until they get everything else." — Trump

"It will be hard not to hit her with it but I will bang it down." — House Minority Leader Kevin McCarthy (R-CA), who wants everyone to see Pelosi hand him the gavel.

"Just say that the election was corrupt" and "leave the rest to me and the Republican Congressmen." — Trump pressuring acting AG Jeffrey Rosen to declare that the election was corrupt in an attempt to help Republican members of Congress try to overturn the election result according to notes of a December 2020 call.

The reality of Donald Trump torments a lot of the GOP leadership, and yet they constantly revive him. They set their fortunes with his when the physics of politics dictates one thing: Out of power, removed from the presidency and denied social media, this is a balloon losing air, not gaining it. -- Peggy Noonan

"The governor has made it as difficult as possible to make people safe. He's like the pied piper leading everybody off a cliff right now by letting them know that they don't have to like the CDC, they don't have to wear masks, that they can do whatever they want when we're in the midst of an enormous pandemic." — Miami Beach Mayor Dan Gelber (D), calling out Fla Gov. Ron DeSantis (R.) as the "Pied Piper" of COVID 19.

"It seems, in fact, that you are immune to shame. Maybe you don't know how you got to this very dark place, Paul. Unfortunately, we have some ideas. Maybe it's because you're in way over your head in Congress and don't have the intellect, character or maturity to be in that leadership role. — Rep. Paul Gosar's (R-AZ) two brothers and his sister, once again calling for his resignation.

"I say to these governors: Please help. But if you aren't going to help, at least get out of the way." — President Biden to Republican govbernors who have blocked efforts to mandate vaccines.

"There's a long history in this country of people needing to show their papers. During slavery, post-slavery, as recent as, you know, what immigrant population has to go through here. We heard Trump with the birth certificate nonsense. Here we want to make sure that we are not doing anything that would further create a barrier for residents of Boston." — Boston acting mayor Kim Janey (D) about showing proof of your coronavirus vaccine at a restaurant or gym.

"I would have arrested all of these people already if I had the power to do so. I vote to arrest. Arrest and put them in solitary." — AZ State Sen. Wendy Rogers (R) after the Republican-majority board of supervisors in Maricopa County the county rejected new subpoenas from the Senate for election materials.

Watch Tucker Carlson literally laughs at DC cop Michael Fanone who was nearly beaten to death and suffered a heart attack, for saying he's "been left with psychological trauma and emotional anxiety" from the Capitol riots. — Justin Baragona
Just Security is continuing to track every pending criminal and civil case against Donald Trump.
---
IN THIS ISSUE
IN THE NEWS
OPINION
Andy Borowitz: Millions Scammed Into Sending Money to Person Claiming He Was Elected President in 2020
In what is being called a widespread e-mail scam, millions of Americans have been tricked into sending money to a person claiming to have been elected President in 2020.

According to Harland Dorrinson, who heads up the National Internet Scam Bureau, the person sending the hoax e-mails claims to have had an election stolen from him and to be in desperate need of cash.

"The e-mails look very official, so it's not surprising that so many people have been taken in," Dorrinson said.

The scam expert said that those receiving the e-mails should take a close look at the sender's name. "The actual President of the United States is named Joe Biden," he said. "If the name of the person on the e-mail is something different, then it's a fake."

If you receive one of the fraudulent e-mails, Dorrinson said, under no conditions should you give the sender your credit-card number or any other financial information. "E-mails from a Nigerian prince are more legit," he said. https://www.newyorker.com/humor/borowitz-report/
'Covid With a Vengeance' Consumes U.S. Politics
The American political system has come down with a case of long Covid.
In Washington and the states, and in both political parties, expectations that the virus might be routed this summer and make way for some version of political-life-as-usual have abruptly disintegrated. The resurgence of the disease, driven by the fast-spreading Delta variant, threatens to halt plans by both parties to shift their attention to other matters ahead of the midterm elections next year. https://www.nytimes.com/2021/07/30/us/politics/vaccines-biden-republicans.html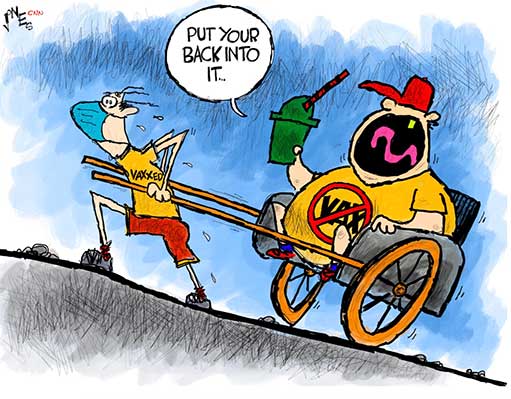 The Right Is Now Rooting Against America's Olympic Athletes
As American athletes compete on the world stage in the Tokyo Olympics, many on the right aren't cheering them on. "The collection of whiny, overpaid social justice warriors are very hard to root for," said Newsmax host Grant Stinchfield, adding that he took "pleasure" in Team USA's basketball loss this month because of its players' "woke" politics. "The team is filled with anthem kneelers, and I find it ironic they are willing to put USA across their chests, but in the not-so-distant past, they would kneel for the anthem." In addition to taking pleasure in the men's basketball team's loss, Stinchfield also noted that he found himself "rooting against…Megan Rapinoe and her merry band of America-hating female soccer players."
Stinchfield's comments come on the heels of Donald Trump suggesting at a Phoenix rally last weekend that Team USA's recent loss to Sweden was caused by the progressive politics of its athletes. "Wokeism makes you lose, ruins your mind, and ruins you as a person," he said. "You become warped. You become demented." Trump, who goaded the crowd into booing the U.S. women's soccer team, went on to say that "Americans were happy" about the team's defeat. https://www.vanityfair.com/news/2021/07/right-rooting-against-americas-olympic-athletes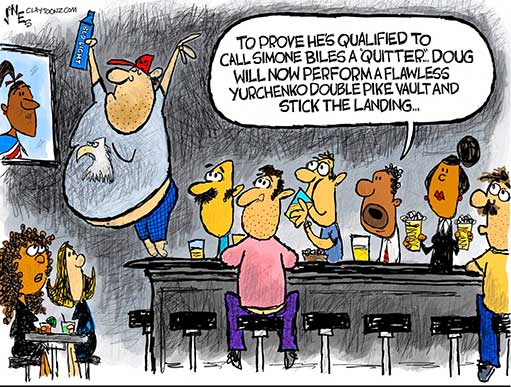 GDP Growth Under Trump Was the Worst Since Hoover
GDP growth under Donald Trump — a measure he frequently touted to show his economic prowess — was actually the worst since Herbert Hoover was president during the Great Depression. And quarterly GDP data, which only dates back to Dwight Eisenhower's presidency beginning in 1953, puts Trump dead last among the dozen presidents since then. https://www.bloomberg.com/opinion/articles/2021-08-02/trump-s-gdp-growth-was-the-worst-since-the-great-depression
House Dem campaign chief warns the majority at risk without message reboot
During a closed-door lunch last week with some of his most vulnerable incumbents, House Democrats' campaign chief delivered a blunt warning: If the midterms were held now, they would lose the majority.
Rep. Sean Patrick Maloney (D-N.Y.) followed that bleak forecast, which was confirmed by multiple people familiar with the conversation, with new polling that showed Democrats falling behind Republicans by a half-dozen points on a generic ballot in battleground districts. Maloney advised the party to course-correct ahead of 2022 by doing more to promote President Joe Biden's agenda, which remains popular with swing voters. https://www.politico.com/news/2021/08/03/sean-patrick-maloney-democrats-house-majority-502265
Charlie Crist leads Ron DeSantis amid COVID-19 surge
U.S. Rep. Charlie Crist narrowly leads Gov. Ron DeSantis in a hypothetical head-to-head matchup, according to the latest survey from St. Pete Polls.
The results come as DeSantis continues to face criticism for his COVID-19 response amid a major surge in cases and hospitalizations that is making Florida the epicenter of the pandemic.
While his lead is barely within the poll's 1.6% margin of error, 45% of respondents indicated they'd vote for Crist, a Democrat who formerly served as Governor as a Republican, while just 44% said they'd cast a ballot for DeSantis. Another 11% are still undecided.
That's a big step up for Crist who, in previous polls, was trailing DeSantis by as much as double digits. https://floridapolitics.com/archives/445638-shock-poll-charlie-crist-leads-ron-desantis-amid-covid-19-surge/
Federal Judge Blocks Texas Ban on Transporting Migrants
A federal judge on Tuesday blocked an executive order by Texas Gov. Greg Abbott that banned the transportation of migrants within the state by anyone other than law enforcement, an initial legal victory for the Biden administration.
U.S. District Judge Kathleen Cardone in El Paso granted the Justice Department's request for a temporary restraining order against the ban, saying the department was likely to prevail on arguments that the Texas ban unconstitutionally interfered with the federal government's operations and conflicted with U.S. immigration law.
Judge Cardone, a George W. Bush appointee, also said the Texas ban was causing irreparable harm to the federal government "and to individuals the United States is charged with protecting, jeopardizing the health and safety of non-citizens in federal custody, risking the safety of federal law enforcement personnel and their families, and exacerbating the spread of COVID-19." https://www.wsj.com/articles/federal-judge-blocks-texas-ban-on-transporting-migrants-11628038137
Two years after Walmart mass shooting, El Paso leaders see inaction and betrayal by Texas officials
Two years after the attack, some of the conditions that led to the shooting remain entrenched; violence by extremist groups is on the rise, according to the FBI and the U.S. Department of Justice; and rhetoric describing migrants as criminals and invaders is now espoused by Texas' Republican leadership, including Abbott.
And in what some call an affront to the victims' families, Texas Republicans expanded gun rights earlier this year when the state Legislature passed a permitless carry bill. Beginning in September, Texans will be allowed to carry handguns without permits or training. Abbott supported what he called the "constitutional carry" bill and signed it into law. https://www.texastribune.org/2021/08/03/el-paso-walmart-mass-shooting-legislature/
Jihadists flood pro-Trump social network with propaganda
Just weeks after its launch, the pro-Trump social network GETTR is inundated with terrorist propaganda spread by supporters of Islamic State, according to a POLITICO review of online activity on the fledgling platform.
The social network started a month ago by members of former President Donald Trump's inner circle features reams of jihadi-related material, including graphic videos of beheadings, viral memes that promote violence against the West and even memes of a militant executing Trump in an orange jumpsuit similar to those used in Guantanamo Bay. https://www.politico.com/news/2021/08/02/trump-gettr-social-media-isis-502078
How Ashli Babbitt went from Capitol rioter to Trump-embraced 'martyr'
In the months since Jan. 6, Trump and his allies have waged a fevered campaign to rewrite the narrative of one of the darkest days in the nation's history, when a mob attacked the Capitol, threatening to kill Vice President Mike Pence and using baseball bats and flagpoles to beat police officers as they hunted for lawmakers, many of whom hid behind locked doors, fearing for their lives.
Inside the Capitol siege: How barricaded lawmakers and aides sounded urgent pleas for help as police lost control
Yet, instead of marauders invading the Capitol, Trump and his acolytes describe a largely peaceful crowd of protesters unfairly maligned and persecuted by prosecutors, Democrats and mainstream journalists.
At the center of their revisionism is Babbitt, their martyr, whose fatal attempt to leap through a door that led to the House chamber — captured in graphic detail on video — they describe as a heroic act of patriotism.
"An innocent, wonderful, incredible woman, a military woman," Trump said during an appearance on Fox News. At a Florida rally July 4, he called her shooting "a terrible thing" and said "there was no reason for it." https://www.washingtonpost.com/dc-md-va/2021/07/30/ashli-babbitt-trump-capitol-martyr/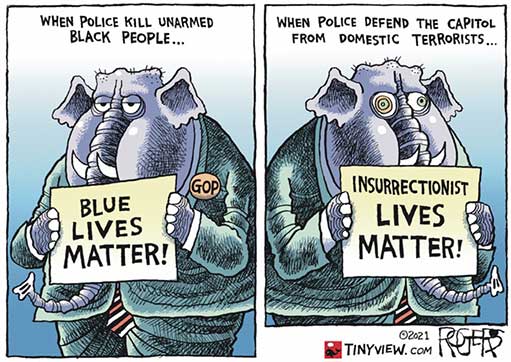 Pro-Biden groups to spend $100 million on August ad blitz
An array of progressive and pro-White House groups plans to spend nearly $100 million to promote President Joe Biden's agenda over the next month to pressure Congress while lawmakers are on their August recess.
The push being announced Monday, coupled with a wave of travel by the president's top surrogates, is meant to promote and secure passage of Biden's two-track infrastructure plan: a bipartisan package focused on highways, transit and broadband, and a Democrats-only budget reconciliation bill for child care and what the White House calls human infrastructure. https://apnews.com/article/joe-biden-health-coronavirus-pandemic-a7a4e1d91bdca473baab319778851c52
A depressing number on Republicans and the vaccine
On Monday a new Monmouth University national poll came out that showed 31% of Republicans saying they will likely never get the vaccine. Never. As in not ever.
Because never means never, it would appear as though 3 in 10 Republicans are simply not even open to persuasion on getting the vaccine. They aren't waiting for more information. Or for better incentives. They simply refuse to get the vaccine under any and all circumstances. https://www.cnn.com/2021/08/02/politics/monmouth-poll-republicans-vaccine-covid-19/index.html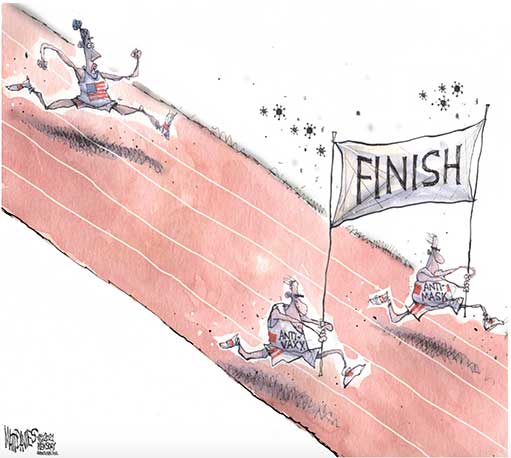 Trump raised millions but spent none of it on audits and GOP candidates
Six months since leaving office, former President Donald Trump is sitting on a $102 million war chest.
But having whipped his supporters into a frenzy with pledges to overturn the election and promises to support Republican candidates in the midterms, he is not spending his campaign money on either. https://www.politico.com/news/2021/08/03/trump-spending-millions-gop-candidates-502233
Trump's endorsement may have contributed to Susan Wright's undoing in the runoff with state Rep. Jake Ellzey
Susan Wright's campaign had reasons to feel good Tuesday morning, coming off a tele-rally with former President Donald Trump the night before and armed with internal polling showing she had a comfortable lead over her fellow Republican opponent. But anxiety set in as the day went on and her campaign saw higher-than-expected turnout. Then, a couple hours before polls closed, her consultant, Matt Langston, got a call.
It was from a campaign worker at a polling place, and they said the kinds of voters who were showing up had "definitely changed." How do you know that? Langston asked.
"Because they're all wearing masks," the worker replied. https://www.texastribune.org/2021/07/29/jake-ellzey-donald-trump-texas-6-congressional-seat/
Google is profiting off ads for counterfeit COVID-19 vaccination cards
Google is profiting off ads for counterfeit COVID-19 vaccination cards, even though the product violates the company's own advertising policies prohibiting content that exploits a public health emergency.
Google Shopping lists a counterfeit COVID-19 vaccination card as the first sponsored result under the search terms "blank vaccination card," "blank cdc card," "cdc card," and "vaccination card." The "sponsored" label on the section indicates that Google is "compensated for clicks" on the ads and that "advertiser payment to Google may also influence how items are ranked and grouped" in results. https://www.mediamatters.org/google/google-profiting-ads-counterfeit-covid-19-vaccination-cards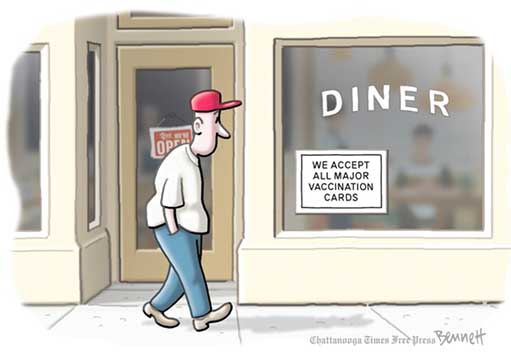 Subpoena fight looms over Trump as House committee plots extensive January 6 probe
Investigators on the House's January 6 select committee, vowing a deep dive into the attack on the US Capitol, may soon be confronted with a grim reality: A battle over subpoena requests and the prospect they could end up in protracted legal fights.
Both Democrats and Republicans on the select committee say they want to obtain all the communications at the White House and conversations with Donald Trump that occurred surrounding January 6, but there's an expectation they won't get much cooperation from the former President, his former White House aides and his allies in Congress who have blasted the investigation.
At the same time, they did get a significant boost this week when the Biden Justice Department formally declined to assert executive privilege over testimony related to January 6, telling former DOJ officials in a letter they were free to provide "unrestricted testimony." But whether former Trump White House officials could be protected by executive privilege remained unclear. https://www.cnn.com/2021/07/28/politics/subpoena-trump-house-january-6-probe/index.html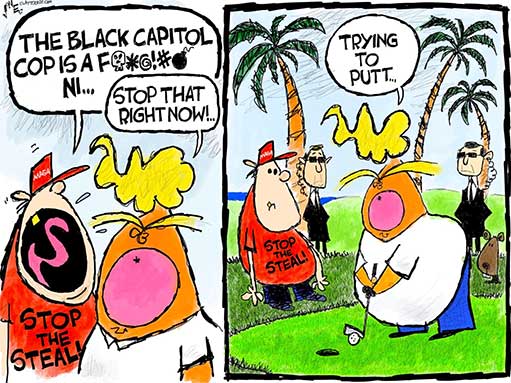 House Freedom Caucus wants Cheney, Kinzinger kicked out of Republican conference
The conservative House Freedom Caucus is calling for the removal of Reps. Liz Cheney of Wyoming and Adam Kinzinger of Illinois from the Republican caucus, an effort to punish the pair for joining the committee investigating the Jan. 6 attack on the U.S. Capitol. https://www.nbcnews.com/politics/congress/house-freedom-caucus-wants-cheney-kinzinger-kicked-out-republican-caucus-n1275404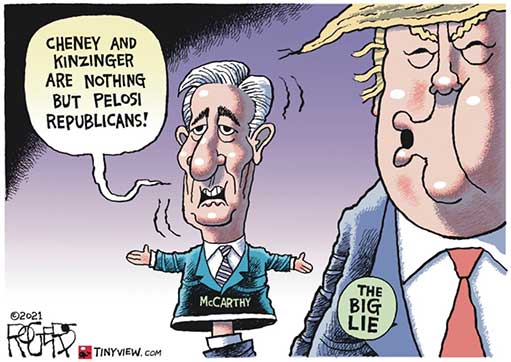 The DAILY GRILL
Breakthrough Covid cases: Data shows how many vaccinated Americans have tested positive. — NBC News headline.

VERSUS

These headlines are so goddamn irresponsible in an incredibly dangerous, cynical way. Yes, the sub-headline goes on to note this "represents less than .08 percent of the 164.2 million-plus people fully vaccinated since January" but they know what they are doing and it's awful. — Eric Goldman @TheEricGoldman
Dana Milbank: Fact check: Is Kevin McCarthy a 'moron'?
After Republican Leader Kevin McCarthy this week decried the House's new face mask requirement, Speaker Nancy Pelosi (D-Calif.) replied with a considered response: "He's such a moron."
Mean! But if the dunce cap fits …
Such an incendiary charge by Pelosi demands a fact check: Is McCarthy, in fact, a moron? Let's weigh the evidence.
The very day Pelosi called him a moron, McCarthy complained on the House floor that the latest mask guidance came from a study in India (not so) of an unapproved vaccine (also not so) that "didn't even pass purr review." Was he waiting for a litter of kittens to examine the data?
The day before Pelosi called him a moron, McCarthy held a news conference to provide his latest thinking on the Jan. 6 investigation, including:
"We now have a committee that all of America wants to know the answers to."
"How can you ever get to the bottom of the questions?"
"Never before in the history of Congress has a speaker taken the unprecedented move of denying the other party to a committee of who they selected."
McCarthy further concluded that the April slaying of a Capitol Police officer was politically motivated — "based upon if you listen to who made the killing of buying the knife and go out."
The day after Pelosi called him a moron, McCarthy made yet more important points at another news conference.
On Pelosi: "She will go at no elms to break the rules."
On Pelosi, cont'd: "We watched time and again where she told the American public they couldn't get a haircut — except for her. We told her that she fights for the Americans, but they make $5 million in less than a month trading stock options … on tech companies that were — that were debating inside the House; that the only reason the market went up, that they made that money was what the outcome of the stocks — or, the outcome of the bills."
In 2014, I chronicled McCarthy's musings on blind justice ("You see the Supreme Court, you see the statue sitting there, blinded in the process with the weights in between"), on Obamacare enrollment ("He only totes the 8 million … How can we fall going forward?") and on charter schools ("This is a great strength of a change making an equalizer inside for economy throughout"). In a 2015 foreign policy address, he announced that he had visited "Hungria" and lamented that Russia is "keeping the place of the band on America."
Alas, this leaves only one possible conclusion, which I deliver with no elms: Pelosi's claim earns the rating "mostly true." https://www.washingtonpost.com/opinions/2021/07/30/fact-check-is-kevin-mccarthy-moron/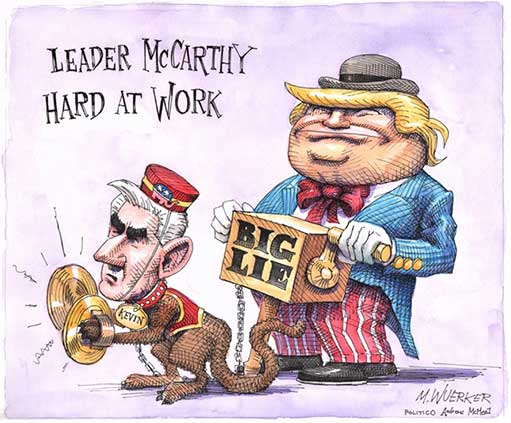 Jane Mayer: The Big Money Behind the Big Lie
Arizona is hardly the only place where attacks on the electoral process are under way: a well-funded national movement has been exploiting Trump's claims of fraud in order to promote alterations to the way that ballots are cast and counted in forty-nine states, eighteen of which have passed new voting laws in the past six months. Republican-dominated legislatures have also stripped secretaries of state and other independent election officials of their power. The chair of Arizona's Republican Party, Kelli Ward, has referred to the state's audit as a "domino," and has expressed hope that it will inspire similar challenges elsewhere.
Ralph Neas has been involved in voting-rights battles since the nineteen-eighties, when, as a Republican, he served as the executive director of the Leadership Conference on Civil Rights. He has overseen a study of the Arizona audit for the nonpartisan Century Foundation, and he told me that, though the audit is a "farce," it may nonetheless have "extraordinary consequences." He said, "The Maricopa County audit exposes exactly what the Big is all about. If they come up with an analysis that discredits the 2020 election results in Arizona, it will be replicated in other states, furthering more chaos. That will enable new legislation. Millions of Americans could be disenfranchised, helping Donald Trump to be elected again in 2024. That's the bottom line. Maricopa County is the prism through which to view everything. It's not so much about 2020—it's about 2022 and 2024. This is a coördinated national effort to distort not just what happened in 2020 but to regain the House of Representatives and the Presidency." https://www.newyorker.com/magazine/2021/08/09/the-big-money-behind-the-big-lie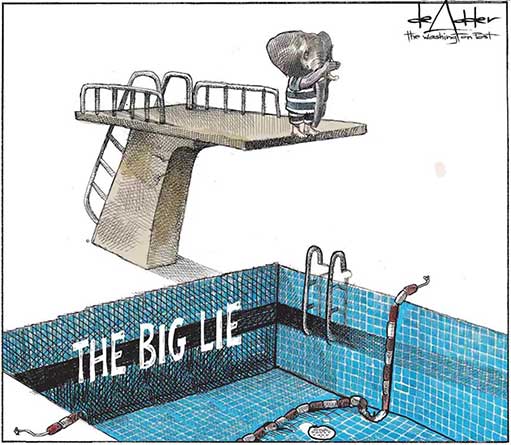 Bess Levin: The Anti-Vaxxers in Missouri Are So Deranged That People Are Getting COVID Shots in Disguise
Back in May, Joe Biden set a goal of having 70% of adults in the U.S. vaccinated by early July, a target that was not met thanks to the millions of Americans who've decided that stopping the virus is someone else's problem. Whether it's because they've been spending too much time watching Fox News, think listening to Biden is an affront to Donald Trump, or still believe COVID-19 is a hoax, these people, largely Republicans, would seemingly rather the coronavirus claim more lives than get inoculated. And apparently they've become so stridently batshit in their views that the people in their lives who've decided to listen to science have resorted to getting vaccinated in secret for fear of provoking their wrath.
On Wednesday, CNN reported that Missouri physician Priscilla Frase said she's heard that some people who come in to get their shots beg their injector to keep it a secret, and they go so far as to literally don disguises so as not to be found out by the anti-vaxxers in their lives.
"They've had some experience that's sort of changed their mind from the viewpoint of those in their family, those in their friendship circles or their work circles. And they came to their own decision that they wanted to get a vaccine," said Dr. Priscilla Frase, a hospitalist and chief medical information officer at Ozarks Healthcare in West Plains, Missouri. "They did their own research on it, and they talked to people and made the decisions themselves," Frase told CNN's Anderson Cooper. "But even though they were able to make that decision themselves, they didn't want to have to deal with the peer pressure or the outbursts from other people about them…'giving in to everything.'"
In a hospital produced video, Frase said one pharmacist at her hospital told her "they've had several people come in to get vaccinated who have tried to sort of disguise their appearance and even went so far as to say, 'please, please, please don't let anybody know that I got this vaccine.'" Frase told CNN if a patient asks for privacy to get vaccinated, the hospital tries to accommodate the request—whether at the drive-thru window or at their cars.
Meanwhile, on Tuesday, St. Louis County's acting health director was reportedly attacked and called racist slurs during a meeting of the city council about a mask mandate. Regarding the attacks public health officials have been under, Faisal Khan said, "We've received so many threats of all kinds, it is jarring…We are in the midst of the worst public health crisis to hit the world in 100 years. We should not be worried about our own safety in deliberative sessions with legislative officials. That really is a sad reflection of society in the United States."
Also this week, Missouri's governor proudly announced that he would never do something so crazy as require people to wear masks, despite the out-of-control COVID transmission rate in his state. https://www.vanityfair.com/news/2021/07/missouri-covid-anti-vaxxers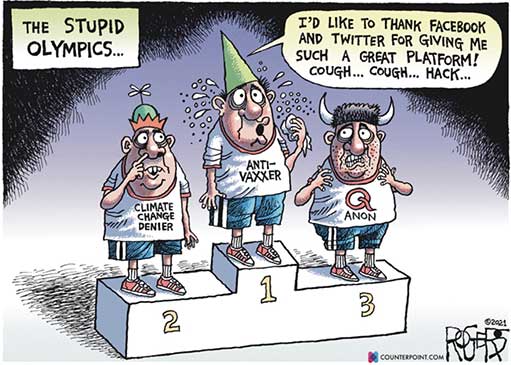 Paul Waldman: It's a good thing Republican election-stealers are so incompetent
The Maricopa County audit, which Trump has insisted all along would show that he really won the state, has been such a farce that even many Arizona Republicans have tried to distance themselves from it. GOP state senators are feuding with one another over whose fault it is; the governor says, "I don't think we should spend any more time thinking about 2020"; and the whole thing has proved to be a gigantic embarrassment.
Yet Republicans in other states, from Pennsylvania to Michigan, are trying to organize similar "audits," causing more internal disarray. To which Democrats could almost breathe a sigh of relief. If the GOP is going to keep trying to steal elections, better if they assign their worst and dimmest to the task.
To understand just how much the Republican Party has changed, it's instructive to think back to the last contested election before 2020, in 2000. When the results in Florida were thrown into uncertainty, the GOP mobilized its smartest and most ruthless operatives to make sure the outcome was secured in George W. Bush's favor. The enterprise was run by the cool and efficient James Baker, who had been a Cabinet secretary and chief of staff to two presidents.
Baker assembled a team of the party's best lawyers, including three future Supreme Court justices — John G. Roberts Jr., Brett M. Kavanaugh and Amy Coney Barrett — to fight the battle in state and federal courts. There was no "release the Kraken" courtroom buffoonery and no Four Seasons Total Landscaping-style face plants. The drama may have been chaotic, but inside the chaos was a highly competent group of Republican professionals who navigated it all the way to the Supreme Court, where five Republican justices handed the victory to Bush.
Now imagine if people like them — rather than Rudolph W. Giuliani, a bunch of QAnon believers and the MyPillow guy — were the ones trying to steal elections today.
So it would be wrong to say that we have nothing to worry about. This is only one part of a broader picture, which is that nearly everyone in the Republican Party has committed themselves to the idea that our election system must be altered so that it's almost impossible for them to lose. They have put together a far-reaching and comprehensive effort that includes extreme gerrymandering; voter suppression measures to make it as difficult and cumbersome as possible for certain people to make it to the polls in the first place; and, perhaps most disturbingly, the creation of new avenues for state-level Republicans, especially GOP-dominated legislatures, to seize control of election administration and create the means for them to keep a thumb on the scale from beginning to end.
In Arizona, for example, Republicans stripped the Democratic secretary of state of her authority to defend the state against election-related lawsuits, transferring that authority to the Republican attorney general. In Georgia, legislators revamped the state election board, removing the secretary of state and putting power in their own hands. They also changed the law so bipartisan local election boards would be replaced by all-Republican boards where the GOP controls county government, and they are already moving toward taking control of the election board in heavily Democratic Fulton County.
That's where the real, grave danger lies. It has to be fought via the courts, Congress (which ought to pass the For the People Act, as unlikely as that seems right now) and the Justice Department, as well as ground organizing to get as many people as possible to the polls no matter the impediments Republicans impose.
But when Democrats watch a farce like the Arizona audit play itself out, they ought to say a word of thanks. If these people knew what they were doing, it could be even worse. https://www.washingtonpost.com/opinions/2021/07/30/its-good-thing-republican-election-stealers-are-so-incompetent/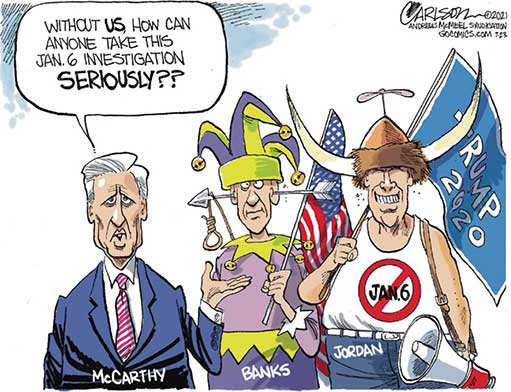 LA Times Editorial: The federal debt limit drama isn't a fight over spending
Let's be clear right up front that the debate over increasing the debt limit is not about fiscal responsibility. In fact, failing to raise the debt limit would be the most irresponsible thing lawmakers could do. Instead, it's all about who will get the blame for, well, being fiscally responsible, and how much damage will be inflicted on the economy in the process.
Congress established the debt limit more than a century ago, but the current version of the mechanism makes no sense. How much Washington spends is dictated by the annual appropriations measures and existing entitlement programs, such as Medicare, Medicaid and Social Security. The only thing the debt limit does is impede the Treasury's ability to pay the bills run up by Congress.
In other words, raising the debt limit isn't like upping the credit limit on your Visa card. Congress has already committed to spending the money, and the Treasury has already borrowed much of it. And unless Congress raises the debt limit, Washington won't be able to keep those commitments or pay back some of the people it owes.
According to CBO's estimate, the federal government's obligations are currently about twice as great as the revenue it expects to take in. Besides the aforementioned tax cuts and spending hikes, the deficit is fueled by the enormous amount of money spent on COVID-19 relief bills by the Trump and Biden administrations. Then there's the ongoing issue of the rising healthcare costs plaguing Medicare, Medicaid and other federal health programs. Add to that the interest payments on roughly $28.5 trillion in accumulated federal debt, and you see why Washington needs to keep borrowing money.
Republicans complain about the huge amounts spent during the pandemic, but that's a one-time problem. They also point to the Democrats' ambitious new budget proposal, but Biden rightly wants to finance that spending with new taxes and other revenue, not more borrowing.
It would be up to the Biden administration to decide which bills to pay if the debt limit isn't raised on time, but someone's ox will be gored, potentially including people on disability, Medicare providers, military personnel and federal bondholders. And here's the worst part: The financial markets would notice that the full faith and credit of the United States wasn't what it used to be, and they would react. Badly.
We know this because it happened the last time Congress flirted with disaster on the debt limit, in 2011. Standard & Poor's downgraded the United States' pristine AAA credit rating, declaring, "The political brinkmanship of recent months highlights what we see as America's governance and policymaking becoming less stable, less effective and less predictable than what we previously believed."
It's worth remembering that after two years of increasing deficits under Trump, Republicans and Democrats agreed in 2019 to a budget deal that took the debt ceiling temporarily off the table. It was a smart move then, and it would be just as smart now. https://www.latimes.com/opinion/story/2021-07-29/the-federal-debt-limit-political-drama
Susan Glasser: Trump Would Have Made a Great House Republican
For the past few years, it's become a political truism to speak of two Americas—the Red America of Donald Trump, the Blue America of Joe Biden—and their parallel, nonintersecting realities, which shape everything from party preferences to belief in the basic principles of science. The pandemic has tragically reinforced this narrative. One need only look at a map charting the latest spikes in cases, which show up as bright-red splotches across Republican-leaning states in the South and Midwest where Trump remains remarkably popular. Biden is President now, but there are no real signs that his lower-key leadership and appeals to national unity are measurably closing the national divide. In fact, the latest Associated Press/NORC poll, out this week, shows that, today, sixty-six per cent of Republicans believe Trump's Big Lie—that Biden was not legitimately elected—which is a percentage point more than in February.
In Washington, the partisan divide now extends to matters large and small, determining not only how politicians vote but even where they live, eat, and shop. There is another, even older divide that persists in the capital, however, and it, too, seems to be growing wider. I speak, of course, of the House and the Senate, which share a building but often little else. ("Republicans are the opposition, but the Senate is the enemy," Representative Al Swift, a Democrat of Washington, apparently joked once, appropriating a line that is probably as old as the Republic.) In the House these days, Trump and Trumpism remain the dominant reality, and the polarizing grievance that he has inspired seems to be sending the place ever closer to all-out conflict between the parties. As Speaker Nancy Pelosi presses forward with an investigation of the pro-Trump riot at the Capitol on January 6th, calling the inquiry a "patriotic duty," virtually the entire House Republican Conference has elevated Trump's conspiracy theories about the "rigged" 2020 election and the "peaceful people" who participated in the insurrection to the level of party catechism. In the Senate, many Republicans are no less outwardly Trumpist, reflecting the fact that they represent a thoroughly Trumpified Republican electorate. But there remains a significant G.O.P. faction, led by Senate Minority Leader Mitch McConnell himself, that seems to hope the Party might finally be moving on from its truculent master. Or at least not be talking about him so much. https://www.newyorker.com/news/letter-from-bidens-washington/donald-trump-would-have-made-a-great-house-republican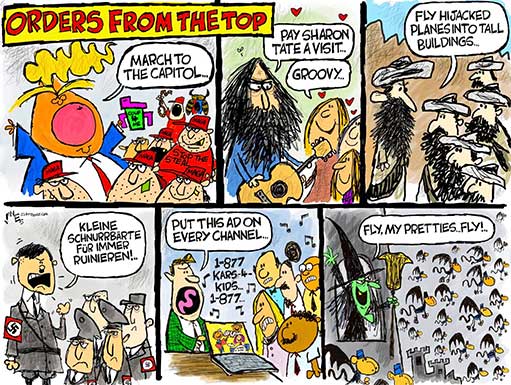 Kevin Drum: The Real Source of America's Rising Rage
Americans sure are angry these days. Everyone says so, so it must be true.
To an extent that many people still don't recognize, Fox News is a grinding, daily cesspool of white grievance, mistrust of deep-state government, and a belief that liberals are literally trying to destroy the country out of sheer malice. Facebook and other social media outlets might have made this worse over the past few years—partly by acting as a sort of early warning system for new outrages bubbling up from the grassroots that Fox anchors can draw from—but Fox News remains the wellspring.
What makes this even worse is that many Republican politicians no longer respond to ordinary political incentives. As former Republican House Speaker John Boehner put it, it's now all about appealing to Fox News and fending off primary challenges from right-wing fanatics. Referring to the first-term House class of 2010, he wrote in his recent memoir that "they didn't really want legislative victories. They wanted wedge issues and conspiracies and crusades." Modern Republicans, raised on a diet of Fox News, "were just thinking of how to fundraise off of outrage or how they could get on Hannity that night."
For the past 20 years the fight between liberals and conservatives has been razor close, with neither side making more than minor and temporary progress in what's been essentially trench warfare. We can only break free of this by staying clear-eyed about what really sustains this war. It is Fox News that has torched the American political system over the past two decades, and it is Fox News that we have to continue to fight. https://www.motherjones.com/politics/2021/07/american-anger-polarization-fox-news/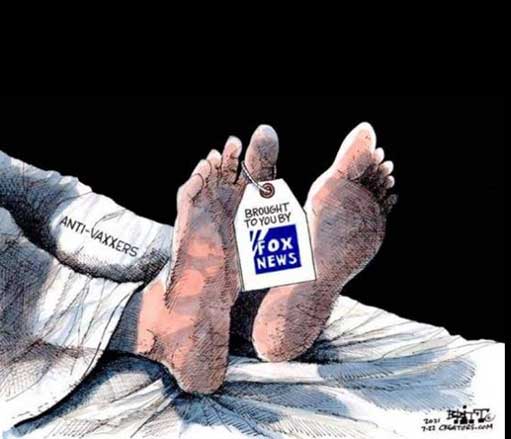 Dana Milbank: Sarah Palin, once on the cutting edge of crazy, is now back in the pack
Sarah Palin was Trump before Trump. Can she be Trump after Trump?
You betcha! (At least that's what she thinks.)
The former Alaska governor, 2008 Republican vice-presidential nominee, reality TV personality and human gaffe machine is teasing the possibility of challenging Sen. Lisa Murkowski in Alaska's Republican Senate primary next year. "If God wants me to do it I will," she told New Apostolic Reformation movement leader Ché Ahn, as first reported by Right Wing Watch.
Hopefully, for Palin's sake, this is a different God from the one she appealed to in '08 when she put the election "in God's hands, that the right thing for America will be done at the end of the day on Nov. 4." She has also said it was God's will to fight the Iraq war, build a gas pipeline, and for her to skip an important speech in 2011: "I had nothing to wear, and God knew that, too." https://www.washingtonpost.com/opinions/2021/08/02/sarah-palin-once-cutting-edge-crazy-is-now-back-pack/
Molly Jong-Fast: Another Terrible Week for Terrible Human Being Tucker Carlson
Tucker Carlson's truly terrible week began with a person turning the tables and calling out Fox News' star propagandist on camera, and ended with possibly his biggest remaining advertiser deciding to leave Fox News altogether.
Carlson is famous for using his show to target young female journalists, including former Beast Brandy Zadrozny and Taylor Lorenz, but I guess Fox News has different rules for its own hosts, those delicate little snowflakes. Their previous top-rated monster, Bill O'Reilly, made ambushing and harassing people on the street a regular feature, one that launched the career of Tucker wannabe Jesse Watters.
And then there's Covid. Even as Republicans like polio survivor Mitch McConnell pushes Republicans to get vaccinated and Fox News has frantically reversed course to belatedly try and stop killing its viewers as the Delta variant tears through Trump-y true believers in red states, Carlson has doubled down, telling his viewers that "They've been telling us for six months the vaccine is perfect. But clearly, in some cases, it doesn't always work." He told viewers they should take it from the guy who created COVID," before playing a clip of Dr. Anthony Fauci and talking about famous people who'd gotten the virus after being vaccinated.
This is a sick man, albeit one who I'd bet has protected himself from getting infected. Tucker has refused to say whether he's been vaccinated himself, but I suspect that he is, just like Fox News owner Rupert Murdoch, who was vaccinated in December of 2020, and Donald and Melania Trump, who got their shots in January of 2021.
Does Tucker Carlson, whose top writer was outed as a not-so-secret white supremacist, deserve everything that's coming to him? Like he likes to say, I'm just asking. https://www.thedailybeast.com/another-terrible-week-for-terrible-human-being-tucker-