August 4, 2022
THE WEEK'S BEST QUOTES. . .
Senate Republicans
celebrating after they blocked a bill which would've given better health benefits to veterans who suffer from the effects of open-air burn pits.
https://twitter.com/davenewworld_2/status/1552781198614732800
"I'm used to the hypocrisy…I'm used to the lies...I'm used to the cowardice...I'm used to all of it, but I am not used to the cruelty." #PACTAct —
Jon Stewart
on the Republican party's tanking of the burn pit bill.
https://twitter.com/cspan/status/1552683287243546626?s=20&t=HTjcjyVfG6m0qMj7PY2H5A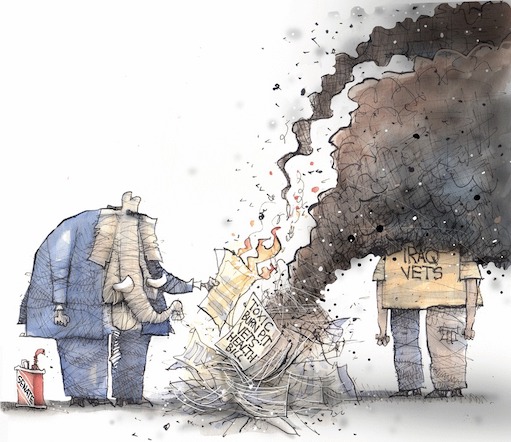 Peter Navarro
gave Axios a look at a passage containing potential choices for a second-term Trump cabinet from his forthcoming book, Taking Back Trump's America. Among them, Judge Jeanine Pirro of Fox News as attorney general.
https://www.axios.com/2022/07/28/peter-navarros-trump-cabinet-second-term
"It was obviously a double-cross by Joe Manchin. Just two weeks ago, he said he wasn't going to support a bill like this." —
Sen. Tom Cotton (R-AR)
https://www.huffpost.com/entry/joe-manchin-republicans_n_62e2c996e4b00fd8d83d5660
"I mean, look, I don't trust a thing Kevin McCarthy says. I'll be honest with you. Sometime about a year or two ago, he made the decision that his only goal was to become Speaker of the House. And he'll do whatever he has to do, and he thinks that siding with the insurrectionists is the way to get there. Maybe it will make him speaker." —
Rep. Adam Kinzinger (R-IL)
https://www.mediaite.com/tv/i-dont-trust-a-thing-kevin-mccarthy-says-kinzinger-rips-his-partys-leader-for-claiming-he-doesnt-recall-jan-6-conversation/
"You take this grenade and you pull the pin, you've got a live piece of ammo in your hands." —
Former Republican senator Rick Santorum
detailing a plan to fundamentally remake the United States by holding a first-of-its-kind convention to rewrite the Constitution.
https://www.businessinsider.com/constitutional-convention-conservatives-republicans-constitution-supreme-court-2022-7
There's nothing new about a late summer 'reassessment' of midterm assumptions. In fact, like clockwork, the out-party right about now starts to fret that their advantage is slipping, while the in-party sees green shoots springing from a barren landscape. --

Amy Walter
https://www.cookpolitical.com/analysis/national/national-politics/improvement-or-illusion
As a tax researcher, I was skeptical of rumors Trump buried his ex-wife in that sad little plot of dirt on his Bedminster, NJ golf course just for tax breaks. So I checked the NJ tax code & folks...it's a trifecta of tax avoidance. Property, income & sales tax, all eliminated. --

Brooke Harrington

https://twitter.com/EBHarrington/status/1553533320469905409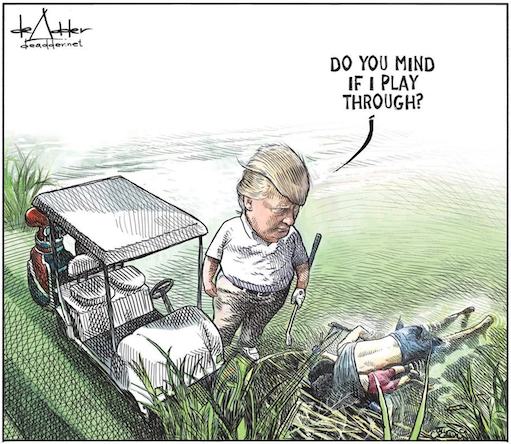 "Trump's fixation on himself and the 2020 election are poisonous to independent and undecided voters." —

Donald Trump's former national security adviser John Bolton

warning Republican primary candidates that they are "risking political suicide" if they align themselves too closely with the former president. https://www.huffpost.com/entry/john-bolton-trump-poison-political-suicide_n_62e737a0e4b0c60a56695fb8

"Well, in one word, it's ambition. They want to climb higher, and they think if they just make one more deal with the Devil, then they'll be able to do the right thing. But oftentimes, by then, they've forgotten what the right thing is. The Devil has a mortgage on the soul, and they've got to make the payment." —

Rep. Jim Cooper (D-TN)

on why so many of his colleagues "seem willing to gamble with the future of democracy just to avoid losing their jobs." https://www.newyorker.com/news/daily-comment/what-really-drives-members-of-congress-to-do-the-unthinkable
VIDEOS
Trump's plan for the homeless

: Open up large parcels of inexpensive land in the outer reaches of the city… create thousands and thousands of high quality tents. https://twitter.com/Acyn/status/1552025520820338690

A Message to and from Mister Senator Ted Cruz from

Jon Stewart.

https://twitter.com/jonstewart/status/1553127778169536513
Marjorie Taylor Greene
on mass shootings: "The reality is murder is legal and there is already plenty of gun control in place."
https://twitter.com/patriottakes/status/1553463900233924611
Lauren Boebert
says if the assault weapons ban is passed, people in America will start eating their dogs because that's what happened in Venezuela. 
https://twitter.com/RonFilipkowski/status/1554074099927982080
LITIGATION TRACKER
Pending Criminal and Civil Cases Against Donald Trump
. 
https://www.justsecurity.org/75032/litigation-tracker-pending-criminal-and-civil-cases-against-donald-trump/
---
IN THIS ISSUE
IN THE NEWS
OPINION
Andy Borowitz: Kansas Republicans Face Dark Future in State Where Women Have Rights
Republicans in Kansas woke up to the dark prospect of life in a state where women have human rights, G.O.P. activists report.

Harland Dorrinson, a Republican stalwart in Kansas for more than forty years, said that now, after voters in the state appeared to affirm women should be treated as humans, "I no longer recognize my Kansas."

"This is a slippery slope," he said. "If women are granted bodily autonomy, it's only a matter of time before they are permitted to marry who they want, wear what they want, eat what they want. I know I speak for many of my fellow-Republicans when I say I don't want to live in a state like that."

Dorrinson said that he is contemplating leaving the state where he has lived his entire life but is unsure where he might go. "If this kind of nightmare can happen in Kansas, it can happen anywhere," he said.

Had Tuesday's vote gone the other way, Dorrinson said, Republicans in the state had forecast a bright future for Kansas. "Next, we were hoping to roll back women's right to vote," he said, adding ruefully, "but it's a little late for that now." https://www.newyorker.com/humor/borowitz-report
The cover-up is often worse than the crime.
But these events, helpfully compiled by Ryan Goodman, must be a coincidence:
1. White House chief of staff Mark Meadows burned papers after meeting with Rep. Scott Perry (R-PA) in the weeks after the 2020 election.
2. Meadows and Perry used Signal, an encrypted messaging platform, when discussing elevating Jeffrey Clark to the position of acting attorney general.
3. The White House photographer was told "no photographs" of Donald Trump between 1:21 p.m. and 4:00 p.m. on January 6 despite her saying it was "very important for his archives and for history."
4. The presidential call log showed no phone calls by Trump between 11:06 a.m. and 6:54 p.m on Jan. 6.
5. "Federal prosecutors have begun a grand jury investigation into whether classified White House documents that ended up at former President Donald J. Trump's Florida home were mishandled."
6. Mark Meadows did "not properly" turn over records from his personal phone and email account.
7.Text messages for Trump homeland security officials Chad Wolf and Ken Cuccinelli are missing in the period leading up to the January 6 attack on the Capitol.
8. U.S. Secret Service employees received two emails — at least one prior to Jan. 6, 2021 — reminding them to preserve records on their cellphones, including text messages.
9. DHS Inspector General "learned in February that the Secret Service had purged nearly all cellphone texts from around the time of the Jan. 6, 2021 attack ... but chose not to alert Congress."
10.On DHS top officials missing texts, DHS Inspector General Cuffari "did not press the department leadership at that time to explain...nor seek ways to recover the lost data ... also failed to alert Congress."
https://twitter.com/rgoodlaw/status/1553044768082612229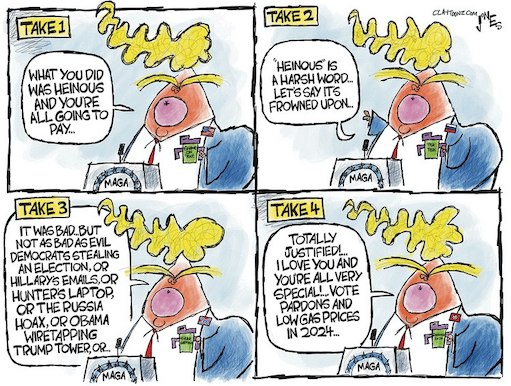 2016 Campaign Looms Large as Justice Dept. Pursues Jan. 6 Inquiry
As the Justice Department investigation into the attack on the Capitol grinds ever closer to former President Donald J. Trump, it has prompted persistent — and cautionary — reminders of the backlash caused by inquiries into Mr. Trump and Hillary Clinton during the 2016 presidential campaign.

Attorney General Merrick B. Garland is intent on avoiding even the slightest errors, which could taint the current investigation, provide Mr. Trump's defenders with reasons to claim the inquiry was driven by animus, or undo his effort to rehabilitate the department's reputation after the political warfare of the Trump years.

"Attorney General Garland and those investigating the high-level efforts to overturn the results of the 2020 election are acutely aware of how any misstep, whether by the F.B.I. or prosecutors, will be amplified and used for political purposes," said Mary B. McCord, a top Justice Department official during the Obama administration. "I expect there are added layers of review and scrutiny of every investigative step." https://www.nytimes.com/2022/07/28/us/politics/trump-garland-investigation.html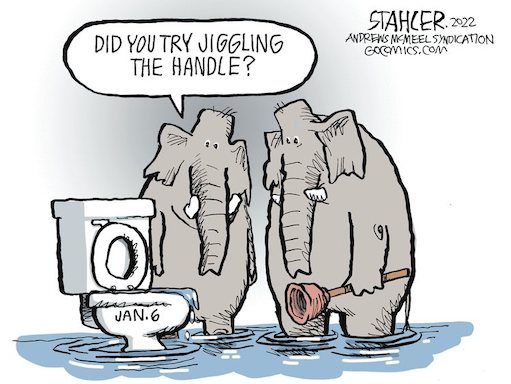 Holding presidents accountable for their crimes is what democracies do
Since Gerald Ford pardoned Richard M. Nixon for his Watergate crimes 48 years ago, Americans have been fixated on the need to heal and unite. But the United States is a global outlier in granting de facto impunity to former presidents. In many of the countries I've covered and followed closely as a foreign correspondent, prosecution of ex-leaders for crimes is not unusual and often expected by the public. In most cases, the democratic institutions not only held up but were bolstered by demonstrating that no one, even a former leader, is above the law. https://www.washingtonpost.com/opinions/2022/07/27/trump-hold-presidents-accountable-democracies/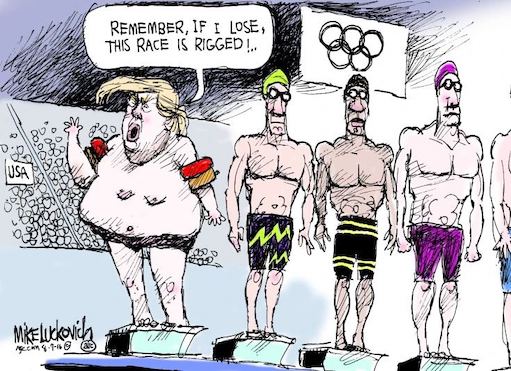 Trump Sides with Russia Over Brittney Griner
Former President Donald Trump sounds like he wants WNBA player Brittney Griner to stay in a Russian prison. During a podcast appearance on the Clay Travis & Buck Sexton Show, the former president voiced his opposition to the U.S. government's reported offer to swap Griner and U.S. Marine Paul Whelan for Viktor Bout, a convicted Russian arms trafficker.
On the show, Trump maligned Griner as 'a potentially spoiled person' who went to Russia 'loaded up with drugs,' which is an exaggeration of her cannabis arrest. https://www.rollingstone.com/politics/politics-news/trump-brittney-griner-spoiled-drugs-1390633/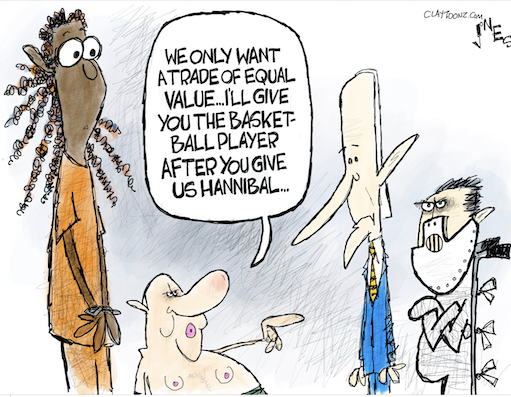 RNC links up with 'Stop the Steal' advocates to train poll workers
The RNC has been relying on a stable of the party's most prolific spreaders of false stolen-election theories to pilot a sweeping "election integrity" operation to recruit and coach thousands of poll workers in eight battleground states, according to new recordings of organizing summits held this spring in Florida and Pennsylvania. https://www.politico.com/news/2022/08/02/rnc-stop-the-steal-advocates-poll-workers-00049109
Georgia Taxpayers Can Claim Embryos as Dependents
Georgia's Department of Revinue announced that taxpayers can claim embryos as dependents on their state taxes just weeks after an appeals court ruled to redefine "natural person" to include the unborn. https://dor.georgia.gov/press-releases/2022-08-01/guidance-related-house-bill-481-living-infants-and-fairness-equality-life
House Democrats are asking the IRS to look into the Family Research Council claiming to be a "church" for tax purposes.
More than three dozen House Democrats are going after the Family Research Council's tax-exempt status as a church as they look more broadly at how the Internal Revenue Service allows organizations to claim church status to avoid taxes.

In a letter to the IRS, the lawmakers — led by Reps. Suzan DelBene (D-Wash.) and Jared Huffman (D-Calif.) — say the Family Research Council "claiming to be a church strains credulity: they do not hold religious services, do not have a congregation or affiliated congregations, and do not possess many of the other attributes of churches listed by the IRS." https://www.politico.com/minutes/congress/08-2-2022/calling-out-church-status/
Ron Johnson calls for turning Social Security, Medicare into discretionary spending program
Saying programs like Social Security and Medicare suffer from improper oversight, Sen. Ron Johnson (R-WI) called for turning every government program into discretionary spending programs, meaning Congress would have to allocate funding for the programs each year.

Such an effort could lead to yearly battles over the programs — fights that some Republicans say are necessary to cut down on government spending, while many Democrats consider the programs to be some of the nation's most beneficial. https://madison.com/news/local/govt-and-politics/ron-johnson-calls-for-turning-social-security-medicare-into-discretionary-spending-programs/article_5d9457a6-fd52-5c7f-9dfb-37cc0466a1c9.html
As Jan. 6 probe expands, officials worry DOJ resources are at a breaking point
It's the "most wide-ranging investigation" in Justice Department history: the unprecedented manhunt for hundreds of rioters who stormed the U.S. Capitol on Donald Trump's behalf on Jan. 6, 2021, and the criminal inquiry into efforts to stop the peaceful transfer of power.
It's also a logistical nightmare.
As cases against Capitol rioters work their way through the court system and a federal grand jury hears testimony about Trump's role in Jan. 6, some federal officials are raising concerns that it could bring the already stretched investigation of Jan. 6 to a breaking point. https://www.nbcnews.com/politics/justice-department/jan-6-probe-expands-officials-worry-doj-resources-are-breaking-point-rcna40208
Florida Republicans tether themselves to DeSantis — even without his support
Gov. Ron DeSantis hasn't endorsed a single Republican running for Congress in Florida this year. But that hasn't stopped GOP candidates from tying themselves to him.
Republicans vying for Congress — and countless more in down-ballot races — are using DeSantis' photo in campaign mailers and television ads and are dropping his name in debates ahead of the Aug. 23 primary. The use of DeSantis in Republican contests is rivaling, and even sometimes surpassing, that of former President Donald Trump, who has handed out congressional endorsements in several Florida elections. https://www.politico.com/news/2022/08/01/florida-republicans-desantis-support-00048617https://www.politico.com/news/2022/08/01/florida-republicans-desantis-support-00048617
Major legal fights loom over abortion pills, travel out of state
The overturning of Roe v. Wade after nearly 50 years is expected to trigger a new set of legal challenges for which there is little precedent, observers say, further roiling the nation's bitter political landscape and compounding chaos as Republican-led states move quickly to curtail access to reproductive care. It is possible, if not probable, that one or both of these questions will eventually work its way back to the high court.
The Biden administration has pledged to ensure access to abortion medication, which is used in more than half of all terminated pregnancies in the United States, and prohibit states from preventing their residents from traveling out-of-state for care. But a month after the Dobbs ruling, administration officials are still debating how they can deliver on that promise beyond the president's executive order to protect access. A White House meeting Friday with public-interest lawyers was designed to encourage legal representation for those seeking or offering reproductive health services. https://www.washingtonpost.com/politics/2022/07/31/abortion-medication-lawsuits/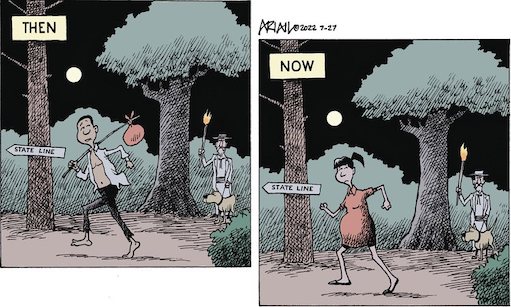 Prosecutors prepare for court battle to force former White House officials to testify about Trump's January 6 conversations
Justice Department prosecutors are preparing to fight in court to force former White House officials to testify about then-President Donald Trump's conversations and actions around January 6, according to people briefed on the matter.

At issue are claims of executive privilege that prosecutors expect the former president to make in order to shield some information from the federal grand jury as the criminal investigation moves deeper into the ranks of White House officials who directly interacted with Trump.

DOJ's preemptive move is the clearest sign yet that federal investigators are homing in on Trump's conduct as he tried to prevent the transfer of power to Joe Biden.

An executive privilege court fight would immediately put the Justice Department's investigation into a more aggressive stance than even the Mueller investigation -- a major years-long criminal probe into Trump while he was President. He was not ultimately charged.

Attorney General Merrick Garland has made clear in public remarks that Trump is not beyond the reach of the investigation because of his status as a former president.  He has also stressed they are taking care to "get this right." https://www.cnn.com/2022/07/28/politics/doj-court-trump-january-6-executive-privilege/index.html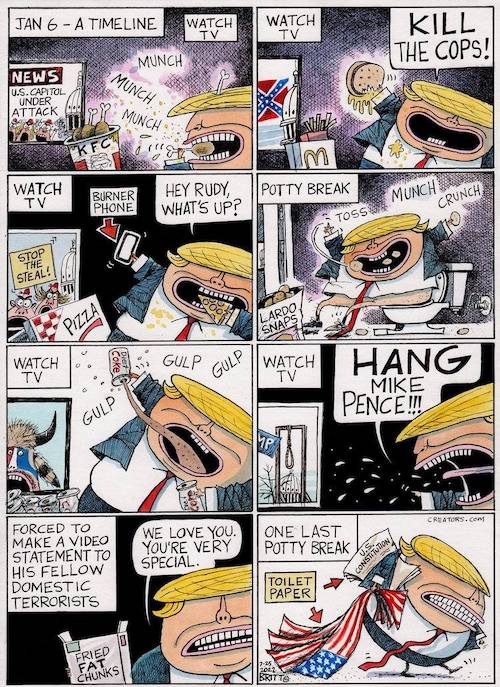 The Political Environment Might Be Improving For Democrats
Nate Silver: When we launched the forecast a month ago, the Deluxe version of FiveThirtyEight's midterm model still rates the battle for control of the Senate as a "toss-up." But within that category there's been modest, but consistent movement toward Democrats. Their chances of winning the Senate now stand at 55 percent. That's up from 47 percent from forecast launch on June 30. It's also up from 40 percent in a retroactive forecast dated back to June 1. https://fivethirtyeight.com/features/the-political-environment-might-be-improving-for-democrats/
Some Republicans fear party is too extreme on abortion and gay rights
Uncompromising positions and loaded rhetoric on key social issues are escalating concerns within GOP circles that the party is moving too far out of sync with popular opinion, projecting new hostility to gay people and potentially alienating women voters in high-stakes races. The Supreme Court's decision overturning Roe v. Wade and ending a nationwide right to abortion last month has spawned strict new bans and stirred fears that gay rights and access to contraception could be next — shifting the focus from other culture-war battles where Republicans felt they had a winning message.

"I feel we're on this sort of seesaw where one party sort of gets the upper hand on social-cultural issues, then they overplay that hand," said Christine Matthews, a moderate Virginia Republican and longtime strategist for GOP candidates. "Republicans have taken things too far." https://www.washingtonpost.com/politics/2022/07/30/republicans-roe-abortion-lgbt/=
Republican nominee for Maryland attorney general hosted 9/11 conspiracy radio shows
Michael Peroutka, the
Republican Party's nominee for Maryland attorney general, hosted a series of five radio shows in 2006 devoted to arguing in support of 9/11 conspiracy theories questioning if the terror attack was the work of an "elite bureaucrat" who had demolition charges in every building in New York City and even suggesting if those who died after a hijacked plane hit the Pentagon were killed elsewhere.
"I've been doing some reading and doing some studying, and I believe that to be very, very true," he added, before further suggesting the work was done by controlled explosives. https://www.cnn.com/2022/07/31/politics/kfile-maryland-attorney-general-9-11-conspiracies/index.html
Concern about abortion explodes among Democrats, fueling a push to vote
Concern about abortion access exploded among Democratic voters as an election issue over the past month, a USA TODAY/Suffolk University Poll found, as the repercussions of the Supreme Court decision overturning Roe v. Wade reverberate.

Sixty-four percent of Democrats say the court's action makes them more likely to vote in November, potentially a crucial factor in midterm elections that traditionally have low turnout. That's more than double the 29% of Democrats who expressed that view in a USA TODAY/Suffolk survey taken in June after a draft of the landmark decision was leaked.  https://www.usatoday.com/story/news/politics/2022/07/31/abortion-issue-explodes-democrats-midterms-poll/10190934002
As Harris touts abortion rights, backers hope she finally hits her stride
In the month since the Supreme Court overturned the constitutional right to abortion, Harris has sought to position herself as her party's leading advocate on the issue. She's sat for televised interviews and met with legislators, legal experts, faith leaders and medical professionals, all while exhorting Democrats to bring their anger to ballot box.

Harris's supporters say her passion for reproductive freedom is organic. She is the first female vice president, and her Black and Asian identity may be particularly resonant given that abortion restrictions disproportionately affect minority women. https://www.washingtonpost.com/politics/2022/07/29/vp-kamala-harris-abortion-rights/The GOP is struggling to gain a foothold in Pennsylvania
Democrats hold the advantage in battleground Pennsylvania, as GOP candidates haven't closed the sale with Republican voters.
In the U.S. Senate race, Democrat John Fetterman holds an 11-point lead over Republican Mehmet Oz, 47%-36%, in a Fox News poll released Thursday. Three percent back independent candidate Everett Stern and 13% support someone else or are undecided.

In the race to replace term-limited Gov. Tom Wolf, Keystone voters back Democrat Josh Shapiro over Republican Doug Mastriano by a 50-40 percent margin. https://www.foxnews.com/official-polls/fox-news-poll-oz-supporters-lack-enthusiasm-pennsylvania-senate-race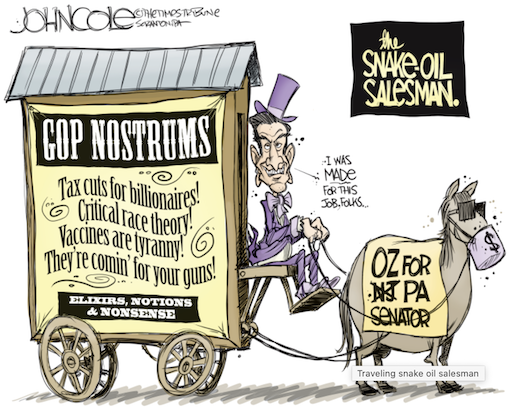 Jan. 6 texts missing for Trump Homeland Security's Wolf and Cuccinelli
Text messages for President Donald Trump's acting homeland security secretary Chad Wolf and acting deputy secretary Ken Cuccinelli are missing for a key period leading up to the Jan. 6, 2021, attack on the U.S. Capitol, according to four people briefed on the matter and internal emails.

This discovery of missing records for the senior-most Homeland Security officials, which has not been previously reported, increases the volume of potential evidence that has vanished regarding the time around the Capitol attack. https://www.washingtonpost.com/nation/2022/07/28/homeland-security-texts-jan6/
Judge: Wisconsin probe found 'absolutely no' election fraud
A Wisconsin judge said that a Republican-ordered, taxpayer-funded investigation into the 2020 election found "absolutely no evidence of election fraud," but did reveal contempt for the state's open records law by Assembly Speaker Robin Vos and a former state Supreme Court justice he hired. https://apnews.com/article/2022-midterm-elections-wisconsin-lawsuits-presidential-16d90c311d35d28b9b5a4024e6fb880c
Josh Hawley is writing book on masculinity.
Missouri U.S. Sen. Josh Hawley is writing a book called "Manhood: The Masculine Virtues Americans Need," building off a speech he gave at a conservative conference claiming the political left is waging a war on masculinity.

The book's announcement comes after Hawley was mocked by the U.S. House committee investigating the Jan. 6, 2021, attack on the U.S. Capitol, which showed a video of him running out of the U.S. Senate chamber as lawmakers, reporters and staff were being evacuated. https://www.kansascity.com/news/politics-government/article263913621.html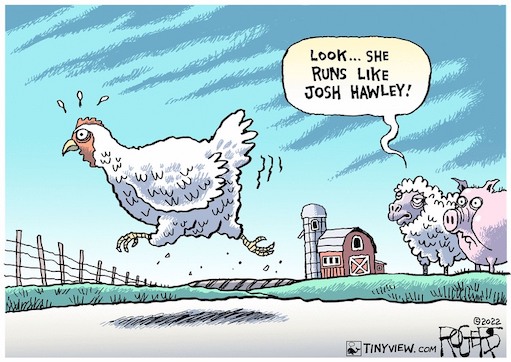 Blindsided veterans erupt in fury after Senate GOP tanks toxic burn pit bill
Blindsided veterans erupted in anger and indignation Thursday after Senate Republicans suddenly tanked a widely supported bipartisan measure that would have expanded medical coverage for millions of combatants exposed to toxic burn pits during their service.
Supporters of the Sergeant First Class Heath Robinson Honoring Our Promise to Address Comprehensive Toxics Act — or PACT Act — overwhelmingly expected the House-passed bill to sail through to the president's desk for signature.

But in a move that shocked and confused veteran groups Wednesday night, 41 Senate Republicans blocked the bill's passage, including 25 who had supported it a month ago. https://www.nbcnews.com/politics/congress/blindsided-veterans-erupt-fury-senate-republicans-suddenly-tank-pact-a-rcna40516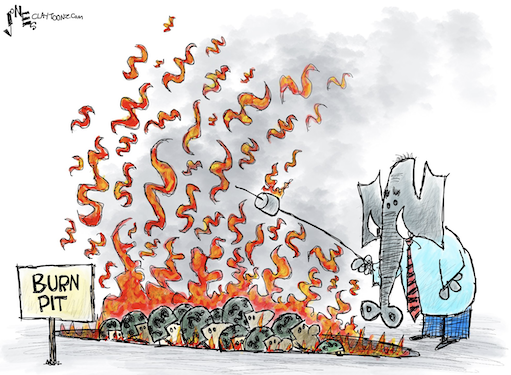 Republicans In Disarray?
The GOP ended the week in a fit of pique. Speaking for many in his party, especially in the Senate, Sen. John Kennedy (R-La.) said this about Democrats unveiling the reconciliation bill right after the Senate passed CHIPS+: "We got our ass kicked. It's just that simple … Looks to me like we got rinky-doo'd. That's a Louisiana word for 'screwed.'" More from Burgess Everett and Olivia Beavers

That fury was followed by House Republicans trying to kill CHIPS+, a tactic they admitted was about the Manchin flip, and Senate Republicans — somewhat inexplicably — filibustering a bipartisan veterans bill, a move they denied had anything to do with Manchin's move.

The White House could hardly believe that Biden's renewed legislative fortunes had driven Republicans — even the normally unflappable McConnell — to make such a self-destructive move. https://www.politico.com/newsletters/playbook/2022/07/29/white-house-to-gop-why-you-trippin-00048684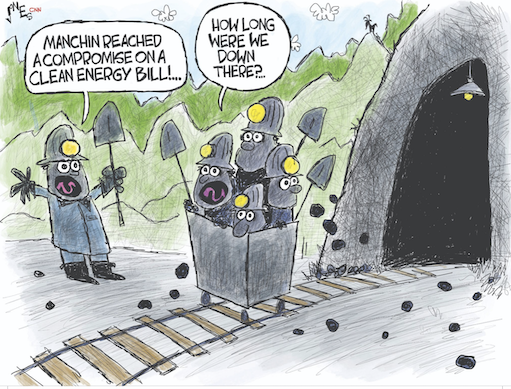 'Fox & Friends' Is Now Begging Trump to Love Them Again
Three days after former President Donald Trump tore into his Fox & Friends pals,  seemingly widening the Fox News-Trump rift, his one-time morning besties have begun to practically beg the ex-president to love them again. https://www.thedailybeast.com/fox-and-friends-is-now-begging-trump-to-love-them-again
First on CNN: Jared Kushner details West Wing 'war' with 'toxic' Steve Bannon in new book
Jared Kushner details his clashes with Steve Bannon in his new book, describing a "toxic" West Wing presence who accused him of "undermining the President's agenda" and threatened to break him "in half" if Kushner turned on him, CNN reports.

The detailed account in the memoir – set to be published next month – provides fresh insight into the pernicious environment inside former President Donald Trump's West Wing. Coming just as the former President gears up for a 2024 campaign, excerpts from the book reveal how viciously the Trump team turned on one another from the earliest days of the administration, and how distrust and resentment affected every aspect of governing. https://www.cnn.com/2022/07/29/politics/jared-kushner-steve-bannon-west-wing/index.html
Wait, Is Biden a Better President Than People Thought?
Suddenly, the mood is looking up. Manchin's surprise decision to back $370 billion in tax credits to stimulate clean-energy technologies and other progressive environmental priorities came after many Democrats had concluded hope was pointless. Assuming the deal survives further legislative maneuvering in coming days — not a forgone conclusion — it invites a reappraisal of Biden's leadership. Maybe that isn't hopeless, either?

Following a pattern with long roots in his career, Biden is looking a little like the student who is failing his class for most of the semester, then pulls an all-nighter and slips the paper under the professor's door at 6 a.m. It turns out the paper is actually pretty good. There's no way he's getting an A for the term, but no fair grader would give him an F, either. A solid B is within reach. https://www.politico.com/news/magazine/2022/07/29/is-biden-better-president-than-people-thought-00048654
Fox News Poll: Georgia's Senate and governor races are tight
A new Fox News poll in Georgia finds Sen. Raphael Warnock (D) leading challenger Herschel Walker (R) by four points, 46% to 42%.

In the gubernatorial race, Gov. Brian Kemp (R) leads challenger Stacey Abrams (D) by three
points, 47% to 44%. https://www.foxnews.com/official-polls/fox-news-poll-georgias-senate-governor-races-tight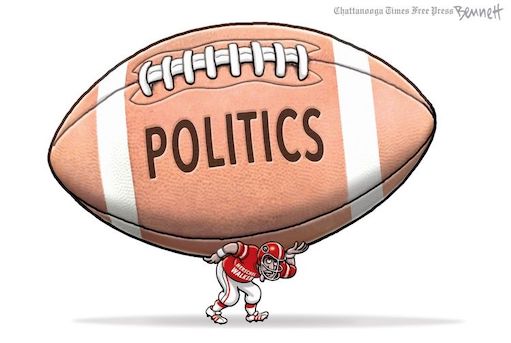 Immigration Shortfall Is an Economic Problem for the U.S
This border crisis has come to dominate media coverage and political debate about immigration in America. All the while, another crisis of the opposite sort is brewing: a broader decline in immigration.

The resulting shortfall in the population is already making it harder for companies to find workers and threatens to do more damage to the economy. But whereas unauthorized border crossings are a perennial controversy, the drop in overall immigration has barely registered in Congress. https://www.economist.com/united-states/2022/07/28/a-shortfall-in-immigration-has-become-an-economic-problem-for-america
Trump uses presidential seal at N.J. golf club amid ethics complaints
Former president Donald Trump was spotted using the presidential seal on multiple items during the LIV Golf tournament at his Bedminster, N.J., golf course.

The seal was plastered on towels, golf carts and other items as the former president participated in the pro-am event of the Saudi-sponsored tournament Thursday.

It is against federal law to use the presidential and vice-presidential seals in ways that could convey "a false impression of sponsorship or approval by the Government of the United States. https://www.washingtonpost.com/politics/2022/07/29/trump-presidential-seal-liv-golf-tournament
Celebrities use private jets excessively. It's a climate nightmare
Popular celebrities are no strangers to being at the top of rankings. But several big names recently found themselves featured on a new list: "Celebs with the Worst Private Jet Co2 Emissions."

Using data from a popular Twitter account that tracks celebrity jet movements based on public information, the report stated that planes affiliated with celebrities emitted an average of more than 3,376 metric tons of CO2 — roughly 480 times more than an average person's annual emissions. https://www.washingtonpost.com/climate-environment/2022/08/02/taylor-swift-kylie-jenner-private-jet-emissions/
The DAILY GRILL
"Jill and I send our thoughts to President Trump and First Lady Melania Trump for a swift recovery. We will continue to pray for the health and safety of the president and his family." — Joe Biden, on Oct 2, 2020. https://twitter.com/joebiden/status/1312010736604979201

VERSUS

"Joe Biden's second bout of Covid, sometimes referred to as the China Virus, was sadly misdiagnosed by his doctors. He instead has Dementia, but is happily recovering well. Joe is thinking of moving, part time, to one of those beautiful Wisconsin Nursing Homes, where almost 100% of the residents miraculously, and for the first time in history, had the strength and energy to vote even if those votes were cast illegally. Get well soon, Joe!" — Donald Trump, on July 31, 2022. https://truthsocial.com/@realDonaldTrump/posts/108742189401812078
Jennifer Rubin: Kansas just gave forced-birth zealots a reason to be very afraid
A political earthquake shook Kansas on Tuesday. Voters in the deep-red state turned out in droves to reject a measure that would have taken abortion protection out of the state constitution. With more than 90 percent of the vote reported, the "no" vote (which would preserve abortion access) led by nearly 20 points as of Wednesday morning.

President Biden put out a rare statement on a state referendum, praising the turnout and result. "Voters in Kansas turned out in record numbers to reject extreme efforts to amend the state constitution to take away a woman's right to choose and open the door for a state-wide ban," he said. "This vote makes clear what we know: the majority of Americans agree that women should have access to abortion and should have the right to make their own health care decisions." He urged Congress to "listen to the will of the American people and restore the protections of Roe as federal law."

This is the first concrete evidence of a major backlash against the Supreme Court's Dobbs decision. Forced-birth advocates in Kansas thought that by putting the measure on a primary ballot, for which turnout is historically lower, conservative voters could dominate. Instead, they drove Democrats and a lot of pro-choice independents and Republicans who might not otherwise vote to the polls.  https://www.washingtonpost.com/opinions/2022/08/03/kansas-abortion-vote-forced-birth-zealots-should-be-afraid/
Peter Wehner: Trump Supporters Think They're in a Fight to the Death
For all the defects Donald Trump has as a politician, he does possess certain skills, among them an almost preternatural ability to tap into the sensibilities—the id—of the American right. More than any other Republican candidate in 2016, Trump was in sync with the base of the party. He still is, as he prepares for what looks like another run for the presidency.
What Trump has done in the eyes of his supporters is to set up a clash of epic, almost biblical proportions: the children of light versus the children of darkness, patriots versus traitors, the decent versus the depraved. In an existential conflict such as this, everything is permissible; nothing is off limits. This is a fight to the death.

Trump tells his supporters that he is all that stands between them and those who want to inflict great pain and grave harm on them.

Trump portrays his opponents as not just misguided but wicked and therefore suitable objects of hate. America's 45th president said, "Despite great outside dangers, our biggest threat in this country remains the sick, sinister, and evil people from within." And this: "We're standing up against some of the most menacing forces and entrenched interests and vicious opponents our people have ever seen or confronted." He described Democratic Representative Adam Schiff as "a sick, evil, very bad human being." The January 6 committee, he said, is made up of "hacks and thugs." He then made this move: "But no matter how big or powerful the corrupt radicals that we're fighting against may be, no matter how menacing they appear, we must never forget this nation does not belong to them. This nation belongs to you, the American people."
Trump might not run for president in 2024—and if he runs, he might not win. Much of Rupert Murdoch's media empire is turning against Trump. And as Sarah Longwell wrote in The Atlantic on Thursday, focus groups of Trump 2020 voters indicate that "the accumulating drama of the January 6 hearings—which they can't avoid in social-media feeds—seems to be facilitating not a wholesale collapse of support, but a soft permission to move on." He may be just a bit too mad even for a MAGA party.
Whether Trump wins or not, he has left an imprint on the Republican Party. In 2016, Trump was the outlier, a political freak. Today his inclinations, his enmities, his style of politics define the GOP. Even the person widely seen right now as the most formidable challenger to Trump, Florida Governor Ron DeSantis, is "diet Trump," in the words of one political strategist.
Whoever leads the Republican Party in the years ahead, the fear, grievances, and hate Trump poured into the cauldron won't dissipate anytime soon. If and when the GOP finally does break away from the dark, fanatical, cultlike qualities that now characterize it, it will do so because the people who compose and define it seek—even if imperfectly—what is true and good and honorable. For the Republican Party, the only way out is the way up. https://www.theatlantic.com/ideas/archive/2022/08/trump-america-first-speech-analysis-gop/671004/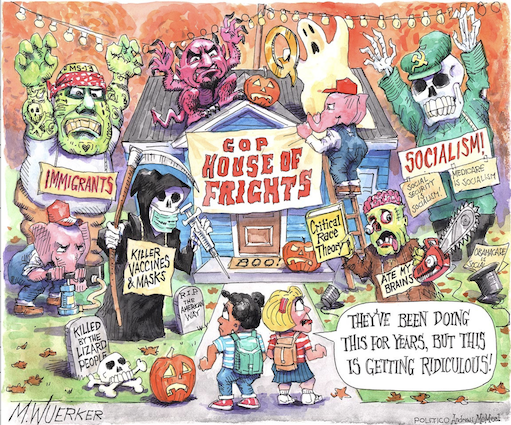 E.J. Dionne Jr.: In a normal year, the GOP should sweep. But 2022 isn't normal.
When it comes to predicting midterm elections, it's difficult to distinguish between insightful nonconformity and wishful thinking.

But, when it comes to issues, the Pew study suggests the decisive question for 2022 is whether Democrats can push the campaign dialogue away from economic performance and toward concerns on which Republicans are at a decided disadvantage.

Yes, on economic policy, voters say they agree more with Republicans than Democrats by 40 percent to 33 percent. Still, this seven-point margin is surprisingly small, given the broader economic mood. Republicans have a five-point advantage on crime, and immigration is a wash, with the GOP holding a one-point lead.

The list of problems on which Democrats have the advantage, according to Pew, is much longer.

Voters prefer Democrats over the GOP by 20 points on both climate policy and issues affecting LGBTQ people; by 14 points on abortion and covid policy; by 13 points on health care and policies affecting race; and by four points on gun policy.

There is also this: While 37 percent of Americans have a very unfavorable view of Biden, 46 percent have a very unfavorable view of Trump. The more Trump is at the center of the conversation, the worse it is for Republicans — and there has been a lot of Trump news lately.

When it comes to the substance of the matter, you can count me as believing that until Republicans break openly and decisively with Trump, putting them in power is profoundly dangerous. But the numbers — especially when it comes to holding their slim House majority — are still daunting for Democrats.

The bottom line: An unhappy country that might otherwise punish the incumbent party really doesn't like the alternative. That's why the campaign ahead will matter. https://www.washingtonpost.com/opinions/2022/07/31/reasons-democrats-might-win-midterms/
Business Retreats and Sanctions Are Crippling the Russian Economy
From SSRN's analysis, it becomes clear: business retreats and sanctions are catastrophically crippling the Russian economy. We tackle a wide range of common misperceptions – and shed light on what is actually going on inside Russia, including: 


Russia's strategic positioning as a commodities exporter has irrevocably deteriorated, as it now deals from a position of weakness with the loss of its erstwhile main markets, and faces steep challenges executing a "pivot to Asia" with non-fungible exports such as piped gas.
Despite some lingering leakiness, Russian imports have largely collapsed, and the country faces stark challenges securing crucial inputs, parts, and technology from hesitant trade partners, leading to widespread supply shortages within its domestic economy.
Despite Putin's delusions of self-sufficiency and import substitution, Russian domestic production has come to a complete standstill with no capacity to replace lost businesses, products and talent; the hollowing out of Russia's domestic innovation and production base has led to soaring prices and consumer angst.
As a result of the business retreat, Russia has lost companies representing ~40% of its GDP, reversing nearly all of three decades' worth of foreign investment and buttressing unprecedented simultaneous capital and population flight in a mass exodus of Russia's economic base.
Putin is resorting to patently unsustainable, dramatic fiscal and monetary intervention to smooth over these structural economic weaknesses, which has already sent his government budget into deficit for the first time in years and drained his foreign reserves even with high energy prices – and Kremlin finances are in much, much more dire straits than conventionally understood.
 Russian domestic financial markets, as an indicator of both present conditions and future outlook, are the worst performing markets in the entire world this year despite strict capital controls, and have priced in sustained, persistent weakness within the economy with liquidity and credit contracting – in addition to Russia being substantively cut off from international financial markets, limiting its ability to tap into pools of capital needed for the revitalization of its crippled economy.
 Looking ahead, there is no path out of economic oblivion for Russia as long as the allied countries remain unified in maintaining and increasing sanctions pressure against Russia, and The Kyiv School of Economics and McFaul-Yermak Working Group have led the way in proposing additional sanctions measures.



Defeatist headlines arguing that Russia's economy has bounced back are simply not factual - the facts are that, by any metric and on any level, the Russian economy is reeling, and now is not the time to step on the brakes. https://papers.ssrn.com/sol3/papers.cfm?abstract_id=4167193
Jonathan Chait: Republicans Say Biden's Plan Taxes the Middle Class. That's False.
Over the weekend, a congressional tax committee analyzed a portion of the tax Inflation Reduction Act Senator Joe Manchin struck with Senator Chuck Schumer and President Biden. Republicans inaccurately claimed the report shows the plan would increase taxes on the middle class. The plan in fact raises taxes only on corporations with an income over $1 billion. It does not raise taxes on individual taxpayers at all.

This false claim immediately began to spread through conservative media. The study, by the Joint Committee on Taxation, "finds that average tax rates will increase for nearly every income category in 2023 under the bill," asserts The Wall Street Journal editorial page. "This gives the lie to Democratic claims that no one earning under $400,000 will pay more taxes under the bill, a promise Mr. Biden also made in his campaign. The reality is that the Schumer-Manchin bill is a tax increase on nearly every American."

Even some neutral media have given this charge respectful treatment. "Biden vowed never to raise taxes on any Americans making less than $400,000 annually," reports the Capitol Hill newsletter Punchbowl. "Yet according to the Joint Committee on Taxation, the Schumer-Manchin bill does just that."

The JCT report simply does not find this at all. The false assertion that Manchin's deal raises taxes on the middle class combines a series of fallacies.

Nor does this analysis vindicate the Republican claim that Biden would be violating his promise not to increase taxes on people earning less than $400,000. Biden campaigned on a promise to increase the corporate tax rate. To pass the plan he openly campaigned on would not break his promise. It would fulfill it. https://nymag.com/intelligencer/2022/08/biden-manchin-raise-taxes-middle-class-400000-campaign-promise-corporations-rich.html