January 12, 2023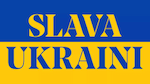 THE WEEK'S BEST QUOTES. . .
"There is no doubt the federal government deep state coordinates with liberal activists and uses politicians and willing media to carry their water… In many cases, they want to wipe out the American cowboy completely, remove public access to our lands and turn Montana into a national park."—
Rep. Ryan Zinke (R-MT)
ranted on the House floor that the "deep state" is attacking the American cowboy and his way of life.
https://www.huffpost.com/entry/ryan-zinke-deep-state-cowboys_n_63bea99be4b0cbfd55ee5f4b
The official House website for
Rep.elect George Santos (R-NY)
claimed he voted "nay" on the House omnibus bill, a vote that took place on December 23, 2022. As the New Republic reports Santos has never voted on anything in Congress — except to elect the next speaker.
https://newrepublic.com/post/169809/george-santos-caught-lying-voting-something-wasnt-congress-for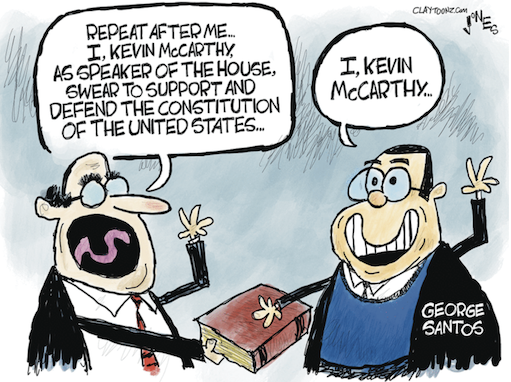 "I call it the McCarthy committee, and I'm not talking about Kevin; I'm talking about Joe. This committee is nothing more than a deranged ploy by the MAGA extremists who have hijacked the Republican Party and now want to use taxpayer money to push their far-right conspiracy nonsense." —
Rep. Jim McGovern (D-MA)
on the new House investigative panel.
https://www.nytimes.com/2023/01/10/us/politics/house-republican-committee-weaponization-government.html
"I'm not at liberty to discuss whether I've seen it or not. —
Rep. Dusty Johnson (R-SD)
on the secret document outlining the deal Speaker Kevin McCarthy (R-CA) made with far-right lawmakers.
https://www.washingtonpost.com/politics/2023/01/10/mccarthy-house-speaker-deal/
"Jair Bolsonaro is in Florida, hanging out with Donald Trump. He's a dangerous man. They should send him back to his home country of Brazil." —
Rep. Joaquin Castro (D-TX)
saying "that ousted Brazilian president Jair Bolsonaro should be extradited from Florida after his radical supporters attacked key government institutions in Brasília following his election loss.
https://www.washingtonpost.com/world/2023/01/08/bolsonaro-supporters-brazil-congress/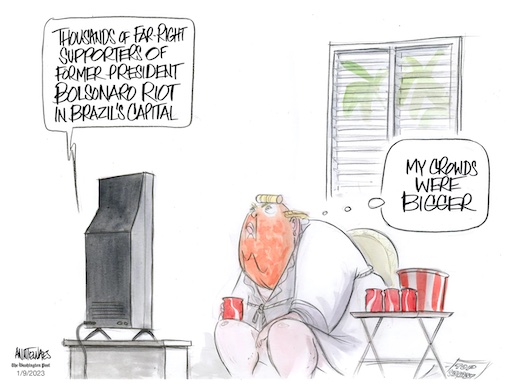 "Just at a human level, I'm sad for him (Donald Trump) to be that needy and desperate. But at a policy level, I always loved that he kept his word on the judges." —
Sen. Ben Sasse (R-NE)
.
https://omaha.com/news/relationship-with-needy-trump-a-complex-part-of-sasse-political-legacy/article_a3541302-8eb1-11ed-988b-6b0d512eb09e.html
"Some really good conversations took place last night, and it's now time for all of our GREAT Republican House Members to VOTE FOR KEVIN, CLOSE THE DEAL, TAKE THE VICTORY, & WATCH CRAZY NANCY PELOSI FLY BACK HOME TO A VERY BROKEN CALIFORNIA,THE ONLY SPEAKER IN U.S. HISTORY TO HAVE LOST THE "HOUSE" TWICE! REPUBLICANS, DO NOT TURN A GREAT TRIUMPH INTO A GIANT & EMBARRASSING DEFEAT. IT'S TIME TO CELEBRATE, YOU DESERVE IT. Kevin McCarthy will do a good job, and maybe even a GREAT JOB - JUST WATCH!" —
Trump
on Truth Socials on Jan 4th.
https://truthsocial.com/@realDonaldTrump/posts/109630978268932397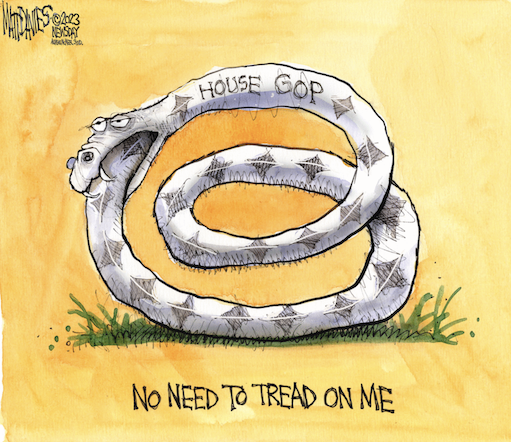 George Santos
posted press release on the official House website citing having taken the oath & being sworn in on January 3, 2023. No members were sworn in then. There was no Speaker of the House.
https://twitter.com/JesseRodriguez/status/1610469744850898946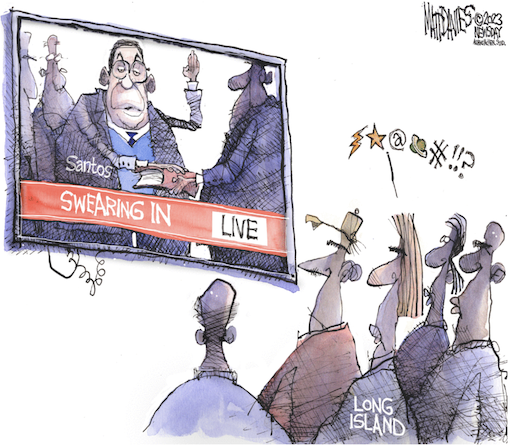 "On one level, the chaos that's presently consuming the GOP is so familiar as to be almost reassuring. Like birdsong announcing the return of spring, the braying of far-right backbenchers heralds a new Republican House majority. The Earth's cycles remain unbroken, the universe's laws unchanged. In reality, however, the Republican civil war represents something new. The party's inability to elect Kevin McCarthy as its Speaker indicates that it is more ungovernable than ever before." —
Eric Levitz
https://nymag.com/intelligencer/2023/01/the-gop-is-more-ungovernable-than-ever-before.html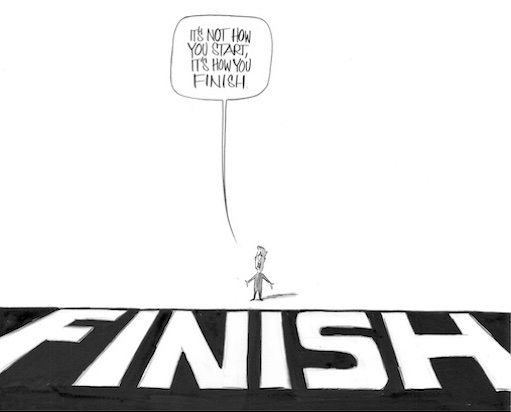 On the second anniversary of the Jan. 6 insurrection,
House Democrats
said the speakership fight waged by 20 House GOP rebels is a sign of how little progress has been made toward unity.
https://twitter.com/axios/status/1611336072146915330
The wife of a Supreme Court justice is a radical insurrectionist. Her husband has refused to recuse himself from any of the cases in which she has been deeply and actively involved. This is a scandal of immense proportions. —
Norm Ornstein
.
https://twitter.com/NormOrnstein/status/1507130939381583877
"Let's be honest. Most of what Congress does is bad. Most of what we do to the country while claiming to do it for the country is bad. These last couple of days are probably the most productive couple of days I've spent in my first two years in Congress." —
Rep. Bob Good (R-VA)
.
https://www.nbcnews.com/politics/congress/house-lawmakers-staffers-cant-function-speaker-f-rcna64540
"If this remains the face of the GOP in 2024 we will get pummeled in the Presidential and Congressional elections. We would have won more seats in 2022 but too many feared the extremes in the GOP even before this."—
Rep. Don Bacon (R-NE)
.
https://twitter.com/Olivia_Beavers/status/1611348587962683393
"I wouldn't piss on them if they are on fire." —
A Republican congressman
referring to the holdouts during the fractious House speaker nominating process.
https://www.washingtonpost.com/politics/2023/01/05/mccarthy-republicans-concessions-speaker/
"This is a body where James Madison, Abraham Lincoln, and Thaddeus Stevens once served. I don't buy the GOP's whole attack on science, but this week definitely casts doubt on the theory of evolution." —
Rep. Jamie Raskin (D-MD)
.
https://twitter.com/jamie_raskin/status/1611592832623443971
"There's no deal you can make with Gaetz. He's essentially bringing 'Lord of the Flies' to the House of Representatives." —
Newt Gingrich
.
https://www.nytimes.com/2023/01/07/us/politics/speaker-mccarthy-gingrich-trump.html
VIDEOS
"I want to especially thank Pres Trump. I don't think anyone should doubt his influence. He was with me from the beginning. … He was all in. … What he's really saying for the party and the country is we have to come together." — Kevin McCarthy. https://twitter.com/RonFilipkowski/status/1611716233992216580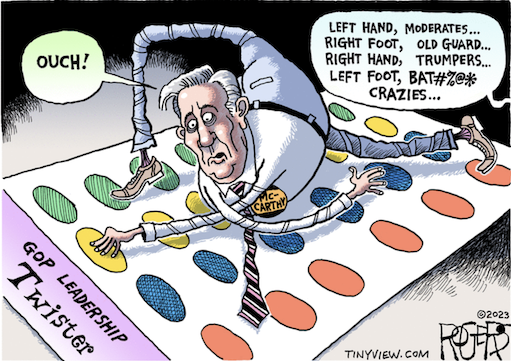 "It's going to be very difficult. Matt Gaetz is a fraud. Every time he voted against Kevin McCarthy last week he sent out a fundraising email. What you saw last week was a constitutional process diminished by those kinds of political actions. I don't support that kind of behavior." — Nancy Mace on working with Marjorie Taylor Greene and Matt Gaetz.. https://twitter.com/atrupar/status/1612114014468808705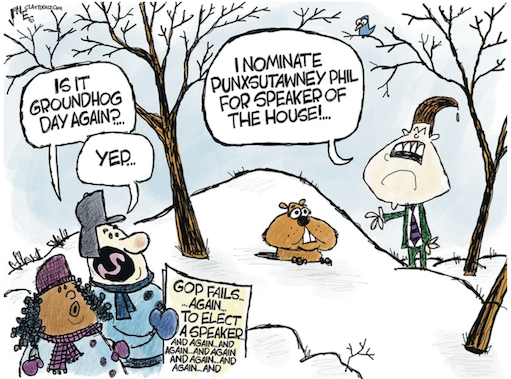 Rep. Matt Gaetz (R-FL) told Fox News that "if Democrats join up to elect a moderate Republican, I will resign from the House of Representatives."  https://twitter.com/RonFilipkowski/status/1611343731621351425
LITIGATION TRACKER
Pending Criminal and Civil Cases Against Donald Trump
. 
https://www.justsecurity.org/75032/litigation-tracker-pending-criminal-and-civil-cases-against-donald-trump/
---
IN THIS ISSUE
IN THE NEWS
OPINION
Andy Borowitz: McCarthy Asks Whatever Joker Hid His Gavel to Give It Back
Kevin McCarthy's tenure as Speaker of the House got off to an awkward start as the California congressman asked "whatever joker" hid his gavel to return it at once.
"O.K., guys, you've had your fun," McCarthy said, his voice barely audible over the derisive hoots of his fellow-Republicans. "I'm going to count to ten, and then I expect to have my gavel back."
"Kev knows how count to ten?" Representative Matt Gaetz asked, after which members of the Freedom Caucus egged him on by chanting, "Gaetz! Gaetz! Gaetz! Gaetz!"
"C'mon, Matt, stop being such an ass," McCarthy retorted.
"I know you are, but what am I?" the Florida congressman shot back.
Seemingly losing his patience, McCarthy leapt from the podium and attempted to throttle Gaetz before the two were separated by congresswomen Lauren Boebert and Marjorie Taylor Greene.
In the scuffle's aftermath, Representative Jim Jordan of Ohio defended whoever hid the Speaker's gavel. "Was today a little messy?" Jordan said. "Yes. But this was democracy at its best." https://www.newyorker.com/humor/borowitz-report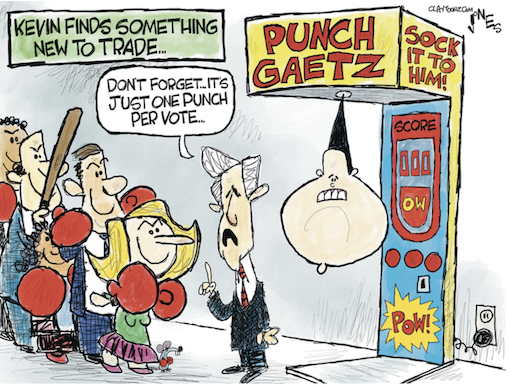 Big Majority of Republicans Still Want Loyalty to Trump
A new CBS News poll found that most Republican voters expect the party to follow Donald Trump's policies and 2020 views, if not the former president himself.

The results indicate 35% of Republicans think party loyalty to Trump is "very important," and another 30% called it "somewhat important." https://www.cbsnews.com/news/cbs-news-poll-inflation-cooperation-and-investigation/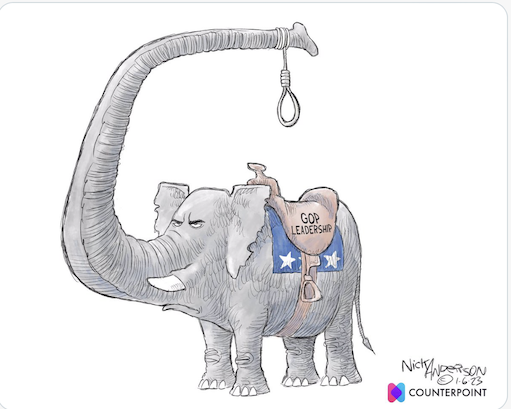 Republicans Signal Cuts To Social Security, Medicare With New House Majority
House Republicans are making clear that they intend to seek cuts to entitlement programs like Social Security and Medicare with their new majority in the 118th Congress. https://www.huffpost.com/entry/social-security-medicare-cuts-republicans_n_63bc41fbe4b0b2e15069b0ae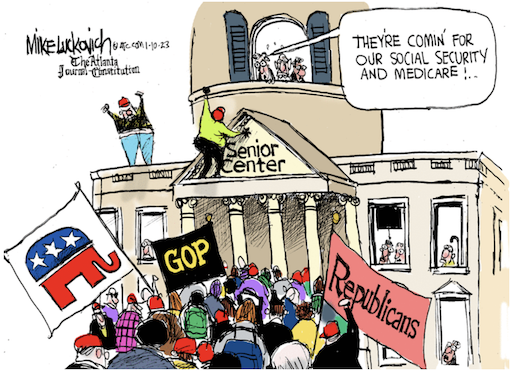 IRS Funding Repeal Could Cost Over $100 Billion, Encourage Tax Cheating
Legislation currently under consideration in the House would rescind most of this new funding, leaving funds that have already been obligated as well as money earmarked exclusively for taxpayer services or business system modernization (but not funding for operational support, which could be used for those purposes). CBO estimates it would rescind roughly $71 billion and result in about $186 billion of lost revenue through 2032. As a result, it would increase deficits by about $114 billion over a decade. https://www.crfb.org/blogs/irs-funding-repeal-could-cost-over-100-billion-encourage-tax-cheating
'We were duped': How George Santos raised money from wealthy GOP donors while lying about his resume
A member of George Santos' political team had a plan to raise money for the Republican congressman's campaign: Impersonate the chief of staff of now House Speaker Kevin McCarthy.
Wealthy donors received calls and emails from a man who said he was Dan Meyer, McCarthy's chief of staff, during the 2020 and 2022 election cycles… His name was actually Sam Miele, and he worked for Santos raising money for his campaign.
The impersonation of the top House Republican's chief of staff adds to an emerging picture of a winning congressional campaign propelled by fabrications and questionable tactics. Santos now finds himself in the sights of investigators and in danger of losing his political career even after he's been sworn into office. In raising money for his campaign, Santos fed donors the same falsehoods he gave voters.
"We were duped," said a Republican political strategist close to GOP donors and the leadership of the Republican Jewish Coalition. https://www.cnbc.com/2023/01/09/george-santos-raised-money-from-wealthy-gop-donors-while-lying-about-his-resume.html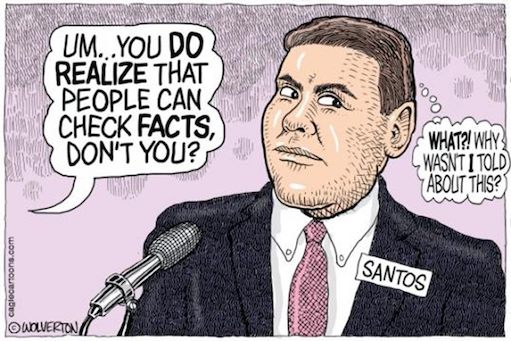 Trump pushes for primary challenges against McConnell and others who 'vote with him'
Donald Trump issued his latest attack against Senate Minority Leader Mitch McConnell (R-KY), encouraging Republicans to pose primary challenges against the Kentucky Republican and any GOP lawmaker who votes with him.
In a Truth Social post on Monday, Trump criticized McConnell for his vote to pass the government omnibus spending bill late last year, repeating previous accusations that the Senate minority leader allowed Democrats to push through several of their agenda items along with the annual budget. Trump also repeated insults he has previously directed at McConnell's wife, former Transportation Secretary Elaine Chao.

"If he waited just ten days, the now 'United Republican Congress' could have made it MUCH BETTER, or KILLED IT. Something is wrong with McConnell, and those Republican Senators that Vote with him. PRIMARY THEM ALL!!!" https://www.washingtonexaminer.com/news/trump-pushes-for-primary-challenges-against-mcconnell
Judge Orders Trump's Deposition Unsealed
A judge has ordered the unsealing of key excerpts of Donald Trump's deposition in E. Jean Carroll's lawsuit against him. https://storage.courtlistener.com/recap/gov.uscourts.nysd.590045/gov.uscourts.nysd.590045.15.2.pdf
A Decade of Global Tumult Likely Ahead
Prepare for Russia's coming crack-up. Plan for a Chinese military assault on Taiwan. Temper the optimism about peak carbon emissions. Brace for the further spread of nuclear weapons. Buckle in for even greater global volatility ahead.

These are just some of the forecasts that emerged this past fall when the Atlantic Council's Scowcroft Center for Strategy and Security surveyed the future, asking leading global strategists and foresight practitioners around the world to answer our most burning questions about the biggest drivers of change over the next ten years. https://www.atlanticcouncil.org/content-series/atlantic-council-strategy-paper-series/welcome-to-2033/
How Trump's allies stoked Brazil Congress attack
Across several episodes of his podcast and in social media posts, Steve Bannon and his guests stoked up allegations of a "stolen election" and shadowy forces. He promoted the hashtag #BrazilianSpring, and continued to encourage opposition even after Mr Bolsonaro himself appeared to accept the results.

Mr. Bannon, the former White House chief strategist, was just one of several key allies of Donald Trump who followed the same strategy used to cast doubt on the results of the 2020 US presidential election.

And like what happened in Washington on 6 January 2021, those false reports and unproven rumors helped fuel a mob that smashed windows and stormed government buildings in an attempt to further their cause. https://www.bbc.com/news/world-us-canada-64206484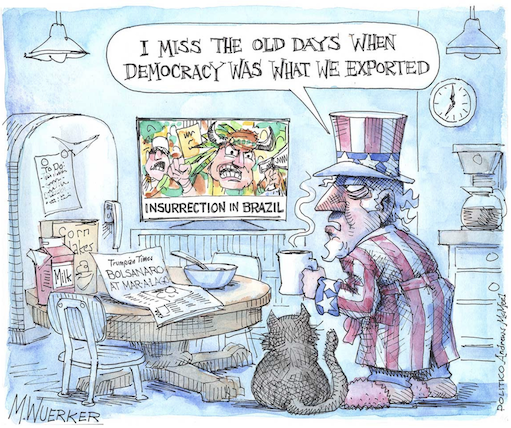 Jim Jordan to Chair New Subcommittee
The new Select Subcommittee on the Weaponization of the Federal Government, is partly a response to revelations from Elon Musk in the internal documents he branded the "Twitter Files."
https://www.axios.com/newsletters/axios-am-893d69bb-2145-46f2-9330-f6266519c386.html
Russia's Wagner group ramping up operations outside of Ukraine, U.S. warns
Top U.S. officials are increasingly tracking the movements and efforts of a Russian private military group outside of Ukraine as Moscow continues to use the organization to launch influence operations in Africa and Europe.

Last month the Biden administration downgraded classified intelligence saying Russia is relying on the Wagner group in Ukraine to recruit prisoners and launch offensives in the city of Bakhmut.

But U.S. officials are also gathering intelligence related to the group's activities in countries such as the Central African Republic, Mali and Serbia, according to cables obtained by POLITICO, where Russia is using Wagner to fight anti-Putin sentiment and defend government mining interests with troops and weapons. https://www.politico.com/news/2023/01/09/russias-wagner-group-ramping-up-operations-outside-of-ukraine-u-s-warns-00076859
Just One House Republican Marked January 6
Rep. Brian Fitzpatrick (R-PA) was the only Republican to attend Democrats' event marking the second anniversary of the Jan. 6 Capitol attack. https://twitter.com/bensiegel/status/1611384730347360262
'Nobody Is in Charge': A Ragged G.O.P. Stumbles Through the Wilderness
From the halls of Congress to the Ohio Statehouse to the back-room dealings of the Republican National Committee, the party is confronting an identity crisis unseen in decades. With no unified legislative agenda, clear leadership or shared vision for the country, Republicans find themselves mired in intra-party warfare, defined by a fringe element that seems more eager to tear down the House than to rebuild the foundation of a political party that has faced disappointment in the past three national elections.
Even as Donald Trump rarely leaves his Florida home in what so far appears to be little more than a Potemkin presidential campaign, Republicans have failed to quell the anti-establishment fervor that accompanied his rise to power. Instead, those tumultuous political forces now threaten to devour the entire party. https://www.nytimes.com/2023/01/05/us/politics/republican-party-leadership.html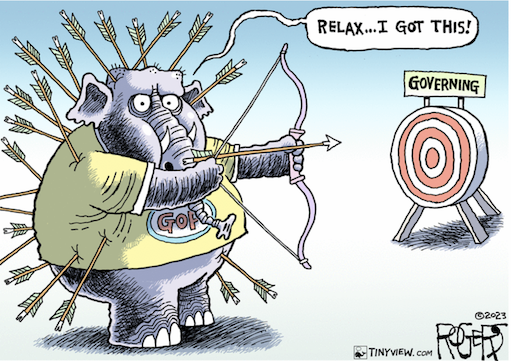 Shootings in Albuquerque share target: elected Democrats
Bullets flew through one home's front door and garage. At another home, three bullets went into the bedroom of a 10-year-old girl in a series of shootings that had at least one thing in common: They all targeted the homes or offices of elected Democratic officials in New Mexico.

The shootings began Dec. 4 when eight rounds were fired at the home of Bernalillo County Commissioner Adriann Barboa. Seven days later, someone fired more than a dozen shots at former Bernalillo County Commissioner Debbie O'Malley's home.
Just this week, multiple shots were fired at the home of state Sen. Linda Lopez — a lead sponsor of a 2021 bill that reversed New Mexico's ban on most abortion procedures — and at the office of state Sen. Moe Maestas, an attorney who co-sponsored a bill last year to set new criminal penalties for threatening state and local judges. It didn't pass. https://apnews.com/article/politics-albuquerque-new-mexico-state-government-831e1d985a1795eea69ac6489f0698e
Michael Flynn restored to Twitter on Jan. 6 anniversary
Former national security adviser Michael Flynn had his Twitter account reinstated on Friday as the United States marked the two-year anniversary of the Jan. 6 insurrection.

Twitter suspended the account of the retired Army lieutenant general two days after the violent assault on the capitol. Flynn had more than 1 million followers at the time and had used the platform to become a top spreader of false information about the 2020 election. Twitter cited its policy against 'coordinated harmful activity' for the suspension. https://www.stripes.com/theaters/us/2023-01-06/michael-flynn-twitter-jan-6-anniversary-8672056.html
Half of Earth's glaciers could melt even if key warming goal is met, study says
A sweeping study of all the world's glaciers outside of the Greenland and the Antarctic ice sheets has found that nearly half of them will melt by century's end, even if the world meets its most ambitious global warming goal.

The study, published Thursday in the journal Science, finds that even with just 1.5 degrees Celsius (2.7 degrees Fahrenheit) of warming above preindustrial levels, some 104,000 of the world's more than 215,000 mountain glaciers and ice caps will melt, raising global sea levels by a little shy of four inches.

A rise of 1.5 degrees Celsius beyond preindustrial temperatures is now extraordinarily difficult to avoid, suggesting that a change of this magnitude may be nearly unstoppable. But with every additional increment of temperature increase, the study finds, the outlook becomes worse.

Human societies rely on these ice masses for water supplies, often heavily, as in the case of the thick glaciers of the high mountains of the Hindu Kush-Himalayan region, sometimes called the planet's third pole. Glaciers in this region feed water into massive river systems including the Indus and Ganges. An estimated 1.9 billion people worldwide depend on glaciers for water, the research notes.

The new study goes beyond prior research in seeking to project the individual fates of all 215,000 or more of the world's catalogued glaciers, and added techniques to account for some of their special attributes. For instance, and especially in the poles, many glaciers flow far outward into the sea and even partially float on its surface. This means they can be melted not only by warm air but also by warming ocean water.

In some mountain areas, meanwhile, some glaciers are covered with dirt and rocky debris — which, if thick enough, can insulate and protect glaciers. But such debris is actually a vulnerability if the layer is thin, since the sun heats darker surfaces faster than would happen with bare, reflective ice.

The new study suggests a greater overall glacier vulnerability than prior work — especially at lower emissions scenarios consistent with a 1.5 to 2 degrees Celsius (2.7 to 3.6 degrees Fahrenheit) temperature goal. At these temperatures, the research suggests, glaciers could have a 14 to 23 percent larger overall contribution to sea level rise than prior studies found. https://www.washingtonpost.com/climate-environment/2023/01/05/glaciers-melt-this-century-warming/
The New York Young Republican Club offered its support to embattled Rep. George Santos (R-NY)
Said club president Gavin Wax: "This is politics. Politics is about power. Democrats and the left understand this, and they circle the wagons against any of their controversial members, whether it's for lying or other things. If he resigned, we would lose the seat. And we will lose the vote. Simple as that."

Wax added that a lot of Santos's fabrications are based on "kernels of truth." https://www.liherald.com/glenhead/stories/a-light-in-the-tunnel-for-george-santos-new-york-young-republicans-club-offer-their-support,157589
Russian state TV celebrates 'brave' Lauren Boebert and Matt Gaetz for undermining Ukraine
Russian state-funded media played clips of Sen. Josh Hawley (R-MO), Rep. Lauren Boebert (R-CO), Rep. Matt Gaetz (R-FL) and Fox News host Tucker Carlson because the conservative personalities oppose additional U.S. aid for Ukraine.
Like many conservatives in the U.S., Russian state television criticized the leader for wearing a sweater and cargo pants.

I didn't go to the speech because I didn't want to be part of a photo op, Hawley said in a video clip included in the report.
A Russian correspondent noted that 86 Republicans refused to attend Zelenskyy's speech
The Russian media report also included a clip of Carson mocking the speech. "They clap like seals," Carlson opined. "So, no matter what the man in cargo pants said, 'Send more money. I command you! Send me more money!'"

The correspondent referred to Boebert and Gaetz as "brave" for attending the speech despite objections to military aid. "Gaetz and Boebert didn't chap the palms of their hands [clapping]," the reporter observed. "They demonstrably remained seated and didn't jump up."
"Until Congress receives a full audit on where our money has already gone, I will not support sending additional money to this war," -- Rep. Boebert: Watch the video clip of Boebert at:
https://www.youtube.com/watch?v=6aBtHnrNUFY&t=2s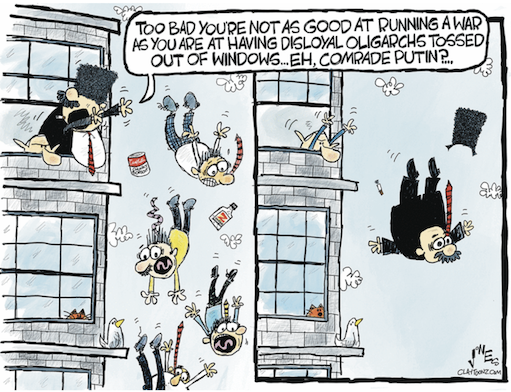 Judge Scolds Trump Legal Team and Lets James's Lawsuit Proceed
A New York judge declined to throw out the state attorney general's civil fraud case against former President Donald Trump, increasing the likelihood that he will face a trial this fall.
https://www.nytimes.com/2023/01/07/us/politics/speaker-mccarthy-gingrich-trump.html
Republicans Who Voted To Overturn The 2020 Election Get Top Committee Posts
Of the 17 members tapped for chair posts, 11 voted to reject the results of the 2020 presidential election. They defended their decision to do this by telling the same lie about widespread voter fraud that just hours earlier had fueled the deadly insurrection at the Capitol and sent these lawmakers into hiding for their lives.

These 11 Republicans are Reps. Glenn Thompson (Pa.) for the agriculture committee, Mike Rogers (Ala.) for armed services, Jodey Arrington (Texas) for budget, Virginia Foxx (N.C.) for education and workforce, Mark Green (Tenn.) for homeland security, Jim Jordan (Ohio) for the judiciary, Roger Williams (Texas) for small business, Sam Graves (Mo.) for transportation and infrastructure, Mike Bost (Ill.) for veterans, Jason Smith (Mo.) for ways and means, and Frank Lucas (Okla.) for science, space and technology. https://www.huffpost.com/entry/house-republican-committee-chairman-overturn-2020-election_n_63bc65cee4b0b2e15069eb74
Biden's Approval Rate Keeps Ticking Up
The latest Economist/YouGov survey finds President Biden's net approval is now positive, 46% to 45%. https://www.economist.com/president-joe-biden-polls
Women can be prosecuted for taking abortion pills, says Alabama attorney general
One week after the federal government made it easier to get abortion pills, Alabama Attorney General Steve Marshall said Tuesday that women in Alabama who use those pills to end pregnancies could be prosecuted.
That's despite wording in Alabama's new Human Life Protection Act that criminalizes abortion providers and prevents its use against the people receiving abortions. Instead, the attorney general's office said Alabama could rely on an older law, one initially designed to protect children from meth lab fumes.
https://www.al.com/news/2023/01/women-can-be-prosecuted-for-taking-abortion-pills-says-alabama-attorney-general.html
Supreme Court lets New York enforce gun law during lawsuit
The Supreme Court is allowing New York to continue to enforce a sweeping new gun law banning guns from 'sensitive places' such as schools and playgrounds for now while a court challenge plays out," the AP reports.

The justices on Wednesday turned away a plea by the law's challengers. The gun owners wanted the high court to lift a federal appeals court order that temporarily put on hold a lower court decision blocking portions of the law. The appeals court hasn't finished its review of the case, and justices are often reluctant to weigh in under those circumstances. The justices could still consider the case and the law more generally in the future. https://apnews.com/article/us-supreme-court-politics-new-york-city-f5dc99fc3c348456beb8b9694948e18e
THE DAILY GRILL
Calling GOP Rep. George Santos a joke, a disgrace, abnormal and a pathological liar, local Republican officials in New York state on Wednesday said the newly elected congressman needed to immediately resign, accusing him of running a campaign of "deceit and lies." https://www.cnbc.com/2023/01/11/watch-live-nassau-county-gop-officials-make-major-announcement-about-embattled-rep-george-santos.html
VERSUS
I was elected to serve the people of #NY03 not the party & politicians, I remain committed to doing that and regret to hear that local officials refuse to work with my office to deliver results to keep our community safe and lower the cost of living. I will NOT resign! — George Santos @Santos4Congress https://twitter.com/Santos4Congress/status/1613234542650982400
Tom Nichols: The GOP Goes Down the Rabbit Hole
The new House Judiciary chair, Jim Jordan, will lead the committee on "weaponization," virtually guaranteeing that its hearings will turn into a festival of prancing nonsense that is unlikely to do very much but enhance Jordan's visibility while he tears into U.S. intelligence and law-enforcement agencies at the expense of American national security. (Jordan has also dropped unsubtle hints that he intends to impeach Joe Biden.)

Meanwhile, Jordan's fellow leader in the Coalition of the Unhinged, Paul Gosar, also tweeted on Saturday that Republicans "will conduct a real investigation into J6. The effort to attempt a coup between traitor Gen. Mark Milley and [Nancy] Pelosi will be reviewed and exposed." This, apparently, is a reference to when Pelosi, as speaker, called Milley, the chair of the Joint Chiefs of Staff, two days after January 6 because she was concerned that Trump might try to start a war as a diversion from his election loss. (She wasn't alone: Trump's secretary of state, Mike Pompeo, among others, reportedly had the same concern. So did I.)

I doubt that most Republicans in Congress actually believe that the most senior military officer in the United States is a traitor. And yet, they all remain quiet—because under the GOP's rules, any one member can move to vacate the speaker's chair and start the whole leadership fiasco all over again, and that includes Gosar, the dentist from Arizona turned conspiracy-obsessed crank who now sits in the People's House. https://www.theatlantic.com/newsletters/archive/2023/01/the-gop-goes-down-the-rabbit-hole/672689/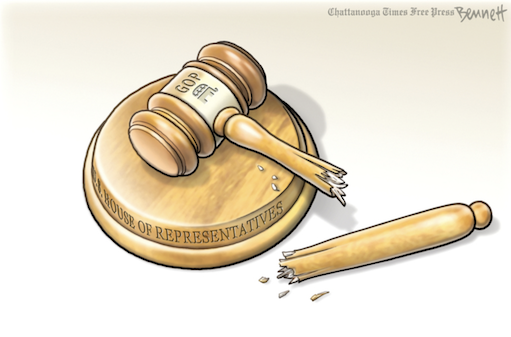 Julia Ioffe: Defense Cuts Will Send House Republicans into Turmoil
There's a number being bandied about in Washington these days, $75 billion. That's the number that McCarthy has promised to slash off the Pentagon budget this year because that's the number by which the Pentagon budget increased last year. But guess what? The reason it increased by that much in 2022 was because of a concession Democrats made to Republicans, who wanted more defense spending, not less. As they say about our lovely Mid-Atlantic, if you don't like the weather, wait half an hour. https://puck.news/kevin-mccarthys-permanent-crisis/
Asha Rangappa: Framing Hunter Biden
If you're like me, the phrase 'Hunter Biden's Laptop' provokes a peculiar physiological response: My eyes glaze over, I get sort of sleepy, and my mind starts looking for something practical to think about, like my week's grocery list. The phrase has come to mean everything and nothing — the person uttering it probably can't tell you exactly what they are alleging, only that it is very, very illegal. It kind of reminds me of 'Whitewater' back in the 90s. Be honest Gen Xers, if someone were to ask you, right now, to explain Whitewater in three sentences, could you do it? I think most people couldn't; I know for me the phrase is really just a lot of random word association. e.g., Whitewater/Clintons/land deal/suicide (remember Vince Foster??) that is shorthand for some vague criminality no one can articulate. And that's the point.

Unfortunately, with the Republicans in control of the House — and in particular the capitulation of power to the extreme MAGA contingent — we can expect there to be endless hearings centered around Hunter Biden's Laptop. Which means it behooves us to understand what, exactly, it is really about.  https://asharangappa.substack.com/p/framing-hunter-biden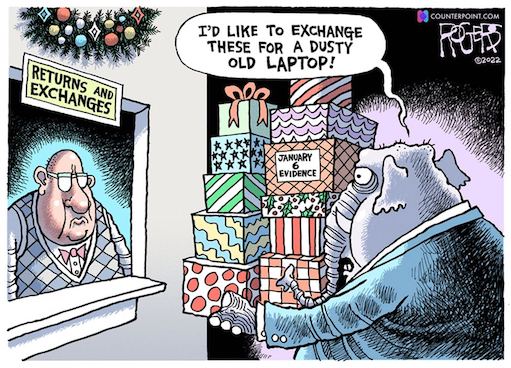 Richard H. Pildes: Why the Fringiest Fringe of the G.O.P. Now Has So Much Power Over the Party
For the first time in nearly a century, we have witnessed the stunning spectacle of a Republican Party so fractured it has struggled in multiple rounds of balloting to choose a speaker of the House. This Washington drama reflects larger structural forces that are changing American democracy.

That the simple first act of a new House — the majority party choosing a speaker — is so fraught exemplifies the difficulties that political parties now face in being able to manage themselves, let alone govern. Even Mr. McCarthy's concessions to his hard-core opponents in his party made little difference. Either because of personal dislike and distrust, or because they want to demonstrate their power to take down a potential speaker, they maintained their defiance.This particular battle is one sign of the new world of political fragmentation now confronting nearly all democracies. Political fragmentation is the dispersion of political power into so many different hands and centers of power that governing effectively becomes far more difficult.

Economic and cultural conflicts drive this fragmentation, but it has been enabled by the communications revolution. In the proportional-representation systems of Western Europe, the traditionally dominant large political parties have splintered into a kaleidoscope of smaller parties. In the United States, the two major parties have been internally split, with leadership having less capacity to overcome those divisions.

As Mr. McCarthy's bid for speaker highlights, the incentives for opposition and the ease of mobilizing it — for policy as well as party control — have become enhanced. Marshaling collective power has always been more difficult, but it remains the essential component for delivering effective government. The emerging forces of fragmentation will continue to bedevil the leaders of both political parties, as they do parties throughout democracies today. https://www.nytimes.com/2023/01/05/opinion/kevin-mccarthy-republican-speaker.html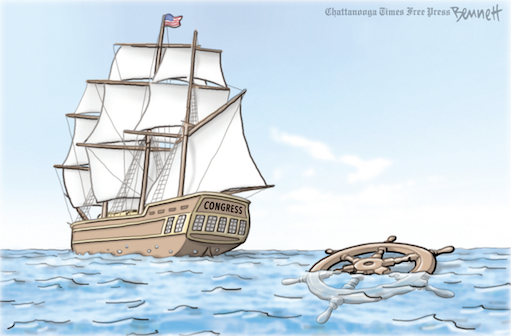 Bess Levin: A Comprehensive Guide To Why A Ron Desantis Presidency Would Be As Terrifying As A Trump One
Ron DeSantis has not (yet) said if he will run for president in 2024, but with approximately two years to go until the election, and with the caveat that about a zillion things can change between now and then, his candidacy appears to be a forgone conclusion. That prospect is exciting to a number of people—namely, his record-setting pack of billionaire donors—but, as it turns out, having the support of, say, Elon Musk does not mean someone should be president. In fact, it's probably a good indication someone definitely should not be president, and when it comes to DeSantis, that is most certainly the case.

But wait, you say: Wouldn't DeSantis be a hell of a lot more preferable to send to the White House than Donald Trump? Shouldn't we be happy about the fact that, at the very least, he doesn't seem like the type of guy who would Sharpie over a hurricane map to cover his own ass or force people to think about what he gets up to in the bathroom? And the answer is no! We shouldn't be!

To be clear, this is not an argument in favor of giving Trump, who announced in November that he will run for a third time, a second term; that man should be legally prohibited from coming within 1,000 feet of the Oval Office and it would clearly be a boon for humanity if he was never heard from or seen again. Rather, it's an argument that DeSantis—who some recent polls show thrashing Trump in a theoretical GOP primary—would be no better and it would be great if people could avoid giving him the top job in Washington, too.

What, exactly, is there to dislike about the guy? Wellllll:
He thinks it's okay to treat human beings like chattel
He's dangerously anti-science
He's waging a war on trans people
"Don't Say Gay"
He's a massive bully
He's antiabortion
He saw "no need" for the Respect for Marriage Act
He has no interest in preventing gun violence
He's an awful person and has been for many years
A former college teammate, who simultaneously praised DeSantis's intelligence, described him thusly: "Ron is the most selfish person I have ever interacted with. He has always loved embarrassing and humiliating people. I'm speaking for others—he was the biggest dick we knew." We'll repeat that for emphasis: "He has always loved embarrassing and humiliating people." Great qualities to have in an elected official! https://www.vanityfair.com/news/2022/12/ron-desantis-just-as-bad-as-donald-trump-2024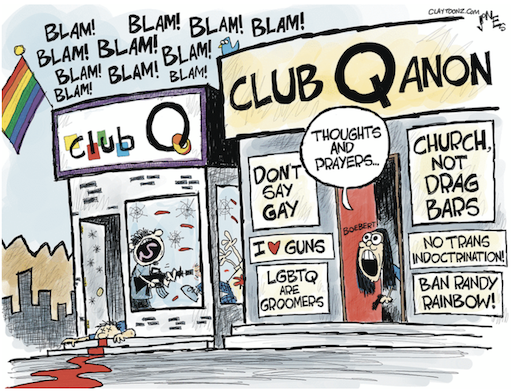 Amanda Marcotte: McCarthy debacle comes with a lesson: There's a downside to being a party of fascist trolls
Calling Republican renegades "ultraconservative" doesn't cut it: This clown show is a symptom of the big F.
It's been entertaining, in a dark sort of way, watching the mainstream media try to explain what is fueling the conflict between Rep. Kevin McCarthy, the House Republicans' supposed leader, and the 20 or so members of his own caucus who are preventing him from becoming House speaker. The New York Times called the anti-McCarthy faction "ultraconservative" and the Washington Post noted that most are full-on election deniers. Not only are these euphemisms for what they actually are — a bunch of fascists — it also falsely implies that the disagreement is ideological. It's not. McCarthy is in full agreement with the anti-democratic views of this group. He was among the 147 House Republicans who voted to overturn the 2020 election in the immediate aftermath of the Capitol attack. While McCarthy was initially cranky about the violence of Jan. 6, 2021, he has done everything in his power to shield the powerful conspirators who incited it, including Donald Trump himself, from any accountability.
There's no real daylight between the foaming-at-the-mouth fascists and McCarthy, much less other GOP leaders like Rep. Elise Stefanik of New York, a shameless coup booster and reborn Trump loyalist, and Rep. Steve Scalise of Louisiana, who once described himself as "David Duke without the baggage." Recognizing this, some political observers have started describing the fight as "personal," as if the anti-Kevins just don't like the guy. But that's not plausible either, since the common factor uniting the 20 or 21 holdouts is not personality type but the fact that they come from safe seats in deep-red districts. These folks are far more worried about losing a primary to someone who runs on a more-fascist-than-thou platform than about losing to a Democrat. https://www.salon.com/2023/01/05/mccarthy-debacle-comes-with-a-lesson-theres-a-downside-to-being-a-party-of-fascist/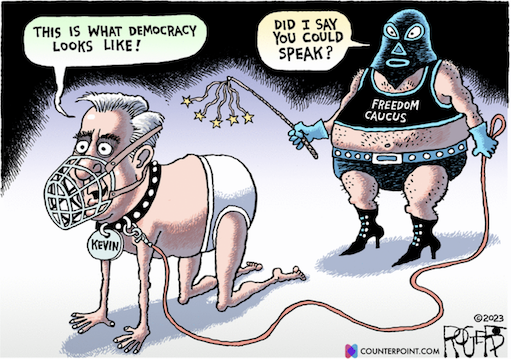 Heather Digby Parton: House sh**show has a message for America: GOP can't govern and doesn't want to
The Trump era has, understandably, led to a nonstop and frustrating debate over what exactly "fascism" is. I favor the famous 1995 essay by Italian philosopher Umberto Eco, who argued that fascism is a movement of "rigid discombobulation, a structured confusion," replete with contradictions and incoherencies, and yet that "emotionally it was firmly fastened to some archetypal foundations."
In other words, fascism is about vibes more than fleshed-out ideas. Very, very authoritarian vibes. One big reason we can identify Republicans as fascist now is because while their appetite for power knows no end, their willingness to govern — that is, to use power to achieve substantive ends — has diminished to nothing. It's all vibes and no ideas, beyond an inchoate loathing of anyone they deem too dark-skinned, too queer or too literate to be truly American.

In his "Ur-Fascism" essay, Eco laid out 14 features of fascism, which add up not to a coherent political philosophy so much as a series of antisocial impulses. It's worth reading in its entirety, but the McCarthy debacle illustrates some of Eco's most important observations: Fascism is deliberately irrational. Indeed, it makes a fetish of irrationality. It's a "cult of action for action's sake" that believes thinking before acting "is a form of emasculation." The fascist believes that "life is permanent warfare" and therefore there must always be an enemy to struggle against. That's why fascists love conspiracy theories. Their "followers must feel besieged," and since they have no real oppressors to rail against, they make up imaginary ones.

After Trump's coup failed and the red wave of the midterms didn't materialize, Republicans are turning on each other. Even healthy political parties tend to have periods of recrimination after suffering bitter defeats. For the dysfunctional Republicans, however, this anger is being refracted through their increasingly fascist worldview, which is paranoid, irrational and hostile to democracy. That's why the demands made by the anti-McCarthy faction are incomprehensible and seem to change by the hour. The mentality that "life is permanent warfare" leads to the party's desire to constantly purify itself of the enemy within, in this case the despised "RINOs." But as more and more RINOs get purged, the definition becomes more expansive and maintaining party purity becomes almost impossible. Eventually, craven sycophants like McCarthy are rechristened as RINOs and thrown overboard. There is no endpoint where the party has finally cleansed itself.
Watching Republicans tear each other apart like this isn't just entertaining, but also useful. Fascists are always itching for a fight. Under Trump, that energy was directed outwardly at their perceived enemies: Democrats, liberal "elites," immigrants, LGBTQ people and eventually democracy itself. But as this House leadership fight has shown, fascists will also turn on each other like a bunch of weasels in a sack. With any luck, they tear themselves apart before they can tear democracy down. https://www.salon.com/2023/01/05/mccarthy-debacle-comes-with-a-lesson-theres-a-downside-to-being-a-party-of-fascist/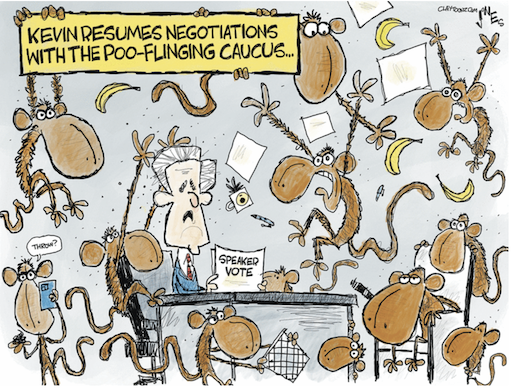 Dan Balz: Kevin McCarthy, a divided Republican Party and the curse of Jan. 6
The antigovernment nihilists in the Republican Party are empowered now.

McCarthy has shown no backbone in pushing back, only a willingness to be run over to claim a title. He has empowered Rep. Marjorie Taylor Greene of Georgia, who lost her committee assignments when Democrats controlled the House for incendiary and antisemitic comments and was consistently in support of his speakership candidacy all week.He had to grapple with Rep. Matt Gaetz of Florida, who reportedly sought a preemptive pardon from Trump. His allies had to negotiate with Rep. Scott Perry of Pennsylvania, who pushed to install the controversial Jeffrey Clark as attorney general in the waning days of the Trump administration. He faced a holdout from Rep. Lauren Boebert of Colorado, who barely won her reelection and is on the far fringe of her party, until she finally voted "present" to ease his route to victory.

McCarthy has no doubt learned some things from what happened this week. Whether they are the right lessons in the aftermath of Jan. 6, 2021, and the midterm elections last November, will only become clear in the months ahead. The opening days of the 118th Congress leave little room for optimism that such is the case. https://www.washingtonpost.com/politics/2023/01/07/jan-6-kevin-mccarthy-house-speaker/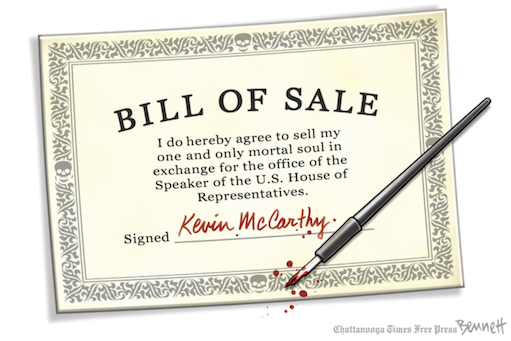 Steven Levitsky and Lucan Way: America's Coming Age of Instability
The United States appears headed toward endemic regime instability. Such a scenario would be marked by frequent constitutional crises, including contested or stolen elections and severe conflict between presidents and Congress (such as impeachments and executive efforts to bypass Congress), the judiciary (such as efforts to purge or pack the courts), and state governments (such as intense battles over voting rights and the administration of elections).
The United States would likely shift back and forth between periods of dysfunctional democracy and periods of competitive authoritarian rule during which incumbents abuse state power, tolerate or encourage violent extremism, and tilt the electoral playing field against their rivals.

In this sense, American politics may come to resemble not Russia but its neighbor Ukraine, which has oscillated for decades between democracy and competitive authoritarianism, depending on which partisan forces controlled the executive. For the foreseeable future, U.S. presidential elections will involve not simply a choice between competing sets of policies but rather a more fundamental choice over whether the country will be democratic or authoritarian. https://www.foreignaffairs.com/articles/united-states/2022-01-20/americas-coming-age-instability