August 24, 2023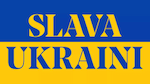 To subscribe to this FREE weekly newsletter simply email jellison@san.rr.com with "subscribe" as the subject.
LITIGATION TRACKER
Pending Criminal and Civil Cases Against Donald Trump

.

https://www.justsecurity.org/75032/litigation-tracker-pending-criminal-and-civil-cases-against-donald-trum

Read the third indictment against former Donald Trump at: https://www.washingtonpost.com/documents/8a7503af-fde7-4061-818c-7d7e0ee06036.pdf

Read the Fulton County, Ga. indictment of former President Trump, Rudy Giuliani and others at: https://s3.documentcloud.org/documents/23909553/read-trump-indictment-in-fulton-county-georgia-probe.pdf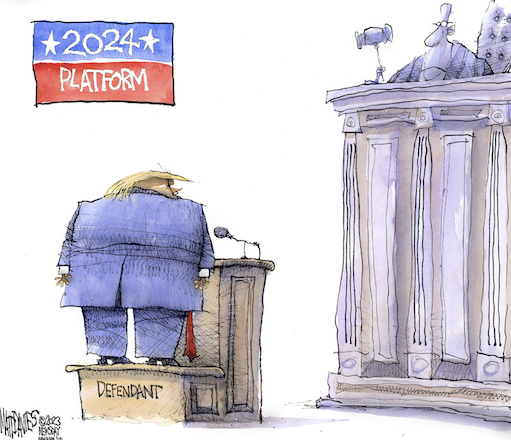 THE WEEK'S BEST QUOTES. . .
"Why doesn't Fox and Friends show all of the Polls where I am beating Biden, by a lot. They just won't do it! Also, they purposely show the absolutely worst pictures of me, especially the big 'orange' one with my chin pulled way back. They think they are getting away with something, they're not. Just like 2016 all over again… And then they want me to debate!" — Trump on Truth Social.
https://truthsocial.com/@realDonaldTrump/posts/110904845212218957
"I struggled with pornography and being exposed to it at a young age. Of course, that leads to, you know, sexual sin, masturbation and stuff. And so, that was a chronic habit that I had that just became a bad habit."— Pennsylvania congressional candidate Mark Houck (R), quoted by Politico on his "sexual sin."
https://www.politico.com/newsletters/huddle/2023/08/18/a-gop-challengers-frank-talk-about-sexual-sin-00111808
"To go after the president for the conduct of his son — who is obviously grappling with issues of addiction — I think says more about the Republican Party than it does about Joe Biden."  — Democratic Rep. Adam Schiff.
https://decider.com/2023/08/15/the-view-adam-schiff-hunter-biden-plea-deal-reaction-says-more-about-republicans/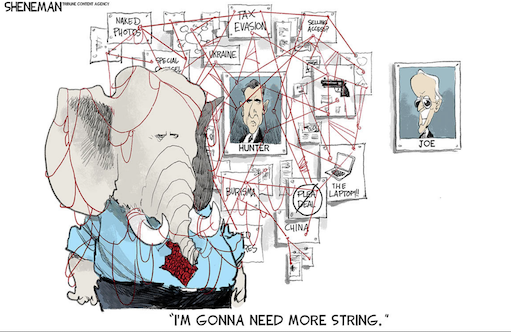 "I think Rudy is going to get destroyed by this. It's sad but true." — John Dean, the White House counsel to former President Nixon, predicted a grim fate for former New York City mayor and Trump ally Rudy Giuliani, who faces mounting legal fees in addition to what Dean said looks like an 'overwhelming' case in Georgia and unresolved issues at the federal level.
https://thehill.com/regulation/court-battles/4156688-john-dean-on-giuliani-in-georgia-indictment-rudy-is-going-to-get-destroyed-by-this/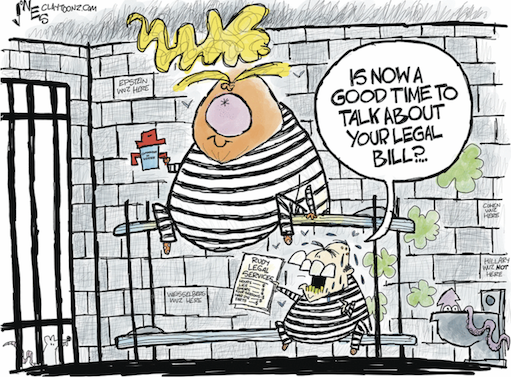 Lindsey Graham has endorsed Trump's presidential candidacy! Which is to say, despite all his crocodile tears about preserving norms, he believes Trump's scheme to install himself as an unelected autocrat should not be punished at all but rewarded." -- Jonathan Chait, https://nymag.com/intelligencer/2023/08/fani-willis-trump-indictment-georgia-lindsey-graham-prosecute-criminalize.html

"I do believe that Doug is probably the most normal of these — that's a pretty weird group of folks going to be on the debate stage. Doug's a pretty good guy, but he's trapped in a Republican Party with no ideas." — Minnesota Gov. Tim Walz (D) on North Dakota Gov. Doug Bergum (R). https://www.politico.com/news/2023/08/20/doug-burgum-most-normal-guy-gop-primary-00111998
Sen. Mike Lee (R-UT) spent the weekend amplifying unfounded allegations by conspiracy theorist Alex Jones' InfoWars that the President Joe Biden administration was preparing to impose new Covid-related lockdowns this fall. https://twitter.com/BasedMikeLee/status/1692773970691473463
VIDEOS ...
"Russian president Vladimir Putin "would have never gone into Ukraine" if he was still president … because "I was the apple of his eye." — Donald Trump. https://twitter.com/justinbaragona/status/1692633948856394121

Indictment Requiem. In a searing new satirical video, The Lincoln Project likens Donald Trump's numerous criminal indictments to a 1990s-style compilation album. https://www.youtube.com/watch?v=tMRxo_LV7K0

"Hey you stupid slave… You are in our sights, we want to kill you… If Trump doesn't get elected in 2024, we are coming to kill you, so tread lightly."  —  A Texas woman has charged with threatening the federal judge overseeing the criminal case in Washington that accuses former President Donald Trump of conspiring to overturn the 2020 election results. https://news.bloomberglaw.com/us-law-week/federal-judge-overseeing-trump-d-c-criminal-case-threatened

"What is the downside for humoring him for this little bit of time? No one seriously thinks the results will change. He went golfing this weekend. It's not like he's plotting how to prevent Joe Biden from taking power on Jan. 20. He's tweeting about filing some lawsuits, those lawsuits will fail, then he'll tweet some more about how the election was stolen, and then he'll leave."— A White House official, quoted by the Washington Post on November 10, 2020. https://www.washingtonpost.com/politics/2020/11/10/whats-downside-humoring-him-gop-officials-unintentionally-revealing-quote-about-trump-era/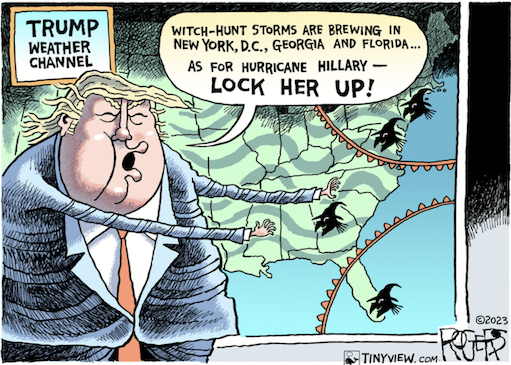 ---
IN THIS ISSUE
IN THE NEWS
OPINION
Andy Borowitz: Millions Expected to Watch World Lying Championship
Millions are expected to watch two legendary prevaricators face off for the world lying championship this Wednesday night.
The event is being characterized in some quarters as a generational struggle, as a fifty-four-year-old upstart seeks to wrest the crown of mendacity from an aging but still dangerous seventy-seven-year-old.

Those who favor the younger man's chances in this battle of whoppers point to his role in the Dominion Voting Systems defamation lawsuit, which resulted in a payout of $787.5 million, dwarfing the three million dollars the older man was obliged to pay for defaming E. Jean Carroll.
But, according to the renowned promoter Don King, the chance of an upset is precisely what will attract millions of eyeballs on Wednesday night. For lying fans, this is Ali vs. Frazier, he declared.
https://www.newyorker.com/humor/borowitz-report
House Freedom Caucus fires warning shot over government shutdown
Members of the House Freedom Caucus are making it harder for leadership to avoid a government shutdown, announcing on Monday that they'll oppose a stopgap funding bill unless it caves to their terms. https://www.axios.com/2023/08/21/freedom-caucus-government-shutdown-border

Trump Supporters Trust Him More Than Their Own Families

The latest CBS News/YouGov poll finds that Donald Trump's supporters trust him more than religious leaders, more than conservative media figures and even more than their own friends and families.

The question wasn't about a specific issue or event. It wasn't about Trump's legal problems.

It was simply about whether they believed Trump told the truth.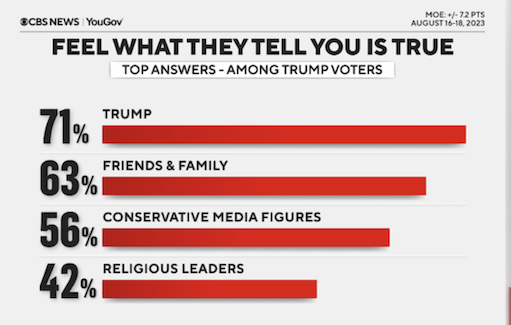 If you've had a hard time understanding the level of devotion Trump has among his followers, this poll isn't going to help much.
It's truly astounding. https://www.msn.com/en-us/news/politics/poll-finds-trumps-big-lead-grows-as-gop-voters-dismiss-indictments/ar-AA1fwmKd
Trump vows massive new tariffs if elected, risking global economic war
Even in the face of growing personal legal peril, Donald Trump summoned his top economic advisers to his private golf club in New Jersey for a two-hour dinner last Wednesday night to map out a trade-focused economic plan for his presidential bid.
Trump and top aides — including former senior White House officials Larry Kudlow and Brooke Rollins, as well as outside advisers Stephen Moore and former House speaker Newt Gingrich — spent the dinner discussing how Trump could attack President Biden in the 2024 election on the economy, amid a recent spate of positive economic news that has buoyed Biden's fortunes.

Among the ideas they discussed was Trump's plan to enact a 'universal baseline tariff' on virtually all imports to the United States. https://www.washingtonpost.com/business/2023/08/22/trump-trade-tariffs/
Donald Trump arraignment oddsmakers offer bets on how much he will weigh at Georgia booking.
Oddsmakers are offering bets on how much Donald Trump will weigh at his booking at the Fulton County jail on Thursday.
One bookmaker has set the over/under on Trump's weight at 273.5 pounds and 77% of gamblers have taken the over. https://www.dailymail.co.uk/news/article-12422135/Donald-Trump-arraignment-betting-odds.html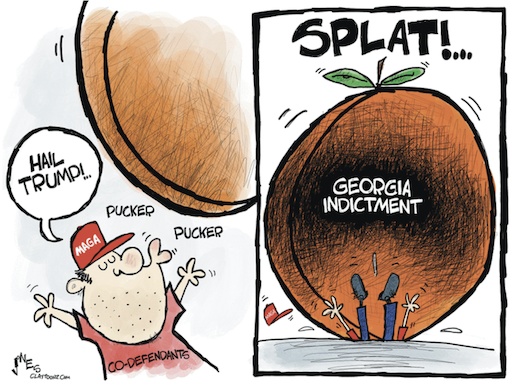 KFF Poll: Republicans More Likely to Believe Health Misinformation
Overall, KFF found that about two-thirds of Democrats didn't believe any of the false claims about covid-19 or vaccines. Only about a quarter of Republicans — and not many more independents — fell into the same category.
KFF also asked about other health-related subjects, including gun violence. Again, Republicans were more likely than Democrats to believe false claims about gun violence. In this case, independents landed closer to the middle. https://www.washingtonpost.com/politics/2023/08/22/republicans-vaccines-polls/
Most Republicans Would Back Trump If He Were in Prison
A new 
Morning Consult poll
finds 61% of potential Republican primary voters said they would still be willing to back Donald Trump — both in the primary and general election — if he were imprisoned.
The South Carolina Supreme Court ruled Wednesday the state's new six-week abortion ban is constitutional, allowing the law to go into effect.
The 4-to-1 ruling comes after a new justice was elected and the General Assembly rewrote a previous six-week law. Earlier this year, the previous iteration of the court had ruled 3-2 against a different version of a six-week abortion ban, saying at the time that it violated a woman's constitutional right to privacy.
The South Carolina Supreme Court, made up of five male justices, in June heard oral arguments over whether a revived six-week abortion ban in South Carolina violates a woman's right to privacy under the state's constitution. Before Wednesday's decision, the state's 20-week abortion law was in place, making South Carolina an unlikely abortion destination in the Southeast. https://www.thestate.com/news/politics-government/article278521399.html
Kevin McCarthy Threatens Impeachment Inquiry Over Biden Bank Statements
House Speaker Kevin McCarthy (R-Calif.) said Tuesday that Republicans would open an impeachment inquiry against President Joe Biden next month if he doesn't hand over personal records.
By framing the impeachment question as a battle over documents rather than bribery and corruption, McCarthy may be trying to sidestep the fact that the main Republican allegation against President Biden ― that he took a Ukrainian bribe when he was vice president ― remains completely unfounded.  https://www.huffpost.com/entry/rudy-giuliani-ukraine-joe-biden-republican-allegations_n_64ac706ce4b07252cc136a80
Trump's Georgia allies search for ways to punish Fani Willis
Several Republican lawmakers are seeking ways to sanction Fulton County District Attorney Fani Willis after she brought criminal charges against former President Donald Trump and 18 allies, the Atlanta Journal Constitution reports.
Trump backers are going after Willis using a new state law approved by Gov. Brian Kemp that creates a state commission with power to sanction or oust prosecutors found to be neglecting their duties or responsible for an array of other violations. https://www.ajc.com/politics/trumps-georgia-allies-search-for-ways-to-punish-fani-willis/LYUKIOKBJJBMBAXFD3JCWO2ZTQ/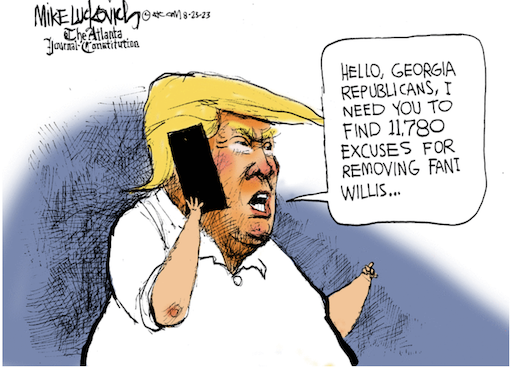 Most Iowa GOP Caucus Voters Think Trump Won
A majority of voters likely to attend the Iowa Republican caucuses believe that Donald Trump won the 2020 presidential election over Joe Biden, a new Des Moines Register/NBC News/Mediacom Iowa Poll.
Asked whether you believe or not believe Donald Trump's claims he won the 2020 presidential election, 51% of likely Republican caucusgoers say they believe them, 41% do not and 8% are unsure.  https://www.desmoinesregister.com/story/news/politics/iowa-poll/caucus/2023/08/22/most-iowa-likely-republican-caucusgoers-think-donald-trump-won-in-2020-election-iowa-poll-finds-gop/70614742007/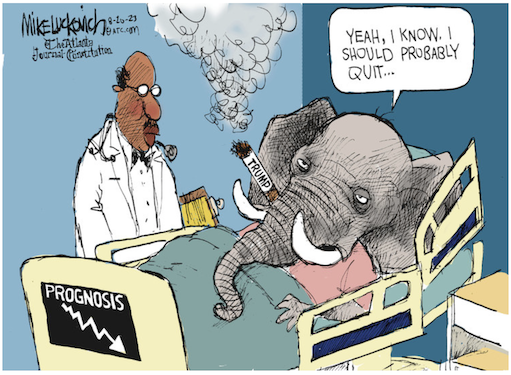 Most Republicans Would Back Trump If He Were in Prison
A new 
Morning Consult poll
finds 61% of potential Republican primary voters said they would still be willing to back Donald Trump — both in the primary and general election — if he were imprisoned.
Inside Trump's New Plan to Limit Immigration
Donald Trump wants unprecedented restrictions on immigration and the border if he's elected in 2024 — such as screening prospective immigrants for Marxist ideologies and a naval blockade to target drug smugglers.
As president, Trump built part of a border wall, began stringent wealth and health tests for prospective immigrants and limited asylum. His 2025 plan would go much further — potentially making it tougher for millions of foreigners to enter or stay in the U.S.

Trump's plan would involve waves of harsh new policies — and dust off old ones that rarely have been enforced, if ever. https://www.axios.com/2023/08/21/trump-immigration-border-mexico-cartels-2024-election
Trump and his allies double down on election lies after indictments for trying to undo 2020 results
A federal indictment and one in Georgia charging Donald Trump with lying about the 2020 election to overturn President Joe Biden's win have done nothing to slow the geyser of election falsehoods flowing from the former president and his supporters. https://apnews.com/article/trump-indictment-2020-election-lies-georgia-misinformation-4b2269d68dad3024bd5afa711478505a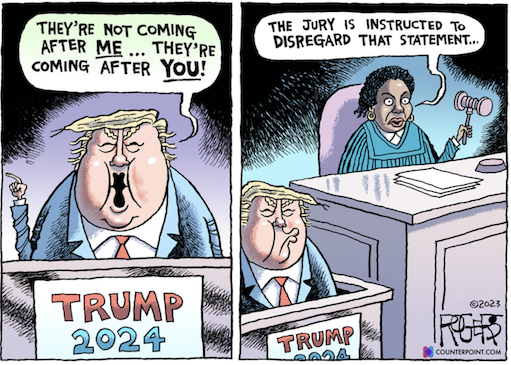 Biden wades into GOP primary with $25 million ad blitz, starting with economy focus
President Joe Biden is preparing to blanket the airwaves with a $25 million television and digital ad campaign in battleground states this month as Republicans are set to face off in their first presidential primary debate.
The first minute-long ad, titled Fought Back  has an economic focus, marking the campaign's latest effort to improve voter perceptions about Biden's handling of the economy. It also makes explicit reference to Biden's predecessor, former President Donald Trump, as Democrats attempt to tie GOP candidates at this week's debate to Trump's 'MAGA agenda.'
Louisiana AG hopeful Liz Murrill randomly claims abortion pills may be laced with fentanyl
Liz Murrill claimes cannabis legalization has somehow been a boon for illegal fentanyl sales. Then Murrill pivoted to, of all things, abortion pills. It is also a problem, frankly, with abortion pills online.
It appears that Murrill is connecting two distinctly separate dots here: the problem of people selling illegal counterfeit drugs online that may contain fentanyl and the fact that it is illegal in Louisiana to deliver or distribute abortion pills, online or otherwise. You can't buy anything online that's illegal and not consider it to be a problem potentially with fentanyl in it, she told Haldane.

Of course, there is no evidence that abortion pills are being mixed with fentanyl and they remain perfectly safe — and legal in most states. It should also be noted there is no public safety or health rationale for online sales of the pills to be illegal in Louisiana. Rather, that law is part of the Republican Party's broader anti-women's health platform. https://www.nola.com/gambit/news/the_latest/louisiana-ag-hopeful-liz-murrill-randomly-claims-abortion-pills-may-be-laced-with-fentanyl-spoiler/article_749214bc-3dfa-11ee-bbb3-9bec28bfb9a6.html
Voters Share Almost No Political Beliefs, but They Agree on One Thing: We're Failing as a Nation
There are few things that Republicans and Democrats agree on. But one area where a significant share of each party finds common ground is a belief that the country is headed toward failure.
Overall, 37 percent of registered voters say the problems are so bad that we are in danger of failing as a nation, according to the latest New York Times/Siena College poll.

Fifty-six percent of Republicans and Republican-leaning independents said we are in danger of such failure. This kind of outlook is more common among voters whose party is out of power. But it's also noteworthy that fatalists, as we might call them, span the political spectrum. Around 20 percent of Democrats and Democratic-leaning independents say they feel the same way.
Climate challenges worsening housing woes
Over 14.5 million homes in the US were affected by natural disasters in 2021, according to a report from Corelogic, a real estate data company, amounting to an estimated $57 billion in damage. That included about 4,000 homes impacted by wildfire, 560,000 homes impacted by severe weather like tornadoes and hail, more than a million homes impacted by hurricanes and over 12 million homes that were impacted by winter storms causing water damage and burst pipes.
These extreme weather events are increasing. By the beginning of August – before the fire in Maui – there had already been 15 confirmed weather or climate disaster that had losses over $1 billion each in the US this year, according to the NOAA National Centers for Environmental Information. Between 1980 and 2022 the average number of events of that magnitude each year was eight. The annual average over the past five years has risen to 18. https://www.cnn.com/2023/08/21/homes/housing-maui-climate-change/index.html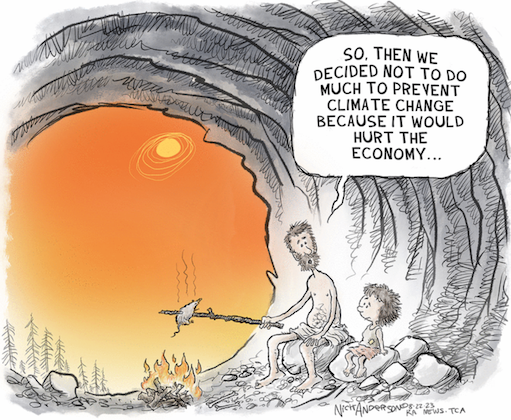 House Judiciary Committee Subpoenas Garland and Wray
The House Judiciary Committee is escalating its probe into Biden administration efforts to address disinformation, issuing subpoenas to Attorney General Merrick Garland and FBI Director Christopher Wray.
Said Chair Jim Jordan: To develop effective legislation, such as the possible enactment of new statutory limits on the Executive Branch's ability to work with social media platforms and other companies to restrict the circulation of content and deplatform users, the Committee on the Judiciary must first understand the nature of this collusion and coercion. https://politicalwire.com/?s=House+Judiciary+Committee
Group Plans $10 Million Push to Protect Election Officials
A group that works to elect Democrats as the top election officials in states around the country is planning a $10 million venture to pay for private security for election officials of both parties, register new voters and try to combat disinformation. https://www.nytimes.com/2023/08/17/us/politics/democrats-election-officials-value-the-vote.html
McCarthy Has a Problem with Conservatives
Stop us if you've heard this one before. House conservatives are in an uproar over the possibility of a short-term stopgap funding bill after their leadership floated the idea to members on a conference call this week.
Since Speaker Kevin McCarthy privately told members on Monday that he expected Congress would need to pass a continuing resolution to fund federal agencies past the Sept. 30 deadline, several House Republicans have voiced their opposition to it absent some clear conservative policy victories.

It's created yet another difficult situation for McCarthy, who may be forced by conservatives to attach poison-pill riders to the CR that could never pass in the Senate. https://punchbowl.news/archive/81823-punchbowl-news-am/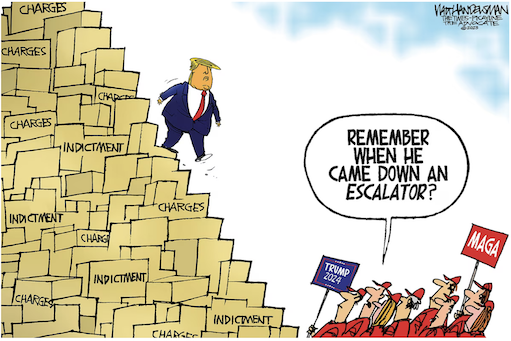 North Korean missile capable of striking the U.S. most likely a result of cooperation with Russia
North Korea's successful test launch on July 12 of a nuclear-capable intercontinental ballistic missile equipped to penetrate U.S. missile defenses is likely the result of technical cooperation sourced to Russia, according to a new think tank report first obtained by NBC News.
The new missile represents a sudden and significant advancement of North Korea's ballistic missile arsenal, according to North Korea's own pronouncements confirmed by U.S. officials. The rocket is solid-fueled, making it harder for Western intelligence to detect than liquid propellant ICBMS. https://www.nbcnews.com/politics/national-security/north-korean-missile-capable-striking-us-likely-cooperation-russia-rcna100450
NYC Mafiosos Rejoice at Seeing NYC Mafia Buster Rudy Giuliani Indicted on Trump RICO Charge
Veteran mob lawyer Murray Richmansi said that he's spoken to several of my clients since Rudy Giuliani was charged with violating Georgia's Racketeer Influenced and Corrupt Organizations Act.
Said Richman: You can quote me to say, "They're fucking thrilled."

Jeffrey Lichtman, who represented Gambino crime family member John Gotti, added: All of my clients who had the misfortune of being prosecuted by him are laughing now. As am I. It's not just an ironic result but it's a just result. He was a horribly dishonest prosecutor and the wheel of karma is about to crush him. https://themessenger.com/news/wiseguys-rejoice-at-seeing-nyc-mafia-buster-rudy-giuliani-indicted-on-trump-rico-charge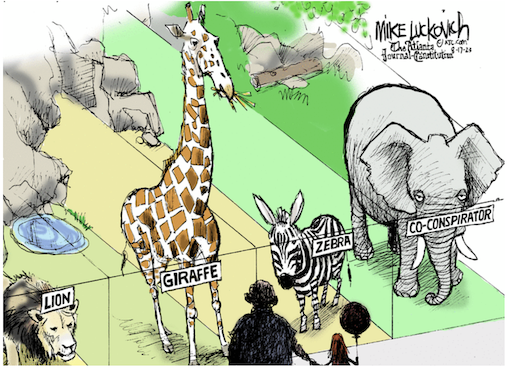 Biden emails sought by GOP were sent during planning for anniversary of Beau Biden's death
An Obama-era White House email transmitting then-vice president Joe Biden's schedule to his son, Hunter Biden, was sent during planning for a Biden family gathering to mark the one-year anniversary of Beau Biden's death, The Independent has learned.

The communications between an aide for the then-vice president and his youngest and sole surviving son are part of a House Oversight Committee request for Obama-era records sent to the National Archives.

The oversight committee chairman, Representative James Comer, said in a letter to the archives released on Thursday that it was concerning to the Republican-led panel that Hunter Biden was a recipient of a 26 May 2016 email showing that the then-vice president was scheduled to speak with then-Ukrainian president Petro Poroshenko the next day.
Republicans have spent the last several years insinuating — without evidence — that then-vice president Biden abused his authority to help Hunter Biden's business interests. One long-running but oft-disproven allegation states that Mr Biden ordered the firing of a Ukrainian prosecutor to disrupt an investigation into a Ukrainian energy firm that employed his son on its board. In reality, the decision to push for the prosecutor's sacking was official US policy driven by the prosecutor's failure to pursue corruption cases, and it was supported by the EU, the IMF, World Bank and other stakeholders. https://www.the-independent.com/news/world/americas/us-politics/joe-biden-hunter-biden-emails-james-comer-b2395015.html
Bess Levin: "Just Say That the Election Was Corrupt, and Leave the Rest to Me": In Georgia, Donald Trump Appears Beyond F--ked
Trump was plotting to overturn the election before the election even happened

As Fulton County district attorney Fani Willis indictment notes, Trump's false claim on November 4, 2020, that he had won the election was not some off-the-cuff, spur-of-the-moment declaration made in the heat of the moment.
Rather, approximately four days earlier, on or about October 31, 2020, DONALD JOHN TRUMP discussed a draft speech with unindicted co-conspirator Individual l…that falsely declared victory and falsely claimed voter fraud. The speech was an overt act in furtherance of the conspiracy.

Trump and then chief of staff Mark Meadows wanted an actual memo written re: blocking the certification of Joe Biden's win

Note to anyone thinking of trying to overturn a free and fair election: maybe don't commit your plan to pen and paper? From the indictment:
On or between the 1st day of December 2020 and the 31st day of December 2020, DONALD JOHN TRUMP and MARK RANDALL MEADOWS met with John McEntee and requested that McEntee prepare a memorandum outlining a strategy for disrupting and delaying the joint session of Congress on January 6, 2021, the day prescribed by law for counting votes cast by the duly elected and qualified presidential electors from Georgia and the other states. The strategy included having Vice President Michael R. Mike Pence count only half of the electoral votes from certain states and then return the remaining electoral votes to state legislatures. The request was an overt act in furtherance of the conspiracy.
Trump's henchmen told a whole bunch of patently absurd lies—which they knew were lies—to Georgia state lawmakers

Here's Willis on Rudy Giuliani, and just one of the many instances in which he allegedly told a bunch of ridiculous lies in an attempt to keep Trump in power:
On or about the 3rd day of December 2020, RUDOLPH WILLIAM LOUIS GIULIANI committed the felony offense of FALSE STATEMENTS AND WRITINGS, in violation of O.C.G.A. § 16-10-20, in-Fulton County, Georgia, by knowingly, willfully, and unlawfully making at least one of the following false statements and representations to members of the Georgia Senate present at a Senate Judiciary Subcommittee meeting:
That at least 96,600 mail-in ballots were counted in the November 3, 2020, presidential election in Georgia, despite there being no record of those ballots having been returned to a county elections office.
That Dominion Voting Systems equipment used in the November 3, 2020, presidential election in Antrim County, Michigan, mistakenly recorded 6,000 votes for Joseph R. Biden when the votes were actually cast for Donald John Trump.
And here she is again on the man once known as America's mayor:
On or about the 10th day of December 2020, RUDOLPH WILLIAM LOUIS GIULIANI committed the felony offense of FALSE STATEMENTS AND WRITINGS, in violation of O.C.G.A. § 16-10-20, in Fulton County, Georgia, by knowingly, willfully, and unlawfully making at least one of the following false statements and representations to members of the Georgia House of Representatives present at a House Governmental Affairs Committee meeting:
That it is quite clear from the State Farm Arena video from November 3, 2020, that Fulton County election workers were stealing votes and that Georgia officials were covering up a crime in plain sight
That at State Farm Arena on November 3, 2020, Democratic officials got rid of all of the reporters, all the observers, anyone that couldn't be trusted, used the excuse of a watermain break, cleared out the voting area and then went about their dirty, crooked business
That between 12,000 and 24,000 ballots were illegally counted by Fulton County election workers at State Farm Arena on November 3, 2020
That in Michigan, there were 700,000 more ballots counted than were sent out to voters in the November 3, 2020, presidential election, which was accounted for by quadruple counting ballots
That Ruby Freeman, Shaye Moss, and an unidentified man were quite obviously surreptitiously passing around USB ports as if they're vials of heroin or cocaine at State Farm Arena to be used to infiltrate the crooked Dominion voting machines
That 96,600 mail-in ballots were counted in the November 3, 2020, presidential election in Georgia, despite there being no record of those ballots having been returned to a county elections office
The phone call heard round the world

Remember when Donald Trump called up Georgia secretary of state Brad Raffensperger and demanded the state official magically find the specific number of votes needed to overturn Biden's win in Georgia? Well, Willis does—and she says it constituted a felony, as did other things said on the call:

On or about the 2nd day of January 2021, DONALD JOHN TRUMP committed the felony offense of FALSE STATEMENTS AND WRITINGS, in violation of O.C.G.A. § 16- 10-20, in Fulton County, Georgia, by knowingly, willfully, and unlawfully making at least one of the following false statements and representations to Georgia Secretary of State Brad Raffensperger, Georgia Deputy Secretary of State Jordan Fuchs, and Georgia Secretary of State General Counsel Ryan Germany:
That anywhere from 250,000 to 300,000 ballots were dropped mysteriously into the rolls in the November 3, 2020, presidential election in Georgia
That thousands of people attempted to vote in the November 3, 2020, presidential election in Georgia and were told they could not because a ballot had already been cast in their name
That 4,502 people voted in the November 3, 2020, presidential election in Georgia who were not on the voter registration list
That 904 people voted in the November 3, 2020, presidential election in Georgia who were registered at an address that was a post office box
That Ruby Freeman was a professional vote scammer and a known political operative
That Ruby Freeman, her daughter, and others were responsible for fraudulently awarding at least 18,000 ballots to Joseph R. Biden at State Farm Arena in the November 3, 2020, presidential election in Georgia
That close to 5,000 dead people voted in the November 3, 2020, presidential election in Georgia
That 139% of people voted in the November 3, 2020, presidential election in Detroit
That 200,000 more votes were recorded than the number of people who voted in the November 3, 2020, presidential election in Pennsylvania
That thousands of dead people voted in the November 3, 2020, presidential election in Michigan
That Ruby Freeman stuffed the ballot boxes
That hundreds of thousands of ballots had been dumped into Fulton County and another county adjacent to Fulton County in the November 3, 2020, presidential election in Georgia
That he won the November 3, 2020, presidential election in Georgia by 400,000 votes.
Just say that the election was corrupt, and leave the rest to me

According to the indictment, on or about the 27th day of December 2020, DONALD JOHN TRUMP solicited Acting United States Attorney General Jeffrey Rosen and Acting United States Deputy Attorney General Richard Donoghue to make a false statement by stating, 'Just say that the election was corrupt, and leave the rest to me and the Republican congressmen.'

Really, does it get any more incriminating than this?
Trump has insisted he did nothing wrong, claiming, as per usual, that he is the victim of a witch hunt. As for Giuliani, he recently said, "This is a completely unjustified and disgusting act of retribution, as I had the temerity to unveil the biggest scandal in American history—and for that, my parents are proud of me, and I don't give a damn about the rest." https://www.vanityfair.com/news/2023/08/donald-trump-georgia-indictment
Jonathan Last: Republican Elites Only Want the Easy Way Out
There is no easy way out for Good Republicans. Extricating the party from Trump was always going to require pain.
They declined to accept that pain in 2016. They declined again in 2020. And 2021. I see no reason to believe that they'll finally bite the bullet in 2024. Instead, I suspect that guys like Chris Sununu will try to get along by doing the bare minimum while hoping (again) that Democrats and the rest of America bail them out and clean up the mess for them.

They fail to understand that even if Trump loses to Biden again, he'll still own the Republican party. More at https://thetriad.thebulwark.com/p/republican-elites-only-want-the-easy
Jonathan Last: Would Anyone Believe You?
Let me pretend we could go back in time, to January 2017, and tell people that in six years:
Trump will have been impeached twice.
He will have been found guilty of rape by a jury of his peers.
He will have been soundly defeated for re-election, but refused to concede the loss.
In an effort to remain in power he will put in motion a vast conspiracy to overturn the result through extralegal methods.
When this conspiracy fails he will incite a violent insurrection in which he directs his armed supporters to invade the Capitol and prevent the certification of Electoral College votes.
He will be indicted in four separate criminal cases.
He will seek a return to the White House explicitly for the stated purpose of retribution.
And he will be leading the Republican field by >30 points.
The point is that six years ago I don't think many people on either side would have believed that today's reality was likely. Or even possible. Yet here we are, actually living in something close to the worst-case scenario.
And yet we are so habituated to this dark reality that we've come to see it as normal. https://thetriad.thebulwark.com/p/the-resistance-was-right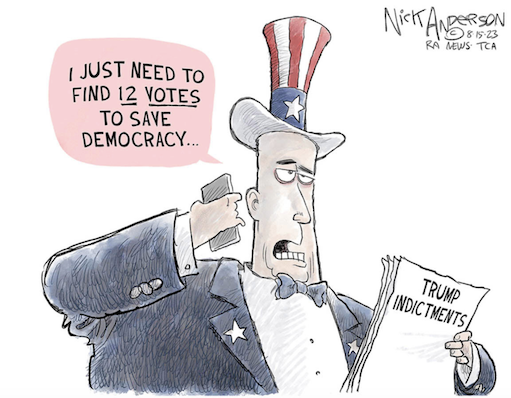 \
Sidney Blumenthal: Trump's legal woes are part of his quasi-religious mythology of martyrdom
The trials are a continuous spectacle, featuring an all-star cast in far-flung locations. Political reporters are barely heard from, while legal analysts fill the airwaves. Every twist and turn, every motion, every argument is the breathless lead story. Everyone, from prosecutors to co-conspirators, named and unnamed, indicted and unindicted, are characters in Trump's new reality show – part violent action movie (the insurrection), part sleazy porn flick (Stormy Daniels), part conspiracy thriller (Mar-a-Lago), and part mafia drama (the fake elector racket).
But the Trump trials are more than his means; they are his ends. The trials are not the sideshow, but the heart and soul of Trump's campaign. They have become his essential fundraising tool to finance his defense, his platform for whipping up his followers into a constant state of excitement, and his instrument for dominating the media to make himself the center of attention and blot out coverage of anyone else.

The trials are the message. They are the drama around which Trump plays his role as the unjustly accused victim, whose rights are trampled and who is the martyr for his oppressed 'deplorables.' He is taking the slings and arrows for them. The narcissist is the self-sacrificing saint. The criminal is the angel. The liar is the truth-teller. https://www.theguardian.com/commentisfree/2023/aug/21/trump-election-giuliani-sidney-blumenthal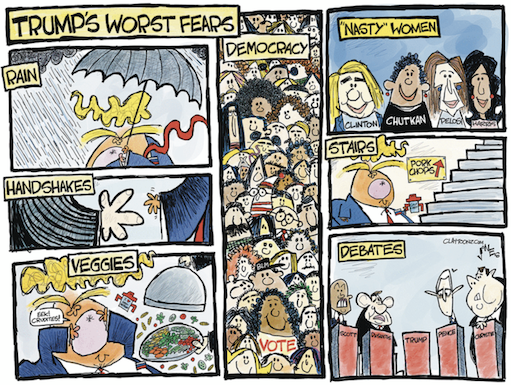 Jonathan Chait: 'Lock Them Up' Is Now the Republican Party's Highest Goal
The answer is that Republicans are genuinely obsessed with the potential for using the criminal-justice system as a political weapon. They are so obsessed they don't even wish to imagine leaving behind a world in which prosecution is linked with political identity. Victory or prison is the political environment they affirmatively wish to inhabit. Trump's predicament hands them permission to do what they have always craved. And now the campaign, which will be anchored around a series of criminal trials, will be framed around their desire not only to keep Trump out of prison, but to lock up as many of their political opponents as they can.
If you haven't drunk deeply from the fetid waters of the conservative fever swamp, this impulse might seem incomprehensible. Trump's legal jeopardy is easily explained: His private sector record was a long history of shady associations with gangsters and running scams. His presidency was a continuous procession of his own advisers pleading with him not to do illegal things while he complained that his attorneys weren't as unethical as Roy Cohn, the mob lawyer he once employed.

Within the sealed world of partisan Republican-curated news, Obama was a criminal. Hillary Clinton was a criminal. Bill Clinton was a veritable criminal mastermind. (Conservative organs as respectable as The Wall Street Journal editorial page, not to mention its seedier competitors, routinely accused Clinton of murdering Vince Foster and running a secret drug-smuggling operation out of Arkansas.)

It is a strange twist of fate that years of hysterically accusing every leading Democrat of criminality culminated in Republicans falling behind a presidential candidate who came to politics from the world of crime.
For some Republicans, the ascension of a transparently amoral swindler precipitated a psychic break from their party. But for most of them, it served merely to deepen the belief system they already subscribed to. Trump's campaign and presidency followed directly from a mentality that detached the notion of criminality from any actual behavior and turned it into a partisan identity. Trump's mantra — The crimes are being committed by the other side — has become a partywide doctrine.
But this idea, which has tightened its grip on conservative minds over the last generation, is now the dominant theme of the campaign. Trump's indictments have intensified their humiliation and created an insatiable demand for revenge. The party is no longer running on policy or even culture war. It is now consumed above all with turning the criminal-justice system into an instrument of revenge. https://nymag.com/intelligencer/2023/08/lock-them-up-is-now-the-republican-partys-highest-goal.html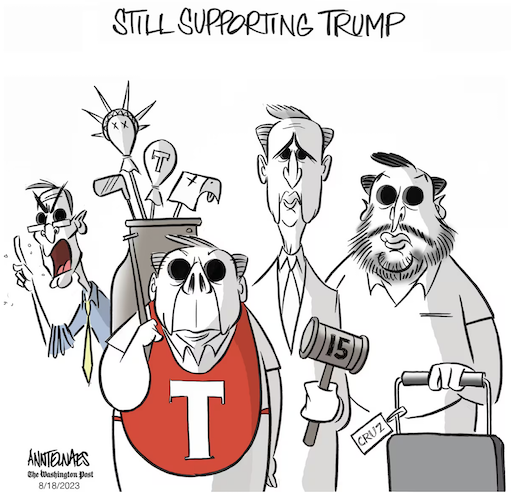 Robin Abcarian: Lies, damn lies and social media — there's a reason this country is so deeply polarized
Many unsettling statistics jumped out at me as I watched "Trustworthy: All Voices Heard," a new documentary about how mistrust in media, exacerbated by rampant misinformation and disinformation on social media, can corrode our faith in democracy:
More than two-thirds of all Americans perceive a serious threat to our democracy.

Half of all Americans believe there will be civil war in the United States in the next few years.
And — no surprise here — two-thirds of Americans feel worn out by the news they are getting today.
"We are 100% the Divided States of America," says Kevin Geffers Sr., a Texas painter interviewed by Stephany Zamora, a first-time filmmaker who was so unsettled by the events of Jan. 6 that she loaded up a bus with her crew and traveled more than 5,000 miles across the country interviewing journalists, media experts and civilians. Was it possible, she asked, for people on opposite sides of the political spectrum to find common ground when we can't even agree on what is true?

"The American people are confused and frustrated," former Fox News anchor Laurie Dhue tells the filmmaker.
"Not knowing what the truth is is terribly hard for our democracy, it scares me a lot," says Columbia University journalism professor and historian Andie Tucher.
 
We also encounter MIT management professor Sinan Aral, who wrote "The Hype Machine," a 2020 book about the "perils and promise" of social media. Aral, who has studied social networks for 20 years, made three predictions in the book: that fake news would catalyze political violence, that anti-vaxx misinformation could disrupt the rollout of vaccines and that social media had the power to sway equity markets. All of three came true, and it didn't take long.

The Jan. 6 insurrection was the direct result of the execrable lie that Democrats had stolen the 2020 election from former President Trump.

In January 2021, a major vaccination effort at Dodger Stadium was interrupted when anti-vaxx protesters shut it down for nearly an hour.

Also in January 2021, a Reddit-driven effort to revive the stock price of the struggling video game retailer GameStop resulted in the stock rising 1,000% in two weeks.

"Social media is rewriting the central nervous system of humanity by algorithmically connecting, informing, nudging, persuading, mobilizing, and yes, entertaining us," writes Aral in a new preface to "The Hype Machine." "It's been doing so for years, with clear, measurable and profound implications for our democracies, our economies and our public health. And it's time we woke up to these realities."
Where, oh, where is Walter Cronkite when you need him?

I kid.

https://www.latimes.com/opinion/story/2023-08-20/social-media-trustworthy-disinformation-fake-news-polarization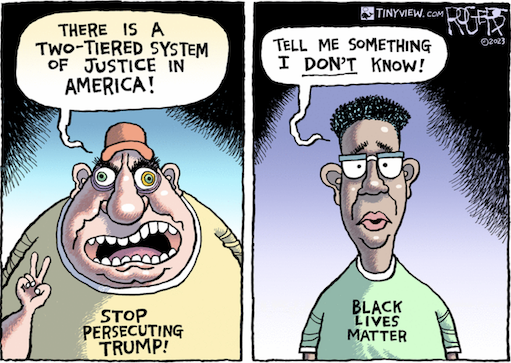 Alan Abramowitz: Explaining Republican Loyalty to Trump: The Crucial Role of Negative Partisanship
Negative partisanship is the key to understanding the continuing loyalty of Republican voters to former President Donald Trump. Attacks on Trump by Democrats, liberals, and mainstream media figures and even indictments by federal and state prosecutors on serious criminal charges have only served to reinforce the loyalty of Republican voters to Trump. Republican voters see these attacks and indictments as efforts by the hated opposition party and its allies to weaken the former president and prevent his return to the White House.
Similarly, in a general election matchup between Joe Biden and Donald Trump, even Republicans who have reservations about Trump overwhelmingly prefer him to Biden because they believe the portrayal of Biden by Republican leaders and conservative media outlets as a radical leftist and a threat to the survival of the nation.

As a result, it appears likely that a rematch between Biden and Trump in 2024 will remain highly competitive with the outcome hinging on a small number of swing voters in a handful of closely contested states — an outcome that could lend itself to attacks on the integrity of the election by the former president and his allies. https://centerforpolitics.org/crystalball/articles/explaining-republican-loyalty-to-trump-the-crucial-role-of-negative-partisanship/