January 2, 2020
ON THE RECORD. . .
"Santa understands the vital role coal has and will continue to play in human flourishing. Accordingly, he has called for coal-shaming to end and in an effort to start this trend, he will be leaving a lump of 'beautiful, clean coal' in the president's stocking. Regardless of their naughty or nice status, all little boys and all little girls deserve a brighter, healthier and more prosperous future and the path for that starts with a reliable, safe and clean source of energy." — Mandy Gunasekara, a former Trump appointee to the EPA, writes that the myth about "coal in the stocking" of a bad children is just propaganda from the renewable fuels industry.

"The guy is freaking evil," Special Operator Miller told investigators. "The guy was toxic," Special Operator First Class Joshua Vriens, a sniper, said in a separate interview. "You could tell he was perfectly O.K. with killing anybody that was moving," Special Operator First Class Corey Scott, a medic in the platoon, told the investigators. —  Men of Alpha platoon, SEAL Team 7, whose blistering testimony about their platoon chief was dismissed by President Trump when he upended the military code of justice to protect Chief Gallagher from the punishment.

"California and New York must do something about their tremendous homeless problems. They are setting records. If their Governors can't handle the situation, which they should be able to do very easily, they must call and 'politely' ask for help. Would be so easy with competence!" — Donald J. Trump @realDonaldTrump

"I don't think that President Trump as a person is a role model for a lot of different youth. That's just me personally. I don't like the way that he tweets, some of the things that he says, his word choices at times are not my word choices. He comes across with more New York City swagger than I do from the Midwest and definitely not the way that I'm raising my kids." — Sen. James Lankford (R-OK) on Face the Nation.

"You don't go through the first part in the House and then just tee this up for a Senate process where the guy that is going to be in charge of orchestrating the entire Senate trial has said that the whole thing is already baked and cooked and there's nothing anybody can do about it. You don't go and do that. That makes a mockery of the entire system." — Rep. Joe Kennedy III (D-MA), on CNN.

"Honestly, I don't think I would have said anything because obviously he's not listening to scientists and experts, so why would he listen to me?" — Teenage climate activist Greta Thunberg, quoted by NBC News, on what she would say to President Trump.

"It no longer feels as though the most powerful human on the planet is after you. It feels as though a strange and slightly sad old guy is yelling at you to get off his lawn, echoed by younger but no less sad people in red hats shouting, 'Yeah, get off his lawn!'" — Former FBI Director James Comey,

"In our age, when social media can instantly spread rumor and false information on a grand scale, the public's need to understand our government, and the protections it provides, is ever more vital." — Chief Justice John Roberts in his annual report on the state of the judiciary.

"They've already given out $19 billion to farmers, but they're cutting $5 billion from people in need! I don't even know how to describe it except to say that it is cruel, it is unfair, and it is clearly designed to support the president's base, as he sees it, as opposed to those whom he sees as being undeserving." — Congresswoman Marcia Fudge (D-OH), who sits on the House Agriculture Committee.
---
IN THIS ISSUE
FYI
OPINION
1. Andy Borowitz:Trump Named Person of the Year by Popular Sociopath Magazine
For the third year in a row, Donald J. Trump has been named Person of the Year by the magazine Popular Sociopath, the publication announced on Thursday.

"Once a year, we at Popular Sociopath recognize the person who best epitomizes sociopathic-personality disorder, which manifests in antisocial behavior and a total absence of conscience and concern for others," Harland Dorrinson, the magazine's editor, said. "We are delighted to bestow this honor, once again, on Donald J. Trump."

Dorrinson said that Trump bested a daunting roster of competitors for the title, including the Senate Majority Leader, Mitch McConnell; the Fox News host Tucker Carlson; and Trump's own son Donald J. Trump, Jr.

"Honestly, though, it wasn't close," the editor said.

When asked if he had reached out to his son since surpassing him for the magazine's honor, Trump told reporters, "Why would I do that? I don't care what he thinks or feels. This is all about me. What a stupid question. You're worthless." https://www.newyorker.com/humor/borowitz-report/
2. Democrats seize on anti-Obamacare ruling
A court ruling last week putting the Affordable Care Act further in jeopardy may provide the opening Democrats have been waiting for to regain the upper hand on health care against Republicans in 2020.
But Senate Democrats, Democratic candidates and outside groups backing them immediately jumped on the news of the federal appeals court ruling — blasting out ads and statements reminding voters of Republicans' votes to repeal the 2010 health care law, support the lawsuit and confirm the judges who may bring about Obamacare's demise. https://www.politico.com/news/2019/12/26/democrats-anti-obamacare-2020-elections-089765
3. In aftermath of Ukraine crisis, a climate of mistrust and threats
The new Russia adviser at the White House — the third in just six months — has no meaningful background on the subject. The only expert on Ukraine has never spoken with President Trump, only been mocked by him publicly.
The U.S. Embassy in Kyiv will soon be without its highest-ranking diplomat for the second time in a year, as another ambassador departs after being undermined by the U.S. president and his personal attorney.
The CIA analyst who triggered the impeachment inquiry continues to work on issues relating to Russia and Ukraine, but when threats against him spike — often seemingly spurred by presidential tweets — he is driven to and from work by armed security officers.
Having been impeached by the House, Trump faces trial in the Senate on charges that he abused the power of his office and sought to obstruct Congress. But the jarring developments over the past three months have also exposed the extent to which the national security establishment and the values that have traditionally guided American foreign policy are facing an extraordinary trial of their own under Trump's presidency. https://www.washingtonpost.com/national-security/in-aftermath-of-ukraine-crisis-a-climate-of-mistrust-and-threats/2019/12/24/03831e3e-2359-11ea-a153-dce4b94e4249_story.html
4. Trump obsesses over Pelosi as sting of impeachment spoils his holiday break
Donald Trump can't seem to get Nancy Pelosi out of his head, even as most of the rest of the nation enjoys a holiday halftime break from the impeachment drama.
His anger is boiling as the politics of impeachment evolve in a slow burn over the Christmas and New Year break, with pressure rising on senators of both parties over his coming Senate trial.
Trump, between rounds of golf and greeting guests at his Mar-a-Lago resort in Florida, keeps returning to vent fury at the House speaker who led his impeachment a week ago.
In a string of tweets, Trump complained about Pelosi's decision not to send the articles of impeachment to the Senate until she learns about GOP plans for the shape of his trial. He speculated about the unlikely prospect that the California Democrat could lose a primary -- in a district where her political exposure comes from the left, not from her right.
He also slammed the speaker for impeaching him at all, insisting he did nothing wrong in his dealings with Ukraine, while quoting conservative pundits who were critical of Pelosi.
https://edition.cnn.com/2019/12/27/politics/donald-trump-impeachment-nancy-pelosi/index.html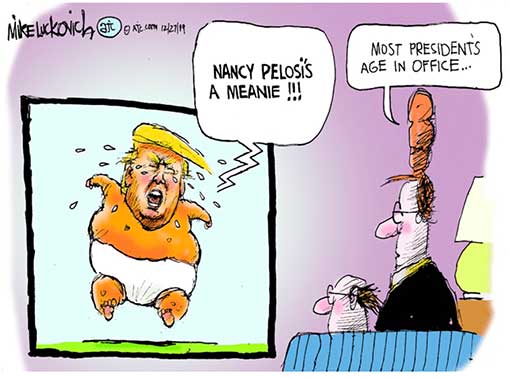 5. Survey: Germans say Trump is more dangerous than Putin, Kim or Xi
41% of Germans believe President Trump is more of a threat to world peace than North Korean dictator Kim Jong-un, Russian President Vladimir Putin, Chinese President Xi Jinping or Iran's Supreme Leader Ayatollah Ali Khamenei, according to a new YouGov survey
2,000 Germans participated in the survey, which was conducted between Dec. 16 and 18. Kim Jong-un came in second at 17%, followed by Putin and Khamenei at 8% and Xi at 7%.
The results show the degree to which trust in U.S. leadership has eroded under Trump, even among countries like Germany that are traditionally viewed as close allies. https://www.axios.com/germany-trump-dangerous-putin-kim-xi-64205f2a-9eb2-4884-a9f9-c7e57a017420.html
6. The DAILY GRILL
Last night I was so proud to have signed the largest Defense Bill ever. The very vital Space Force was created. New planes, ships, missiles, rockets and equipment of every kind, and all made right here in the USA. Additionally, we got Border Wall (being built) funding. Nice! -- Donald J. Trump@realDonaldTrump

VERSUS

Donald Trump is cutting food assistance for 700,000 people, but somehow found $1.4 billion for his sham of a border wall. This administration is morally bankrupt. — Joe Biden @JoeBiden

 

'Pathetic': Canada's CBC under fire when Trump's cameo in 'Home Alone 2' disappears from Christmas broadcast. — Donald Trump Jr.@DonaldJTrumpJr

VERSUS

CBC responds to criticism that short scene featuring Donald Trump was deleted from movie Home Alone 2, which aired recently. Spokesperson says 'several' cuts made for time. 'These edits were done in 2014 when we first acquired the film and before Mr. Trump was elected president.' — CBC News Alerts @CBCAlerts

 

"If you are, if you're a Donald Trump and you got Biden having voted for the war in Iraq, Biden having voted for these terrible, in my view, trade agreements, Biden having voted for the bankruptcy bill. Trump will eat his lunch." — Bernie Sanders, in a LA Times interview.

VERSUS

"Tell him come and I'll give him some dessert at the White House." – Joe Biden, in a CNN interview.


7. From MEDIA MATTERS (They watch Fox News so you don't have to)
Fox contributor and Giuliani collaborator John Solomon is the 2019 Misinformer of the Year. Starting on March 20, Solomon published 45 columns in The Hill aimed at discrediting the Russia investigation, 12 of which were primarily focused on planting the seeds of this new Ukrainian element of the conspiracy theory. Solomon brought the conspiracy theory to Fox News and Fox Business, where he has appeared at least 92 times since March 20 to push elements of the conspiracy theory, in some cases alongside his attorneys diGenova and Toensing. Hannity gushed over Solomon's work, hosting him at least 65 times during this same time period. Solomon's efforts paid off when Fox News announced in October that it was hiring him as a contributor. https://www.mediamatters.org/john-solomon/fox-contributor-and-giuliani-collaborator-john-solomon-2019-misinformer-year
President Donald Trump's obsession with Fox News had a major impact on the nation's political environment, driving the administration's responses to a sea of scandals and crises that have culminated with his impeachment and regularly dictating the domestic and foreign policies of the United States. Trump sustained his well-documented fixation on the network, continuing his practices of giving the vast majority of his national televised interviews to Fox hosts, maintaining a revolving door between his administration and the company, and relying on Fox personalities for private counsel. He kept watching hours of daily programming from Fox News and its sister network, Fox Business, basking in sycophantic coverage from shows like Fox & Friends, Lou Dobbs Tonight, and Hannity. And continuing the Trump-Fox feedback loop, he maintained his habit of firing off hyperaggressive tweets in response to what he saw on those networks, sending 613 such live tweets this year through December 17.  But more than ever before, Trump's Fox fanaticism this year drove the federal policymaking process and political reality, with a tangible impact on the lives of the American public. https://www.mediamatters.org/fox-news/president-trumps-fox-obsession-reshaped-political-universe-2019
8. From the Late Shows
In Trump's Universe, Everyone Loves "Space Force" | The Daily Show: https://youtu.be/LYQX-BPUqN4
9. How Big Companies Won New Tax Breaks From the Trump Administration
Thanks in part to the chaotic manner in which the bill was rushed through Congress — a situation that gave the Treasury Department extra latitude to interpret a law that was, by all accounts, sloppily written — the corporate lobbying campaign was a resounding success.
Through a series of obscure regulations, the Treasury carved out exceptions to the law that mean many leading American and foreign companies will owe little or nothing in new taxes on offshore profits, according to a review of the Treasury's rules, government lobbying records, and interviews with federal policymakers and tax experts. Companies were effectively let off the hook for tens if not hundreds of billions of taxes that they would have been required to pay.
Two years after the tax cuts became law, their impact is becoming clear.
Companies continue to shift hundreds of billions of dollars to overseas tax havens, ensuring that huge sums of corporate profits remain out of reach of the United States government.
The Internal Revenue Service is collecting tens of billions of dollars less in corporate taxes than Congress projected, inflating the tax law's 13-figure price tag.
This month, the Organization for Economic Cooperation and Development calculated that the United States in 2018 experienced the largest drop in tax revenue of any of the group's 36 member countries. The United States also had by far the largest budget deficit of any of those countries.
In the coming days, the Treasury is likely to complete its last round of rules carrying out the tax cuts. Big companies have spent this fall trying to win more. https://www.nytimes.com/2019/12/30/business/trump-tax-cuts-beat-gilti.html
10. 3 years in, no sign of Trump's replacement for Obamacare
As a candidate for the White House, Donald Trump repeatedly promised that he would "immediately" replace President Barack Obama's health care law with a plan of his own that would provide "insurance for everybody."
Back then, Trump made it sound that his plan — "much less expensive and much better" than the Affordable Care Act — was imminent. And he put drug companies on notice that their pricing power no longer would be "politically protected."
Nearly three years after taking office, Americans still are waiting for Trump's big health insurance reveal. Prescription drug prices have edged lower, but with major legislation stuck in Congress it's unclear if that relief is the start of a trend or merely a blip.
Meantime the uninsured rate has gone up on Trump's watch, rising in 2018 for the first time in nearly a decade to 8.5% of the population, or 27.5 million people, according to the Census Bureau. https://apnews.com/968422ef1e16470c967bebc394fee331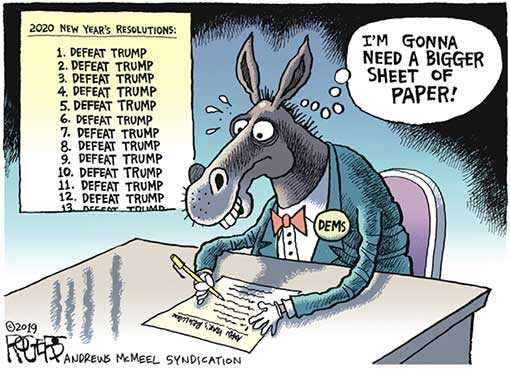 1. Zolan Kanno-Youngs: A Barrier to Trump's Border Wall: Landowners in Texas
PROGRESO, Texas — Two days after giving the federal government his signature, Richard Drawe paused with his wife and mother on a levee that his family has owned for nearly a century to watch the cranes and roseate spoonbills.
A border wall that he reluctantly agreed to put on his land will soon divide this Texan family from the whole scene: the levee, a lake, an onion field and all of those birds.
Mr. Drawe, 69, doubts the wall will do much to stop illegal immigration, and though he supports the president who ordered it, he believes that the construction will "ruin" his life. But selling the land early on seemed better and cheaper than facing the government in court, only to have it take the land anyway, he reasoned. The wall, the lights and the roads will be built on about a dozen acres that his grandfather bought in the 1920s, and that will cut him off from the priceless views of the Rio Grande that he cherishes.
"We just finally gave up," he said. "If they offered me a million dollars to build the wall, I would refuse it if I knew they wouldn't build it. I don't want the money. This is my life here."
The White House is hoping more landowners along the border will make the same decision — and help President Trump deliver on his campaign promise to build 450 miles of new border wall by 2021.
The list of challenges still facing Mr. Trump's "big, beautiful" wall include an investigation into construction contracts, funding delays and a recent legal decision blocking emergency access to Defense Department funds to build it. The nationwide injunction has, for now, curtailed wall work on 175 miles in Laredo and El Paso, Texas; in Yuma, Ariz.; and El Centro, Calif.
But access to private land like Mr. Drawe's may be the tallest barrier standing between the president and his wall. https://www.nytimes.com/2019/12/26/us/politics/trump-border-wall.html
2. Adam K. Raymond: Trump Rips 'Crazy Nancy' Hours After His Christmas-Morning Call for Unity
President Trump couldn't even keep up the charade for a day. Hours after a Christmas-morning statement calling for respect and unity, he was banging out rage-filled tweets targeting his political rival. It was a fast turnaround, even for Trump, whose insincere nod to civility was as real as flying reindeer.
In the "Presidential Message on Christmas," released Wednesday by the White House, Trump said, "Together, we must strive to foster a culture of deeper understanding and respect — traits that exemplify the teachings of Christ." Just hours prior, his campaign released a guide to fighting about politics during Christmastime.
The Christmas-morning statement was clearly phony, and by that evening, Trump proved it. "Why should Crazy Nancy Pelosi, just because she has a slight majority in the House, be allowed to Impeach the President of the United States?" Trump, evincing a preschooler's understanding of the Constitution, tweeted.
Trump continued Thursday morning, clearly more committed to dumping on Pelosi than the "culture of deeper understanding and respect" he implored Americans to work toward. He tweeted about the "Do Nothing Democrats" and then, perhaps realizing that most people were not reading his tweets on Christmas night, retweeted his attack on Pelosi.
Trump's issue with the Speaker, at the moment, is her handling of the articles of impeachment following the House passing them last week. Pelosi hasn't yet transmitted the articles to the Senate, where a trial will be held. On Christmas Eve, Trump said she is "doing a tremendous disservice to the country."
And because he can't stay focused on one thing, Trump also went after Pelosi's "filthy dirty District," tweeting that she should "help the homeless there." But like his plea for Americans to rise above their political differences, Trump's insincerity is obvious. He cares nothing for the homeless, unless he can use them to bash a political opponent. http://nymag.com/intelligencer/2019/12/trump-rips-crazy-nancy-just-after-christmas-call-for-unity.html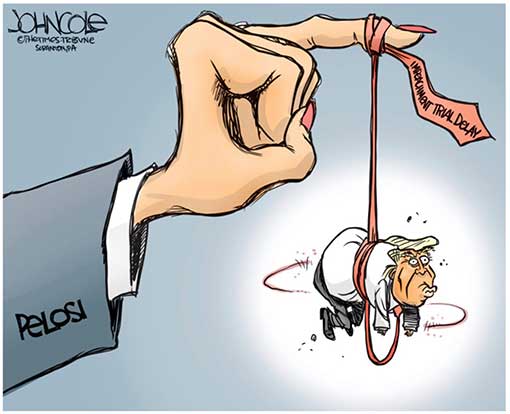 3. Bess Levin: White House Praises Saudi Arabia For Sentencing Five People To Death, Pretending Justice For Jamal Khashoggi Has Been Served
Hey, remember the horrific and grisly murder of journalist and Saudi Arabia dissident Jamal Khashoggi? The one Donald Trump basically let the kingdom get away with because he was able to sell them some weapons and he thinks the U.S. is one of his shitty Atlantic City casinos? For those who need a refresher: On October 2, 2018, the Washington Post columnist walked into the Saudi consulate and in Turkey and was never seen again. After first claiming it had no knowledge of the matter whatsoever, the kingdom admitted that Khashoggi had died in the consulate, initially claiming it happened in a fistfight and then copping to the fact that, oh, yeah, the killing was premeditated. This, plus the CIA's conclusion that Crown Prince Mohammed bin Salman ordered the assassination of a U.S. resident, probably should've resulted in Trump punishing or at least criticizing the de facto leader, but instead, he basically covered for the guy.
Anyway, on Monday, Saudi Arabia's public prosecutor  announced that five people had been sentenced to death in connection with the killing—none of whom are the guy U.S. intelligence say ordered the murder—and the White House would like people to believe that justice has been served:
Sentencing five patsies to death is just one prong of Saudi Arabia's current PR initiative—it also appears to be working with Western celebrities and influencers to promote a kinder, gentler kingdom that people associate with Coachella-esque music festivals and not, say, dismemberment via bone saw. https://www.vanityfair.com/news/2019/12/donald-trump-jamal-kashoggi-saudi-arabia-executions
4. Steve Benen: Trump struggles when asked about Ukraine messages from Putin
Trump not only believed Putin, he also acted on that belief, pressing Ukrainian President Volodymyr Zelensky to pursue, among other things, a crackpot conspiracy theory about Ukraine's role in American election interference.
It was against this backdrop that a reporter broached the subject yesterday morning, after Trump's Christmas video teleconference with U.S. troops deployed abroad.
Q: Sir, what did President Putin say to you that convinced you that the Ukraine interfered in the 2016 election?

TRUMP: What did he say to me?

Q: Yes.

TRUMP: About what?

Q: What did President Putin say to you when you met?

TRUMP: You're putting words in somebody's mouth. Who are you referring to? Me? I never said anything about it. I never said a thing about it. All right, any other questions?
While it was easy to enjoy the exchange's Abbott-and-Costello-like qualities, it was equally easy to notice this seemed like a subject Trump was reluctant to talk about.
And that's a shame because it's a good question in need of a good answer. The connections between Trump's conversations with his Russian benefactor and his willingness to promote Ukraine conspiracy theories are well documented, and they reinforce concerns about the American president serving as Putin's puppet.
Trump's clumsy who's-on-first routine don't make those concerns go away. http://www.msnbc.com/rachel-maddow-show/trump-struggles-when-asked-about-ukraine-messages-putin
5. Justin Baragona: The Year of Batshit Crazy at One America News, Trump's New Favorite Cable-News Channel
Not just content with simply airing Russian disinformation, One America News actually employs a Kremlin-paid propagandist. Kristian Brunovich Rouz has been reporting for OAN since August 2017 while simultaneously working for Sputnik, the Russian state-owned news site that the U.S. intelligence community found played a pivotal role in Russia's 2016 election interference.
Rouz's reporting on OAN has straddled the line between standard right-wing conspiracy mongering—George Soros being a Nazi collaborator, Hillary Clinton funding antifa—to full-on Kremlin propaganda, including trutherism on Syrian chemical weapons attacks.
This past fall, for instance, OAN dispatched Rouz to claim a British report investigating Russian interference in the U.K. elections was nothing more than another "Russia hoax" perpetrated by liberals.
OAN, meanwhile, has taken issue with accusations that they are disseminators of Russian propaganda. After MSNBC anchor Rachel Maddow referenced The Daily Beast's report revealing Rouz had been paid by Sputnik to claim that "the most obsequiously pro-Trump right-wing news outlet in America really, literally is paid Russian propaganda," One America News filed a $10-million lawsuit against Maddow. In its suit, OAN noted that Rouz was just a freelancer with Sputnik while Rouz insisted he had "never written propaganda, disinformation, or unverified information." https://www.thedailybeast.com/the-year-of-batshit-crazy-at-one-america-news-trumps-new-favorite-cable-news-channel
6.  Jonathan Chait: Trump's Dream Is to Become America's Viktor Orbán
For several years, Hungary has been the name American liberal intellectuals have given to their worst domestic nightmares. Hungary's president, Viktor Orbán, has fashioned an apparently permanent majority for his conservative Fidesz Party by wielding the levers of the state to marginalize the social, political, and legal power of his opposition. American conservatives are now becoming fascinated in equal measure with Orbán's Hungary. The liberal nightmare of an authoritarian America is becoming the conservative dream.
Orbán's attacks on liberal democracy long predate Donald Trump's candidacy. Five years ago, Orbán delivered a famous speech denouncing liberal democracy ("liberal values today incorporate corruption, sex, and violence") and promising an alternative. To the extent American conservatives paid Orbán any attention then, it was to denounce him, perhaps while throwing in a swipe at the Obama administration for failing to confront him forcefully enough. The Republican Party's growing defense of Orbán is a window through which we can glimpse its slow descent into authoritarianism.
Orbán's political style, combining hyperbolic denunciations of Muslim immigrants with anti-Semitic tropes targeting George Soros as puppeteer, anticipated Trump's by several years. He has won a place in the president's circle of trust. Orbán, along with Vladimir Putin, reportedly helped persuade Trump to distrust Ukraine's reformist president. Connie Mack IV, a former Republican member of Congress and a paid lobbyist for Orbán, participated in a whisper campaign undermining hawkish Russia adviser Fiona Hill as a tool of Soros.
Trump's admiration for Orbán is no mere personal idiosyncrasy, either. In recent years, a growing circle of right-wing intellectuals have defended Orbán's illiberalism as a model they wish to import. Columns in the New York Post and the Federalist have praised Orbán for defunding progressive academic departments, and — temporarily forgetting their supposed concern about campus illiberalism — urged Trump to do the same in the United States. Representative Steve King has called Orbán the Churchill of Western civilization. Prestigious conservative journals like the Claremont Review and National Review have flattered the Hungarian strongman with lengthy, fawning profiles.
The appearance of Orbánism on the American right is yet another sign that the most dangerous undercurrents of the Trump era are not particular to one buffoonish septuagenarian reality television star. Trump has brought out a strain of authoritarianism on the right that will survive his presidency. Whether or not Trump succeeds in his transparent goal of becoming America's Orbán, he will not be the last to try. http://nymag.com/intelligencer/2019/12/president-trumps-dream-is-to-become-americas-viktor-orban.html
7. Eli Merritt: Opinion: Why demagogues were the Founding Fathers' greatest fear
Washington's greatest fear that summer of decision in Philadelphia was that unwise, self-seeking politicians — even if fairly elected to public office — would tear down the central government and its constitutional laws for the sake of their own advancement and glorification.
Washington, like his peers, did not use the word "demagogue" as an insult or epithet. He did not employ it as ammunition against those he identified as his political opponents. For the steady, rational Washington, "demagogue" was a forensic term that described a well-known class of political actors, known since Greek and Roman times, who obtain power through emotional appeals to prejudice, distrust and fear.
Other framers who raised the red flag of demagoguery during the Constitutional Convention were Gouverneur Morris of Pennsylvania, Pierce Butler of South Carolina, and Edmund Randolph and George Mason of Virginia. Mason declared outright that "the mischievous influence of demagogues" was one of the top two "evils" that can befall republican forms of government.
This destructive risk of demagogues is one reason the 55 framers of the Constitution adopted the power of impeachment during the historic convention of 1787.
They believed uniformly that some men, though elected by the people, would be temperamentally incapable of serving the public interest under the Constitution. Therefore, they offered Congress the remedy of impeachment and removal from office.
The framers did not view the exercise of this remedy to be an anti-democratic act of nullifying elections. To the contrary, they provided the people and their representatives with these emergency powers for the specific purpose of rescuing our democracy and Constitution from harm and destruction at the hands of demagogues. https://www.latimes.com/opinion/story/2019-12-26/demagogues-constitution-impeachment-washington-hamilton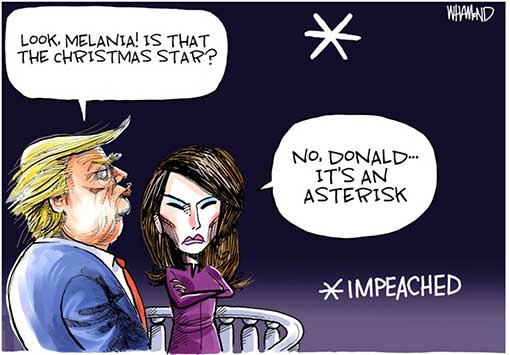 8. Eric Levitz: Why Trump Vilifies Whistle-blowers and Venerates War Criminals
Beneath Trump's ever-shifting imitations of belief lies a thin foundation of true conviction. There are a few precepts to which Trump has remained faithful from one era and rebrand to the next. Chief among them: Winners don't let abstract precepts or legal niceties constrain their fidelity to a cause, or their aggression toward that cause's enemies.
Crucially, this authoritarian ethos is not unique to Trump. The Republican Party didn't end up with an authoritarian standard-bearer by happenstance. Trump won the GOP nomination because his despotic impulses were coincident with the party's own. The president did not instigate the campaign for Gallagher's pardon. Conservative media outlets and members of Congress did. Trump's deep-seated admiration for human-rights violators empowered the conservative movement's most barbarous factions. But he is not the source of his party's authoritarianism so much as an accelerant of it.
The Post's story — "In the aftermath of the Ukraine crisis, a climate of mistrust and fear" — speaks to this reality and its disconcerting implications. The president has waged war on the national security bureaucracy for largely self-interested reasons. But the conservative movement has long harbored an ideological hostility to the independent civil service. Thus, Trump's flailing, defensive efforts to discredit and cleanse federal agencies that threaten to hold him legally accountable are conducive to the right's broader aims.
As the Post reports:
An entire roster of public servants has been disparaged, bullied and in some cases banished for standing in Trump's path as he sought to pressure Ukraine for political favors, or for testifying about his conduct afterward. http://nymag.com/intelligencer/2019/12/trump-edward-gallagher-ukraine-war-criminals-whistleblowers.html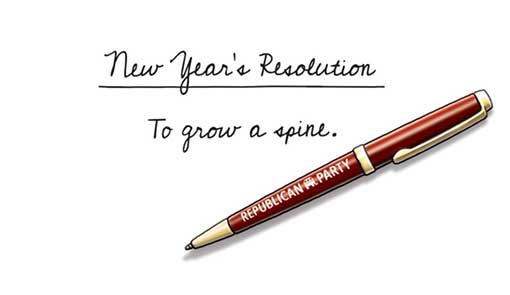 9. LA Times Editorial: President Trump's very bad year on climate change hurts us all
A few weeks ago the world received the United Nations' Emissions Gap Report 2019, which again laid out in jarring detail how much humans have heated up the atmosphere through carbon emissions from burning fossil fuels. Not only is the science incontrovertible, but the impacts already are playing out before our eyes, and it's probably too late, given the fast-rising temperature and political realities, to fully corral the problem. But it's also inarguable that the world must act anyway — quickly — if it is to avert climate change's most damaging effects, and that we desperately need innovative, persuasive and courageous political leaders to show the way.
Yet over the past year, and in the face of these ever more dire reports and warnings about the crisis that confronts us, President Trump has blithely continued to push policies and regulatory rollbacks that will increase carbon and other greenhouse gas emissions. Another study released in November warned that despite the overwhelming evidence that the world needs to reduce its reliance on fossil fuels, humankind will in 10 years be producing twice as much coal, oil and natural gas as it can safely consume and still limit the most severe impacts from human-caused global warming. That is disastrously wrong-headed. Governments around the world should be pursuing policies that will significantly reduce production and consumption while investing to support faster innovations in creating, distributing and storing renewable energy. Instead, Trump's policies are designed to further increase U.S. production of oil and natural gas as part of his effort to make the U.S. the dominant producer of energy in the world.
So what did the Trump administration do this year to exacerbate the situation? It eased restrictions on the drilling of oil and gas wells in some sensitive habitats and drastically expanded the amount of federal lands available for leases by the oil, gas and coal industries (as well as mineral mining, which creates a different set of problems by exposing sensitive land to degradation). As part of that expansion, it shrank the Bears Ears and Grand Staircase-Escalante national monuments in Utah and issued an executive order opening nearly all federal waters to offshore drilling (which the administration put on hold after legal setbacks). Trump loosened regulations limiting methane emissions at drilling sites. And after a Republican-led Congress in 2017 lifted the 35-year-old ban on drilling in the Arctic National Wildlife Refuge, the administration moved this year to fast-track leases even as legal challenges work their way through the courts. https://www.latimes.com/opinion/story/2019-12-27/trump-bad-year-review-climate-change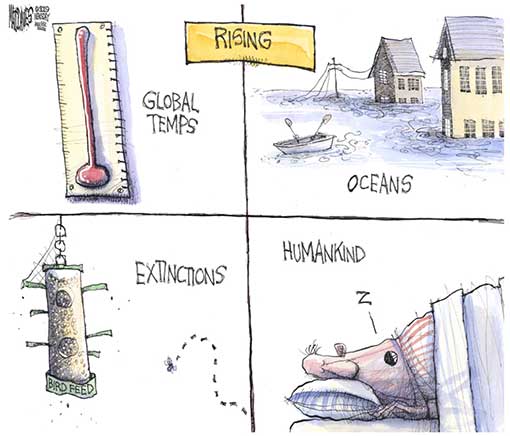 10. Brad Plumer and Coral Davenport: Science Under Attack: How Trump Is Sidelining Researchers and Their Work
In just three years, the Trump administration has diminished the role of science in federal policymaking while halting or disrupting research projects nationwide, marking a transformation of the federal government whose effects, experts say, could reverberate for years.
Political appointees have shut down government studies, reduced the influence of scientists over regulatory decisions and in some cases pressured researchers not to speak publicly. The administration has particularly challenged scientific findings related to the environment and public health opposed by industries such as oil drilling and coal mining. It has also impeded research around human-caused climate change, which President Trump has dismissed despite a global scientific consensus.
But the erosion of science reaches well beyond the environment and climate: In San Francisco, a study of the effects of chemicals on pregnant women has stalled after federal funding abruptly ended. In Washington, D.C., a scientific committee that provided expertise in defending against invasive insects has been disbanded. In Kansas City, Mo., the hasty relocation of two agricultural agencies that fund crop science and study the economics of farming has led to an exodus of employees and delayed hundreds of millions of dollars in research.
"The disregard for expertise in the federal government is worse than it's ever been," said Michael Gerrard, director of the Sabin Center for Climate Change Law at Columbia University, which has tracked more than 200 reports of Trump administration efforts to restrict or misuse science since 2017. "It's pervasive." https://www.nytimes.com/2019/12/28/climate/trump-administration-war-on-science.html
11. David Frum: A Gangster in the White House
Amid a two-day binge of post-Christmas rage-tweeting, President Donald Trump retweeted the name of the CIA employee widely presumed to be the whistle-blower in the Ukraine scandal. On Thursday night, December 26, Trump retweeted his campaign account, which had tweeted a link to a Washington Examiner article that printed the name in the headline. Then, in the early hours of Friday morning, December 27, Trump retweeted a supporter who named the presumed whistle-blower in the text of the tweet.
While the presumed whistle-blower reportedly remains employed by the government, he is also reportedly subject to regular death threats, including at least implicit threat by Trump himself. Trump was recorded in September telling U.S. diplomats in New York: "Basically, that person never saw the report, never saw the call, he never saw the call—heard something and decided that he or she, or whoever the hell they saw—they're almost a spy. I want to know who's the person, who's the person who gave the whistle-blower the information? Because that's close to a spy. You know what we used to do in the old days when we were smart? Right? The spies and treason, we used to handle it a little differently than we do now."
Trump's tweeting in the past two days was so frenzied and the sources quoted were so bizarre—including at least four accounts devoted to the Pizzagate-adjacent conspiracy theory QAnon, as well as one that describes former President Barack Obama as "Satan's Muslim scum"—as to renew doubts about the president's mental stability. But Trump's long reticence about outright naming the presumed whistle-blower suggests that he remained sufficiently tethered to reality to hear and heed a lawyer's advice. He disregarded that advice in full awareness that he was disregarding it. The usual excuse for Trump's online abusiveness—he's counterpunching—amounts in this case not to a defense but to an indictment: Counterpunching literally means retaliating, and retaliation is what is forbidden by federal law.
Trump is organizing from the White House a conspiracy to revenge himself on the person who first alerted the country that Trump was extorting Ukraine to help his reelection: more lawbreaking to punish the revelation of past lawbreaking. Impeaching a president whose party holds a majority in the Senate obviously presents many grave practical difficulties. But Trump's post-Christmas mania confirms House Speaker Nancy Pelosi's prediction that Trump would impeach himself.
Donald Trump will not be bound by any rule, even after he has been caught. He is unrepentant and determined to break the rules again—in part by punishing those who try to enforce them. He is a president with the mind of a gangster, and as long as he is in office, he will head a gangster White House. https://www.msn.com/en-us/news/opinion/a-gangster-in-the-white-house/ar-BBYpVkW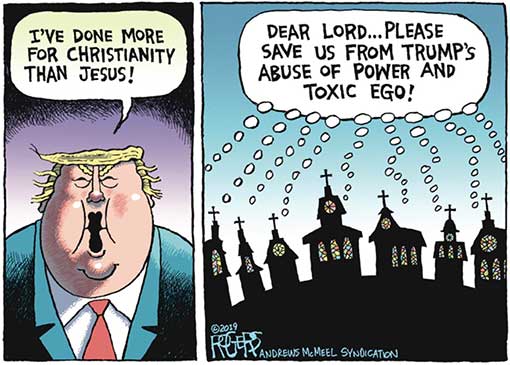 12. Eric Levitz: The Public Option Is Politically Superior to Medicare for All — But Only As a Sound Bite
The vast majority of Americans believe that every U.S. citizen has a right to quality, affordable health care, and that it is the federal government's job to uphold that right.
But roughly 70 percent of Americans also believe that their own health-care coverage is either "good" or "excellent" (despite the fact that virtually all of us are getting ripped off). This perennial poll result reflects the fact that voters often evince status-quo bias and loss aversion, which is to say, they tend to fear losing what they have more than they long for something better. In the U.S., this tendency is likely exacerbated by the public's (understandable) distrust in their governing institutions.
For these reasons, Democratic operatives argue that Medicare for All Who Want It is a safer campaign pitch than Medicare for All. The former, as described by Pete Buttigieg and Joe Biden, would achieve universal coverage by giving all Americans the option of enrolling in a high-quality, affordable public health insurance program, while allowing the loss-averse to stick with the lousy private plans they know and trust. Medicare for All, by contrast, would force all Americans onto a single government plan, an approach to universal coverage that would ostensibly be more socially disruptive and fiscally onerous than a public option.
And surveys suggest the operatives are right: When the debate is framed in the terms outlined above, a public option consistently outpolls Medicare for All — even among Democratic voters. In a recent New York Times–SurveyMonkey poll, 58 percent of Democratic respondents said that the statement "The U.S. should offer government-run insurance to anyone who wants it, but people should be able to keep their private insurance if they prefer it" matched their view on health-care policy, while just 25 percent said the same of the assertion, "The U.S. should adopt a national health-care plan in which all Americans get their insurance from a single government plan." http://nymag.com/intelligencer/2019/12/public-option-vs-medicare-for-all-debate-biden-buttigieg-sanders-polls.html
13. Astead W. Herndon: 'Nothing Less Than a Civil War': These White Voters on the Far Right See Doom Without Trump
As Mr. Trump's bid for re-election shifts into higher gear, his campaign hopes to recapture voters who drifted away from the party in 2018 and 2019: independents who embraced moderate Democratic candidates, suburban women tired of Mr. Trump's personal conduct and working-class voters who haven't benefited from his economic policies.
But if any group remains singularly loyal to Mr. Trump, it is the small but impassioned number of white voters on the far right, often in rural communities like Golden Valley, AZ, who extol him as a cultural champion reclaiming the country from undeserving outsiders.
These voters don't passively tolerate Mr. Trump's "build a wall" message or his ban on travel from predominantly Muslim countries — they're what motivates them. They see themselves in his fear-based identity politics, bolstered by conspiratorial rhetoric about caravans of immigrants and Democratic "coups."
https://www.nytimes.com/2019/12/28/us/politics/trump-2020-trumpstock.html
14. Eric Levitz: Why Trump Vilifies Whistle-blowers and Venerates War Criminals
Trump has never been a fan of China or communism. But when the Chinese Communist Party massacred protesters in Tiananmen Square, the real-estate magnate had to give Beijing its due. "When the students poured into Tiananmen Square, the Chinese government almost blew it," Trump explained to Playboy in 1990. "Then they were vicious, they were horrible, but they put it down with strength. That shows you the power of strength. Our country is right now perceived as weak."
Throughout the ensuing decades, the president expressed an ecumenical respect for governments that privilege their own power above the rule of law. In fact, Trump's reverence for such despotism is so principled, he extends it to even the most odious and despotic of regimes: In his telling, the Obama administration may have criminally betrayed the American people — but one has to respect the ruthlessness with which it concealed those crimes. "I will say this: [Attorney General Eric] Holder protected President Obama," Trump told the New York Times in 2017. "When you look at the IRS scandal, when you look at the guns for whatever, when you look at all of the tremendous, ah, real problems they had, not made-up problems … and Holder protected the president. And I have great respect for that, I'll be honest, I have great respect for that."
By the same token, nothing offends the president's moral sensibilities (such as they are) than those who place adherence to the law above loyalty to their superiors. Trump has forgiven many of his appointees' trespasses. But Jeff Sessions's decision to recuse himself from the Justice Department's investigation of the Trump campaign — and thus, to privilege his profession's code of ethics above his president's legal interests — was simply beyond the pale.
That the U.S. president venerates lawlessness in the pursuit (or maintenance) of power is alarming; that the party he leads increasingly shares that ideal is even more so.
Two recent news items put this point into sharp relief. One is this New York Times piece on the Navy SEALs who reported their Special Operations chief's alleged war crimes. The other is a Washington Post story on the administration's efforts to intimidate or oust civil servants who complied with the House's impeachment investigation. http://nymag.com/intelligencer/2019/12/trump-edward-gallagher-ukraine-war-criminals-whistleblowers.html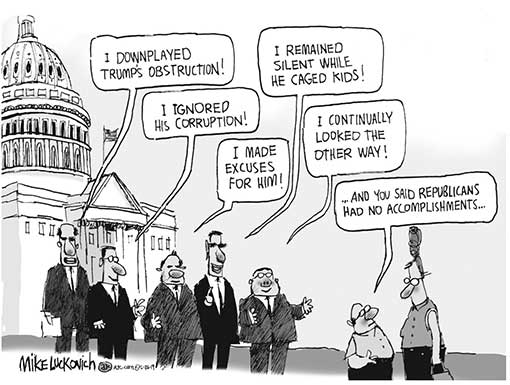 15. Bess Levin: The Trump Deficit
Then Donald Trump was running for president, he boldly proclaimed that he would not only balance the budget, he would eliminate the entire national debt, which at the time was approximately $19 trillion. That, of course, was about as likely to happen as Don Jr. going vegan or Ivanka publicly admitting that her father is a sick individual who needs help. Instead, President Trump has pushed the federal deficit to new heights thanks to a tax cut that did not, in fact, "pay for itself," and a trade war that has turned out to be neither "good" nor "easy to win."
On Wednesday, the Congressional Budget Office said that the federal deficit will reach $960 billion for the 2019 fiscal year, which ends September 30, and breach the $1 trillion mark in 2020. Previously those figures were expected to come in at $896 billion and $892 billion, respectively, but the damage from the president's tariffs, along with a sharp falloff in revenue thanks to the 2017 tax cuts, have caused deficit projections to rise faster than expected. Incredibly, this is all happening against the backdrop of the longest economic expansion on record and the lowest jobless rate in 50 years, conditions that typically cause the budget deficit to shrink. And under the continued tutelage of Donald Trump, the New York Times reports, things are only expected to get worse. https://www.vanityfair.com/news/2019/08/donald-trump-republicans-federal-deficit
16. Philip Bump: Giuliani's Ukraine efforts are a formalization of the rumor-to-Trump pipeline
Trump "was annoyed because over the last couple of weeks I've been pulling all his facts together and I haven't been on television," Former New York mayor Rudolph W. Giulian said. "People who think he doesn't like me on television, I don't know where they get that from. It's just the opposite."
Among the facts he was pulling together, he told Olivia Nuzzi, a political reporter for New York magazine, was a claim that he had received documentary proof of money laundering by former vice president Joe Biden's son Hunter Biden. When he received the Russian-language document, Giuliani said, his go-to translator Lev Parnas had already been arrested for allegedly violating campaign finance laws. So he translated it with an app on his phone.
In an interview with the New Yorker's Adam Entous in November, he offered a broader range of allegations.
Giuliani described some tips he was hearing from his sources in Ukraine, including allegations that a Ukrainian oligarch had made illegal campaign contributions to Hillary Clinton totaling forty million dollars, "that Biden helped to facilitate." In addition, he said, "I was told Biden had participated in the hacking" — a reference to the penetration of Democratic National Committee computer servers in 2016, which U.S. intelligence agencies have attributed to Russia's military intelligence agency, the G.R.U. The conspiracy theories were endless. "They may be true, they may be false," Giuliani said of the rumors.
There is no reason to think that they are true, beyond that someone apparently said it out loud to the president's attorney. As he has wandered the globe seeking out dirt that impugns Biden — the Democrat perhaps most likely at the moment to face Trump in next year's presidential contest — Giuliani has demonstrated little interest in avoiding the sort of fake news Kent identified. Giuliani has met with a rogue's gallery of individuals with suspect motivations, often passing their claims on without question. He has worked with the openly pro-Trump cable network One America News Network on a series of reports in which allegations from Giuliani and various Ukrainians are broadcast without question. https://www.washingtonpost.com/politics/2019/12/30/giulianis-ukraine-efforts-are-formalization-rumor-to-trump-pipeline/
17. Greg Sargent: Explosive new revelations just weakened Trump's impeachment defenses
If Mitch McConnell is going to pull off his scheme to turn President Trump's impeachment trial into a quick and painless sham with no witnesses, the Senate majority leader needs the story to be covered as a conventional Washington standoff — one that portrays both sides as maneuvering for advantage in an equivalently political manner.
But extraordinary new revelations in the New York Times about Trump's corrupt freezing of military aid to Ukraine will — or should — make this much harder to get away with.
McConnell badly needs the media's both-sidesing instincts to hold firm against the brute facts of the situation. If Republicans bear the brunt of media pressure to explain why they don't want to hear from witnesses, that risks highlighting their true rationale: They adamantly fear new revelations precisely because they know Trump is guilty — and that this corrupt scheme is almost certainly much worse than we can currently surmise.
That possibility is underscored by the Times report, a chronology of Trump's decision to withhold aid to a vulnerable ally under assault while he and his henchmen extorted Ukraine into carrying out his corrupt designs.
The report demonstrates in striking detail that inside the administration, the consternation over the legality and propriety of the aid freeze — and confusion over Trump's true motives — ran much deeper than previously known, implicating top Cabinet officials more deeply than we thought. https://www.washingtonpost.com/opinions/2019/12/30/explosive-new-revelations-just-weakened-trumps-impeachment-defenses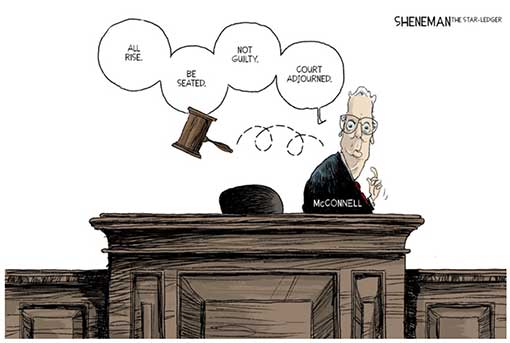 18. Sam Levine: Voter purges: are Republicans trying to rig the 2020 election?
The final weeks of December may have been dominated by news of Donald Trump's impeachment, but another development with potentially serious implications for the 2020 election – and the future of American democracy – attracted less global attention.
It took place not in the halls of Congress but hundreds of miles away, in Wisconsin. This was where a conservative advocacy group convinced a circuit court judge to order the state to remove more than 230,000 people removed from the state's voter rolls. Wisconsin was already considered a crucial swing state in 2020 – bearing in mind that Donald Trump won the state by fewer than 23,000 votes in 2016. More than half of the voters at risk of being purged lived in areas that favored Hillary Clinton over Donald Trump that year, according to an analysis by the Milwaukee Journal-Sentinel.
A week later, one of Trump's reelection advisers was caught on tape telling a Wisconsin Republicans that the party has "traditionally" relied on voter suppression. "Traditionally it's always been Republicans suppressing votes in places. Let's start protecting our voters. We know where they are," the adviser, Justin Clark, said in audio obtained by the Associated Press. "Let's start playing offense a little bit. That's what you're going to see in 2020. It's going to be a much bigger program, a much more aggressive program, a much better-funded program." https://www.theguardian.com/us-news/2019/dec/31/voter-purges-republicans-2020-elections-trump
19. David Wallace-Wells: Global Apathy Toward the Fires in Australia Is a Scary Portent for the Future
A helicopter carries water as it flies near the town of Bilpin, located west of Sydney in New South Wales, Australia, on Sunday, Dec. 29, 2019. Photo: Bloomberg/Bloomberg via Getty Images
Right now, on the outskirts of a hyper modern first world megapolis, at the end of a year in which the public seemed finally to wake up to the dramatic threat from global warming, a climate disaster of unimaginable horror has been unfolding for almost two full months, and the rest of the world is hardly paying attention.
The New South Wales fires have been burning since September, destroying fifteen million acres (or more than two thousand square miles) and remain almost entirely uncontrolled by the volunteer firefighting forces deployed to stop them; on November 12, greater Sydney declared an unprecedented "catastrophic" fire warning. That was six weeks ago, and the blazes are almost certain to continue burning through the end of next month, the soonest real rain might arrive. They may last longer still, of course, aided in part by record-breaking heat waves that are simultaneously punishing the country (technically an entire continent, Australia as a whole averaged more than 100 Fahrenheit earlier this month) and devastating marine life in the surrounding ocean. "On land, Australia's rising heat is 'apocalyptic," the Straits-Times of Singapore wrote. "In the ocean, it's even worse." http://nymag.com/intelligencer/2019/12/new-south-wales-fires-in-australia-the-worlds-response.html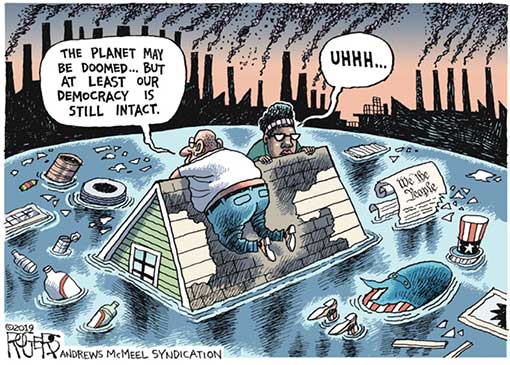 20. Jonathan Chait: Why Conservatives Who Know Climate Science Is Real Won't Speak Up
The Republican Party is the only major right-of-center party in the world that refuses to acknowledge the link between greenhouse-gas emissions and rising global temperatures. The major cause of this is one liberals are well aware of: The party's climate stance is controlled by a combination of fossil-fuel interests and active cranks dissembling about the science. But there is a secondary cause of the GOP's inability to confront reality that is less understood. Many leading conservatives do understand climate science, yet refuse to frontally challenge their party's denialism.
The non-cranks of the right will admit that global warming is real, and usually concede as well that some policy solution other than allowing the free dumping of carbon pollution into the atmosphere is needed. But their main energies are reserved for attacking excesses of the left. This solution goes too far, that solution accomplishes too little; that social-media message oversimplifies. It is uncomfortable to linger on disagreements with their colleagues on the right. Much easier to linger on their shared resentment of environmentalists. http://nymag.com/intelligencer/2019/12/why-conservatives-who-believe-climate-science-wont-speak-up.html
21. Bess Levin: Trump's "Phase One" Trade Deal Leaves China With Massive Advantage
Back in October, financial markets and other interested parties woke up to the exciting news that, according to Donald Trump, the United States had reached a "very substantial phase-one deal" with China, constituting the first step in a series of steps that would hopefully end the longtime trade war with Beijing and make the pain that American farmers, companies, consumers, and the economy at large had suffered over the last two years all worth it in the end. Like most Trump proclamations, though, this one turned out to be a lie. We knew this both in real time, as news outlets reported that China wanted another round of talks before even thinking about signing "phase one" of the trade deal and on Tuesday, it was made yet more clear when Trump again announced striking a phase one deal—more than two months after he'd already claimed one had been clinched:
While Trump has lied about negotiating a deal with China numerous times by now—in December 2018, he bragged to reporters that he'd struck an "incredible" deal with President Xi Jinping that blew up in his face less than 24 hours later; in August, a breakthrough call with China turned out to be fictional—at this point, there's no suggestion that he is, once again, just making shit up as he goes along. That's the good news. The less-good news? His big, terrific phase one deal appears to accomplish very little, and on a matter that both the president and his top advisers have said is crucial to bringing fairness to the markets, literally no progress has been made. https://www.vanityfair.com/news/2019/12/donald-trump-phase-one-china-deal
22.
Stuart Stevens: Wake up, Republicans. Your party stands for all the wrong things now
Here's a question: Does anybody have any idea what the Republican Party stands for in 2020?
In a long-forgotten era — say, four years ago — such a question would have elicited a very different answer. Though there was disagreement over specific issues, most Republicans would have said the party stood for some basic principles: fiscal sanity, free trade, strong on Russia, and that character and personal responsibility count. Today it's not that the Republican Party has forgotten these issues and values; instead, it actively opposes all of them.
Republicans are now officially the character doesn't count party, the personal responsibility just proves you have failed to blame the other guy party, the deficit doesn't matter party, the Russia is our ally party, and the I'm-right-and-you-are-human-scum party. Yes, it's President Trump's party now, but it stands only for what he has just tweeted.
A party without a governing theory, a higher purpose or a clear moral direction is nothing more than a cartel, a syndicate that exists only to advance itself. There is no organized, coherent purpose other than the acquisition and maintenance of power. https://www.washingtonpost.com/opinions/wake-up-republicans-your-party-stands-for-all-the-wrong-things-now/2019/12/31/c8347b32-2be8-11ea-9b60-817cc18cf173_story.html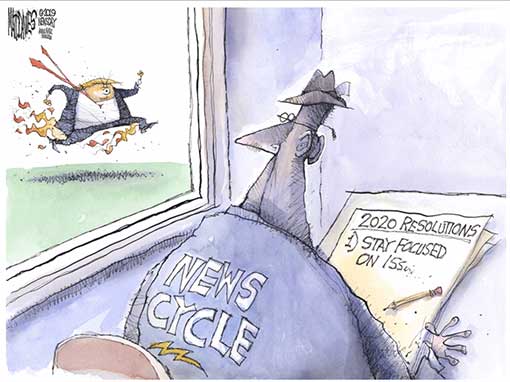 23. Peter Beinart: The Embassy Attack Revealed Trump's Weakness
Over the past 18 months, Donald Trump has picked a fight with Iran that he won't end and can't win. That fight has had horrifying consequences for the Iranian people, led Tehran to restart its nuclear program, and now left parts of the American embassy compound in Baghdad in flames. In the days and weeks to come, Trump's policy will likely lead either to war or to additional American humiliation, or both.
Given the crushing sanctions America continues to impose, Iran has every incentive to make America bleed. Its proxy armies offer it numerous opportunities to do so. And every time it does, it offers Trump the unenviable choice of launching a potentially catastrophic third Middle Eastern war or being exposed as a paper tiger.
When it comes to Iran, Trump has shifted Republican foreign policy away from war without shifting it toward diplomacy—the only stable alternative to war. So he's caught in a kind of purgatory. The American embassy compound in Baghdad, now covered in pro-Iranian graffiti and strewn with broken glass, is the latest symbol of that purgatory. It probably won't be the last. https://www.theatlantic.com/ideas/archive/2020/01/trump-put-himself-irans-mercy/604321/
24. Michael M. Grynbaum: After Another Year of Trump Attacks, 'Ominous Signs' for the American Press
On Twitter, President Trump deployed the phrase "fake news" 273 times this year — 50 percent more often than he did in 2018. He demanded "retribution" over a "Saturday Night Live" sketch, declared that Washington Post reporters "shouldn't even be allowed on the grounds of the White House," and accused The New York Times of "Treason."
Four American journalists were barred from covering the president's dinner with the North Korean leader, Kim Jong-un. The administration argued in court that it had the right to ban a reporter from the White House. The daily White House briefing ceased to exist. And a new press secretary rarely spoke in public outside Fox News.
Mr. Trump's vilification of the news media is a hallmark of his tenure and a jagged break from the norms of his predecessors: Once a global champion of the free press, the presidency has become an inspiration to autocrats and dictators who ape Mr. Trump's cry of "fake news." https://www.nytimes.com/2019/12/30/business/media/trump-media-2019.html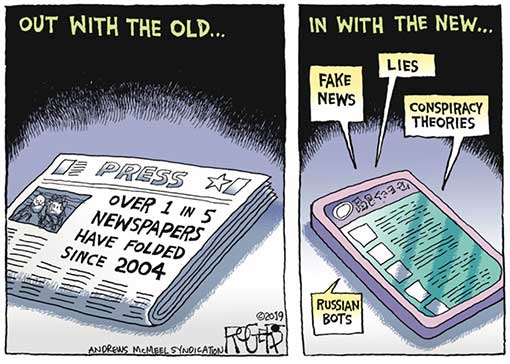 25. Michiko Kakutani:The 2010s Were the End of Normal 
The biggest casualty of the decade was trust. According to a Pew survey earlier this year, only 17 percent of Americans trust the government to do what is right "most of the time" or "just about always." America's reputation tumbled even further on the world stage: A 2018 Pew survey of 25 countries found that 70 percent of respondents said they lack confidence that the American president would make the right foreign policy moves. Between the end of President Barack Obama's second term and late 2018, positive views of America fell 27 percentage points in Germany, 26 points in Canada, and 25 points in France. As with many things, Donald Trump is both a symptom and a radical accelerant of the decline in trust. While exploiting the anger at the establishment that snowballed around the world in response to the 2008 financial crisis, Mr. Trump has also cruelly amplified existing divisions and resentments in America, fueling suspicion of immigrants and minorities and injecting white nationalist views into the mainstream, in efforts to gin up his base.
Mr. Trump's improbable rise benefited from a perfect storm of larger economic, social and demographic changes, and the profoundly disruptive effects of new technology. His ascent also coincided with the rising anxieties and sense of dislocation produced by such tectonic shifts. Around the world, liberal democracy is facing grave new challenges, authoritarianism is on the rise and science is being questioned by "post-fact" politicians. Echoes of Mr. Trump's nativist populism can be found in Prime Minister Boris Johnson of Britain's recent electoral victory and the Brexit referendum of 2016, and in the ascent of the far-right President Jair Bolsonaro of Brazil. Democracy is under threat in Hungary and Poland. Once fringe right-wing parties with openly racist agendas are rebranding themselves in Sweden and Belgium. And far-right groups in Germany and Spain are now the third-largest parties in those nations' parliaments. https://www.nytimes.com/interactive/2019/12/27/opinion/sunday/2010s-america-trump.html